Are you planning your Mykonos itinerary and looking for a little help? This guide will help you plan 3 days in Mykonos… or more!
Are you planning your trip to Mykonos last minute?
If youʻre booking your trip to Mykonos last minute, we have you covered. Below are some of the top tours, hotels, and more!
🇬🇷 Top Experiences and Tours in Mykonos:
🛌 Top Hotels in Mykonos:
🚗 Visiting Mykonos independently? Be sure to book your rental car ahead of time to ensure availability!
Mykonos is a beauty! A short distance from other Cycladic islands like Santorini, it is an easy place to visit in only a few days.
This 3 day Mykonos itinerary will help you plan an epic trip – including hitting some of the top sights on the island.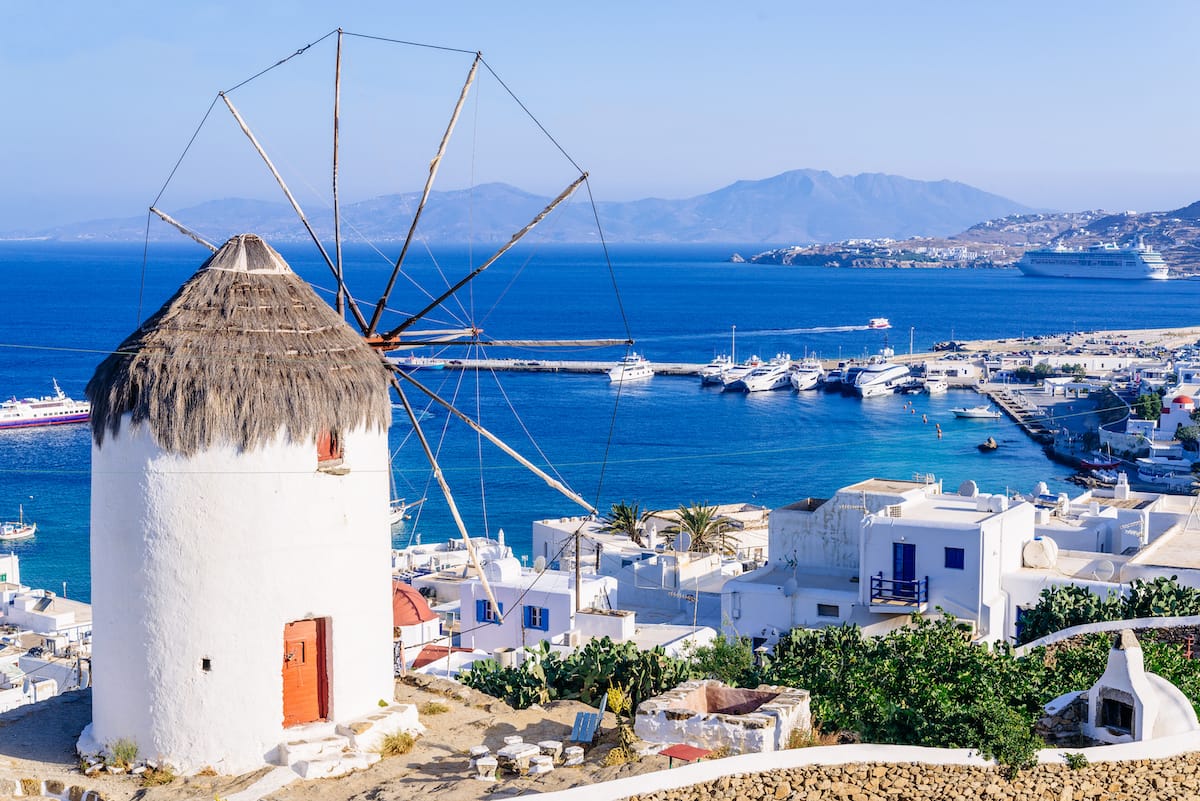 While there are many things to do in Mykonos, you don't need too much time if you plan accordingly (leaving you time for a trip to Santorini, or even over to Crete!).
Do you have any questions about how to spend 2, 3, or even 4 days in Mykonos? Let us know in the comments or feel free to send a message!
How to Use this Mykonos Itinerary (+ Map!)
This Mykonos itinerary takes into consideration the top spots on the island for those who are first-time visitors.
It has been broken down into three days with an optimal way to see the main highlights of the island in those three days.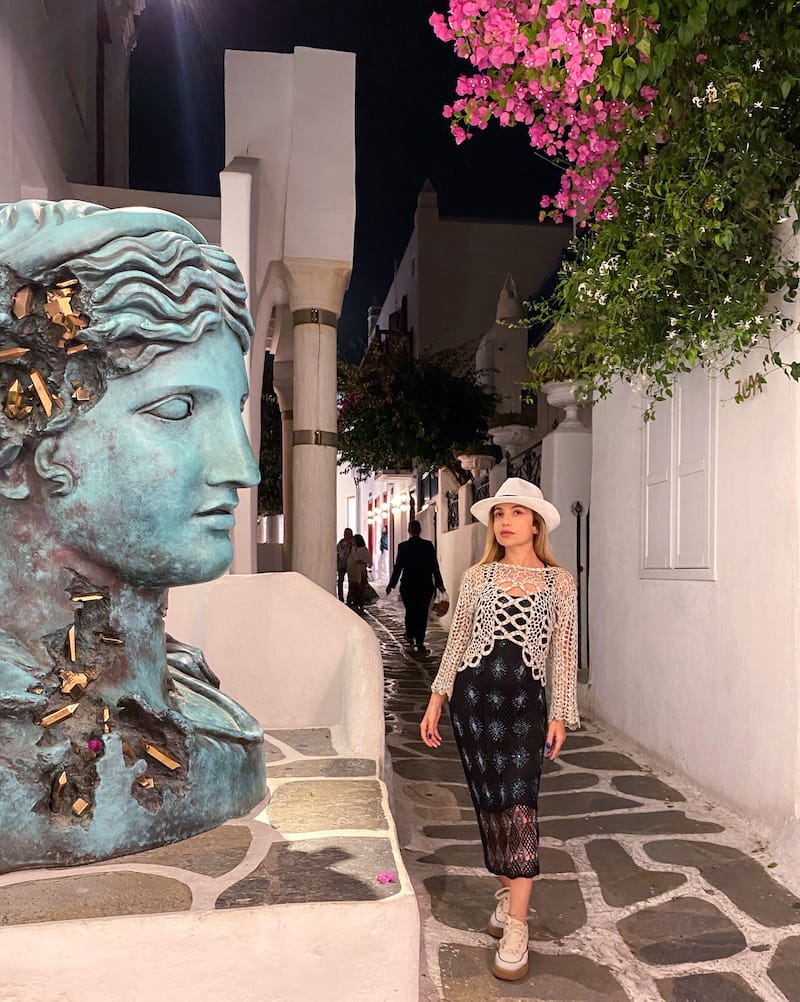 But, as usual, we included some additional things to do for those looking to extend their stay a little longer (we highly recommend this so you have time to relax and pace yourself).
It is also recommended to rent a car in Mykonos if you want to visit everything independently.
We have put all activities and things to do in Mykonos on a map to help you plan your trip with ease.
To add this map to your Google Maps account, click the 'Star' icon next to the map name. You can then view it on your cell phone or computer by heading to your Google Maps account, click the menu and add it to 'Your Places'.
How to Get Around Mykonos
You've only got a few options when it comes to traveling around Mykonos; public transport, guided tours, hiring a rental car, and taxis.
Hiring a rental through Discover Cars offers you the most flexibility, as you can plan out your trip easily. You'll also find that you won't need to hire a car every day, depending on what your itinerary looks like.
Regarding public transport, you've got the KTEL buses which serve the most popular destinations. There's also the sea bus or water taxis that you can use to get around.
Many people choose to explore Mykonos via a tour as you'll have a knowledgeable guide with you at all times. However, there's also the option of booking a taxi but these are limited.
For the more adventurous souls, you can always hire an ATV.
Mykonos Itinerary Overview
Day 1 Overview
Explore Chora
Little Venice
Panagia Paraportiani
Archaeological Museum of Mykonos
Flour Mills of Mykonos
Have dinner in Chora
Day 2 Overview
Delos guided tour
Archaeological Museum of Delos
Psarou beach
Grab a drink at 180º Sunset Bar (& dinner)
Day 3 Overview
Ornos Beach
Have lunch in Ornos
Armenistis Lighthouse
Sunset Cruise
Day 1 in Mykonos
Explore Chora
Mykonos Town is locally known as Chora and it's often where people base themselves during their trips.
It's a beautiful Cycladic village, home to traditional Greek buildings, local tavernas, and charming churches.
To start your Mykonos itinerary, spend some time walking around the town's narrow streets. This way, you'll get to explore some of Chora's hidden gems, quirky art galleries, and quaint chapels.
You can either explore Chora self-guided or hop on this awesome 3-hour walking tour! With your guide, you'll get to visit some fantastic destinations including the Castle of Chora, the Matogianni district, and the Folklore Museum.
This tour also includes Little Venice, Panagia Paraportiani Church, and some of the other destinations we're going to include on the first day of this itinerary.
However, we're going to mention these below as well, just because you might decide to explore solo!
>> Click here to book a Chora walking tour
Little Venice
Mykonos is no stranger to charming neighborhoods but Little Venice has to take the top spot! Boasting old fishing houses, cozy seaside bars, and turquoise waters, the beauty of this area is jaw-dropping.
Little Venice is thought to have been built between the 13th-18th centuries so it's got quite the history. As the island was under Venetian rule back then, it makes sense that the area was designed this way.
The houses here were originally home to some of the island's wealthiest individuals including ship captains and merchants.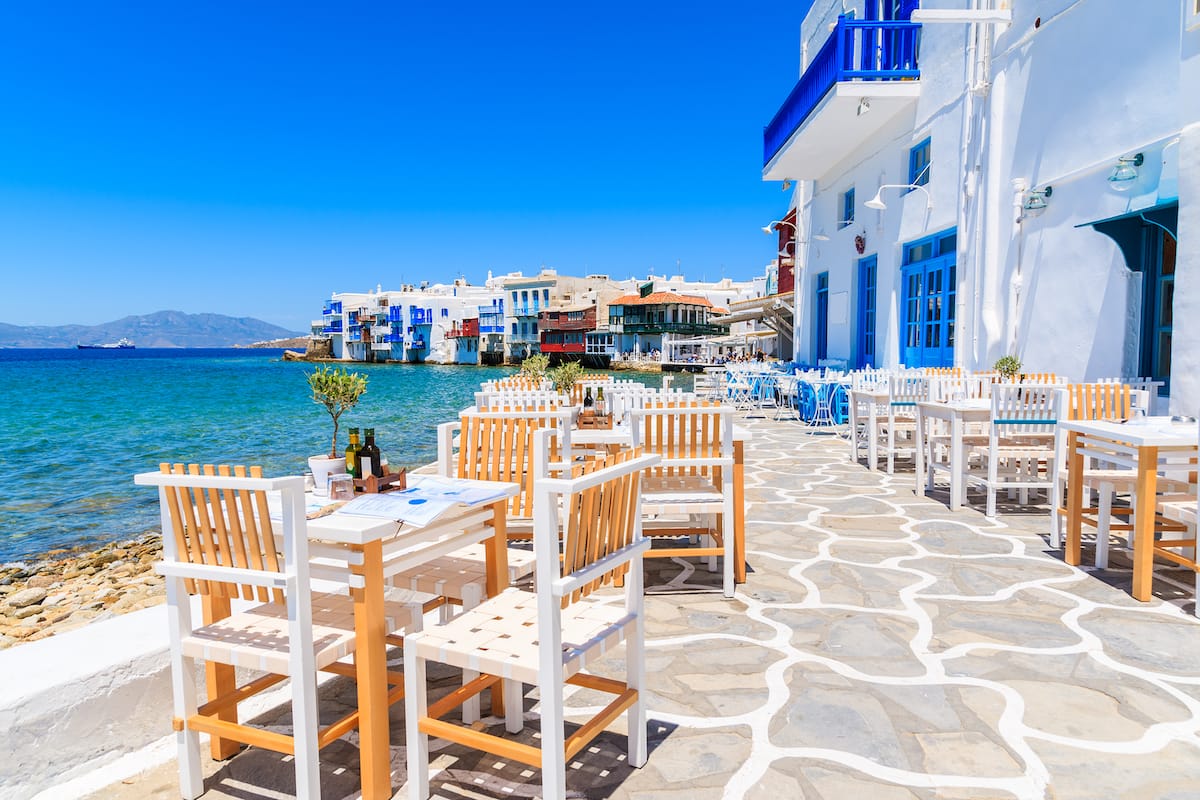 Today, however, many of them have been transformed into quirky bars and beautiful hotels such as Bluetopia Suites!
As one of the most photographed spots in Europe, this isn't a place you want to miss. Not only is it a great place to watch the sunset, but it's the perfect location to relax and grab lunch.
Little Venice also features some trendy boutique stores, wonderful art galleries, and authentic Greek churches.
Panagia Paraportiani
Next on this 3-day Mykonos itinerary, we've got Panagia Paraportiani Church. It's one of the most photographed places on the island and is actually made up of five separate churches.
The oldest of the five is Agios Anargyros which was built during the 14th century, while the others were constructed during the 16th-17th centuries.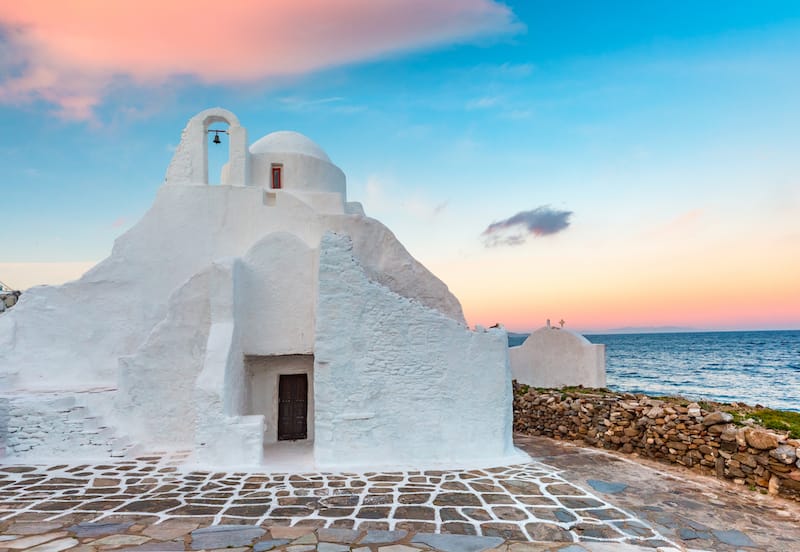 In the center of this complex, you'll find Agios Efstathios, which is then surrounded by Agios Anargyros, Agia Anastasia, Agios Sozon, and the church of the Virgin Mary. Each one of them is beautiful and they're set in a scenic location too – right next to the sea.
As Panagia Paraportiani is a popular spot, you'll want to get here relatively early. It can get really busy throughout the day, so try to avoid the crowds for the best experience.
Address: Χώρα, Mikonos 846 00, Greece
The Archaeological Museum of Mykonos
This iconic museum has been around since 1902 and is one of the must-visit places on the island. They offer 'full' tickets for €4 and 'reduced' tickets for €2, but throughout the year, there are also some free admission days.
The Archaeological Museum of Mykonos was built to preserve historic findings that date back to 426-425 BC. These artifacts have been excavated from the 'Purification Pit' which was discovered in 1898.
The exhibits within this museum date from the 25th century BC right up to the 1st century. Here, you'll find funeral statues, pottery, jewelry, and clay figures among other items!
Although only relatively small, you'll want to take your time walking around this fantastic museum.
Address: Old Port of Chora Mykonos, Τ.Κ. 84600, Mykonos
Flour Mills of Mykonos
No Mykonos itinerary is complete without visiting the Flour Mills of Chora. These iconic windmills have become a popular photo spot and it's not hard to see why!
There are 16 flour mills in total, and they were once used to crush agricultural yields. Thanks to Mykonos being the 'Island of the Winds', these windmills were able to harness the wind power and aid the local farmers.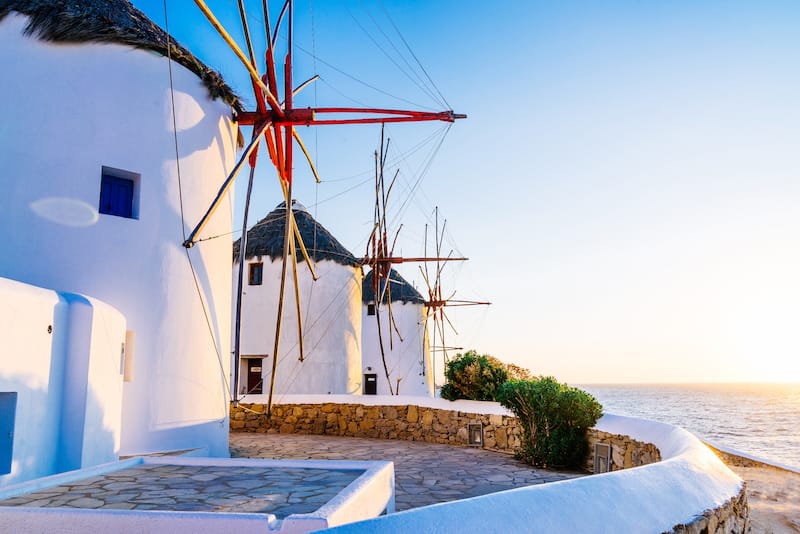 Although no longer operating, many of these flour mills have been renovated. Bonis Windmill is the most famous as it's been converted into an agricultural museum.
One of the best reasons to visit the Flour Mills of Mykonos is simply the views you'll get from the top. For this reason, it's also a fantastic sunset spot!
Address: Μύκονος 846 00, Greece
Have Dinner in Chora
After a full day of exploring the main town of Mykonos, it's time to grab a bite to eat and simply relax. Now, you're going to be spoilt for choice so take your time to decide.
Some eateries offer fantastic sea views, while others are located along Chora's charming narrow alleyways.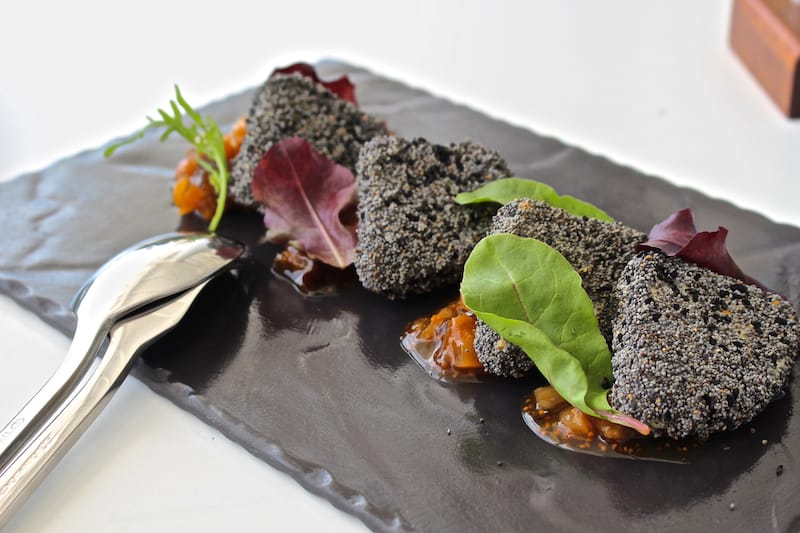 Here are some great restaurant options in Mykonos town:
The one thing we will say is that the more popular restaurants will fill up early. Some of them will require a long wait, while for others you'll need a reservation.
Day 2 in Mykonos
Take a Delos Guided Tour
Although you've only 3 days in Mykonos, it would be a crime not to visit the nearby island of Delos. It's a UNESCO World Heritage Site and is one of Greece's most important archaeological sites.
The island's history dates back to the 3rd century BC, and it's thought that the god Apollo and goddess Artemis were both born here.
This fantastic guided tour includes hotel pick-up in Mykonos, your round-trip boat tickets, and a skip-the-line entry ticket! As you'll have a guide with you at all times, you'll get to learn so much about the island.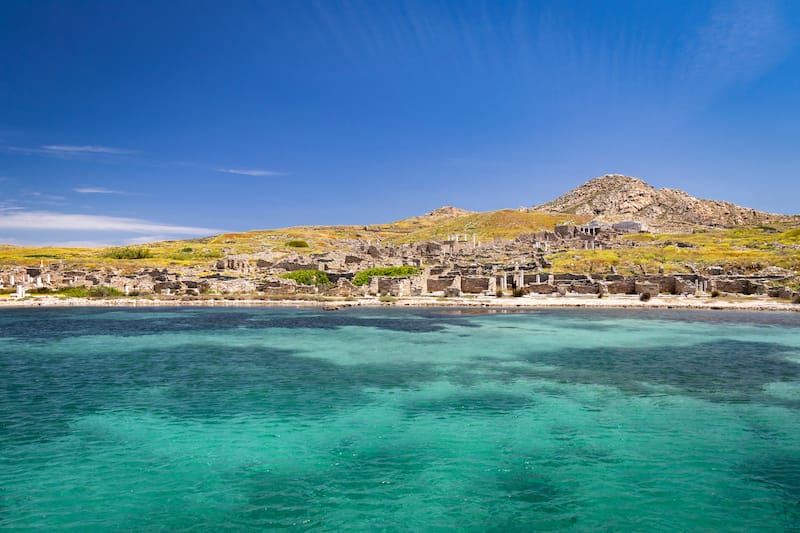 On the tour, you'll have the choice to hike to the Temple of Isis or visit the Archaeological Museum. Unfortunately, you won't have time to do both, so we'd recommend the latter.
>> Click here to book a Delos guided tour
The Archaeological Museum of Delos
While on the island, you don't want to miss out on visiting the Archaeological Museum of Delos. It dates back to 1904 and there are nine rooms to explore, all host to historical artifacts.
Some of these artifacts date back to the 1st century BC, including mosaics, jewelry, pottery, and headgear. However, it's the statues here that steal the spotlight.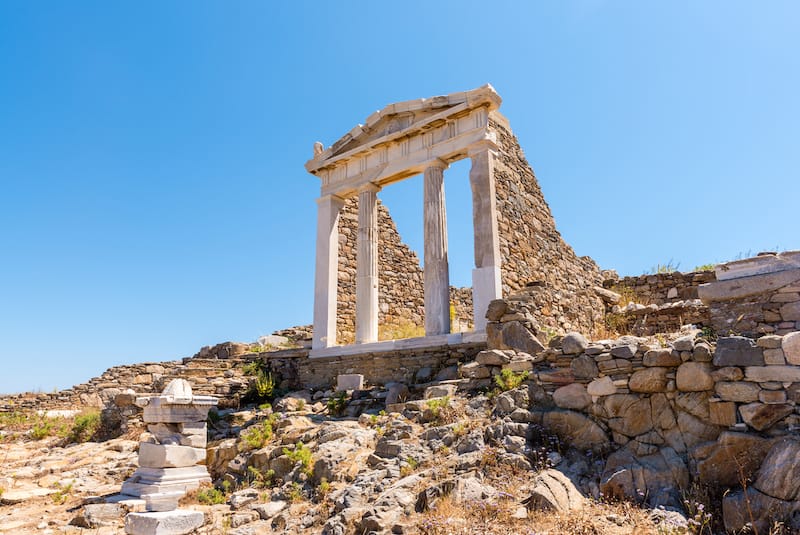 Within this museum, you'll find six rare statues that have been unearthed right on the island. Depicting Apollo, Dioscorides, and Cleopatra (the latter two being residents of Delos), and others, they're quite a sight to see.
For those who'd prefer extra time (that you won't get on a tour), you can simply purchase your round-trip boat transfers instead. This way, you'll be able to do the Temple of Isis hike too!
Address: Dilos – Mikonos, Dilos 846 00
Psarou Beach
After returning from Delos Island, you'll want to spend some time at Psarou Beach. It's just a 10-15 minute drive from Deliana Port which is where you'll arrive, and you can get there on the local bus.
Psarou is one of the most famous beaches in Mykonos thanks to its turquoise waters, white sands, and wild parties. You can also reserve sunbeds here but these can be costly!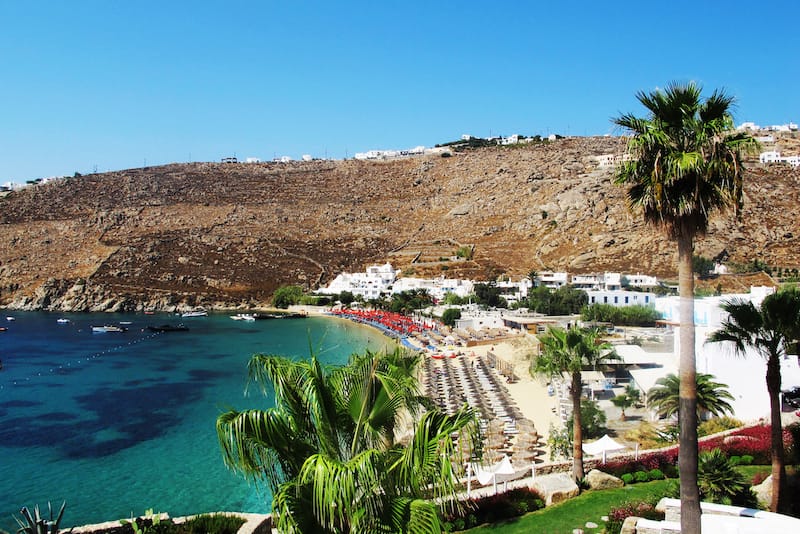 Offering water sports activities, the chance to relax, and swimming opportunities, it's no wonder this beach is so popular. In fact, it gets incredibly crowded during the summer months.
As you'll be visiting during the mid-late afternoon, you might manage to avoid the hordes. However, it all depends on what time you get back from Delos Island.
Grab a Drink at 180º Sunset Bar (& Dinner!)
To end the second day of this Mykonos itinerary, you should head to 180º Sunset Bar. As the name suggests, you'll be treated to breathtaking views of the town, island, and sea.
This bar is home to some of the best food on the island and you'll have a variety of dishes to choose from. Some fan favorites include the French oysters with truffle caviar, the tuna tartare with steamed sushi rice, and the chocolate cremeux with salted caramel sauce.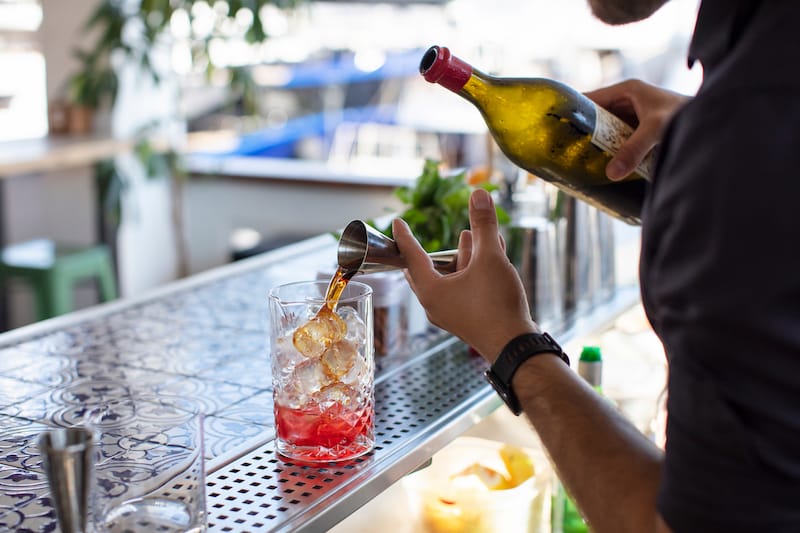 You'll also have an extensive wine list including some funky cocktails so it's the perfect place to grab a drink and watch the sunset.
During peak season, reservations are typically required and there's a minimum spend that differs depending on when you go. However, you can just chance a visit, and get there before it opens to see if there are any tables available.
Address: Μύκονος 846 00, Greece
Day 3 in Mykonos
Ornos Beach
To start off your last day, head to Ornos Beach and spend some time here relaxing. It's located around 3.5 km from the main town of Chora, and you can either catch the public bus or a taxi.
Ornos is one of the busiest beaches on the island but if you head there in the morning, you should easily be able to find a space. Otherwise, it can feel quite overcrowded.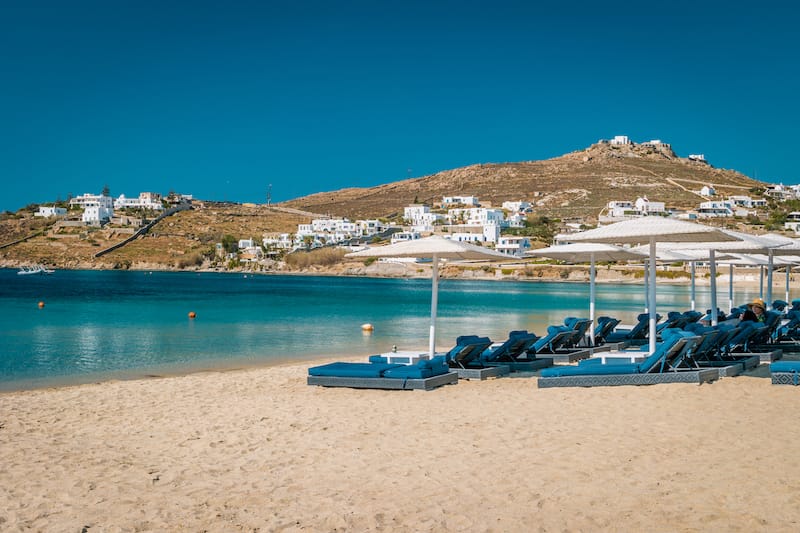 With ample sunbeds that you can hire, a diving school, sea skiing opportunities, and seafront eateries, this beach really does have it all. Whether you're looking to relax or try out some watersports, there's something for everyone.
Aside from the beach itself, the surrounding area is extremely scenic. This makes it a must-visit for any Mykonos itinerary!
Have Lunch in Ornos
After spending some time in the sun, it's time to grab a bite to eat in Ornos Town.
Whether you're looking for a sea-front location or a quiet eatery away from the hustle and bustle, this town has something for everyone.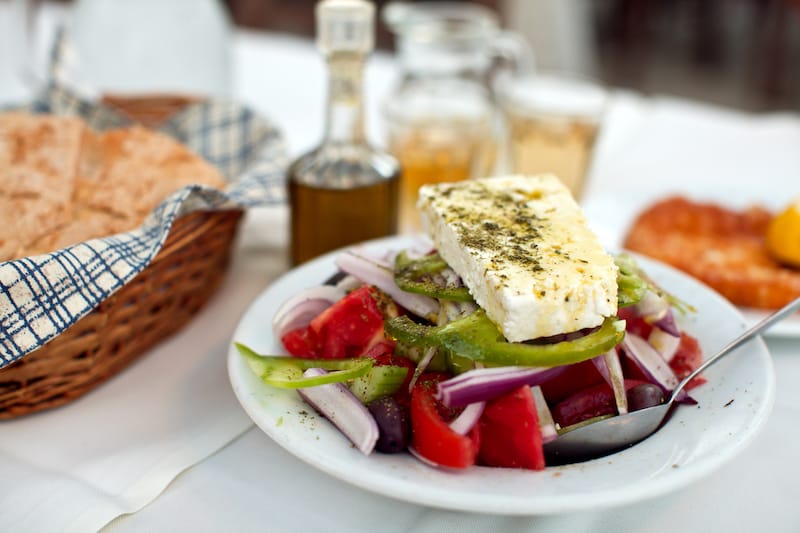 Here are some great restaurant options in Ornos:
The restaurants here don't tend to be as busy as within the main town of Chora, but that can depend on when you're visiting. Naturally, the seaside options are more popular but you shouldn't have a problem finding somewhere to eat.
Armenistis Lighthouse
Mykonos as a whole is undeniably beautiful, but there are some special gems that you just can't miss. Armenistis Lighthouse is one of these, and although you can't go inside, this place has a lot to offer.
Perched upon the island's edge, this old lighthouse is 19 meters high and is still in use to this day. From here, you'll also be treated to breathtaking sea views so don't forget your camera!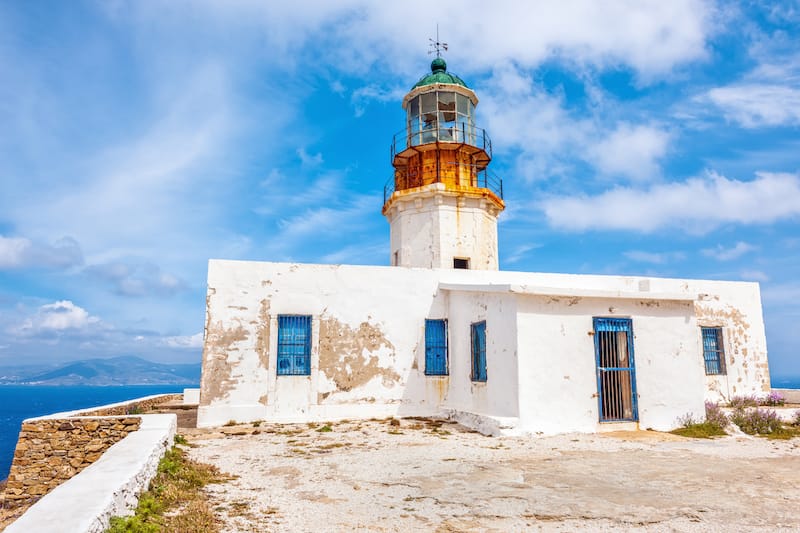 Compared to other spots on the island, Armenistis Lighthouse is extremely peaceful. This makes it the perfect place to escape the crowds.
The road to the lighthouse is pretty steep so be mindful if you're heading up here on an ATV. At the top, you'll find plenty of parking, and then you can spend some time exploring the area.
Take a Sunset Cruise
There's no better way to appreciate the island's fire sunsets than by heading out on a cruise. You'll also be able to reminisce on your trip while cruising along the Aegean Sea.
With Mykonos Kaiki Cruises, you can head out on a 2.5-hour sunset cruise that includes drinks and snacks. The cruise will take you past the charming neighborhood of Little Venice, and you'll get to admire the town from a unique perspective.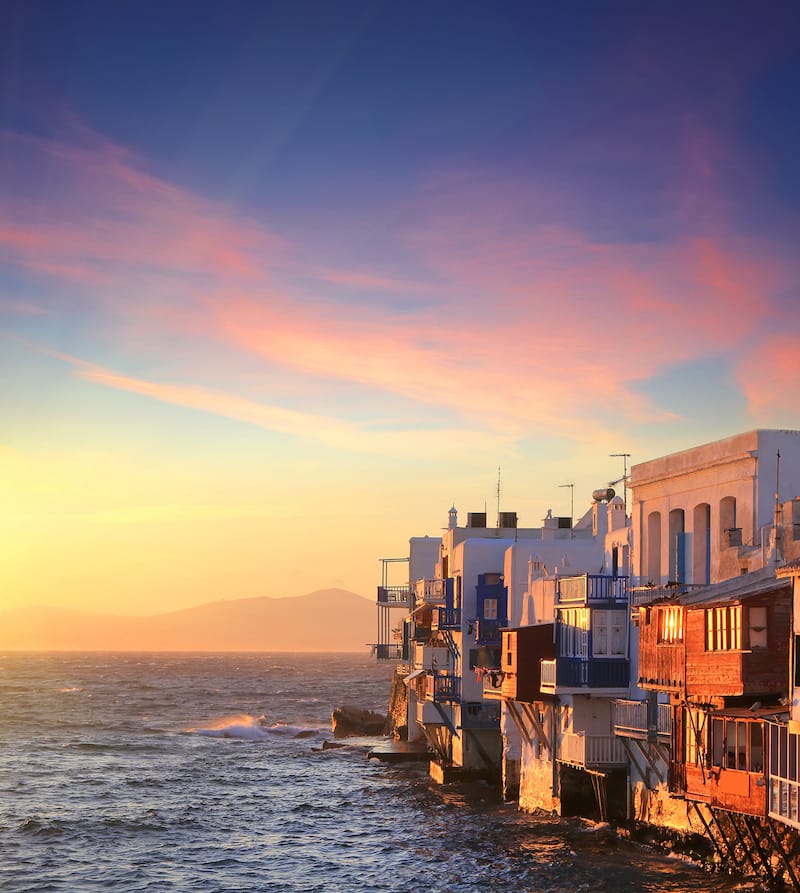 Whether you're traveling as a couple, family, or group, this is the perfect way to end your Mykonos trip. You'll create awesome memories and have plenty of photo opportunities, making it the perfect activity!
These cruises run from April 16th to October 15th, so they're a great option even if you're planning to visit out of peak season.
>> Click here to book your Mykonos sunset cruise
More Than 3 days in Mykonos?
Here are a few other popular activities that you may want to consider if you've got longer than 3 days in Mykonos!
Take a Winery Tour
For those who have a bit of extra time on the island, why not check out this fantastic winery tour? It lasts for 2 hours, and during this time you'll get to visit a local winery.
After wandering through the olive grove and vineyards, you'll get to see how the local wine is made here. Of course, then you'll be able to do some wine tasting and appreciate the different flavors.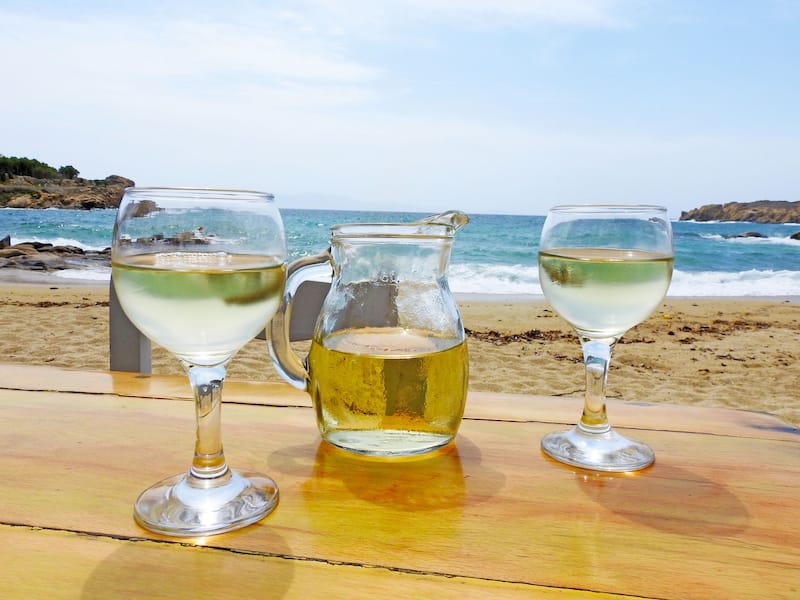 Not only that, but this winery tour allows you to enjoy some delicious Mykonian appetizers and listen to traditional music, so you'll be getting the full Greek island experience.
Tours like this you may want to book in advance as they can be pretty popular!
>> Click here to book a Mykonos winery tour
Visit Some of the Other Beaches in Mykonos
Mykonos isn't short of beaches and although we've already covered two in this itinerary, there are plenty more to choose from.
Paradise Beach and Super Paradise Beach are located right next to each other, and they're two of the most popular spots on Mykonos. Both can get pretty crowded during the summer months but they're undeniably beautiful.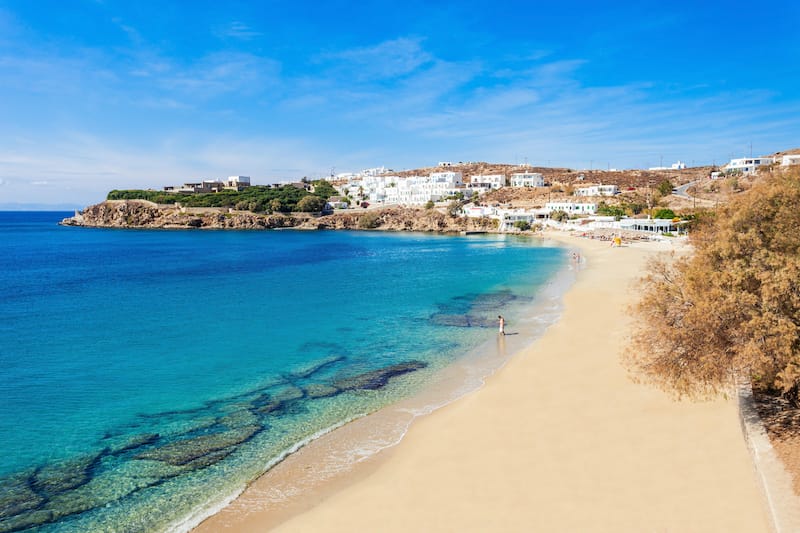 Some of the quieter options on Mykonos include Agios Stefanos Beach, Agios Ioannis Beach, and Panormos Beach (with the latter being a good option for nudists).
Just make sure you do your research in advance as some feature amenities, while others offer a more 'natural' experience with no bars, restaurants, facilities, etc.
Take a Cooking Class at Mykonian Spiti
If you've got some extra time on your Mykonos itinerary then we highly recommend checking out this cooking class. Run by Mykonian Spiti, this class takes place in a traditional home so it's an incredible experience.
This 6-hour program will take you through everything you need to know when it comes to authentic Greek cooking. This includes the culture, traditional way of life, and some other insider tips.
You'll get to make some local favorites including tzatziki and spinach pie, and beef with orzo, along with plenty of others. Along the way, you'll also get to enjoy some homemade local snacks.
The tasting is the best part of course, and local wine is included!
>> Click here to book this cooking (and wine!) class
Where to Stay in Mykonos
You'll find many amazing places to stay in Mykonos – here are some of the best (including the place that I stayed for my trip there)!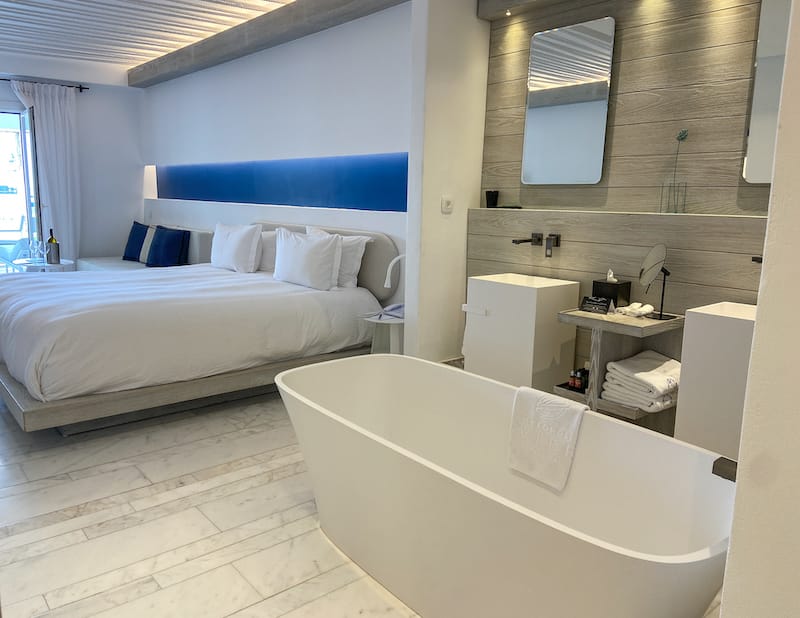 Did we miss any of the top things to put on a Mykonos itinerary? Let us know your favorite things to do with merely 3 days in Mykonos in the comments! Thanks!
More Greece Travel Guides
Pin this 3-Day Mykonos Itinerary