There are several ways to get to northern Italy, especially to Bergamo. This is a guide of how to get from (Milan) Bergamo Airport to Bergamo city center. It will include Bergamo Airport transfer options and how to get to Bergamo by bus.
How to get from Milan Bergamo Airport to Bergamo City Center
Milan Bergamo Airport or Orio al Serio International Airport (BGY) as it is officially known, is the third busiest international airport in Italy and is the most common way for visitors to arrive into the region.
Bergamo has been gaining popularity recently as tourists flock into the city to visit the beautiful UNESCO World Heritage site of the Venetian walls that surround the stunning Citta Alta (Bergamo Old Town). There are simply so many things to do in Bergamo. And, the Milan-Bergamo/Orio al Serio International Airport itself is fairly large and due to the number of flights coming in and out, is always pretty busy.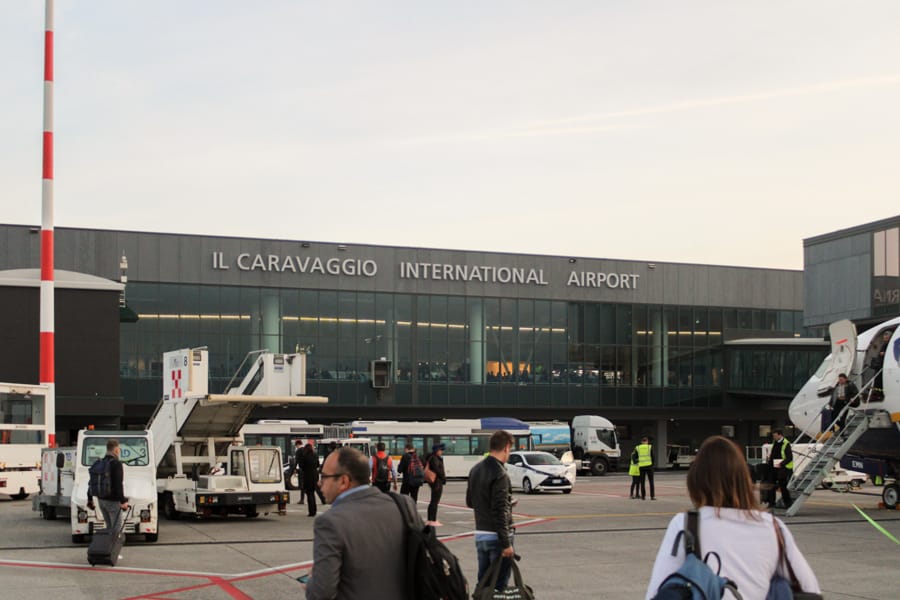 I actually find there is nothing more daunting and anxiety-inducing than arriving into a city and realizing that you have no idea how to get into the city center, especially if you have had a long day of travel and are dragging around heavy bags.
The Bergamo Airport is around 6km from the city center, making journey times to and from the airport relatively quick traffic depending. However, as the city is relatively small there are only a few ways you can reach the city center, Porta Nuova, Atalanta Stadium, or Citta Alta from the airport.
This guide aims to make it as easy as possible to navigate your way from Bergamo Airport to Bergamo city with all the options available.
To Bergamo Center with Welcome Pickups (Private Transfer)
If you are looking to eliminate all the stress of arriving in Bergamo, I highly recommend using the Welcome Pickups transfer service. The service will take you directly from the airport to your hotel and can be pre-booked days in advance or on the day.
The best thing about booking a transfer through Welcome Pickups is that they will monitor your flight and time their arrival based on the timing of your flight, meaning that if you land late, they will already be aware and have adjusted their own arrival time. Once you have picked up your baggage and headed into the main arrivals hall, your driver will be waiting for you with a sign that has your name written on it.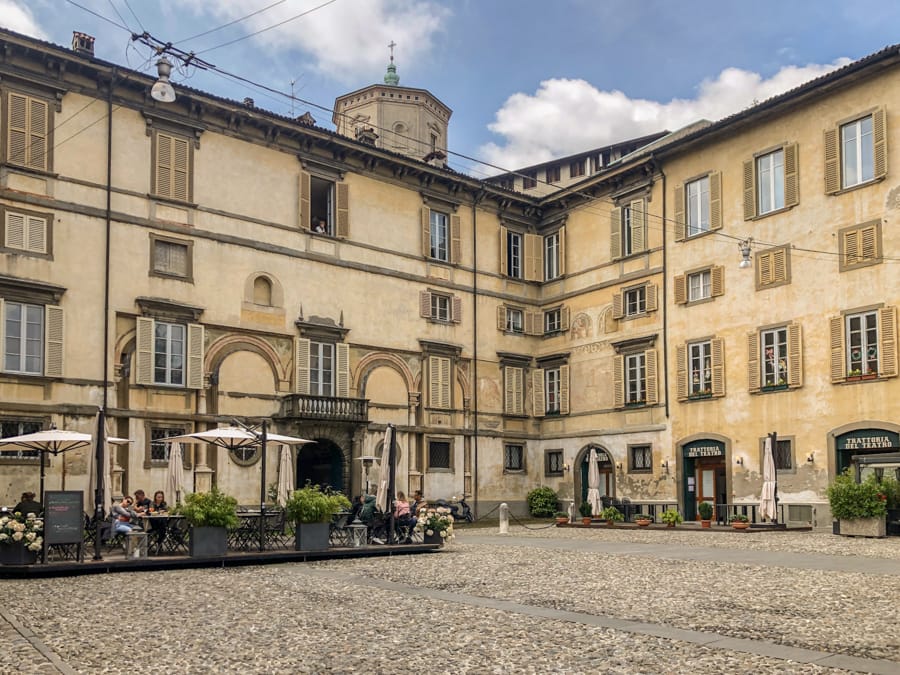 If your baggage has been delayed or there are large queues at the border, you will be provided the WhatsApp details of your driver so you can inform them there is a delay in retrieving your bag or heading through the border controls. The drivers have all been hand-picked by the Welcome Pickups team and will speak a high level of English.
I have to point out this is the most expensive option for getting to the city center from Bergamo Airport, costing around 40€, but you really are paying for a stress-free arrival and not having to try and flag down a taxi at this busy airport. I have used Welcome Pickups several times due to my arrival anxiety and it is brilliant.
>> Click here to book your Welcome Pickups from Bergamo Airport
Bergamo Airport Taxis
There are three taxi choices you can use to get from Milan Bergamo Airport to the city center; MyTaxi/FreeNow, Uber, or hail a taxi yourself. However, the problem I found with trying to get a taxi from outside of the airport is that there is stiff competition from all the other passengers that arrived at the same time. A taxi ride into the city takes between 15-20 minutes, which can change vastly depending on the volume of traffic.

MyTaxi/FreeNow
MyTaxi/FreeNow App is the easiest way to book a taxi in Italy, with plenty of drivers logged into the app and ready to take rides. You can either book a taxi to be there at a certain time or you can try and book one upon arrival.
If you book one in advance, you need to make sure you take into account the time needed to get through the airport and gather baggage. To book a taxi through the app, you simply need to set up and account and select your pick up and drop off points. You can either pay through the app or pay in cash at the end of the journey.
A taxi through MyTaxi/FreeNow should cost in the range of 20-30€ depending on where your hotel is located in the city.
Uber
Uber and Italy have a turbulent relationship and unlike many other places in the world, it is not a cheap option to get around. As Italian regulations have banned Uber X and Uber Pool, you are limited to the only Uber options being Uber Black, Lux, or Van which are all the top-end Uber options.
You can simply book an Uber and meet at the pickup point. Ubers are not available to be pre-booked, so you will need to arrange one upon arrival. Given the fact they are so expensive, the number of Ubers is very limited in the city.
An Uber Black will cost you somewhere around 30-40€ with Lux and Vans between 40-50€. This is entirely dependant on your drop off location and traffic conditions on the day. I would definitely opt for a Welcome Pickups transfer instead.
Hail a Taxi
Just outside of the arrivals hall is a taxi rank where you can hail a taxi from the airport to Bergamo city center. To be honest with you, this experience is absolute hell. When I tried to do this, it took several attempts to convince a driver to take me the few kilometers to my hotel as the first driver randomly said the roads are all closed when he just didn't want to take me.
You also have to battle through disorganized crowds and have to hope people don't try and jump in front of you. If you are able to speak a little bit of Italian, it will help immensely in being able to communicate with the drivers. I also recommend having your address printed out or readily available to show the driver.
I won't try and guess how much these taxis cost as they can vary drastically. You should try and agree on a price before getting in or at least know the ballpark price for the journey to avoid being completely ripped off.

Bus from Airport to Bergamo
Bergamo is well connected by buses and you can easily get a bus from the Bergamo Airport to the city center or the Citta Alta. This is definitely the cheapest way to get to the city but can be very crowded. The bus runs from the airport around every 20 minutes and depending on where you are heading, can take between 15-30 minutes.
The bus makes limited stops along the way and only stops at the main points in the city such as the main train station, Porta Nuova, and Citta Alta.
The bus ticket costs 2.30€ for a single journey. You can buy a ticket via local ATB transport app or onboard the bus itself. If you have plenty of luggage with you, you may find that the bus can get pretty cramped.

Rent a Car at Bergamo Airport
As Milan-Bergamo is a large airport, you will find plenty of car rental options available which can be booked online here. The journey to the city center is pretty quick as it is only 6km away but this naturally depends on the location of your hotel.
Parking in the city is fairly available although you may have to pay in many places. If you are staying in the old town, you may struggle parking your car anywhere nearby. However, if your hotel offers free parking, a car in the area is very useful as you can get to some of the picturesque villages and lakes around the area easily.
Click here to check rental car options for Bergamo, Italy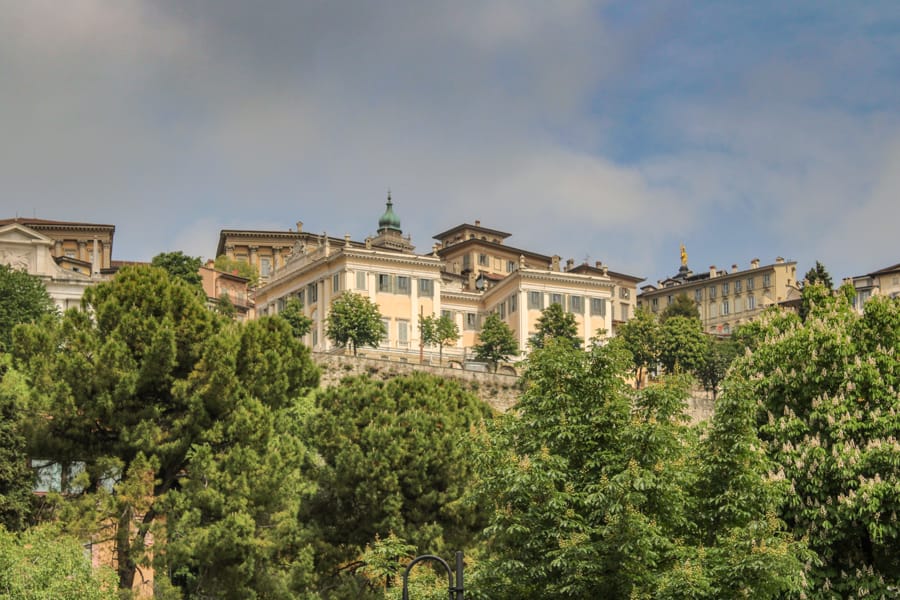 This is a guide that details how to get from the Bergamo Airport to Bergamo city… if you have any other suggestions or tips to make the journey seamless for future travelers, please drop a line in the comments or shoot us a message. Thanks!