(I will preface this by saying that if you're offended that I am spelling Kyiv as "Kiev", please pretend it is spelled the way you prefer throughout; I am spelling it the way most locals do and most travelers search for the name for the sake of this post alone. On the other hand, don't add "the" to the beginning of Ukraine under any circumstances, please. It is Ukraine. Not The Ukraine. Thanks!)
Kiev is no stranger to a good cup of coffee. I have always found decent coffee in the city, but post-revolution? The scene has exploded. One will not be hard-pressed to find a good cup of joe in any neighborhood in the city. In fact, it is undoubtedly one of my favorite cities to find some of the best coffee in the world. This list could be forever long… I kid you not.
I am only listing places I have visited personally (with the exception of one as I was on the way to check it out but craft beer tugged at my soul instead). That place comes so highly recommended that it would be remiss of me to leave it off of this coffee guide, however. After a lot of caffeinated research, this is my guide to the best coffee in Kiev. And drinking coffee is one of the best things to do in Kiev.
<Round of applause for Google for mobile unresponsive maps…>
ONE LOVE ESPRESSO BAR
I must say that this was one of my very favorite cafes that I visited in Kiev. They have three locations (one opening in autumn 2016 at TsUM off of Khreshchatyk) in Kiev currently. I only made it to one, but I must assume their coffee game is on point at the others, as well, and have no problem recommending them.
I tend to order milk coffees when I am testing the water at a place and an actual pourover when I have confidence that a place can do it well. Upon entering this place, I instinctively knew that they would be able to offer a worthy pour over so I ordered a Chemex (200g). It was impeccable and served with pride by the friendly staff of the place.
They have their own beans roasted by Svit Kavy in Lviv. The price of a 200g Chemex pourover was completely affordable at 55 UAH (currently approximately $2.15) or 400g for 78 UAH (currently approximately $3). They also offer Kalita, Aeropress, and V60 as pourover options. Bonus points to One Love for playing a little bit of Phil Collins while I was there.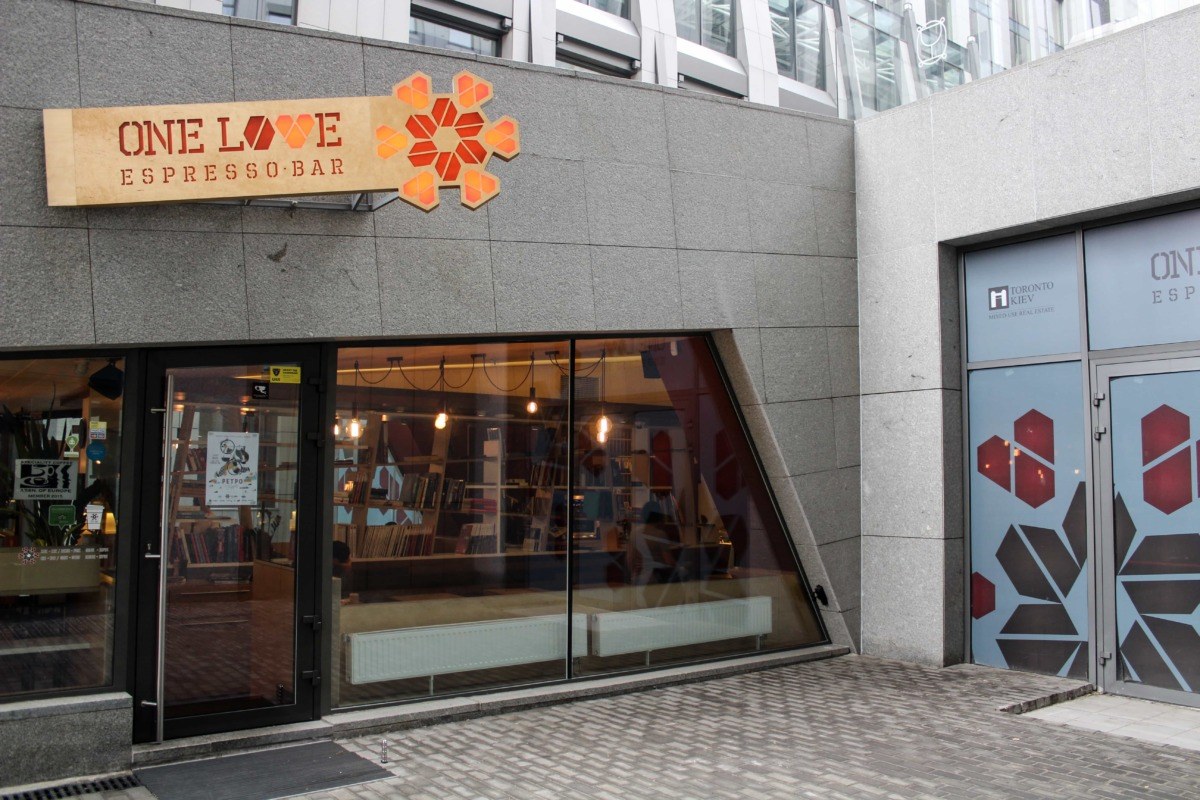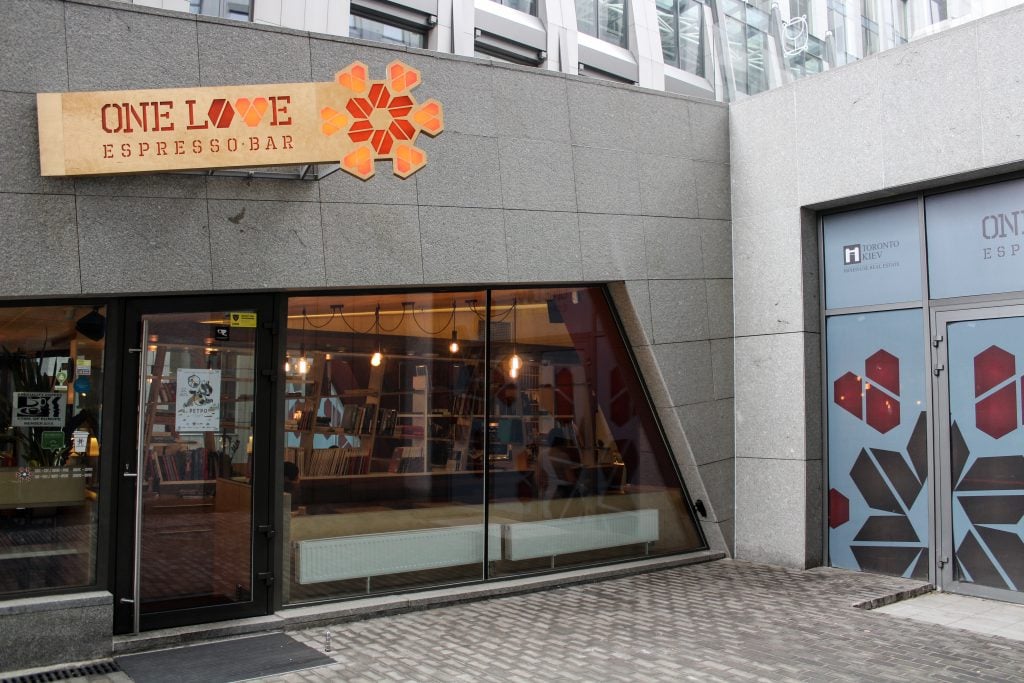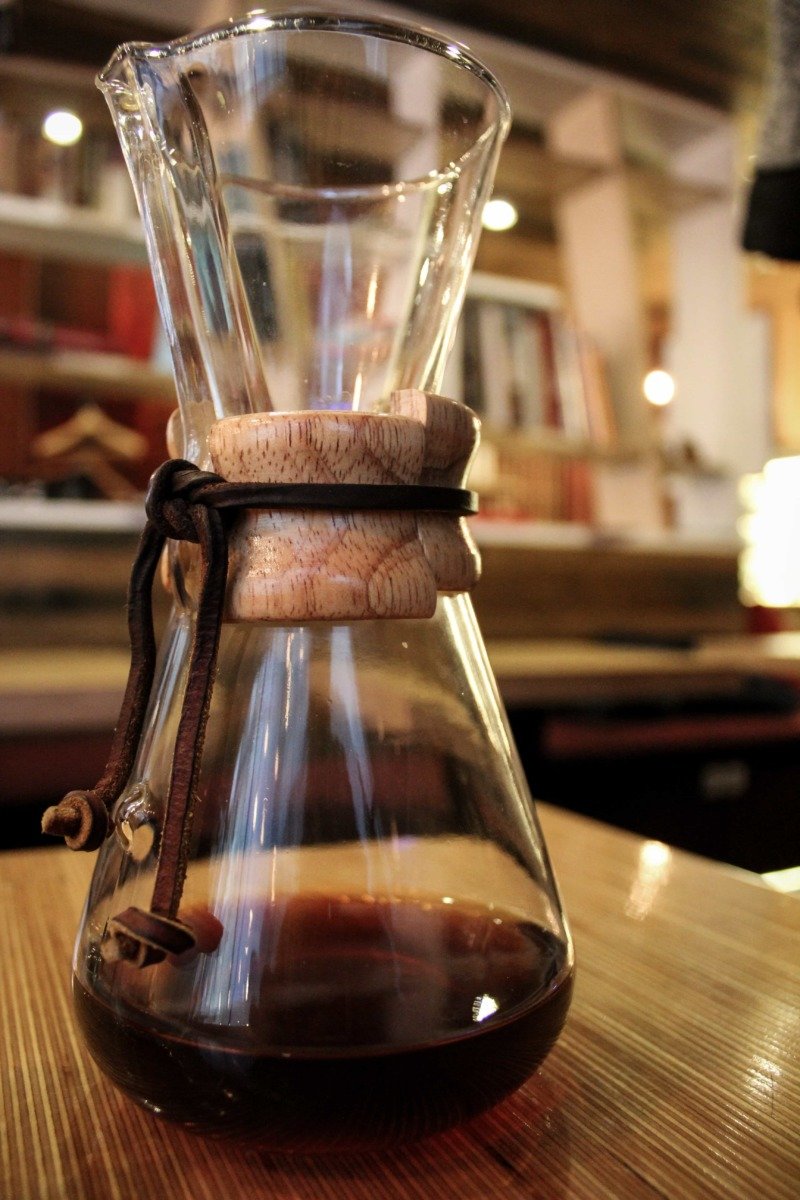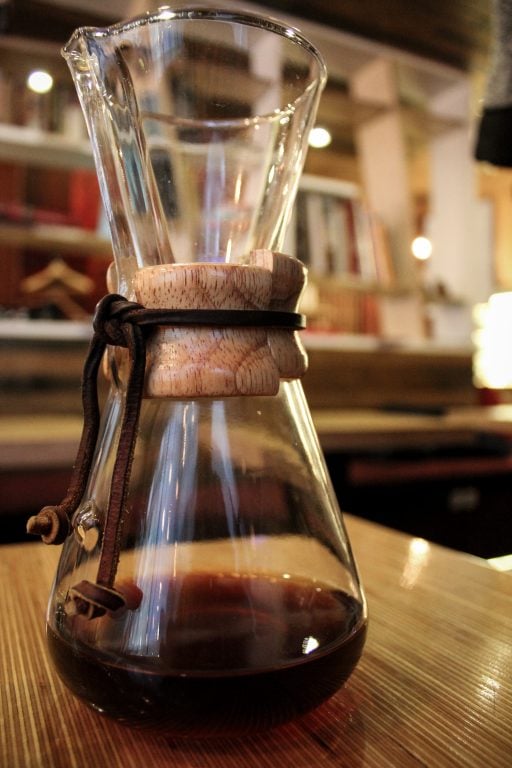 One Love Espresso Bar can be found at Velyka Vasylkivska 100 near Metro stations Olympiyskiy (Олімпійська) and Palats 'Ukraina' (Палац 'Україна'). They are open Monday-Friday from 0900-2200 and weekends from 1000-2200. You can check out their website, Facebook page, or Instagram for more information or inquire about their other locations.
BIMBO
Bimbo is one of Kiev's design successes and is a specialty coffee and craft beer mecca. Bimbo's location is a bit away from the tourist hubs and is a true local gem. Good coffee and good beer are hard to come by- let alone in the same establishment. Be sure to use this article or their Facebook page for location information and not what you may see floating around on Google as it is not accurate (all has been confirmed by the owner). Bimbo is also in my craft beer guide to Kiev.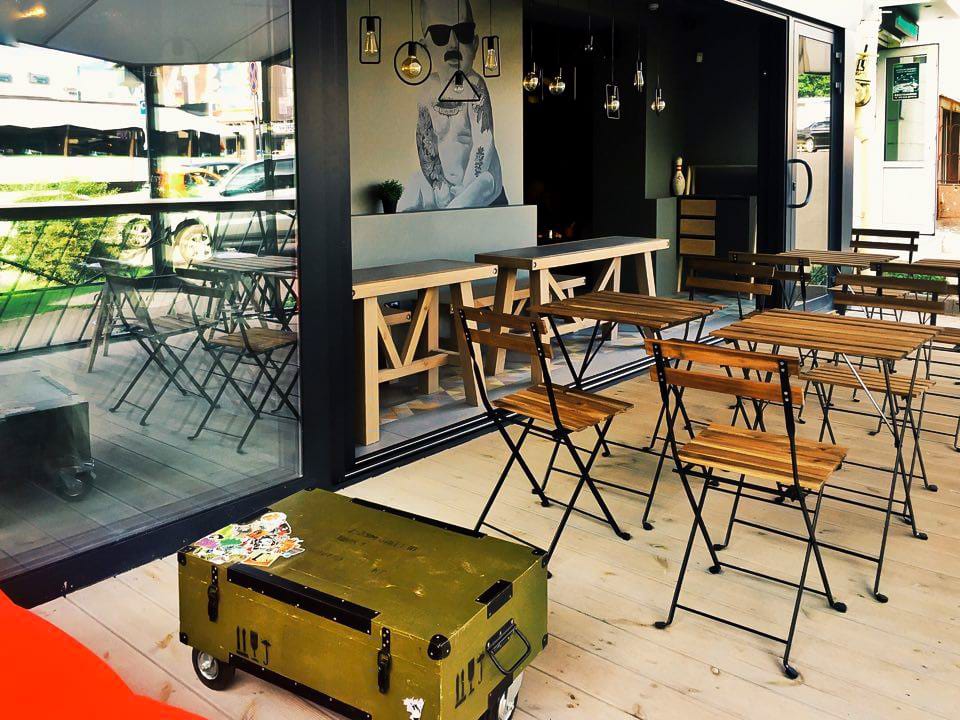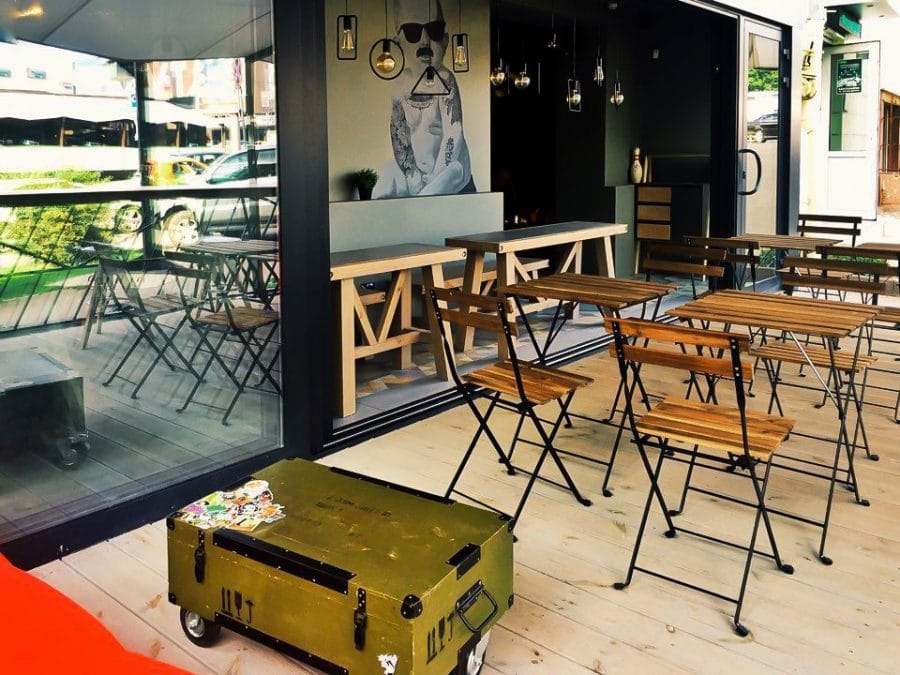 <photo provided with owner's permission>
Bimbo is located at Volidynyro-Lybidska 16 and can be accessed easily via Metro station Palats "Ukraina" (Палац "Україна"). They are open Monday-Friday from 0830-2200 and on weekends from 1000-2200. You can find out more about Bimbo on their Facebook.
WHITEBEARD BLACKBIRD
To be honest, I first found out about Whitebeard Blackbird by stumbling upon their Instagram account. It is actually one of the best coffee accounts I've ever seen from a creativity standpoint. I knew I had to check this place out during my short stint in Kiev this time around as I never made it there prior.
The place offered a modern, but hip atmosphere and the staff was extremely friendly and spoke impeccable English. I sat in the back room which was quiet and ordered a flat white (I am not a foam person, so flat whites or cortados/Gibraltars usually suffice as they don't have too much foam).
It was the perfect place for a rainy afternoon but I'm fairly certain I would have gone there rain or shine. The flat white ran me 60 UAH (currently approximately $2.35) and they had several other coffee options from cappuccinos to matcha lattes to pourovers. You can also order lunch or breakfast at Whitebeard Blackbird.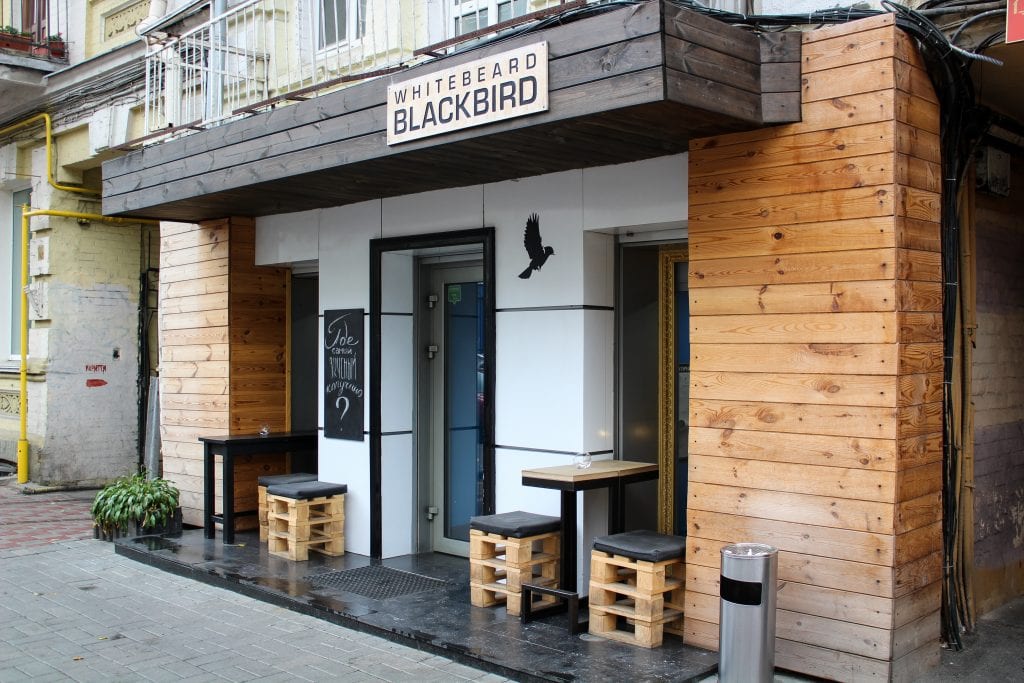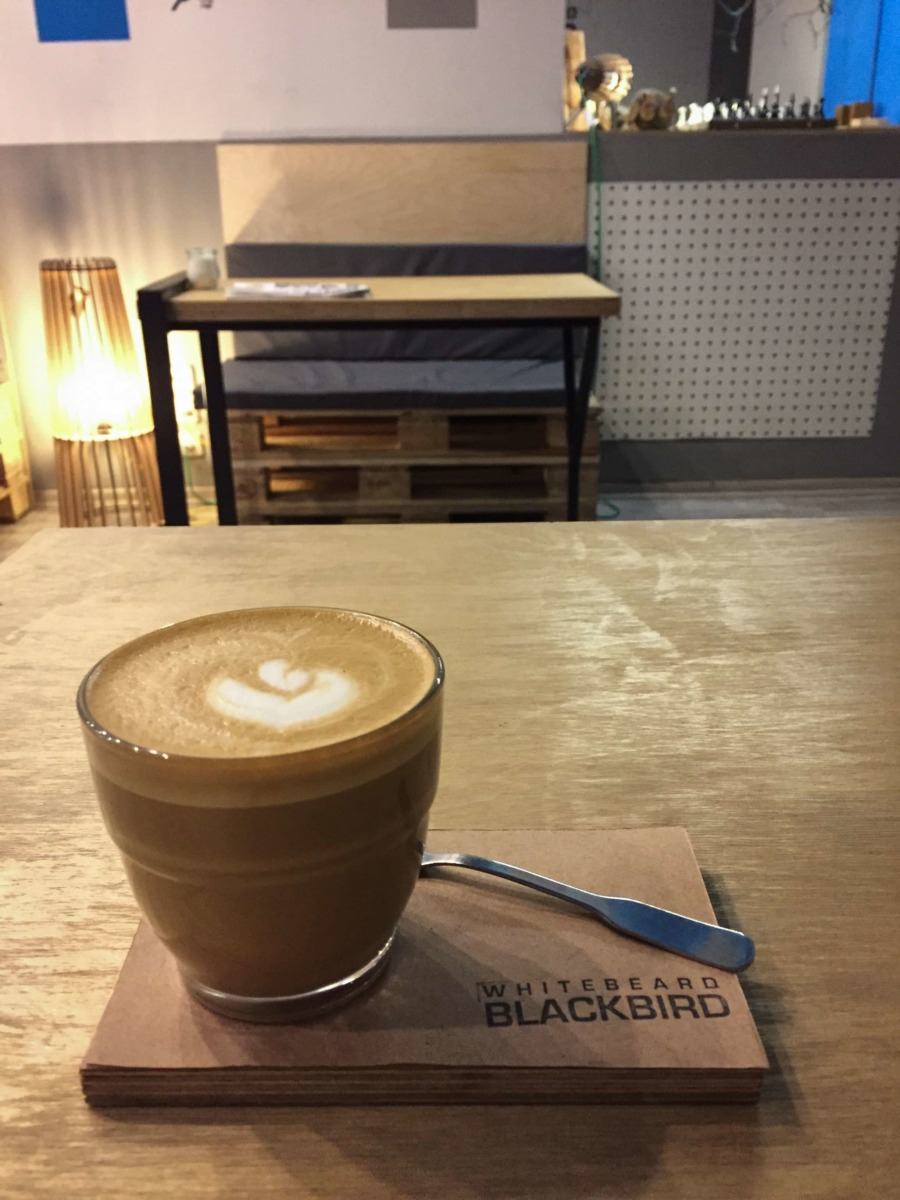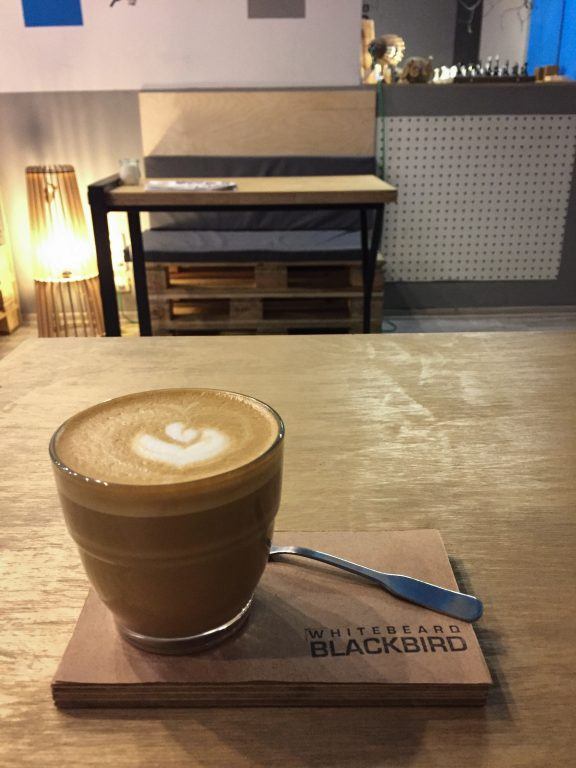 Whitebeard Blackbird is located at Saksahanskoho 15 and can be accessed easily via Metro station Olympiyskiy (Олімпійська). They are open Monday-Sunday from 0900-2200. You can find out more about Whitebeard Blackbird on their Facebook page or Instagram.
COME AND STAY
I went into Come and Stay and decided to order and leave because it was so crowded (good on them). So, I took a coffee to go that day. The inside looked very inviting and full of a 20-something crowd, so I will definitely head back there to have a coffee inside, or on their lovely terrace (weather permitting) next time I am in Kiev. I can't say too much about the place except that the coffee was tasty and they are located next door to a place called Redneck Bar in a very quiet back area of the city. They offer a couple of pourover options ranging from Chemex to Aeropress.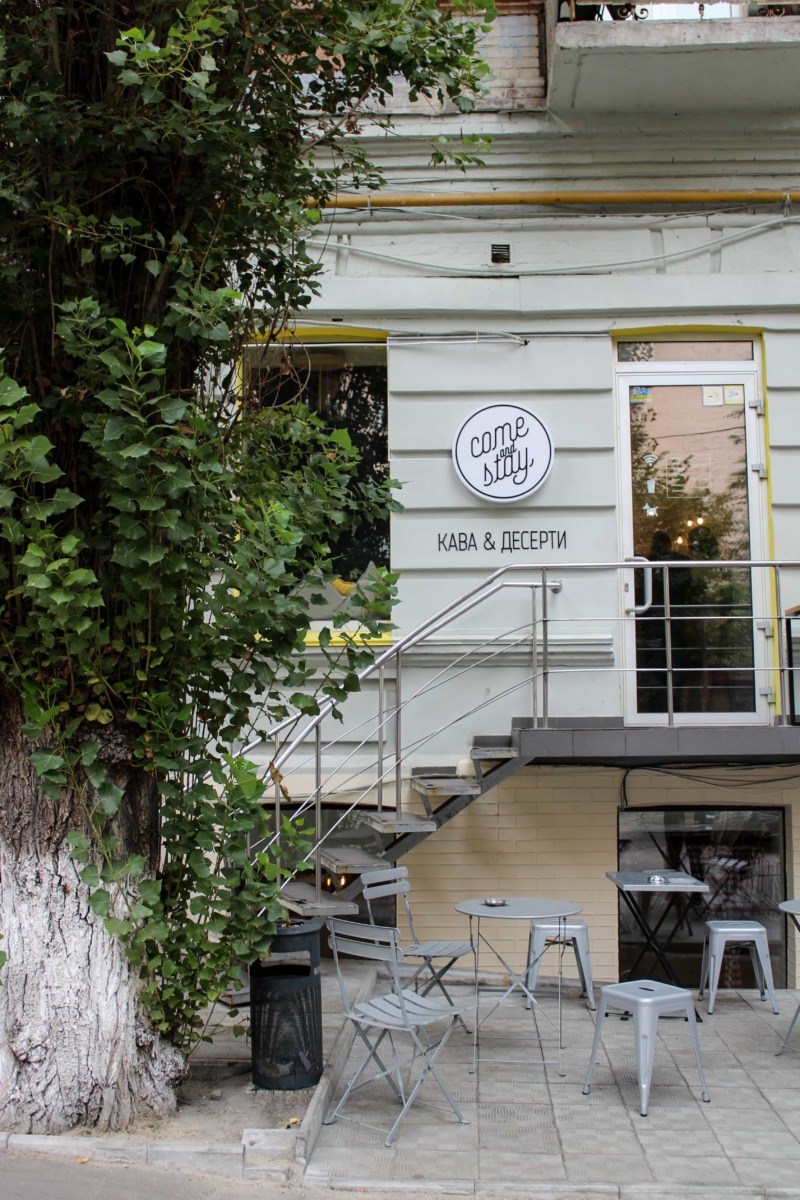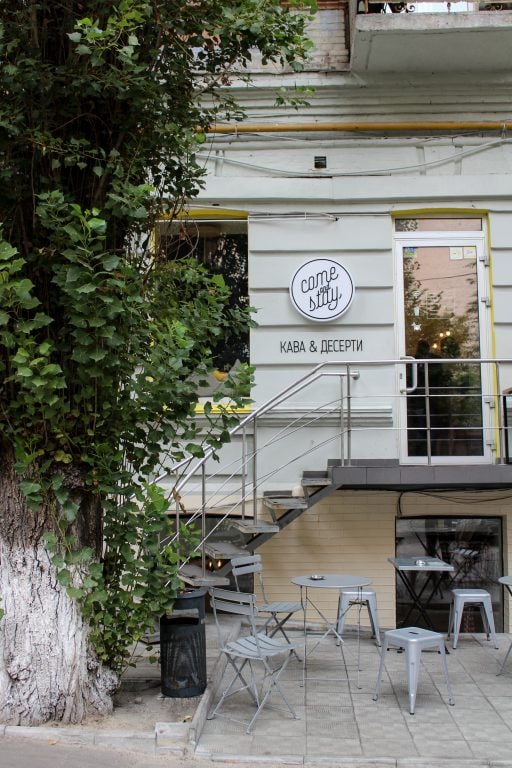 Come and Stay is located at Velyka Vasylkivska 23B and can be accessed easily via Metro station Palats Sportu (Палац Спорту). They are open Monday-Thursday from 0800-2200, Friday 0800-2300, Saturday 1000-2300, and Sunday 1000-2200. You can find out more about Come and Stay on their Facebook page or Instagram.
MILK BAR
Milk Bar Kiev kind of has it all. Not even kind of… it does have it all. Good coffee? Check. Good brunch and food? Check. I could ramble on and on about this place. But Milk Bar is my home away from home in Kiev. Meaning- they serve a lot of stuff I make at home in my own kitchen. Their food concept is a modern American one. Additionally, they serve it alongside good coffee or a massive variety of other drinks.
The last time I was there, I ordered toast topped with tahini, smashed avocado, cilantro, and a poached egg. My gosh was it good. I ordered a coffee to accompany this and I can say that this brunch was exactly what I needed to excite me for my upcoming two weeks of travel throughout Ukraine. I have never seen Milk Bar not packed to the brim with customers, so be prepared! It really is that good of an establishment. They are especially known for their milkshakes and cakes.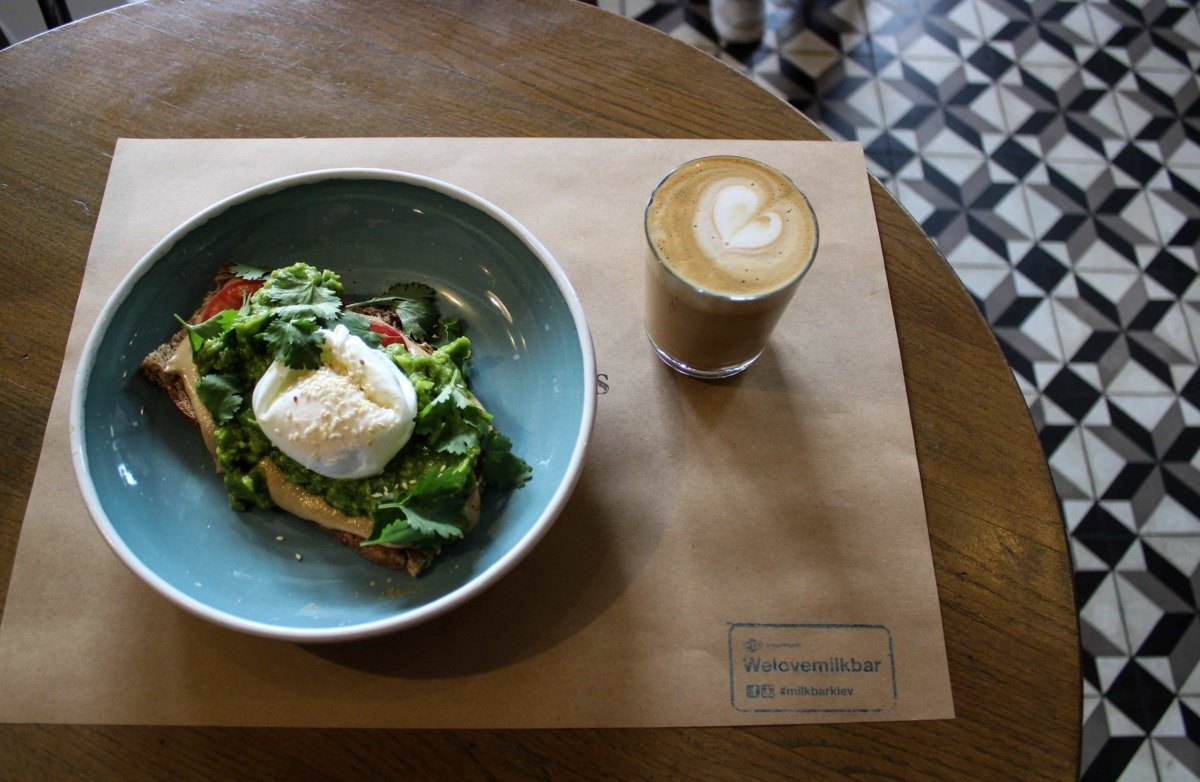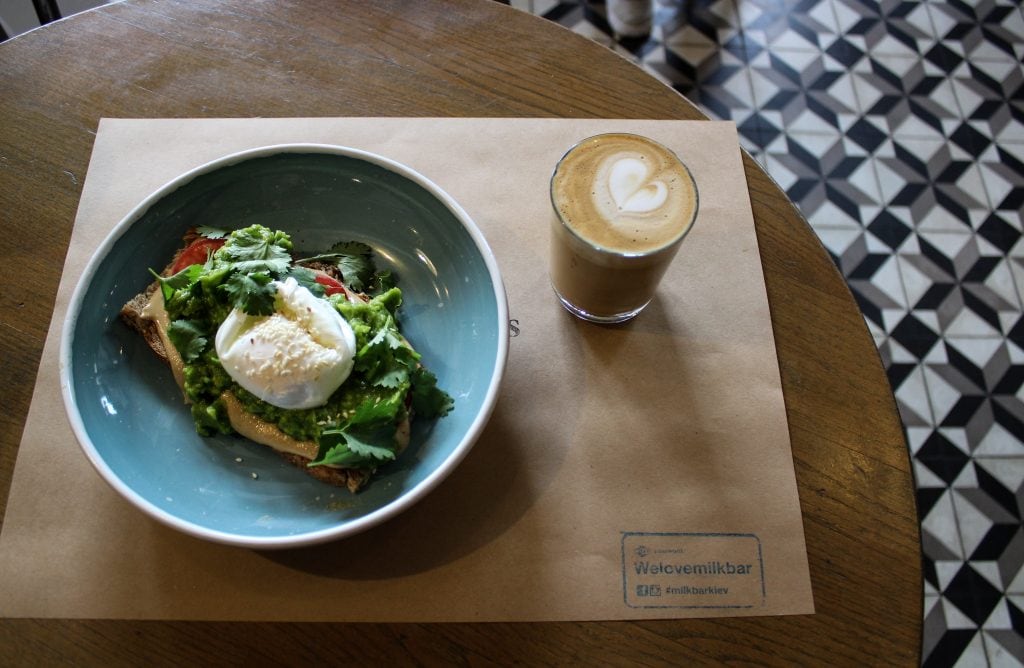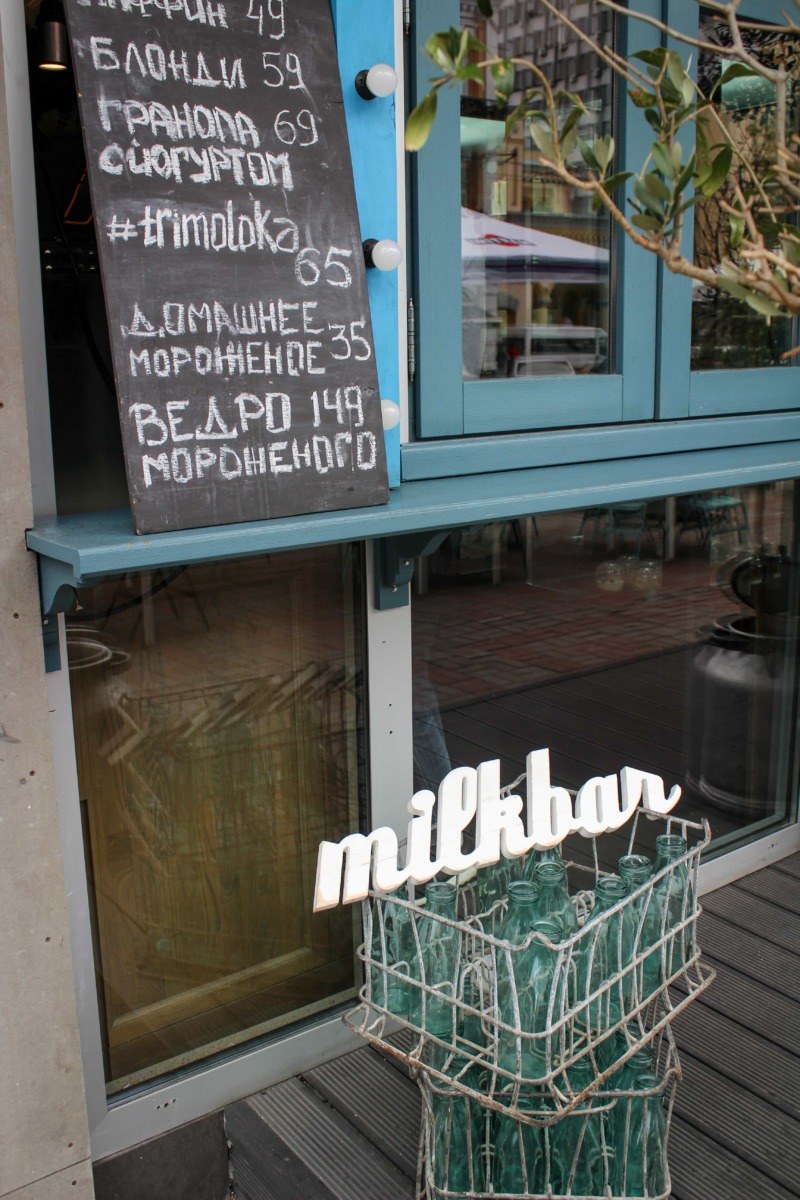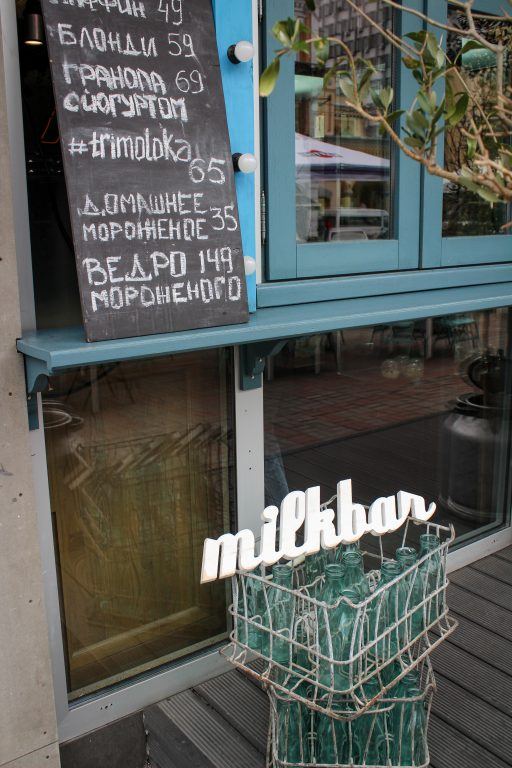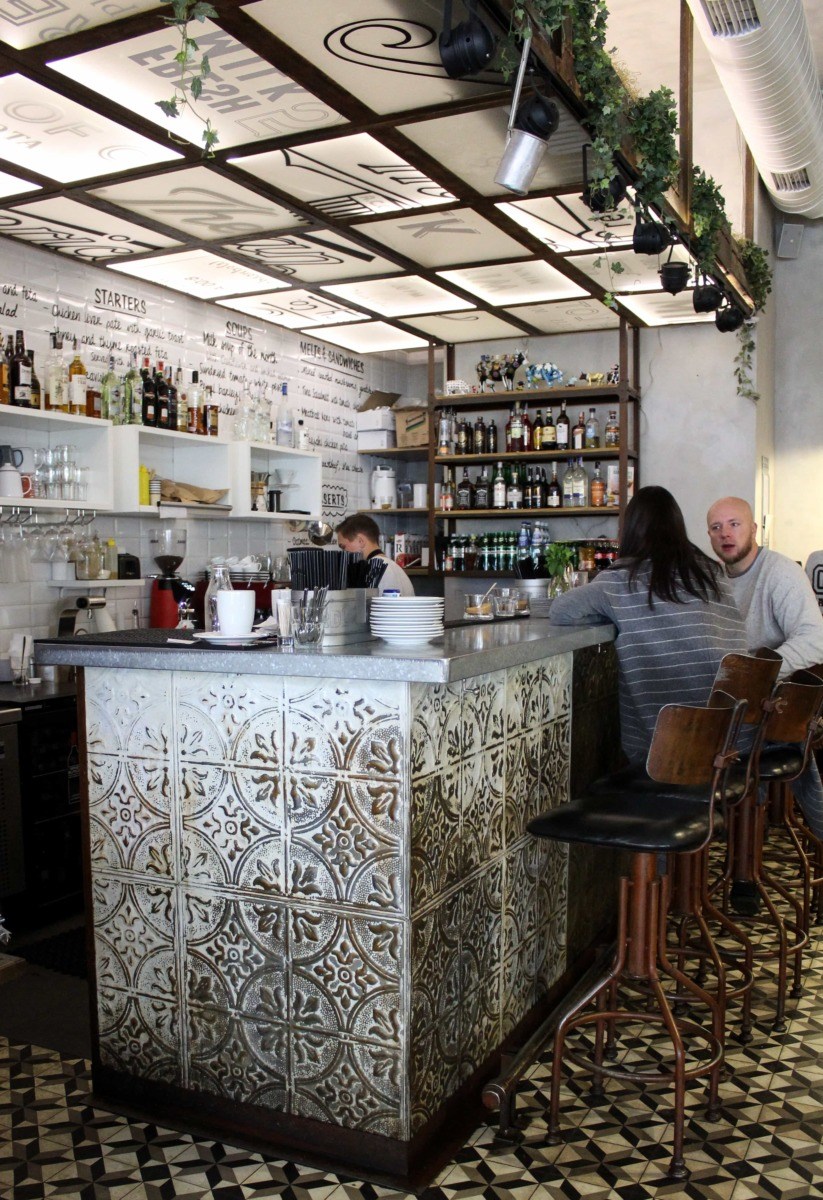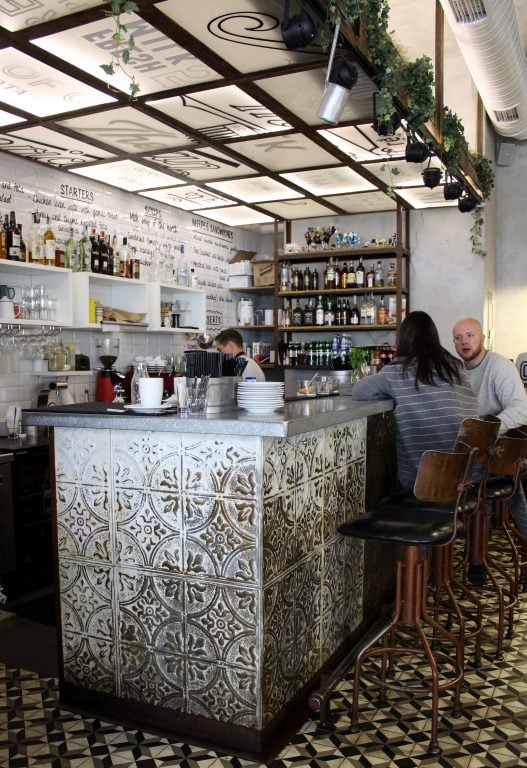 Milk Bar is located at Shota Rustaveli 16 and can be accessed easily via Metro station Palats Sportu (Палац Спорту). They are open Monday-Friday from 0800-2300 and weekends 0900-2300. You can find out more about Milk Bar on their Facebook page, or Instagram.
FAIR FINCH
I don't normally put places on these guides that I haven't checked out myself, but I would be doing a huge disservice to the Kiev coffee scene if I left Fair Finch off of this list. I was on my way there when I got caught up at a craft beer pub and never exactly left (sorry Fair Finch)! I was set to head back there on my last day when I ended up ill. So, my debut at Fair Finch will have to happen on a future trip. I have heard nothing but amazing things about the place… so if you're in the Podil area of Kiev, be sure to stop by and let me know how it is!
Fair Finch is located at Vozdvyzhens'ka 45-49 and is situated between a few Metro stations (map above can assist). They are open Monday-Sunday from 1000-2100. You can find out more about Fair Finch on their Facebook page or Instagram.
FIRST POINT
Also in the Podil neighborhood of Kiev is First Point, a cafe owned by a woman who traveled to Australia and brought her love for coffee back to Ukraine with her. I must admit that First Point was last on my list of places to check out in Kiev this most recent trip as it was the farthest away from where I was basing myself in the city.
I actually ended up at the nearby Metro station and wanted to check out a craft beer bar which, fortunately, didn't open for another hour upon my arrival. This gave me the time I needed to venture over to First Point. I am so glad I made it there because it really was one of my very favorite cafes in the entire city. It is actually a cafe that I could see myself frequenting daily if I lived in Kiev.
First Point offers a quaint, but ultra cool coworking and cafe environment. It is rather spacious compared to many businesses around and in Podil. And the prices are completely affordable. I paid 49 UAH, or $1.90, for a flat white there. I would have ordered a pourover but the barista working was very busy and seemed to be mostly alone at this point of the day… so I didn't want to burden him with such. I definitely can't wait to head back there next time I am in the Ukrainian capital.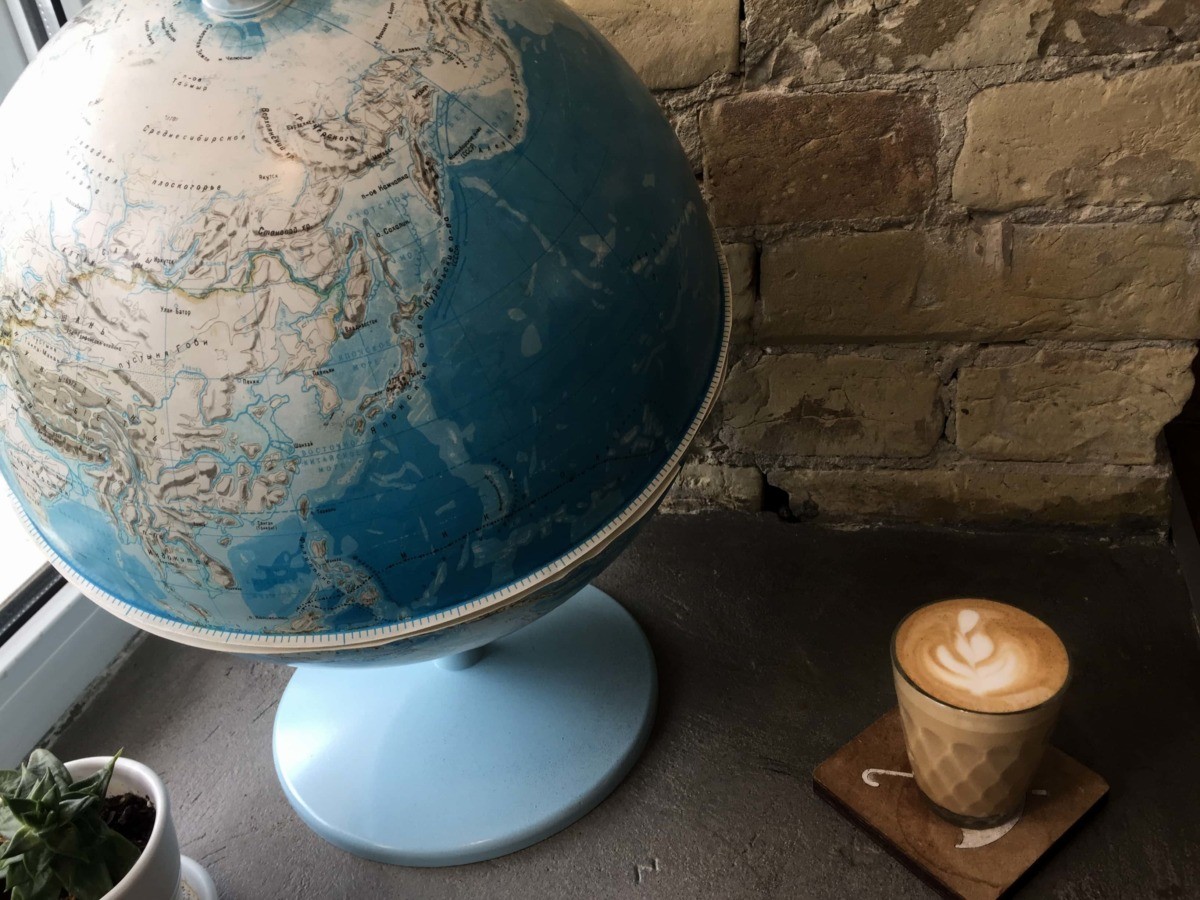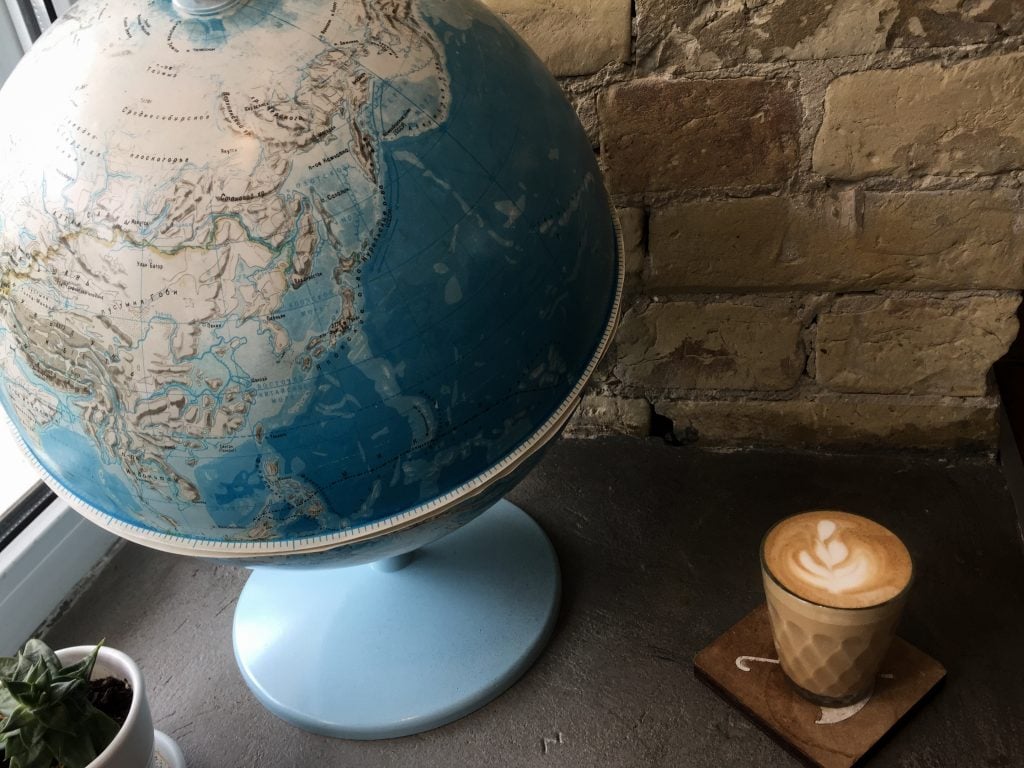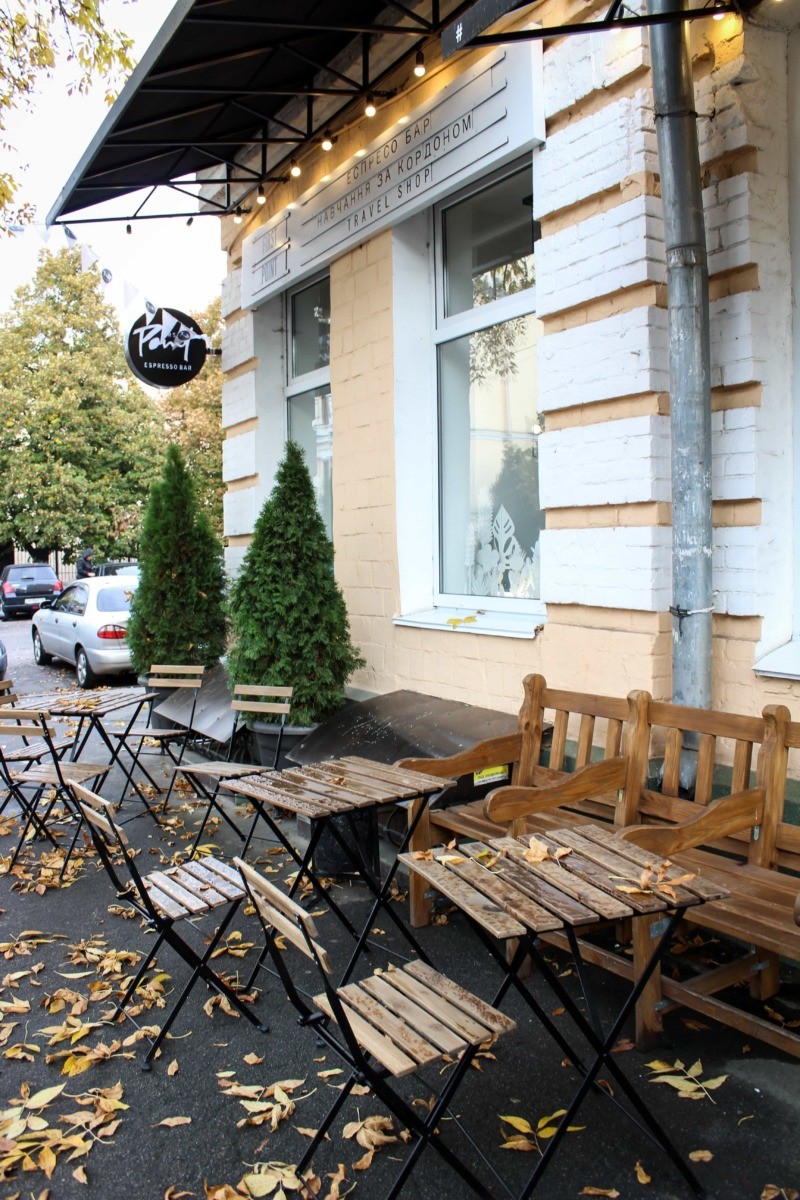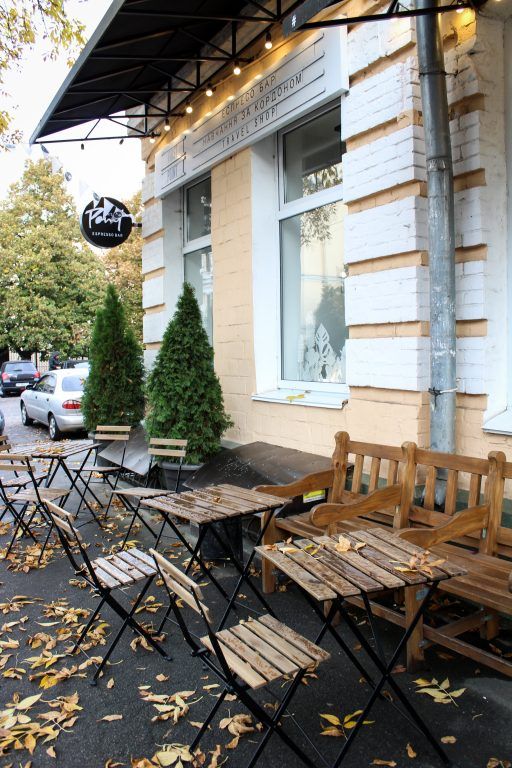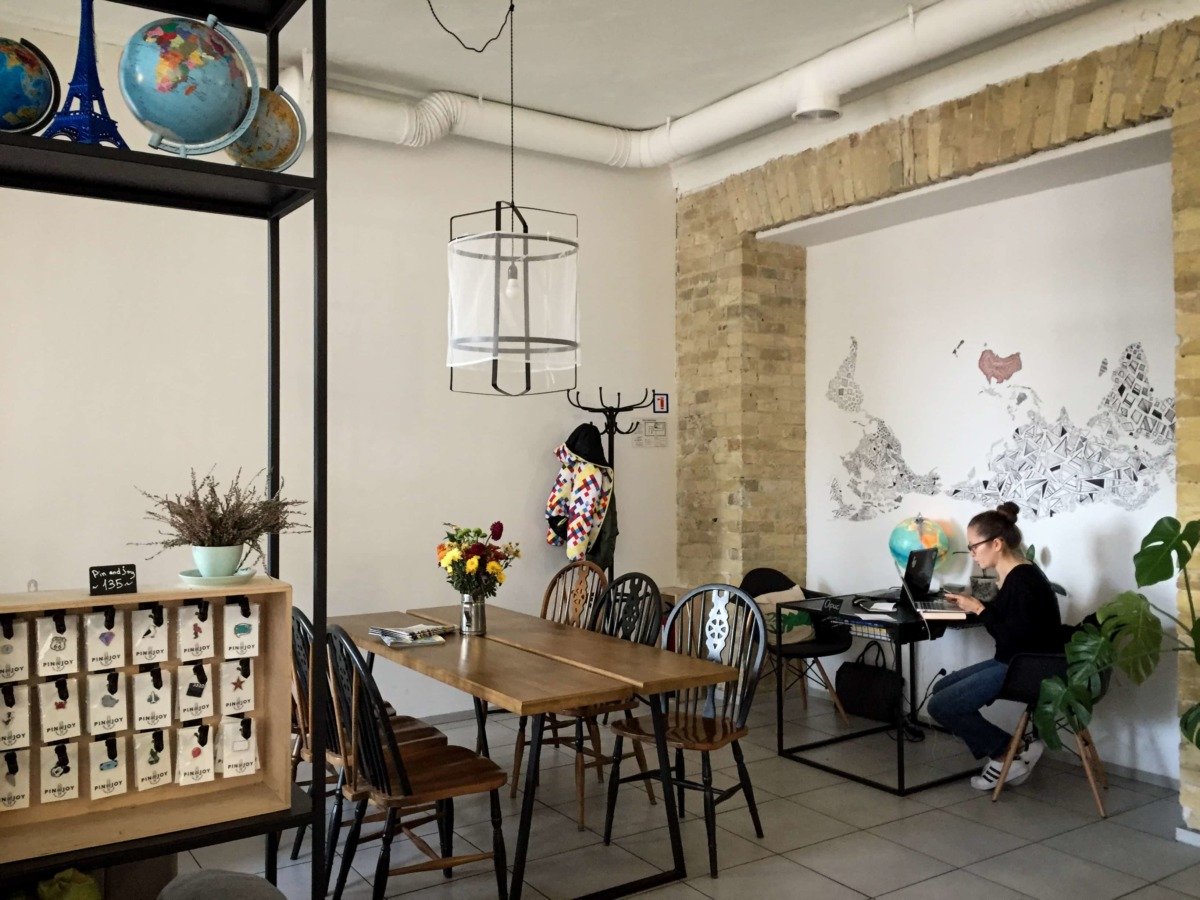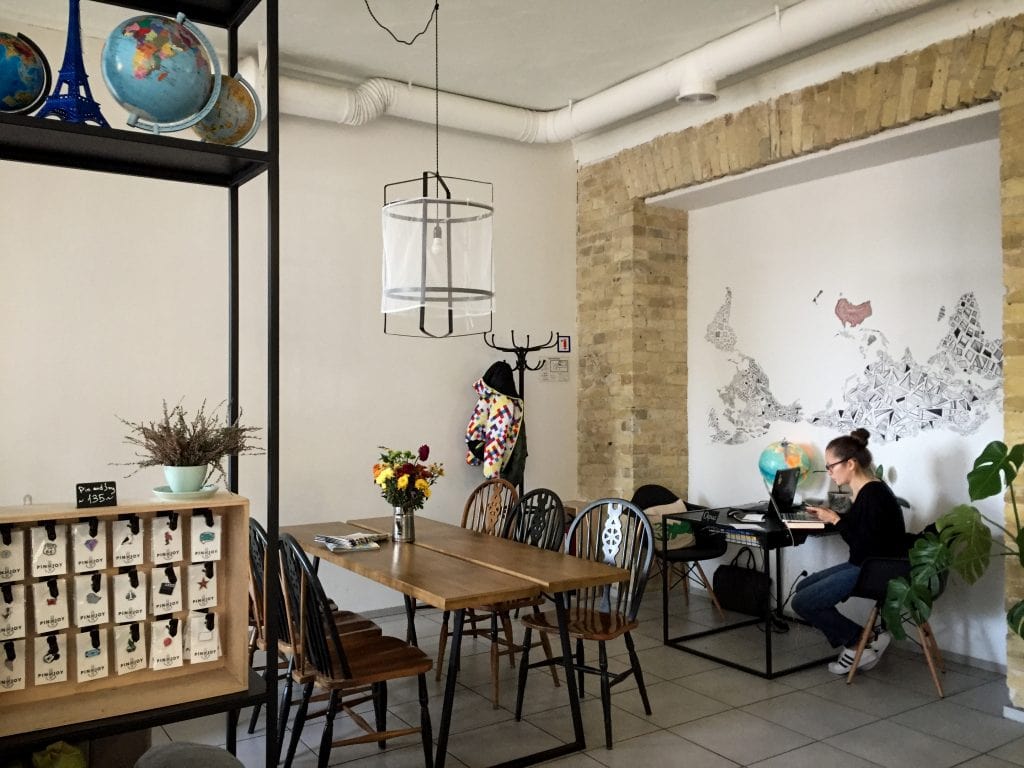 First Point is located at Yaroslavska 20/14 and can be accessed easily via Metro station Kontraktova Ploscha
(Контрактова площа). They are open Monday-Friday from 0830-2200 and weekends 1000-2200. You can find out more about First Point on their Instagram.
THE BLUE CUP COFFEE SHOP
If you're floating around Khreshchatyk and looking for stellar coffee, look no further than The Blue Cup Coffee Shop. It is a quick jaunt away and offers a peaceful atmosphere, good coffee, and animal pillows (yes, this makes a difference). I found the staff to be super friendly and helpful. I had quite a busy agenda that day and really wished I could have hung out for a second coffee. They also offer small eats, soups, and salads. For one's coffee needs, Blue Cup offers Chemex, syphon, and V60.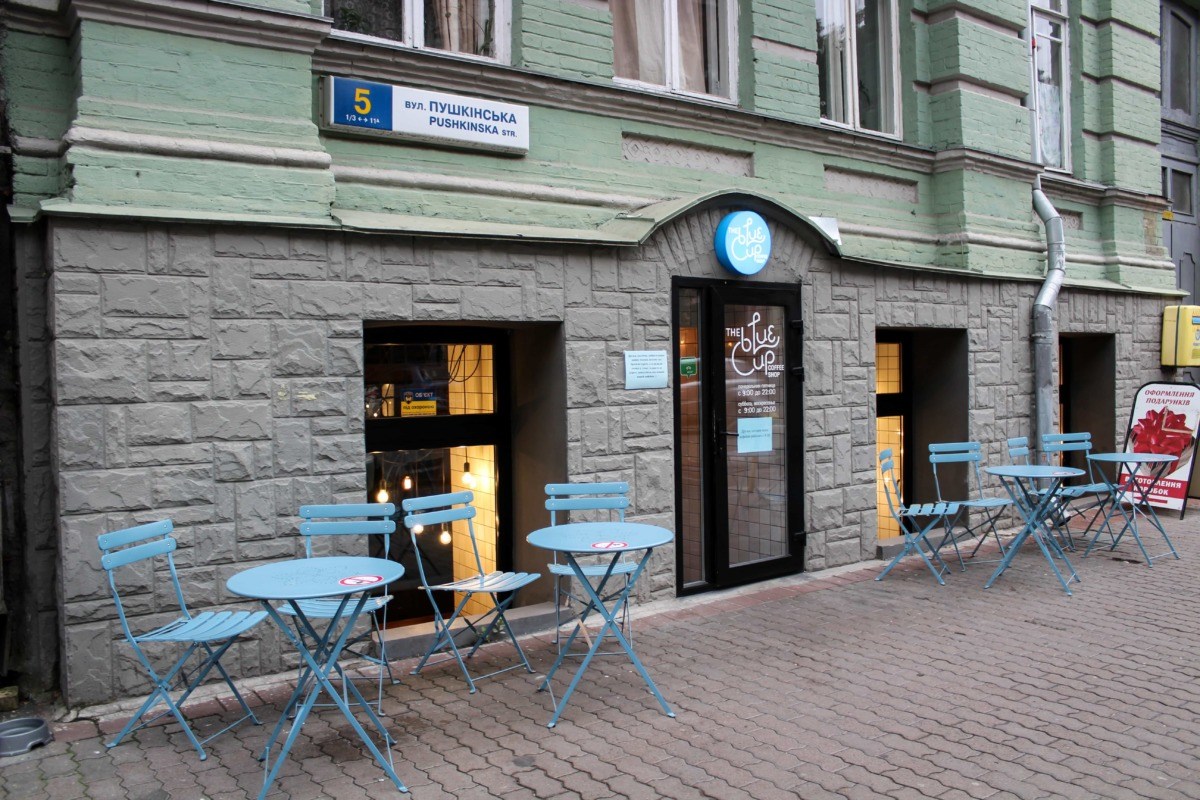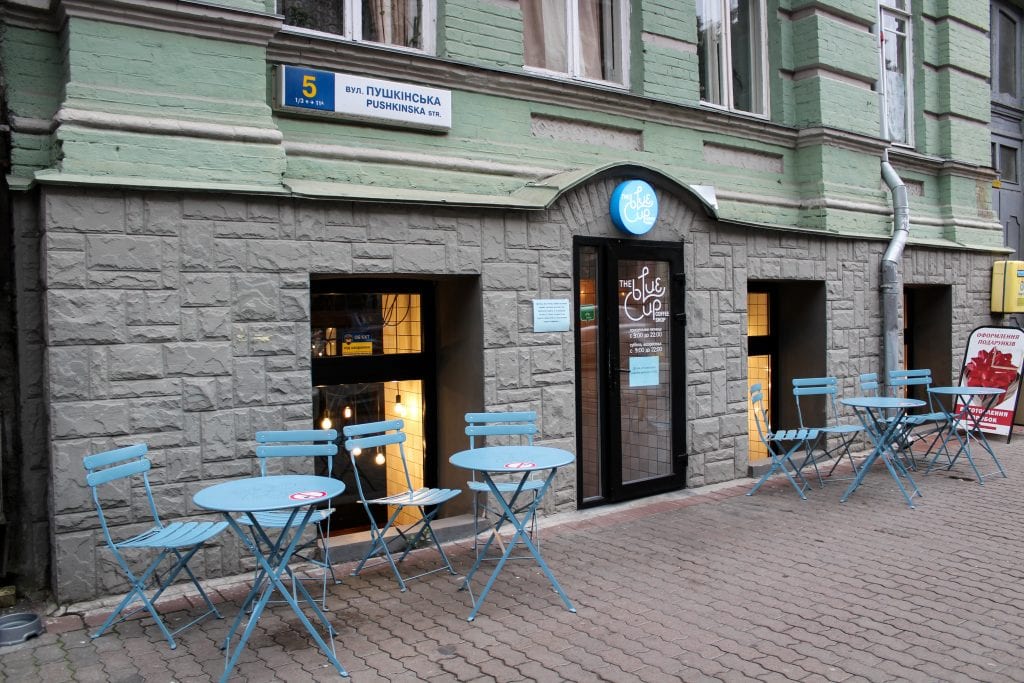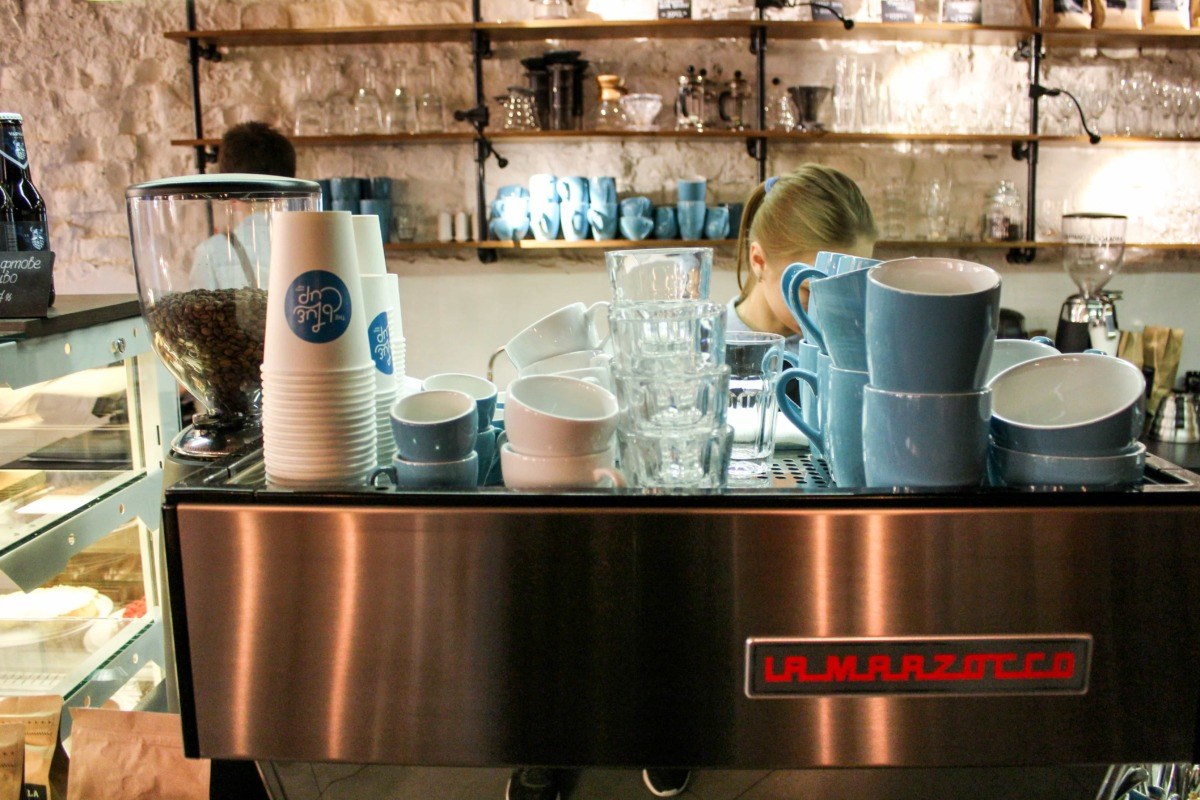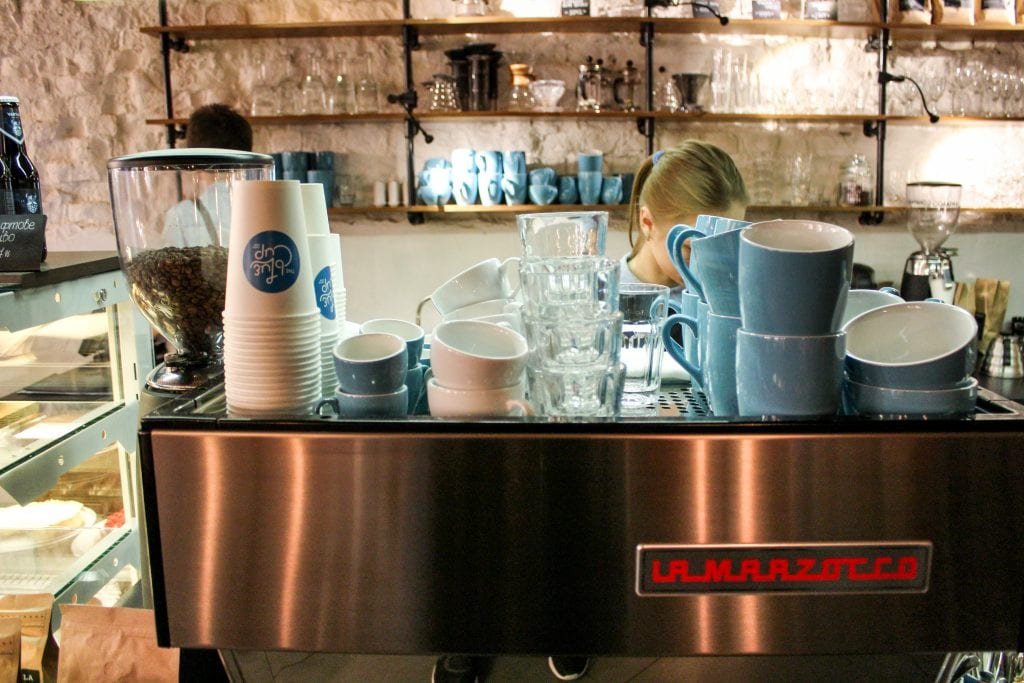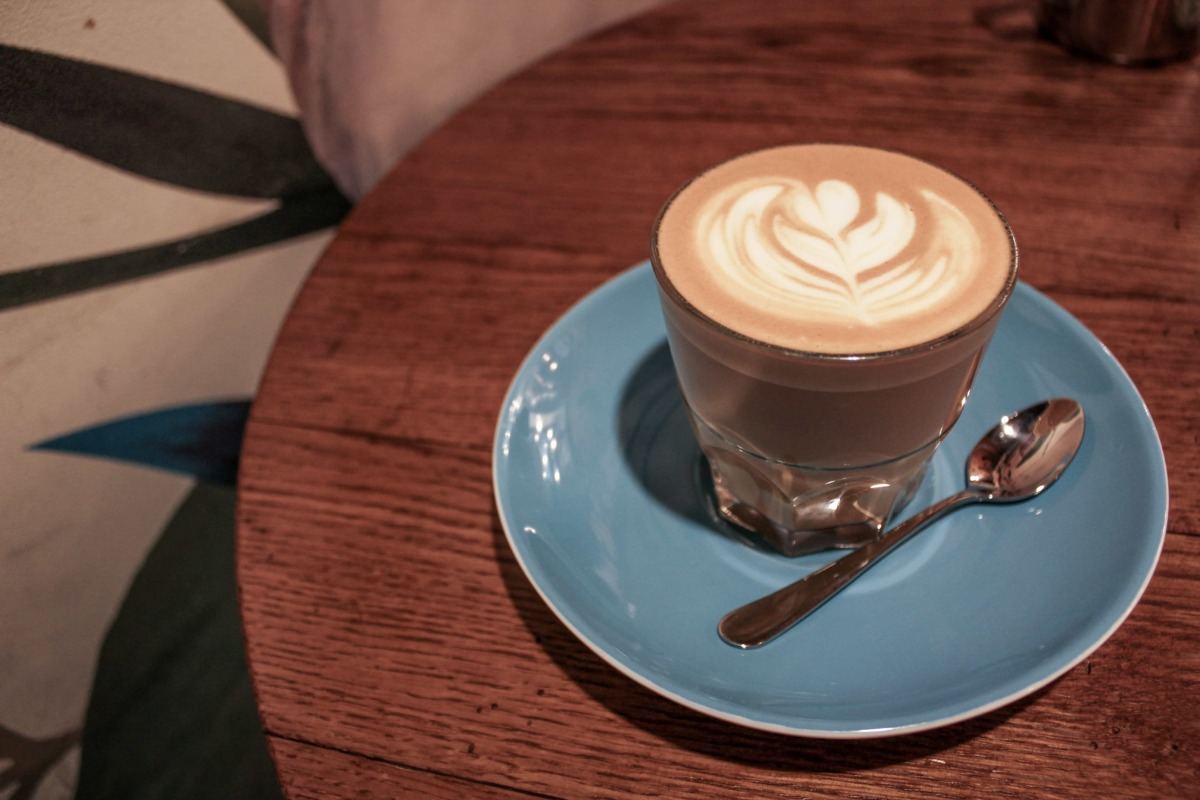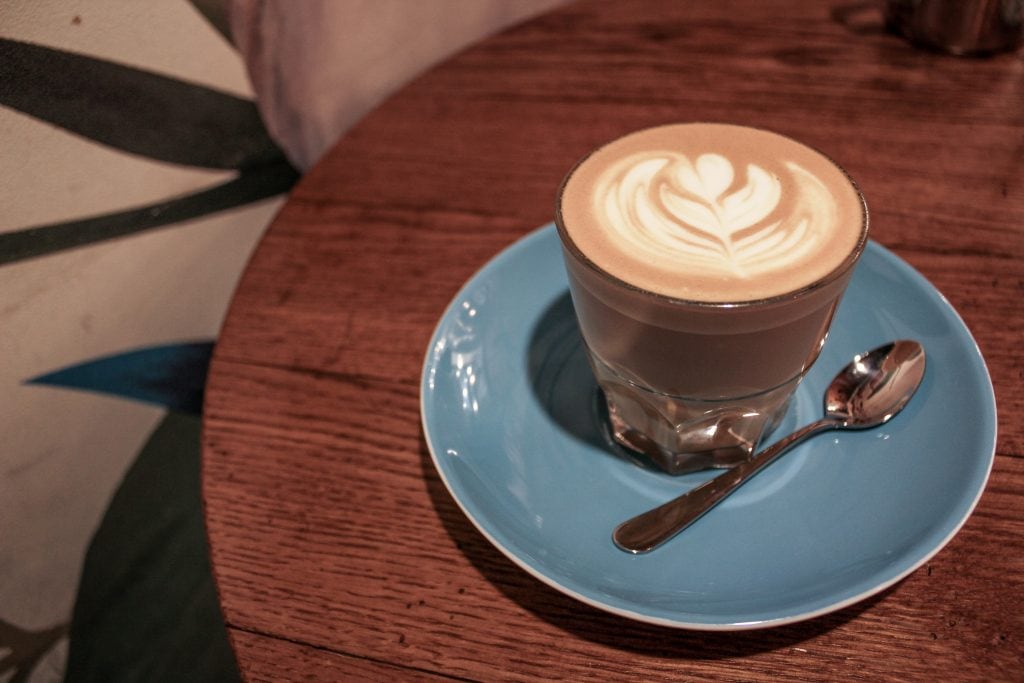 The Blue Cup Coffee Shop is located at Pushkinska 5 and can be accessed easily via Metro station Khreshchatyk (Крещатик) or Maidan (Майдан Незалежности). They are open Monday-Sunday from 0900-2200. You can find out more about Blue Cup on their Facebook page.
I am always impressed with the good coffee options that Kiev presents me with when I travel to the city… and the options seem to double or triple every time I make it back there. It is so refreshing to see such a fervorous entrepreneurial community in Kiev these days. I am already looking forward to my next trip to the city to revisit many of these establishments and check out what has popped up since my previous visit.
I know this list is hardly conclusive of what Kiev has to offer in terms of good coffee, so please leave your suggestions below if there are any other places I should check out next time I am in Ukraine. I would love to find more cafes to add to my guide to the best coffee in Kiev. Thanks so much!
Note: When I am on the road, I always bring a Keep Cup with me and an Aeropress with all of its accessories. While I love supporting local cafes and independent businesses, it can get expensive after a while if you travel as much as I do! You can shop my travel coffee kit below, including stainless steel straws for cold brews.
SHOP MY TRAVEL COFFEE KIT: