There are many things to do in the north of England – and several of them can be found as day trips from Manchester. And others, you may need to escape a little further!
Are you planning your trip to Manchester last minute?
If youʻre booking your trip to Manchester last minute, we have you covered. Below are some of the top tours, hotels, and more!
Top Experiences and Tours in Manchester:
Top Hotels in Manchester:
CitySuites Aparthotel (Lux)
Luther King House (Budget)
If you are in Manchester and looking for a great way to while away a day or weekend, then this guide provides the best day and weekend trips from Manchester to do just that.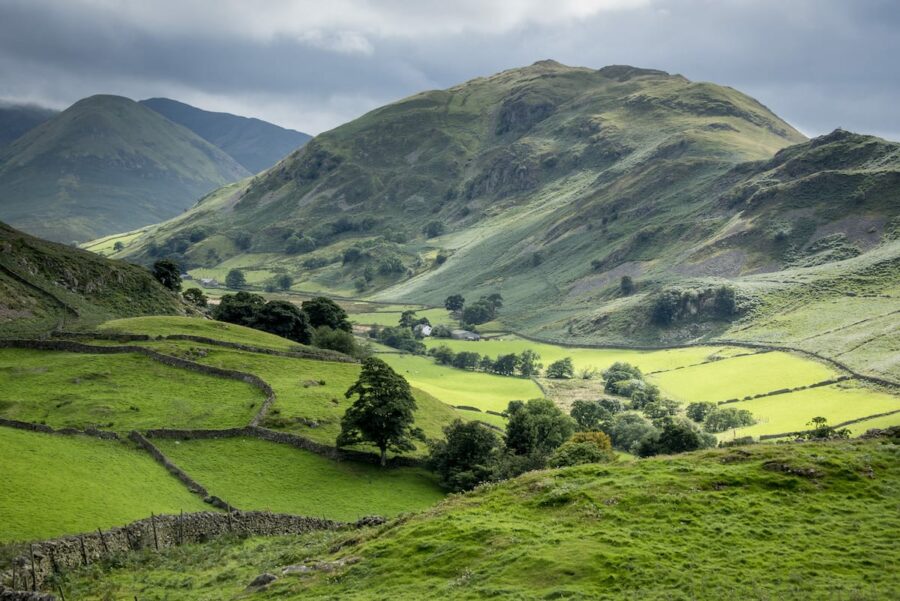 Whether you are looking for art, history, or nature, this guide should be able to whet your appetite and give you some interesting (and diverse!) ideas. And, many of these can be done during winter in Manchester or during the warmer months!
Best Day Trips from Liverpool (+ A Few Weekend Ones)
Liverpool
Distance: 35 miles
Travel time: 1 hour drive, 40 minute train ride
The first, and perhaps most obvious, day trip from Manchester would have to be to the home of the Beatles. The birthplace of the Fab Four provides a plethora of experiences and opportunities to gain insight into the life of these musical revolutionaries.
Penny Lane or Strawberry Fields are iconic spots for Beatles' fans. Paul McCartney's childhood home on Forthlin Road is well worth a visit. The house has been converted into the Beatles Shop, meaning you can buy your souvenir or memorabilia here.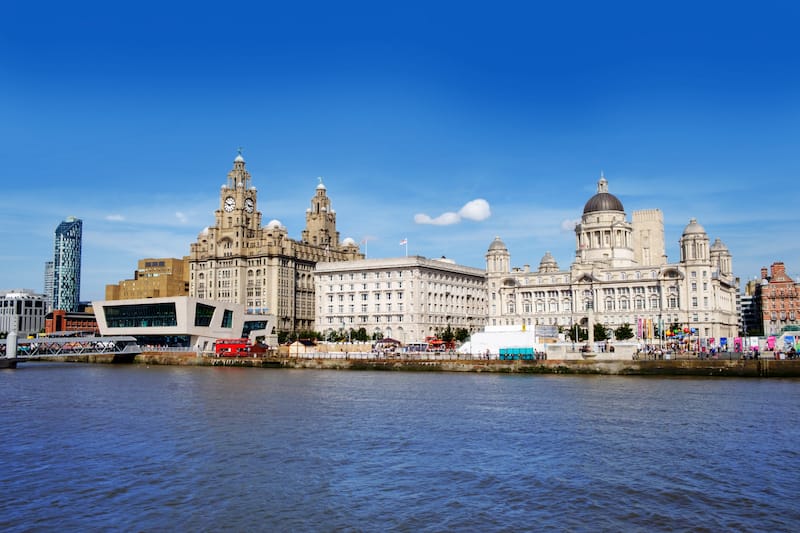 The Cavern Club in Liverpool is also worth checking out since this is where the Beatles played before catching their big break.
Otherwise, there is some incredible modern art on display at museums such as the Tate, Walker Art Gallery, and the Open Eye Gallery.
Amsterdam
Distance: 307 miles
Travel time: 1h 20m flight
Looking to travel a little further afield than with the train or your car? Thanks to the flight connections at Manchester Airport, a weekend trip to Amsterdam is totally viable. Not to mention, the car parking Manchester Airport has on offer is reasonably priced too!
This is a great choice for those wanting to experience a bit of a culture shock in one of Europe's most liberal capitals.
The Rijksmuseum, the coffee shops, or even the red light district make Amsterdam a unique experience. Lose yourself in the Jordaan neighborhood. Relish the culture in Westergas.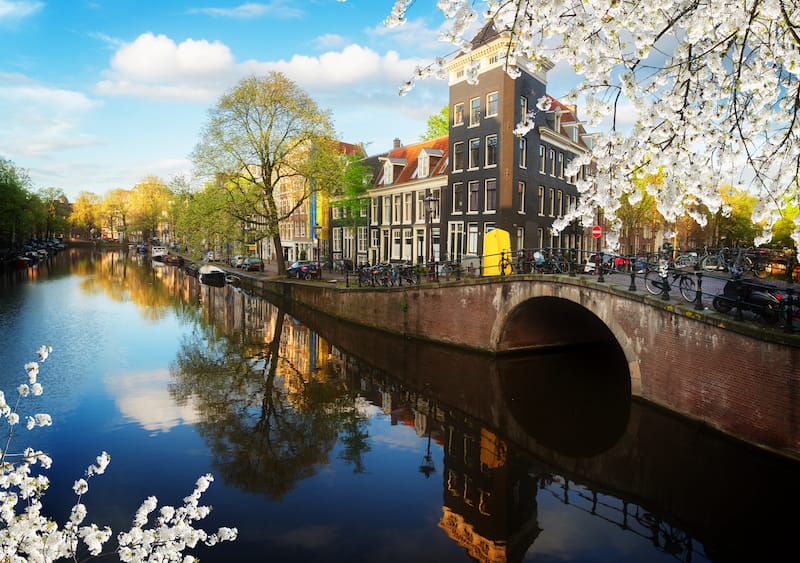 Dream of starry nights in the Van Gogh Museum. Those brave enough might want to try raw herring from a herring cart. There is something for all in this city that never sleeps. Check out this guide for first-time travelers if you want more ideas.
Peveril Castle (Castleton Village)
Distance: 29 miles
Travel time: 1h 10m drive
Those interested in history might want to consider a visit to Peveril Castle. Built by Henry the Second in 1176, there are some incredible views to be had from the top of the hill. Otherwise, you can explore the remains of the castle keep.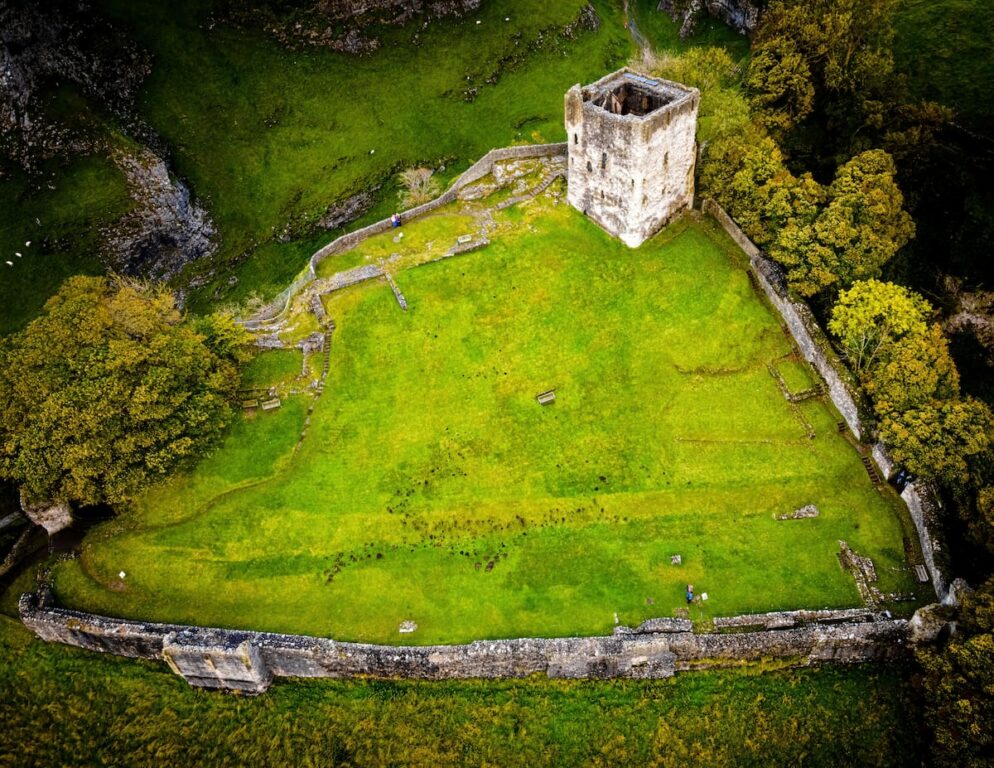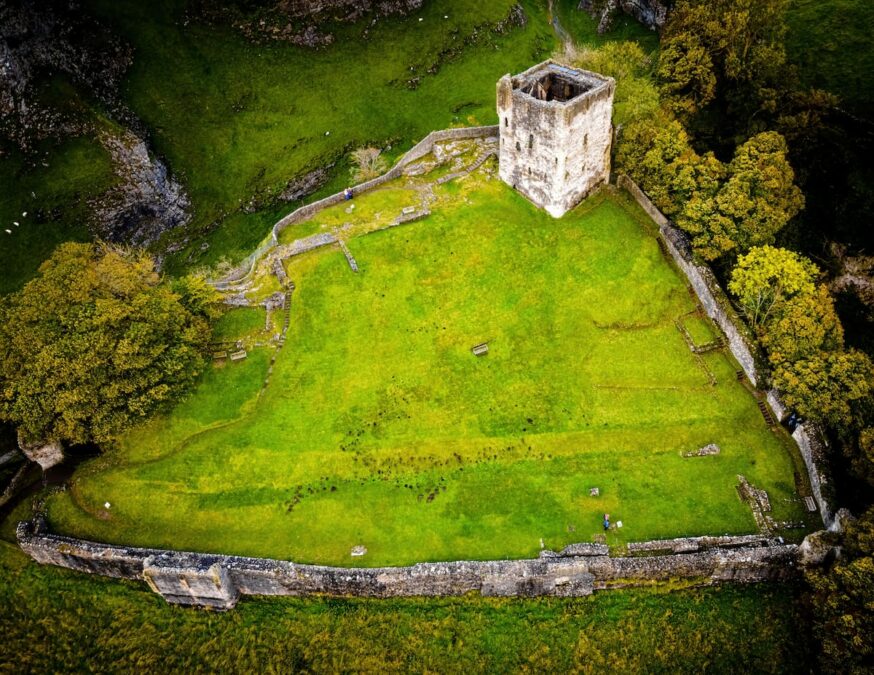 The royal hunting preserve that surrounds the castle will provide you with some great trails to walk to. You can explore the caverns in the region such as the Poole's Cavern and the Peak Cavern.
There is also plenty to see in the idyllic village of Castleton, where walks through the town give you an enchanting view of its past.
Jacob's Ladder Walk (Edale)
Distance: 29 miles
Travel time: 1h 10m drive, 45 minute train ride
For those interested in hiking, Jacob's Ladder near Edale is an incredible trail to do. It features beautiful vistas across the English landscape and its rolling hills.
It provides the highest point in the national park. There are multiple options for those with differing levels of experience in hiking, all ranging from 8 to 10 miles.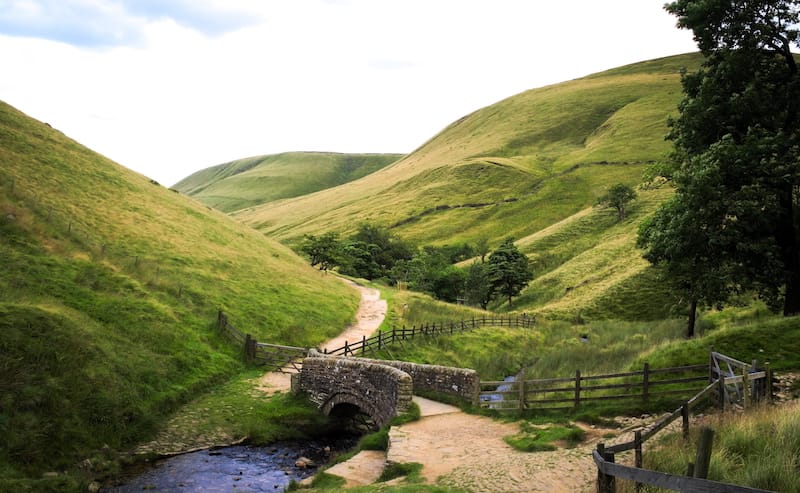 There are also two pubs and a café that can be found along the route, where you can enjoy a fresh brew.
The Edale train station makes this a very accessible day trip.
Dublin
Distance: 165 miles
Travel time: 1h 5m flight
Maybe you are in the mood for some live music and Guinness. Then Dublin is an excellent choice for a weekend getaway.
It's easy to catch a flight from Manchester across the Irish Sea to this little European capital. And if you need help looking for parking at the airport, you can check out Parkhero.
Dublin may be small, but there is plenty to do here.
You can visit the largest cathedral in Ireland, St. Patrick's Cathedral. This cathedral's namesake will be familiar to many and was founded in 1191 on the spot where St. Patrick baptized many a convert.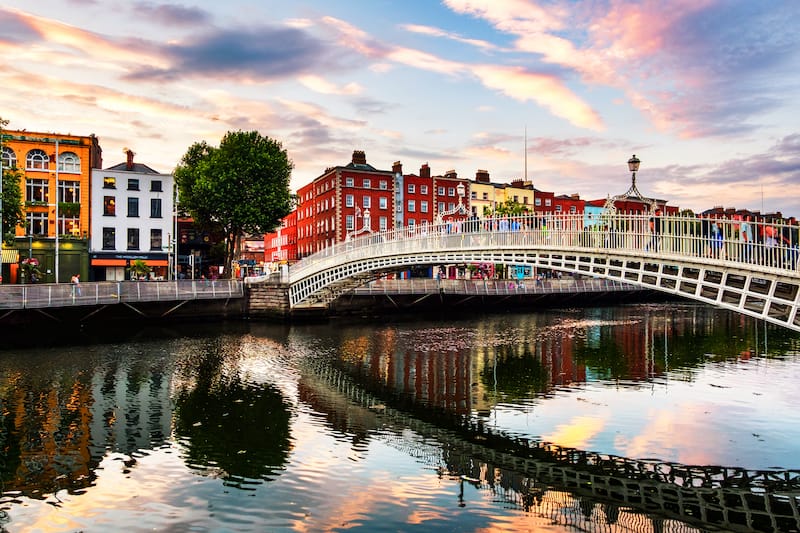 Trinity College, Ireland's oldest university is well worth a visit as well. Home to the famous Book of Kells since as far back as 1661, the Old Library inspired J.K. Rowling in writing Harry Potter with its 200,000 ancient books preserved among its shelves.
Grafton Street is the place to go for those who want to hear music. Featuring some great buskers, there is a wonderful musical blend to be found.
Speaking of blends, you might be inclined to try some Irish whiskey here as well. Teeling Distillery is recommended if you would like to witness the distilling process in action while tasting.
Massive Tudor Mansions in Stockport
Distance: 7 miles
Travel time: 30 minute drive, 10 minute train ride
Dating back to the Middle Ages, these mansions stand imposingly over their impeccable green gardens. One of the better-known ones is Bramall Hall.
This mansion will take you back in time as you wander the halls decked with 16th-century paintings. The Victorian Kitchens and Servants' Quarters also provide a fantastic snapshot of life in a different time.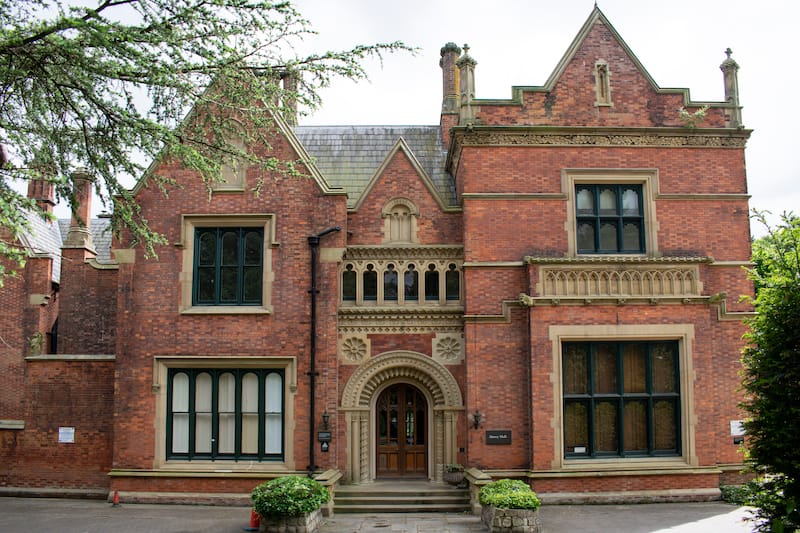 Alternatively, you can meander through the woodlands that surround the mansion. With 70 acres of parkland, you will have plenty to explore as you cross babbling brooks and streams.
Lovell Telescope
Distance: 23 miles
Travel time: 45 minute drive
The telescope which makes up a part of the Jodrell Bank observatory in Macclesfield used to track probes traveling to the moon in the 50s and 60s. The third-largest steerable dish radio telescope in the world measures in at an astonished 250 feet across.
On a clear day, you can even see this behemoth from some of Manchester's taller buildings.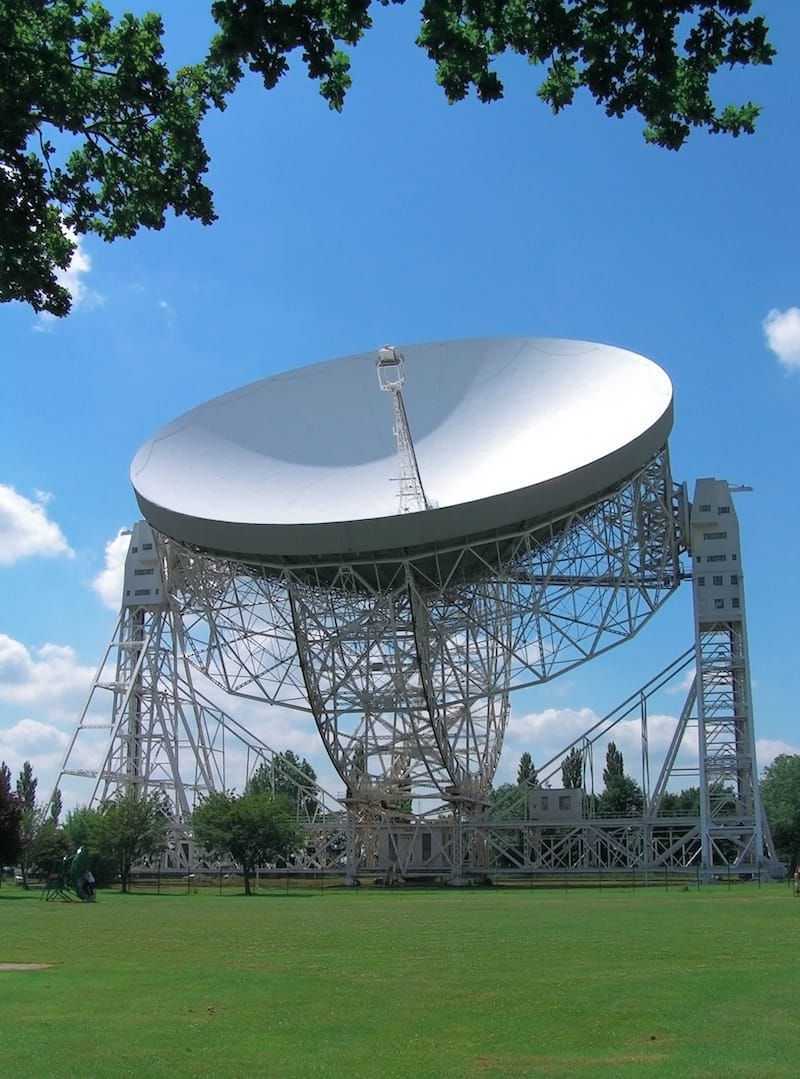 The museum in the observatory is very reasonably priced and gives a good insight into the space race, the observatory's discoveries and is capped off with a very enjoyable space show.
There is also a café with excellent food and some gardens to enjoy.
Blackpool Seaside Resort
Distance: 50 miles
Travel time: 1h 10m drive, 1h 15m train ride
There is no end to activities in Blackpool. Whether you are looking to walk along the coast, explore the beaches, visit the three unique piers, or even ride a rollercoaster, there is something for everyone here (which is why it is one of the best weekend getaways in England)!
Blackpool Pleasure Beach near the South Pier has a whole theme park squeezed into a tight space, allowing you to rip through the skies in this iconic location. If it's a hot day, just up the road is the Sandcastle Waterpark. This is an ideal destination for families.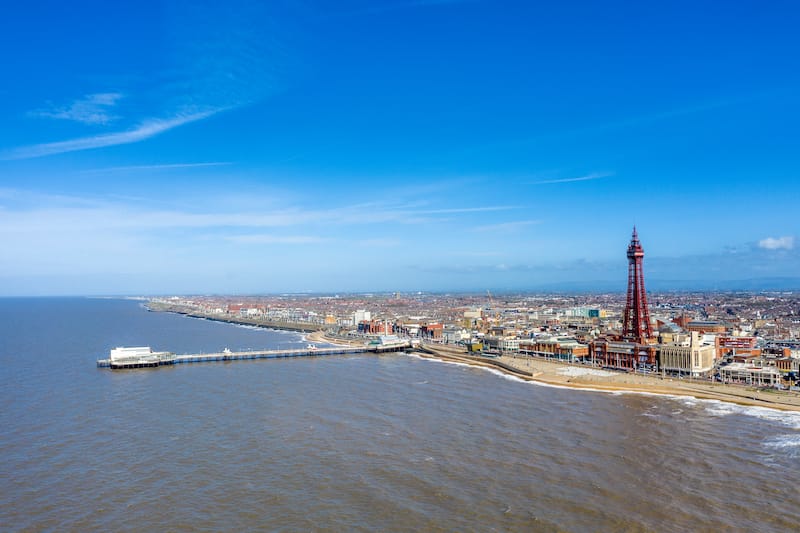 The central pier has a much calmer Ferris wheel with a funfair on it. Near this pier, you can also find the famous Madame Tussauds wax museum if you feel like rubbing shoulders with some celebrities.
The North Pier has a wide variety of activities too. You can visit the arcade, theatre, or just enjoy the picturesque view of the sun setting on the Irish Sea in one of the many cafes, bars, and lounges.
Styal Country Park, the Quarry Bank Mill, and The Ship Inn
Distance: 12 miles
Travel time: 30 minute drive, 50 minute train ride
Are you looking for a lackadaisical walk through the English countryside? Then Styal Country Park might be the right choice. The steep valley stretching through the Styal Woods feels like something out of a novel.
On a hot day, you can even cool off in the River Bollin. While the walk certainly isn't the longest (only 2 hours at a relaxed pace), you will still find plenty to do in the area.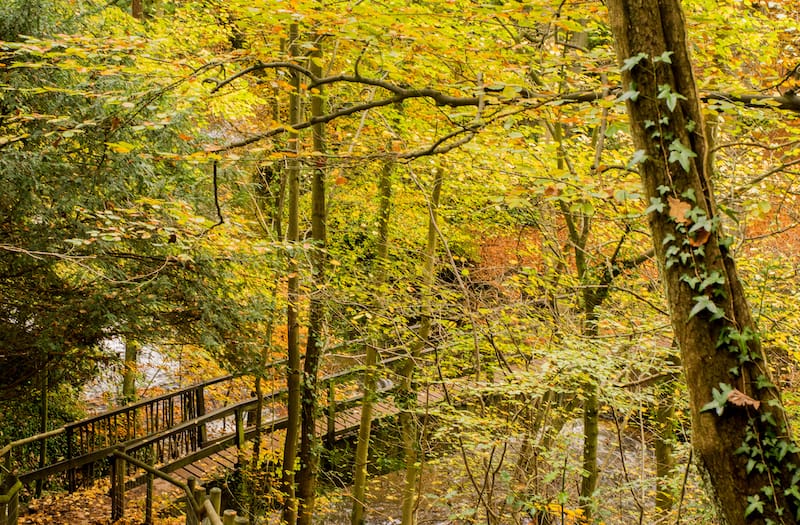 The Quarry Bank Mill offers an exciting opportunity to explore the history of the cotton industry as well. It offers a unique insight into the use of child labor during the Industrial Revolution as well as the links to the slave trade and British colonialism.
This is a fantastic option for people traveling with families.
Those who enjoy television might recognize aspects of the TV series The Mill. This is because the series is based on the Quarry Bank Mill.
Last, you can find some fantastic food and drink at the local pub known as The Ship Inn, which can be found at the start and end of the walk.
York
Distance: 72 miles
Travel time: 1h 40m drive, 1h 40m train trip
Those who enjoy a good ghost story will enjoy a day (or night) out in York. Known for haunted houses and grim and bloody history, there are plenty of ghost and haunted tours that can be found in the city.
Others might prefer delving into the Roman history of this city. With sites such as the Multangular Tower and the Anglian Tower showcasing the Roman influence on this city, some might be surprised to discover that the city began its life as a Roman fort.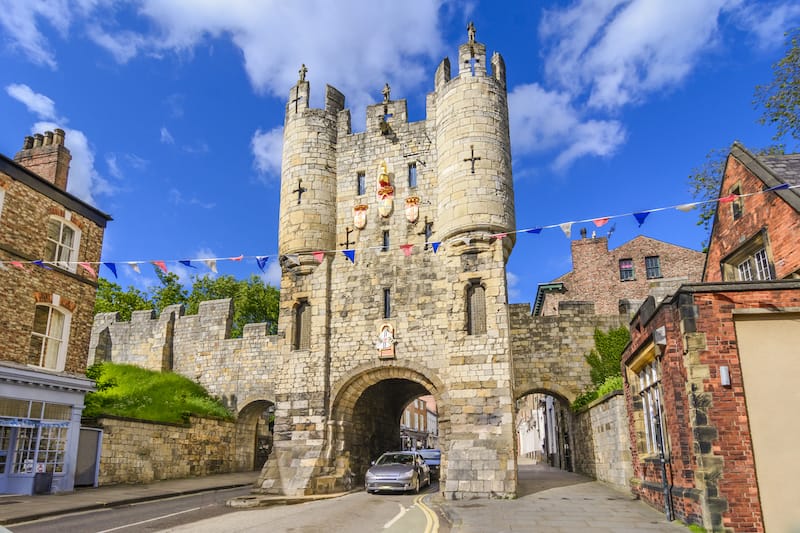 In fact, you can see where the fort walls stretched, as it is demarcated on the streets of York. Other Roman attractions include a Roman bathhouse and a Roman column.
There are plenty of sculptures and artifacts that can be found throughout the Yorkshire Museum for those interested.
Those interested in trains might also want to pay a visit to the National Railway Museum.
Dunham Massey Hall's Gardens and Deer
Distance: 12 miles
Travel time: 40 minute drive, 1h 15m train trip
Dunham Massey Hall and the surrounding parkland make it an excellent choice for those looking to escape the hustle and bustle of the city.
With plenty of space to enjoy a relaxing walk, you can relish the natural beauty of Britain's largest winter garden. There are over 700 plant species that exist in these gardens.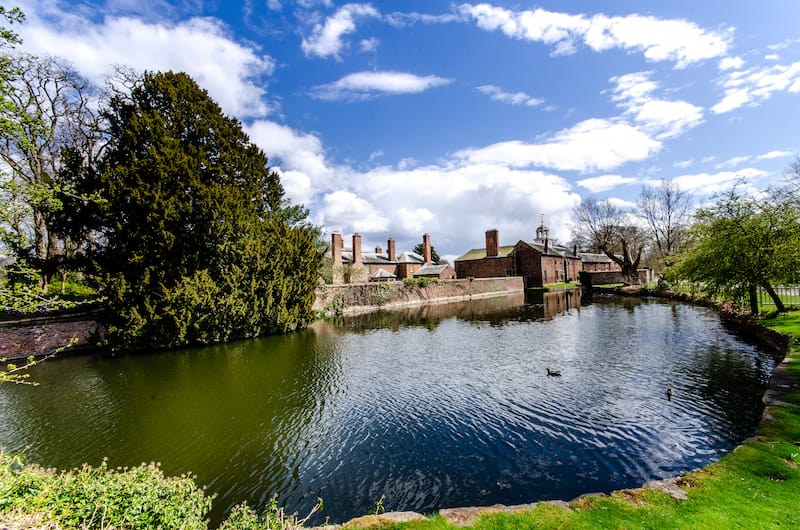 There is also a deer park, meaning that you can enjoy a glimpse of the wildlife in the area. This 300-acre park actually dates all the way back to medieval times.
The Hall itself stands majestically and sports a colorful history as well. Originally founded in the 17th century, the building has also been used as a military hospital during World War I.
Ashton-under-Lyne
Distance: 7.5 miles
Travel time: 30 minute drive, 40 minute train ride
Ashton-under-Lyne has loads of attractions and sights worth seeing and caters well to families.
For the history buffs, there is the Museum of the Manchester Regiment, a highly rated military museum detailing the stories of soldiers who were part of the Manchester Regiment throughout its two hundred years of service.
Highly educational, this is a good place to take children for the day.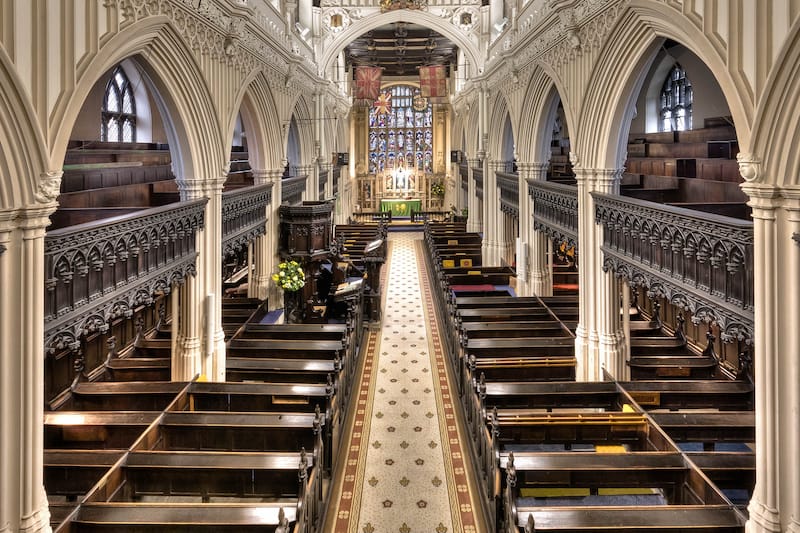 Another museum to visit is the Portland Basin Museum. This museum does a great job of portraying the social history of the Manchester area. Housed in an old canal warehouse, it also does a good job of showcasing the industrial history of the area.
If you are looking for something more natural, then Stamford Park should be on your list of things to see in Ashton-under-Lyne. The park is clean and offers a fantastic spot for a picnic.
Isle of Man
Distance: 102 miles
Travel time: 50 minute flight
Best known for the frantic races that occur across the island in the early stages of summer, Isle of Man is a great getaway for the weekend.
If you go for the Isle of Man TT, you will get to see motorcycle riders haring along 37.7 miles of public roads at hair-raising speeds. This frenetic event is not the only thing that should be on your radar when it comes to this island though.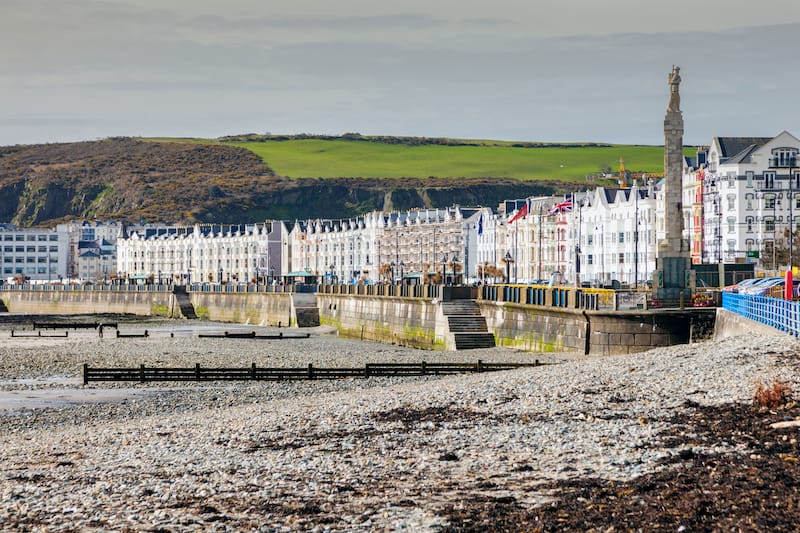 Those interested in history will want to take time to visit the Viking ruins and museums dotted around the island. Peel Castle, Castle Rushen, and Tynwald Hill are all a must when visiting the Isle of Man.
The House of Manannan has a detailed history of the Viking invasion. Manx Museum is another museum worthy of your perusal, as you can see Viking artifacts and treasures.
If you are looking to see the natural beauty on offer, then a visit to Glen Helen and the Road of the Gull are absolute musts. With a bit of luck, you might even see some seals resting on the rocks around the coastline of the isle.
Dunnottar Castle (Aberdeen)
Distance: 254 miles
Travel time: 1h 15m flight
Known as the "Granite City", many will be surprised that Aberdeen is also known for its art scene. This mainly stems from the incredible murals that can be found dotted around the city.
These murals tower above the granite jungle below them and are a result of the Nuart Aberdeen Festival. These began in 2017 and have been taking place since.
Internationally renowned artists are invited from around the world to reimagine the grey city's landscape with their brushes and spray cans.
A second street art project has been going on in Aberdeen known as Painted Doors Aberdeen. This began in 2016 with 12 artists who were invited to paint doors in the side streets throughout the city.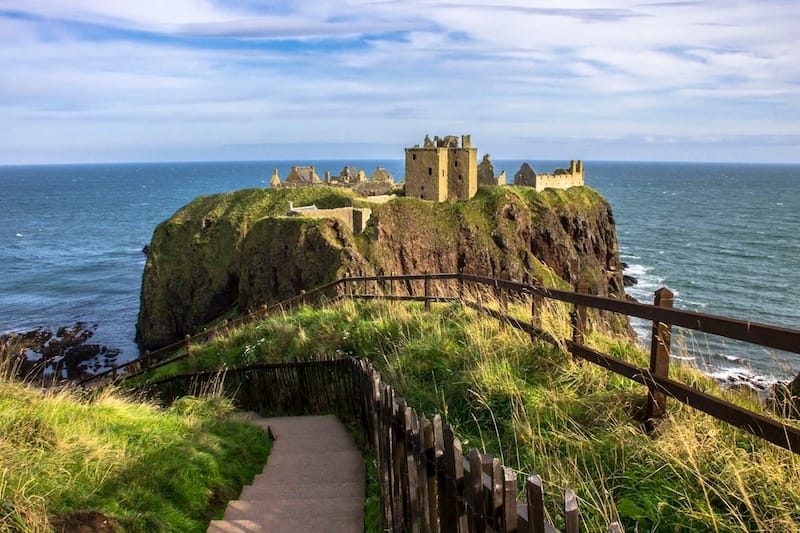 Aberdeen has some fantastic seafood on offer. This is showcased by a variety of restaurants found in this port city. Once you have had your fill of fish and seafood, there is also a bustling nightlife if you fancy a pint or two out on the town.
Lastly, you can find Dunnottar Castle further along the coast if you fancy a walk to cure your hangover.
Surrounded on 3 sides by the North Sea, this cliff-top castle stands strong in the face of the winds and waves battering it and is certainly a striking sight for those willing to make the walk.
Congleton and the Little Moreton Hall
Distance: 36 miles
Travel time: 1 hour drive
Congleton has several attractions but is perhaps best known for Little Moreton Hall, sometimes known as Old Moreton Hall. It is striking in that it has irregular angles and looks top-heavy.
This is as a result of the house being gradually built over the 16th and 17th centuries by the Moreton family. In addition to its wonky angles, Little Moreton Hall is said to be haunted by a grey lady.
This Tudor mansion is a perfect day out with the family as children can enjoy the odd shape of the building, while the parents bask in the history of the place.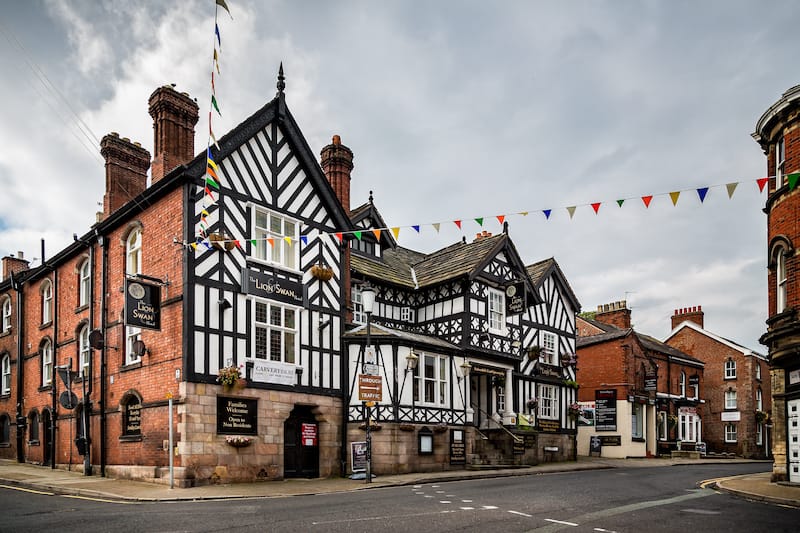 Congleton is also home to the Glebe Farm Astbury, where one can enjoy a wide assortment of foods and delicacies at its various stores. Whether the coffee shop, the fishmonger's, or the butcher's, there is something for everyone.
The Astbury Mere Country Park provides a nice area where you can walk off all the food from the farm. This park used to be a sand quarry, but now offers pretty walks around the lake that came to be after the quarry was filled in.
The Lake District
Distance: 74 miles
Travel time: 1h 30m drive
A dream come true for those looking for diverse hikes and bike rides, the Lake District and its gorgeous scenery are sure to take your breath away. 3100 kilometers of trails lie before you, meaning this is a great destination to visit repeatedly.
For nature lovers, this is THE day out from Manchester.
If walking and biking isn't your cup of tea, you can also hire a boat or take a boat cruise. And in warmer weather, the pristine water hosts some wonderful swimming spots.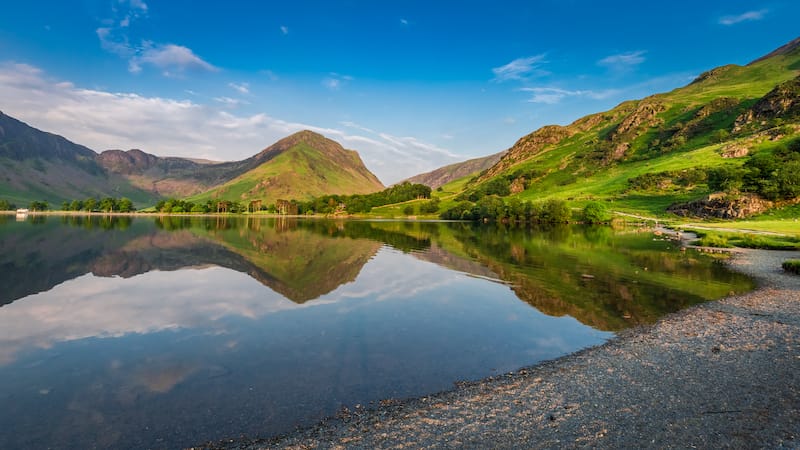 If you stay a little longer, you'll privy to some of the best stargazing in the UK. The total lack of light pollution makes it feel like you're floating through the cosmos as the skies light up with billions of brilliant points of light.
Knutsford and Tatton Park
Distance: 19 miles
Travel time: 40 minute drive, 45 minute train ride
Tatton Park is a beautiful place to visit. Featuring a Japanese garden, an Italian garden, a farm, and a medieval manor house, this historic estate has activities and sights for all ages.
Whether you are looking to go for a short stroll through the splendiferous gardens or attend the renowned Royal Horticultural Society's flower show, this is the place to go in Knutsford.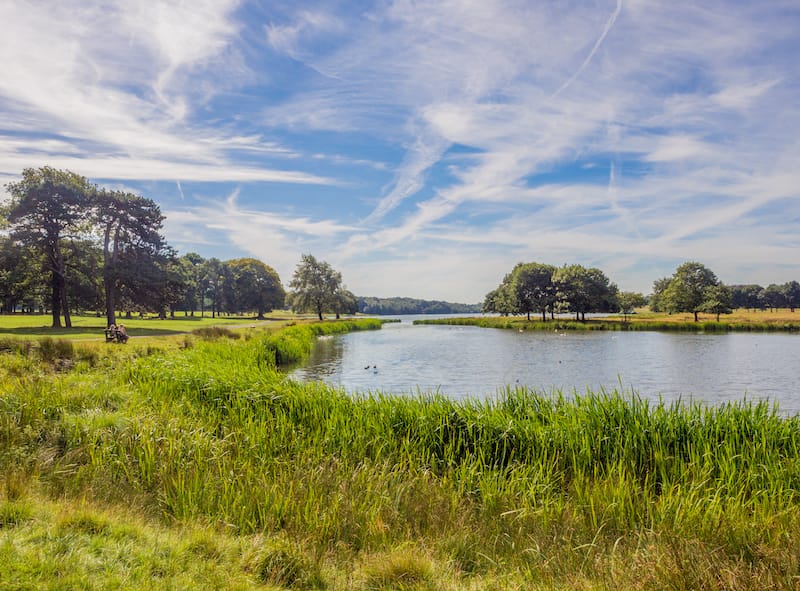 If you are looking for something a bit more exotic and exciting, then the Gauntlet Birds of Prey – Eagle & Vulture Park in Knutsford is the place to go. Here you can witness all kinds of large birds of prey, making it an exciting choice for birdwatchers and children alike.
Bury Market (and Art Scene)
Distance: 12 miles
Travel time: 35 minute drive, 40 minute train ride
The Bury Market is a large market that has won multiple accolades and awards. Open all day (10 – 18) on Wednesdays, Fridays, and Saturdays, it is a great place to visit if you want to find a deal or simply peruse the items on sale.
With over 350 stalls, the atmosphere is eclectic and something well worth seeing.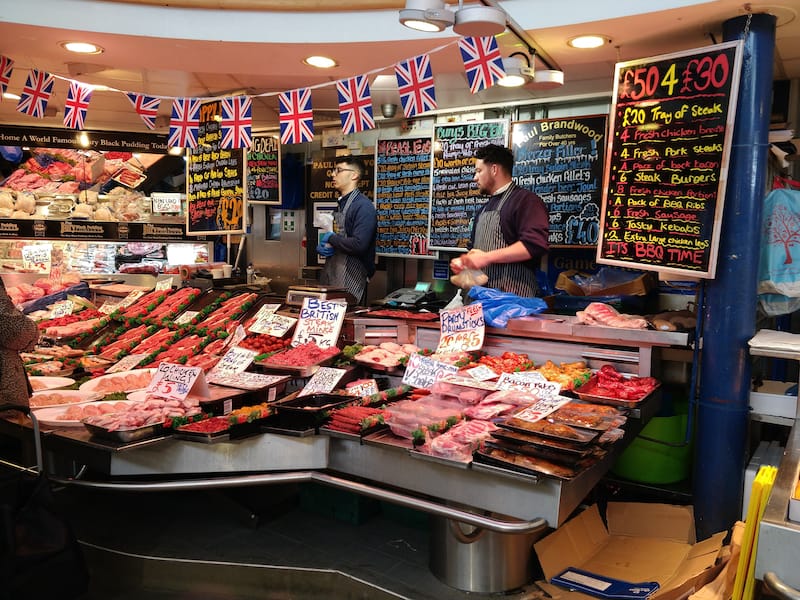 The Bury Art scene is also worth noting, with the Bury Art Museum showcasing many different styles and varieties of art including some fascinating Victorian oil paintings. It also has a sculpture center.
For those mechanically inclined, there is the Bury Transport Museum. For those more interested in the history of war, there is an eye-catching Fusilier Museum.
Paris
Distance: 376 miles
Travel time: 1h 30m flight
Who doesn't dream of a romantic getaway with their partner on the streets of Paris? The city of love is famed for its beauty and offers a perfect escape for the weekend.
With so much to do and see it is difficult to decide what you should do in Paris, but this should help you.
A trip up the Eiffel tower should be done by everyone who visits Paris at least once. But another experience that will give you an even better view of the city, and indeed, of the Eiffel tower itself, is a trip up the Montparnasse skyscraper.
Despite the fact that it has been voted the second-ugliest building in the world, the view from the observation deck is world-class.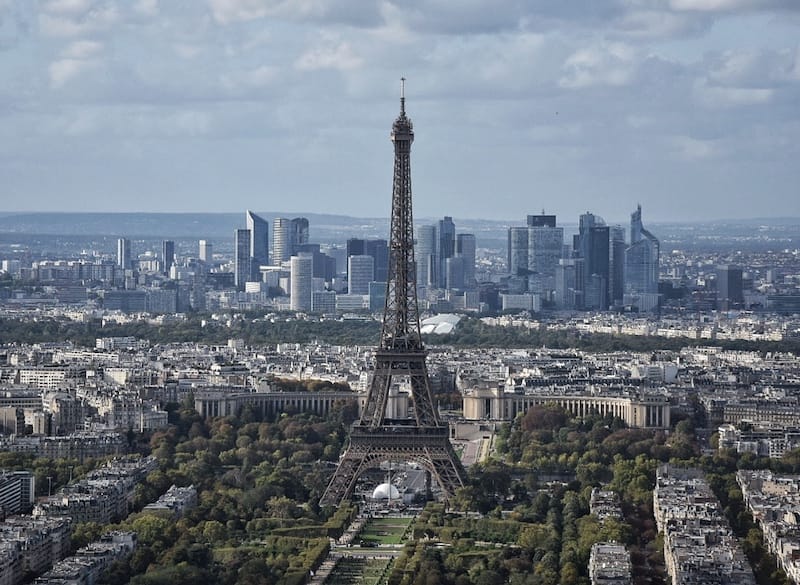 If you are looking for something a bit different, then you should absolutely descend into the catacombs of Paris. These underground ossuaries hold the remains of over 6 million people.
They were built towards the end of the 18th century when space cemeteries were beginning to overflow. This grim part of Paris' history is not known to all, but well worth a visit.
A visit to Notre-Dame Cathedral is a must to any who visit Paris as well. This incredible structure was founded in the 12th century and sits proudly along the Seine River.
Otherwise, a boat tour along the Seine River is highly recommended as you will pass sights such as Notre Dame and the Eiffel tower on your trip. Moreover, you will discover plenty more about Paris and its secrets.
Maybe you'd rather have a taste of luxury with a champagne tour from Paris.
Chester Cathedral
Distance: 44 miles
Travel time: 1h 10m drive, 1h 20m train ride
Last on our list is the impressive Chester Cathedral. It is one of the most famous cathedrals in England and the looming behemoth sits upon a site of Christian worship that dates back all the way to Roman times.
Construction at the cathedral began in 1093 and continued all the way into the 16th century.
You might also be interested in the Roman history of the city, in which case a tour of the Roman sites is highly recommended as well.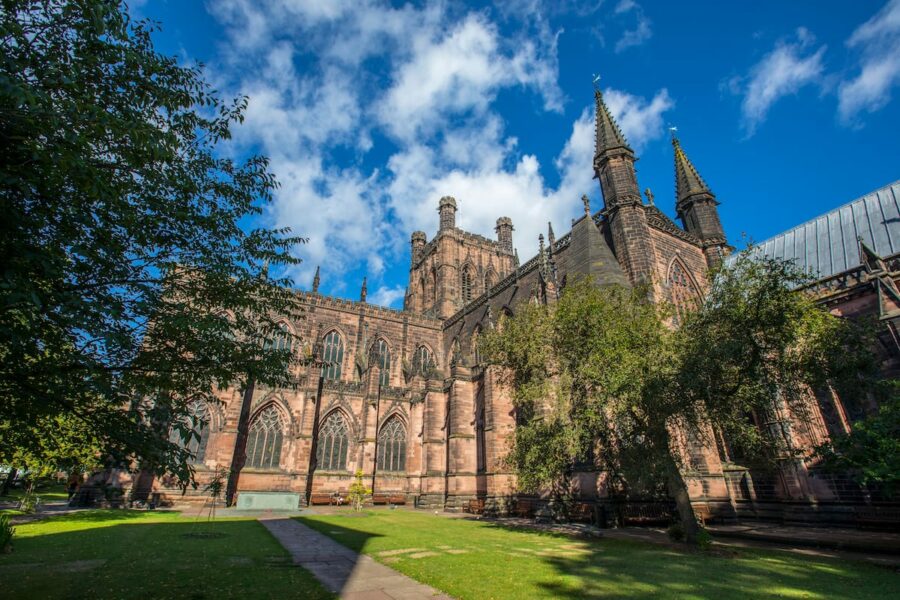 So that's it for our 20 best day and weekend trips out of Manchester. We hope you were able to find some inspiration in this list, and that it helped you in deciding what to do with your free day or weekend!
For further inspiration, here are some options for weekend breaks throughout all of England.
What are your favorite day trips from Manchester? What about some awesome weekend trips from Manchester? Let us know in the comments! Thanks!
More UK + England Travel Guides
About Author
Robert Heymell is a multi-cultural polyglot who has lived in 10 different countries on 5 different continents, Robert has a vast experience in the travel industry to over 30 different countries worldwide. As a son of UN diplomats, he has accumulated a wealth of knowledge of different cultures and a thirst for continuing his world voyage.
Pin this Manchester Day Trips Guide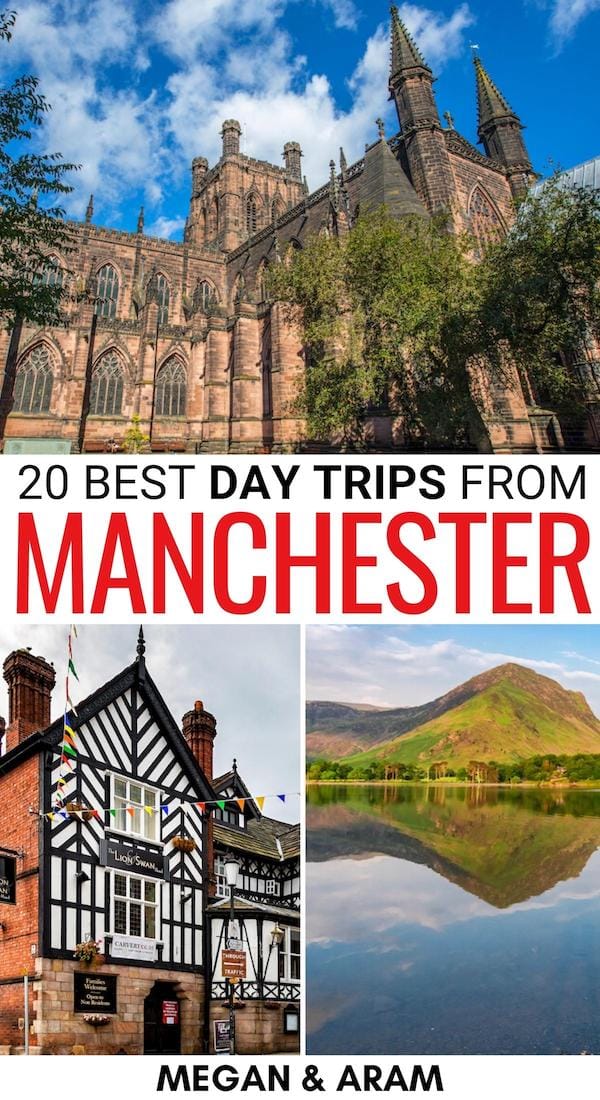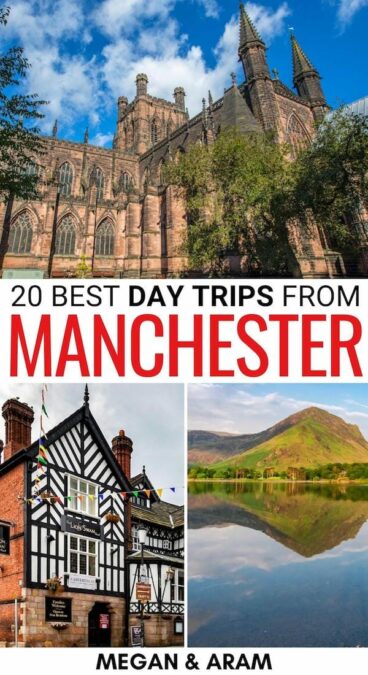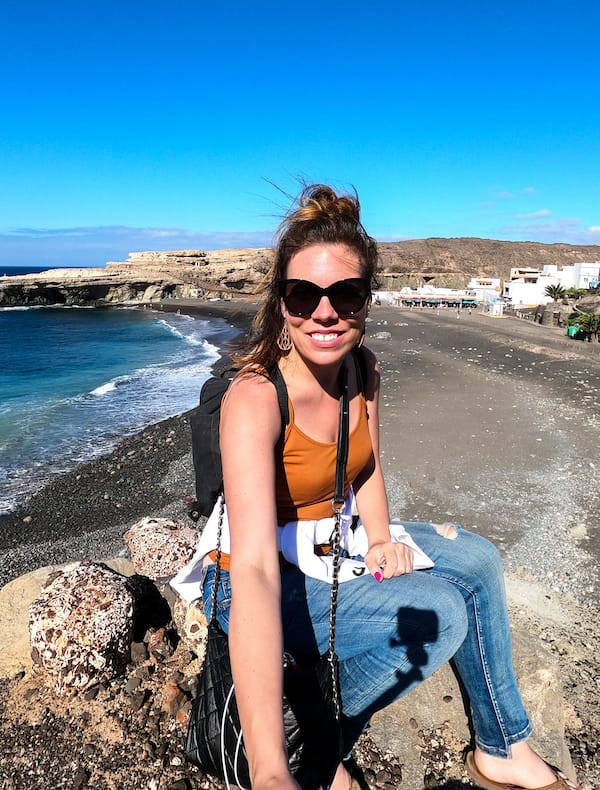 Megan is a travel blogger and writer with a background in digital marketing. Originally from Richmond, VA, she now splits her time between Frankfurt, Germany and Arctic Finland after also living in Norway, Armenia, and Kazakhstan. She has a passion for winter travel, as well as the Nordic countries, but you can also find her eating her way through Italy, perusing perfume stores in Paris, or taking road trips through the USA. Megan has written for or been featured by National Geographic, Forbes, Lonely Planet, the New York Times, and more. She co-authored Fodor's Travel 'Essential Norway' and has visited 45 US states and 100+ countries.