Travelers tend to be more drawn to places around the world that get heaps of snow for winter destinations. Manchester, England may not exactly be one of those places.
However, I still think it is worth visiting Manchester in winter for the sheer fact that there is a lot to do in the northwestern city!
Are you planning your trip to Manchester last minute?
If youʻre booking your trip to Manchester last minute, we have you covered. Below are some of the top tours, hotels, and more!
Top Experiences and Tours in Manchester:
Top Hotels in Manchester:
CitySuites Aparthotel (Lux)
Luther King House (Budget)
This is a guide to things to do in Manchester in winter! Did we miss anything to do on a winter trip to Manchester? Let us know in the comments. Thanks!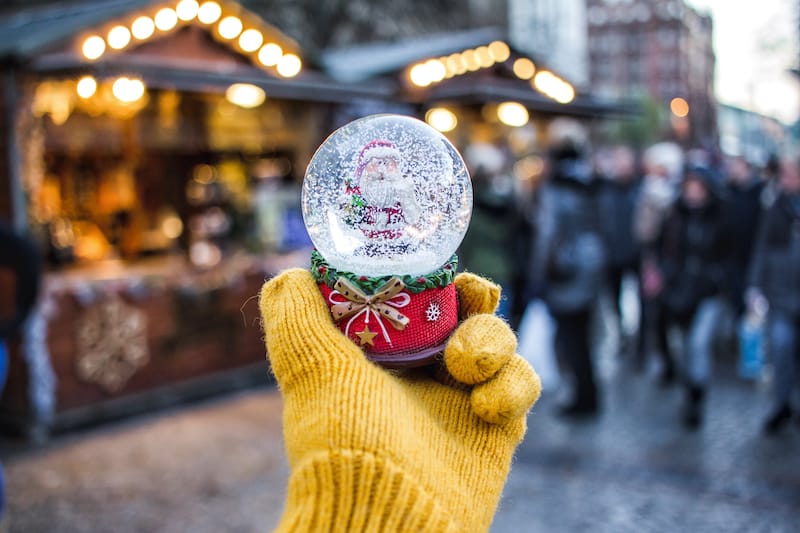 Manchester is England and the UK's third-largest city with a population of nearly 3 million people.
The city became a powerhouse during the industrial revolution with large cotton and tobacco factories built across the city.
However, with the decline in manufacturing as the UK moved to a more service-based economy, the city fell on hard times and struggled to compete with London.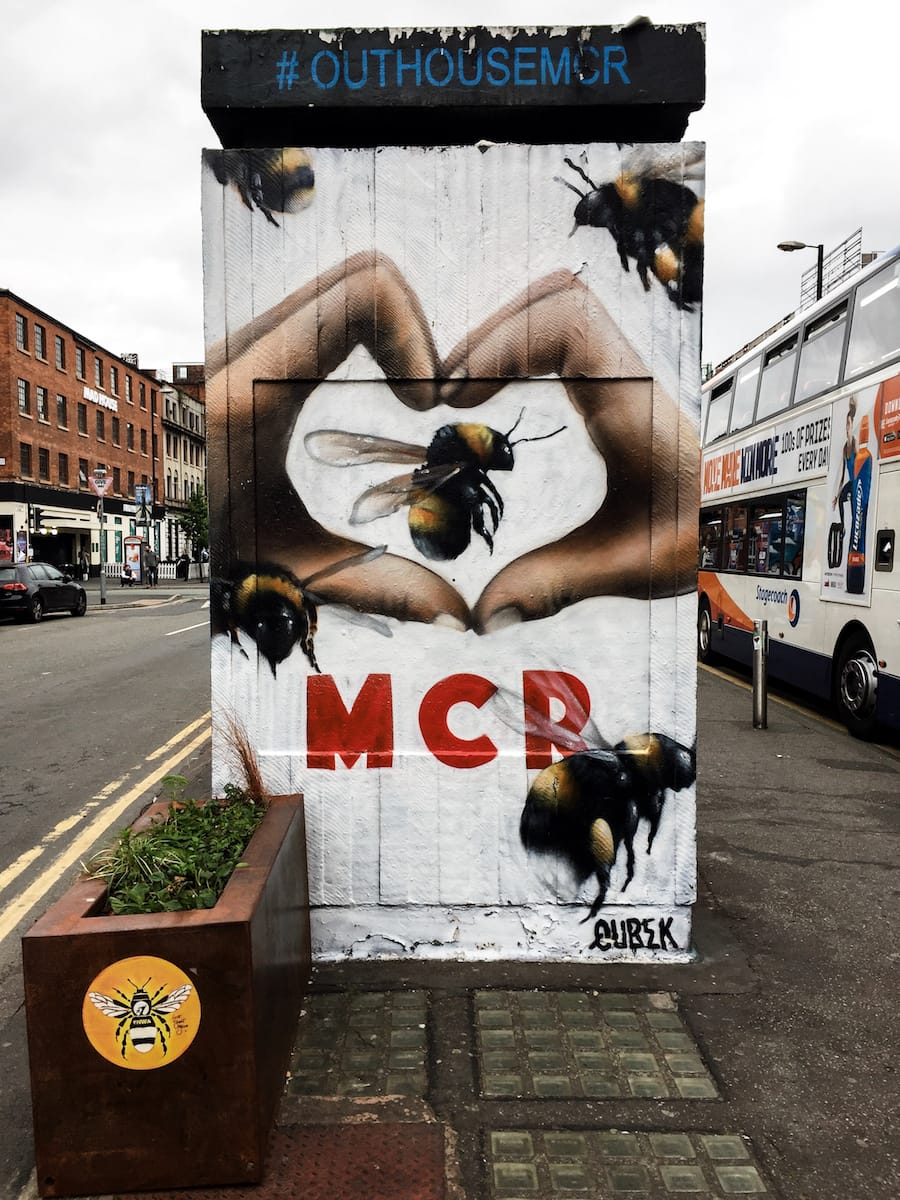 Despite its economic struggles, Manchester kept at the forefront of everyone's minds with its vibrant music scene and large and successful football clubs.
The city has also been able to retain a youthful vibe thanks to being the home of two of England's biggest universities, the prestigious University of Manchester and Manchester Metropolitan University.
Winter in the north of England may not sound the most desirable of places, but with Manchester's cool and vibrant culture, there are plenty of fun things to do throughout the city and beyond in the surrounding towns and countryside.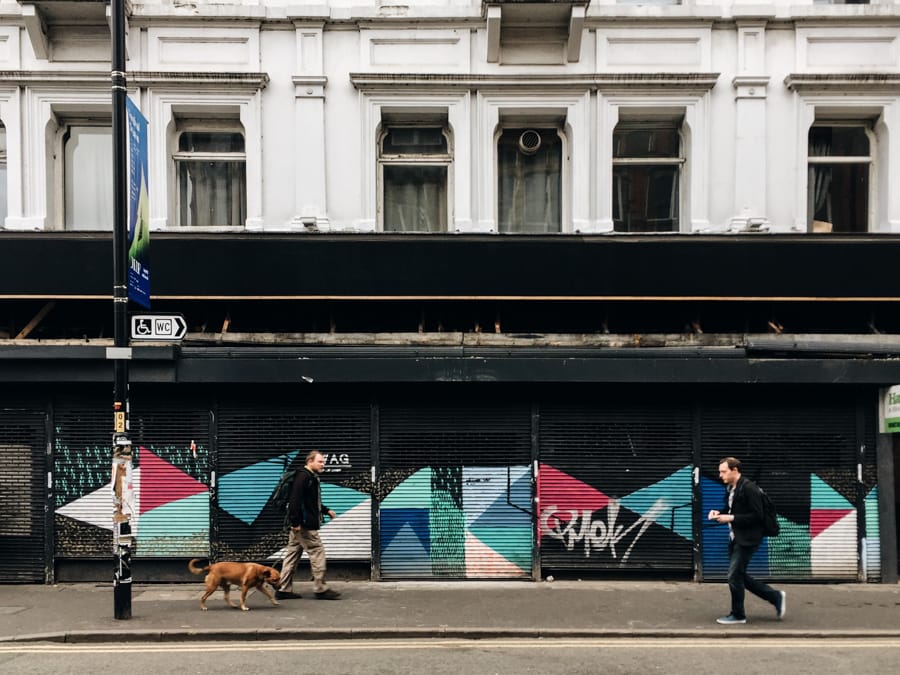 To be honest, Manchester in winter is rainy and it rarely snows as the snow tends to fall on the mountains in Wales or to the east on the Pennines.
However, here is a list of twelve amazing things you can do in Manchester in winter to prove that the city is still worth a visit!
Best Tours to Take During Winter in Manchester
There are several ways to discover Manchester and we fully believe one of the best ways to see the city is by tour.
You can book Manchester winter tours that will be conducted by professional tour guides or knowledgeable individuals who will show you a truly Northern England experience.
These are some of the top-rated tours that we recommend.
Manchester Card
Manchester has a wonderful city pass that allows you to see so many of the city's main sights for free or at a discounted rate.
There are so many discounts for restaurants that will give you the opportunity to eat your way through the city (ahem… curry).
Best Things to do in Manchester in Winter
1. Go to the Manchester Christmas Markets
When you think of Manchester during winter, you most likely do not think of German Christmas Markets.
However, in Manchester, you will find impressive and award-winning Christmas markets spread throughout 10 different areas of the city.
Stall owners in Frankfurt saw the opportunity to export the magic of German Christmas across Europe and began opening up Christmas Markets throughout the UK with the Manchester one becoming incredibly popular.
Starting off in Albert Square with a giant Santa looking down at you from the town hall, you can work your way around the city drinking and eating all of the traditional German Christmas goodies.
Luckily, many of the areas have covered sections so you can easily shelter from the often difficult weather conditions (ie. RAIN).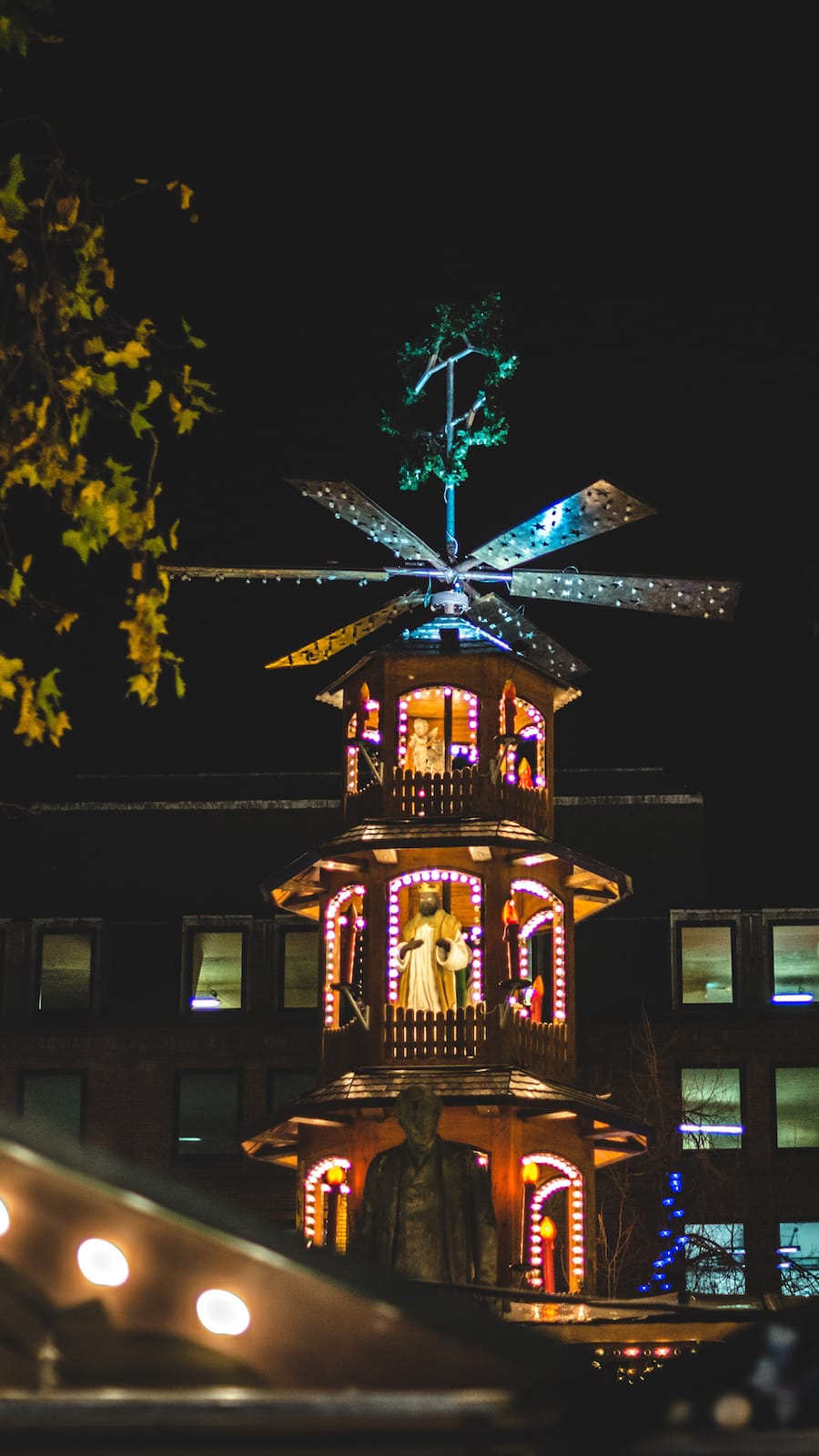 There are also plenty of little stalls selling handmade goods which make the perfect little gifts. The markets run from early November to just before Christmas.
2. Eat Curry in Rusholme
A trip to Manchester wouldn't be complete without a visit to its famous Curry Mile.
Located in the district of Rusholme, Curry Mile is a half-mile stretch of Wilmslow Road where both sides of the street are full of curry restaurants (mainly of Pakistani origin).
Open until the early hours of the morning, the area is a popular hangout for students and locals alike with each of the businesses vying to get as many customers as possible.
Choosing a restaurant is almost an art form.
You will select one that is relatively busy and an employee will greet you at the door and provide you the chance to bargain for a deal.
Do attempt to get as much thrown in for free as possible to make for the most valuable and Manchester-esque experience.
Many of the restaurants are not licensed to sell alcohol which means that you can bring in your own drinks from local stores. Do make sure that they will not add on any charges if you need a corkscrew or glasses.
3. Take a Day Trip to Blackpool
For a change of scenery, head to the northern English seaside town of Blackpool.
Formerly a popular seaside resort, Blackpool is a great place to spend a day exploring a different city in the northwest.
Spend time on the Pier, playing in the amusement arcades, or simply stroll along the beach if the weather is permitting.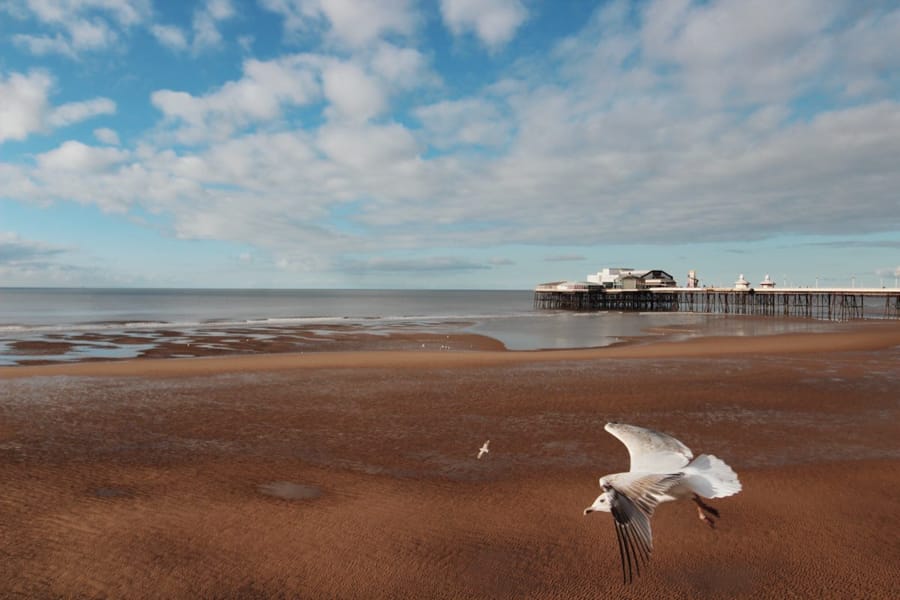 There is also a great bar scene in the city and you enjoy a few pints with locals in many of the pubs and bars around, making it one of the best day trips from Manchester.
Be sure to try some of Blackpool's famous rock- a hard sugary treat that was invented in this seaside town.
Blackpool is easily reachable from Manchester with the train journey taking just over an hour.
4. Find a Cozy Cafe in the Northern Quarter
The best way to escape Manchester's often wet and grey weather is to hop between cafes in the trendy Northern Quarter.
Located behind Piccadilly Gardens, the Northern Quarter has for years been Manchester's hip district, with plenty of cool bars, cafes, and shops.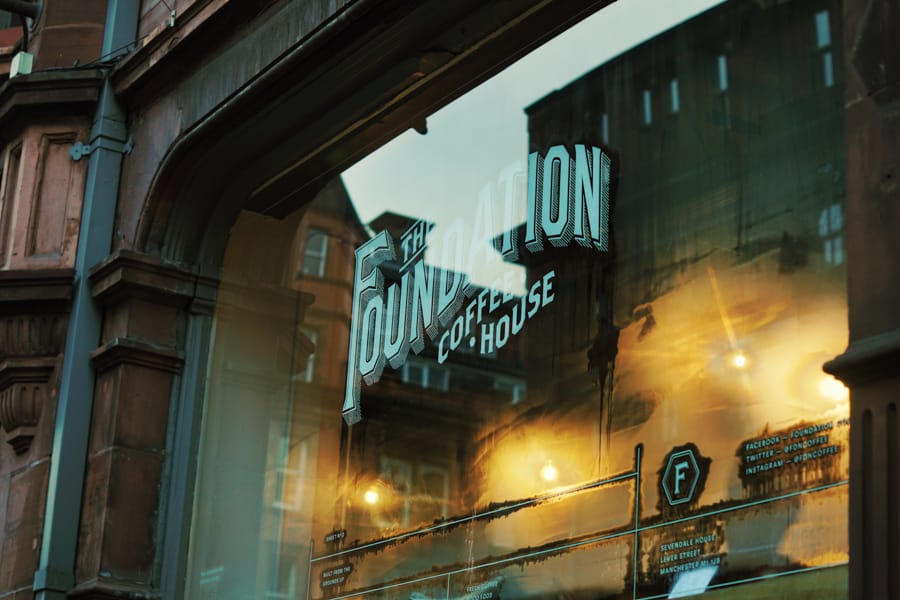 After hopping around to different coffee shops, look into some of the interesting small businesses that are prevalent in the area selling cool and quirky goods.
For a truly alternative experience, check out Affleck's Palace, a large multi-story building full of independent little shops.
Once the daylight dwindles away, check out some of the bars in the area for something a little more intense.
The streets and alleyways of the Northern Quarter are said to be much like those in New York and were used in the film Captain America instead of actual New York.
5. Take a Hike in the Pennines
If you are looking for a bit of nature on your trip to Northern England, there are few better places to go than the Pennines, a small mountain range that stretches across the north of England from the Midlands to Scotland.
There are plenty of trains that will take you up into the hills close to Manchester where you can experience some of England's best nature spots.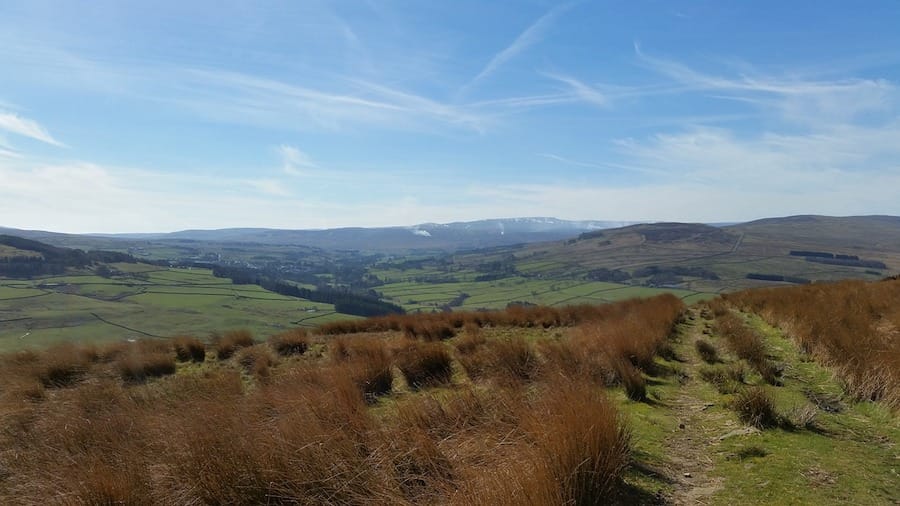 Once in the Pennines, you can experience England's more 'rural' way of life with quaint towns and villages perched on the hills.
If the weather isn't fully cooperating, you can always find a local, country pub to sit in and drink a traditional ale.
Before heading out to the Pennines, pay close attention to the weather as there is the possibility to have large snowfall on the higher mountains.
6. Tear Up Trafford Chill Factore
If you are a thrill seeker and are looking for something adventurous to do on your trip, head to the Chill Factore in Trafford.
Chill Factore is the country's longest indoor ski slope, where you can spend a few hours tearing down the slope.
The large ski area with real snow has a couple of slopes and a few rails and kickers where you can practice tricks as you go down the slope.
Lift passes can be bought in hourly blocks or for whole days and equipment can be rented on-site too. To use the slopes, you must be able to do linked turns.
If you have never skied or snowboarded before it is possible to take introductory lessons on the beginner's slope. That's where you'll find me.
7. Watch a Football Match
If you are a sports fan, then Manchester is the city for you.
The sports-mad city is home to two huge teams, including one of the world's best-supported clubs, Manchester United, along with the mega-rich Manchester City.
The two clubs have some of the world's best players on their teams and play some of the most exciting football in the league.
During the Christmas period, there tend to be plenty of matches with teams playing up to 3 games in a week.
Getting tickets for Manchester United can be difficult due to their large fan base, however, Manchester City often has a few remaining seats left as they are still a growing brand having only recently started being successful.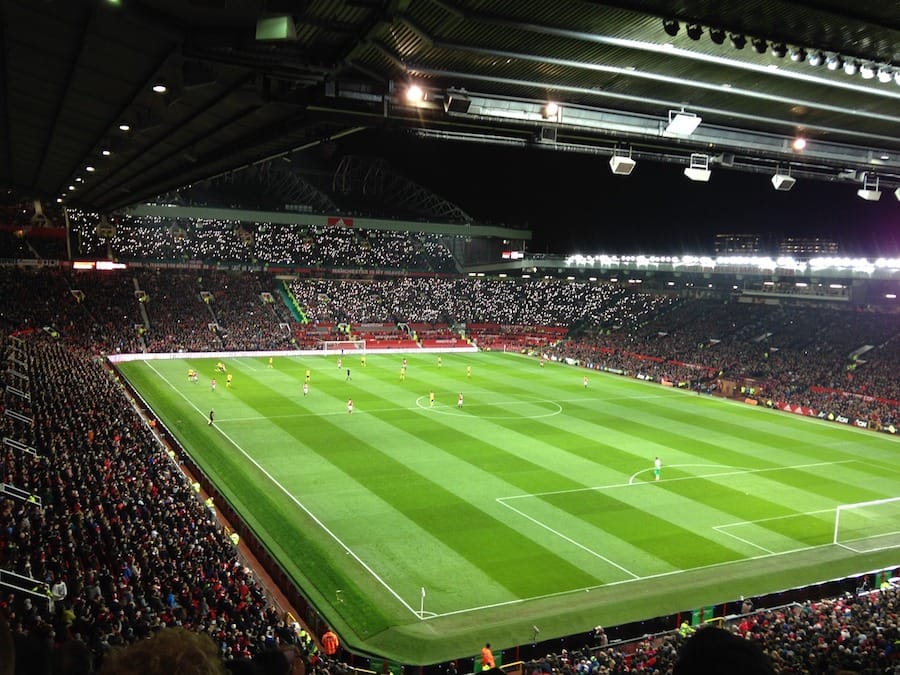 Alternatively, you can head 34 miles west and see a game in Liverpool.
If you are unable to get tickets to a game, the matchday experience in one of Manchester's many pubs is always a fun experience and a lot warmer than being exposed to the elements in a stadium.
8. Celebrate Various New Year's
Manchester is a city that knows how to party.
With its friendly and inclusive nature, New Year's Eve in Manchester is a fun experience where the drinks flow and the party carries on until the wee hours of the morning.
At midnight, the city puts on an impressive fireworks display that is well worth checking out.
It is important to note that many bars and pubs will charge a cover on the night or be ticketed events which you may need to buy prior to that evening (their social media pages should inform you ahead of time).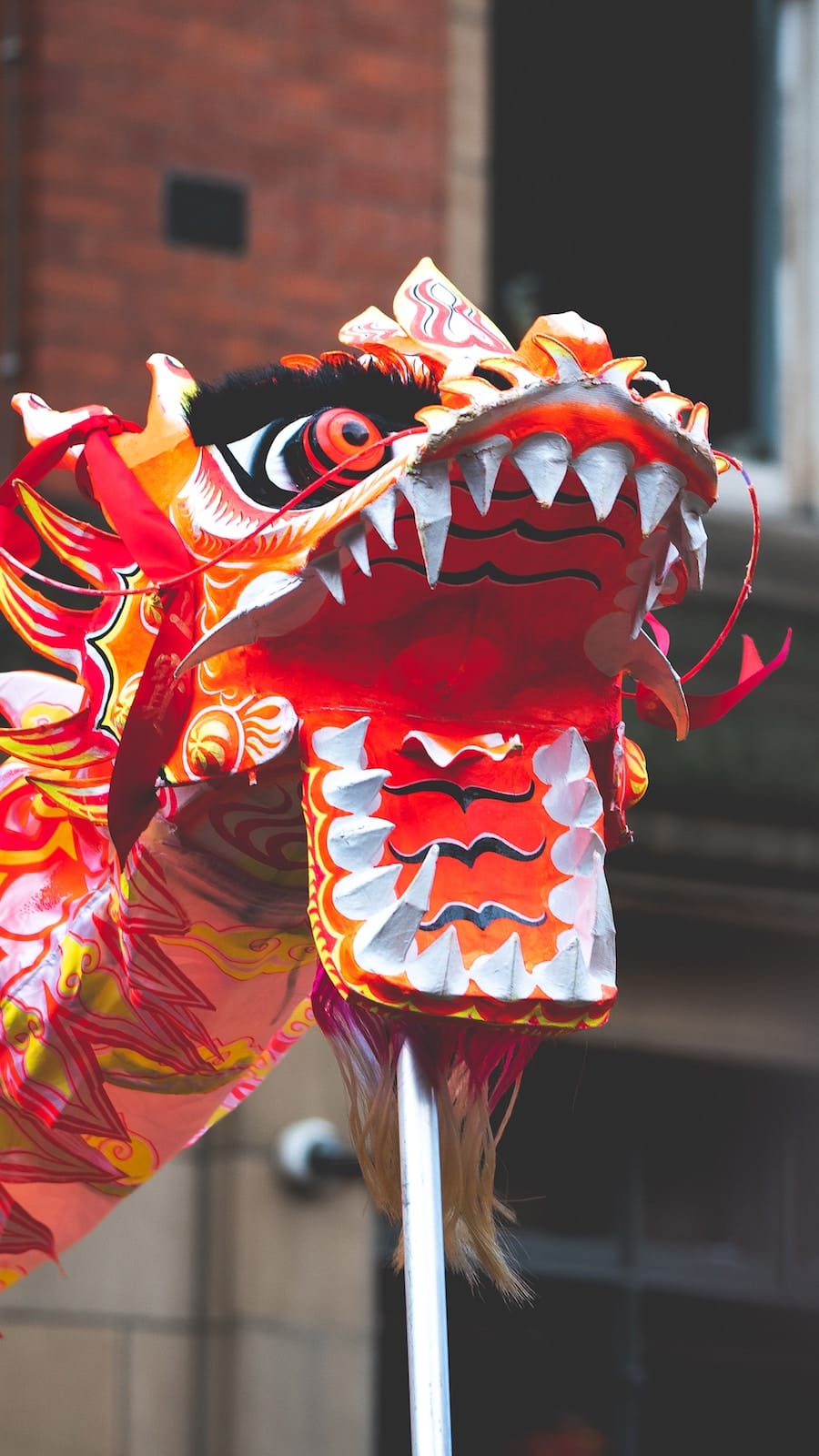 In Manchester's vibrant Chinatown, the Chinese New Year is a major event. Each year, there is an impressive parade and people celebrate wildly in the surrounding restaurants and bars.
After watching the parade, visit one of the many great Chinese restaurants in the area to warm up.
9. Shop The Sales
The second Christmas is over, England turns into the land of sales with plenty of goods going on sale for cheap during January and February.
Thankfully, Manchester has two large shopping centers where you can hunt down some incredible deals in the many high-end stores and High Street chains.
If you are looking for a place to shop in the city center, head to Arndale Center just off of Piccadilly Gardens where you can find a large range of shops.
Alternatively, head out of the city a bit to Trafford where you will find the Trafford Center, a large mall with a diverse selection of shops.
The mall itself has a bit more of a high-end feeling to it compared to the Arndale Center. There are plenty of places within the Trafford Center to grab a drink and a bite to eat too.
10. Drink A Cloudwater Beer
Craft beer has taken Manchester by storm and has led to one of the most well-known British breweries being founded there.
Cloudwater Brewing brewed its first beers in 2015 and in a short time, has shot to incredible heights of fame and popularity in both the UK and the US, often doing collaborations with some of the world's best craft breweries.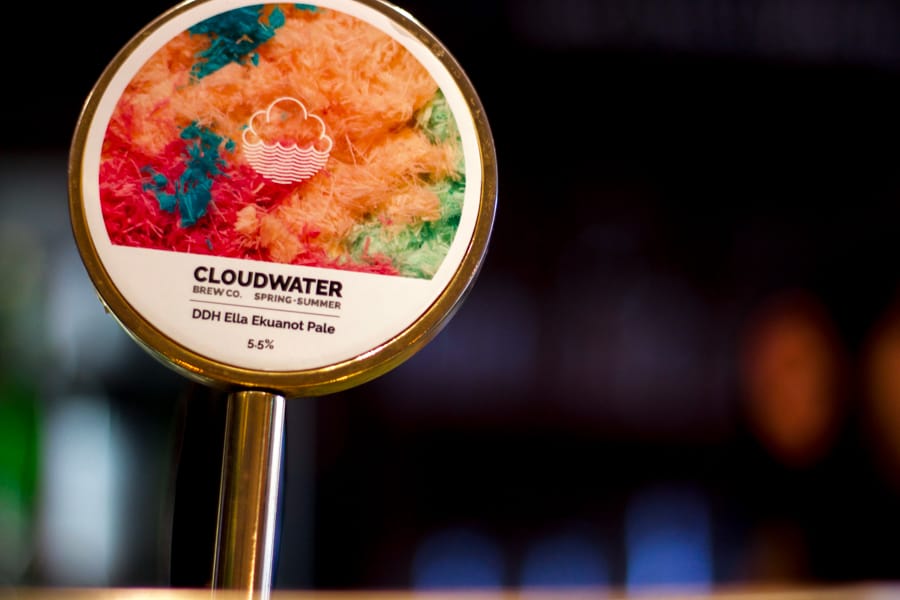 They have a stylish taproom located next door to their city center brewery where you can try a selection of their beers that regularly rotate which have often finished brewing that week along with picking up any of the latest can and bottle releases.
You can find the taproom at Unit 9 Piccadilly Trading Estate in Manchester. Keeping warm with beer is the perfect thing to do in Manchester in winter.
11. Enjoy a Hearty Roast in a Traditional Pub
One of the best things to do on a cold Sunday in Northern England is to find a cozy pub where you can hide away from the weather while enjoying a traditional British Sunday roast, one of my favorite things to eat in England.
Sunday roasts tend to comprise of succulent roasted meats with a medley of vegetables, crispy roasted potatoes, and a rich gravy.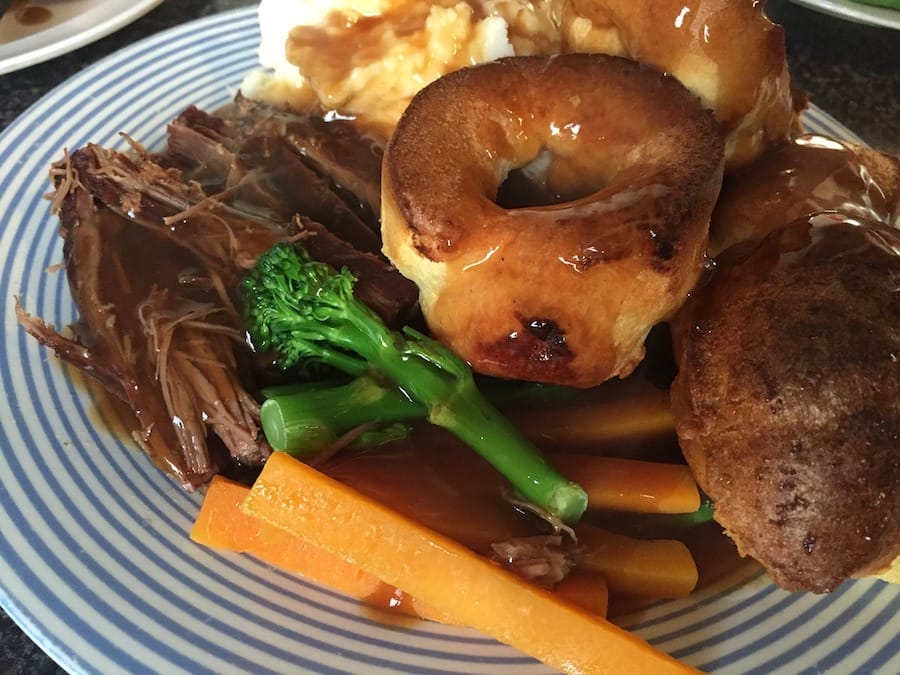 Although the ingredients often vary depending on where you are in the country, the meat involved tends to be seasonal but is usually either chicken, pork, beef, or lamb.
One of the best places to find cozy pubs in the neighborhood of Didsbury, close to the edge of the city.
This affluent area is crammed full of the best pubs in Manchester with more than twelve located in the small area.
12. Show Off at The Ice Rink
Head to the neighborhood around First Street where you will be able to ice skate on one of the UK's premier outdoor skating rinks.
Open between November and January, the spectacular rink in the heart of the city is great for people of all ages.
After your skating session, there are plenty of establishments that you can pop into and warm up. You can also head to one of the bars attached to the rink and people watch those who are strutting their stuff on the rink.
Tickets are available at the site, although it is better to book online before your visit to ensure you get a slot as it can get very busy.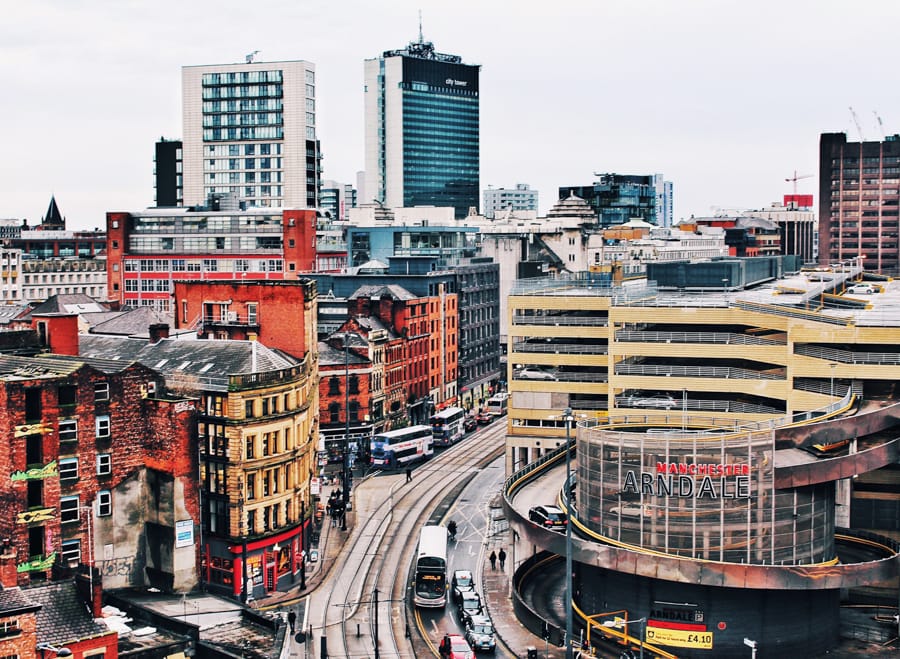 13. Check Out Harry Potter: A Forbidden Forest Experience
Are you still waiting on your Hogwarts letter?
While you wait, you can see the world of Harry Potter for yourself this winter in Manchester.
Starting in October, be sure to go on the Harry Potter: A Forbidden Forest Experience tour, where you will be able to come face-to-face with creatures from Harry Potter, including centaurs and unicorns.
You can also cast spells, gain entry to the forest trail, and enjoy a special selection of food and drinks.
The tour lasts approximately 60-90 minutes and is located in the woods of Arley Hall & Gardens.
It is possible to choose between a variety of options for tickets, including tickets for adults, children, and groups.
14. Enjoy the City's Street Art
Manchester is well known for its abundance of street art, which you will be able to see just about anywhere throughout the city!
Even in the winter, you will be able to marvel at the street art located all throughout Manchester, especially in the Northern Quarter, which is considered to be the best place in town to see it.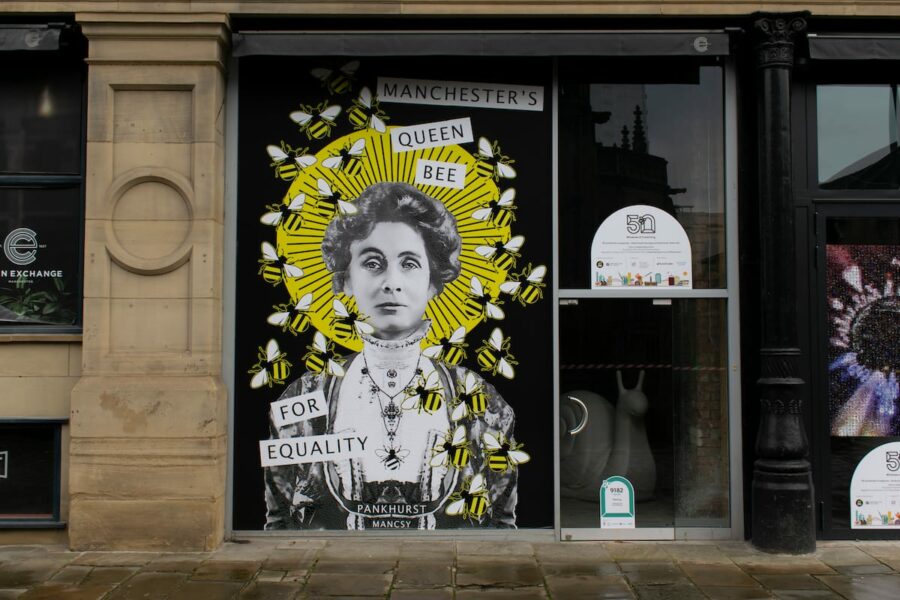 Stevenson Square is also known for being where the renowned street artist Akse paints portraits. Some famous figures he has painted here include David Bowie and Arya Stark.
Another great spot to check out some street art is in the alleyways along Thomas Street.
Finally, you can also go on a dedicated tour of the Northern Quarter's street art, which is available on the weekends.
Where to Stay in Manchester
If you happen to be visiting Manchester in winter, you will find a lovely array of options of places to stay in the city.
The following hotels in Manchester are centralized in the city and offer an extremely comfortable stay while in the English city.
Here are our top picks of places to stay in Manchester:
CitySuites Aparthotel (Luxury Apartment living): The CitySuites Aparthotel is one of the best-rated properties in Manchester and it offers luxury apartment living with the feel of being pampered.
There are many amenities on-site for all guests and the Aparthotel is located in the city center of Manchester, just a short walk from all main sights.
Click here for rates and availability.
Motel One Manchester-Piccadilly (Mid-range): This hotel is located in the heart of Manchester city and is close to the conference center.
Your standard 3-star, mid-range hotel, Motel One Manchester-Piccadilly offers a tasty breakfast buffet and extremely comfortable rooms.
Click here for rates and availability.
We hope you have a great trip to Manchester in winter and that these tips will encourage you to book a ticket and enjoy your time there!
If you have additional recommendations, please drop them in the comments!
More England Travel Guides