Whether you've loved the book or the movie (or both!), if you're a Harry Potter fan, you will love visiting the Harry Potter Studios (at Warner Bros.) in the small town of Leavesden, England.
The place guarantees a magical experience, stepping behind the movie's scenes and exploring many sets, props, costumes, animatronics, and special effects that brought J.K. Rowling's unique wizarding world to life on the screen.
This guide will cover the best Harry Potter Studio tours, as well as many tips and tricks to know before you make your visit!
Did we miss anything to know before you visit the Harry Potter Studios in Leavesden? Let us know in the comments!
Where's Leavesden
The Warner Bros. Studio Tour London – The Making of Harry Potter is the official name of this incredible experience set in Leavesden, a small town in Hertfordshire, about 32 km northwest of Central London.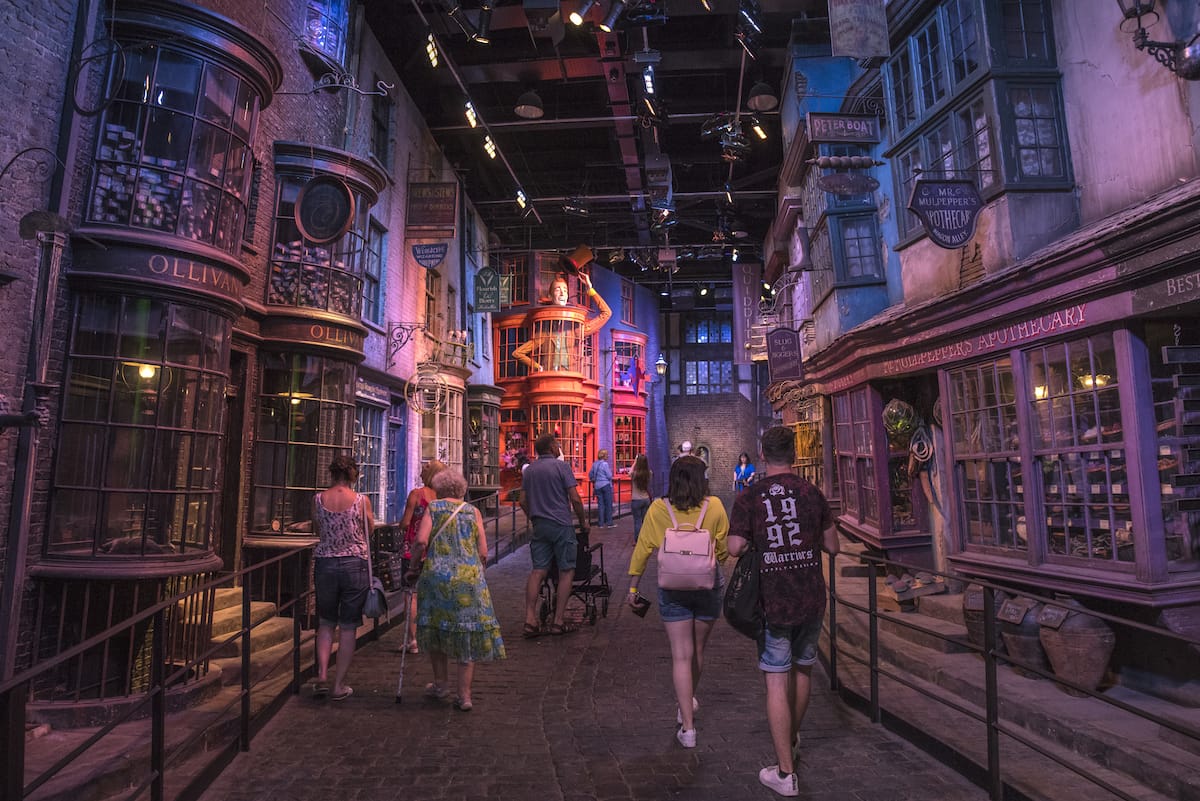 The village can be easily reached from London by train or by car. Although driving in the region can be fun, I highly advise catching the train for a stress-free experience or if you're not used to driving on the left.
How to Get to the Watford Junction Station in Leavesden
Trains going to Leavesden are fast and super efficient, making it the favorite means of transport. Trains for Leavesden depart from Euston Station, a popular train hub about 15 minutes from the world-famous King's Cross Station and Saint Pancras Station.
The direct train from London Euston takes about 20 minutes, while the journey from Birmingham takes about an hour.
There are also non-direct train services operating from London Euston. However, it's essential to consider that it may take longer to arrive at Watford Junction.
Since access to the studios is done through timed tickets, plan ahead to avoid late arrivals.
Remember that Oyster cards are valid between London Euston and Watford Junction.
Getting to the Leavesden studios from Birmingham (New Street Station) is also possible.
Getting to the Harry Potter Studios in Leavesden from the Train Station
Once at the station, purchase tickets to Watford Junction.
Once at the destination, just across the street from the train station, you will find a free electric shuttle bus that takes you to the studio, and the transfer is also included in the entry ticket to the studios.
These regular shuttle buses operate from Watford Junction to the Studio Tour, with a journey time of around 15 minutes. They run every 30 minutes from 9.20 a.m. (with additional services available from 8.15 a.m. when the first tour is at 9 a.m.).
The last return shuttle bus back to Watford Junction departs the Studios when the premises close.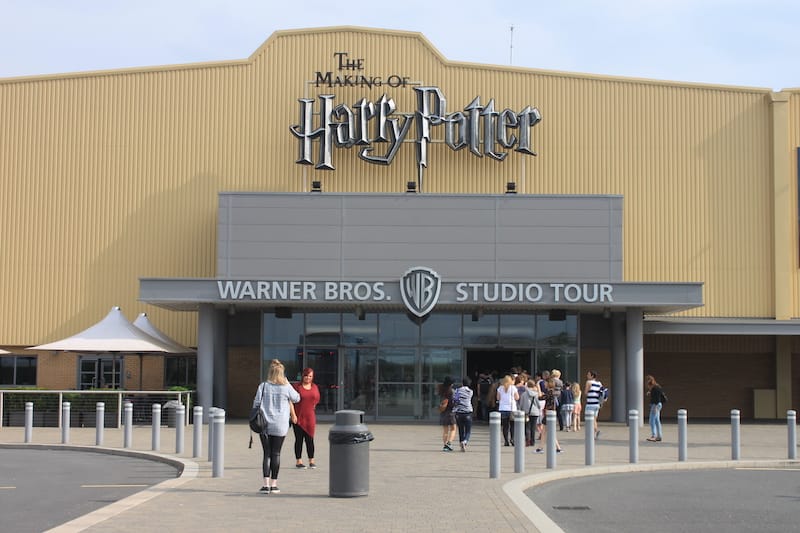 Don't worry about missing the ride; the Harry Potter shuttle buses are easy to recognize as they display plenty of iconic Harry Potter images that build up to the anticipation of the visit!
If you're driving to Leavesden, plenty of parking is available on-site. If you're getting there by car, having your booking confirmation ready when accessing the car park to show the Car Parking Team is essential.
Priority parking at the cost of £10 is available when you pre-book the tickets and cannot be purchased upon arrival.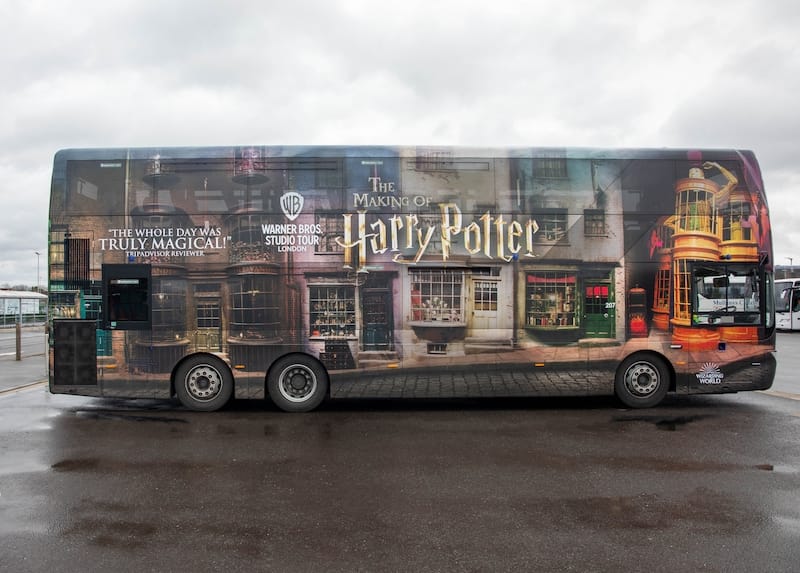 If you prefer to avoid public transport or driving, different guided Warner Bros. Studio tours also include a hassle-free transfer from and to London by bus.
Transfer-only options are also available.
Best Harry Potter Studios Tours with Transport
You can check out these complete packages to visit the studios:
Time Slots to Visit the Harry Potter Studios
To plan a seamless day at the studios, it's a good idea to devote the whole day to the experience, especially considering that you'll need public transport to get to Leavesden and that the timed entrance is very strict.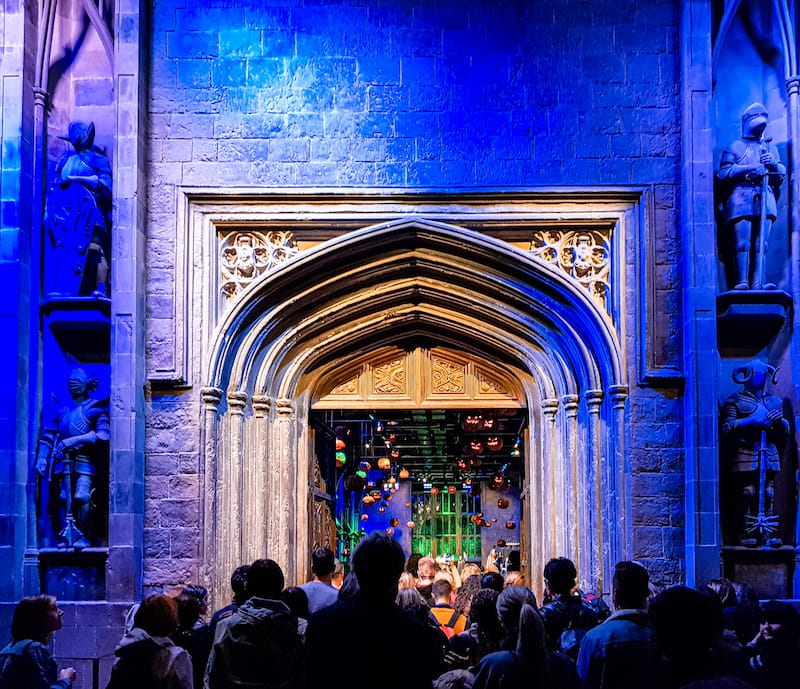 Therefore, don't pack your days with other extra activities. The tour can take quite a few hours, and you will probably be exhausted by the end of the day.
When purchasing the tickets from the official website, you will be put in a queue to pick the right time slot for your visit (the usual waiting time is about 10 minutes).
Once your turn is up, you will be presented with a calendar showing the current ticket availability and can choose the day and time you prefer.
Adult tickets (over 16 years old): £51.50
Children tickets (between 5 and 15 years old): £40.00
Children tickets (4 and under): tickets are required, but the fee is £0.00
Tickets can be purchased up to one year in advance. When picking the date, different time slots will be offered. Pick the one that best suits your needs.
Before booking the tickets, you will also be given a chance to pay for an extra paperback souvenir, add priority parking, add a digital guide, or purchase an Afternoon Tea or Champagne Afternoon for Two before or after the tour at the Food Hall, with vegan or gluten-free options.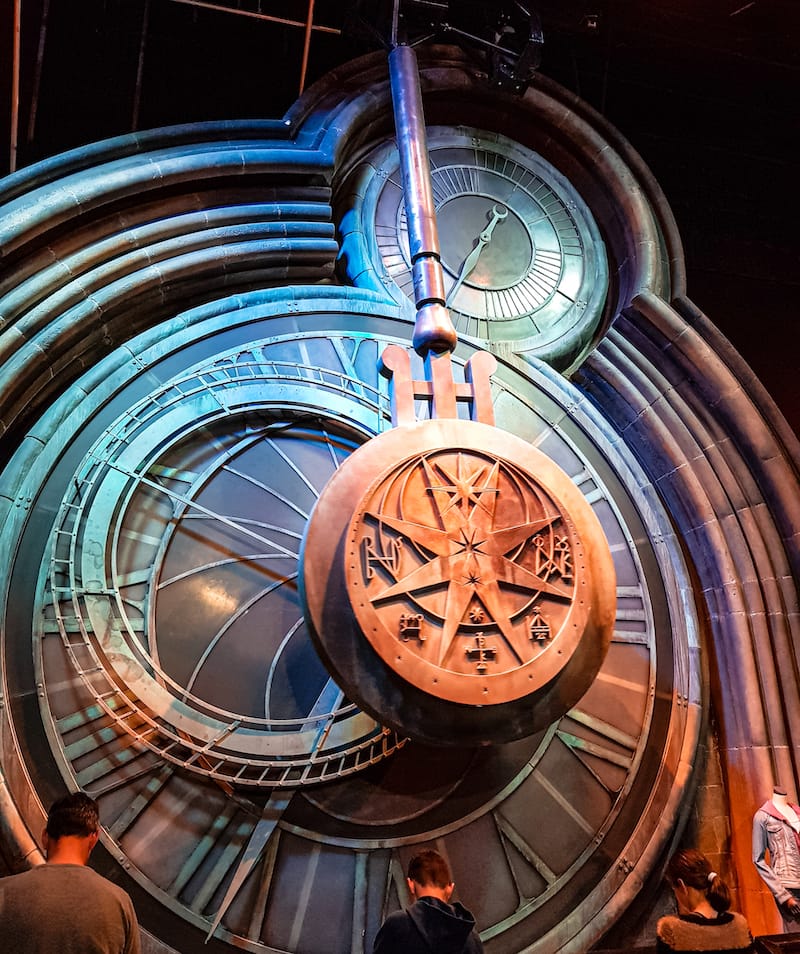 You will also find different family packages (for 1 or 2 adults) and complete studio tours, including a paperback souvenir and a digital guide.
It's a good idea to purchase the entrance for the second or third slot of the day, allowing plenty of time to ride the train from Euston Station without getting up at dawn!
The studios usually receive most visitors after midday, so getting there by ten in the morning is perfect for seeing a good part of the premises without being rushed around.
Besides, if you arrive early, you can always spend a few minutes at the cafeteria enjoying a cup of coffee or tasting a slice of the many magic cakes served. Prices can be on the high side, but credit cards are accepted.
And if you're traveling with kids, worry not. There's plenty for them to see and discover even before starting the tour; they will be in awe!
Harry Potter Studios Tickets
If you purchase the tickets online at the official website and follow the procedure described above, you will receive a copy of your tickets via email (you can either print them or show them on your mobile).
You must have these tickets with you when arriving at the premises.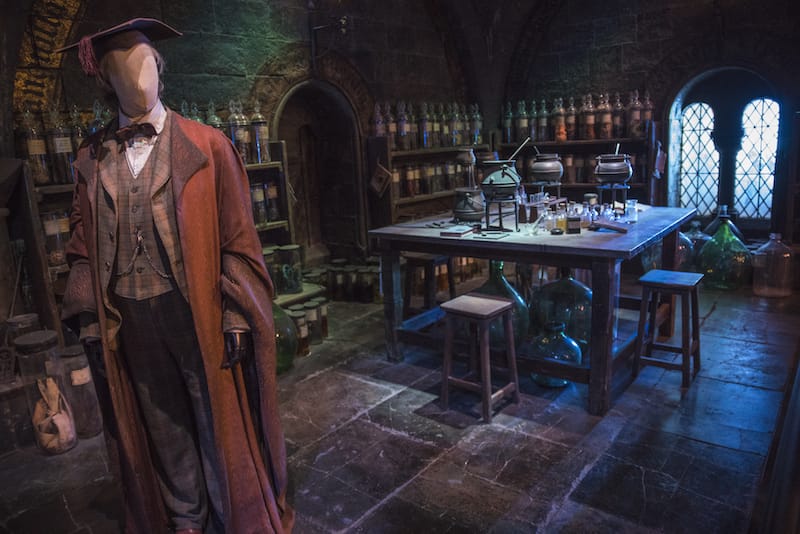 Upon request, you can receive them by regular mail within the UK (£3.95) and abroad (£6.95). Please ensure you have these with you when arriving at the Studios.
Remember! Tickets tend to sell out quickly, especially during peak seasons, so booking as early as possible is advisable.
Tickets can also be purchased online with extra transport and other exciting perks!
What You Will See on the Harry Potter Studio Tour
These are some of the things you will be able to explore during a visit to the Studios:
Harry's Room Under the Staircase
Take a close-up look at Harry's Cupboard Under the Stairs, a small and dusty room populated with spiders at the Dursley household at 4 Privet Drive.
The Great Hall
When the doors open and you access the Great Hall, you will also enter the fantastic part of the tour.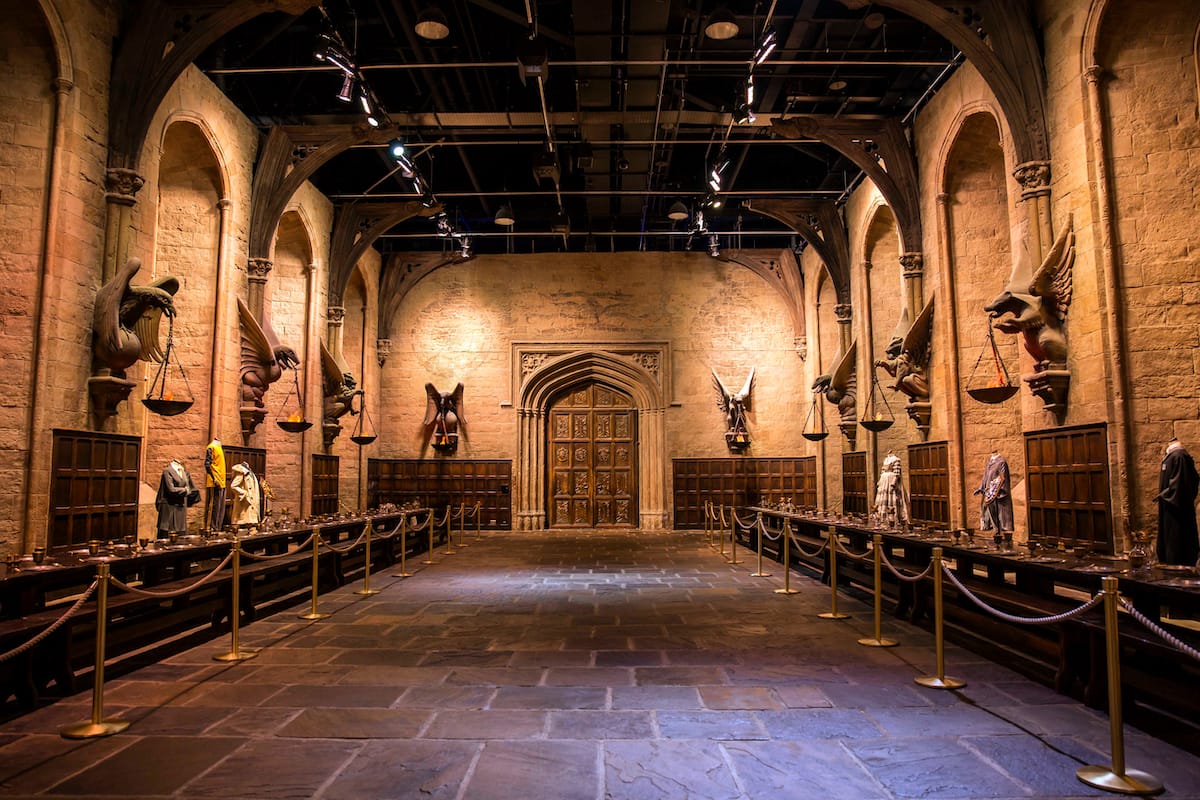 The hall is filled with a magical atmosphere, and you can look at costumes, props, and other incredible details from the movies.
Sets You Can Visit
The visit checks out several locations used to shoot the film, including the following:
Potions Classroom
Gryffindor Common Room
Dumbledore's Office
Ron's Home
Ministry of Magic
Forbidden Forest
Yull Ball
Hogwarts Express
Potions Classroom
Gringotts Wizarding Bank
Diagon Alley
Hagrid's Hut
…and more!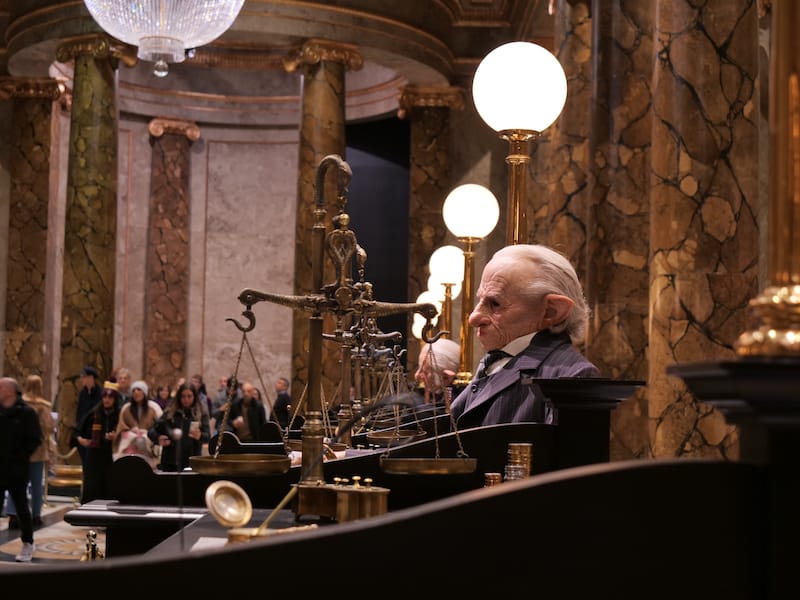 Costumes and Props
The tour features a massive collection of costumes, including the gorgeous dresses worn on the Yull Ball, the lovely hats worn by the students of the Beauxbatons Academy of Magic, and Dolores Umbridge's pink suits and dresses.
Don't miss the collection of wands, either. Props include the Horcrux, books, potions, and a lot more. You will be mesmerized by the attention given to every little detail!
Creatures
Visitors are also fascinated by the animatronics exhibition featuring a collection of unique animals and magical beings, including Dobby, the Dementors, Buckbeak, and Aragog.
Courtyard
The courtyard resembles a magic playground where you can jump on Hagrid's motorcycle and sidecar, check out the Knight Bus triple-decker, visit the tomb of Tom Riddle's father, check out Privet Drive, and take a picture of the Hogwarts Covered Bridge.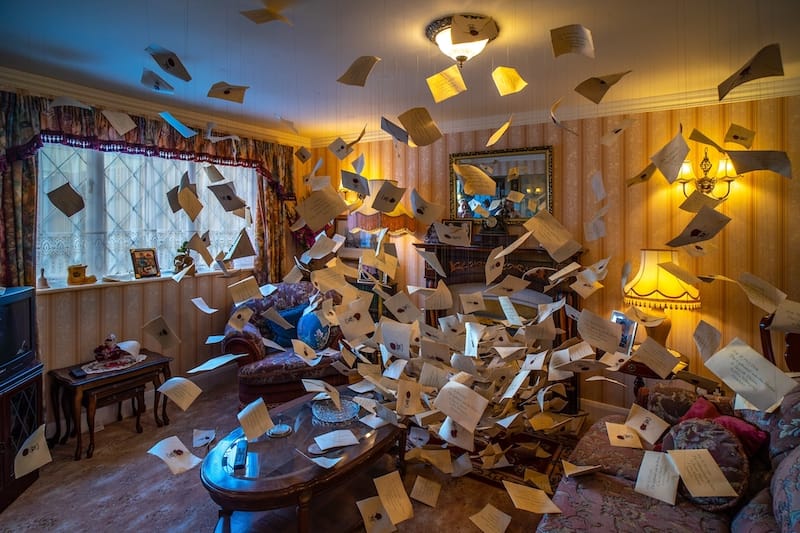 Giant chess pieces featured in the first movie are also a stunning view.
Hogwarts Castle Scale Model
One of the most spectacular things you can check out during the visit is this incredibly detailed scale model of Hogwarts Castle, used during aerial shots in the films.
If you visit at Christmas time, you will love the model covered in snow!
Preparing to Visit the Harry Potter Studios (Tips & FAQ)
Harry Potter Studio Tickets
You can purchase the tickets online at the official site. Tickets sell out quickly, especially during peak seasons (summer or school holidays). Book as early as you can to lock in the desired date.
Should You Book Tickets in Advance?
It's virtually impossible to purchase a ticket on the day of the visit. Most tickets sell out months in advance. Don't leave this to the last minute.
Arriving at the Studio
Since printed or digital tickets must be presented at the entrance booth where the official ticket will be issued, getting to the premises at least 10 minutes in advance is the best thing to do.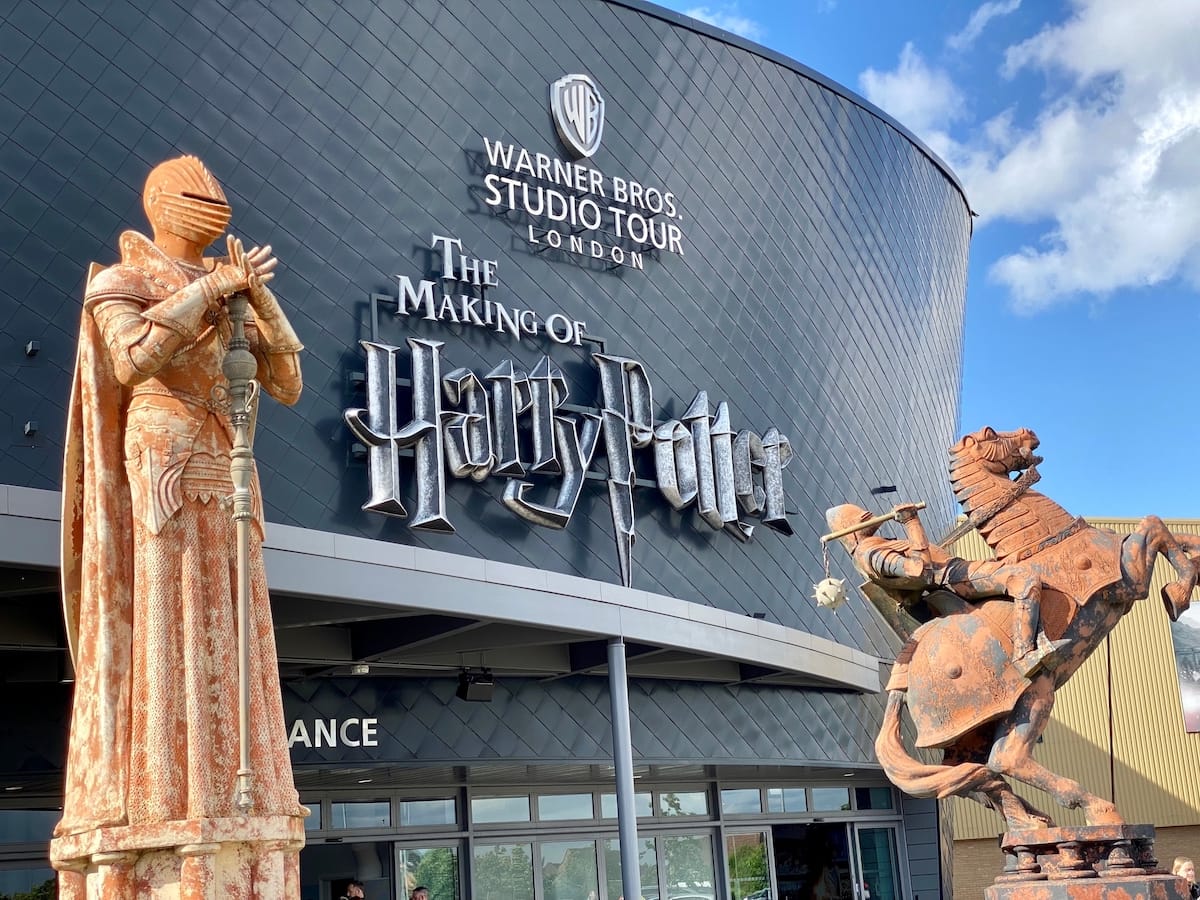 There may be security checks and queues, so allow some extra time for entry.
Can You Freely Explore the Studio?
The tour is partly guided, meaning you can wander certain areas independently once you've passed the Great Hall area.
Is it Your Birthday?
If you're celebrating your birthday (anniversary or another special occasion) on the day you visit, communicate this to the tour guide; you might be in for an extraordinary treat!
Interactive Experiences and Photos or Video
You can ride a broom or fly on Ron's magical car during the tour. Green screens are readily available to live this incredible adventure; you can even purchase photos or videos afterward.
It's also possible to join a wand lesson, learn famous spells, and even taste a refreshing butterbeer!
How Much Time Do You Need to Visit the Harry Potter Studio?
Harry Potter fans swear the visit can take a whole day! We suggest planning to spend at least three hours on the premises.
There's so much to discover that you won't even notice time does fly inside the studios. It's wise to leave the rest of the day free.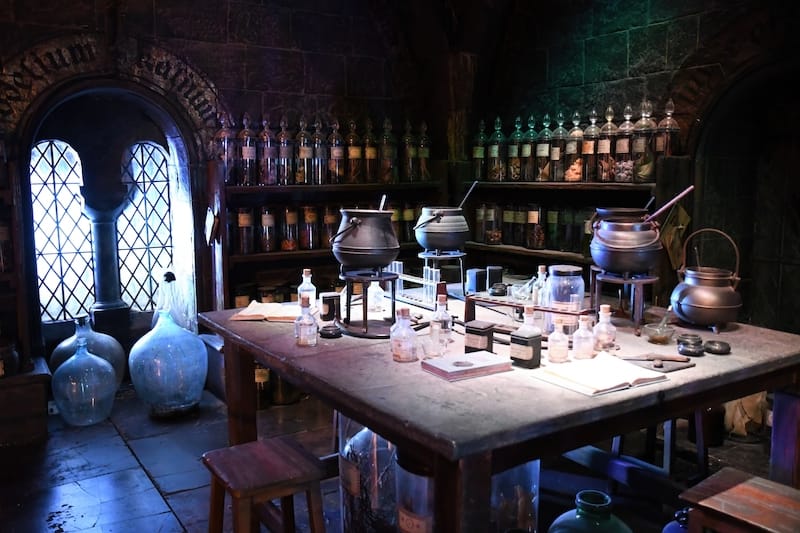 Once back in London, after so much walking and excitement, you will barely want to leave the hotel.
Souvenir Shop + Cafe
Although prices can be pretty expensive, the souvenir shop is a gem. Over here, you can find anything you want, from characters' wands to school supplies, copies of set props, clothing, and other memorabilia.
If you're on a budget, I suggest purchasing a few inexpensive trinkets, such as keychains or pens, and purchasing a dope of the wands in any London toy store.
You can savor special cakes or sandwiches, tea, coffee, and juices at the on-site cafe. Prices can be high, but quality and freshness are worth the expense.
Where to Stay in London (Near King's Cross)
When we visited the studios, we planned ahead for our London stay.
We chose a hotel not far from King's Cross Train Station, making it easy to reach the Euston Train Station (just a few blocks away) and facilitate access to many other major attractions in town.
Besides, most hotels around King's Cross are also near many of the hop-on-hop-off bus stops, making it easy for us to jump on a sightseeing adventure in case of rain – not the odd thing to expect in London!
These are some of the hotels we recommend near King's Cross:
Pullman London St Pancras: Located on Euston Road, this hotel offers an excellent location to reach Euston Station early in the morning. Besides, it's also close to other London landmarks, including the British Museum, Covent Garden, Oxford Street, and West End.
Point A Hotel London Kings Cross – St Pancras: A mid-range hotel a few steps from King's Cross that offers high-speed WiFi, continental breakfast, coffee, and snacks provided throughout the day within a 15-minute from Camden Town.
Alahambra Hotel: This is an affordable 2-star hotel offering essential services, an excellent breakfast, and luggage deposit just a few meters from King's Cross and conveniently near several bus stops and shops.
Did we miss anything when covering what you need to know before visiting Harry Potter Studios?
Let us know your favorite tips to prepare to visit Harry Potter Studios! Or any worthwhile tours!
More England Travel Content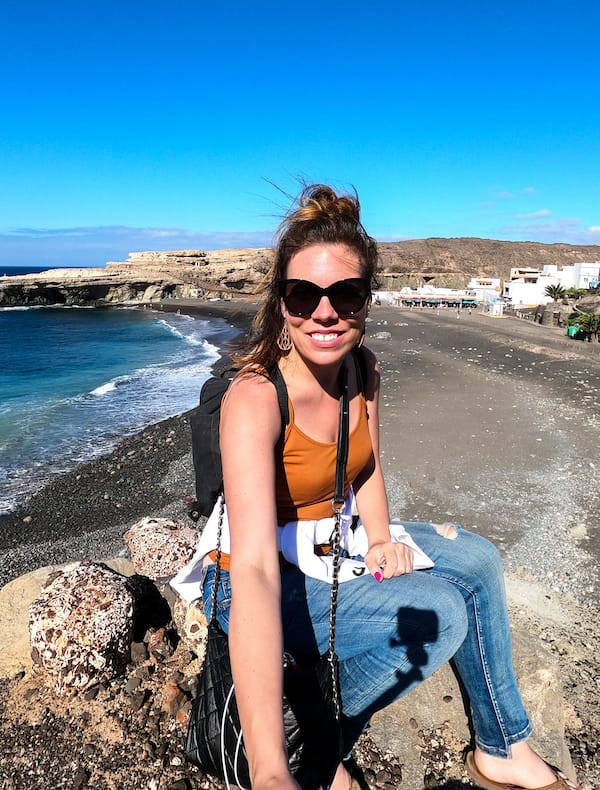 Megan is a travel blogger and writer with a background in digital marketing. Originally from Richmond, VA, she now splits her time between Frankfurt, Germany and Arctic Finland after also living in Norway, Armenia, and Kazakhstan. She has a passion for winter travel, as well as the Nordic countries, but you can also find her eating her way through Italy, perusing perfume stores in Paris, or taking road trips through the USA. Megan has written for or been featured by National Geographic, Forbes, Lonely Planet, the New York Times, and more. She co-authored Fodor's Travel 'Essential Norway' and has visited 45 US states and 100+ countries.