There is no question that Denver is one of the coolest cities in the United States. And these amazing day trips from Denver add to the city's appeal!
Are you planning your trip to Denver last minute?
Top Experiences and Tours in Denver:
Top Hotels Denver:
These are the best Denver day trips – from nature escapes to nearby cities that have a lot to offer! Many of these can also be done as weekend trips from Denver if you're keen to spend a bit more time in each of them!
Did we miss any other day or weekend getaways from Denver? Let us know in the comments! Thanks!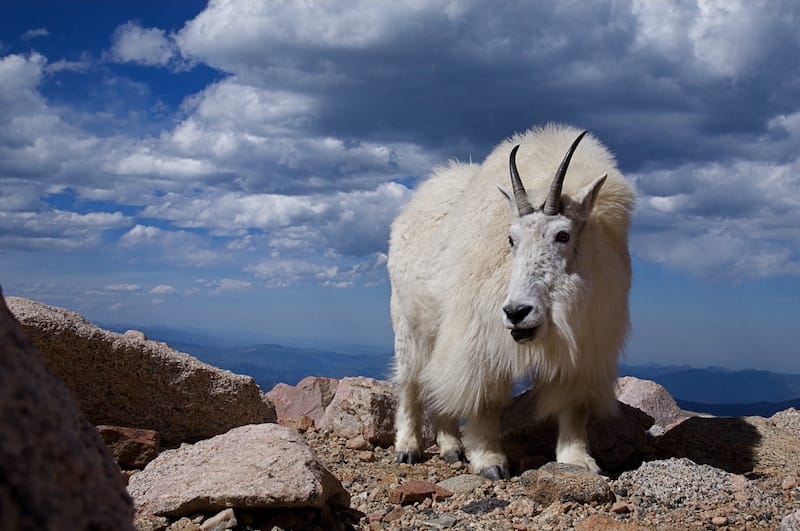 How to Get around Denver (and the Region)
All the region's tourist attractions and day trips can be overwhelming! You can use your personal car for these day trips, book one of many tours, or use an alternative form of transportation!
With Centennial Worldwide your transport needs while in Denver will surely be met, especially given their excellent fleet and service options; to and from the airport or directly to the ski resort of your choice, you will experience a timely, professional and friendly car service.
Best Day Trips from Denver
Rocky Mountain National Park
Distance from Denver: 66 miles (1 hour, 21 minutes)
Experience the full potential of Colorado's untouched wilderness in Rocky Mountain National Park, which offers mesmerizing alpine beauty year-round.
Spanning over 415 square miles of land, RMNP is home to 110 towering peaks of the Rocky Mountains, lush greenery, a series of lakes, small glaciers, and 300 miles of hiking trails which you can explore either by car or on foot.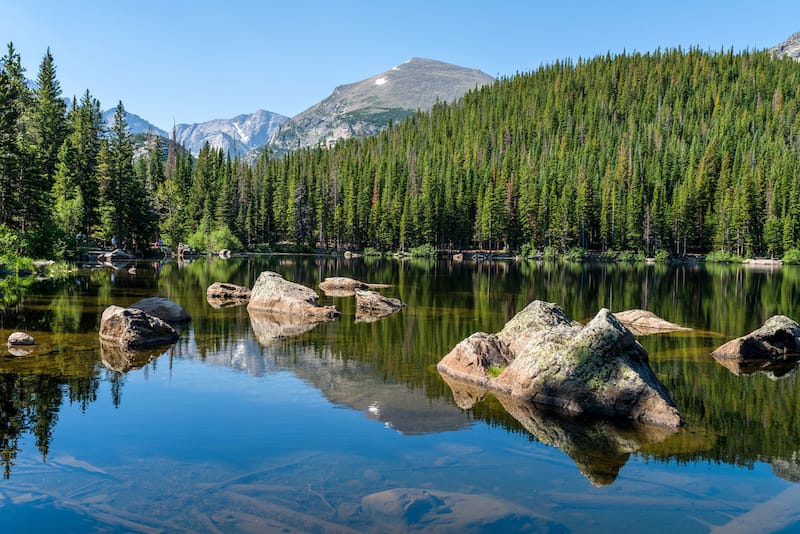 Longs Peak is one of the gems of the Colorado national park known for its charming beauty and challenging climbing paths. Adventurers can try horseback riding, hiking, camping, and fishing.
Get ready to take in the scenery and enjoy wildlife spotting while biking and driving along scenic Trail Ridge Road. It proves why this is one of the most beloved national parks in the US!
Just note that High Alpine Drive is closed during the winter months, but you can still enjoy cross-country skiing, sledding, and snowshoeing in Hidden Valley.
Fort Collins
Distance from Denver: 65 miles (1 hour, 9 minutes)
Despite being a college town (home to Colorado State University), Fort Collins has become a true paradise for beer lovers. The city is packed with 2 dozen local breweries, many of which have tasting rooms and offer tours through breweries.
When not enjoying the city's craft beer scene, check out the Old Town district, where you can find independently owned-boutiques, restaurants, and museums.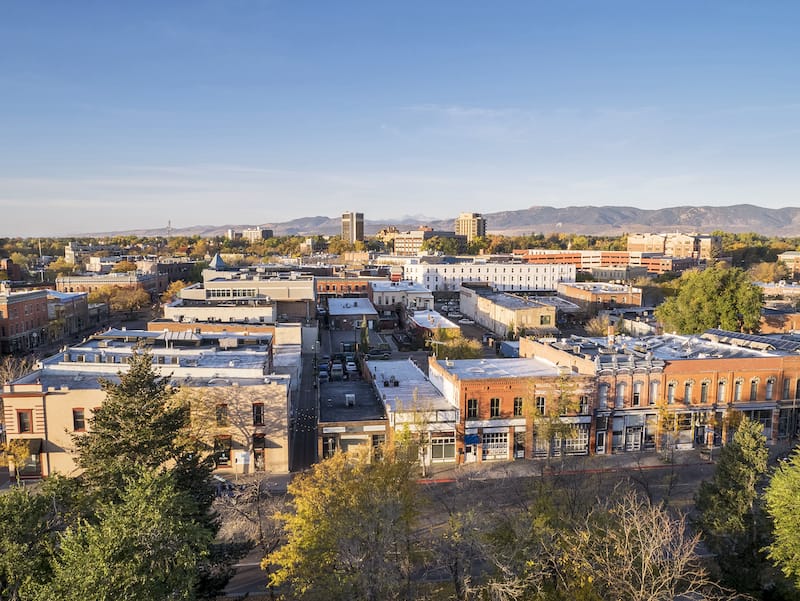 For a blast from the past, visit Totally 80's Pizza and delve into the town's history at the Fort Collins Museum of Discovery.
Go fishing, boating, and kayaking at Horsetooth Reservoir, or enjoy scenic drives, picnicking, whitewater rafting, and hiking in the nearby Cache la Poudre River Canyon.
Boulder
Distance from Denver: 29 miles (33 minutes)
Get away from the hustle and bustle in Boulder, a northern Colorado city that gives off small town vibes. Make sure to set aside a few days to fully explore the city packed as it is packed with plenty of must-do indoor and outdoor activities.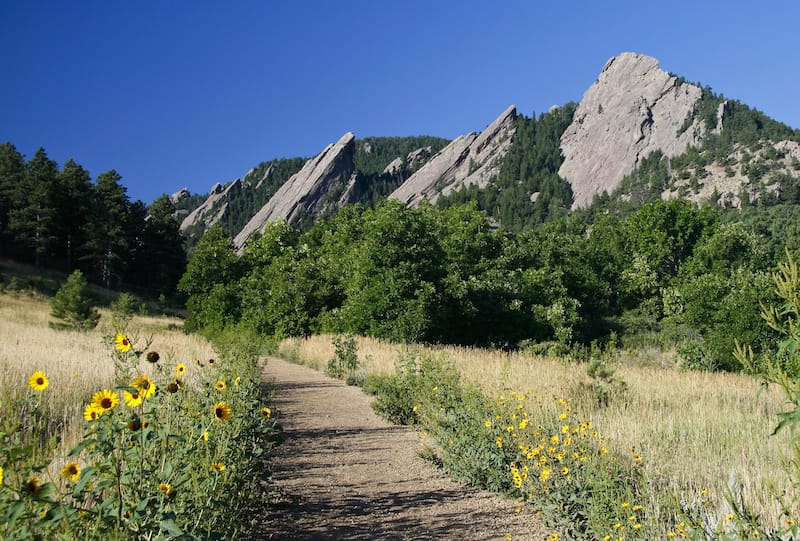 Go hiking through Boulder's well-known mountains and landscapes (the Flatirons at Chautauqua Park is a popular favorite!), check out the famous Pearl Street Mall, and try to taste some of the best beer in the state.
Despite being the perfect blend of city and nature and home to miles of hiking and biking trails, Boulder's downtown area still offers a number of boutiques, culinary shops, fine dining restaurants, and excellent nightlife options.
Pikes Peak
Distance from Denver: 99 miles (2 hours, 11 minutes)
If you are after marvelous scenery at an elevation of more than 14,000 feet, then Colorado's most famous mountain, Pikes Peak, is the place to go. It is an easy day trip from Colorado Springs and a longer (albeit still easy) one from Denver.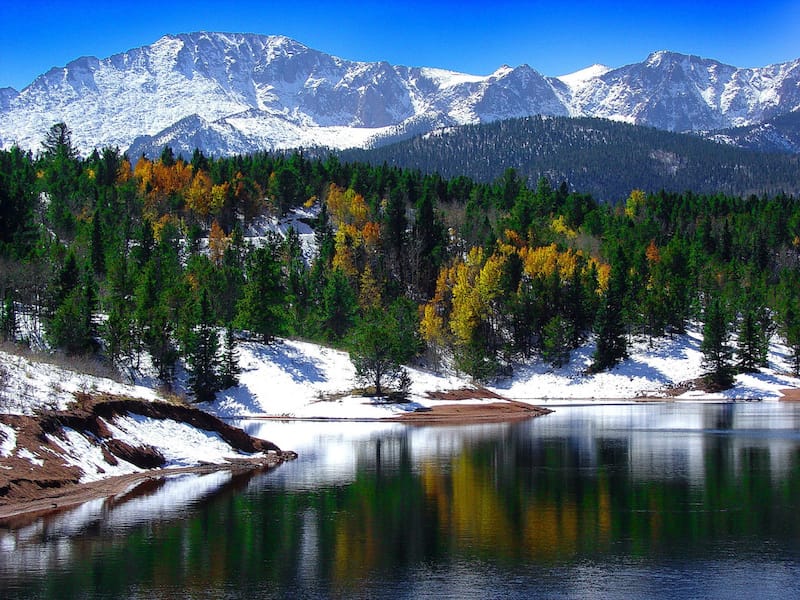 You can hike the 13-mile-long Barr Trail, drive along Pikes Peak Highway, or take the 9-mile Cog Railway to get to the soaring summit.
This stunning destination is a go-to place for climbing fanatics who can witness race car drivers getting to the top of Pikes Peak or doing it by themselves by taking part in the thrilling Pikes Peak International Hill Climb held every June.
Summit County
Distance from Denver: 74 miles (1 hour, 28 minutes)
Home to massive mountains, notably the Ten Mile Range, and centered around Lake Dillon, Summit County is another great Denver day trip option to take in the mesmerizing beauty of surrounding nature and enjoy ample outdoor activities.
Offering some of the country's greatest skiing, Summit County features five world-class ski resorts: Breckenridge, Keystone, Arapahoe Basin, Breck, and Copper Mountain.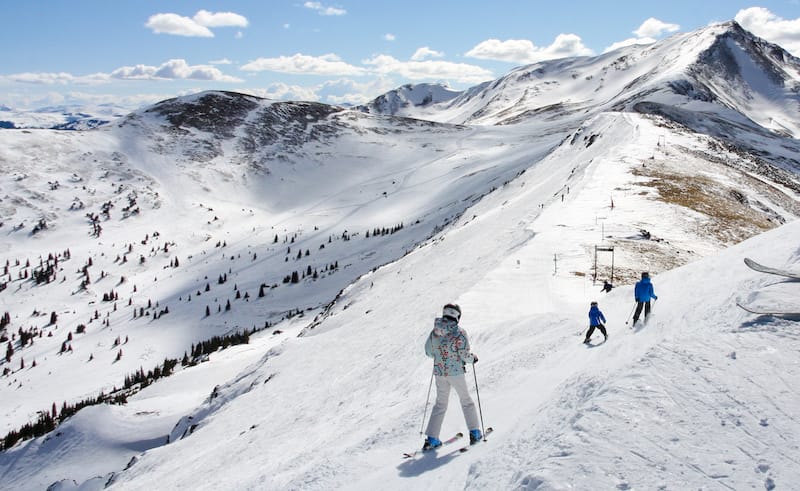 For a dose of Colorado inspiration, stroll in nationally recognized art galleries and museums in Breckenridge, Frisco, and Dillon.
Adventure seekers can put their hiking boots to the test at the 6.6-mile hike on the Mohawk Lakes Trail to admire the views (and fall foliage during that time of year). Water junkies will enjoy boating, canoeing, and kayaking on Dillon Reservoir during the summer months.
Deckers and Pine
Distance from Denver: 64 miles (1 hour, 20 minutes)
Adventure awaits in the Decker and Pine area, where you will find perfect nature to enjoy alone or with your family. This is also the area where the famous Staunton State Park is located.
Head to Pine Valley Ranch Park, where you can stroll in the mountainous landscapes with your kids, go fishing in a small pond, or enjoy hiking on trails for every skill level.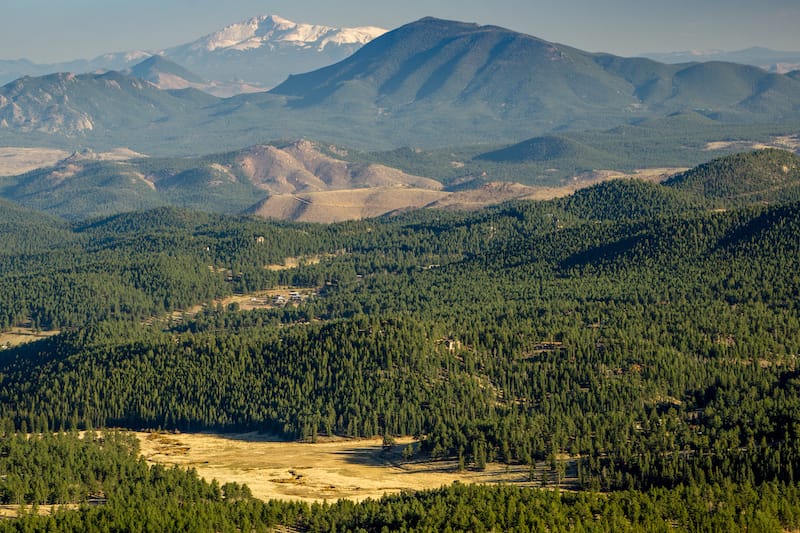 If you're a seasoned angler, be sure to check out the South Platte River and Cheesman Lake in Deckers for a chance to enjoy some of Colorado's best fishing.
If you're looking for a great place to grab lunch or dinner, check out Zoka's for fine Colorado cuisine. Deckers also is an epic place for mountain biking, hiking, and birdwatching.
Garden of the Gods
Distance from Denver: 70 miles (1 hour, 12 minutes)
If you want to experience one-of-a-kind scenery, then head to Garden of the Gods to explore its otherworldly landscape. It is one of the best day trips from Denver and Colorado Springs both!
The famous park's main attraction is its jaw-dropping colossal red rock formations, forming the perfect background for a unique Instagram photo.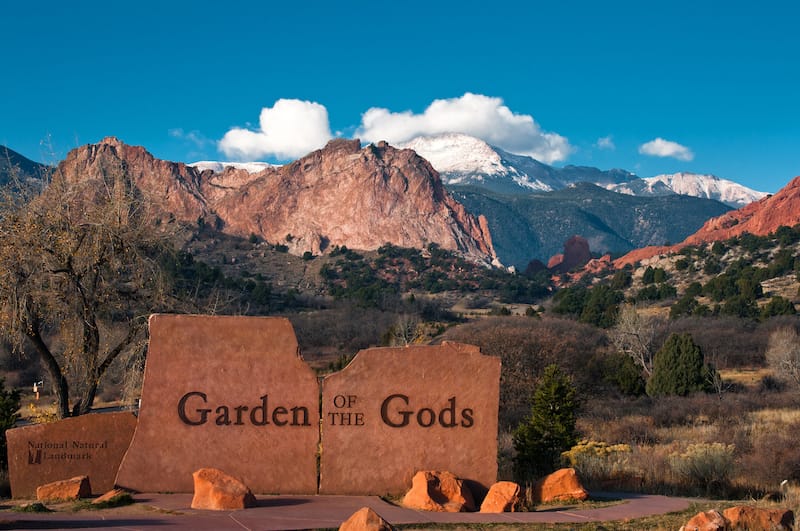 About 1,300 acres of land offers a wide variety of ways to explore this masterpiece of natural artwork and learn more about the history and geology of the area.
You can go hiking, mountain biking, fishing, horseback riding, and take a jeep ride over its terrain. Thrill-seekers can even take part in guided climbing excursions to take in the stunning views from the top of the rocks. You can also visit Garden of the Gods in winter rather easily.
If you're spending a weekend in Denver and are not down to explore Rocky Mountain National Park and are seeking an alternative, you will not be disappointed by Garden of the Gods!
Central City (Black Hawk)
Distance from Denver: 38 miles (45 minutes)
Step back in time by visiting Central City / Black Hawk, where you can witness how former twin mining towns turned into Colorado's premium gambling destination.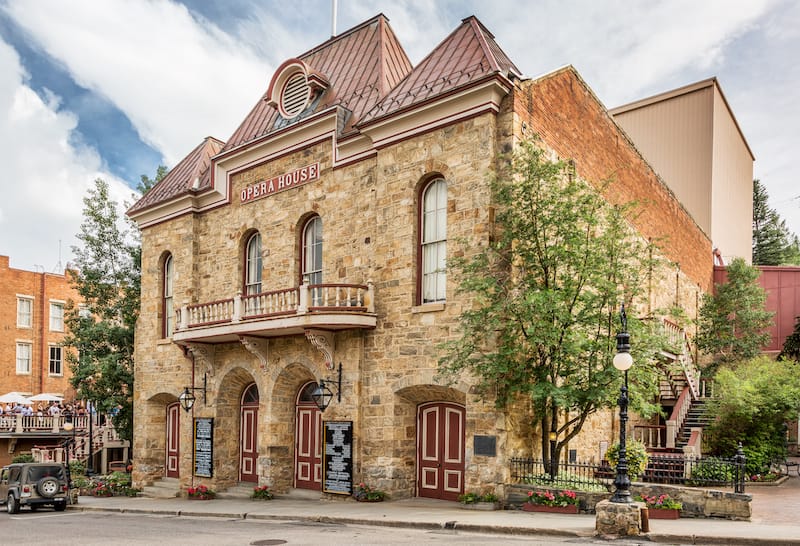 For a Vegas-style luxurious experience, check out Ameristar, Isle of Capri casinos, and nearby high-end casinos. Stroll on the main street of Central City to admire the historic buildings and take a Colorado mine tour.
Hiking opportunities and shopping and dining options await you in Maryland Mountain Quartz Park. Dig deep into Colorado's mining history by visiting Central City Opera House, Thomas House Museum, or taking a tour with Gilpin Historical Society.
Evergreen (& Mount Evans)
Distance from Denver: 29 miles (36 minutes)
The charming mountain town of Evergreen is surrounded by alpine meadows and is a great Denver day trip option to experience a fun and rustic atmosphere.
Packed with shops, spas, galleries, eateries, and museums (like the Hiwan Homestead Museum), downtown Evergreen has so much to discover.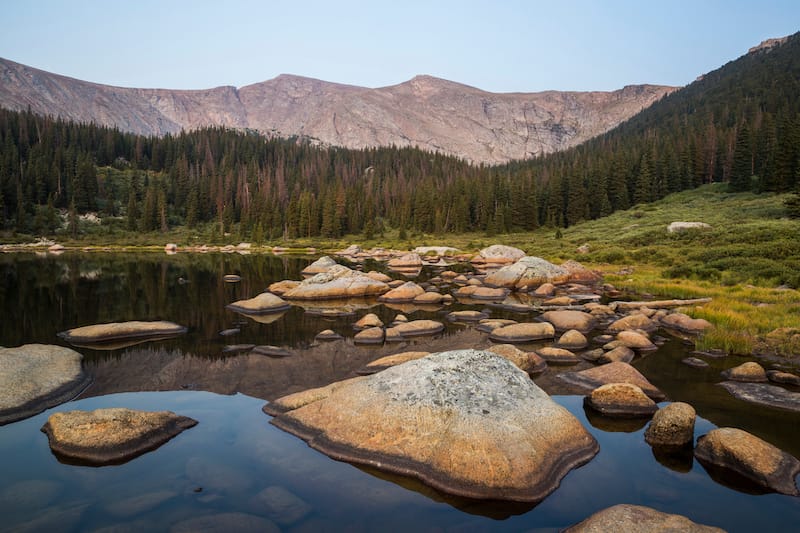 But there is definitely more to the town than just its center! Evergreen Lake offers ice skating in winter while being a great place for boating, paddle boarding, picnicking, and hosting concerts during the summer months.
A 30-minute drive and you will reach North America's highest paved road- the Mount Evans Scenic Byway. This will take you to the 14,624-foot-tall Mount Evans, which can also be hiked by climbing enthusiasts, promising breathtaking scenery along the way.
Lastly, be sure to stop by Echo Lake, where you'll find an idyllic spot for fishing, camping, and hiking.
Eastern Plains
Distance from Denver: 86 miles (1 hour, 34 minutes)
Explore a different side of Colorado by paying a visit to Eastern Plains, home to various cultural and natural attractions and situated east of Denver.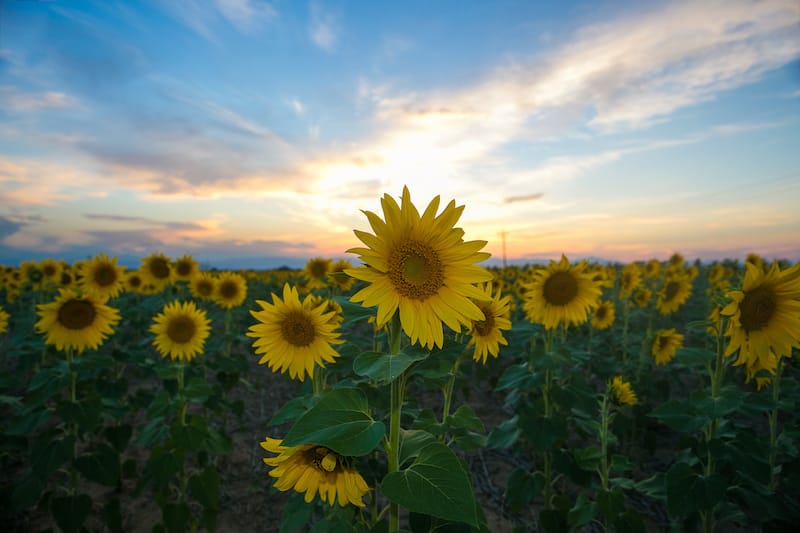 Animal lovers can visit the Wild Animal Sanctuary to enjoy and support wild animals in need. Paint Mines Interpretive Park is another must-visit spot in Easter Plains that will reward you with an otherworldly landscape of vibrant rock formations and hiking trails with breathtaking scenery.
Experience the Columbian equivalent of an African safari by jeep, go swimming with pink river dolphins in Puerto Gaitan, or admire the mesmerizing Rainbow River of Cano Cristales for unforgettable memories. This is one of the best Denver road trips for sure!
Red Rocks Park
Distance from Denver: 17 miles (25 minutes)
Red Rocks Park, listed as a National Historic Landmark, promises one-of-a-kind scenery of towering sandstone formations that will blow your mind (and showcase the best of Colorado so close to Denver)!
The park is home to the dramatic Red Rocks Amphitheatre carved into the rocks, which hosts special events throughout the year.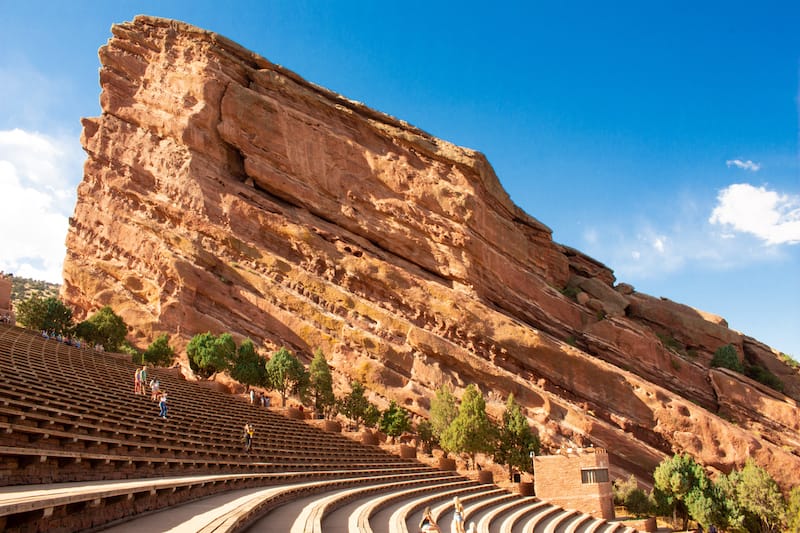 Make sure not to miss stand-up comedians, concerts, large group workouts, movie night series organized in the evenings, and yoga sessions in the mornings.
Red Rocks Park also attracts exercise enthusiasts, offers wildlife spotting, and picnicking opportunities, as well as hiking and biking trails along which you can marvel at the stunning vistas of downtown Denver.
Breckenridge
Distance from Denver: 80 miles (1 hour, 30 minutes)
Nestled at the base of the Rocky Mountains, historic Breckenridge is a must-visit ski resort town that offers plenty of outdoor recreation activities.
Breckenridge Ski Resort is one of the most well-known ski resorts and should be your top pick if you opt to visit Breckenridge for more than just a day trip.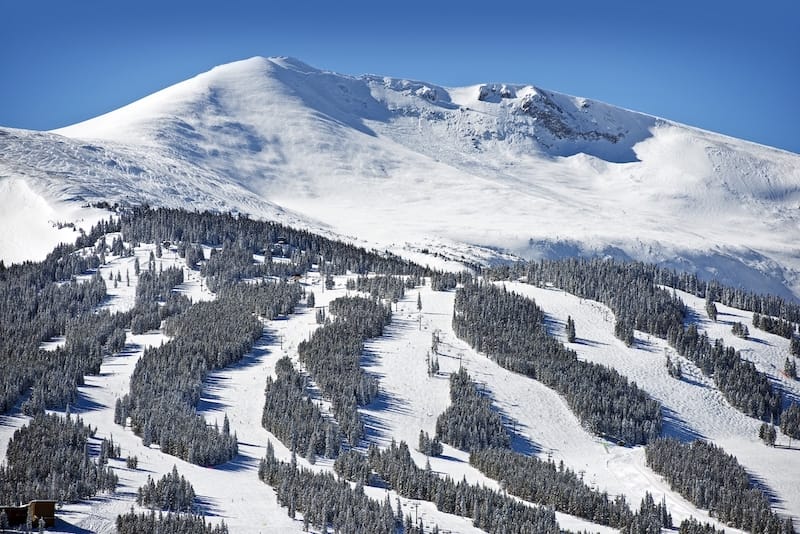 When the Breckenridge winter blows in, enjoy skiing, snowboarding, and tubing, while in the summer months, you can experience the mountain charm by hiking, biking, and horseback riding along hundreds of miles of scenic trails.
Don't miss the high-altitude Breckenridge Distillery, admire the 15-foot-tall Breckenridge Troll (one of the public art gems), and round off your day by strolling on Main Street which is packed with plenty of shopping and dining options.
If you happen to be looking for a weekend getaway from Denver, try visiting Steamboat Springs in winter for skiing or in summer for a bit of hiking. It is further than Breckenridge, but a popular favorite!
White River National Forest
Distance from Denver: 70 miles (1 hour, 17 minutes)
Immerse yourself in the natural beauty of Colorado in the White River National Forest, where 2.3 million acres of land has something for everyone.
Despite being the most visited National Forest in the United States and offering various activities for adventure seekers, it never feels that crowded.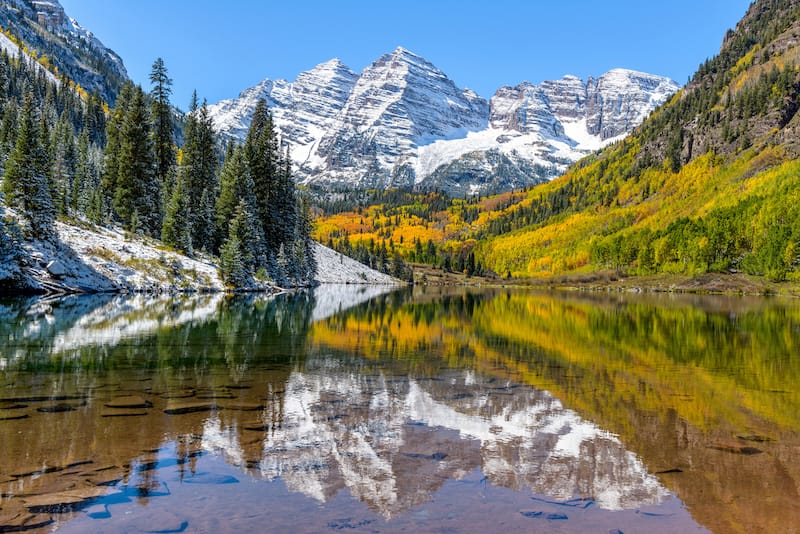 The area is home to 10 peaks averaging about 14,000 ft in elevation and famous ski resorts such as Aspen, Vail, Beaver Creek, and more.
If you're not into skiing, White River has plenty of mesmerizing nature to explore by horseback riding and overnight camping. There are more than 2,500 miles of hiking trails that allow you to get up close and personal with the forest!
Cheyenne, Wyoming
Distance from Denver: 101 miles (1 hour, 37 minutes)
Cheyenne is one of the best places to visit near Denver and it will allow you to check out Wyoming while you're at it!
Learn more about western culture in the Nelson Museum of the West or delve deep into Cheyenne's rich heritage at the Wyoming State Museum and The Old West Museum.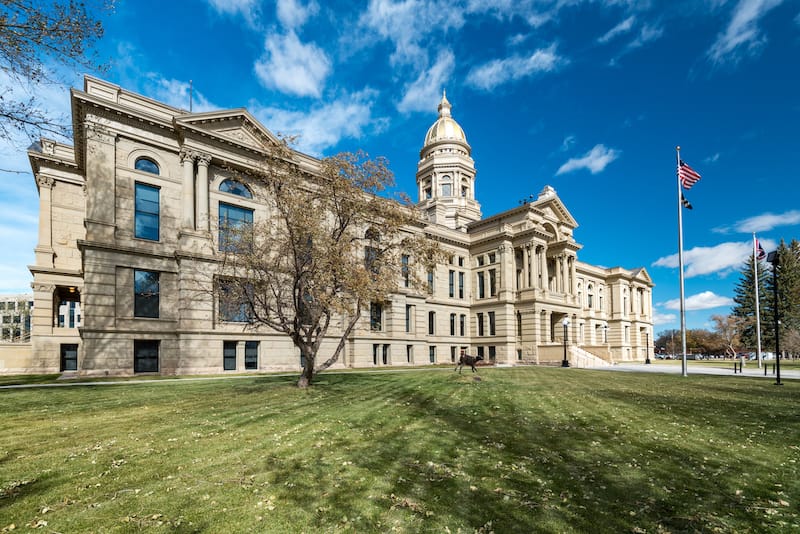 Kids will certainly enjoy a walk through the Paul Smith Children's Village, Terry Bison Ranch, and the Cheyenne Botanic Gardens – gorgeous gardens filled with herbs and roses.
Take in the city's best sights by taking a tour aboard the Cheyenne Street Railway Trolley's 100-year-old busses and make sure not to miss Cheyenne Frontier Days, which is a huge Rodeo and Western event held every July.
Florissant Fossil Beds National Monument
Distance from Denver: 104 miles (1 hour, 55 minutes)
Travel back in time to the Eocene Epoch at Florissant Fossil Beds National Monument, where you can witness thousands of fossil deposits and solidified redwood stumps.
The monument has some of the richest deposits in the world, housing fossils of 1700 diverse species of insects, animals, fish, trees, etc.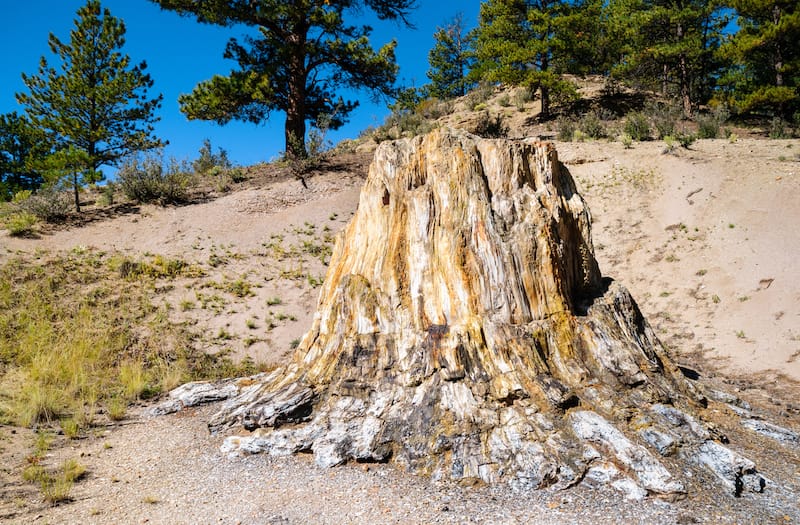 Stop by the Visitor Center to marvel at some of the best-preserved exhibits of unique fossils.
This elevated alpine environment also serves as a habitat for mountain lions, deer, and coyotes, which you can sometimes see while hiking along its 14 miles of scenic trails and taking part in its guided tours.
Bear Creek Canyon
Distance from Denver: 18 miles (24 minutes)
Hop in the car and head south to experience the stunning natural beauty of Colorado by driving to the Bear Creek Canyon area, which is a part of Denver's Park System.
This 6.9-mile scenic drive connects Morrison and Idledale and leads to Colorado's vast mountain parks.
If you're pressed for time, this short drive is a great way to get out of the city and explore the native flora and fauna and plenty of creeks along the way. Rest stops and restrooms are available along the route.
Vail
Distance from Denver: 97 miles (1 hour, 39 minutes)
Experience the joy of winter in the small mountain town of Vail, one of the US's most famous ski resorts offering 193 official ski trails and 7 ski bowls covering all four sides of the mountain
If you are not into skiing, get an adrenaline rush at Epic Discovery by trying mountain coasters, ziplines, eagle's nest tubes, etc.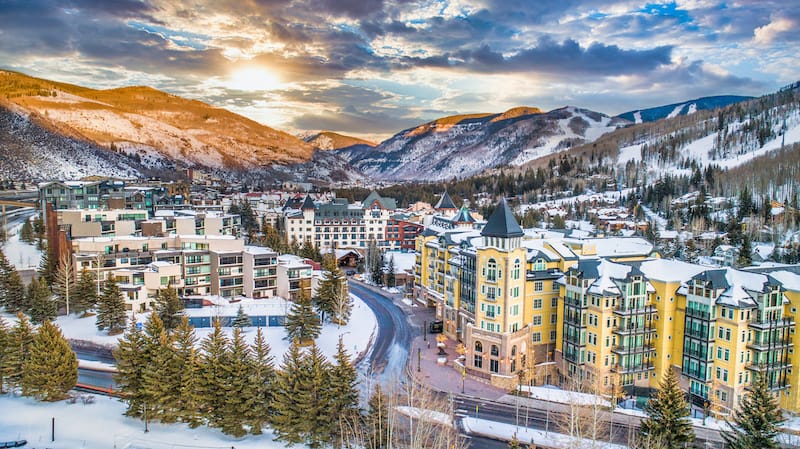 Summer recreation activities await you in the Vail Recreation District, from where you can head to Vail Nature Center to explore the rich wildlife exhibits.
Don't miss taking part in the following exciting events organized throughout the year: GoPro Mountain Games, the Vail Dance Festival, Snow Daze, etc.
Georgetown
Distance from Denver: 45 miles (49 minutes)
Georgetown is another great location in Colorado for history buffs. Immerse yourself in the region's gold mining history by taking a train ride on Georgetown Loop Railroad to Silver Plume, where most of the miners lived.
Take a tour through 1,000 feet underground old gold mines with Capital Prize Gold Mine Tours and visit the historic Hotel de Paris Museum or Hamill House Museum to witness how the affluent people here once lived.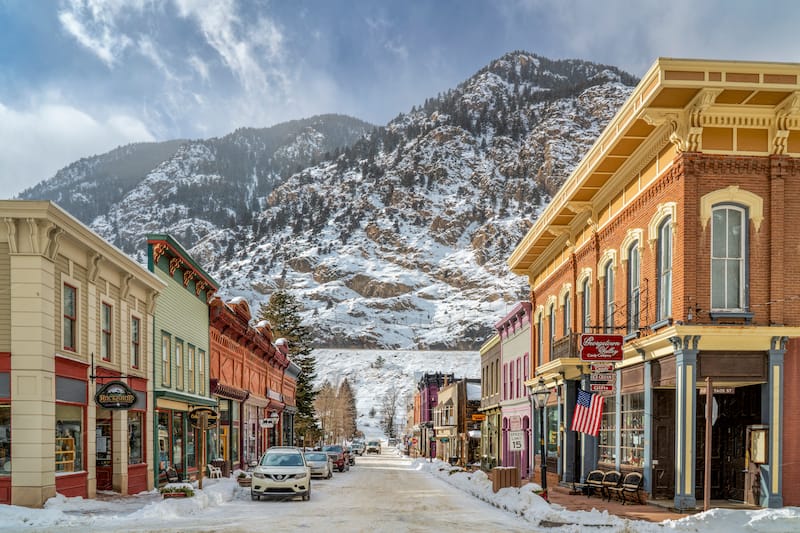 Level up your dining experience at Lucha Cantina by tasting their mouth-watering Mexican and American dishes in a historic setting. For extra fun, go hiking at Guanella Pass or fishing at well-known Georgetown Lake.
Fairplay (and South Park City)
Distance from Denver: 85 miles (1 hour, 35 minutes)
Fairplay, an old gold mining settlement, is home to some of the best trout fishing around.
But fishing in Fairplay's beautiful rivers isn't the only draw of this little town- it also is home to South Park City, a restored 19th-century mining camp turned into an open-air museum.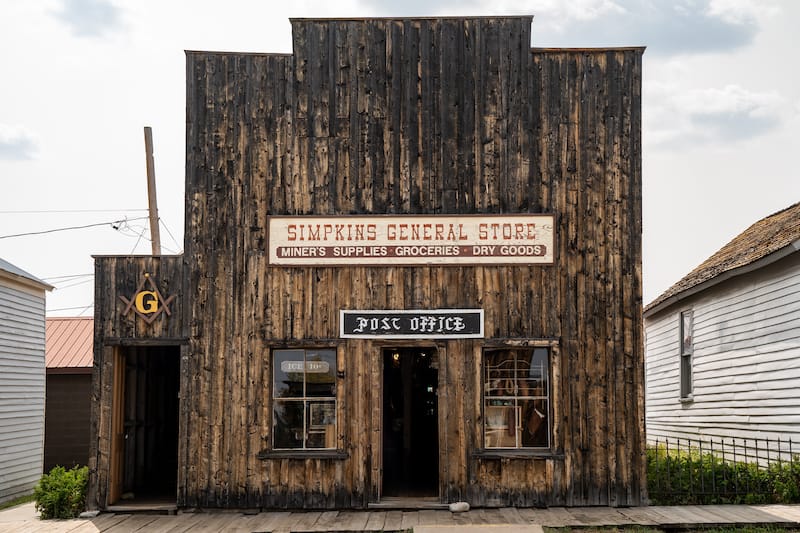 You can see restored buildings both local and imported from locations in the surrounding South Park Basin. Also, while not named after a specific town in particular in the South Park Basin, the TV show South Park was visually based on this area.
While you're there, make sure to spend some time at Fairplay Beach, which surrounds a beautiful high-elevation pond. It's a great spot for hiking, picnicking, and fishing.
There are also some beautiful reservoirs in the basin, including Antero, Terryall, and Eleven Mile, the latter of which is particularly good for ice fishing in the winter.
Hanging Lake
Distance from Denver: 147 miles (2 hours, 2 minutes)
Note: Hanging Lake Trail is temporarily closed
If you are captivated by unique scenery that demands extra effort and hiking skills to get to in order to experience its beauty, then Hanging Lake is the place to visit!
This one-mile uphill trail is quite a challenging trek due to its rocky terrain, but the final views are well worth the effort!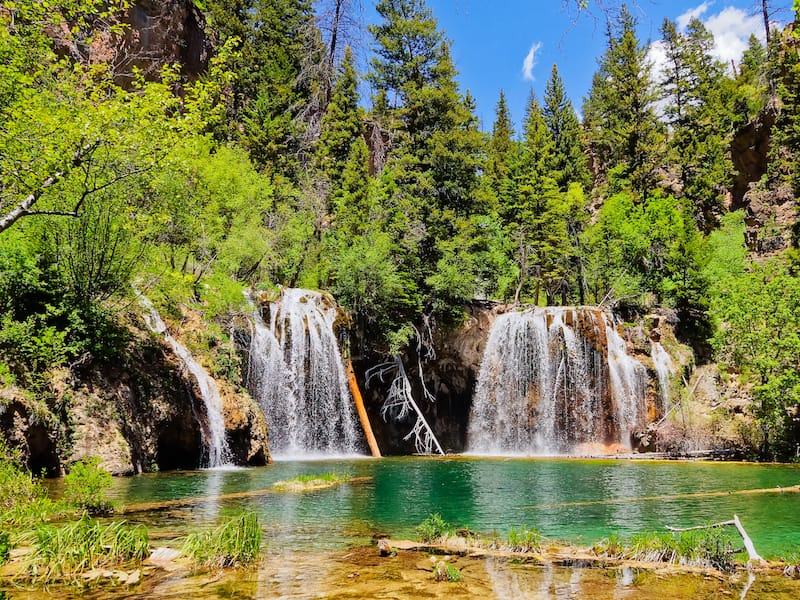 The trail leads to the turquoise Hanging Lake, which seems to be dangling from the Glenwood Canyon cliffs that surround it. Do note that swimming is not permitted in the lake.
The trail offers a few lookout points which reward you with one-of-a-kind scenery of cascades and surrounding lush greenery.
Golden
Distance from Denver: 15 miles (23 minutes)
Golden is another historic city that will mesmerize you with its rich heritage and force you to travel back in time. History enthusiasts will enjoy a walk through the Colorado Railroad Museum, which will permit you to get on board a historic train!
If you're a beer lover or simply want to see a Colorado icon, you need to visit the Coors Brewery and take a tour of the world's largest brewery.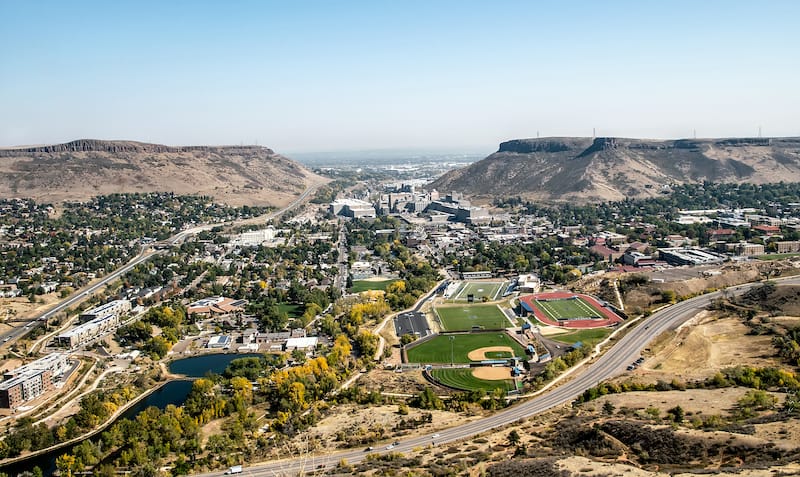 After your brewery tour, get your Golden Ticket and head downtown, where you can save at more than 60 retailers and shop Downtown Golden.
For a step back in time, don't miss visiting the Buffalo Bill Museum and Grave.
Roxborough State Park
Distance from Denver: 25 miles (44 minutes)
This Colorado state park gives you an excellent opportunity to reconnect with nature while learning more about Colorado's diverse geological features.
Roxborough State Park is home to 5 main hiking trails, offering easy to moderate hikes, which allow you to take in the splendid vistas of towering red rock formations, admire rich vegetation and even spot some wildlife along the way.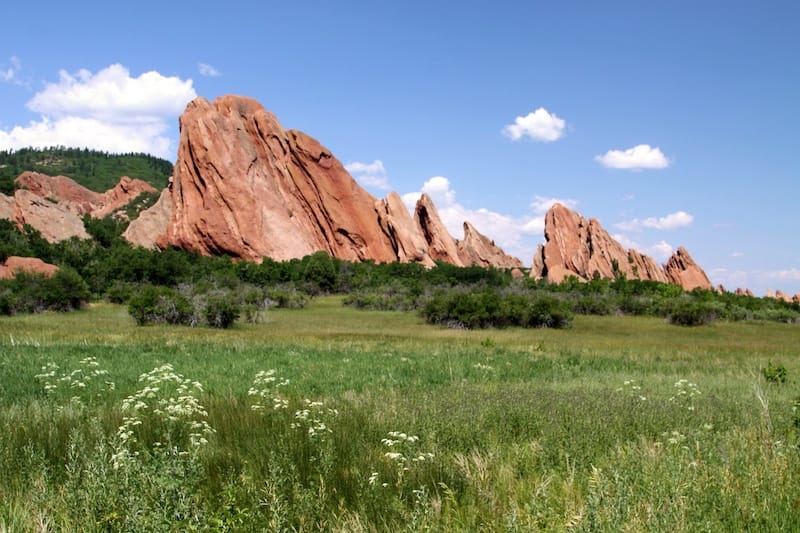 For snapping the perfect Instagram shot, visit the Roxborough in spring when blooming wildflowers and light fog will make the ideal dramatic background for your pic.
Did we miss any of your favorite day trips from Denver? Let us know in the comments!
More Colorado Travel Guides
Pin this Denver Day Trips Guide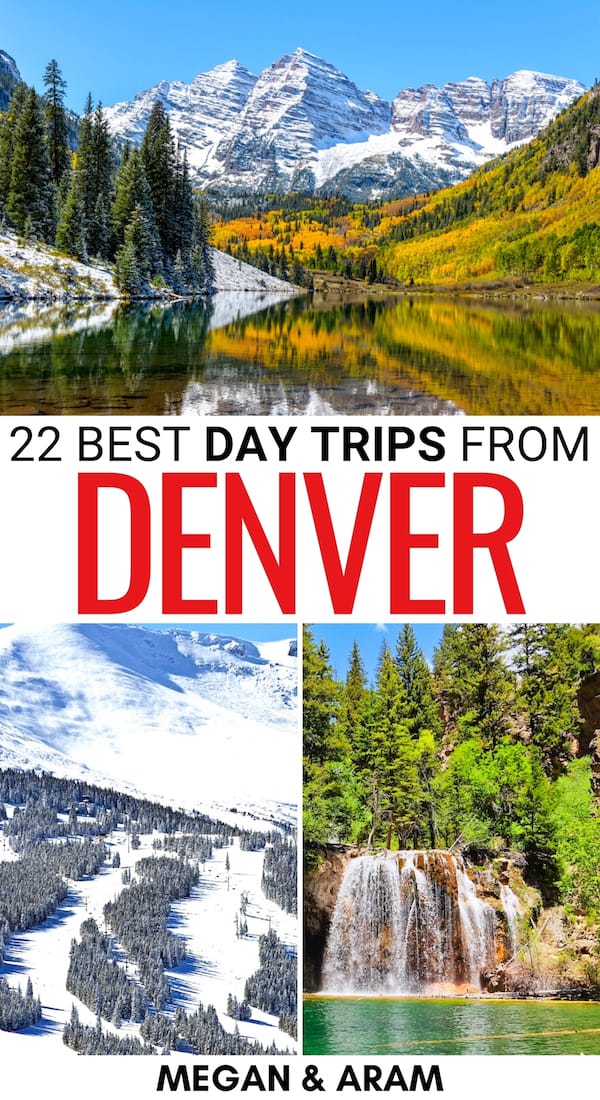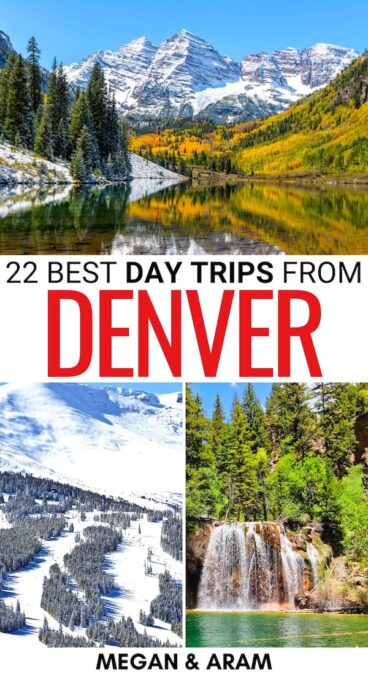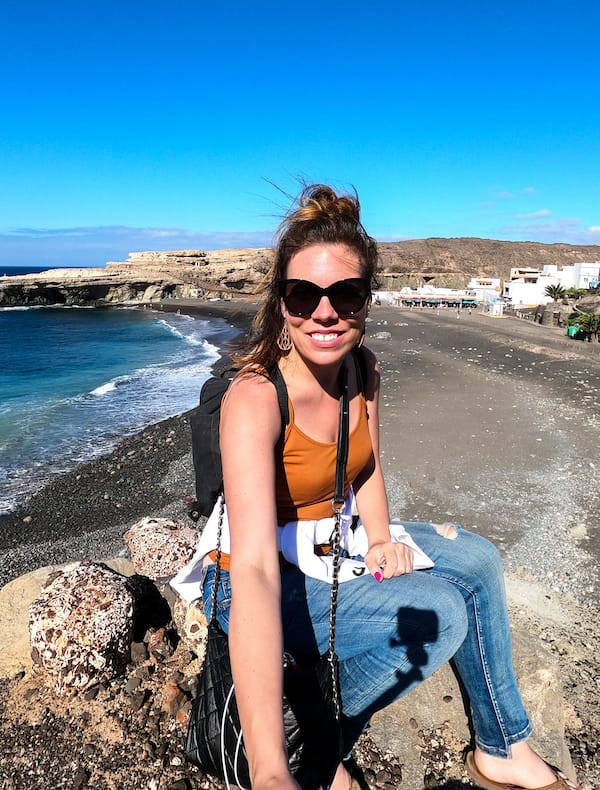 Megan is a travel blogger and writer with a background in digital marketing. Originally from Richmond, VA, she now splits her time between Frankfurt, Germany and Arctic Finland after also living in Norway, Armenia, and Kazakhstan. She has a passion for winter travel, as well as the Nordic countries, but you can also find her eating her way through Italy, perusing perfume stores in Paris, or taking road trips through the USA. Megan has written for or been featured by National Geographic, Forbes, Lonely Planet, the New York Times, and more. She co-authored Fodor's Travel 'Essential Norway' and has visited 45 US states and 100+ countries.