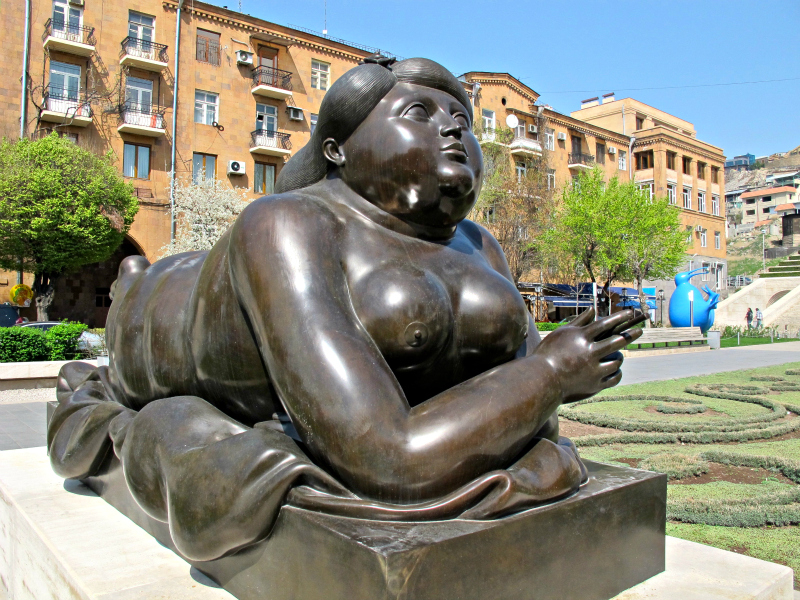 This post may contain affiliate links which means if you purchase something through that link, we will make a small commission at no additional cost to you. Think of it as buying a cup of coffee for us on someone else. Thanks and enjoy!


The Caucasus have a sense of humor.  Either that, or I'm just very immature.  But I'd like to think it's a bit of both.
Granted, I never made it to Azerbaijan, but I'd like to think they don't take themselves all that seriously either.
I realized that this region was going to give me more than I could handle in my almost month of travels there as soon as I crossed the border into Armenia from Georgia.  Our 'taxi', which I was 99.999% certain was making a Georgia-Armenia drug run, made a stop at a gas station and we were forced out of the car in order to fill up the helium-tank looking thing that held gas in the trunk.  I wandered around and stumbled upon this gem: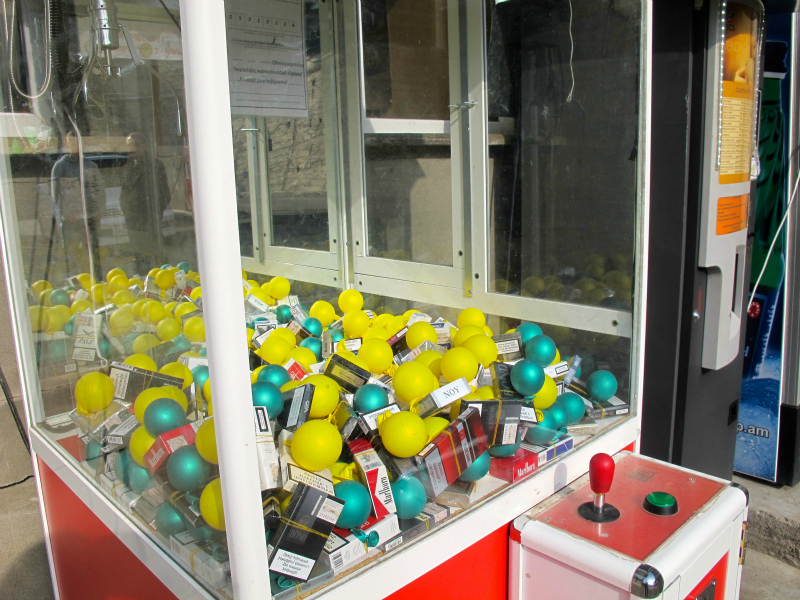 I figured this was one of a kind and I'd never see anything else like it.
Wrong.
These cigarette claw machines were scattered all over Armenia.  It costs around $1 to give it a whirl.  I wonder what happens if you don't win?  If I had a cigarette habit, I'm not sure cigs would be something I'd gamble on.  Maybe it's an "Everyone's a Winner!" claw machine.  Who knows.  Either way, I'd love to know who has the daunting task of blowing up all the balloons for this thing.
Armenia kept the humor going.  I think the taxi drivers deserve a special shout out in this country for originality.  And by originality, I mean originally thinking of which brands to impose copyright infringement upon.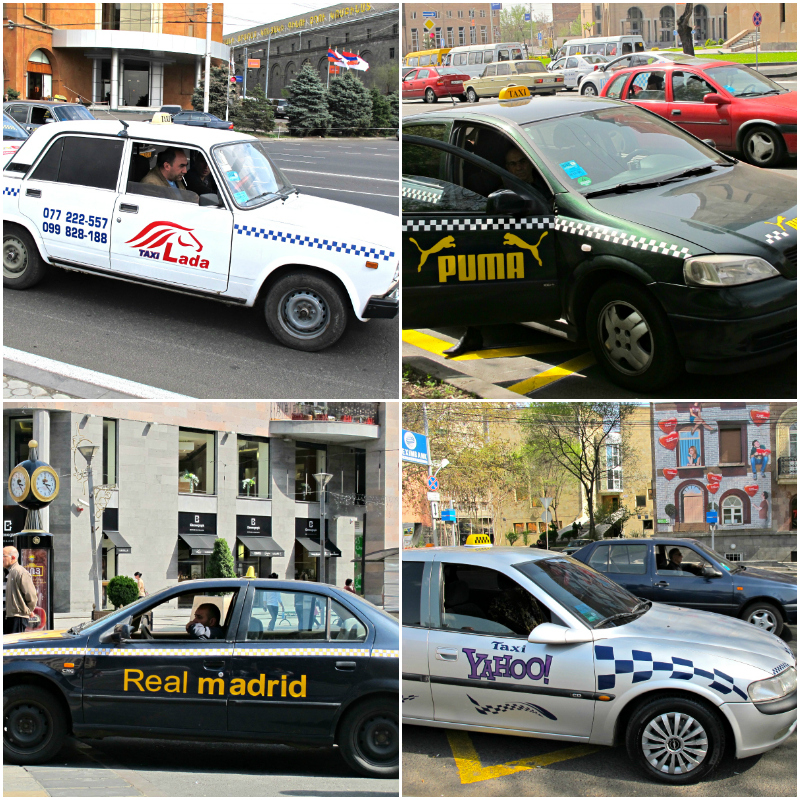 Taxi Lada is not funny.  But it is not that original either.  Like 1/3 of cars in Armenia were Ladas.  Nevertheless, the coolest taxi award goes to this one: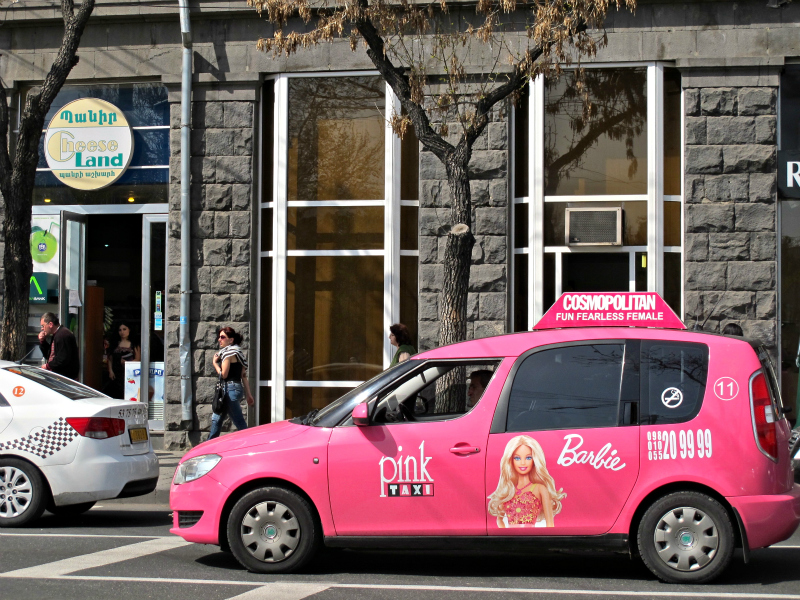 I know if I drove something like this, I'd drive around Yerevan like a boss.
Sexy statues are all the rage in Armenia's capital city.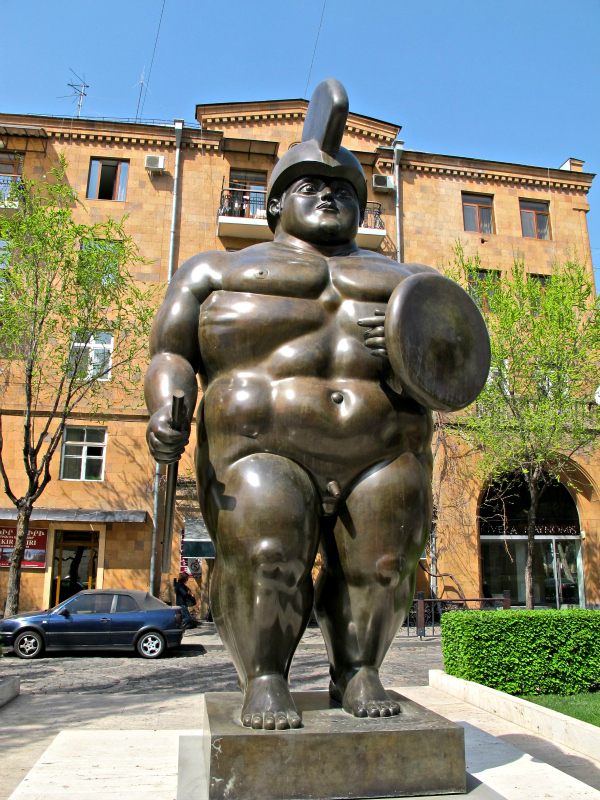 Yerevan is not sexist…so of course they had to create Chubs a mate.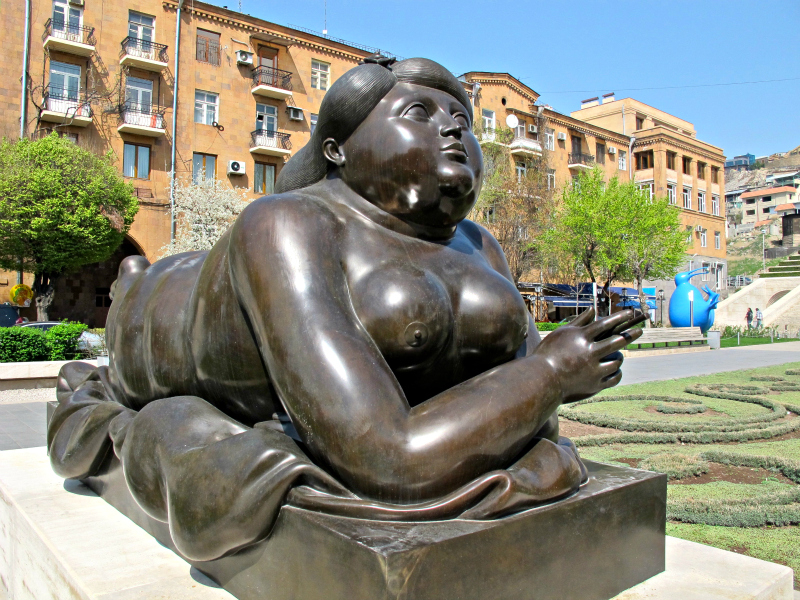 You can't see in this photo, but she-Chubs is smoking.  Someone obviously knows the tricks of the claw machine.
And while tourists are admiring the funky statues, moms are trying to win cigarettes, and dads are thinking up which brand to rip-off for their next taxi… the kids of Yerevan are cruising around the Opera House on Powerwheels-like toys.  I couldn't help but admire these children for their Powerwheels since I asked for one for Christmas for like eight years straight and never received one.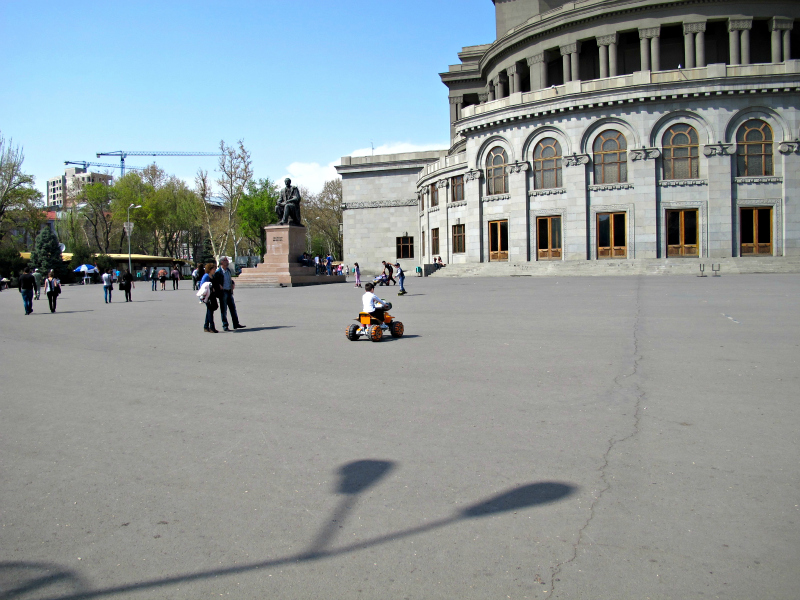 At least I was given the opportunity to settle my bitterness with a USSR ice cream bar.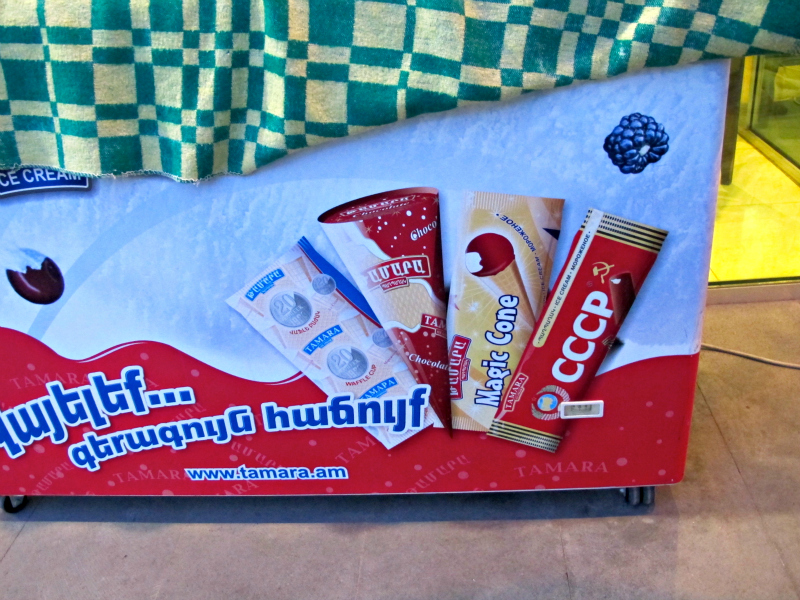 Georgia's sense of humor was a little more tame compared to Armenia's.  But, in the most subtle of ways, it was still very present.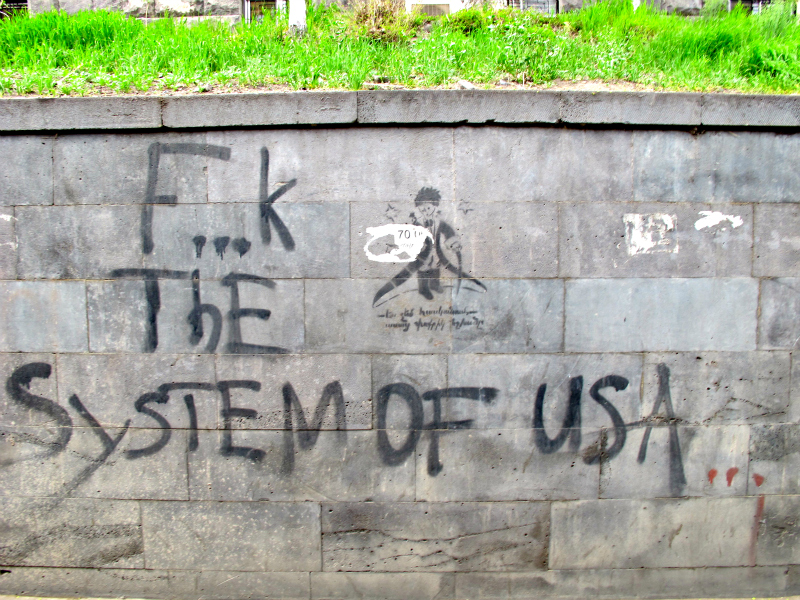 Needless to say, their sense of humor was a little more crude.  At least they had the courtesy to bleep out the first word so I could place this photo on my blog without offending anyone.
Someone may not love the system of the USA, but they sure have a lot of love for our music and rappers who still think in 2013 that it is fashionable to have a mouth full of gold teeth.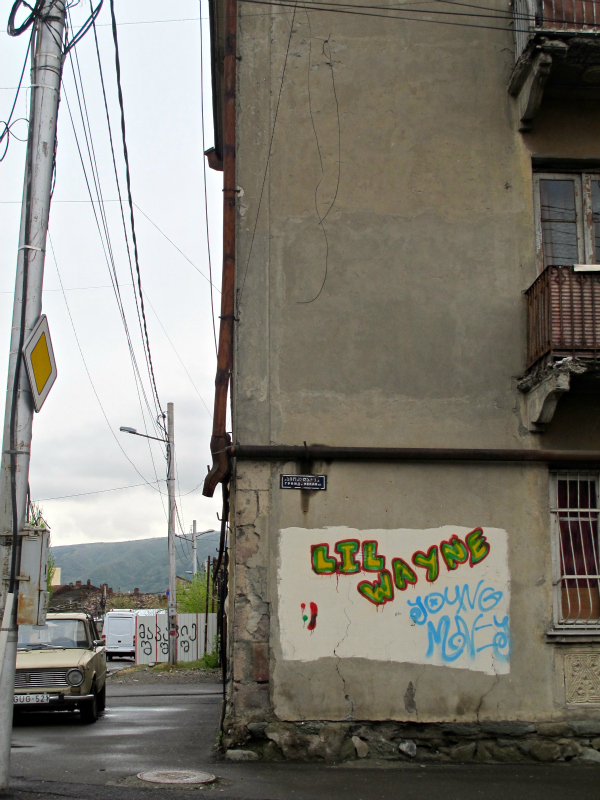 While I was strolling around David Agmashenebeli Ave., I had the pleasure of seeing my first Victoria's Secret in the Caucasus (or on this side of the Atlantic, for that matter).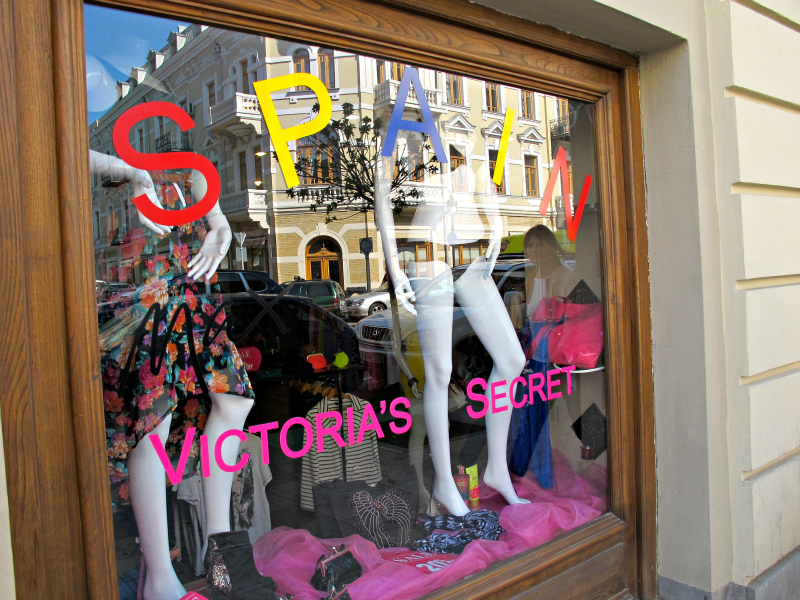 I'm a little confused about why the word "Spain" is written on the window of the store.  I am also curious if Victoria's Secret knows about its expansion into the Georgian market.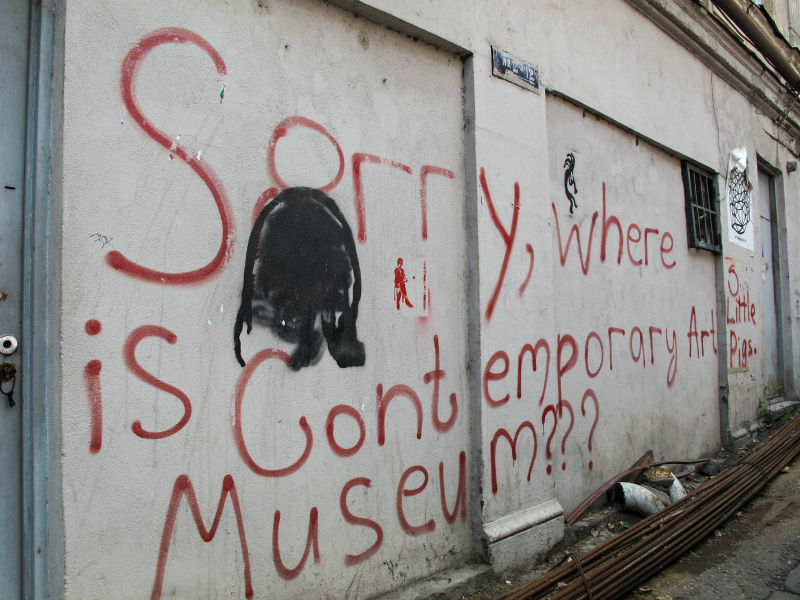 I'm going to assume the person who is wondering asked around a little before going to such extreme measures to find this museum.  And given the fact that no one has responded (by spray paint, of course), I'm going to assume this museum does not exist.
The most perplexing thing in Georgia to me was the people scattered on streets sitting in chairs with scales in front of them.  I guess I could understand this if they were close to markets or something where shoppers wanted to weigh produce, but many of the people I saw were just randomly on the street around no one else.  If someone could offer an explanation for this, I'd be most appreciative (seriously).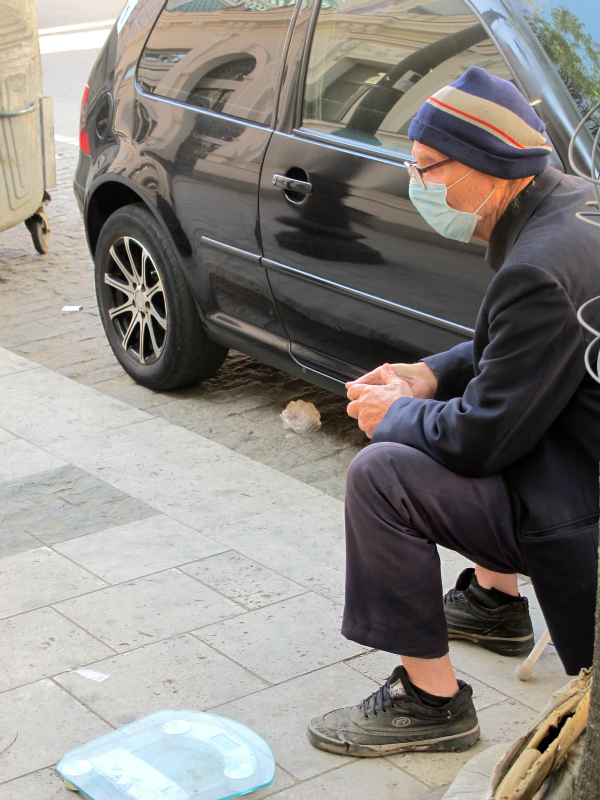 After leaving Georgia and heading to Abkhazia, I thought the humor would vanish into thin air.  Thank you, Abkhazia, for proving me wrong.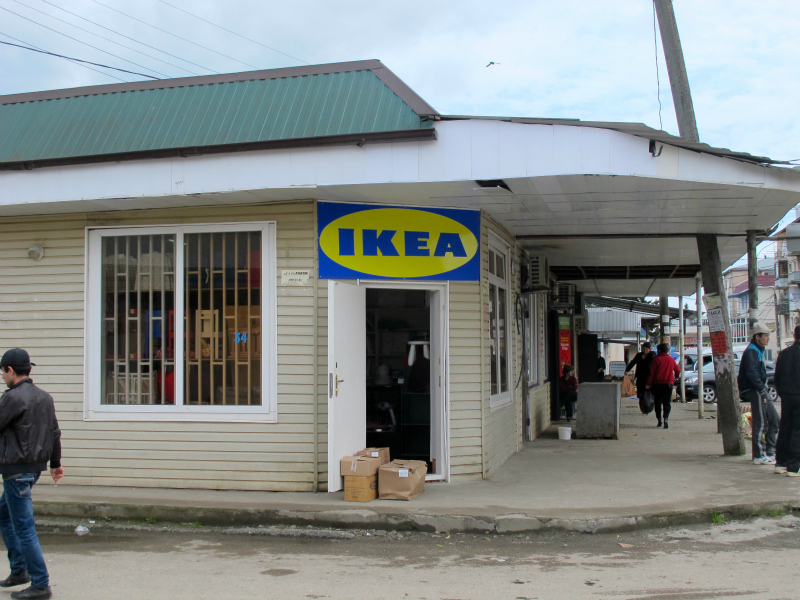 I'll admit, I was a little disappointed with this Ikea.  I went in looking for the cafeteria (I had a huge craving for Swedish meatballs and Lingonberry sauce) and apparently this location doesn't have such a thing.  I think it's nonsense.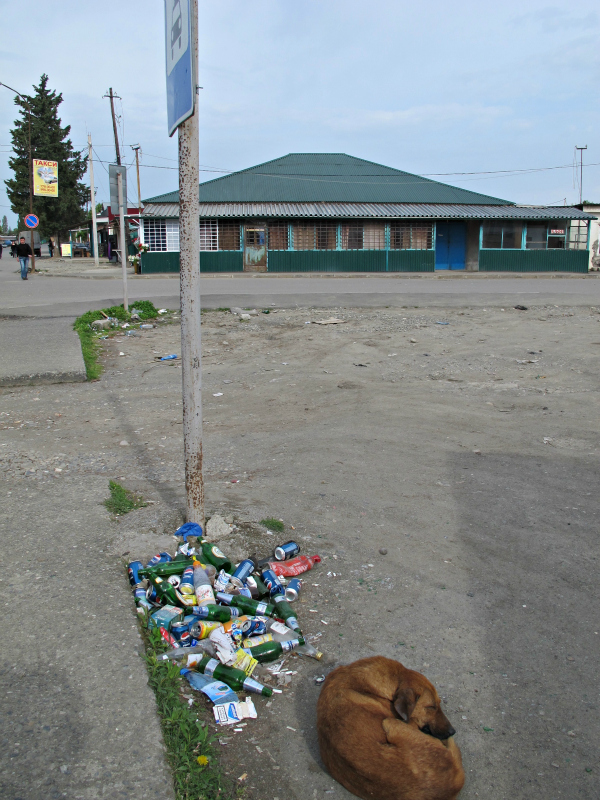 This photo was taken in Gal.  After nearly having a mental breakdown from watching this stray pup hobble on a messed up leg to lay down here, I noticed a pile of trash beside him.  I just figured that the trash retreated in this little area due to the wind or something… until I saw locals actually non-nonchalantly go to this pile and nicely place their trash in it.  Hey, if you're going to litter, litter nicely.  This was right beside the bus station and what few shops Gal has, so there were actually trashcans in the vicinity.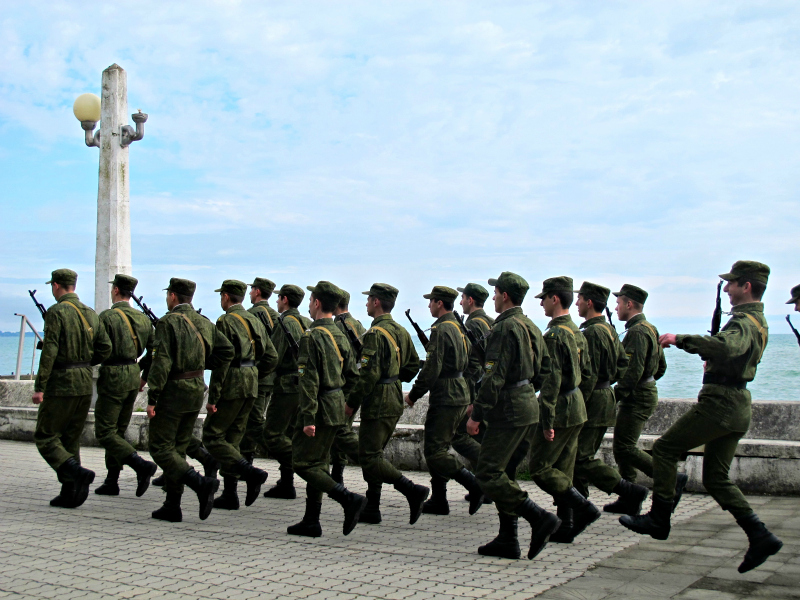 The residents of Abkhazia always seemed to be smiling or laughing (which I loved).  Military training is no exception.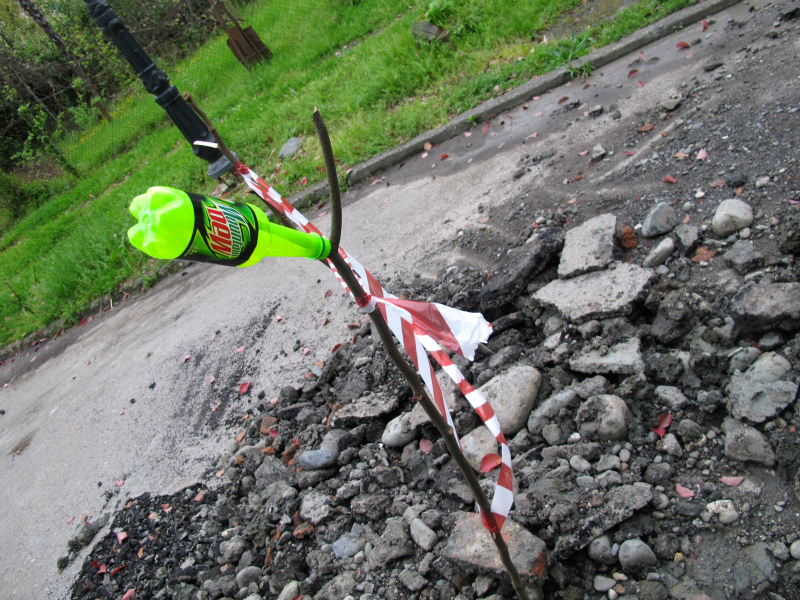 In Sukhum, I saw this 'warning' sign in the road.  Now I don't know if the Mountain Dew bottle was intentionally placed there due to its fluorescent color or whether someone strategically littered it there… but putting a bottle of Mountain Dew in front of a Mountain Dew deprived expat can only spark one thing: a two day hunt for a bottle of the stuff.
I never found it.
While I have a lot of the Caucasus region left to cover on future trip(s), one thing is certain… the region sure knows how to make me smile and laugh.  And for that, I hope my return is sooner than later.