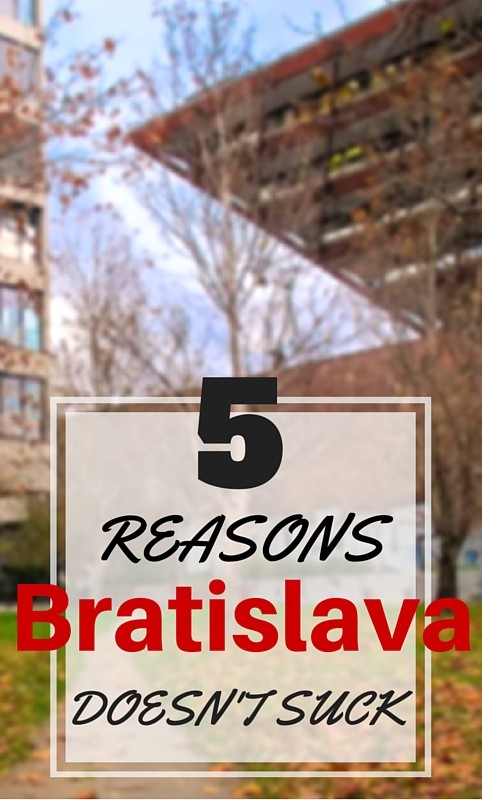 This post may contain affiliate links which means if you purchase something through that link, we will make a small commission at no additional cost to you. Think of it as buying a cup of coffee for us on someone else. Thanks and enjoy!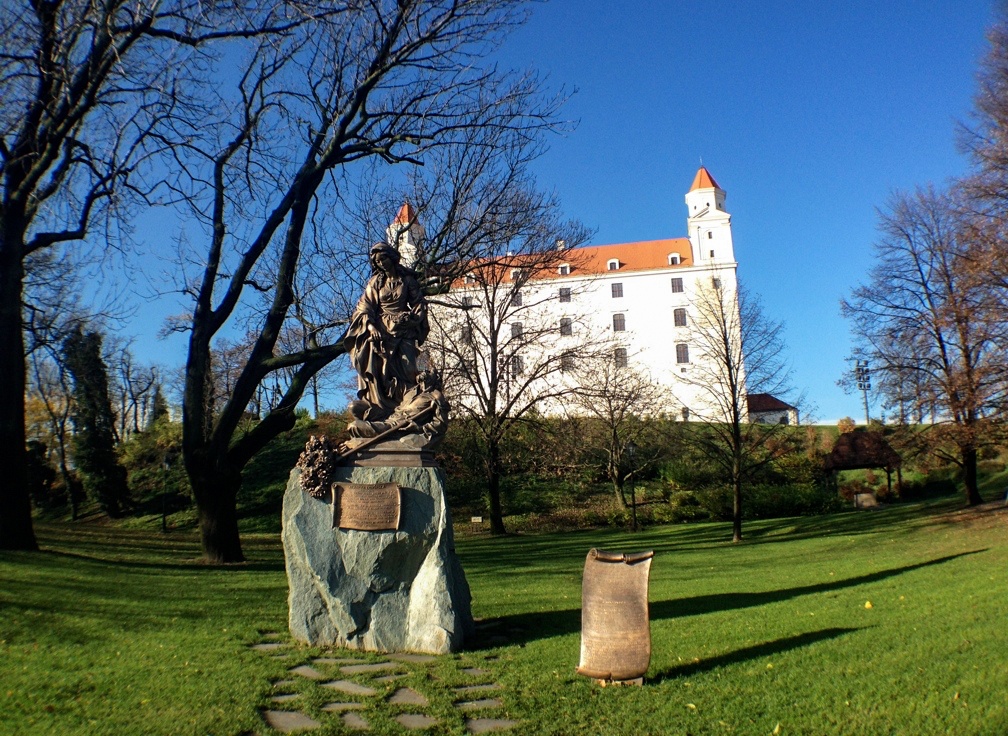 You hear it time and time again…  Bratislava sucks.  Bratislava is gray.  Bratislava is full of concrete blocks.
Does Bratislava suck?  Yes, probably to the many Brits who come down to the city for a stag do and leave with an unrelenting hangover and no knowledge of the city they just visited.  Is Bratislava gray?  Sure.  They have clouds that pass through the city on a rainy day.  And those blocks?  They ubiquitously exist.  Many in Petržalka and many in other residential parts of the city.  It is really no different than looking at the suburbs in the United States or Canada- it is just a dissimilar means of living than we may have on our side of the Atlantic.
What astonishes me most about the conclusions travelers gain regarding Bratislava is that most only spend one day in the city.  Literally just a day trip to Bratislava from Vienna or wherever.  They will spend multiple days in Budapest and around two days in Vienna before venturing over to Slovakia for a quick 'check-off the travel list'.  I've mentioned it before; Bratislava is situated in the middle of what I call the Central European 'Bermuda Triangle'.  Budapest, Prague, Vienna.  These three impressive cities are often visited on the same trip by most travelers.
A trip that will often include a one night stay in Bratislava for convenience and/or price, or so that the same traveler can brag that they have visited Slovakia and tick off another country from their list that inevitably includes airport layovers.
The first time I found myself in Bratislava was in a similar fashion.  I didn't have a lot of time to dedicate to the city, but I also was not keen to make any assumptions or conclusions from an undeservingly short stay there.  I knew I'd go back.  And I did… late in 2014 for a week.  I wanted to visit a few places in Slovakia as a dedication to my grandfather who had recently passed away (his family hails from Slovakia).  But once I arrived in Bratislava, I couldn't bring myself to leave the city except for a day-trip to Gyor, Hungary.
I arrived in my hostel fearing what I had suspected- many lazy travelers who will brag about their big nights out in Budapest and how Bratislava blows in comparison.  Everyone is entitled to their own opinion, but when I ask what you have seen in Bratislava and you tell me you went to eat and didn't desire to do much more thanks in part to a movie called 'Eurotrip', I can't help but think you're the problem, not Bratislava.
Thankfully, the next crop of travelers in my hostel was much more open-minded and adventurous, despite all only giving Bratislava one or two days on their Central European travel route.
---
 Here are five general reasons for why I don't think Bratislava is the problem, but rather the person traveling there:
1)  The mixture of architecture.
I don't know about you, but I think it is entirely more interesting to see an array of different architecture in a city than to see the same style saturating a place.  I think various architectural styles in a place tell the story of the city and make light of the history of it.  Bratislava has it all.  In just the old town itself, you will stumble upon a Renaissance, Baroque, and Gothic styles of architecture.  These styles still are showcased in different places around Bratislava but are often mixed in structures of a more Brutalist nature.  And then you have the ones that just can't be explained, like the Slovak Radio Building.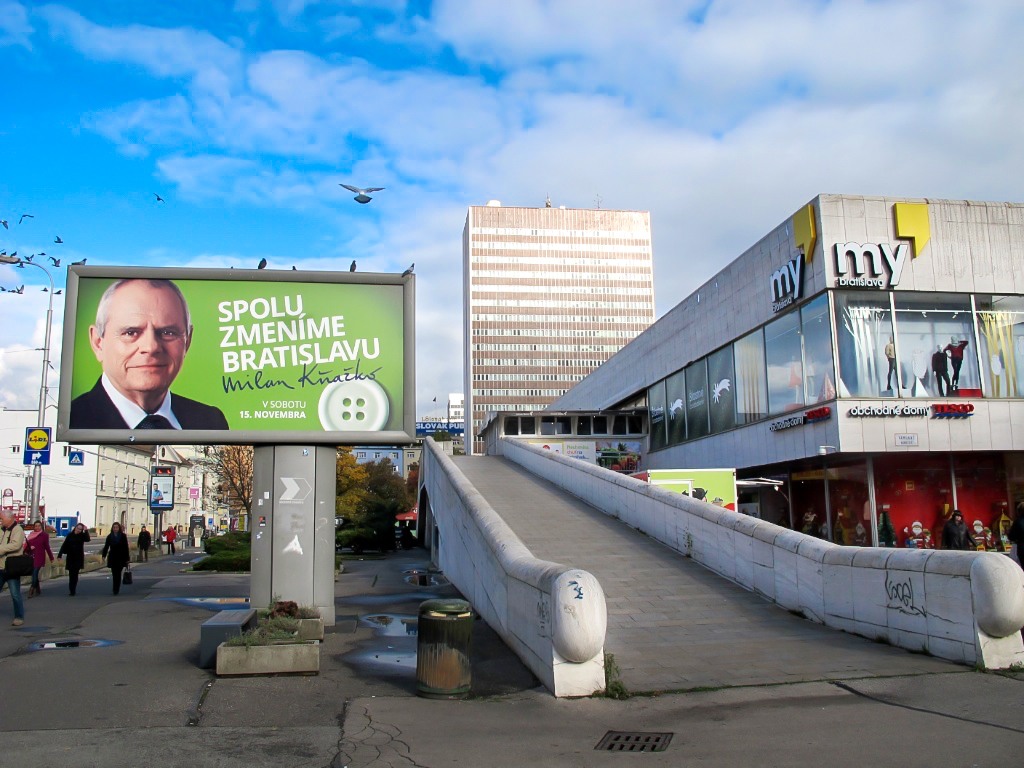 <Abandoned and infamous Hotel Kyjev in the backdrop>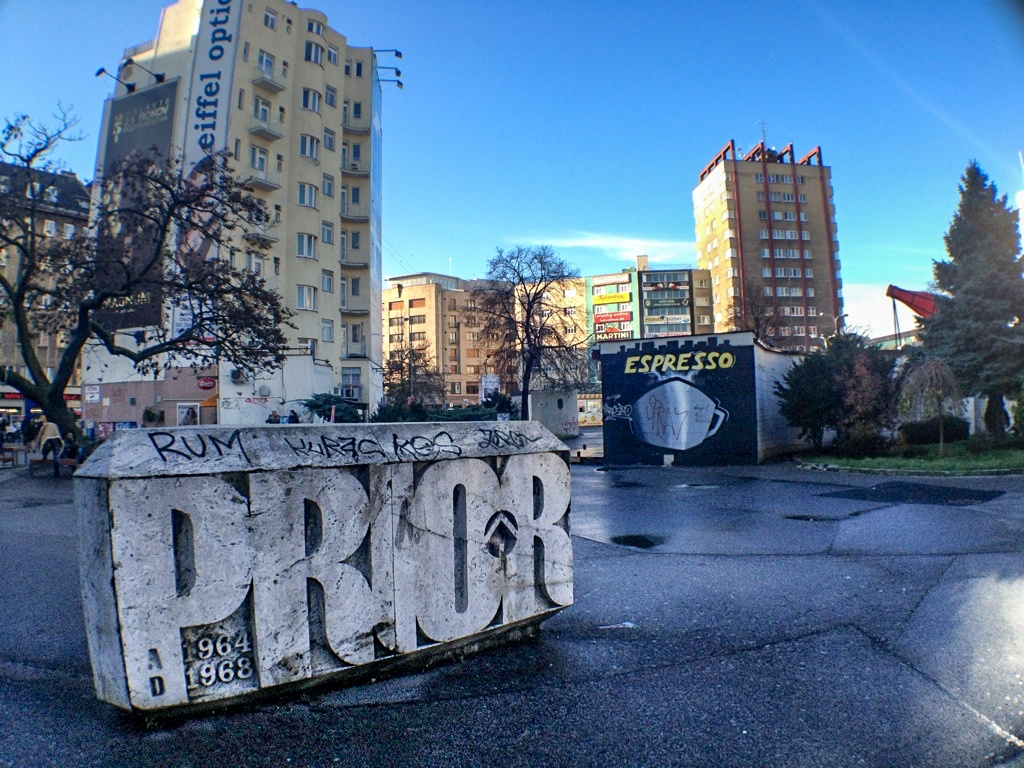 2.  The People
I have always found the people of Bratislava to be completely endearing and a huge amount of fun.  They aren't quick to pass judgment and I found them all especially helpful from a traveler's perspective.  Particularly the lady who permitted me to buy beer at a Tesco without an ID card after extremely careful consideration.  I also had excellent customer service everywhere I went, regardless of whether the place was a touristy restaurant or a small bar packed to the brim with locals.
3.  The Food 
So, I didn't come back from Bratislava skinnier or lighter.  And after a day or two, I had to drastically decrease my intake of Slovakian food due to my inability to properly digest the heaps of Bryndzové halušky (potato dumplings doused with loads of sheep's-milk cheese) I had consumed.  But damn, was it all good.  If I could eat Bryndzové halušky or Lokše (potato pancake-like dish) for the rest of my life and forego weight increases and incessant stomachaches, I would.  But, perhaps the best thing about Slovakian food is the way it pairs so perfectly with beer.
On a side note, I also had some Indian food in Bratislava at Ashoka twice and really enjoyed it both times.  Sometimes you have to stray from the cheesy delights and indulge in the spicy ones.
4.  The Cafes
Bratislava is home to several unique cafes.  While bars and clubs rule the evening scene, diverse cafes definitely rule the morning and afternoon scene.  I found Vienna-esque cafes, modern cafes, relaxing cafes, and several student cafes.  Finding wifi isn't typically a challenge, and finding a delicious coffee is never a challenge.  I have only ever been to Bratislava during the colder months, but I can imagine the warmer months offer an even better cafe scene.
Head to one of the city's five Greentree Caffes for a ginseng coffee or pistachio cappuccino and a slice of carrot cake.  Your mouth will thank me.
I ate and drank at many cafes, but I didn't take plenty of photos.  Luckily, Kami did and shared her five favorite cafes in Bratislava on her blog post at Kami and the Rest of the World (I went to most of these places and can verify that they are amazing!)
5.  Staré Mesto
Staré Mesto, or Bratislava's 'Old Town', is quite quaint and idyllic in its own right and definitely warrants the visitors it receives.  While I didn't spend but a few hours inside of it as it became crowded and loud from setting up the Christmas markets and decor, I highly recommend it to everyone visiting.  It has beautiful buildings and so many stunning sculptures that one can admire.
No, it is not as large as Prague's Old Town or that of other European cities.  But if you get to know the history of Bratislava (and Slovakia as a whole) and appreciate it for what it is, not what it isn't, you will find it charming and alluring, just as I did.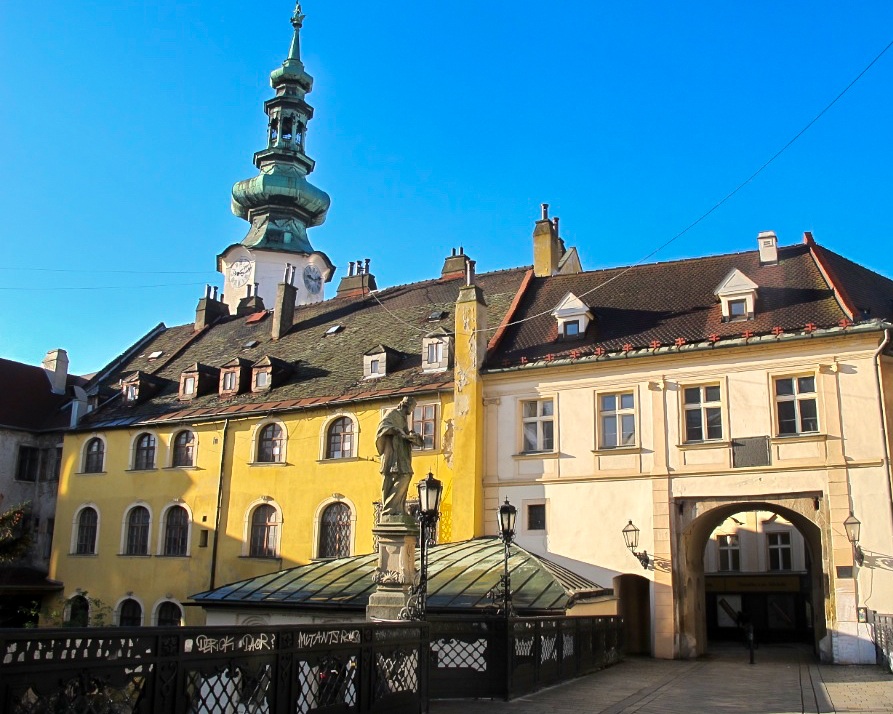 ---
 I often hear people say that they travel to experience something different- something unlike what they have experienced at home or in other places they have traveled.  When I hear travelers state they hate Bratislava and that it sucks because it doesn't look like Prague or Budapest, it leaves me a bit puzzled.
Especially when the same travelers only dedicate one night to exploring the capital city of a country.  Bratislava may not be everyone's cup of tea, but if you give it some time and uncover what differentiates it from other cities and appreciate those qualities of it, you may just discover that it's a pretty cool freakin' place.
I hope to be sharing more Bratislava tips in the future!  Keep an eye out!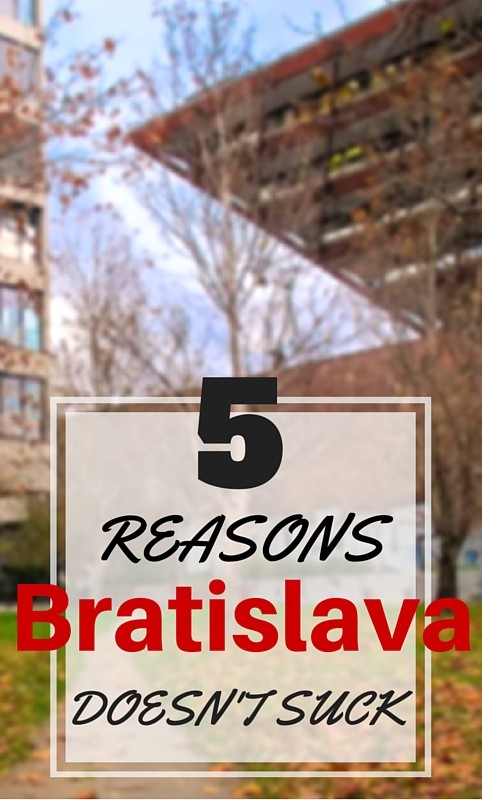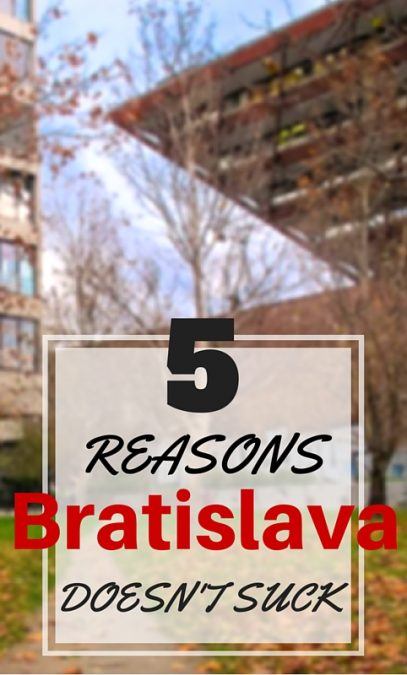 Have you ever been to Bratislava?  How long did you spend there and what did you think of the city?