I don't ski.
Yep, I've lived in Norway for the last 3.5 years and have never put my feet inside of skis.  I did, however, try snowboarding one time about nine years ago which resulted in what I think was probably a broken tailbone.  I was too embarrassed to go to a doctor so I suffered for about six months after the incident.  Nevertheless, that was the last time I ever attempted any winter sport aside from drinking vodka in Russia or snowmobiling in Wisconsin.
When my Kyrgyz friend, Jyl, suggested that we take a long day trip to Karakol from her home in Cholpon-Ata, I was a little unenthused.  I knew Karakol was a ski town.  I knew it was cold.  And I knew everything in the area involved snow and huge mountains.  I recall asking her what we would do there and she said we can have lunch and take the ski lifts up to the top of the mountain.  I was a little apathetic about spending my day doing such.  But my days in Cholpon-Ata were spent without internet, even without working data on my phone, so this was a semi-welcome escape for a day.
Upon arriving by taxi to Karakol, we grabbed a little lunch, which was basically just ridiculous amounts of ketchup, and headed straight for the mountains.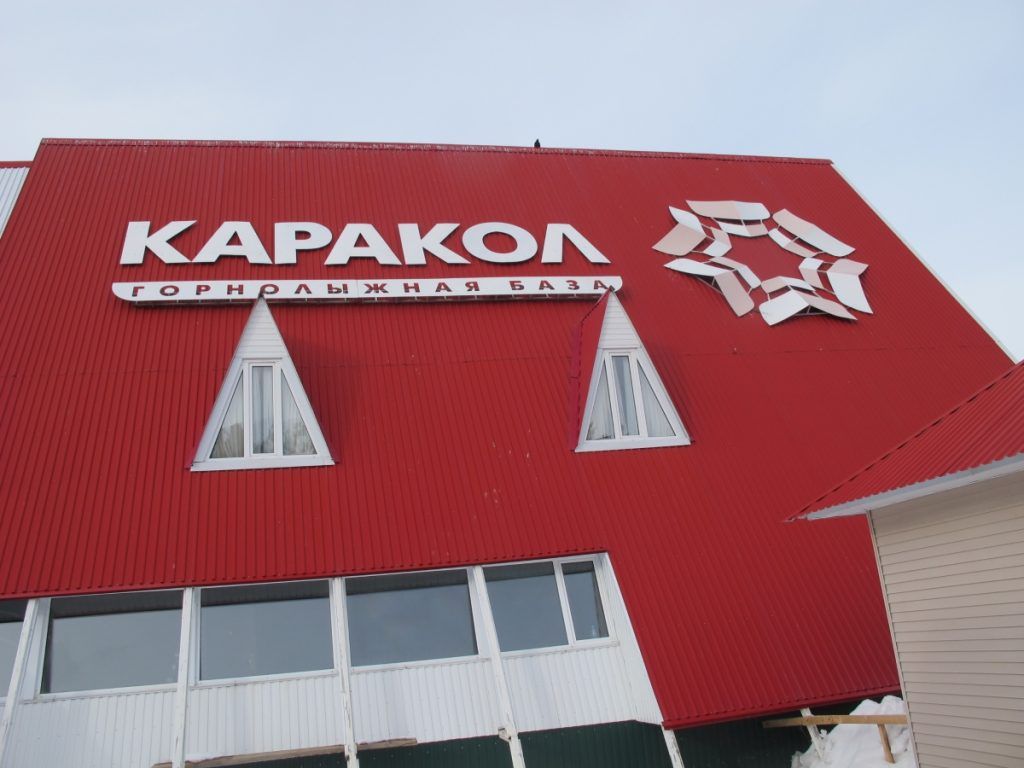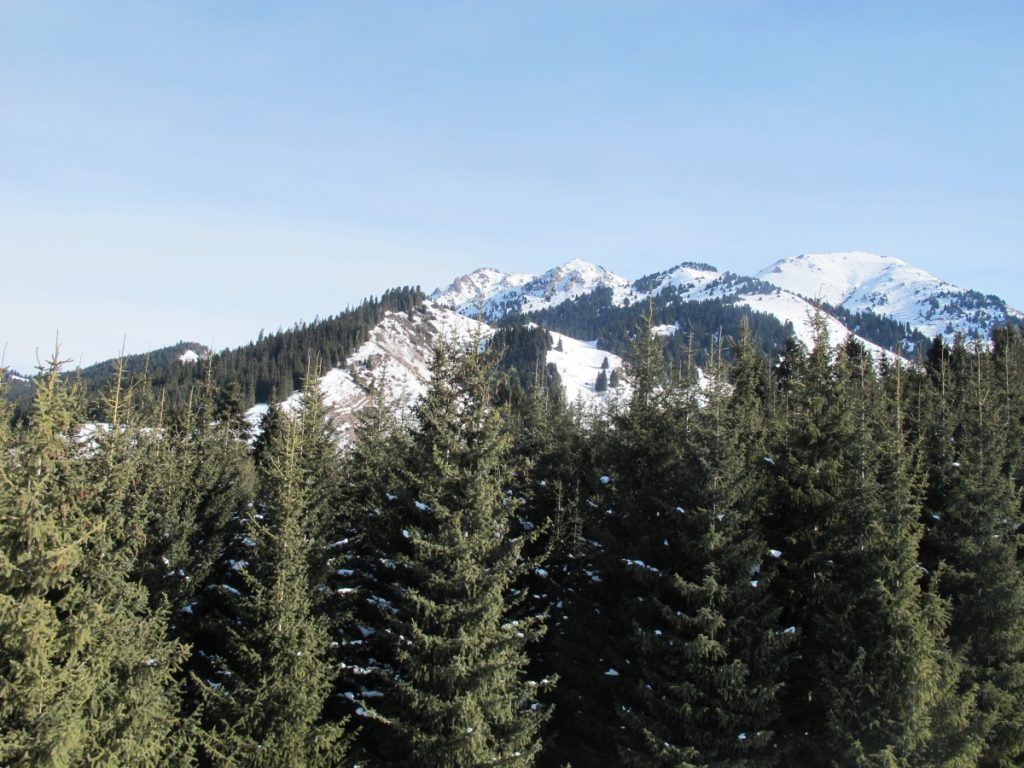 After quite the car ride up to the ski resort, we were relieved to wander around a little and buy our lift tickets.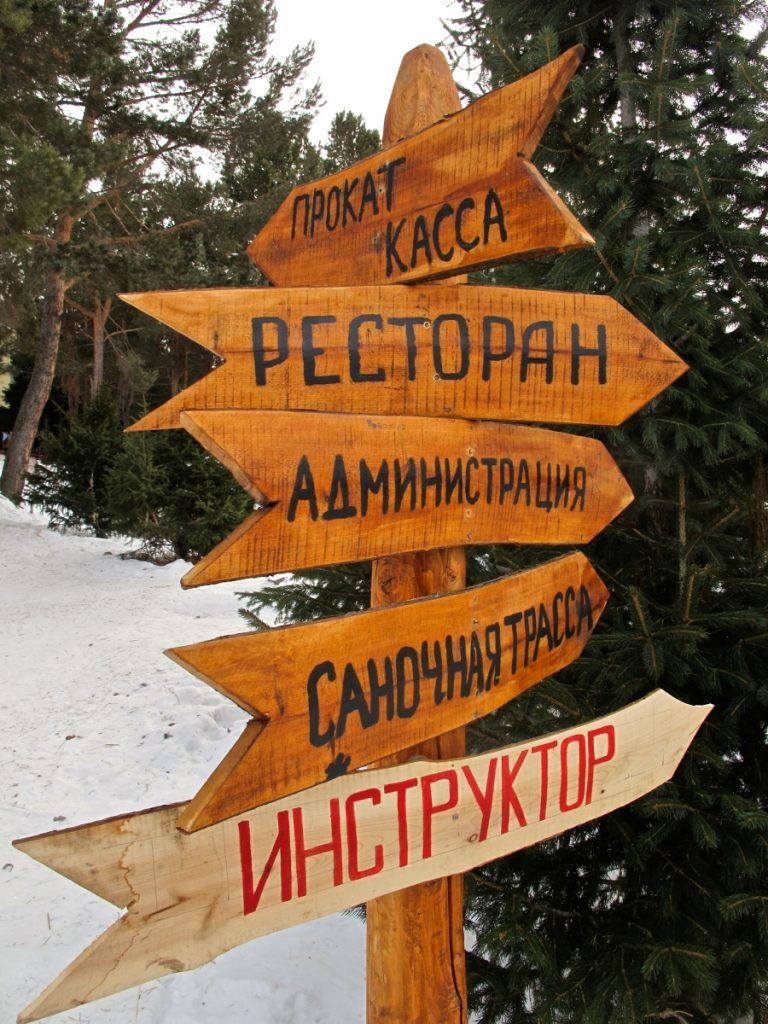 I quickly realized that Karakol was not filled with Kyrgyz skiing, but rather with Russians on holiday taking advantage of the enormous mountains, cheap prices, and world-class skiing.  The Kyrgyz worked (although there were a few Kyrgyz running around, but I never saw any actually skiing) while the Russians played.  And drank.  Oh yes, the Russians don't shun the booze just because they are partaking in a sport.  I'd be lying if I said I wasn't an immediate fan of what they were doing and I wished I could join in.  Well, I gave in- at least on the drinking part of things.
We got a lift ticket to the top of the mountain and were prepared for a long ride up.
Midway up the mountain, Jyl, was explaining about some movie she saw where people were stuck on a ski lift overnight.  Probably not the right time to tell this to someone who is quite afraid of heights.  I spent my entire trip up the mountain attempting to snap photos of skiers falling on their butts so I wouldn't be thinking of the most resourceful way to escape pending we were stuck on the contraption overnight.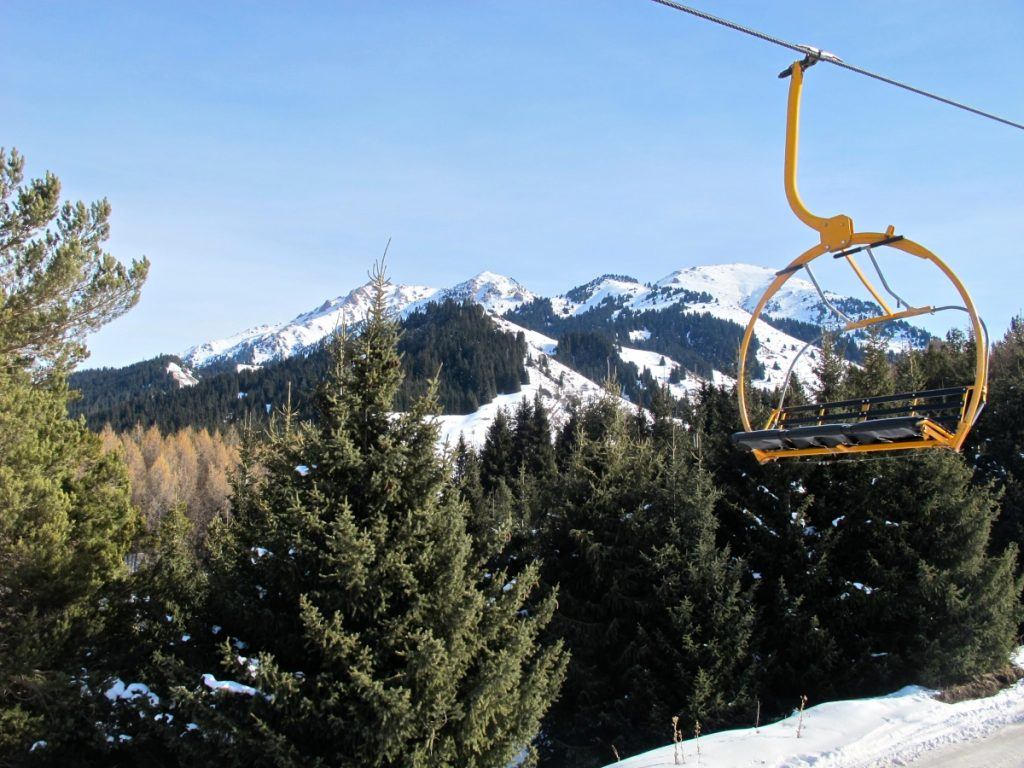 Once to the top, I was enamored by the beauty that surrounded me.  You could see Lake Issyk-Kul in the far distance.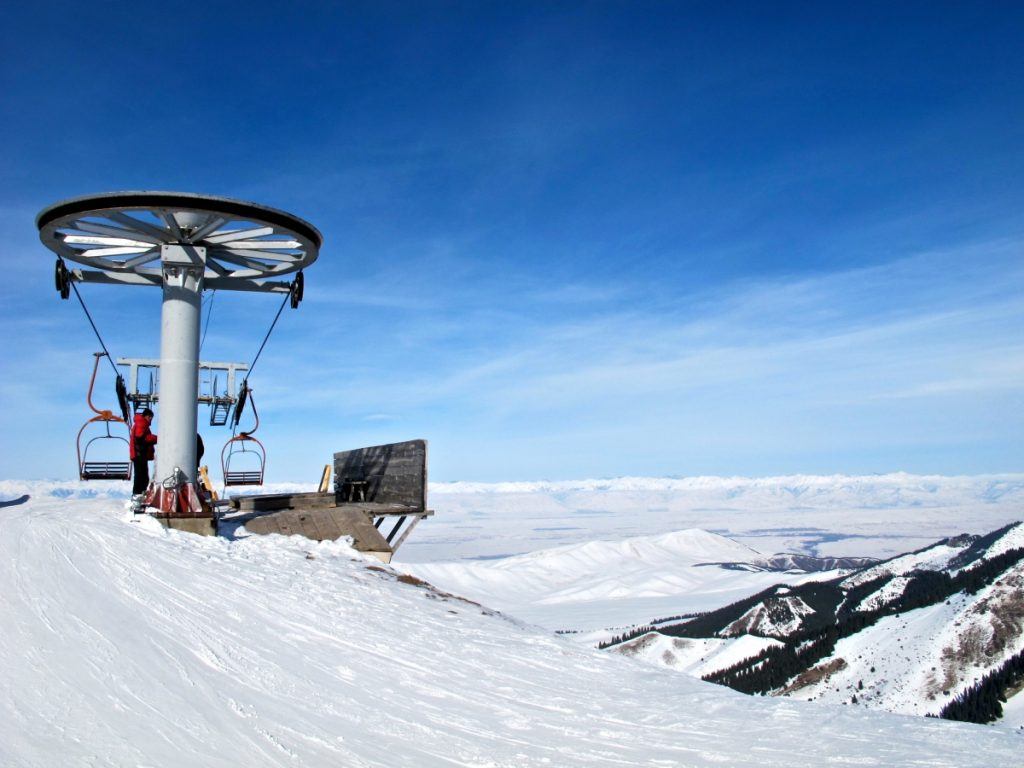 Adventure extremists were doing their thing.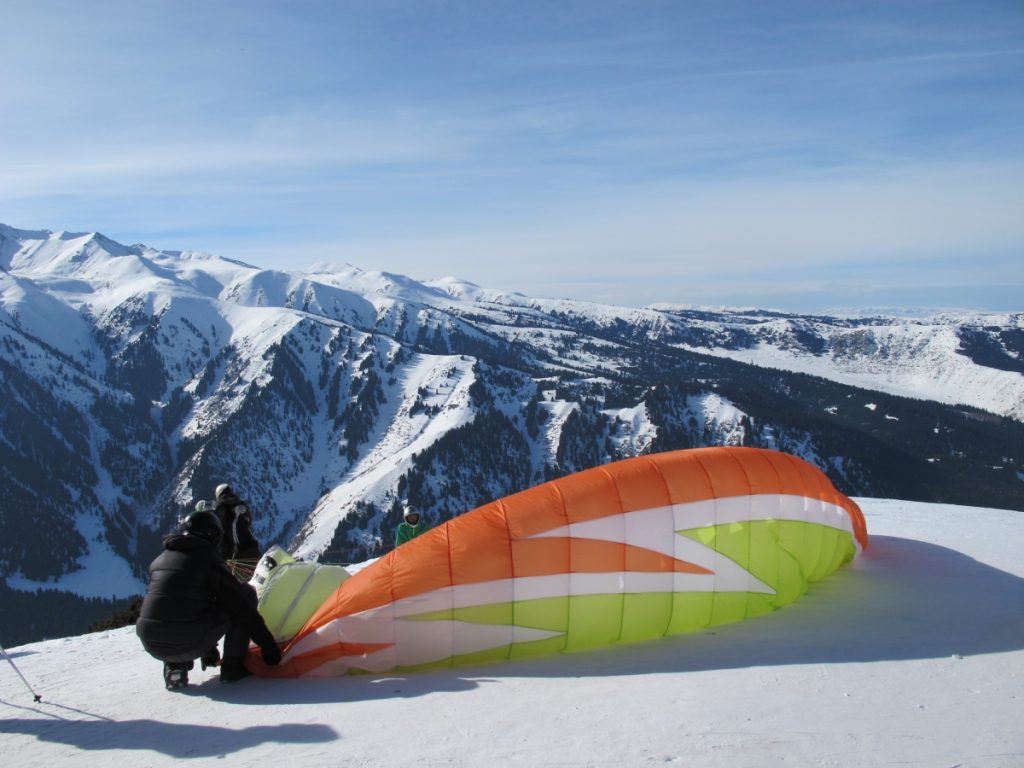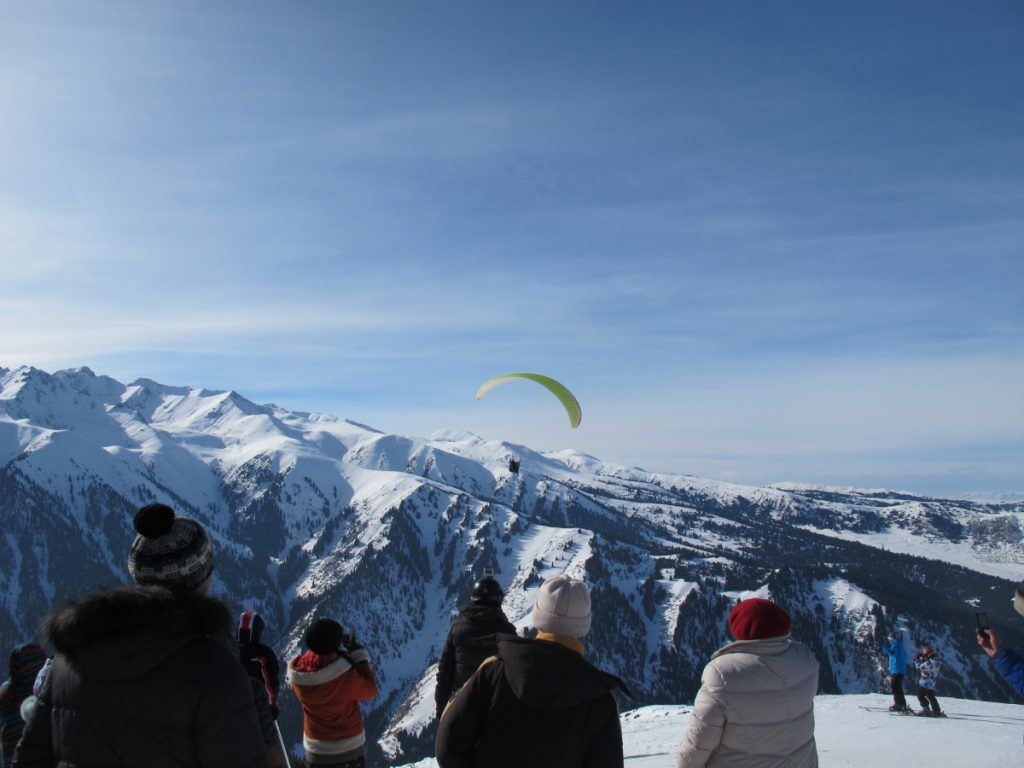 Once someone heard me speaking English to Jyl, I became an instant celebrity, with several photo requests.  Apparently, these parts were saturated with Russian speakers, not English speakers.  They probably also wanted a picture of someone wearing a ridiculous, unflattering marshmallow jacket as I was.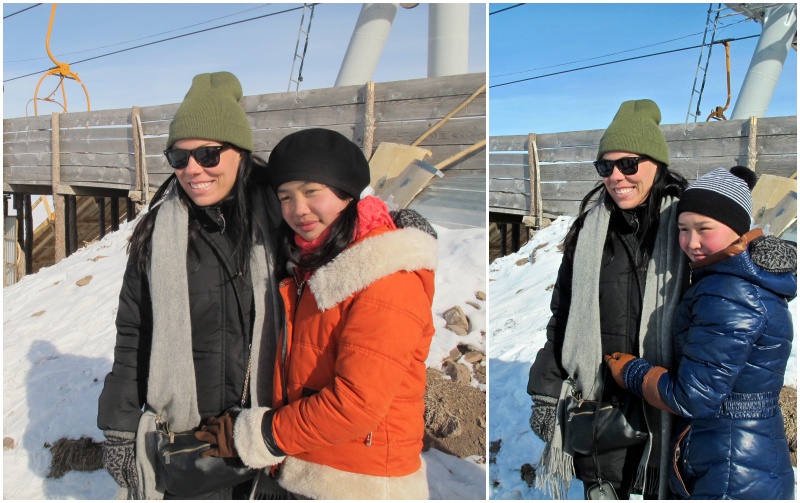 The Russians wanted to be part of photos too.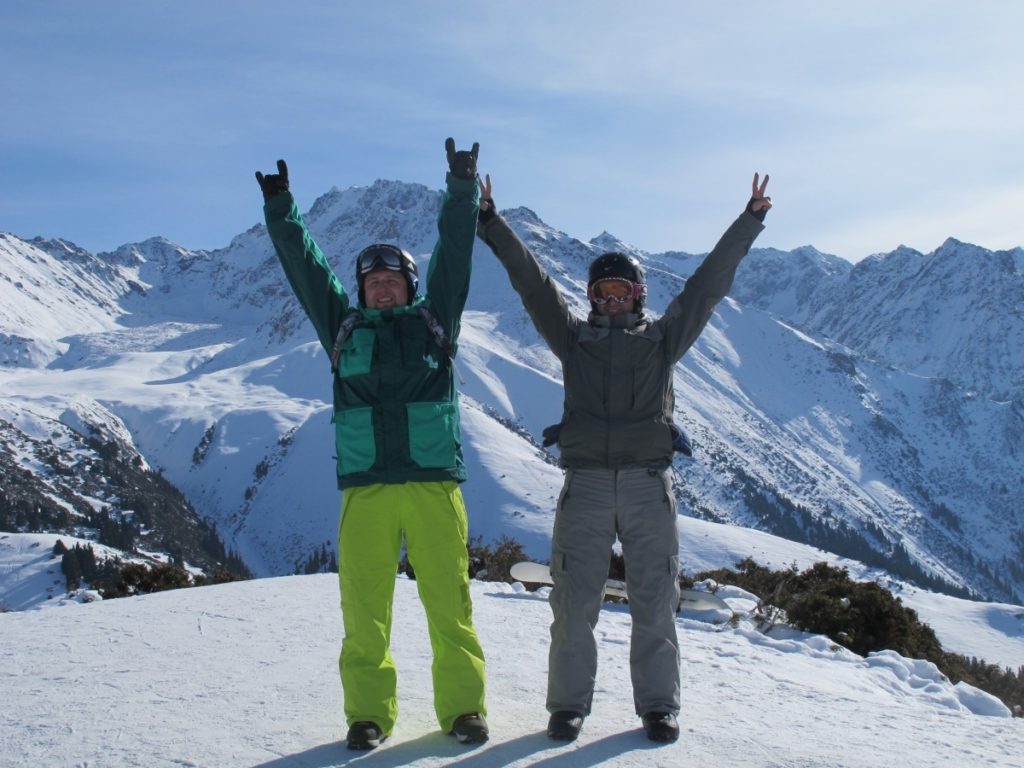 Despite most people being up at this part of the mountain to ski or snowboard, we had a blast.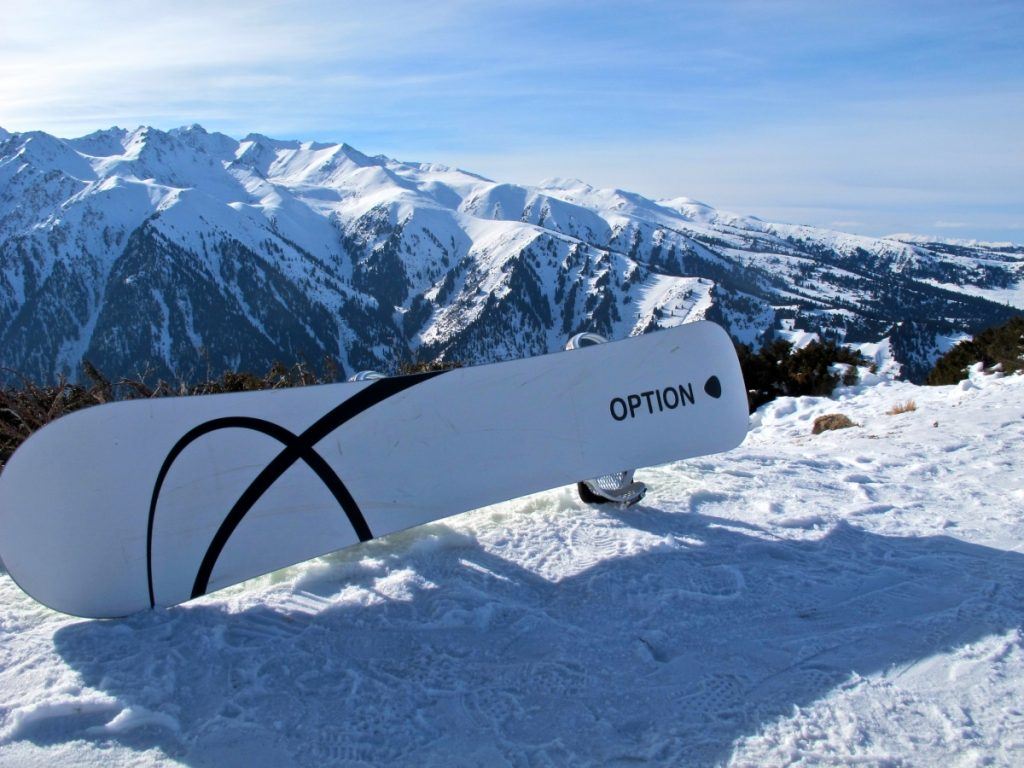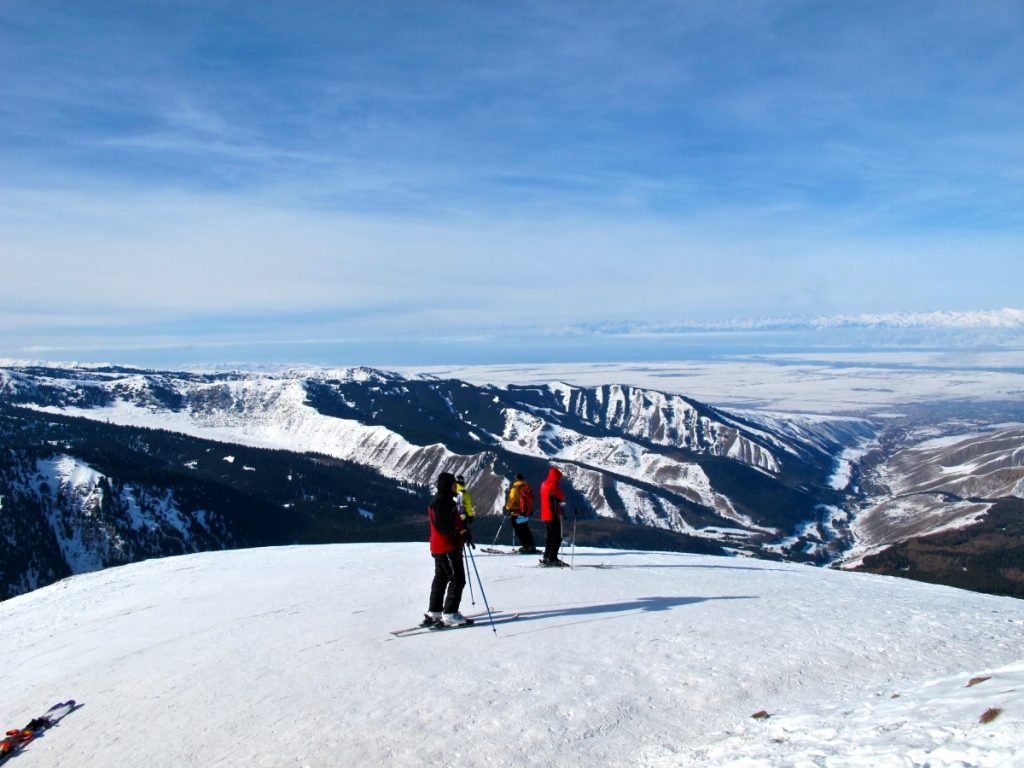 After an hour of standing in once place because I was fearful that I would fall down the mountain, we gathered the courage to head back down.  My legs were frozen solid as I underestimated the weather from my parka down (it was around -25C / -13F that day which was colder than usual, AND we were atop a mountain).  And all I could think about was how hungry I was because eating ketchup for lunch didn't do it for me.
Fortunately, the Russians do something else well aside from drinking while skiing.  They shashlik well.
Ain't no party like a shashlik party.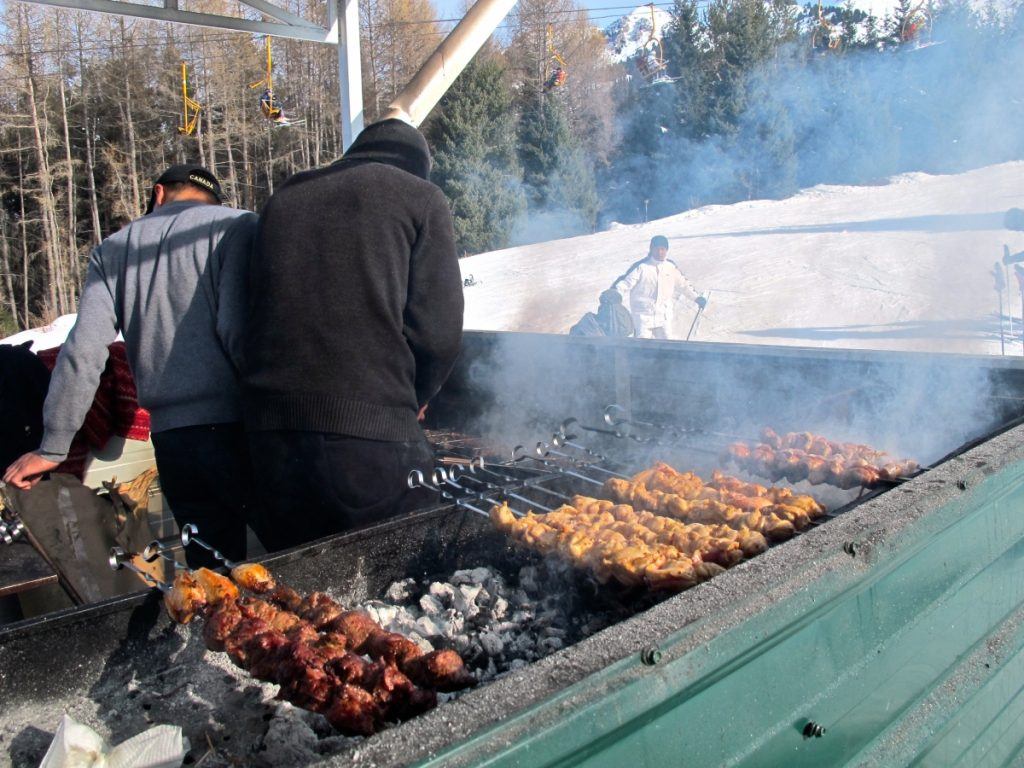 Halfway down the mountain, one could smell the shashlik.  And a shashlik party isn't complete without some super loud music.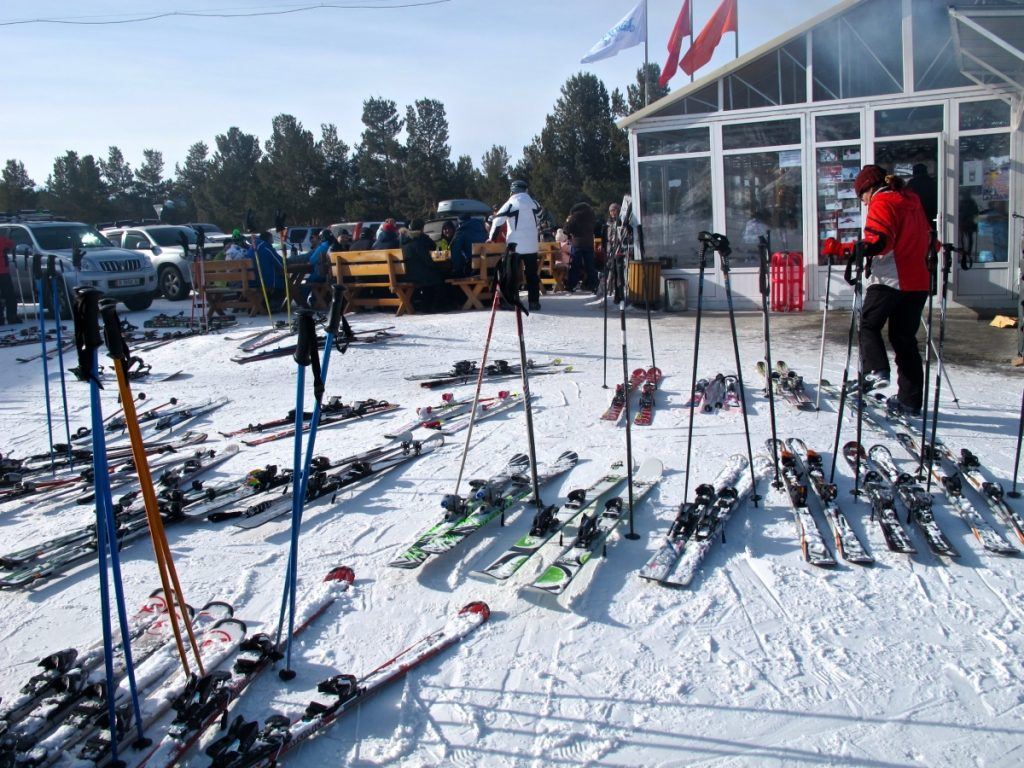 A venue packed with Russians drinking, partying, and eating.  Jyl and I had an absolute blast, despite the fact that she doesn't drink.  I had some hot tea with my beer to make myself look a little less pathetic.  With flasks on the table and paper plates drenched with oily plov, I have concluded that if in the rare event I make it to heaven, this is what a glimpse of what it may look like.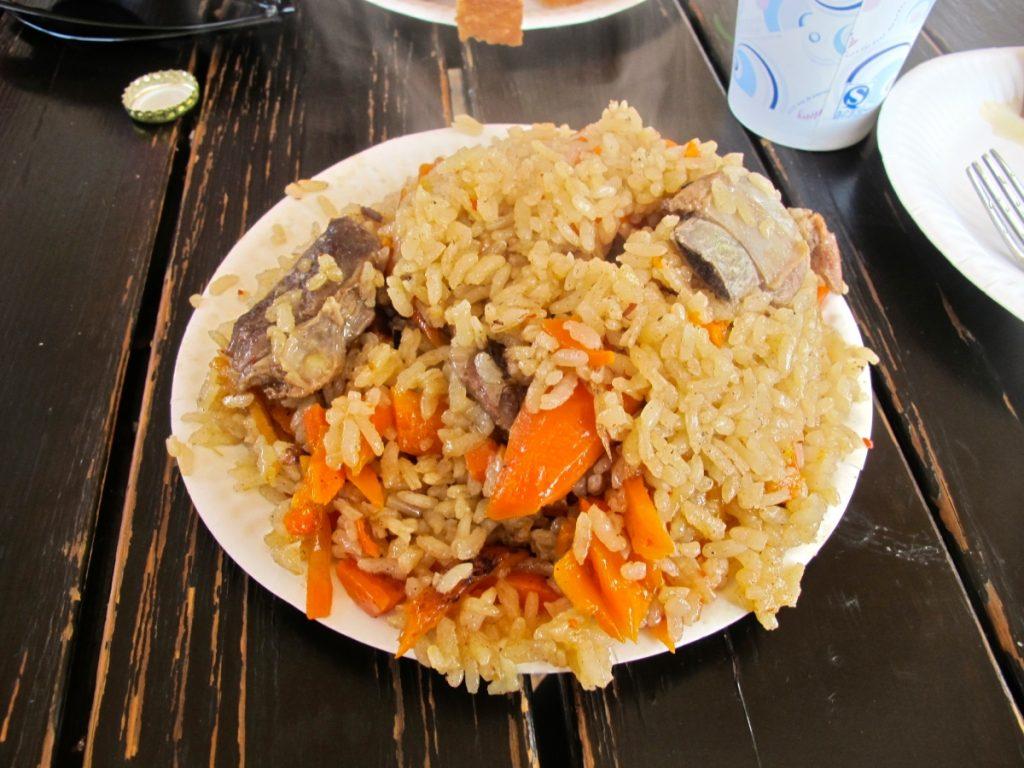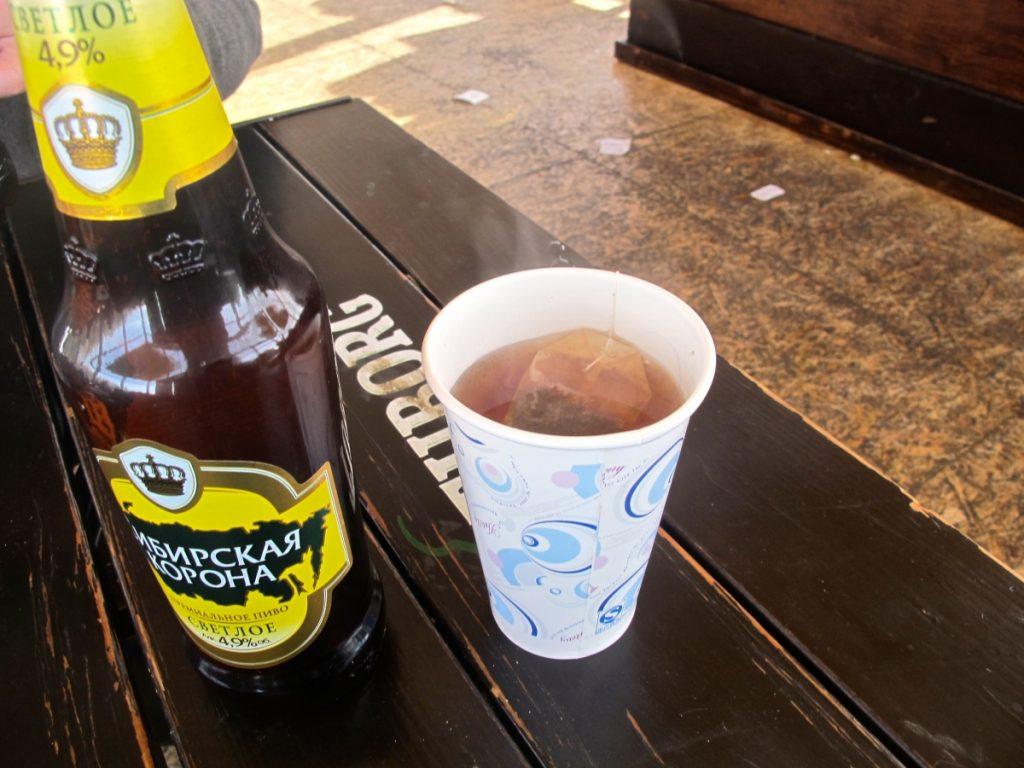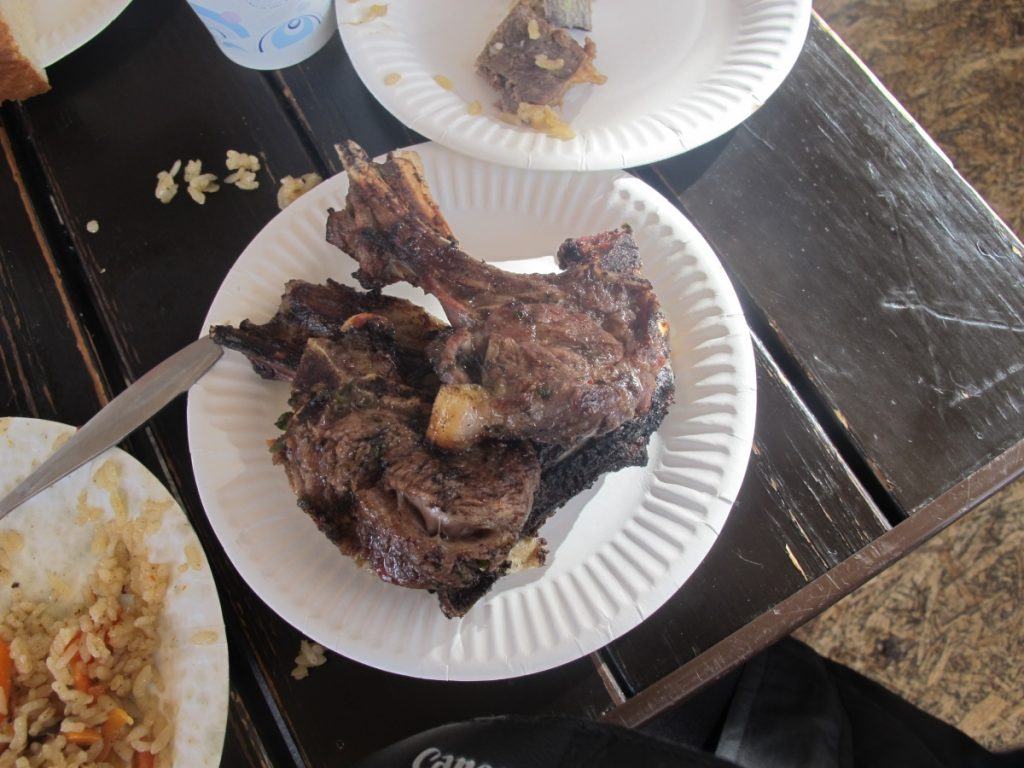 I've had many experiences around the world, but I have to say, that despite nearly losing my limbs to frostbite because I don't know how to properly dress for cold weather STILL after 3.5 years in Norway, this ranks in the top five.
I still have no desire to ski.
But I do have the desire to party with Russians at a ski resort again.