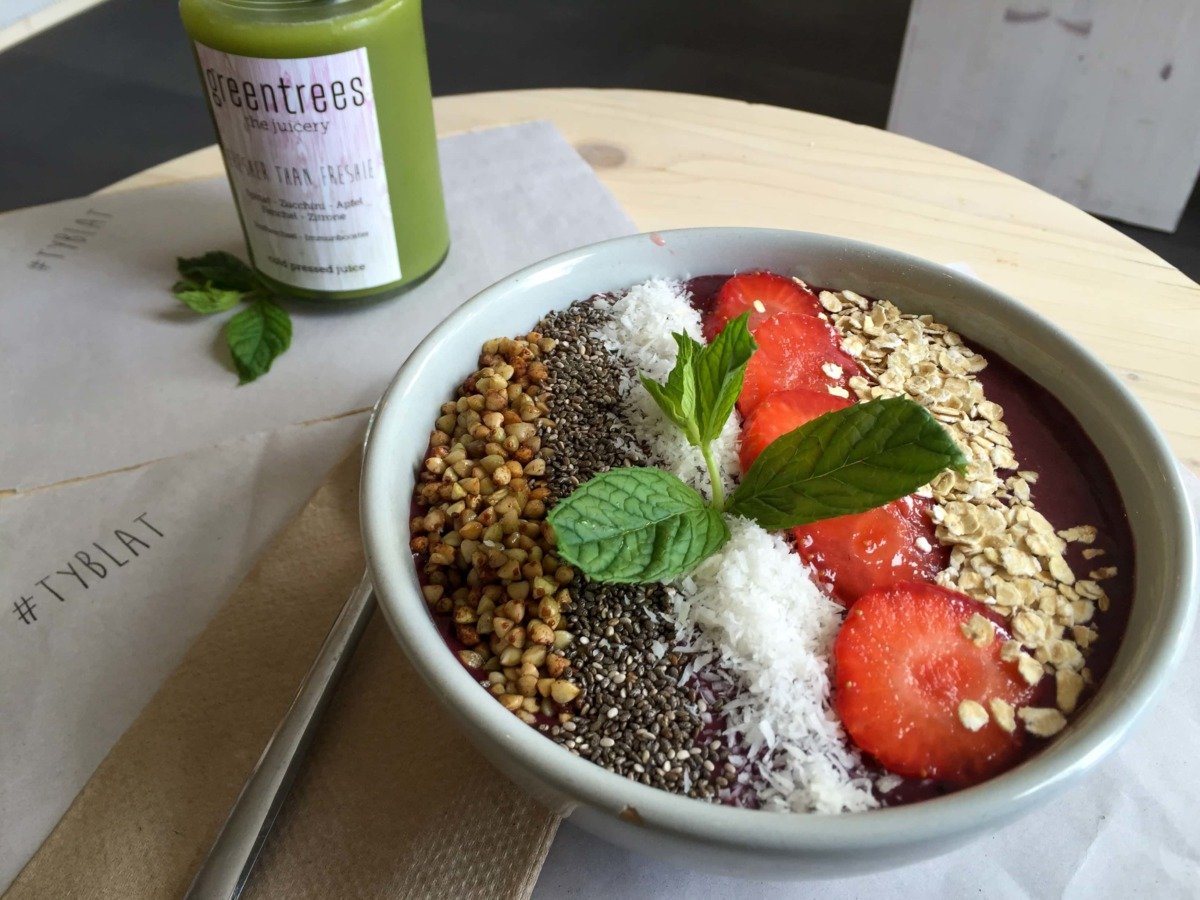 31 Jul

Düsseldorf for Healthy Food, Coffee, and Craft Beer

Düsseldorf.  A city that has never really been on my mind or one that I never really made an effort to travel to despite spending such a great deal of my life in Germany.  I've even landed at the airport there but instead of heading into the city, I immediately boarded a train to Cologne, which happens to be my favorite German city, and spent my time there instead.  Düsseldorf is Germany's fashion mecca and regardless of my years and experience working the industry, nothing draws me to German fashion.  I have always fit more into the Scandinavian fashion bubble.  And Alt Bier?  Not my thing either (but hey, it's better than Kölsch- sorry Kölner!)  I have spent years shunning this city, but for some odd reason, I decided to spend my birthday weekend there.  A complete anomaly, I know, but it was time for me to give this creative epicenter a chance.  And I've come back with a few food, coffee, and craft beer tips for this ultra-cool city.

I'm a big lover of healthy and natural foods and try to find spots that fit that bill when I travel.  On the contrary, I'm an even bigger fan of craft beer and also enjoy a little too much of the stuff when traveling.  I try to ignore the fact that the craft beer cancels out the healthy food choices.  While healthy food, coffee, and craft beer don't really fit into the same category per say, I have thrown them together in this quick guide to Düsseldorf.
FOOD
If I was traveling to Germany from outside of Germany, I would have likely sought out different options.  I would have indulged on something a bit more German.  But German food and I don't really get along until I am suffering a terrible hangover (which happens only like twice a year), so you'll rarely find me ordering a schnitzel or something of the sort.  I love placing my Euros in the hands of small, newer businesses and I, fortunately, found some notable and healthy options in Düsseldorf.  I will also note that there is a sizeable Japanese population in Düsseldorf (third largest in Europe, apparently), so the Japanese food there is supposed to be pretty tasty, as well.  Places below are in no order whatsoever.
Laura's Deli
Laura's Deli is an eatery located in Carlsplatz and exudes a strong New York City meets L.A. vibe.  The contemporary cafe caters to all diners, offering dishes for everyone, but in a conscious manner.  Owner Laura Koerver, having previously worked in the fashion industry, found a gap in the healthy food market in Düsseldorf and ran with it.  Taking inspiration from New York and London, Laura's Deli's menu is seasonal, local, and sustainable.  You'll find green juices, seasonal salads, smoothies, and a whole lot more.  I enjoyed a kale based, cold-pressed green juice from Kale & Me (they partner with Laura's Deli) and sweet potato toast topped with beetroot hummus, sprouts, and feta.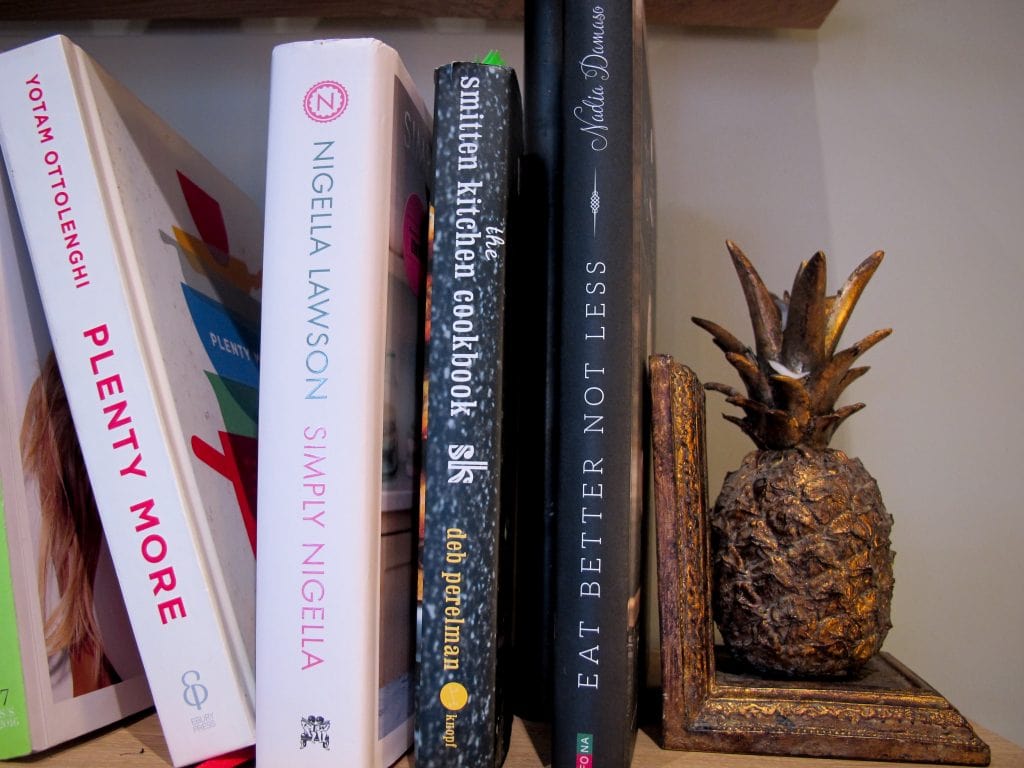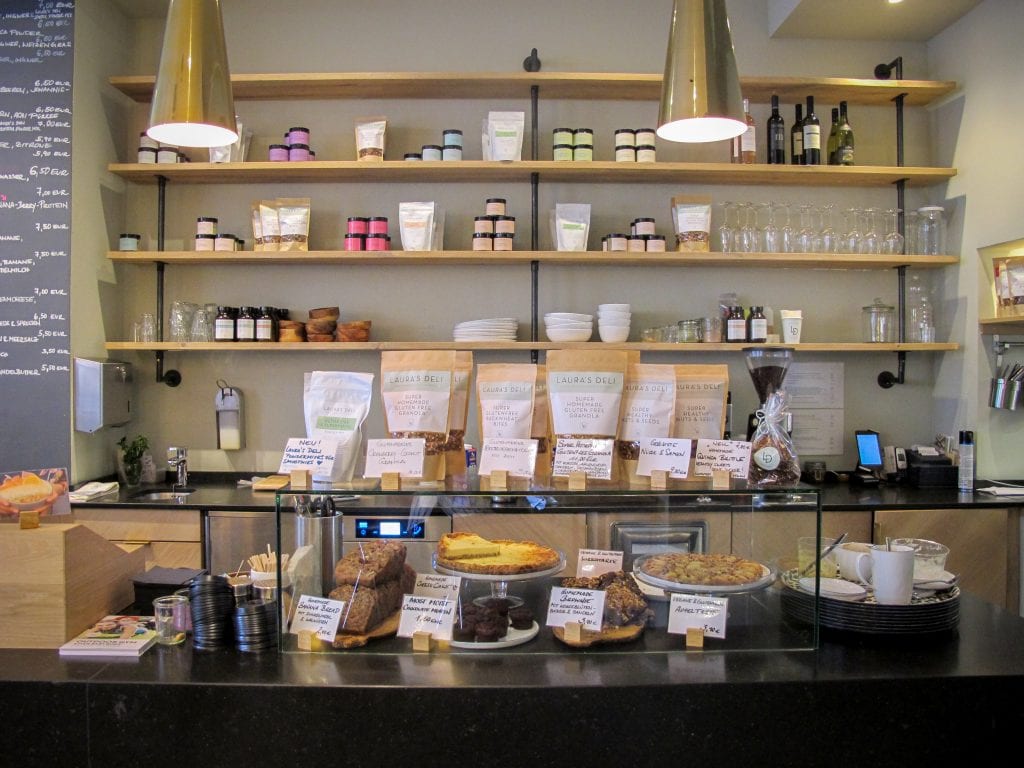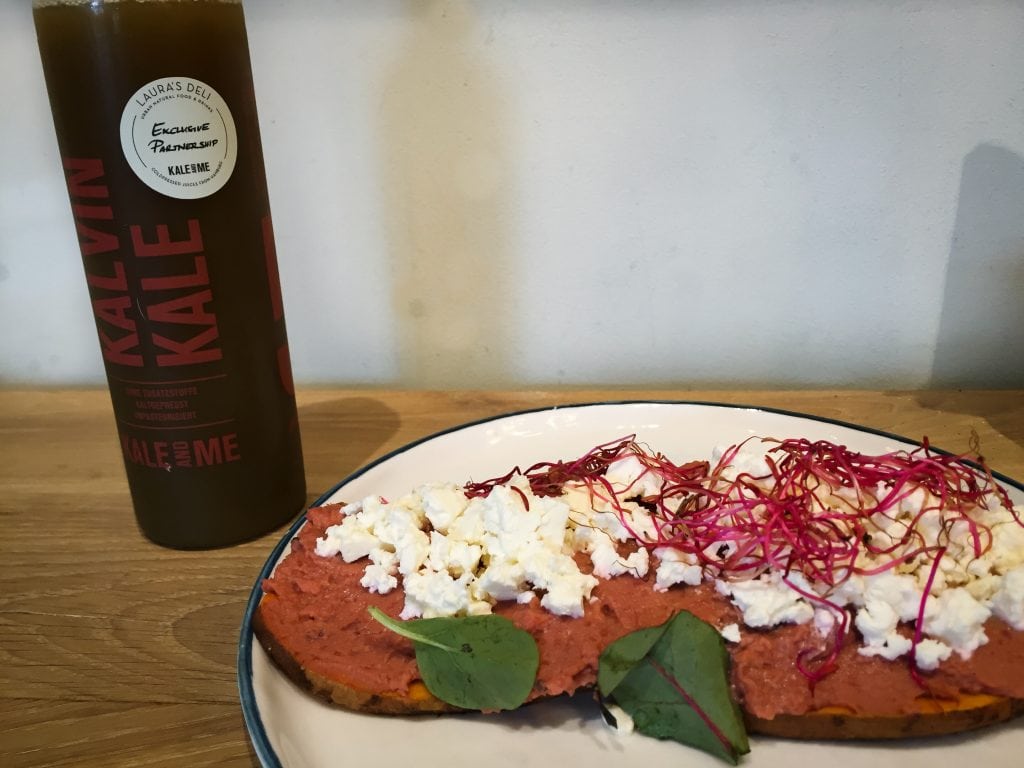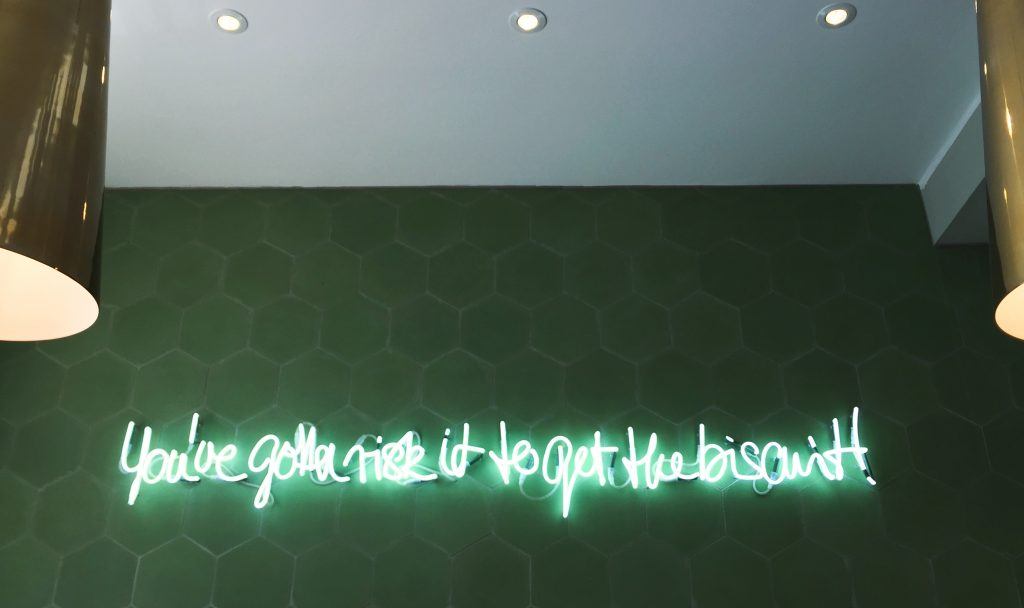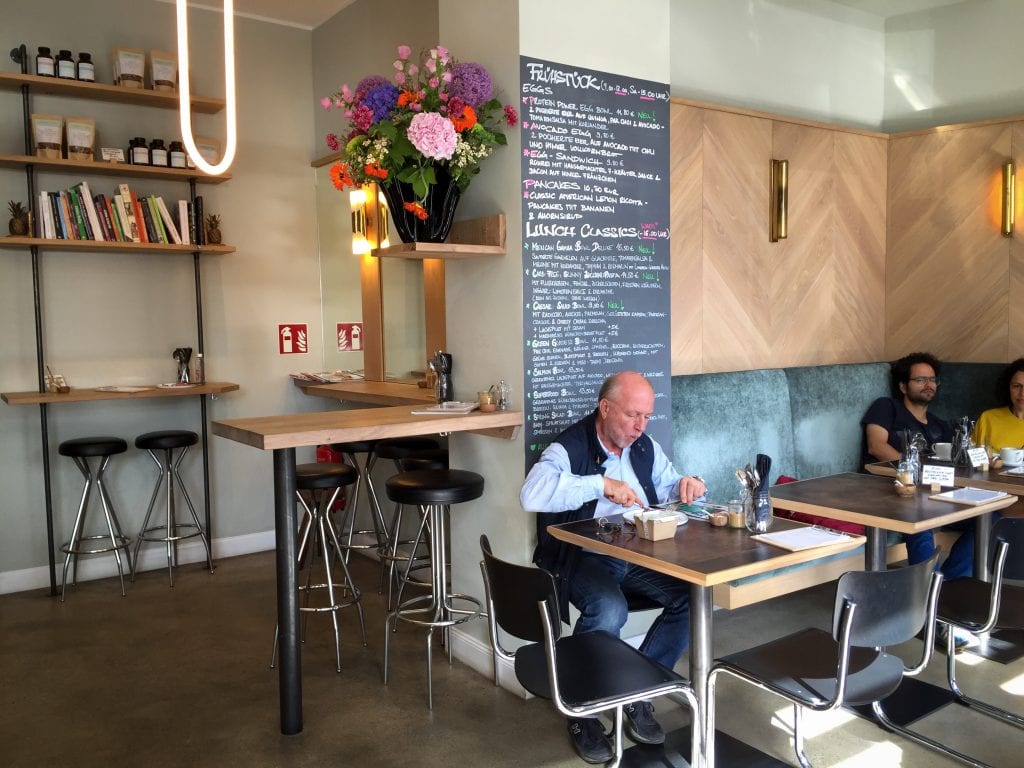 Laura's Deli can be found at Carlsplatz 1 in Carlstadt.  They are open Monday through Friday 0830-1830 and Saturdays from 0900-1800.  To find out more, check out their Website, Facebook, or Instagram.
Greentrees
Greentrees is a juicery offering fresh juices, superfood smoothies, signature smoothies bowls, and more.  Basically, Greentrees is what is missing currently in Frankfurt.  The interior is minimalistic, yet still super inviting and fresh.  The staff is helpful and incredibly friendly and why wouldn't they be?  The co-owner, Alex, hails from Sydney and uses her inspiration from home to inspire the Düsseldorf locals to 'treat their bodies like a temple'.  The vision might be Aussie inspired, but the food and smoothies bring back some serious nostalgia for my homeland.  Guess Greentrees is a win/win for us all!  Their menu offers everything from acai bowls to avocado toast to refreshing green juices to coffee.  And I have to admit, their acai bowl is the best I've had in Germany, no doubt.  They even custom-made it sans agave nectar and with honey instead for me.  I also enjoyed one of their green juices and it was extremely tasty (and they offer various sizes).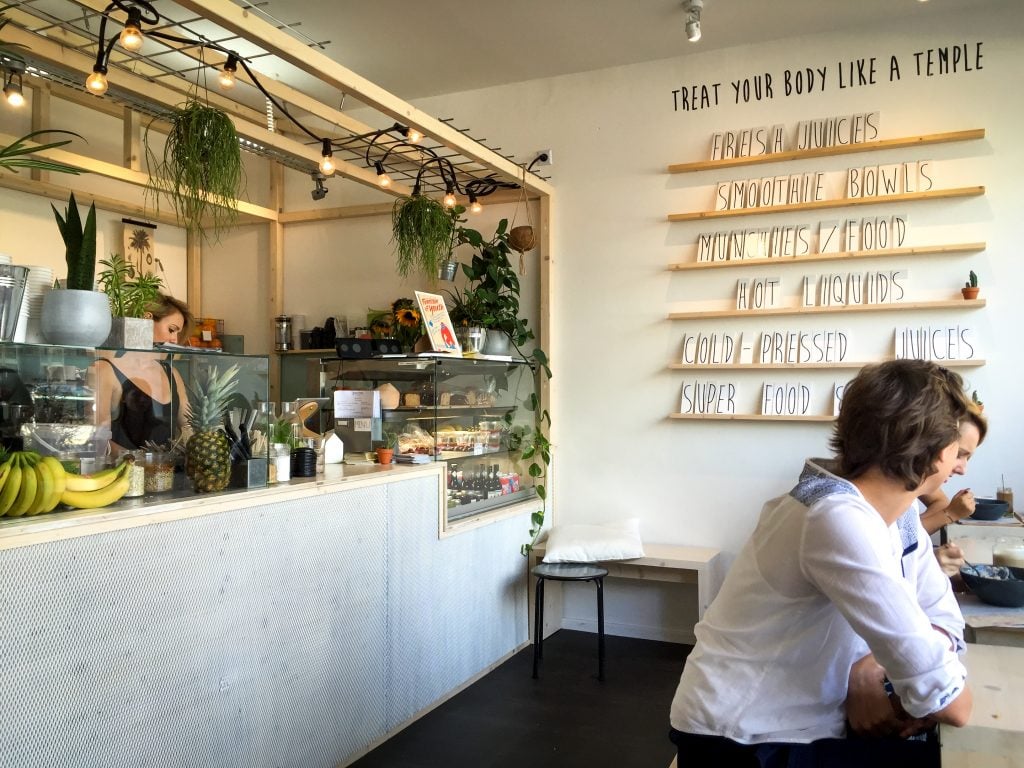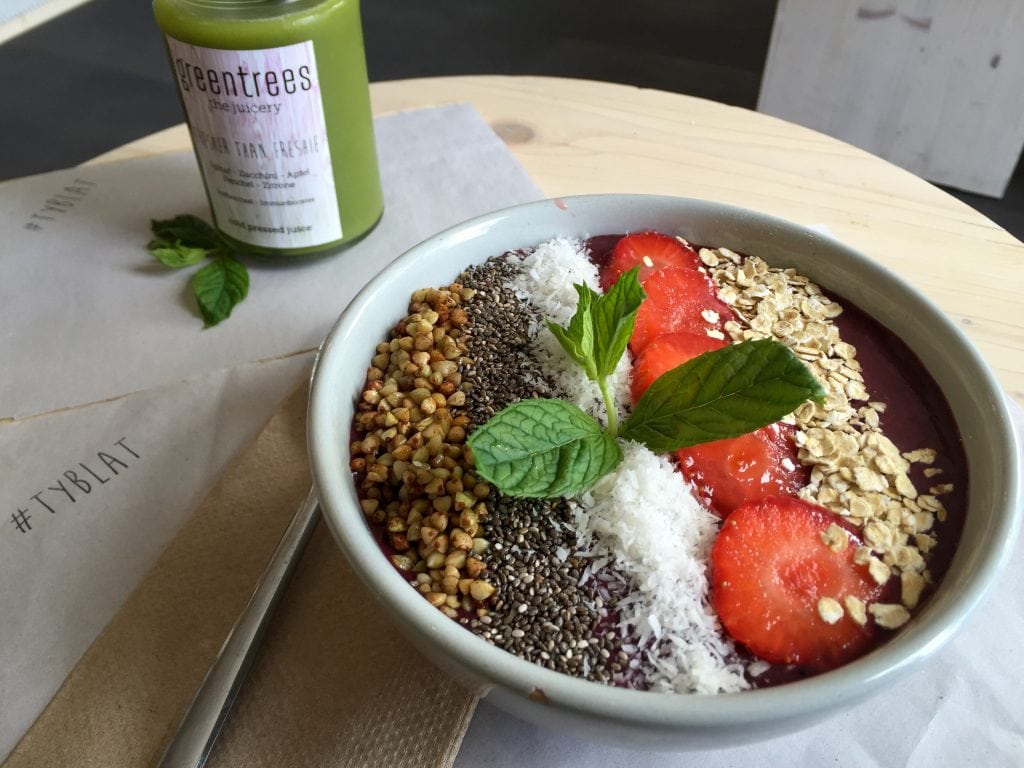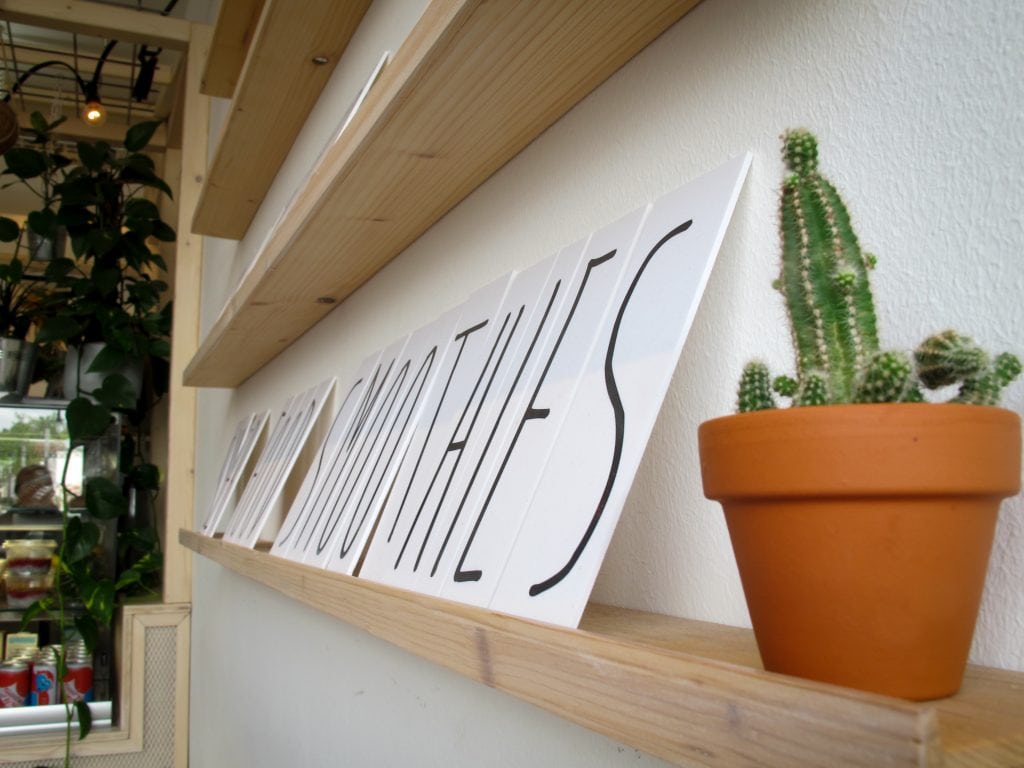 Greentrees can be found at Münsterstrasse 149 in Derendorf.  It is a bit out of the way from the city center, but can easily be reached via the S1, S6, or S11 to Derendorf.  It is just a few stops from the main train station.  They are open Monday through Thursday 0830-1830, Fridays 0830-1400, and Saturdays 1100-1600.  To find out more, check out their Website, Facebook, or Instagram.
Hector & Tilda
Hector & Tilda is a newbie to the Düsseldorf culinary scene as they just officially opened a week ago.  Aside from the beautiful aesthetic inside, they have superfood smoothies, cold-pressed juices, and a variety of healthy alternatives for hungry and mindful customers.  They offer everything from avocado-lime skyr to a raw cacao and peanut butter smoothie (yes, please) on their menu.  They also give customers the option of having almond milk or other dairy alternatives with their coffee.  I had a double shot almond milk cortado there and it was pretty tasty.  If you don't go here for any other reason, go for the superb customer service.  Their staff was some of the friendliest people I've ever met working at an establishment in Germany.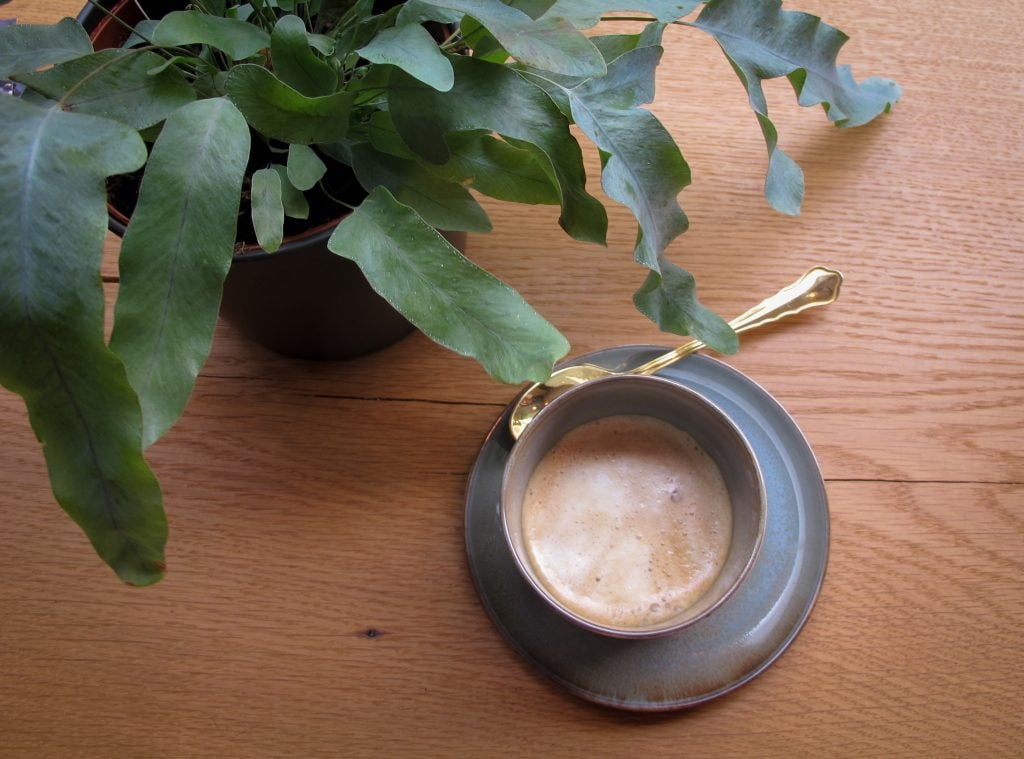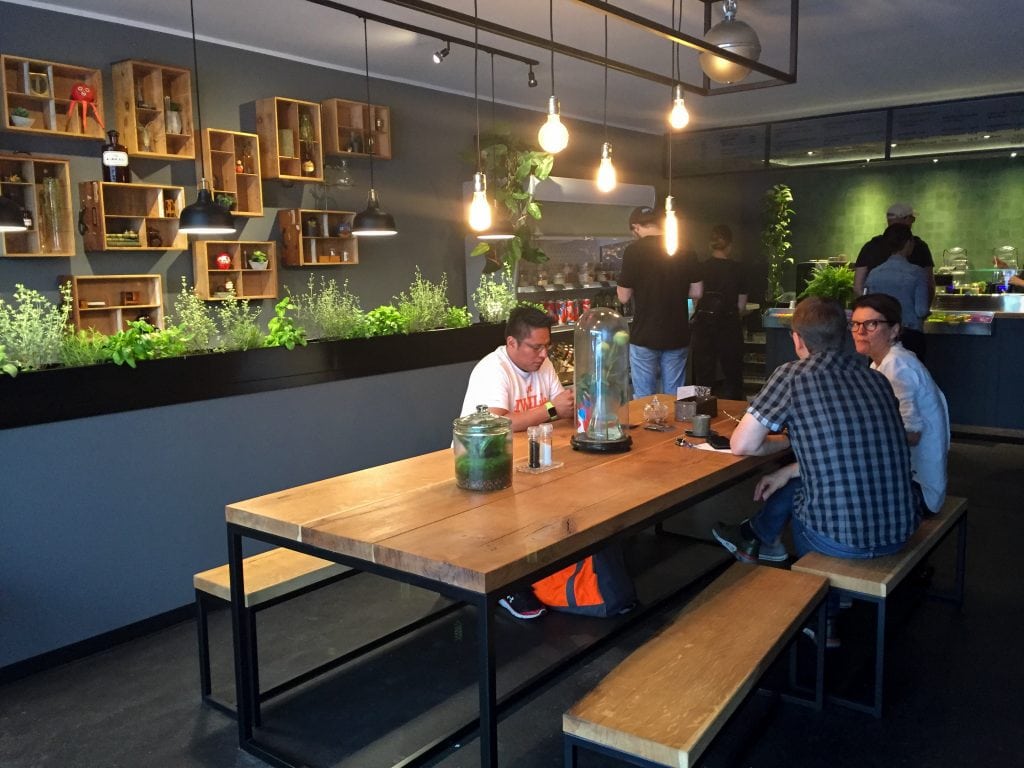 Hector & Tilda can be found at Klosterstrasse 29 in the Stadtmitte.  They are open Monday through Friday 0800-1800 and Saturdays 0900-1600.  To find out more, check out their Website, Facebook, or Instagram.
COFFEE
Woyton / Rosterei Vier
Woyton is no new name to the residents of Düsseldorf.  With eight locations sprawling across the city (in addition to the locations in Cologne and beyond), Woyton has been delivering a good cup of joe since 1998.  They even roast their own beans.  Recently, Woyton changed the name of their roastery to 'Rosterei Vier' to not add so much confusion to the different Woyton locations.  I went to the roastery location and ordered a flat white.  Very great beans and a smooth coffee.  I would probably opt for a cortado or something with less milk next time as the flat white had a bit too much for me personally.  They also offer some delicious looking pourovers and the barista that was working was friendly and really knew her stuff.
You can find the numerous Woyton locations in Düsseldorf here.  I went to the roastery location at Marktplatz 12 in the Altstadt.  To find out more information, check out their Website, Facebook, or Instagram.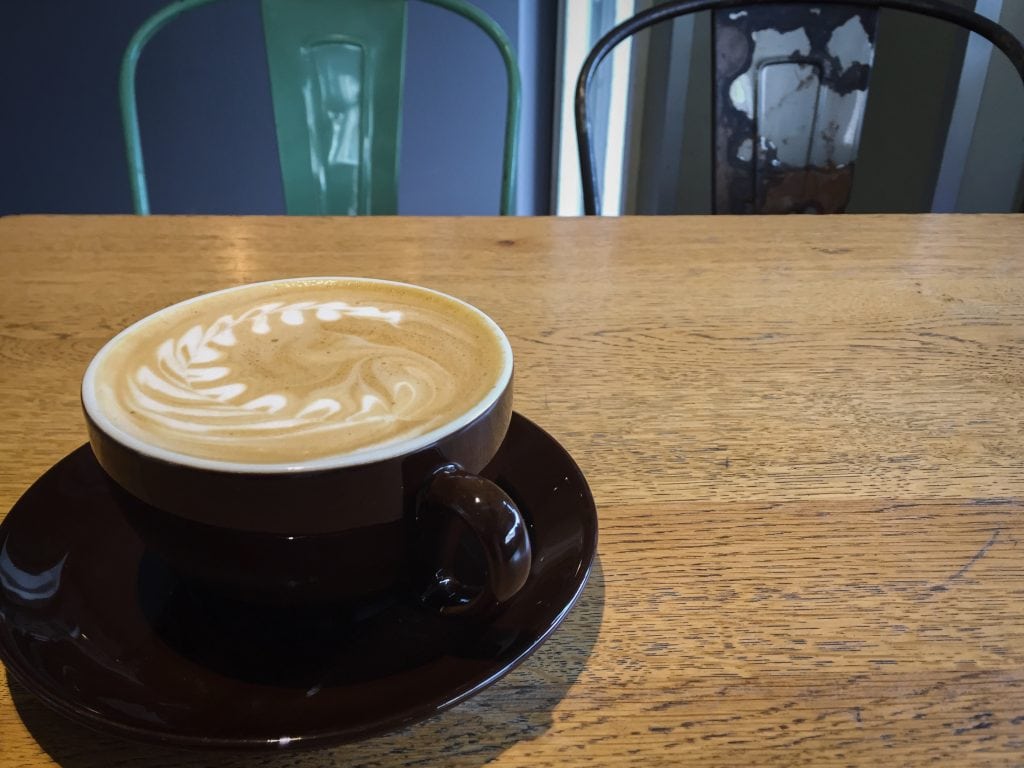 CRAFT BEER
Holy Craft Beer Store
Holy Craft opened in November 2015 and carries over 200 varieties of craft beer and specially chosen brews from the region and beyond.  The store offers regular tastings and the staff is extremely knowledgeable and passionate when it comes to the business of good beer.  Their motto is that 'beer is more than pilsners and alt bier'.  Definitely a can't miss for craft beer enthusiasts like myself.
You can find Holy Craft at Friedrichstrasse 79 in Unterbilk.  They are open Monday through Friday 1200-2000 and Saturdays from 1000-1800.  To find out more information, check out their Facebook.
Spritterei
Spritterei is another craft beer shop located in Düsseldorf's Flingern Nord.  Not only do they cater to craft beer lovers, but they also cater to the gin, spirits, and wine lovers.  Opened in 2015, definitely a sound and needed addition to the craft beer scene in Düsseldorf.
You can find Spritterei at Lindenstrasse 219 in Flingern Nord.  They are open Tuesday through Thursday 1500-1900, Fridays 1400-1900, and Saturdays 1100-1500.  For more information, check out their Website or Facebook page.
_____________________________
Overall, I really had great experiences at each and every place I visited, with the exception of one called Kit Cafe down near the river.  It is some art cafe with 40-year-old hipster wannabes working and I was so appalled at how condescending they were to me that I left a completely full beer (paid for) and dashed out of there.  I highly, highly advise no one to go here despite how inviting their terrace looks.
 I have certainly covered nowhere close to what exists for healthy food, coffee, and craft beer lovers in Düsseldorf.  Please leave your suggestions below if you know of like places and I will be sure to try them out next time so I can hopefully get them added to this list!  Danke!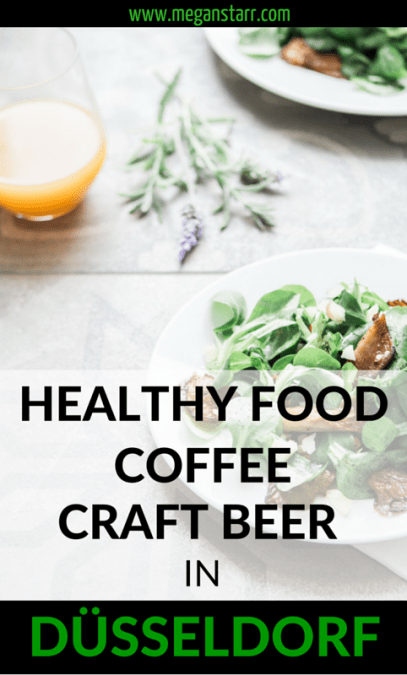 The following two tabs change content below.
Megan is a digital marketing strategist and world traveler based in Frankfurt, Germany but hailing from Richmond, Virginia. She has traveled to over 85 countries and 45 US states and has a special love for the Nordics and Eastern Europe. Her passions are animals, the Pittsburgh Steelers, Ohio State football, craft beer, coffee, and copious amounts of concrete. She is also an advocate for removing dill from all dishes globally.
Latest posts by Megan Starr (see all)