Are you looking to visit some of the most beautiful waterfalls in Wisconsin on your upcoming trip?
Are you planning your trip to Wisconsin last minute?
🚗 Renting a car in the USA: Discover Cars is our top pick for rental cars in the USA and abroad! They have several add-ons and also offer full-coverage insurance as an option. They also have a huge inventory of cars to choose from – something suitable for every traveler!
🇺🇸 Visiting any US National Parks along the way? Get your National Parks Pass for only $79.99 here!
🛌 Booking a hotel in the USA: We use Booking.com for all hotels in the US – many also offer last-minute cancelation.
This guide covers the best Wisconsin waterfalls and ones that you can visit and enjoy yourself!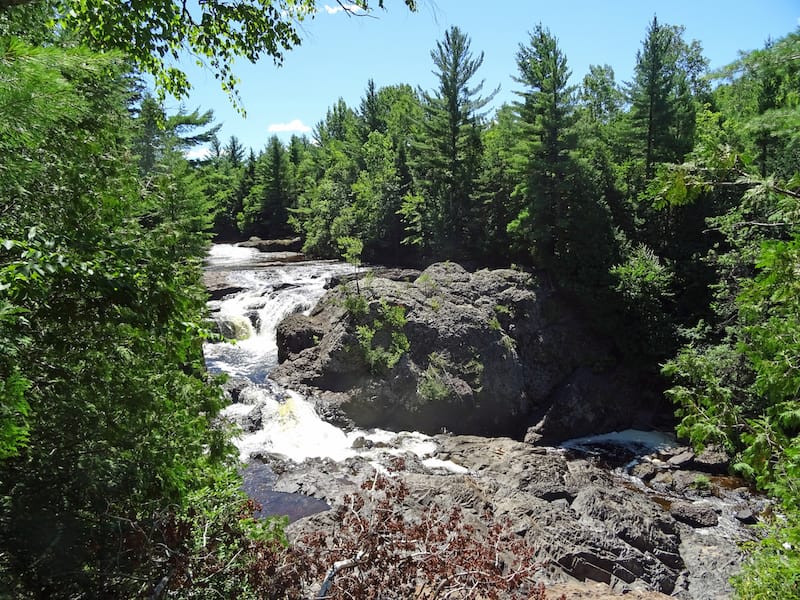 Some contain the best waterfall hikes in Wisconsin and others can be visited easily from the roadside.
Let us know if we miss any waterfalls in Wisconsin worth visiting in the comments. Thanks!
Best Waterfalls in Wisconsin
1. Upson Falls
When in Upson and on the waterfall tour, Upson Falls is the second stop.
The 18-foot waterfall may be small but it is located in such a gorgeous area that it is easily one of the best waterfalls in Wisconsin.
The best part about visiting the falls is that there is absolutely no fee when entering and visiting, however, there is a fee if you choose to camp.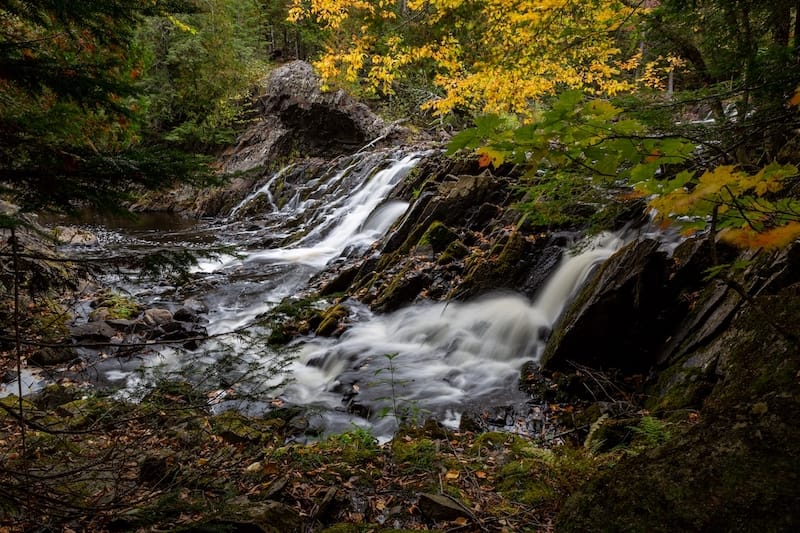 Camping is actually a great idea if you want to spend some time relaxing in the great outdoors, and it's also the ideal spot because the campgrounds are right near the falls so if you'd like to hear the sounds of a rushing river as you sleep, this spot is for you!
Also, if you want to bring a pet, they are totally allowed, but please make sure to not leave them unattended as that may result in unnecessary risk or danger to both the dog and other campers and hikers.
2. Siskiwit Falls
Being a series of low drops, Siskiwit Falls stands out from the rest of the waterfalls with its unique and interesting look!
The falls are twenty feet and have an absolutely beautiful waterfall – especially when visitors come over and see the sight for itself!
The falls have four drops but the most interesting ones would definitely have to be the ones that are located up and down the stream.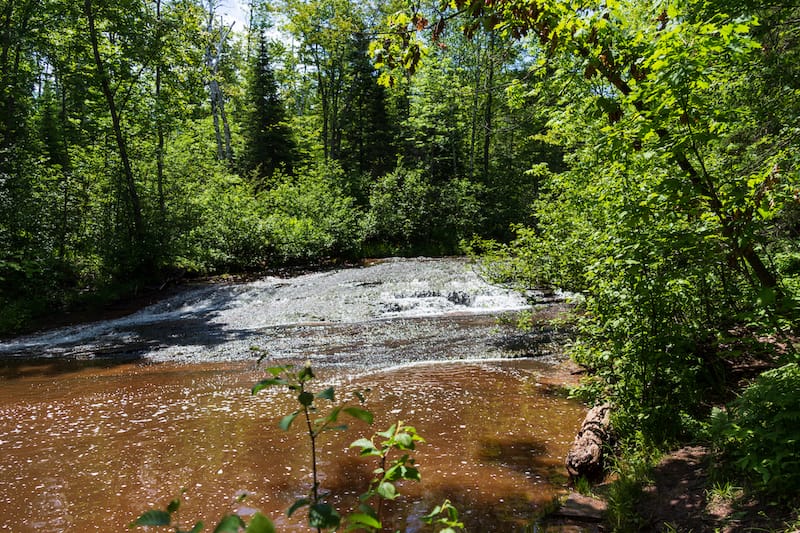 The drop that's visible by the bridge, they say it's not very good! It's located in the town of Cornutopia on the Siskiwit River.
If you want to go visit, go right ahead, but, of course, you do have to be prepared and go right after a storm as that is the time it's most beautiful.
3. Potato River Falls
Potato Falls is one of the most beautiful waterfalls in Wisconsin, however, what's interesting is that the waterfall's accessible tiers are either fully obstructed or very difficult to reach.
So, be careful, and enjoy the view from afar as it can be very dangerous to try and reach the top tiers.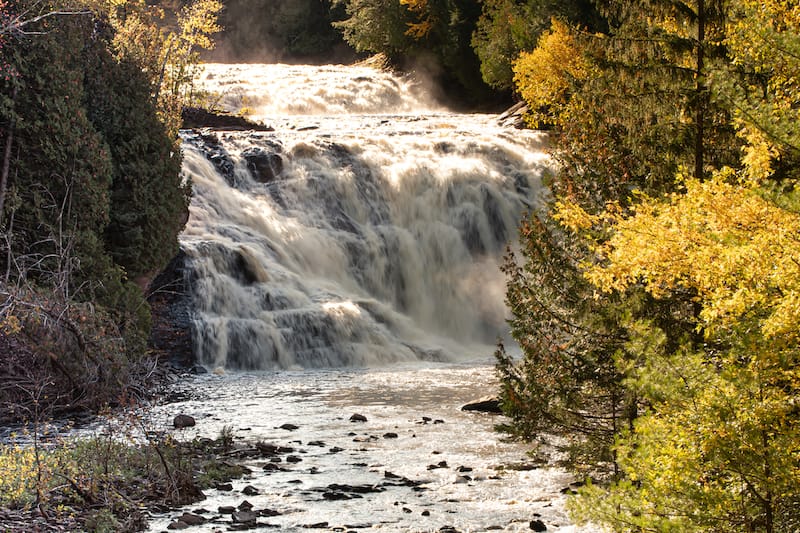 What's great about reaching this waterfall, though, is that it takes less than half a mile to reach so it's approximately a 30-minute hike.
If you're looking to enjoy a great waterfall and rest in the arms of nature beautifully, then you should go right ahead and go on down to Potato River Falls because the hike is not too long and you can stay as long as you'd like in the park!
4. Cascade Falls Osceola
Cascade Falls is also not a very long walk. From the parking to the waterfall, it's approximately 0.3 miles, and, when in Osceola, it's definitely worth stopping by and seeing.
The waterfall has a 25-foot drop into Wilkie Glen and then you can continue following the stream across the boardwalk to reach the St. Croix River.
What's really cool about the falls is that, during the warmer seasons, it's lit up at dusk and changes colors over time.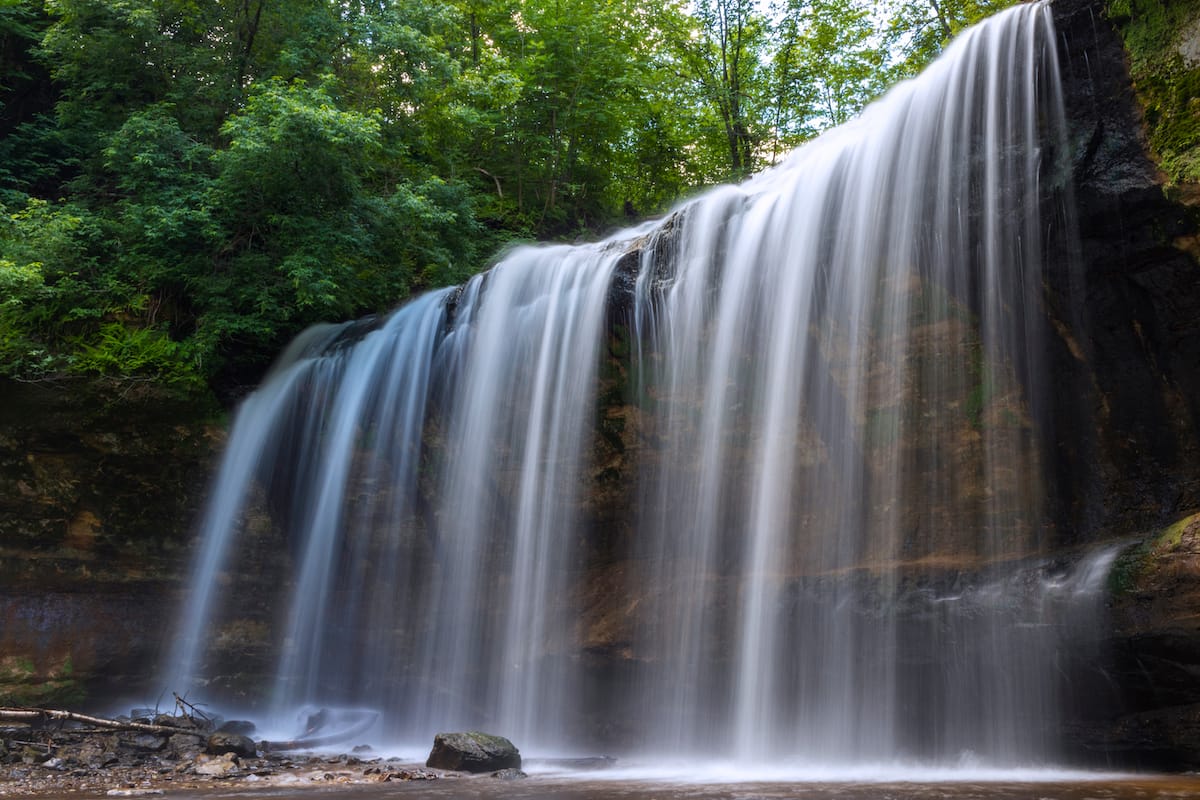 However, Cascade Falls Osceola is not limited to visiting in the warm weather; it's also fun to explore the place during winter when the glen freezes.
Besides enjoying the sights, some fun activities you can take part in when you reach Cascade Falls Osceola are picnicking, photography, and checking out the forest as well!
5. Interstate and Peterson Falls
Often confused with one another, the Interstate and Peterson Falls are two waterfalls just outside Hurley and Ironwood.
They are in such close proximity to each other that there is a significant amount of confusion about the identity of the falls.
People eventually started calling them the Interstate or the Peterson, or both!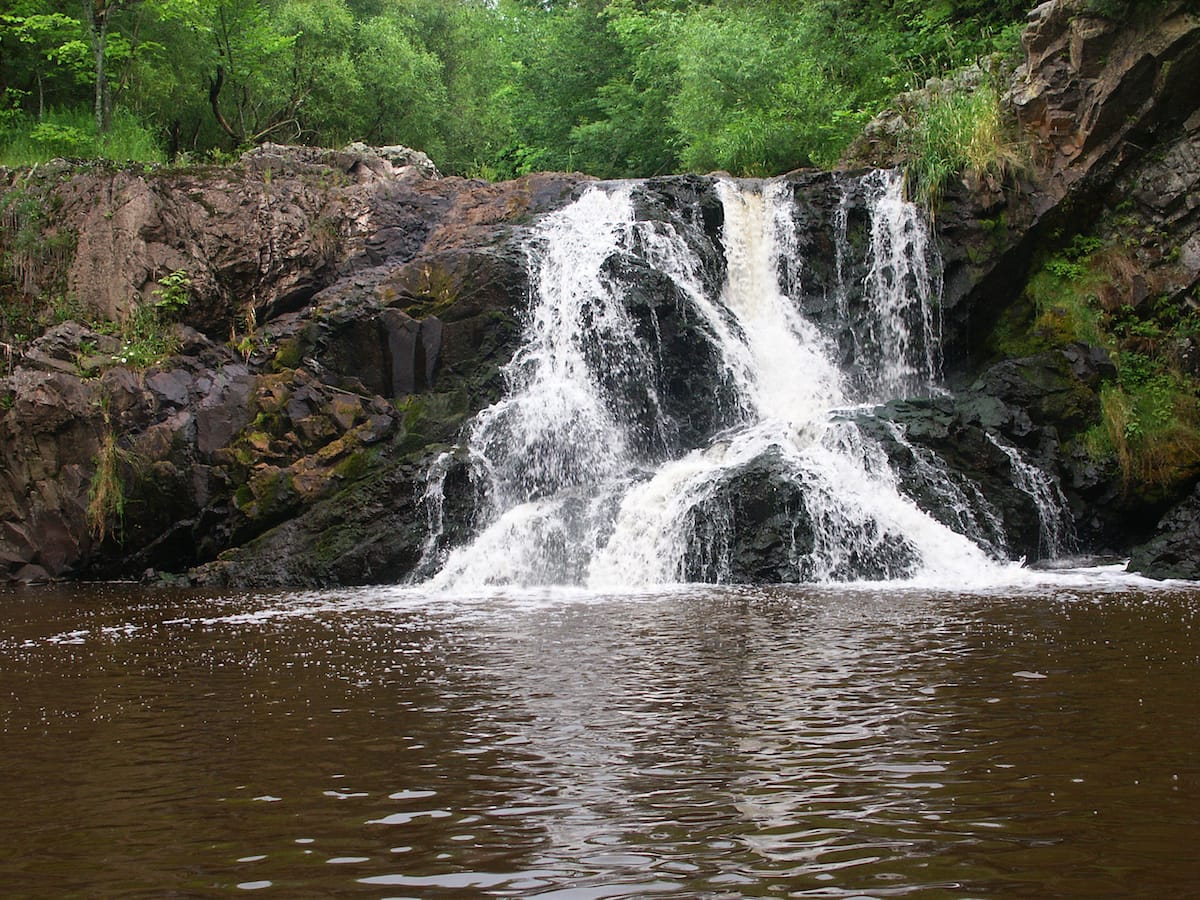 Eventually, it was decided that Peterson Falls is the one flowing upstream and Interstate Falls is the one flowing downstream.
These waterfalls are actually quite like other waterfalls, but together, they are simply a wonder of nature!
Make sure to check out these ten feet tall waterfalls as the hike is quite short as well and you wouldn't have to worry about long travels and such.
6. Amnicon Falls
Down by Amnicon Falls, you can see many waterfalls and rapids along the Amnicon River.
It's truly a sight to see and one you can view either from the two-mile trail, or the covered footbridge!
An adventure for peace and tranquility, Amnicon Falls is the absolute ideal place to find true tranquility.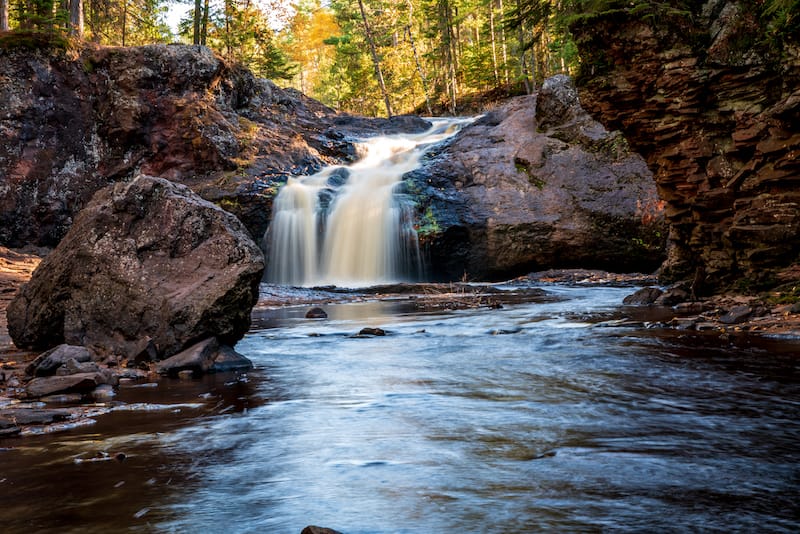 If you are looking to do some activities as well, you can take some friends and family and perhaps go picnicking by the beautiful waterfall.
If you don't mind picking up a thing or two as well, you can take a walk in the woods and learn about Douglas Fault, the geographical formation that created the falls.
7. Eighteen Foot Falls
If you don't mind going on a bit of an adventure and perhaps taking a bit of a more free route, you are more than welcome to visit Eighteen Foot Falls!
The waterfall is known for being wild; there are no fences or gates and the trail is a bit uneven.
However, every waterfall has its uniqueness, and Eighteen Foot Falls' is that it's a little wilder than the rest!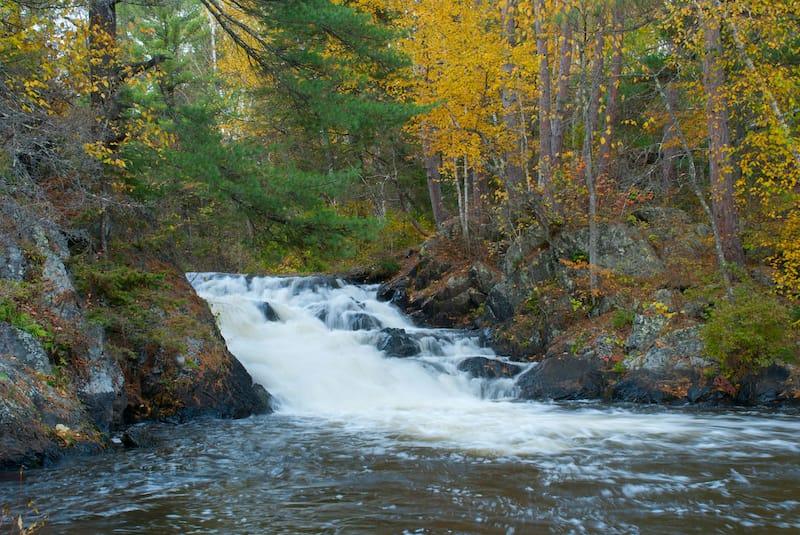 The hike to the eighteen-foot ginormous waterfall is only ten minutes so it's very easily accessible.
Eighteen Foot Falls is also the largest "foot" Falls in Marinette County!
Make sure to check the place out if you happen to be in the area and also check their website to download a picture of the map of the area.
8. Fonferek Falls
Now just south of Green Bay, you'll find the amazing Fonferek Falls!
This twenty-foot giant has an interesting cycle for how much water it lets out.
If you visit in warmer weather or right after a strong rain or storm, you can then see the waterfall having a lot of water.
However, most of the time. The waterfall lets out only a trickle.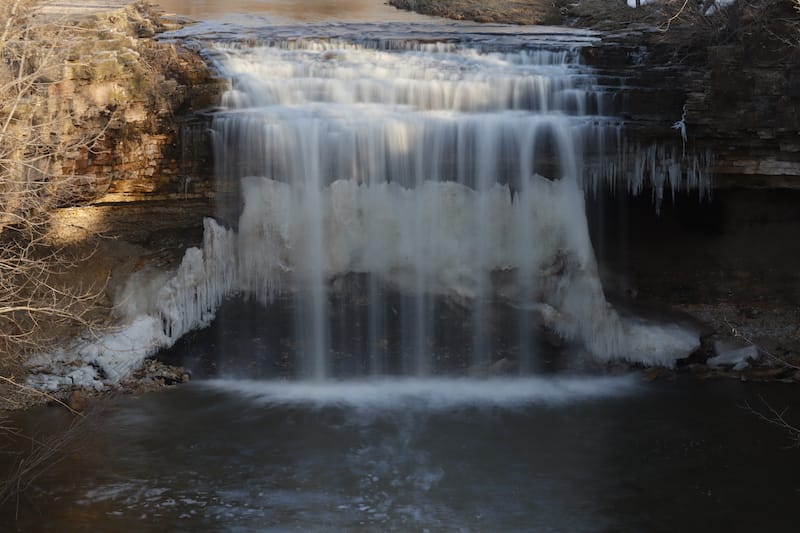 The hike is not that difficult either, and when you get there, remember, the best view is by the east side of the creek!
Another interesting fun fact is that right by the waterfall, you'll come across a farm.
The farm has a lack of resources – especially water, so the vibe is definitely very different and new! For information about the trail, please visit their website and download or print their trail map.
9. Wequiock Falls
This magnificent waterfall is more notorious for its history rather than its beauty or vibes- although the beauty and vibes do not disappoint either! Wequiock Falls is the escarpment of Niagara Falls!
Being the twenty-five giant that it is, is a great attraction to both locals and visitors alike.
The waterfall is easy to reach and should definitely be on your to-do list of things to see and do when in Wisconsin!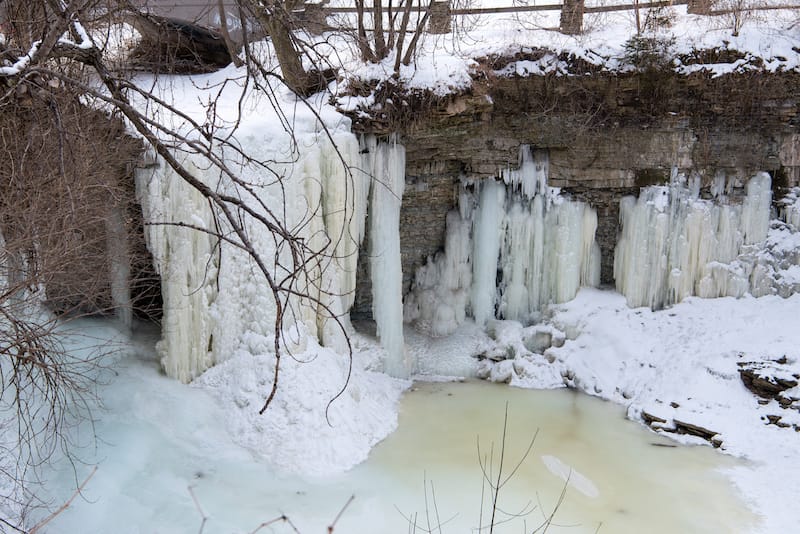 Reaching the waterfall is not an issue either, as it is very easy to reach it via hiking in a short amount of time on completely safe roads.
Wequiock Falls is an extraordinary place to spend your time whether you are alone, with friends, or with family.
Now just like all other waterfalls, make sure to visit after a good rain as the view will be much more vibrant and beautiful.
10. Big Manitou Falls
Having legends and folklore being written and passed on from generation to generation about Big Manitou Falls, it is one of the most popular waterfalls in the region because of its constant historical evolutionary changes, as well as legends, told to its name.
The name itself actually came from the legend told by Native Americans.
They said that they heard voices of the Great Spirit in the roaring falls and called it "Gitchee Manitou".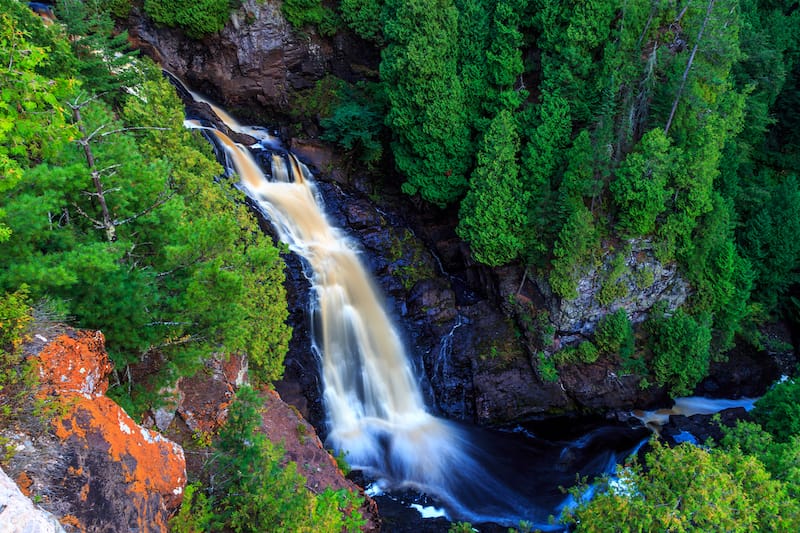 The River Gorge, on the other hand, was an addition to the falls and was created over thousands of years of erosion which created layers of soft sandstone and clay, creating the river.
For more information, you can give them a call anytime from 7:00 am-10:00 pm or visit their website as there may be some answers to questions you may be having.
11. Willow Falls
Willow Falls is an impressive river as the water tumbles down beautifully to reach the greater St. Croix River, one of the most important rivers in the US.
The waterfall has several drops, the largest one being fifteen feet tall.
The waterfall had seen multiple changes over the years such as a dam being built in 1924 where all the water was diverted from the main falls and drowned in the upper drops.
Then, finally, in 1992, the dam was removed and the falls were restored along with the impressive gorge.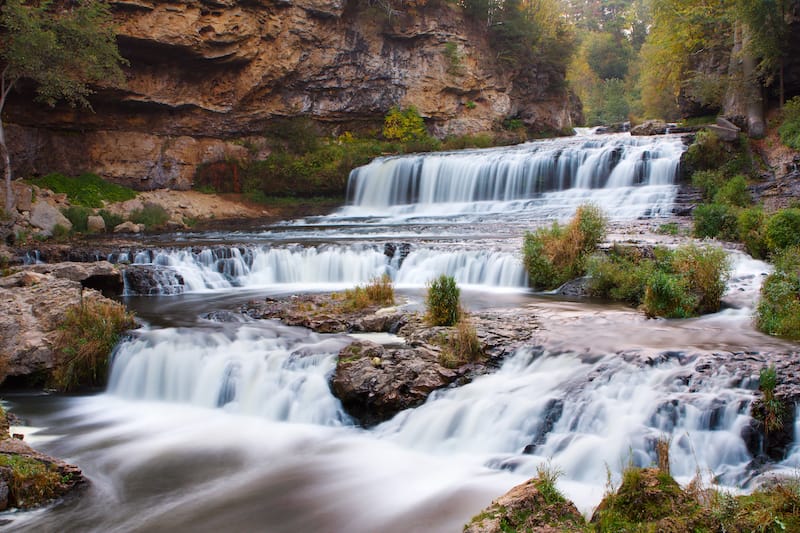 If you're planning on visiting the falls, don't worry about them being difficult to find as they are not at all difficult to find!
There are a set of trails that lead to the falls and it's only 0.25 of a mile on a paved road but a very steep trail to the gorge.
The best part is that when you're visiting, you can get as close as you'd like to the falls or even behind the main drop!
This truly is one place for your Wisconsin bucket list!
12. Dave's Falls
Now Dave's Fall is a great example of the kinds of waterfalls there in Marinette County.
The fifteen-foot-tall waterfall is absolutely magnificent just like the landscape which surrounds it.
The falls aren't as large but they're still interesting to go see. For admissions, you do have to pay $2, and then from there on out, it's simply a short walk to the falls.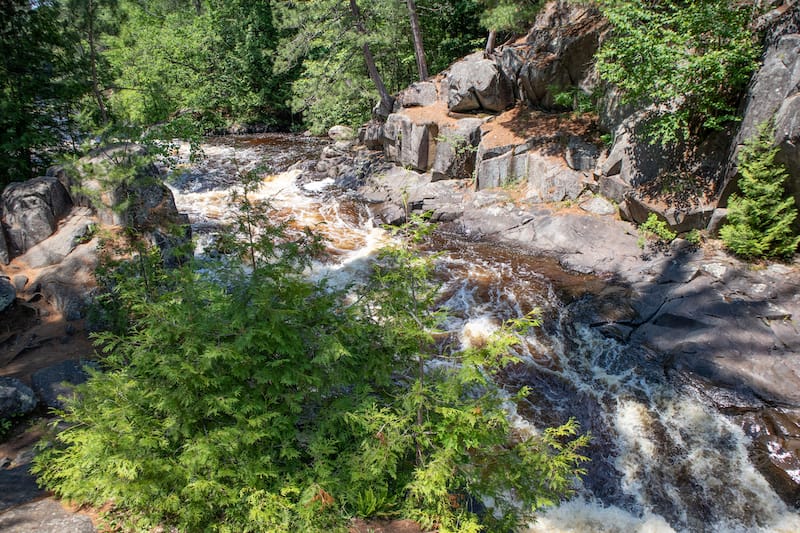 The view is just stunning and to get a glimpse of the falls through different views, but please do be careful because there aren't any fences or railings up so it can be potentially dangerous to get too much into the slippery rocks.
Remember to prepare yourself and make sure everyone you're going with is well-prepared as well.
13. Lost Creek Falls
To reach Lost Creek Falls, you do have to go on a bit of a hike (a little more than the rest). It takes about two miles to reach the waterfall and once you do, you will not be disappointed at all.
It is most definitely worth it although it may be small, the wildness of the waterfall speaks to your soul!
The water is extremely cold though, even in the middle of summer, so make sure to layer up and have all the proper clothing prepared.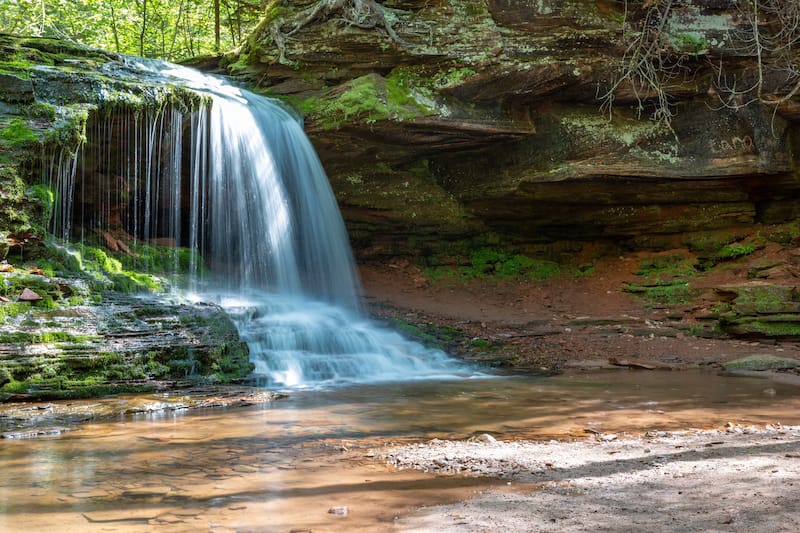 Also, now that the roads are fully paved, the trail is very safe and open to all hikers!
The weekends, however, do tend to be very crowded although people are respectful towards each other.
It'd be best if you went on a weekday or early on the weekends, you wouldn't have to worry about the crowd whatsoever.
14. Granite Quarry Falls
Granite Quarry Falls really has a spiritual feel to it as the people who visit feel at one with themselves.
With the small Church located between the five waterfalls, Granite Quarry Falls being one of them, occasional church hymns are played and during the Christmas season, a life-size nativity scene is placed above the falls.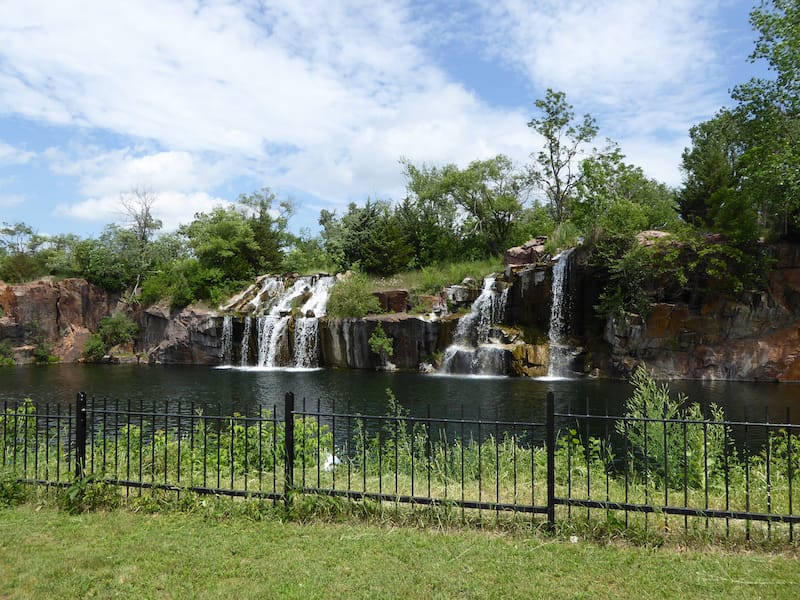 Where nature meets God, where the creations unite with the creator, at the Granite Quarry Falls, you can truly feel at one with the earth, with your creator, and with your own self.
Granite Quarry Falls is not only known for its waterfall, but the trail leading up to it is great for skiing during the winter and taking nice, long peaceful walks in the warmer weather where you can feel the cool breeze in your hair while going on a very easy hike.
15. Long Slide Falls
Long Slide Falls is a steep, long slide, staying true to its name.
The slide is among some very nice rock formations. This is one of the most impressive waterfalls in northeast Wisconsin.
If you are planning on visiting, the admission fee per person is $2 and then it's a very short walk to the falls after that.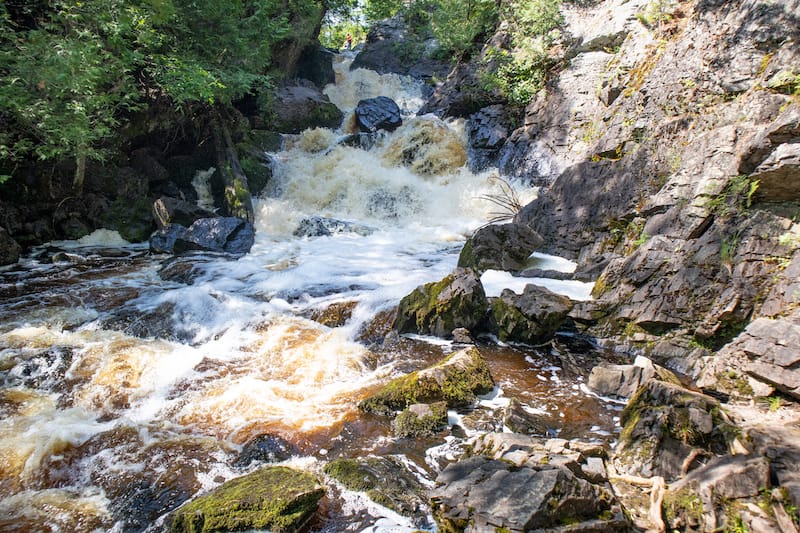 If you want to disconnect from the everyday world, from the struggles and obstacles and stress of everyday life, head on down to Long Slide Falls where you can be one with the universe and leave everything in your day-to-day life and just take a break.
You can feel free to engage in any of the activities outdoors or simply just explore nature.
Did we miss any of the best waterfalls in Wisconsin? Let us know your favorite Wisconsin waterfalls in the comments. Thanks!
More Wisconsin Travel Guides
Pin this Wisconsin Waterfalls Guide