Wisconsin is one of the most stunning places to visit any time of the year.
These are some of the best small towns in Wisconsin that you should add to your bucket list!
Are you planning your trip to Wisconsin last minute?
🚗 Renting a car in the USA: Discover Cars is our top pick for rental cars in the USA and abroad! They have several add-ons and also offer full-coverage insurance as an option. They also have a huge inventory of cars to choose from – something suitable for every traveler!
🇺🇸 Visiting any US National Parks along the way? Get your National Parks Pass for only $79.99 here!
🛌 Booking a hotel in the USA: We use Booking.com for all hotels in the US – many also offer last-minute cancelation.
Whether you want to go skiing in the winter, stroll alongside blooming cherry trees in the spring, fish in the summer, or admire the gorgeous foliage in the fall, Wisconsin has it all.
Wisconsin is also home to a variety of charming small towns that are known for their beautiful landscapes, a wide range of outdoor activities, and an array of family-friendly adventures.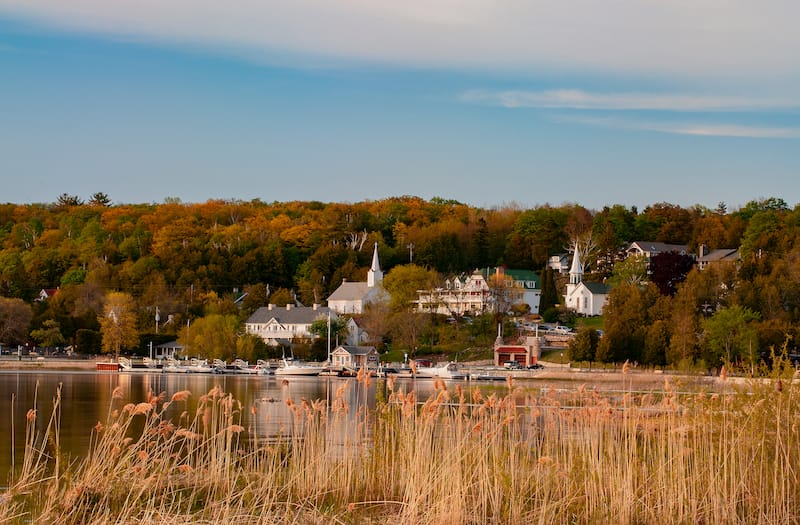 Here are some of the best Wisconsin small towns that will be a great addition to any Wisconsin bucket list!
Best Small Towns in Wisconsin
1. Lake Geneva
The Lake Geneva region is known to many for its beautiful landscape, world-class golf courses, and outstanding restaurants, making it the ideal small town for starting your trip in Wisconsin.
One of the top activities to do here is a stroll along Shore Path, where you'll see a lot of historic estates and homes along with huge fields of tulips and daffodils.
The clean waters of Geneva Lake can be the ultimate spot for relaxation in this town.
There are 4 beaches with different operating hours and rates.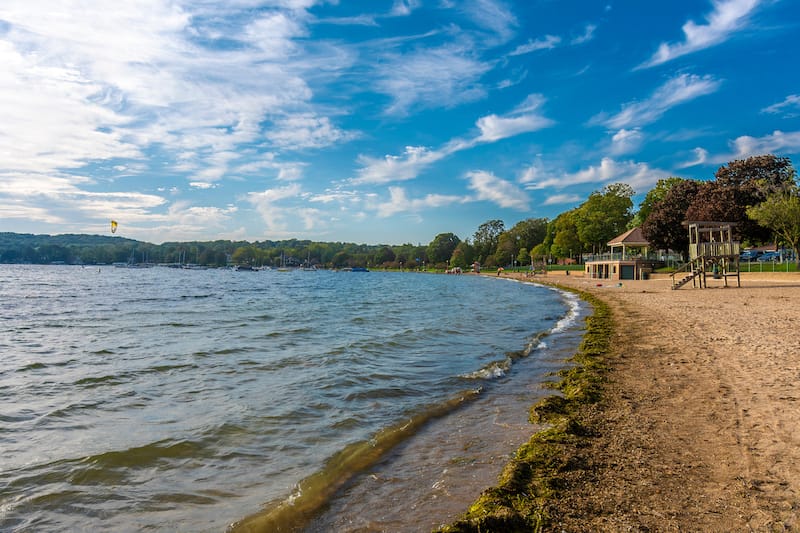 The adventures in Lake Geneva are many and are available any time of the year.
Starting with ziplining, scooter tours, skydiving, and cruises all the way to winter activities like ice skating, snowshoeing, and more. It is definitely a great adventurous day trip from Chicago!
The arts and entertainment sector also is of top-notch quality here, with awesome live-music shows and fresh meals and menus with Italian gourmet dishes, standard steaks, and seafood.
Knowing the variety of things to do in Lake Geneva, it's hard to imagine that someone can visit this place and not find what they are looking for.
2. Stockholm
Stockholm is a combination of picturesque countryside and rich culture.
The town's population is only around 70 people, but it is still successful in attracting many tourists year by year.
Something you better not miss on your day trip to this town is visiting the Maiden Rock Bluffs.
The beautiful hiking trail provides you with the opportunity to get to the top of the limestone bluff and take in some magnificent views!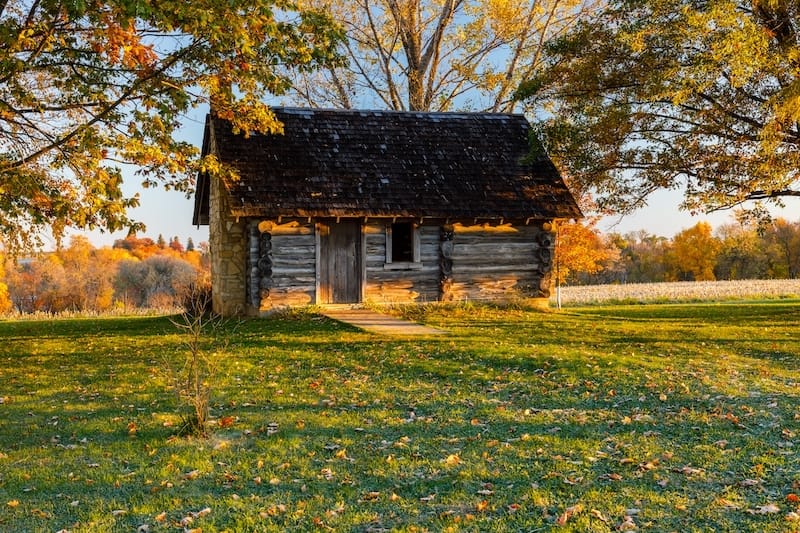 Another significant location in Stockholm is Lake Pepin, famous for being not only the most beautiful drive on the Mississippi River but also one of the most scenic drives in the US.
Those who love camping can enjoy time at Stockholm's Village Park right on Lake Pepin.
Also, when in Stockholm, definitely head to Stockholm Pie & General Store for some sweet pies, visit at least a few of the charming small shops, or explore the Mediterranean-styled Villa Bellezza Winery for a truly remarkable wine-tasting experience!
3. Ephraim
With the presence of a Norwegian and Moravian spirit, Ephraim is a small village with a prominent cultural heritage and extraordinary views of Eagle Harbor.
Ephraim is a hub full of history, fine arts, and water-related activities. Many people who visit enjoy relaxing on the coast, taking in the views of the shoreline.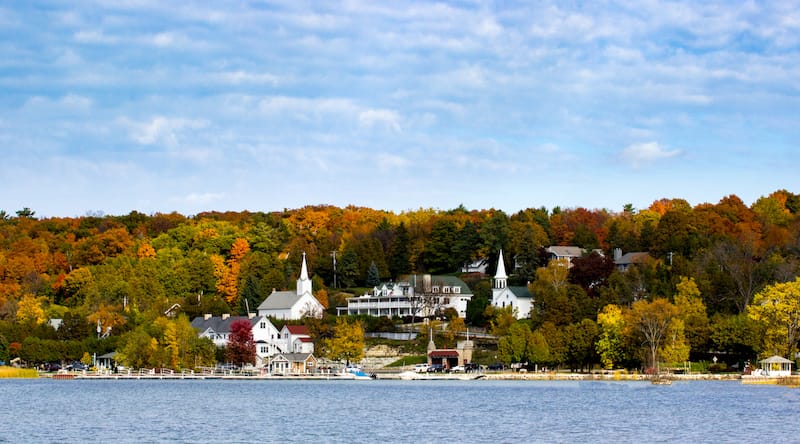 For an even better adventure, you should definitely try out sailboating, flying kites, and paddleboarding. It's also recommended to try the local meals, especially the traditional Door County fish boil.
Other than that, you can book a guided tour through the interesting parts of the county, get an adrenaline rush while zip-lining the Door County canopy, partake in entertaining activities such as bowling or golf, or pay a visit to at least one of the historical museums in the area.
4. Elkhart Lake
In this town with a population of only around 1,000 people, you will find a lot of things to do, especially if you are more interested in water activities.
Surely, you can't visit and not do anything related to the lake itself.
People who have already been in town suggest taking either your own boat or renting one and putting your paddling, water-skiing, sail boating, or fishing skills to the test.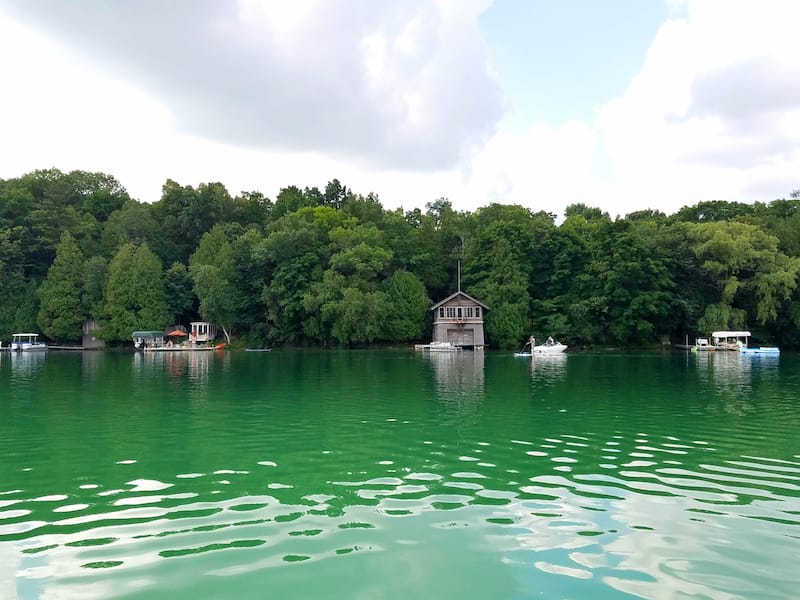 For some land activities, head over to Kettle Moraine State Forest to hike or bike, or check out the Parnell Tower Trail and reach the top of the tower itself to enjoy some great views.
If by any chance you love racing, note that this town is home to a world-renowned 4-mile racetrack, which has been operating for more than 65 years.
After getting the most out of the town's attractions, visit Barefoot Tiki Bar at Victorian Village Resort to enjoy delicious meals and beautiful lake views, or Paddock Club to try seasonal meals and more of a European-styled menu.
5. Stevens Point
This is yet another spot in Wisconsin that's a combination of beautiful nature and sophisticated art and culture.
In the past, this area was established as a logging halt along the Wisconsin River; however, now it houses not one but two universities.
When in the town, start off by exploring its downtown. Youʻll find many of the best things to do in Stevens Point located there!
Check out the historic farmers market (it's one of the oldest ones in the whole state of Wisconsin), and visit the Riverfront Arts Center's gallery or Scarabocchio Art Museum for unique art exhibits and workshops.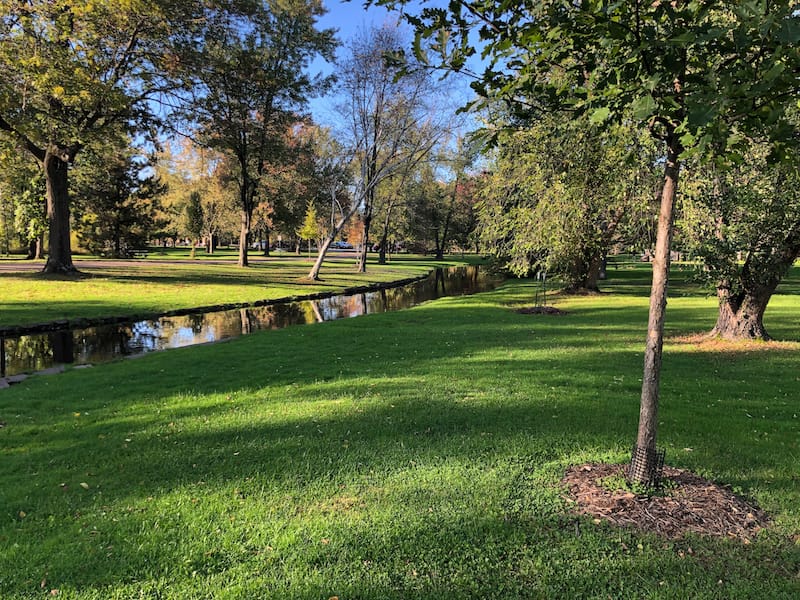 During the summer, walk around the public square fountains or participate in one of the well-known community celebration festivals – Riverfront Rendezvous.
Hiking or biking can be done on the 27-mile Green Circle Trail, while ice skating and toboggan slides are offered at the Iverson Park Winter Sports Area.
Overall, the town is full of different recreational activities suitable for every age group.
If you're a history buff, start by checking out the murals on downtown buildings and visit the Stevens Point Area Convention and Visitors Bureau to get more info on those murals and much more.
6. Eau Claire
Eau Claire is all about great music and stunning riverfront views.
What really sets this town apart is the abundance of great music festivals that take place. Some famous ones are Country Jam, Eaux Claires, and Blue Ox Music Festival.
Eau Claire is also home to many family-friendly attractions such as Carson Park, High Roller Skating Center, and Altoona Family Restaurant.
You better plan your whole itinerary beforehand because there are a lot of possibilities for family fun!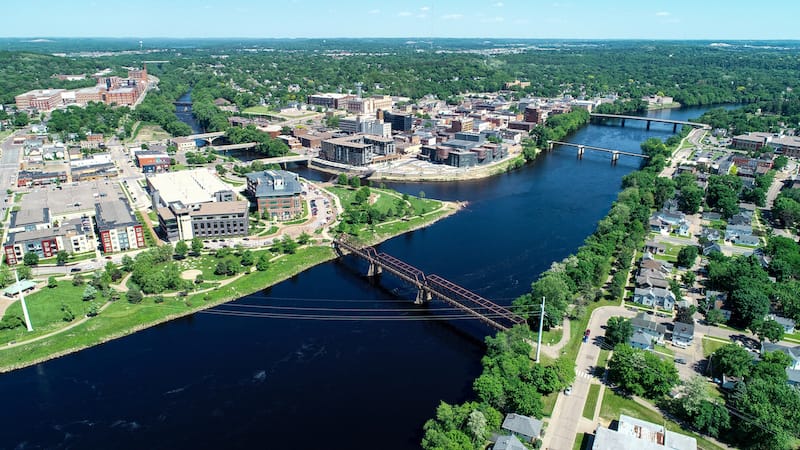 And the same goes for almost everything here. Even the downtown area is so rich with restaurants, bars, and shopping spots that you might need a whole day here if not two.
For art lovers, Pablo Center at the Confluence and other nearby museums in the downtown area is a must!
As far as outdoor activities, you can partake in therapeutic horseback riding at Trinity Equestrian, stroll around the Chippewa River State Trail, or take advantage of the two rivers running through the town and paddle your way on the water trail.
7. Bayfield
Being the gateway to the Apostle Island National Lakeshore, Bayfield is where you can enjoy a great vacation while feeling close to nature in the US.
The popular way to tour Bayfield is by cycling. There are 20 cycling routes in Ashland and Bayfield counties open for all visitors to check out the scenic overlooks of the cliffs and greenery.
A typical stop here is the Big Bay State Park, where you'll find some sweet treats in bakeries or ice cream shops.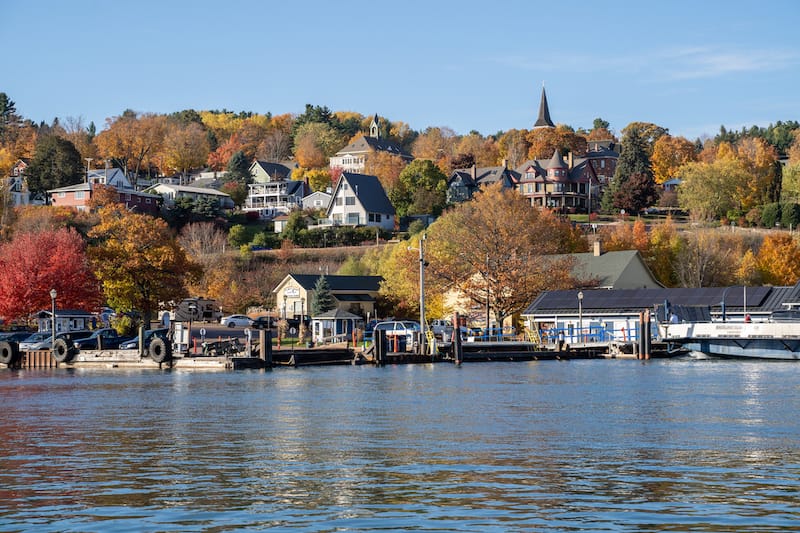 Relax and go on a kayaking tour to see the beautiful red sea caves on Lake Superior's shimmering waters.
The kayaking sites here might be among the best you've ever seen!
If time allows, also take a ferry ride from Bayfield to Madeline Island and search for the local art gallery, historic antiques at the Bayfield Maritime and Heritage museums, or attend some exciting events like the Bayfield Race, Chautauqua Tent Shows, or Bayfield's Apple Fest.
8. Sister Bay
Sister Bay is great for foodies, shopaholics, and those who enjoy waterfront activities. It's known as the northern hub of the Door Peninsula.
This town has a convenient location, only minutes away from Fish Creek's Peninsula State Park.
You can start your exploration at Corner of the Past Museum, try some fun activities at the Door County Adventure Center, and take part in something unique like stand-up paddleboard yoga classes or the general type of kayaking tours at Sister Bay Beach.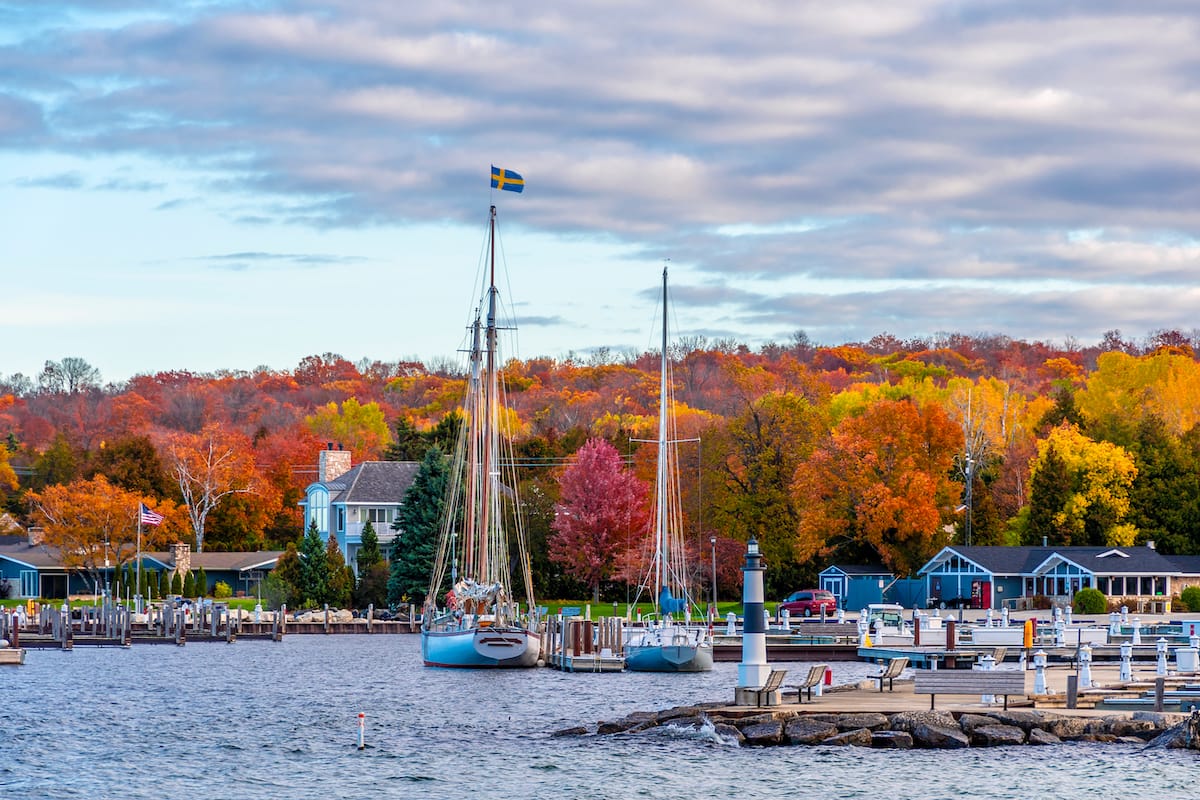 Those looking to get acquainted with the nature of Sister Bay in a way that is very different from traditional methods are to speed through the backcountry on an Off-Road Segway.
You can also take a 50-minute Segway tour to check out the downtown area along with cherry orchards, the marina, the village area, and more.
9. Washington Island
Washington Island is the largest of Door County's 30 islands. Besides being the largest one, how is it different from other Wisconsin towns?
You'll be able to catch a glimpse of scenic rocky shores, thick forests, and crystal-clear waters even when you're on your way to the island.
If you choose to visit, you're most probably in the mood to relax. However, keep in mind that the town also has a lot of recreational offerings.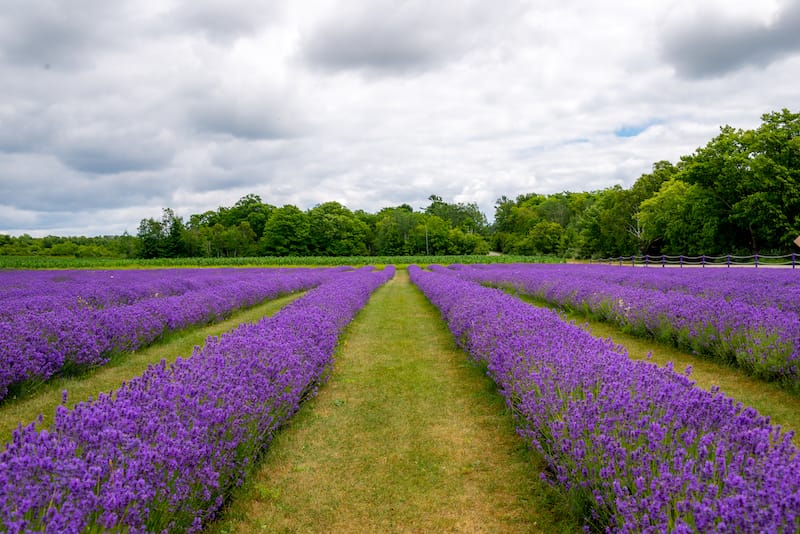 From a big list of must-see places, some of the most recommended sites include the Art Gallery and Nature Center which features works from local artists and hands-on exhibits, Fragrant Isle Lavender Farm featuring the largest lavender grower in the Midwest operating on a single site, or Jacobsen Museum with natural and historical artifact collections.
When it comes to beach areas, Schoolhouse Beach and Percy Johnson County Park are known as the top places to enjoy sunbathing, swimming, and picnicking.
10. Sturgeon Bay
Hey fishers, you're going to love this town! Sturgeon Bay is famous for being the best site for bass fishing in the world.
It's also worth mentioning that Coastal Living magazine named this place one of the Top 10 Happiest Seaside Towns in the U.S. As you might have already concluded, Sturgeon Bay is mostly covered in boats and water, but there is a lot more to the town!
To get to know the town and its culture, stop by the Door County Maritime Museum.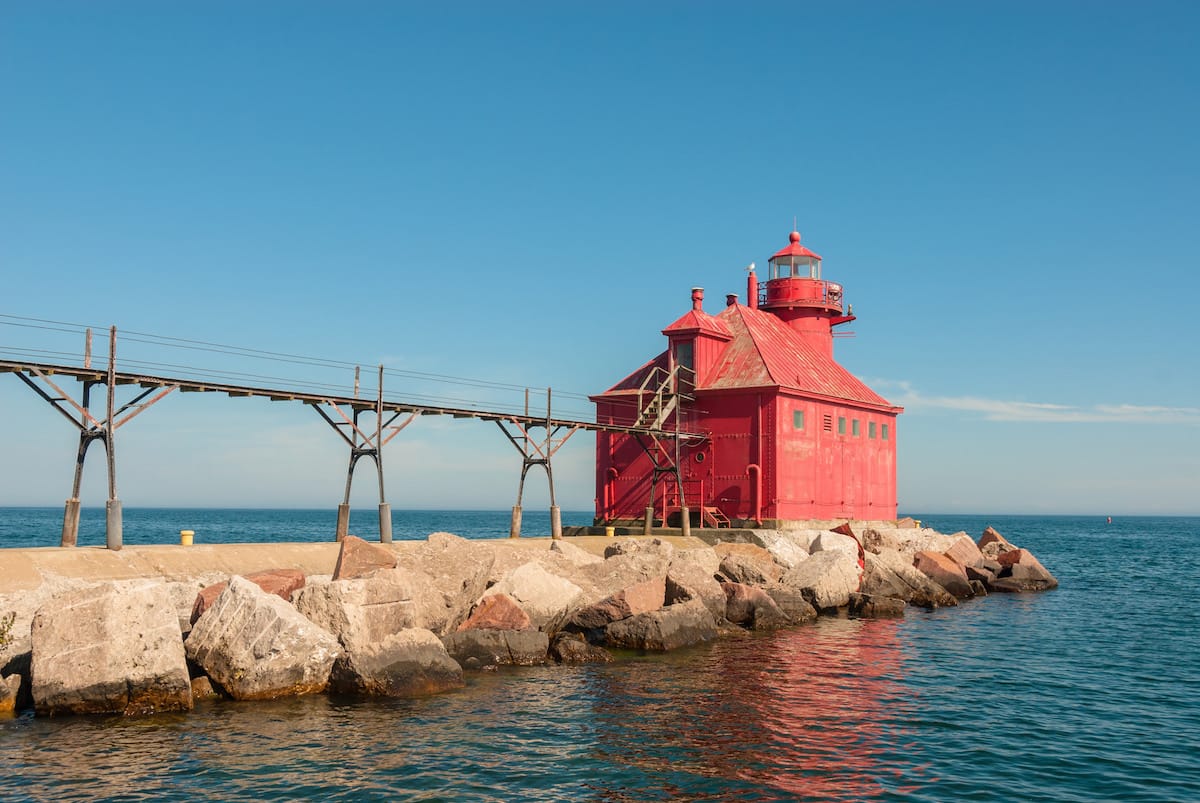 Alternatively, experience the town's spirit first-hand via music scenes, art exhibits, and shopping districts that are full of restaurants with various menus, pubs, and coffee shops.
Visitors are welcome to step into nature at Potawatomi State Park, which is situated at the edge of the city.
Enjoy the wildlife of plants, animals, and birds, or check out activities like fishing from the accessible pier, hiking, camping, biking, and more.
11. Hayward
Hayward offers a multitude of recreational activities to its visitors.
It is especially great during the winter as it hosts the largest cross-country ski marathon in North America – the American Birkebeiner cross-country skiing race.
Parks and beautiful natural landscapes are huge attributes of this small town!
The list of the best parks includes Shue's Pond, Hayward City Beach, and Smith Creek Dog Park. For a longer walk, it is recommended to take the four-mile Bicycle/Pedestrian Trail.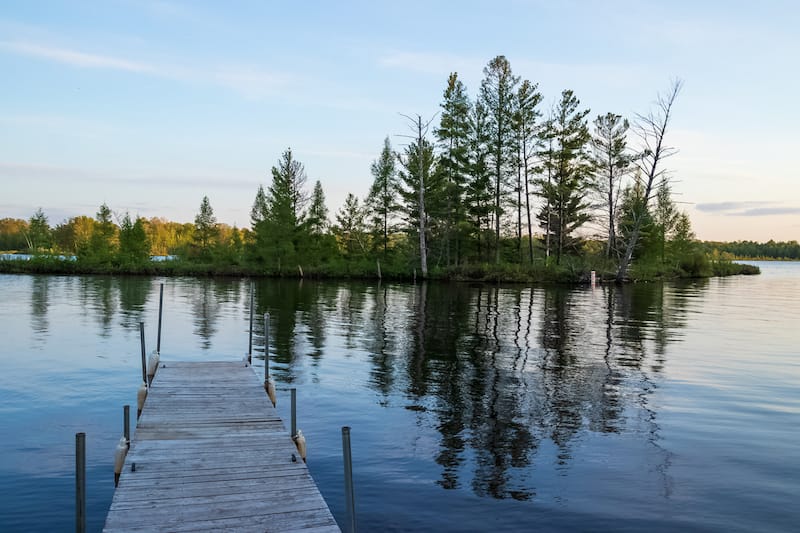 Hayward is a fishing mecca. In fact, it has a hall of fame dedicated to promoting freshwater fishing – the Freshwater Fishing Hall of Fame.
This museum gets a huge number of visitors each year and hosts the largest muskie sculpture in the world.
Apart from all this, the town prides itself on delicious eateries like Angler's Bar and Grill located on Main Street, Angry Minnow BrewPub and Restaurant with its tasty craft beers, and the Chippewa Inn is known to serve the best steaks in town.
12. Ashland
No matter which season you choose to visit Ashland, you can be assured that the town will be full of activities.
Those who are into some big-time exploration can check out the Apostle Islands of Ashland County with boats and kayaks to examine the sea caves and sandstone cliffs.
Do not miss out on the great experience of fishing when in Ashland.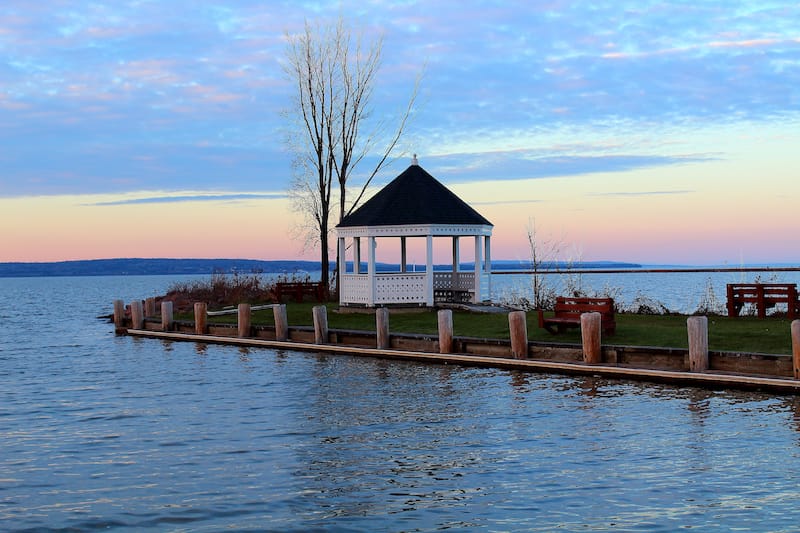 Bay is the ultimate dream for fishers no matter what kind of experience you're looking for. Ashland has it all!
Other ways of exploring the area include auto/motorcycle tours, downtown shopping for gourmet delights and fine art, mountain biking, salmon fishing, and much more.
If you want to burn off some calories, you can take a hike along the Ashland Waterfront Trail. Run, walk, or bike the lakefront area from Maslowski Beach to Bayfront Park.
13. Eagle River
Eagle River is home to many things snow-related. It is famous as the Snowmobile Capital of the World, it hosts the internationally-renowned World Championship Snowmobile Derby and is where the World Snowmobile Headquarters are situated.
So, winter is great here with miles of snow-covered trails guaranteeing superior-quality skiing, snowshoeing, and snowmobiling.
Just like other small towns in Wisconsin, Eagle River has its historic museum, which is recommended to visit if you want to learn more about the town before carrying on with recreational activities.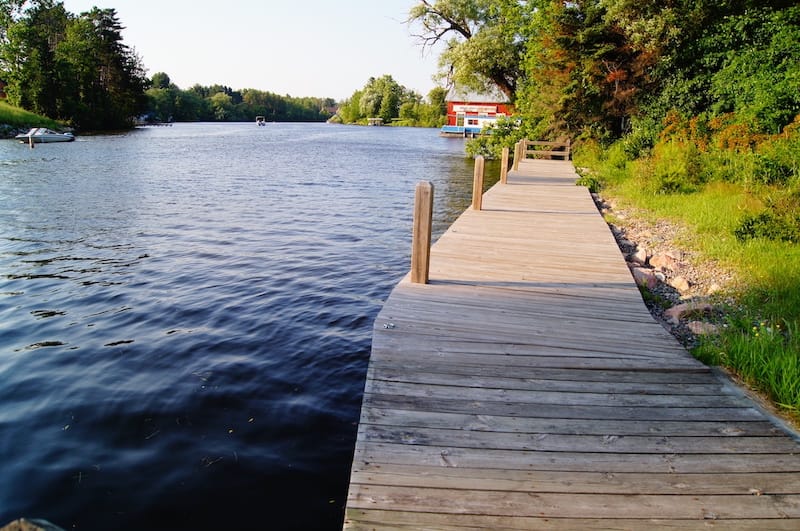 By the way, kayaking and fishing in Walleye, Crappie, and Northern Pike are some good options to get started with town attractions!
Traveling with kids? Take a tour on a Pirate Ship and cruise around the lake.
Once the kids are happy, sneak out to Tribute Brewing and Tap House and enjoy a glass of beer.
14. Janesville
Janesville is known to have a lot of parkland and trails (around 2,500 acres). In addition to parkland, there are a few comfortable lodging facilities, botanical gardens, and more than 10 historic districts.
With donations collected mostly from the locals, the Rotary Botanical Gardens have been restored and presented to the public with a huge variety of plants (more than 4,000), theme displays, and more.
An alternative could be spending time at Riverside Park. The top attractions here are tennis courts, a golf course, wildflower hikes, and pickleball tournaments.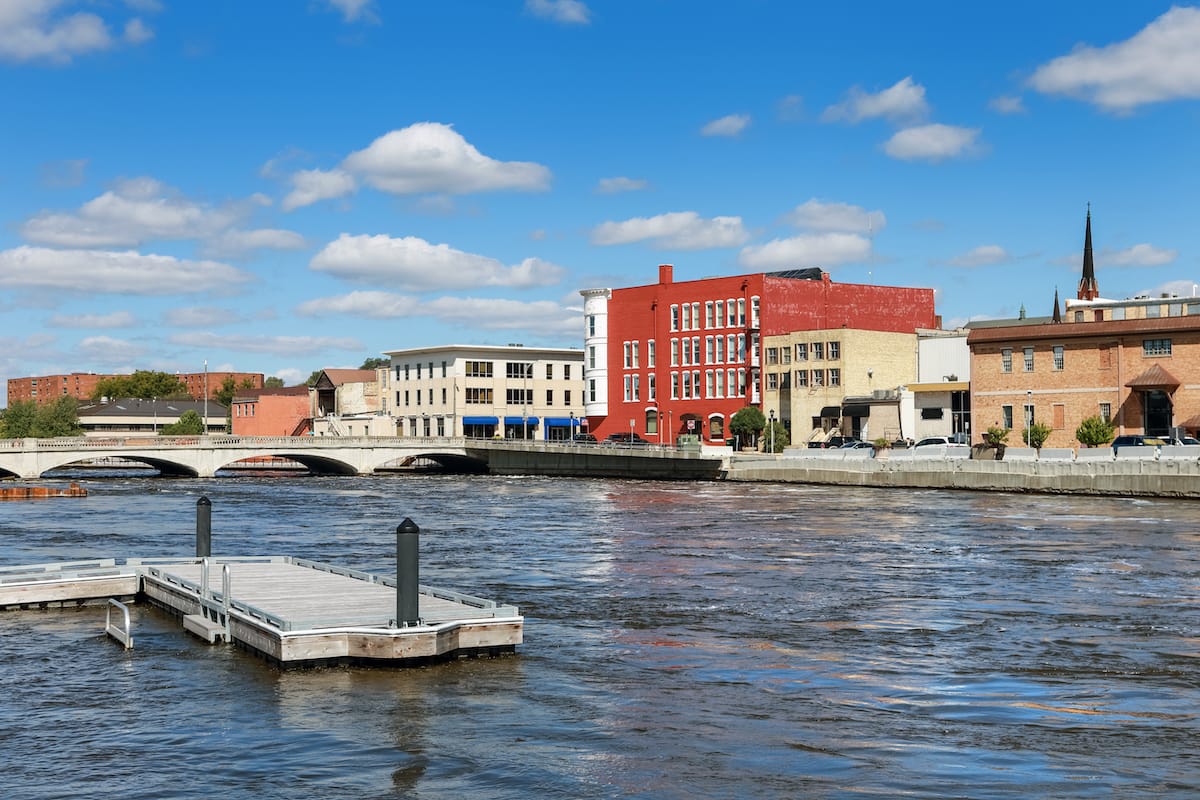 Janesville is home to many sites in Wisconsin that are also listed on the National Historic Register.
A great way to experience the town would be checking out the downtown area with over 100 restaurants and shops or watching a live theater show at the Janesville Performing Arts Center or an award-winning water-ski show.
15. Fish Creek
Wisconsin's Northern Door Peninsula has many great ways any solo traveler, group of friends, or family can enjoy.
Those who are fans of hiking and biking are welcome to visit Peninsula State Park, which offers paved hiking trails and bike paths.
To combine time in the park and on the beach, check out Green Bay or Sunset Park.
Combine fun with some learning too and visit Door County Maritime Museum, Eagle Bluff Lighthouse Museum to envision the life of lighthouse keepers, or Alexander Noble House for some old village-specific styles and mysterious stories.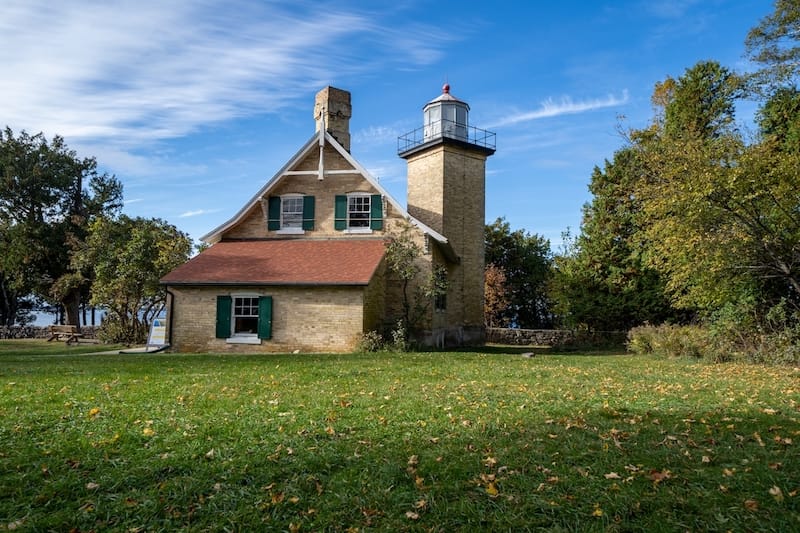 Those who enjoy water activities can join a Door County Kayak guided tour, experience the scenic routes through seaworthy vessels, or just rent a boat for themselves.
Last, but not least, make sure to check the official calendars of concerts and festivals that are planned for the time of your visit.
You surely don't want to miss family-friendly live music and exciting events!
Did we miss any of the best small towns in Wisconsin?
Let us know your favorite Wisconsin small towns in the comments. Thanks!
More Wisconsin Travel Guides
Pin this Wisconsin Small Towns Guide