Are you looking for the best apple orchards in Wisconsin? We have the best places for apple picking in Wisconsin right here!
Did we miss any amazing Wisconsin apple orchards in this guide? Let us know in the comments. Thanks!
When to Go Apple Picking in Wisconsin
Apple picking in Wisconsin starts in the middle of August and runs until the end of October.
Take mind, that this could vary from season to season so plan your trip in September and October just to be safe.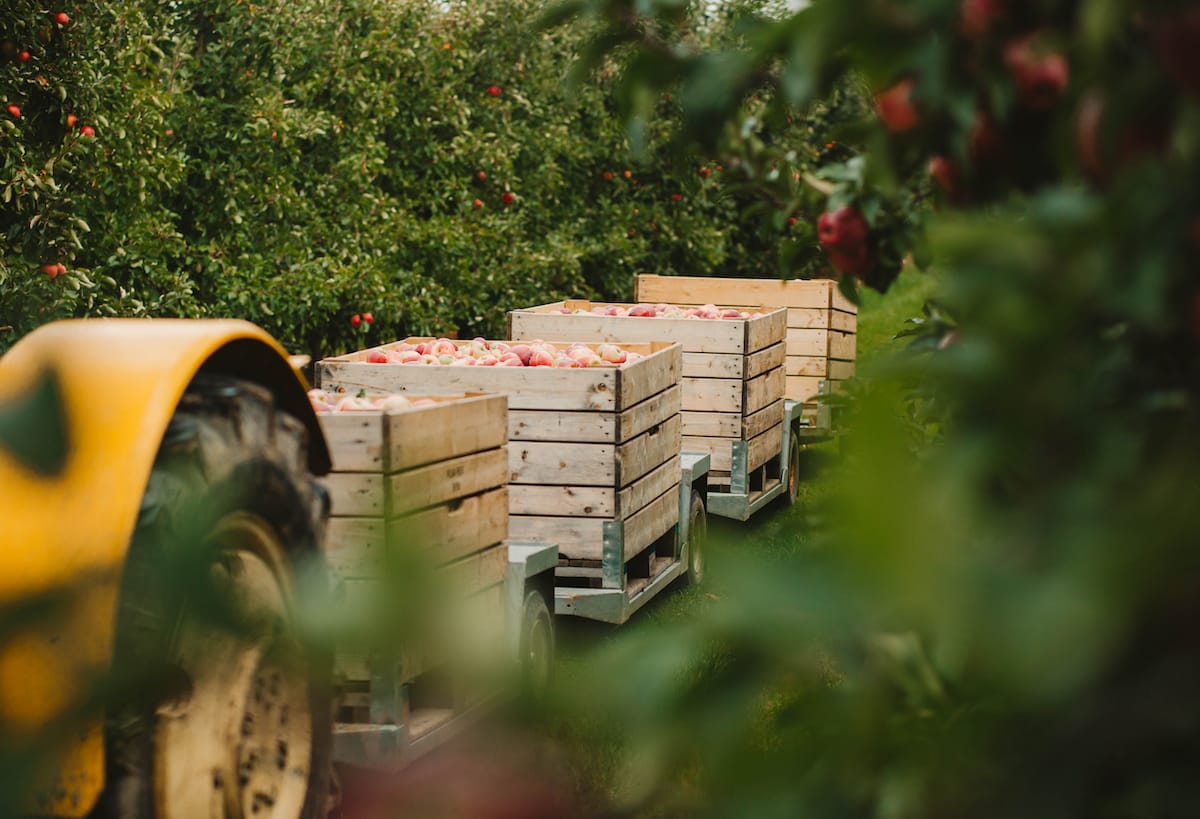 Many Wisconsin apple orchards on this list also have pumpkin patches which tend to be more of an October thing – so plan for that if you want to do both.
Best Apple Orchards in Wisconsin
1. Leffel Roots Apple Orchard
Location: Eau Claire
Website
Different kinds of apples are available in handy, pre-picked bags which can be found in the store.
The family that owns the Leffel Roots Apple Orchard served in the US Air Force for more than 20 years, during which time they visited several countries.
In 2015, they relocated to Eau Claire's south side and paid a visit to their Wisconsin roots. They discovered that the 40-acre property was a real piece of heaven!
The orchard featured mature Cortland and Honeycrisp apple trees when they first moved, but they have greatly diversified their products since then.
A 10-acre corn maze, pick-your-own pumpkins, maple syrup, honey, pies, caramel apples, cider doughnuts, and apple ale have all been added to the farm.
They're open from September to October, from Wednesday to Sunday from 10:00am to 6:00pm.
2. Ecker's Apple Farm
Location: Trempealeau
Website
Since 1945, Ecker's Apple Farm has been a family-run orchard located close to Trempealeau, Wisconsin, on The Great River Road.
When Peter and Mary got married in 1977, they started mass-planting apple trees to build the modern commercial orchard. The farm offers an apiary and blueberries in the summer in addition to apples.
Ecker's is now a must-stop craft beer destination open on weekends from July through October and is home to Hog's Back Brew Farm.
There is no entrance fee; bring your family and friends to stroll around the orchard rows and enjoy the autumnal hues.
Each fall, Orchard Market opens, bursting with gourmet caramel, specialty delicacies, homemade apple pies, hand-dipped caramel apples, and delicious merchandise. Join and spend some time with friends and family and pick apples!
3. Sutter's Ridge Farm
Location: Mt Horeb
Website
Sutter's Ridge Farm is family owned and operated!
They have a 6-acre pumpkin patch, a 5-acre apple orchard, a 1/2-acre raspberry patch, a 1-acre grape orchard, and 5 acres of corn, specifically for their corn maze, as well as fall mums, squash, and gourds on their farm.
Over 25 distinct kinds of apples are grown on the 2,000 apple trees on the farm. A freshly harvested apple from Sutter's Ridge is the epitome of autumn.
The farm will be open from Thursdays through Sundays, 10:00am to 5:00pm, starting mid-August. Come celebrate all the things adored at Sutter's Ridge Farm during harvest season in the fall!
Please keep in mind that all animals must be left at home because they are strictly forbidden from entering the farm.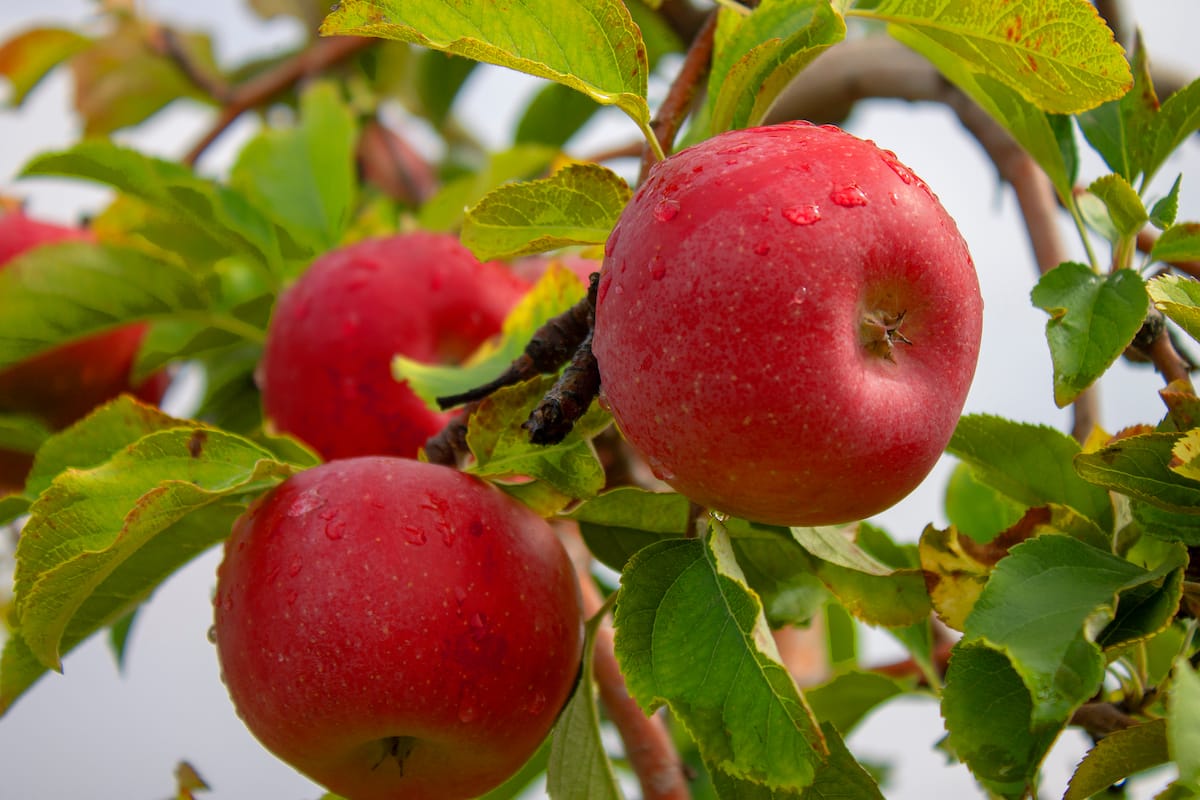 4. Heritage Orchard
Location: Chilton
Website
When Vern and Ann Gasch bought the farm in 1976, the apple orchard that looks out over Lake Winnebago's eastern side was renamed Heritage Orchard (formerly Erickson's).
Over the years, three generations have helped establish, maintain, and run the orchard.
The Heritage is still going strong; it's a family business, definitely worth supporting. Families should visit the orchard to take advantage of the crisp, beautiful October weather.
Their primary goal has always been to grow apples – cultivated for quality, picked at the height of flavor and crispness, and offered fresh at reasonable costs.
Pick your own or select your favorite from the Farm Market's 16 different varieties.
Heritage Orchard has a very welcoming environment with healthful, fresh goods. Enjoy the lush grass, clean air, breathtaking view, and kind, helpful neighbors.
Opening season is from August to October and they're open every day from 9:00am to 5:00pm.
5. Apple Holler
Location: Sturtevant
Website
Great Lakes' rich soil and the sun rising over them thousands of years ago were what first brought Apple Holler's magic to life.
It's the crystal-clear water from the long-gone Inland Sea, as well as the mystery and thrill that permeate the air on hot summer days and cool autumn evenings.
It's in relishing the present moment with the people that mean to you most and the simple joy of childhood.
They believe that by telling you "the Apple Holler narrative," you will receive a small taste of the timeless enchantment and tradition that make the family farm so unique.
Apple Holler is a 78-acre orchard that welcomes you to appreciate the brilliance and beauty of the fall season. It was named one of the "Top Ten Best Orchards" in the nation by USA Today.
Experience the unique "Pick-Your-Own Apples" when you and your family spend a day from August through the beginning of November.
A day spent in the apple orchard, which has more than 30,000 carefully chosen miniature trees with 30 different types of apples, won't be easily forgotten.
You may see for yourself the wide variety of apples they have available for you to choose from as you stroll through their magnificent orchard.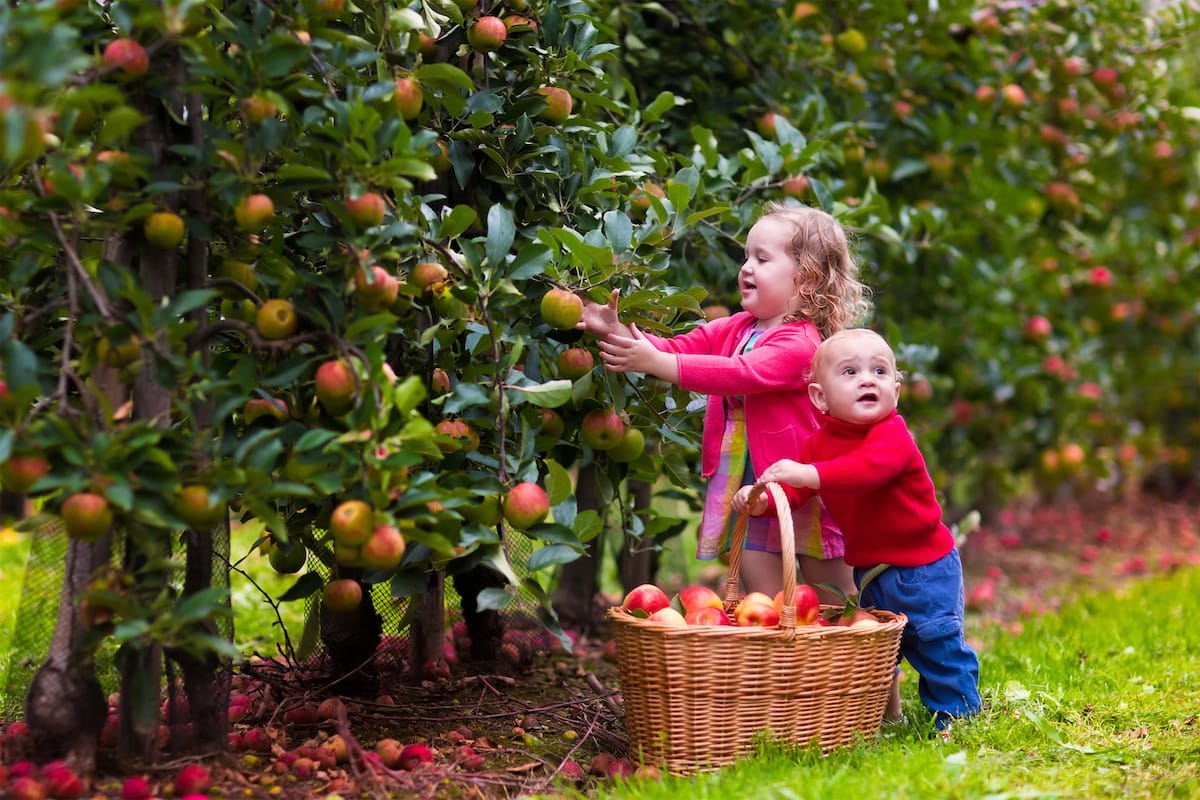 6. Oneida Nation Apple Orchard
Location: Oneida
Website
The Oneida Apple Orchard currently has 4,000 trees overall, spread among 30 acres of original orchards and 10 acres of new orchards.
Twenty other varieties of apples are also available, although McIntosh, Cortlands, and Honey Golds make up the majority of the crop.
They also have numerous fresh produce products such as strawberries, raspberries, blackberries, sweet corn, squash, and pumpkins.
The variety of fresh food will change depending on the weather. One of the Orchards' objectives is to spark interest in agriculture and to help kids learn the value of growing healthy food and using natural pest control methods from an early age.
As you can see, the Oneida Apple Orchard can be a great place to stop by in Wisconsin to enjoy a fun family activity as the kids will also get a fun agriculture lesson as well!
7. Door Creek Orchard
Location: Cottage Grove
Website
The orchard is located in the heart of what was formerly a typical Norwegian-American dairy farm from the early 1800s.
The Door Creek Orchard family has been protected by the farmhouse, which was built in 1860. Although the orchard has a rich history, visitors weren't allowed until 1984.
Different types of apples, including modern and heirloom, that ripen from July through November are available at the Door Creek Orchard.
They will also have apple wood available for smoking or grilling in years when they see considerable limb/tree die-back (typically due to aging). Grab the family or some friends and come visit this historic, fun Orchard!
8. Brightonwoods Orchard
Location: Burlington
Website
With over 150 different apple types, seeded and seedless grapes, quince, and pears, Brightonwoods Orchard definitely stands out with the variety it puts out there!
They are situated on a Wisconsin Rustic Road between Milwaukee and Chicago in southeast Wisconsin. What's great is that there is also no entrance fee!
Visitors are able to wander through the orchard and woodland walk even though they're not a "pick your own" orchard.
There are more than 200 historic apple cultivars at Brightonwoods Orchard.
Depending on the ripeness and picking schedule, the available apples change every week. The apple season is from late July to late November.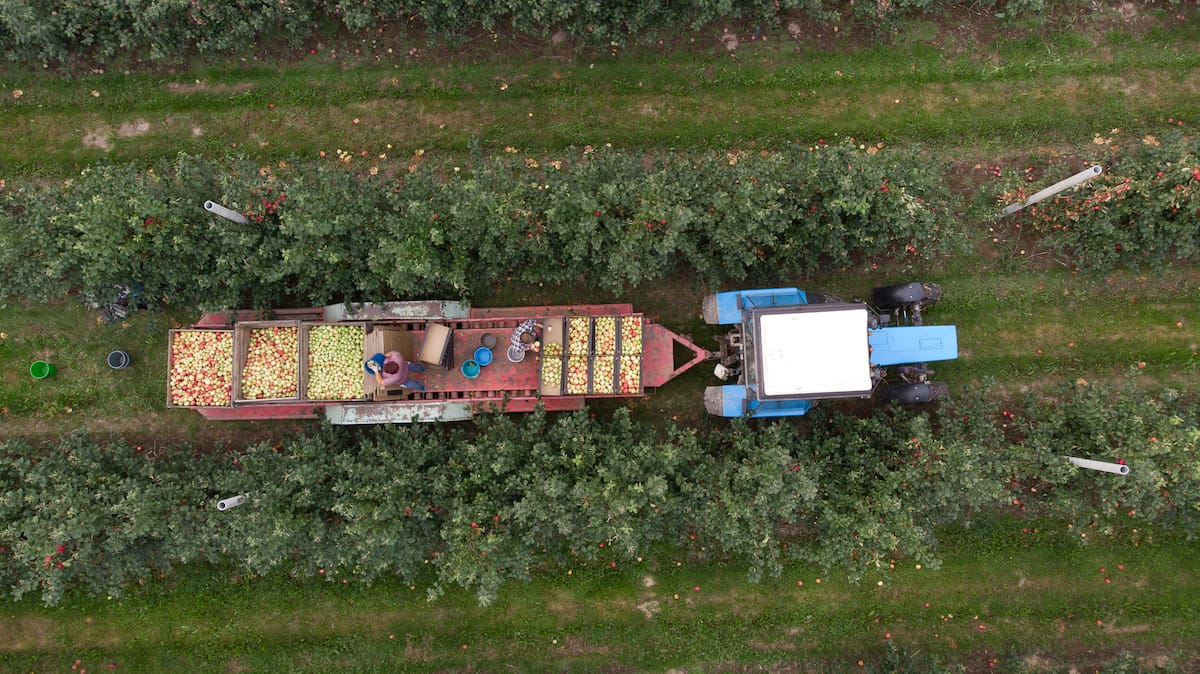 9. Oakwood Fruit Farm
Location: Richland Center
Website
Albert Louis founded Oakwood Fruit Farm in the early 1900s. Nearly immediately to the east of Richland Center, the property is situated among the ridges and coulees.
There are a lot of good reasons to visit the farm, but be sure to sample the incredible apple cider donuts while you're there as they are absolutely incredible!
Their rustic Richland Center Apple Orchard, located in the hills of stunning Southwest Wisconsin, has been in the American family for more than five generations!
The Oakwood Fruit Farm is absolutely incredible if you want to spend the day picking apples and shopping for delicious desserts made with either the products from the Oakwood Fruit Farm itself or other locally sourced places.
They're open from August 15 to October 31 from 9:00am to 5:00pm and from November 1 to November 30 from 9:00am to 4:00pm.
10. Timberland Hills Orchard and Gardens
Location: Frederic
Website
Three different owners have run the apple orchard, formerly known as Indian Creek Orchard, for more than 25 years. It is located in the small Wisconsin town of Frederic.
They gave their 26 acres the name of Timberland Hills Orchard and Gardens since they are tucked away in the picturesque "Timberland Hills" region of northwest Wisconsin.
Beautiful views of the surrounding hills may be seen from several parts of the orchard.
In addition to several store and property upgrades, the orchard is also undergoing renovation.
Their mission is to supply clients with premium, regionally sourced fresh apples, apple cider, and related retail products while also creating a scenic, enjoyable experience for the whole family.
The folks down at Timberland Hills Orchard and Gardens want their visitors to have a positive rural experience and to feel relaxed when they leave the orchard and the garden!
Their hours are Fridays to Sundays from 10:00am to 5:00pm.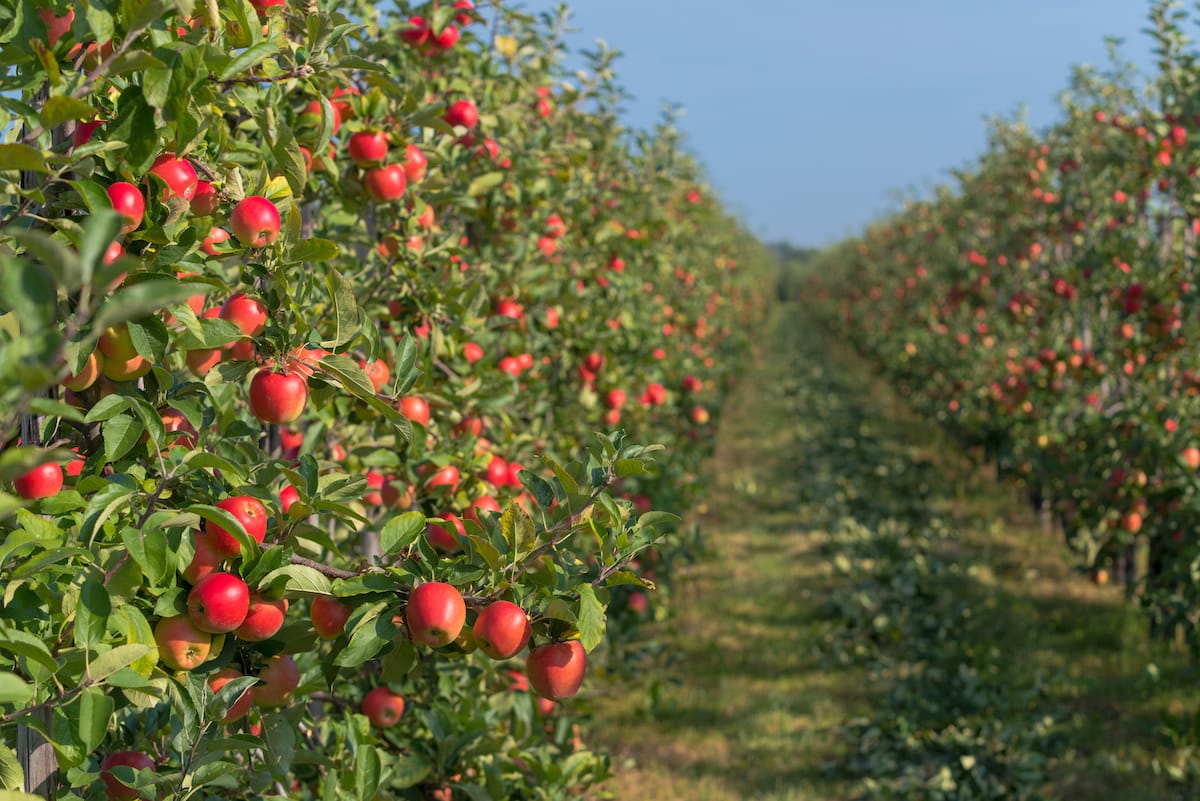 11. Apple Barn Orchard and Winery
Location: Elkhorn
Website
Apple Barn Orchard and Winery started with the owners planting 40 acres worth of produce on Walworth County soil.
As the orchard expanded around them, they soon converted the barn and milk house into spaces for cold storage and processing.
Later, they started producing their own cider, which they now sell to local and regional supermarkets along with freshly selected apples.
The Jacobsons currently raise and sell 12 well-known apple varieties, including Cortland, Empire, Holiday, Honey Crisp, Honey Gold, Ida Red, Gala, Ginger Gold, Jona Gold, McIntosh, Paula Red, and Zestor, in their orchard of approximately 4,000 apple trees.
Along with growing a number of types of apples, they also grow strawberries, pumpkins, and pears, and provide local dairy farms with maize, soybeans, and alfalfa.
They also have a winery which they really pride themselves in, so make sure to pop in for a wine tasting!
12. Star Orchard
Location: Kaukauna
Website
This family-owned and operated orchard has been producing high-quality, regional apples for families just like yours for 60 years by using traditional growing and hand-picking techniques.
Come visit Star Orchard now and establish your own apple-picking tradition as they are only a short drive from Appleton, Green Bay, and DePere.
There is plenty of space for everyone to drive or stroll into the orchard and select as many apples as they choose as there are 26 different kinds of apples, spread across 55 acres.
Bags of freshly picked apples are available in their store if you would rather buy them straight from the store rather than pick them yourself.
They start making fresh apple cider and serving caramel apples on the weekends in mid-September.
They've also partnered with other locals to provide you with a wide variety of delicacies in the shop.
Did we miss any amazing places for apple picking in Wisconsin on this guide?
Let us know the best apple orchards in Wisconsin in the comments. Thanks!
More Wisconsin Travel Guides
Pin this Wisconsin Apple Orchards Guide