One of the most awe-inspiring places Megan and I have ever visited was Saltstraumen near Bodø, Norway. Saltstraumen maelstrom is the world's largest whirlpool.
This is a guide for those visiting Saltstraumen and will include practical tips, how to visit from Bodø, Saltstraumen tours, and many facts about this remarkable place.
Visiting Saltstraumen Maelstrom from Bodø
Our first destination on our trip through Northern Norway was Bodø and it couldn't have been a better stop to introduce me to this region of the country.
There are many things to do in Bodø, but we had our sights set on one in particular- Saltstraumen.
While we knew we wanted to visit Saltstraumen, the largest maelstrom (whirlpool) in the world, we didn't really know how to get there or what to expect.
Was it a huge tourist attraction or does it just kind of appear out of nowhere? It was a mystery to us.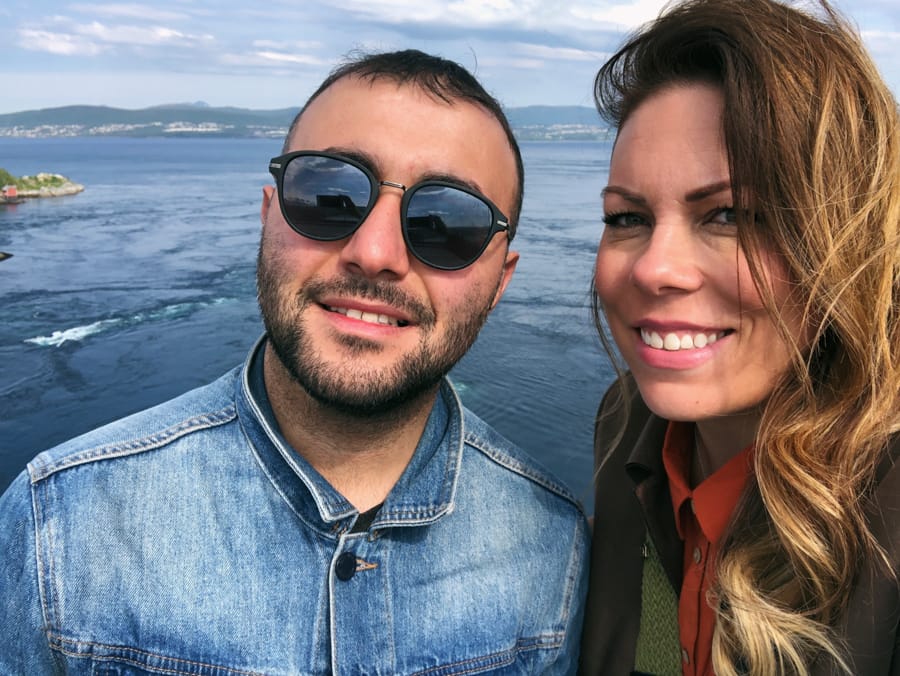 It turns out that it was one of the most mind-blowing things we had both ever seen. We still can't wrap our heads around this natural phenomenon that takes place near Bodø, Norway every six hours of every day.
This guide will detail how to get to Saltstraumen from Bodø with a rental car and public transportation. It will also tell you what to expect, some tips, what to bring with you, Saltstraumen tours, and much more.
Do You Need Insurance for Norway?
Yes, you most definitely do. Norway is expensive and accidents do happen- it's better safe than sorry. We recommend getting insured with SafetyWing, a company that is actually Norwegian and Oslo-based.
They are reliable and offer worldwide coverage and you will feel safer having coverage for yourself when visiting Norway.
>> Click here for a Norway travel insurance quote
Renting a Car in Bodø
Throughout this post, we reference the ease of having a rental car when traveling to Saltstraumen and Bodø. We genuinely believe you should rent one when there because it is truly the easiest way to independently see the natural wonder.
We had a rental car and it made it so easy to go out there, photograph Saltstraumen, and head back at our leisure.
>> Click here for rental car rates for Bodø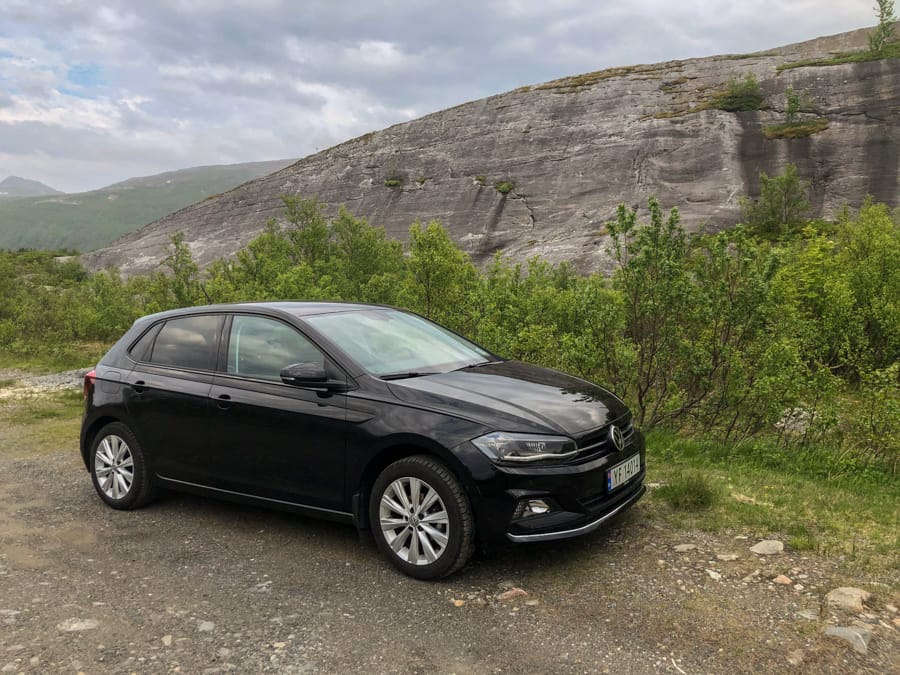 What is Saltstraumen?
Saltstraumen is the world's biggest whirlpool, or maelstrom.
Located inside of a narrow strait between two pieces of land and an island in the middle… there is a bridge that was built atop all of this, offering an interesting viewing platform.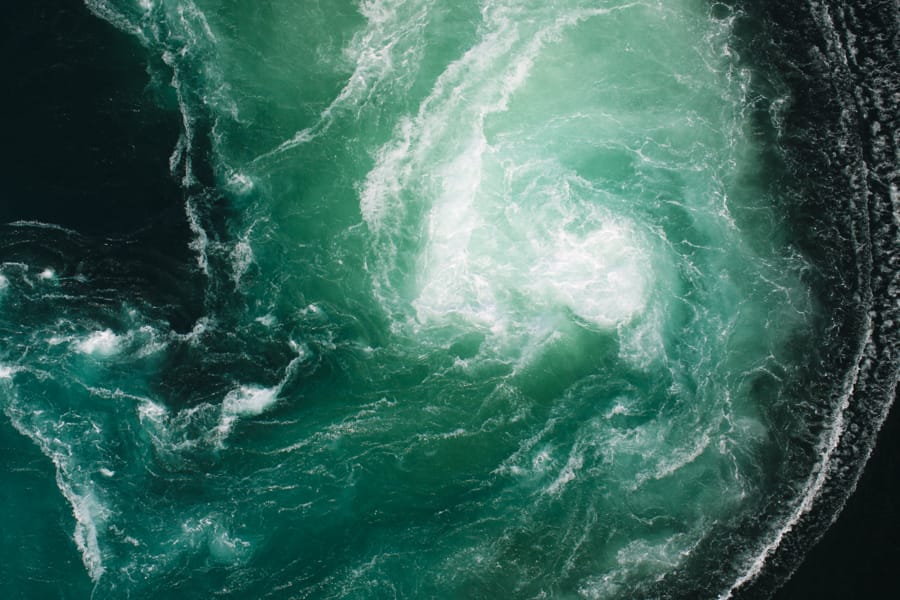 The maelstrom becomes its fiercest and strongest every six hours. You will want to visit when it is at its strongest for maximum effect.
If you keep reading, we will give you a link to the daily schedule provided by the Bodø tourism office so you make sure you head there at the right time.
The current itself has been around for about 2,000-3,000 years. It is immensely popular with fishermen as the whirlpool brings about a bounty of fish when it is at its strongest.
The world's largest documented coalfish was caught at Saltstraumen, actually. You will see many fishermen when you visit… and in our case, they outnumbered the few tourists there, despite being one of the best places to visit in Norway with kids… or solo!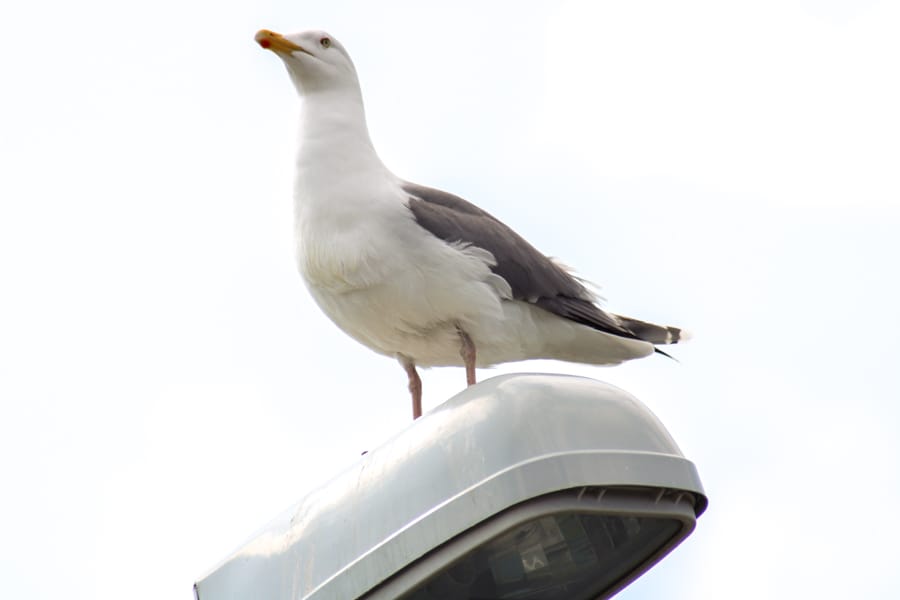 Where is Saltstraumen?
The best base to have for visiting Saltstraumen is Bodø. It is located about 29 kilometers or so from there. It took us 30-minutes by car to drive to Saltstraumen.
How to Get to Saltstraumen by Car
To get there from Bodø, you will want to drive in the 80 toward Fauske. Once you see the FV17, you will want to take a right on it going south toward Valnes and Saltstraumen.
You will eventually see the bridge where you will watch the maelstrom from. Easy as that.

Sights on the Way to Saltstraumen
While Saltstraumen itself is a worthy destination to visit, there is actually a historic place to visit on the way to Saltstraumen called Batterie Löding.
If you're into WW2 history, this is definitely a place to make a quick stop at and check out.
Norway is really damaged during WW2 and there were even whole cities demolished (like Hammerfest).
About 17km away from Bodø and directly on the way to Saltstraumen (this is really close to the turn onto FV17, just be warned) sits Batterie Löding, a firing ground of sorts that has four gun positions built by the Germans before the war.
The little, hidden gun bunkers are surrounded by tires and thick layers of soil in the woods. During the war, it was used as a place to fire big caliber guns.
To get to Batterie Löding from the main road, you will take the second left after passing Løding on a small road called Krågmoen.
Parking at Saltstraumen
You can park on the other side of the bridge as you come from Bodø. You will likely see many other cars there. There is also a grocery store there that is open on Sundays if you wish to grab some quick food for the day.

How to Get to Saltstraumen by Bus
To be honest, we don't suggest this unless you really have a lot of free time in Bodø. We definitely suggest renting a car to visit Saltstraumen (or even hitchhiking!)
But, if this is your desired mode of transportation, you can check out the current bus schedules that will take you there here.
Do note that there are only four buses daily and only two on Saturdays and Sundays. So, you might want to plot out an entire day to do this trip when you could do it within 2-3 hours max coming independently by rental car.
Taking a Tour to Saltstraumen
Another way to visit the wonder that is Saltstraumen is by an organized tour. Taking a tour to Saltstraumen will allow you to leave from Bodø, not rent a car, and definitely not let you try your hand at the infrequent public transportation of Bodø.
We recommend heading there with Explore Salten, a company based in Bodø that offers Rib Safaris of the maelstrom.

Snorkeling Tour of Saltstraumen
If you're into snorkeling and want to do so in a unique setting, they actually offer snorkel tours of Saltstraumen.
I am definitely not courageous enough to do this but I admire the person who is! It is safe and the guide will instruct you on everything beforehand. This is such a cool thing to do, in my opinion!
What to Bring to Saltstraumen
If you're looking for what to wear and happen to be heading to the natural wonder during winter, you can gaze over our Norway packing list that details exactly how to dress for Saltstraumen in winter.
We went in summer, however. Here are a few things we brought with us during our trip… which, as just noted, was in summer:

Photographing Saltstraumen
One of the most magical places we have ever photographed was Saltstraumen itself. We didn't realize that the bridge would offer the view that it did and were expecting to drone over the maelstrom.
Turns out, you don't even need a drone- the bridge allows you to capture aerial views of it. Here are some things we brought with us that we recommend travelers to bring too.
Zoom lens: This is questionable and really just depends on how up close you want your photos from Saltstraumen. I found my zoom lens to be particularly helpful when capturing the currents. Megan agreed. Click here to shop our zoom lens.
Extra camera batteries as they will die quicker during the winter months
Manfrotto tripod: We love our Manfrottos (we have two… a large one and a small one) and we recommend bringing a normal-sized tripod for Saltstraumen. We made the mistake of bringing a miniature one and it really didn't serve any purpose the way the bridge was set up. Be careful in the wind. Click here to see our Manfrotto tripod.
GoPro Hero7: We were really glad we brought a GoPro along. We weren't sure we would use it but it gave sick perspective and allowed us to even shoot a timelapse. Click here to shop our GoPro Hero7.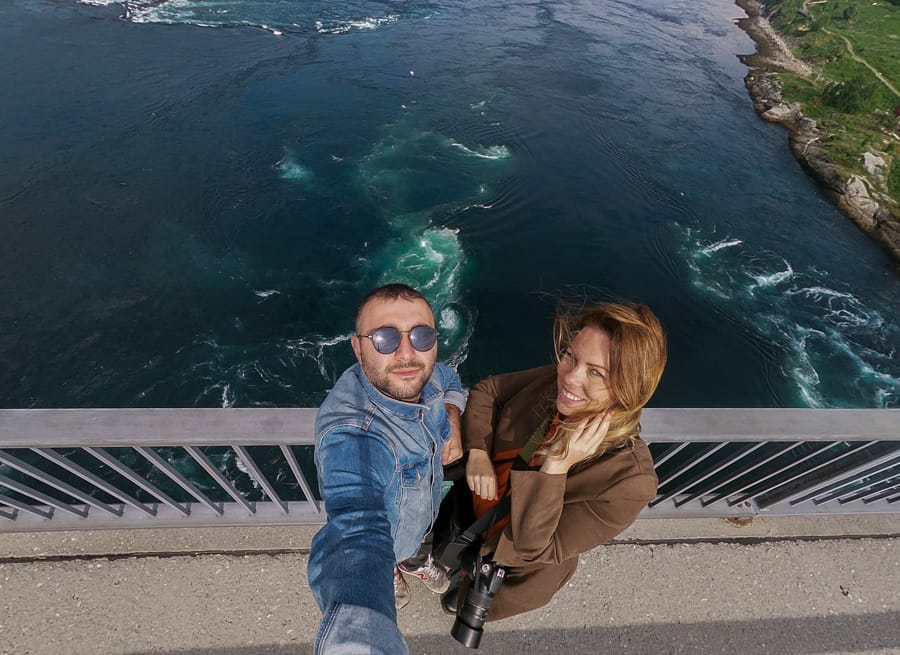 Saltstraumen Timetable
One thing that is crucial to do before you head to Saltstraumen is to check the timetable! This is essential as not seeing the current at its strongest is kind of like planning a Christmas trip to Germany during July.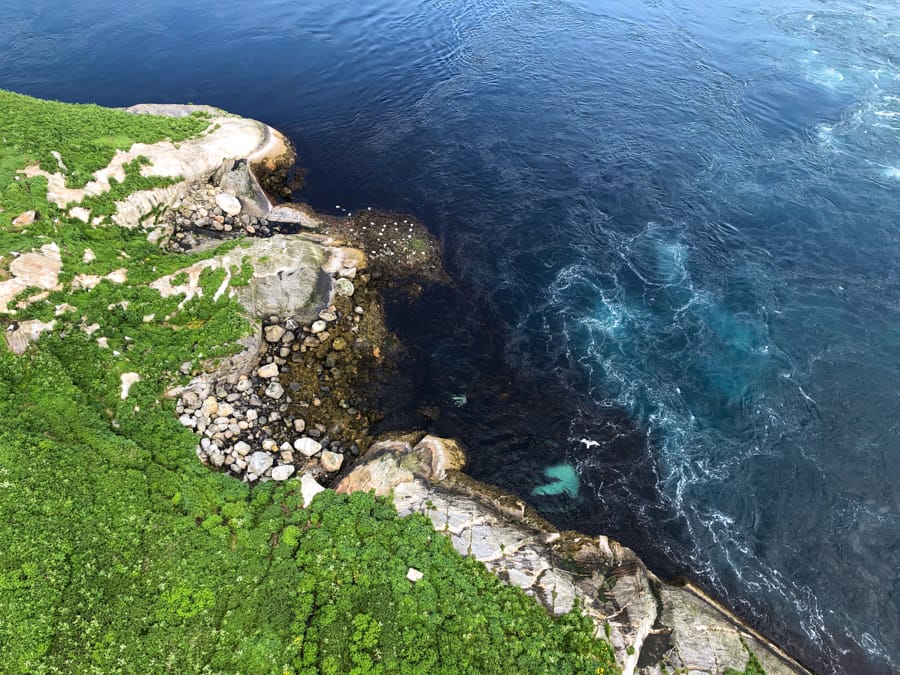 The Saltstraumen whirlpool is at its strongest every six hours. The times are ever-changing and you can find many schedules online. Just make sure they are up-to-date and correct.
This is our favorite source to monitor the currents and it is up-to-date daily and shows you a graph along with it.
>> Click here for the Saltstraumen timetable

About Our Trip to Saltstraumen
Coming from a country where there is fantastic nature, yet nature so drastically different than that of Norway, I found Salstraumen to be such a mind-blowing place to visit and an incredible natural wonder.
What amazed me was how much the bridge added to the experience. It would never have been possible to really admire and marvel at Saltstraumen in such a way without it.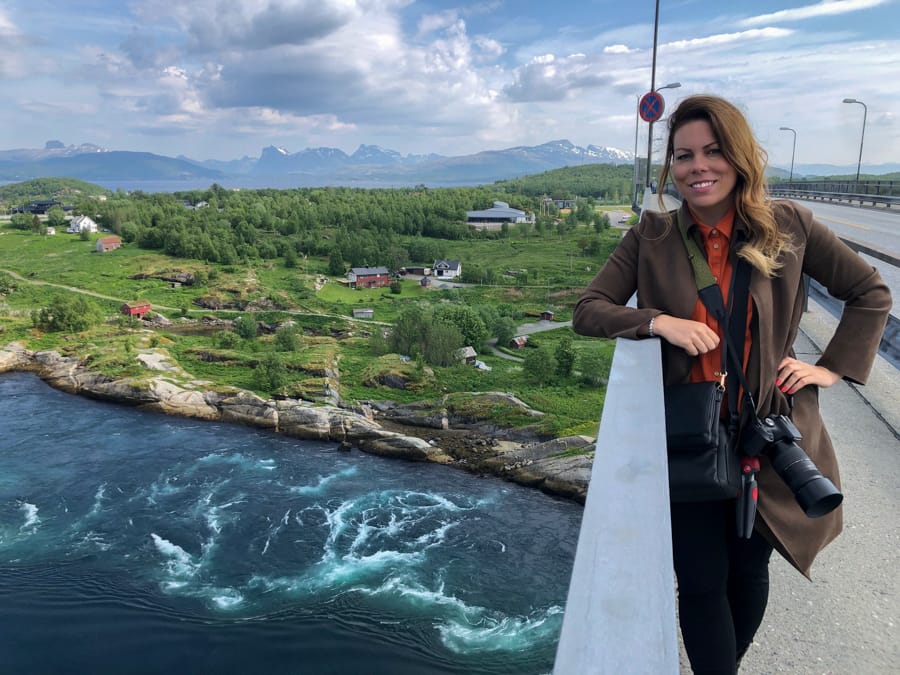 The second thing that really blew our minds was the color of the water. We expected it to not be so vivid. The whirlpool was a dark emerald mixed with a bright blue hue that was just magical.
We were so taken aback by it that we didn't even want to photograph the entire experience but rather just watch it with our jaws dropped.
Is Visiting Saltstraumen Worth It?
YES YES YES YES YES. This was one of the coolest sights Megan and I have visited together (and even when not together).
It was our Bodø highlight and it is definitely enough reason to visit the city from abroad. It is not often that you can say you visited the 'biggest' or 'best' of something in the world, but by visiting Bodø, you can head out to Saltstraumen and take up bragging rights on that.

Other Worthwhile Bodø Tours
We hope you plan to stick around Bodø for a couple of extra days and see all the city has to offer, including some epic scenery surrounding it.
These tours are perfect for those looking for nature, history, and more. Here are some highly recommended tours for those visiting Bodø:

Where to Stay in Bodø
We recommend staying and basing yourself in Bodø if you're heading to Saltstraumen. We really enjoyed our hotel in the city, Scandic Havet.
The seaside hotel had an amazing breakfast (the best of our entire Northern Norway trip, in fact), views for days, comfortable rooms with large bathrooms, free wifi, and a rooftop bar area that offered panoramic views.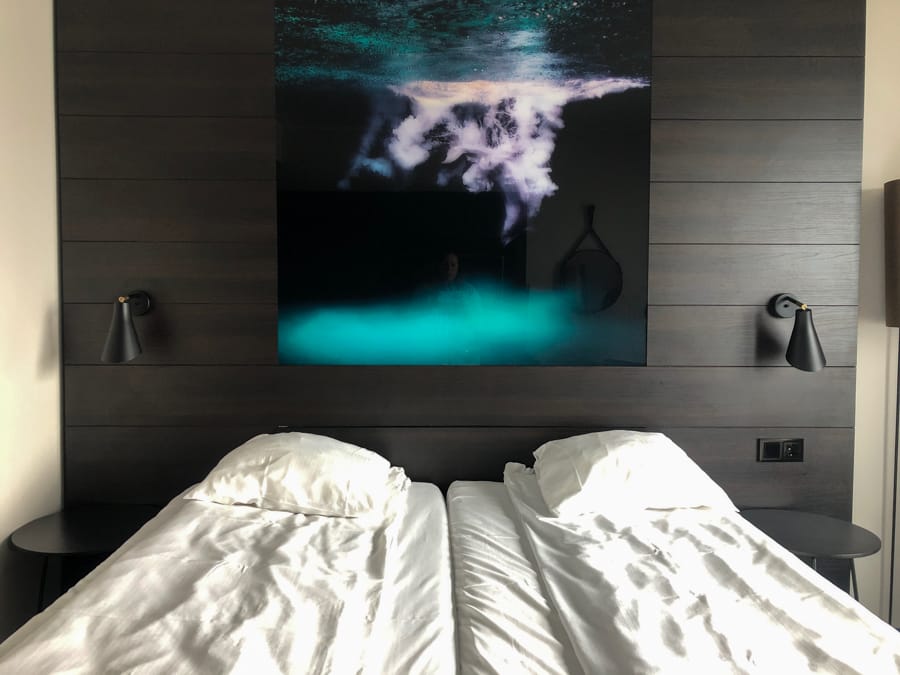 Another great thing about the Scandic Havet was that it was so centralized in Bodø and there were awesome bars right around but it was never loud or disturbing. This was such a gem of a place to stay in Bodø.
Click here to check rates and availability
We hope you have an amazing time visiting Saltstraumen and we hope this guide was useful for you. If you have any additional questions, please drop them in the comments section.
**Megan and I were guests of Visit Bodø and Visit Northern Norway when we were visiting Saltstraumen. All opinions are our own.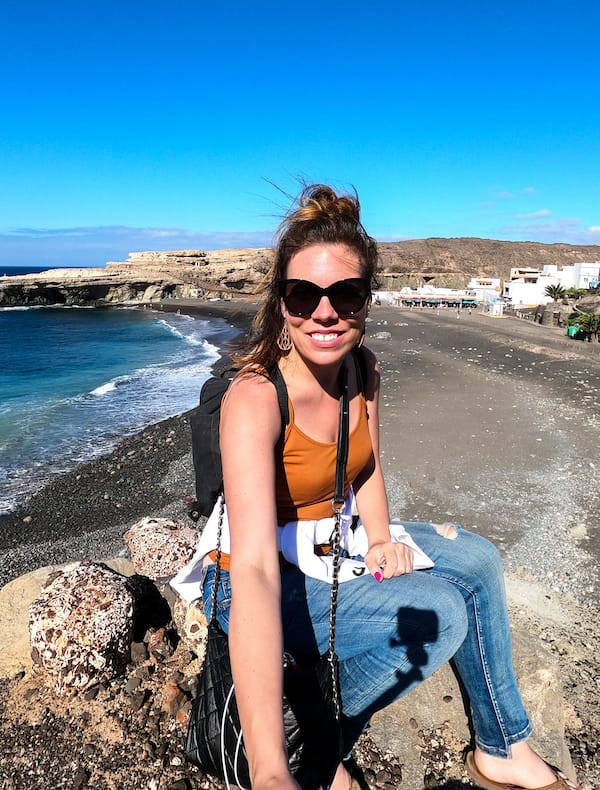 Megan is a travel blogger and writer with a background in digital marketing. Originally from Richmond, VA, she now splits her time between Frankfurt, Germany and Arctic Finland after also living in Norway, Armenia, and Kazakhstan. She has a passion for winter travel, as well as the Nordic countries, but you can also find her eating her way through Italy, perusing perfume stores in Paris, or taking road trips through the USA. Megan has written for or been featured by National Geographic, Forbes, Lonely Planet, the New York Times, and more. She co-authored Fodor's Travel 'Essential Norway' and has visited 45 US states and 100+ countries.