I had my first go at visiting the Seychelles this year on a last-minute trip, and this guide contains several Seychelles travel tips that I think you should know before you go!
Are you planning your trip to the Seychelles last minute?
If youʻre booking your trip to the Seychelles last minute, we have you covered. Below are some of the top tours, hotels, and more!
Top Experiences and Tours in the Seychelles:
Places I stayed in the Seychelles:
Oceanic View Apartments (my lodging in Beau Vallon on Mahe)
Chalets Anse Reunion (my lodging on La Digue)
Chez Bea Luxury Villa (my lodging on Praslin)
Visiting the Seychelles independently? Be sure to book your rental car ahead of time to ensure availability!
Please take note that these are merely my experience and opinions about the gorgeous islands – so if you visit the Seychelles and stay at a resort, your experience may differ completely!
The Seychelles is one of the most incredible places I have ever visited, but my two-week trip left me feeling like an amateur traveler at times!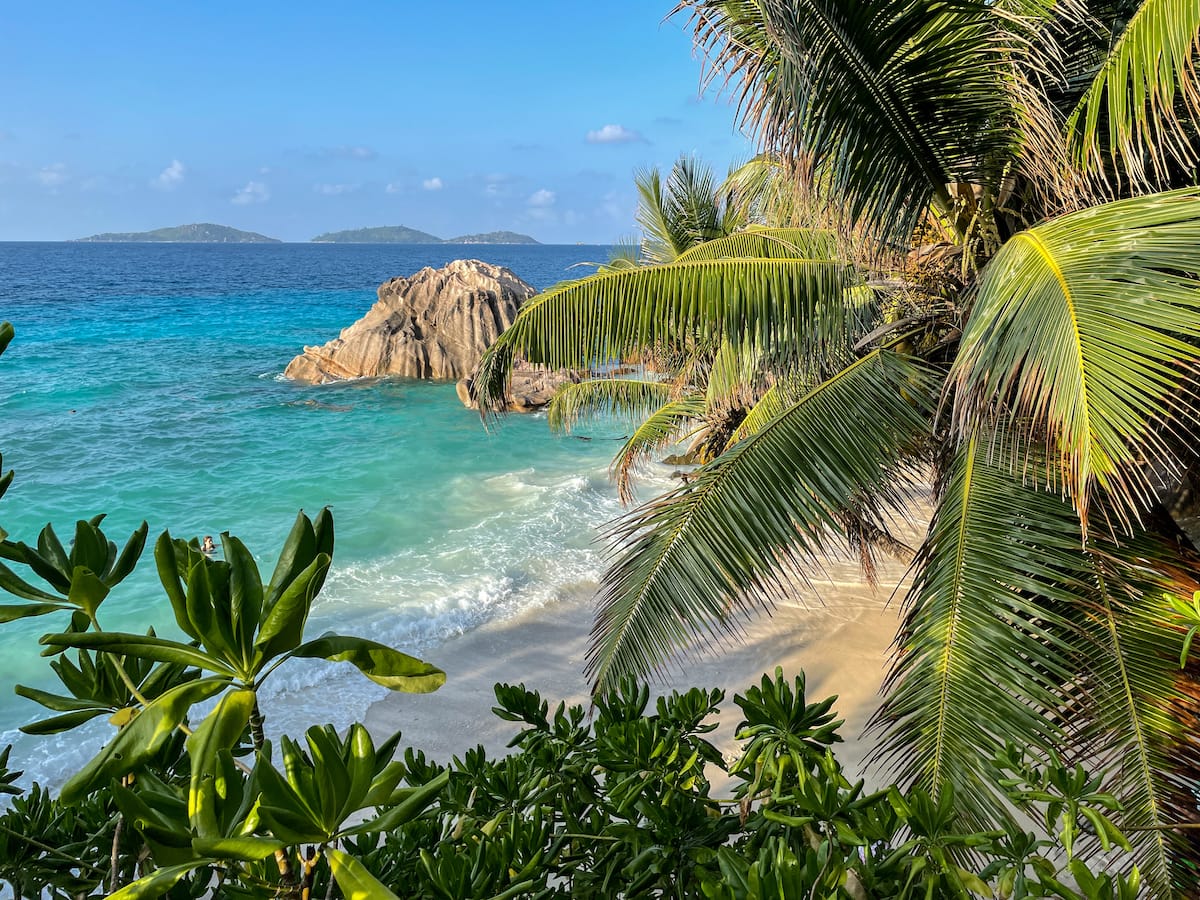 These are the things I wish I knew before traveling to the Seychelles, in no particular order!
If I left anything out or you had a different experience, please let us know in the comments. Thanks!
Seychelles Travel Tips (Guide Overview)
This guide is broken down in a way that lumps certain things together.
I have created sections about food, practical information, lodging, getting around, wildlife, and miscellaneous information that I think is useful.
The first part will contain some facts about the Seychelles that is just from research and knowledge from my trip. You'll also find my favorite things to do in the Seychelles throughout!
It doesn't really have any of my own thoughts and opinions listed. The rest of this guide shares my opinions… some good, some not so good.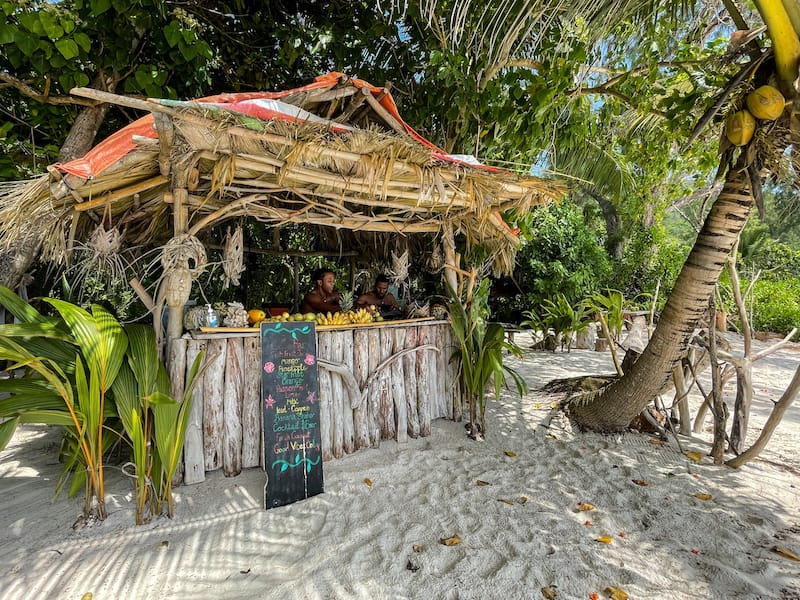 I went on this trip independently and did not receive any comped hotels or tours and I did not stay at a resort.
So, my opinions about food, getting around, etc… are based on this! If resort life is different, please leave some comments to help others understand the other side of things! Thanks so much!
Quick Seychelles Facts
What language do they speak in the Seychelles?
The Seychelles are extremely multi-cultural and the language is indicative of that. The national languages of the Seychelles are English, French, and Seychellois Creole.
I found that navigating things in English was super easy and that almost every local I spoke with had a strong command of English, so language was never an issue around the islands.
How many islands are there in the Seychelles?
The Seychelles are made up of 115 islands that are scattered throughout the Indian Ocean east of Africa.
These islands are extremely special as many are granitic and coralline. The Seychelles are the only mid-oceanic granitic islands in the world (42 of the islands are granitic)!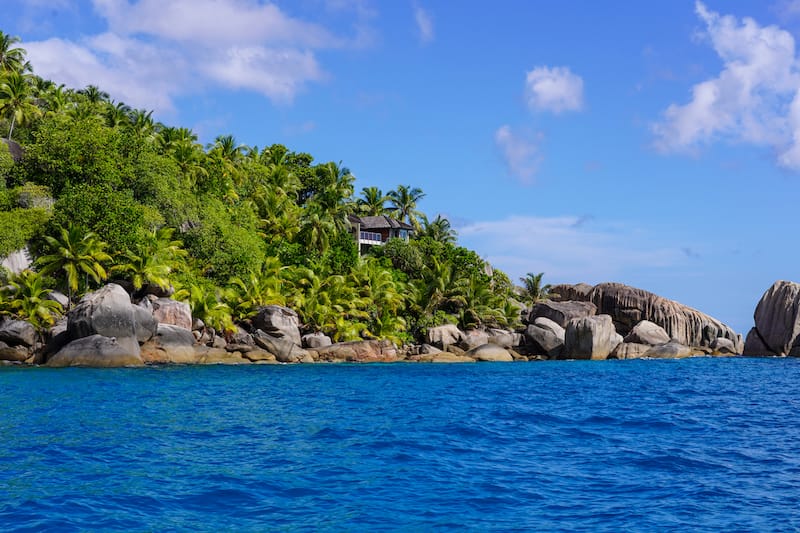 What is the population of the Seychelles?
There are about 98,000 people living in the Seychelles, and the majority of them live on the island of Mahe. It is the least populated sovereign country in Africa.
What are the Vanilla Islands?
The Vanilla Islands is simply a branding strategy by the islands (only dating back to 2010). They are the Seychelles, Madagascar, Mauritius, Reunion Island, Mayotte, the Maldives, and Comoros. Only four of them grow vanilla, but it seemed to stick.
Many of the islands have a similar history where the islands were uninhabited but then settled by various countries who brought people over from other parts of the world (notably India), enslaved them, and used them to help cultivate a variety of crops (sugar being one).
Vanilla also grew on the island in this manner and became a hot commodity over the years.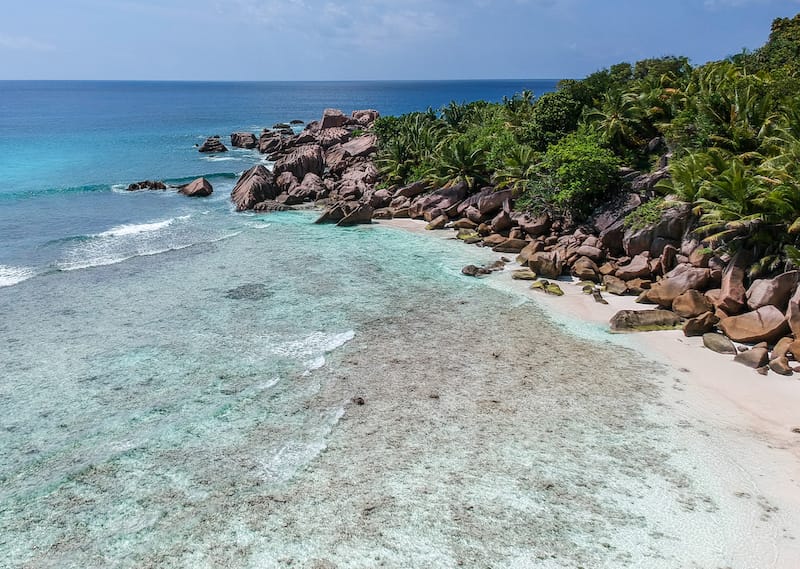 The British eventually left, but the people stayed on the beautiful islands and started a new era of independence there.
This section is mostly a random list of things I experienced and my own tips for those traveling to the Seychelles! If you have had a different experience, please let us know in the comments! Thanks.
Which side of the road do they drive on in the Seychelles?
The left! Many roads are narrow and it is not always the easiest place to drive (but rest assured, there is little traffic as the islands are not populated).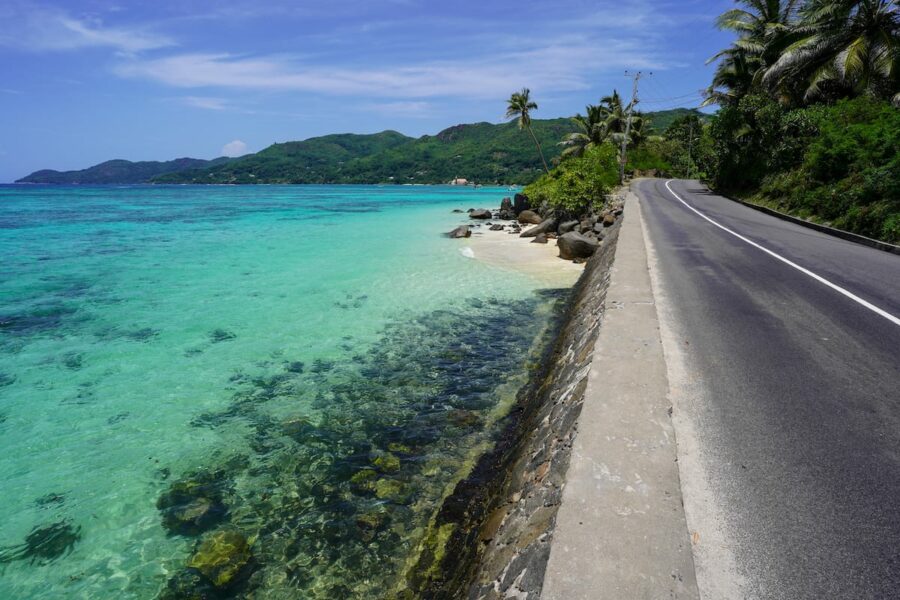 Food in the Seychelles
Restaurants in the Seychelles
So, here's the thing… Seychellois food is GOOD. I actually love Creole food and find it to be so flavorful (especially the variations of it across the islands). But, I rarely had a good meal when I visited. And, trust me, I tried.
I don't know what the issue is, but I honestly feel like the culture of the Seychelles has been sucked out a bit from the resorts.
With people going to the Seychelles for dreamy resort vacations and not to explore the culture, it seemed as though it made the demand for these restaurants and food experiences simply dissipate, which is a shame.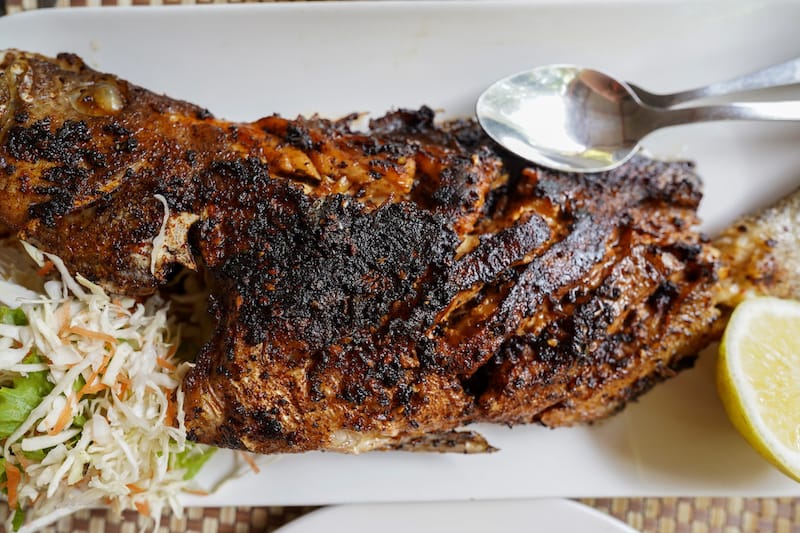 I imagine that the locals there eat the tastiest food in their own homes, and maybe when I return, someone will invite me in for a meal (please?!).
What became apparent very quickly is that many locals did eat at the takeaway places throughout the islands. Many of the takeaway joints consisted of items such as pizza and burgers, but many had local food.
I had takeaway food a few times and it was all extremely delicious! So, maybe for now, that is the secret!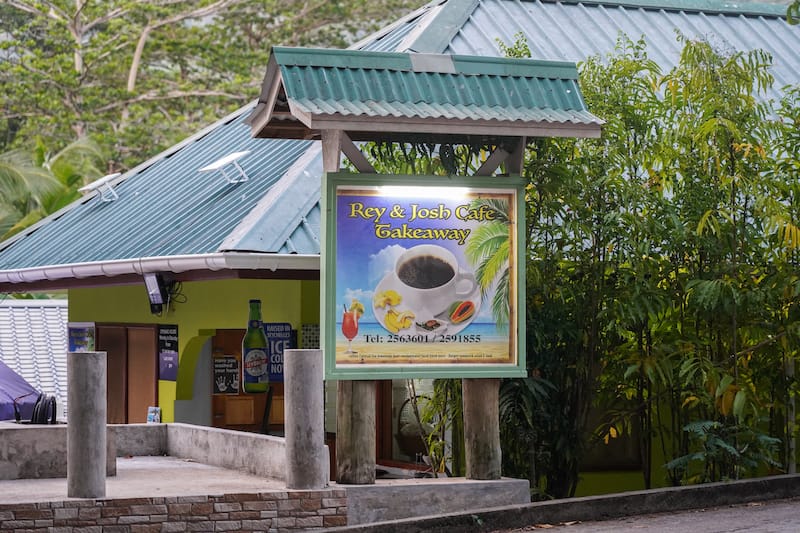 Each meal I had outside of take-away places ended up being around $65-70 for two people.
Most places I ate at were independently owned, but a couple was not (I was craving Indian food!). Here are some of my favorite meals across the islands I visited:
La Gaulette Food & Bar (Mahe): I had a delicious grilled fish from here. Locally-owned.
Mahek Restaurant (Mahe): It was adequate for Indian food. Very pricey but was one of the few options I enjoyed in Beau Vallon. This is part of a resort, however.
Green House Bar and Cafe (Mahe): cool place on Mahe. Not sure who owns it.
Cafe des Arts Restaurant (Praslin): food was okay but the customer service was dismal. Not sure who owns this, but it seems locally owned.
Jolly Roger (Moyenne): I mean, this was part of a tour but the food was pretty solid, so I am including it even though you can't just show up and eat there.
Lanboursir Restaurant (La Digue): super affordable place right at Anse Source d'Argent Beach. This place had 5/5 stars on Google when I went, and it has dropped drastically since because the people running it are rude. But, the fish curry was insanely good. Locally-owned.
Natural Bar Grill & Drinks (La Digue): had a good grilled fish and seafood meal. Was very overpriced but nice ambiance and was tasty. Locally-owned.
Boathouse Restaurant (Mahe): had a decent meal there on a rainy day in Beau Vallon. Locally-owned.
Rey & Josh Cafe Takeaway (La Digue): super good takeaway place that was affordable. Locally-owned.
If you couldn't tell, my favorite meals were on La Digue (by a long shot).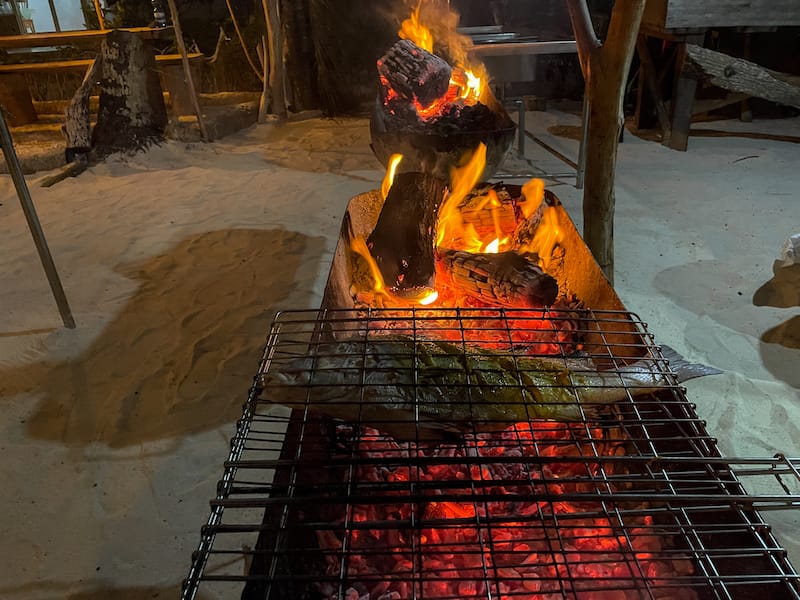 To expand on this section about food, there are no chain restaurants except Burger King at the airport.
Regarding tipping, a service charge is often included in the bill – just be sure to check (and still tip extra if you have outstanding service).
You Can Eat Bat Curry (Kari Sousouri)
Yes, you can eat bat curry in the Seychelles and it is called Kari Sousouri. I can't give you my opinion on it (I wasn't brave enough to try it), but the curry is spicy and traces back to the early days of the islands being settled.
It is made from fruit bats (which are seriously ever-present around the islands).
The curry contains marinated fruit bat (vinegar, cloves, green papaya, etc) mixed with an array of spices, curry leaves, onion, tomato puree, tamarind puree, garlic, and some potatoes.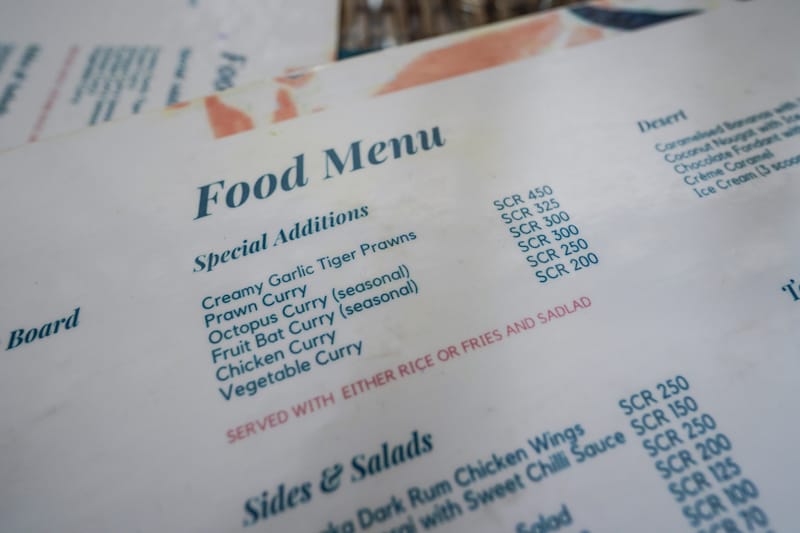 I actually only saw it on one menu throughout my trip and it was at the historic Marie Antionette Restaurant in Victoria.
Fruit in the Seychelles (and Juice!)
Another thing that was pretty epic about the Seychelles was the fruit. Fruit was everywhere, and it was so delicious that I couldn't wait for a breakfast filled with fresh fruit in the mornings.
There are juice stands throughout the islands (especially on La Digue) and it was such a great way to cool off from the heat and support small, local businesses.
The fruit is so abundant on the islands that you will often find smashed mangoes on the streets and papaya trees in home gardens. I was in heaven!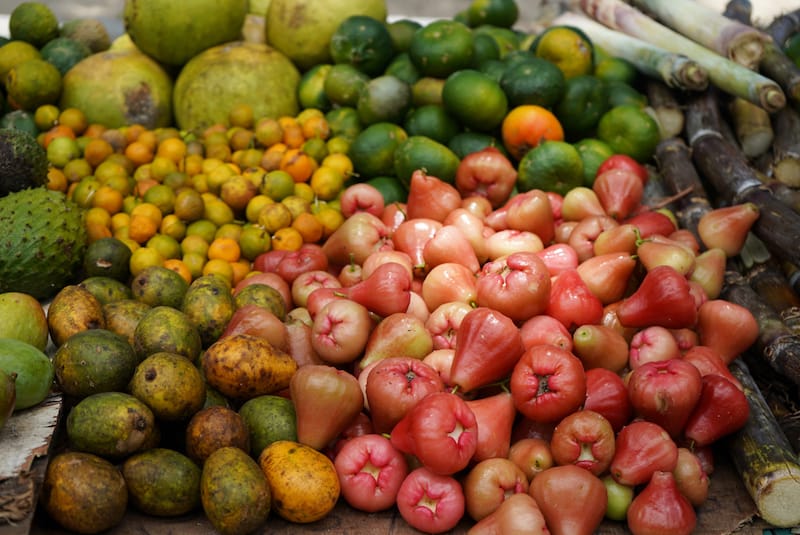 Some common fruits you will find there are mangoes, mangosteens, papayas, bananas, starfruit, breadfruit, coconuts, sugar apple, tamarind, soursop, jackfruit, golden apple, wax apple, rambutan, guava, and passion fruit.
Do note that some of these are seasonal and their availability will depend on when you visit.
Grocery Stores in the Seychelles
In the Seychelles, there are small grocery stores and shops ubiquitously across the islands. These shops quickly became my best friend. Why? Well, they sold local ingredients to cook with!
While most ingredients were far from local (more on that soon), the 'larger' ones sold Seychelles curry mixes, local vanilla tea, and more. We were able to buy these things and cook at my rental in Beau Vallon, where I had my own kitchen.
While I loved my local grocery shop, one thing I did notice is that the grocery stores had an inconsistent array of things inside.
So, I asked our driver on Praslin one day what the deal was and he said that the Seychelles 'gets what it gets'.
His son was still in diapers and when deliveries would come, they would almost always be different brands. It seems as though the islands get 'whatever is left over'.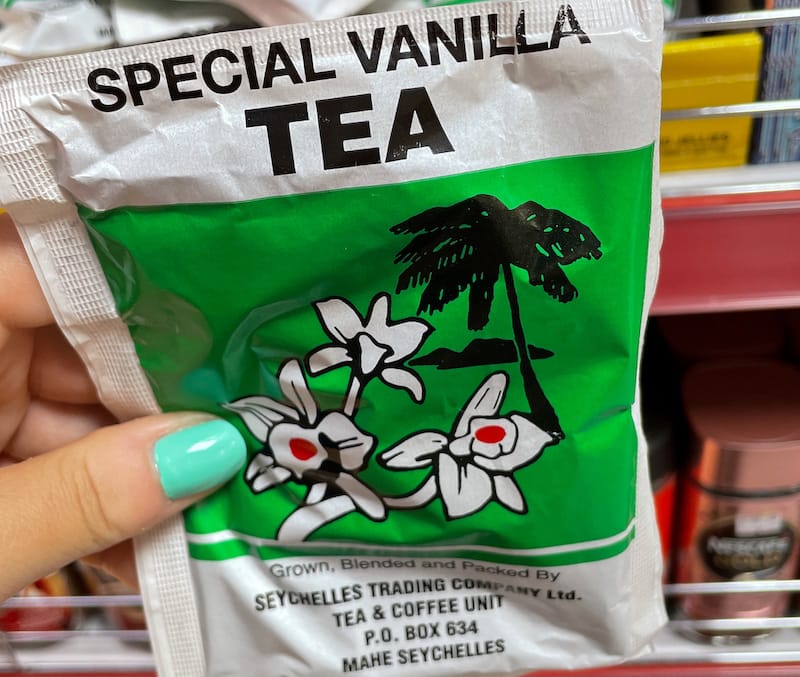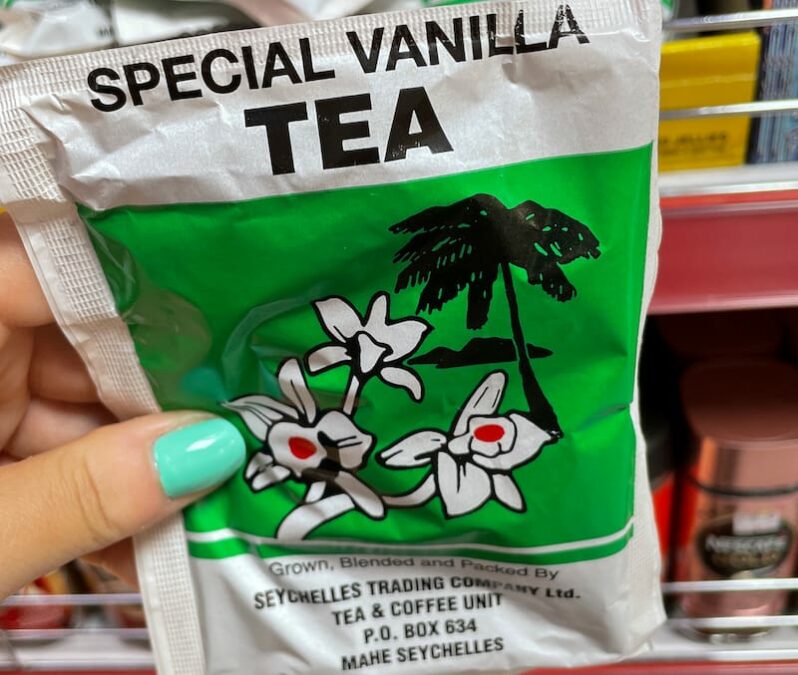 At the grocery store, items came from all over but it seemed like a lot came from South Africa, India, and the UAE/Middle East. And, almost all chicken, fish, and other items were sent from very far places across the globe and frozen.
As a result, I never purchased anything like that inside… but would opt for local eggs or hit up a fishmonger for some fresh seafood. We also always purchased our fresh fruit from fruit stands instead of the grocery stores.
If you're looking for a grocery store that carries 'familiar brands', the only one we saw was a SPAR Supermarket in Eden Plaza on Eden Island (near Victoria on Mahe).
Wildlife in the Seychelles
There are Bats Everywhere
Speaking of bats earlier, they are literally everywhere. Every evening you could see them flying around every single place we visited and they are pretty harmless. We could see them sleeping upside down in the trees throughout the day.
Altogether, there are 7 species of bats in the Seychelles and 5 are endemic to the islands.
There are said to be around 8,500 fruit bats hanging out on the islands and they are known to cause power outages on Mahe!
Mosquitoes in the Seychelles
Okay, so I actually didn't have a bad time with mosquitoes in the Seychelles and I am usually the worst person with them. They LOVE me. But, in the Seychelles I really didn't suffer and was left with very few bites.
Locals constantly said they were bad but I never had a bad experience in March and April with them (that is when I went). The islands are also free of mosquito-borne illnesses, which is nice.
However… and this is a big however… they are horrendous on Cousin Island.
Cousin Island is one of the islands near Praslin that I took a day trip to and I have never in my life seen so many mosquitoes. The island is a bird sanctuary and nature refuge and it is (more or less) only reachable by tour.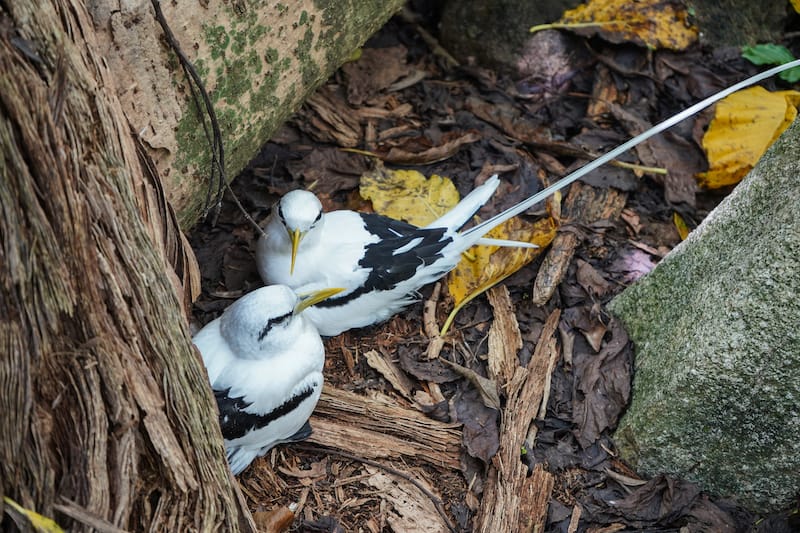 Once I arrived, there was a small booth where you could apply mosquito repellent but nothing worked. They make you go in a group around the island with wildlife expert guides and within a matter of 5 minutes, an older German couple and I said 'absolutely not' and fled back to the beach and away from the trees. I was in tears.
The person I was traveling with stayed on the tour to get pictures for this blog and regretted it miserably days after and had nearly 100 mosquito bites.
I happily got to get burnt on a beach instead and I don't regret it at all.
With that being said, most islands are not too bad with mosquitoes but the sand flies will getcha!
Seychellois Black Parrot on Praslin
Another famous animal in the Seychelles is the Seychellois black parrot. This animal can only be found on Praslin and it is super, super shy! So, don't be alarmed if you don't see it (although we did).
It is usually spotted on starfruit trees when the fruit is green. But, be sure never to disturb them… if you do, they will never go back to that tree!
Aldabra Giant Tortoise in the Seychelles
One animal you will definitely see when you visit the Seychelles is the Aldabra Giant Tortoise (Aldabrachelys gigantea hololissa). This animal is listed as vulnerable and is endemic to the Aldabra Atoll in the Seychelles and is one of the world's largest tortoises!
The Aldabra Atoll is a protected area and you are unable to live there and they live to be 75-100 years old on average (although can end up at around 200 years of age).
Anyway, you will see these tortoises in captivity throughout the islands. I found it a bit heart-wrenching but when I spoke with locals, they said that they are in captive areas to protect the species.
When storms have previously hit the Aldabra Atoll, it has wiped out large numbers of them and they want to be able to keep the species afloat.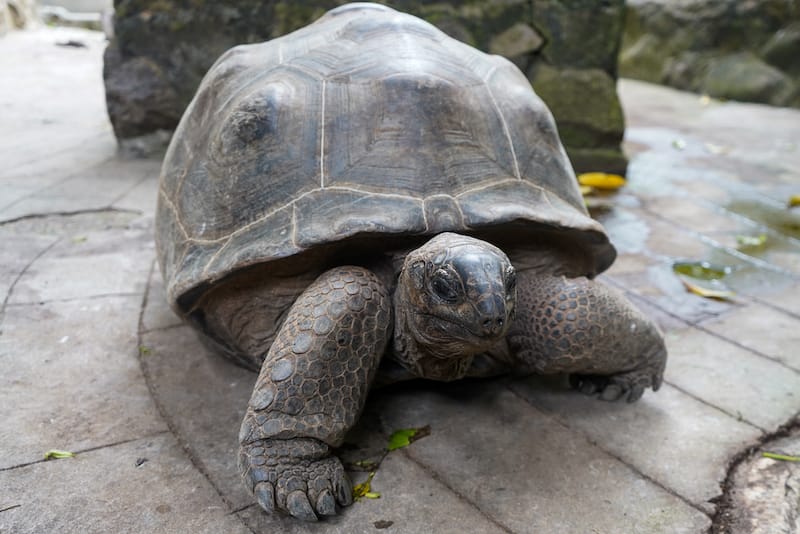 If this is true, great. We saw these tortoises on Moyenne and Cousine Islands most notably, but then we did see them in captivity in other places like botanical gardens and even in hotel gardens.
The ones in hotels, restaurants, and botanical gardens looked more like a tourist attraction than anything else and was a bit unsettling.
One thing to note is that these animals like to spend their days and nights 'trying to create a new generation' (if you get my jist) and it is so loud and entertaining. You will not be able to get the sound out of your mind once you leave.
Snakes in the Seychelles
The tropics usually have their fair share of snakes but guess what? You won't have an issue with them in the Seychelles! There are only two endemic species on the islands and one other that is rarely ever seen.
All species are harmless and live in forests on the islands. I never saw any when there. The three species of snakes in the Seychelles are the wolf snake (Lycognathophis seychellensis), house snake (Boaedon geometricus), and the Ramphotyphlops braminus.
While snakes are not really worth mentioning in this guide, many people traveling to the Seychelles for adventure and hiking will probably need this information.
Seychelles Practical Info
Credit Cards and ATMs in the Seychelles
So, I encountered a bit of an issue in the Seychelles regarding my bank card. Some places did not take credit cards (most did, though) and the only ATMs I could find took only Visa.
I had two Mastercards and one Armenian Visa card that had little to no money on it. I particularly encountered issues with this in Beau Vallon at almost every single ATM. I took out every penny I had from that Armenian Visa and pined over what to do next.
Fortunately, after testing out about 10 ATMs, I found one that took my Mastercard.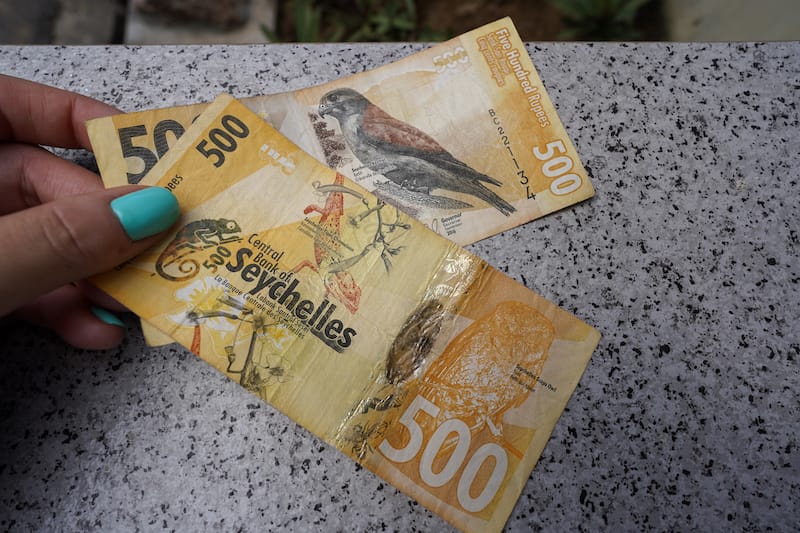 It didn't always work, but when it did, I was able to withdraw money. So, I advise you to take out money whenever you see one of these ATMs!
The ATMs in Beau Vallon that worked for me were two that were across the street from each other by the ISPC Supermarket Fresh Beau Vallon and the Au Bon Valer supermarket. Take mind, one was always out of service.
Victoria has more options for ATMs and there was one near the National Museum that worked – just try to opt for one at a bank and they will usually do the trick!
Wifi in the Seychelles
I actually had some of the worst wifi I have ever had when visiting. My only saving grace was my phone which I paid for a package from the EU that allowed me to roam each day for around $5.
Toward the end of the trip, I realized I only got a certain amount of data for this price and ended up with a $500 or so cell phone bill. Whoops.
I never got a SIM card there but you might want to chat with your hotel or accommodation and consider it. And, the regular wifi was just lousy almost everywhere I went. I had the best experience on La Digue, however.
Getting Around the Seychelles
Ferries in the Seychelles
The easiest way to get around the islands in the Seychelles is by ferry (or tour). If you're visiting the main three islands, you will either need to get around via ferry, airplane hop, or tour. Since I was not doing day trips to all of the islands, I opted for the ferry.
Booking Your Seychelles Ferry
Okay, here is where things get a bit complicated. You have a couple of options for booking. I wait a bit last minute and booked my Mahe – La Digue (with a stop in Praslin) ferry via Viator with a company called Vision Voyages. Booking was easy and I got the confirmation right away.
When I arrived at the port, I stood in a line that I thought was the right one only to be turned away and made to go to the Vision Voyages office next door. The man that was there had stepped away and I had to wait for him to return.
Once he returned, he printed out my tickets and took me back to that line, and helped me check my luggage in (this ferry checks all bags!), and then I was able to get on the boat. This took around an hour, in total. But, it included my second ticket going from Praslin – Mahe so I didn't have to worry about it later.
For my other journey going from La Digue to Praslin, I booked through Seychelles Bookings website but I found that booking through Viator is the same. This was self-explanatory too, but you must get your tickets sorted at the port in the main office (I did this on La Digue).
While I made all ferries, I am going to write a few notes below for taking the journey. This is a process that needs to be redone as it is so bad and disorganized. It was likely my least favorite part of my trip.
Mahe – Praslin / La Digue: We had a stop in Praslin on this boat but our final destination was La Digue. We stayed on the same boat, however. Arrive at the port in Mahe early. I arrived like 1 hour early and it was not enough. This is a disorganized process and you will need to check your bags. You get 7kg of carry-on luggage and 30 kg check-in (economy) and 40 kg (business). The journey is one hour from Mahe to Praslin (and another 15 minutes to La Digue).
La Digue – Praslin: Uneventful and smaller ferry that only lasted like 15 minutes or so. Book this in advance or it will be filled up and you won't be able to get anywhere!
Praslin – Mahe: Arrive about 1 hour or so before. There will be a line formed and you will need to check your luggage again. More organized than the first ferry but not by a long shot.
Is the Mahe – Praslin / La Digue Ferry Really That Bad?
No… if you go in winter or early spring! I actually was so fearful of this journey that I lived in fear of the Mahe – Praslin / La Digue ferry for my entire week on Mahe.
I had read blogs out there that literally scared people out of their minds about how horrendous this ferry was and that everyone was guaranteed to vomit on it (I am scared of vomit).
I brought Dramamine with me and nearly had a nervous breakdown getting onto the thing because of what I discussed above. I took my seat outside (I sat in the wrong section, come to find out), threw my airpods in, and was ready to see people vomit over the edge the entire time.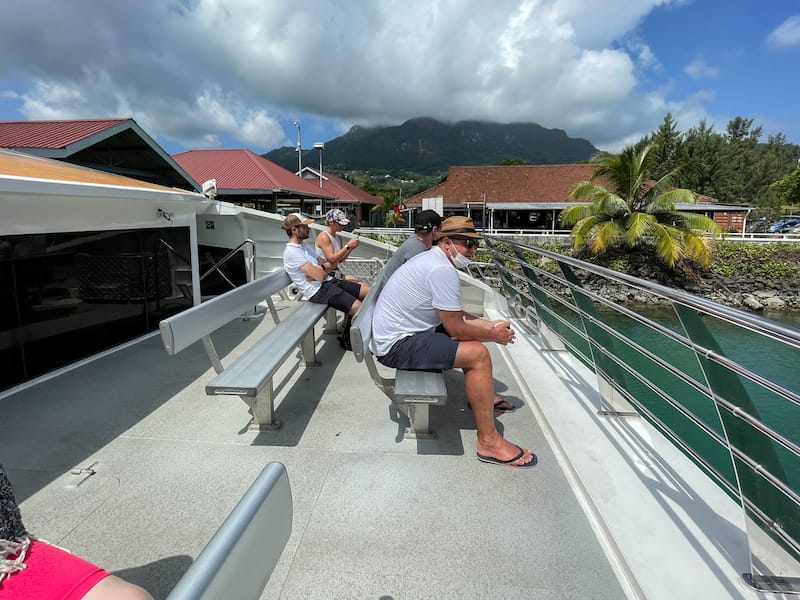 To my surprise, the seas were calm and it was one of the most enjoyable ferry experiences I have ever had. I saw dolphins and flying fish along the way and just relaxed on the journey (it is about an hour long).
Turns out, summers are the bad season for ferries in the Seychelles. Even though summer is the dry season, it is windier and the seas are rougher.
During the rainy winter season, the seas tend to be calmer. Who knew?! The worst months for the ferry are June-August because of the south winds.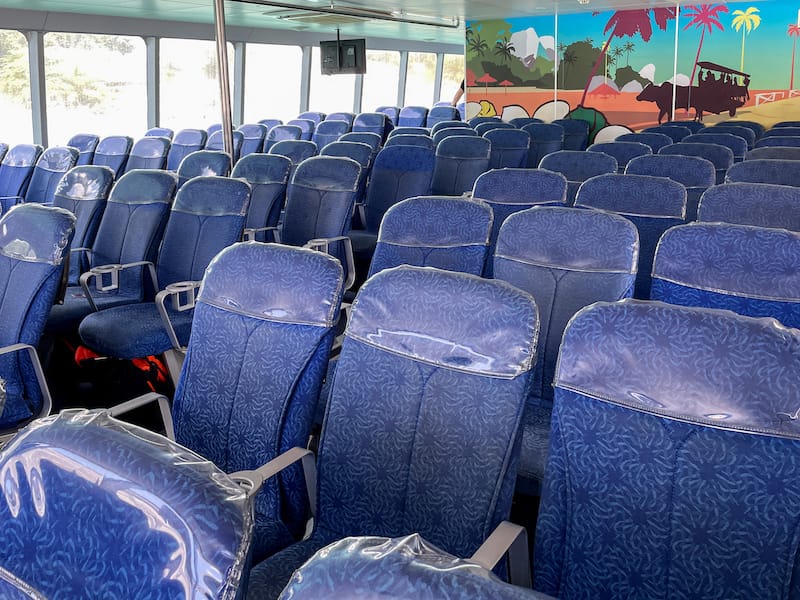 On my way back to Mahe from Praslin, we had storms all morning and I was scared the seas would be rough… but nothing was problematic and I had another smooth sailing.
💥 INSIDER TIP: Business class on the ferries will allow a 'smoother' ride. I didn't realize it, but I sat in business class on metal benches on the deck both times (outside). No one cared even though my ticket was for economy. But, if I booked again I would book business class so I could sit outside in the same seats.
Getting Around Mahe and Praslin
These islands are larger and more challenging to get around. You can rent a car, hire a driver, or get a taxi. I hired drivers for one full day on Praslin and one full day on Mahe.
For Praslin, I found a guy with great TripAdvisor reviews called Laurent's Taxi Service. He was outstanding and took us everywhere on the island that was worth seeing and waited for us to explore certain areas.
He was a nice guy and we even had him enjoy lunch with us. A full-day car hire for two people was 135 Euros (about 2000 Rupees). We were with him for 7-8 hours and he picked us up at the port for a tour right away. You can reach him on Whatsapp at +248 2 510 652.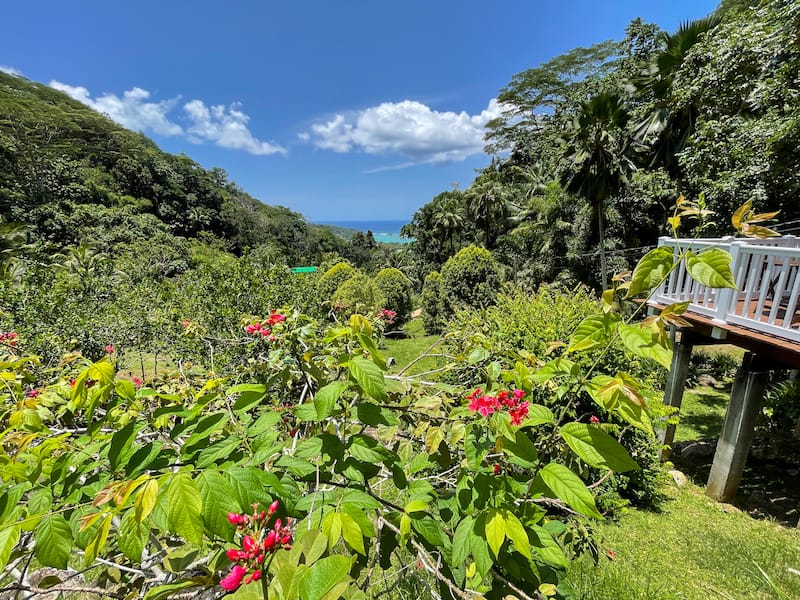 On Mahe, I actually booked a driver through a tour company. I booked through Get Your Guide and this was one of the best drivers I have ever had anywhere in the world.
We just asked to hit up as many places as possible and he took us everywhere. Even some remote places we wanted to check out.
He was with us an additional couple of hours as well… truly a great experience! You can book the company here.
As for public transportation? It is not really the most reliable on any of the islands. I never even attempted it.
Getting Around La Digue
La Digue was so easy to get around that it made the island likable beyond just its beaches as soon as I stepped foot on it!
The main way to get around La Digue is to rent a bike! Almost every accommodation on the island has bikes for its guests or ones that you can rent. And, bike riding is truly one of the best things to do on La Digue.
The terrain is mostly where the pavement is so biking is extremely easy. Just make sure you stay on the correct side of the road when biking. Some locals have cars or trucks on the island and you'll run into the occasional tuk-tuk type vehicle.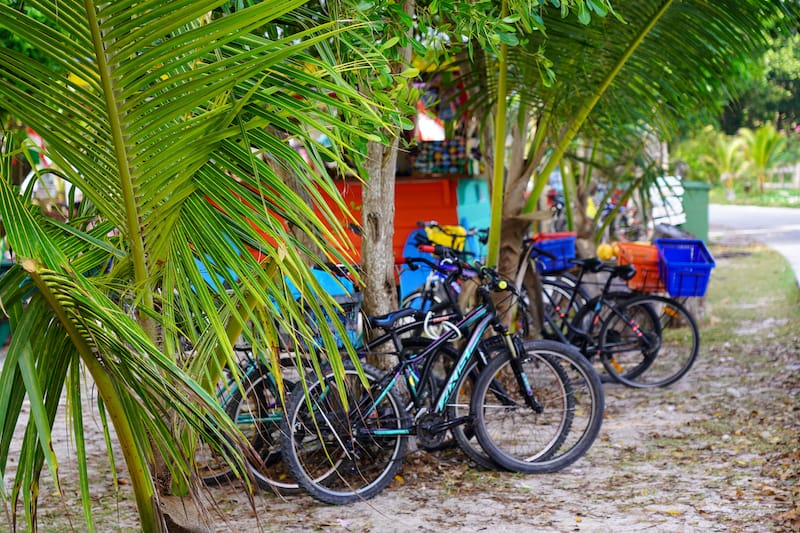 No one locks bikes and almost all have a basket attached to them. It made this island so laid back and chill (and rather perfect, to be honest).
If cycling is not your jam, you can easily walk the circumference of the island.
It will take a bit of time, but you can almost walk the entire thing (once you get to the east of the island, it is not paved and goes through forests and becomes a hike).
Taxis on the Islands
Taxis are expensive! If you're looking to get back and forth to places, you're going to pay a minimum of $20 for each ride (and that was just paying someone from our hotel to drive us… not a legit taxi).
I didn't see any taxi apps and all of our taxis were booked directly with a person.
My advice is to stay somewhere central to restaurants and plenty of things to do. However, I wouldn't choose to stay in Victoria.
I stayed in Beau Vallon for a week (a pretty good place to be based but a far drive from other beaches… so you need to visit them as a day trip with a tour or rent a car) and I stayed down in Anse Aux Pins for the rest of my time on Mahe.
La Digue was easy and had no issues but Praslin is kind of the same as Mahe.
In Praslin, I stayed at a place in Cap Samy that actually was a bit of a walk to any sort of restaurant or life. I loved the place but the location was not ideal for me, personally.
Day Trip to Praslin and La Digue
So, 60% of people visiting the islands visit La Digue and Praslin merely as a day trip with a tour company or the ferries.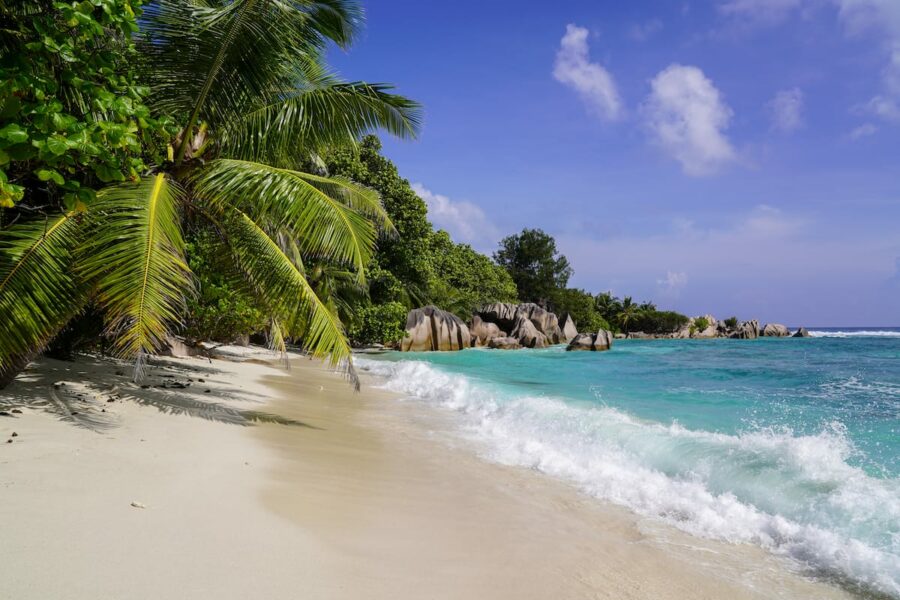 I am here to encourage you NOT to do this. There is far too much on each island to visit only as a day trip! It also has hindered the growth of Praslin, for example.
The locals really want to show off their islands, so head over there and spend a few nights there (or at least one).
Seychelles Beaches and Nature
All Beaches are Public (Until They Kind of Aren't)
Per constitution and law, all beaches in the Seychelles are public.
But, a resort can pop up at that beach and the only access to that beach from land is via the resort (hello, Praslin's Anse Georgette that can only be accessed via the Constance Lemuria Hotel after registering).
I am grateful we hired a driver as it allowed us easy access to pretty much anywhere as he had connections and was able to call ahead or speak to people he knew that were working.
You Might Need to Bring Your Own Gear Snorkeling
If you plan on snorkeling in the Seychelles a bit, you will need to likely have your own gear. Each tour I went on requested that we have our own but then had a few pieces of equipment on the boat that people could borrow. However, it was definitely not enough!
If you don't want to bring your snorkel gear to the Seychelles, you can purchase it in various places. I purchased a set in Beau Vallon at Blue Sea Divers (right along the water).
It was not a cheap thing though – expect to spend around $80 or so.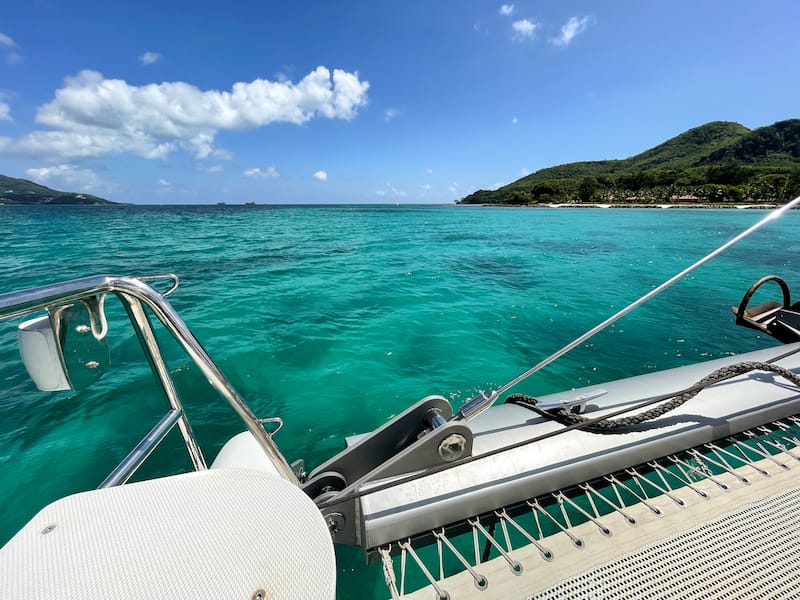 Sharks in the Seychelles
Yes, there are sharks in the Seychelles, but most are harmless reef sharks. They are small and attacks pretty much never happen (although a French tourist was attacked in 2019 and was left injured).
But, do beware that these sharks pup off of the beach so respect their habitat as much as possible. The chances of sharks being around increase as the waters cool off a bit.
Sea turtle and lemon shark pupping season go from August until March.
Most of the Coral is Dead
Around 90% of the coral in the Seychelles is dead currently. The locals will tell you that it was damaged due to El Nino but the 2004 Indian Ocean tsunami also wreaked its havoc on the coral. It was one of the saddest things I have ever seen.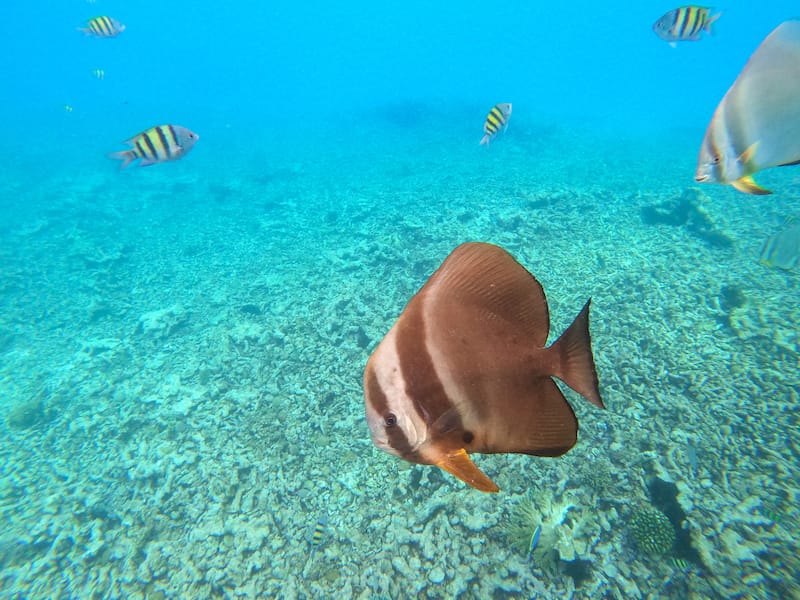 While the coral is in a 'recovering' state, the beaches are no less beautiful. But, please bring reef-protecting sunscreen with you.
Grand Anse Beach on Praslin
Grand Anse Beach is muddy and smelly during the wintertime. At least when I was there and our driver told us this is often the case. The water is stagnant and he says a lot of sting rays will bury themselves in the sand there and it is not recommended to go into this beach when this is the case.
Coco de Mer in the Seychelles
The Coco de Mer is the national fruit of the Seychelles but you aren't supposed to eat it! This is actually the largest seed in the world by weight (and size!) and can weigh up to 25 kilograms (around 55 pounds).
When the seeds fall across the island, they are picked up by rangers.
These only grow on two islands – Praslin and Curieuse Island. On Praslin, a can't-miss place to visit is the Vallee de Mai Reserve, a UNESCO World Heritage Site and a place that is frequently referred to as the 'Garden of Eden'.
I have to say, this was one of the highlights of the trip!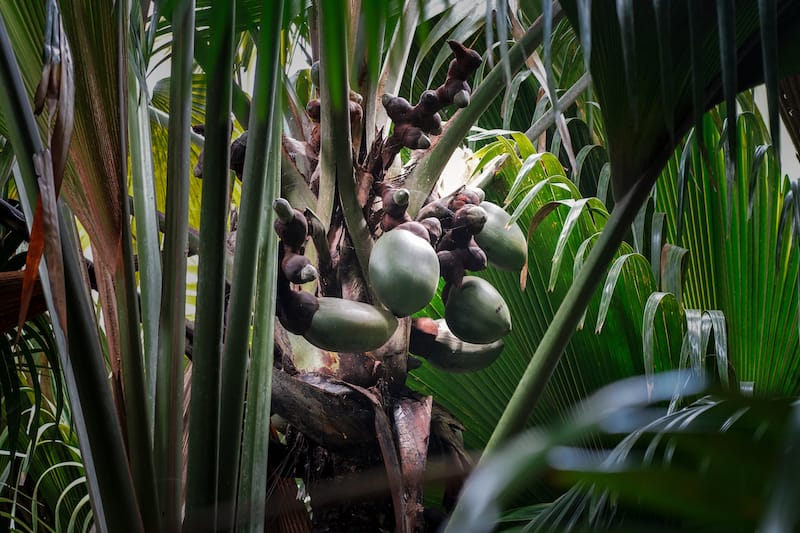 Admission into Vallee de Mai is about $25 per person (and they take cards). While expensive, I found it was one of the most interesting places I have ever visited. The park has trails, is cool (such a nice break from the sun!), and has more Coco de Mer than you can count!
Half of the fee that you pay to visit actually goes to help other conservation efforts throughout the islands (and half goes for maintenance at the reserve itself).
You can purchase a Coco de Mer to take home as your Seychelles souvenir and it will be hollowed out. I don't really see the point, personally.
Mahe is Seriously Underrated
Everyone raves about La Digue and Praslin, but I found Mahe to be insanely cool and have a lot to offer! The beaches were my favorite after La Digue's (mostly because La Digue's were easy to access). And there were SO many beaches.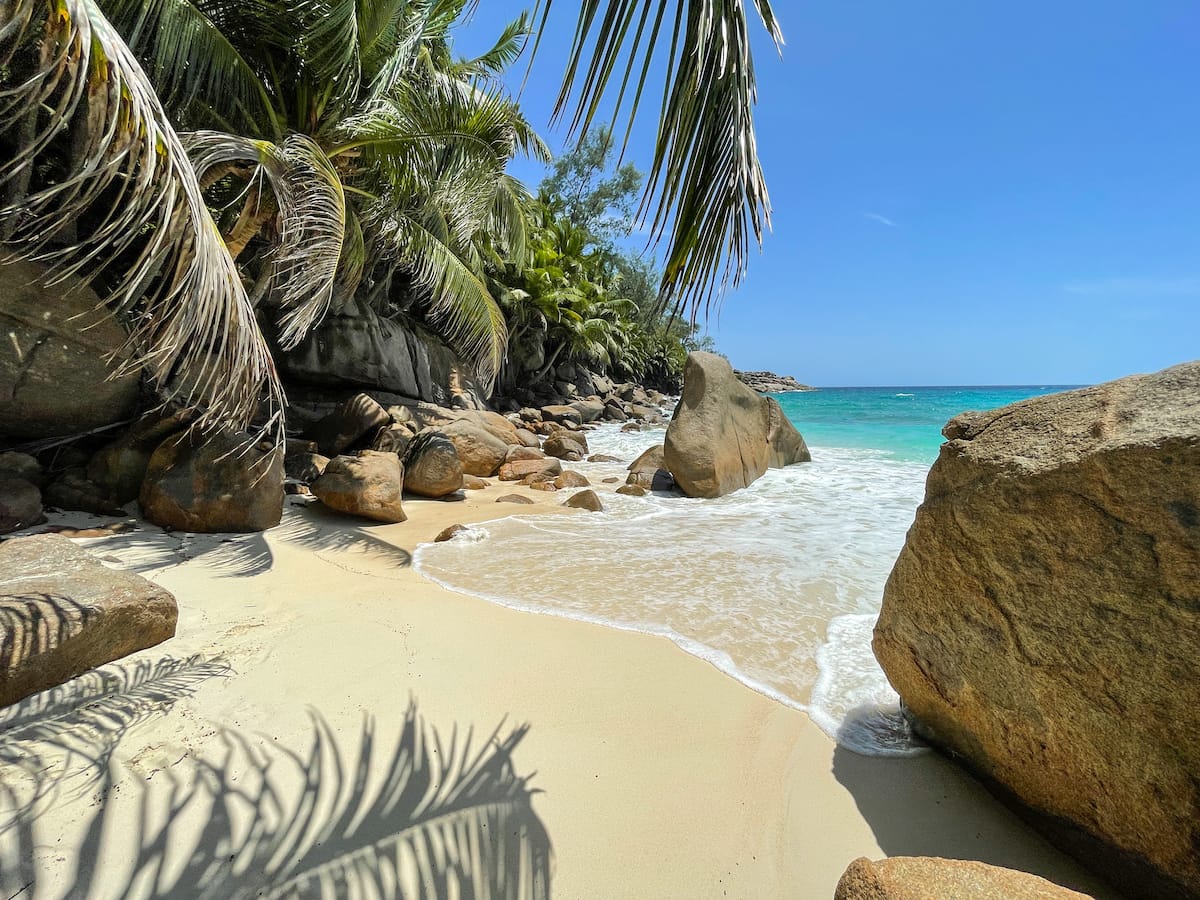 The island had very dramatic topography which I wasn't necessarily expecting and some of the hikes there are difficult as a result.
One evening, our driver drove us to the top of a lush mountain there and we watched the bats swarm around all of the trees (mostly mangosteen) and it was pretty magical seeing such a different side to the island than just its beaches.
Rock Pool on Mahe
If you scour the best things to do on Mahe and come across a rock pool there, it is a cool place to visit! It requires a bit of a hike (from Anse Takamaka Beach), but is worth it and is relatively easy.
If you visit on weekends, there is a lifeguard there (usually) during the higher tides. If you visit during high tides and can't see the rocky outcrops (there are two) in the ocean, you should not swim.
It is very dangerous and people have died doing this! But, if you can see both outcrops, you are okay to swim for a bit.
In order to visit the rock pool on Mahe, you need to go through a hotel/restaurant's private pathway. It should be fine just to let them know.
I actually booked a tour to do this as it covered transportation from my accommodation which was all the way in Beau Vallon.
I booked this tour with a company that is local and female owned and her brother took us down there. It was a great experience and he taught us what all the local plants were along our hike to the rock pool!
Resorts and Tourist Attractions in the Seychelles
Closed on Sundays
Many Seychelles attractions, museums, and landmarks are closed on Sundays. Plan your days accordingly! We were unable to visit the Takamaka Rum Factory as a result.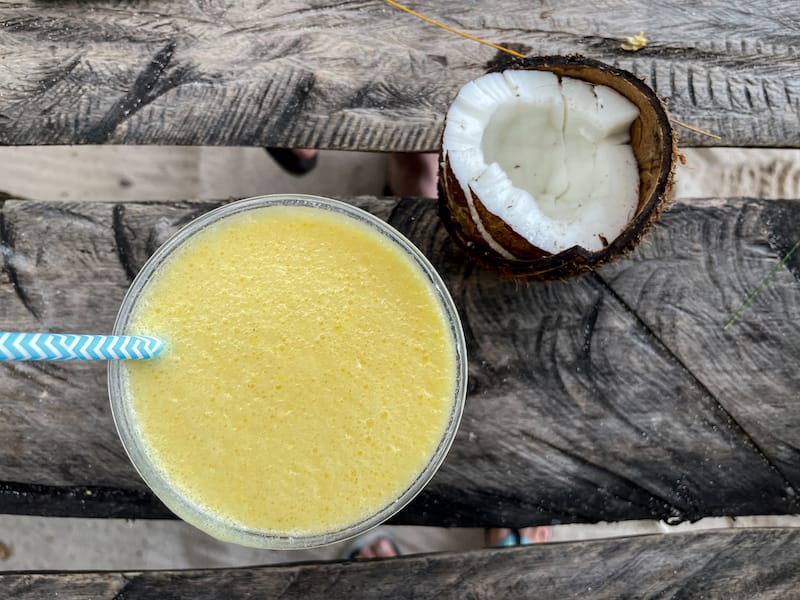 Resorts are Ever-Present on the Islands
And many locals are not happy. Most of these resorts on the Seychelles are built by millionaires living somewhere else and the government has allowed them to come in and build them up along many of its beautiful beaches, islands, and more. It is actually rather sad, to be honest.
There are islands you can't even visit that you will pass by that are 100% owned by the resort. Silhouette Island, a large island seen from Beau Vallon, is one of them. The locals that live there can reach it via a Hilton 'luxury ferry' that only guests can take.
When people come and stay at these resorts, a lot of times the locals see very little of the money. The guests book tours through the resorts, eat at the resort, etc.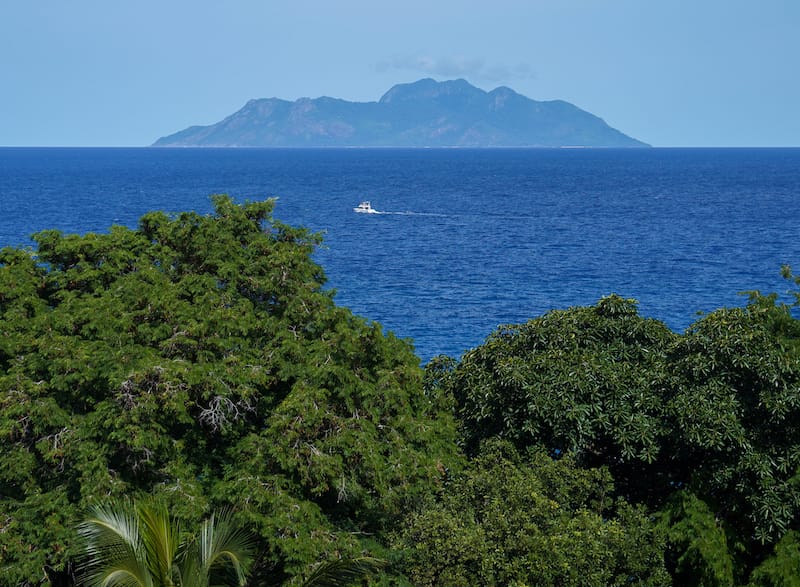 If you are reading this and staying at a resort and there is a highly-rated restaurant somewhere nearby that is local, head over and check it out!
The Seychelles' tourism development has been a bit hindered as a result and many locals believe that the culture is getting sucked out as a result of these places, but hey, money talks.
So, if you have a chance to support any local business while there, make sure you do so! There are so many tours and restaurants that are operated by local people (as well as accommodation). I will be making a guide about this in the future.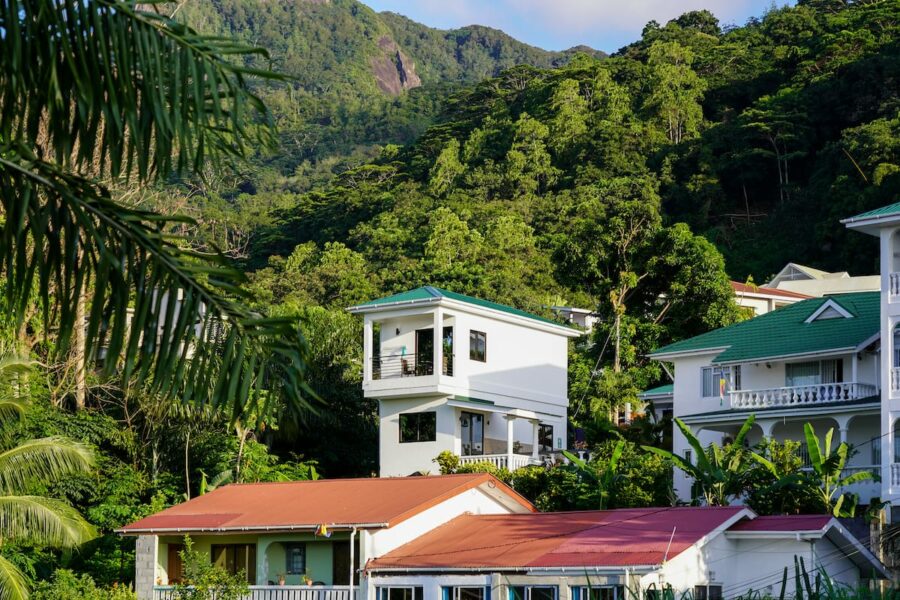 Should You Visit the Seychelles?
I definitely think you should plan a trip to the Seychelles, but I would not do it last minute the way I did!
I would take some time to thoroughly research each island and what it has to offer and ensure that you book your dream trip!
The Seychelles currently have a lot of resorts, but the tourism infrastructure for independent travelers is still in development, so planning ahead will save you a lot of hassle. But, it is well worth it!
More Seychelles Travel Guides
Pin this Guide for Visiting the Seychelles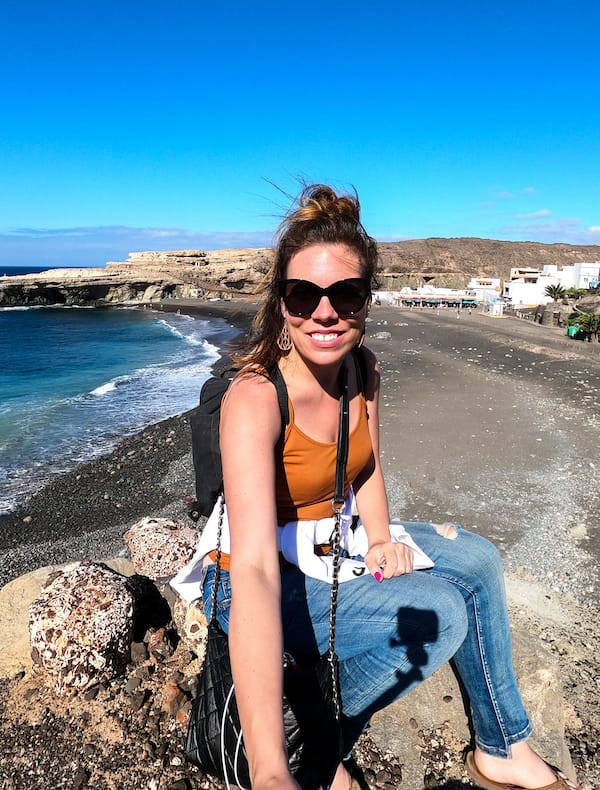 Megan is a travel blogger and writer with a background in digital marketing. Originally from Richmond, VA, she now splits her time between Frankfurt, Germany and Arctic Finland after also living in Norway, Armenia, and Kazakhstan. She has a passion for winter travel, as well as the Nordic countries, but you can also find her eating her way through Italy, perusing perfume stores in Paris, or taking road trips through the USA. Megan has written for or been featured by National Geographic, Forbes, Lonely Planet, the New York Times, and more. She co-authored Fodor's Travel 'Essential Norway' and has visited 45 US states and 100+ countries.