Are you on the search for the best things to do on La Digue in the Seychelles? This guide is here to help!
Are you planning your trip to the Seychelles last minute?
If youʻre booking your trip to the Seychelles last minute, we have you covered. Below are some of the top tours, hotels, and more!
Top Experiences and Tours in the Seychelles:
Places I stayed in the Seychelles:
Chalets Anse Reunion (my lodging on La Digue)
Oceanic View Apartments (my lodging in Beau Vallon on Mahe)
Chez Bea Luxury Villa (my lodging on Praslin)
Visiting the Seychelles independently? Be sure to book your rental car ahead of time to ensure availability!
La Digue is kind of world-famous (without realizing just how famous it is)! It is home to Anse Source D'Argent, a place often ranked as the best beach in the world.
This guide will cover some of the top La Digue attractions – from beaches to historical sites and more! I also fill you in on some of my favorite restaurants and places to eat on the island.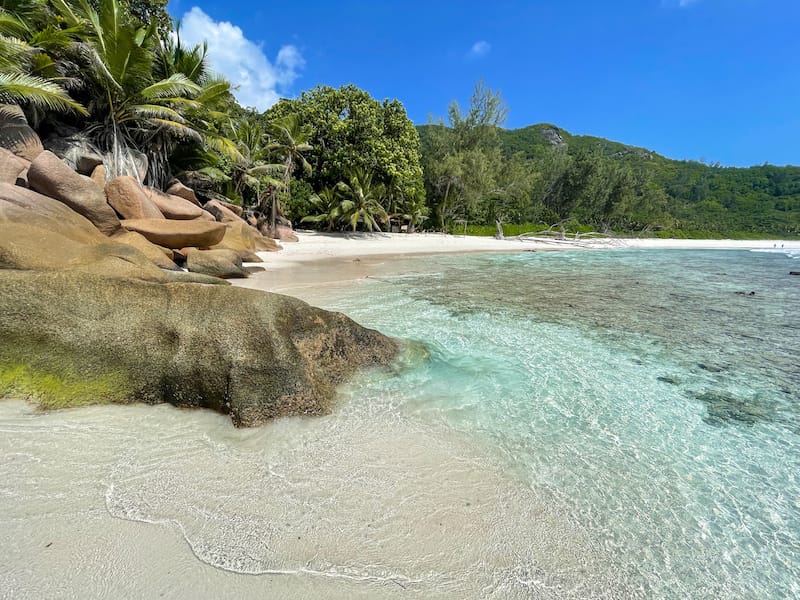 Did we miss any of your favorite places to visit on La Digue? Let us know the La Digue landmarks you loved the best on your Seychelles trip!
Best Things to do on La Digue Seychelles
Go Crystal Kayaking at Anse Source D'Argent
Most of the tours I took in the Seychelles were boat trips so I was super excited to go kayaking as it is one of my favorite things to do when traveling.
At Anse Source D'Argent beach, you can join Crystal Water Kayaks for a glass kayaking adventure to Robinson Crusoe Beach (the place where Robinson Crusoe was filmed in 1988).
This 3-hour tour is fully guided and depends on the weather and departure times depend on the tides. So, they can be anywhere from 0900-1600. This is NOT a good tour to book if you're arriving and departing La Digue on the same day.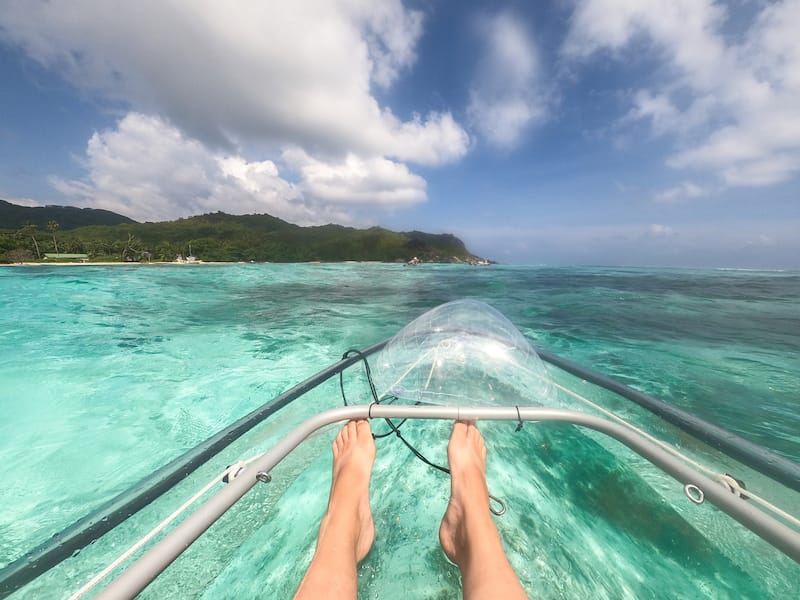 On the tour, you will spend an hour kayaking before checking out some fish nurseries and different types of coral. From there, you will start making your way to Anse Pierrot, better known as Robinson Crusoe Beach.
You'll have a chance to swim, check out the caves, and even learn how to break open a coconut.
Some things to note are that the entrance fee to L'Union Estate is not included in the price of the tour. You must also confirm your tour 3-5 days before it departs on Whatsapp.
They will send all of the details beforehand so you can easily do this. If the tour cancels due to weather, they will offer a refund, a rescheduling option, or an alternative option of similar value.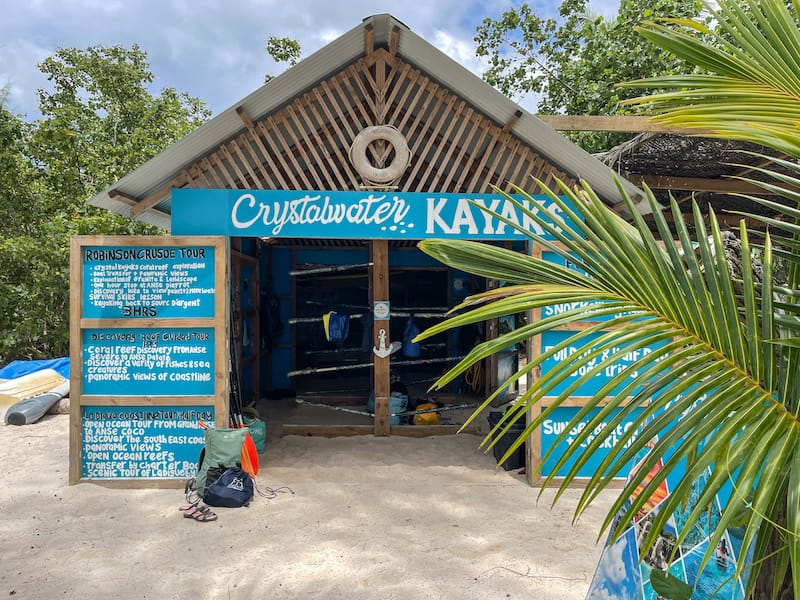 June-October are the months that tend to have the rougher seas as it is the windy season (just a note)! I went in March.
💥 PRO TIP: This was rough for me. I don't tend to get seasick but apparently, crystal kayaks are the exception! If you get seasick – take some Dramamine beforehand! Also, the tides came in rough for us in the evening and we had issues at Robinson Crusoe Beach.
They had to grab the kayaks from us and take us back with a boat in small groups. The waves were coming in rough on the beach and I can't say I suggest this for small children as a result.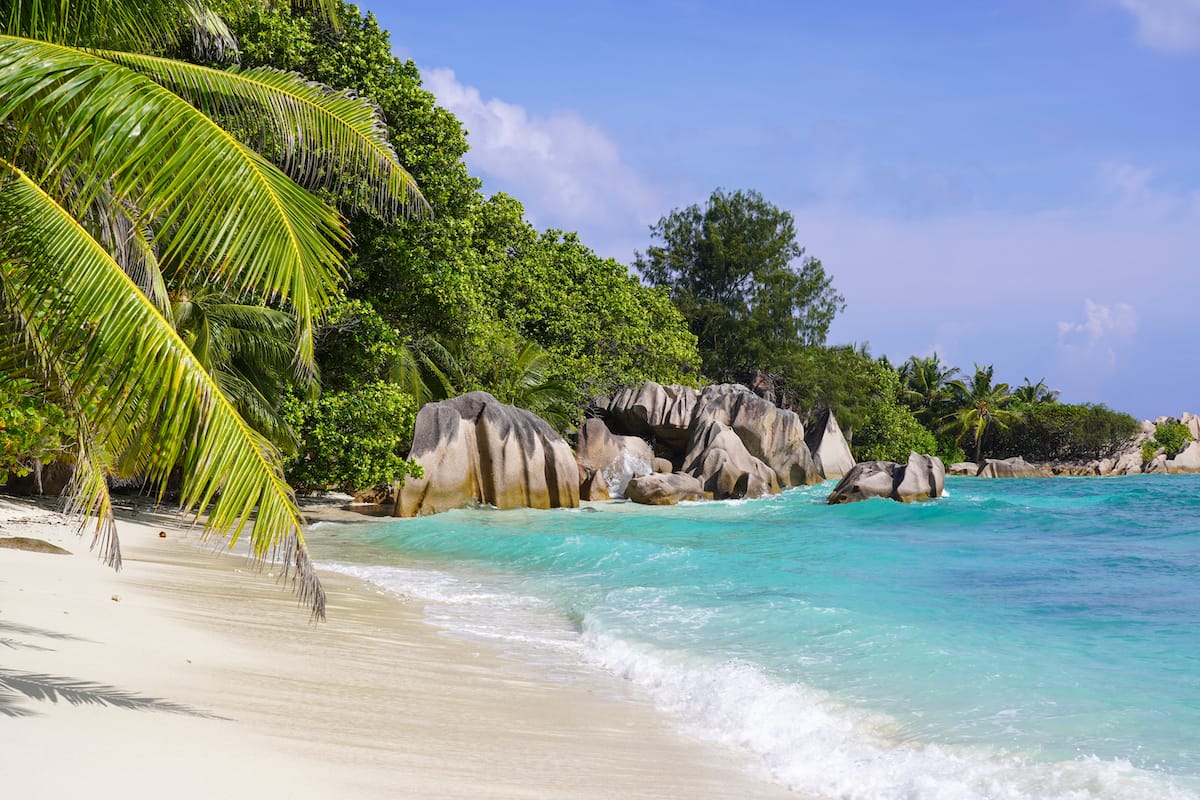 Also – bring a dry bag for your equipment (they have some you can borrow) and keep that in there! My camera got soaked because I was stubborn. A GoPro is an excellent option for this excursion.
>> Click here to book your crystal kayaking tour
Explore the L'Union Estate Farm
On the southern part of La Digue is L'Union Estate Farm. It is a popular place to bike to (and bike around).
The park requires an entrance fee of about 115 SCR and it is required to pay this to visit Anse Source D'Argent Beach.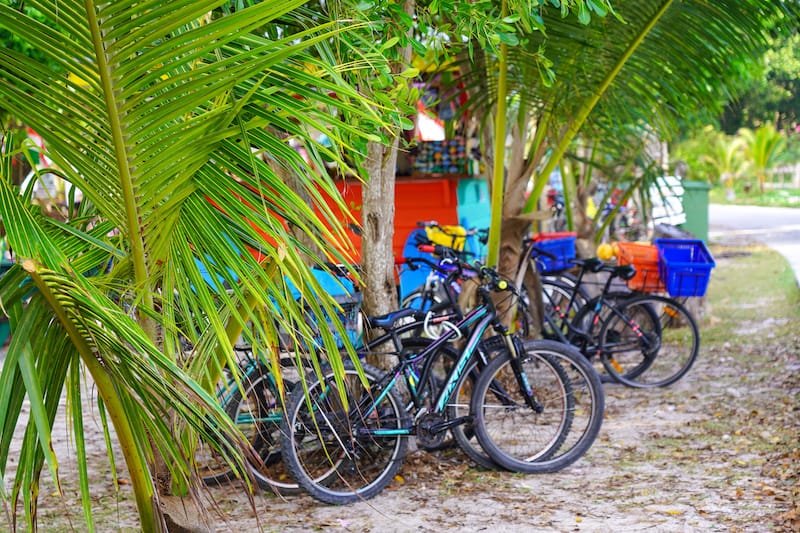 The only way to access the beach is through L'Union Estate.
At L'Union Estate, you can see Aldabra giant tortoises, visit the Plantation House, see the coconut and vanilla plantation, and visit the traditional coprah factory (where coconut oil is produced).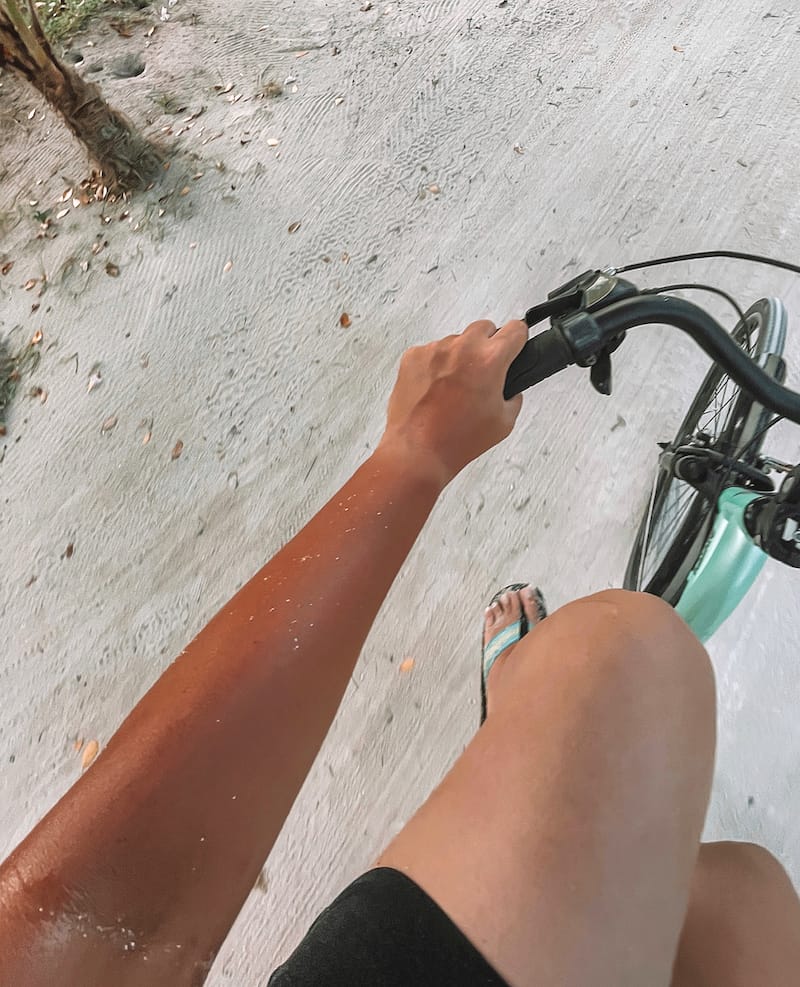 This farm and estate offer insight into La Digue's colonial history as the island was renowned for its vanilla and coconuts.
Take Photos at Anse Source D'Argent Beach
I have already mentioned it a few times, but Anse Source D'Argent is easily the most iconic sight on La Digue.
This beach is often called the most famous beach in the world and visiting is one of the most essential things to do in the Seychelles!
In order to access the beach, you must pay the entrance fee at L'Union Estate (discussed above) and walk through the park toward the beach.
The picturesque beach is 1100m x 20m and has shallow waters protected by a coral reef. High tide can cover the beach but it is a good place to swim and snorkel (at high tide).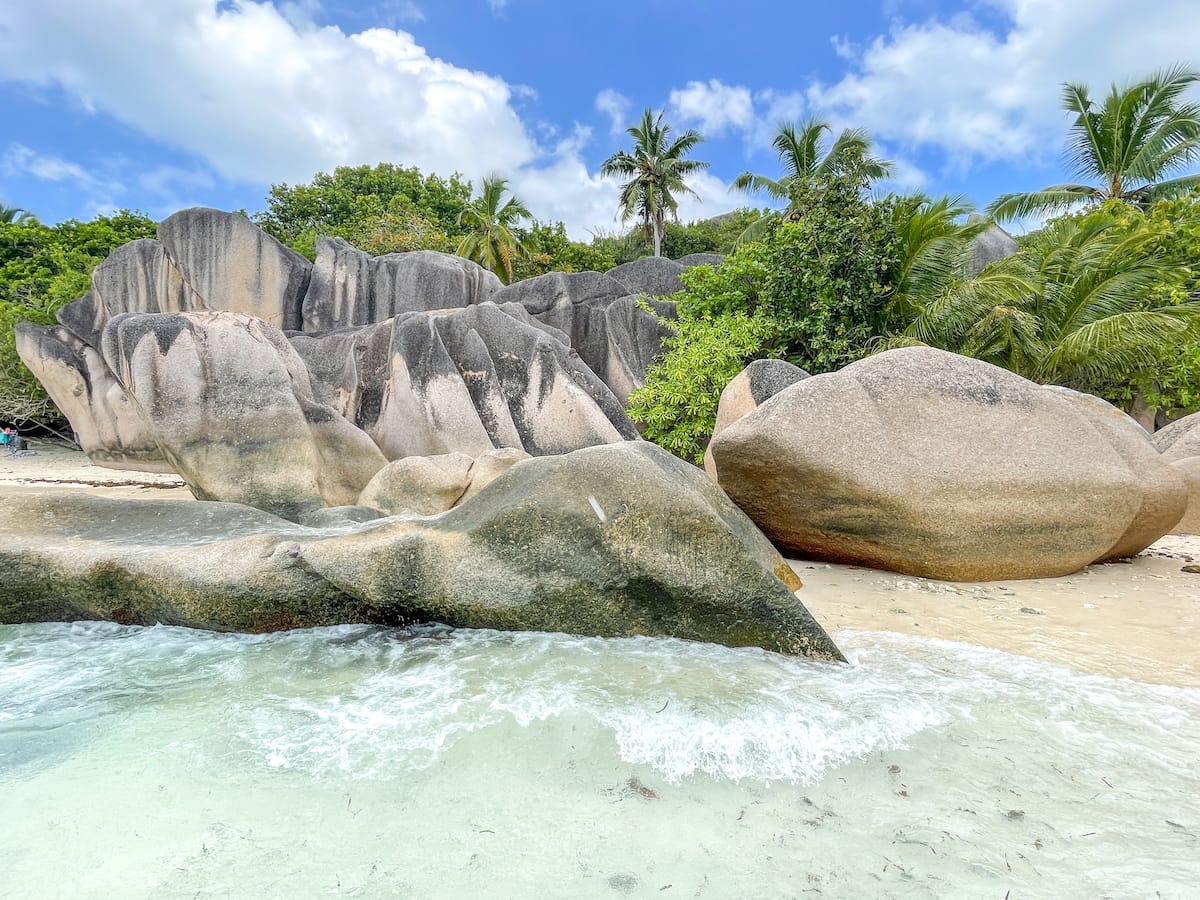 Near the beach, you will find toilets, a restaurant, and parking. There are also many fruit stands where you can get a refreshingly good fruit juice!
While the beach is open, there are plenty of trees where you can take shelter from the hot sun. The beach is at its busiest from 1000-1700 daily. So, visit early!
This beach has been in Robinson Crusoe, Castaway, and many other films and commercials over the years.
And, it is the home of many Instagram photo shoots (so be ready!).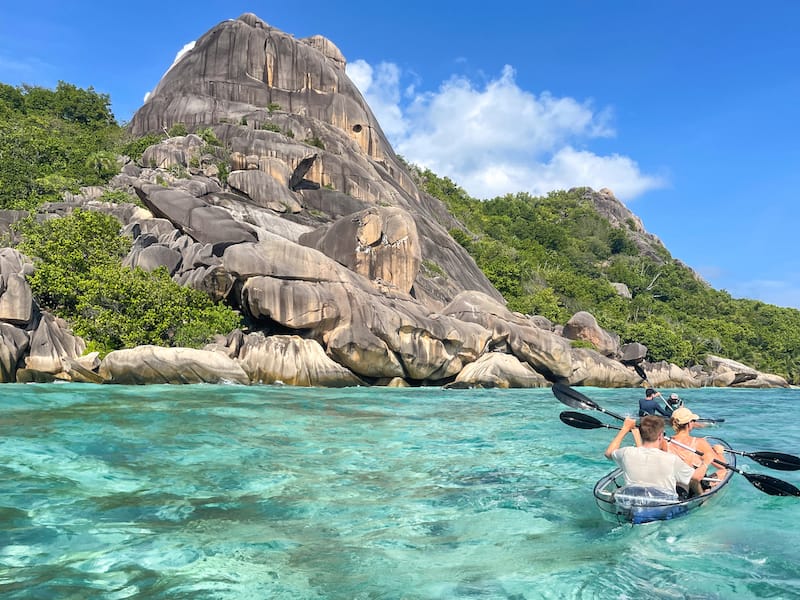 I will say that while this beach was remarkably beautiful, the crowds and photoshoots made it a little difficult to enjoy to the fullest. But, it is absolutely one of the best destinations in La Digue!
Have Fish Curry at Lanboursir Restaurant
Near Anse Source D'Argent and inside of L'Union Estate is Lanboursir Restaurant.
I was starving when I was inside of the estate and saw this unassuming restaurant with a few picnic tables and decided to grab a fish curry and some fries. I was so shocked at how delicious (and affordable) this meal was!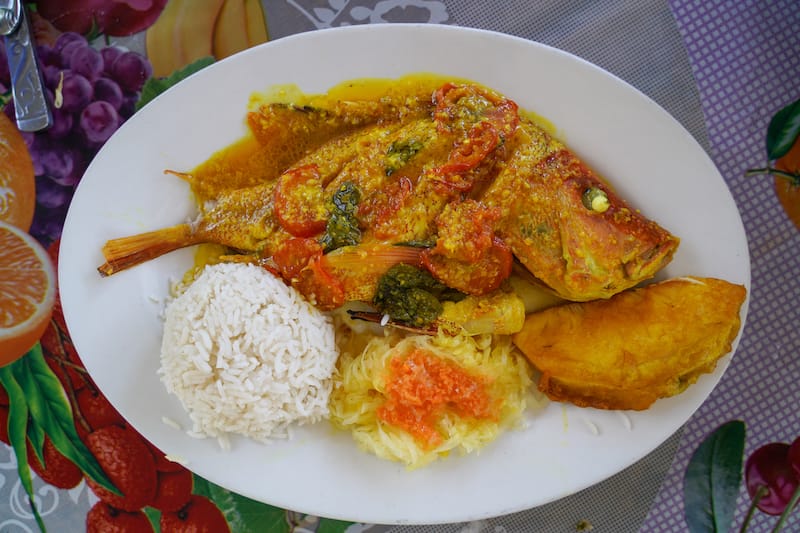 Every meal I had previously had on Mahe had been extremely expensive and most left a lot to be desired. Lanboursir was a surprise!
Since I left, it does seem like the reviews have been lousy there because the customer service is rude, which is unfortunate.
It wasn't great when I was there, but the food and price definitely made it a worthwhile stop for lunch.
Discover the Veuve Nature Reserve
A place that is often overshadowed by the world-class beaches on La Digue is the Veuve Special Reserve in the center of the island.
In the 1960s, the Seychelles Black Paradise Flycatcher was in danger so a local man was hired to help keep an eye on them by the RSNC (Royal Society for Nature Conservation).
Veuve eventually opened in 1982 and conservations have been protecting local species ever since.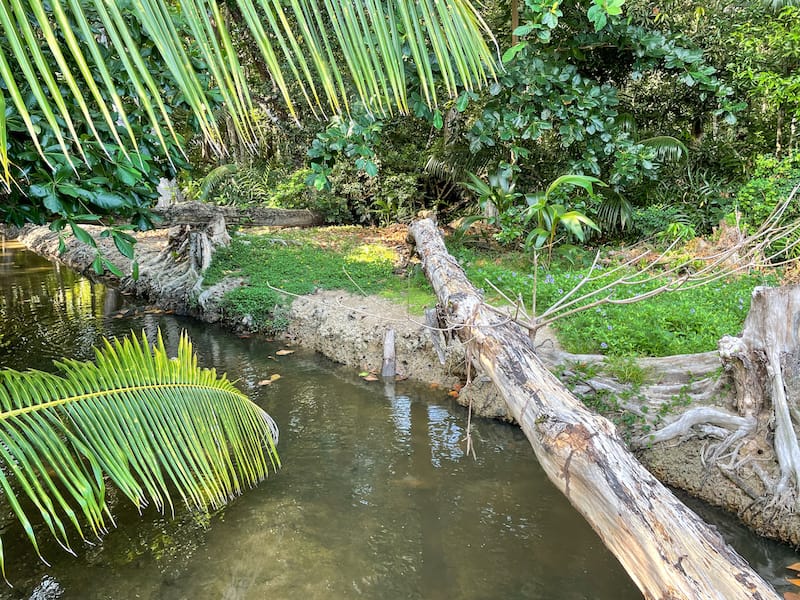 Only about 1000 visitors from abroad visit Veuve each year and you can head there, walk the trail throughout and see the birds. It is open from 0900-1700 from Monday through Saturday.
It is closed on Sundays and public holidays. To enter, it is a fee of 150 SCR (unguided) and 200 SCR (guided).
Hike to the Gorgeous Anse Cocos Beach
This beach is, hands down, my favorite beach in the Seychelles. Anse Cocos Beach is not that crowded and requires a hike along the Anse Caiman Trail to reach it, making it all the more worthwhile.
Located on the eastern part of La Digue, the beach is shallow at low tide and about 450m x 20m in size. One of the coolest things to do in La Digue is head here and visit the natural pool it has on one side!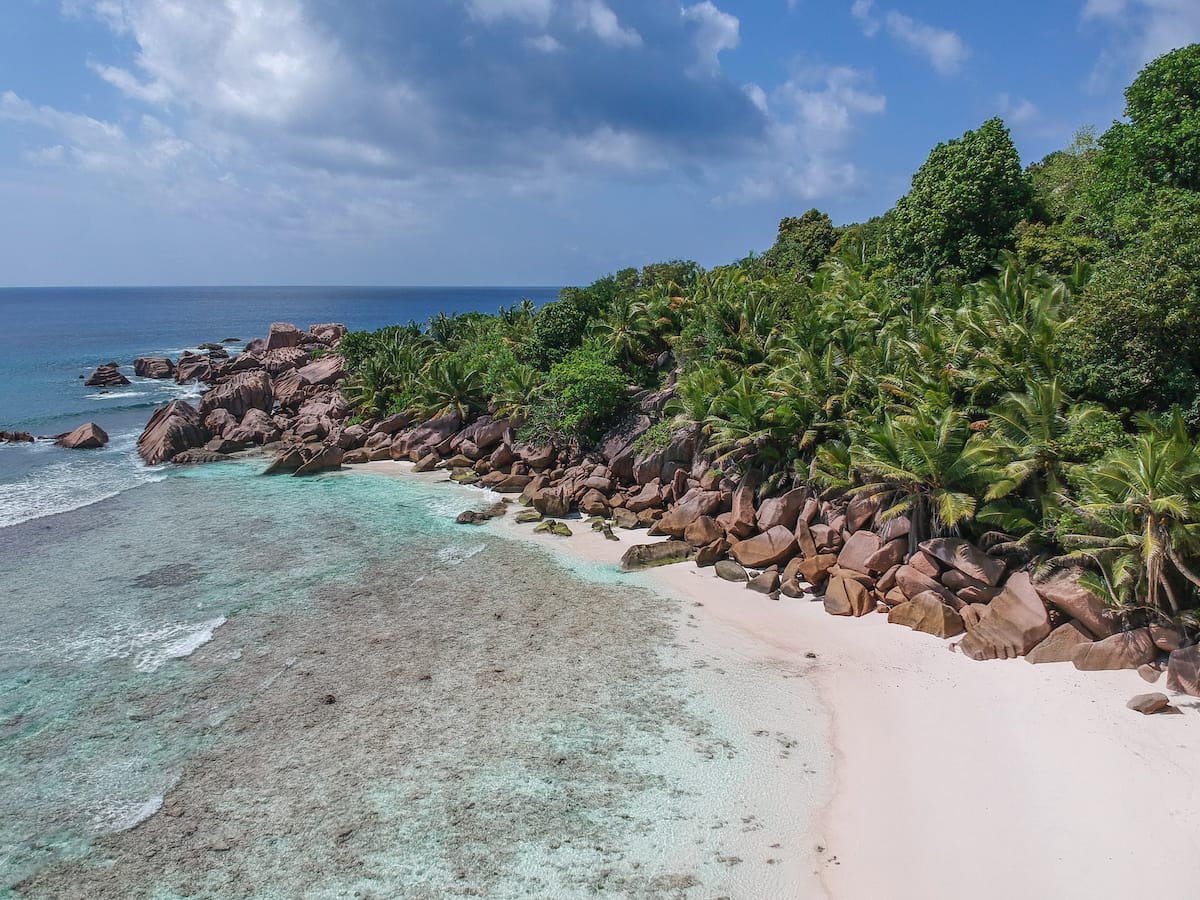 I could have spent the entire day here and the fact that there was a small juice stand (aptly called 'Coco Bar') made it even more worthwhile.
On most days, the beach only sees around 10-20 visitors, so it will be quiet and likely the most relaxing beach you'll visit on the island.
Anse Cocos was one of the first beaches on the island and while it doesn't have facilities, it is utterly perfect.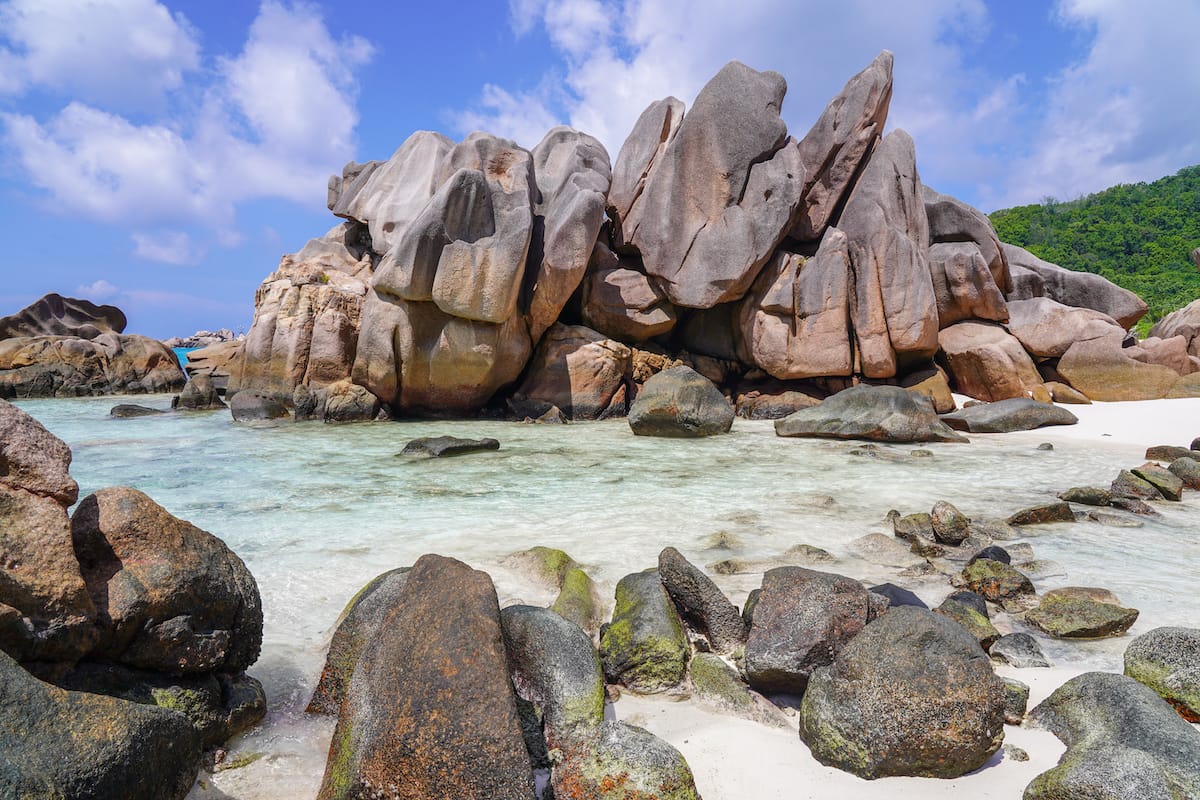 As mentioned above, the only way to get here is by hiking to it. I went from the Anse Caiman Trail and it was the third beach on the route I went (Grand Anse and Petite Anse were before).
It took like 45 minutes or so to get there and the trail is easy but does require some light scrambling closer to Anse Cocos.
Enjoy Dinner and a Sunset at Natural Bar Grill & Drinks
On La Digue, I kept walking past this beachside restaurant called Natural Bar Grill & Drinks which seemed like a no-frills place to eat and watch the sunset at night. The prices were a little steep, but the food was well worth it, in my opinion!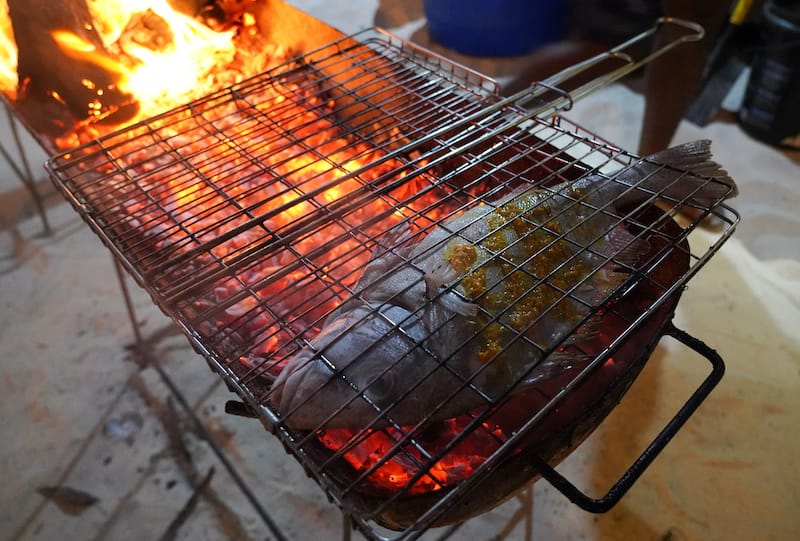 They offer local grilled fish and seafood and we ordered a large grilled fish with vegetables and some other small sides.
Everything was delicious and there was live music and a killer sunset that evening!
Marvel at Grand Anse Beach
Another breathtaking beach on La Digue is Grand Anse Beach. This beach is stunning and 450m x 20m in size.
It has higher waves and feels super wild (it has strong currents – so it is not an ideal swimming beach). There is little shade and it is one of the better beaches for surfing in the Seychelles.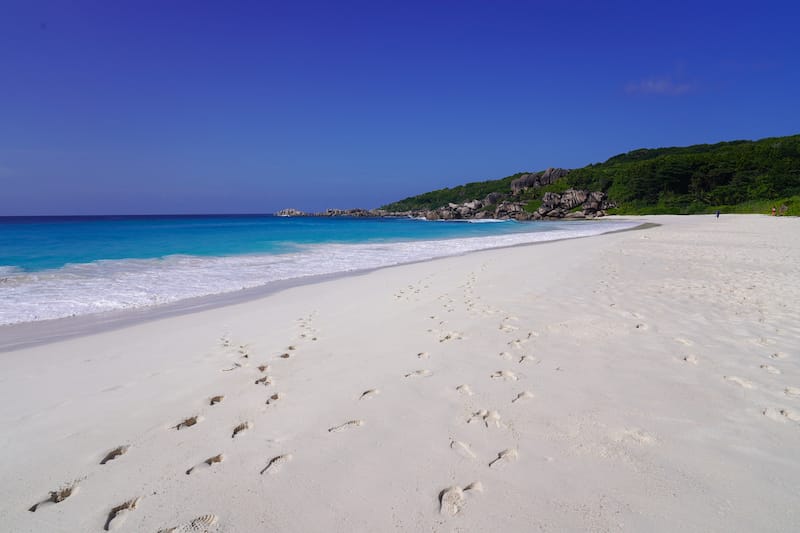 To reach Grand Anse, you can hike the Anse Caiman Trail and it will be the first beach you stumble upon! There is no coral reef here so the water becomes deep quickly!
While it does require effort to get here, since it is at the start of the Anse Caiman Trail, you can easily reach it by bike. There is sometimes a beach bar with snacks and drinks open at Grand Anse.
Hike to Lesser-Known Anse Marron Beach
Another famous beach in the Seychelles is the gorgeous Anse Marron. It is the southernmost beach on the island and is not protected by a coral reef (although it does have a shallow natural pool where you can safely swim).
This beach is not the easiest to find and most visitors recruit the help of local guides to help them make the journey.
Fortunately, you can book a cheap tour ahead of time so that you don't have to worry about it once you arrive! The beach REALLY is worth the trip!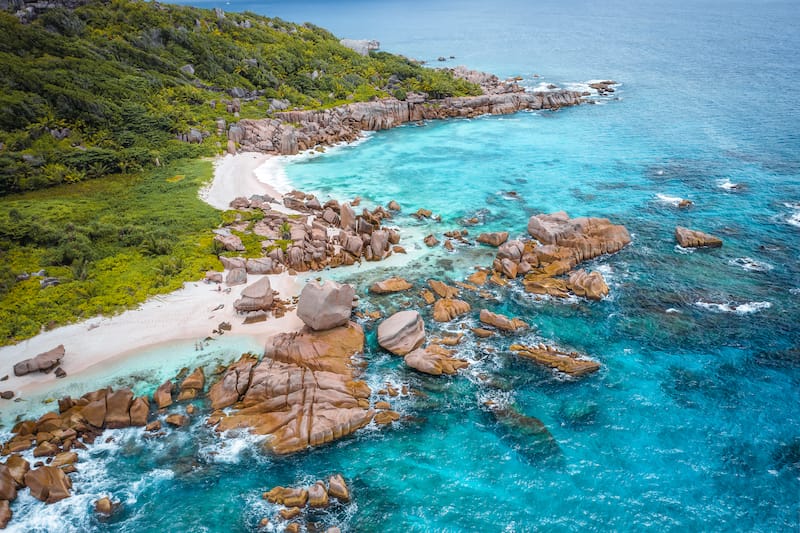 This hike is not for children and can be a bit challenging to embark upon.
However, it is well worth the hike if you're looking for one of the most off-the-path destinations on La Digue! The beach is 100m x 3m. Tides can come in strong during the windy season.
>> Click here to check tour rates and availability
Have Lunch at Rey & Josh Cafe Takeaway
One of my favorite things about the Seychelles are the small takeaway eateries! They are always locally owned and delicious!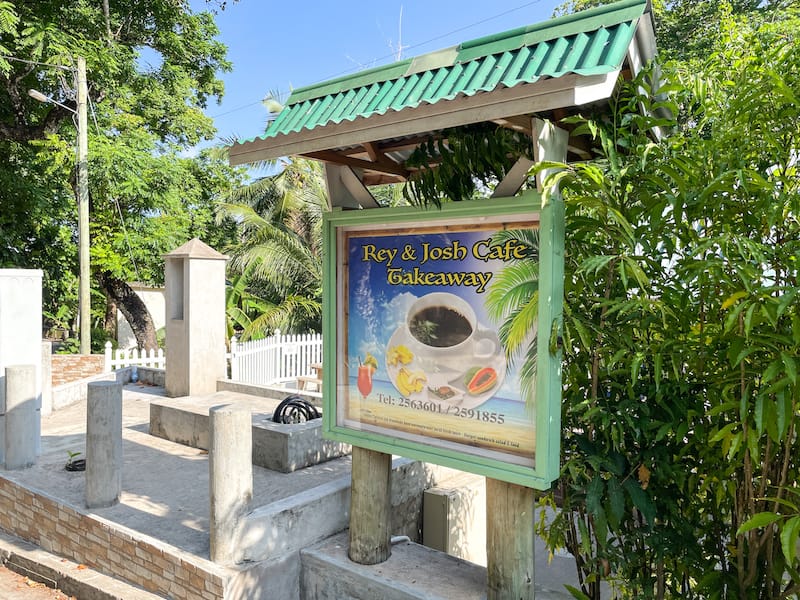 Rey & Josh Cafe is located inland a bit and is a nice little bike ride (or walk) to get to.
They offered different curries, juices, and more.
Admire Anse Patates Beach
Located close to Pataran Village hotel, this absolutely picturesque beach can be seen from the main road that circles the island. Anse Patates is a small beach, only 60m x 5m and it gets few visitors.
The tides can come in strong with larger waves but it is suitable for swimming and snorkeling with supervision. There is no reef to protect it, however.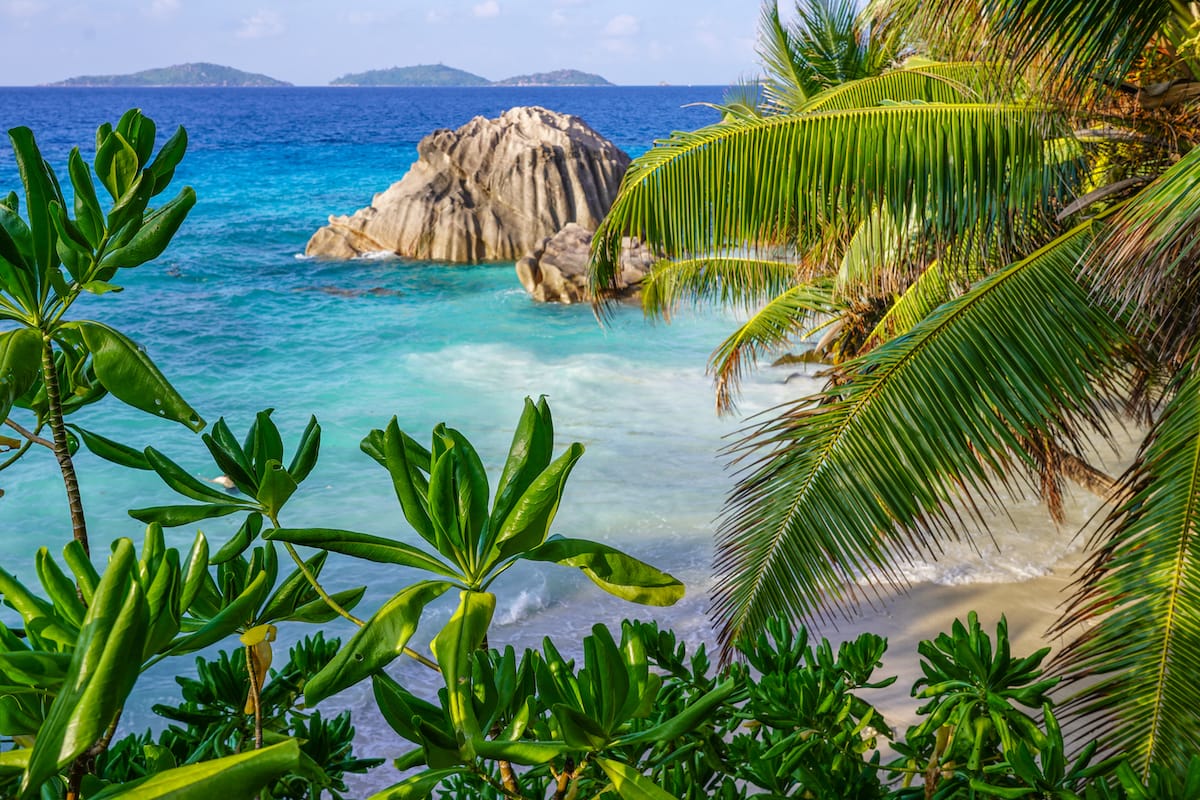 You can easily ride your bike there and leave it off the side of the road while you go for a dip.
The beach is on the northern part of the island and, personally, this was one of the most photogenic beaches I saw on the island (and in the Seychelles as a whole).
Definitely one of the top places to check out on the island.
Have Fresh Juice at the Sunset Bar
Along the main road in the north of La Digue is this small juice stand called Sunset Bar that had some of my favorite juice in the Seychelles.
It is situated on the right-hand side (if coming from the south) and there are a few dogs 'working' at the business, so I stuck around for a while and enjoyed the company.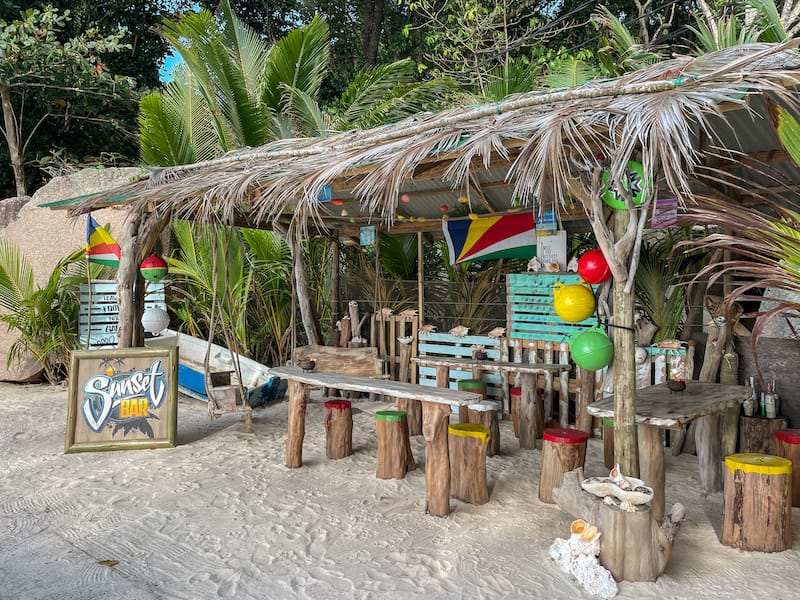 I opted for starfruit (carambola) juice and it was extremely delicious and affordable.
Hike along the Anse Caiman Trail
This easy trail is one of the best things to do in La Digue as it will guide you to different stunning beaches that have few visitors. It is a great escape from the crowds at Anse Source D'Argent!
Anse Caiman Trail is 3.15km (1.96 miles) and is classified as an easy trek.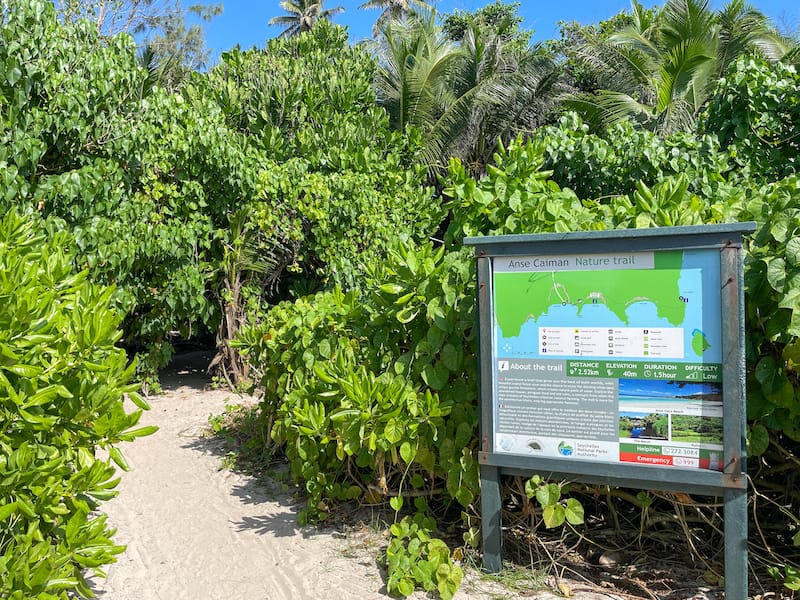 The elevation gain is not significant but there is a small amount of scrambling closer to Anse Cocos.
It is an out-and-back and some of the main sights along it are Grand Anse, Petite Anse, and Anse Cocos… all before arriving at Anse Caiman.
I never went the whole way on the trail and turned around after Anse Cocos as I spent way too long there.
Get Off-the-Path at Petite Anse Beach
A short distance from its sister beach, Grand Anse, Petite Anse Beach is located in southeastern La Digue and is a gorgeous, underrated beach!
It is 400m x 20m in size and has no coral reef to protect it, making it not the best swimming beach.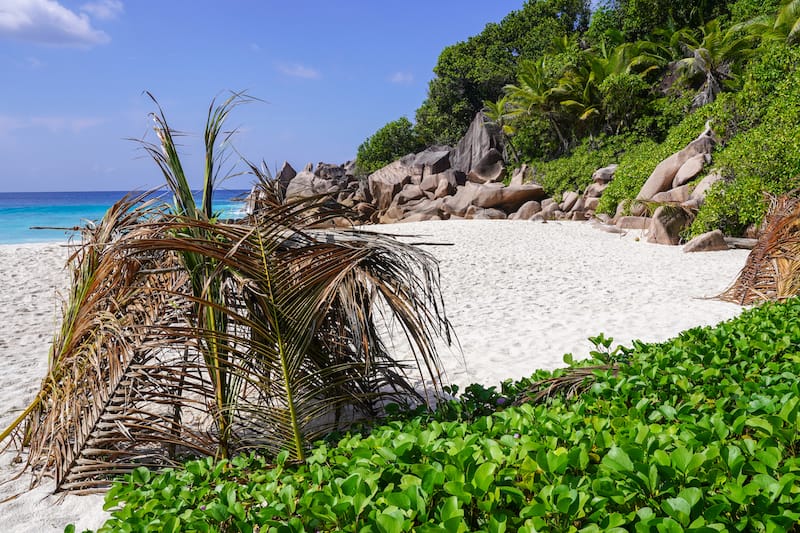 To get here from Grand Anse, it is about a 15-minute walk over a hill and you will find some driftwood shelters that offer protection from the sun.
If you are visiting the Seychelles with children, do not let them in the water at this beach. Petite Anse is known to have strong currents.
There are no facilities here, so if you need toilets or the restaurant, you will need to venture back to Grand Anse.
Where to Stay on La Digue
You will find plenty of fantastic options for accommodation on La Digue but the place I stayed at was absolutely fantastic.
I stayed at Chalets Danse Reunion, a group of individual chalets that were situated in gorgeous gardens in a centralized part of the island.
They offered us bikes for a super cheap price and our chalet had two floors, decent wifi, and even an equipped kitchen.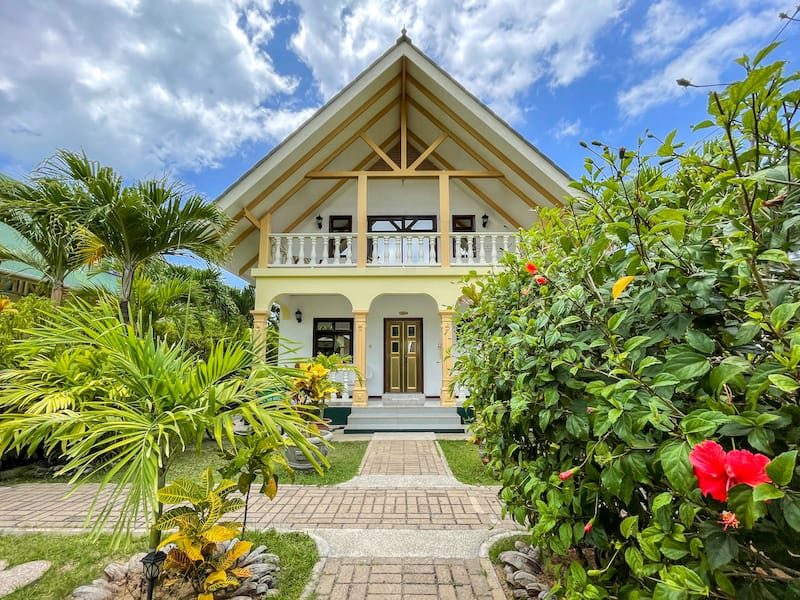 The interior was a little outdated, but when you're on an island with some of the world's most beautiful beaches, who cares?!
>> Click here to check chalet rates and availability
Did we miss any of the best things to do on La Digue? Let us know your thought and what to do on La Digue in the comments below. Thanks!
More Seychelles Travel Guides
Pin this La Digue Things to Do Guide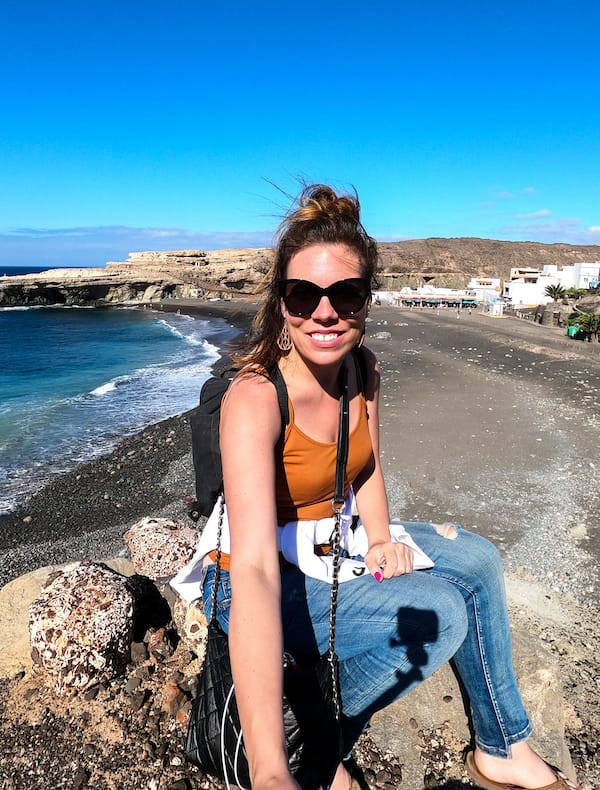 Megan is a travel blogger and writer with a background in digital marketing. Originally from Richmond, VA, she now splits her time between Frankfurt, Germany and Arctic Finland after also living in Norway, Armenia, and Kazakhstan. She has a passion for winter travel, as well as the Nordic countries, but you can also find her eating her way through Italy, perusing perfume stores in Paris, or taking road trips through the USA. Megan has written for or been featured by National Geographic, Forbes, Lonely Planet, the New York Times, and more. She co-authored Fodor's Travel 'Essential Norway' and has visited 45 US states and 100+ countries.