Are you searching for the best things to do on Mahé in the Seychelles? If so, keep reading as we do a deep dive into the best Mahé attractions, beaches, and more!
Are you planning your trip to the Seychelles last minute?
If youʻre booking your trip to the Seychelles last minute, we have you covered. Below are some of the top tours, hotels, and more!
Top Experiences and Tours in the Seychelles:
Places I stayed in the Seychelles:
Oceanic View Apartments (my lodging in Beau Vallon on Mahe)
Chalets Anse Reunion (my lodging on La Digue)
Chez Bea Luxury Villa (my lodging on Praslin)
Visiting the Seychelles independently? Be sure to book your rental car ahead of time to ensure availability!
Did we miss any significant Mahé landmarks or places to visit?
Let us know your favorite Mahé beaches, day trips, and things to do in the comments. Thanks!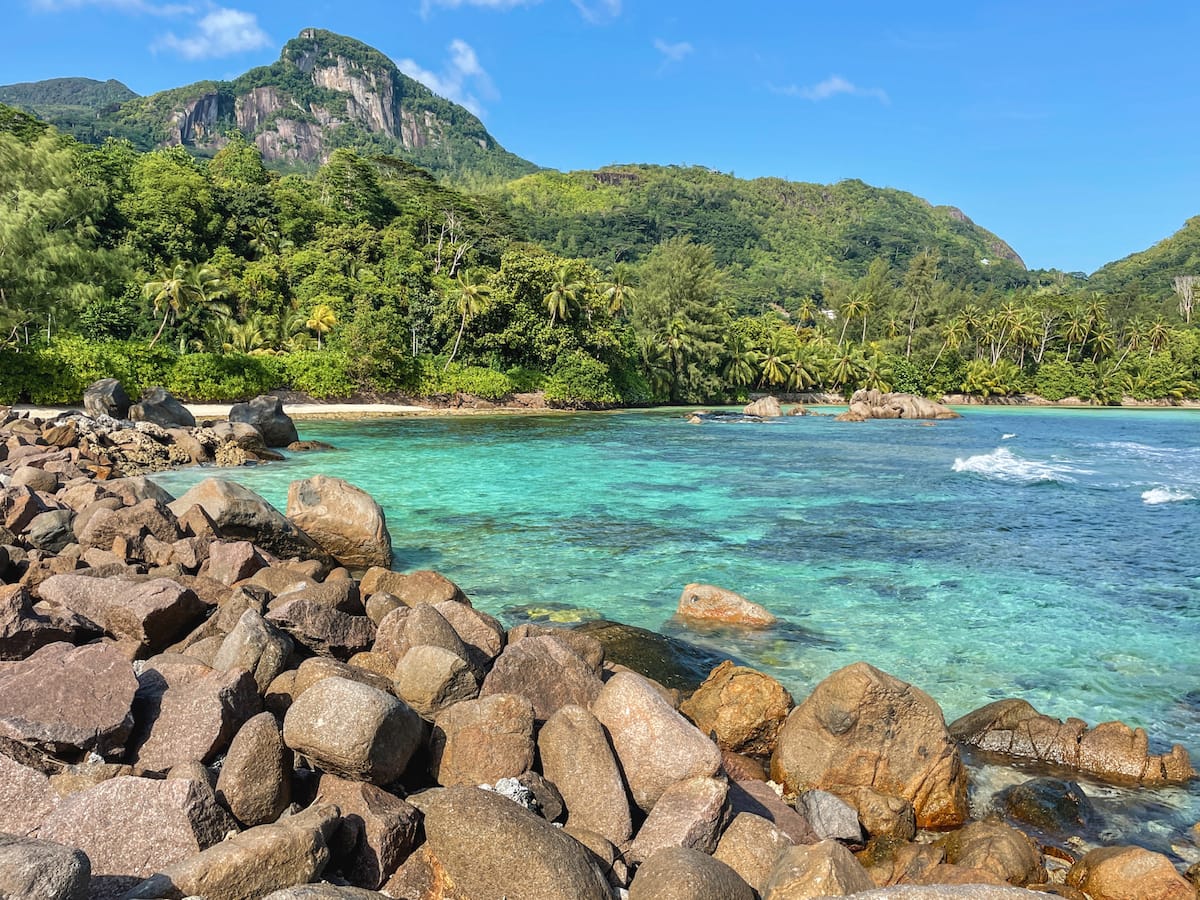 Best Things to Do on Mahé (Seychelles)
Relax at Anse Royale Beach
Find an escape to paradise and discover the hidden gems of the Seychelles at Anse Royale Beach.
Located on the southeast coast of the island of Mahé, this stunning beach offers crystal-clear waters, rich marine life, and the perfect blend of relaxation and adventure.
Anse Royale is a snorkeler and diver's paradise with diverse marine life, including colorful fish and coral reefs.
The shallow and calm waters make it ideal for safe swimming, but be aware of the strong currents behind the reefs and always swim with caution.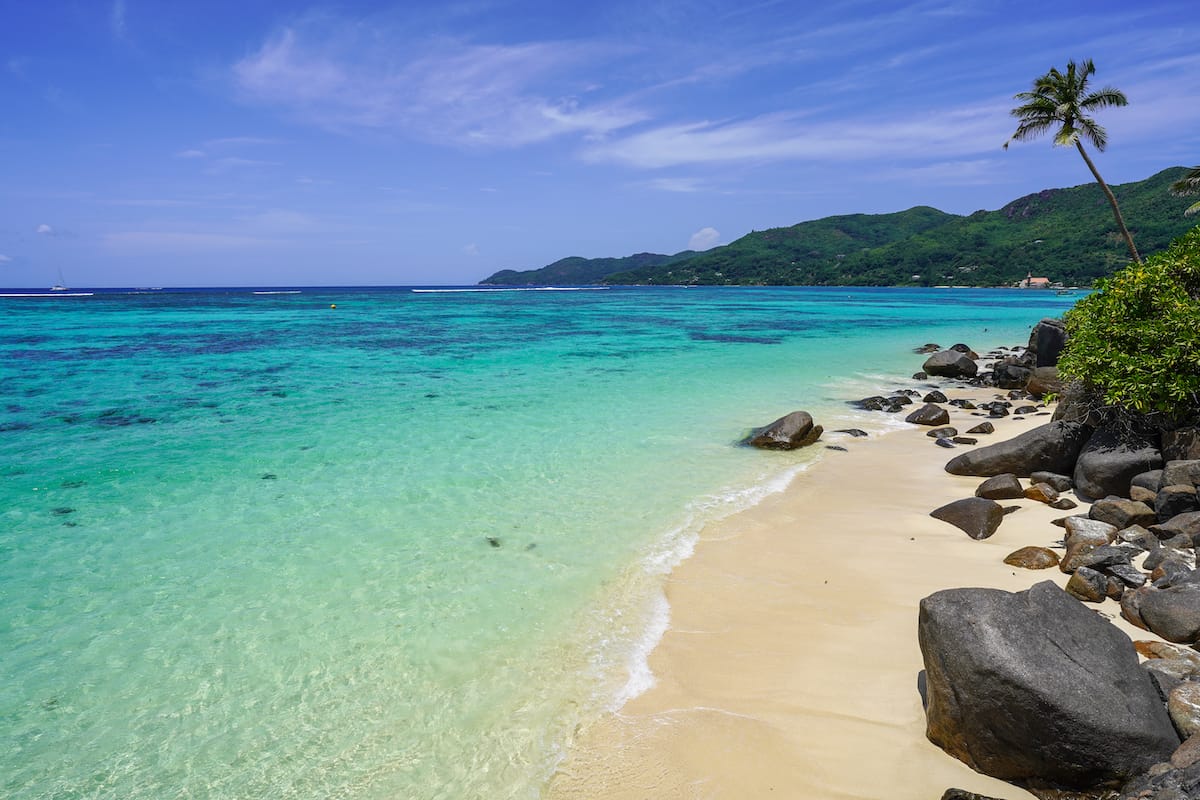 For thrill-seekers, the beach is also a windsurfer's haven, with the best conditions from June to September when the trade winds blow.
But Anse Royale is not only about watersports. It's also a great spot for foodies. Enjoy delicious Creole cuisine and tropical drinks at one of the beach's restaurants and cafes, like Kaz Kreol.
This place not only serves seafood dishes and wood-fired pizza but also Chinese specialties. And what's more, twice a week you can enjoy live performances by local bands during lunchtime.
If you're looking to explore marine life, you can find plenty of shops to rent equipment for snorkeling, scuba diving, or fishing. The beach can get crowded, but the stunning views and endless activities make it worth the visit.
Learn about Rum at the Takamaka Rum Distillery
If you want to catch the spirit of the Seychelles, experience exotic rum-tasting at Takamaka Rum Distillery, a perfect destination for rum lovers.
The tour will reveal the rum production process from locally grown sugarcane using traditional techniques and natural ingredients.
You will learn the history of the first Rum Arrangé brought by sailors to the island and their techniques for preserving fruits and spices in alcohol.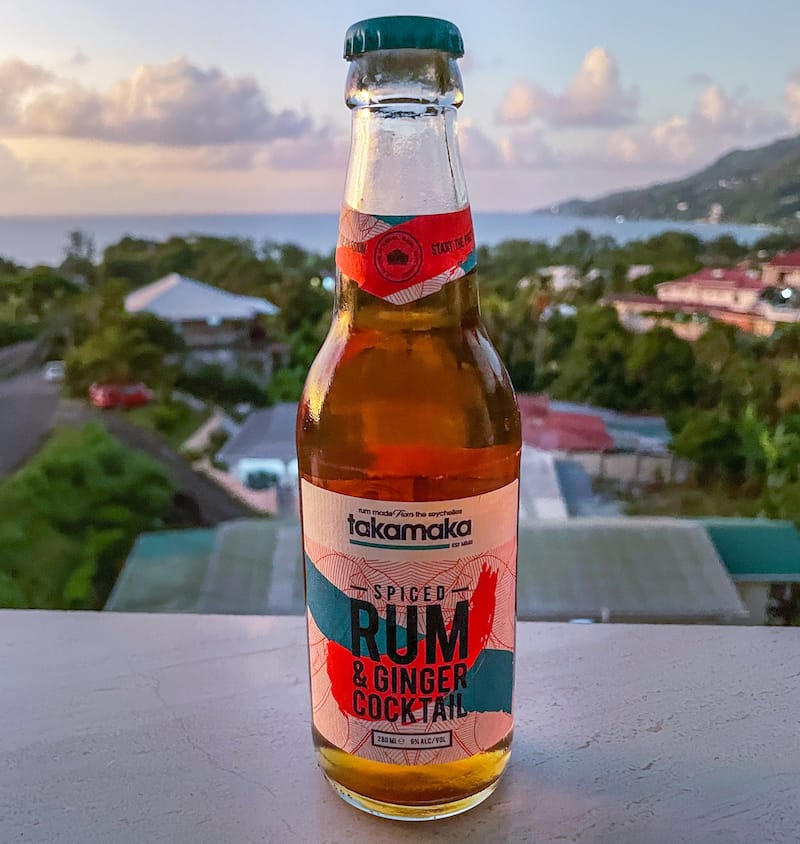 You will also have a chance to taste delicious spice-infused rums in an original wooden house now hosting a restaurant.
Whether you pair your dishes with pure Takamaka or cocktails, you will feel the heartwarming effect of rum.
The tours at Takamaka Rum Distillery are available from Monday to Friday at 11:00 a.m. and 1:30 p.m.
Hike to the Rock Pool (Ros Sodyer)
You will have difficulty finding Ros Sodyer on a Mahé map or travel guide because it is one of the best-hidden locations.
But with a private tour and an experienced guide, you have all the chances to find this gem. The geological formation on the rocky coast is a natural tidal pool that becomes an excellent swimming pool during low tide.
There are two ways to get to the pool. One way is to reach Anse Takamaka Beach, where you will find signs leading to the trailhead.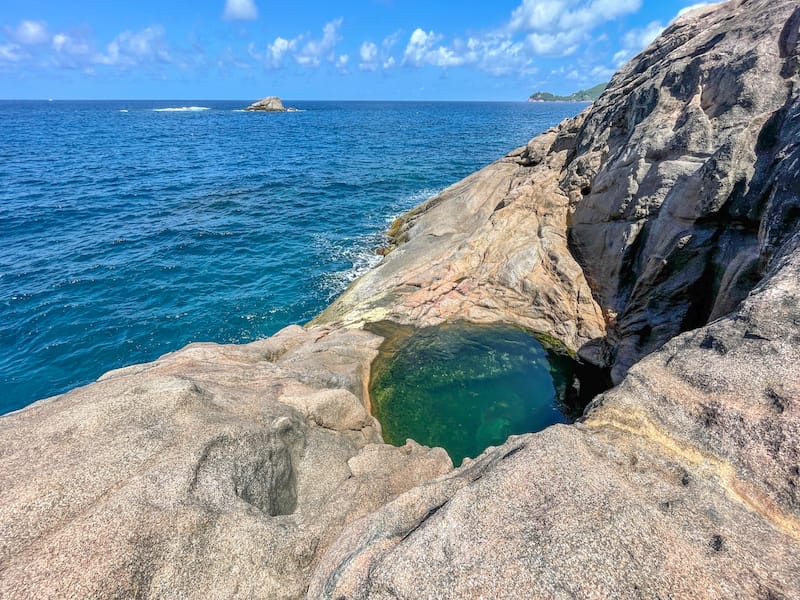 About an hour hike will take you through jungled sections and rocks, and at some point, you may feel you can get lost.
The safer and more exciting way to get to Ros Sodyer is a guided tour, where you can relax and enjoy nature without worrying about getting lost.
>> Click here to check the Rock Pool tour rates and availability
Visit the Seychelles National Museum of History
The National Museum of History, also known as the National Heritage Center, showcases the island's rich history, including its indigenous cultures and the impact of colonialism and slavery.
The museum, which occupies Victoria's colonial-era Supreme Court, showcases traditional Seychellois artifacts: costumes, traditional music, tools, and pottery, as well as photographs and documents that provide insight into the island's 300-year history.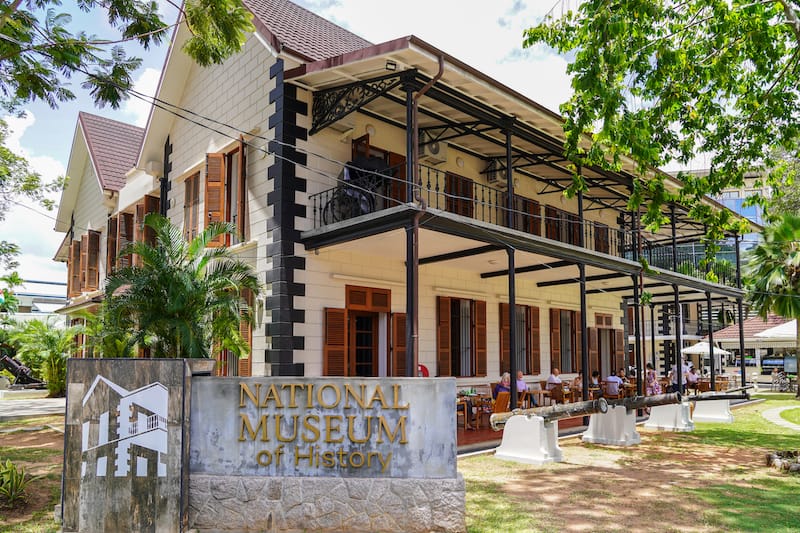 Visitors can also see a replica of a traditional Seychellois house, known as a "Case à Palme."
After extensive renovations, the National Museum of History is now one of the main attractions in Mahé. The National Museum of History is open from Monday to Saturday, except on public holidays.
Hang Out at Famous Beau Vallon
Beau Vallon Beach is a premier destination for visitors in Mahé. At over 2 kilometers in length, it boasts some of the most beautiful and clear waters.
With a well-developed infrastructure, Beau Vallon Beach offers beach cafes and restaurants, water sports equipment rentals, and shops.
For diving enthusiasts, the Ocean Dream Divers club offers guided trips to the most scenic coral reefs, where visitors can witness the island's colorful fish and other marine life.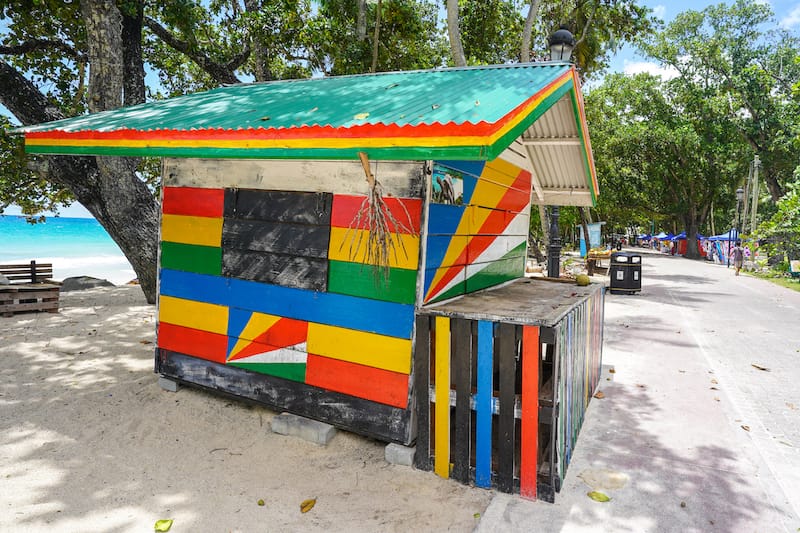 On the beachfront, the Boat House Restaurant is a must-visit for its mouth-watering Creole food and buffet with over 20 dishes, including grilled fish, chicken curry, and salads.
If you are looking for a more casual dining experience, the Beau Vallon Night Market on Wednesdays is a great option with a campfire, music, and a variety of local foods, including banana and breadfruit chips.
Hike the Morne Blanc Trail
The Morne Blanc Trail is a moderately challenging and strenuous hike on the island, with steep inclines and rocky terrain that requires good physical condition. It typically takes around an hour to complete the hike.
The nature trail starts on Sans Soucis Mountain Road, known for two other popular stops: Mission Lodge and Copolia Trail.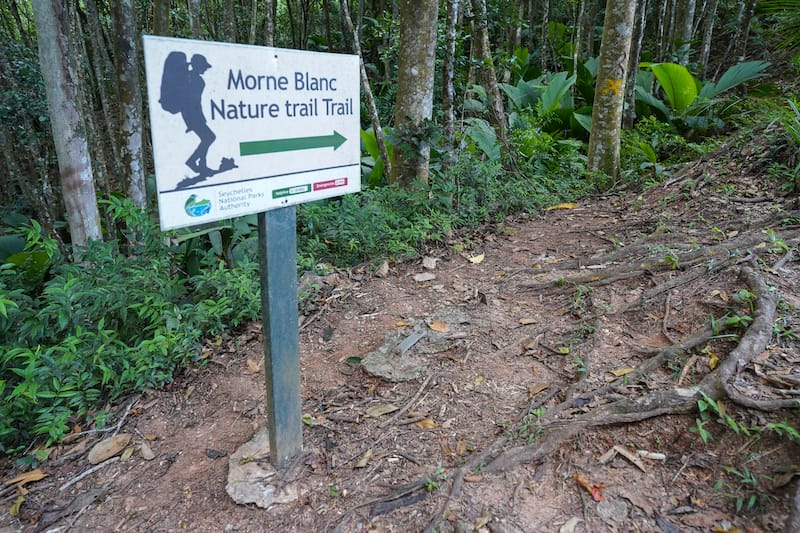 The elevation begins right away as the road winds through the tropical jungle. The epitome of your hiking is the Morne Black viewpoint, where you will have a breathtaking view of Mahé's western coast.
You will also enjoy the views of Therese and Conception Islands and Port Glaud Lagoon.
Chill Out at the Jardin Du Roi Spice Garden
Jardin Du Roi Spice Garden, also known as the King's Garden, is dedicated to growing and showcasing a wide variety of spices, fruits, and plants native to the Seychelles.
The old spice garden still swells with the aromas of nutmeg, cinnamon, and vanilla, which you can enjoy while wandering about the territory.
The lush green garden is located on the hill above Anse Royale Beach, stretching on a 35-hectare plantation in the style of traditional French spice gardens.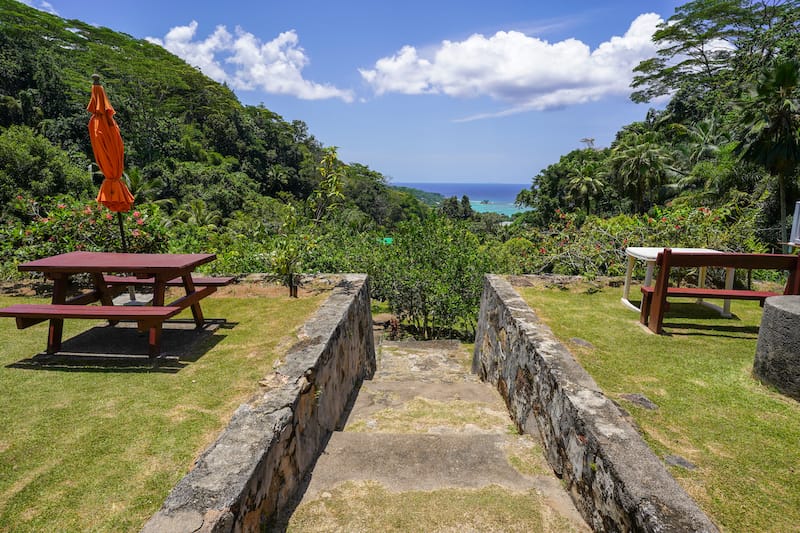 For a history tour of the plantation, you can book a guided tour in advance, visit the planter's house with a museum, and hike to the giant tortoises.
Finally, when you're done exploring all the paths, you can get a well-deserved rest and a tasty dinner at the on-site restaurant.
The dishes are finished with freshly collected spices and fruits. Before leaving, visit the Spice Shop to buy your favorite spices.
Hike along the Anse Major Trail
Anse Major is a popular hiking trail that takes you through diverse landscapes, including tropical forests, rocky cliffs, and pristine beaches. It is one of the most scenic and, at the same time, challenging hikes.
The trail starts at Anse Major beach and takes you to the top of the Anse Major hill with a panoramic view of the surrounding islands.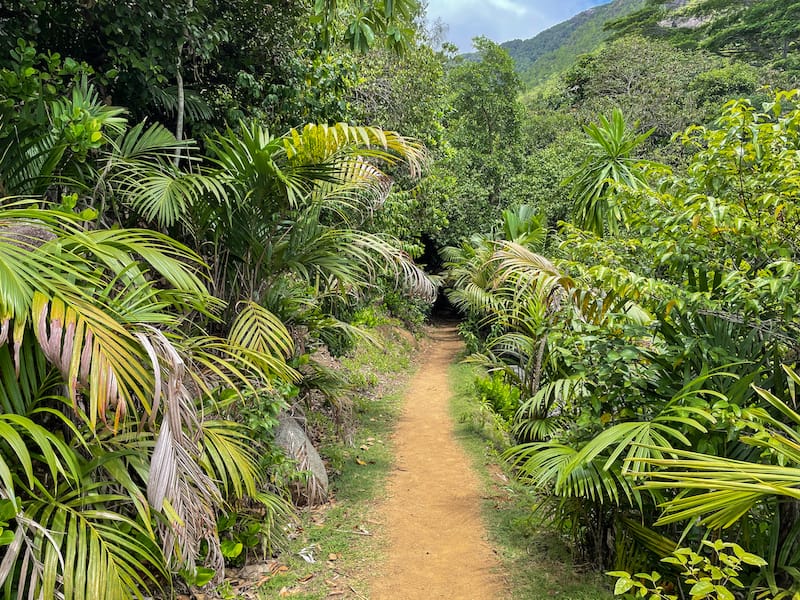 It can be closed during the rainy season, usually from January to April, because of the heavy rainfall that could cause landslides and make the trail dangerous to hike. It was open when I visited during this time, however.
You can take a self-guided tour or be part of a private tour with an expert guide who will lead you through the most beautiful natural highlights of the trails, opening to the best views of Anse Major beach.
>> Click here for a guided tour to Anse Major Beach
Stop by Baie Lazare Public Beach
Baie Lazare Public Beach is a beautiful spot on the island's southwest coast and is known for its white sand beach and turquoise water.
It is a half-moon bay with amazing scenery for the best photoshoot. The history of the beach is connected with the French explorer Lazare Picault and buried pirate treasures found by locals.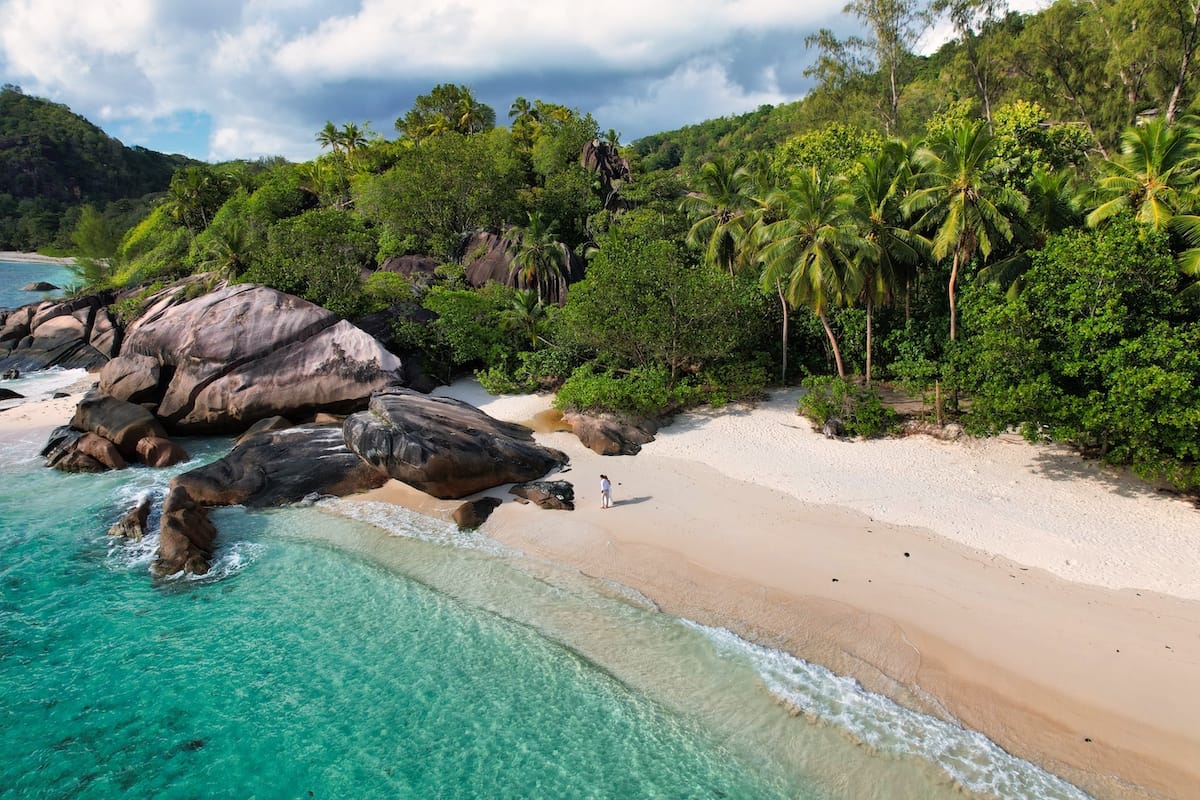 The relatively shallow waters are perfect for swimming and sometimes windsurfing. Seaweed is common here from June through September.
The sea bottom is mostly rocky, so swimming may not be comfortable, while snorkeling is an absolute delight here.
Walk the Copolia Trail
The Copolia Trail offers one of the island's best views while you move through the challenging 1.9-km out-and-back, exploring endemic forests.
With an elevation of 180 meters, you will end up at 500 meters on a plateau with fantastic views.
Along the way, you will discover numerous spice plants, including vanilla, cinnamon, and the pitcher plant, an endemic Seychelles species.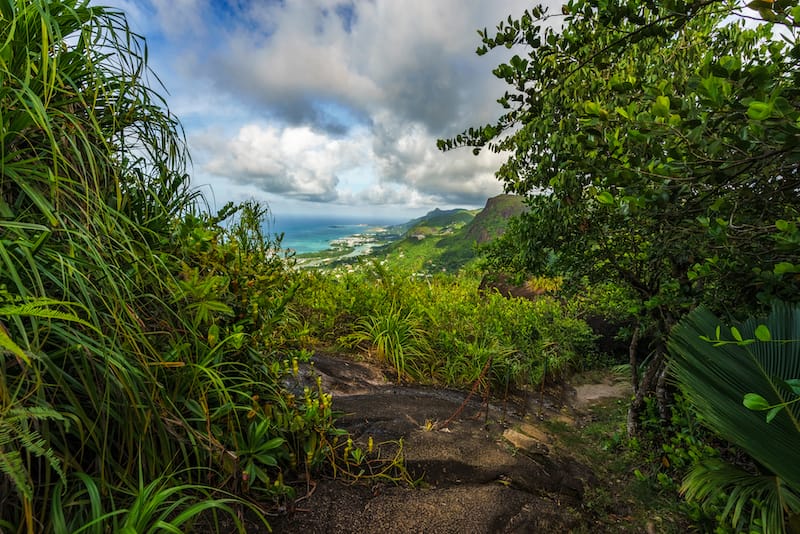 The trail starts just off the road with a sign you can't miss. This is in case you take a self-guided tour.
You can also take a private tour with an experienced guide who will show you the best spots in the jungle and indigenous animals. The tour also provides transfers from the Mahé hotel.
Have a Beachside Drink at Anse Intendance
Anse Intendance is a beautiful and secluded beach on the island's south coast. This beach is not as crowded as some other famous beaches on the island and offers a peaceful and relaxed atmosphere.
There are a few restaurants and cafes near the beach, but the main focus of this area is on natural beauty and outdoor activities.
Unlike other beaches, Anse Intendance doesn't have an offshore coral reef, and the ocean gets deeper quickly and becomes more dangerous between May and September during the southeast trade winds.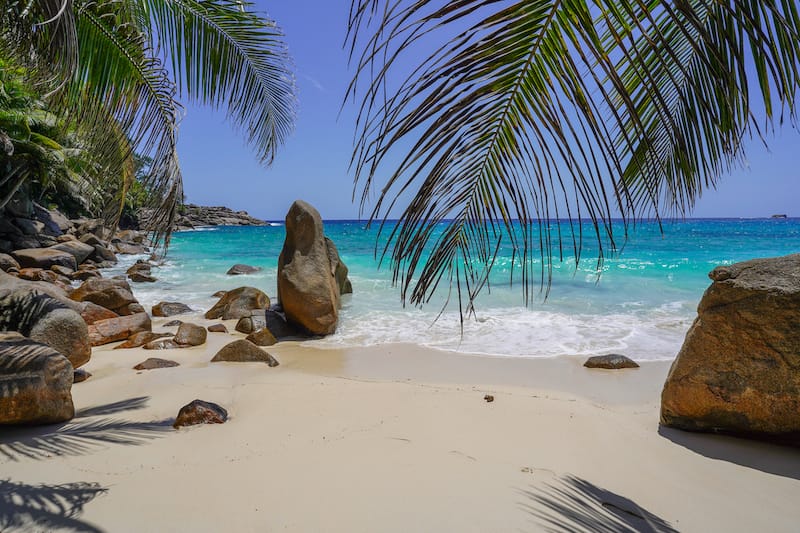 On the other hand, those winds attract so many surfers and bodyboarders, catching large waves.
Summer Bar, a takeaway restaurant and bar with tropical cocktails and a huge selection of always fresh fruits, is one of the beach's hot spots. Here you will enjoy the sunsets and laid-back vibes of the Seychelles.
Enjoy Lunch at La Gaulette Restaurant
La Gaulette restaurant is a lovely spot by the Baie Lazare public beach with traditional Creole food. The territory is small but very cozy, with an outdoor terrace and great views of the ocean.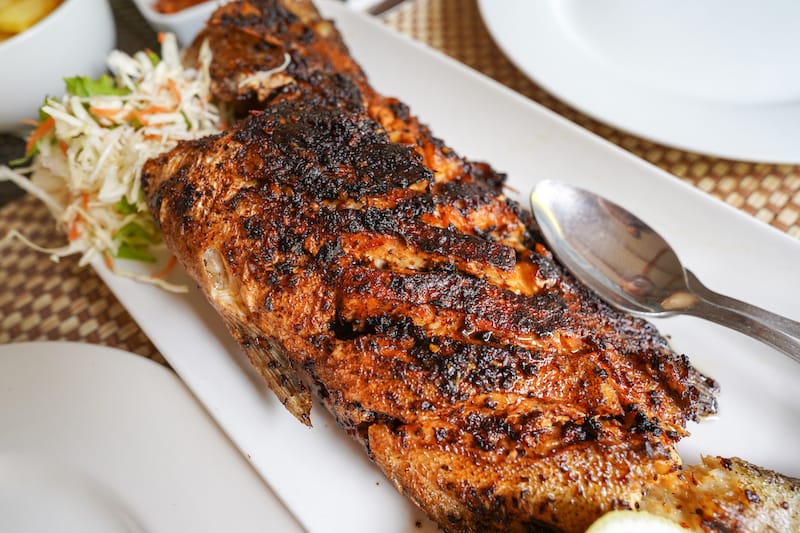 Your perfect dinner in La Gaulette should include fish and chips, fish curry, signature fish fillet with tropical salsa, and seafood pasta topped with banana coconut nougat dessert.
Of course, don't forget about tropical cocktails because enjoying some is one of the best things to do in the Seychelles!
The restaurant is closed on Mondays.
Check Out Anse Forbans Beach
Anse Forbans is a beautiful and secluded beach on the island's northeastern coast.
Just like most beaches nearby, including Turtle Bay and Anse aux Pins, Anse Forbans is protected from the open ocean by offshore coral reefs, making the beach a calm bay with shallow water and no sharp drop-offs.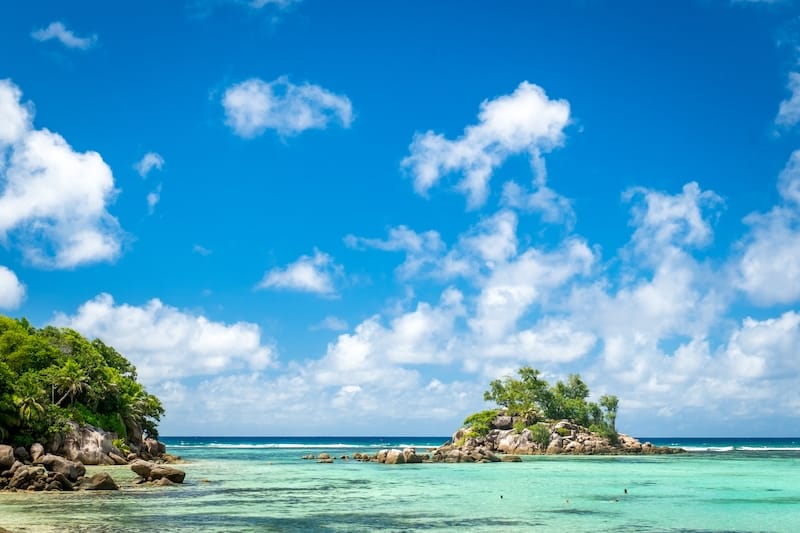 Still, at high tide, part of the beach disappears.
There are several high-class hotels and accommodation options along the coastline, making Anse Forbans quite a lively beach for swimming, snorkeling, and diving with a wide variety of fish and coral.
Explore the Sir Selwyn-Clarke Market in Victoria
The Sir Selwyn-Clarke Market in Victoria is definitely the top choice for those looking for a truly authentic experience in the Seychelles.
This bustling hub is the perfect destination for any traveler looking to experience the local culture and cuisine.
Located in the heart of Victoria, the market is named after Sir Selwyn Clarke, the Governor of the Seychelles during the colonial era.
As soon as you enter the market, you'll be greeted by the vibrant colors and delicious aromas of fresh fruits and vegetables: papayas, pineapples, coconuts, and many more.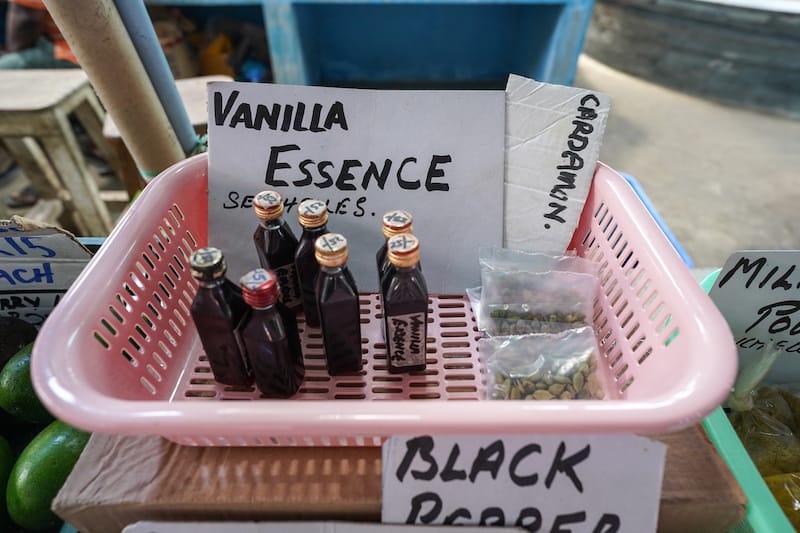 The market is also a great place to find a variety of spices, including cinnamon, nutmeg, saffron, and vanilla, all grown on the island. The counters with seafood—octopus, squid, and tuna—deserve special attention.
But the Sir Selwyn-Clarke Market is not just about shopping. It's also a great place to sample the local cuisine.
You can find a variety of street food stalls selling traditional Seychellois dishes such as fish curry, rougaille, and dhal. The market is open Monday through Friday from early morning until 5 p.m.
Take a Day Trip to Moyenne and St. Anne Marine Park
Moyenne and St. Anne Marine Park are two beautiful spots in the Seychelles, perfect for a day trip. They are just a short boat ride from the main island of Mahé and offer a chance to experience the stunning natural beauty of the Seychelles.
Moyenne Island is a small, privately owned island that was declared a national park (the world's smallest park) and is home to over 16,000 exotic animals and plants.
During your visit, you will see giant tortoises, fruit bats, and a wide variety of bird species.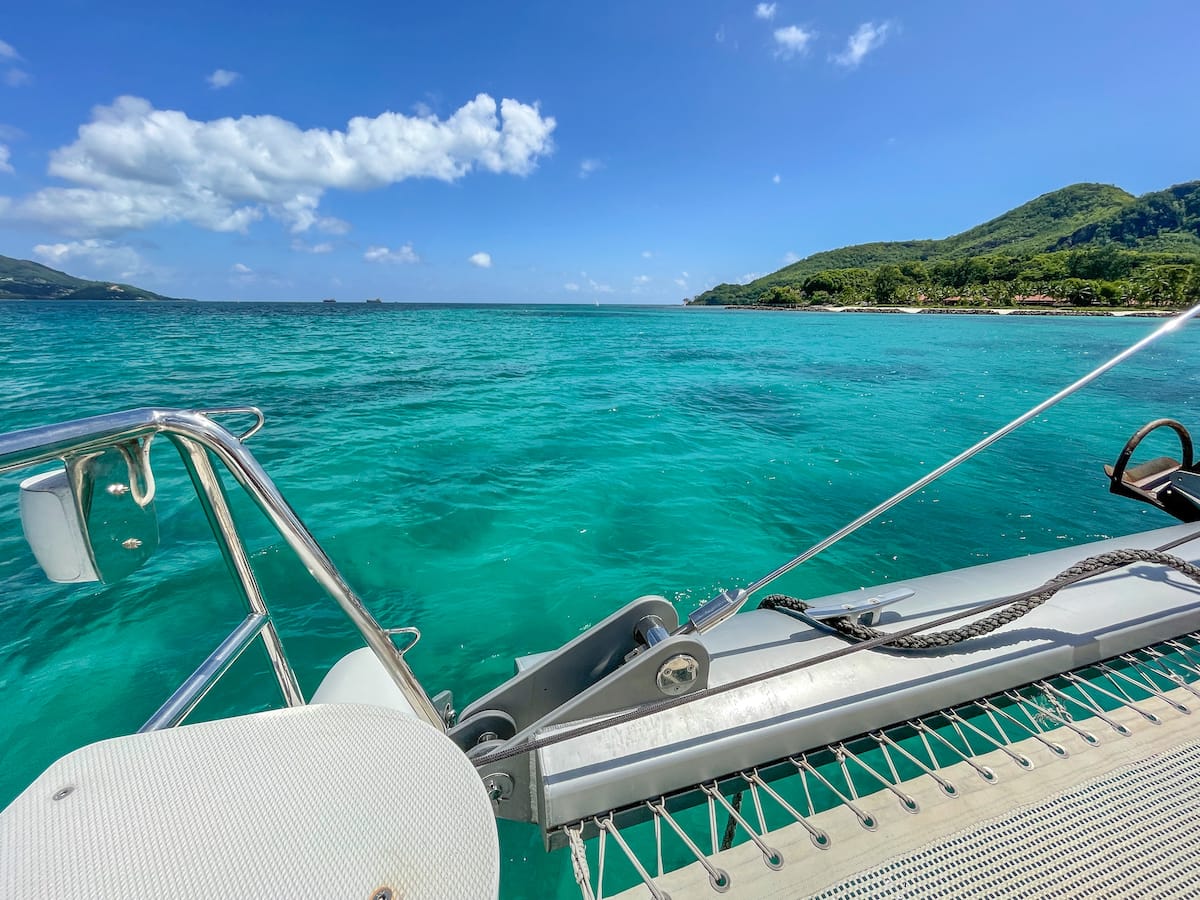 St. Anne Marine National Park is another beautiful spot in the Seychelles. It is a group of six islands protected by the government as a marine park.
The islands offer some of the best snorkeling and diving opportunities in the Seychelles, with a wide variety of coral and fish species to see.
The best way to explore both destinations is to take a private day trip with transportation and an expert guide to show you around the islands.
You will have lunch at the Jolly Roger restaurant on Moyenne and have enough time to explore the underwater world.
>> Click here to book a day trip to Moyenne and St. Anne Marine National Park
Stroll through the Victoria Botanical Gardens
The Victoria Botanical Gardens is a beautiful and historic green heritage established in 1901, featuring a variety of tropical plants, trees, and monuments.
Only a 20-minute walk from the city center and you will find yourself in a green paradise.
The first thing you see in the gardens is Coco de Mer, the biggest nut and most iconic plant in the Seychelles, planted in 1956.
Walk to the western corner to discover a Guangzhou Chinese Garden, an authentic garden with sculptures of the Five Rams, orchids, bamboo, and Hero tree from Guangzhou.
Another Asian-themed garden is the Thai garden, which features exotic plants from Southeast Asia, such as orchids, sweet basil, limes, and others.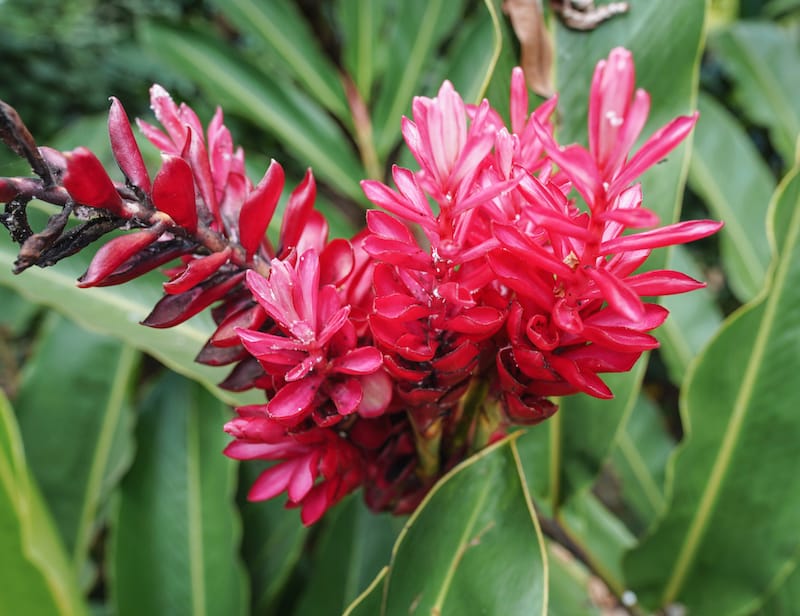 When exploring the garden, keep an eye out for giant tortoises; they are one-of-a-kind creatures that you can get close to and admire.
The Victoria Botanical Gardens has several entrances. The main entrance is located on Independence Avenue, opposite the National Museum of History.
Another entrance is located on Mont Fleuri, near the Seychelles Tourism Academy. There is also a pedestrian entrance located on the corner of Victoria Botanical Gardens and Mont Fleuri.
You can also enter the gardens from the back entrance on the road that leads to the Botanical Garden.
Visit Glacis Beach (and the Machabee Rockpool)
Glacis Beach is a secluded spot on the island renowned for its clear waters and majestic mountain views. The beach is divided into two parts by rock formations.
Most visitors are guests of Bliss Hotel, and if you are not, you will have to ask permission to cross the hotel's grounds to reach the beach.
The water is not protected by a coral reef, making it potentially dangerous during high tide. However, snorkeling is a popular activity at the beach.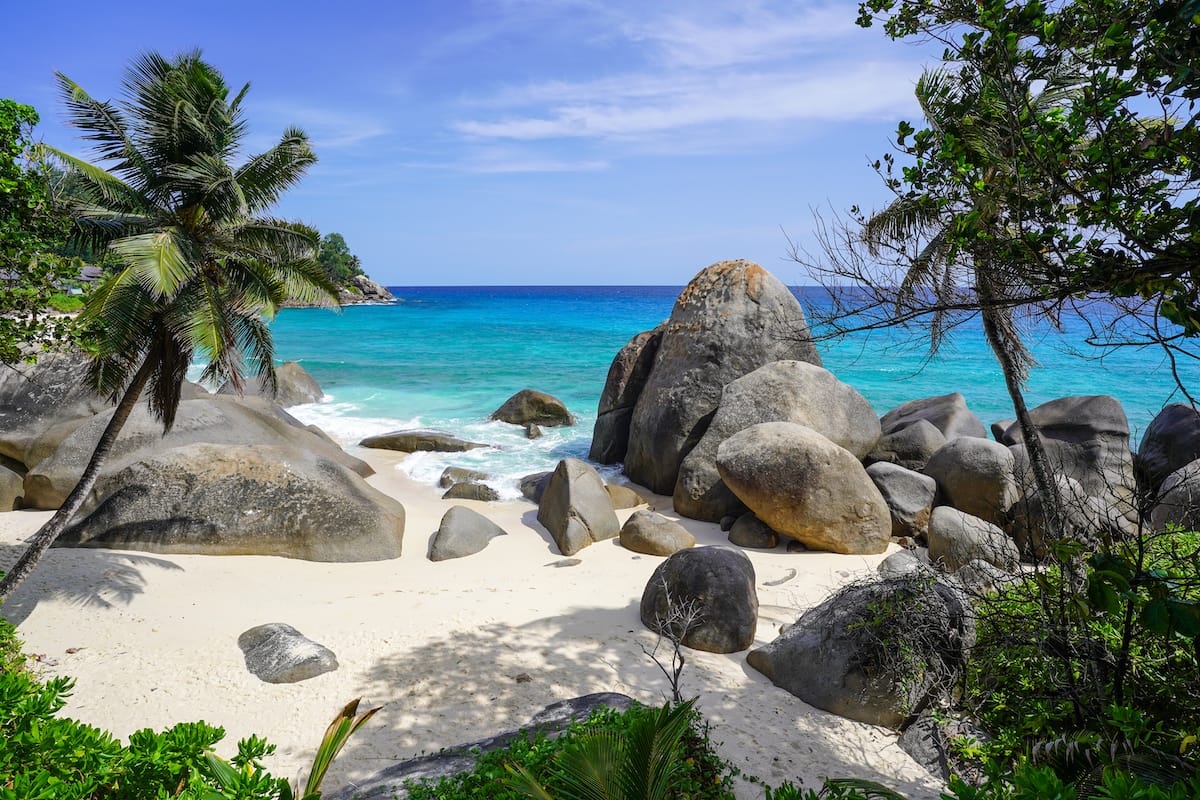 From November to March, high tides bring seaweed to the shore and create deeper waters and waves.
Another must-see spot next to Glacis Beach is Anse Machabée Beach and Machabee Rockpool, a natural seawater pool surrounded by granite rocks. This beach is only accessible during low tide.
Admire the Sauzier Waterfall
The Sauzier Waterfall, located deep within the Morne Seychellois National Park, is a true natural wonder to immerse yourself in the lush greenery.
Keep an eye out for the Seychelles magpie robin and the Seychelles paradise flycatcher as you make your way to the waterfall. Once you arrive at the waterfall, the view is truly breathtaking.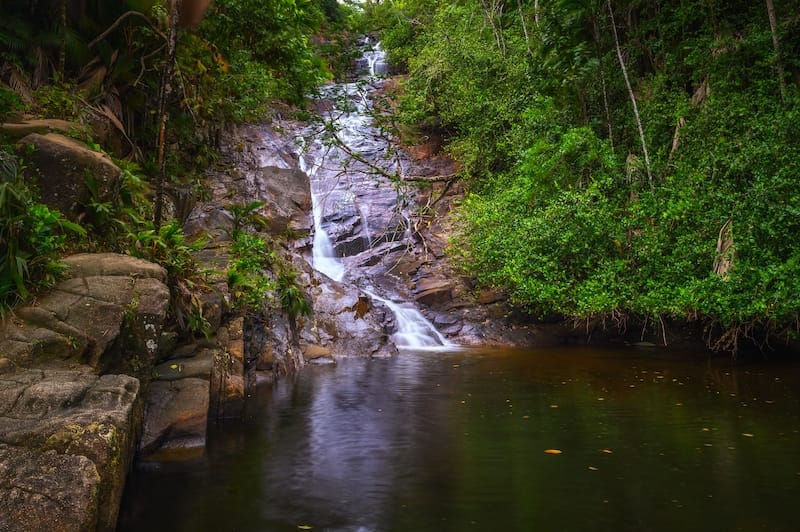 The waterfall is surrounded by lush vegetation, and the sound of the water cascading down the rocks is a soothing background noise that will make you feel like you are in paradise.
Take a dip in the crystal-clear pool at the waterfall base and feel the cool water refresh your body and mind.
The waterfall is located in Port Glaud. To get there, you will take a 5-minute hike through the nature trail from Port Glaud village. It is best visited during the rainy season when the waterfall is at its full flow.
Customize Your Own Mahé Trip
Creating your own Mahé trip is the perfect way to experience the island's unique culture, stunning beaches, and vibrant atmosphere. With a personal guide, you can plan your tour itinerary to best enjoy the Seychelles.
Explore the island's natural beauty by taking a hike in Morne Seychellois National Park or relaxing on the beach at Anse Royale.
Take a snorkeling or diving excursion to discover the island's rich marine life, or try your hand at windsurfing at Beau Vallon.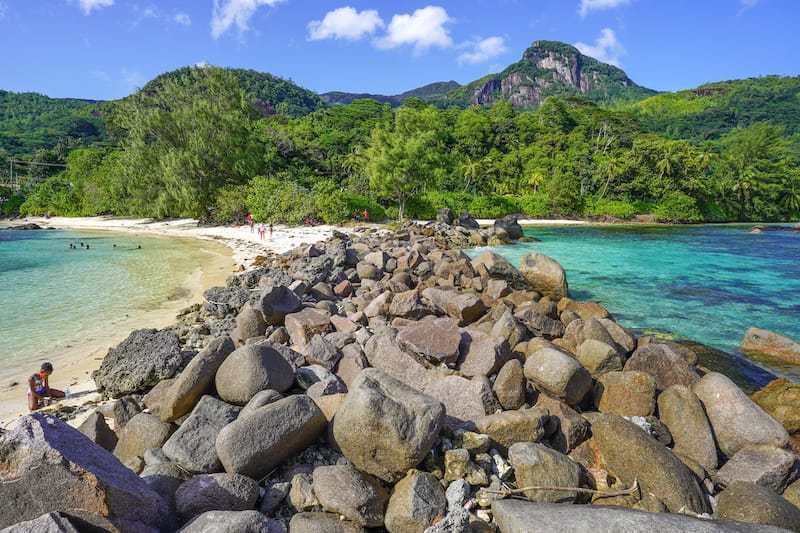 Visit the island's capital, Victoria, where you can shop for local crafts, sample the delicious Creole cuisine, and visit historic sites like the Clock Tower and Botanical Gardens.
Finally, don't forget to include some downtime in your itinerary to simply relax and soak up the island's laid-back atmosphere.
>> Click here to customize your own Mahe day trip
Take a Day Trip to Praslin and La Digue
Experience the true beauty of the Seychelles with a day trip to Praslin and La Digue. This tour will take you on a journey through some of the most stunning natural wonders the islands have to offer.
Your first destination is Praslin Island and the Valle de Mai, home to the Coco De Mer Palm and the Black Parrot, two of the world's most unique and endangered species.
Next, head to the famous Anse Lazio beach, known for its turquoise waters and powdery white sands.
As you continue your journey, discover the island's history by visiting a former coconut and vanilla plantation. Learn about the industry that once dominated the islands and see how it has shaped the Seychelles' culture and economy.
The tour will also take you to Anse Source D'argent on La Digue, renowned for its stunning granite formations and clear waters, perfect for swimming and snorkeling. Visiting is one of the best things to do in La Digue!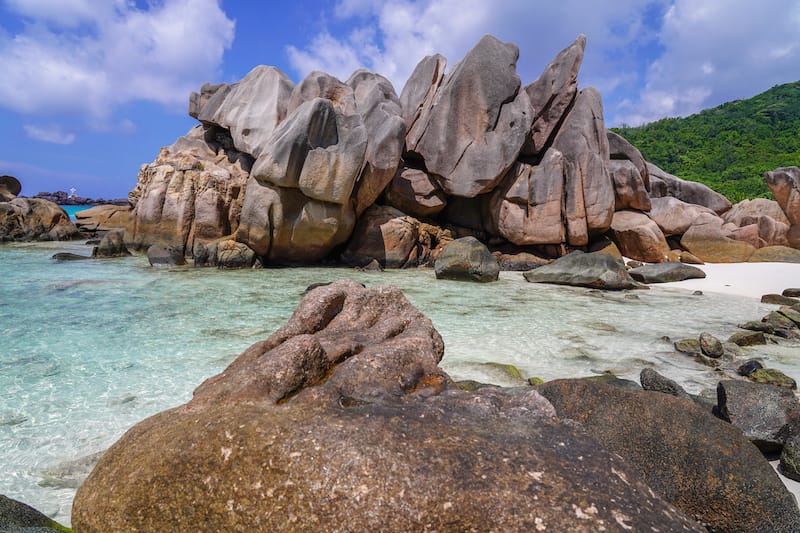 Lastly, the Veuve Reserve is a must-see for bird-watchers, as it is home to the rare paradise flycatcher and other endemic species.
>> Click here to book a day trip to La Digue and Praslin
Get a Bird's Eye View at La Misere Viewpoint
La Misere Viewpoint is a popular tourist spot to enjoy a panoramic view of the island's rugged landscapes and the Indian Ocean.
You will capture fascinating views of Victoria city, Beau Vallon Bay, beautiful Eden Island, and Glacis village.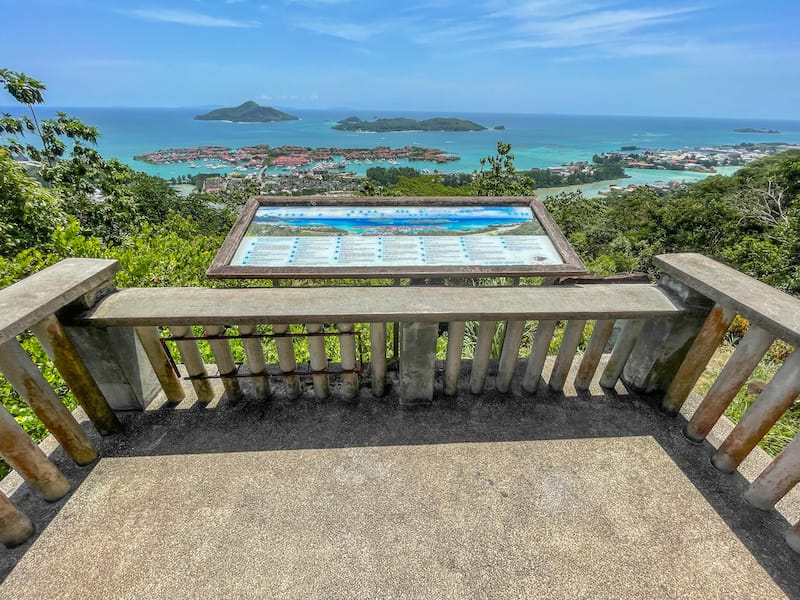 The viewpoint is located on a high hill, so you'll have to take a short 30-minute hike from the nearest parking area.
Plan your visit to the often crowded destination early in the morning or even at sunrise to ensure an enjoyable experience.
Take a Trip with Blue Sea Divers
The Blue Sea Divers Center, certified by SSI, is in the perfect location to take advantage of the best dive spots on the island.
It is located right on Beau Vallon Beach, next to the marine reserve, offering easy access to the most beautiful diving sites on the island.
The center organizes daily tours from Bay Ternay Marine Reserve, taking you on a 10-minute cruise to one of the most beautiful dive spots on the island. You will snorkel with turtles, and dive to see corals, tropical fish, and eagle rays.
Before diving, you will take an educational course with expert instructors. If you are skilled enough, you can become a certified diver by taking a 5-day master course.
Explore Victoria on a City Tour
Take a stroll through the vibrant streets of Victoria, the capital of the Seychelles, and discover the island's rich culture and history.
With a 4-hour guided tour of Victoria, you'll experience the city like a local, from the bustling markets to the tranquil gardens.
Start your tour by visiting the Codevar building, where you can shop for the famous Creole gold and other traditional crafts.
Next, head over to the Sir Selwyn Selwyn-Clarke Market and indulge in the local flavors of the Seychelles, with fresh produce, seafood, and a wide variety of spices.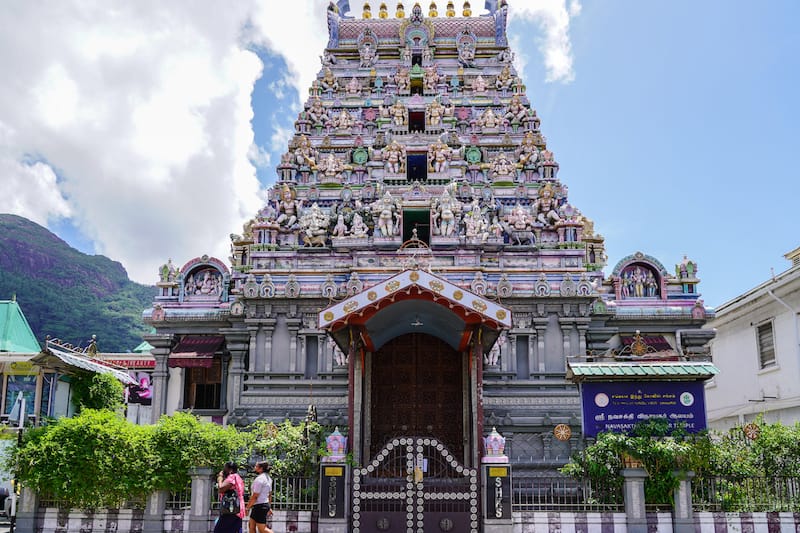 Explore the city's religious heritage by visiting the Immaculate Conception Cathedral, a Roman Catholic church, and St. Paul's Cathedral, an Anglican church. Climb to the top of the Clock Tower and enjoy the view of the city.
Finally, visit the Botanical Gardens at Mont Fleuri, a historical monument that boasts a wide variety of tropical plants, exotic gardens, and monuments.
With so much to see and do, Victoria is a must-see for any traveler visiting the Seychelles.
>> Click here to book a tour (and check rates!) of Victoria
Have Dinner at Marie Antoinette Restaurant
If you are looking for an exceptionally authentic dining experience, you should definitely consider the Marie Antoinette restaurant. The story of the restaurant begins with its colonial-style building.
The 19th-century La Grand Trianon is one of the few buildings that has kept its original design with a high roof, wooden staircase, and floors.
The building was declared a national monument of the Seychelles. Pay attention to the restaurant walls; they are all covered with notes and warm wishes from guests. Maybe you will be offered the chance to leave your message.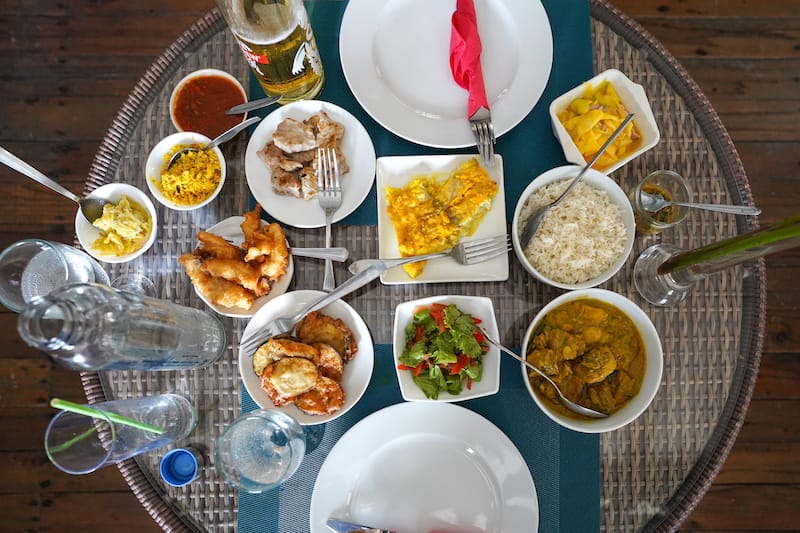 What about food? Traditional Seychellois food is made exclusively from local organic ingredients. The quality hasn't changed since its opening, but they have got some great updates: super-tasty tapas, tuna steak, golden apple, aubergine fritters, and more.
In fact, if you're daring enough to try the fruit bat curry, they've got it (seasonally) on the menu. I didn't try it.
You will enjoy your meal surrounded by a light atmosphere with soft notes of jazz and house music.
The restaurant is divided into three sections: an indoor area for fine dining, another zone for special events, and an outdoor beer garden for crowded parties.
Watch Live Music at Greenhouse Restaurant
Enjoying beach time is twice as unforgettable at Greenhouse, a restaurant that presents authentic Cajun and Creole cuisine in an unsophisticated manner.
The huge menu includes not only local delicacies but also pizzas you've probably missed, quesadillas, and hamburgers. For main dishes, you should definitely taste tuna steak, grilled octopus, and smoked fish salad.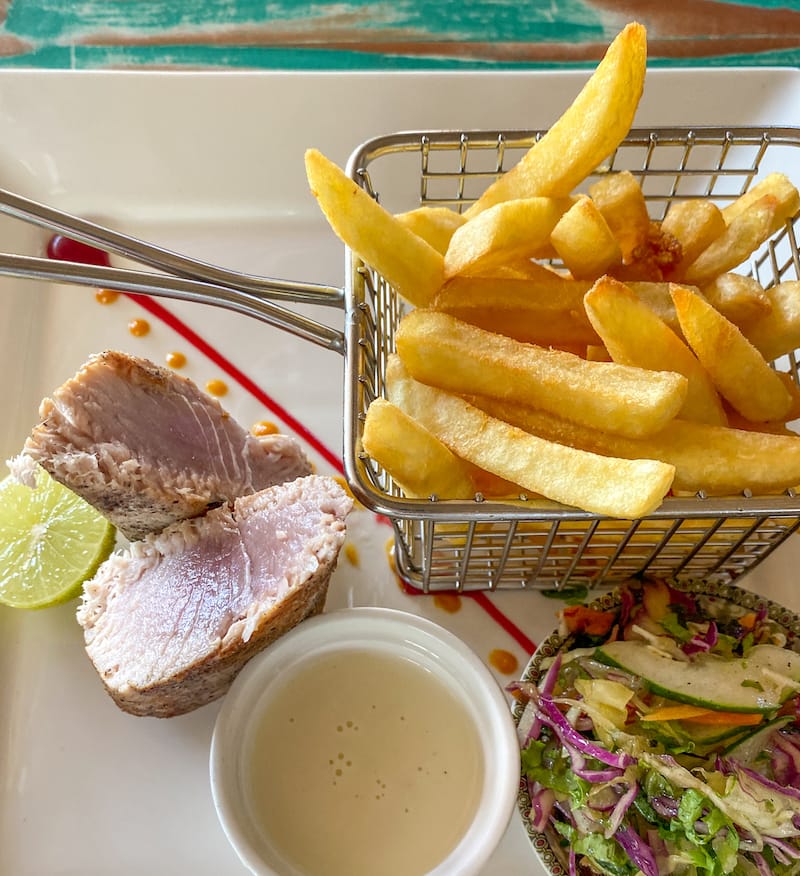 Besides tasty cuisine, reasonable prices, and a super location on the beach, Greenhouse regularly hosts local bands performing live. Check the dates for upcoming events and make sure to book a table.
Where to Stay in the Seychelles
If you're looking for the best accommodation in the Seychelles (and on Mahe!) you can see the three places I stayed across the islands below:
Oceanic View Apartments (my lodging in Beau Vallon on Mahe)
Chalets Anse Reunion (my lodging on La Digue)
Chez Bea Luxury Villa (my lodging on Praslin)
Did we miss any amazing things to do on Mahé Island? Let us know what to do on Mahé in the comments. Thanks!
More Seychelles Travel Guides
Pin this Mahé Things to Do Guide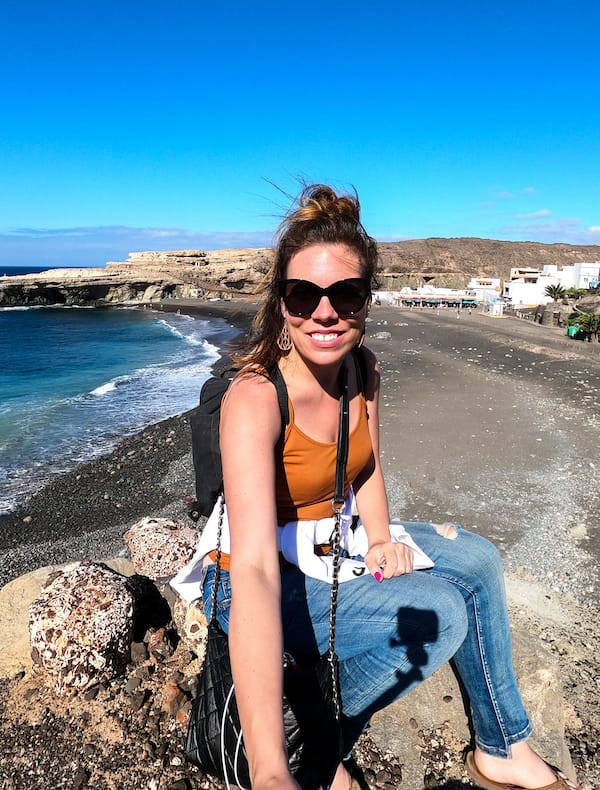 Megan is a travel blogger and writer with a background in digital marketing. Originally from Richmond, VA, she now splits her time between Frankfurt, Germany and Arctic Finland after also living in Norway, Armenia, and Kazakhstan. She has a passion for winter travel, as well as the Nordic countries, but you can also find her eating her way through Italy, perusing perfume stores in Paris, or taking road trips through the USA. Megan has written for or been featured by National Geographic, Forbes, Lonely Planet, the New York Times, and more. She co-authored Fodor's Travel 'Essential Norway' and has visited 45 US states and 100+ countries.