Are you looking for the best things to do in the Seychelles? This guide breaks it all down for you – keep reading!
Are you planning your trip to the Seychelles last minute?
If youʻre booking your trip to the Seychelles last minute, we have you covered. Below are some of the top tours, hotels, and more!
Top Experiences and Tours in the Seychelles:
Places I stayed in the Seychelles:
Oceanic View Apartments (my lodging in Beau Vallon on Mahe)
Chalets Anse Reunion (my lodging on La Digue)
Chez Bea Luxury Villa (my lodging on Praslin)
Visiting the Seychelles independently? Be sure to book your rental car ahead of time to ensure availability!
The Seychelles are a bucket-list destination for so many people… and rightfully so! The islands are truly epic and worthy of the long flight to get there!
This guide takes you around the top destinations as you discover what to do in the Seychelles.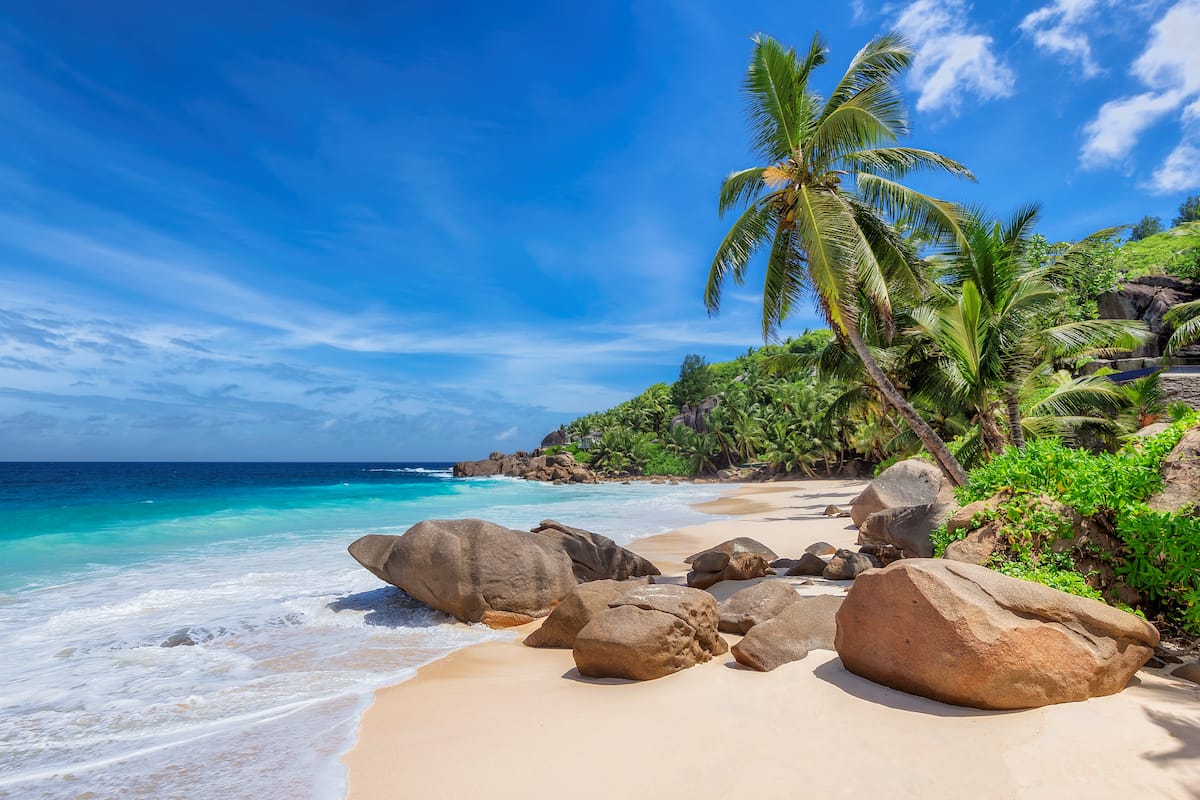 We give you some day tour options, as well as places to eat on different islands. And, we try to include as many Seychelles travel tips as possible throughout!
Did we miss any of the best landmarks and attractions in the Seychelles?
Let us know your favorite things to do in the comments! Thanks!
Best Things to Do in the Seychelles
Go Snorkeling at Curieuse, St. Pierre, & La Farine Islands
Location: Praslin
This tour was my favorite one that I took in the Seychelles, mostly because the company (Geoli Charters) was SUPER professional and customer-focused. They really made the day unforgettable!
At the start of the Praslin tour, you will be picked up from your hotel and transferred to the boat launch point. After meeting the crew, your adventure begins!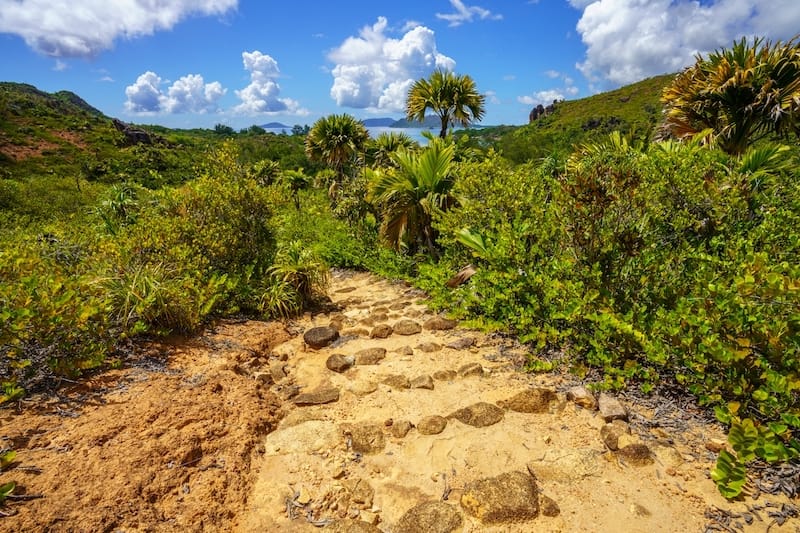 The tour includes a 45-minute to 1-hour snorkeling break at one of the selected locations. After snorkeling, you will head to a beach on Curieuse Island, where you will enjoy a 45-minute guided tour of the island's nature trail.
Then, you will have a Creole BBQ lunch and a local beer on the other side of the island while surrounded by giant tortoises.
After leaving Curieuse Island, you will go to St. Pierre to take photos before finishing your tour at Anse La Farine for a final snorkeling stop.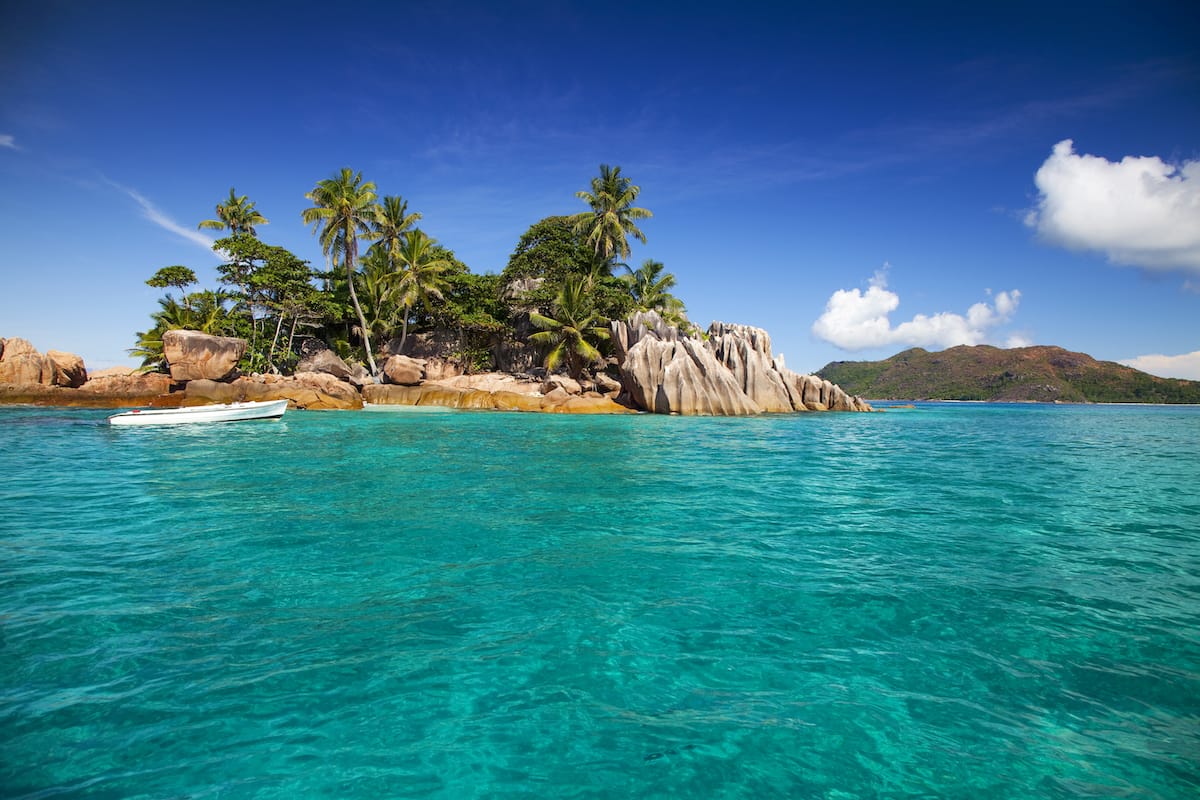 The day ends with a Takamaka rum cocktail before you return to the dock and your hotel.
I can not recommend this tour enough!
>> Click here to check tour rates and availability
Crystal Kayak at Anse Source D'Argent
Location: La Digue
I was excited to go kayaking in the Seychelles as it is one of my favorite activities to do while traveling. And I heard this was one of the best things to do on La Digue!
I found a guided tour by Crystal Water Kayaks at Anse Source D'Argent beach, which offers a glass kayaking experience to Robinson Crusoe Beach. This was the filming location for the movie Robinson Crusoe in 1988.
The 3-hour tour is dependent on the weather and tides, so the departure time varies from 9 AM to 4 PM. However, it is not advisable to book this tour if you are arriving and departing from La Digue on the same day!
During the tour, we spent an hour kayaking and exploring fish nurseries and different types of coral.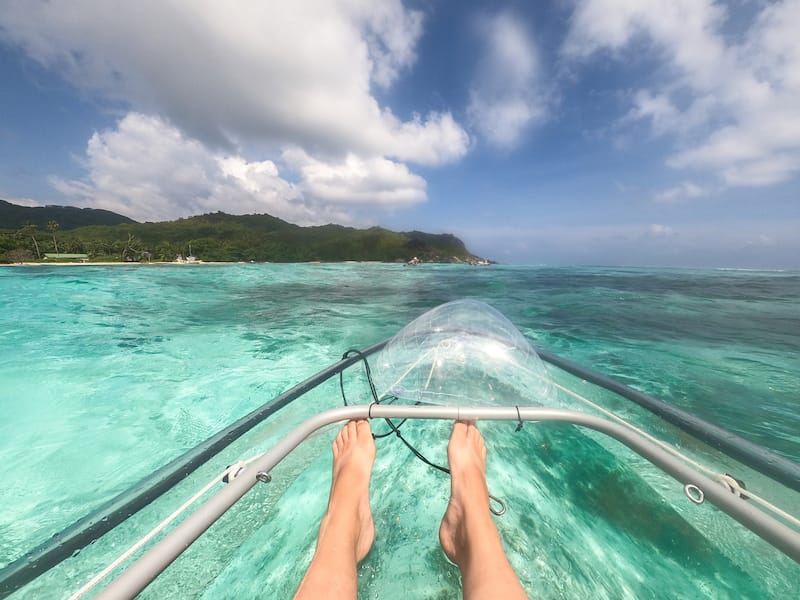 The last stop of the tour was Anse Pierrot, also known as Robinson Crusoe Beach, where we had the opportunity to swim, explore caves, and learn how to open a coconut.
Just a couple of things to keep in mind for this tour: the cost of the admission fee for L'Union Estate is not included in the price of the tour (and you will need to pass through the Estate to get to the kayaking center).
Also, make sure to confirm the tour 3-5 days in advance on Whatsapp – they will send all the details so it's easy to do this. If the weather causes the tour to cancel, they will offer a refund, reschedule, or another alternative of similar value.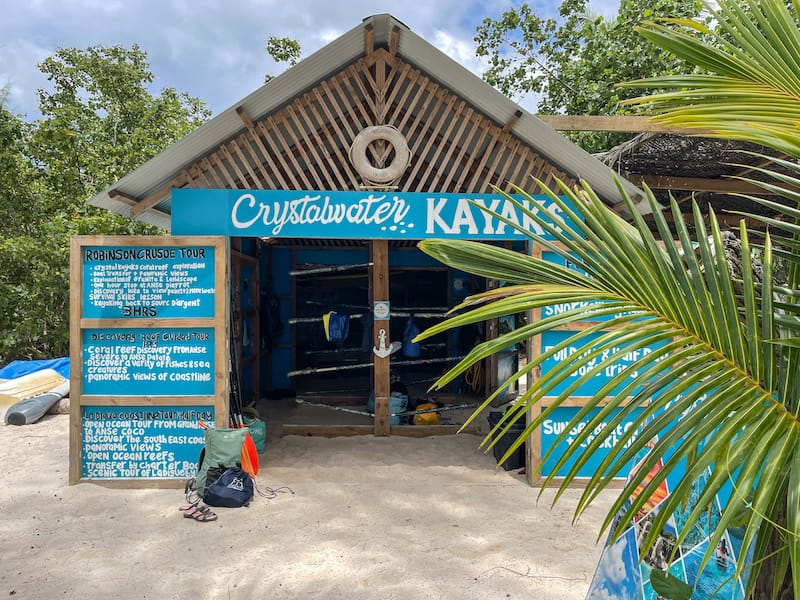 It's worth noting that the rougher seas usually occur from June to October as it is the windy season, but when I went in March, there were no issues.
>> Click here to book your crystal kayaking tour
Vallée de Mai National Park
Location: Praslin
Vallée de Mai National Park is a mystical and secluded forested area that is home to remnants of the original palm jungles of the Seychelles.
Today, it is a UNESCO World Heritage Site and one of the best Seychelles attractions!
The Coco de Mer, the largest seed in the world, can be found here as it is endemic to the island, and that is the main reason for the Praslin parks' World Heritage Site status.
The Vallée de Mai is also home to the rare Black Parrot, and visitors can enjoy a stunning 360° view from the top of the Glacis Noire Trail when visiting.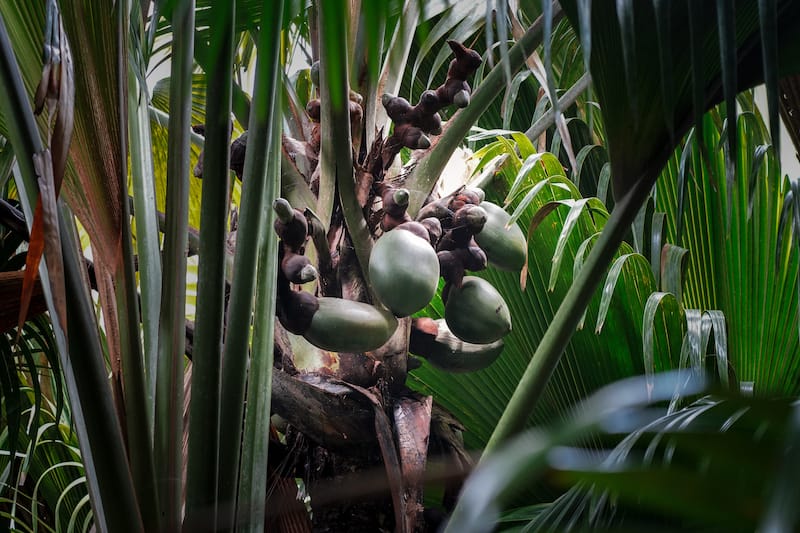 There is an entrance fee of SCR 350 per visitor and they accept cards. There is also a cafe on-site and the park is open from 0900-1600, with the last entry being at 1500.
If you're looking for additional information, check out the official website.
Check Out Anse Georgette Beach
Location: Praslin
Anse Georgette is another breathtaking beach on Praslin. This beach is renowned for its beauty, with turquoise ocean water, white sand, and stunning palm trees.
The beach is easily accessible to guests of Lemuria Resort, with golf-cart transfers provided by the hotel.
For non-guests, the hotel must be informed beforehand, and visitors must make the 30-minute walk down to the beach themselves.
Alternatively, it is possible to reach Anse Georgette by boat.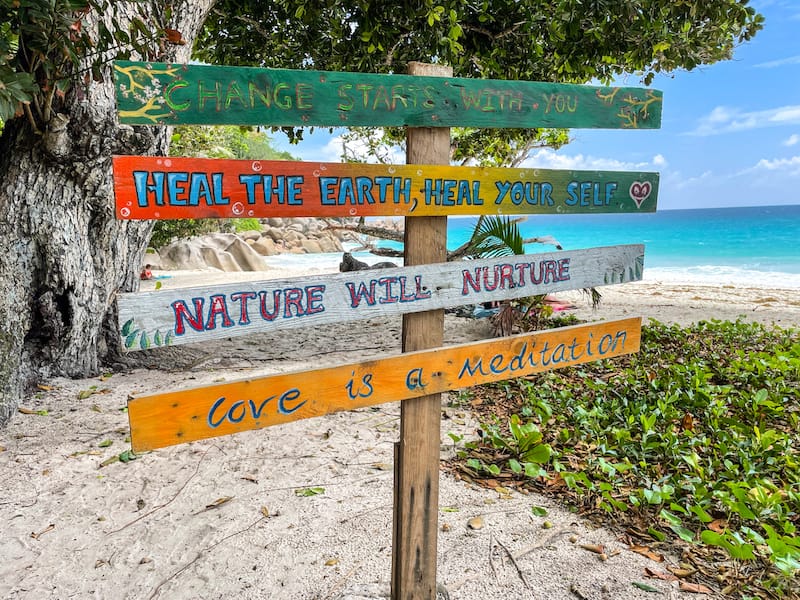 The beach offers beautiful water for bathing and snorkeling, although there is no protection from an offshore coral reef, so it can become deep quickly, and children and unconfident swimmers should be supervised at all times in the water.
The beach is ideal for photographers, and the view from the top of the hill is a real highlight of any Seychelles trip!
Overall, Anse Georgette is another Seychelles beach that offers natural, astounding beauty, and it is a must-see when you're looking for the best things to do on Praslin!
Hike to Ros Sodyer (the Mahé Rock Pool)
Location: Mahé
If you're looking for a unique and hidden spot on Mahé, Ros Sodyer is the perfect destination for you.
It's not easy to find on your own, but with a private tour and an experienced guide, you will have all the chances to explore this gem.
The place is a natural tidal pool that becomes an excellent swimming pool during low tide. There are two ways to get there.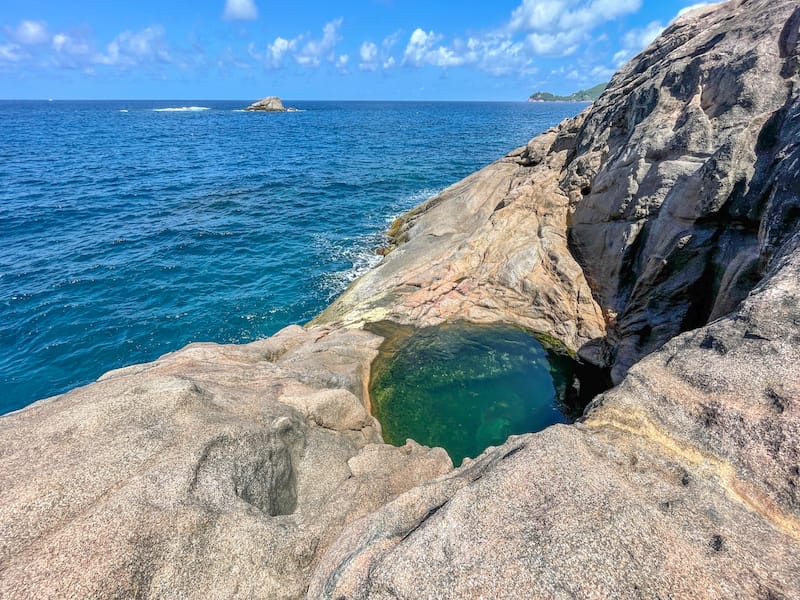 One way is to reach Anse Takamaka Beach, where you will find signs leading to the trailhead (I think you need to get permission from the restaurant and hotel first, however).
It takes around an hour of hiking through jungled sections and rocks, which can be challenging, and you may feel lost at some point but it is not that long of a journey.
However, the safer and more exciting way is to take a guided tour! With a guide, you can relax and enjoy nature without worrying about getting lost. Note that the tour will need to be booked in advance.
>> Click here to check the Rock Pool tour rates and availability
Rejuvenate at Anse Royale Beach
Location: Mahé
Come and explore the hidden treasures of Seychelles at Anse Royale Beach. Visiting is one of the best things to do on Mahé!
Situated on the southeast coast of Mahé island, this breathtaking beach is a perfect mix of relaxation and adventure.
The crystal-clear waters are filled with an array of colorful marine life, making it a haven for snorkelers and divers.
The shallow and calm waters make it safe for swimming, but caution is advised as the currents behind the reefs can be strong.
Anse Royale also offers excellent windsurfing opportunities, especially between June and September when the trade winds are in full force.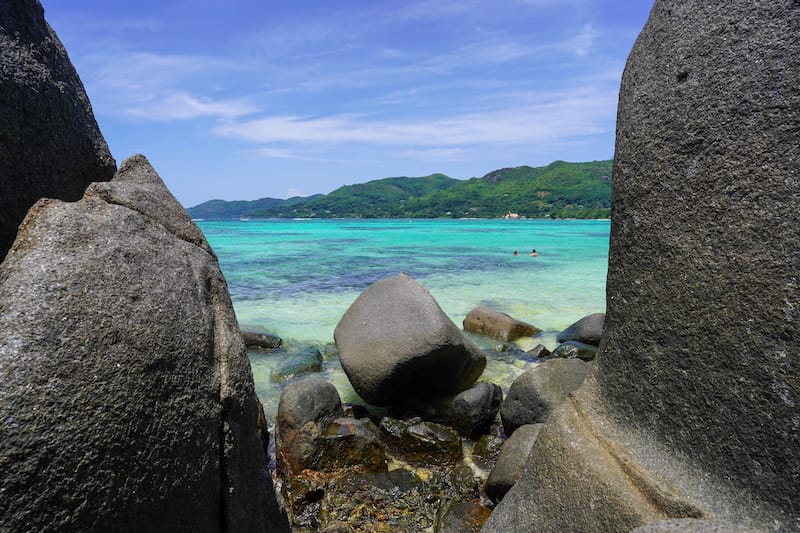 In Anse Royale, there is something for everyone, including food lovers. One of the best places to dine at the beach is Kaz Kreol, where you can indulge in tasty Creole cuisine, tropical cocktails, and even Chinese dishes.
Plus, twice a week, there are live music performances by local bands during lunchtime.
If you're interested in marine life, you can find several shops that offer rental equipment for snorkeling, scuba diving, or fishing.
Although the beach can get crowded, the spectacular views and the wide range of activities available make it a must-visit spot.
Wander around L'Union Estate Farm
Location: La Digue
L'Union Estate Farm is a must-visit location in the southern part of La Digue, and it's a great spot to bike to (and around).
To enter the park and visit Anse Source D'Argent Beach, you have to pay an entrance fee of about 115 SCR. The only way to access the beach is through L'Union Estate.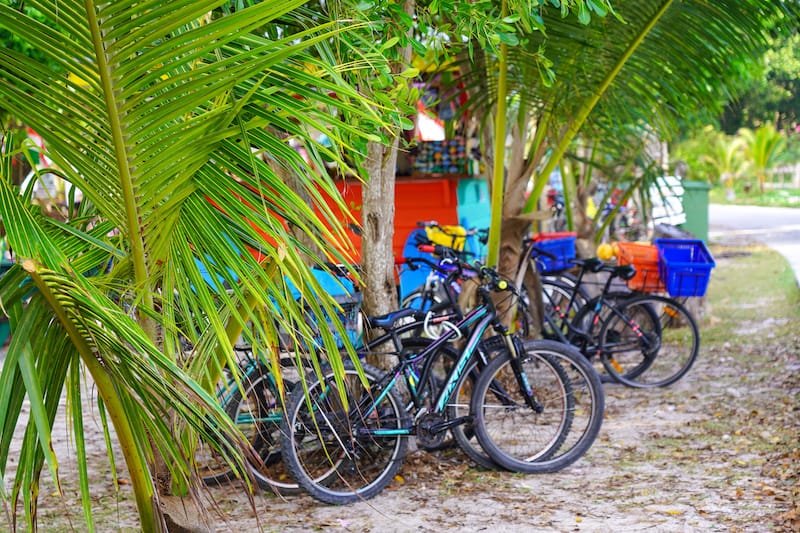 The estate is home to Aldabra giant tortoises, the Plantation House, a coconut and vanilla plantation, and a traditional coprah factory where coconut oil is produced.
By visiting L'Union Estate, I got a glimpse into La Digue's colonial history as the island was renowned for its vanilla and coconuts.
Check Out the Seychelles National Museum of History
Location: Mahé
One of the best things to do in the Seychelles is to visit the National Museum of History, which is also called the National Heritage Center, to learn about the fascinating history of the Seychelles.
The museum is housed in the former Supreme Court building in Victoria and offers a glimpse into the local cultures, as well as the impacts of colonialism and slavery on the island.
I saw many traditional Seychellois artifacts during my visit, including costumes, musical instruments, tools, pottery, and photographs, and read documents that helped me better understand the island's history, which spans 300 years!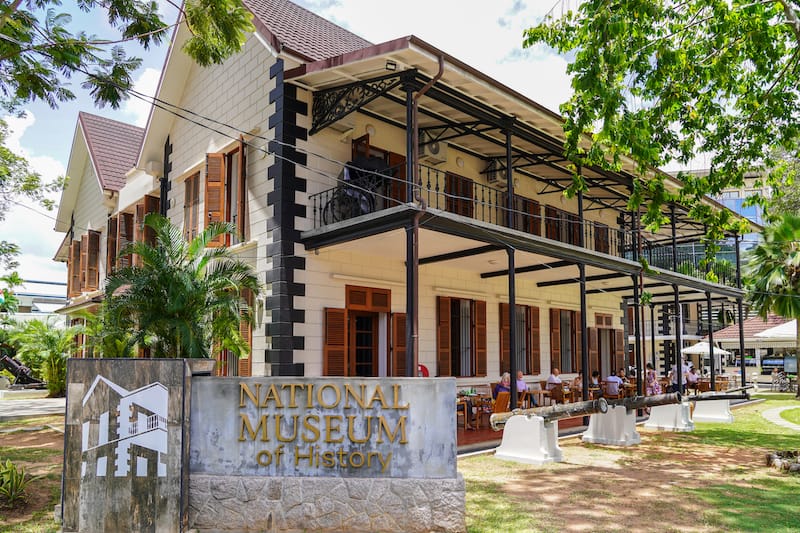 One of the highlights of the museum was a replica of a traditional Seychellois house, known as a "Case à Palme." This provided a unique look at how people in the Seychelles lived in the past.
The National Museum of History is a popular attraction on Mahé. It is open from Monday to Saturday (and closed on public holidays).
Learn about Spices at Jardin Du Roi Spice Garden
Location: Mahé
I highly recommend visiting Jardin Du Roi Spice Garden, also known as the King's Garden, which is a tribute to showcasing a diverse range of native Seychellois plants, fruits, and spices.
As you walk through the 35-hectare plantation, you can enjoy the aroma of nutmeg, cinnamon, and vanilla from the old spice garden.
The garden, styled like traditional French spice gardens, is situated on the hill above Anse Royale Beach.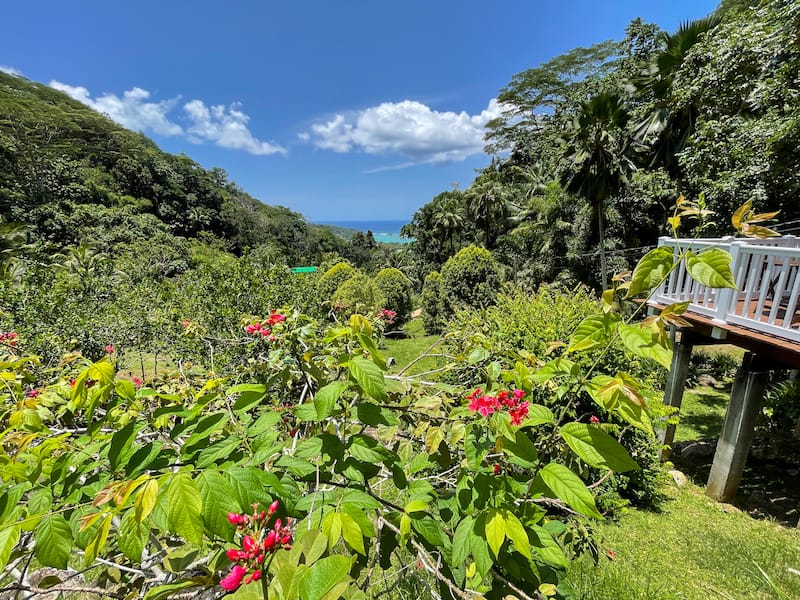 I suggest booking a guided tour in advance to get a history lesson about the plantation, a visit to the planter's house with a museum, and a hike to see the giant tortoises.
After exploring the gardens, you can take a break and have a delicious dinner at the on-site restaurant, which uses freshly collected spices and fruits in its dishes.
Don't forget to visit the Spice Shop before you leave to purchase your favorite spices (seriously the most perfect souvenir from the Seychelles)!
Hike to Undiscovered Anse Cocos Beach
Location: La Digue
In my opinion, Anse Cocos Beach is the best beach in the Seychelles (I mean, of the ones I visited!). What sets it apart is that it's not crowded and requires a hike along the Anse Caiman Trail to reach it.
This adds to the beach's allure… and it doesn't get too many visitors as a result!
Found on the eastern part of La Digue, Anse Cocos is a small beach with shallow waters at low tide. One of the highlights of visiting the beach is the natural pool on one side.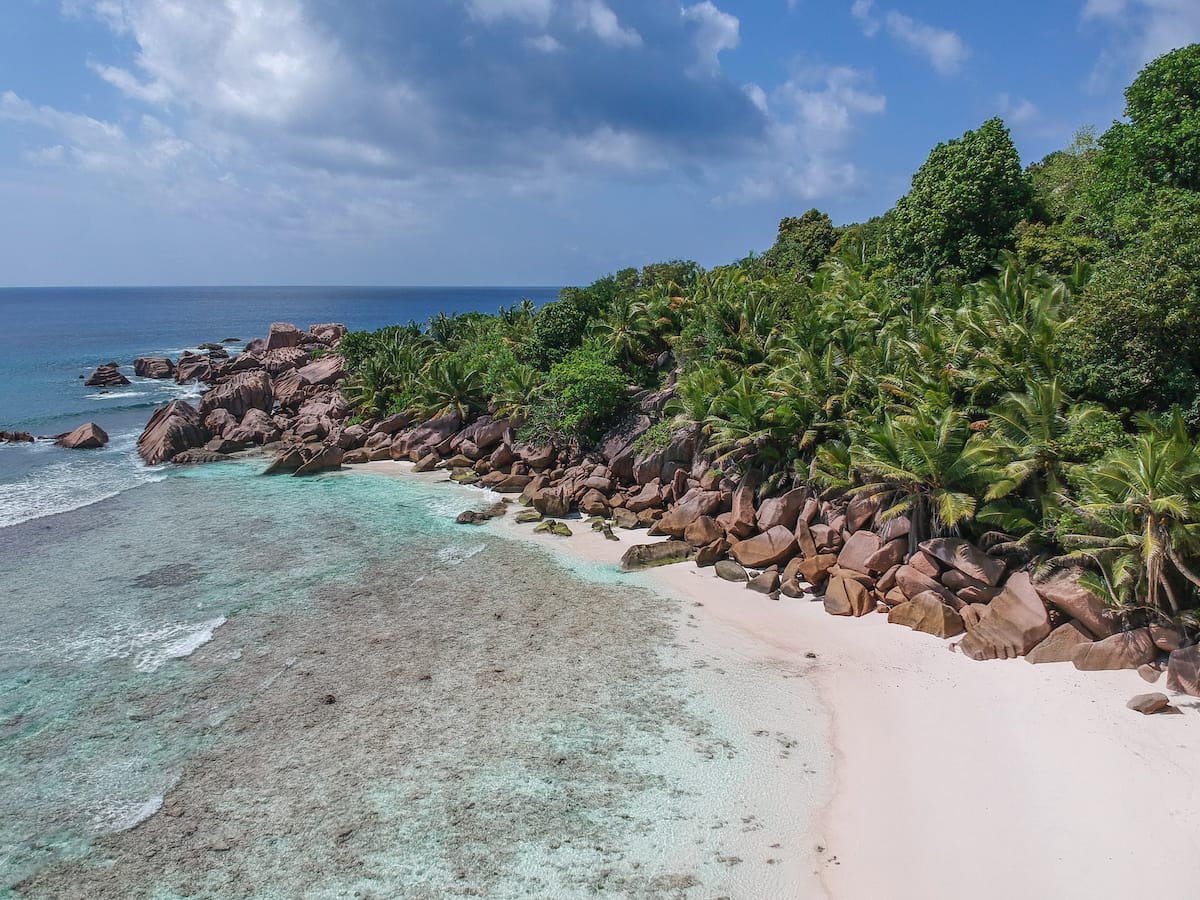 There's a small juice stand called 'Coco Bar' on the beach which offered a refreshing juice after the hike and sitting in the hot sun.
Although there are no facilities on the beach, it's a perfect spot to relax.
The only way to reach the beach is by hiking along the Anse Caiman Trail, which takes around 45 minutes.
The trail is easy but requires some light scrambling closer to Anse Cocos.
Discover Victoria on a City Tour
Location: Mahé
I highly recommend taking a guided tour of Victoria, the capital of the Seychelles, to discover the island's rich culture and history.
This 4-hour tour will allow you to experience the city like a local, from the busy markets to the peaceful gardens.
Start by checking out the Codevar building, where you can shop for Creole gold and other traditional crafts.
Then, move on to the Sir Selwyn Selwyn-Clarke Market, where you can try out local Seychellois dishes, fresh seafood, and a range of spices.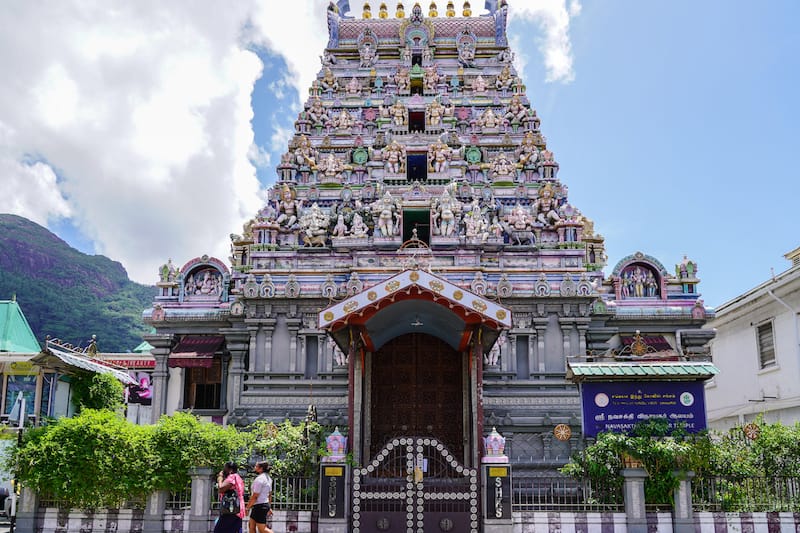 As part of the tour, you'll also have the chance to explore the city's religious heritage by visiting the Immaculate Conception Cathedral, a Roman Catholic church, and St. Paul's Cathedral, an Anglican church.
Don't forget to climb to the top of the Clock Tower for a stunning view of the city.
Finally, end your tour with a visit to the Botanical Gardens at Mont Fleuri, a historical landmark with a wide variety of tropical plants, exotic gardens, and monuments.
Overall, with so much to see and do, Victoria is definitely worth visiting for anyone traveling to the Seychelles.
It is not the most exciting capital city, but you can get a view of the life of the Seychellois people here and it was a nice change from the beaches teeming with tourists.
>> Click here to book a tour (and check rates!) of Victoria
Hike Mahé's Famous Anse Major Trail
Location: Mahé
I love hiking (pending it is an easy hike!), and one of the most breathtaking hikes I've ever done is the Anse Major Trail.
The trail is a must-do for any active traveler visiting the Seychelles, taking you through a range of stunning landscapes, including tropical forests, rocky cliffs, and gorgeous beaches.
The trail starts at Anse Major Beach and ends at the top of Anse Major Hill, offering breathtaking panoramic views of the surrounding islands.
It's important to note that the trail can be closed during the rainy season, which typically lasts from January to April (it was open when I was there during this time, however!).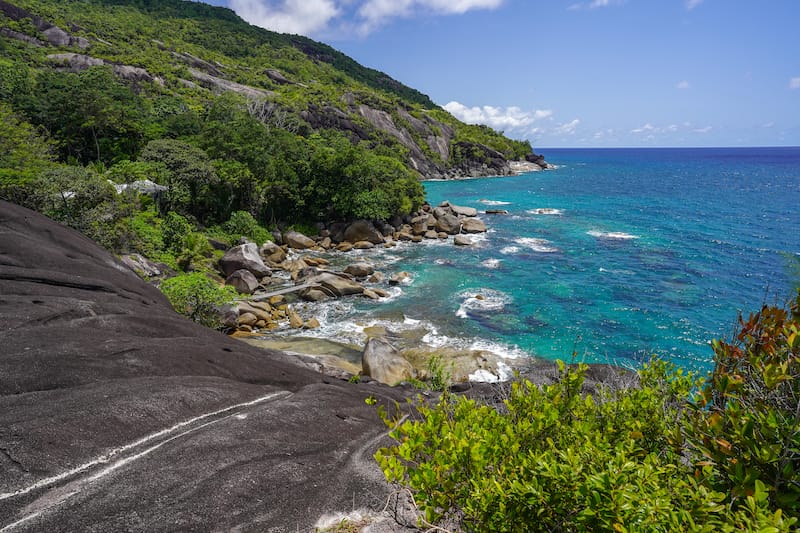 This is due to the heavy rainfall, which can cause landslides and make the trail dangerous to hike.
You have the option to either take a self-guided tour or join a private tour with an experienced guide.
The guide will lead you through the most beautiful natural highlights of the trail, showcasing the best views of Anse Major Beach!
>> Click here for a guided tour to Anse Major Beach
Visit the World-Famous Anse Source D'Argent Beach
Location: La Digue
I've talked about it a few times already, but Anse Source D'Argent is undoubtedly the most recognizable attraction on La Digue (and the Seychelles!).
This beach is often called the most popular beach in the world, and it's a must-visit destination in the islands.
To access the beach, you must purchase an entrance ticket at L'Union Estate, and then make your way through the park to the beach.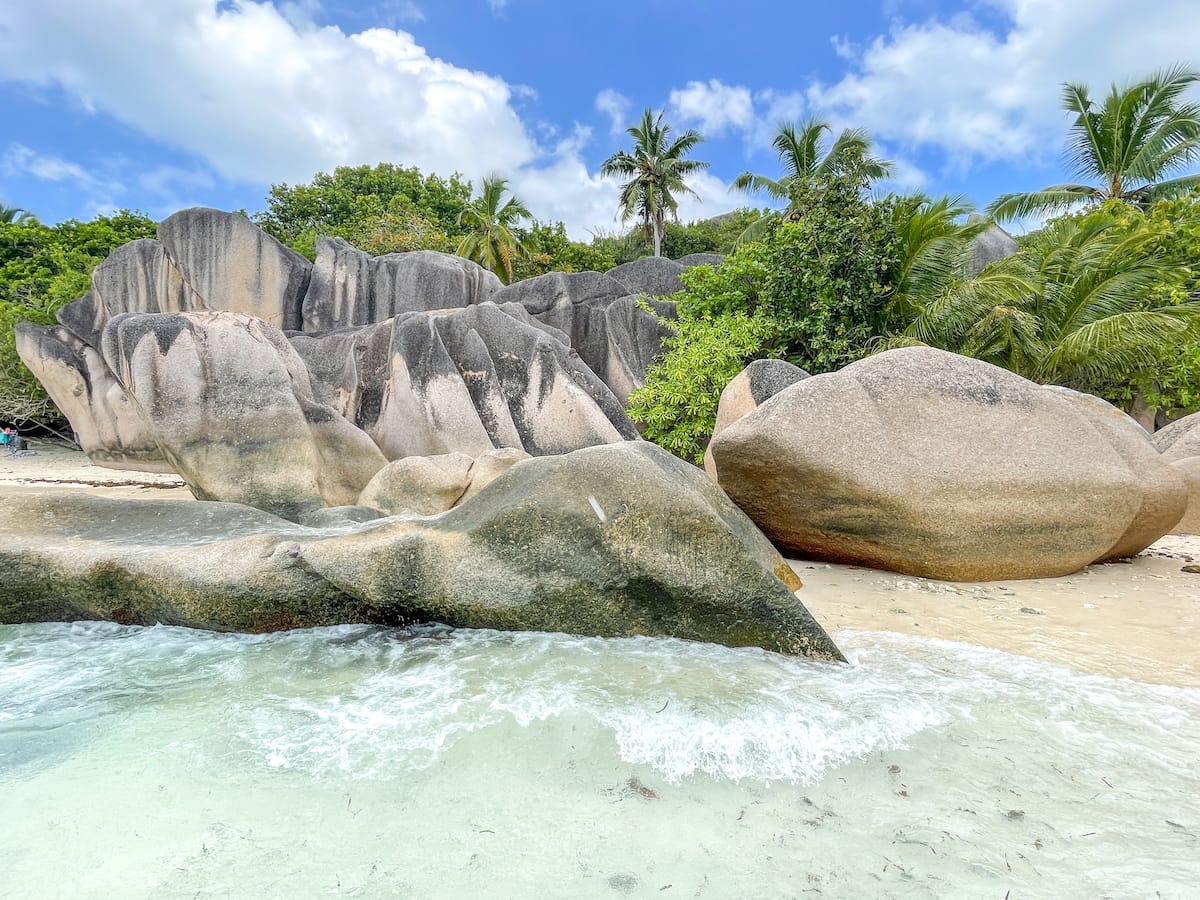 The stunning beach is 1100m x 20m and features shallow waters protected by a coral reef. During high tide, the beach can be covered, but it is an excellent location to swim and snorkel (when the tide is high).
When the beach is open, there are several trees that provide shade from the hot sun. The beach gets crowded from 10 am to 5 pm every day, so it's best to visit early to avoid the crowds.
Anse Source D'Argent has been featured in many commercials and movies, including Robinson Crusoe and Castaway. It is also a popular spot for Instagram photo shoots, so be prepared to share the space!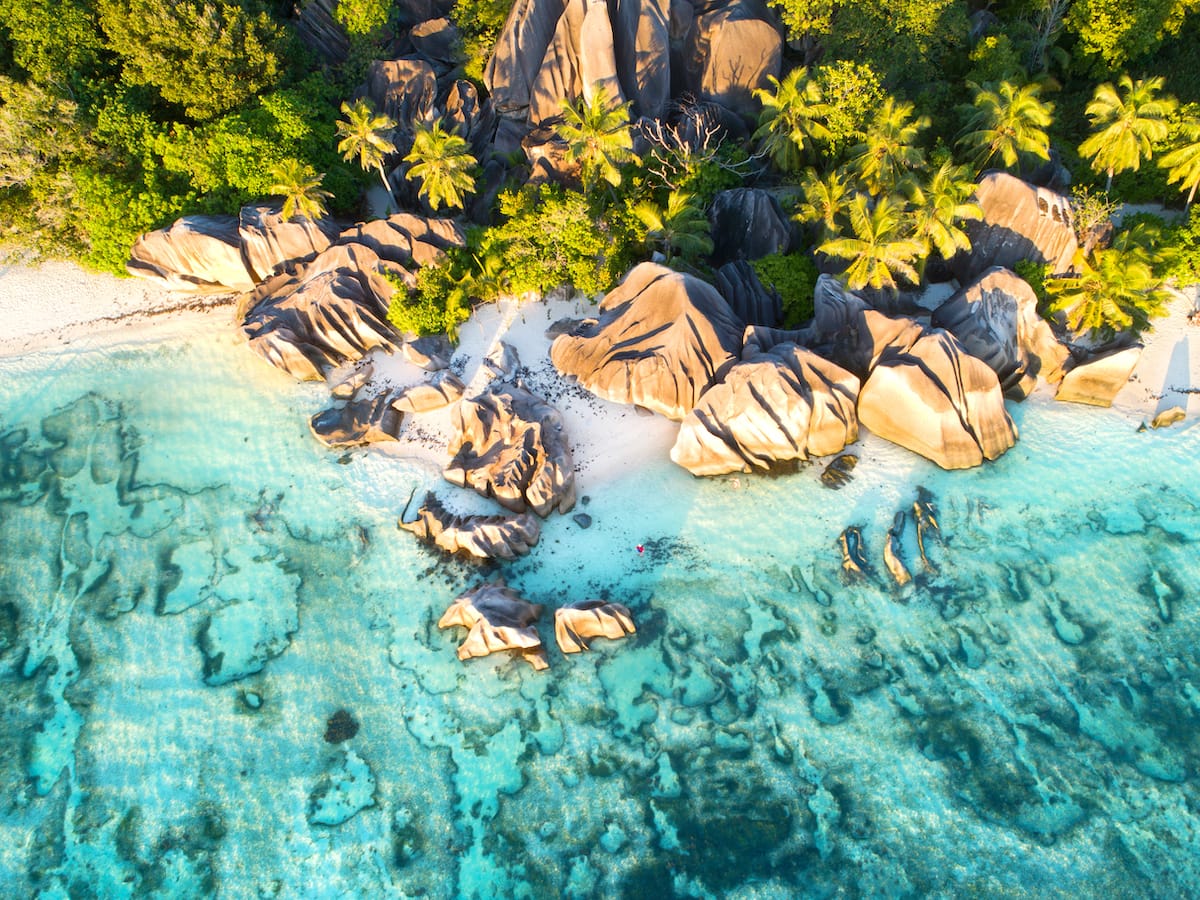 Although the beach was incredibly beautiful, it was a little difficult to fully enjoy it due to the crowds and photoshoots. Nevertheless, it is one of the best places to visit on La Digue!
Learn about Rum-Making at Takamaka Rum Distillery
Location: Mahé
If you're a rum enthusiast like me, a visit to the Takamaka Rum Distillery is a must when in Seychelles. This is a fantastic way to immerse yourself in the local culture and catch the true spirit of the island.
During the tour, you'll learn all about the rum-making process, from growing sugarcane to distilling and fermenting, using traditional techniques and natural ingredients.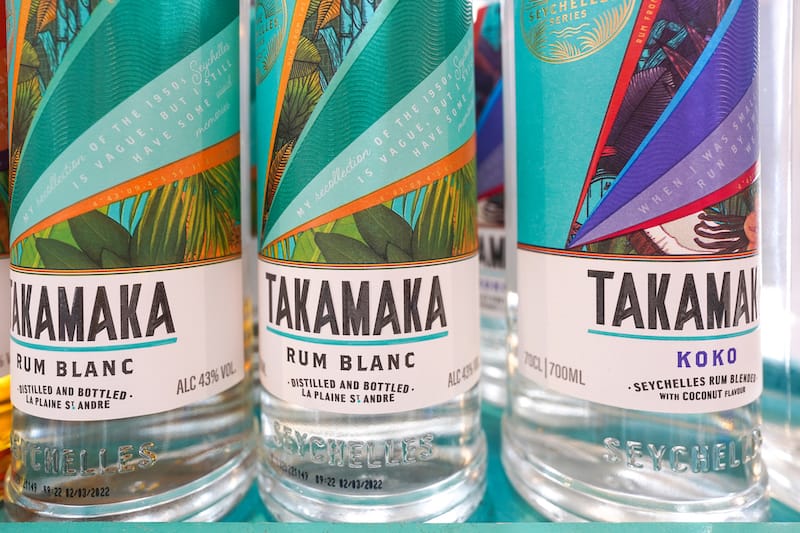 Additionally, you'll get to see how sailors brought the first Rum Arrangé to the island, and how they preserved fruits and spices in alcohol.
After the tour, you'll get a chance to taste delicious spice-infused rums at the distillery's restaurant.
The tours run from Monday to Friday at 11:00 a.m. and 1:30 p.m. Don't miss this fantastic opportunity to experience Seychelles's rich cultural heritage and savor some excellent rum.
Take a Hiking Tour to Anse Marron Beach
Location: La Digue
Anse Marron is one of the famous beaches in the Seychelles, and it's situated at the southernmost part of the island.
Unlike other beaches, this one doesn't have a coral reef but has a shallow natural pool where you can swim safely.
This beach is quite difficult to find, so many visitors opt for the assistance of local guides to make the journey. But, you can book a budget-friendly tour ahead of time to avoid the hassle of finding it yourself.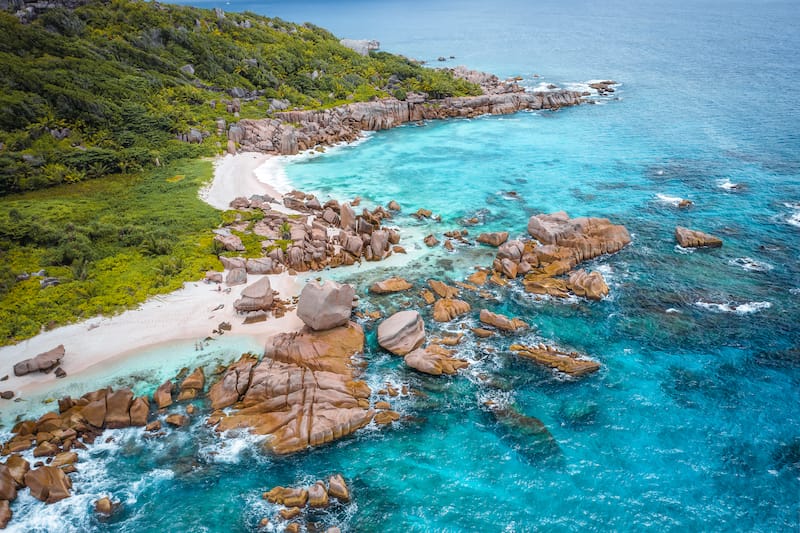 It's important to note that this hike is not suitable for children, and it can be somewhat challenging.
But, the journey is worth it if you're looking for a unique and off-the-beaten-path destination on La Digue. The beach is relatively small at 100m x 3m, and tides can get stronger during the windy season.
>> Click here to check tour rates and availability
Go on a Day Trip to Moyenne and St. Anne Marine Park
Location: Mahé
Moyenne Island and St. Anne Marine Park are two stunning spots in the Seychelles that are definitely worth a day trip.
These islands are just a quick boat ride away from the main island of Mahé, and they allow visitors to experience the exquisite natural beauty of the Seychelles!
Moyenne Island is a small island that is privately owned but has been declared a national park, making it the world's smallest park.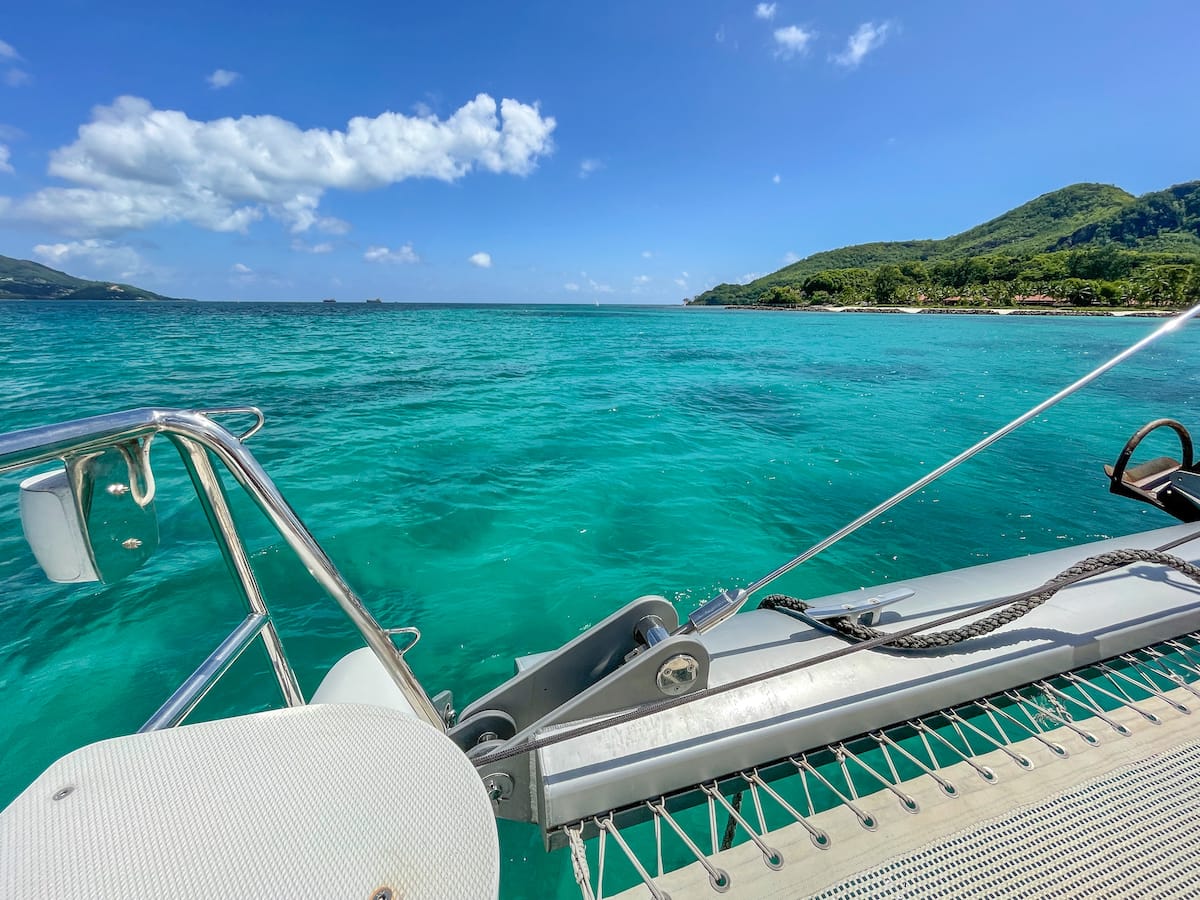 It is home to over 16,000 exotic plants and animals, such as giant tortoises, fruit bats, and many bird species.
On the other hand, St. Anne Marine National Park is another beautiful spot in the Seychelles, consisting of six islands that are protected by the government as a marine park.
It provides some of the best opportunities for snorkeling and diving in the Seychelles, as there are various coral and fish species to observe.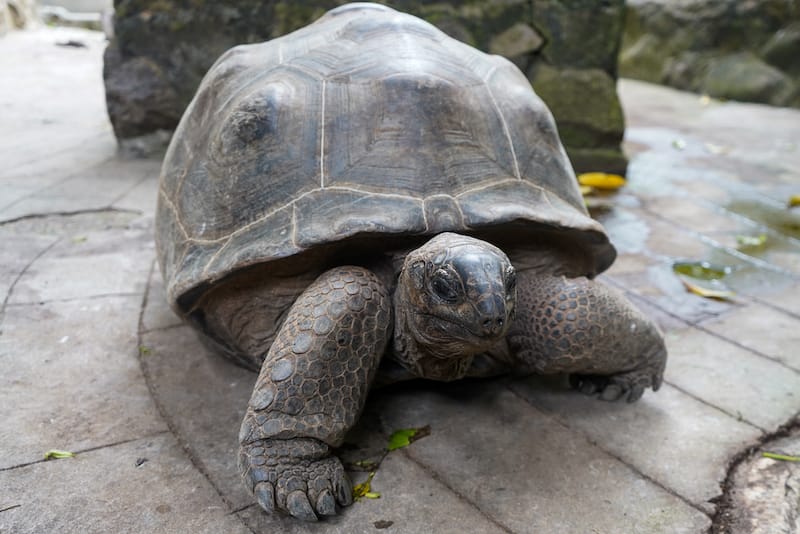 To fully explore both destinations, it is best to book a private day trip with a guide who can show you around the islands.
During the day trip, you will have lunch at the Jolly Roger restaurant on Moyenne and have plenty of time to explore the island and waters on your own!
>> Click here to book a day trip to Moyenne and St. Anne Marine National Park
Relax at Mahé's Famous Anse Intendance
Location: Mahé
Anse Intendance is a serene (and stunning!) beach located on the south coast of the island.
Unlike many other famous beaches on the island, it is not usually crowded and offers a tranquil atmosphere to enjoy.
While there are a few restaurants and cafes nearby, the main attraction of this area is the natural beauty and opportunities for outdoor activities.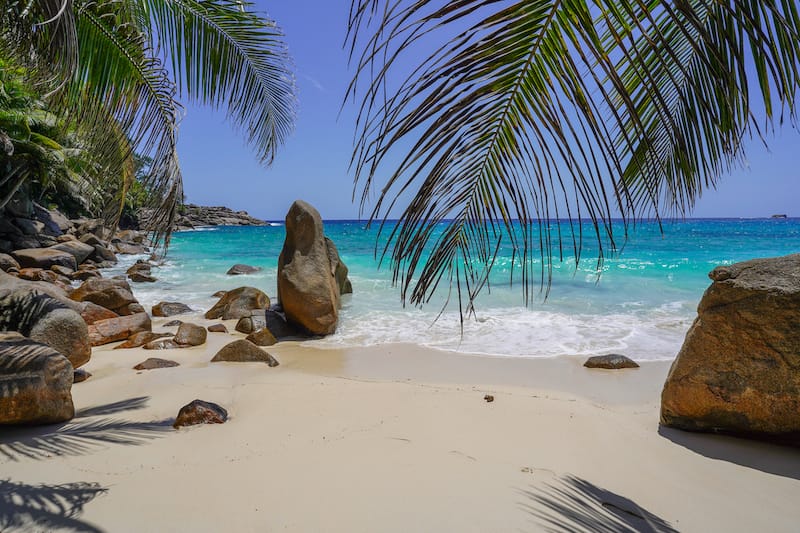 One thing to note is that Anse Intendance doesn't have a coral reef offshore, so the ocean can become deeper and more dangerous between May and September due to the southeast trade winds.
However, this also makes it a hotspot for surfers and bodyboarders to catch large waves.
Summer Bar is a great place to visit if you want to enjoy the sunset and laid-back vibes of the Seychelles. This takeaway restaurant and bar serves tropical cocktails and a variety of fresh fruits.
Have a Meal at Historic Marie Antoinette Restaurant
Location: Mahé
If you're looking for a truly authentic dining experience, I highly recommend checking out the Marie Antoinette Restaurant.
This restaurant is special for a few reasons, but it all starts with its Colonial-style building and beautiful gardens that surround it!
The La Grand Trianon, which dates back to the 19th century, has maintained its original design, complete with high roofs, wooden staircases, and floors.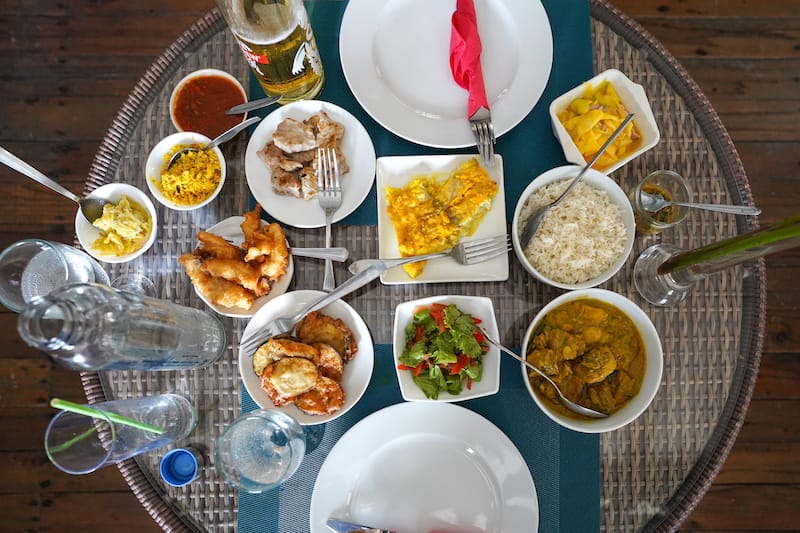 In fact, the building is a national monument of the Seychelles, and its walls are covered with notes and well wishes from past patrons.
As for the food, it's made from organic, locally-sourced ingredients, and the traditional Seychellois dishes are as delicious as they are authentic!
For the truly adventurous, they even offer a fruit bat curry (seasonally).
During your meal, you'll get to listen to soft jazz and house music, and the restaurant is divided into three sections: an indoor area for fine dining, a space for special events, and an outdoor beer garden for livelier gatherings.
Sunbathe at Beautiful Anse Lazio Beach
Location: Praslin
Anse Lazio is a beach on Praslin island that is often considered one of the most beautiful beaches in the world.
The beach features pristine golden sand, crystal-clear water, and impressive granite formations, which attract many tourists visiting the island.
Visitors are advised to arrive early to avoid crowds and to park in one of the three parking areas behind the tree line. The beach has designated swimming areas and great snorkeling spots.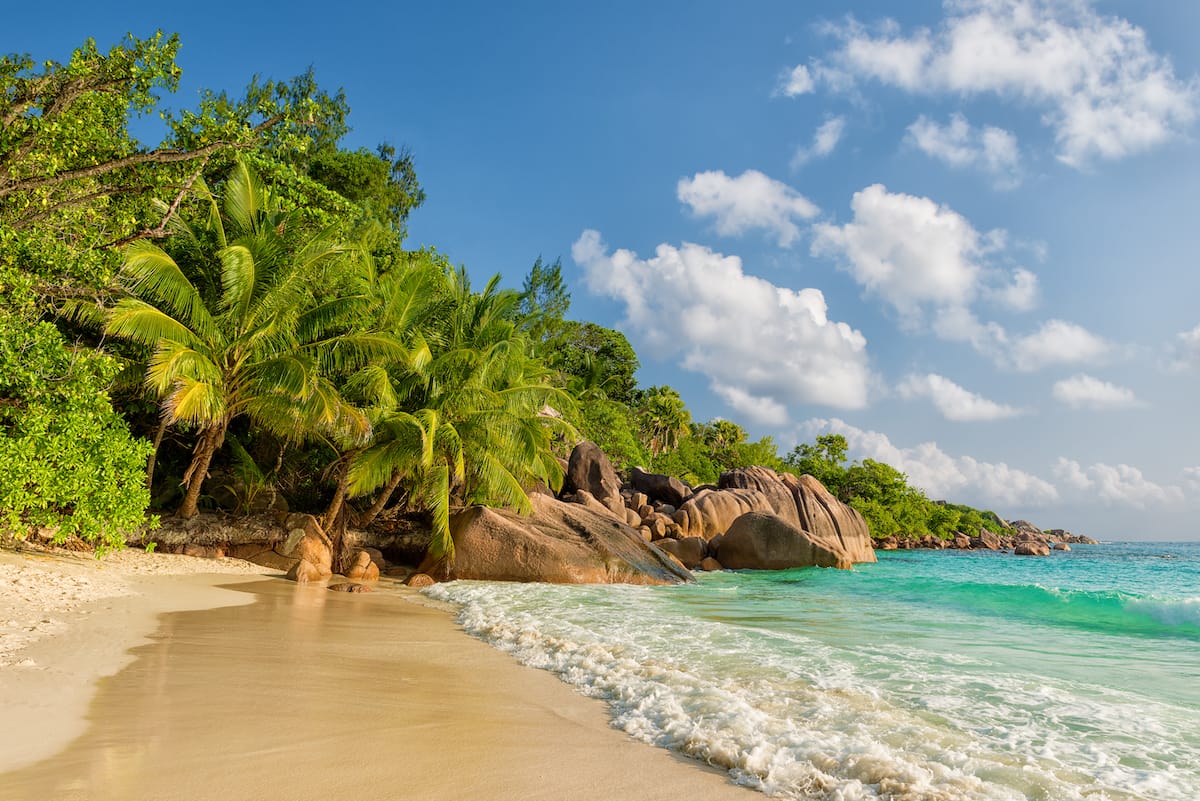 However, the water gets deep quickly, and inexperienced swimmers are advised to stay in the designated areas! Anse Lazio is suitable for families with children as there are large, sandy areas where kids can play.
There are also small shops and restaurants at each end of the beach and a unique bar called the Honesty Bar, which overlooks a small cove.
Anse Lazio is one of the best beaches in the Seychelles and was even ranked sixth on Tripadvisor's best beaches list in 2015.
Explore the Shops and Beaches of Beau Vallon
Location: Mahé
I have to say that Beau Vallon Beach was one of my favorite destinations in Mahé and it is likely because I stayed there for a week while on Mahé!
It spans over 2 kilometers and the water is incredibly clear and gorgeous.
The beach has everything a visitor could need: cafes, restaurants, water sports equipment rentals, and shops, so it's no surprise that it's a popular spot among tourists.
If you're into diving, the Ocean Dream Divers club offers guided trips to the most scenic coral reefs, where you can admire the colorful fish and marine life of the Seychelles.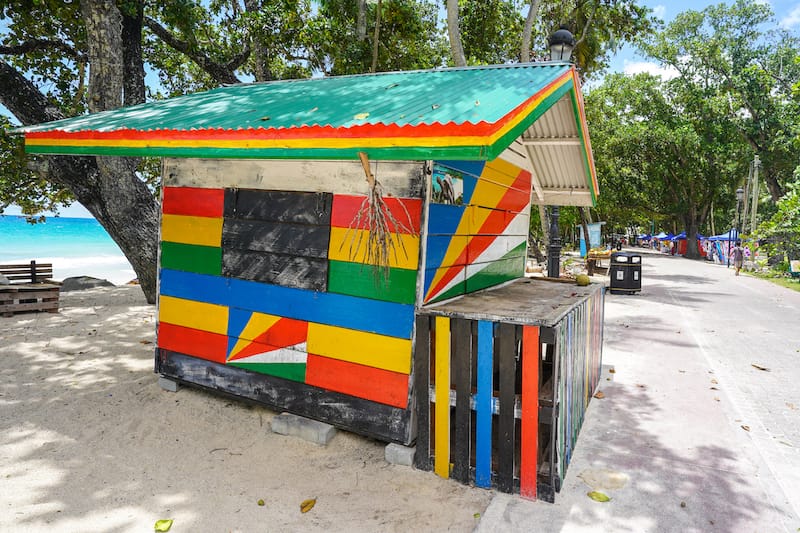 One restaurant that I found myself at a few times was the Boat House Restaurant on the beachfront.
Their Creole food and menu had over 20 dishes to choose from, including grilled fish, chicken curry, and salads.
For a more laid-back dining experience, check out the Beau Vallon Night Market every Wednesday. There's a campfire, music, and a variety of local foods to try, such as banana and breadfruit chips.
Fond Ferdinand Nature Reserve
Location: Praslin
Fond Ferdinand Nature Reserve is an exciting place to visit on Praslin, and though it's not as well-known as the Vallée de Mai, it's worth a visit.
The reserve is 122 hectares (six times larger than Vallée de Mai!) and has roughly the same number of Coco de Mer palms.
Visitors should aim to arrive in the morning, as there are no more tours after 1 pm. Entrance is cheaper than Vallée de Mai, and a personal guide is included.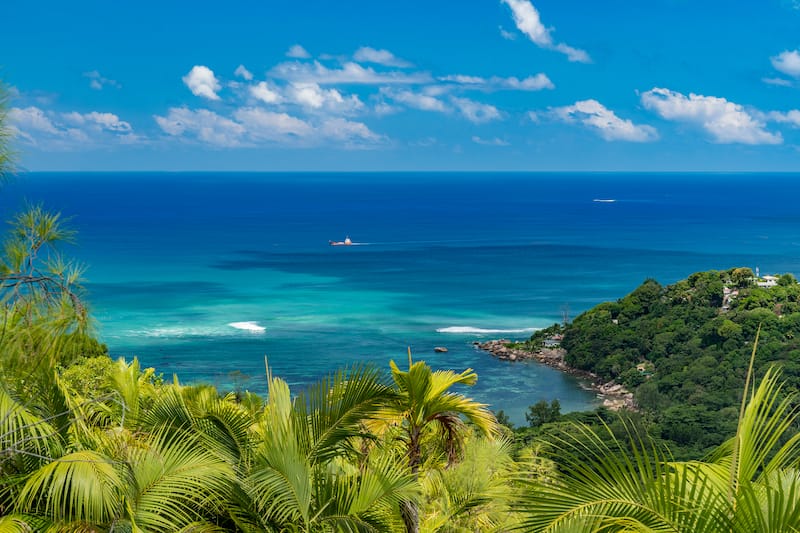 The journey up to the viewpoint, which takes two or three hours, is well worth the trip.
From the viewpoint, you can enjoy a breathtaking panoramic view of Praslin itself, and other inner islands of the Seychelles such as Curieuse, Sister Island, Coco Island, Round Island, Felicité, and La Digue.
Zimbabwe Point, in the northwest of the island, also has a stunning view, particularly at sunset.
Peruse the Sir Selwyn-Clarke Market in Victoria
Location: Mahé
If you're looking for an authentic experience in the Seychelles, the Sir Selwyn-Clarke Market in Victoria is a must-visit!
Upon entering the market, you'll be greeted by the vibrant colors and tantalizing aromas of fresh produce such as papayas, pineapples, coconuts, and more.
The market is also renowned for its variety of locally grown spices, such as nutmeg, cinnamon, saffron, and vanilla. In addition, Sir Selwyn-Clarke Market's seafood counters feature an impressive selection of octopus, squid, and tuna.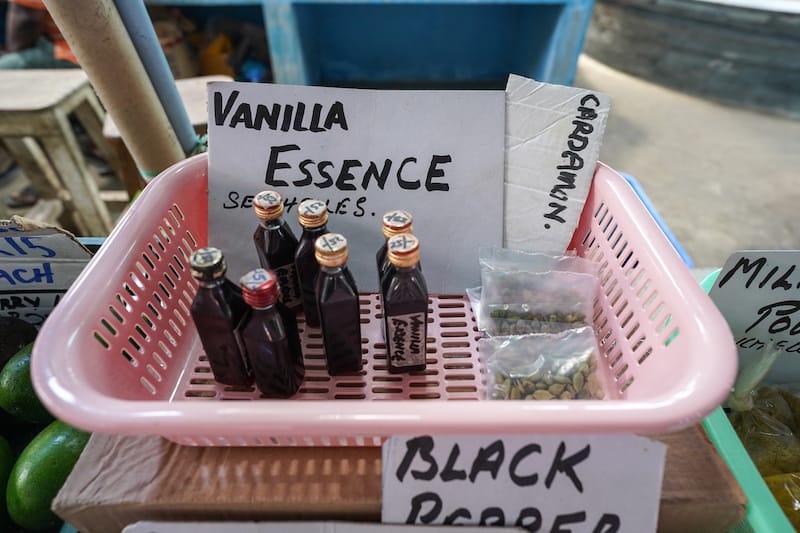 But the Victoria attractions isn't just a shopping destination. It's also an ideal place to sample the local cuisine!
There are plenty of street food stalls where you can try traditional Seychellois dishes like fish curry, rougaille, and dhal. The market is open from early morning until 5 p.m. on Mondays through Fridays.
This is a place to stick on your Seychelles bucket list if you're a food lover like me!
Where to Stay in the Seychelles
There are so many amazing options, but here are the three places I stayed (I actually stayed at more but don't recommend the others) when traveling there:
Chalets Anse Reunion (my lodging on La Digue)
Oceanic View Apartments (my lodging in Beau Vallon on Mahe)
Chez Bea Luxury Villa (my lodging on Praslin)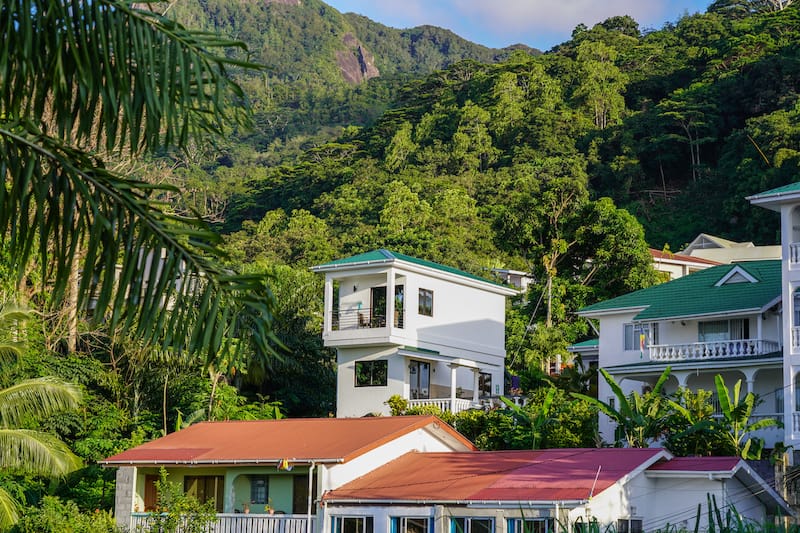 Did we miss any of the best things to do in the Seychelles? Let us know your favorite Seychelles activities, beaches, and more in the comments!
More Seychelles Travel Guides
Pin this Seychelles Things to Do Guide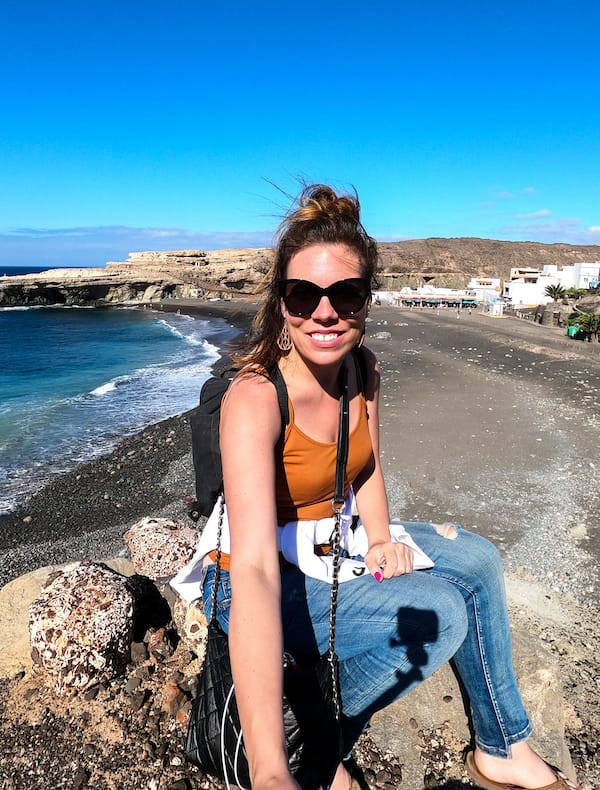 Megan is a travel blogger and writer with a background in digital marketing. Originally from Richmond, VA, she now splits her time between Frankfurt, Germany and Arctic Finland after also living in Norway, Armenia, and Kazakhstan. She has a passion for winter travel, as well as the Nordic countries, but you can also find her eating her way through Italy, perusing perfume stores in Paris, or taking road trips through the USA. Megan has written for or been featured by National Geographic, Forbes, Lonely Planet, the New York Times, and more. She co-authored Fodor's Travel 'Essential Norway' and has visited 45 US states and 100+ countries.