First-time visitors to Tbilisi will be surprised at how easy and affordable it is to take a taxi there. This is a guide to taking a taxi in Tbilisi that includes two useful apps and how to download and use them.
If you have any questions regarding how to order a Tbilisi taxi, please send us a message or leave a comment. Thanks!
Tbilisi Taxi Tips: Taking a Taxi in Tbilisi with 2 Useful Apps
I have been taking taxis in Tbilisi for almost 8 years now. When I first started using taxis to get around the city and to and from bus stations there, it was a bit of a challenge.
I would have to have my hostel order one and even then, the prices often added a tourist tax.
Fortunately, using Tbilisi taxis has gotten easier with apps. While many apps have popped up over the years, the two main Georgia taxi apps being used currently are Bolt and Yandex.
This guide gives information on how to use both apps and to download them to your phone.
We do want to mention that we don't recommend using a taxi to get around Tbilisi if you're heading from areas where the metro works or where you're comfortable using public transportation.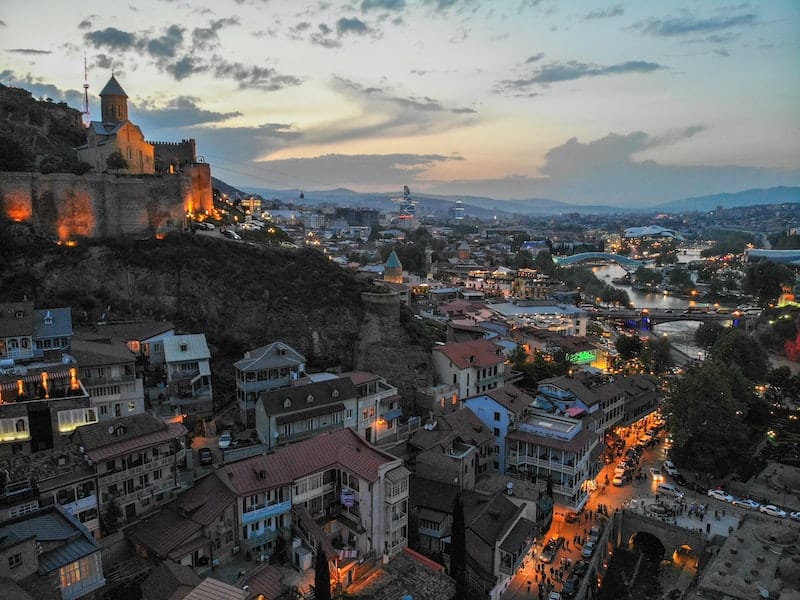 We do, however, recommend using in situations where you have luggage or are unfamiliar with the area. We also recommend using if you're heading to Ortochala Bus Station or somewhere far from the city center (including the airport).
In order to use these taxi apps in Georgia, you will need a Georgian SIM card. You can pick up one at the airport or in the city after you arrive.
Of course, you can use wifi networks to order the taxi but you won't have the ability to access the app once in the car or away from the network.
If you have any additional suggestions about taking a taxi in Tbilisi, please leave us a comment or shoot us a message. We will continue to update this guide as the taxi situation and apps change over time.
Tips for Taking a Taxi in Tbilisi
There are a few things to know about taking a taxi in Tbilisi before you do it. Here are a few tips that will help you plan your trip:
⇒ Taxi drivers sometimes smoke: They are not supposed to smoke. Or at least I assume Bolt and Yandex don't give them permission to smoke as they drive passengers around, but they sometimes will.
If they don't smoke in the car with you in it, it will still perhaps smell like smoke. Welcome to the Caucasus.
⇒ Download the app before you arrive if you can: Many apps will confirm your identity with a phone number and if you arrive in a place without a SIM card, you will not easily be able to confirm.
On the other hand, drivers in the Caucasus love calling you once they confirm your ride, so if you have the wrong number, it spells trouble. I'd download and then later change the number once you get a SIM card.
⇒ Taxi drivers sometimes talk on phones when driving: Um… I am not okay with this at all but I have had it happen numerous times in Georgia. Usually, I just report it in the app after but I have asked them to stop here and there and they did.
⇒ Many foreign credit cards don't work on the taxi apps: I have never plugged in my credit card with the new Bolt app (I used it with the old Taxify app with no issues) but I do know that my American credit card never works with Yandex taxi. I would be sure to keep cash on you for your journey.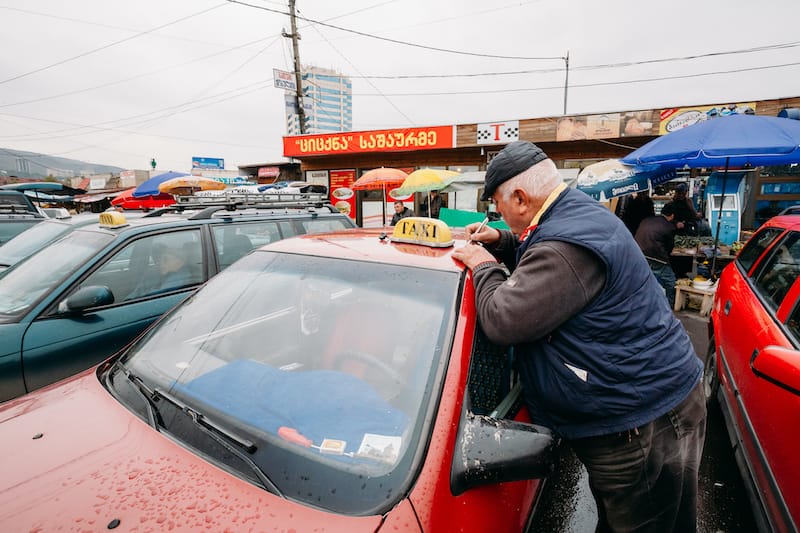 ⇒ Always have small denominations: If you hand a taxi driver a lot of Lari, they may be puzzled about what to do with it.
If you hand your taxi driver even a small amount of Lari over what your taxi ride costs, they may still be puzzled. Just have a lot of change or small denominations on you at all times if you're using a taxi in Tbilisi or Georgia.
In addition, if your taxi ride is the equivalent of about $1 and you hand them the equivalent of $2 and they don't have change, report them after the ride.
I have had many instances in the Caucasus where taxi drivers will suddenly not have small change once they realize I am a foreigner.
⇒ Taxis are affordable in Georgia: Taking a taxi in Georgia is an affordable way to get around. While I still recommend walking or taking the Tbilisi metro, taxis are a viable option if you're going anywhere a bit further.
⇒ Georgian drivers are friendly and may chat: Georgians are exceptionally friendly and hospitable people and may want to strike up a conversation- especially if they know some English! While Georgian driving skills are mad, their hospitality is so welcoming that it (almost) makes up for it!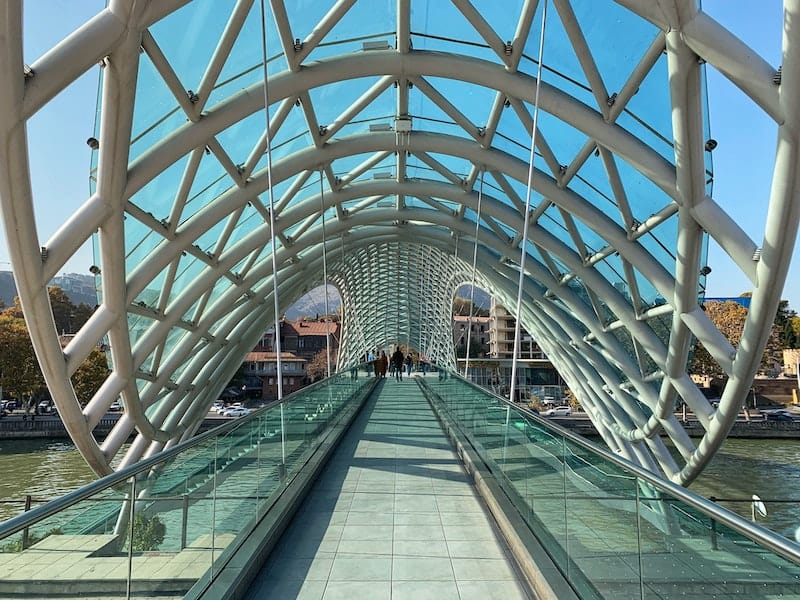 Tbilisi Taxi Apps
Bolt
Formerly Taxify, Bolt is the preferred taxi app in Tbilisi these days. Prices are usually pretty on par with Yandex but may be escalated if all drivers are busy.
One great thing about Bolt is that the app takes Apple Pay in addition to cash and credit card. The Estonian founded app is also able to be used in various countries (like Armenia and Azerbaijan).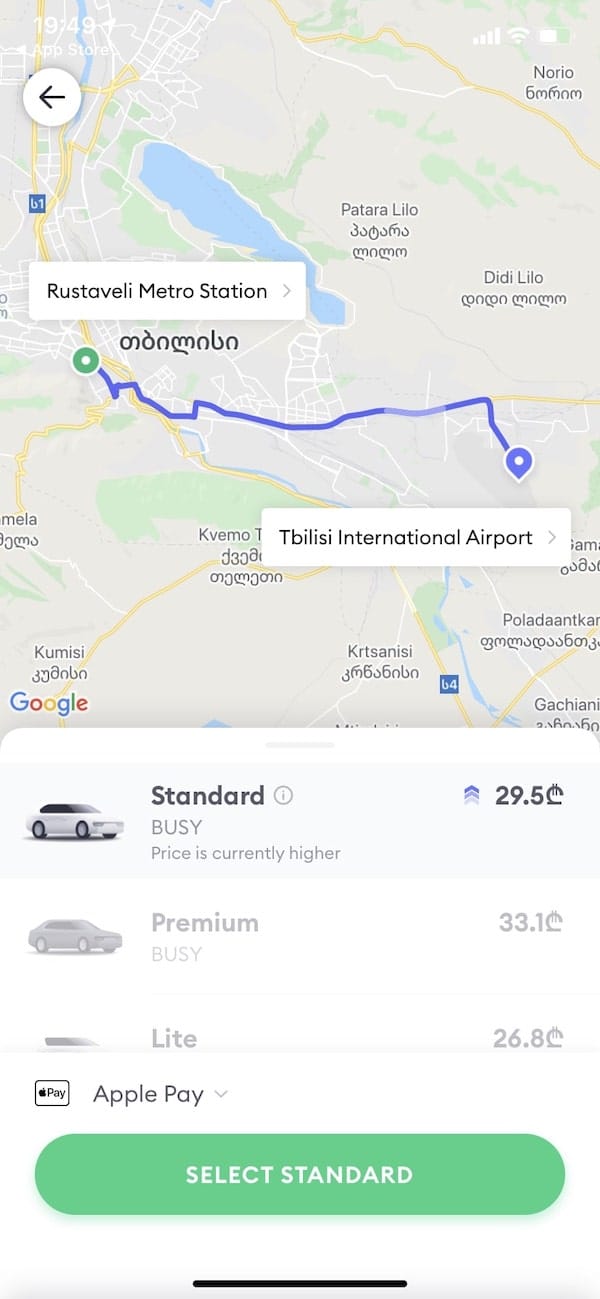 Whenever I ask my local friends what their taxi app of choice is in Tbilisi, they all chime in with a resounding 'Bolt'. For me, if the locals like it, it is good enough for me to use it!
Click here to download on iOS | Click here to download for Android
Yandex Taxi
Another app you can use in Tbilisi is Yandex Taxi. The Russian-owned app may not be as popular with locals but I like using it when I am traveling because it is already conveniently on my phone and offers fair rates for taxis.
Some will argue it, but I almost always find Yandex to be the cheapest taxi app in Tbilisi. Sometimes, I think the price is lower because there is an abundance of drivers on hand (maybe they have more or maybe others are just using Bolt!)
It is never that much cheaper but just a little. But, standards are not always as high as some smaller companies (older cars, etc).
However, I have used Yandex Taxi's customer service several times over the years in various countries and have had nothing but positive experiences when reporting something or asking questions.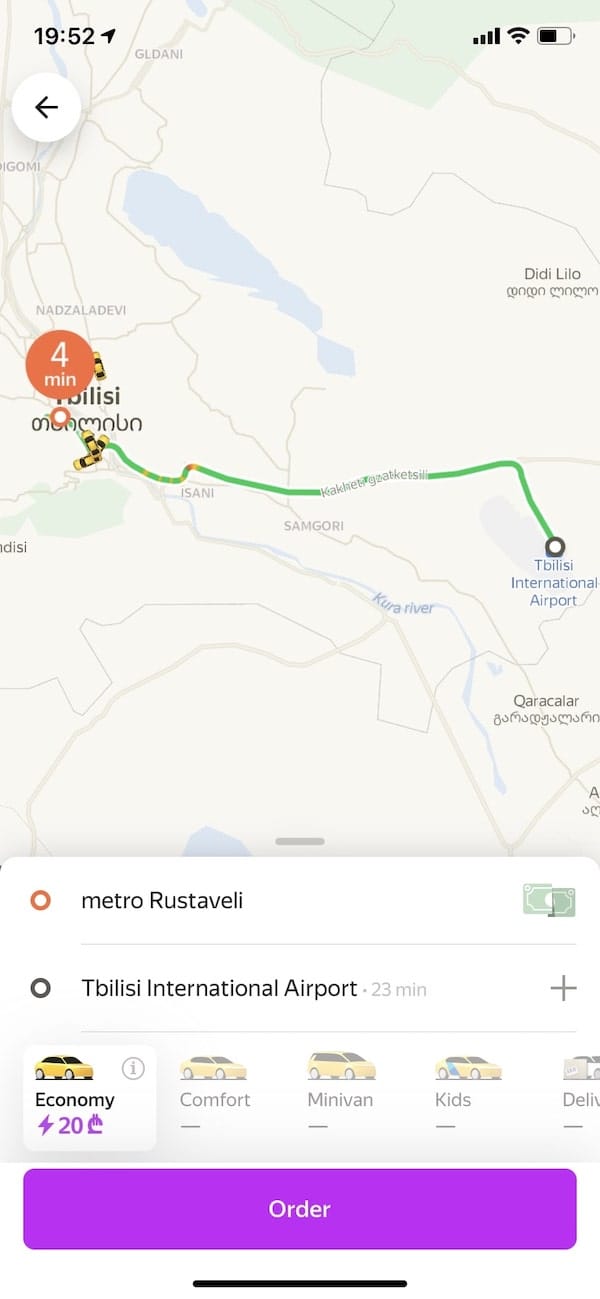 I must admit that I have issues using my card with Yandex everywhere I go, however. While Apple Pay is available on the app, it doesn't always work for me in the region either. So, I only use Yandex when I have cash in small denominations.
Click here to download on iOS | Click here to download for Android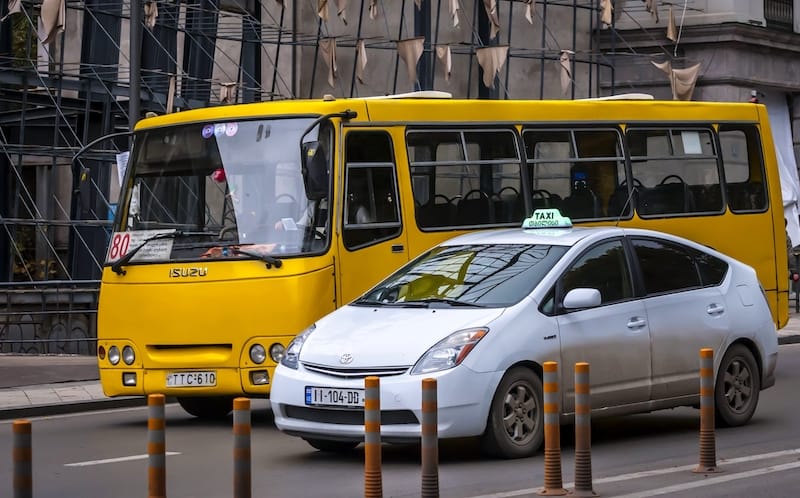 There are definitely other ways to get around Tbilisi if you're not keen to spend on a taxi or want a more environmentally-friendly way to get around.
As mentioned above, we only recommend a taxi when you have exhausted the other options or are looking purely for convenience. We hope that this Tbilisi taxi guide has helped you figure out the best way to take a taxi in the Georgian capital city.
If you have any other suggestions or are a new app that wants us to try your services, please get in touch via email or a comment. Thanks!
YOU MIGHT ALSO LIKE: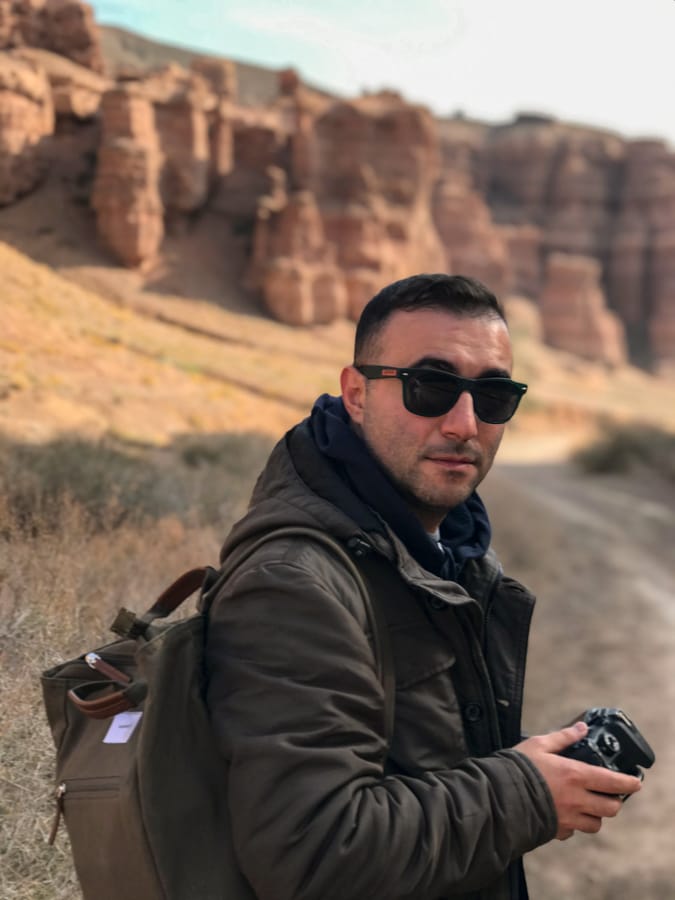 Aram is a travel blogger and writer from Armenia who spends his time between Spain and his home country. He is passionate about music and football (the European kind) and covers a lot of Western European destinations on the blog. Aram is a laidback traveler who enjoys meeting new people and finding the best food in each city that he visits (hence his frequent trips to France, Italy, and Greece!). He has been featured in (or written for) Forbes, BBC, The Guardian, Fodor's Travel, and more.