With its gorgeous lake-side views, there's no surprise that Michigan is home to lots of lighthouses.
This guide showcases the best Michigan lighthouses!
Are you planning your trip to Michigan last minute?
🚗 Renting a car in the USA: Discover Cars is our top pick for rental cars in the USA and abroad! They have several add-ons and also offer full-coverage insurance as an option. They also have a huge inventory of cars to choose from – something suitable for every traveler!
🇺🇸 Visiting any US National Parks along the way? Get your National Parks Pass for only $79.99 here!
🛌 Booking a hotel in the USA: We use Booking.com for all hotels in the US – many also offer last-minute cancelation.
If you love anything to do with the sea, chances are you enjoy checking out new lighthouses and appreciating the history behind them.
In this article, we've compiled a list of different lighthouses in Michigan that you can visit during your next trip to the state!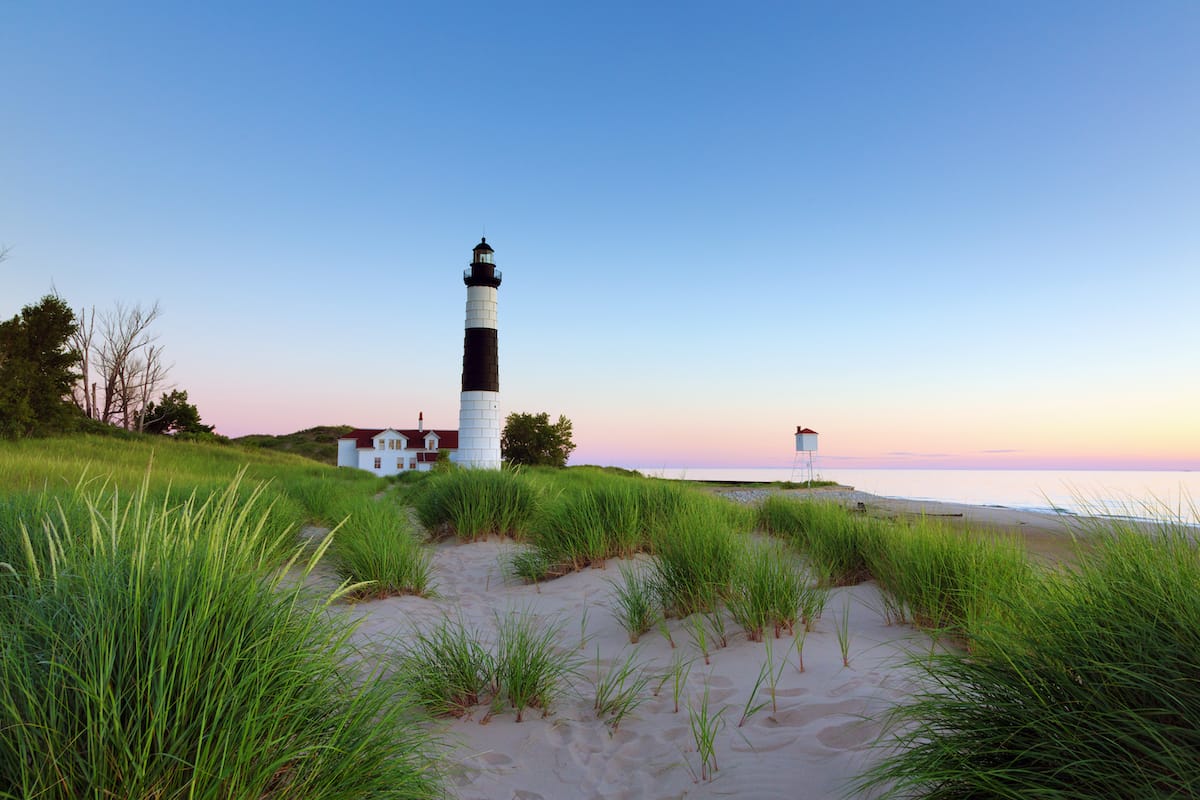 Beautiful Lighthouses in Michigan
1. McGulpin Point Lighthouse
Nestled on a bluff overlooking the Straits of Mackinac and 2 miles west of Old Mackinac Point Lighthouse near downtown Mackinaw City, the McGulpin Point Lighthouse once protected ships on the Straits of Mackinac from fog, storms, and rocks between 1869 and 1906.
This gorgeous lighthouse is named after John McGulpin, who came to the US and North America in 1760 and later served at Fort Michilimackinac.
After being closed to the public for decades and then deactivated in 1906, the county purchased it in 2008, restoring it to period decor and opening it to the public on May 30, 2009 with a gala celebration.
Since then, McGulpin has once again operated as a Private Aid to Navigation on the NOAA chart map.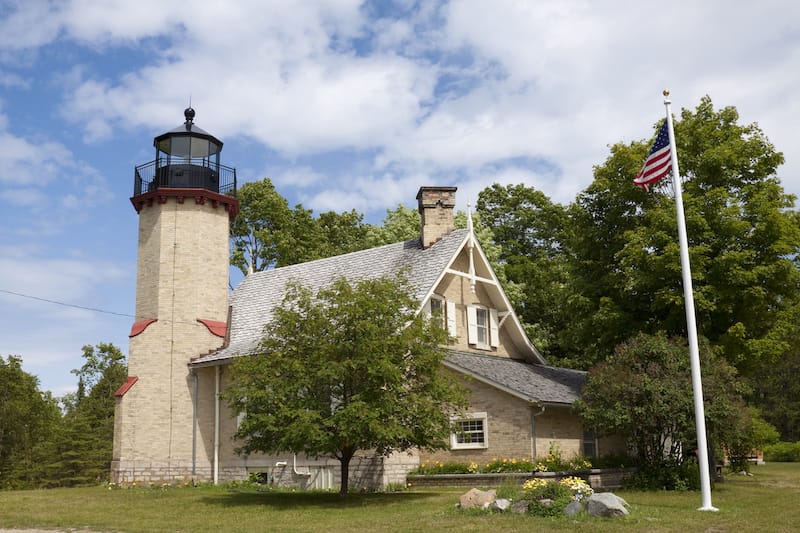 For a one-of-a-kind secluded experience, you can stay at McGulpin Point Cottage right next to the lighthouse.
There is also a museum and gift shop on-site.
Take a stroll around the 10-acre site surrounding the lighthouse, which includes 336 feet of shoreline on the Straits, or climb the winding stairway to the top of the tower to marvel at the stunning scenery of Mackinac Bridge.
The lighthouse is open to visitors from mid-May through mid-October and offers special events organized throughout the year.
Address: 500 Headlands Rd, Mackinaw City, MI 49701
2. South Haven Lighthouse
South Haven Lighthouse is a stunning lighthouse standing at the end of a 225-foot wooden pier that has been in use since 1861.
Made of cast iron and standing at 35 feet tall, this distinctive red cylindrical tower topped by a black lantern was first lit in 1872.
It was constructed to assist commercial vessels in the lumber trade through the outer end of the south breakwater, where the Black River enters Lake Michigan from South Haven.
The 1903 tower, which replaced an original wooden tower from 1872, is a shortened version of the Muskegon South Pierhead Light.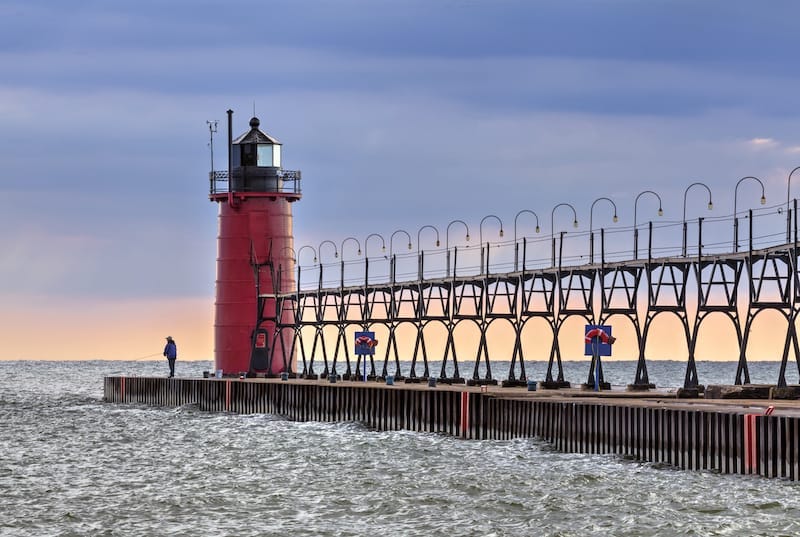 The catwalk leading to the lighthouse is one of only four original elevated walkways that survive in the state of Michigan.
In the winter, when Lake Michigan freezes solid, the catwalk lets one safely walk over the ice and snow to reach the lighthouse.
Please note that the tower is not open to the public, but you can still walk down the pier and enjoy the magnificent views.
Address: Water St, South Haven, MI 49090
3. Point Iroquois Lighthouse
Overlooking the waters of Lake Superior at the entry to St. Mary's River, Point Iroquois Lighthouse is a restored 65-foot Cape Cod-style white brick lighthouse constructed in 1855.
Named after the Iroquois warriors massacred there by the Ojibway in 1662, it marks the narrow channel for passing sailors.
The first lighthouse was erected on September 20, 1857, and in 1870 the wooden tower and house were replaced with the brick buildings which you can visit today.
In 1962, the historic lighthouse of Point Iroquois Lighthouse was replaced after 107 years by an automatic light in the channel off Gros Cap, Ontario.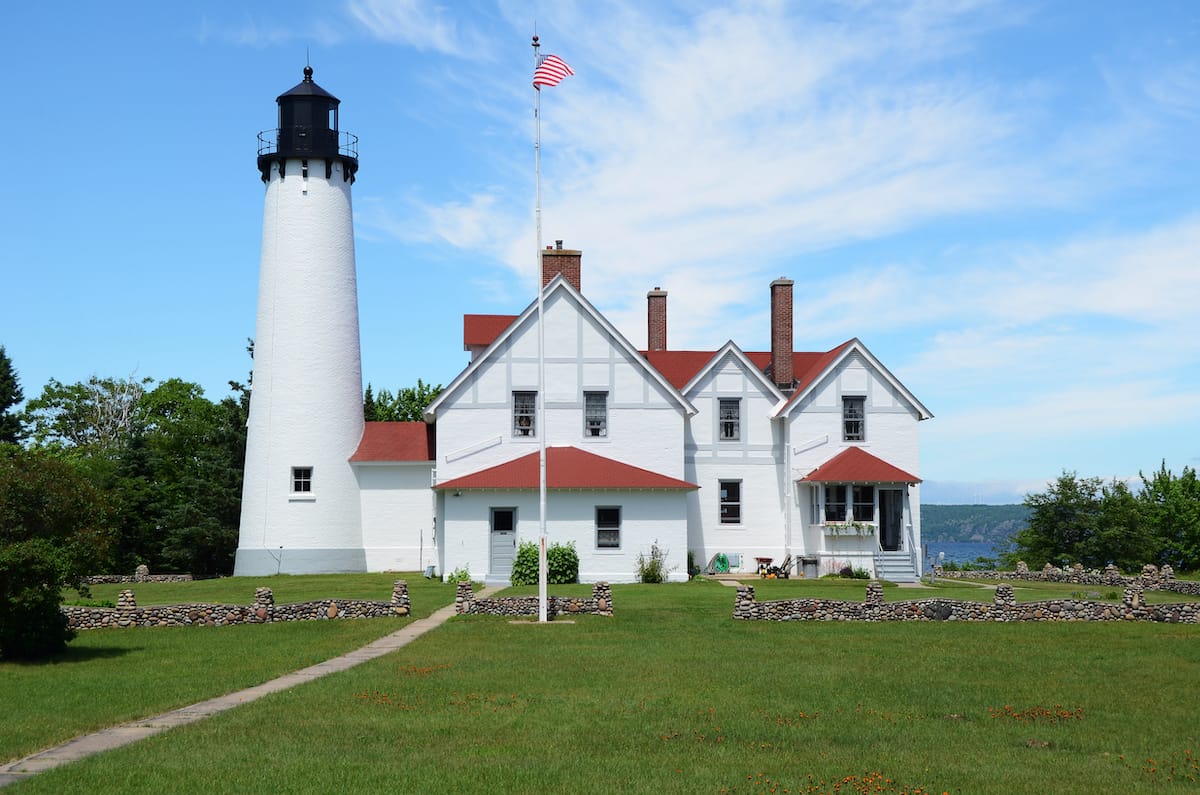 Don't miss your chance to climb the spiral staircase to the top of the lighthouse to take in breathtaking views of Lake Superior below.
In the nearby museum, you can experience life as it once was at the lighthouse during its heyday, where you can discover the stories of the lighthouse keepers and their families through family album photographs, antiques, and artifacts, and learn about the 4th-order Fresnel lens that could project light for sixteen miles.
You can tour this brick tower only from May through October, but the grounds are always open to the public.
In 1975, the Point Iroquois Lighthouse was registered on the National Register of Historic Places.
4. Big Bay Point Lighthouse
Set above Lake Superior atop a sandstone cliff between Marquette and Keweenaw Portage Entry, Big Bay Point Lighthouse is a 60-foot high red brick square tower topped with a fixed 3rd order Fresnel lens.
Built in 1896, this unique lighthouse still aids Coast Guard navigation in the Upper Peninsula, overlooking surrounding pine forests and the towering Huron Mountains off in the distance.
The light was operational starting in 1896 and was automated in 1941.
In 1986, the two-story brick building and the tower were converted into a unique bed and breakfast, making it the only operational lighthouse with a B&B, giving you the chance to sleep inside a 104-year-old lighthouse and wake up to the sound of Lake Superior's waves outside your window.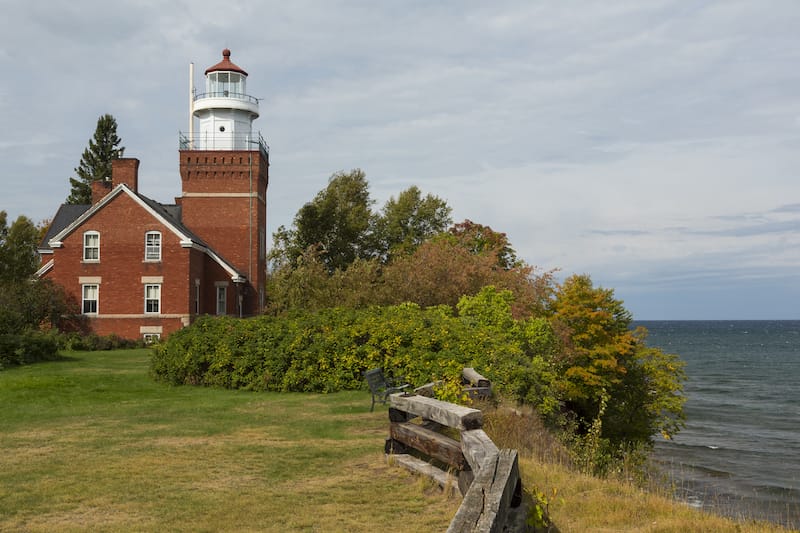 Seven guest rooms with period furniture allow you to enjoy a secluded retreat from modern life amidst a stunning natural setting.
Amenities include fireplaces, WiFi, a library, whirlpool, spa service, sauna, and full Keepers Breakfast.
Trails for hiking, biking, skiing, snowmobiling, and admiring gorgeous waterfalls are abundant in the area.
In 1988, the Big Bay Point Lighthouse Inn was placed on the National Register of Historic Places.
Address: 4674 Co Rd KCB, Big Bay, MI 49808
5. Point Betsie Lighthouse
Built in 1858, Point Betsie Lighthouse, originally named Pointe Aux Bec Scies, is the oldest standing structure in Benzie County, still guiding mariners on Lake Michigan.
Nestled on the gorgeous Lake Michigan shoreline south of the Sleeping Bear Dunes and north of Frankfort, Michigan, the lighthouse is outfitted with a 4th-order Fresnel lens, which remains on display in the lighthouse.
Point Betsie Lighthouse, which roughly translates to Saw Beak Point, got its name from the Native American people who were working with the French settlers at the time.
This bright white tower topped by a black lantern was the last of the Michigan lighthouses to be fully automated in 1983.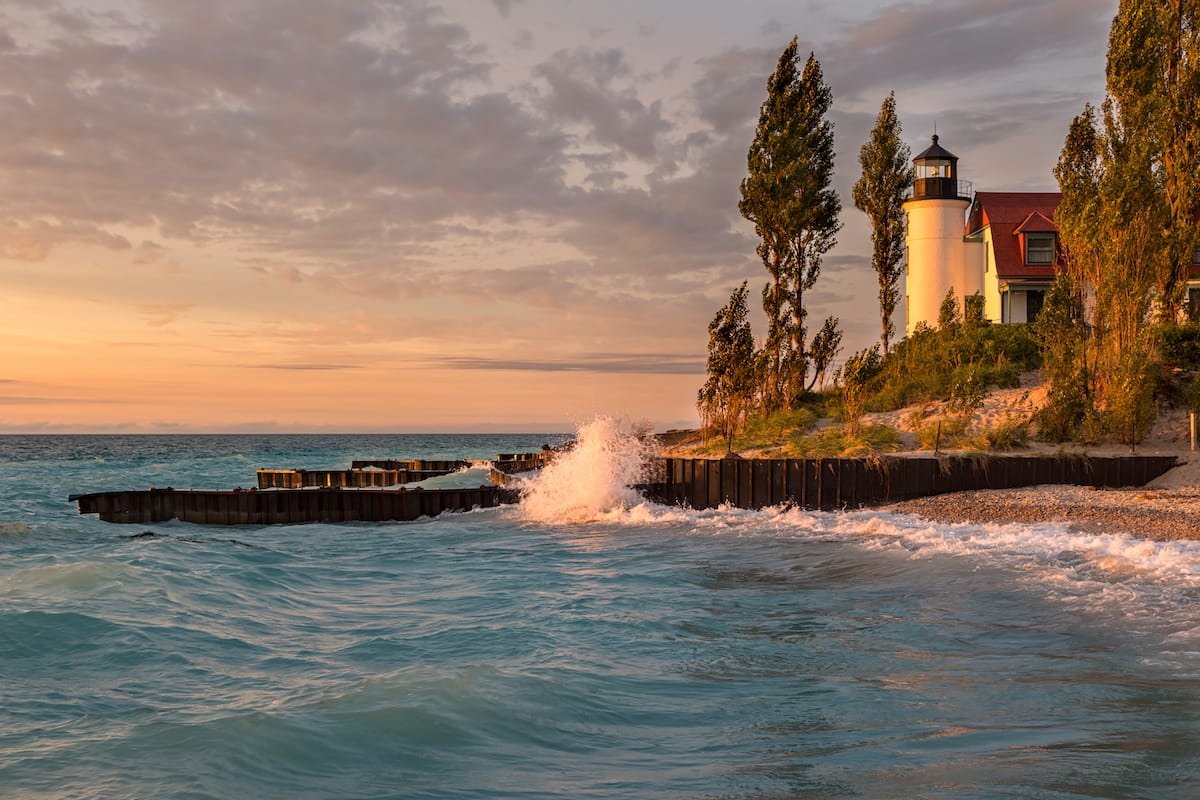 Self-guided or semi-guided tours are available on a seasonal basis for $5 for adults, $2 for children 6-12, and free for children under 6.
The original 1858 lighthouse, keeper's residence, fog signal building, and Boathouse Museum are open to the public for the season from Memorial Day weekend through the end of October.
The Keeper's Quarters are available to stay in for those who want a unique lodging experience.
Before leaving, check out the gift shop to take home a piece of Point Betsie Lighthouse with you.
Address: 3701 Point Betsie Rd, Frankfort, MI 49635
6. Big Sable Point Lighthouse
Nestled on the eastern shore of Lake Michigan in Ludington State Park, Big Sable Point Lighthouse, originally built of Milwaukee Cream City brick, is a 112-foot-high black-and-white striped lighthouse maintained by the Sable Point Lighthouse Keepers Association.
The first lighthouse was erected in 1867 and remained active until 2002. In 1905 a protective layer of steel was added and painted with distinctive stripes.
The nearby Keeper's Quarters features a gift shop packed with unique items, has an educational film that visitors can watch, and provides shelter for the lighthouse's summer volunteers.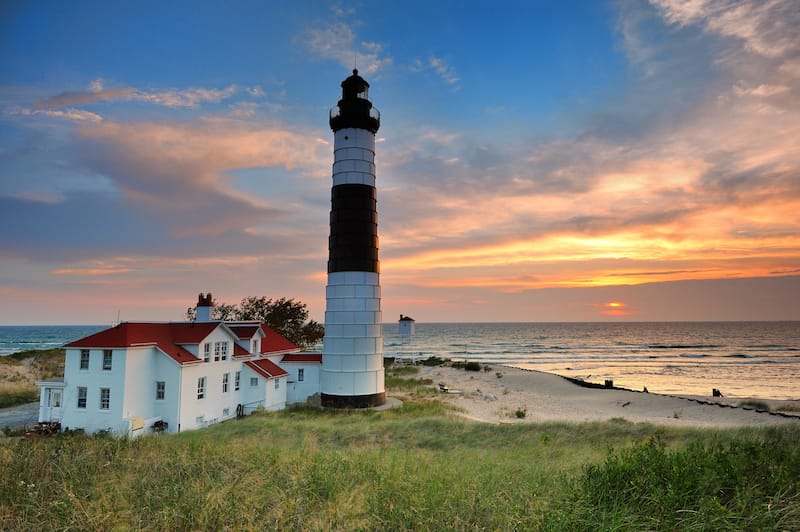 Visit from May to October to take part in the Volunteer Keepers Program to live and work within the lighthouse completely free of charge, or simply explore the grounds and tour the original keeper's quarters.
To take in the lovely vistas of Ludington State Park, Lake Michigan, and thousands of acres of the surrounding wild dunes, climb the 130 steps all the way up to the watchtower room, walk out on the catwalk, and enjoy the views.
Big Sable Point Lighthouse is registered on the State and National Registers for Historic Places.
Address: 8800 W M-116, Ludington, MI 49431
7. Muskegon Lighthouses
Two lighthouses in Muskegon, the Muskegon South Pierhead Lighthouses and Muskegon South Breakwater Lighthouses, lit the sandy shores of Lake Michigan for over a century and served as navigational aids for ships on the Muskegon River.
The 48-foot-tall cylindrical, ironclad Muskegon Pier Light, located at the outer end of the south pier near Muskegon State Park, featured two spiral staircases and a shipman's ladder and was first illuminated in 1903.
The tower is open for tours from Memorial Day to Labor Day.
You can also take in mesmerizing views from the beach or by boat throughout the year.
The 63-foot red, ironclad, pyramidal Muskegon South Breakwater Light, sitting at the end of a walkable 1,514-foot pier at Pere Marquette Park, was built in 1931.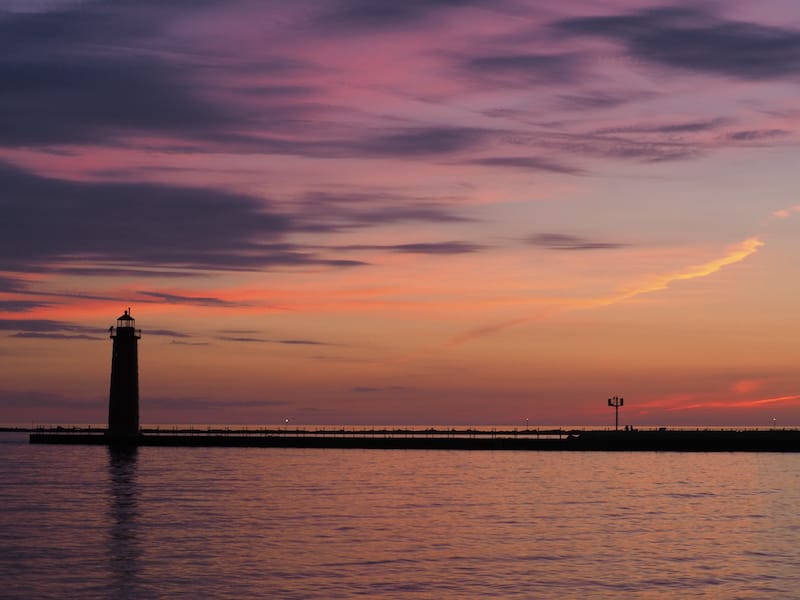 Due to its sparseness, it was never meant to be manned or occupied.
Fifteen-minute tours led by lighthouse keeper docents are available to learn about the history of the lighthouse.
Both lighthouses are listed on the National Register of Historic Places.
Address: 1431 Beach St, Muskegon, MI 49441
8. DeTour Reef Lighthouse
Originally placed onshore at Point DeTour, DeTour Reef Lighthouse was moved a mile offshore near Drummond Island in 1931.
Sitting atop a massive concrete pier, this Classical Revival-style tower was built to guide ships around a dangerous reef at the easternmost point of the Upper Peninsula, from Lake Huron and Lake Superior via the strategic St. Mary's River.
The lighthouse was first illuminated on November 10, 1931. In 1974 the light was automated, and by 1997 DeTour Reef Lighthouse had been declared excess property by the U.S. Coast Guard.
Also referred to as the "Gateway to Superior," the tower is well known to ship captains and pleasure boaters sailing the upper Great Lakes.
To get up close and personal with the lighthouse, catch a boat at Fort Drummond Marine or consider doing the lighthouse's weekend keeper program to stay there overnight.
Public tours for exploring this 83-foot white tower are available on Saturdays between Father's Day and Labor Day weekends.
DeTour Reef Lighthouse was added to the National Register of Historic Places in March of 2005.
Address: Light House Rd, De Tour Village, MI 49725
9. Tawas Point Lighthouse
Nestled in the Tawas Point State Park off Tawas Bay in Lake Huron, Tawas Point Lighthouse was established in 1853 and has been in operation since 1876.
This Victorian-era style light station was topped with a 5th-order Fresnel lens, making the light visible to mariners up to ten miles away.
Attached to the lighthouse, you can find the red-roofed keeper's house, which is now a museum, available for one and two-week stays for a fee.
The 70-foot-high lighthouse served as an active aid to navigation until 2016.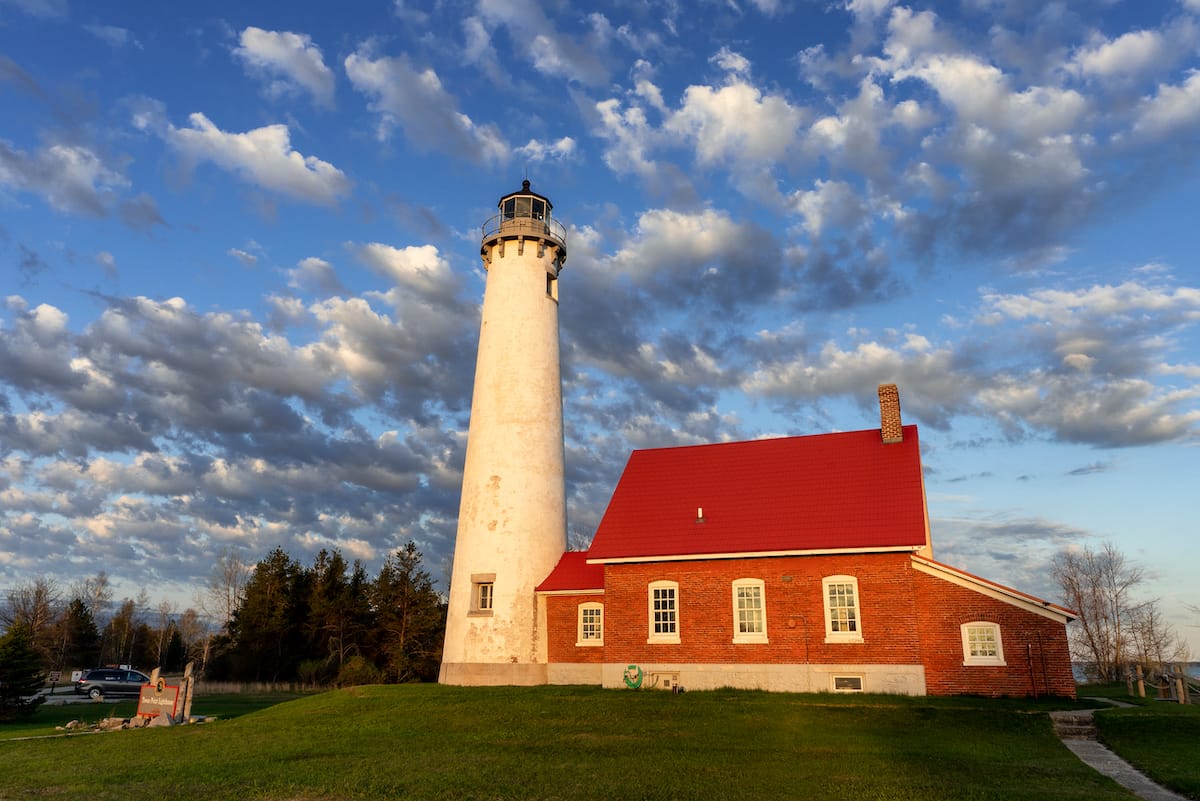 Forty-five-minute tours led by lighthouse keepers are offered Wednesday through Monday, noon to 5 pm, from May 17 through October 17. You can purchase the tickets at the lighthouse museum store.
For spectacular views, make sure to climb the 85 steps to the top to enjoy breathtaking sunrises over Lake Huron and sunsets over Tawas Bay.
Throughout the year, in the Tawas Point State Park, you can hike the Point on the Sandy Hook Nature Trail, take advantage of picnic and camping areas, and even take part in special events, such as the Tawas Point Haunted Lighthouse weekend in October.
10. Rock Harbor Lighthouse
In operation since 1855, Rock Harbor Lighthouse is a fascinating attraction for maritime lovers.
It is Isle Royale's oldest lighthouse, located above the rugged shoreline at the southwest entrance to Rock Harbor in Isle Royale National Park.
The 50-foot round white brick tower featuring a black lantern was deactivated in 1879.
Although no longer illuminated, it once sent out a beacon of light for 15 miles across the lake with its 4th-order Fresnel lens.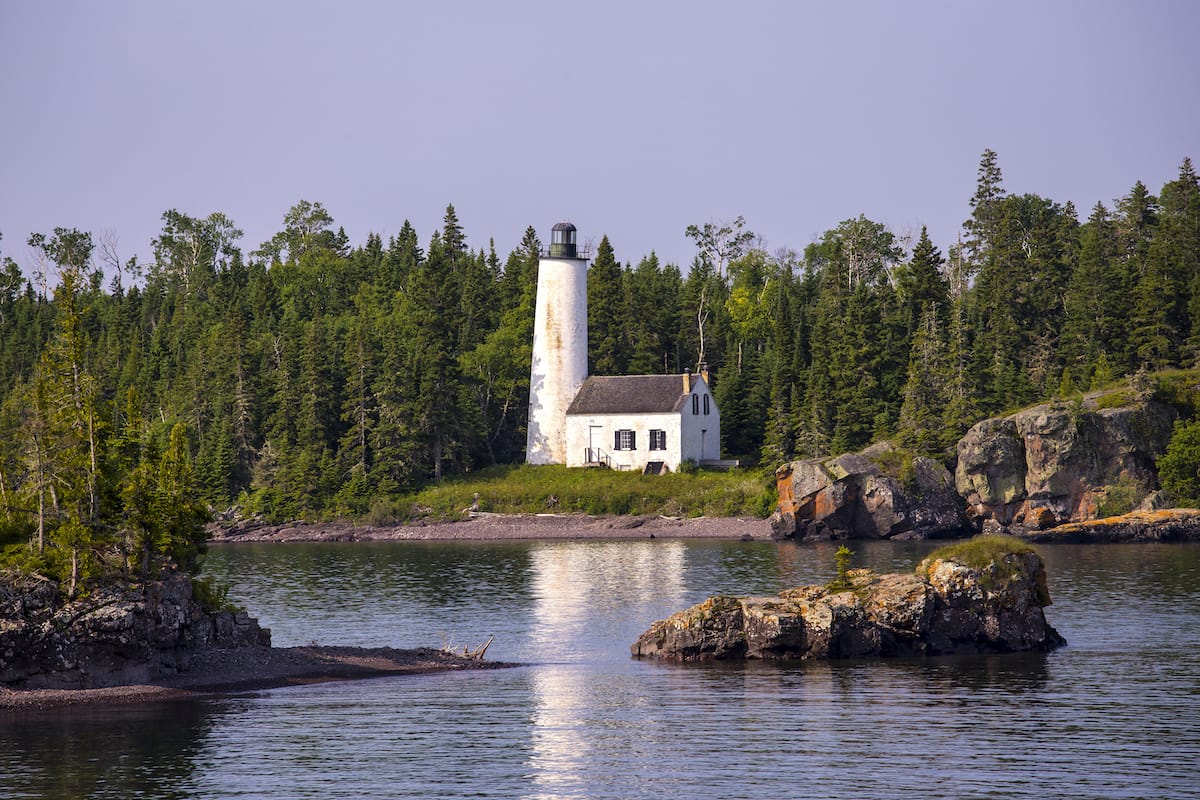 Take part in a guided NPS tour held in the summer months to explore Isle Royale's most visited lighthouse and marvel at maritime exhibits in the attached keeper's house, which now serves as a museum.
The tour also includes a stop at the nearby Edisen Fishery.
Since 1977, Rock Harbor Lighthouse has had its unique place on the list of the National Register of Historic Places.
Please note that getting to Isle Royale National Park is only accessible by ferry, private boat, or seaplane.
Address: Rock Harbor Lighthouse, Houghton Township, MI
11. Charlevoix South Pier Light Station
Charlevoix South Pier Light Station, also known as the Charlevoix Pier Light, is another gorgeous lighthouse located on Lake Michigan at the entrance of Lake Charlevoix.
The 44-foot tall lighthouse sits at the end of the breakwater of the channel leading to Round Lake in the city of Charlevoix.
Originally built in 1885, the old wooden lighthouse was relocated to the southern pier in 1914 and a steel skeletal tower was built on the north pier.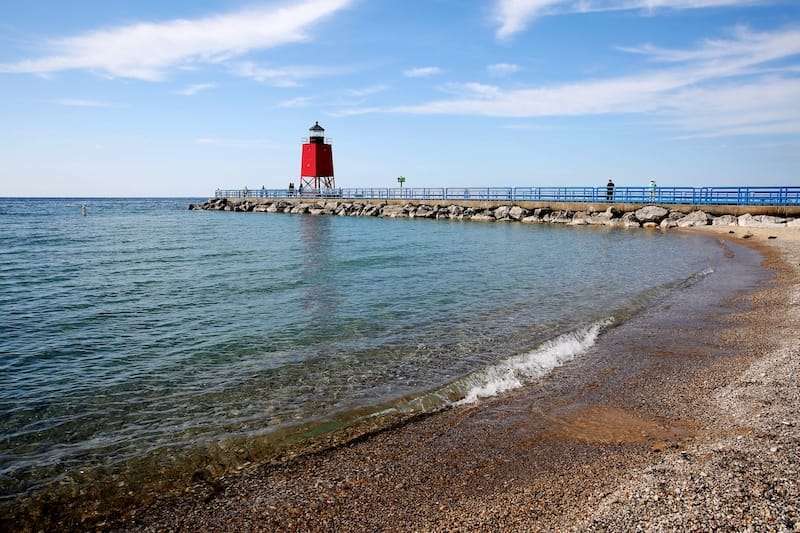 Charlevoix South Pier Light Station was restored in 2009 and repainted in its historically significant Daymark red color.
The distinctive white and square skeletal tower outfitted with a black lantern is still operational today.
The lighthouse is owned by the City of Charlevoix and maintained by the Charlevoix Historical Society.
Address: 2 Grant St, Charlevoix, MI 49720
12. Crisp Point Lighthouse
Nestled on Crisp Point near Shipwreck Alley rests Crisp Point Lighthouse, which has certainly stood the test of time.
After being proposed for six years, it was finally built in 1902 and became operational in 1904.
Being one of the most inaccessible mainland lighthouses in Michigan, you will need to take a narrow country road through the Lake Superior State Forest to get there.
This tranquil area is the perfect place to explore the shoreline, get a glimpse of the tower, and soak up the peaceful surroundings.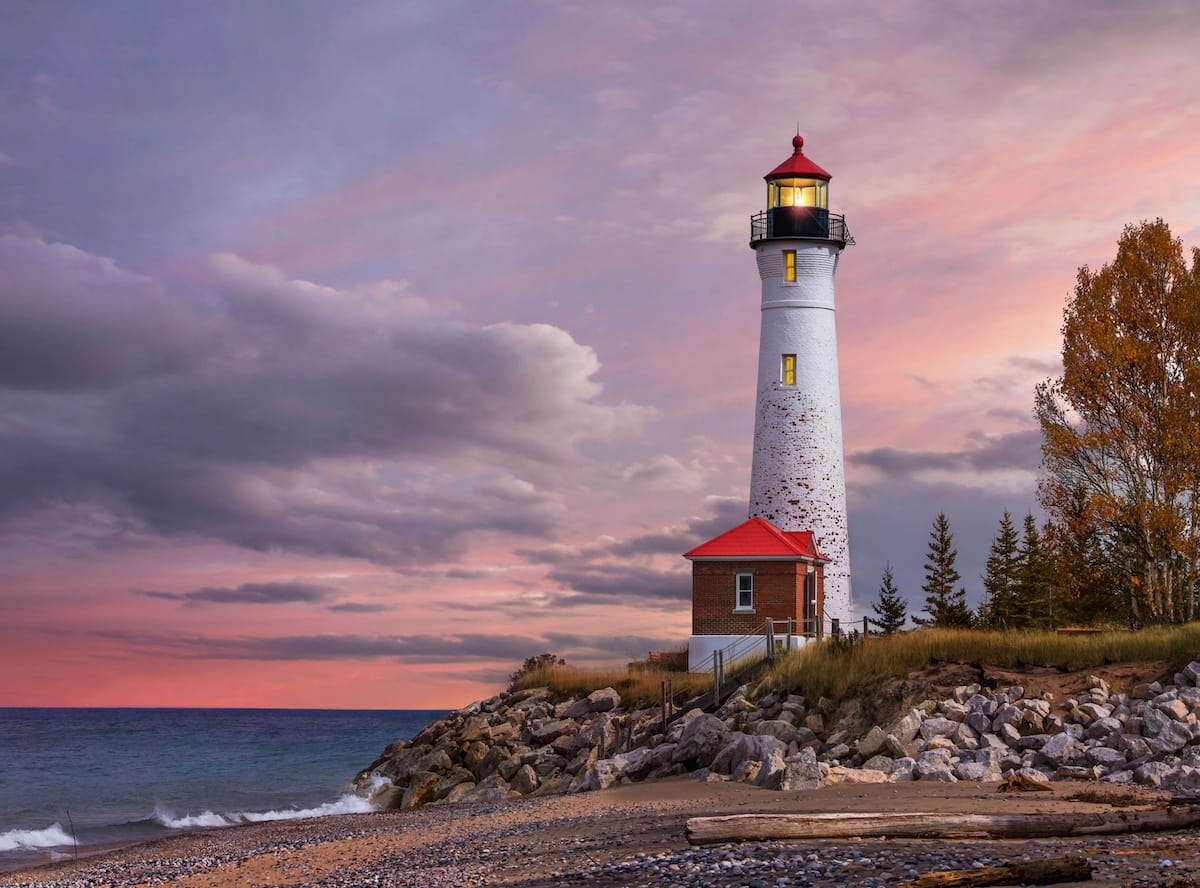 During Crisp Point's heyday, there were several facilities on the property, including a lighthouse tower, fog signal building, brick service room, oil house, lifesaving station and quarters, keeper's quarters, two barns, and boathouse.
After guiding boaters on the dangerous waters of Lake Superior with its fixed 360-degree, red, 4th-order light for nearly a century, it was decommissioned by the U.S. Coast Guard in 1993.
You can tour the grounds throughout the year, but you should plan your visit during the summer months if you want to explore the lighthouse tower and visitor center.
The 58-foot tall white tower still standing today is one of five U.S. Life Saving stations on the Lake Superior shore maintained by the Crisp Point Light Historical Society.
Address: 1944 Co Hwy 412, Newberry, MI 49868
13. Beaver Island Harbor Lighthouse
Perched upon the narrow peninsula that juts out into St. James Harbor near the edge of town, Beaver Island Harbor Lighthouse was erected in 1856.
It stood out with its 6th-order Fresnel lens that projected a fixed white light.
Later in 1871, it was replaced with a cylindrical white tower topped with a black cast-iron parapet.
Constructed of Cream City Brick and featuring a 4th order Fresnel lens, the tower currently serves as an active navigational aid with its automated light for the Emerald Isle Ferry.
The 41-foot high tower, which sits atop Whiskey Point at the entrance to Paradise Bay, is not open to the public, but you can still tour the grounds.
Address: Michigan Ave, Beaver Island, MI 49782
14. Mission Point Lighthouse
Set in a picturesque spot along the Old Mission Peninsula in Traverse City, Mission Point Lighthouse certainly is a fine sight.
This small 45-foot white clapboard lighthouse was built in 1870 and decommissioned in 1933.
Self-guided tours are available from May to October and weekends through November, where you can explore the lighthouse that once imperiously watched over West Grand Traverse Bay and experience what life was like for the lighthouse keepers back in the 1870s.
Here you can also take advantage of Mission Point's two-week keeper program to stay as a lighthouse keeper in this Traverse City historic icon.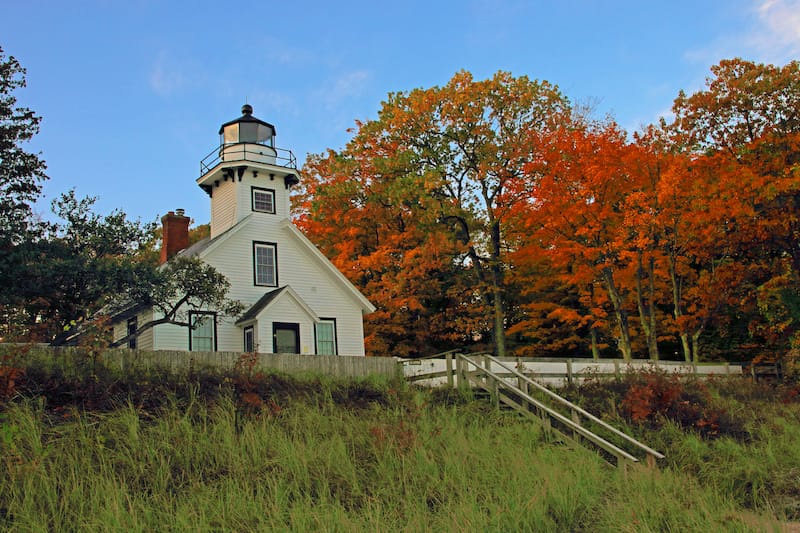 For a small fee ($5 for adults and $2 for kids), you can tour the museum to witness the 5th-order Fresnel lens; learn more about Sarah Lane, one of the lighthouse's only female keepers; get a glimpse into the historic Hessler Log Cabin; check out the gift shop and 2nd-floor museum; and climb the stairs to the top to admire the mesmerizing views.
The nearby park and beach are open daily all year round for you to explore the miles of unspoiled trails, picnic, watch the sunset, enjoy birdwatching and wildlife viewing, and simply relax in this beautiful natural setting.
Address: 20500 Center Rd, Traverse City, MI 49686
15. Presque Isle Lighthouses
Just north of Alpena in Presque Isle, you can visit the tallest and oldest still-accessible lighthouses on the Great Lakes as well as the keeper's residence.
Still standing as a reminder of the Great Lakes' rich maritime past, the Old Presque Isle Lighthouse, along with its Keeper's House, was built in 1840 as a guiding beacon along the shores of Lake Huron in Northeast Michigan.
Rumor has it that this 30-foot-tall tower is haunted, so keep your eyes peeled for any suspicious sightings.
In 1870, the U.S. Lighthouse Service decided to build another lighthouse to replace the 1840 harbor light, so the New Lighthouse was built and first illuminated at the beginning of 1871, where it served more than 130 years as an active aid to navigation with its 3rd order Fresnel lens.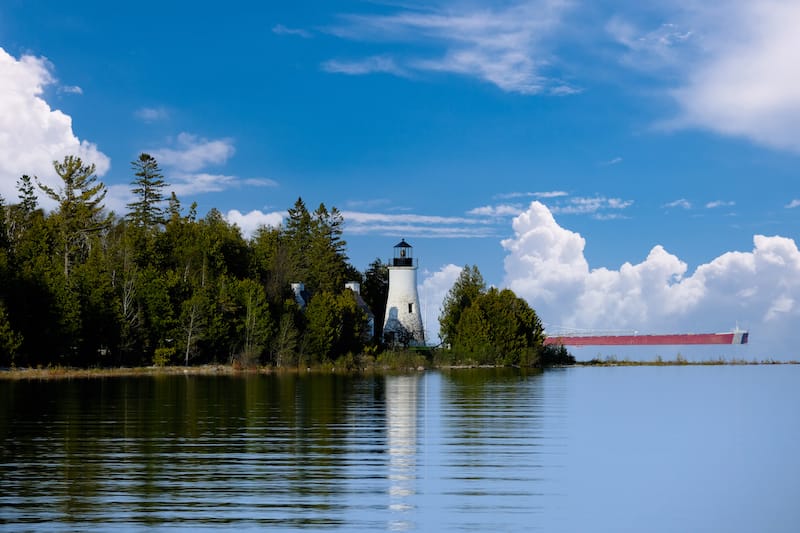 However, in 2003, the light was removed from the 113-foot tall New Light tower and was placed on exhibit in the original Keeper's House.
Don't miss visiting the 1905 Keeper's House to experience the life of keepers and their families and witness rotating exhibits of furniture, art, books, kitchen equipment, and many other artifacts dating back to the museum's 1915 target era.
New Presque Isle Lighthouse and grounds are open to the public daily from 10am-6pm, mid-May through mid-October.
Did we miss any of the best lighthouses in Michigan? Let us know your favorite Michigan lighthouses in the comments. Thanks!
More Michigan Travel Guides
Pin this Michigan Lighthouses Guide