Are you looking to go apple picking in Michigan? These are the best apple orchards in Michigan to help you do so!
We list U-pick farms, ones with pumpkin patches, and more! Did we miss your favorite Michigan apple orchards?
Let us know your top picks in the comments. Thanks!
When to Go Apple Picking in Michigan
The best time to go apple picking in Michigan is, of course, during the fall – but specifically September and October.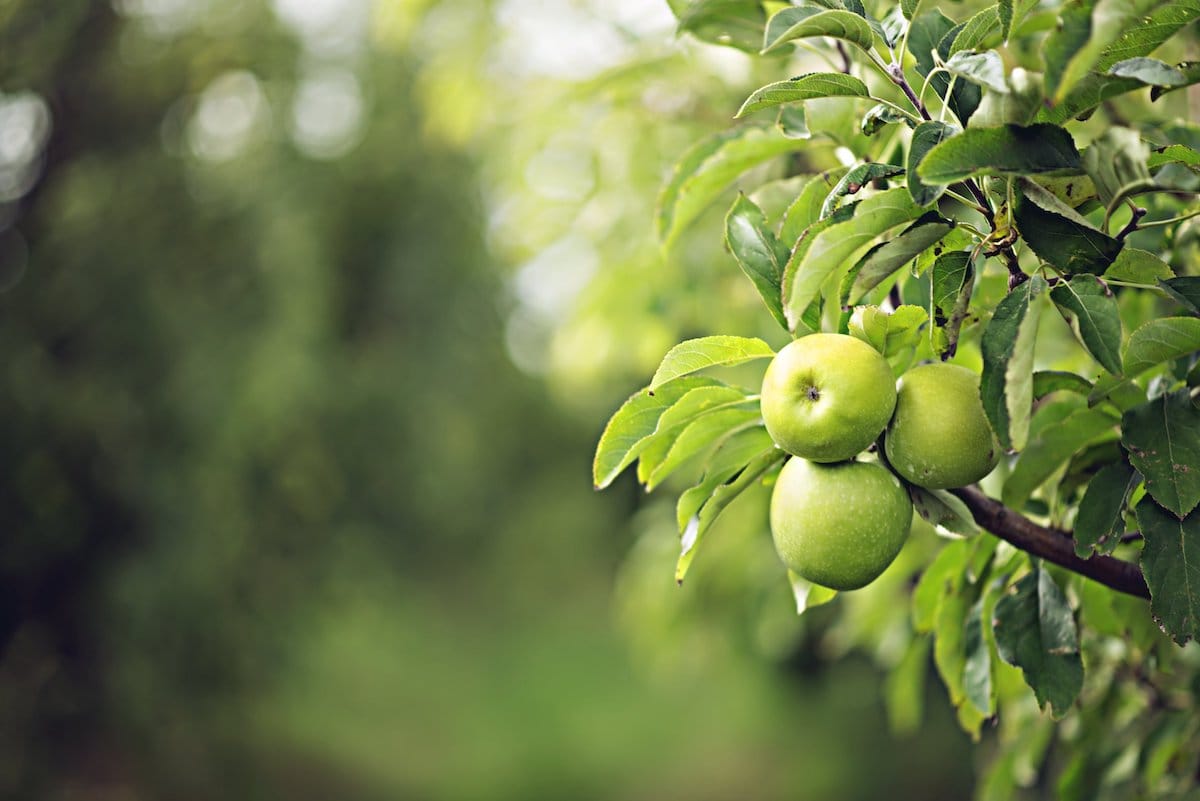 Some apple orchards in Michigan will open their doors in August but most wait until September!
Best Apple Orchards in Michigan
1. Gull Meadow Farms
Location: Richland
Website
Gull Meadow Farms is one of the most family-friendly farms in Southwest Michigan!
They have the ideal setting for making those priceless memories, whether you're dropping by to pick apples in the orchard, pumpkins from the patch, visit the furry companions at the petting farm, or if you simply want to enjoy a day in the fresh air at the farm with your friends and family.
Visit today and indulge in some of the mouth-watering donuts, award-winning cider, or freshly baked treats from the bakery.
Don't miss out on the family activities and the corn maze. Everyone can have a great time at Gull Meadow Farms – the ideal location for building enduring traditions and memories.
Their market and activity hours are Fridays from 12:00pm to 6:00pm and Saturdays and Sundays from 10:00am to 6:00pm.
2. Sunny G Orchard
Location: Stephenson
Website
Sunny G Orchard is a newly established apple orchard that is family owned and operated.
Along with the typical activities available on the farm, they also have over 10 different types of apples, ready to pick!
As of right now, the climate and growth season dictate the hours, so there aren't really any steady hours. Visitors can only come if they have made an appointment beforehand.
So, when you're in Stephenson and you want to stop by the Sunny G Orchard, make sure to make a call in advance. Visitors enjoy doing hayrides and tours along with apple picking.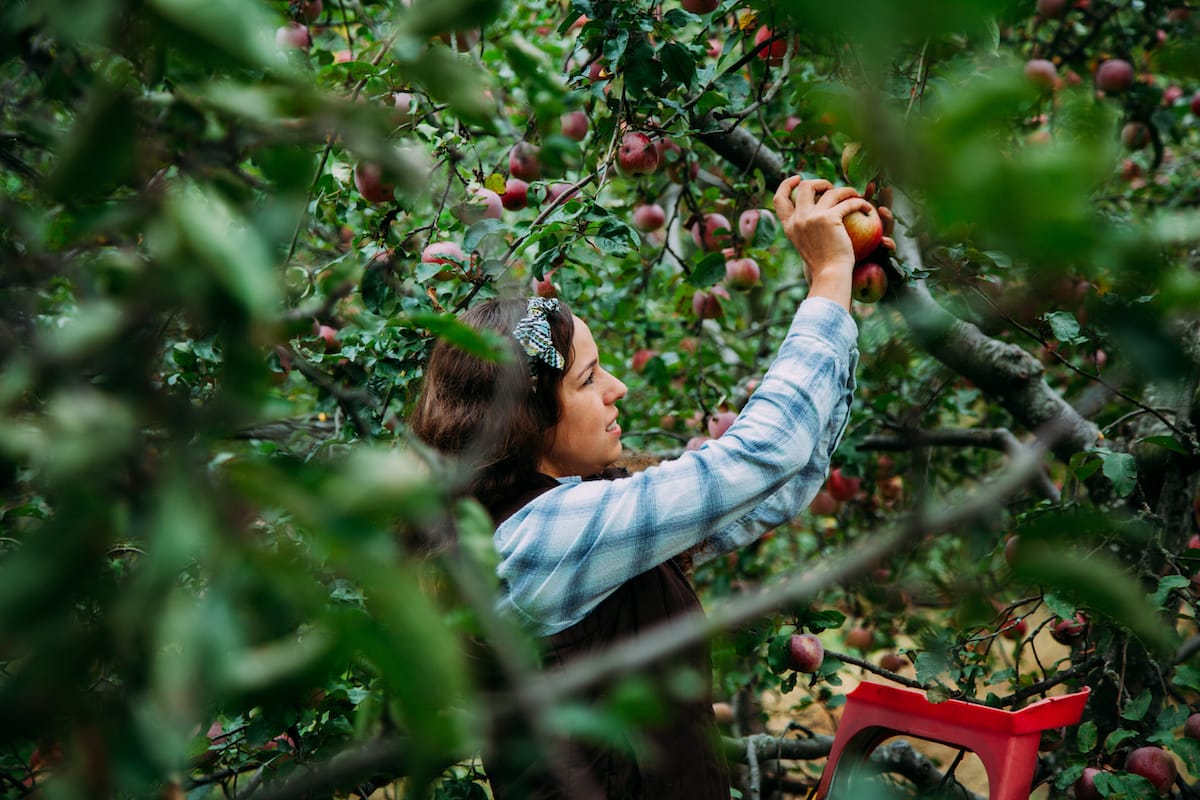 3. Bayne's Apple Valley
Location: Freeland
Website
On October 17, 2017, the Coughlin family acquired Bayne's business. Shawn and Jenean Coughlin, who are both from Saginaw, currently reside in the town with their three kids, Carlee, Ben, and Bryce.
After working in sales for more than 20 years, Jenean decided she wanted a change of pace and took a risk. Apples and donuts are now a regular part of her diet, but she never looked back.
The Coughlins are all in and prepared to change the neighborhood and leave their mark.
A family-owned bakery, cafe, and gift shop is located at Bayne's Apple Valley Farm.
They are excited to share the extensive selection of Michigan-based vendors, over 30 unique bakery items, and a brand-new café menu with you all.
4. Knaebe's Apple Farm and Ciderworks
Location: Rogers City
Website
Just like most other Apple Farms, Knaebe's Apple Farm and Ciderworks has its apple-picking season, which is a hit amongst both locals and visitors.
However, that's not all that this farm has to offer! On Fridays and Saturdays, stop by the Tasting Room for woodfired pizzas, hard cider, and a special bakery treat!
On Fridays and Saturdays, they are open from 11:00am to 7:00pm.
They've got absolutely delicious lemonade and a variation of their well-known EastCider with hickory smoke!
Although our furry friends can really be the absolute best, please remember to keep your pets at home as Knaebe's is very particular about the apples being contaminated.
So, for the safety of everyone, please remember this important rule!
5. Miller Family Orchard
Location: Vassar
Website
One-of-a-kind activities that can only occur during the fall season are all available at the Miller Family Orchard, ready to create an environment that's perfect for visitors of all ages.
They have everything you're looking for whether it's a corn maze, hay ride, pumpkin patch, apple picking, or fall festivals.
Finding the fall fun you're seeking for this season lies at the Miller Family Orchard.
Whether you're visiting Vassar with family or friends, there's something in it for everyone! Get ready for infinite amounts of fun and apple-picking with your loved ones at the beautiful Orchard!
Besides apples, they also have pastries available, which is great for the locals, as those who visit and contribute to their business, contribute to the local businesses as well, as the foods are all locally grown.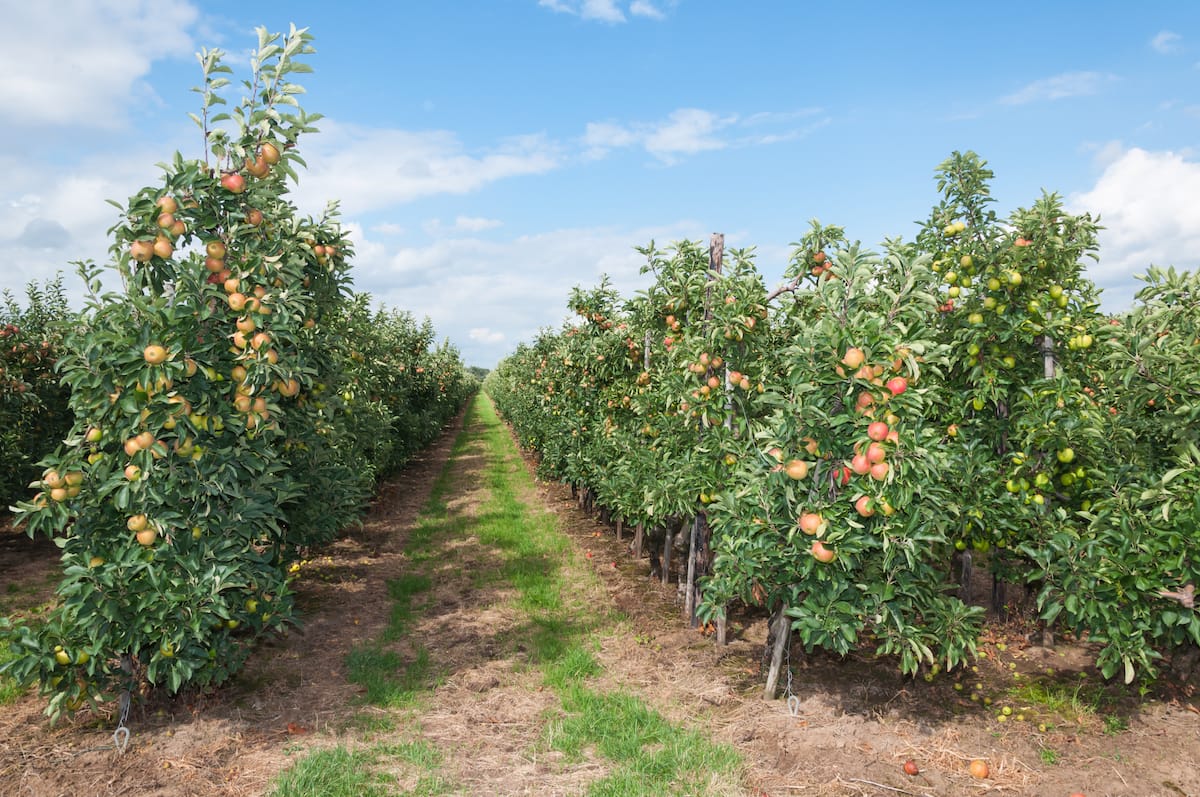 6. Blake's Orchard and Cider Mill
Location: Armada
Website
Blake Farms was established in 1946 by Gerald and Lovey Blake and was based on a strong work ethic and close family relationships.
Gerald left the suburbs in order to study farming, which even nowadays, although admirable, seems a bit out of the norm.
However, he did in fact create an amazing legacy. The 800-acre working farm and US apple orchard feature a hard cider production facility, funland, tasting room, and cider mill.
On the farm, Blake's raises a variety of crops in addition to over 40 distinct types of apples.
With a passion for giving its visitors the freshest homegrown fruit and veggies and an unforgettable family experience, Blake's has worked for seven decades to put the community and the environment at the heart of its operations.
7. Erwin Orchards
Location: South Lyon
Website
The folks at Erwin Orchards pride themselves in their hospitality and amazing produce!
If the weather permits, u-pick apple hours are from Tuesdays to Sundays from 9:00am to 6:00pm. Please be aware that they're closed on Mondays.
Pricing for 2021's U-pick apples were: $25 per pack, $35 per half-bushel, and $50 per bushel (methods of payment are cash or check). Prices may vary as time goes on, so make sure to ask beforehand.
The Corn Maze opens during Labor Day weekend if you're interested.
You can put your navigational abilities to the test by finding five of the images on your admission ticket! People of all ages tend to enjoy it!
In addition to their renowned apple spice donuts, their cider mill offers freshly pressed unpasteurized apple cider made from premium homegrown apples. In the case of quantity orders, a 24-hour notice is required.
They also have a U-pick pumpkin patch and red and yellow raspberry patches.
8. Long Family Orchard and Farm
Location: Commerce
Website
When in Commerce, Michigan, visitors absolutely have to visit the Long Family Orchard and Farm! The farm has a variety of fruits and vegetables available to purchase and some of which visitors can pick for themselves!
Some of their most popular produce are, of course, apples, asparagus, peas, and pumpkins.
For apple picking, the season usually starts in mid-September, but you can always give them a call to be sure and also to get updates on changes to their famous donuts, cider, and more.
Of course, there is also the corn maze that most visitors like to take part in. Come spend the day in the Fun Farm Area with your family or friends and enjoy all the amazing activities available!
The price of admission includes access to the following attractions: the Corn Maze, a hayride to the u-pick pumpkin patch, the Ball Zone, the Giant Hill Slide, the Jumping Pillows, the Bounce House, the Spider Web, the Pedal Kart Race Track, numerous play structures, the Sand Hill, the Straw Maze, the Tunnel Tube, photo ops, the Petting Farm, and the picnic area.
Visiting the Long Family Orchard and Farm will truly be a memorable way to spend some quality time with loved ones!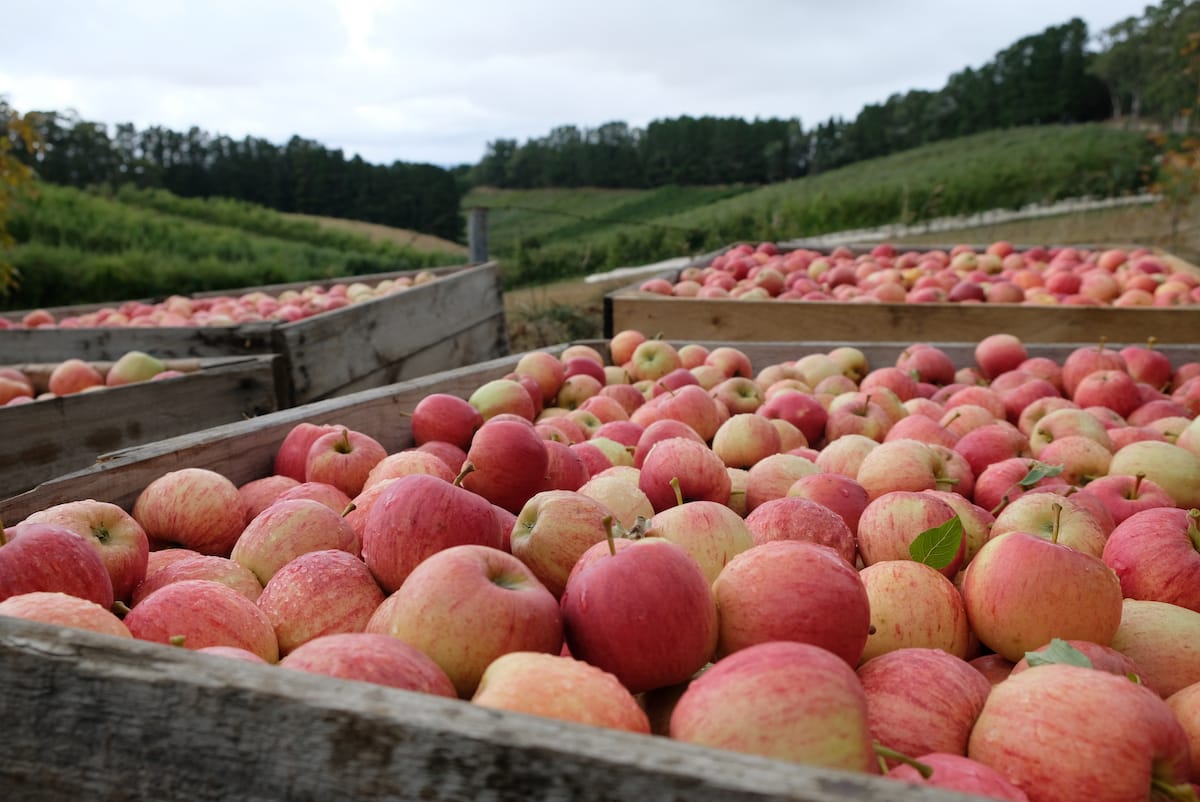 9. Bennett's Orchard
Location: Ottawa Lake
Website
The Bennet's Orchard family has produced high-quality fruits and vegetables at the most competitive pricing for over 60 years.
Come and enjoy the fresh air while picking apples, or purchase them freshly picked. On the weekends, they prepare fresh doughnuts, and always press fresh cider!
This is great, especially for those who are very cautious of what they put into their bodies.
All their products are grown locally which makes buying from Bennett's Orchard all the better as you'd leave a mark both your stomach and the locals will thank you for! Be sure to check out their country store, their farm-fresh eggs, and fresh honey made from their own hives.
You can also buy their delicious maple syrup, popcorn, baked products, jams, and jellies!
10. Clearview Orchards
Location: Haslett
Website
When Mel and Carol LaRussa purchased a 7.5-acre property in the late 1990s, they planted apple trees, which have since developed into the Clearview Orchards that we know and love today!
They're continually expanding the orchard and now have a good selection of organic apples, pumpkins, squash, and honey.
It is simple to wander between rows because the terraced rows between the trees are covered in lush grass, creating a true sight for sore eyes. What's also great is that the best organic apples are produced by Clearview Orchards, which is CCOF certified.
The orchards are also a great place to make cherished family moments, whether you want to pick your own apples or just buy some organic fruit from their Apple Barn to take home.
Along with apples, Clearview Orchards also sells organic squash, pumpkins, dried lavender, honey, and wonderful apple turnovers.
The orchards are located about three miles from the ocean and La Selva beach in a lovely terraced location overlooking Watsonville's valley.
They're open Saturdays and Sundays from 10:00am to 4:00pm from mid-September to mid-October.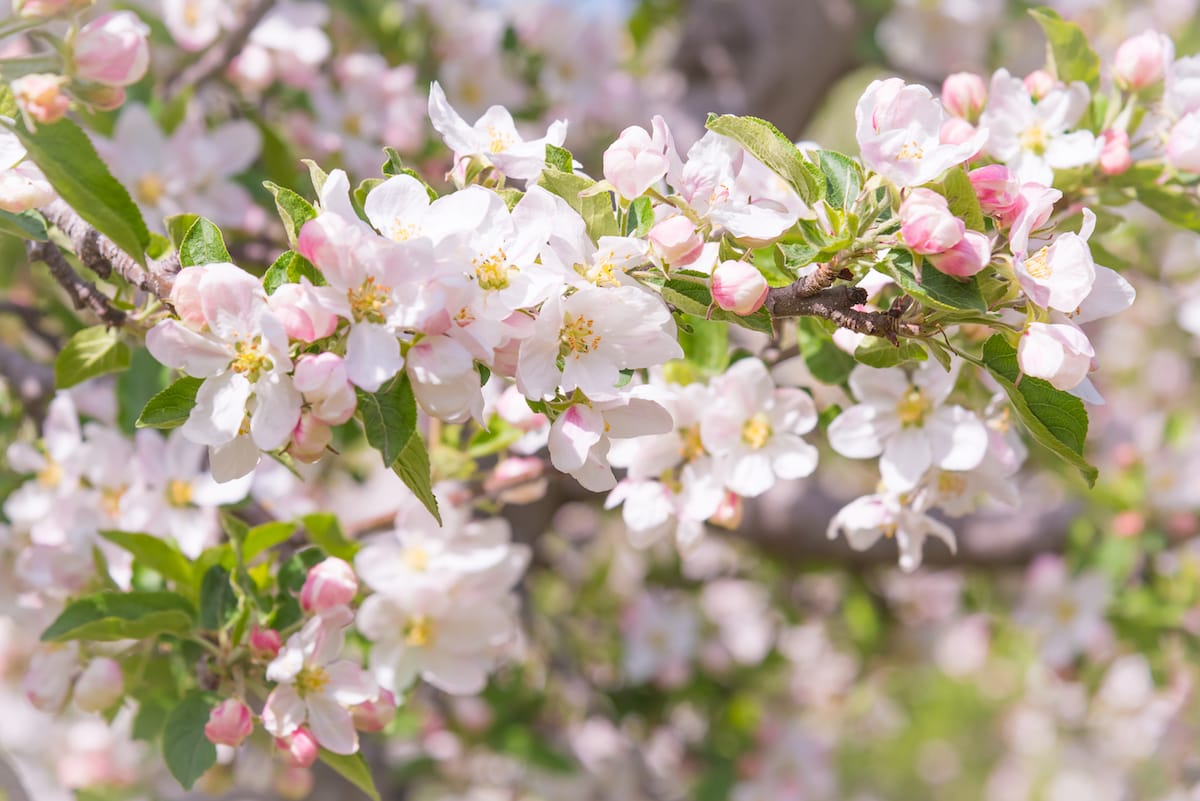 11. Jacques Orchard
Location: Hemlock
Website
In Hemlock, Michigan, lies the family-owned and operated, Jacques Orchard, owned by Gary and Lynne Jacques.
They have more than 20 different kinds of apples, including the well-known HoneyCrisp Apple.
There are peaches, pears, and plums in the 2000 tree orchard as well. Down at Jacques Orchard, they also raise vegetables, asparagus, and strawberries and they also make their own caramel apples, jam, jelly, and cider.
The open season at the orchard will be from September to October. If you call and make an appointment, you can swing by at another time that's more convenient for you.
They don't have the U-pick apple option. The apples they do provide, pre-picked, of course, are Zestar, Pristine, and GingerGold.
12. King Orchards
Location: Central Lake
Website
Devoted staff members hand-prune the trees to have the best produce in town!
King Orchards is a full-service orchard in Northern Michigan that grows a variety of fresh fruit that normally starts with strawberries in June and lasts until apples in October.
They have two fruit stalls where they sell fresh baked goods cooked with their own fruit to the neighborhood public.
You can find them at farmers' markets in and around Northern Michigan in addition to the fruit stands. They always have frozen fruit available, along with a selection of frozen pies and bakery goods.
Despite the fact that the M-88 Market is open all year round and if you are unable to visit Northern Michigan, they ship Montmorency cherry concentrate, frozen cherries, and other popular items from their markets all year long.
Apple picking is from early September through October, which is, of course, one of the most popular activities at King Orchards.
What is your favorite place for apple picking in Michigan? Let us know the best apple orchards in Michigan below!
More Michigan Travel Guides
Pin this Michigan Apple Orchards Guide