Are you looking for the best things to do in Detroit? This guide has you covered – so keep on reading!
We uncover the top Detroit attractions, museums, restaurants, and more!
Did we miss out on any of your favorite Detroit landmarks? Let us know in the comments!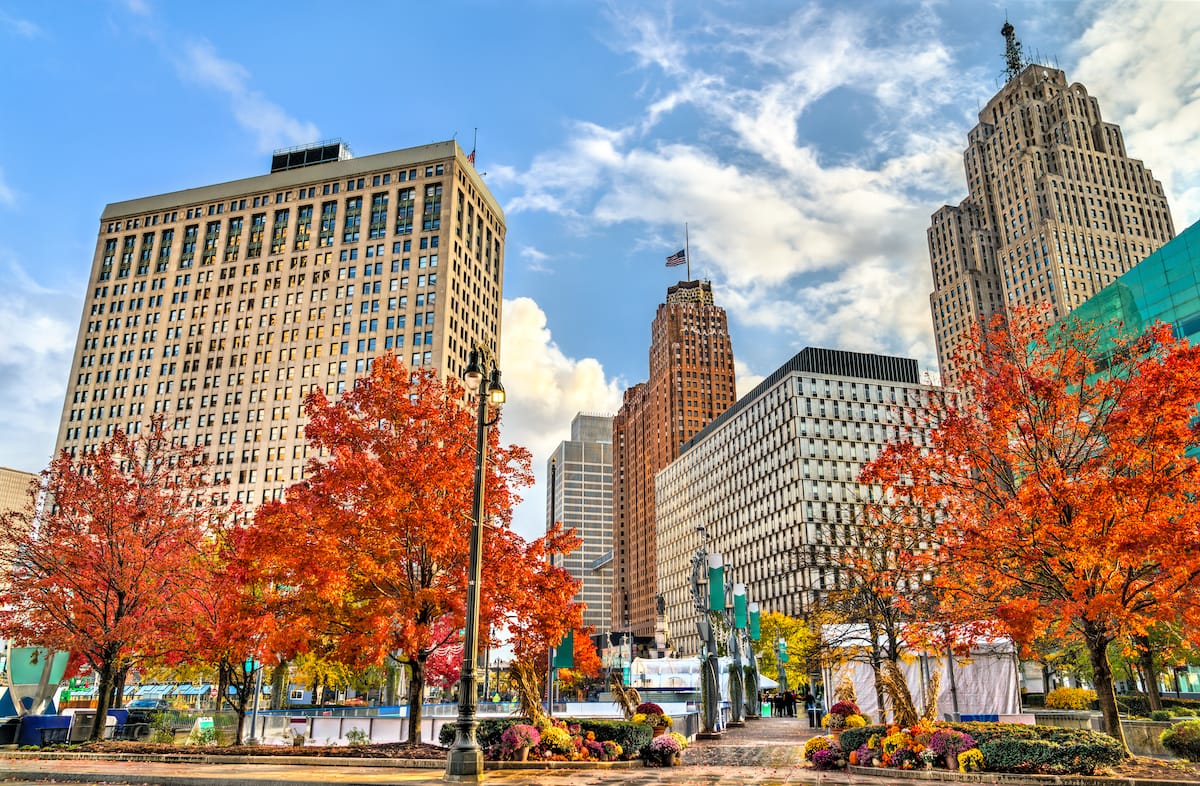 Best Things to Do in Detroit
1. Check Out Greenfield Village
A unique collection of historic buildings from around the country and as far as England assembled in Dearborn by Henry Ford, Greenfield contains everything from the birth and workplaces of notable people like Noah Webster and the Wright Brothers, Thomas Edison's laboratory, and a courthouse where Abraham Lincoln appeared as a lawyer.
Take a ride through the past on a real Model T to see the village, or you can even ride a horse-drawn wagon and train.
There's also a working 1800s farm, where you can check out historical trades like glassblowing to see how they were carried out.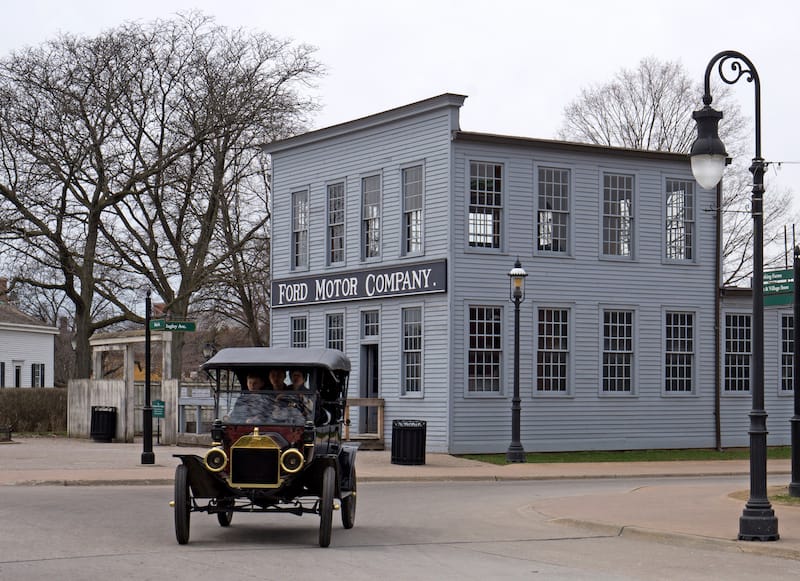 There's a great deal of Americana to see, with a focus on the history of work and innovation, so you can easily spend an entire day there with a hundred buildings in all.
There are also places to eat such as the Taste of History restaurant and get drinks at the 1837 Eagle Tavern.
There are Farmers' Markets on Saturday, and special events surrounding the Halloween and Christmas seasons.
The village is mostly closed on Tuesdays and Wednesdays.
2. Visit the Detroit Institute of Arts
One might not expect to find one of the world's finest art museums in Detroit, but that's exactly what the Detroit Institute of Arts is renowned as.
Holding one of the nation's largest collections across 100 galleries, it is located in midtown Detroit amidst the Cultural Center Historic District.
The museum's grand marble court is surrounded by Diego Rivera's Detroit Industry frescoes and its American galleries contain works by Sargent, Calder, Cassatt, Tiffany, and numerous others.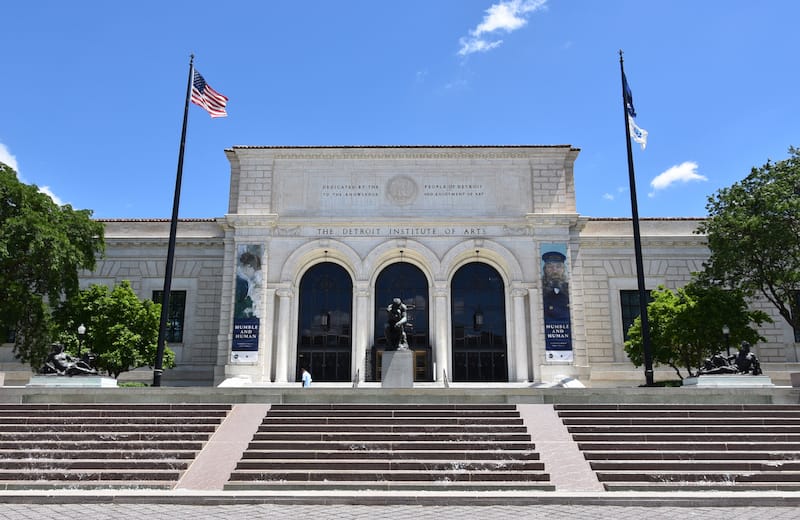 The museum also contains medieval European and Islamic art, as well as those from Asia, ancient Greece, Rome, Egypt, and the Dutch Masters.
One of its most famous pieces is a self-portrait by Vincent van Gogh.
The museum is closed on Sunday and Monday, and parking is available for a flat $7 fee but the museum is also accessible by public transport. Tickets are $14 per adult but only $6 for children, and under age 6 is free.
Address: 5200 Woodward Ave, Detroit, MI 48202
3. Step Back in Time at Fort Wayne
Fort Wayne is a star-shaped fort founded in 1841 to defend the United States border. It has a diverse history going back to the thousand-year-old native burial mound at the site.
Located on the Detroit River south of downtown, you can visit for tours on weekends from May to October, just sign-up online ahead of time.
Visits are also possible during the week for scheduled small groups. The site operates on a very small budget, so it is being restored very slowly.
This means there are quite a few dilapidated structures on the site, which makes exploring the grounds interesting in its own way.
The guides here are particularly knowledgeable and you will learn a great deal on the approximately hour-and-a-half guided tour.
Tours include the Star Fort and barracks, as well as a Guard House from the Spanish-American War period.
Address: 6325 W Jefferson Ave, Detroit, MI 48209
4. Stop by the Automotive Hall of Fame
The Detroit area was always a pioneer in the development of automobiles, so it is a fitting place for the Automotive Hall of Fame.
This museum celebrates the people behind the car industry such as inventors, marketers, and drivers, along with tracing the history of cars.
There are some historic cars and motors on display, but it is more about learning about the lives of people rather than a place to see cars.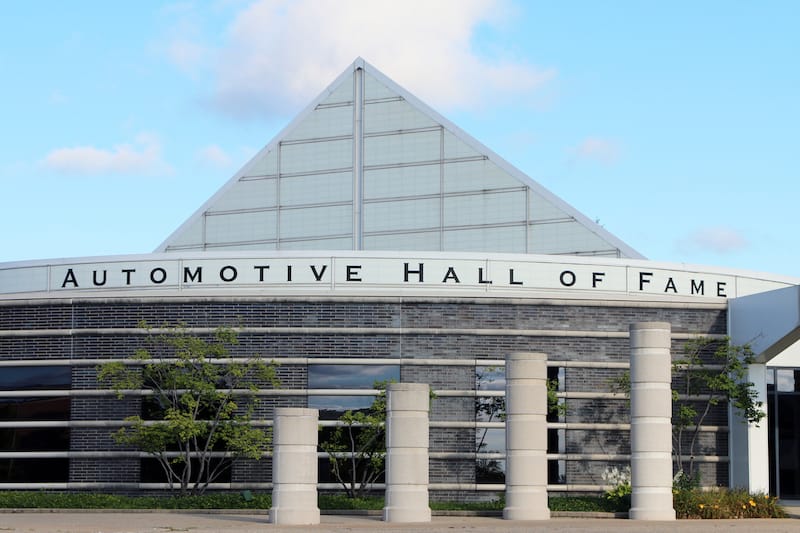 Of particular interest when it comes to vehicles there include the first car ever made, President Kennedy's limousine, and the bus where Rosa Parks made her famous demonstration for civil rights.
Much more of the displays though are biographies of the members of the Hall of Fame, including some interesting folks you have probably never heard about such as the woman who was the first person to ever test drive a car long-distance.
The museum is usually open every day except Sunday and is adjacent to many other local landmarks related to the car industry such as the Henry Ford Museum of Innovation and Greenfield Village.
Address: 21400 Oakwood, Dearborn, MI 48124
5. Learn about Pottery at Pewabic Pottery
Inside a quaint Tudor-style National Historic Landmark structure on Jefferson Avenue in Detroit is Pewabic Pottery, one of the oldest continually-operating potteries in the country.
Founded in 1903, Pewabic is a non-profit educational institution that not only holds lessons and exhibitions but also has a museum about the development of the arts and crafts movement.
Pewabic's ceramic tiles decorate not just nationwide landmarks but many homes right in Detroit, so they have become part of the fabric of the city.
It has a shop where you can purchase its original works as well.
You can arrange ahead of time for a staff member to take you on a tour, where you can see artisans at work firing pottery, glazing vases, and pressing tiles.
There are even opportunities to make your own tile. It is an ideal place to make or buy a unique souvenir from your trip to Detroit.
Address: 10125 E Jefferson, Detroit, MI 48214
6. Explore the Undiscovered Beauty of Detroit
Besides visiting individual sites, there are various options for walking tours that show you a number of undiscovered sites you might miss on your own.
For example, you can check out some of the city's architectural wonders, starting at the GM Renaissance Center, which includes Michigan's tallest building.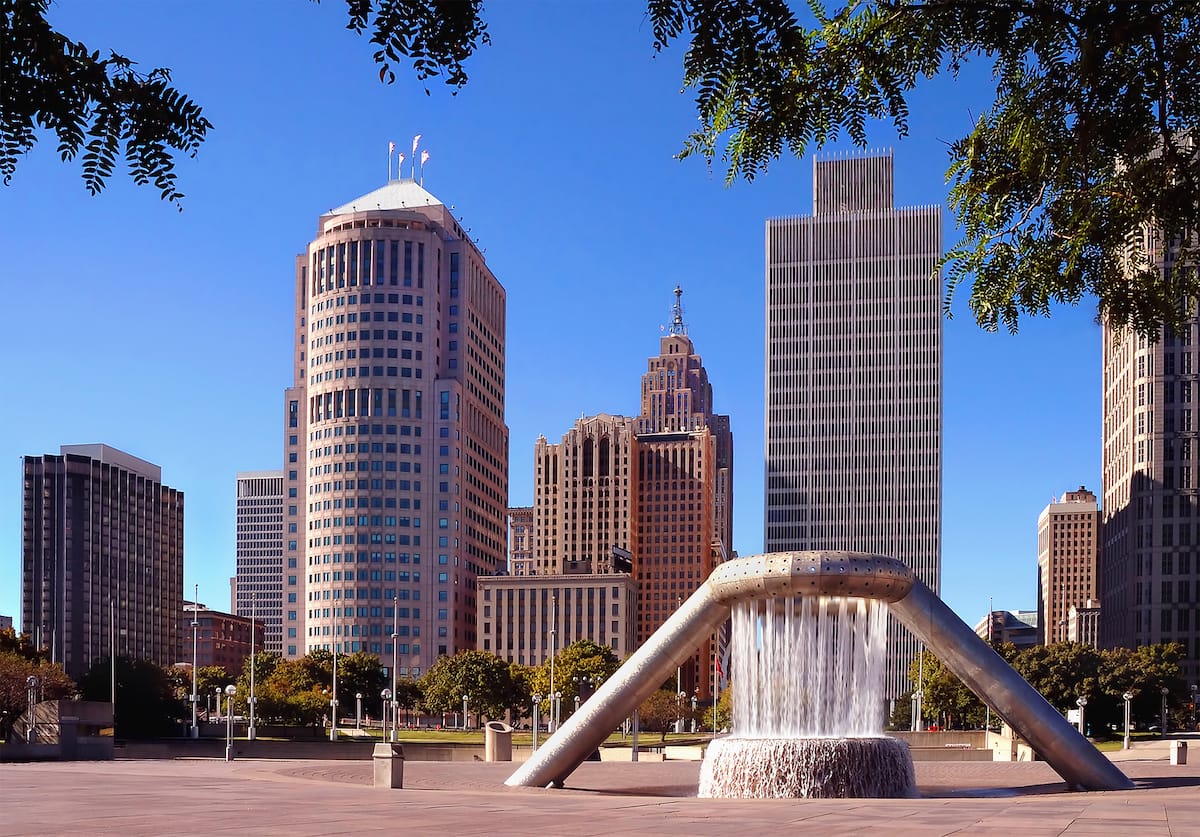 Then, you can go on to one of Detroit's most popular spots Hart Plaza, a riverfront space that often holds events such as weekend concerts in the summer.
The tour continues as you take in the downtown architecture until a stop at Campus Martius Park which has a seasonal skating rink.
The tour concludes at the Shinola Hotel, which in recent years has been transformed from a towering abandoned building into a brand-new boutique hotel.
>> Click here to check tour rates and availability
7. Try a Coney Dog
Have you ever heard of a Coney Dog? It's Detroit's special variety of hot dog which has a chili topping and some signature characteristics such as a natural casing and being grilled.
People also have their favorite chili ingredients such as Worcestershire sauce and brown sugar.
Coneys are shorthand for the establishments which sell this local fare, and there are quite a few which will guarantee an authentic experience.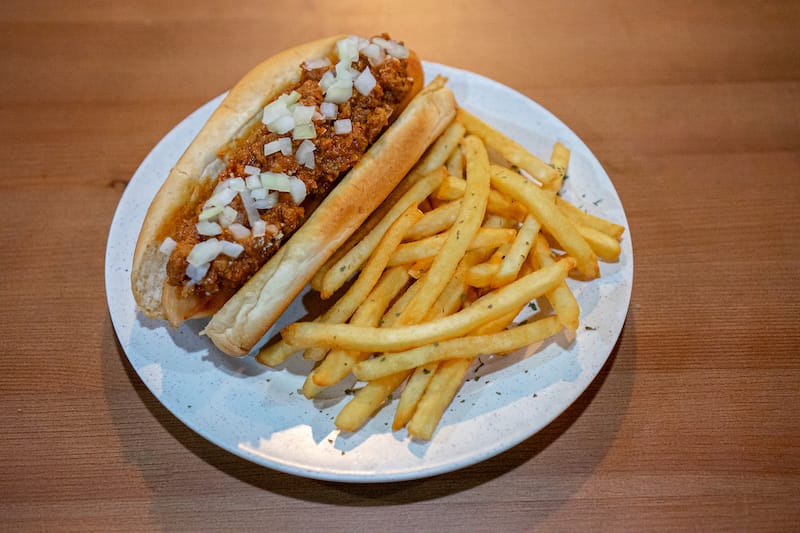 For example, downtown neighboring rivals American Coney Island and Lafayette Coney Island each have their own diehard fans.
Mercury Burger & Bar in Corktown serves coney dogs with five varieties of natural casings, while Ferndale's Imperial has bacon-wrapped hot dogs with a distinctive Mexican twist, and a vegetarian option as well.
Atomic Dawg out in the town of Berkley similarly has a vegan hot dog option to go with the very un-vegan gourmet smoked bacon coneys and Italian sausages.
8. Marvel at the Detroit Public Library
A landmark of Detroit's heyday, the original library building downtown on Woodward Avenue is an architectural marvel.
The rectangular facade has arching window balconies giving it the appearance of a palace of books.
The Italian Renaissance architecture and feel continue inside as you pass through majestic bronze doors and are greeted by a grand staircase and entrance hall.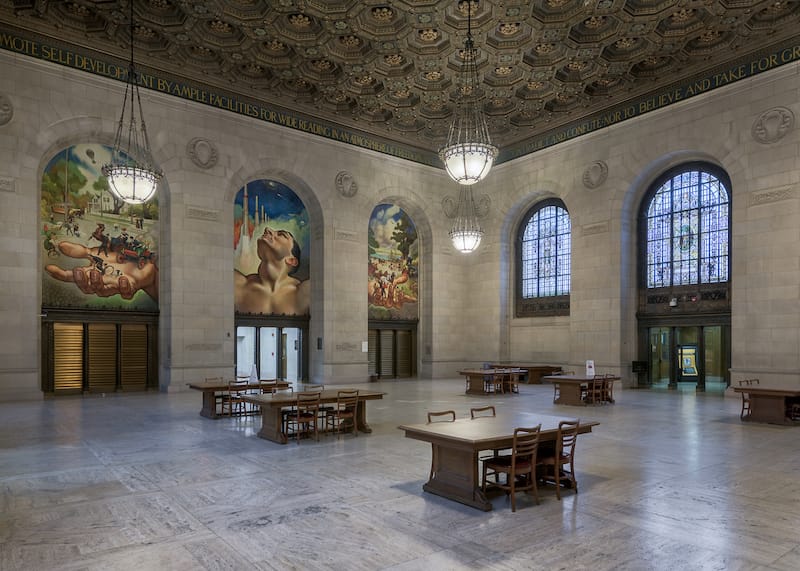 The incredible ceilings have allegories from Aesop's fables and various Michigan state symbols, and the walls are also decorated with huge murals.
The library is open to visitors and it is possible to look around, though lately the upper floors have been closed at times and that is where much of the must-see art is located.
Private guided tours can be arranged at times for a fee, so plan ahead of time to make sure you can get the most out of it.
The library is a cultural masterpiece that is well worth seeing if you can make your way around it.
Address: 5201 Woodward Ave, Detroit, MI 48202
9. Feel the Music at the Motown Museum
Motown is a style of music that emerged from Detroit in the 1960s and 1970s and gained worldwide popularity and influence.
This form of R&B is distinctly from Detroit, as even the name is derived from the city's nickname of the Motor City, and produced numerous stars such as Marvin Gaye, The Supremes, The Jackson 5, Four Tops, and countless others.
Motown Records founded by Berry Gordy was the force behind the style, and its first headquarters and recording studio was located inside a Detroit home known as Hitsville, U.S.A.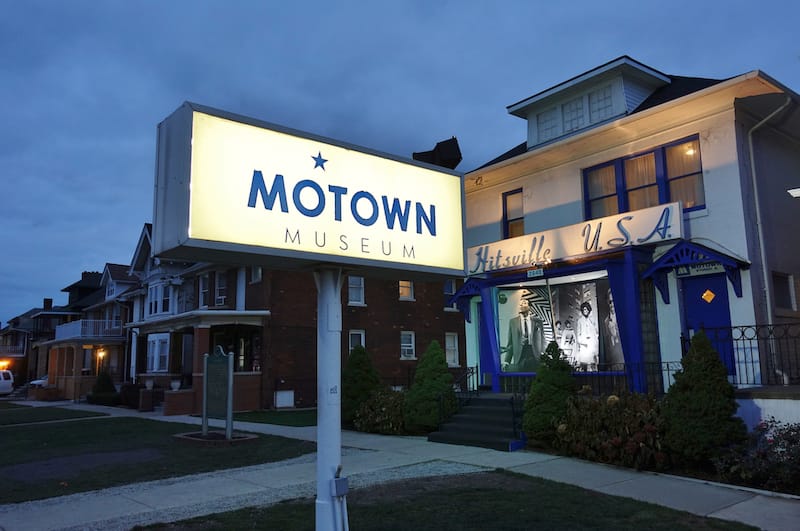 This property is now the Motown Museum, where you can learn about the history of the label and the huge influence its artists have had on the music scene.
You must sign up for a tour ahead of time, but the guides are very knowledgeable, which makes the relatively small and modest museum an amazing place to visit.
Address: 2648 Berry Gordy Jr. Boulevard, 2648 W Grand Blvd, Detroit, MI 48208
10. Relax in Belle Isle Park
Located just off the city in the Detroit River, Belle Isle is a 1,000-acre park with multiple attractions.
Its Nature Center is dedicated to environmental education and its public Oudolf Garden is surrounded by a bell tower (carillon) dedicated to peace.
There are great views from the island of both the city skyline and of Canada on the other side. Birdwatchers enjoy it for the variety of species to be seen and bikers love the trails around and through the island.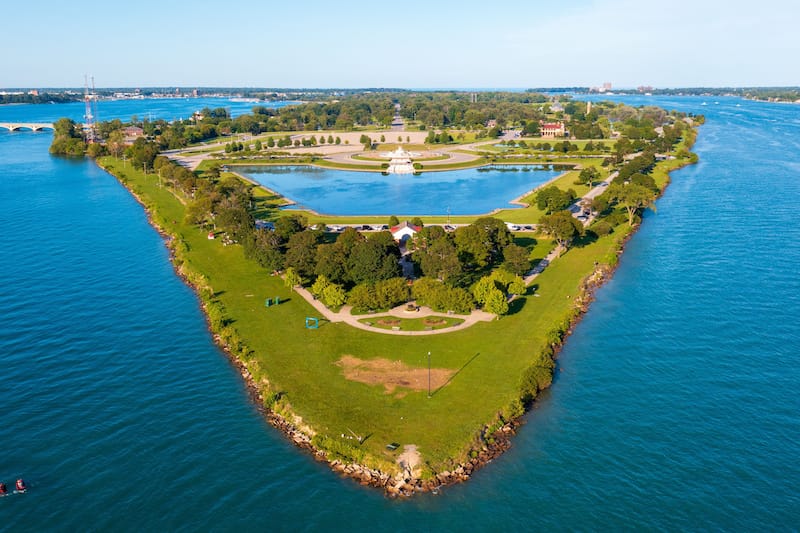 Other things to do include laying out on its beach, kayaking from one of its launches, or visiting the Livingstone Memorial Lighthouse.
The huge fountain surrounded by sculptures is also worth checking out. The island is free to visit if you access it by foot across the bridge, however, there is a fee if you drive across.
11. Explore Henry and Clara Ford's Home
Located on the campus of the University of Michigan-Dearborn is Fair Lane, the former estate of Clara and Henry Ford.
It is a 56-room mansion with a five-story hydro-powerhouse that powered it. Its cornerstone was laid by Ford's friend Thomas Edison.
As of 2023, the main house is closed for renovations to bring it back to the way it looked when Ford lived there, so check if they've been reopened, but regardless, the gardens and grounds of the estate are free to visit.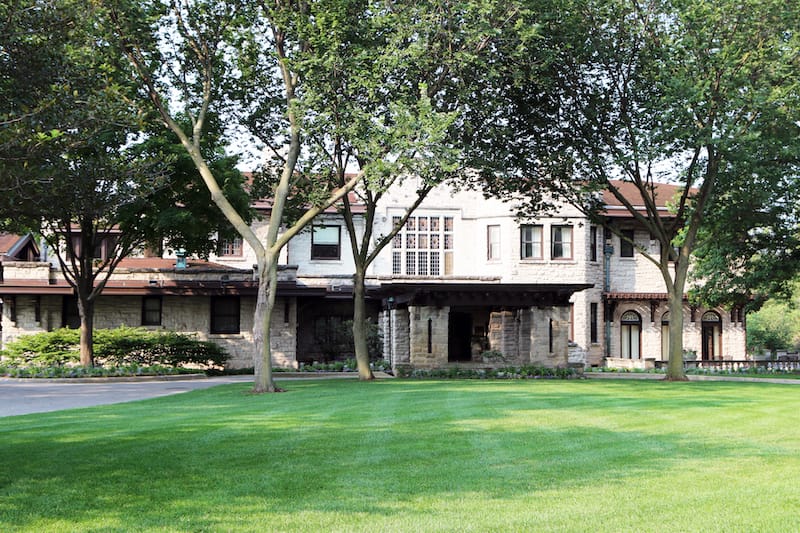 You're even able to peer in the windows while you explore the grounds, and the lawns are planted with all manner of flowers.
Walking trails also take you across the Rogue River to forest trails from which you might even be able to glimpse the nearby waterfall. Overall a beautiful visit even without being able to go inside!
Address: 1 Fair Ln Dr, Dearborn, MI 48128
12. Get Caffeinated at Some of the Best Coffee Shops in Detroit
Detroit is a great city for coffee lovers and those who just love the coffee shop vibe, and you can find some really interesting ones there.
Located inside a restored 1920s church on Rosa Parks Boulevard is The Congregation, a coffee shop and so much more.
People love to work or read under its high ceilings, and besides the coffee bar, you can also check out the cocktail bar.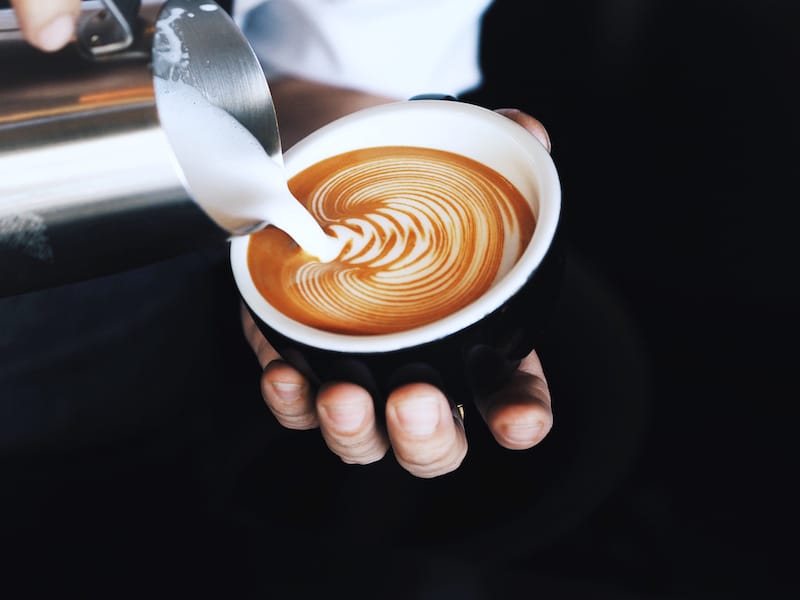 Sandwiches are on offer, and various events are hosted such as farmers' markets and local DJing.
If you are seeing Detroit by bike, a great shop to fuel up at is Bikes & Coffee, which combines the espressos, cortados, and latte of a coffee shop with a full-service bike shop.
The coffee is locally sourced from Hyperion, and they also serve bagels, breakfast burritos, and vegan ice cream.
Finally, for another local company try Dessert Oasis Coffee, which as you can tell from the pun also serves a variety of cakes and cheesecakes.
13. Watch a Game at Comerica Park
As a baseball stadium home to the Detroit Tigers, Comerica Park of course naturally draws tourists and locals alike to watch MLB games. However, there's a lot more to do here while catching a baseball game!
Comerica is partly an amusement park, with an ornate carousel with hand-painted animals to ride on (tigers, of course) and the 50-foot Fly Ball Ferris Wheel with cars shaped like baseballs.
Centerfield at the park contains what is known as "liquid fireworks", a fountain that is synchronized to music and changing lights.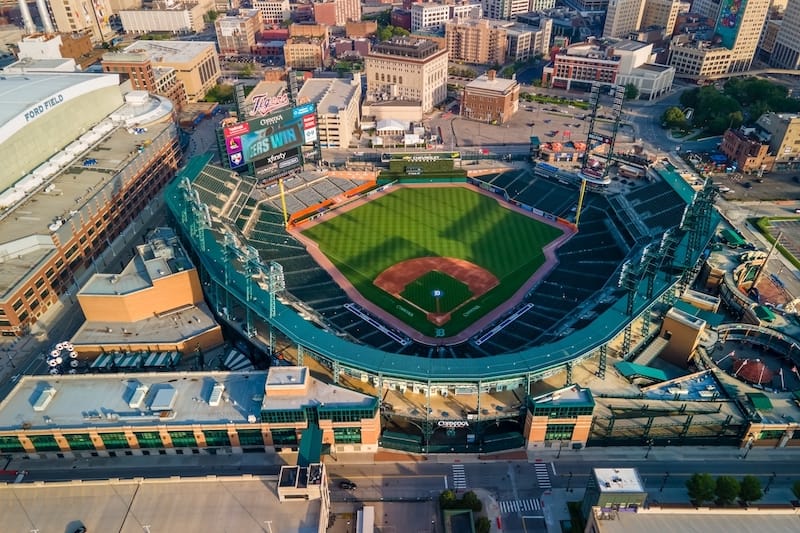 There are giant statues of tigers crawling around various parts of the stadium to greet fans, and the appropriately named Big Cat Food Court serves pretzels, sandwiches, fries, ice cream, and of course, coneys.
You can also visit the Blue Moon Brewhouse bar on the upper deck.
Walking the concourses is like a walk through Tigers history, with accounts of the team's history going back to the 1800s, and six statues along the left centerfield wall are of six of the greatest Tiger players like Ty Cobb in action.
Address: 2100 Woodward Ave, Detroit, MI 48201
14. Check Out the Henry Ford Museum
The Henry Ford Museum of American Innovation is one of the multiple attractions in the same complex, along with the Ford Rouge Factory Tour, Greenfield Village, and the Automotive Hall of Fame.
Besides cars, this museum includes all manner of inventions such as early televisions and video games.
Its umbrella theme of innovation also includes furniture, Disney costumes, modular homes, locomotives, airplanes, restaurants, and timepieces, just an incredible amount of things to see.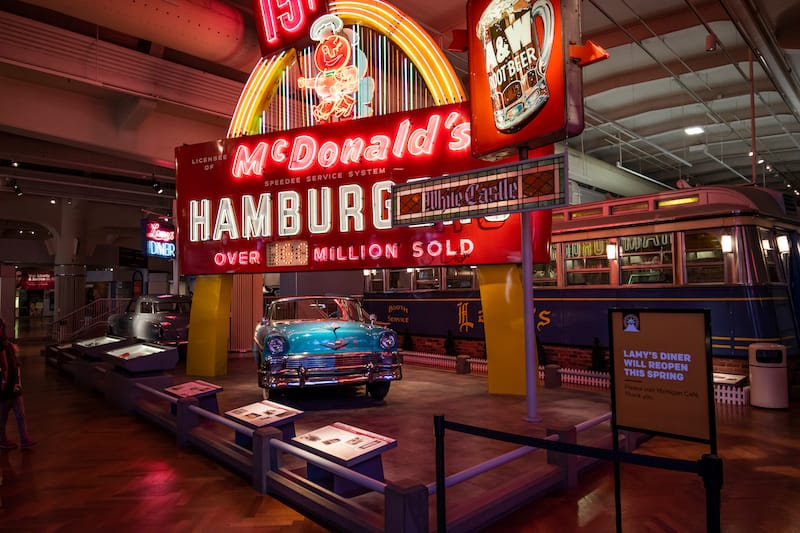 Workshops of famous innovators like Thomas Edison and George Washington Carver are recreated here too.
The museum is huge and can take all day, not to mention the adjoining attractions which could easily make this an engaging multi-day trip without even venturing into Detroit yet.
Address: 20900 Oakwood Blvd, Dearborn, MI 48124
15. See the Renaissance Center
The Renaissance Center is a riverside complex of five towers, the central one being the tallest in Michigan at 73 stories.
It makes up what is known as a "city in a city", and you can find just about everything inside. The central tower holds the Detroit Marriott with a steakhouse on the top floors.
Some of the other buildings include General Motors's world headquarters, and there are various showrooms in the lobby area of future GM cars.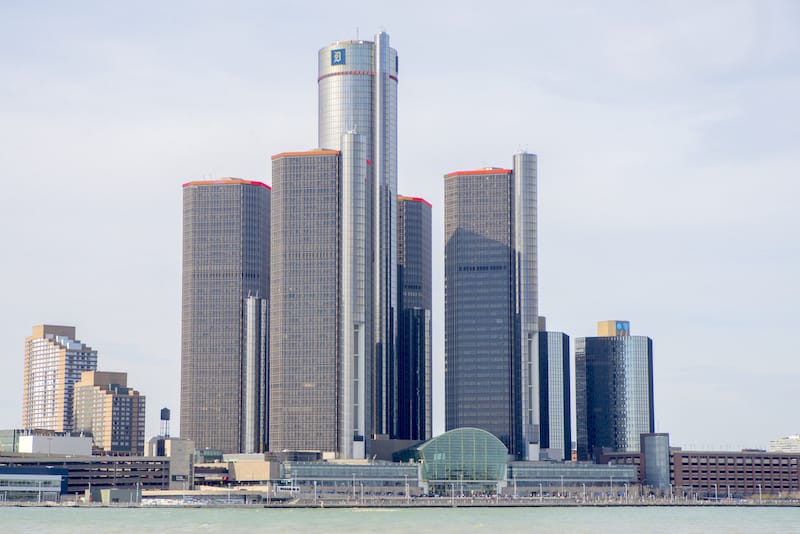 The Wintergarden glass atrium has many shops and restaurants.
From the center, you can walk along the Detroit Riverwalk up to the GM Plaza Promenade boardwalk for scenic views of Canada across the river.
You can also get tickets for river cruises from there.
16. Sample Chocolate at the Morley Candy Factory
What's better than visiting Michigan's largest candy factory? Going on one of its free tours to see the chocolates being made and enjoying a sample!
Reserve ahead of time for a guided tour of the Morley Candy Factory and of course purchase some of their delicious treats.
Sanders chocolates are made here, a brand that dates back to 1875 and has become part of the Detroit lifestyle.
Located about 30 minutes outside the city in Clinton Township, you pass by glass windows that give views of the production facility while the guide narrates the process.
The chocolate aroma that wafts throughout is of course heavenly, and the caramel assembly line is a favorite to watch.
Even if you don't have reservations or are there on a weekend, you're still able to do a self-guided tour, though the candy-making machines might not be operating at the time. A fun time for everyone, not just the kids!
Address: 22800 Hall Rd, Clinton Twp, MI 48036
17. See the Colorful Heidelberg Project
A unique urban artistic oasis, it was founded in the mid-1980s by a man who had seen his neighborhood decline and wanted to do something about it.
He began gathering scrap from the neighborhood and painting abandoned houses to create an entire block of art installations known as the Heidelberg Project.
There are many individual art projects throughout the complex, one of the best known being paintings on car hoods rooted in the ground.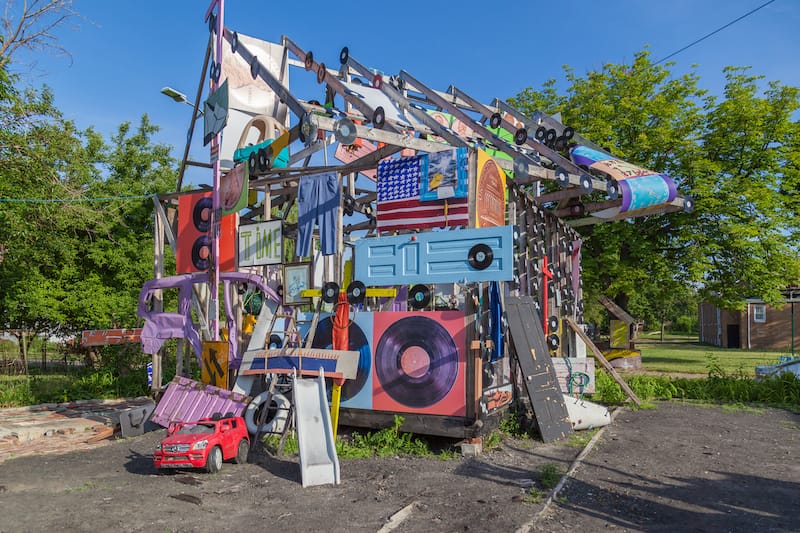 It has evolved into a community arts village located along Heidelberg Street from Mt. Elliott.
This open-air art gallery is free to visit and the installations are always changing, so there's something different to see on each visit.
It's a unique, not to mention unusual, must-see spot, and one with an important mission of re-developing a neighborhood and improving the lives of its residents through art.
Address: 3600 Heidelberg St, Detroit, MI 48207
18. Visit the Charles H. Wright Museum of African American History
Located in Detroit's Midtown Cultural Center, "The Wright" is one of the world's oldest independent African-American museums and contains the largest permanent collection of African-American culture.
It also contains the National Museum of the Tuskegee Airmen and a number of permanent and temporary exhibitions.
The permanent "And Still We Rise" is a retrospective of African-American history, from an onboard experience of a replica of a "Middle Passage" slave ship, to accounts of those who strove for justice during the Civil Rights Movement.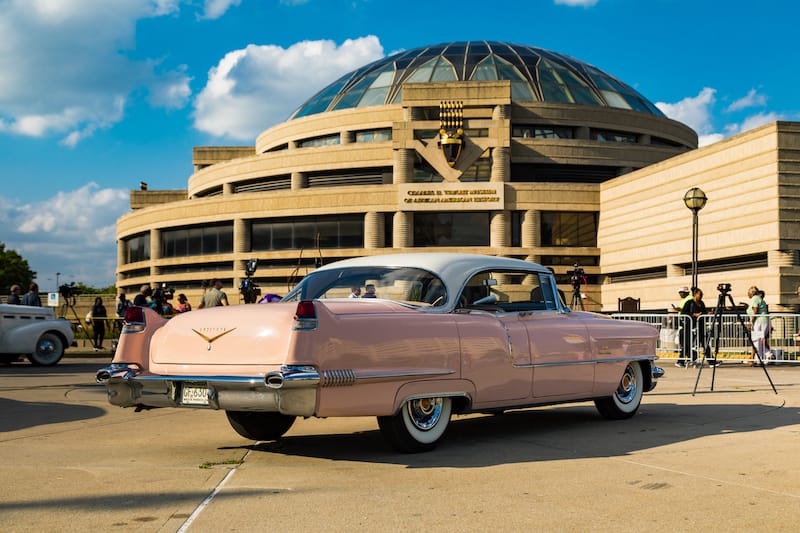 The large installation "Ring of Genealogy" is encircled by hundreds of names of iconic African-American figures, an art piece that represents their complex history.
Temporary exhibits have included ones on the legacy of Detroit Jazz and the careers of local arts figures.
The museum is closed Monday and Tuesday, and viewing all the exhibitions takes about two hours.
Address: 315 E Warren Ave, Detroit, MI 48201
19. Indulge at One of Detroit's Best Restaurants
Thanks to its diverse populace, Detroit features restaurants with cuisines from around the world, in particular African, Caribbean, and Middle Eastern restaurants.
Also, be sure to grab yourself a slice of Detroit pizza when in town!
Grey Ghost Detroit
One of the city's best restaurants is Grey Ghost Detroit, which is a sleek steakhouse with impeccable service.
You can get lamb chops, halibut, scallops, even cornish hen. But, there are also very affordable options like the popular cheeseburgers available.
Address: 47 Watson St, Detroit, MI 48201
Leila
The restaurant Leila has modern small-plate interpretations of Lebanese cuisine. Customers love its ambiance and appetizing mezze platters.
Address: 1245 Griswold St, Detroit, MI 48226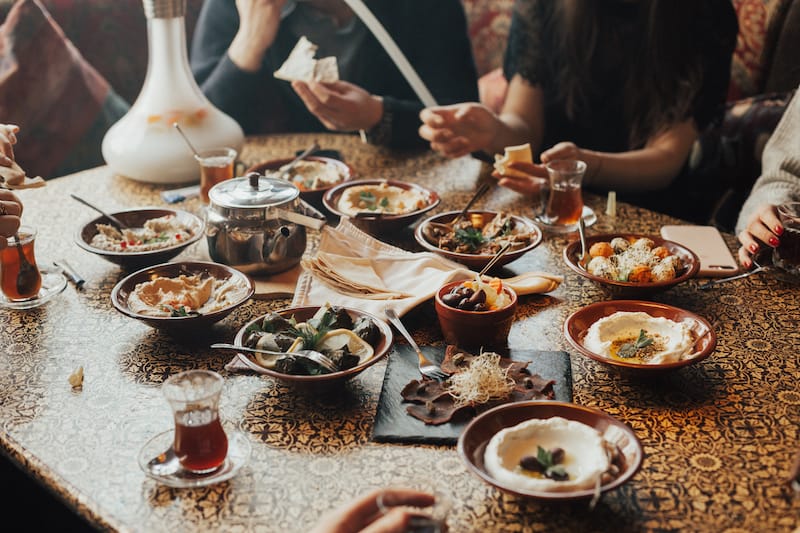 Louisiana Creole Gumbo
Louisiana Creole Gumbo is a Detroit institution that serves its signature dish with a special blend of seasonings that keeps people coming back.
Address: 2051 Gratiot Ave, Detroit, MI 48207
Chef Greg's Soul-N-the-Wall
Chef Greg's Soul-N-the-Wall is the place for takeout Detroit sandwiches, with its Boogaloo Wonderland hoagie having achieved legendary status.
Address: 10009 Curtis St, Detroit, MI 48221
Noble Fish
For the best sushi in town head to Noble Fish, which has wonderful oversized rolls made by expert chefs.
Address: 45 14 Mile Rd, Clawson, MI 48017
20. Discover the Detroit Historical Museum
Open Thursday through Sunday, the Detroit Historical Museum tells the story of the city through its music, industries, music, and people.
There is a recreation of a street in old Detroit lined with shops, showing how the streetscapes changed over the 1800s.
A visitor favorite is a display showing how a Cadillac is assembled. Admission is donation based, so there is no fee for entry.
There is a rotating exhibition space that contains rare vehicles like a 1905 Cadillac "horseless carriage."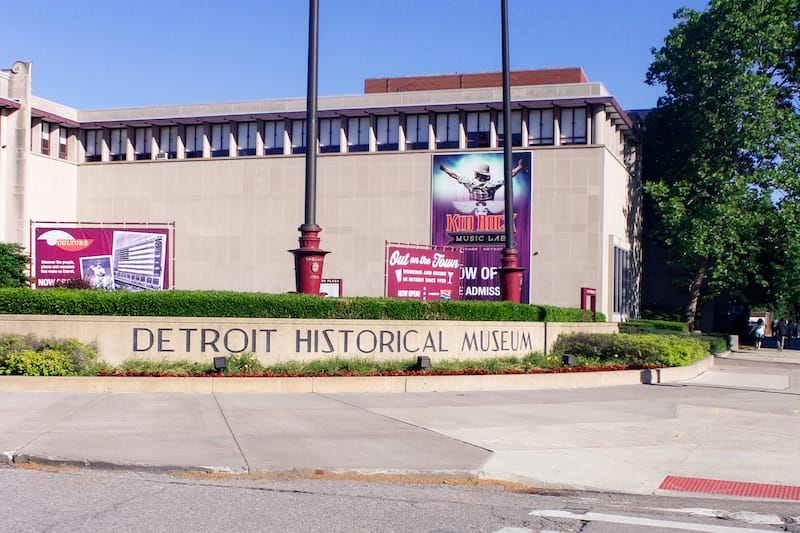 Detroit: The Arsenal of Democracy teaches about the leading role Detroit's factories played in arming the war effort during World War II.
Doorway to Freedom is about the city's part in the Underground Railroad, as its location bordering Canada made it an important location for escaping to freedom.
The museum is a great place to get a comprehensive sense of Detroit's history and how it has affected America and the world.
Address: 5401 Woodward Ave, Detroit, MI 48202
Where to Stay in Detroit
Below are some of the top options for lodging in Detroit for first-time visitors!
Did we miss any of the best things to do in Detroit?
Let us know what to do in Detroit for first-timers in the comments! Thanks!
More Michigan Travel Guides
Pin this Detroit Things to Do Guide