Full of culture, history, delicious food, and nightlife, Detroit has something for everyone! These are the best day trips from Detroit – proving that there is even more beyond the city's boundaries!
While these Detroit day trips do require you to be around a little longer, trust us when we say that they are worth it!
Whether it's food, nature, history, or fun you're after, many of these attractions are located within driving distance of Detroit, so you can definitely plan a day trip out of them with the family.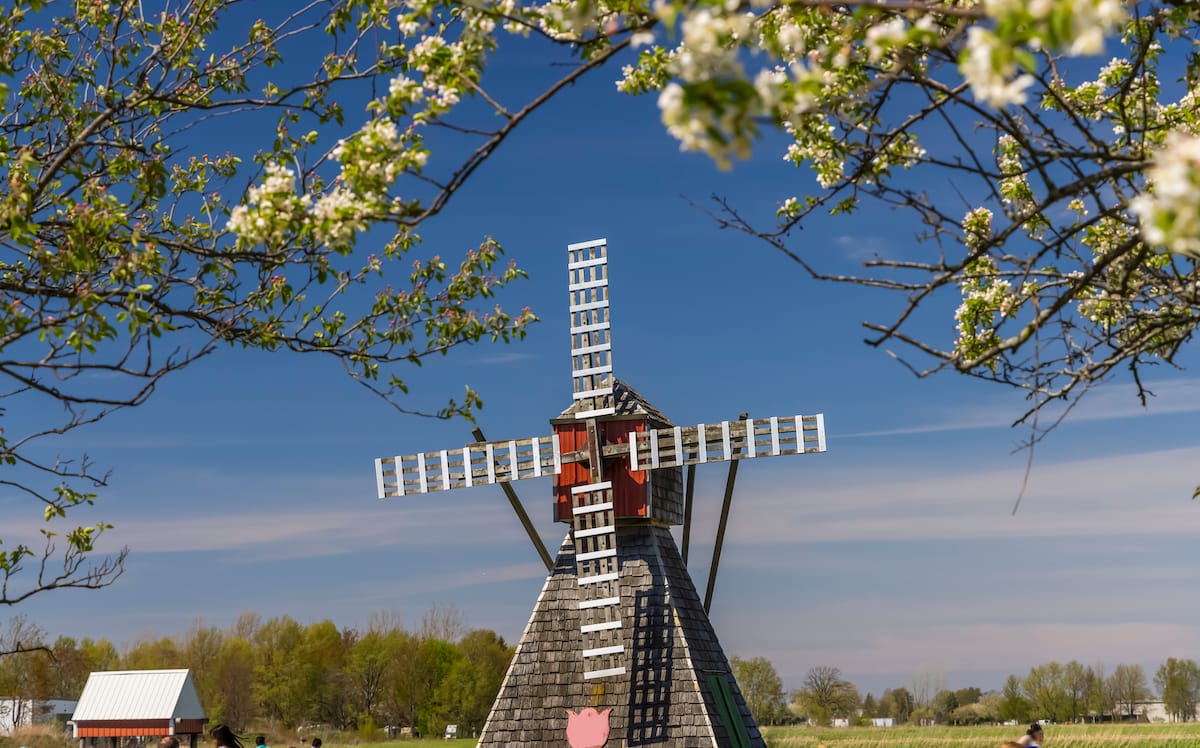 Here are some of our top picks of places to visit near Detroit!
Best Day Trips From Detroit
1. Belle Isle Park
State: Michigan
Distance from Detroit: 4.6 miles (11 minutes)
Spanning well over 900 acres, the 19th-century Belle Isle Park in Detroit offers a ton of attractions for visitors, including Belle Isle, which is the third-largest city-owned island park in the country.
When visiting, make sure to check out its famous sights such as the Belle Isle Nature Center, the Dossin Great Lakes Museum (yes, a museum specifically for lake aficionados), and the memorial fountain named after James Scott, which includes beautifully carved reliefs echoing Detroit's past.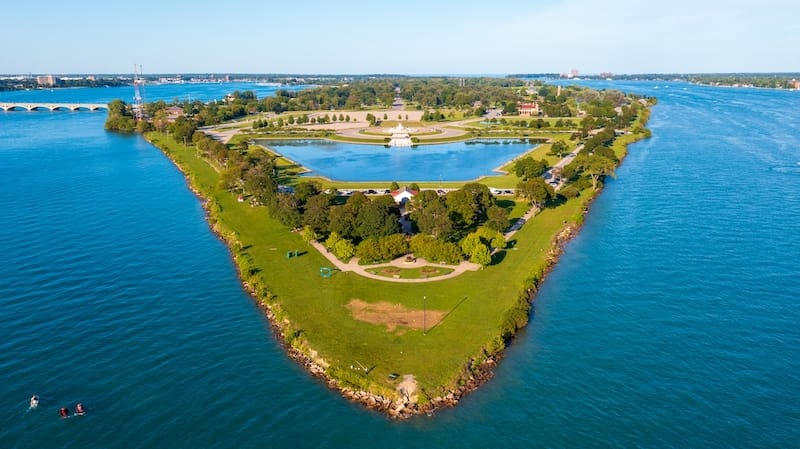 Neighboring the fountain is the Belle Isle Casino. Belle Isle also has a swimming beach that is popular among tourists looking to hit the water.
Make sure to also check out the Anna Scripps Whitcomb Conservatory, and take the MacArthur Bridge to visit the famous Detroit Yacht Club on a nearby island.
2. Ann Arbor
State: Michigan
Distance from Detroit: 43.5 miles (44 minutes)
If the name sounds familiar, it should! Ann Arbor is home to the famed University of Michigan. Nicknamed "Tree Town," it's known for its greenery and hundreds of municipal parks.
If you ever wind up here, there's a lot you can do! Start with the Fuller Recreation Area if you're into sports like biking and swimming.
Get in touch with nature by visiting the Nichols Arboretum, Matthaei Botanical Gardens, and the University of Michigan Herbarium.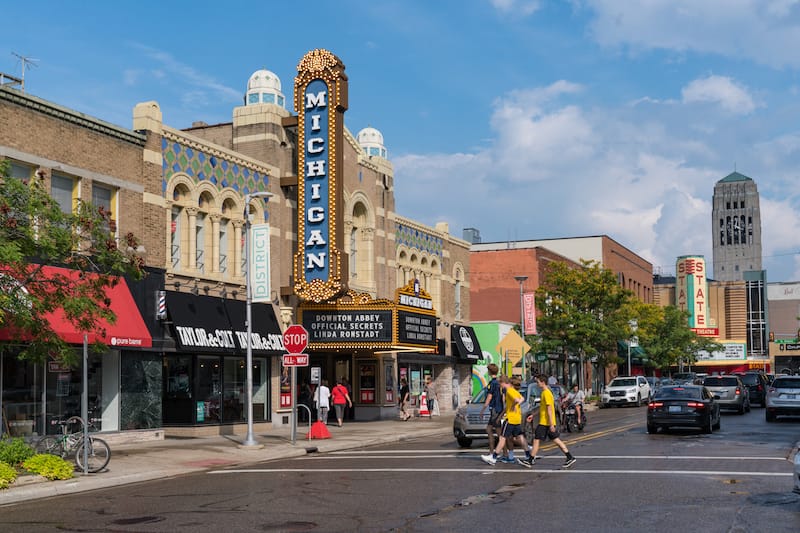 To take in some history, a visit to the Old West Side district is a must for its preserved 19th-century buildings.
Museum lovers are in luck because there are tons in Ann Arbor, such as the UCM Museums of National History and Art, Kelsey Museum of Archaeology, and Sindecuse Museum of Dentistry to name a few.
The Stearns Collection of Musical Instruments and Detroit Observatory are also sights that you definitely should not skip!
3. Tahquamenon Falls State Park
State: Michigan
Distance from Detroit: 371.5 miles (5 hours, 47 minutes)
You've heard of Niagara Falls in Canada, but have you heard of the counterpart in Detroit?
That's right, the beautiful Tahquamenon Falls are often referred to as the Niagara of Detroit.
These two waterfalls are located close to Lake Superior and are one of the few weekend trips from Detroit on this guide!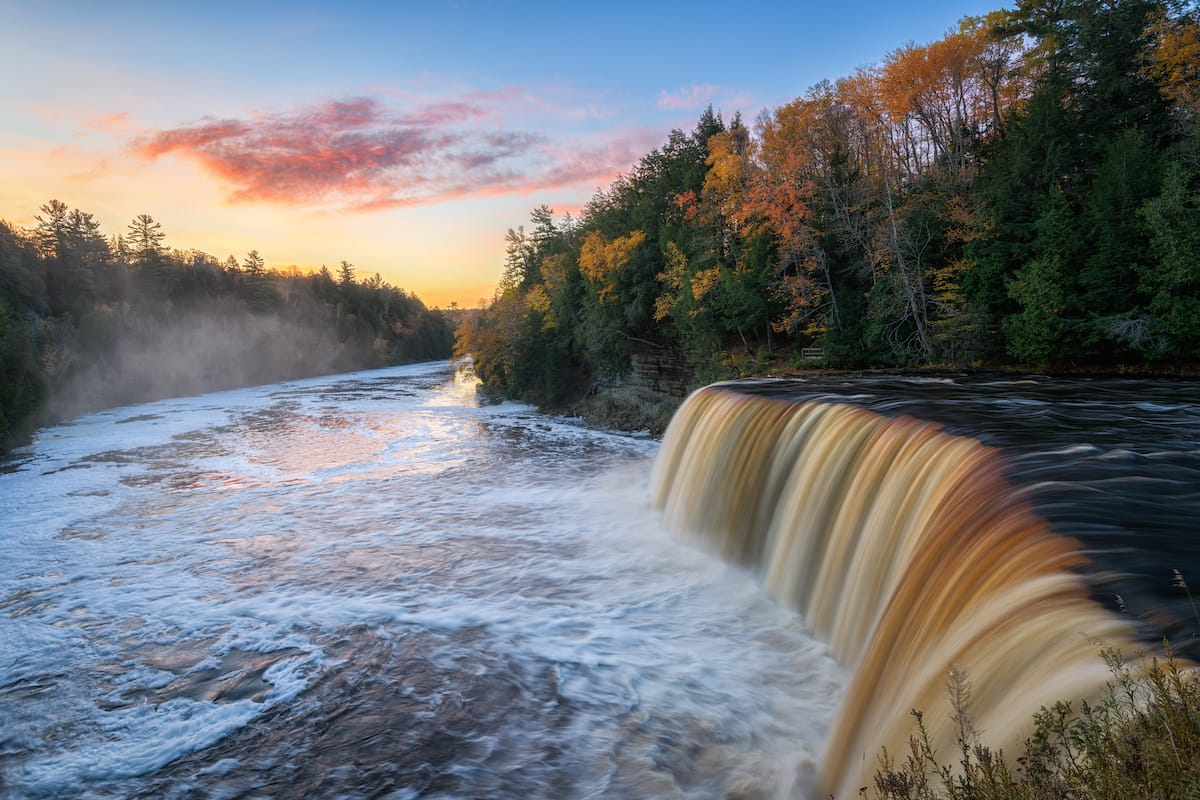 The upper waterfall has a unique brown color because of the cedar tannins in the river, which is where the "Rootbeer Falls" moniker comes from.
Both waterfalls are part of the Tahquamenon Falls State Park, which is the largest state park in Michigan.
The park is popular with canoeists and row boat rides, as well as hikers who can walk the paved walking trail up to the falls that take you through scenic areas.
This location is also ideal for outdoor camping due to its many campgrounds and campsites. Landmarks you can visit are the Great Lakes Shipwreck Museum and the Point Iroquois Light.
4. Mackinac Island
State: Michigan
Distance from Detroit: 257 miles (4 hours, 30 minutes)
Mackinac Island is the ideal location for those seeking to get away from the big city life. Okay, so this is more of a weekend trip from Detroit, but we threw it on here just in case you want to take advantage of those long summer days!
Nicknamed the "Jewel of the Great Lakes," this beautiful island not only offers breathtaking landscapes, but also a buzzing nightlife and historic locations such as Fort Mackinac, American Fur Company Store, Dr. Beaumont Museum, and Fort Holms, and the Grand Hotel Stable & Carriage Museum.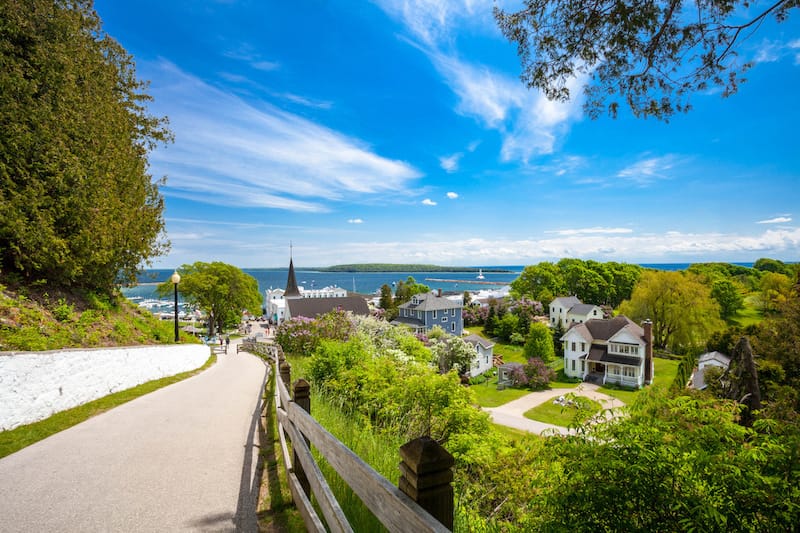 Both dining and accommodation options consist of beautiful Victorian-era buildings that have been repurposed as restaurants and B&Bs. Don't forget to try the famous Mackinac Island fudge, a local delicacy.
Other activities you can do here include biking, golfing, and walking tours that will familiarize you with the rich history of the island. Oh, and there are no cars in sight here!
Keep in mind that in order to get to the island, you will need to drive to one of the ferry docks and then take a boat ride, which is around 18 minutes.
5. Pontiac
State: Michigan
Distance from Detroit: 31.2 miles (33 minutes)
Nope, it's not named after the car. Vice-versa! In fact, both are named after an Ottawa tribe chief.
In its heyday, Pontiac was home to General Motors' automobile manufacturing plants. But this city still has a ton to offer.
Make sure to visit the Crofoot, Club Visions, and Tonic to enjoy Pontiac's nightlife and music scene. If that's not enough adrenaline, visit the city's famous top-rated haunted houses, Erebus and the Realm of Darkness, for extra thrills!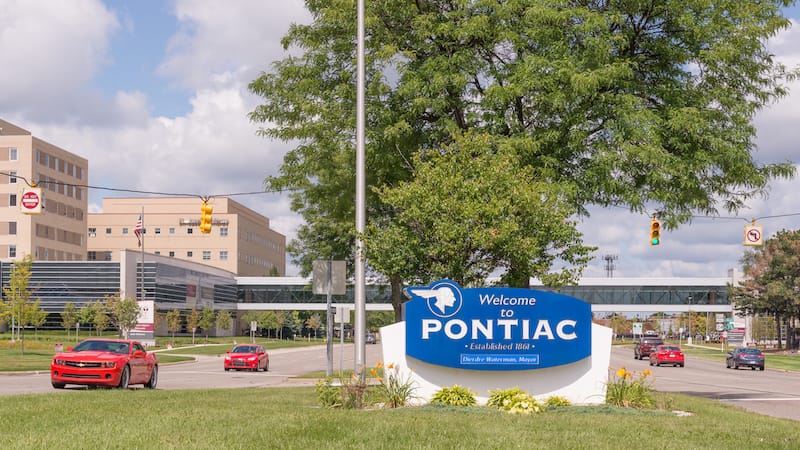 To wind down from all the excitement, go play some relaxing gold at The Links at Crystal Lake.
Alternatively, soak in some of the local histories at the Governor Moses Wisner Mansion, which also houses the Oakland County Pioneer and Historical Society.
If you are up for it, you can also visit the Michigan Fallen Heroes Memorial which is located in Pontiac, and pay respects to the brave souls resting there.
6. Toledo
State: Ohio
Distance from Detroit: 58.6 miles (58 minutes)
The site of the famous, virtually non-violent Toledo War, this city has a lot of surprises around every corner.
Nicknamed "the Glass City" because of its glass manufacturing past, Toledo is now a hub for art, sports, and education.
To get a full taste of Toledo entertainment, head downtown where you will find places like the National Museum of the Great Lakes, Imagination Station science museum, and the historic Valentine Theater.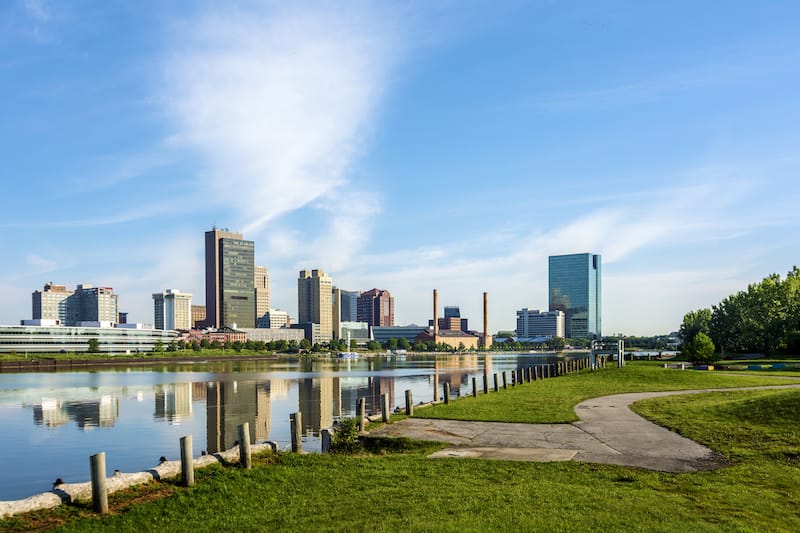 The city is also known for its vibrant music scene, which is made evident by its many music institutions such as the Toledo Opera, Symphony Orchestra, Ballet, and Jazz Orchestra.
The Toledo Repertoire Theatre, Collingwood Arts Center, and Museum of Art are all clear indications of the city's fascination with art.
If you're keen on exploring more of the area's history, we recommend visiting the Old West End neighborhood which is home to buildings such as the Peristyle, a Greek Revival concert hall.
7. Birmingham
State: Michigan
Distance from Detroit: 19.7 miles (26 minutes)
One of Detroit's northern suburbs, Birmingham is named after a city of the same name in England.
It is home to many interesting locations such as the Community House and the First United Methodist Church, which is the oldest in the city.
The Birmingham Museum and Theater are also popular with both locals and tourists.
You'll also find a lot of parks here that are full of recreational facilities and hiking trails. After taking one of these hiking trails and enjoying the beautiful scenery, you can check out the woods and have a nice, relaxing picnic.
Make sure to check out the beautiful Freedom of the Human Spirit statue by Marshall Fredericks at the Village Fair.
There are plenty of golf courses here as well, such as Lincoln Hills and Springdale. Try the Hamilton Room Bar and Club to get a taste of Birmingham Nightlife.
8. Cuyahoga Valley National Park
State: Ohio
Distance from Detroit: 186.5 miles (2 hours, 52 minutes)
The only national park in Ohio, Cuyahoga Valley National Park covers more than 30,000 acres of land.
It is so big that different areas of the park are managed by different entities, including the smaller Summit and Cleveland Metro parks. It's a convenient place to visit as it is located near urban areas.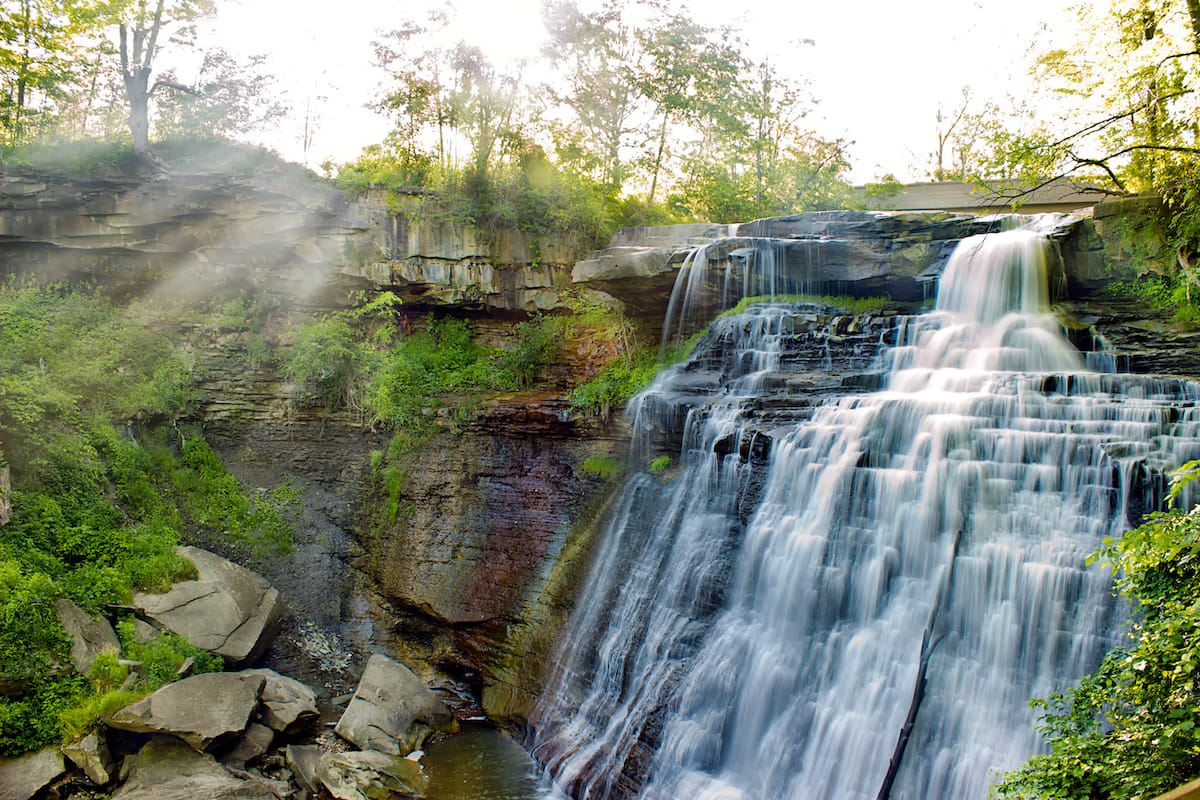 Let's talk about some of the many attractions you can find here. To start off, be sure to check out Brandywine Falls, the tallest of nearly 100 waterfalls in the park.
Nearby, visit the caves and rock formations, which are also popular among locals and visitors.
You should not skip the Towpath trail, the Ohio and Erie Canal, Kendal Hill, Hale Farm, and Village, as well as the Cuyahoga Valley Scenic Railroad.
For a taste of art, check out the Porthouse Theater and Blossom Music Center. And finally, don't forget to see the Stanford House and visit the park's many visitor centers!
9. Frankenmuth
State: Michigan
Distance from Detroit: 93.4 miles (1 hour, 29 minutes)
For those who want to get in touch with their German heritage or who love German culture, Frankenmuth is a must! If you mix the German state of Bavaria with the USA, you get Frankenmuth, aka Little Bavaria!
This city is one of the most unique vacation destinations due to its Franconian-inspired architecture, which you can spot everywhere.
If you plan your trip just right, you will be able to attend events such as Octoberfest, Bavarian Festival, Autofest, and SnowFest. There are also festivals dedicated to dogs, as well as firefighters!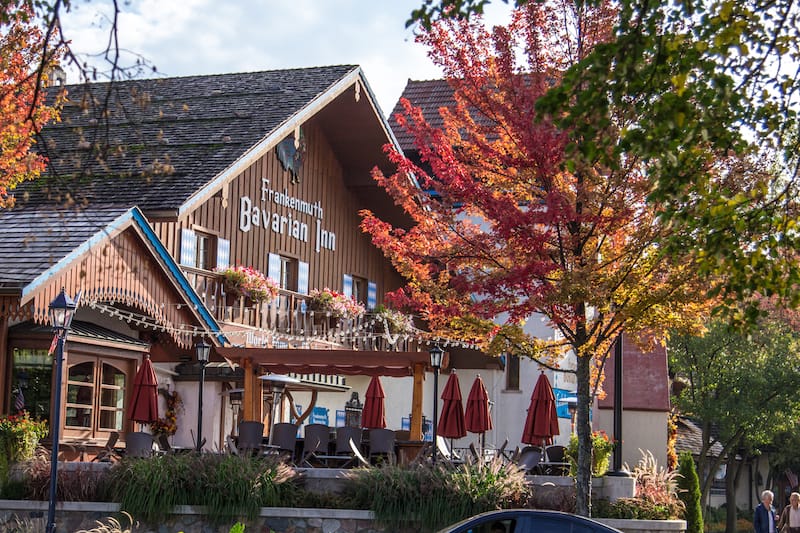 Places of interest here include Zehnder's Holzbrücke, a bridge similar to ones in south-east Germany, Heritage Park (where you can find a ton of events and festivals), as well as the Harvey E. Kern Community Pavilion.
There are plenty of areas for recreation here. Another notable attraction is the Silent-Night-Chapel, a replica of the Stille-Nacht-Kapelle in Germany.
Don't forget to taste fresh beer and great food at the Old Bavarian Inn!
10. Bay City
State: Michigan
Distance from Detroit: 112.3 miles (1 hour, 49 minutes)
Aptly named because it is situated near Saginaw Bay, Bay City is a site that you shouldn't miss!
If you visit in the summertime, you can check out the town's many festivals such as the River Roar and the living history reenactment known as River of Time.
For history buffs, the Historical Museum is the place to be with its collection of different displays, which hearken back to the town's past as a lumber hub.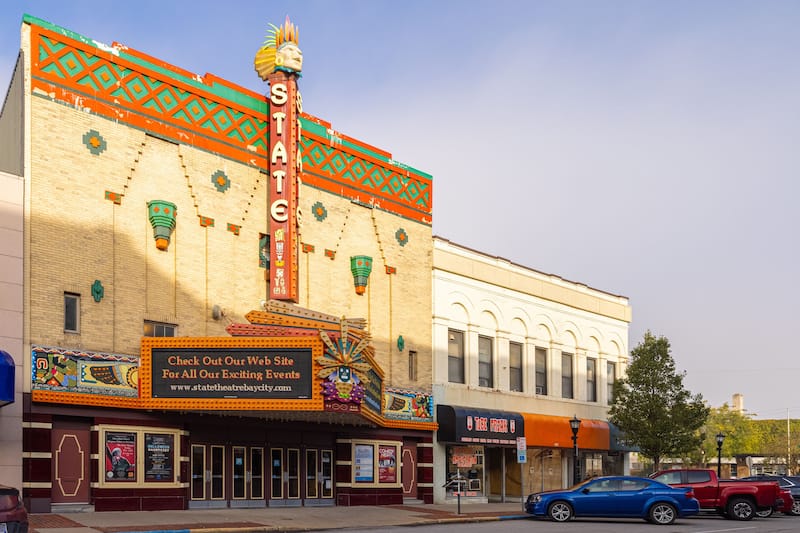 Attractions are everywhere, including entertainment cruises, Appledore Tall Ships, a vibrant and lively downtown area, as well as a lot of vessels and battleships.
You can also pay a visit to the State Theater, Bay County Historical Museum, and the Bay City State Recreation Area.
If you're up for it, ride the Sunrise Pedal Trolley and grab some food at the city's many unique eateries.
11. Hell
State: Michigan
Distance from Detroit: 59.6 miles (1 hour, 4 minutes)
If only Hell's citizens got a dollar each time someone made a pun about their town! Officially named Hell on October 13, 1841 (nothing symbolic about that!), this little town is actually quite popular with tourists!
If you find your way here, make sure to stop by the Screams Ice Cream shop for some devilishly good ice cream, sundaes, and shakes.
Then head outside for a fun game of ghoulish golf.
You can also pick up a ton of souvenirs from here, especially Damnation University shirts. For food and drinks, hit the Hell Hole Diner and Hell Saloon. Piece of advice: the food is usually hot as hell!
Make sure to check out the, um, church in Hell! If you're into hiking and picnics, visit the Pinckney State Recreation Area right around the corner.
This town is the only place where "Welcome to Hell" is a positive message!
12. Grand Rapids
State: Michigan
Distance from Detroit: 157.8 miles (2 hours, 29 minutes)
Grand Rapids is one of the most economically and culturally vibrant cities in Michigan.
Known as the Furniture City because of its historic furniture manufacturing center, Grand Rapids includes attractions like the Gerald R. Ford Presidential Museum, the Grand Rapids Public and Art Museums, and Meijer Gardens, as well as beautiful sculptures including La Grande Vitesse.
You can find even more sculptures at the Frederik Meijer Gardens and Sculpture Park.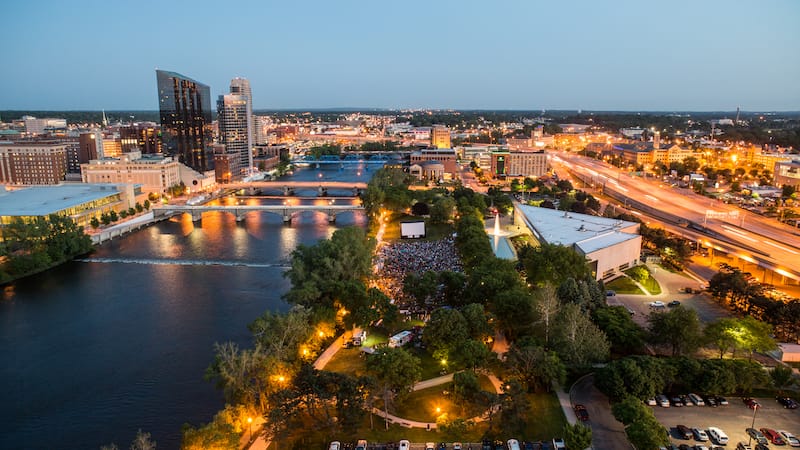 Don't skip a visit to the Heritage Hill district, where you can find historic Châteauesque architecture, as well as some repurposed cafes and dining areas.
If you visit the Grand River, take some time to explore the reconstructed burial mounds which echo the city's native past. In terms of accommodations, the Amway Grand Plaza is a popular option, but there are also cozy BnBs around the city.
The city is also known for its many music venues, sports events…and beer! So make sure you grab a pint!
13. Silver Lake State Park
State: Michigan
Distance from Detroit: 236.4 miles (3 hours, 38 minutes)
Silver Lake State Park is all about the dunes! Tourists flock here in warmer weather to ride the many dunes with off-road vehicles or sandboards, while others prefer to hike the wooded trails (e.g. the Hart-Montague Rail Trail) or simply relax and picnic at Lake Michigan Beach.
In fact, the beach is perfect for all sorts of activities: surfing, swimming, and fishing.
The water is full of salmon and trout. You can rent out various water vehicles like paddle boards or kayaks and engage in watersports.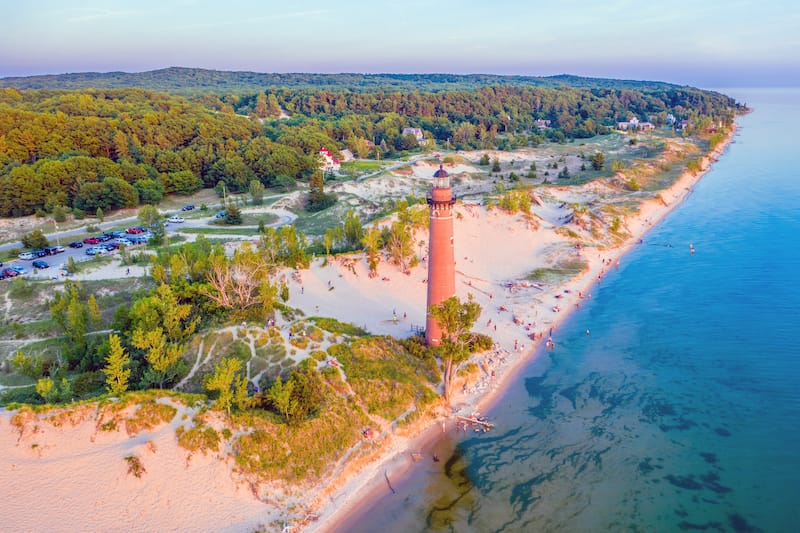 Another popular attraction is the Little Sable Lighthouse, which offers spectacular views, especially at night. The entrance fee will definitely be worth it!
Silver Lake also has a historic lakeside downtown called Hart, where you can shop and dine while checking out the attractions such as the Depot, Glover Railroad Caboose, and Heritage Hall.
Other recommended areas to visit include Jellystone Park and Craig's Cruisers.
14. Mount Pleasant
State: Michigan
Distance from Detroit: 155.1 miles (2 hours, 25 minutes)
There's a sense of history to Mount Pleasant that simply can't be replicated. That's probably because a portion of it is located in the Isabella Indian Reservation.
From a downtown district full of historical-buildings-turned-businesses to museums such as the Ziibiwing Center, Museum of Cultural and Natural History, and Discovery Museum, this city offers everything.
For outdoor activities, we recommend Deerfield Nature Park, Bundy Hill Preserve, GKB Riverwalk, and the lazy Chippewa River.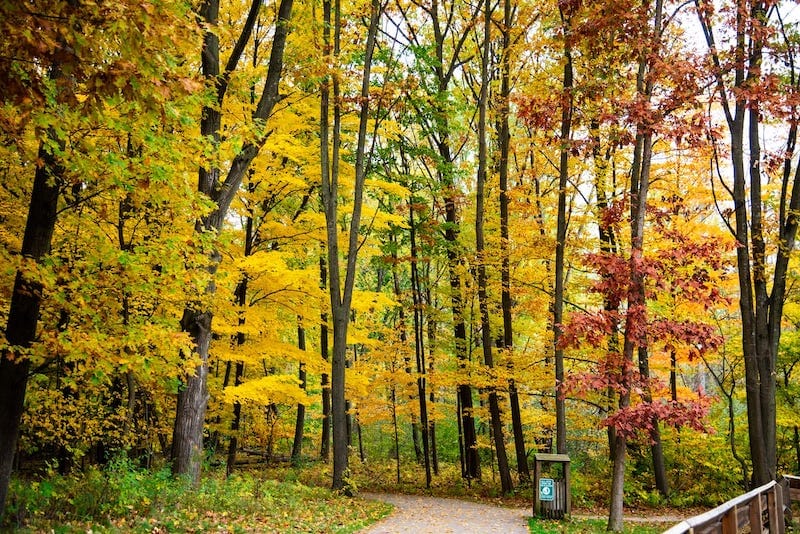 Mount Pleasant is also full of great food. It has literally hundreds of restaurants, as well as two microbreweries that offer handcrafted craft beer each season.
Hunter's Ale House, Summit Smokehouse & Tap Room, and Pleasant City Coffee are just some examples.
If you're visiting with family, the Mission Creek Woodland Park Hill and Morey Courts Recreation Center are great options for entertainment!
15. Cleveland
State: Ohio
Distance from Detroit: 169.7 miles (2 hours, 43 minutes)
Home to the Rock and Roll Hall of Fame, Cleveland is one of the most famous cities in the US that attracts thousands of tourists to its many sites and landmarks.
For those who love an outdoor adventure, be sure to visit Cleveland Metroparks for activities like hiking, horse-riding, picnicking, golfing, and of course, fishing!
Head to Rockefeller Park to snap photos of its beautiful historic bridges, the Rockefeller Park Greenhouse, and the Cleveland Cultural Gardens.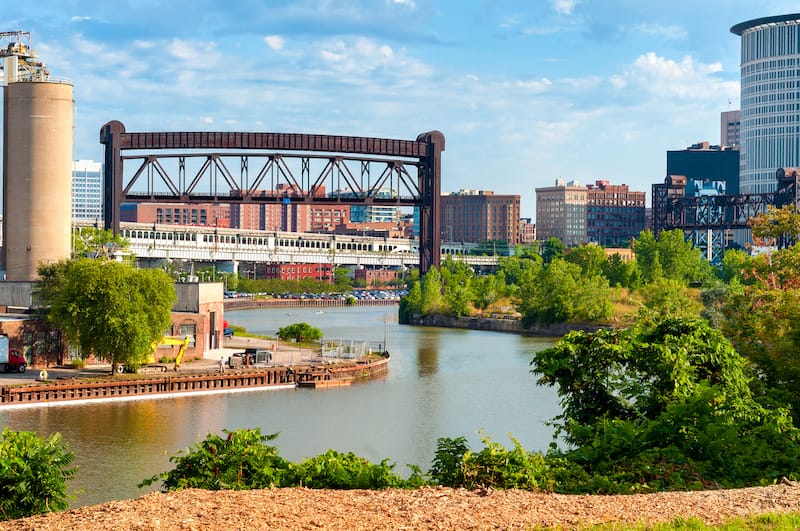 When in the city, check out the West Side Market, Cleveland Museum of Art, and Playhouse Square, where you can catch performances by the Cleveland Orchestra.
Also notable is the historic African-American Karamu House theater. Thinking about food? Cleveland is a web of different cultures, which means you can try various cuisines in different districts such as Little Italy, Slavic Village, and Tremont.
Wash down the quality food with Ohio's finest beer, which you can find everywhere, especially in the Ohio City neighborhood!
16. Lansing
State: Michigan
Distance from Detroit: 90.6 miles (1 hour, 25 minutes)
What better place to visit for a day trip than the capital of Michigan itself? Lansing has a lot to offer, from music festivals like Lansing JazzFest to parades, interesting museums, and farmers' markets, such as Westside, Old Town, and South Lansing.
Visit the beautiful Michigan State Capitol building and snap some photos before you head to the Lansing Art Gallery, which has free admission.
The Women's Hall of Fame, R. E. Olds Transportation, Turner-Dodge, as well as the Library and Historical Center are all popular attractions.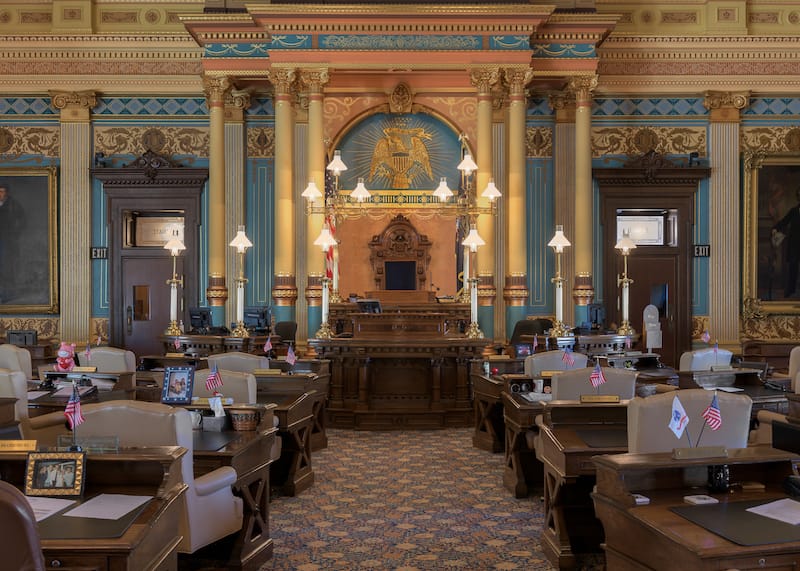 If you have kids, make sure to visit the Impression 5 Science Center, which is designed for children.
If you're a fan of theater, head to the Riverwalk, Peppermint Creek, and Happendance theaters, which are always full of different performances.
Bicycling is also a big thing in Lansing, especially along the Lansing River Trail.
The city's downtown area has great food and drink options for various tastes!
17. Saugatuck
State: Michigan
Distance from Detroit: 190.5 miles (2 hours, 57 minutes)
Saugatuck's beaches are so amazing that they've actually won awards! That should give you enough reason to plan a trip to this perfect getaway city.
Once you arrive, you'll be greeted with tons of attractions from vibrant culinary experiences in the city's many restaurants such as the Butler and the Mermaid Bar & Grill to the city's renowned art scene with over 12 galleries.
You can have outdoor adventures at the Saugatuck Dunes State Park and Allegan State Game Area.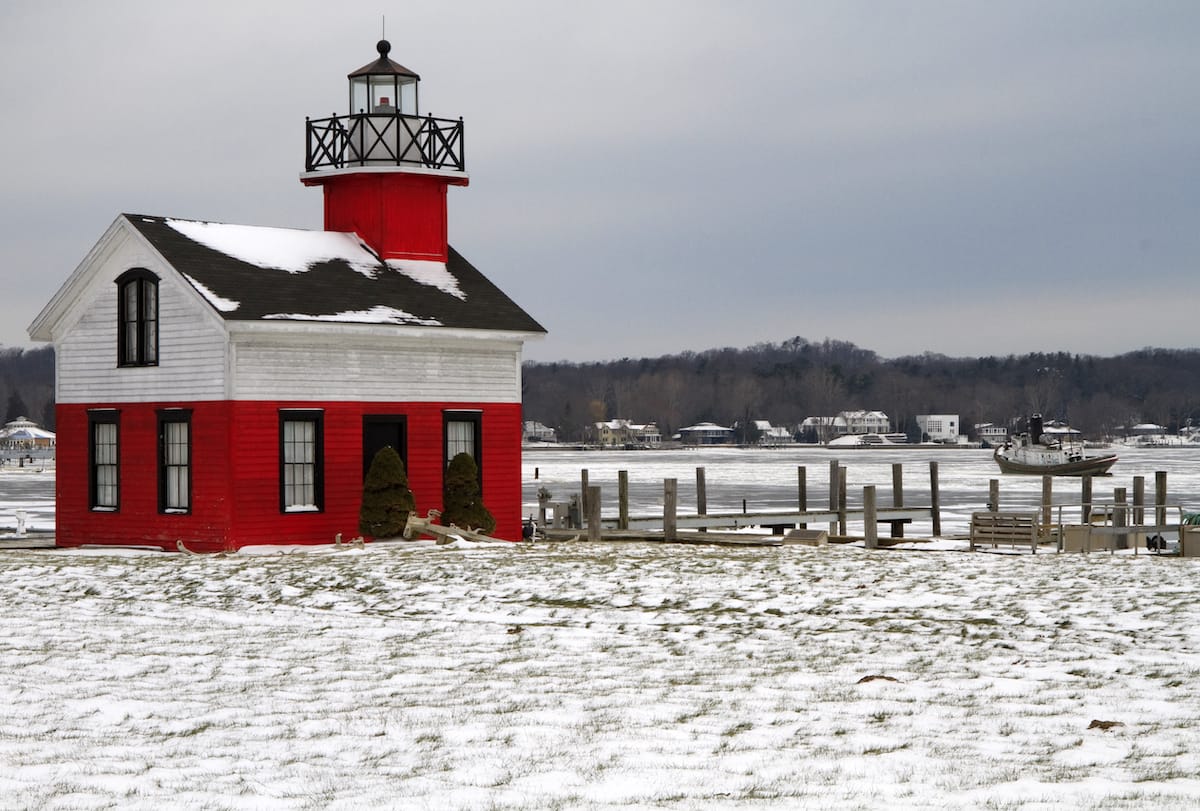 You can also hit the water by riding the Star of Saugatuck paddle boat or the city's famous town ferry, which is still hand-cranked! Saugatuck's historic churches are also popular with tourists and add extra charm to the city.
Oh, and did we mention that the beaches here are award-winning? Just sit back, relax, crack open a beer, and enjoy the beautiful views!
18. Holland
State: Michigan
Distance from Detroit: 180.6 miles (2 hours, 51 minutes)
Holland, Michigan might not be located in Europe, but it captures Dutch heritage perfectly!
Founded by Dutch settlers in 1847, Holland is most known for its Tulip Festival in May when the city lights up in vibrant colors from the beautiful flowers.
There are also many Dutch-inspired attractions that you can visit, especially at the Holland Museum. Speaking of museums, visit the Cappon Museum which used to be the house of the city's first mayor.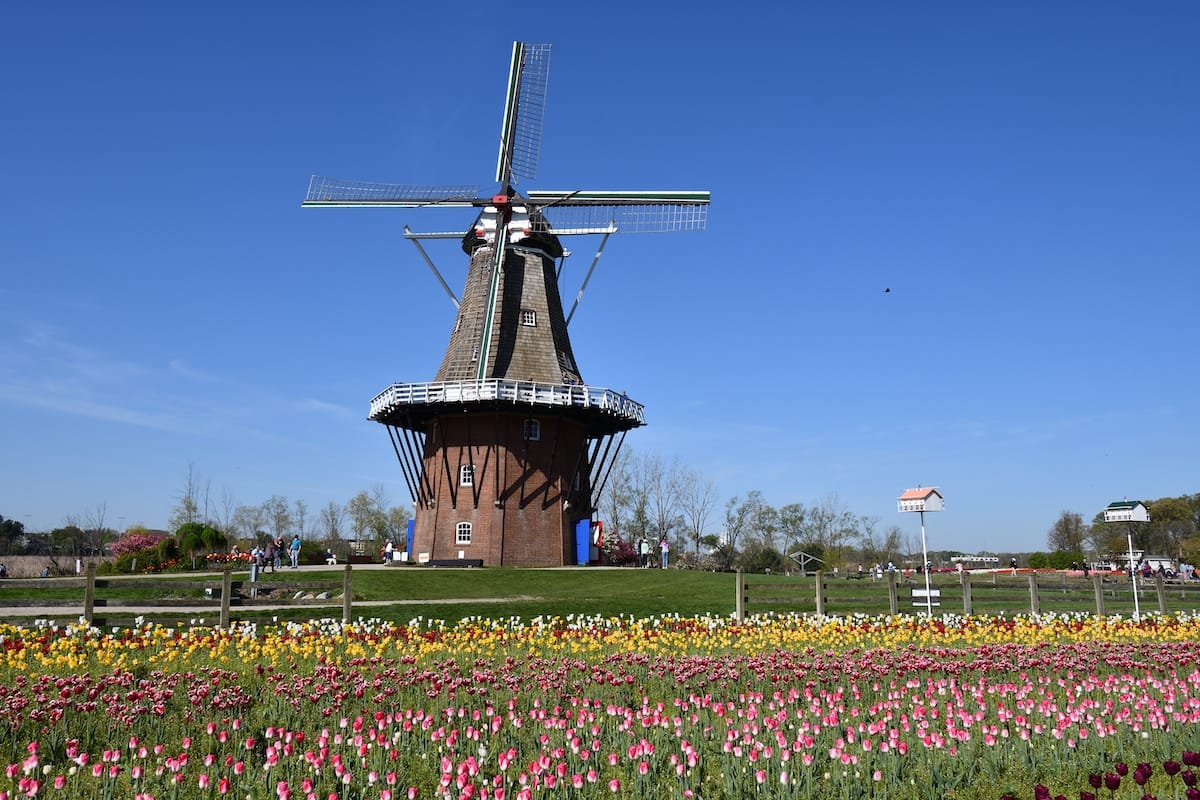 The Settlers House Museum is also popular because it didn't burn during the Great Michigan Fire.
Definitely check out Holland Harbor Light, and De Zwaan – the city's 250-year-old Dutch windmill, as well as the historic downtown area.
Holland is located on Lake Macatawa, so there are many public beaches where you can relax, like Holland State Park. If it's shopping you're after, head to 8th Street.
19. Lexington
State: Michigan
Distance from Detroit: 82.1 miles (1 hour, 25 minutes)
Perfect for a day trip, Lexington is truly a treasure. This little harbor village is a perfect getaway from the hustle and bustle of big-city life. The first place you should check out when in town is Lexington Harbor.
The beach is ideal for picnics and family activities. Other areas you should explore are the Fort Gratiot Lighthouse, Croswell Swinging Bridge, and Lakeview Hills Golf Resort, which also doubles as an event venue.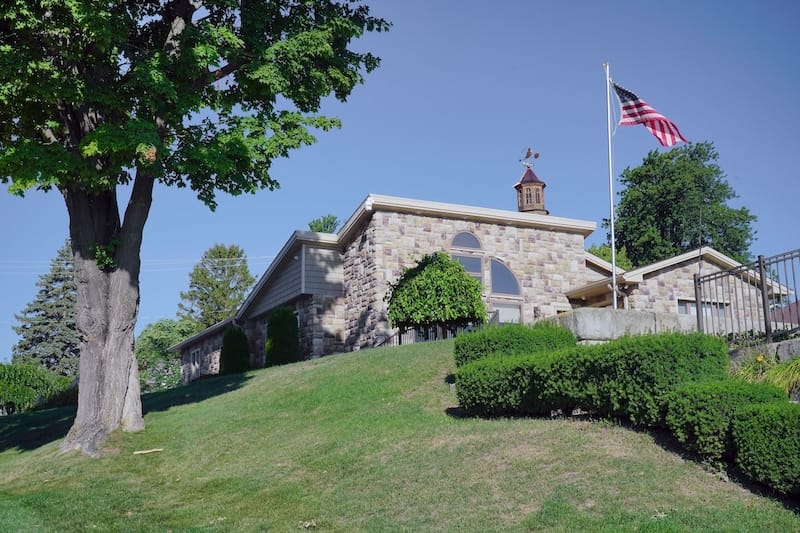 Lexington also has great brews and wine, as well as delicious ice cream! Try the wine at Old Town Winery and the ice cream at LightHouse Creamery.
Delaware Park, Forester Park, Lexington County Park, and Wagener County Park are all popular spots to relax.
Most are also dog-friendly! If you fancy a play, check out the Lexington Village Theatre. Lexington might be small, but it's full of great experiences!
20. Corktown
State: Michigan
Distance from Detroit: 1.7 miles (7 minutes)
Imagine leaving downtown Detroit and landing in a historic district full of Colonial Revival, Federal-style buildings, and Victorian townhouses. Welcome to Corktown!
Founded by Irish settlers in the late 1800s, Corktown still retains some of the architecture from the period.
The district has been revived over the years and attractions today include United Irish Societies Irish Plaza, Quicken Loans Technology Center, and the Trumbull & Porter Hotel.
The district is also famous for its eaters like Mudgie's, Lady of the House, and Batch Brewing Co.
The Most Holy Trinity Church, the oldest English-speaking Catholic parish in Detroit, is another attraction you can definitely check out.
Where to Stay in Detroit
If you're looking for the top places to stay in Detroit, here are some of our favorites!
Element Detroit at the Metropolitan (budget-friendly option!)
Aloft Detroit at The David Whitney (mid-range option!)
Shinola Hotel (luxury living)
Did we miss any of the best day trips from Detroit?
Let us know your favorite Detroit day trips in the comments! Thanks!
More Michigan Travel Guides
Pin this Detroit Day Trips Guide