Are you planning a trip to the Windy City and are looking for some of the best day trips from Chicago?
We have you covered! Continue reading for our top Chicago day trips!
Are you planning your trip to

Chicago

last minute?
Be sure to book your accommodation and tours in Chicago ahead of time to ensure availability!
🇺🇸 Top recommendations for tours in Chicago:
🛌 Top picks for places to stay in Chicago:
🚗 Looking for the best way to get around Chicago? Click here to check rental car rates for Illinois!
Chicago, Illinois is one of the most famous cities in the world known for its wide variety of parks, museums, universities, food, and music, enabling the metropolitan city to welcome millions of guests each year- 120 million in 2019 alone!
So, it goes without saying that Chicago should be one of the top places on your travel bucket list if you haven't been there already.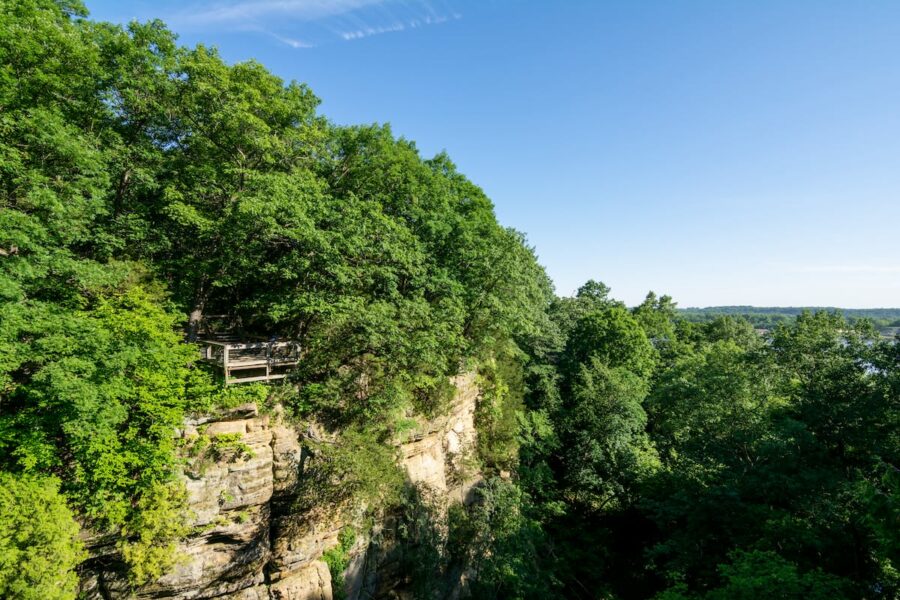 But something that many visitors don't consider is that Chicago is also within 3 hours of plenty of other attractions, including cities, amusement parks, natural parks, and beaches.
This guide covers some of the best places to visit near Chicago!
Let us know which day trips from Chicago we failed to mention and that deserves a spot on this list. Thanks!
Best Day Trips From Chicago
1. Milwaukee
Location: Wisconsin
Distance from Chicago: 92.4 miles
Driving Time: 1 hour, 27 minutes
Milwaukee is the most populous and culturally diverse city in Wisconsin.
It doesn't matter what you are looking for when going on a trip to Milwaukee because the city has it all!
You can start getting to know the city from the central marketplace where you'll be surrounded not only by shops full of local goods, but also by a huge variety of eateries and breweries.
Do the 3-mile Milwaukee RiverWalk to get the most beautiful views of the city and river, as well as to explore the historical and architectural attributes via dozens of museums.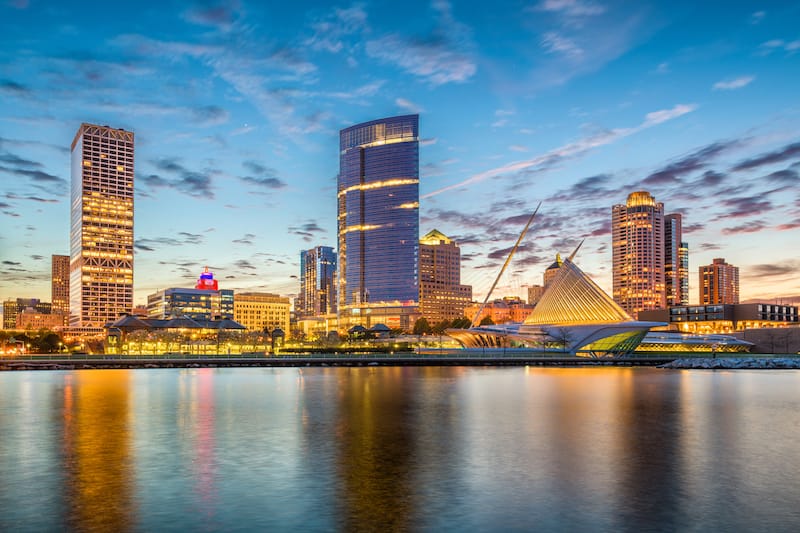 The most visited museums are the Milwaukee Art Museum, Harley Davidson Museum, and the Public Museum.
The Museum of Beer and Brewing is also a must.
Also, don't forget to check out the events taking place at the time of your visit as Milwaukee is famous for its musical and cultural festivals and celebrations like the Polish Fest, the Lakefront Festival of Art, the Dragonboat Festival, and more.
2. Kankakee River State Park
Location: Illinois
Distance from Chicago: 62.5 miles
Driving Time: 1 hour, 5 minutes
This Illinois state park covers 4,000 acres. Kankakee River State Park does not require an entrance fee and is popular for a variety of activities starting with fishing, hunting, and camping.
With its clear waters, the Kankakee River is an excellent spot for fishers with landing options from smallmouth bass and channel catfish to walleye and northern pike.
Note that because of shallow and stony waters, boating here is dangerous, but canoeing is possible.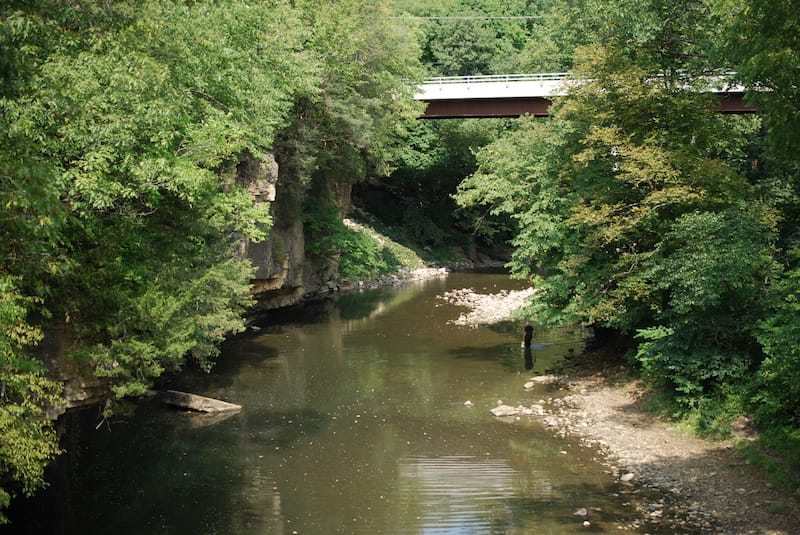 Camping is another favorite activity here, along with picnicking around shelters and tables.
What about hiking? The trails stretch across both sides of the river and provide ample space for some day hikes.
You can take the 3-mile Rock Creek, make a bicycle tour of the Davis Creek Area, or take any other trail you like.
Lastly, one fun and not very traditional thing to do here is that you can try out metal detecting, but be sure to acquire a permit from the park office.
3. Cedarburg
Location: Wisconsin
Distance from Chicago: 112.5 miles
Driving Time: 1 hour, 48 minutes
In case you're not looking to waste a lot of time traveling from Chicago, Cedarburg could be your absolute go-to for a day trip! It's 20 miles north of Milwaukee and about a 2-hour drive from Chicago.
A fun way to spend the day here would be to visit the Cedarburg Covered Bridge. It was built in 1876 and is open to pedestrians and bikers.
If you like the area and are in the mood for fishing, canoeing, or picnicking, then definitely plan a few relaxing hours at the Covered Bridge Park.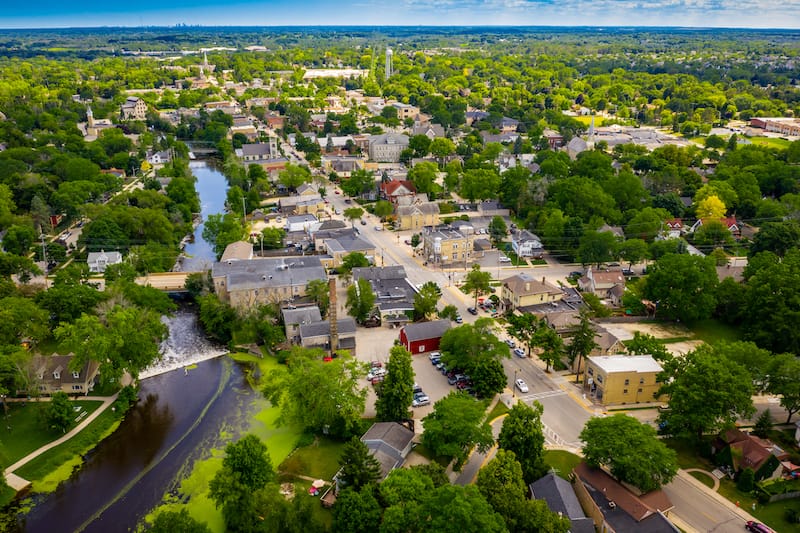 A good alternative for getting in touch with nature is the Ozaukee Interurban Trail, which has the name "The Great Wisconsin Birding Trail" because of its rich wildlife views.
In the town itself, be sure to do some wine tasting at the award-winning Cedar Creek Winery, have a look at beautiful paintings at Cedarburg Art Museum, and get a bite of delicious pizza at Tomaso's.
4. Des Plaines State Fish and Wildlife Area
Location: Illinois
Distance from Chicago: 55.7 miles
Driving Time: 57 minutes
Des Plaines State Fish and Wildlife Area, with an area of more than 5,000 acres, is another charming natural landscape. The most popular activities here are fishing, hunting, hiking, and picnicking.
For fishing, note that panfish, catfish, and bass can be caught in several ponds.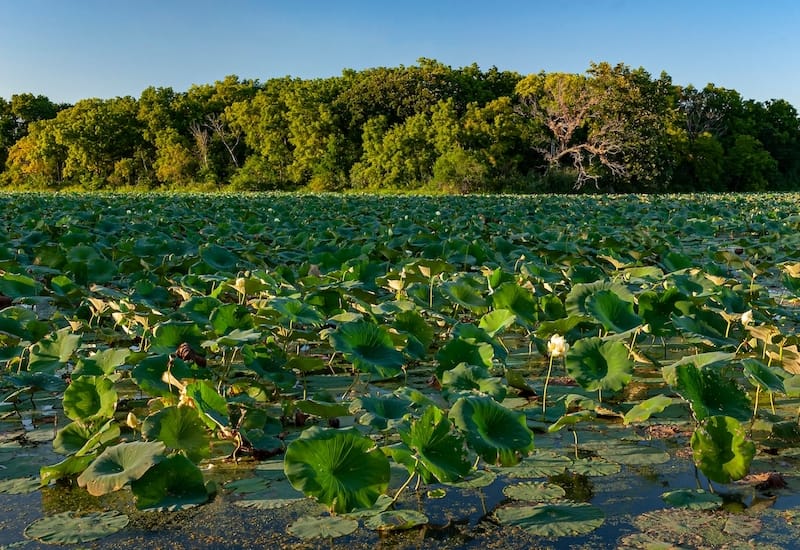 The park is bordered on the south by the Kankakee River, which has 3 miles of beachfront and offers great walleye and northern pike fishing.
Hunters with permits are allowed to go pheasant hunting, which is one of the most popular activities in the area.
If you're not into hunting, picnicking and camping beside the Kankakee River might be the best option for you. Enjoy all the beautiful vistas around and get energized by nature!
There is no entrance fee.
5. New Glarus
Location: Wisconsin
Distance from Chicago: 145.3 miles
Driving Time: 2 hours, 27 minutes
New Glarus is a unique small town that has maintained its Swiss heritage and historic spirit for over 160 years.
When you've explored the downtown area with its local shops and Swiss-German eateries, it's time to enjoy the beautiful nature around this town.
One way to do so is to check out the 24-mile Sugar River State Trail and New Glarus Woods State Park to hike and rest, camp, and check out some delightful beers from a local brewery.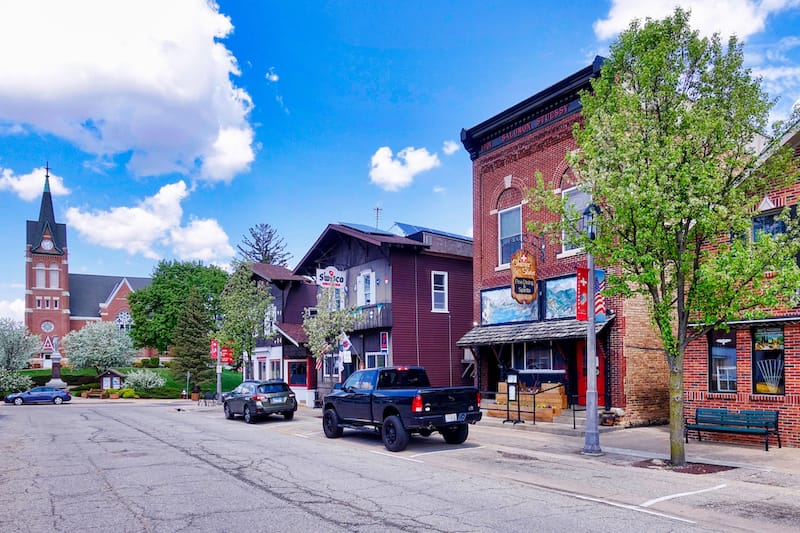 Another popular activity in this "Little Switzerland" is visiting the Chalet of the Golden Fleece Museum, which is a stunning Swiss Alps chalet-style home and holds a huge collection of artifacts of Swiss culture.
We can't miss mentioning the must-sees for wine and beer lovers.
Primrose Winery is the ultimate place to sit, relax, and try out some good wine, while New Glarus Brewing Company offers a big variety of craft beer and is available only in Wisconsin.
6. South Bend
Location: Indiana
Distance from Chicago: 94.5 miles
Driving Time: 1 hour, 39 minutes
Known for its very rich history, awesome events, and small Catholic university, South Bend is an excellent choice for a day trip from Chicago.
The main areas of interest for tourists are its historic mansions, the University of Notre Dame, the National Studebaker Museum, the South Bend Museum of Art, and the Morris Performing Arts Center.
Aside from the town's artistic vibes, you can also check out Potawatomi Park, which is full of cultural sights and a very good choice for a small daytime picnic.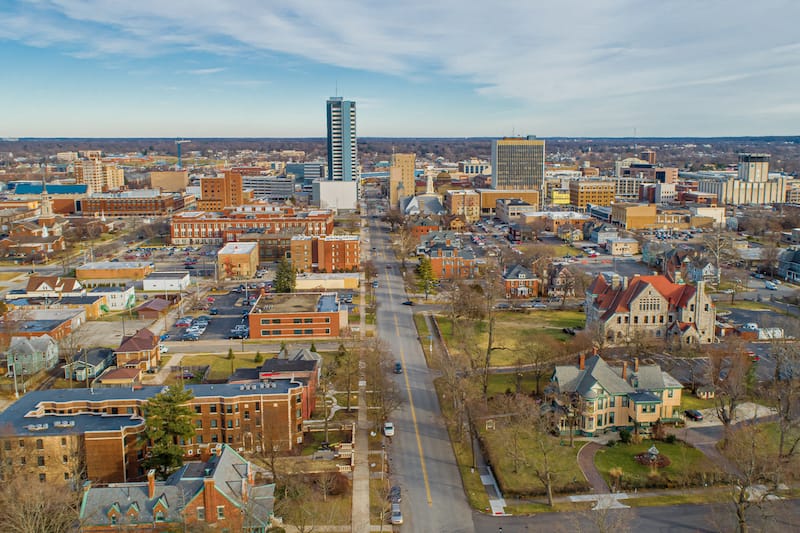 To get the most unique views of the town, visit the 19th-century Tippecanoe Place Restaurant, which features a delicious menu and a very historic feel.
You can also visit the Basilica of the Sacred Heart, a Gothic-style church with astonishingly beautiful architecture and intricate art.
7. Madison
Location: Wisconsin
Distance from Chicago: 147.3 miles
Driving Time: 2 hours, 19 minutes
Wisconsin's state capital Madison has a big range of recreational opportunities and is certainly one of the best choices for a day trip from Chicago.
Once you're here, don't miss visiting the Wisconsin State Capitol, Frank Lloyd Wright's Taliesin Estate, Olbrich Botanical Gardens, and the Madison Museum of Contemporary Art.
Also, note that events like the Rhythm and Booms and a few music festivals are inseparable parts of Madison, so plan your trip ahead of time!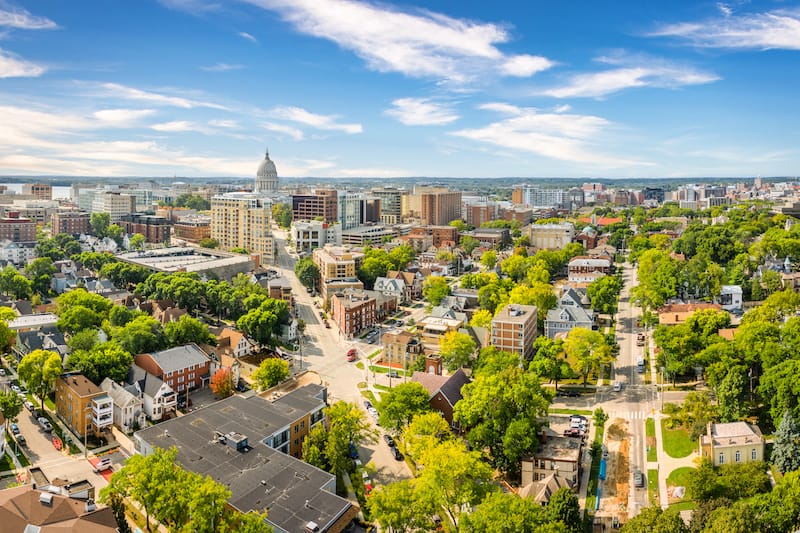 Like other places near Chicago, Madison is no exception when it comes to being home to a great number of museums.
Among those is the Wisconsin Veterans Museum with exhibitions from the Civil War to the Gulf War, and the Chazen Museum of Art, which not only showcases great works from European and American artists but also hosts a variety of events regularly.
If you've got any extra time after exploring the city, head over to Blue Mounds State Park.
Owing to its beautiful natural landscape, flora, and fauna, it's a popular destination among hikers, campers, and mountain bikers.
8. Moraine Hills State Park
Location: Illinois
Distance from Chicago: 50.4 miles
Driving Time: 57 minutes
Located in northeast Illinois, full of lakes and wetlands, Moraine Hills welcomes everyone who's into hiking, biking, fishing, and birding. Visiting this park is free of charge.
There are more than 10 miles of trails available to hikers and bikers. Those routes go through wetlands, forests, and uplands.
For those who want to try out some fishing, Lake Defiance, Fox River, and especially McHenry Dam are popular spots for that.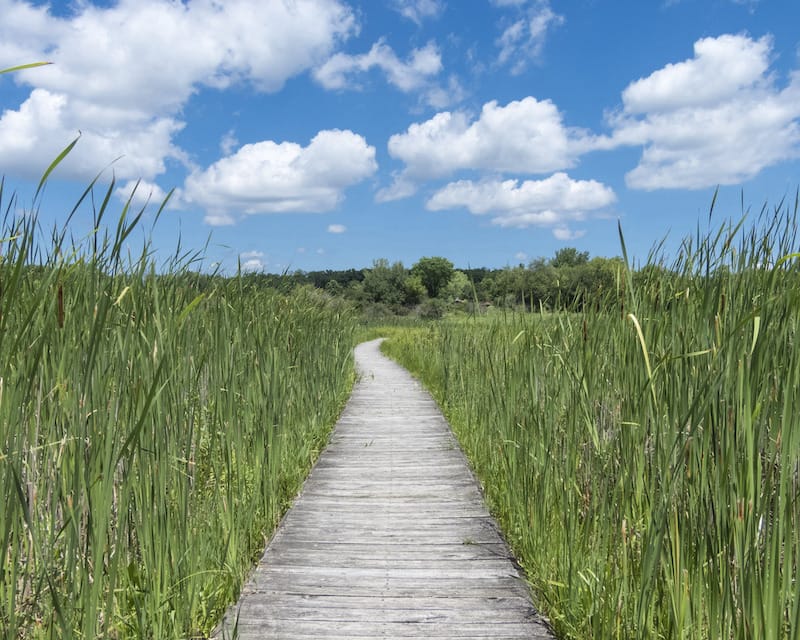 The waters have a great variety of fish. Here, you have the choice to either fish from the shoreline or rent a boat.
Alternatively, you can bring your own kayak or canoe to explore the wetlands of the park. Also, during the summer in June, there are programs for kids, mostly related to fishing.
Overall, the area is around 2,500 acres with rich wildlife yet a tranquil atmosphere.
Definitely, a good choice to relax in nature and get away from the city!
9. Six Flags Great America
Location: Illinois
Distance from Chicago: 44.3 miles
Driving Time: 46 minutes
This day trip is neither a city nor a park, but an amusement park that guarantees a memorable experience. In fact, you can plan an entire day at Six Flags.
The park in general consists of four themed zones and fifteen roller coasters, as well as a water park – Hurricane Harbor Chicago.
There is a huge variety of rides you can choose from, starting with rides for kids to thrilling rollercoasters that will certainly give you an adrenaline rush.
If you're not into that and in case you're visiting with kids, the selection of family rides will work best for you.
Apart from the rides, Six Flags Great America also offers entertaining live shows, holiday festivals, and firework displays that will become a source of good memories.
You'll also easily find places to eat here like Antoine's Funnel Cakes, Capone's Kitchen, and many others, no matter if you're looking for snacks or delicious meals.
The best part is that it's close to Chicago, so you don't have to drive too far.
10. Lake Geneva
Location: Wisconsin
Distance from Chicago: 83 miles
Driving Time: 1 hour, 25 minutes
Lake Geneva's major claims to fame are its stunning scenery, world-class golf courses, exceptional restaurants, and unique historic tours.
Lake Geneva offers a wide range of activities throughout the year.
From ziplining, scooter tours, skydiving, and cruises to winter activities like ice skating, snowshoeing, and more, there's something for everyone here!
The absolute must-sees here are Geneva Lake Museum showcasing the local history, Tristan Crist Magic Theatre with illusional art, and Lake Geneva Cruise Lines with unique sightseeing opportunities.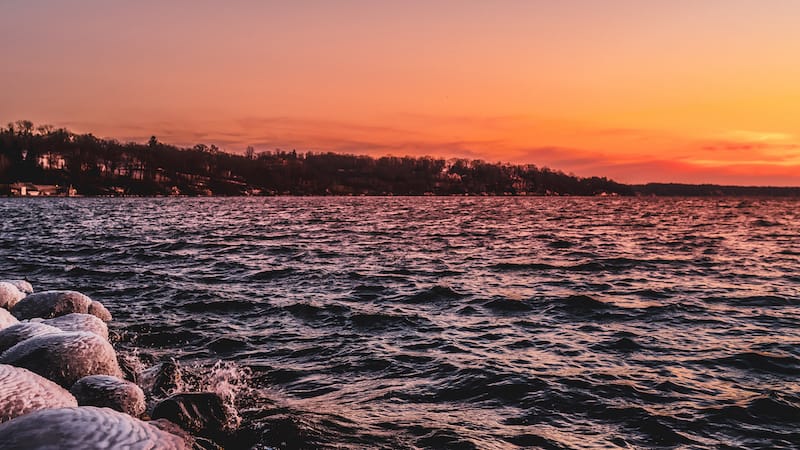 The clear waters of Geneva Lake can be the perfect place to unwind during your stay in town.
There are four beaches, each with its own list of hours and prices.
One of the best tourist attractions is strolling down the Shore Path, where you'll see a lot of old estates and buildings as well as large fields of tulips and daffodils.
11. Fennville
Location: Michigan
Distance from Chicago: 140 miles
Driving Time: 2 hours, 17 minutes
Fenn Valley Vineyards and wine-making are the main attractions in Fennville.
In fact, the Fennville AVA, which encompasses the city and its surrounding area, is noted for producing Michigan's best wines.
If by any chance you happen to be here during October, be sure to check out the famous local event, the Goose Festival.
Thousands of people visit the small town each year to take part in the numerous activities and attractions.
As the name suggests, the main attraction is the geese, but you can also check out the parade, carnival rides, and live music shows.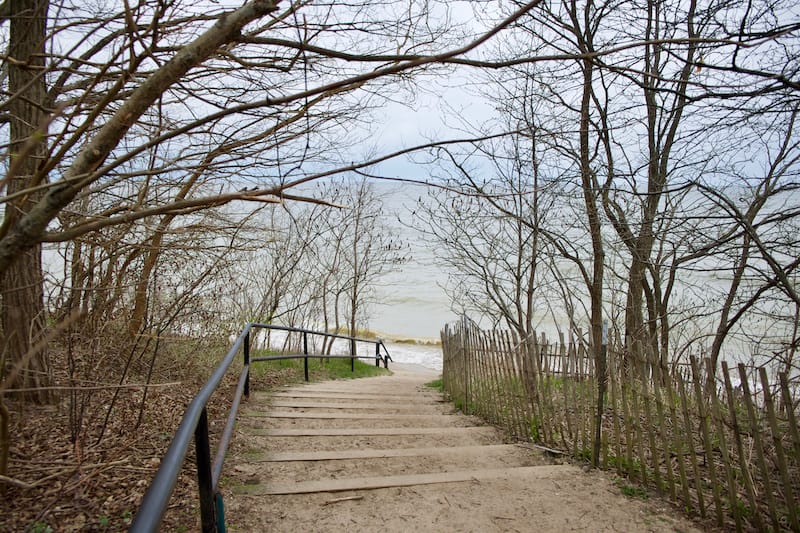 The town is focused on making agricultural products, so the quality of food and drinks here is superb.
You can taste the fruits at Crane's U-Pick Farm or get your hands on a locally-made craft beer at Waypost Brewing Co.
For some relaxation, head over to West Side County Park.
It not only offers extra-beautiful sunsets by the shore but also picnicking areas, walking paths, and plenty of photo opportunities.
12. Galena
Location: Illinois
Distance from Chicago: 163.8 miles
Driving Time: 2 hours, 44 minutes
The small town of Galena, Illinois is home to hundreds of historic structures that are the main attraction of this tiny town, making it one of our top picks for a day trip from Chicago.
The Horseshoe Mound Preserve with peaceful paths and awesome views of Iowa and Wisconsin across the Galena River Valley and Mississippi River is one of the most popular attractions.
Another must-see is the Old Market House, which now hosts a variety of cultural events and exhibits while showcasing some unique artifacts and various artworks.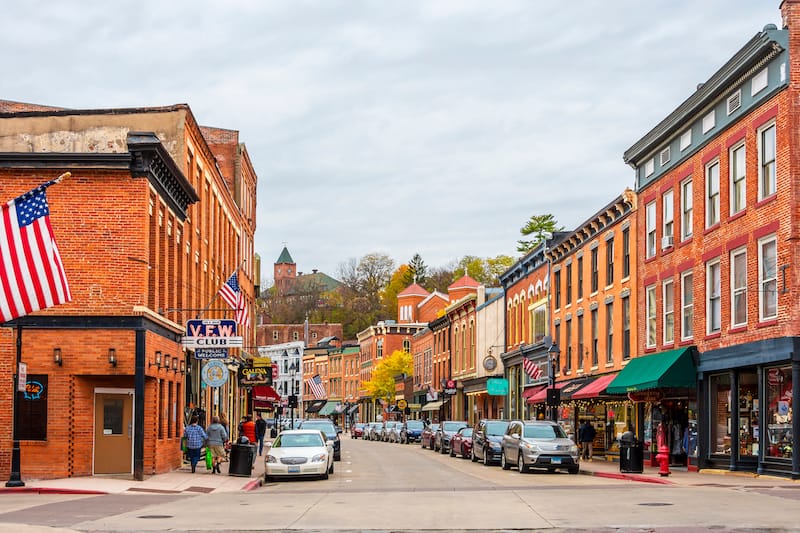 Some Insta-worthy pictures can be taken at the Galena Cellars Vineyard in addition to tasting around 40 varieties of wine.
You should also make sure that you don't miss the Main Street of Galena. It should be the highlight of your trip!
Not a fan of long walks? No problem! Join the Galena Trolley Tour and enjoy the views and architecture of Galena on the drive.
End the day in a relaxing space like Grant Park or Thunder Bay Falls – a magnificent waterfall located a small distance east of Galena.
13. Monroe
Location: Wisconsin
Distance from Chicago: 136.7 miles
Driving Time: 2 hours, 13 minutes
Monroe is generally known as the Swiss Cheese Capital of the USA, home to some extra delicious food and to the Stateline Ice and Community Expo, Green County's sole indoor ice rink.
Your visit to Monroe can start with a trip to a gallery exhibit, exploring the downtown square, biking, attending an outdoor concert, or tasting a local beer at one of the shops, such as the Minhas Craft Brewery or the New Glarus Brewery.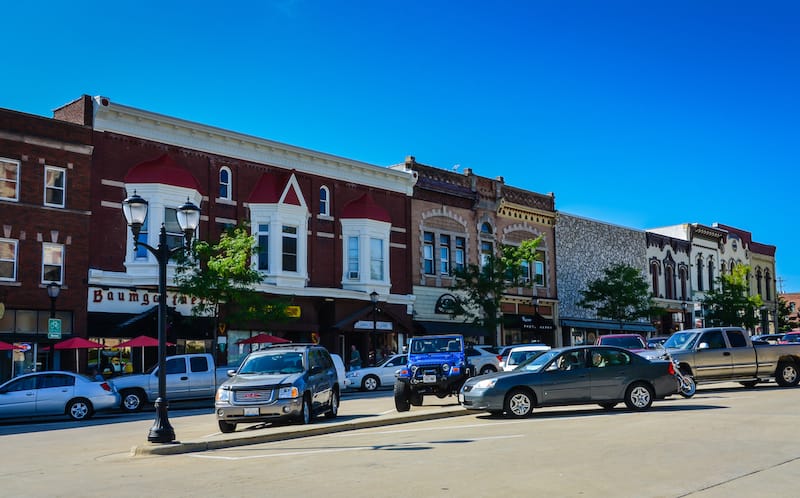 The real gems of the town are its parks.
Twining Park, for example, houses the city's Swiss bandshell, Recreation Park houses the city swimming pool, and Honey Creek Park welcomes visitors to its skate park.
For those who want to go on an outdoor adventure, the 47-mile Cheese Country Trail is a must for ATV fans, while the Badger State Trail is bicycle and pedestrian friendly in the summer and an ATV/snowmobile trail in the winter.
14. Anderson Japanese Gardens
Location: Illinois
Distance from Chicago: 88.9 miles
Driving Time: 1 hour, 26 minutes
Another great option for a day trip from Chicago is the Anderson Japanese Gardens, one of the best Japanese gardens in North America. Here, every rock has been carefully placed and every route has been carefully laid out.
In order to get the full experience, it's recommended to spend at least an hour and a half walking around the garden. However, plenty of visitors like to spend a couple of hours here to take in the beautiful nature.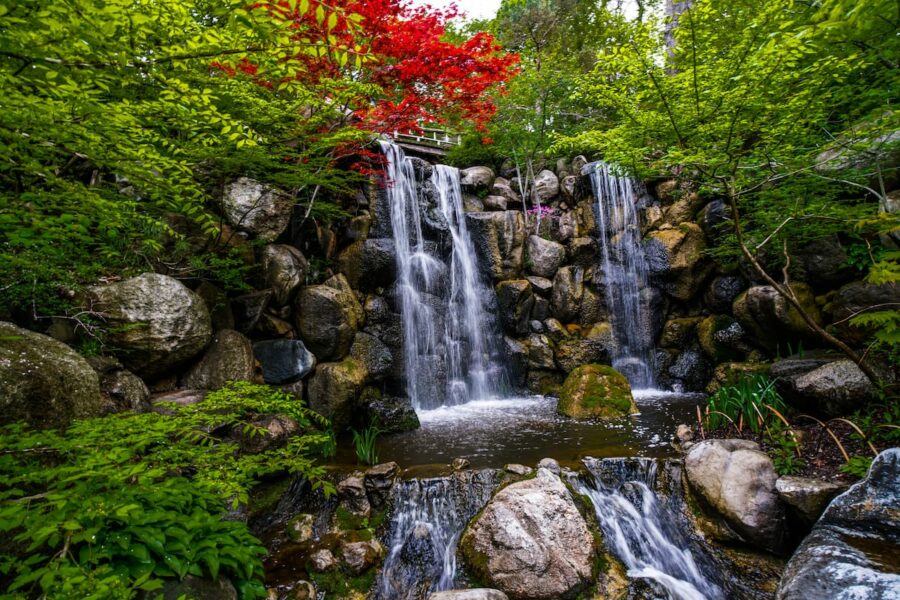 Keep in mind that the entrance fee is $11 for adults and $10 for people over 62 years old. Also, note that the gardens are open seasonally from May till the end of October.
Be sure to check out one of the guided tours meant for all ages or spend some time strolling along the beautiful paths.
When you're finished at the gardens, you can grab a bite to eat at the Fresco at the Gardens restaurant.
15. Starved Rock State Park
Location: Illinois
Distance from Chicago: 93 miles
Driving Time: 1 hour, 31 minutes
Starved Rock State Park is voted the number-one attraction in the state of Illinois. One of the highlights of the park is its stunning waterfalls!
In addition to that, there are 13 miles of trails convenient for hiking, fishing, boating, or just admiring the amazing natural landscape.
To explore the area you can take a Trolley tour, get to know the natural wonders via a river cruise, or check out the vast beauty of the area by trekking along the hiking trails.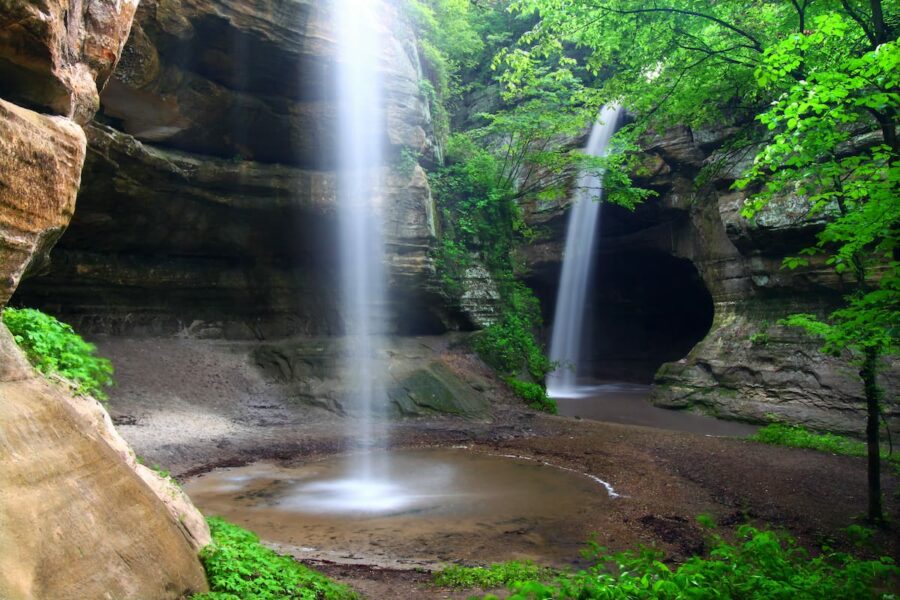 There are 13 miles of well-marked trails to assist you in discovering the magnificent cliffs and canyons.
Camping is another popular activity here, too! All the necessary facilities can be accessed in the bathhouse.
Apart from the beautiful natural area and abundance of animals, visitors appreciate the park's broad grassy areas, which are ideal for pitching a tent. You'll also find designated picnic spots in the area of the park.
The park works on a first-come, first-served basis, and there is no admission fee charged.
16. Holland
Location: Michigan
Distance from Chicago: 149.6 miles
Driving Time: 2 hours, 25 minutes
This Michigan town has that small-town charm and attracts a lot of guests to its award-winning downtown and special events. Holland is also known for the thousands of beautiful tulips that line its streets.
If you're in town in May, be sure to check out the Tulip Time Festival, which is a celebration of Dutch heritage. It's America's largest tulip festival and a great opportunity to check out the parades, klompen dancing, a Dutch market, and fireworks.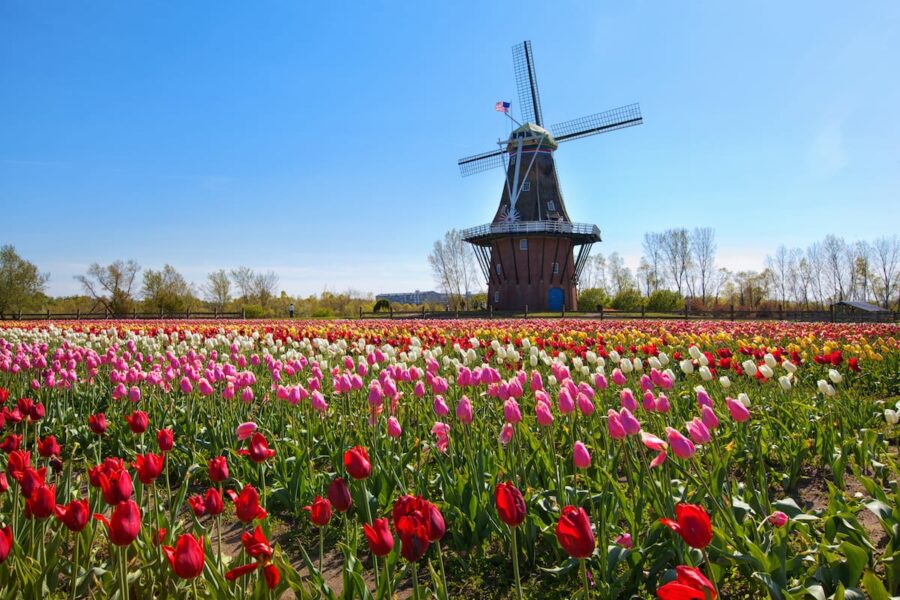 Another attraction that you should not miss is the Windmill Island Gardens with its 250-year-old Dutch windmill, which feels like visiting the Netherlands in Michigan.
Fun fact: it's the only working Dutch windmill that was given to Holland from the Netherlands in 1964.
Holland State Park Beach is the perfect destination where you can enjoy your day while playing beach volleyball, relaxing by the water, having a picnic, and more.
You can also head over to the Holland Museum to discover more about the history and rich culture of this hidden gem.
17. Indiana Dunes National Park
Location: Indiana
Distance from Chicago: 49.5 miles
Driving Time: 55 minutes
The 15,000-acre Indiana Dunes is famous for its biodiverse nature and attracts many visitors each year for that reason.
On top of that, the area covers craggy dunes, wetlands, calm woodlands, sunny plains, and meandering rivers.
Based on the season, the types of recreational activities differ, so plan in advance.
Hikers have a chance to explore around 50 miles of paths.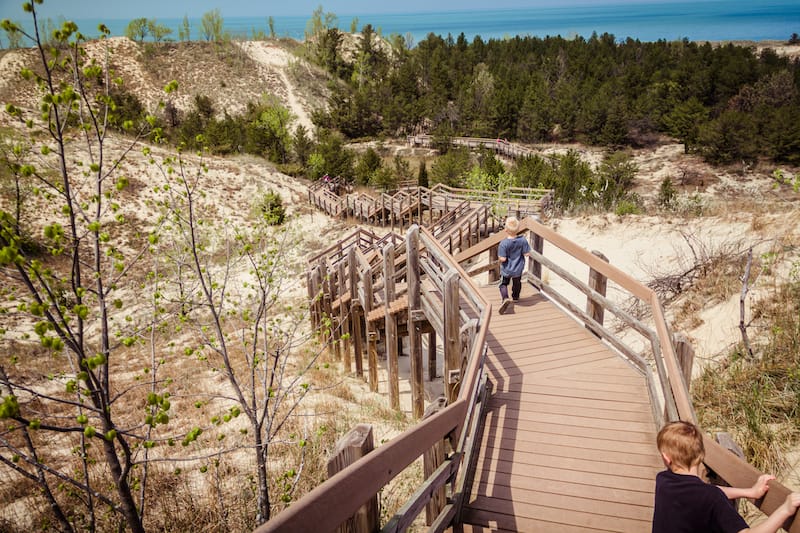 During the spring, the area is known for its extraordinary wildflowers, while summertime is great for Lake Michigan sunsets and walks on the 15 miles of beaches.
If you're here in the summer or fall, visit the Calumet and Porter Brickyard Bike Trails which are vibrant with rich colors during those seasons.
Bird watching during the spring and fall, fishing, and camping are other favorites here.
The entrance rates start at $15 per person.
18. Harrington Beach State Park
Location: Wisconsin
Distance from Chicago: 127.4 miles
Driving Time: 1 hour, 59 minutes
Harrington Beach State Park is a beautiful place to connect with nature and unwind completely and is one of the top destinations in Wisconsin!
It features over a mile of beaches along Lake Michigan with an overall area of around 715 acres.
It features a white cedar and hardwood swamp, old field grasslands with restored wetland ponds, and a scenic limestone quarry lake.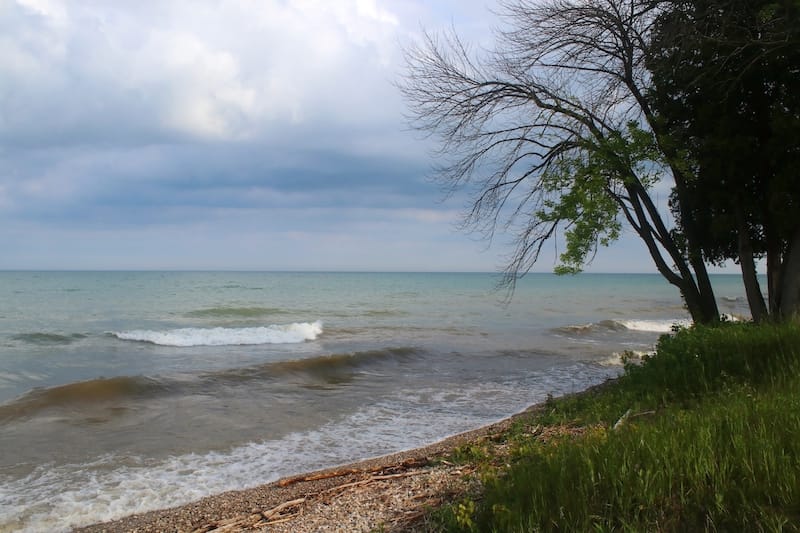 Here, you can bike or walk along the shuttle bus trail, swim if you can handle the cold waters of Lake Michigan, or try catching salmon and trout on the lake.
If you're on a day trip, you can also camp, sunbathe, picnic, hike, or even learn more about astronomy at one of the local observatory's monthly public viewings.
If you love to hike, you're in good hands as there are more than 7 miles of trails available.
The most frequently visited trails include the Bobolink Loop Trail, Hardwood Swamp Trail, and Quarry Lake Hiking Trail.
The admission fee to the park is $2.50 per day.
19. Grand Rapids
Location: Michigan
Distance from Chicago: 176.4miles
Driving Time: 2 hours, 51 minutes
Located approximately 25 miles east of Lake Michigan, Grand Rapids has been known as America's Furniture Capital for many years.
The list of things to do in Grand Rapids begins with Frederik Meijer Gardens & Sculpture Park, which features many gardens and galleries, the Downtown Market with vendors and farmers' markets, and museums like the Urban Institute for Contemporary Arts, the Grand Rapids Children's Museum, and the Gerald R. Ford Presidential Museum, which are all walking distance away from each other.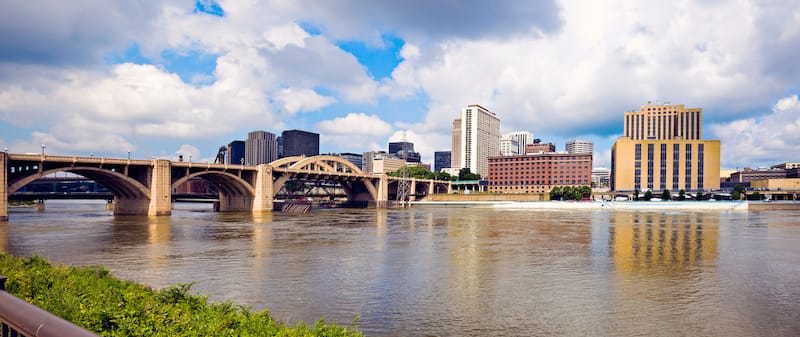 Foodies are also going to enjoy their time here because Grand Rapids prides itself on the abundance of farm-to-table restaurants.
Some highly-rated options are Grove and Terra, both serving local dishes from sustainable markets.
Those who love exploring the historical attributes of cities should visit the Meyer May House, designed by Frank Lloyd Wright and built in 1908, or check out the Heritage Hill Historic District, which was the first neighborhood in the city.
20. Illinois Beach State Park
Location: Illinois
Distance from Chicago: 47.3 miles
Driving Time: 57 minutes
Illinois Beach State Park is a mix of a vast shoreline and recreation and it is easily one of the best Chicago day trips!
The park has an area of 4,160 acres and is rich with flora and fauna. Around 650 species of plants have been found in the dunes area alone.
Here, you can participate in almost every kind of outdoor activity you can think of.
Fishing is allowed on units along the beach and on several small inland fishing ponds. There are also plenty of spots for picnicking along Lake Michigan.
Hiking opportunities are also not lacking- there are 5 miles of trails and a 2.2-mile loop trail that has a graveled surface.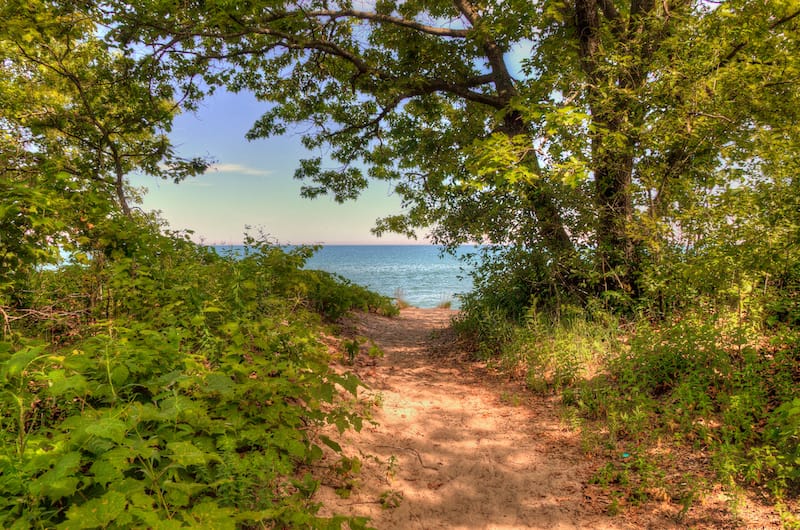 If you're taking your day trip during the summer, many people enjoy swimming along the sandy beaches but note that there are no lifeguards on duty.
Alternatively, a nice stroll along the shore is sure to help you feel more relaxed and refreshed. It is truly one of the most relaxing places to visit in Illinois!
It doesn't matter whether you're an active outdoor enthusiast or simply want to enjoy a peaceful stroll along the gorgeous beach- Illinois Beach State Park is a lovely spot to check out for all.
Where to Stay in Chicago
If you're looking for a great place to stay in Chicago, here are some of our top recommendations!
Did we miss any of the best day trips from Chicago? Let us know in the comments!
More Illinois Travel Guides
Pin this Chicago Day Trips Guide