Are you considering signing up for a food tour in Lyon on your upcoming trip to France's gastro-famous city?
Are you planning your trip to Lyon last minute?
If youʻre booking your trip to Lyon last minute, we have you covered. Below are some of the top tours, hotels, and more!
🇫🇷 Top Experiences and Tours in Lyon:
🛌 Top Hotels in Lyon:
Villa Florentine (Luxury)
Hôtel Edmond W (Mid-range)
Hôtel Le Boulevardier (Budget)
🚗 Looking for the best way to get around Lyon? Click here to check rental car rates for France!
This post shows you the best Lyon food tour, what to expect, and how to book your own adventure!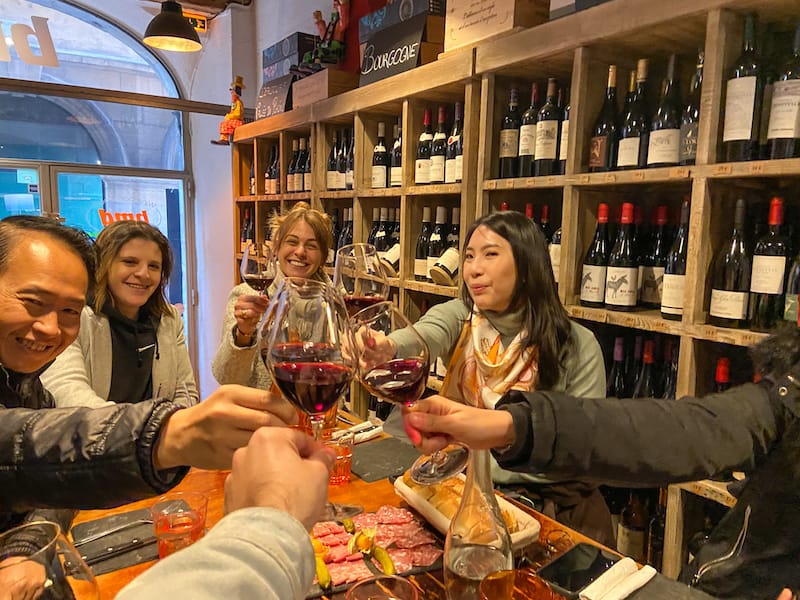 If you have any questions about taking a Lyon wine and food tour, let us know in the comments. I am happy to provide as much insight as I have! Thanks!
Why I Signed Up for a Food Tour in Lyon
As one of the most famous American food critics of the 20th century, once said after living several months in Lyon: "Lyon is the gastronomy capital of the world".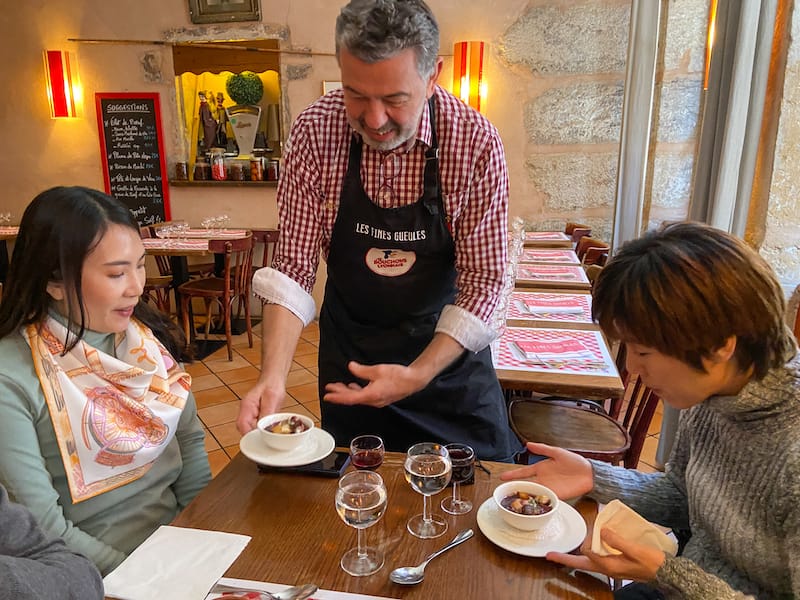 I've visited Lyon several times and knew about the amazing gastro history of the city but never did a food tour to dive deeper into this history (and learn more!).
BOOK HERE: Best Lyon Food Tour
Finally, during my last visit, I booked my first Lyon food tour and this guide will talk about my experience of how to degustate the internationally-known Lyon cuisine, learn the gastro history of the city, and visit small restaurants and cafes in the old city.
How to Book the Best Lyon Food Tour
I booked my Lyon food tour via Get Your Guide, one of our closest partners, and it was a fast and easy process!
After receiving my confirmation email (I booked a bit last minute!) it was only a day later that I found myself meeting my guide and group to embark on the Lyon food adventure!
Book your Lyon food tour here!
Where to Meet on the Day of the Tour
The meeting point for my Lyon food tour was at the edge of the old city, also known as Vieux Lyon to locals, at 2 Place Benoit Crepu 69005 Lyon at 10 am in front of the statue of Monseigneur Lavarenne.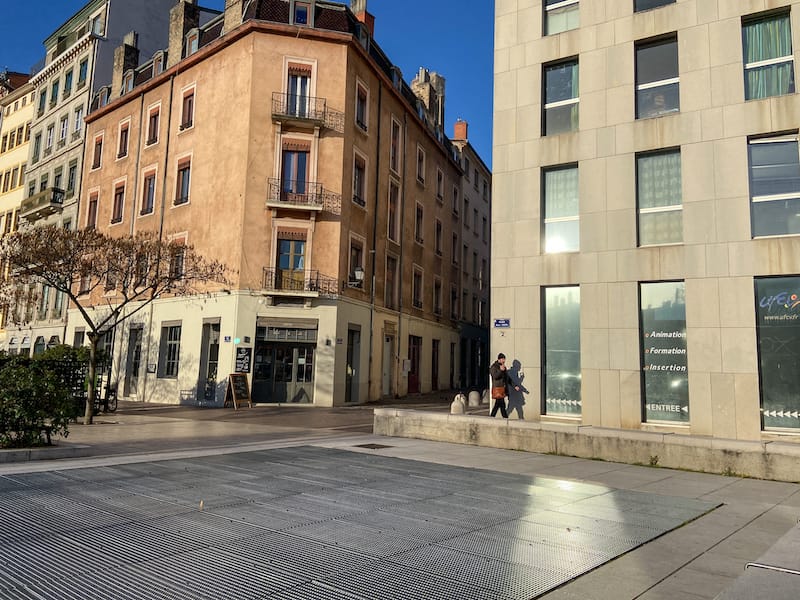 Double-check your tour beforehand to ensure the meeting point is the same as what I listed above in case of changes.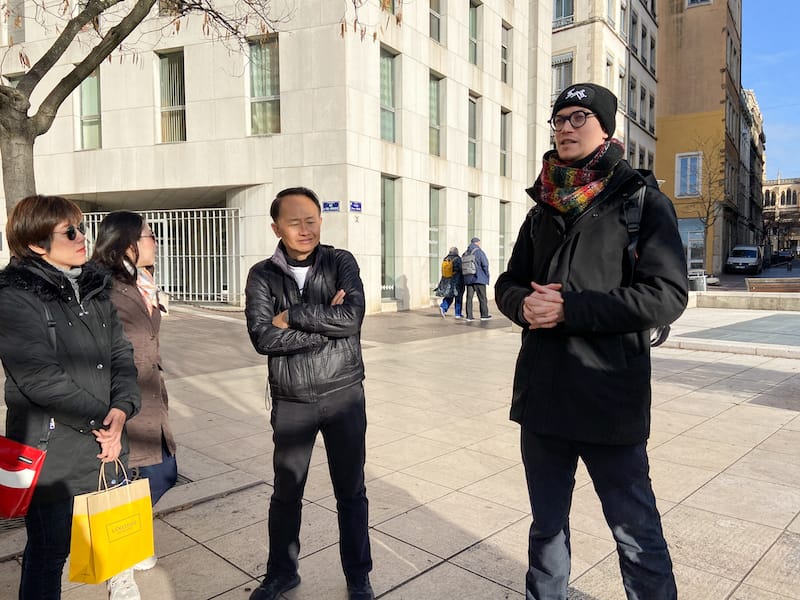 At the meeting point, your will meet your tour guide and the group which will be a max of 8-10 people.
My Experience and Highlights from a Food Tour of Lyon
Duration: 4 hours
Meeting Point: Monseigneur Lavarenne, 2 Place Benoit Crépu, 69005 Lyon
Language: English, French
CLICK HERE TO BOOK!
After meeting your group, the tour guide will introduce you to the group and will tell a bit about his background before discussing the earlier days of Lyon and its history.
After this brief introduction, my 4-hour Lyon food tour started and the group started to walk into the cozy streets of the old city before making our first food stop… which was not far from the starting point.
Learn about the Cheese of Lyon
The first stop was a cheese shop (fromagerie) which I was super excited about as a cheese lover!
The shop master who was already prepared for our visit, welcomed us and told us more about the cheeses in his shop, along with a bit more about the production of some of them.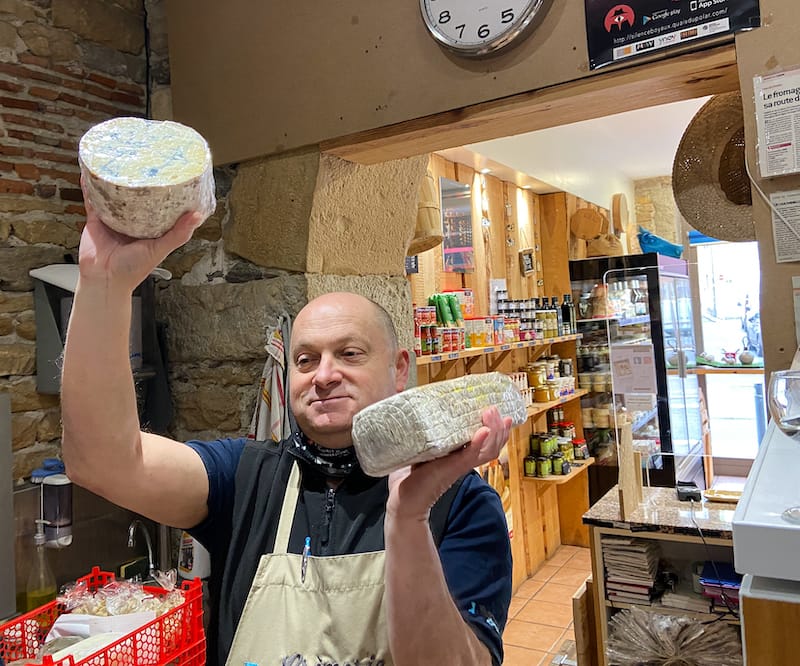 It's fascinating to know that there are over 400 varieties of French cheese and seven classification categories that are:
Hard Cheeses
Goat's milk cheeses
Washed rind cheeses
Uncooked semi-hard cheeses
White mold cheeses
Blue Cheeses
Ewe's milk cheeses
Each region has its own specific cheese and as our guide says the same cheese cant be made in other places with the same quality and taste because the nature and the terrain of each place are different, resulting in different flavors, etc.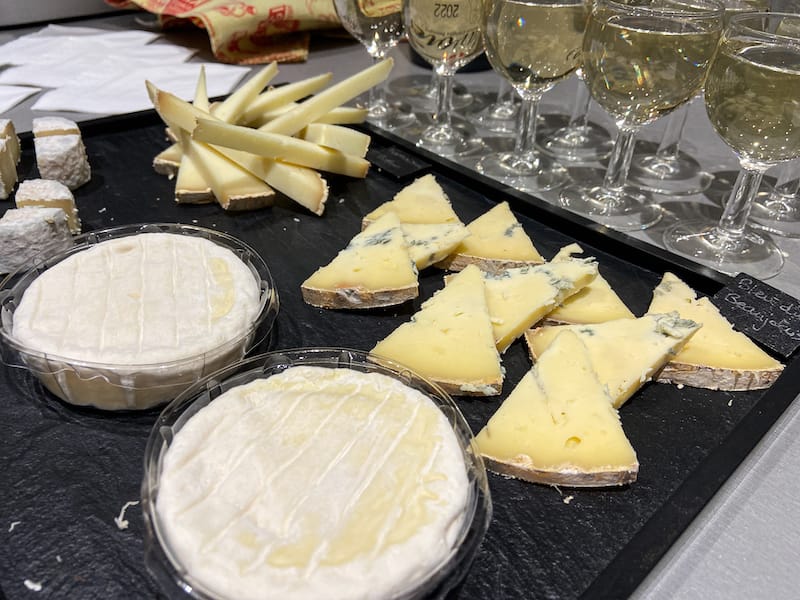 The only way to put all this knowledge together was to enjoy a degustation with white wine and cheese (we tried smoked cheeses, blue cheese, and more!). After leaving the cheese shop we continued our journey.
Traboules
An interesting fact about old Lyon is that back in the day, living space was so cramped in the city and the streets that the locals built special passageways called traboules.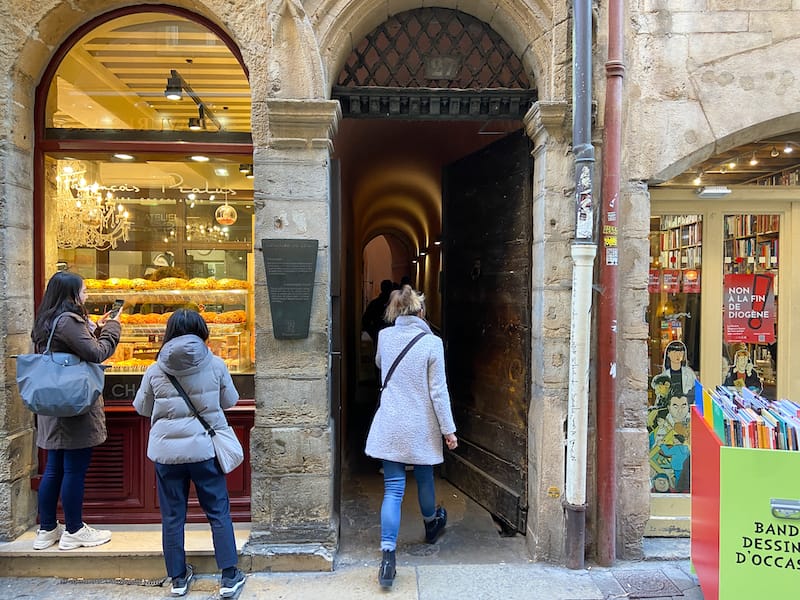 These secret passageways allowed people to reach from one street to another by crossing through the building through special doors.
It's also interesting how Italians had a strong influence on Lyon as the richest families in the city were Italian and they brought their goods (particularly silk) as well as architectural styles.
BOOK HERE: Lyon's Best Food Tour
My guide went more into detail as we passed the traboules that still existed.
This led us to our next stop, a place where we could try traditional Lyon sausages!
Jesus de Lyon (and Other Dry Sausages)
After getting comfortable inside the restaurant, the guide started to talk about the type of dry sausages that we are going to try and one of them is called Jesus (Jesus de Lyon).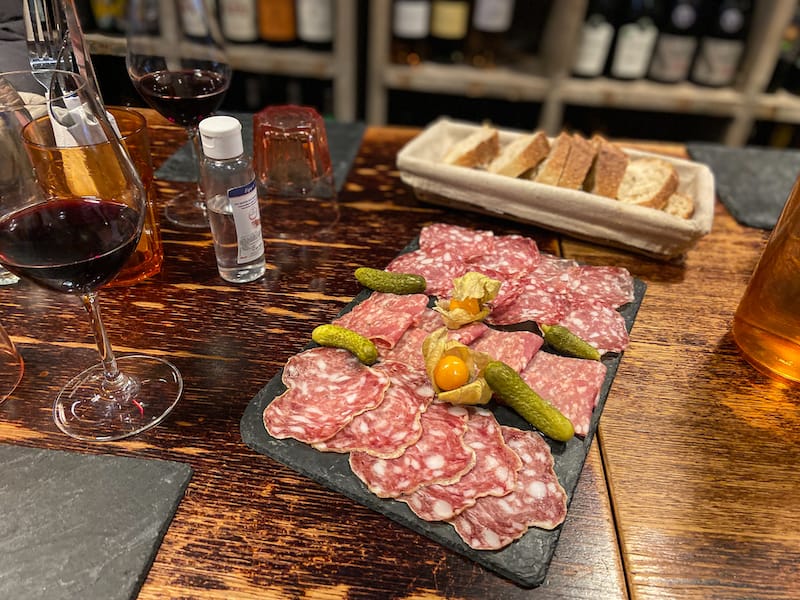 It is the most famous Lyon sausage and it has that name because the final product looks like newborn Jesus wrapped in a swaddling cloth.
Rosette de Lyon and other sausages were also served with pickles, bread, and sauces, and of course, with dry, red French wine.
That was delicious and one of my favorite stops – but we had more food to try!
Lyon Bouchons
After speaking about food history and evolution a bit, our next place was a traditional Lyon eatery called a "Bouchon".
Bouchons were created by silk workers in Lyon as fast and cheap eateries where Lyonnaise cuisine started in the 16th century.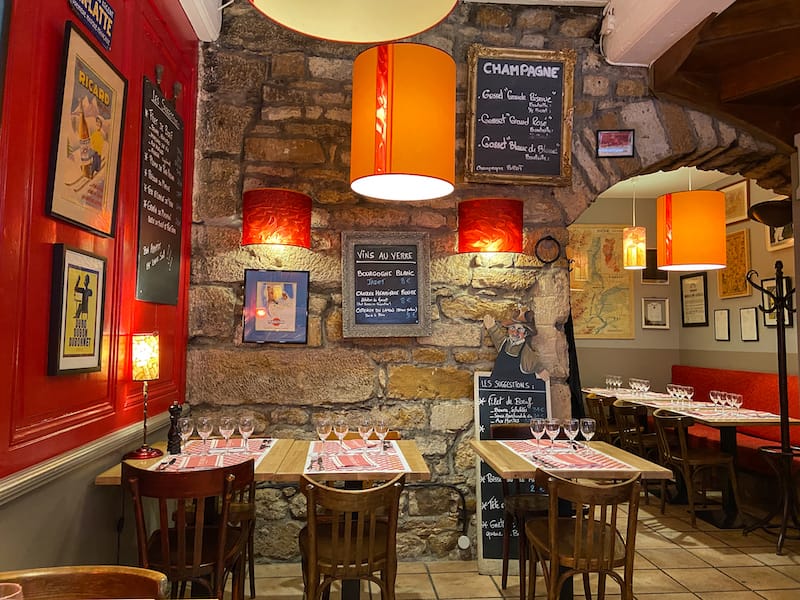 History says that Bouchons came from the expressions like "a bunch of twisted straws" and is not just a poor man's eatery but also a community where workers gathered and ate what was served that day.
Nowadays, Bouchons have to have a special, certified sign to be recognized as part of the association and you can see this info on the wall! And visiting them is one of the best things to do in Lyon!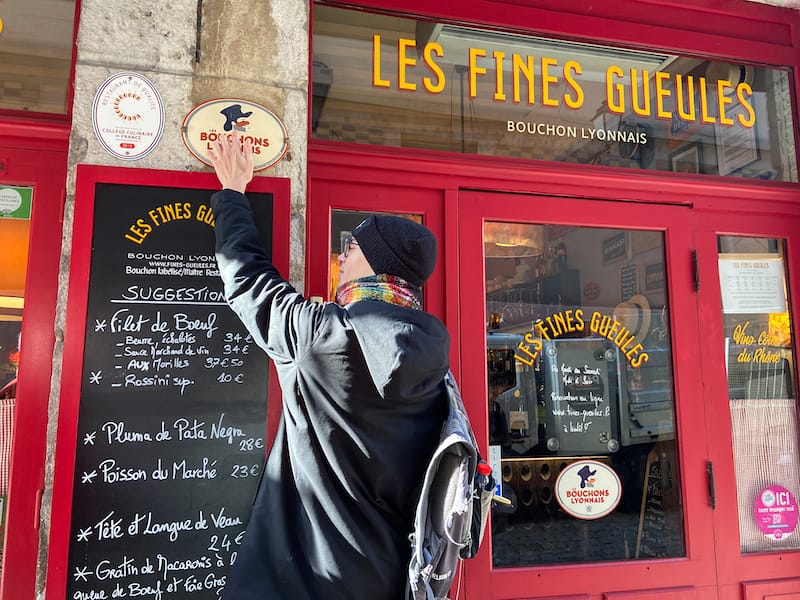 Today, the tables are not communal (as they once were), but they are still pretty close together.
At our Bouchon, we were served Gratone (roasted pork skin) as a starter followed by duck liver with a sauce called Terrime and the Cervelle de caunt.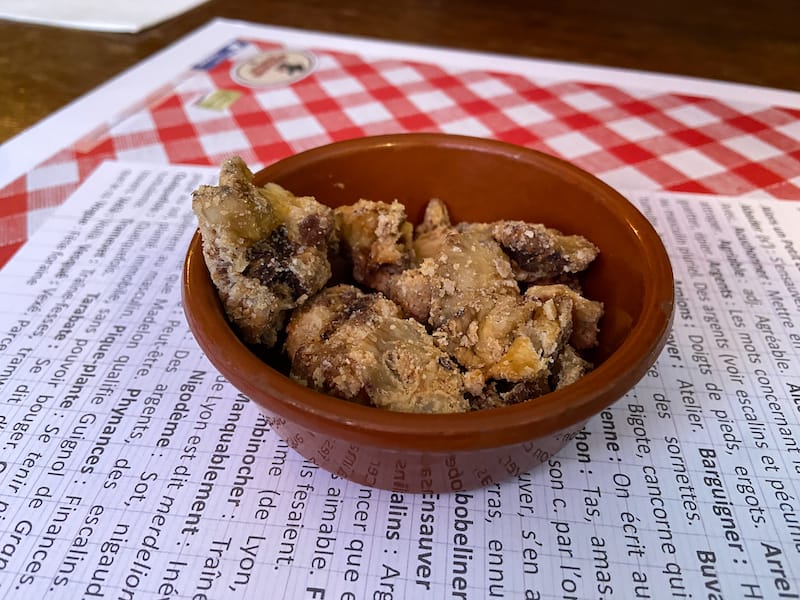 This was complemented with a sweet fruit wine.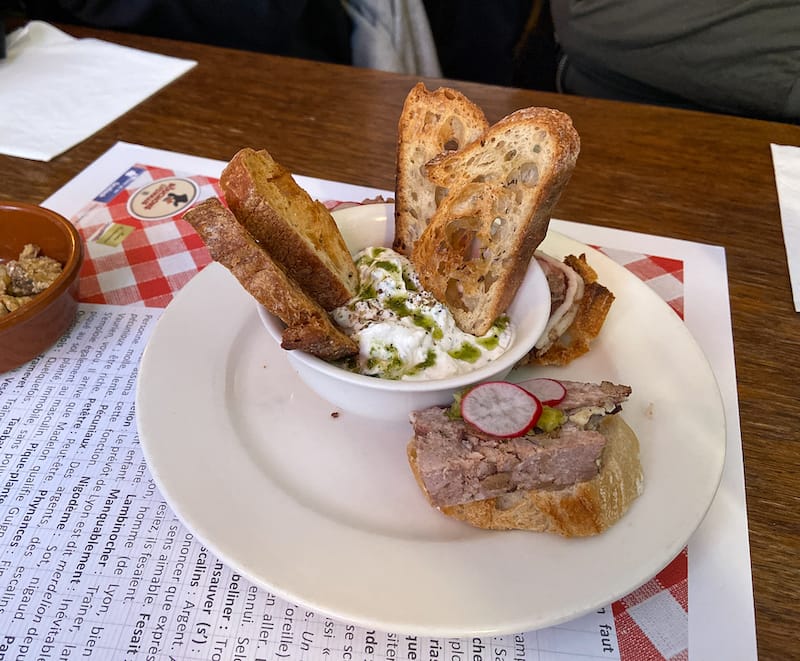 Our last dish was one of the most interesting dishes I have ever had in my life! It originated in Burgundy but gained popularity in Lyon.
It is called "Oeufs en meurette" (also known as poached eggs with bourguignon sauce). We learned how the dish was prepared for ours and what went in to it!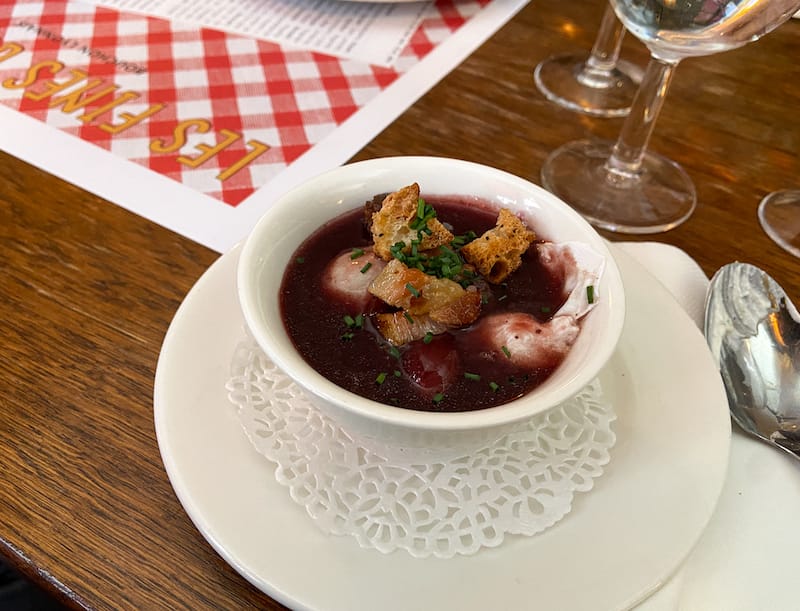 While you are eating your guide will tell you the history of Bouchons, along with a bit of info about the history of each dish you tried before introducing you to the chef.
Lyon Chocolate and Dessert
Who can resist chocolate?! I assume no one, especially as that first whiff of chocolate hit our noses as we made our way to our next stop.
The chocolate shop that we visited produces a hundred (or so) types of high-quality delicious chocolate from slate caramel to dark chocolate and everything in between.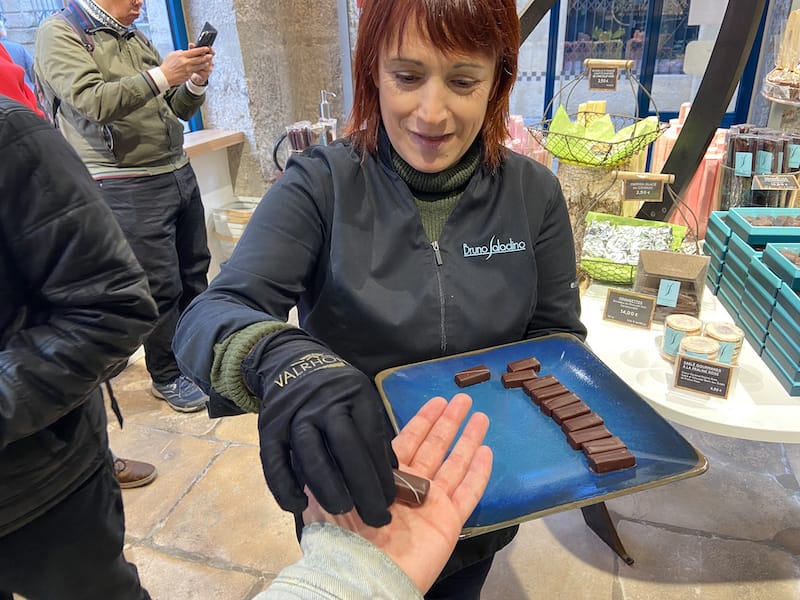 The workers started to hand us different types of local chocolates to try and it was mouth-wateringly good!
A Michelin-starred City
Our tour continued on and we ended up on a street where two Michelin-starred restaurants were located right next to each other.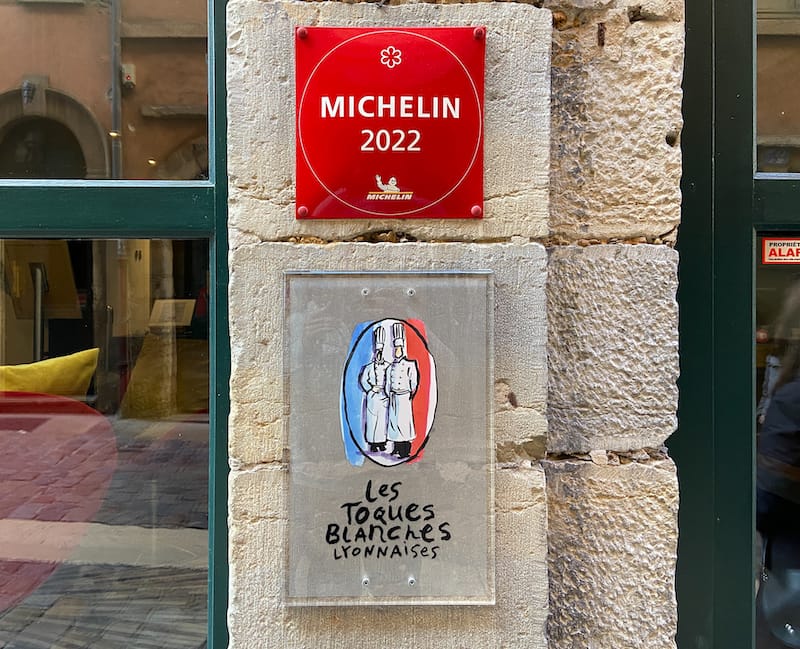 As a renowned gastro city, Lyon has more than 20 Michelin-starred restaurants and to get to each of them, you need to book weeks (or month!) prior.
Silk History of Lyon
We had a quick stop at an old silk trading shop where our guide showed us still-in-operation silk looms that were more than 200 hundred years old.
Impressive right?
Starting from the 15th century, Lyon was a major hub for silk production.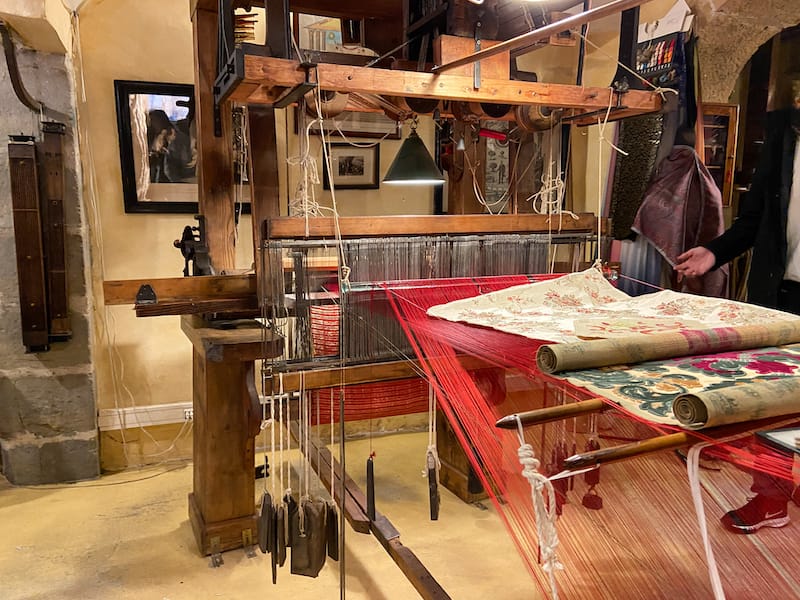 More than 14,000 looms were worked in the city over a couple of centuries and most of the workers were Italian masters.
It was such a cool insight into the city of Lyon… and it gave us time to digest the delicious food we were filling up on throughout the day!
BOOK HERE: Lyon Walking Food Tour
Last Stop of the Day
Our next and last stop was a charming cafe somewhere in the streets of the old town where we were served traditional Praline which is a ground nuts confection with sugar.
It was accompanied by herbal tea, coffee, and healthy "Bissap" lemonade which is a flower popular in South Asia and Africa.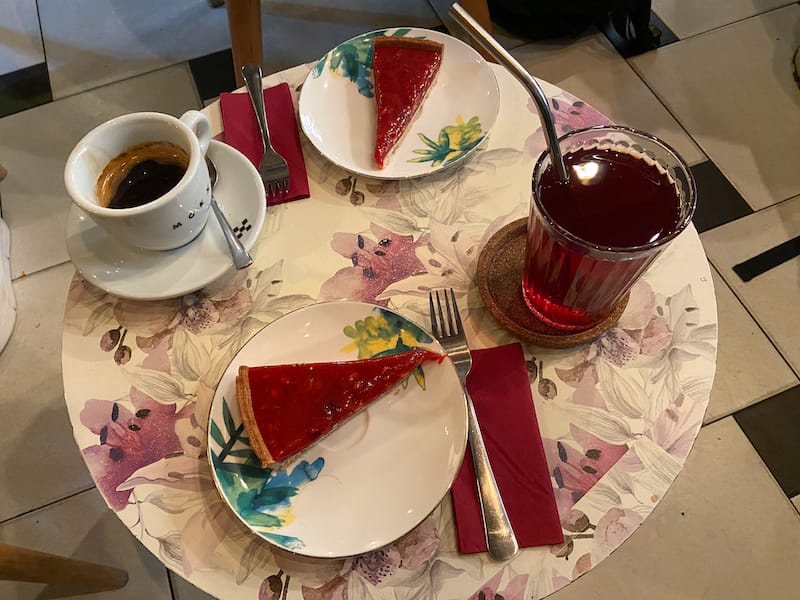 The last cafe allowed us to relax, chat with tour group members more, and enjoy time before saying goodbye in front of the cafe's doors. Don't forget to give the guide a small tip if you enjoyed the day!
🌟 GOOD TO KNOW: You can buy cheese, dry sausages, and wine throughout the tour… or you can simply head back to the places later and purchase them. Bring a backpack if you plan on stocking up!
Who Can't Take this Lyon Food Tour
This food tour requires walking and people with limited accessibility or that are in wheelchairs can't take this tour because the old town is not conducive to such, unfortunately.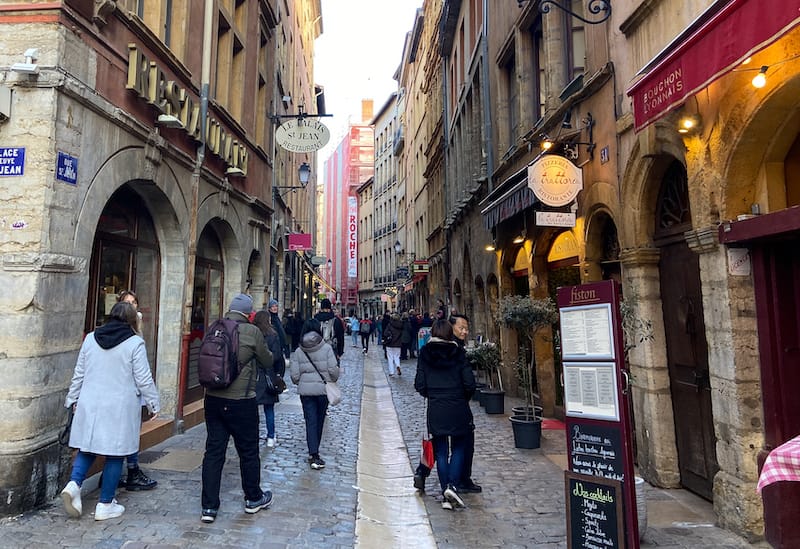 If you are vegan, vegetarian, or allergic to certain ingredients, the tour guide will ask you about it at the beginning of the tour, but please talk with your tour operator about your food preferences and allergies during the tour booking via email.
Be sure to wear comfortable footwear as you will do a lot of walking! Also, pack an umbrella if you think the rain might show up!
Should You Take a Food Walking Tour in Lyon?
Yes! This city is gastronomically-famous in France and internationally for a reason and if you have merely a weekend in Lyon, this is still a great and short tour.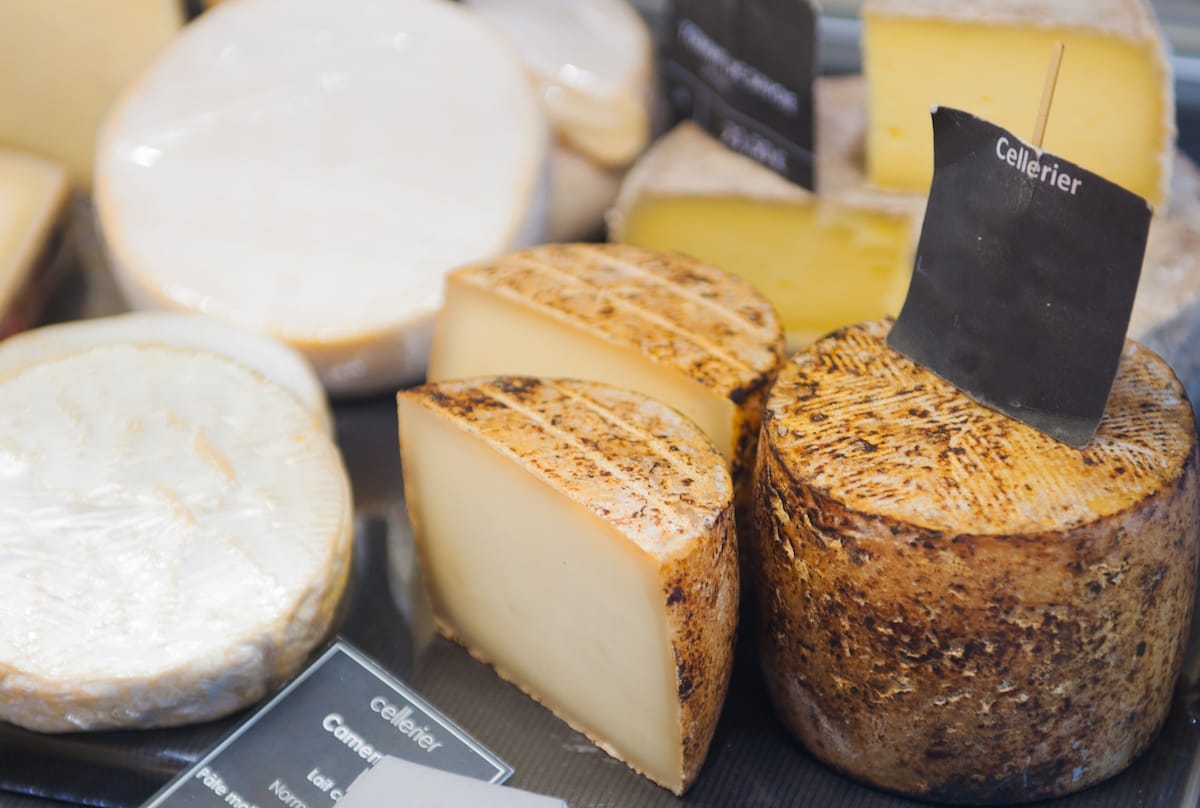 After all of my Lyon trips, this tour kind of pieced together the puzzle for me and I feel like I have a better understanding of the city, its history, and most definitely its food culture.
Book your Lyon food tour here!
Do you have any questions about taking a food tour in Lyon?
Let us know your Lyon food tour questions… and also let us know what your favorite part was if you have already taken one yourself!
More Lyon Travel Guides
Pin this Lyon Walking Food Tour Guide