I've visited Lyon several times, and I find getting from the Lyon Airport to the city center is quite easy… if you plan ahead.
This guide will detail the best Lyon Airport transfers, as well as some alternative options for reaching the center!
Are you planning your trip to Lyon last minute?
If youʻre booking your trip to Lyon last minute, we have you covered. Below are some of the top tours, hotels, and more!
✈️ Want to get from the airport to Lyon hassle-free? Find the best airport transfer option here!
🇫🇷 Top Tickets and Tours in Lyon:
🛌 Top Hotels in Lyon:
Villa Florentine (luxury option + outdoor pool!)
Hôtel Edmond W (excellent location!)
Hôtel Le Boulevardier (budget option!)
🚗 Looking for the best way to get around Lyon? Click here to check rental car rates for France!
I know that taking public transportation can be daunting for people who are not used to it, so I also give instructions on exactly how to get a ticket on the Lyon Airport tram to the city.
If you have any questions about getting from the airport to the center (or even from the Lyon center to the airport!), let me know in the comments.
How to Get from Lyon Airport to the City Center
As I mentioned, I've visited Lyon many times. The first time was in 2016. At that time, it was a bit challenging to navigate from Lyon-Saint Exupéry Airport to the Lyon city center.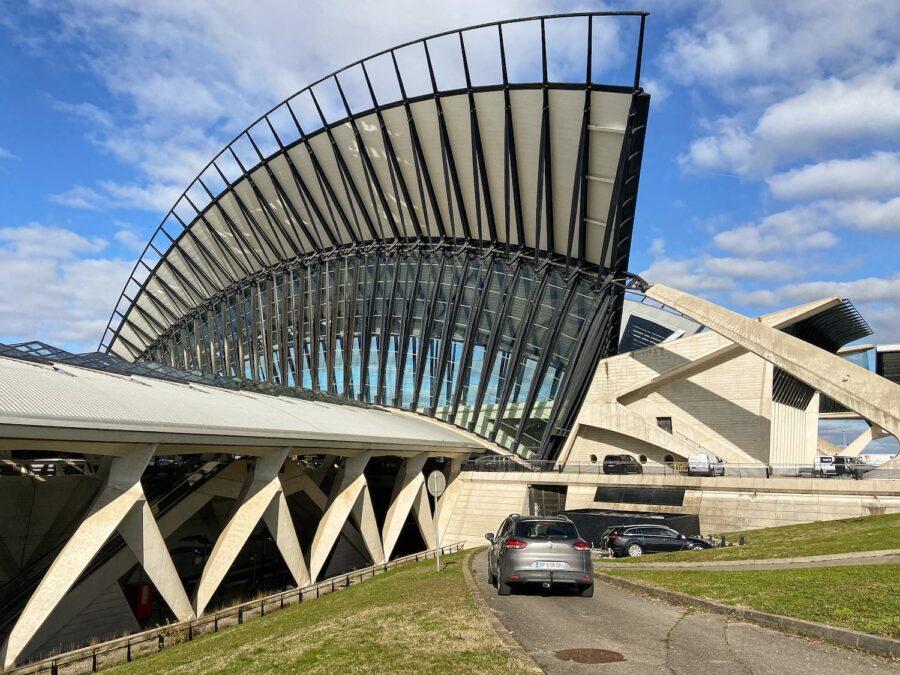 However, after a couple of visits, the process became easy, and within 30 minutes I ended up reaching Lyon from Saint Exupéry Airport, which is modern and futuristic.
Lyon is located 32 kilometers (20 miles) away from Saint Exupéry Airport and has fast but limited direct transportation options.
1. Take a Welcome Pickups Lyon Airport Transfer
One of my favorite ways of getting from the airport to the city center (when I am in a rush) is with Welcome Pickups. Megan religiously uses them as she struggles with crowded transportation, but I have started using them from time to time.
By booking a Welcome Pickups airport transfer from Lyon, you can arrange the pickup before even arriving at the airport.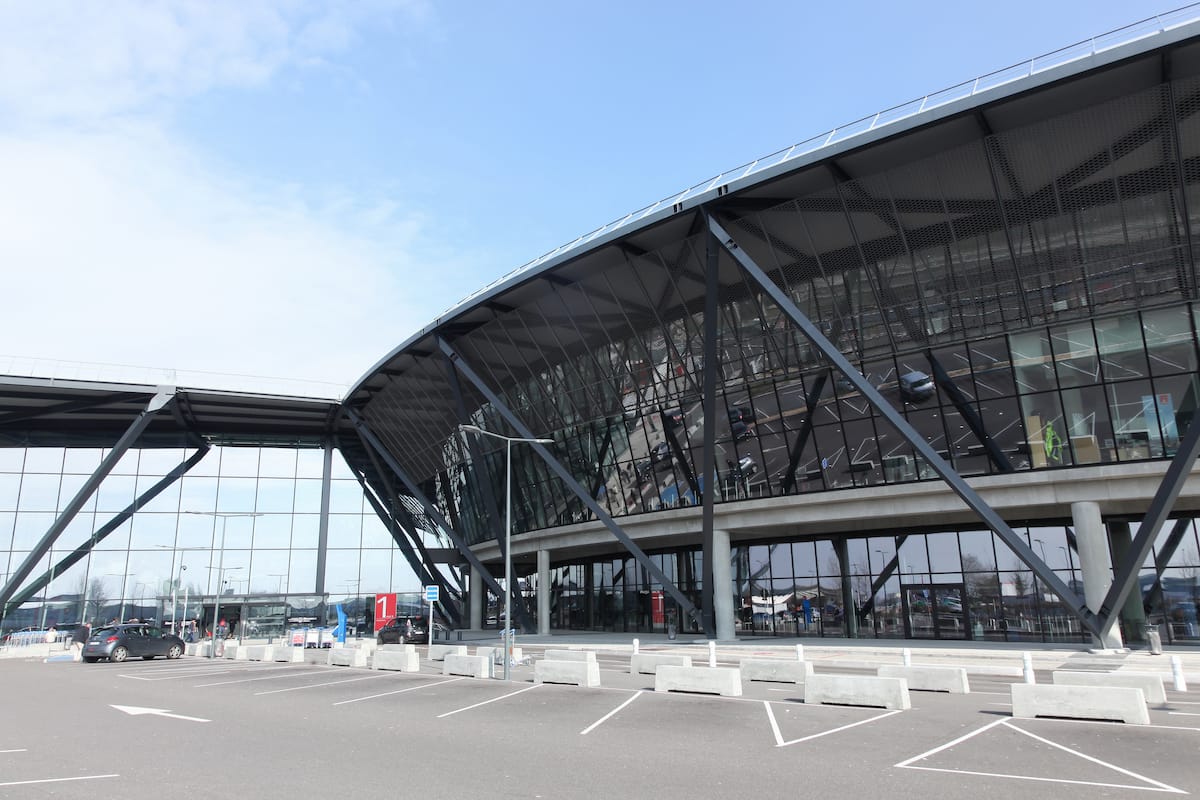 A driver will show up with a window of one hour (he or she will monitor your flight while you are actually in the air!) and be waiting for you at arrivals with a sign with your name on it.
The driver will help you to the car, have water ready, and take you safely to your desired destination. The vehicles are extremely nice, and the process is honestly so seamless!
>> Click here to check Lyon Airport transfer prices
2. Lyon Airport to the City Center by Rhonexpress Tram
The Rhonexpress tram is probably the best and easiest option from Lyon Airport to the city center.
The Rhonexpress departs from Lyon Saint-Exupéry TGV station, which is located between Terminal 1 and Terminal 2.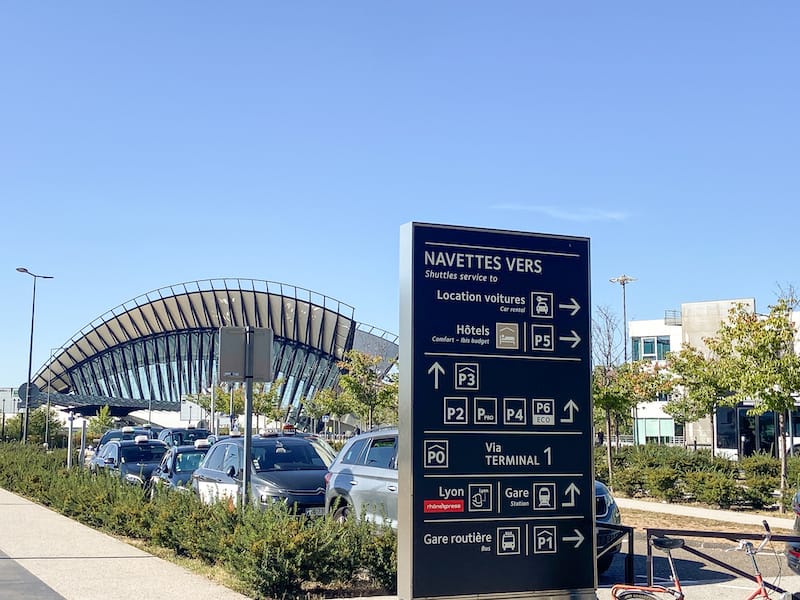 No matter which terminal you arrive at, you will need to get to the Lyon Saint-Exupéry TGV station, which is also a futuristic building. You will find it easily as you leave your terminal.
In addition, you will see signs and directions showing boards that will lead you to the Lyon Saint-Exupéry TGV station.
How do I buy a Rhonexpress ticket?
As you reach the Lyon Saint-Exupéry TGV station from your terminal, you will walk to the main entrance doors. In the big hall, you will see red ticket machines.
The buying process is easy! You will change the language on the screen, but following the orders, you will buy a single ticket.
It's possible to pay both with cash and a credit card.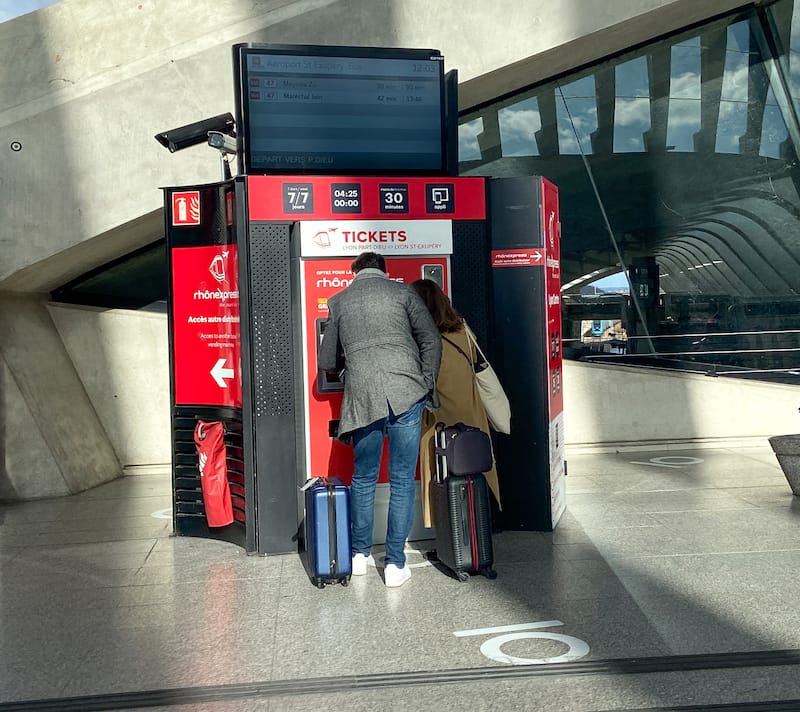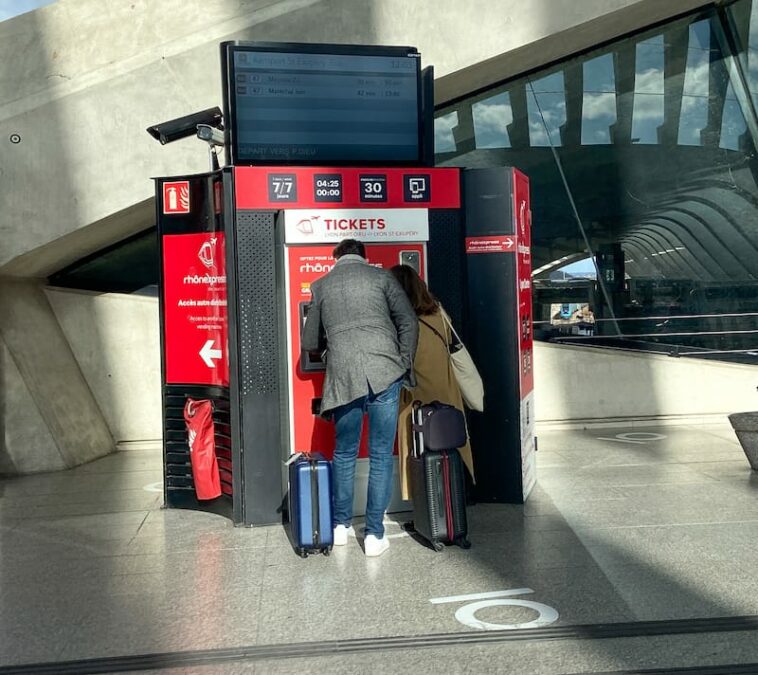 The Rhonexpress one-way ticket price is approximately 16.30 euros (17 dollars).
For children aged 11 or under, the ticket is free.
It is also possible to buy online here, but I usually buy my ticket in person from the machine.
But if you buy online, the price will be 15.20 euros (16 dollars).
The Rhonexpress operates every 15 to 30 minutes and works from 4:25 a.m. to 6 a.m. and from 9 p.m. to midnight.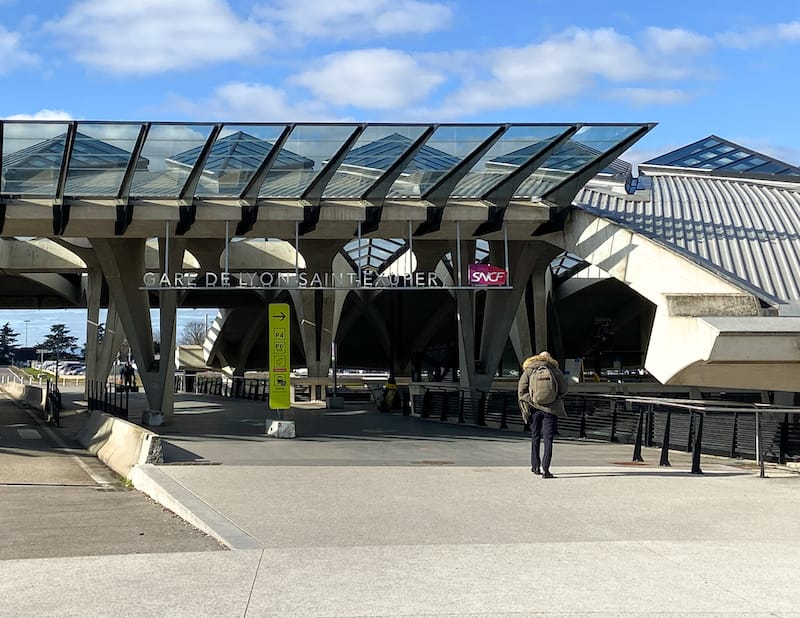 If you are flying to Lyon and landing late, after midnight, and will miss your last Rhonexpress tram, then I strongly recommend booking a private transfer via our partners, Welcome Pickups or Get Your Guide.
These are the most comfortable, time-saving, and hassle-free options.
After you get your paper ticket, turn left and exit the main entrance doors. On your right, you will see the Rhonexpress and escalators that go down to the departing station.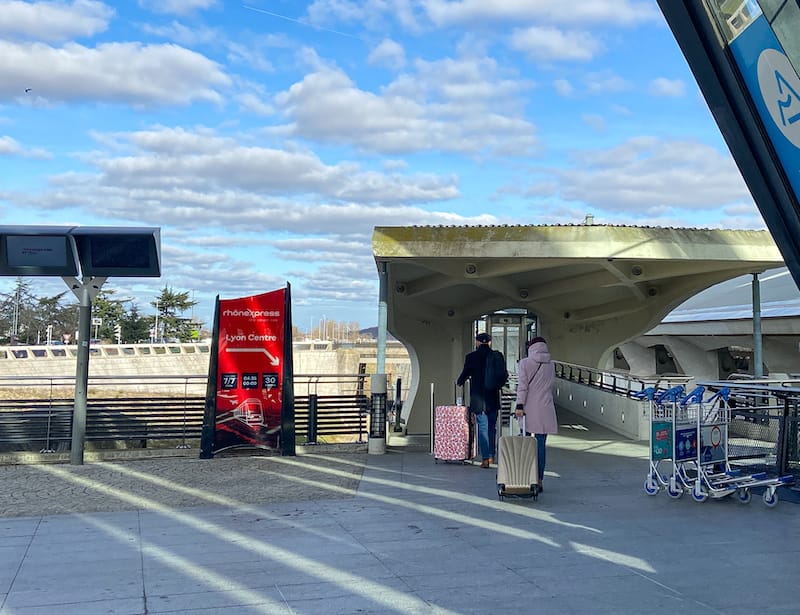 The tram is red, and the expected arrival time will be displayed on the screen in the station.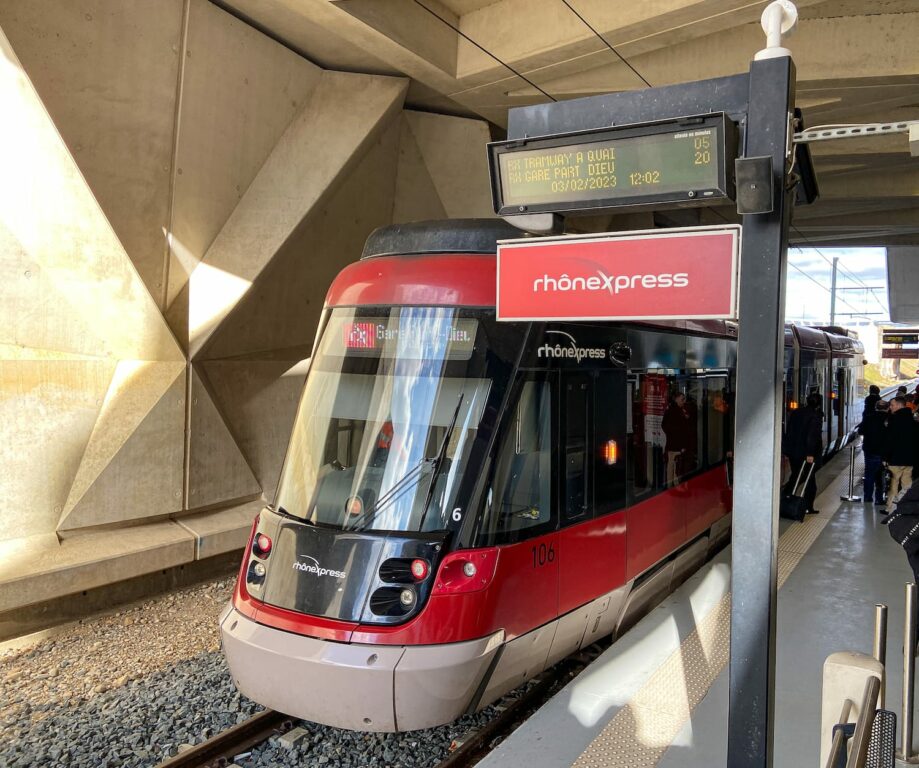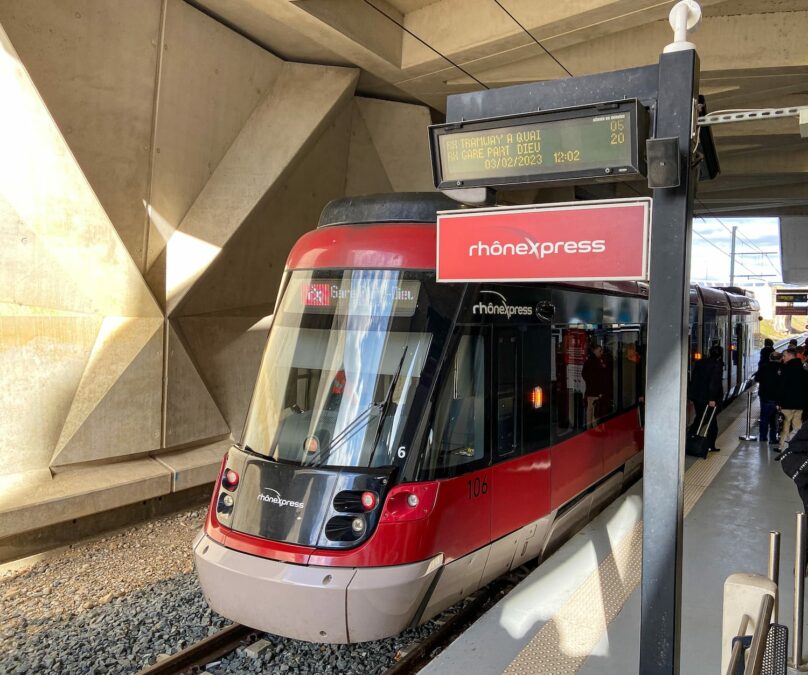 You will then show your ticket to the conductor, and you're ready to go!
On the train, you will find comfortable seats, access to free WiFi, and a big screen where you will see the stops.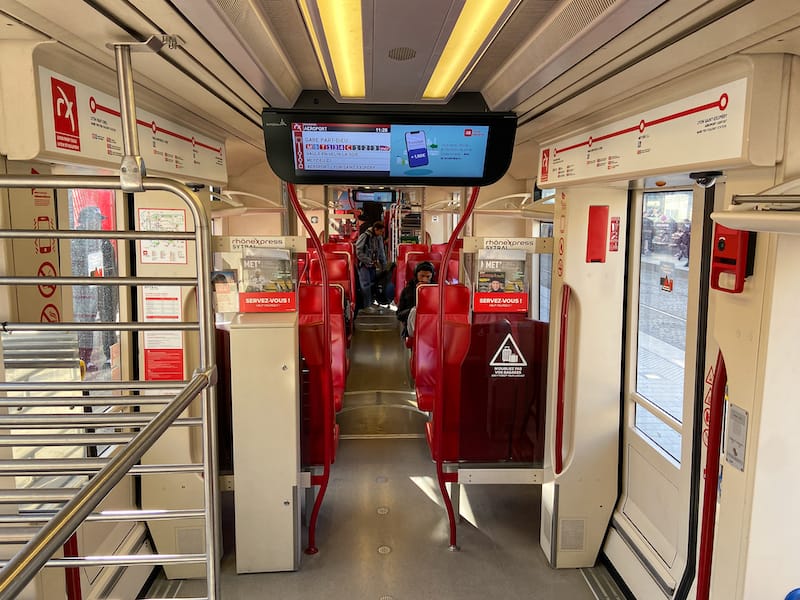 You will arrive at Lyon Part Dieu, which is the city center.
3. Renting a Car in Lyon
Another option you have when landing in Lyon is to rent a car!
There are several car rental options available, and I always find the cheapest prices on Discover Cars.
They allow you to customize the type of vehicle you feel most comfortable driving (ie. automatic or manual, etc.) and will compare prices across several companies.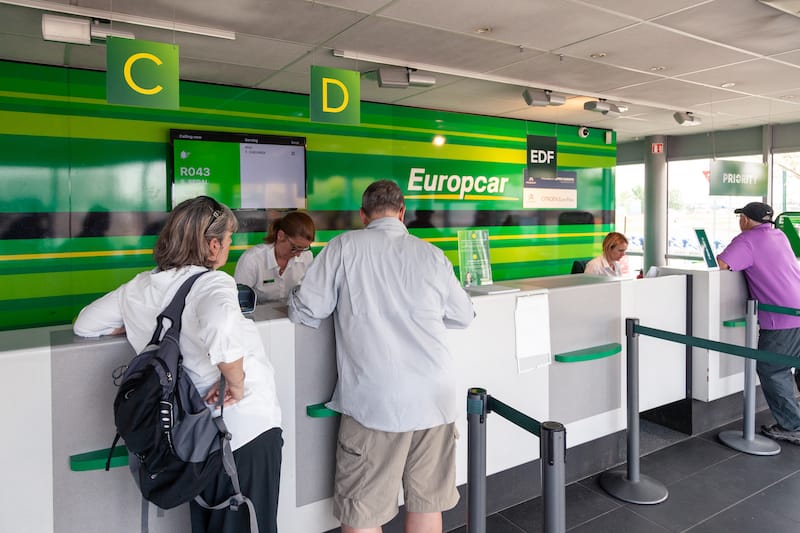 Another great thing about booking a rental car in Lyon with Discover Cars is that you can book full-coverage insurance, which gives you a stress-free experience on the road.
>> Click here to check Lyon rental car rates
4. Taking a Taxi from Lyon Airport to Lyon Center
If you would like to get a taxi or order via a rideshare app like Uber, then you have to pay a bit more because the price from Lyon Airport to Lyon Center by taxi is approximately 50 euros (53 USD).
Getting From Lyon Center to Lyon Airport (Reverse!)
From Lyon Part Dieu, you can also go back to the airport because it is the main station for the Rhonexpress tram.
It is also possible to take the same tram from the Vaulx-en-Velin – La Soie and Meyzieu Z.I. stations.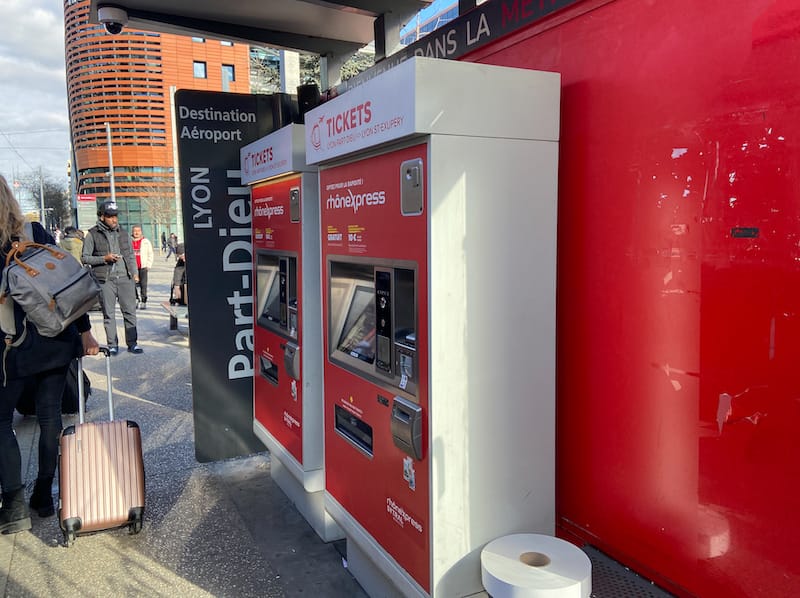 The process is the same: you will buy the tickets from the machine right at the station.
Do you have any questions about getting from Lyon Airport to the city center? Let me know in the comments!
More Lyon Travel Guides
Pin this Lyon City from the Airport Guide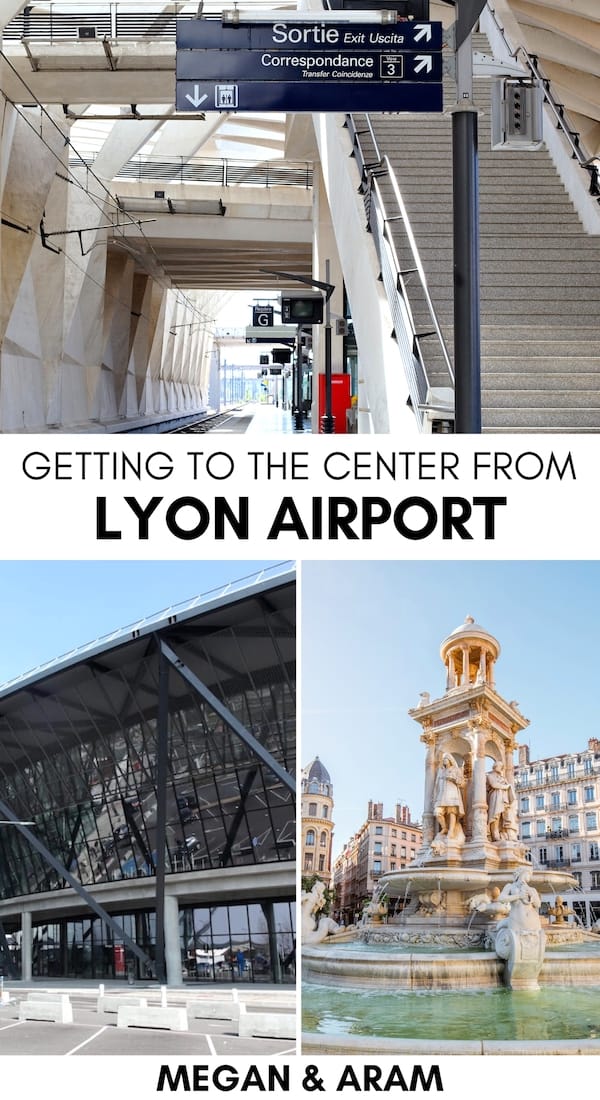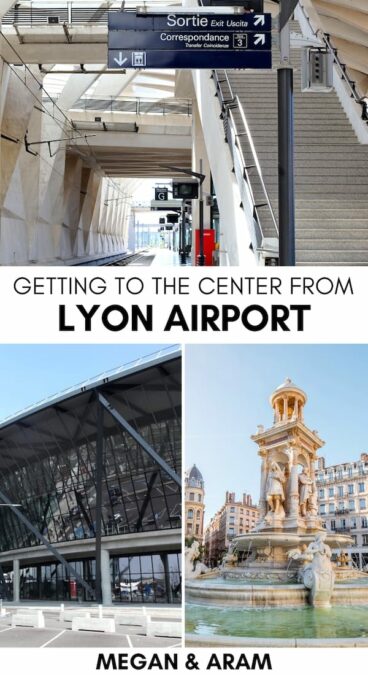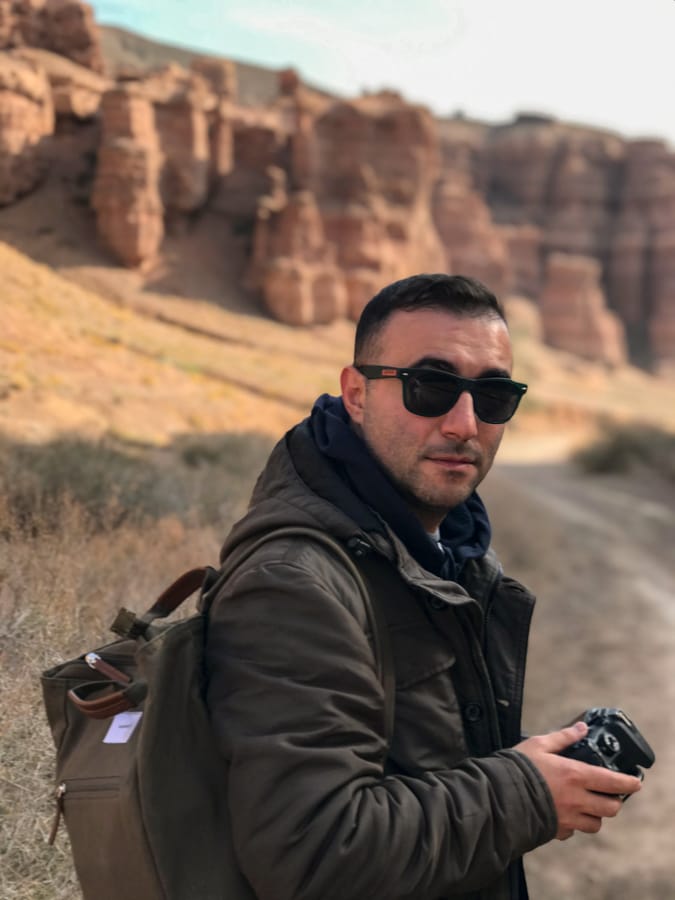 Aram is a travel blogger and writer from Armenia who spends his time between Spain and his home country. He is passionate about music and football (the European kind) and covers a lot of Western European destinations on the blog. Aram is a laidback traveler who enjoys meeting new people and finding the best food in each city that he visits (hence his frequent trips to France, Italy, and Greece!). He has been featured in (or written for) Forbes, BBC, The Guardian, Fodor's Travel, and more.