If you are looking to travel to Lyon in winter, don't worry – there is plenty to keep you occupied (and beyond just its world-famous cuisine)! Keep reading to find out more!
Are you planning your trip to Lyon last minute?
If youʻre booking your trip to Lyon last minute, we have you covered. Below are some of the top tours, hotels, and more!
🇫🇷 Top Experiences and Tours in Lyon:
🛌 Top Hotels in Lyon:
Villa Florentine (Luxury)
Hôtel Edmond W (Mid-range)
Hôtel Le Boulevardier (Budget)
🚗 Looking for the best way to get around Lyon? Click here to check rental car rates for France!
Lyon is renowned for its delicious food and close proximity to wine country. But, there is plenty going on in winter in Lyon that makes a trip there more than worthwhile!
In this guide, we cover the best things to do in Lyon in winter – and yes, it does include food and wine. But it also includes light festivals and beyond!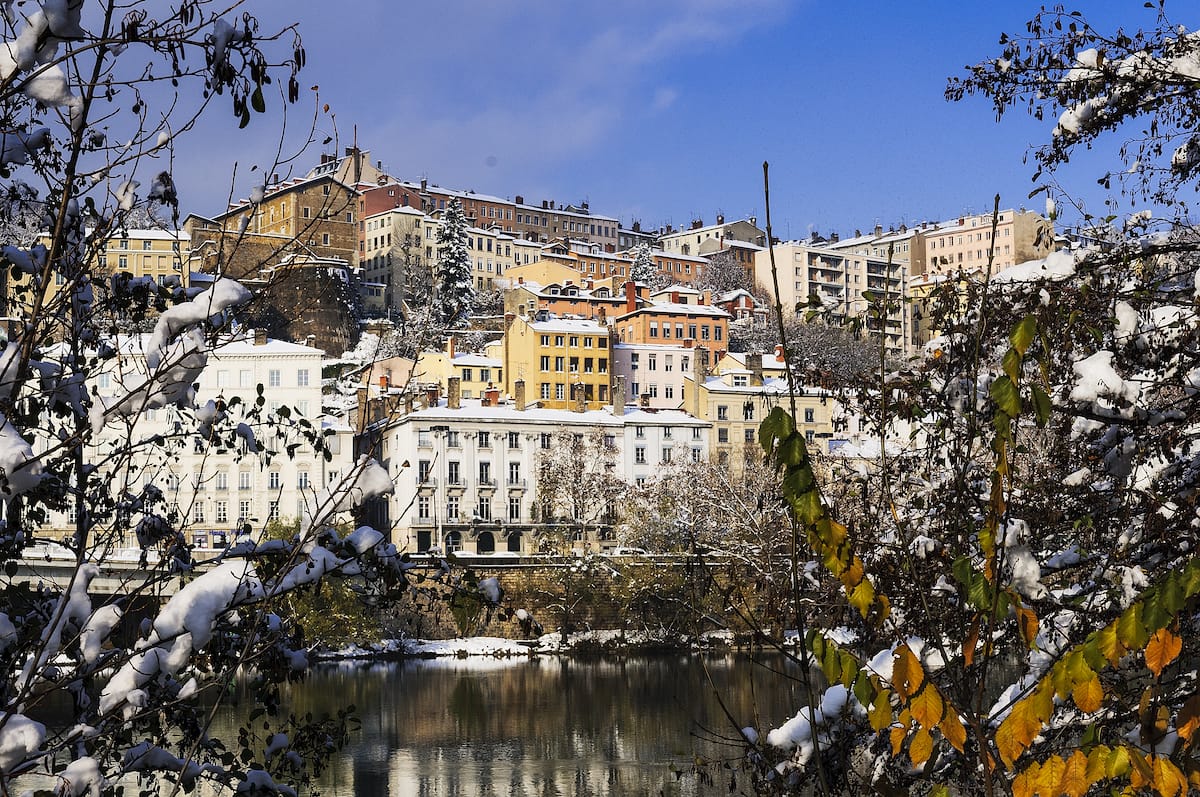 Did we miss any of the best things to do during the winter or Christmas in Lyon? Let us know in the comments. Thanks!
Winter in Lyon Quick Facts
Average Lyon Winter Temperatures
One misconception people have about Lyon (and other places throughout France) is that it doesn't get cold in the winter. Well, it definitely stays milder than in Northern Europe, but the temperatures are not particularly warm!
Here are the averages throughout the winter in Lyon:
Lyon in November:

highs of 11 C (52 F), lows of 4 C (40 F)

Lyon in December:

highs of 7 C (45 F), lows of 2 C (35 F)

Lyon in January:

highs of 7 C (44 F), lows of 1 C (33 F)

Lyon in February:

highs of 8 C (47 F), lows of 1 C (34 F)

Lyon in March:

highs of 13 C (55 F), lows of 4 C (39 F)
Does it Snow in Lyon?
Lyon is another French city that does not experience much snow each winter.
There is a slight chance that you might catch some snow during the peak winter season- lasting from approximately December through February- but the chances are relatively low.
On average, you might catch around 15 snow days in Lyon every year, but that's a rough estimate and the reality is probably much less.
Regardless, there are plenty of winter activities to partake in when you visit Lyon to get you into the mood for the season!
Best Things to Do in Lyon in Winter
1. Experience Fete des Lumieres (Lyon's Famous Light Festival)
The tradition of Fete des Lumieres dates back to 1852 and is devoted to the Nativity of the Virgin. And in winter, it is easily one of the most popular things to do in Lyon!
That year it was decided to erect a statue of the Virgin Mary on Fourvière Hill, but the recurring floods delayed the delivery of the statue.
When the weather finally changed, people were so overjoyed that they spontaneously lit little lights on their window sills and balconies.
The tradition continued in the following decades and became one of the local popular annual events.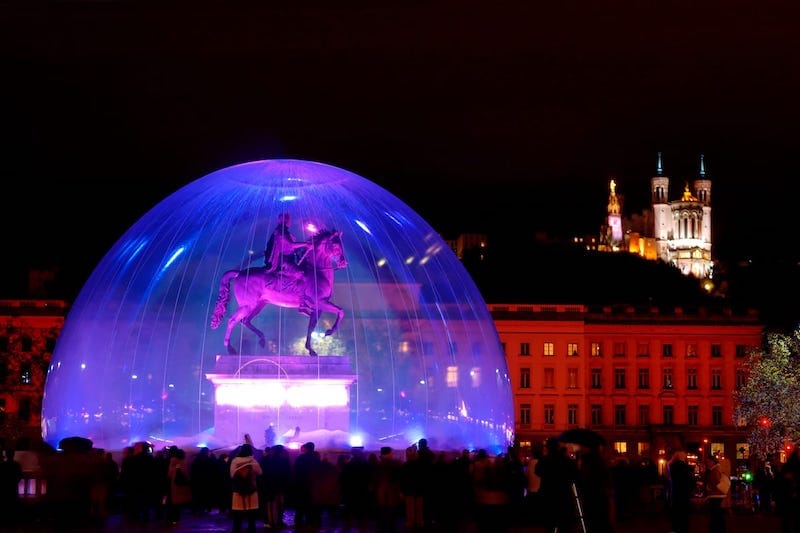 Nowadays, the celebration of the city's lightning starts on December 8th and lasts for four evenings, showcasing the living heritage of Lyon.
Through the illumination of streets, monuments, hills, and river banks, the festival unveils treasures of the city.
The most beautiful architectural landmarks of Lyon serve as a backdrop for huge magical light shows and installations.
The two main stages of the illuminations are at the Place des Terreaux and the Basilica of Fourvière.
2. Admire the Extraordinary Basilica Notre Dame de Fourviere
The Basilica Notre-Dame of Fourvière was constructed in 1872 and is considered the symbol of the city.
Designed by Pierre Bossan and Sainte-Marie Perrin, it boasts unique architecture featuring Byzantine, Gothic, and Romanesque styles.
Inside, the basilica consists of two churches, one upon the other, built with a variety of beautiful and quality materials like pink granite from the North of Italy, white marble from Carrara, green onyx, gold, and silver pieces.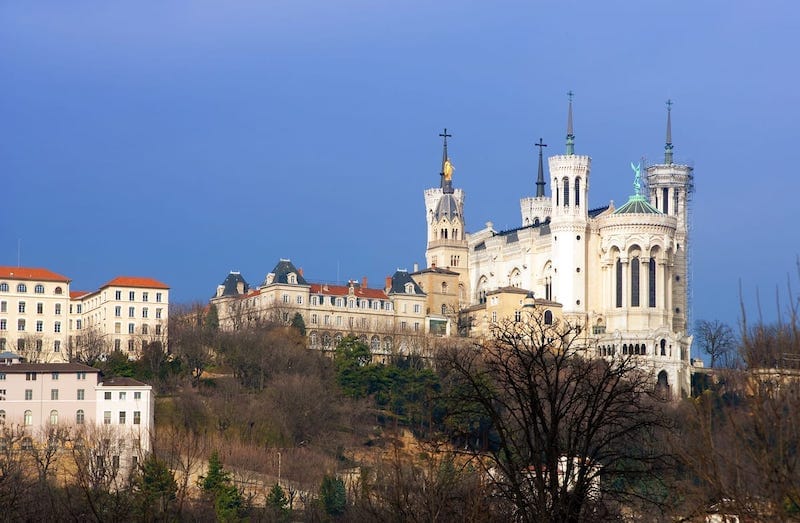 This sanctuary has attracted thousands of pilgrims from around the world for centuries. Travelers come to see the wonderful mural mosaics, eight chapels representing Mary's life, the monumental staircase carved out of red marble, and the magnificent altar with its ciborium.
Entry to the basilica is free, and open every day throughout the year, between 7 am and 7 pm. Volunteer guides are available, as well as leaflets with historical background in 10 languages.
It's situated across from the Metro Station Vieux Lyon.
Address: 8 Pl. de Fourvière, 69005 Lyon
3. Soak Up the Holiday Atmosphere at the Christmas Market in Place Carnot
Dress warm and dive into the festive spirit at Lyon's beloved Christmas Market. Located at Place Carnot, outside Perrache train station, the market is full of Christmas vibes featuring cheerful music, twinkling lights, and tempting smells.
Try a cup of mulled wine, or hot chocolate, and stroll through the stalls, bustling with Christmas presents.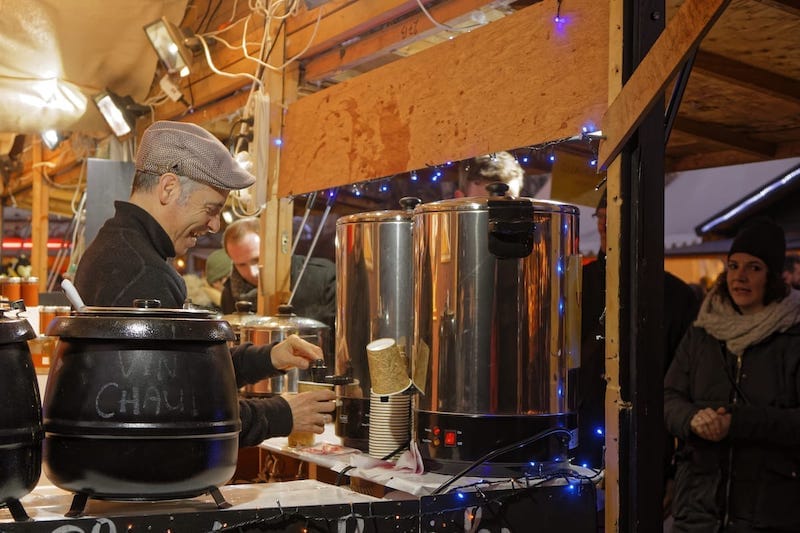 The market covers more than 100 wooden huts where visitors can buy hot food, artisan biscuits, and handmade stuff.
The Christmas Market is a special joy for children, offering a train ride, a carousel, storytelling, and face painting.
The market is held from November 24 to December 24. The opening hours are 10:30 am – 8:00 pm every day, except Friday, 10:30 am – 9:00 pm, and Saturday, 10:30 am – 8:00 pm.
4. Have Fun at the Cinema and Miniatures Museum
In the center of Lyon's medieval old town, a striking 16th-century building, the Maison des Avocats, is located. It is a must-visit if you have a weekend in Lyon or longer.
The landmark houses the city's Miniature and Cinema Museum, founded in 2005 by artist and carpenter Dan Ohlmann.
The museum combines miniature art and cinema in collections spread over several floors. Eight rooms are packed with authentic filming paraphernalia, including miniatures, masks, prostheses, creatures, monsters, robots, and costumes.
You'll reveal the secrets of cinema's inner world by learning about special effects techniques used in famous movies like Star Wars, Men in Black, and Spiderman.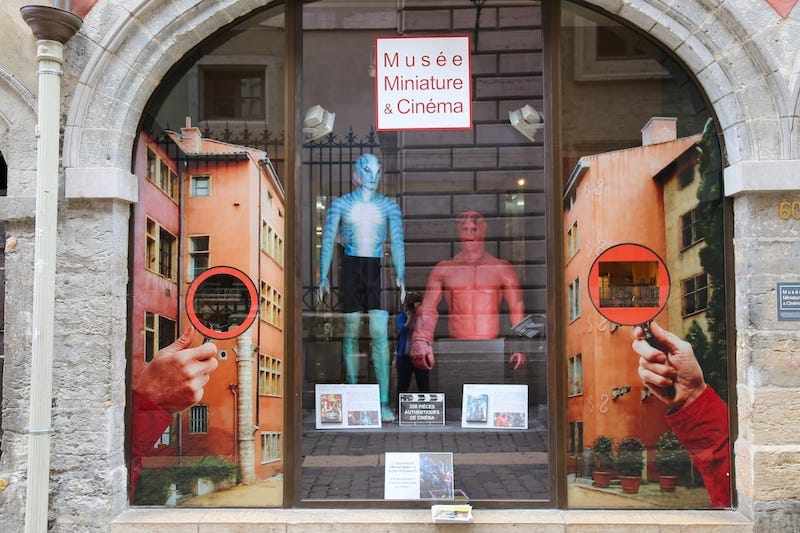 The real charm of the museum is its miniature scenes collection, reproduction of our living spaces on a 1/12th scale.
With mind-blowing decisions and authenticity, this remarkable collection reflects warmth and a sense of life.
About 120 miniature scenes include various mini reproductions like a Japanese temple or the Parisian restaurant Maxim's.
Open all year round, from 10 am to 6.30 pm on weekdays, from 10 am to 7 pm on weekends. Admission is €13.90 for adults, €9.90 for children. Wheelchair accessible.
Address: 60 Rue Saint-Jean, 69005 Lyon
5. Breathe in the Crisp Winter Air on a Stroll in Lyon's Parc de La Tete d'Or
Lyon's Parc de La Tete d'Or is a wonderful place for family recreation was opened in 1857 by the brothers Denis and Eugène Buhler.
In 1865 impressive glass houses were added, featuring species of various plants from around the world, as well as in the 1960s rose gardens with 30,000 rose bushes of 350 different varieties were included.
Today, the park encompasses botanical gardens, a boating lake, a miniature railway, a zoo, and pony rides for children.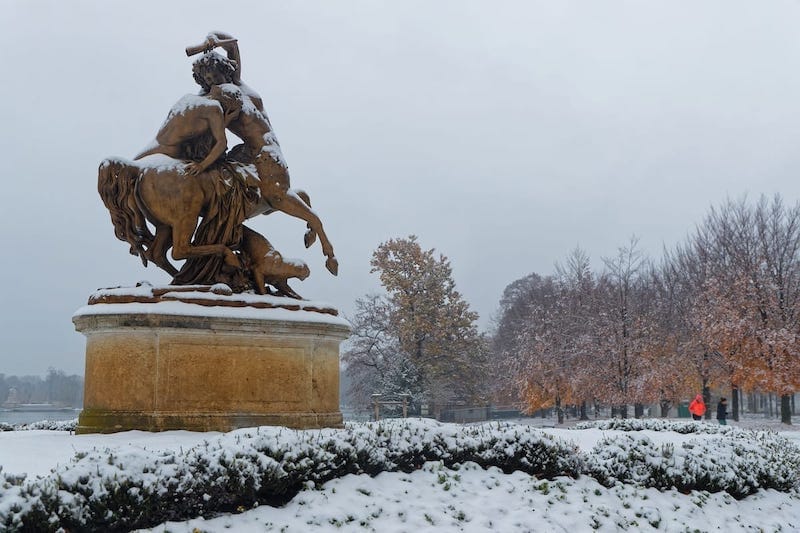 The park offers great opportunities for active recreation, covering numerous trails for walking, jogging, and bicycling.
Visitors can relax and have picnics in the large open spaces of the park. It's located a short walk from the city center, in the 6th arrondissement.
Cross the River Rhone behind the Opera, stroll north for 15 minutes and you'll find the park. It's open between 6: 30 am – 8:30 pm in winter. Enjoy free entrance.
6. Sample a Variety of French Foods at the Diverse Paul Bocuse Food Hall
Visit Lyon's famous indoor market to reveal the high-quality food scene of the area. Opened in 1859, Paul Bocuse was housed in a metallic structure at Place Cordeliers in the heart of the city.
One hundred years later, a new building was built for the indoor market set in the La Part-Dieu neighborhood near Lyon's main train station.
In 2004, extensive renovations were carried out, and later the name of master chef Paul Bocuse was added to the title, securing its reputation.
As one of the finest food places, the market offers 48 vendors with a vast variety of produce.
Find the bakeries of Jocteur, Maison Claude, and Maison Victoire, chocolates from Maison Sève, Délices des Sens, and Chocolats Richarts, cheesemongers Fromagerie Mons, Beillevaire, and Mère Richard, wines and drinks by Fac & Spera.
In addition, the market has several bars and restaurants, making a perfect gastronomic journey for travelers.
Address: 102 Cr Lafayette F, 69003 Lyon
7. Head to the Mountains for a Day of Skiing
The proximity of the French Alps makes Lyon a gateway for numerous ski resorts. Here are some of the best ski destinations nearby.
St Francois Longchamp is a perfect choice for beginners and intermediates, boasting 103 slopes, 165 km piste, and 49 lifts.
It also includes two bars and nine restaurants. It takes approximately 160 km to reach the resort.
Vaujany Alpe d'Huez provides skiing opportunities for experts, free riders, and intermediates, featuring 111 slopes and 250 km piste.
With a top height of 3330m, the resort also boasts restaurants, bars in the village as well as several mountain restaurants and a cinema.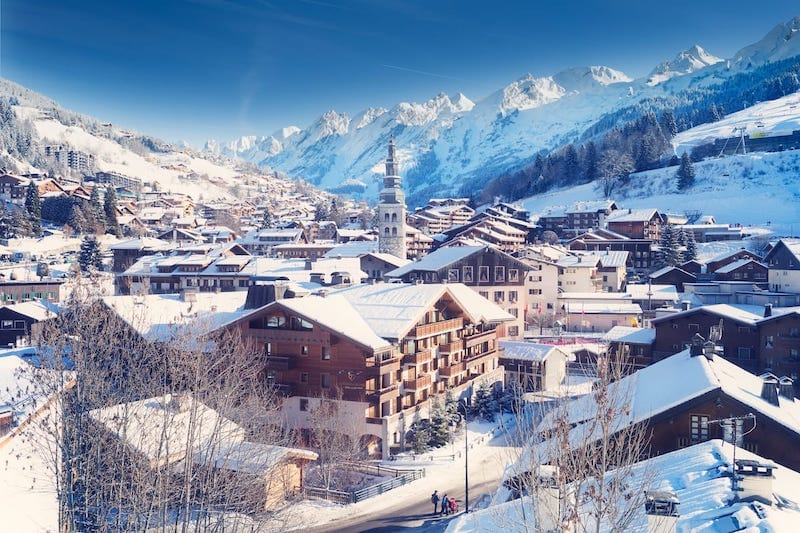 La Clusaz is good for beginners, intermediates, and families. It has 133 slopes, 73 lifts, and 209 km piste, the top height is 2600m. You will find bars, restaurants, shops, and services here.
Another choice is Notre Dame de Bellecombe, with 163 slopes, 81 lifts, 192 km piste, and a top height of 2069m.
Après-ski options cover several restaurants in the village.
8. Catch a Show at the Lyon Opera House
The Lyon Opera House has changed considerably since the first building was erected in 1756. New structural changes were added between 1989 and 1993 by architect Jean Nouvel.
The landmark, located in the heart of the city center, is a successful combination of old and new. The Lyon Opera House's program is always full and varied, featuring operas, concerts, and ballets.
Join a guided tour and have a creative journey into the contemporary opera, dance, and concert world. Explore the mixture of history and innovation on the 17 floors of this unique place.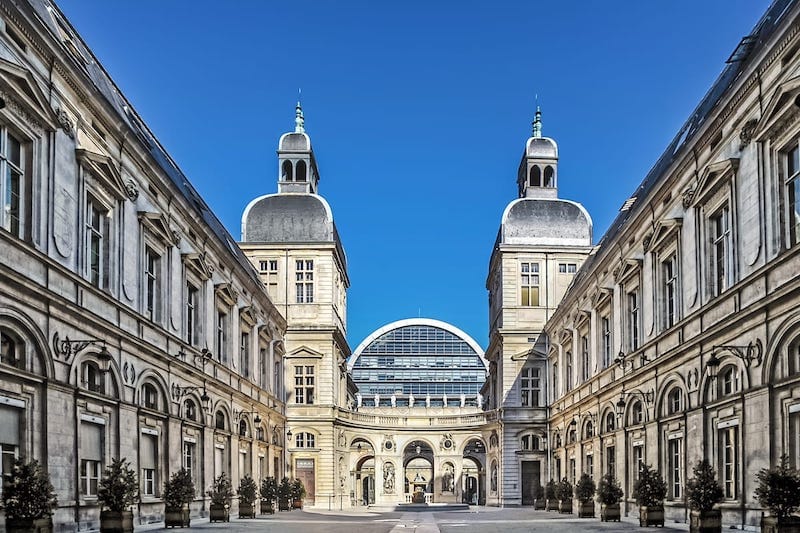 Individual tours are held on Wednesdays and Saturdays at 1:00 pm, while group tours take place from Monday to Saturday at 1 pm. Admission is €10 for 12 years and over.
If you want to enjoy one of the great shows occurring on the opera's stage, don't hesitate to book your tickets.
Address: 1 Pl. de la Comédie, 69001 Lyon
9. Eat a Classic Lyonnais Meal at One of the Traditional "Bouchons"
Bouchons form an integral part of Lyon's cultural and historical heritage. Here travelers can have an unforgettable gastronomic experience, enjoying local specialties in a warm and welcoming ambiance.
The first bouchons were founded in Croix-Rousse, the district of silk workers, who became their first customers.
Visit one of the historic bouchons of the city, Le Bouchon Sully. The menu includes Lyon's cuisine specialties, French home cooking, and seasonal specials.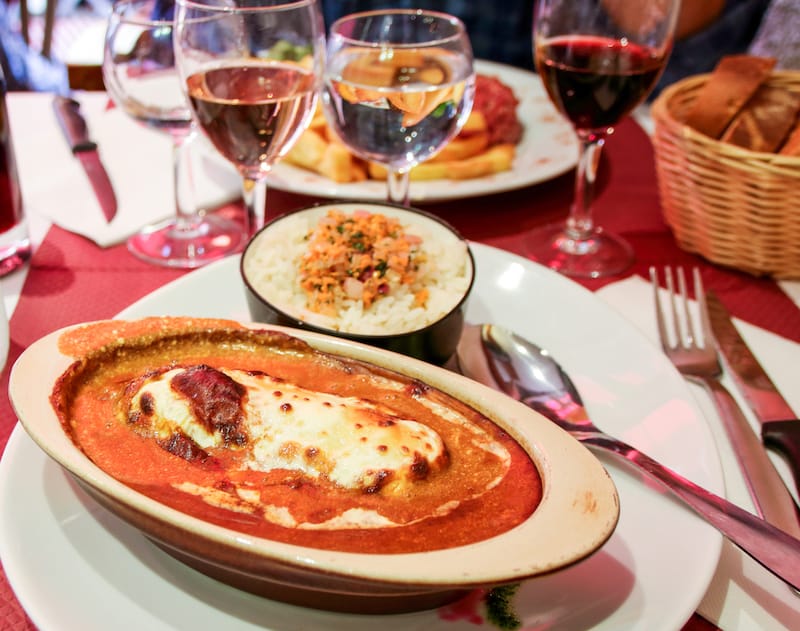 A weekly set meal for dinner and lunch is provided. It is open from Monday to Friday, midday to 2, and 7:30 pm to 10 pm.
A unique destination for food lovers is Le Poêlon d'Or located in the heart of the Ainay district and housed in a 19th-century building.
Enjoy delicious dishes from their menu, like artichoke hearts with foie gras or sweetbreads in Porto. It is open from Tuesday to Saturday, 9 am to 2 pm, and from 7:30 pm to 10 pm.
10. Discover the Region's Beaujolais Wine on a Vineyard and Tasting Tour
A half-day fantastic adventure will take you through the scenic vineyards of Beaujolais, you'll learn to ride a Segway and visit a medieval village.
This wine tour from Lyon provides one of the ecologically clean and innovative means of transportation- Segways. Suitable for beginners, it's a perfect family and friends experience.
Join your guide in the morning or afternoon, depending on your chosen time of the trip. You'll be trained on how to use your segway for about 15 minutes.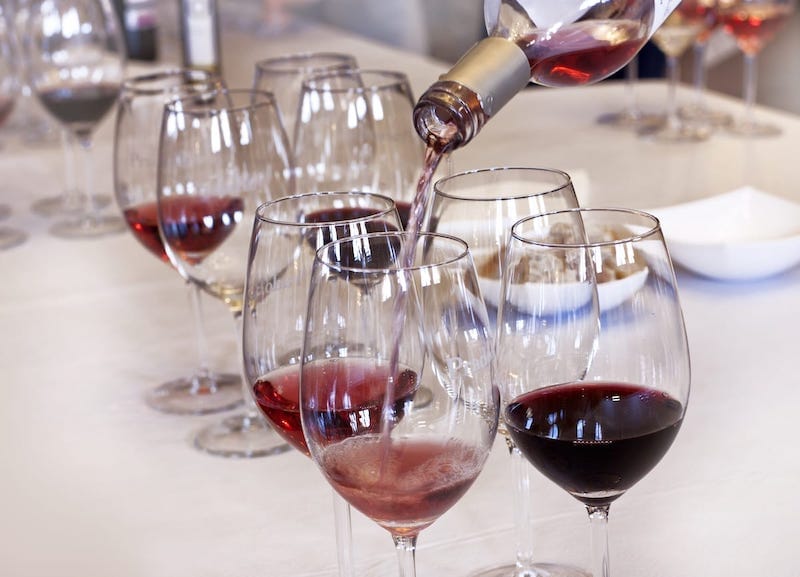 The journey will start at a winemaker's home, also called Domaine, situated in a lovely village next to Villefranche-sur-Saone.
Your guide will lead you through the beautiful landscapes and vineyards. You'll continue your route through the fields to the medieval village of Oingt.
Then, travelers head back to the winemaker's home, where the winegrower will present local wines and products.
Participants receive their confirmation and starting point at the time of booking. Not suitable for children under 14 and pregnant women. Per booking a minimum of two people is required.
>> Click here to check wine tour rates and availability
11. Explore the Traboules (Lyon's Secret Passageways) in the Old City
Stroll through the streets of Vieux Lyon and the Croix Rousse and reveal the hidden passageways of the city. Following the passageways or traboules is an ideal chance to explore the city's past.
Stretching through the courtyards, buildings, and staircases, each passage is unique, featuring particular curves, pastel colors, Renaissance arches, or vaulted ceilings.
It's believed that there are about 400 hundred traboules in Lyon, while only 40 are open to the public, each marked with a seal.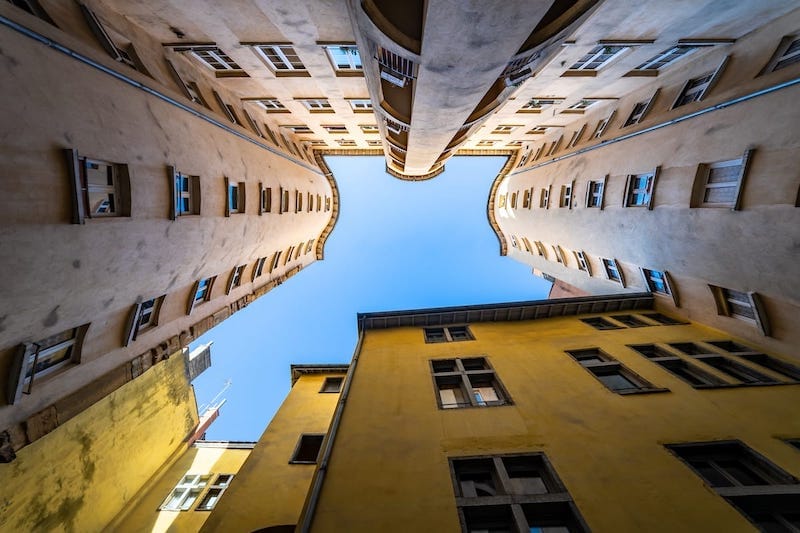 Travelers can look for the passageways on their own or join a guided tour. The meeting point of the Canut Workshops and Traboules tour is located in the 4th district of Lyon, Place de la Croix-Rousse.
For finding traboules in the Croix-Rousse, follow the lions accompanied by the arrows. The Vieux-Lyon traboules tour guests meet outside the Vieux Lyon metro station.
Here passageways are marked by a bronze shield. The tour lasts for 2 hours and costs €12 per person.
12. Visit the Roman-era Amphitheatre in the Croix-Rousse Neighborhood
The Croix-Rousse district of Lyon is situated in the northern part of the Presqu'île. Its name, meaning red cross, derives from a 16th-century reddish-brown cross.
To reveal the area in the best way, take a funicular to the top and stroll down to the center. One of the draws of the Croix-Rousse is the Roman Amphitheater.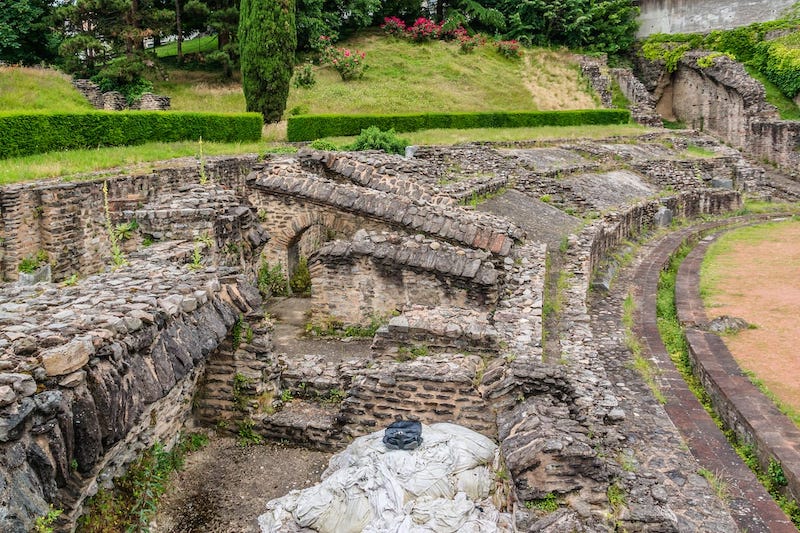 The signs of the Roman presence in Lyon trace back to the fourth century. Three principal monuments remain from the Roman occupation. The Amphitheatre, with its long and bloody history, is one of them.
This is the venue where Caligula had put to death his cousin Ptolemy. Unfortunately, it's not possible to explore the site very close, but visitors can observe it from the Rue des Tables Claudiennes located nearby.
To find the amphitheater, walk down the pentes through narrow streets lined with colorful buildings, and turn right at the Rue des Tables Claudiennes.
13. Ride the Ferris Wheel in Place Bellecour
Place Bellecour is situated in the heart of the city center, in the huge red square, between the Saône and the Rhône, the second district of Lyon.
Embedded by linden trees, wild cherries, and beautiful buildings, Place Bellecour is one of the largest squares in France as well as the biggest pedestrian square in Europe.
Due to its central location, the square is perfect for all kinds of activities, like shopping, dining, and sightseeing.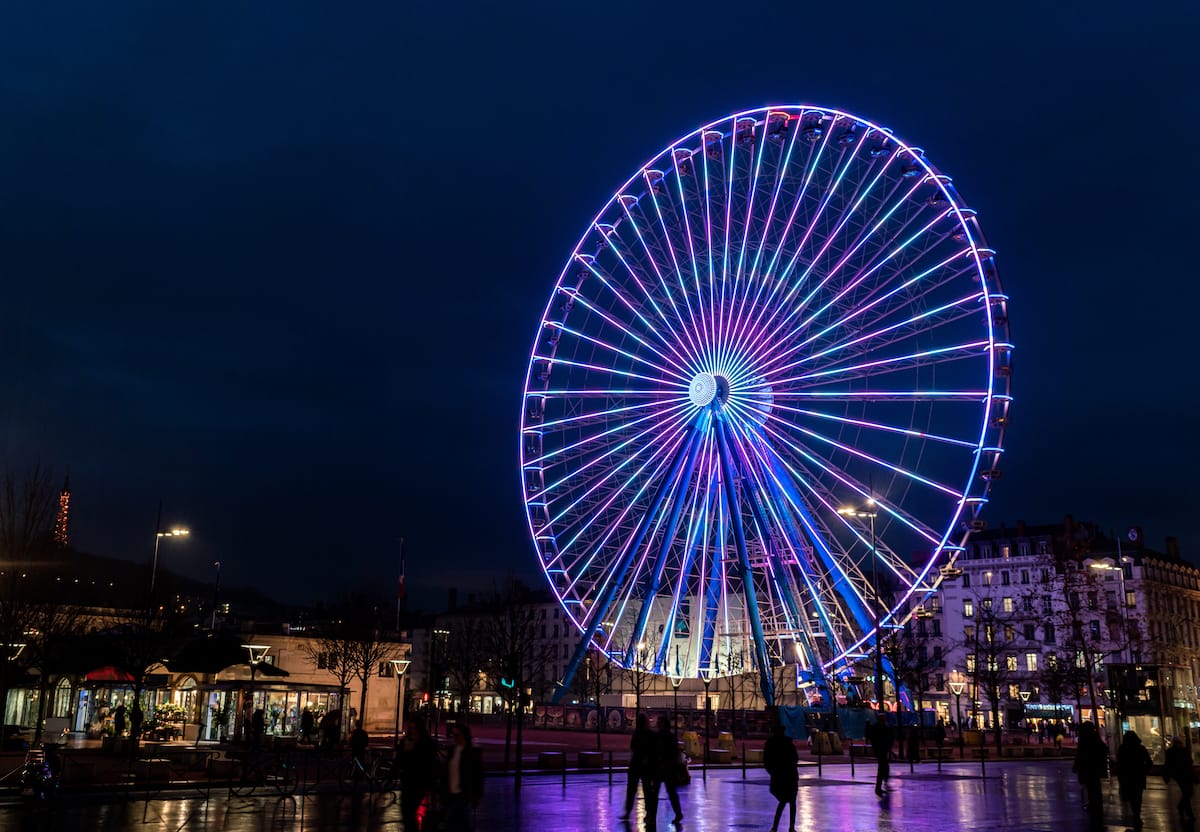 In the center of the square, travelers can find the statue of Louis XIV on horseback, a venue popular for locals' meetings, protesters' gatherings, and tourists' visits.
Another highlight, located in the southwest of the square, is the statue of Little Prince and the world-famous Antoine de Saint-Exupéry.
The best way to observe the area and enjoy majestic views is to hop on the big wheel.
14. Appreciate the Pieces in Lyon's Museum of Fine Arts
This famous museum is housed in the unique 17th-century Benedictine abbey. Throughout the 19th century, the building was home to various institutions.
In 1989, a major renovation was undertaken by the architects P.C. Dubois and J.M. Wilmotte. Today, the Lyon Museum of Fine Arts boasts art collections spreading over 14,500 square meters of area, set in 70 rooms.
The museum encompasses the Saint-Pierre Palace, the New Saint-Pierre wing, and the church. Its encyclopedic collections, introduced in five sections, represent artworks from all the major civilizations, from Antiquity to nowadays.
Dive into 5,000 years of art history by exploring the masterpieces of Rubens, Rembrandt, Veronese, Poussin, Gauguin, Matisse, Chagall, and Picasso.
Temporary exhibitions and numerous cultural activities are organized here. The museum is open from Wednesday to Monday, 10 am to 6 pm, and from 10.30 am to 6 pm on Fridays.
Admission costs are €8 for collections and €12 for exhibitions. Tickets should be booked online before arrival.
Address: 20 Pl. des Terreaux, 69001 Lyon
15. Pick Up a Book or Two at the Old Book Market
The popular Marché aux Bouquinistes Book Market is a small hidden gem for book lovers.
Situated alongside a beautiful riverbank in Old Lyon, the market features a vast selection of books, including modern, antique, second-hand books, comic books, engravings, and postcards.
Twenty-one stands are available, held by local second-hand booksellers. The variety provided is quite essential, and visitors can even find numerous kids' books in several languages.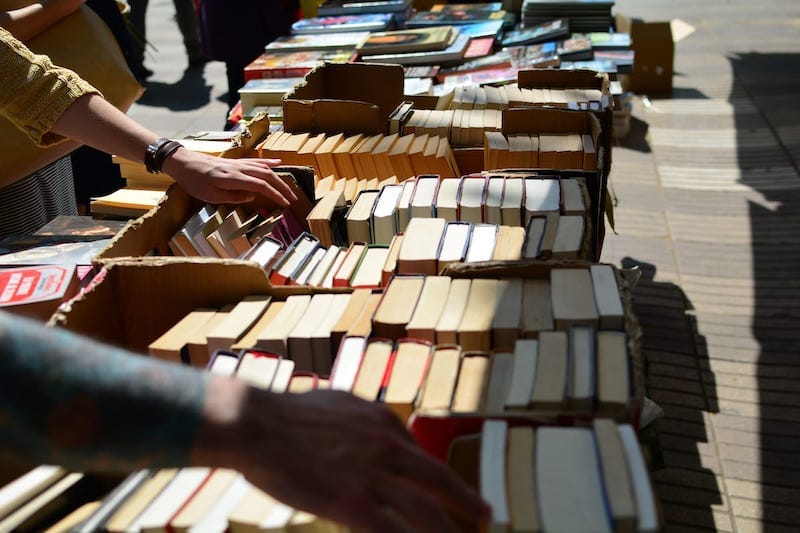 The flagship of this market is the fact that books tend to be affordable compared to traditional bookstores.
Stroll along the eastern bank of the Saone and find the book market west of the Jardin du Palais St Pierre, with the address 9 Quai de la Pêcherie.
The opening hours are Saturday, Sunday, 10 am – 6 pm, throughout the year.
Address: 9 Quai de la Pêcherie, 69001 Lyon
Where to Stay in Lyon
If you're looking for the best places to stay in Lyon, here are some of our top picks!
Villa Florentine (Luxury)
Hôtel Edmond W (Mid-range)
Hôtel Le Boulevardier (Budget)
Did we miss any of the best things to do in Lyon in winter? Let us know your favorite Lyon winter activities and sights below!
More Lyon Travel Guides
Pin this Winter Trip to Lyon Guide