This site uses affiliate links, meaning that if you make a purchase through our links, we may earn an affiliate commission.


The World Cup is less than a year away and I have decided to use this blog space to create some helpful guides for those looking to travel to some of the lesser-known cities in Russia for the event. I've only spent a short amount of time in Russia over the years and decided to engage the locals in helping me create these guides. This a guide to the best hotels in Kazan, Russia.
These are some of the best hostels and hotels in Kazan regardless of what your budget may be. If you have any questions, please drop them in the comments and we will try to get them answered in a timely manner. If you have any other Kazan accommodation suggestions, please also put them there as these hotels will book up quickly and the tip will certainly help a visitor to the games sort out their place to stay.
Note: All of these places offer FREE WI-FI.
Budget Accommodation & Hostels in Kazan
There are several hostels and budget options in Kazan for travelers. Below is a list of six highly recommended places in the city.
Kazanskoye Podvorye Hostel
This hostel is known as the most-stayed at place in Kazan. It gets exceptional reviews and offers dorms as well as privates. Rooms all have air-conditioning and guests are served a halal breakfast in the mornings. It is located 1.5km from the Kazan Train Station and 26.5km from the Kazan International Airport. Hostels are a perfect place to meet other travelers, sports enthusiasts, or just enjoy the unique amenities that they offer that hotels might not. Kazanskoye Podvorye Hostel is located at Baumana 68.
CHECK AVAILABILITY AT KAZANSKOYE PODVORYE HOSTEL
Stereo Hostel
Stereo Hostel is an upscale hostel that is located 1km from Kazan State University. The appeal of this place is that despite being in a dorm, you have your own curtains and privacy within those quarters. That is a huge deal for me when traveling. There is a 24-hour reception and some rooms offer garden or city views. Kazan International Airport is 22.5km from Stereo Hostel. Stereo Hostel is located at Ulitsa Shchapova 26.
CHECK AVAILABILITY AT STEREO HOSTEL
Hostel Navigator na Tukaya offers guests comfortable accommodation in a very clean and organized space. Each room has its own shared bathrooms and the beds are very sturdy and durable. There is free private parking on site. Kazan State University is about 1km from the hostel and the airport is located around 22.5km away. Hostel Navigator na Tukaya is located at Ulitsa Tukaya 7 on the 3rd Floor.
CHECK AVAILABILITY AT HOSTEL NAVIGATOR NA TUKAYA
Hostels Rus Kazan
Hostels Rus Kazan is a hostel about a half a kilometer away from the Church of the Exaltation of the Holy Cross that offers air-conditioned rooms in a cozy and hospitable setting. There is a shared bathroom in each room and a 24-hour reception at the property. The Airport is 20.9km away from the hostel. Hostels Rus Kazan is located at Ulitsa Khadi Taktasha 41.
CHECK AVAILABILITY AT HOSTELS RUS KAZAN
Hostel Krolichya Nora
This hostel is known for offering a clean and modern place for people to stay in Kazan, Russia. There is a 24-hour front desk and it is located a mere 300 meters from Kazan State University and only half a kilometer from the Exaltation of the Holy Cross. The airport is 22.5km away. Hostel Krolichya Nora is located at Ulitsa Shchapova 1.
CHECK AVAILABILITY AT HOSTEL KROLICHYA NORA
Hostel Duyzhina
Hostel Duyzhina is in the city center of Kazan about 400m from the Peter and Paul Cathedral and half a kilometer from the Qol Sharif Mosque. There is a 24-hour reception and amenities such as a kettle and slippers are available on site. The international airport is around 24km away. Hostel Duyzhina is located at Pravo-Bulachnaya Ulitsa 7.
CHECK AVAILABILITY AT HOSTEL DUYZHINA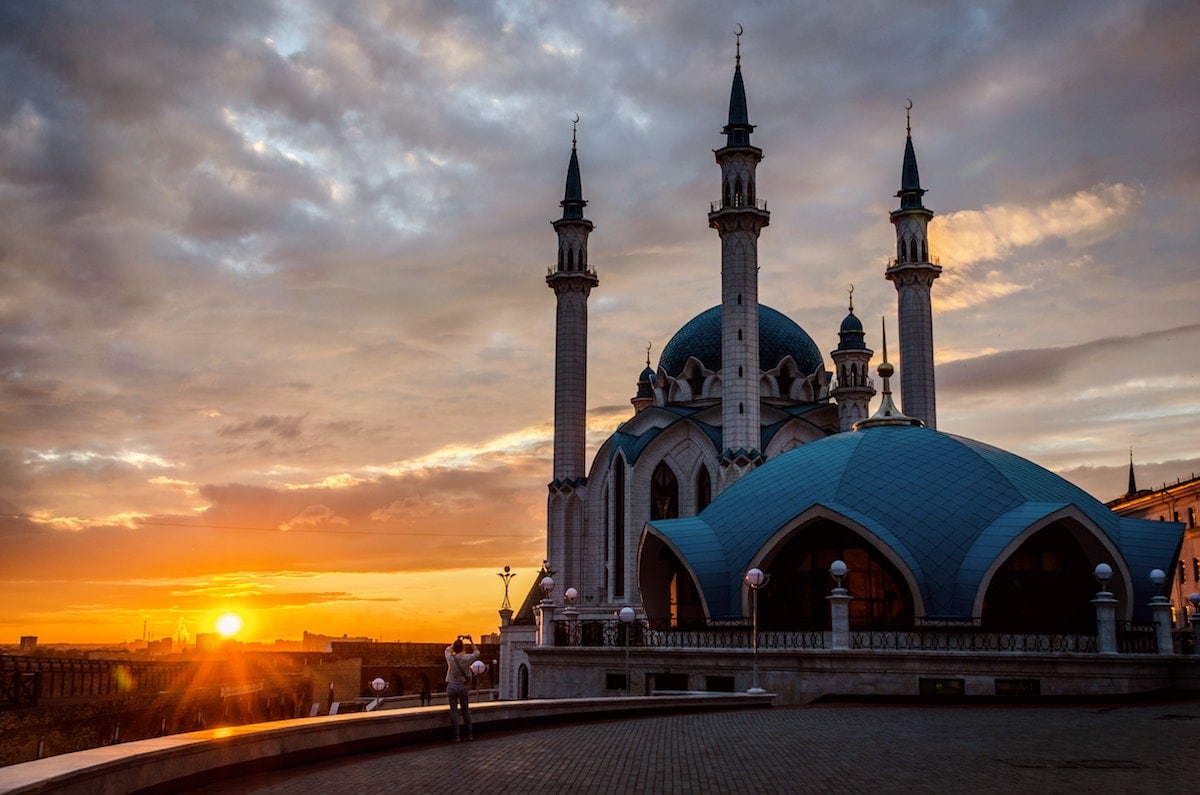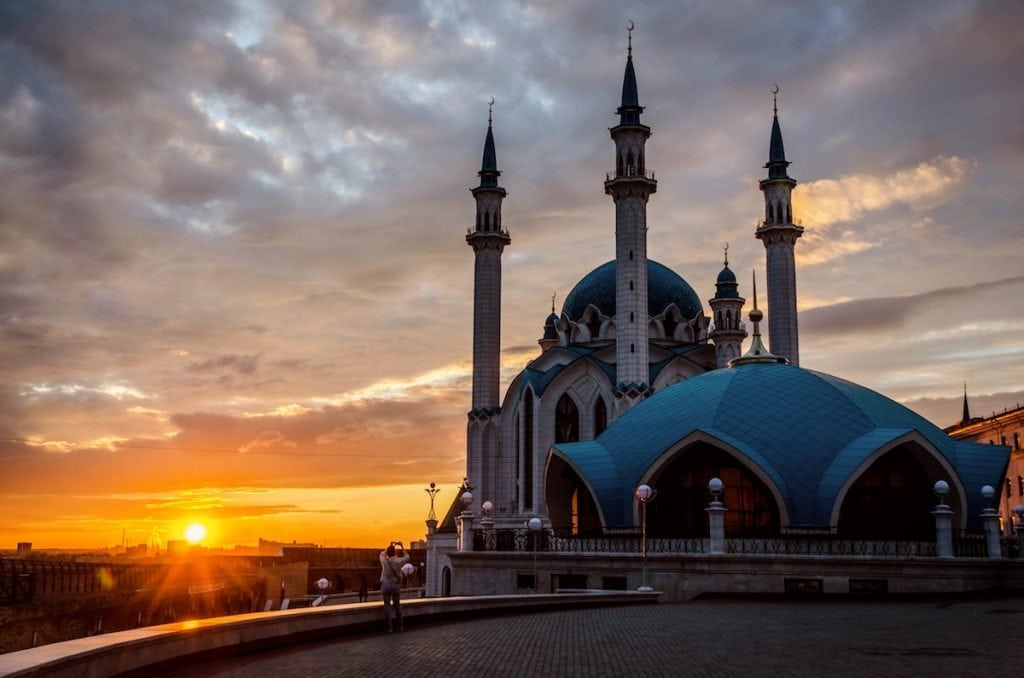 Mid-Range Accommodation in Kazan
Like the budget situation, mid-range accommodation is aplenty in Kazan. I have listed some familiar names here as you may be loyal to the brands. I also listed some local places that aren't part of an international group.
Park Inn by Radisson
This Park Inn by Radisson is located in the historic center of Kazan (close to Ploshchad Tukaya Metro Station). The modern and colorful rooms are standard of that of a Park Inn and are comfortable for their guests. The hotel boasts a gym and guests can also enjoy Tatar cuisine for breakfast in the hotel. You can find Park Inn by Radisson at Lesgafta Street 7.
CHECK AVAILABILITY AT PARK INN BY RADISSON
Ramada Kazan City Center
Part of the well-known Ramada chain of hotels, this centrally located hotel is located only 200m from the central station. It boasts a gym, free parking, and a 24-hour reception. An American-style buffet is served every morning with a variety of different foods and cuisines. The Ramada Kazan City Center Hotel is located at Chernyshevskogo Street 39.
CHECK AVAILABILITY AT RAMADA KAZAN CITY CENTER
Crystal Hotel
The Crystal Hotel is located just a mere 5-minute walk from the beach and a short 2-minute stroll from the main train station in Kazan. Every room here includes a classic interior, a refrigerator, and a flat-screen TV along with in-room air-conditioning. There are a bar and restaurant on site. The Crystal Hotel is located at Ulitsa Yakhina 8.
CHECK AVAILABILITY AT CRYSTAL HOTEL
Ibis Kazan Hotel
If you live in Europe, you certainly know the Ibis chain. It is actually one of my favorites because I feel like you get a lot of bang for your buck (and they are affordable). The Ibis Kazan is located directly in the city center near the Kazan Kremlin. Each room comes with a work desk and a flat-screen television. They serve Tatar specialties in the on-site hotel. You can find the Ibis Kazan at Pravo-Bulachnaya Str. 43/1.
CHECK AVAILABILITY AT IBIS KAZAN HOTEL
DoubleTree by Hilton Kazan City Center
Everyone here knows the Hilton chain and DoubleTrees are luxury and comfort for a much more affordable price. This property is no different. There is a fitness center and a terrace and the DoubleTree is located only 300m from Peter and Paul Cathedral. There is free private parking and an on-site bar. All rooms have air-conditioning. You can find the DoubleTree by Hilton Kazan City Center at Ulitsa Chernyshevskogo 21.
CHECK AVAILABILITY AT DOUBLETREE BY HILTON KAZAN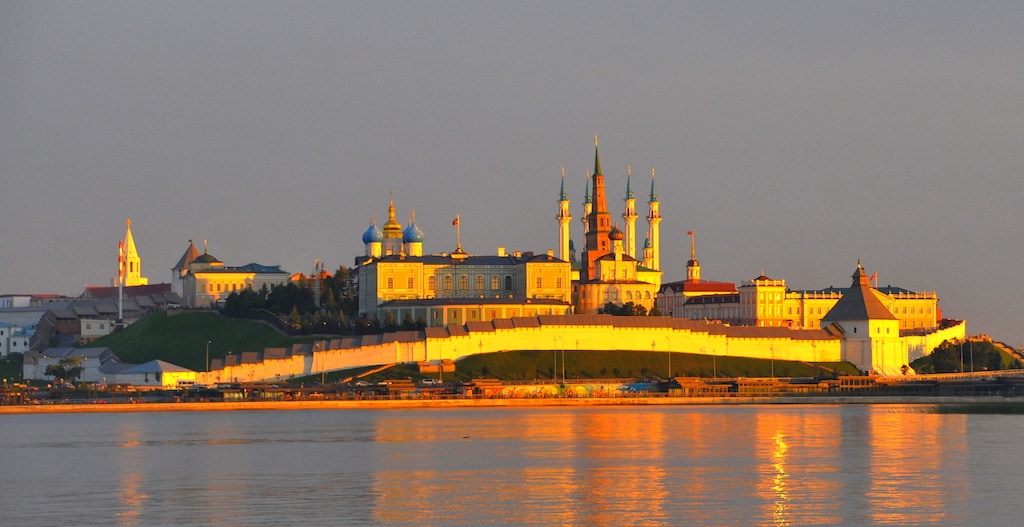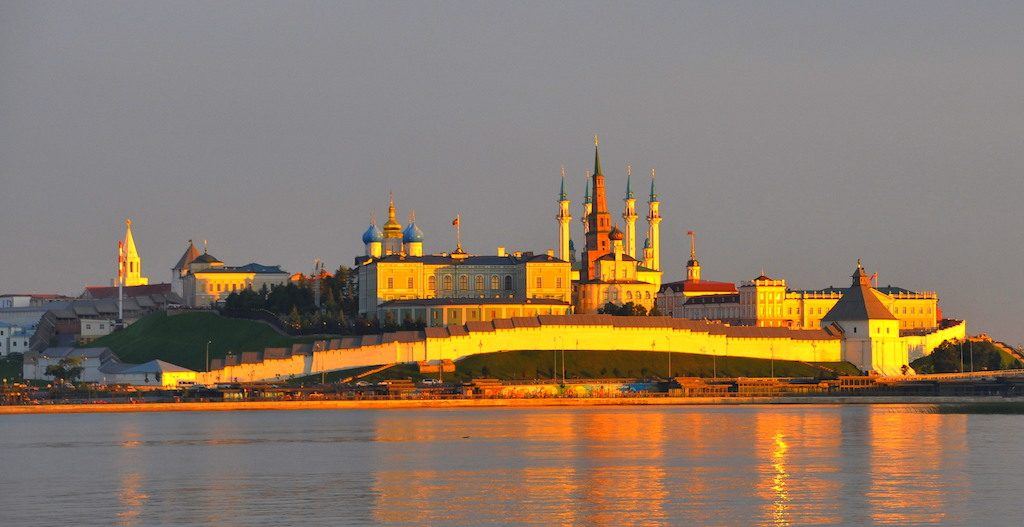 High-End and Luxury Hotels in Kazan
The great thing about Kazan is that nowhere is outrageously pricey compared to other cities in Russia and around the world. You can get an extremely nice place for the fraction of what you'd pay elsewhere. Obviously, during the World Cup, things will be slightly different, but if you book ahead, you should be able to score a fairly decent price if you're running on a low budget. Below are a few recommended places that are 4 to 5 stars or fit in the luxury category.
Spa Complex Premium Luciano
Luciano is a 4-star hotel and spa located in Kazan's historic city center and a 5-minute walk from Tukaya Square. The rooms are soundproof, modern but neutral, and cozy. There is a buffet breakfast offered every morning. The central train station is only a 15-minute walk away and the airport is around 25km from Luciano. You can find Luciano at Pravo-Bulachnaya Street 49.
CHECK AVAILABILITY AT SPA COMPLEX LUCIANO
Mirage Hotel
This is the number one booked 5-star property in Kazan and it sells out fast! Be sure to head there right away and book before you're too late! The Mirage is a 9-minute walk from the beach and overlooks the UNESCO World Heritage Site, the Kazan Kremlin. There are panoramic views over the city and every room is especially clean, modern, and comes with various amenities. You can find the Mirage Hotel at Ulitsa Moskovskaya 5.
CHECK AVAILABILITY AT MIRAGE HOTEL
Hotel Korston Royal Kazan
Another popular property, this hotel is located close to the historical sites of the city. There is free parking on the premises and you will be greeted with friendly faces. The property has a sauna, indoor pool, and an extensive breakfast buffet in the mornings. You can find Hotel Korston Royal Kazan at Ershova Street 1 A.
CHECK AVAILABILITY AT HOTEL KORSTON ROYAL KAZAN
Center Hotel Kazan Kremlin
The Center Hotel Kazan is located 100m meters from Kremlyovskaya Metro Station and as the name suggests, the Kazan Kremlin. The hotel offers modern rooms with flat-screen TVs, fitness facilities, and a breakfast buffet. You can find the Center Hotel Kazan Kremlin at Karl Marks Street 6.
CHECK AVAILABILITY AT CENTER HOTEL KAZAN KREMLIN
Getting From the Airport to the City Center in Kazan
Most all of these hotels and hostels are in the city center of Kazan, which is at least 20km away from the International Airport. The following options exist for getting into the center of Kazan:
Aeroexpress Train
You can take the Aeroexpress train that is connected to Terminal 1 and Terminal 1A in the airport t the city center. Since the airport is a whopping 26km from the city center, I reckon that this is your best option if you're not willing to spend the money on getting a taxi. The standard price of the Aeroexpress Train is around $6 (200 rubles) for the cheaper seats and $11 for the more expensive ones or business class. The train leaves the airport every two hours beginning at 7am until 11pm. Please note that if you are traveling during the 2018 World Cup, this is subject to change.
Bus
On a serious budget and want to get into the city for the smallest price possible? Opt for the bus. While it won't be the fastest, it is hard to argue with a ticket for around $1.5 or so (39 rubles). The buses run from 0500 until 2300 daily ( the last bus leaves the airport at 2145, however). This can be a cumbersome process, but it will save you a few bucks.
Taxi
Several taxi companies exist in Kazan and they are fairly cheap. Be sure to take a credible and metered taxi if at all possible. You can order a taxi once you arrive at the airport and the ride into the city should be around $22. The number to call a taxi is +7 (843) 5-00000-5. I have found that the Yandex taxi app is brilliant and works like a charm, however (similar to Uber). Consider downloading before you go, but do know that Kazan will be packed if you're there for the World Cup and you may not always be able to secure a taxi with ease.
Know Before You Go to Kazan
Know some Cyrillic! I can't stress this enough. While Russia does a good job at making signs in English to accommodate international travelers these days, it is still super cool to be able to walk into that restaurant and order from a menu in Russian. And quite frankly, the locals don't always know English so well but will create an English menu regardless to accommodate… leaving you really no choice but to order from the Cyrillic part (trust me, I've seen hamburger translated into so many random things I can't even tell ya).
I highly recommend purchasing a Russian dictionary or phrasebook prior to traveling. I swear by this Lonely Planet Russian Phrasebook and always travel with it when I am traveling East (even despite knowing a bit of Russian these days… it really does come in handy)!
PIN IT FOR LATER!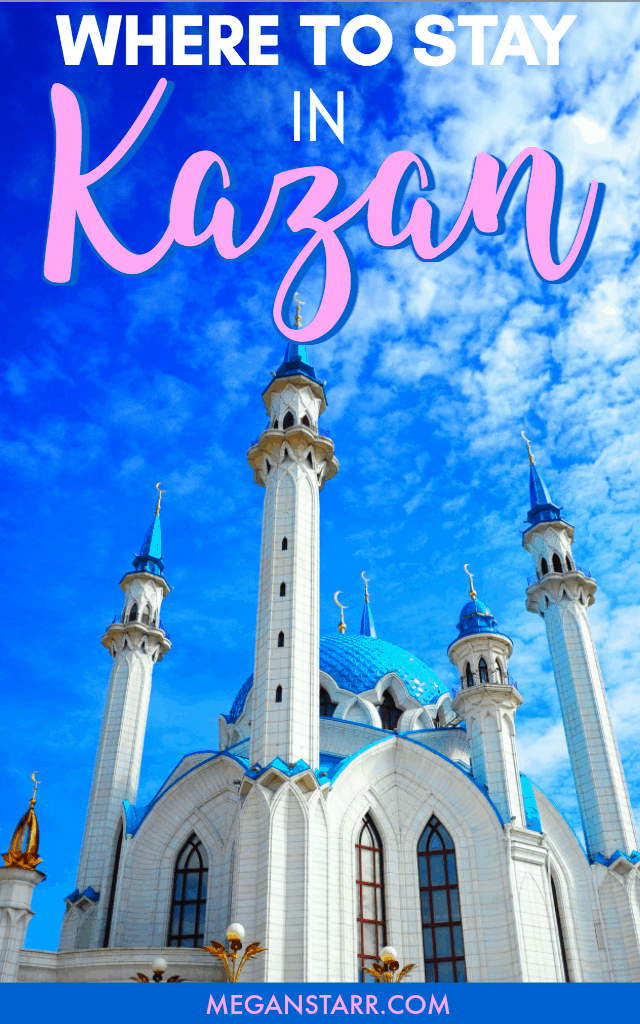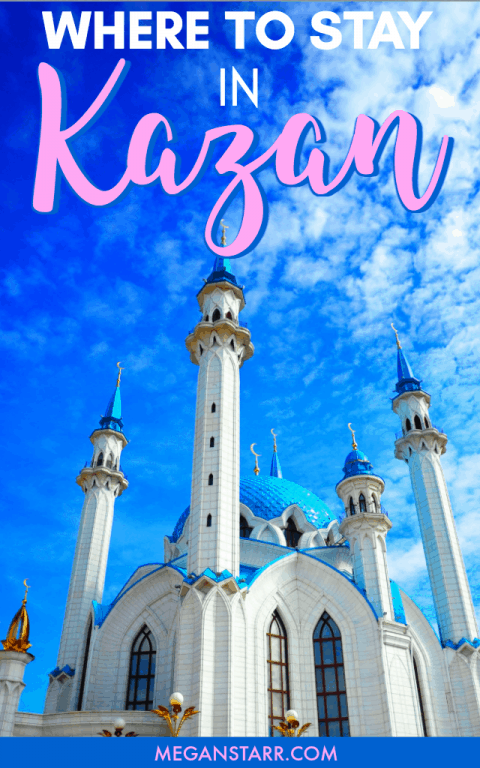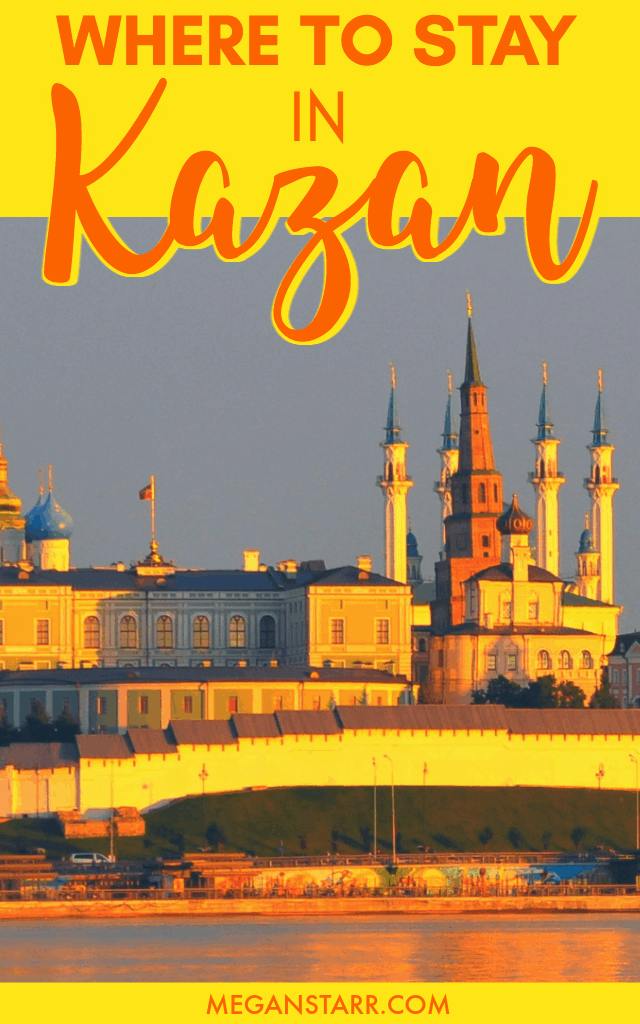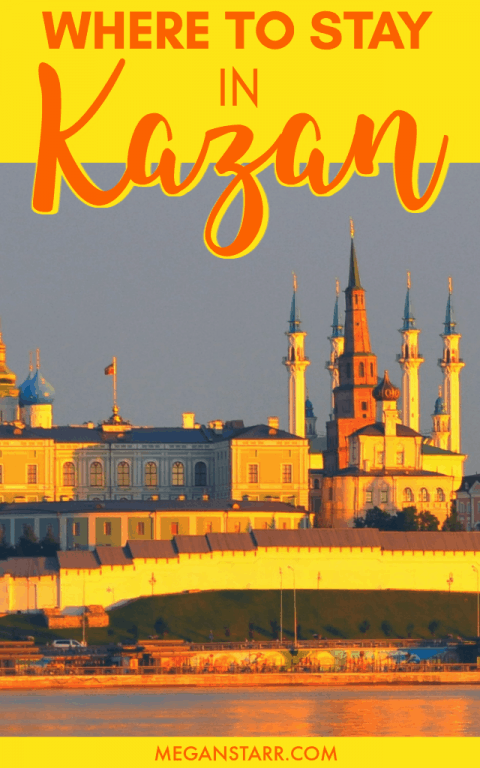 If you have any questions, please drop them in the comments, but if you want continuous dialog, feel free to join this Facebook Group that I run with two other amazing bloggers that is your travel community to Eastern Europe, the Balkans, and Post-Soviet countries. We'd love to have ya over there! Click the image below to be taken directly to the group.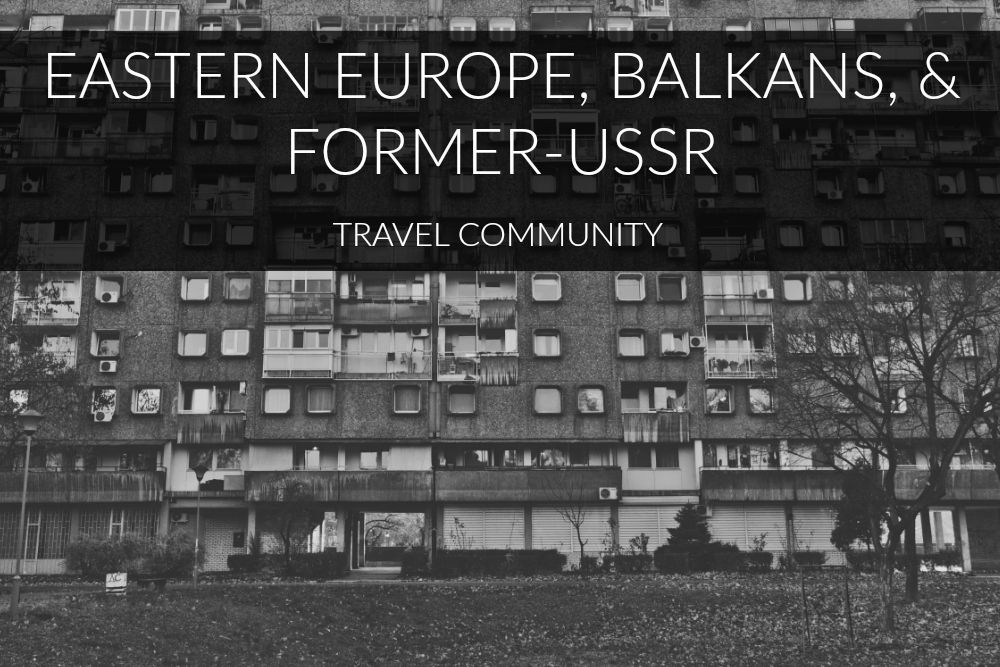 BE SURE TO FOLLOW ME ELSEWHERE AROUND THE WEB!
[powr-social-media-icons id=f421521d_1499856820319]
*This post contains affiliate links.