Are you looking to visit the Leaning Tower of Pisa? This guide contains tips for the best Leaning Tower of Pisa tours, tickets, and plenty of tips to help you plan your trip!
The Leaning Tower of Pisa is one of the most iconic landmarks in Italy and is a prime example of Romanesque architecture.
The Leaning Tower, the adjacent Pisa Cathedral (Duomo di Pisa), and the Pisa Baptistery are must-sees on any trip to Italy!
Located only a few miles from the art-rich city of Florence, a day trip to Pisa is easy to plan and quite a rewarding experience.
A popular tourist attraction and UNESCO World Heritage site, the tower's distinct tilt has attracted curious travelers for centuries.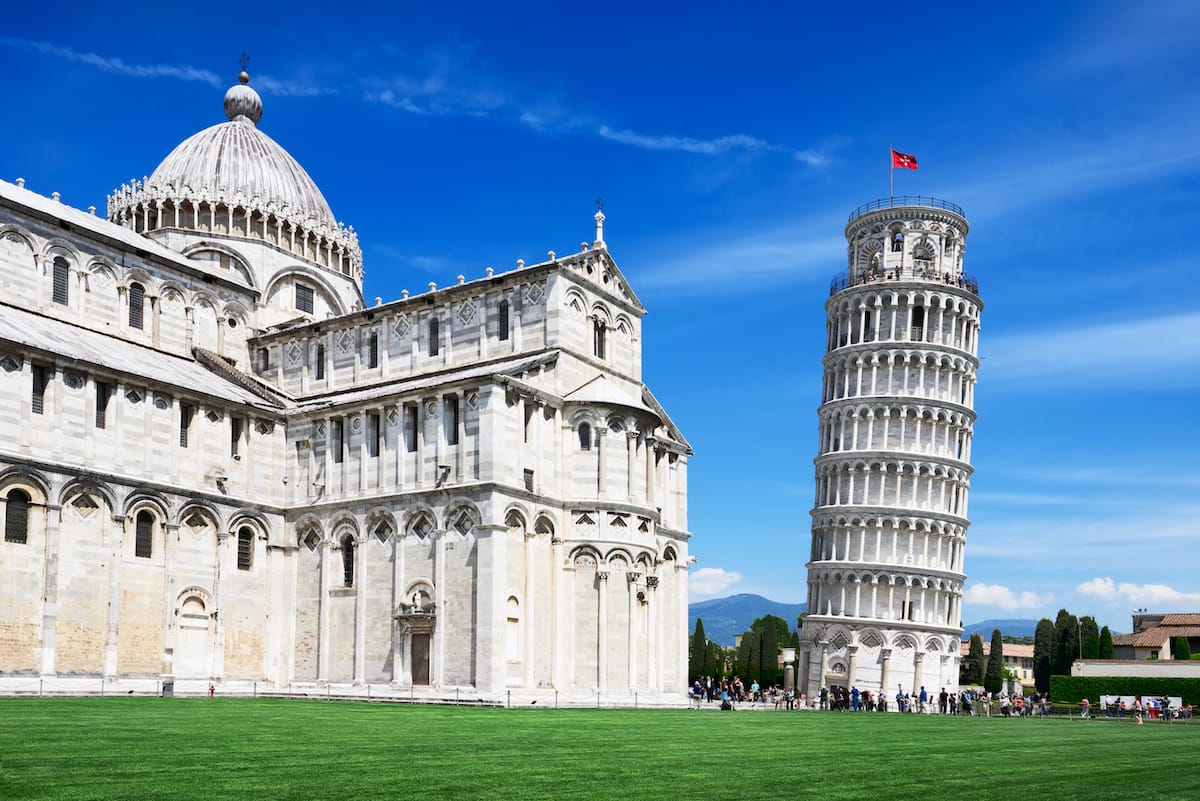 Read this step-by-step guide on planning your visit for all the details you need to know!
Did we miss anything to know before visiting the Leaning Tower of Pisa? Let us know in the comments!
Where's Pisa
The Leaning Tower of Pisa in Italy is a popular tourist attraction and a UNESCO World Heritage site located in the city of Pisa in the Tuscany region of Italy.
Pisa is about 68 miles (110 km) from Florence and slightly over 217 miles (350 km) from Rome.
How to Get to Pisa
There are a few ways that you can visit Pisa. Here are some of the most popular ways, starting with a tour which we think is the easiest way to reach the famous tower!
Tours to Pisa from Florence (and Beyond!)
The easiest way to reach Pisa from other Italian cities is by an organized tour.
This is the perfect option for those not renting a car or those not wanting to worry about independently reaching a destination (can save so much energy and time!).
Here are some of the top tours to Pisa from other cities:
Plane
Pisa is home to a major international airport, Galileo Galilei. You can take a taxi or bus to the city center from there.
If you're arriving at Pisa International Airport, you can prebook an affordable transfer between the Airport and the city center. It makes arrival so much easier!
>> Click here to book a Pisa Airport transfer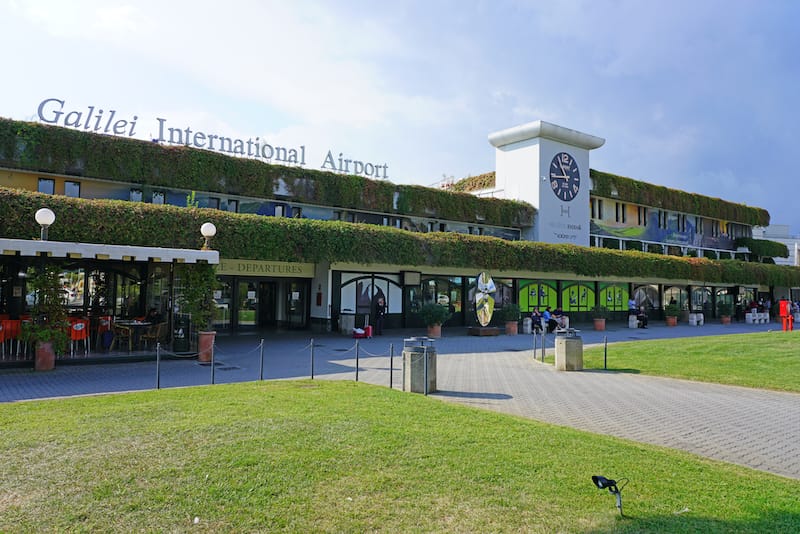 Train
Pisa's central train station is Pisa Centrale.
Pisa is well-connected by train to major Italian cities, including Florence, Rome, Milan, and Venice. However, the type of train you choose will affect your travel time.
For example, reaching Pisa from Florence takes around an hour and a half to two hours.
Once you arrive at Pisa Centrale, you'll be in the city center and within walking distance of many of the city's attractions, including the Leaning Tower of Pisa and the Pisa Cathedral.
Bus
Buses in Italy are affordable, although they can be a bit slower than trains.
Buses from Florence to Pisa are frequent; buses depart from the Santa Maria Novella (SMN) bus station in Florence, and the journey is about 2 hours.
Companies operating this route include FlixBus and CTT Nord. Long-distance buses connect Rome to Pisa, with a travel time between 4 to 5 hours.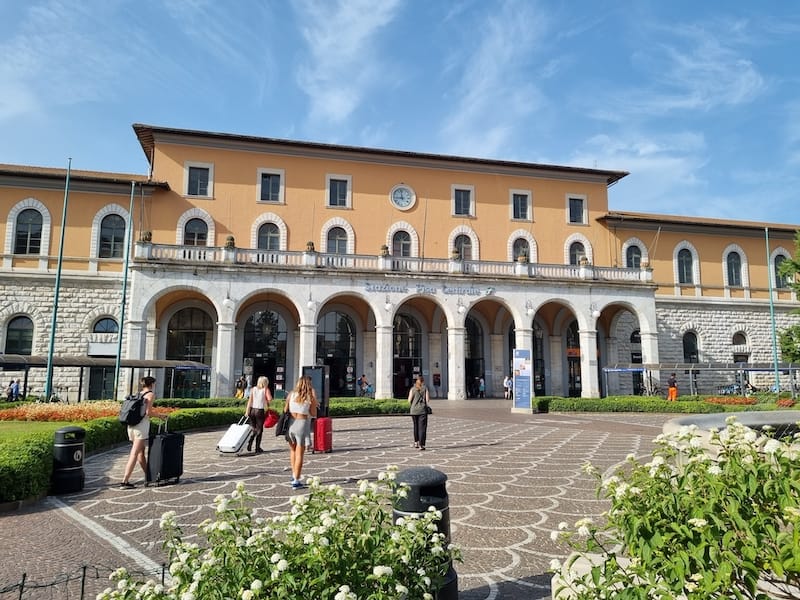 The central bus station is Pisa Centrale, located near the Pisa Centrale train station. This is a major transportation hub in the city.
Driving to Pisa
Driving in Italy, especially in the Tuscany region, can be pleasant if you respect the country's driving guidelines.
Ensure you familiarize yourself with Italy's road rules and regulations, including speed limits, road signs, and parking rules.
Having a GPS device or a reliable navigation app on your smartphone is an excellent idea to help you find your way to Pisa and within the city.
Getting Around Pisa
Exploring the center of Pisa is relatively straightforward, as the city center is compact, and the major attractions are within walking distance.
Pisa's city center is pedestrian-friendly, making it easy to explore on foot. Attractions, such as the Leaning Tower of Pisa and the Cathedral, are within walking distance of each other.
Furthermore, Pisa has a bike-sharing system that allows visitors to rent bicycles to explore the city.
The city's public transportation system is not necessary to visit Piazza dei Miracoli and the Tower.
However, buses can be used to reach destinations outside the central area. Tickets can be purchased at bus stops, tobacco shops, or newsstands and must always be validated on board.
Parking in Pisa
Some areas in Italian cities, including parts of Pisa, have restricted traffic zones known as "Zona a Traffico Limitato" (ZTL).
Non-residents are usually not allowed to drive or park in these areas. Check the ZTL regulations and be cautious to avoid fines.
The Complex at Piazza dei Miracoli
Piazza del Duomo di Pisa, or Piazza dei Miracoli, is a beautifully landscaped square home to several important religious and architectural landmarks only minutes from Pisa Central Train Station.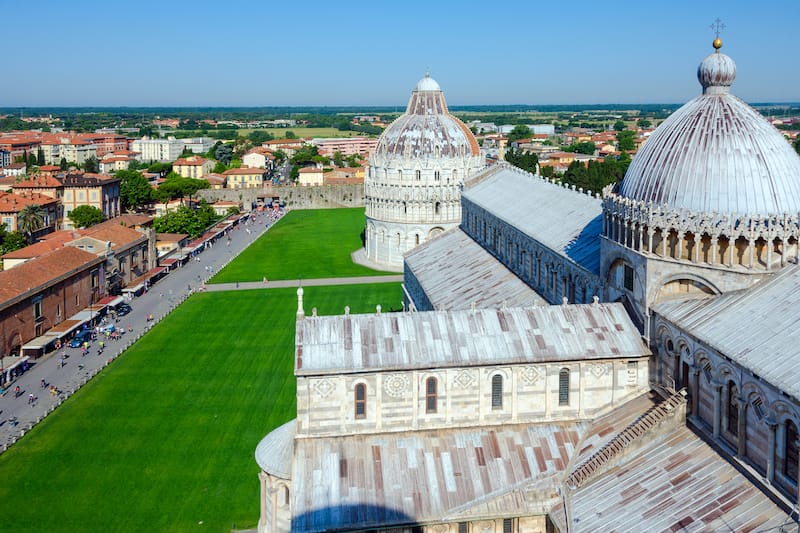 Piazza dei Miracoli (Square of Miracles) is an iconic complex that houses the well-known Leaning Tower, Pisa Cathedral, the Baptistery of Saint John, and the Monumental Cemetery.
The place is a UNESCO World Heritage Site, renowned for its stunning architectural beauty and historical significance. Let's take a look at each of the locations you can explore in the square.
The Leaning Tower of Pisa
Known in Italian as Torre Pendente di Pisa or Torre di Pisa, the Leaning Tower of Pisa is one of the world's most famous and recognizable landmarks due to its distinctive tilt.
The tower's unintentional lean resulted from unstable foundation soil, which caused it to tilt gradually during construction.
However, only some know that the complex's main building was not originally intended to be the Tower but the Cathedral. In fact, the tower is nothing but the Cathedral's bell tower (or Campanile).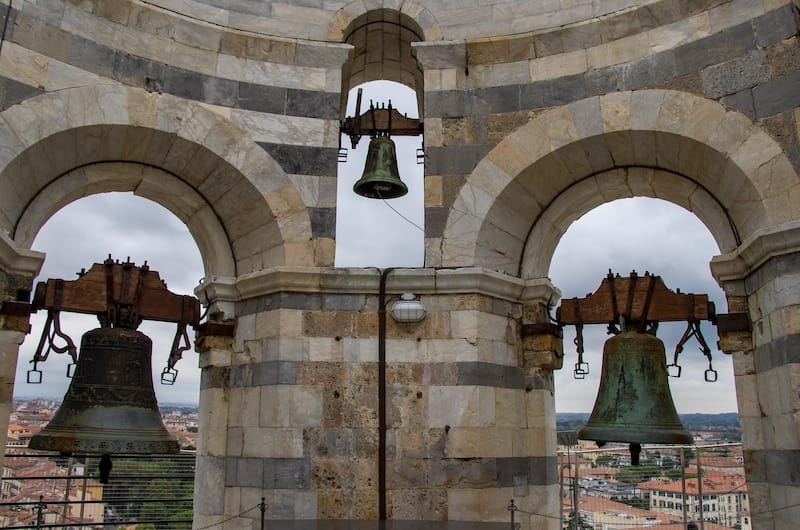 The Leaning Tower of Pisa is a freestanding bell tower initially built as a separate bell tower for the cathedral. Its construction started in 1173 and continued for about two hundred years.
Although it was designed to be a vertical, circular tower, it now leans at an angle of approximately 3.97 degrees.
The tower's lean angle is constantly monitored and adjusted, although it was much more prominent and noticeable before the restoration works in the late twentieth century. The building was stabilized by removing soil from the higher side and strengthening the foundation.
The tower is 183 feet tall (56 meters) and has eight levels. It's made of white and gray marble sourced from different regions in the country.
The building has a circular base with a diameter of about 50 feet (15.5 meters) at ground level. Each successive level is slightly smaller in diameter.
The twelfth-century tower features a prime example of Romanesque architecture, characterized by rounded arches, thick walls, majestic columns, and geometric shapes with symmetrical design.
Romanesque architecture was a prevalent construction style in Europe from the tenth to the end of the twelfth century.
Different rows of columns and arches on each level create a visually pleasing effect, typical of Romanesque design. The tower's exterior is adorned with bands of blind arches, adding to its aesthetic appeal and creating a sense of rhythm.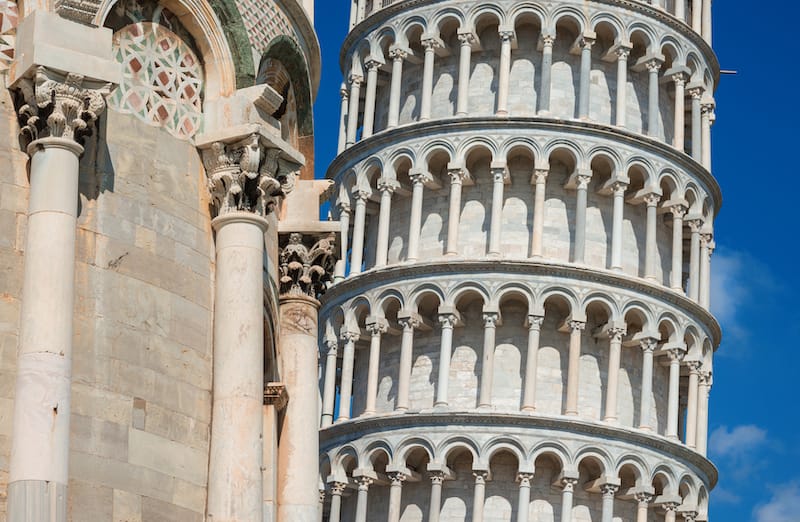 The tower is also slightly curved from various architects' attempts to keep it from further tilting or even falling over.
There are narrow windows incorporated into the tower's design to give light and ventilation to the interior. At the tower's top is an octagonal belfry, which houses seven bells. The largest and heaviest bell is known as Pasquale.
You can climb the tower to the top to admire the impressive panoramic views of the city.
However, access tickets are limited since the tilting structure can only withstand a certain amount of visitors (and weight) at a time. For that reason, it's always advisable to book tickets in advance.
What Else to See at Piazza dei Miracoli
Pisa's famous square is also home to the Pisa Cathedral (Duomo di Pisa), a perfect example of Pisan Romanesque architecture featuring an intricate facade alternating gray and white marble with detailed sculptures, columns, and other decorative elements.
The cathedral rests on a white marble pavement and features bronze doors with intricate relief works. Once inside the building, unique interior decorations adorn the church's nave and two side aisles.
A coffered ceiling features a stunning golden mosaic representing the Assumption of the Virgin, while its curiously Islamic dome is an architectural gem.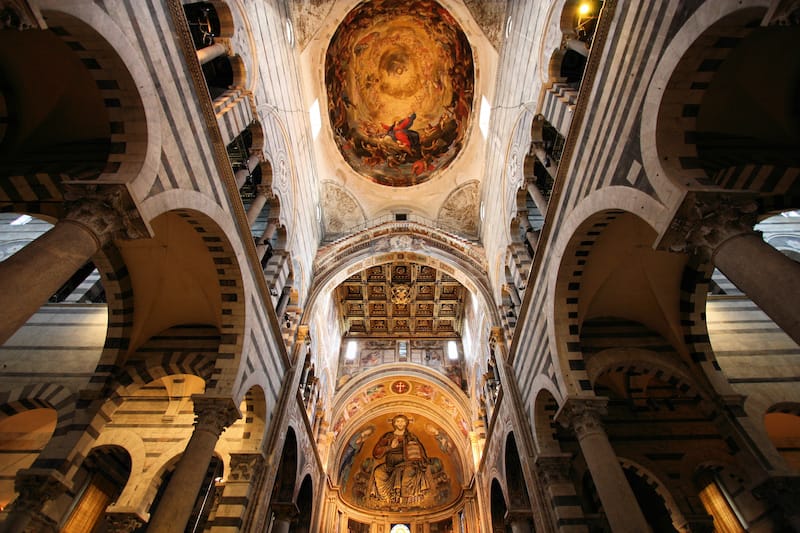 During the visit, don't skip looking at its ornate pulpit, dating from the fourteenth century. This masterpiece of Italian Gothic features scenes from the life of Christ.
Next to the Cathedral, it's possible to explore the Museo dell'Opera del Duomo, which exhibits many of the original sculptures and artworks from the cathedral's façade and other artifacts related to its history.
Tickets to access the museum can be purchased on the official website.
The Baptistery of Saint John (Battistero di San Giovanni) is a circular baptistery famous for its impressive acoustics and ornate design. The current building was erected in 1152-363 to replace an older baptistery that stood in the place.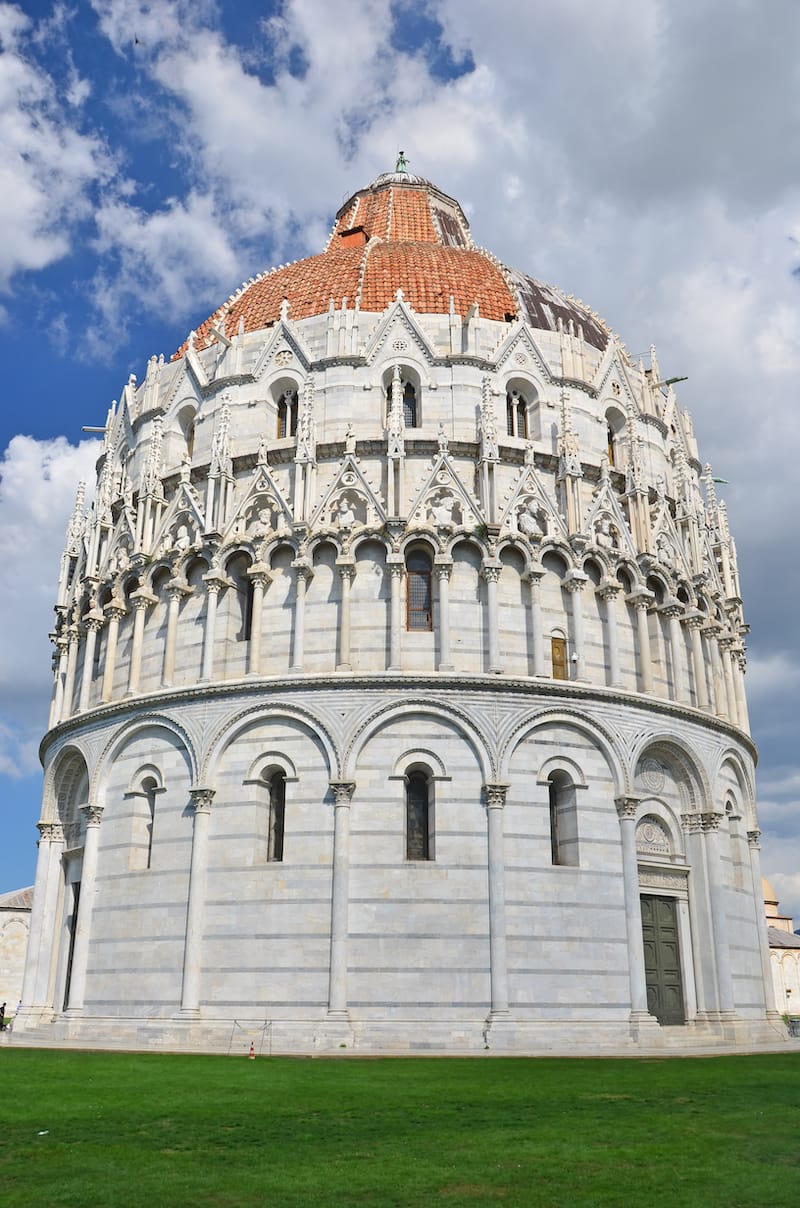 San Giovanni is Italy's largest baptistery, measuring about 180 feet (55 meters) in height with a 141-foot (43-meter) diameter.
The building reflects the transition from Romanesque (base) to Gothic styles (upper section).
Like the Cathedral and the Leaning Tower, the Baptistery is built of bichromatic Carrara marble, white with recurring horizontal lines in grey stone, used for floral and abstract decorations.
Constructed on the same unstable sand as the tower and cathedral, the Baptistery leans 0.6 degrees toward the cathedral.
Finally, the Monumental Cemetery (Camposanto Monumentale) is also part of Piazza dei Miracoli. This historic cemetery, also known as Camposanto Vecchio (Old Cemetery), is located in the northern area of the Cathedral.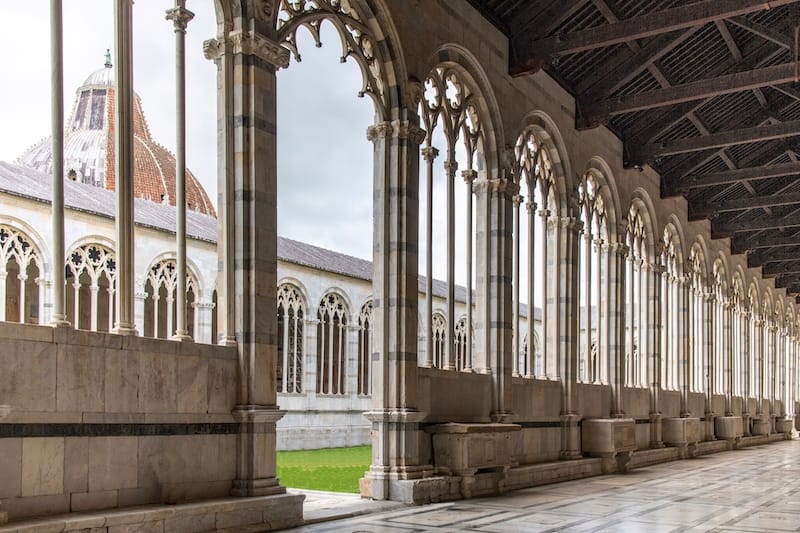 The cemetery is over the ruins of an ancient baptistery that belonged to a former church, later replaced by the Pisa Cathedral.
Best Guided Tours to the Leaning Tower of Pisa
Although you can simply head to Piazza dei Miracoli and admire the white buildings from a distance, a guided tour can be an exciting way to spend a day in town, and we highly recommend it.
Climbing to the top of the Tower of Pisa is a unique experience. However, booking in advance is strongly recommended since daily tickets are limited on-site (€ 18), and finding an access ticket for the same day is extremely rare.
Several different tours allow you to visit the tower and the rest of the complex; these are the options we suggest:
Other Tips for Visiting the Leaning Tower of Pisa
Access passes allow you to visit all the monuments in Piazza dei Miracoli, although tickets for each monument can be purchased separately.
Best Time to Visit the Tower of Pisa
Pisa, and especially its Leaning Tower, is a popular tourist destination, so expect crowds year-round, but mostly during peak tourist seasons such as summer, Easter, and the Christmas holidays.
For this reason, it's always advisable to book tickets for the Leaning Tower of Pisa in advance if you plan to climb it, as there are restrictions on the number of visitors allowed daily.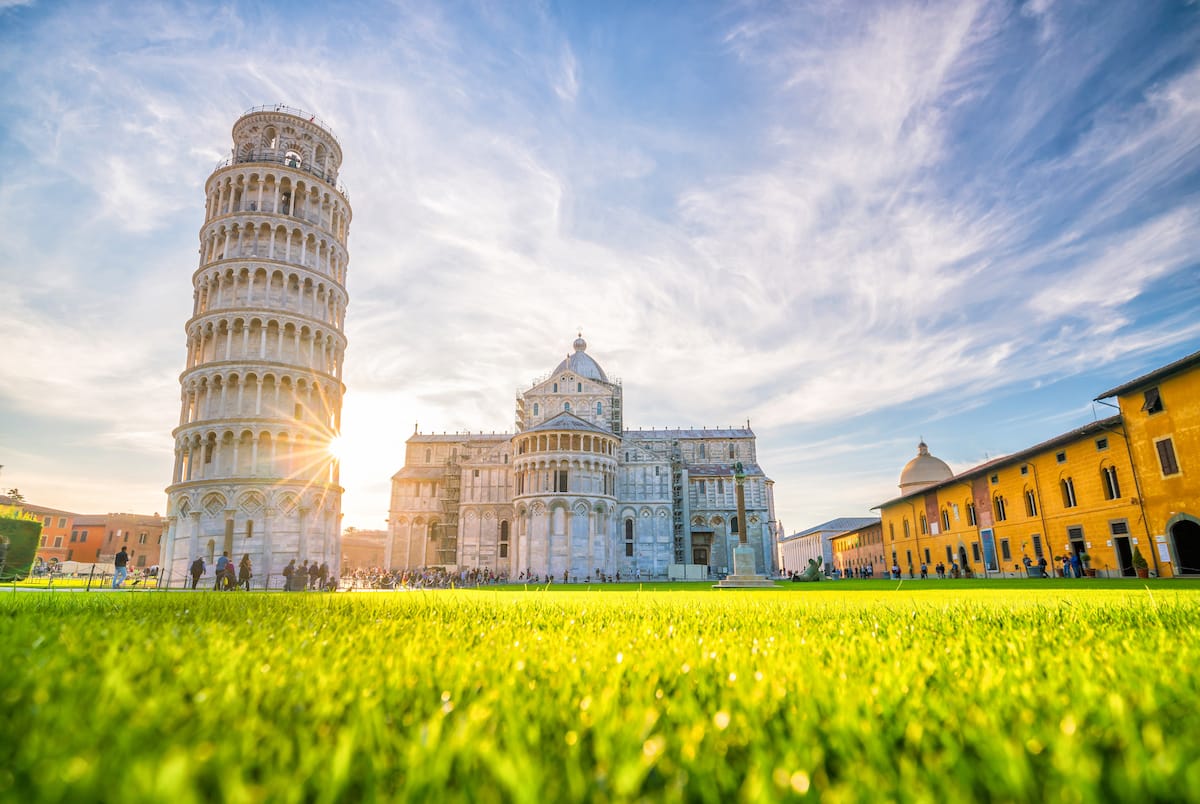 The tower has a spiral staircase with 294 steps, which can be pretty narrow, slippery, and steep. Wear comfortable shoes for the climb.
Enjoy the stunning views from the top, but be mindful of your limited time to take in the landscape from the top of the tower.
Tower of Pisa Visiting Hours
Opening hours to visit the tower change for every month of the year. During December and January, the Tower opens to the public from 10 a.m. to 5 p.m., although during Christmas week, its closing time extends to 7 p.m.
The Tower is open from 9.45 a.m. to 5.15 p.m. in February and November.
Opening hours in March are from 9 a.m. to 6 p.m., while it's open from 9 a.m. to 8 p.m. between April and October, although during the summer months (June, July, and August), the Tower closes at 10 p.m.
Since many opening hours can overlap or change for different reasons, always check on the official website before booking your entry tickets.
🚫 IMPORTANT: Children under eight cannot climb the Leaning Tower of Pisa for safety reasons. All children between 8 and 18 can climb the Tower with an accompanying adult.
Where to Stay in Pisa
Although many people visit Pisa on a day trip from nearby Florence, the city is a beautiful destination with plenty of things to do, where you could easily spend more than just an afternoon.
These are some of the hotels we recommend in Pisa:
Did we miss any of the top things to know before you visit the Leaning Tower of Pisa?
Let us know your Leaning Tower of Pisa tips and tricks in the comments! Thanks!
More Italy Travel Content
Pin this Tower of Pisa Tours and Tips Guide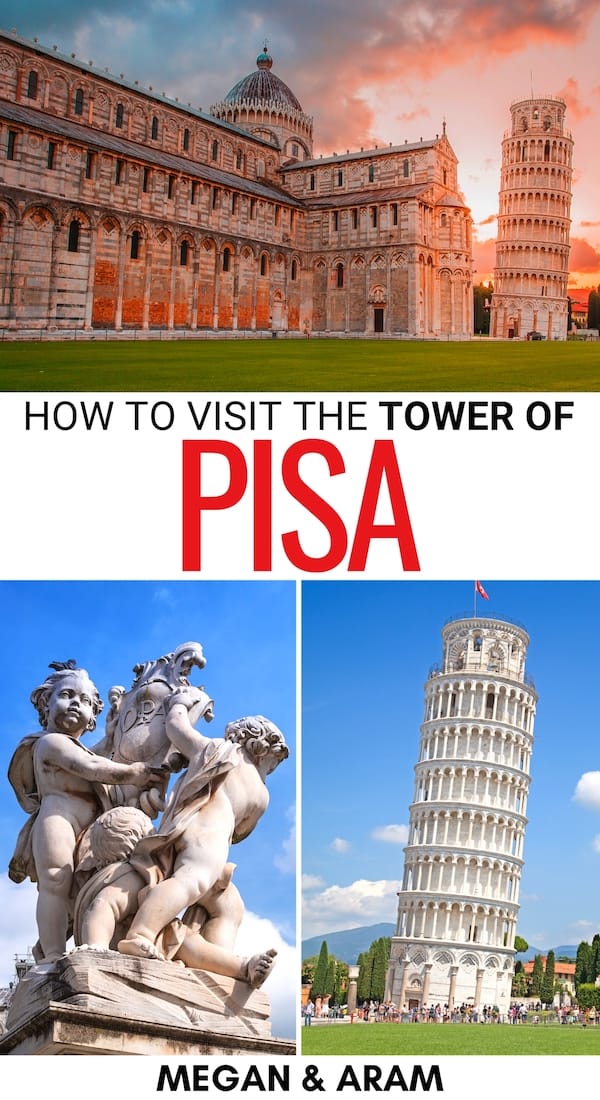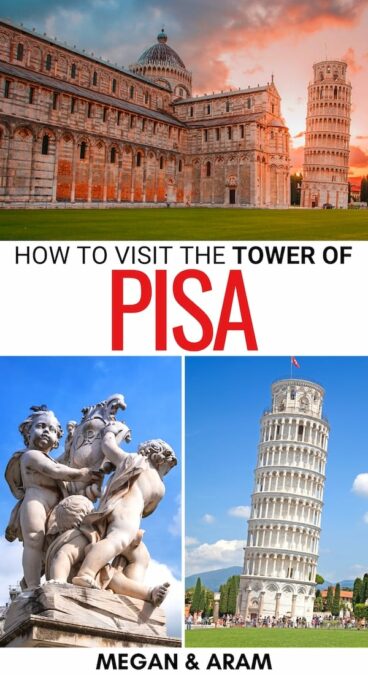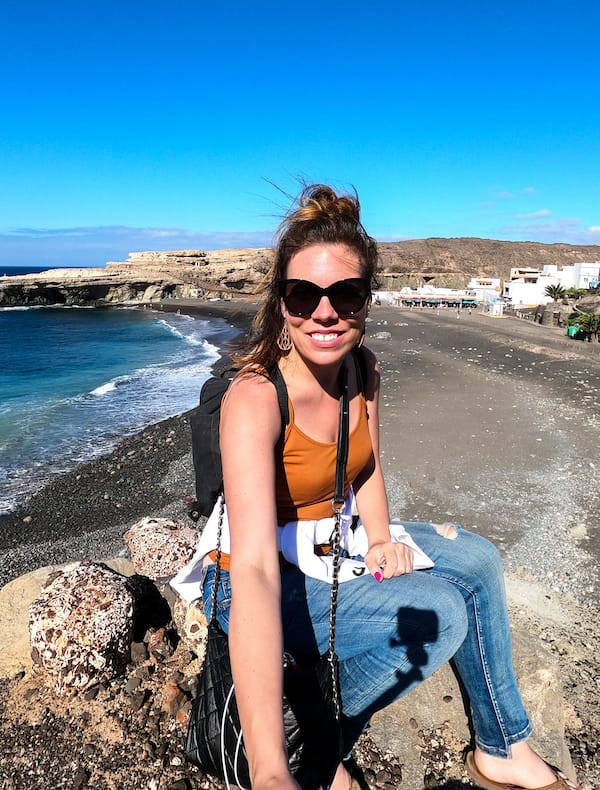 Megan is a travel blogger and writer with a background in digital marketing. Originally from Richmond, VA, she now splits her time between Frankfurt, Germany and Arctic Finland after also living in Norway, Armenia, and Kazakhstan. She has a passion for winter travel, as well as the Nordic countries, but you can also find her eating her way through Italy, perusing perfume stores in Paris, or taking road trips through the USA. Megan has written for or been featured by National Geographic, Forbes, Lonely Planet, the New York Times, and more. She co-authored Fodor's Travel 'Essential Norway' and has visited 45 US states and 100+ countries.