(I will preface this by saying that if you're offended that I am spelling Kyiv as "Kiev", please pretend it is spelled the way you prefer throughout; I am spelling it the way most locals do and most travelers search for the name for the sake of this post alone. On the other hand, don't add "the" to the beginning of Ukraine under any circumstances, please. It is Ukraine. Not The Ukraine. Thanks!)
I'm not going to lie… finding information online about Soviet structures in Kiev isn't the easiest task. Maybe the information does exist, albeit in Russian or Ukrainian, but I couldn't find what I sought out to find regarding the architecture and structures prior to traveling back to Kiev this past March.
I found a bit here and a bit there, and this link was particularly helpful, but nothing definitive that gave me the detailed information and maps I was looking for. So, here I am, trying to do my best to provide what I can for you. I assume you have stumbled across this article looking for the same information I had once looked for. I hope this helps you and I apologize for the non-responsive map if you're viewing this on your mobile device (Спасибо, Google).
I know this map and these photos don't cover half of Soviet things to do in Kiev and its surrounding areas. But, this is where I went (well, most places) and I can verify that these places currently do exist, despite maybe not existing for too much longer depending on how this whole Ukrainification goes. This list includes some Soviet Modernism beauties in addition to statues, parks, or places with extreme relevance to the Soviet history of the city of Kiev.
You can also see a Metro Map of Kiev here.
MAIDAN NEZALEZHNOSTI
I'll start with the obvious one. The one that pops up when you just simply research the city of Kiev. Maidan (M-eye-don because you'll confuse taxi drivers if you don't say it correctly) is technically Maidan Nezalezhnosti, which means Independence Square when translated literally. This is very much the heart of the city and it is grandiose. If you're a fan of post-Soviet countries and you've only been to the Baltics, you have something else in store for yourself when you see how everything is larger in Kiev and a little more east. Anyways, Maidan is the home to demonstrations, Hotel Ukraine (formerly 'Hotel Moscow' as it was built in 1961 by the Soviets), and a lot of significant Ukrainian history.
This square actually predates Soviet times, but a lot of standing structures there were actually built by the Soviets. Maidan has been the scene of a lot of riots, demonstrations, and deaths and is immensely important to the city of Kiev. I recommend reading up on some of its history before going. It makes the impact of standing in the square a deep one.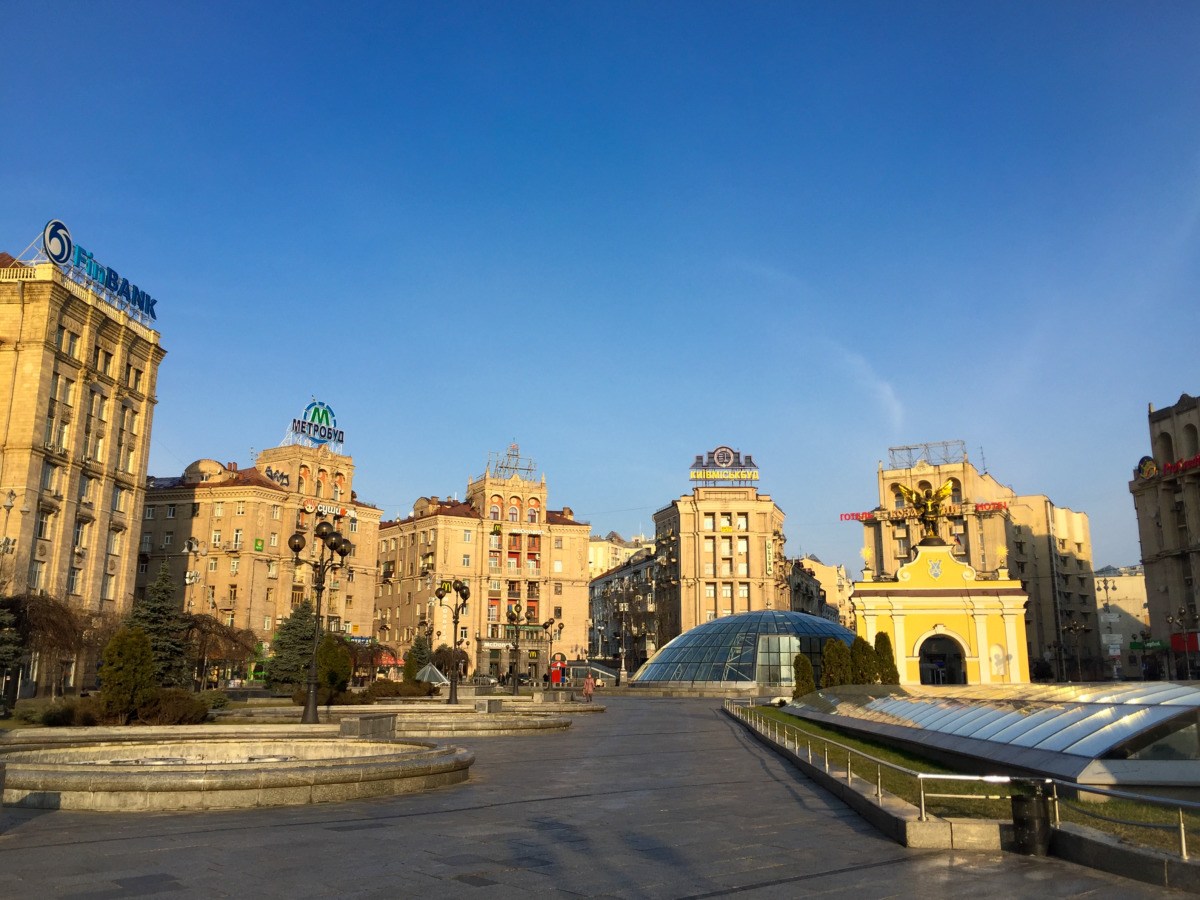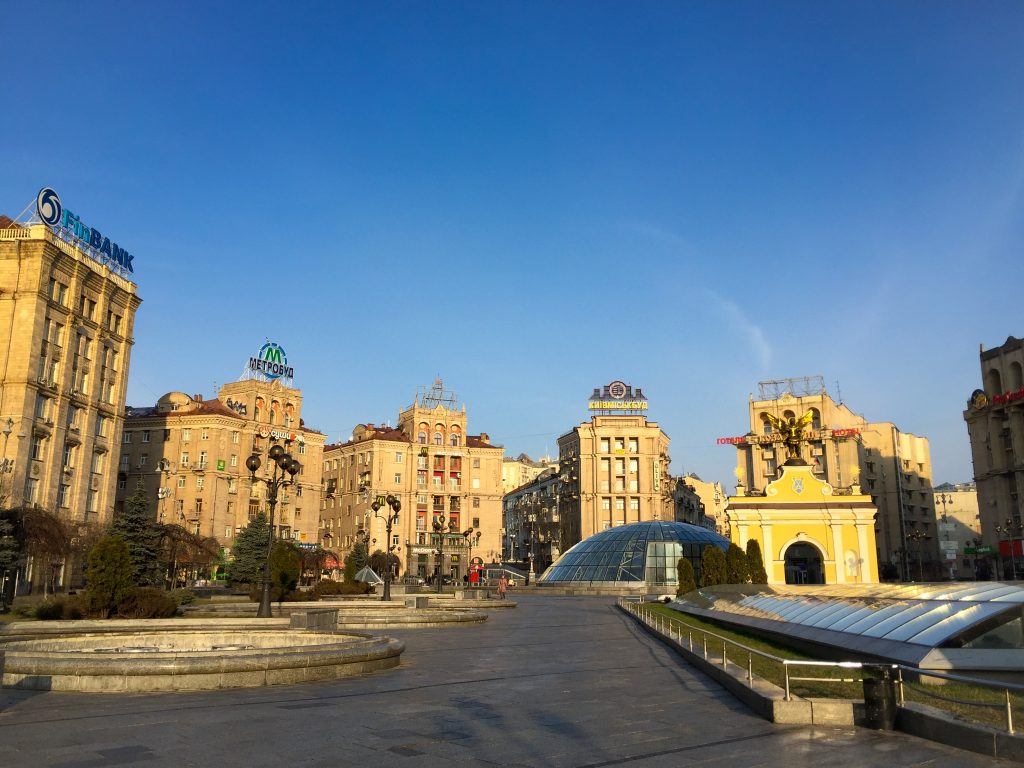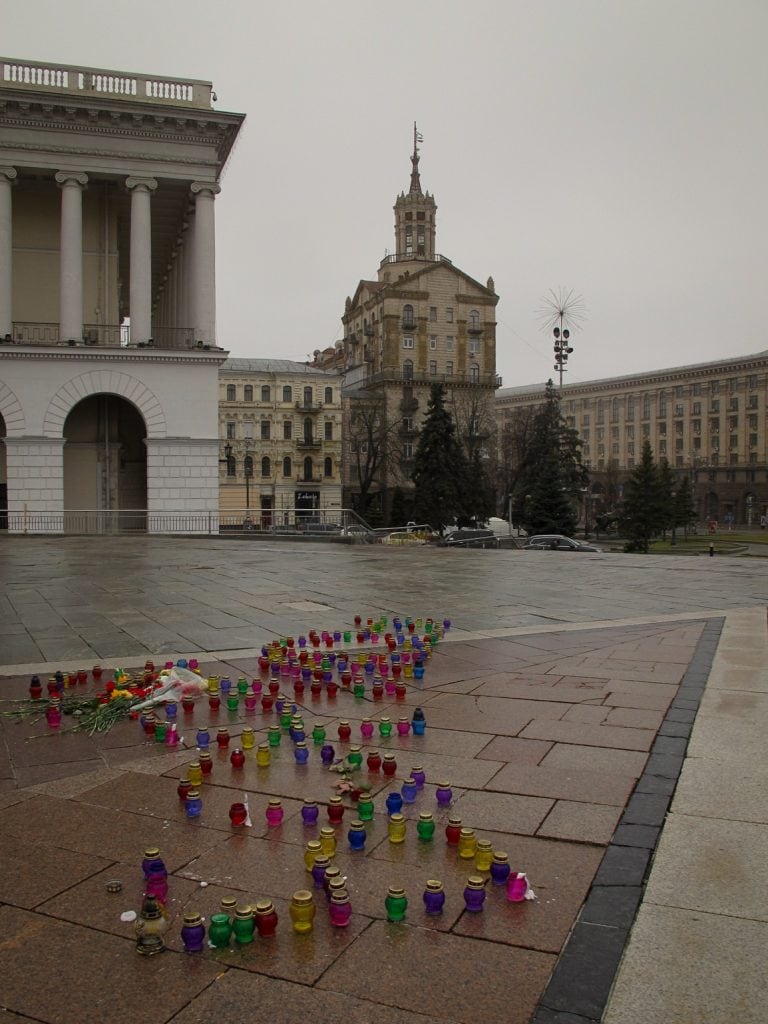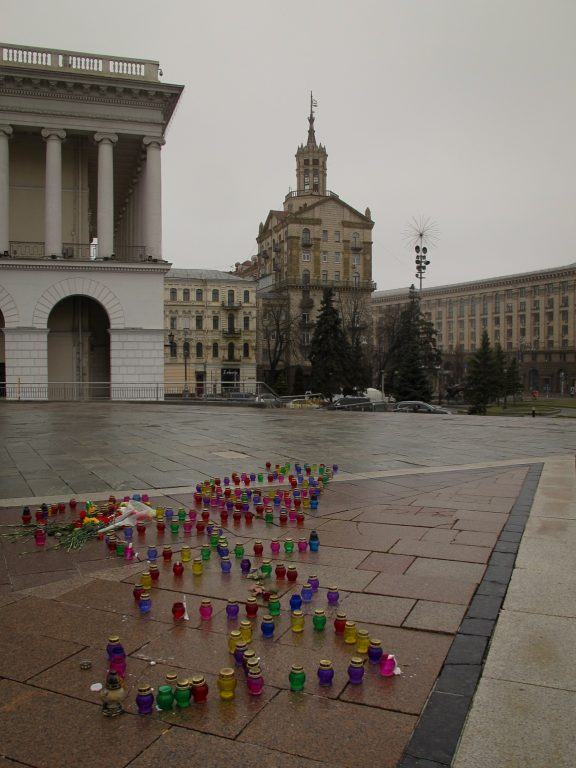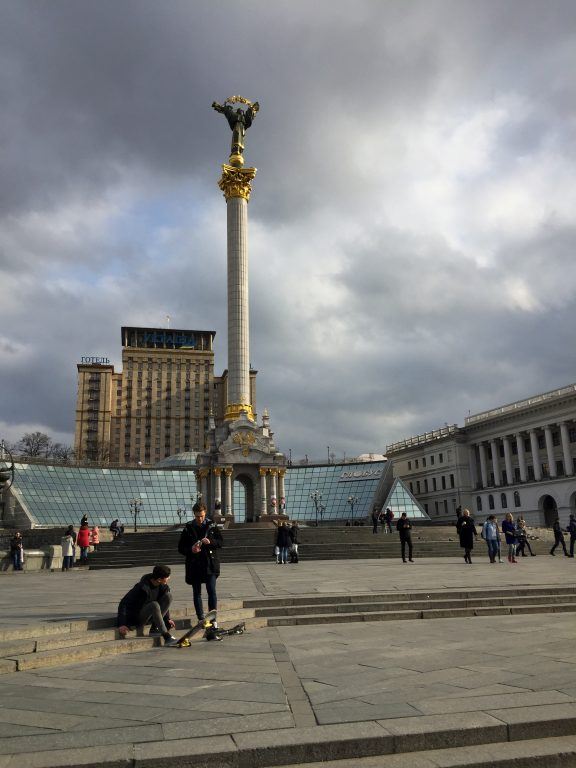 Maidan can be reached by foot or by taking the Metro to Maidan Nezalezhnosti (майдан Незалежності).
MARIYINSKY PARK
If you wander long enough in the city of Kiev, you will undoubtedly somehow end up in Mariyinsky Park. This vast park, like Maidan, predates Soviet times. But during the Soviet era, it became a very important part of the city. It is technically located in the Pechersk neighborhood of the city and is home to the Parliament and Constitution Square of Ukraine. During the Soviet times, it was a necropolis (large graveyard).
Okay, so a park is just a park, but when I was wandering through here doing a little dog-stalking, I stumbled upon this gem of an outdoor theater. I have tried and tried to find out more information about it, but nothing seems to pop up. It was winter, so naturally, no one aside from a snail coffee stand (only those who have been to Kiev will understand that) was in the vicinity of the theater.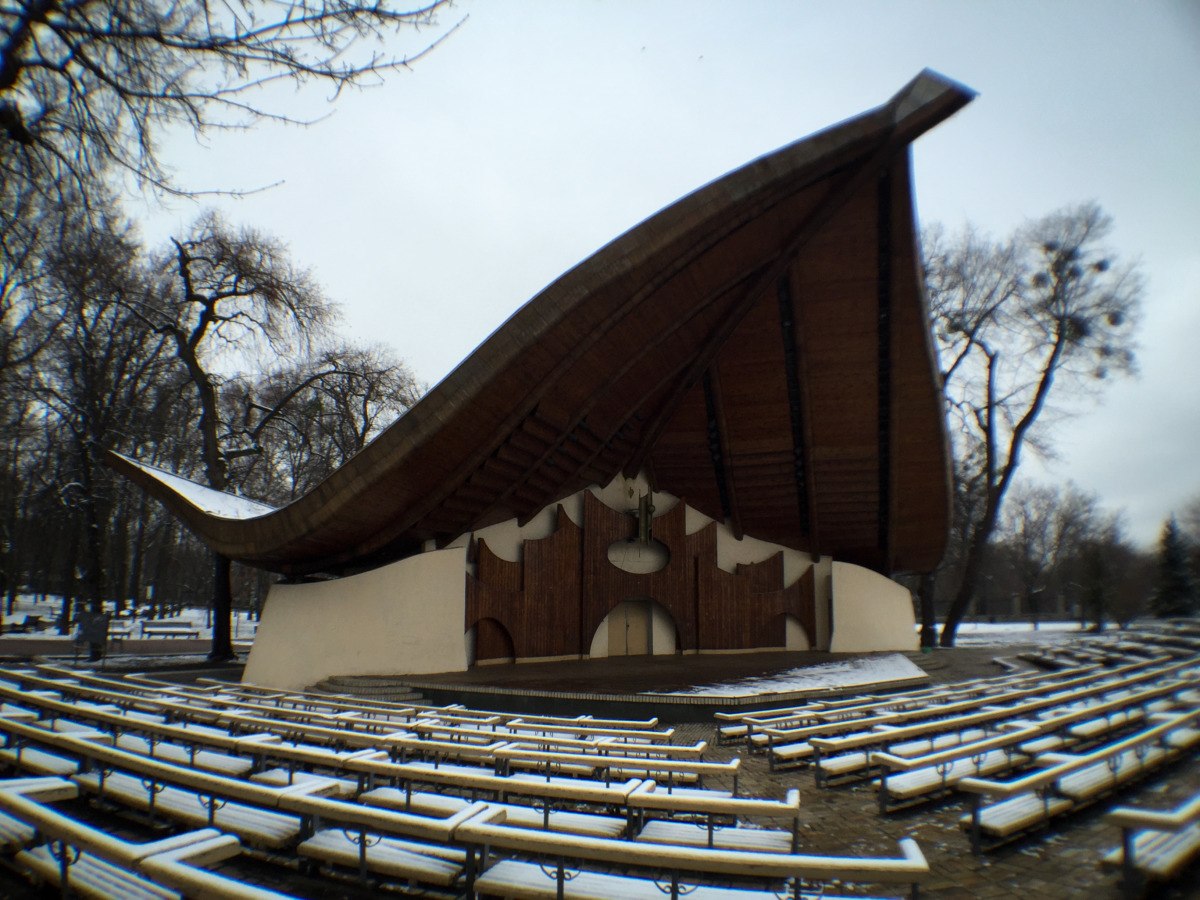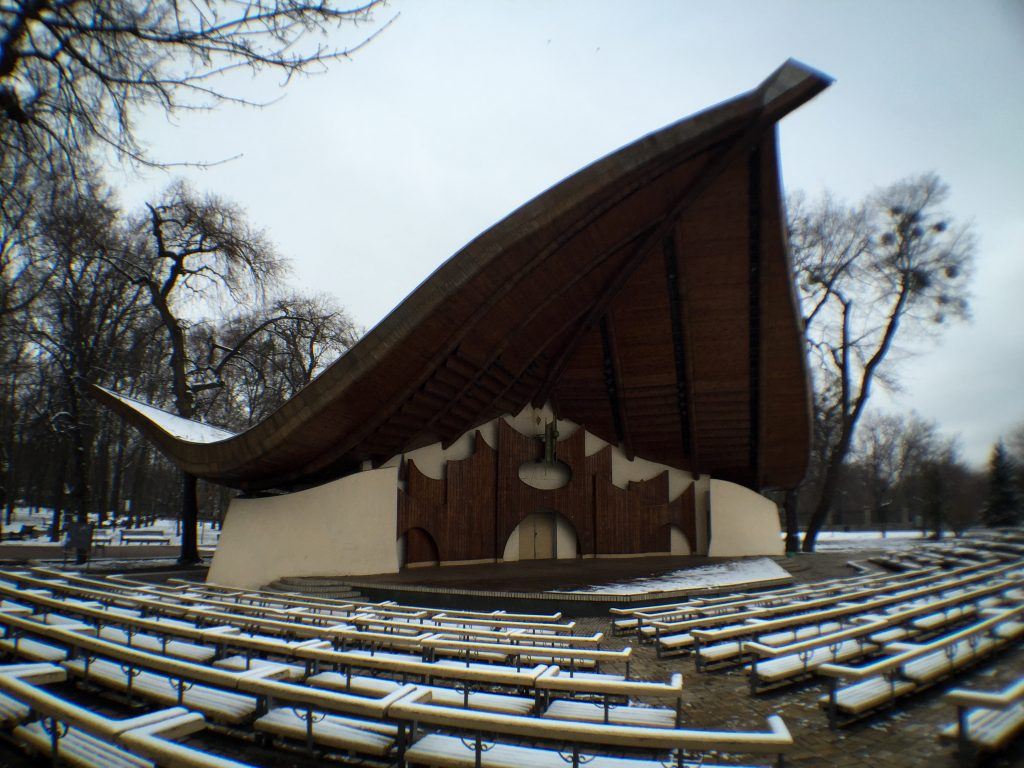 From the street side of the park, you will also see this building. No idea what it is, but since it said Kiev (Kyiv) on it, I found it quite striking.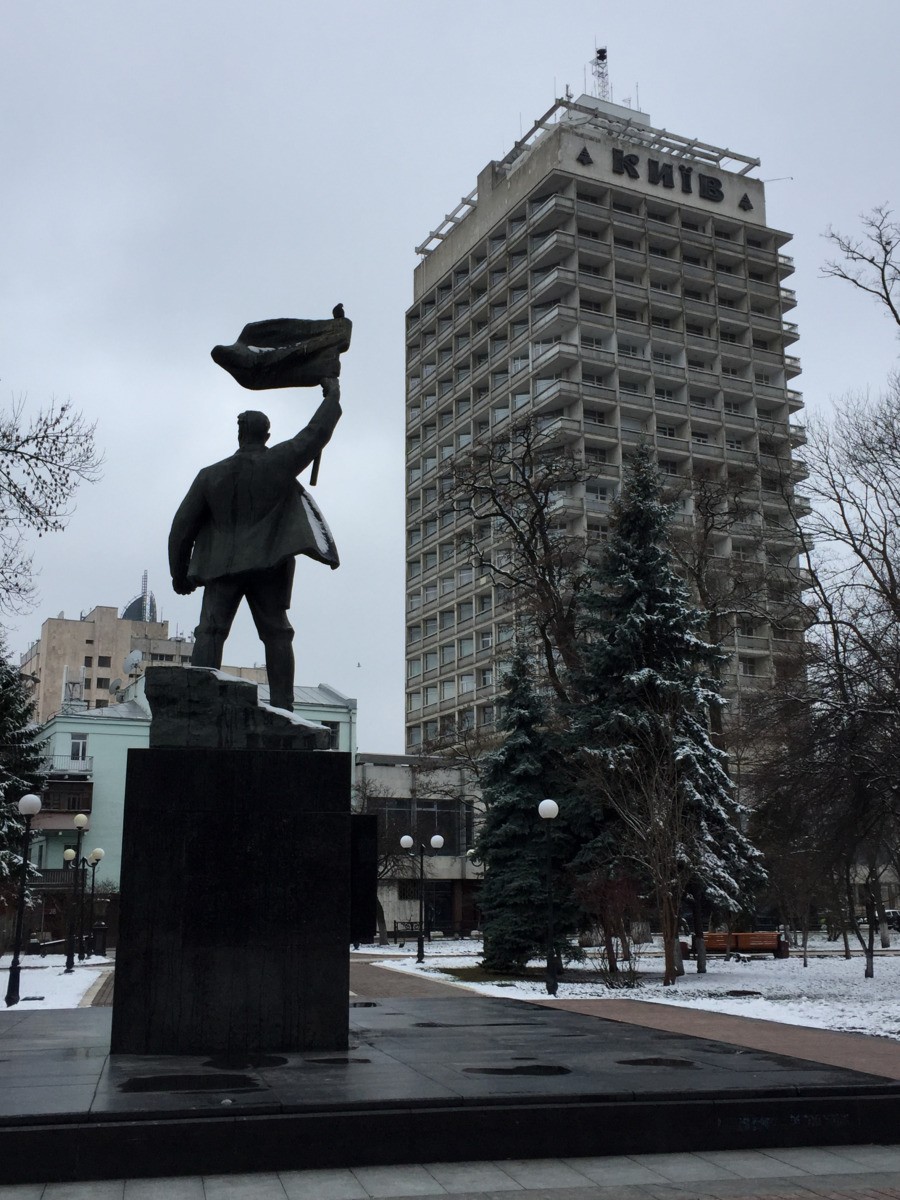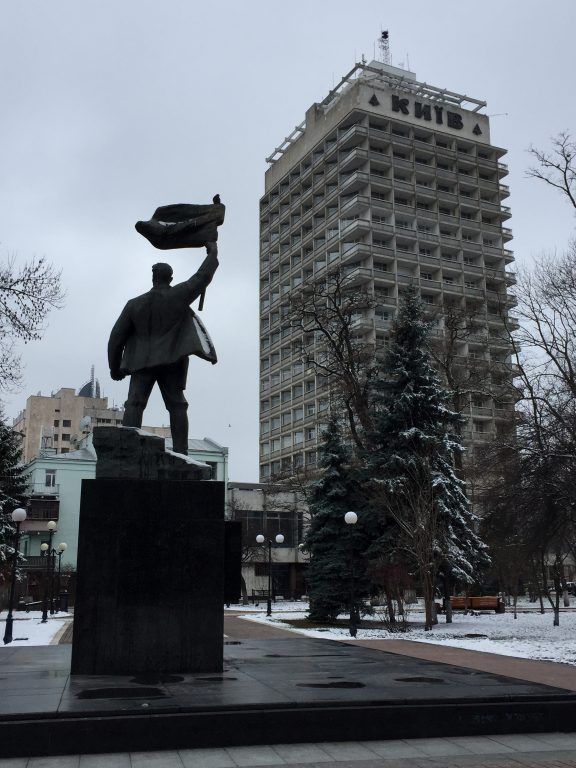 If you continue down this park on the riverside you will end up down by the Dynamo Kyiv football stadium. In summer, I imagine it is difficult to get a view of the place with the trees in full bloom, but in winter, you can get a satisfying view of it. I had previously watched a game there live in 2011, so it was nice to see it again all these years later. Dynamo Kyiv is currently playing their league games at the stunning and impressive National Sports Complex Olimpiyskiy, which was constructed for the 2012 Euros, but are set to move back to their old stadium in the future.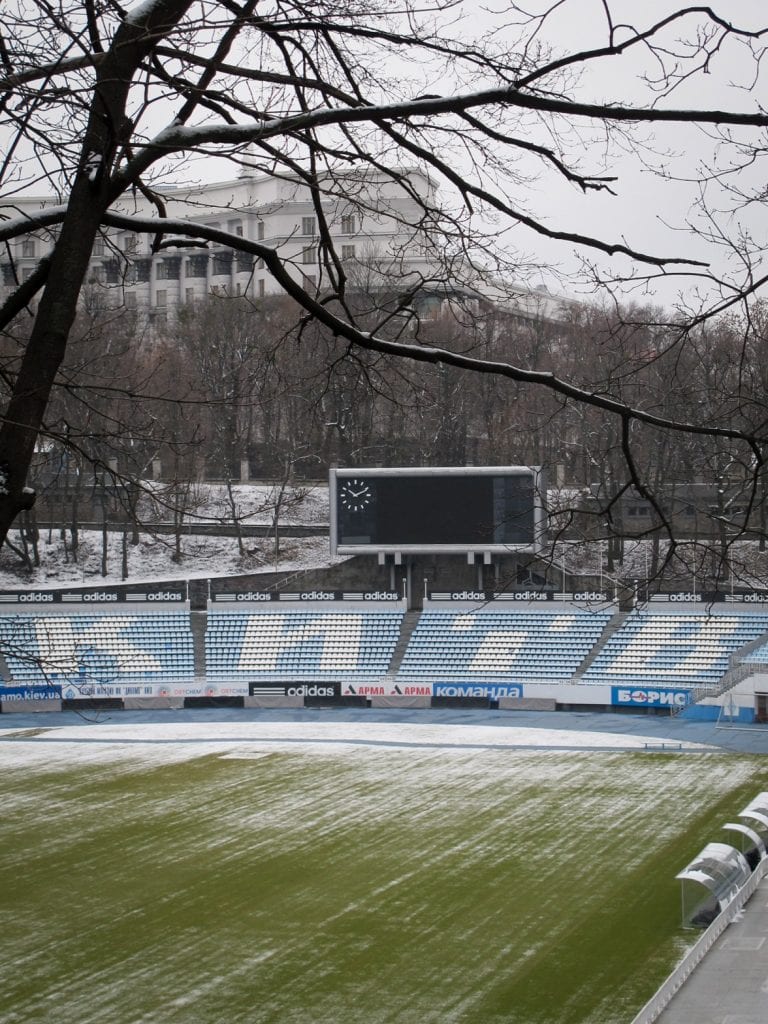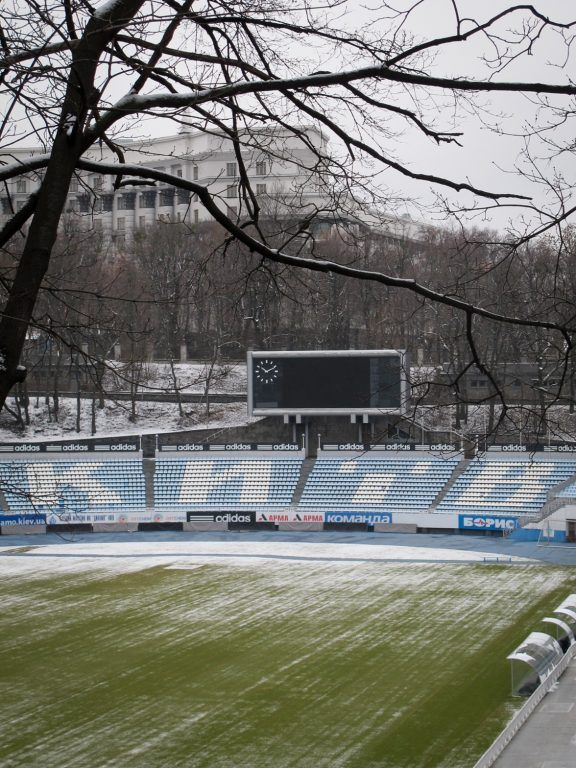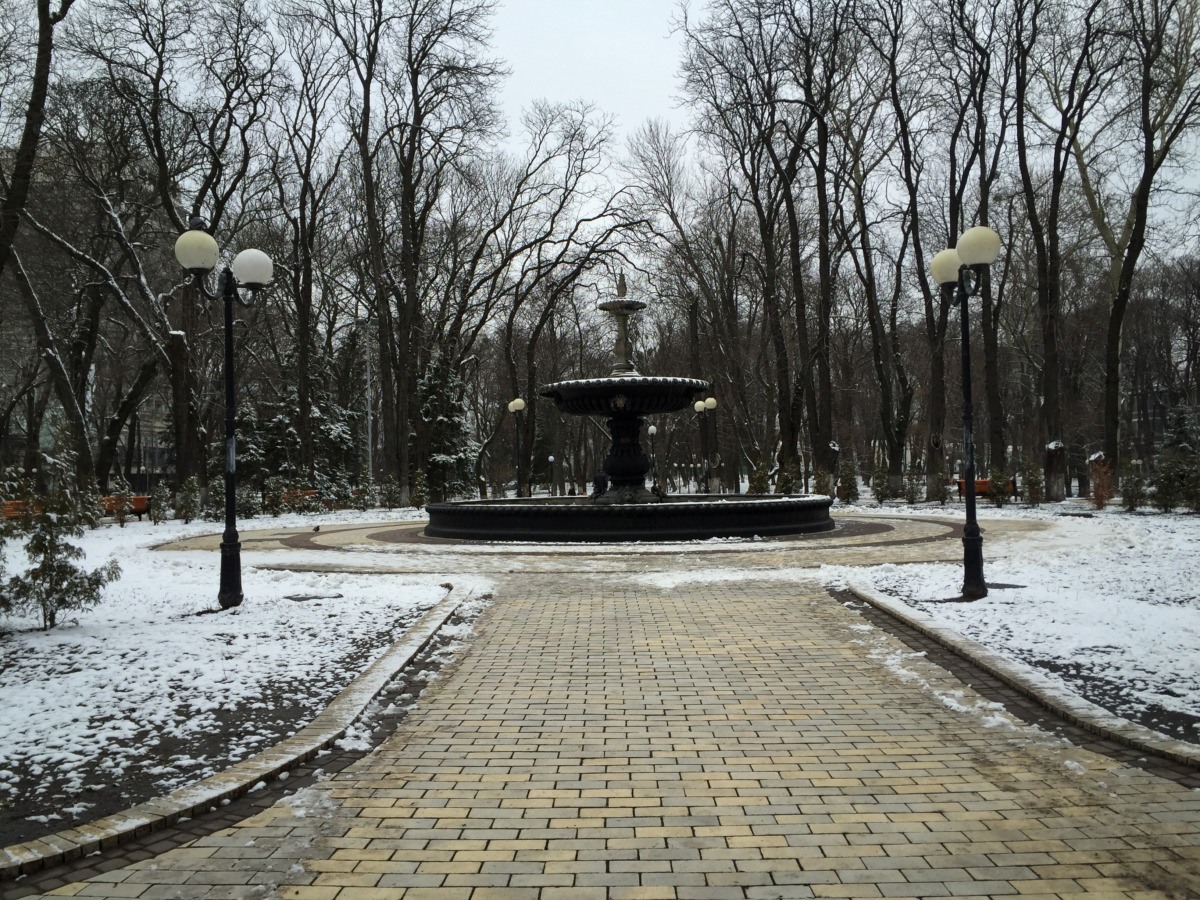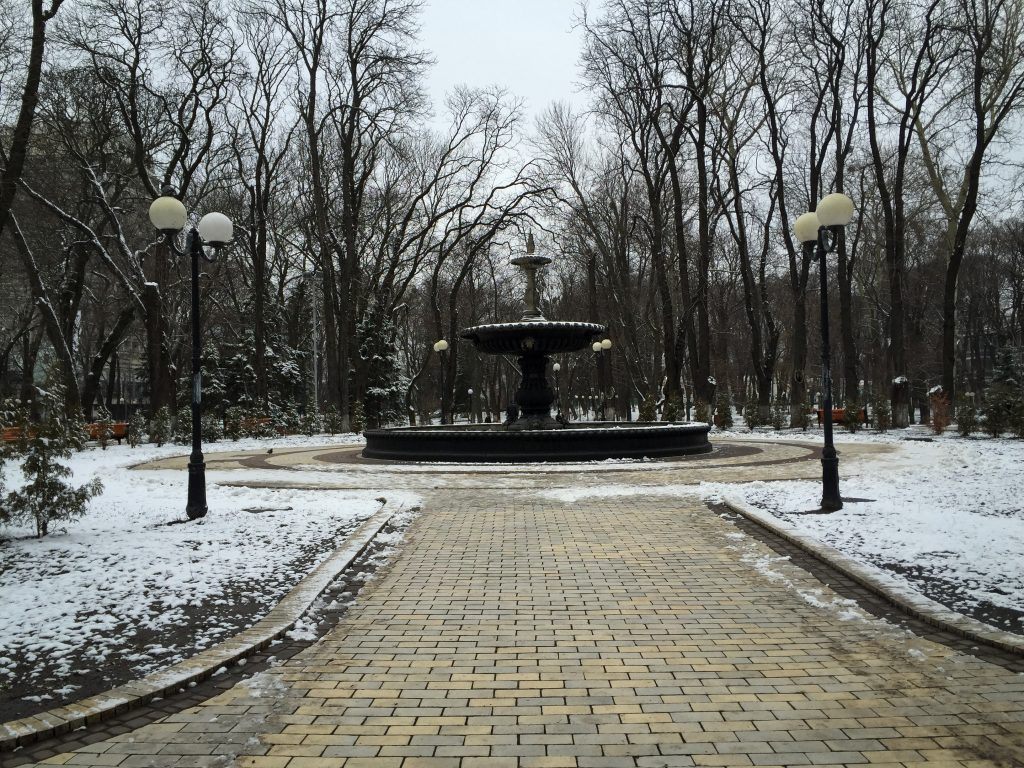 Mariyinsky Park can be reached by foot with a bit of a walk from either Maidan Nezalezhnosti (майдан Незалежності) or Arsenalna (Арсенальна).
UKRAINIAN HOUSE
This was formerly known as the Lenin Museum and was opened in 1982. It used to house memorabilia to Lenin but now is an international exhibition and convention center. It also played a pretty major role during Maidan.
It is not the most noteworthy of buildings, but chances are you will stumble upon this unknowingly while perusing the city as it is located close to Mariyinsky Park, the Dynamo Kyiv Stadium, and even close to Maidan itself.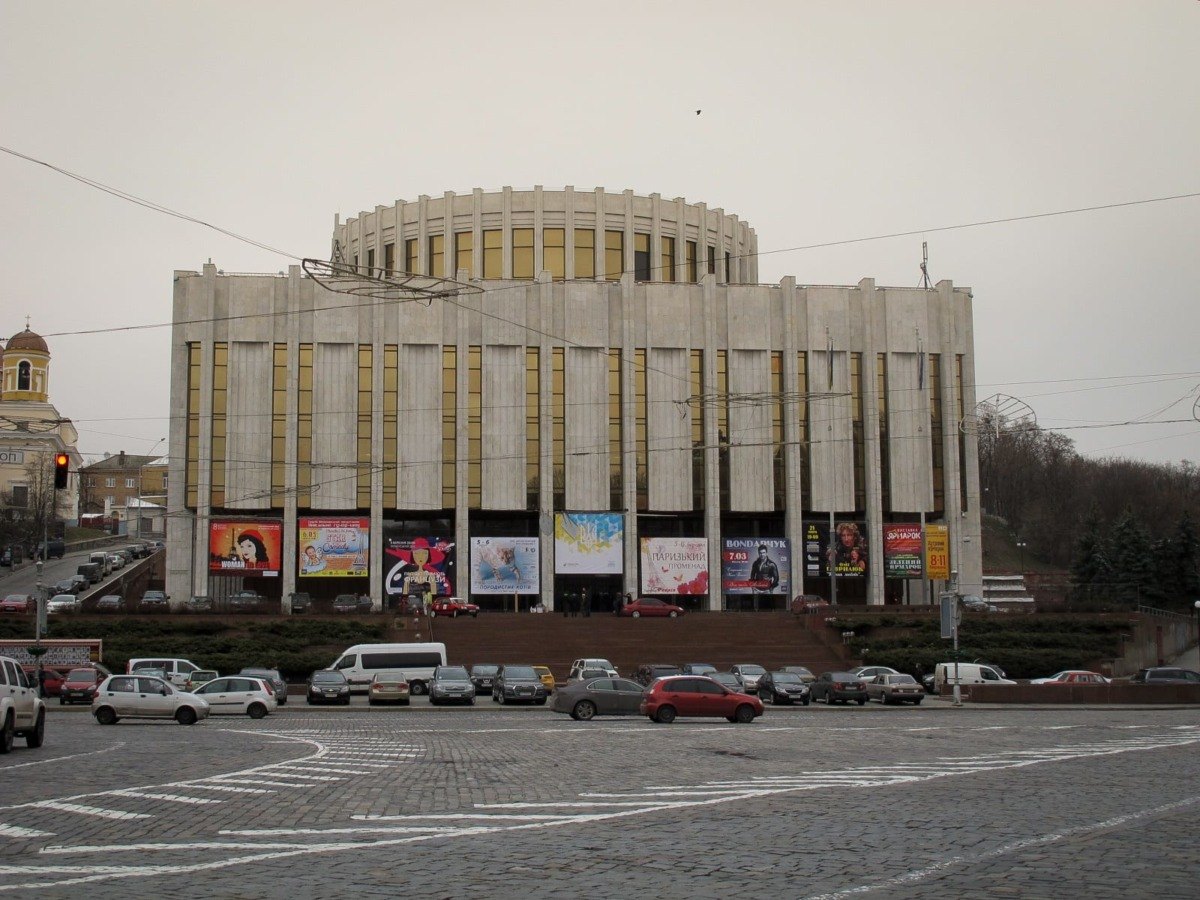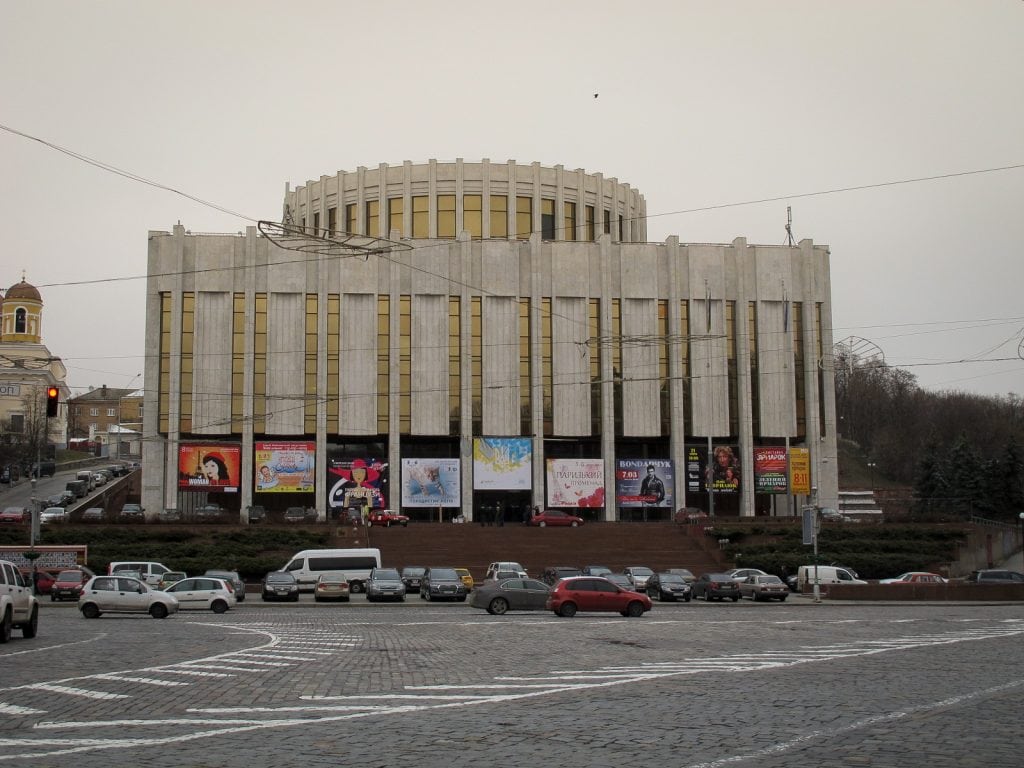 You can reach the Ukrainian House easiest by taking the Metro to Maidan Nezalezhnosti (майдан Незалежності).
ARSENALNA METRO STATION
Arsenalna station is the world's deepest metro station. It is located on Kiev's Sviatoshynsko-Brovarska Line and is a record 105.5 m (346 ft) deep. It opened in 1960 and is pretty amazing. I highly recommend heading here. It is not far out of the way and is actually the key metro station for many attractions around the city, including a few on this list.
On a side note, to ride the metro in Kiev, you will pay around $0.10 each time. It is a fast, efficient, and practical way to get around the city.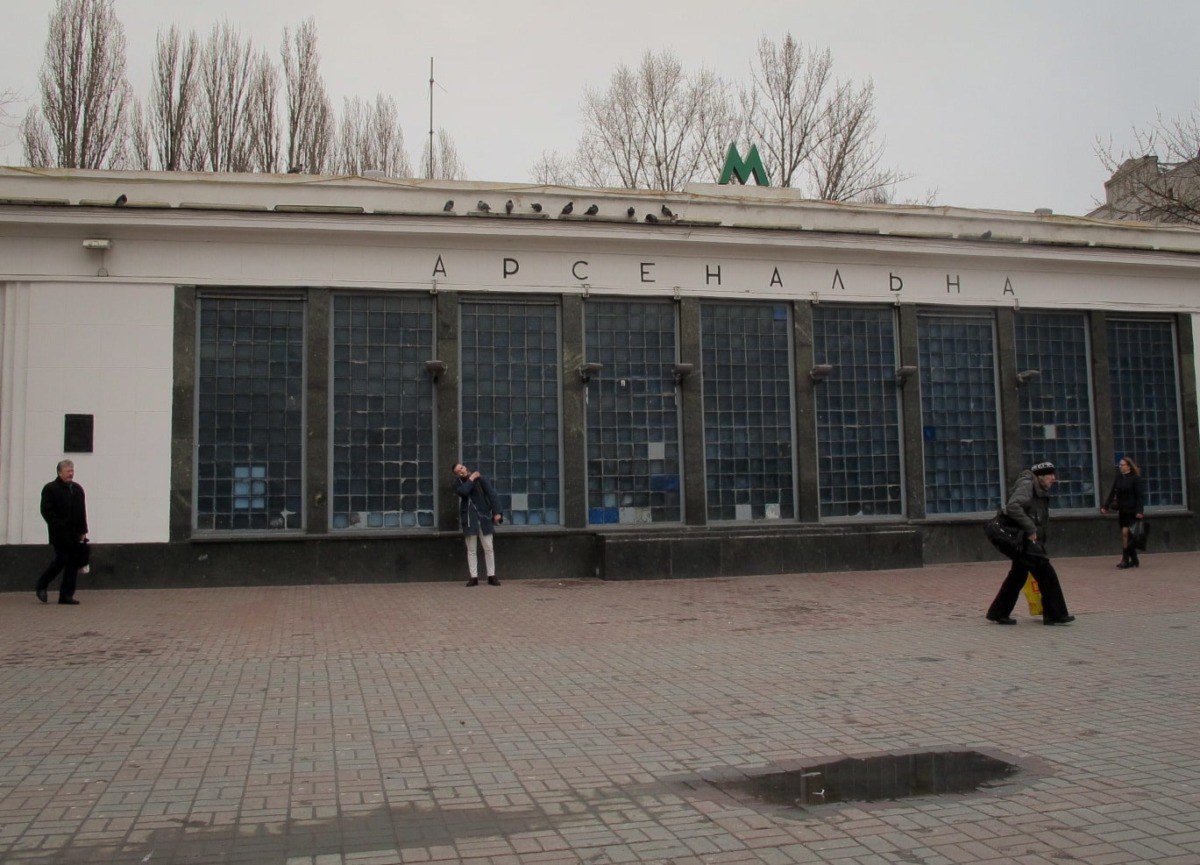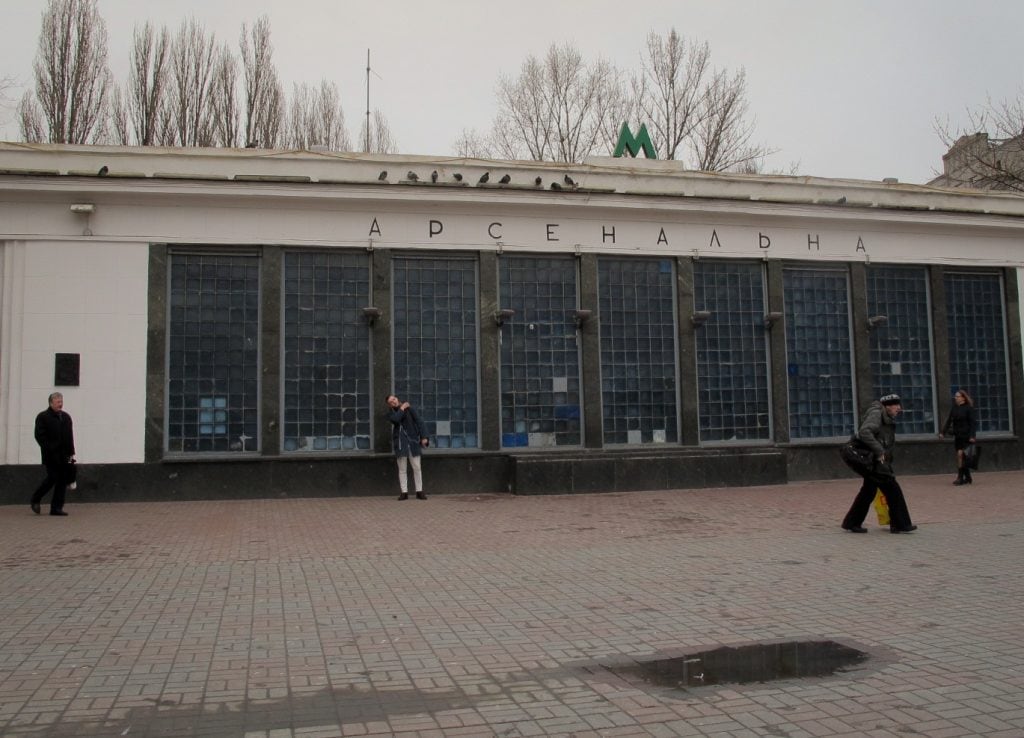 HOUSE OF FURNITURE
Kiev is huge. On my last day there, I set out to see this place and never made it. I literally walked and walked and walked, and I promise the House of Furniture just kept stubbornly backing up. I finally had to grab a taxi to the airport and never got to see it with my own eyes (hence the photo from elsewhere on the web). When I realized my flight to Dnipro was delayed by two hours, I wanted to cry and go back into the city. But I never did.
There is not much to say about this building except that it is a shop built in 1984 that sells furniture. Or maybe it is just a market. I don't know, but it does all this with having a badass roof, so that is all that matters to me. The photo below is genuinely the best photo I could find of the place. I hope one of you can head there and get some better pictures of it.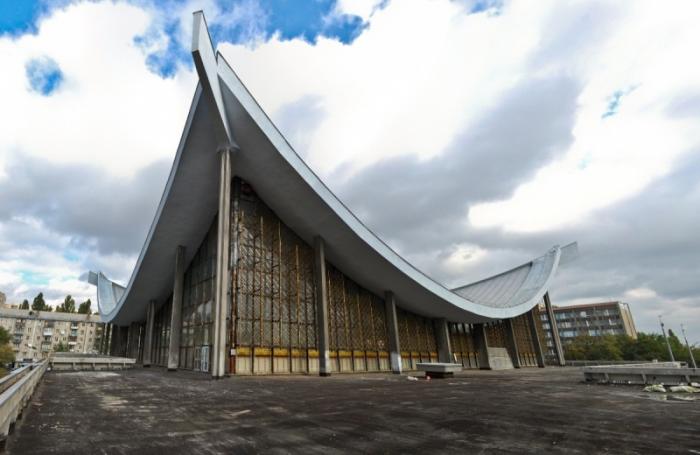 <photo courtesy of Wikimapia>
Despite my attempt at locating the House of Furniture by foot, you can actually take a Metro to a location extremely close to it called Druzhby Narodiv (Дружби народів).
PALACE OF WEDDINGS
There is not much one can say about this building except, in typical Soviet fashion, this is where weddings took place.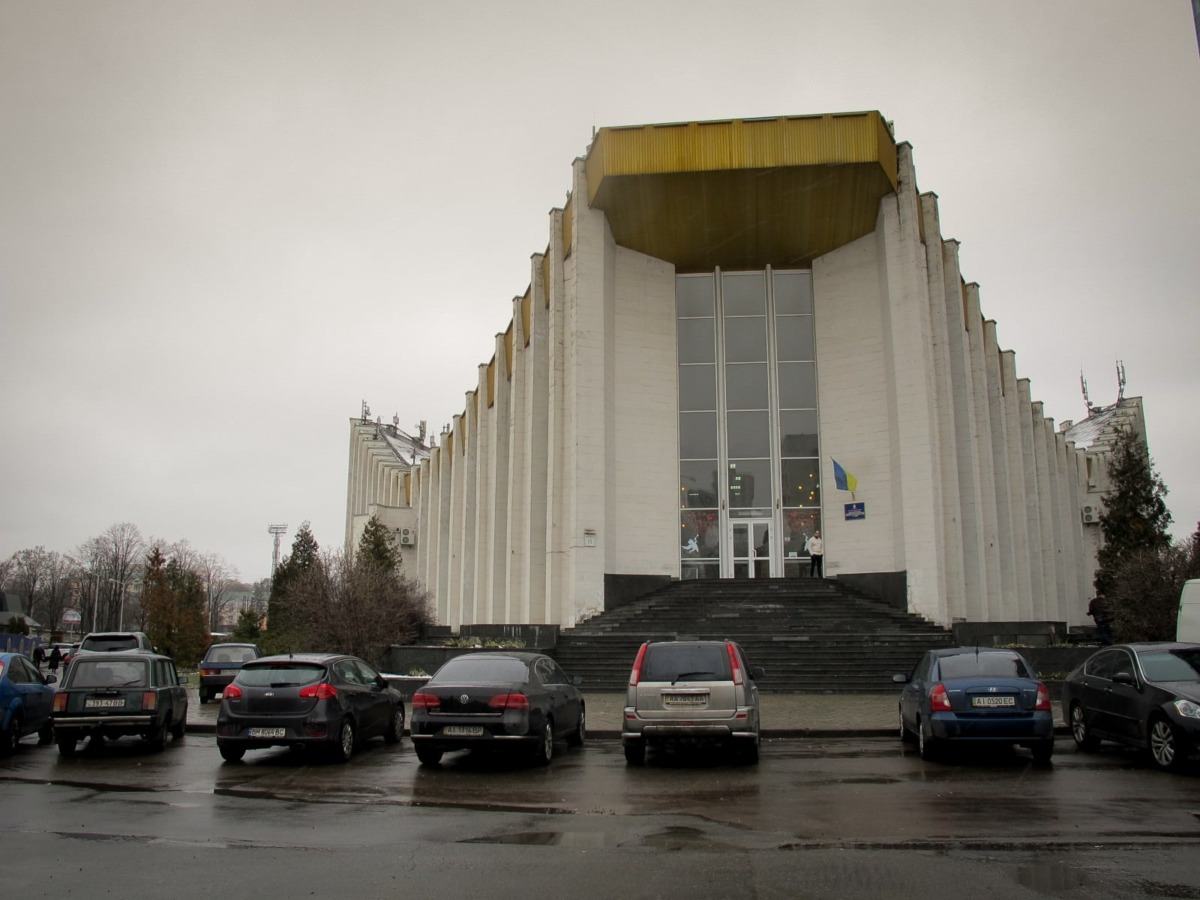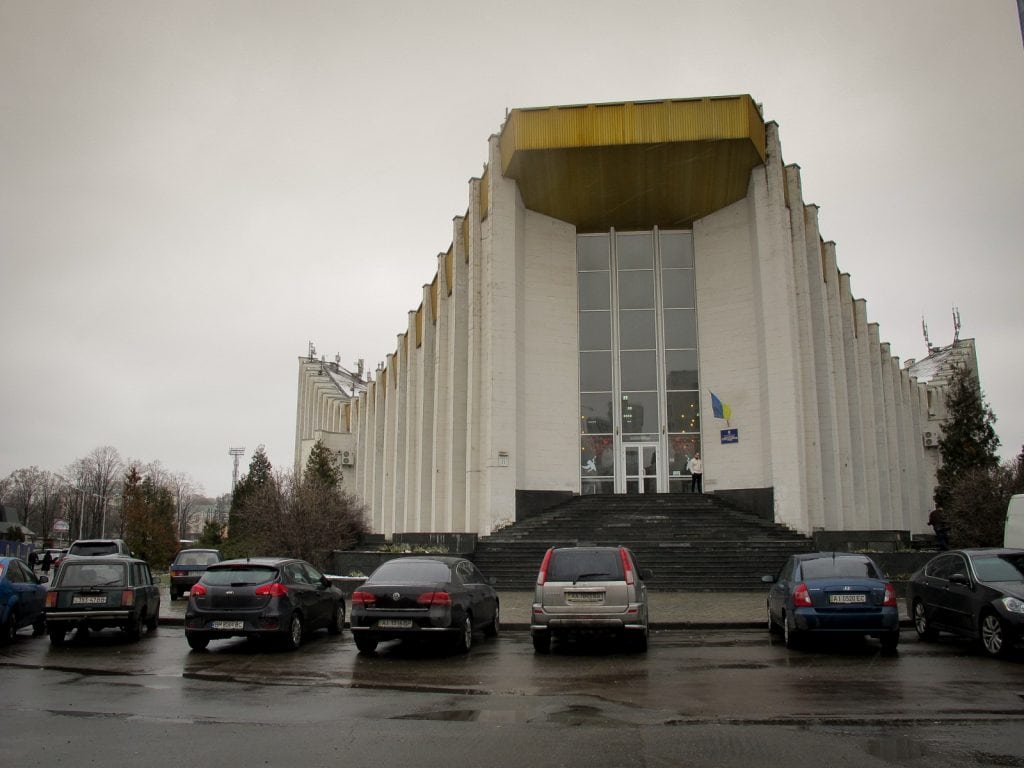 Located very close to the University and the Zoo, you can find the Palace of Weddings by taking the Metro to either University (Університет) or Shuliavska (Шулявська) and walking a bit up or down (depending which Metro station you get off at) Peremohy Avenue.
KIEV CREMATORIUM
The Kiev Crematorium is, hands down, one of the oddest and most obscure structures I have ever seen with my own eyes. You can't find too many photos from varying sources online about the monstrosity, but photos don't even do it justice. It is huge. And odd. And ugly in the most beautiful of ways.
You can find out a bit of interesting information about the crematorium from this page on Socialist Modernism, but I don't want to violate any of their copyright policies by posting it here. Socialist Modernism is one of the best websites for background and information about similar structures throughout the east.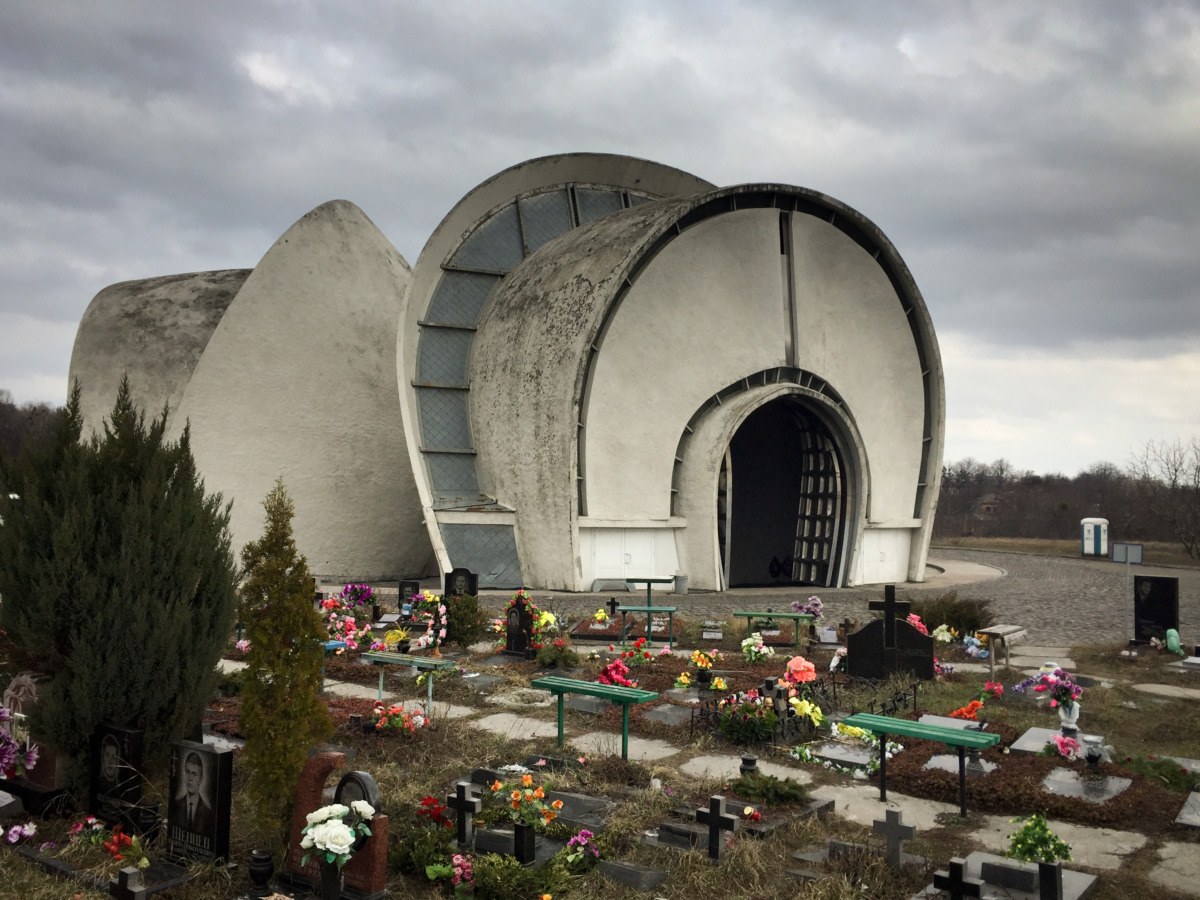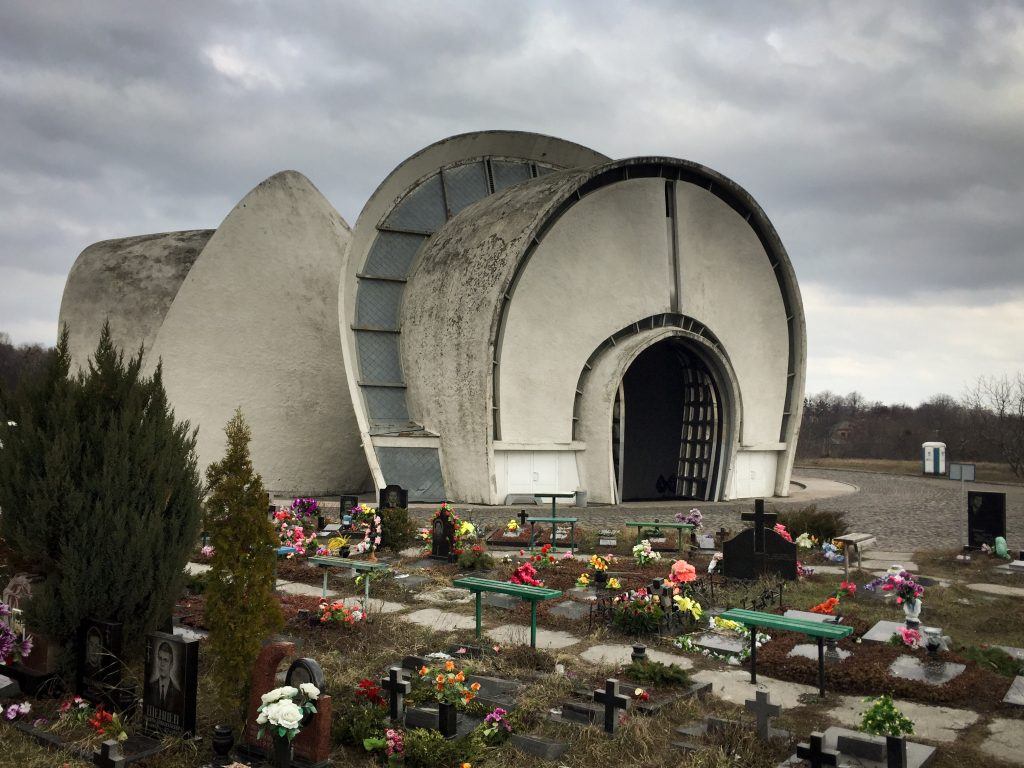 From personal experience, this place is a difficult one to photograph or visit. It is located in a semi-open area where families are gathering for funerals and memorials. After all, a crematorium does just that- cremate bodies. Since it is in a graveyard, you can definitely wander about and no one thinks anything strange about it, but just try to be respectful at all times. The person I was with was not very comfortable being there and I may have crossed a line by convincing him to accompany me. I don't know. I didn't take many photos out of respect as there was a family gathering around the crematorium at the time.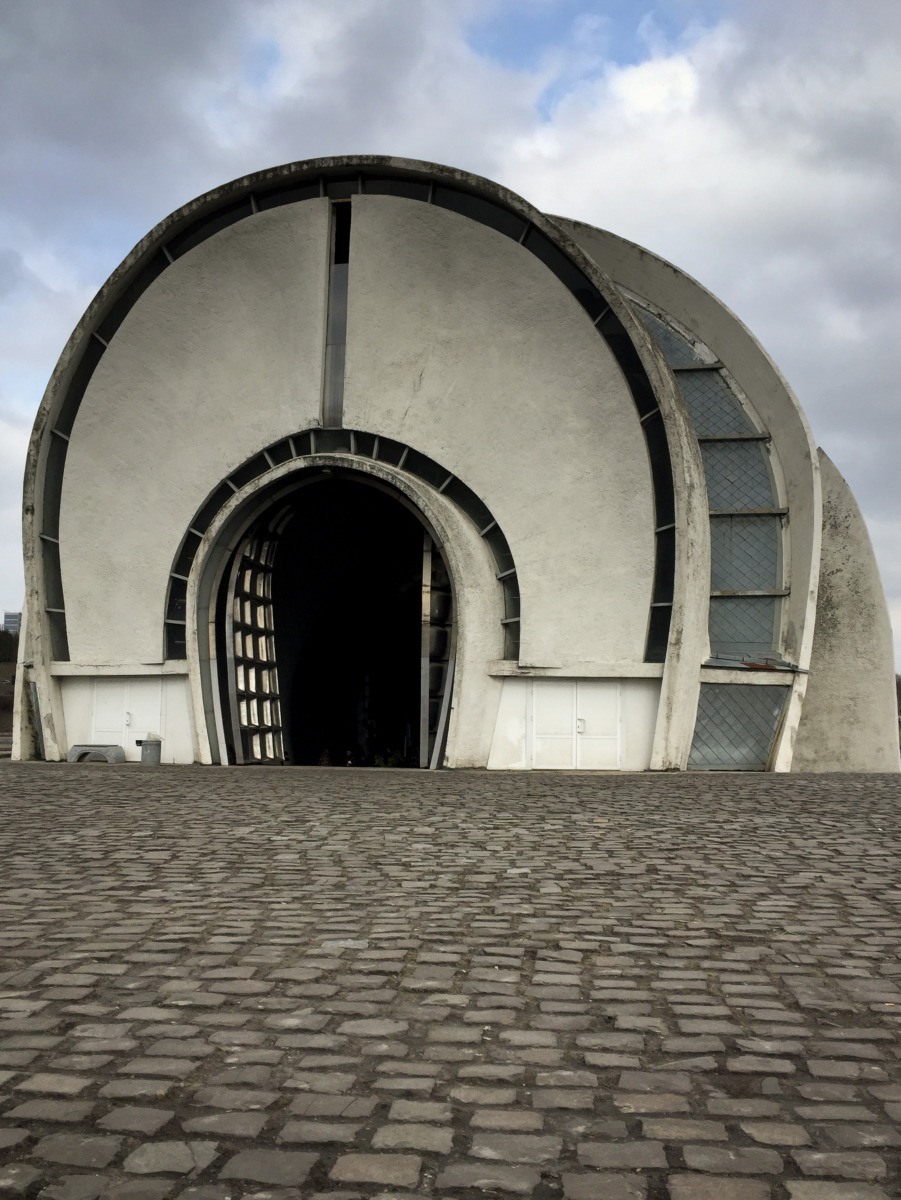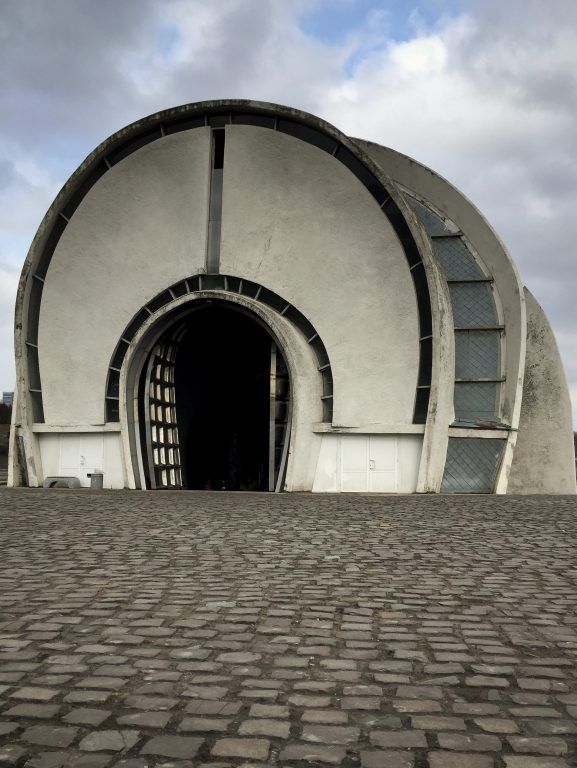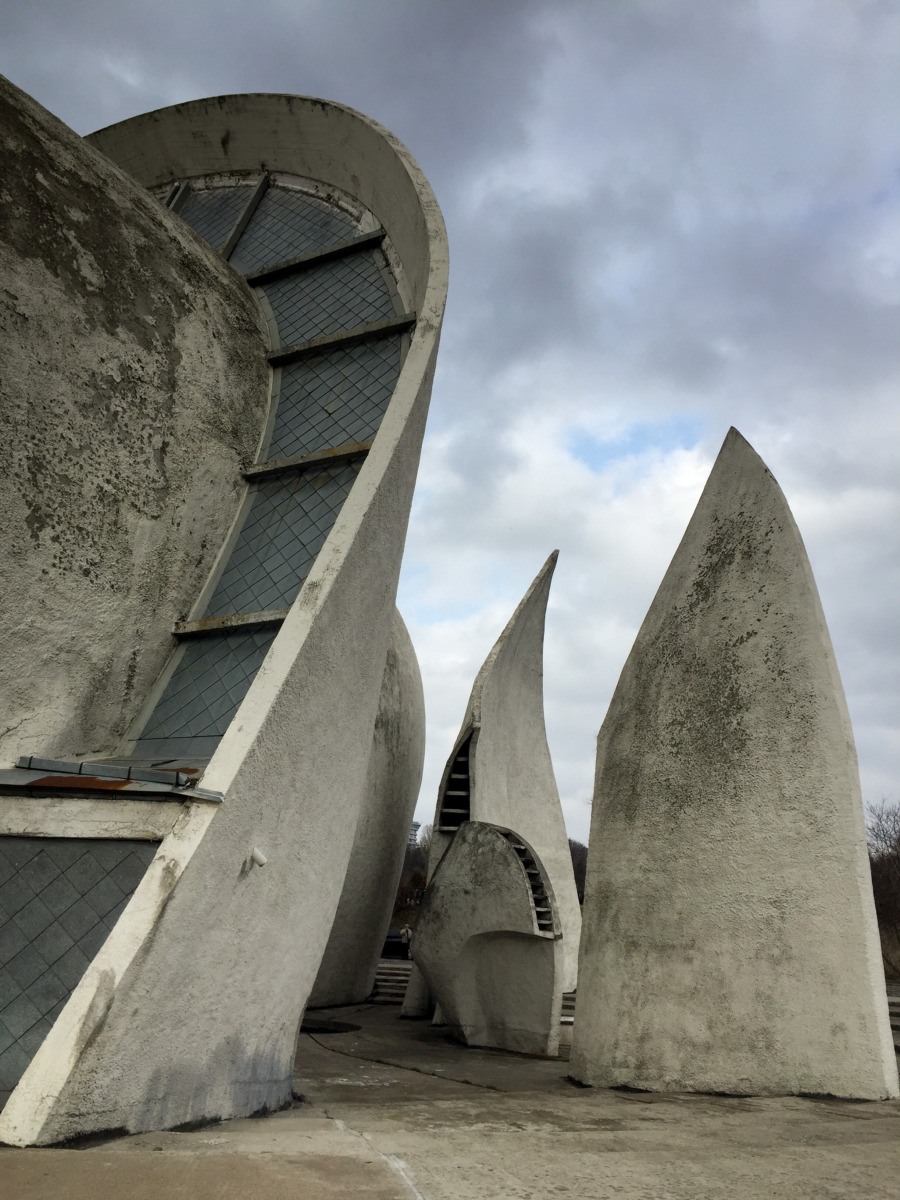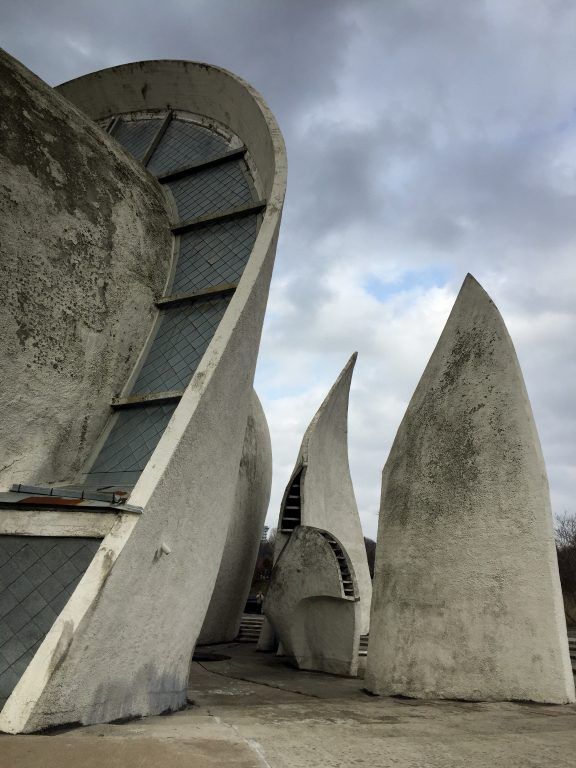 You can find the Kiev Crematorium on the backside of the Baikove Cemetery in the Memory Park. It is quite the walk up the hill to get there. Fortunately, there is a bar on the left-hand side where you can stop and grab a beer before continuing on your journey. I arrived there via Metro station Lybidska (Либідська) beside the extensive Ocean Plaza shopping mall, but you can also reach it by getting off at Palats "Ukraina" (Палац "Україна").
You will have a good 45-minute walk from where I was, if not more. Make sure to have Google maps operating or you may get lost! If you pass over a dirty river and then walk up a hill through a street surrounded by graveyards with red brick on both sides, you're going in the right direction!
THE INSTITUTE OF INFORMATION
This is a rather known building for Soviet architecture lovers. Built in 1971, it is located nearly right beside Ocean Plaza Mall. You can't miss it when you are in the area.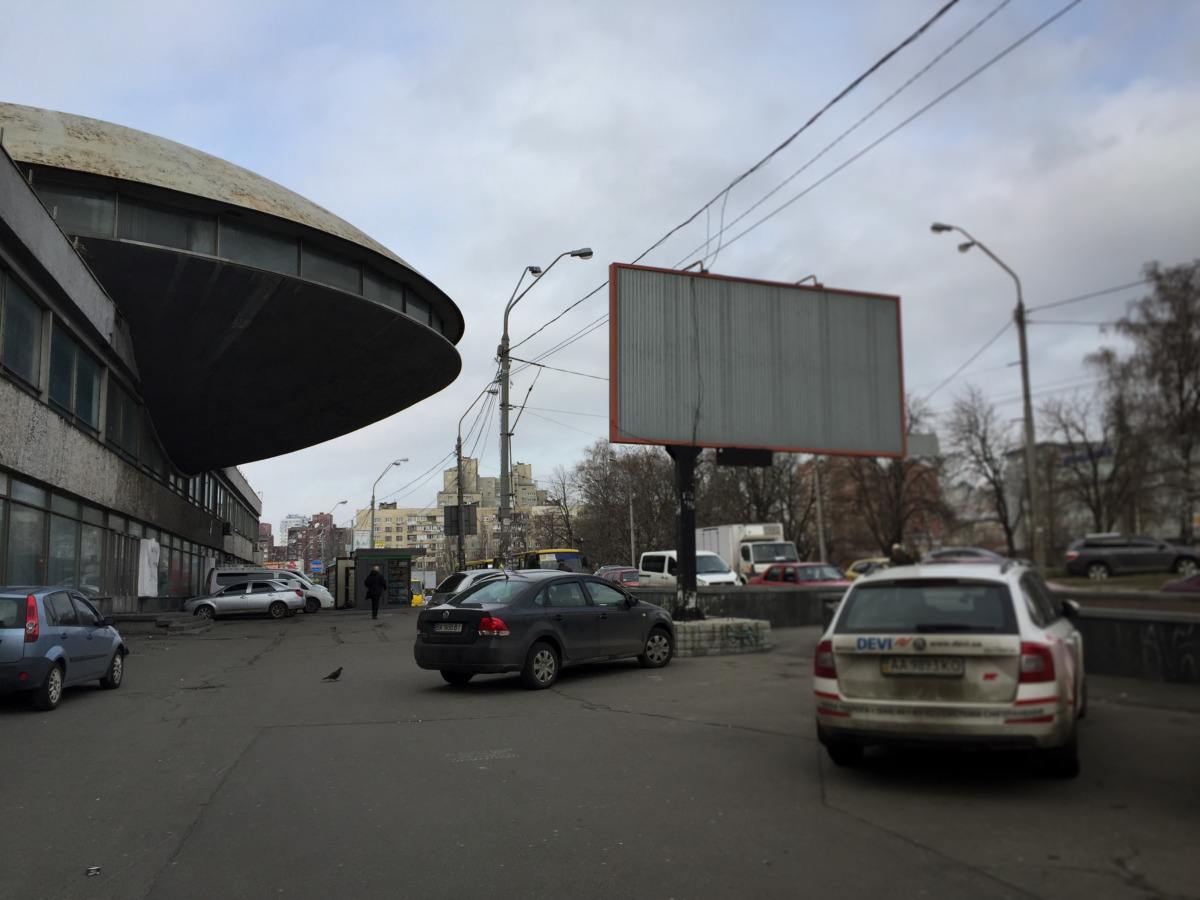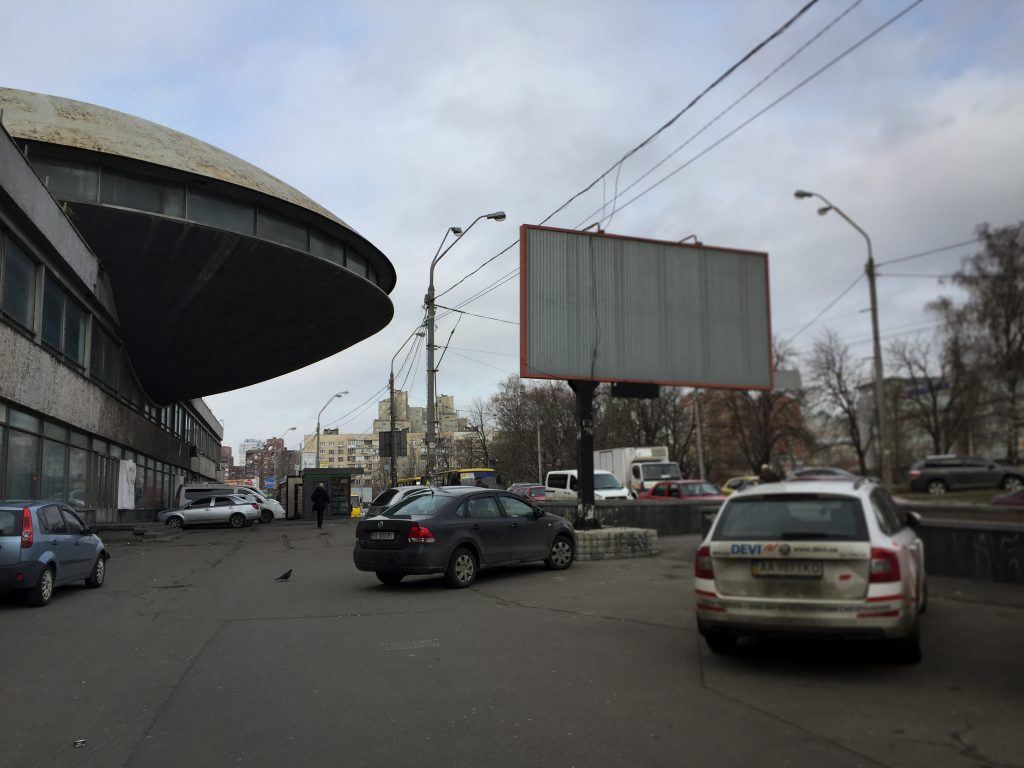 The Institute of Information can be reached by taking the Metro to Lybidska (Либідська).
PIONEERS PALACE
The Soviets loved a good Pioneers Palace. It is, more or less, a culture center for children and many Soviet cities have them. I, unfortunately, did not make it to the one in Kiev as it is situated a little far outside of the city, but if you're interested in visiting it, you can catch a taxi there or find out which bus will drop you off at Energetyk bus stop (Енергетик).
KIEV SHOOTING CLUB
Although not a proper Communist-era architectural monument, a shooting experience with the original Kalashnikov rifle is a quintessentially Soviet experience.
The actual shooting range is located 45 minutes driving time from central Kiev and on the way there, you will several Soviet-style apartment blocks on the left-bank of Dnieper river.
At the outdoor Kiev shooting range, you will get to fire 20 shots with the AK-47 Kalashnikov assault rifle and 5 shots with the SVD Dragunov sniper rifle. Both served the Soviet Army through the Cold-war years until the 21st century.
This is a Soviet experience more than an architectural masterpiece, but it adds to the experience when visiting Kiev!
KIEV CIRCUS
I have passed this building numerous times and never seemed to get a solid photo of it as I was always on the wrong side of the road. It is not the greatest circus building of the post-Soviet countries, but it is worth a quick look at. It was built in 1961 and the Kiev Circus has now become the national circus of Ukraine. It boasts one of the largest dome roofs in all of Kiev, but in order to get a proper photo of it, you definitely need to be across the street from it.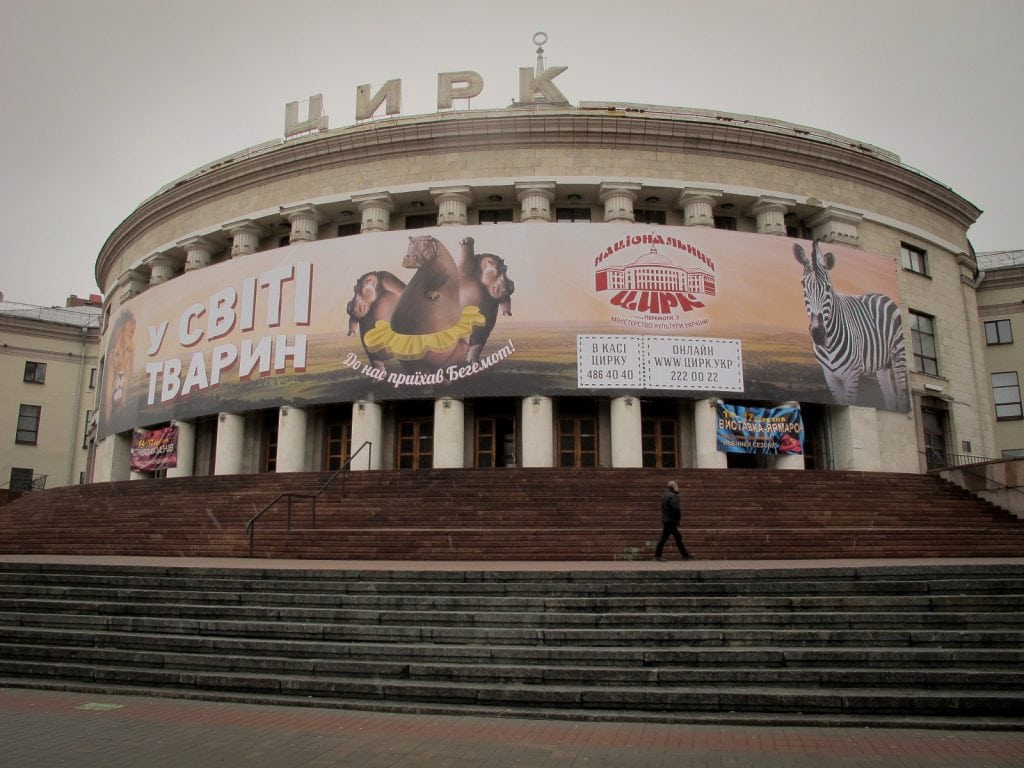 You can find the Kiev Circus close to the Metro station University (Університет).
EXPOCENTER OF UKRAINE
I didn't even attempt going to the Expocenter of Ukraine, but if I had more time, I would have ventured out that way a bit. It is located outside of the main city center and can be easily found by taking the Metro to Vystavkovyi Tsentr (Виставковий центр).
FRIENDSHIP OF NATIONS ARCH
This ginormous arch was a symbol of friendship between Russia and Ukraine and debuted in 1982. From this area, you're surrounded by greenery and some killer views of the city. When I was there, Ukrainians had marked their territory by using some blue and yellow spray paint around the arch.
On May 20, 2016, the Ukrainian Minister of Culture, Yevhen Nyshchuk, has pledged to dismantle the arch in the very near future as part of the decommunization of Ukraine. It will eventually be replaced by a memorial to soldiers who fought and are still fighting in the Russia-Ukraine War.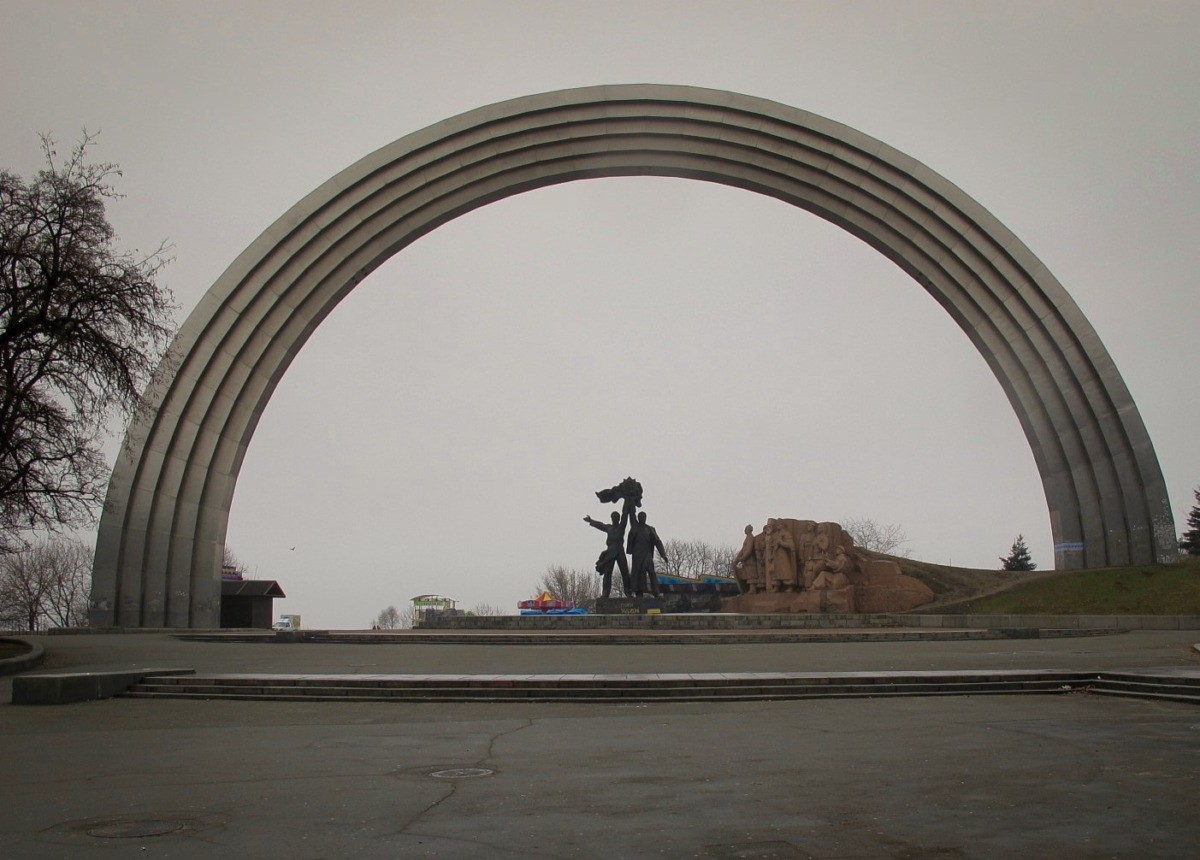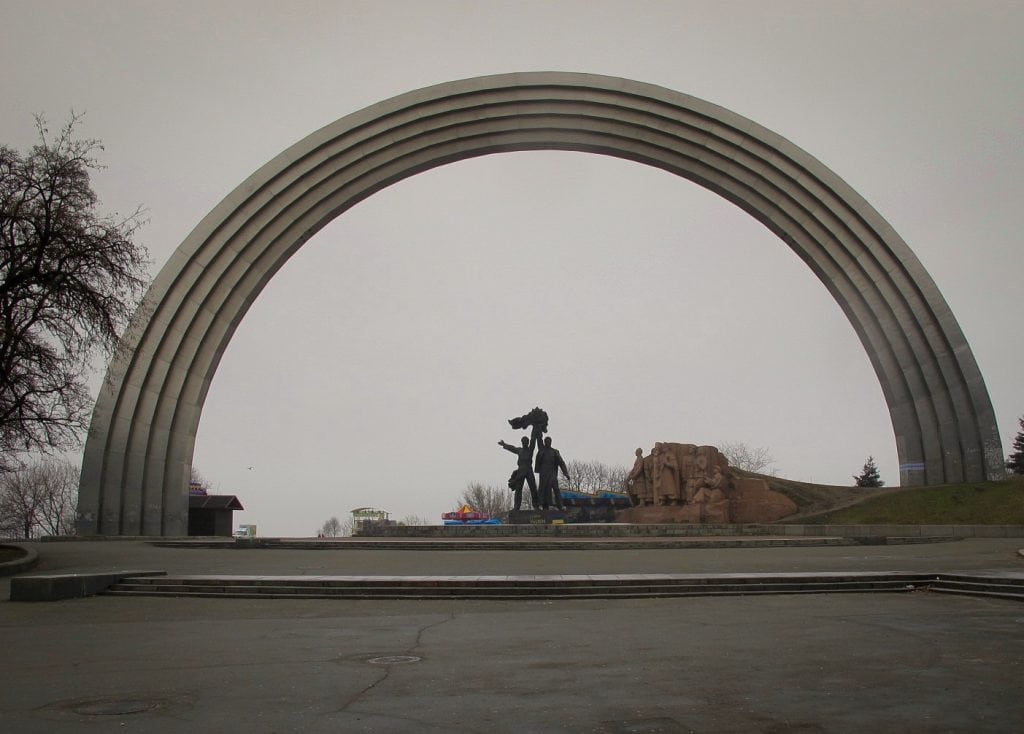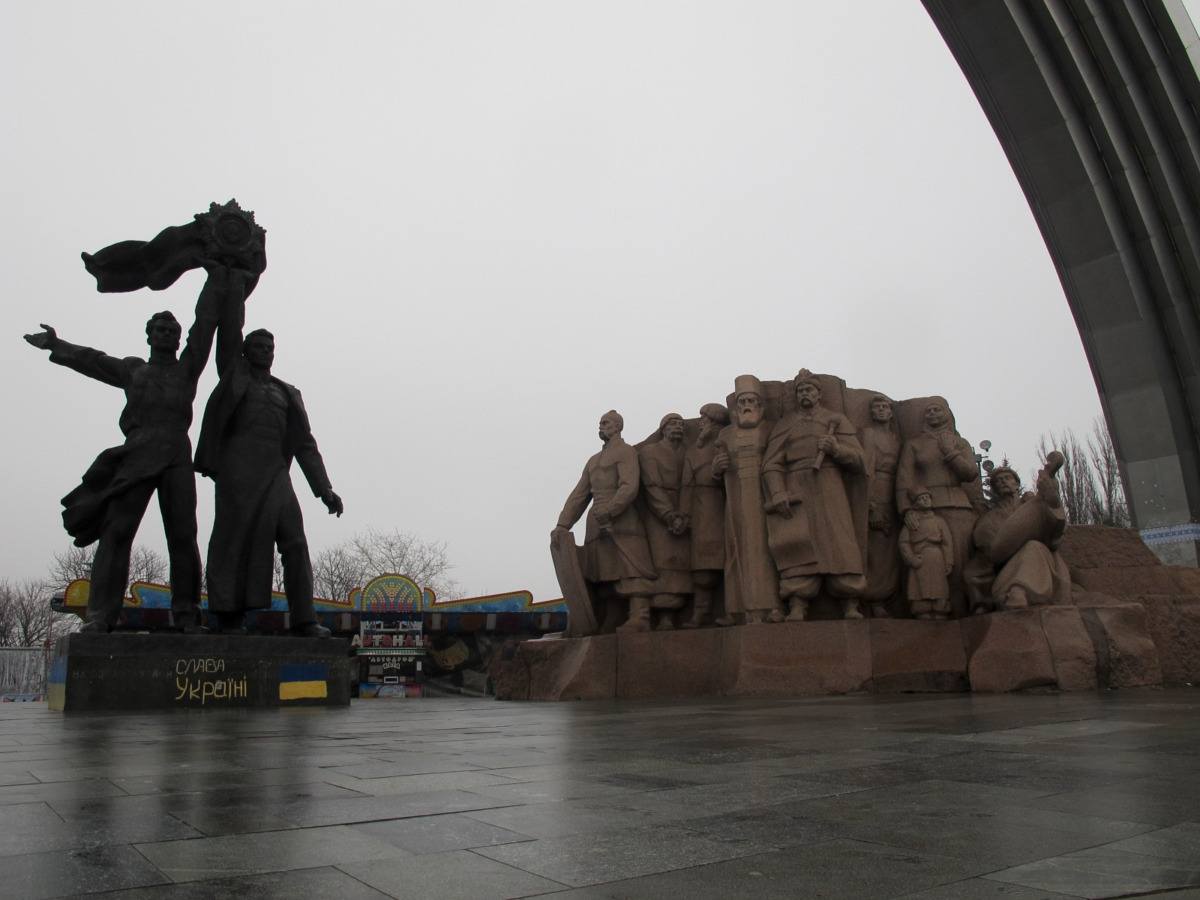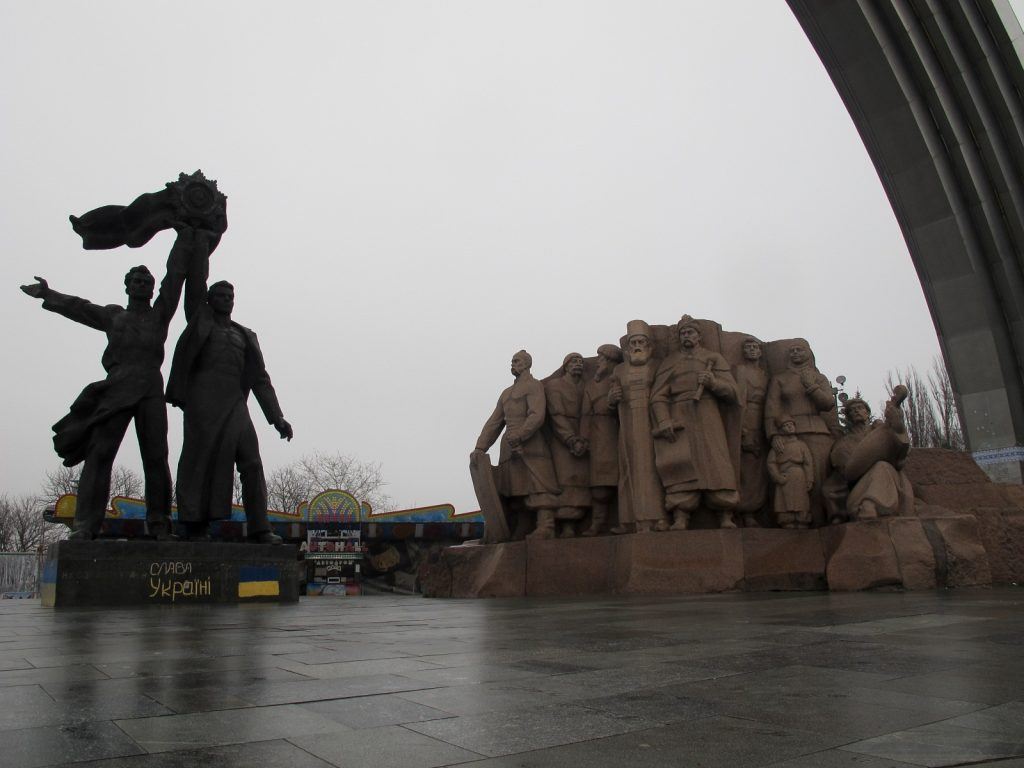 Go see it while it still stands! You can reach the Friendship of Nations Arch by taking the Metro to Poshtova Ploshcha (Поштова площа). By taking the Metro there, you will face a pretty steep uphill climb. But you can easily just walk there from Maidan and it is pretty straightforward the entire way.
HOTEL SALYUT
Hotel Salyut is a well-recognized hotel located in the center of Kiev, in close proximity to the Genocide Memorial and the Monument to the Unknown Soldier. It was constructed in 1984 by Abraham Miletsky (the same guy who constructed the Crematorium in Kiev) and still stands open for visitors today. I was tempted to head inside for a drink or two but opted against it as I had Uzbek food on my mind and I was determined to get to Karavan fast.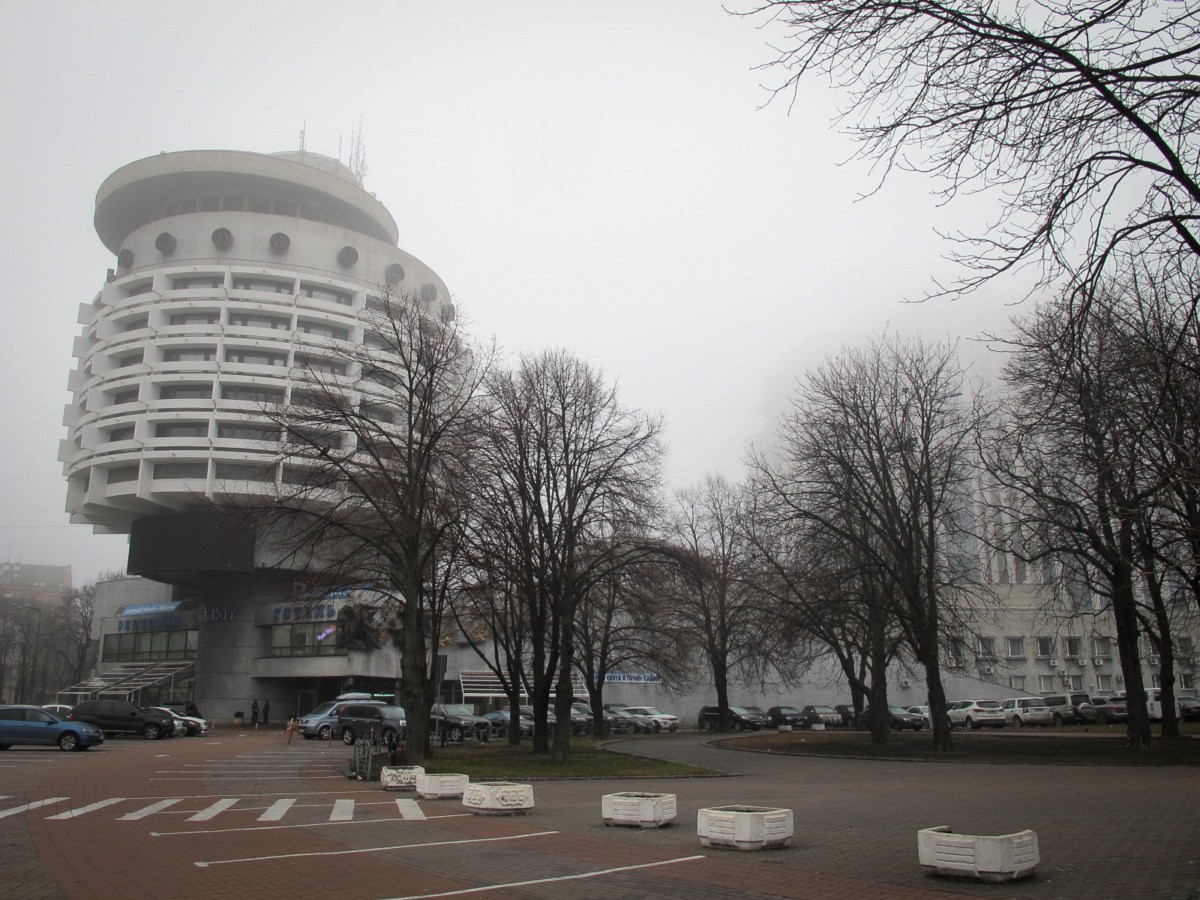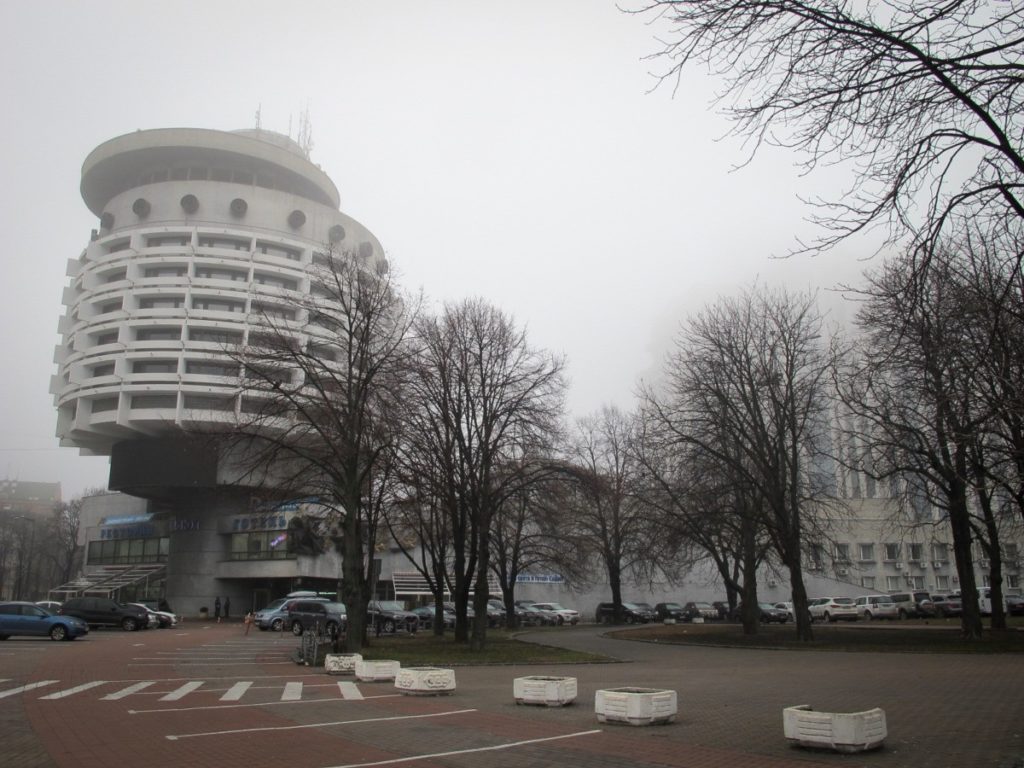 You can check out Hotel Salyut by heading to Metro station Arsenalna (Арсенальна).
MOTHER UKRAINE
Mother Ukraine stands amidst a colossal (and I mean COLOSSAL) World World II monument in Kiev called the Museum of the Great Patriotic War . It is a bit of a walk to get there, but if you're near the Kiev Pechersk Lavra, you are actually fairly close.
Mother Ukraine and the World World II monuments and museum are some of the last places in Kiev with Soviet symbols on them. During the decommunization of the country, they decided to keep anything related to World War II and so this stands. I highly, highly recommend this area of the city for a few hours to everyone. There are also some stellar views of the river from here.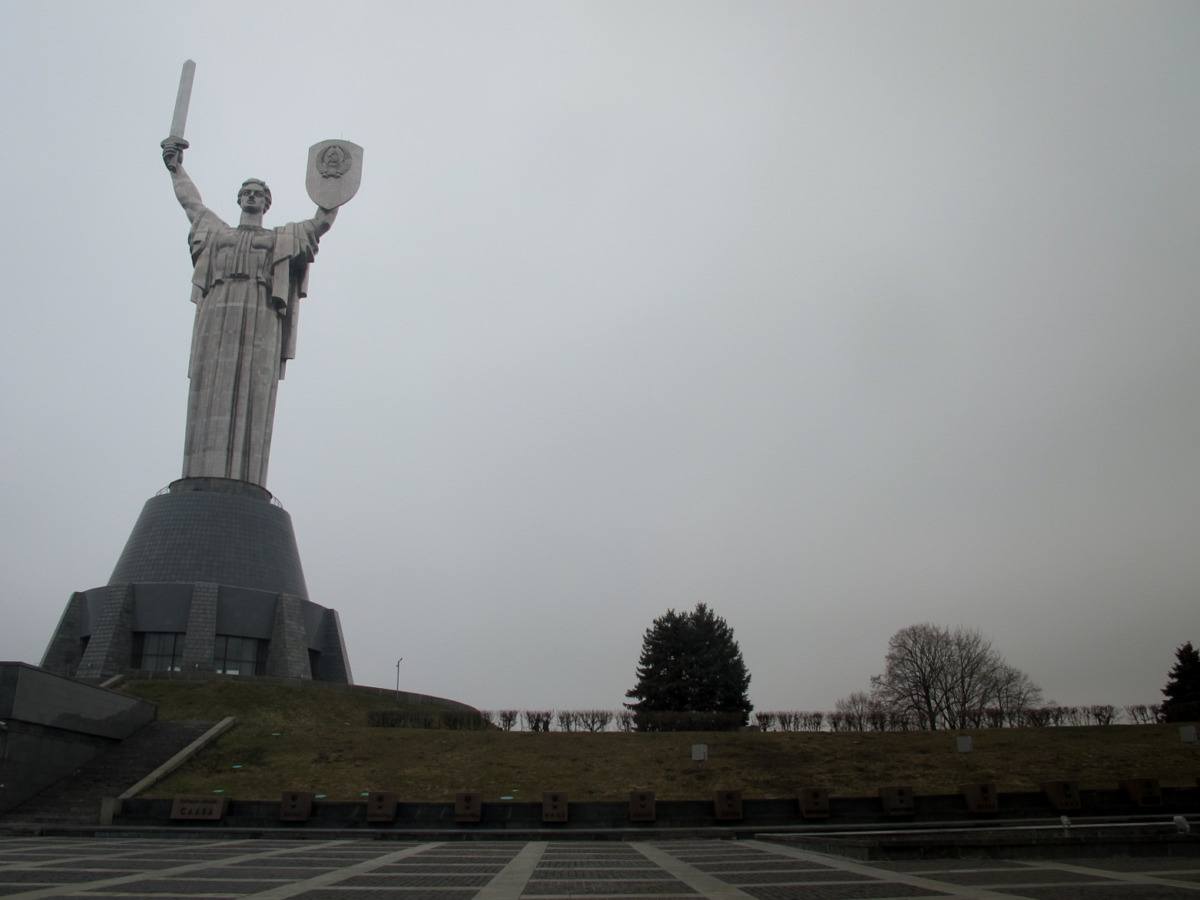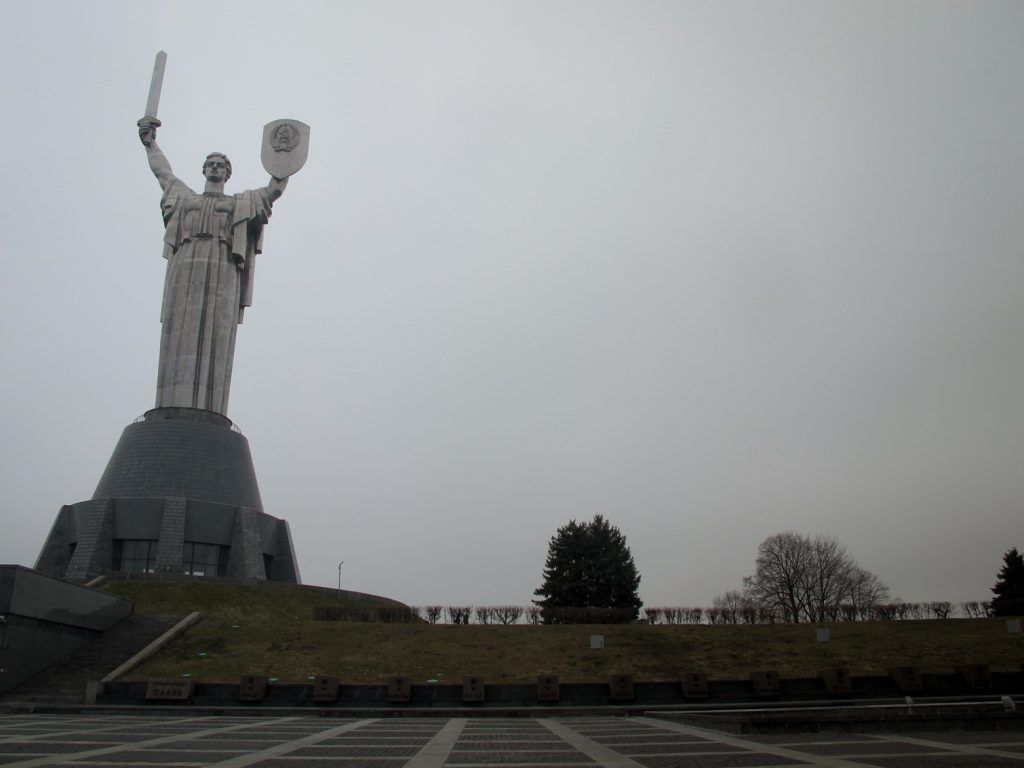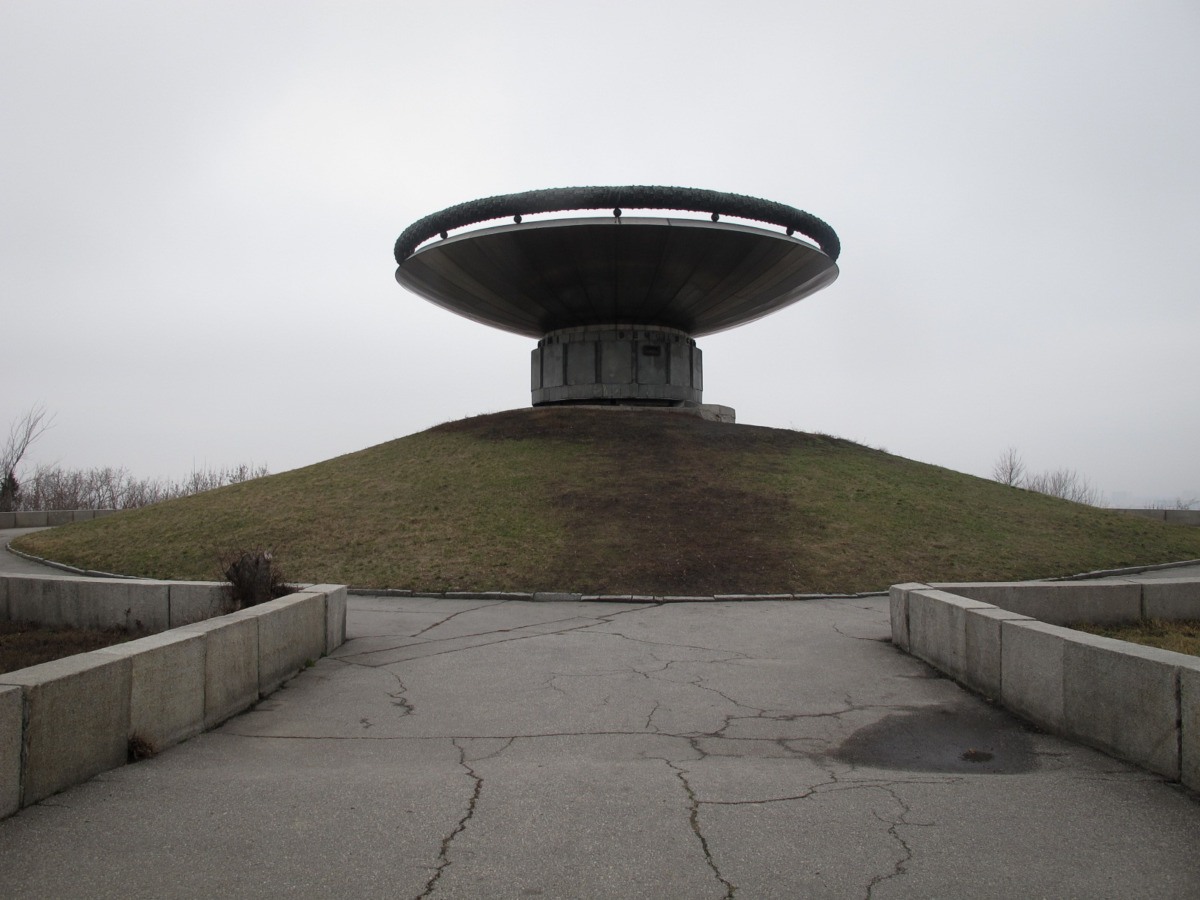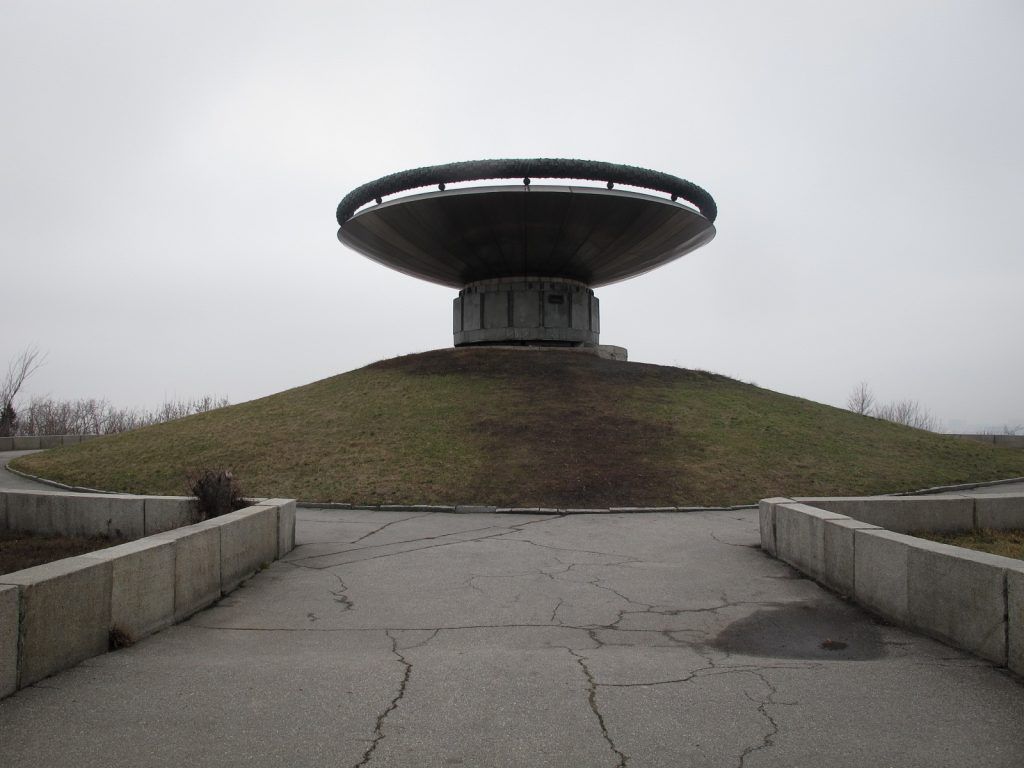 You can reach Mother Ukraine and company by taking the Metro to Pecherska (Печерська) or Arsenalna (Арсенальна). I find it easiest just to incorporate this area of the city in your itinerary when you're checking out UNESCO World Heritage Site, Kiev Pechersk Lavra.
____________________________________________________________________
This post has nothing to do with supporting anything in regards to politics on either side of things. With that being said, I really like that Ukraine is coming into their own and beginning to find their identity and going back to see it with my own eyes post-Maidan was so refreshing and inspiring. This post is simply out there for those who wish to see this era of history in Kiev before it no longer exists.
To see a long list of Soviet Modernism architecture in all of Ukraine, you can click this link. It even includes some of the markets in Kiev which I left off of this list for the sheer fact that I was too pressed for time. This post is live and will be added to once I am back in Ukraine at the end of September.
If you have any updates or places to add to this list, please share below in the comments!