I remember the moment that I booked that train to Kharkiv from Kyiv's central station. I wasn't sure what I was doing, but I knew I had wanted to head east and Kharkiv just seemed like the obvious option. I booked my ticket a few weeks in advance on the 'fast train', but I never really got around to planning the trip.
Aside from Derzhprom, I really didn't know of many things to do in Kharkiv for visitors. I booked a solid three days there but just planned to sit around in cafes and write… or cry because I was missing my dog.
I've already shared my coffee post here and my impressions of Kharkiv, but I was most eager to share a post about my favorite buildings and architecture from Soviet Kharkiv.
I accidentally deleted the fancy Google map that I had made and was overcome with total discouragement as some of the places weren't easy to find because the addresses online weren't always accurate. I have finally redone the map and can share some of my favorite (and some overrated) sights in Kharkiv.
This map and guide are by no means conclusive. If I had more days in the city, I would have ventured outside of the main city a bit to discover another side, but I only (stupidly) planned three days in Kharkiv.
In between exploring the coffee culture and craft beer culture there, I wasn't left with a whole lot of time. Please do leave additional places in the comments so I can check them out next time I get back there!
Derzhprom
Ahhh, Kharkiv's most famous Soviet masterpiece. I have spent a great deal of my life seeing this behemoth of a building in books and on architecture websites and was super stoked to finally see it in person. Maybe I had hyped it up a little too much in my mind, but I found it to be a bit of a letdown.
Maybe I was in a blasé mood that day or something… but I found the exterior to be pretty and the interior to be a bit boring which is basically the opposite of what I like in a Soviet building.
Taking photos of Soviet buildings in the sunshine also kind of ruins the mood (I am sure about 4% of you reading this will understand where I am coming from). Nevertheless, it was great to finally see this building with my own eyes and I think I will trek back that way in winter to see how it glistens in the snow and grey skies.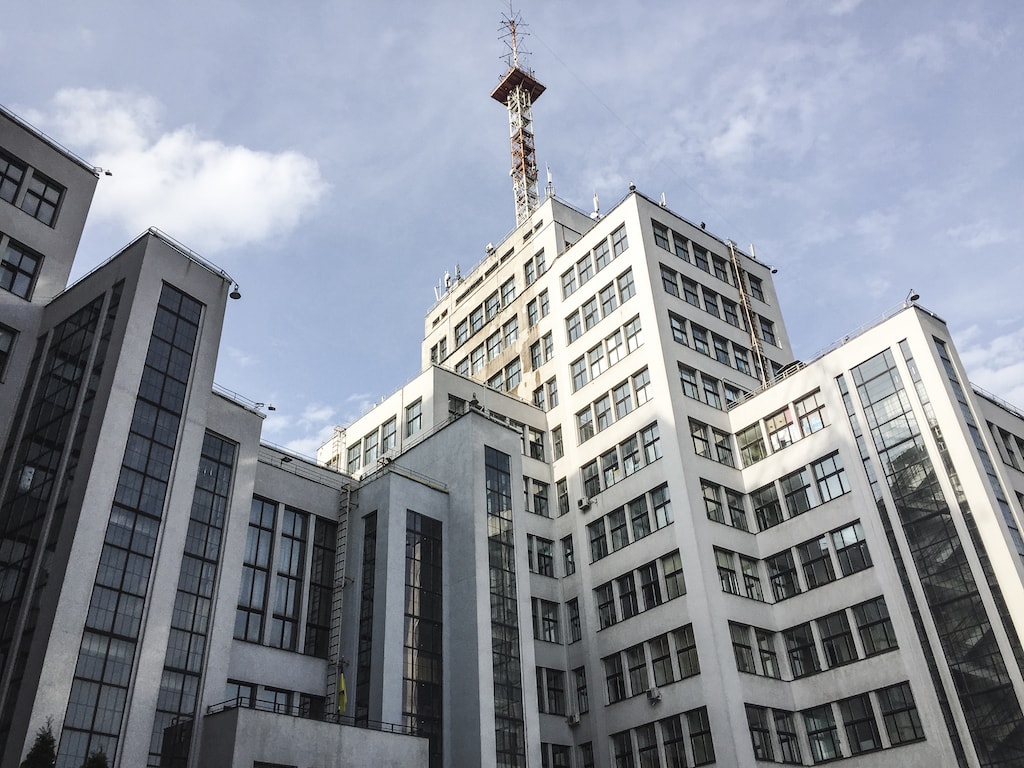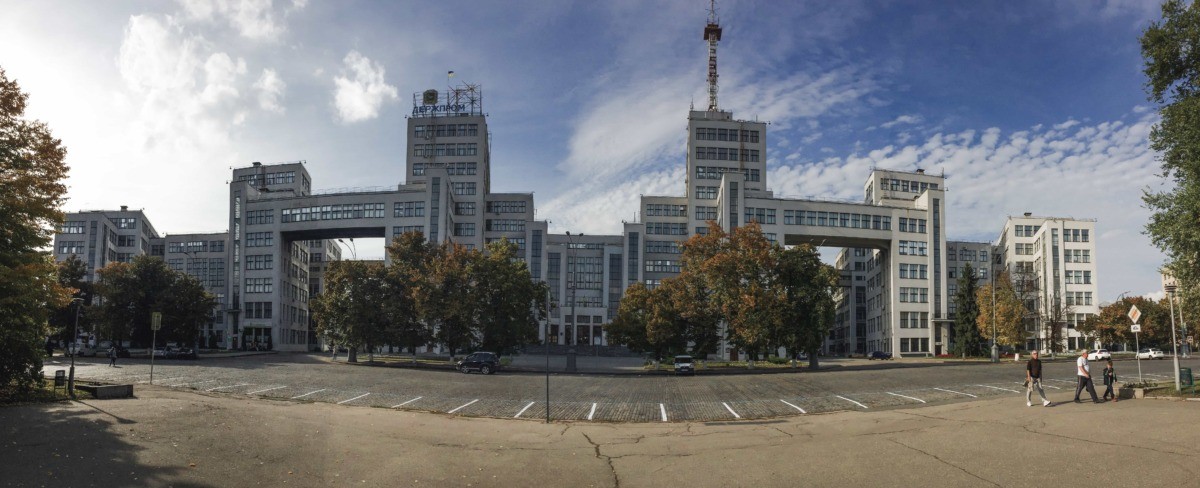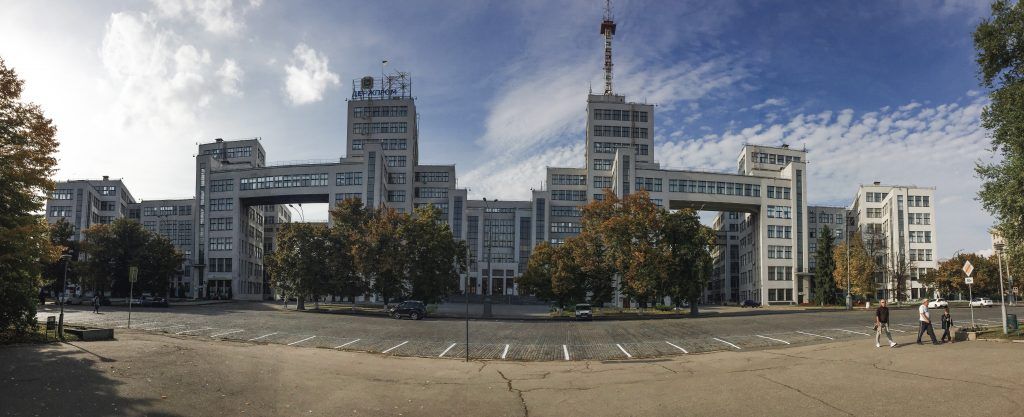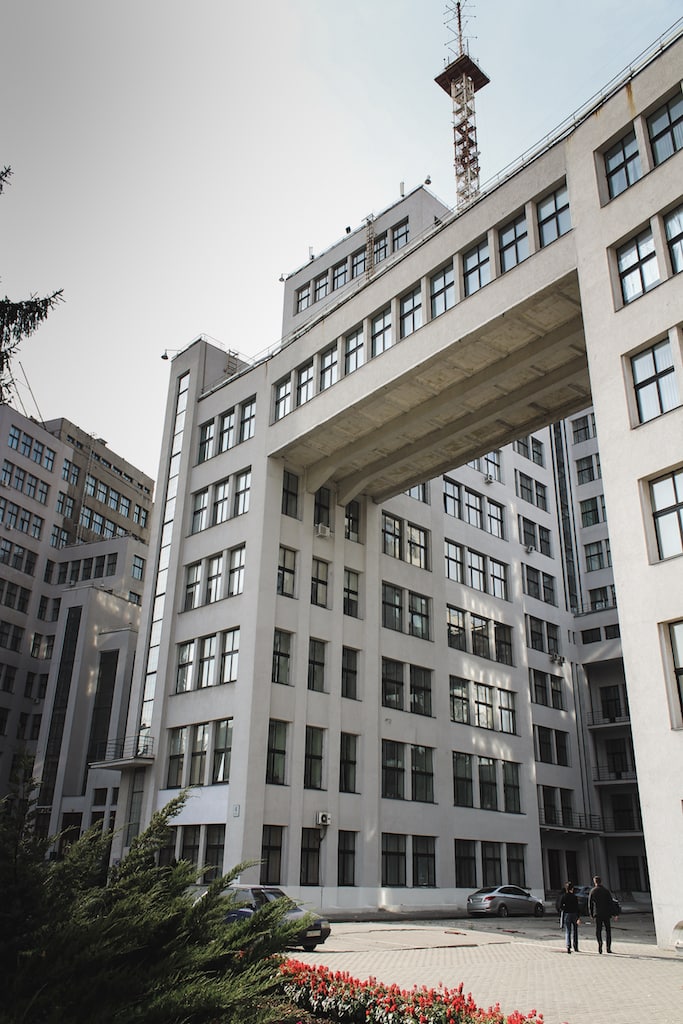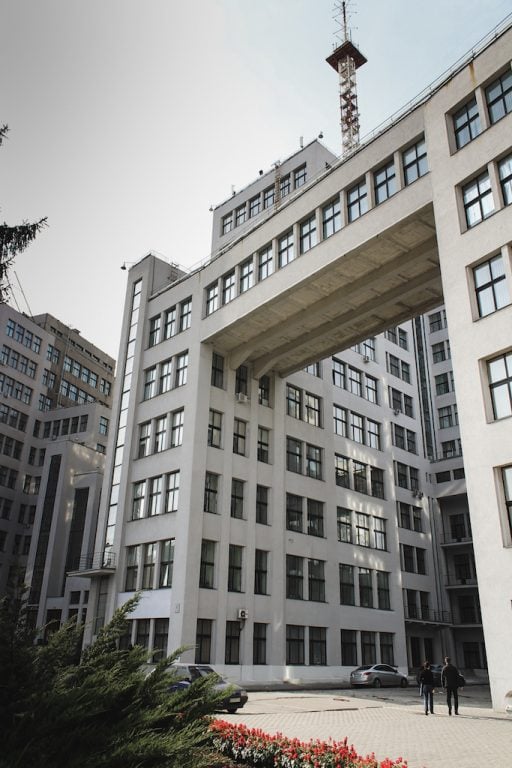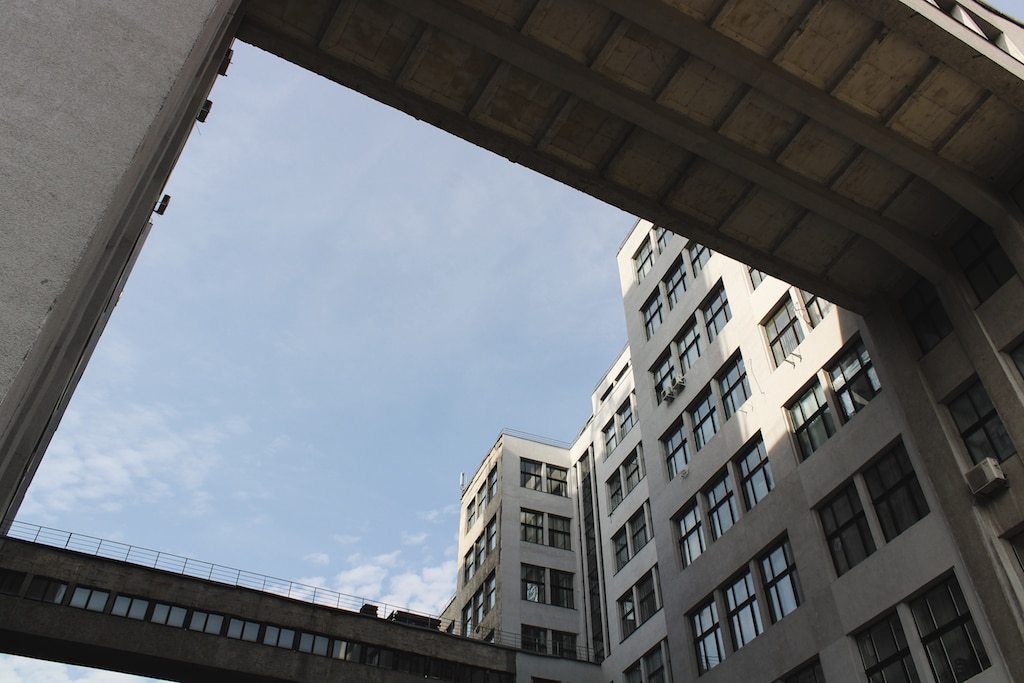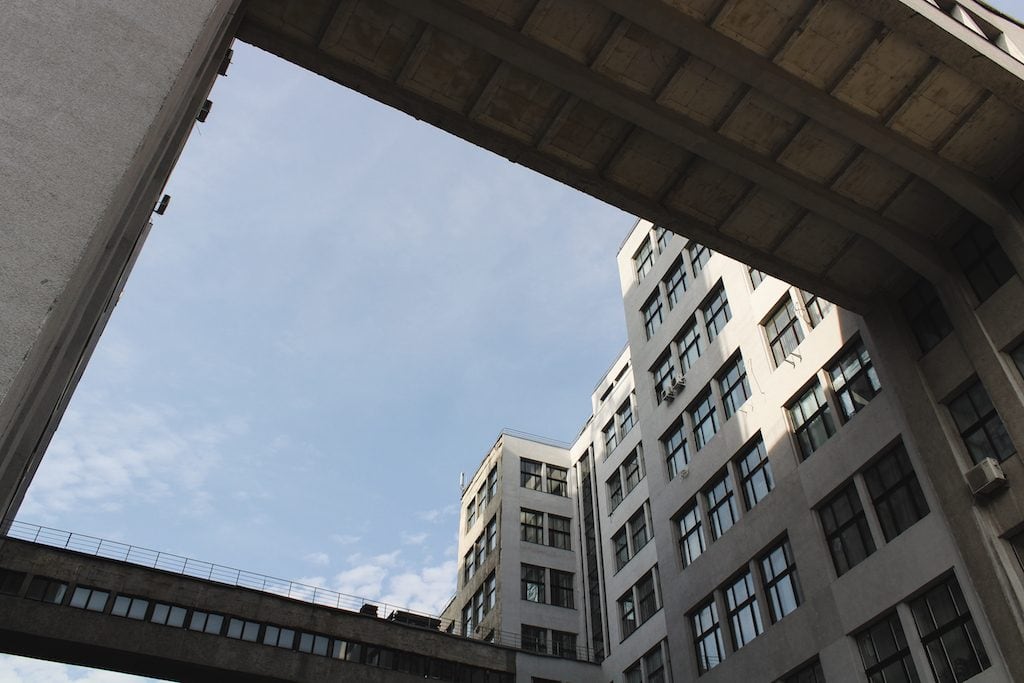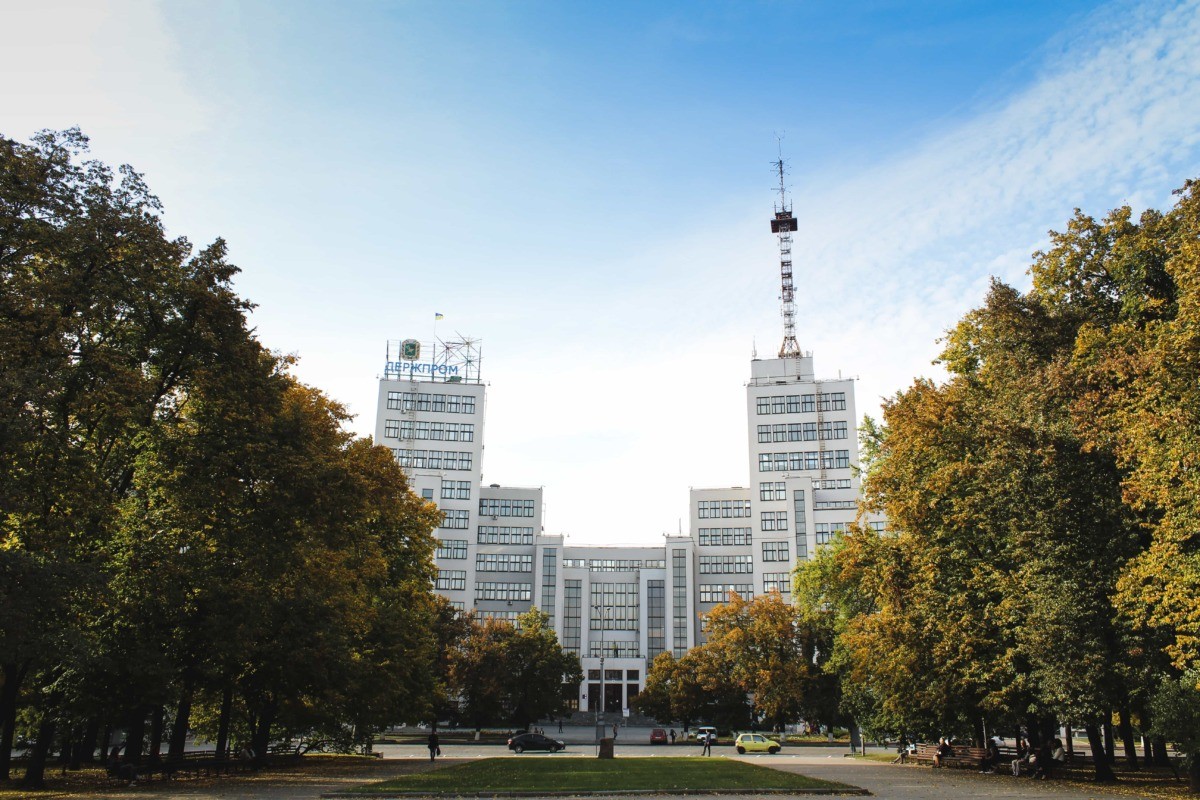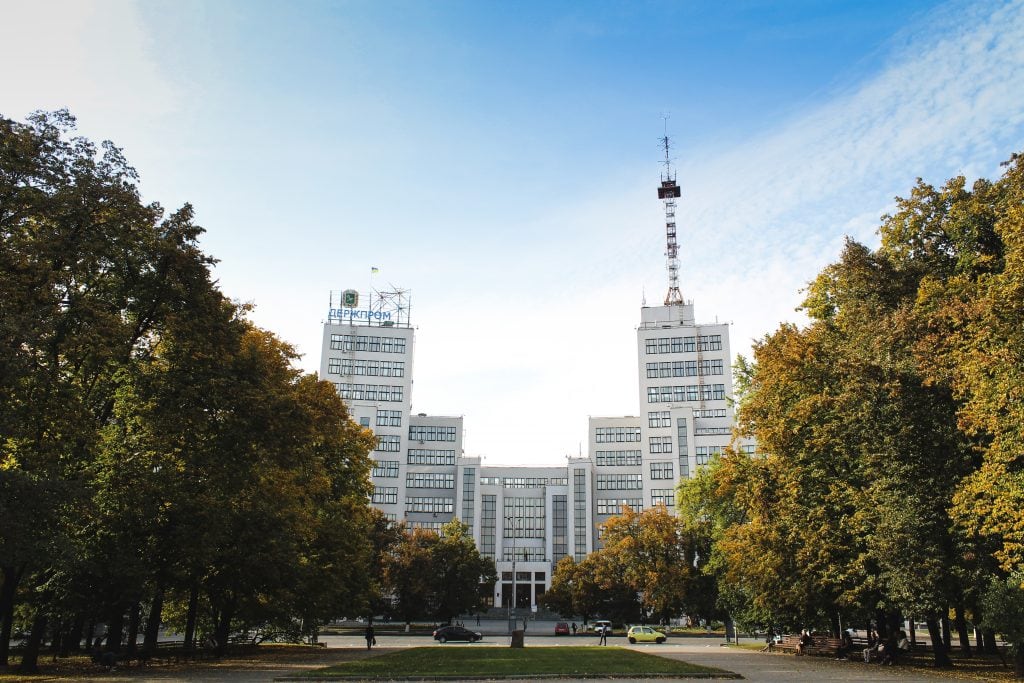 While I found the building itself to be a bit of a letdown, the history of the building is anything but boring. Derzhprom was designed by Sergei Serafimov, M. Felger, and S. Kravets and was unveiled to the world in 1928.
A Soviet constructivist showpiece, the building was the highlight of Kharkiv, which at the time was the capital of the Ukraine SSR.
Its construction took a whopping 5,000 people and cost 9 million rubles. When the capital was later moved to Kiev, it seems as though Derzhprom was kind of forgotten about. Even today, this gem has not reached architectural significance like some other buildings across the world have. In a way, that kind of makes a visit to it a tad bit cooler.
Kharkiv Circus
So I am actually working on a circus post of the Soviet circuses I have visited which will come out sometime this summer.
Standby for that, but for now, you can see the Kharkiv Circus on this Soviet guide because it is one of the oldest circuses in Ukraine and was most definitely built during the Soviet times.
The construction of this building began in 1966 and was completed and opened for its first performance on April 9, 1974. I don't believe in circuses and their treatment of animals, but I am a big fan of the architectural style of many Soviet circuses, so this is a must-visit if you want to add to your list of Soviet structures.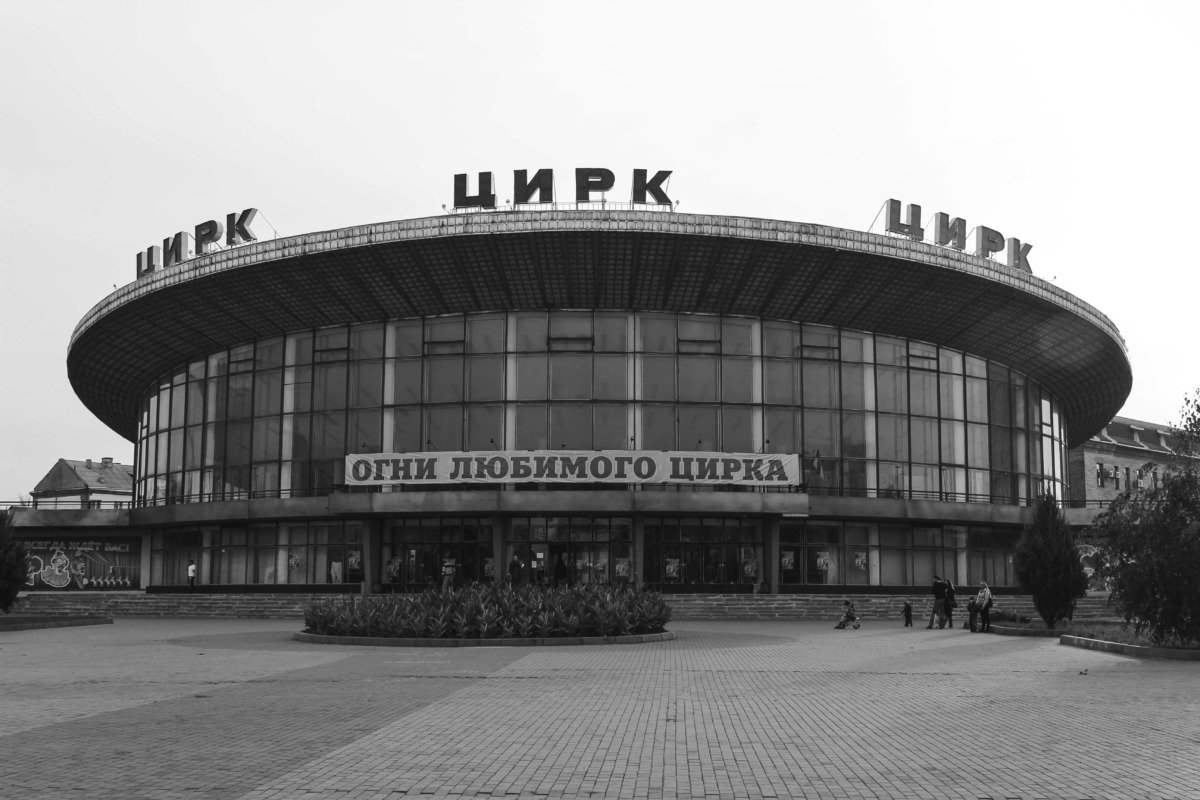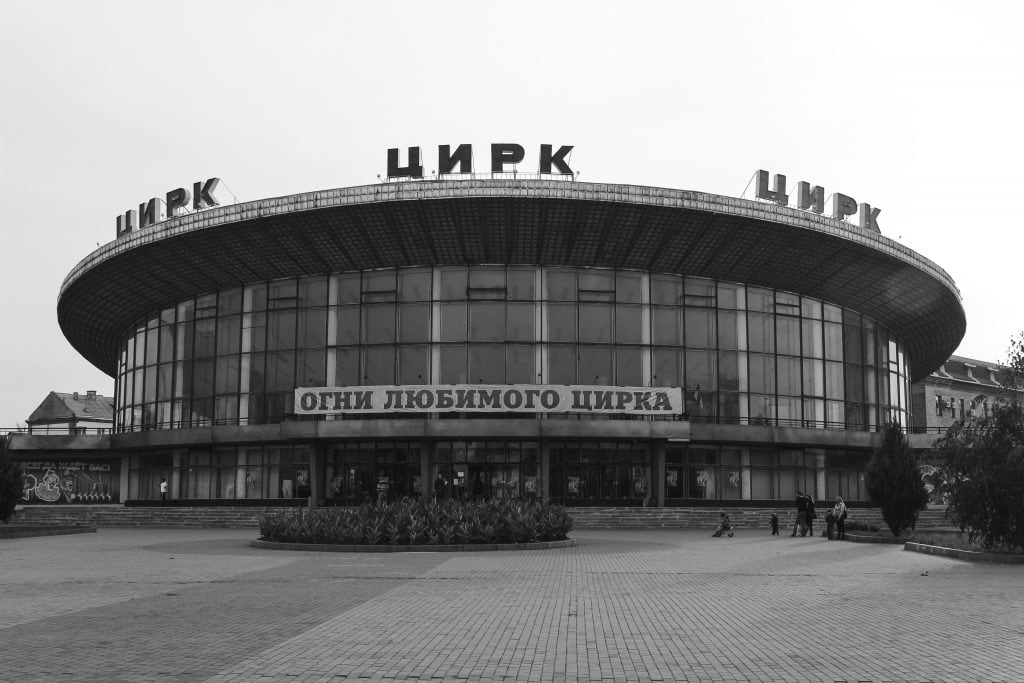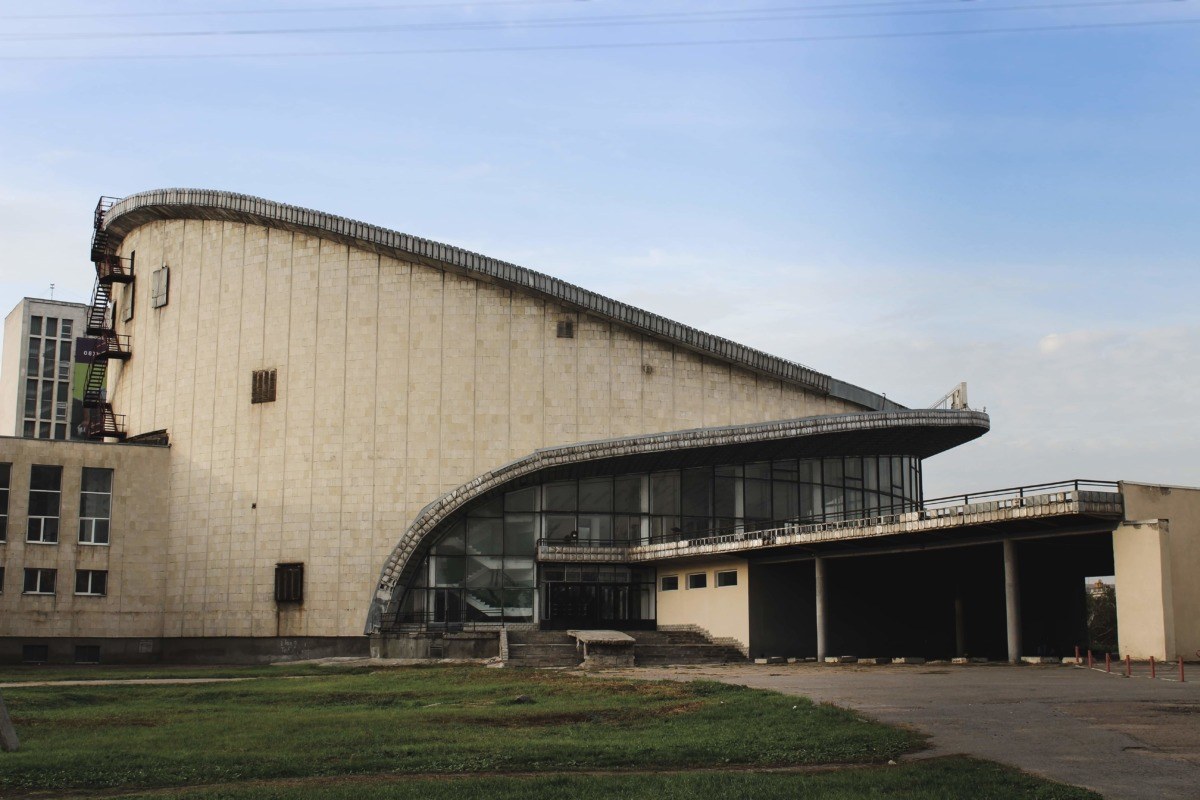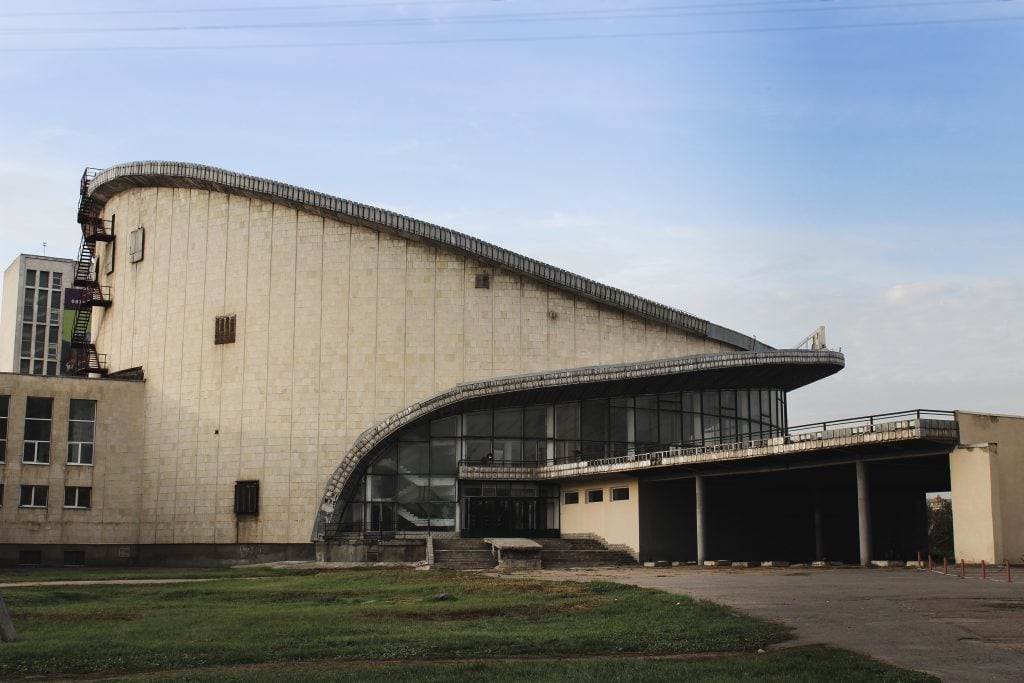 Kharkiv Metro
Another post I am working on is about the various metro stations in Kharkiv. On my Sunday morning in the city, I rode the metro for hours and stopped to take photos of as many stations as I could.
Until I get yelled at, that is (which it took about an hour and a half before getting reprimanded for my horrible actions… which is impressive and better than my old days in Kyiv).
I actually had no expectations of the Kharkiv Metro and didn't realize its greatness until I went underground to take the metro to where my hotel was.
It is pretty impressive and every station is slightly different. That Sunday morning, I actually rode for nearly three hours and used my phone for all photos… but it was one of my most enjoyable experiences in the Ukrainian city.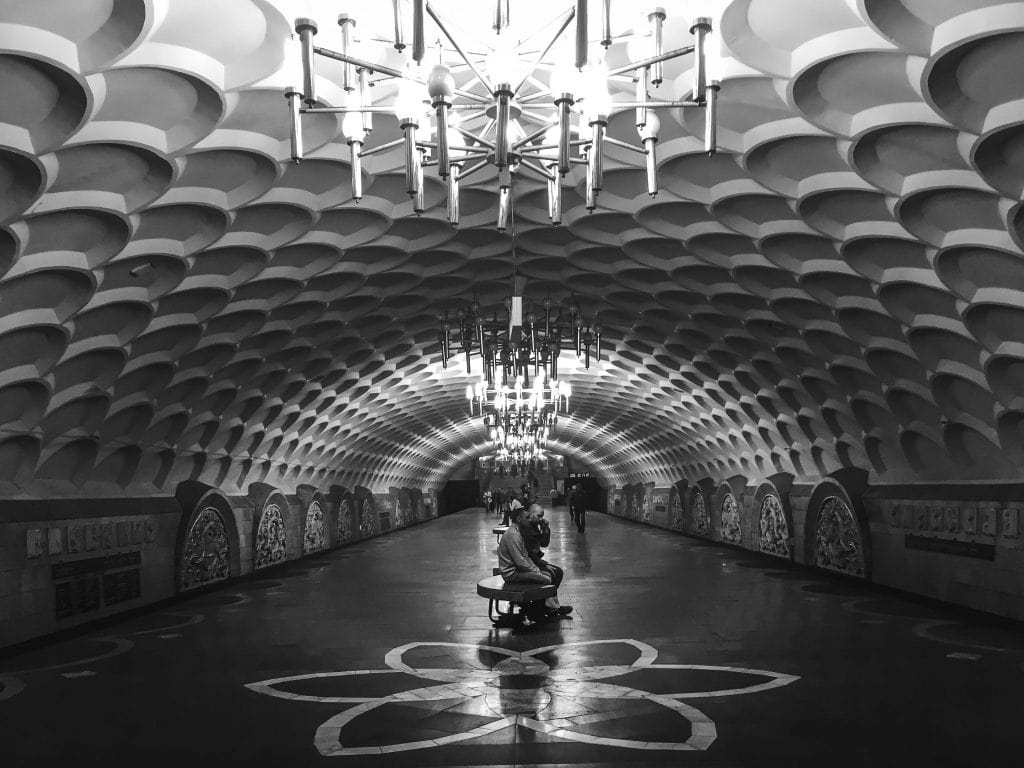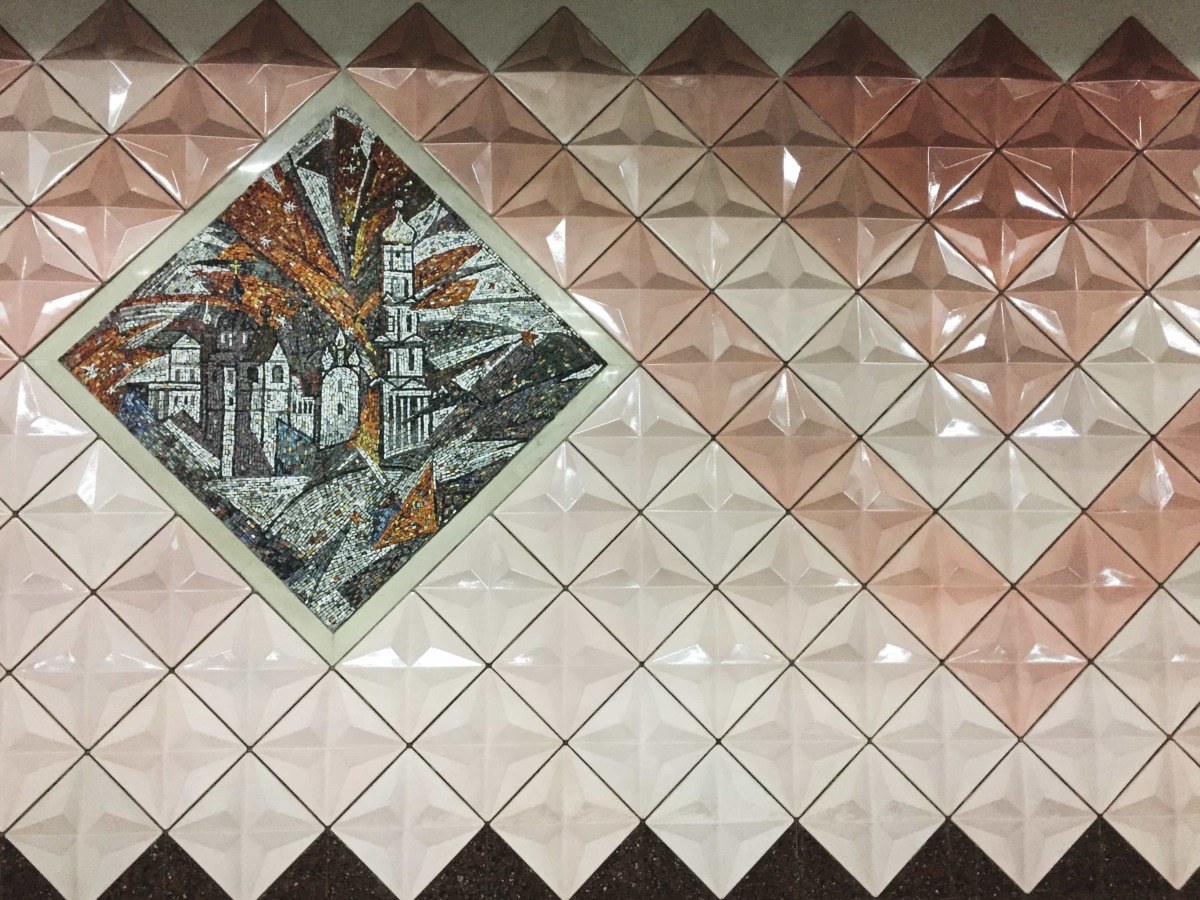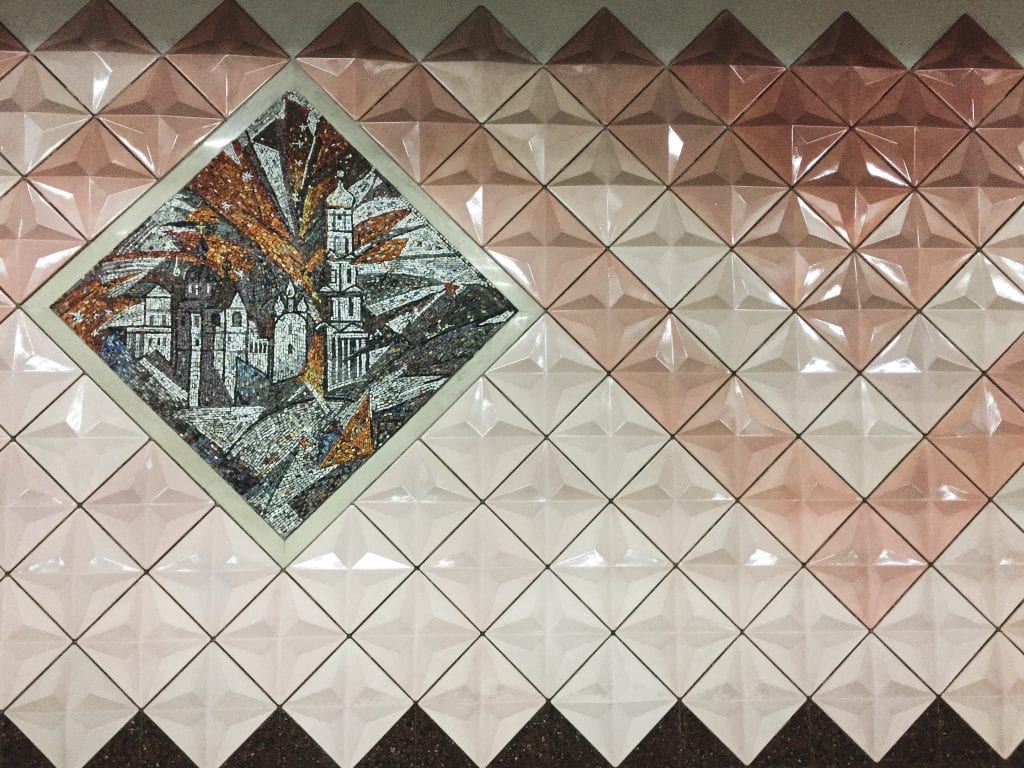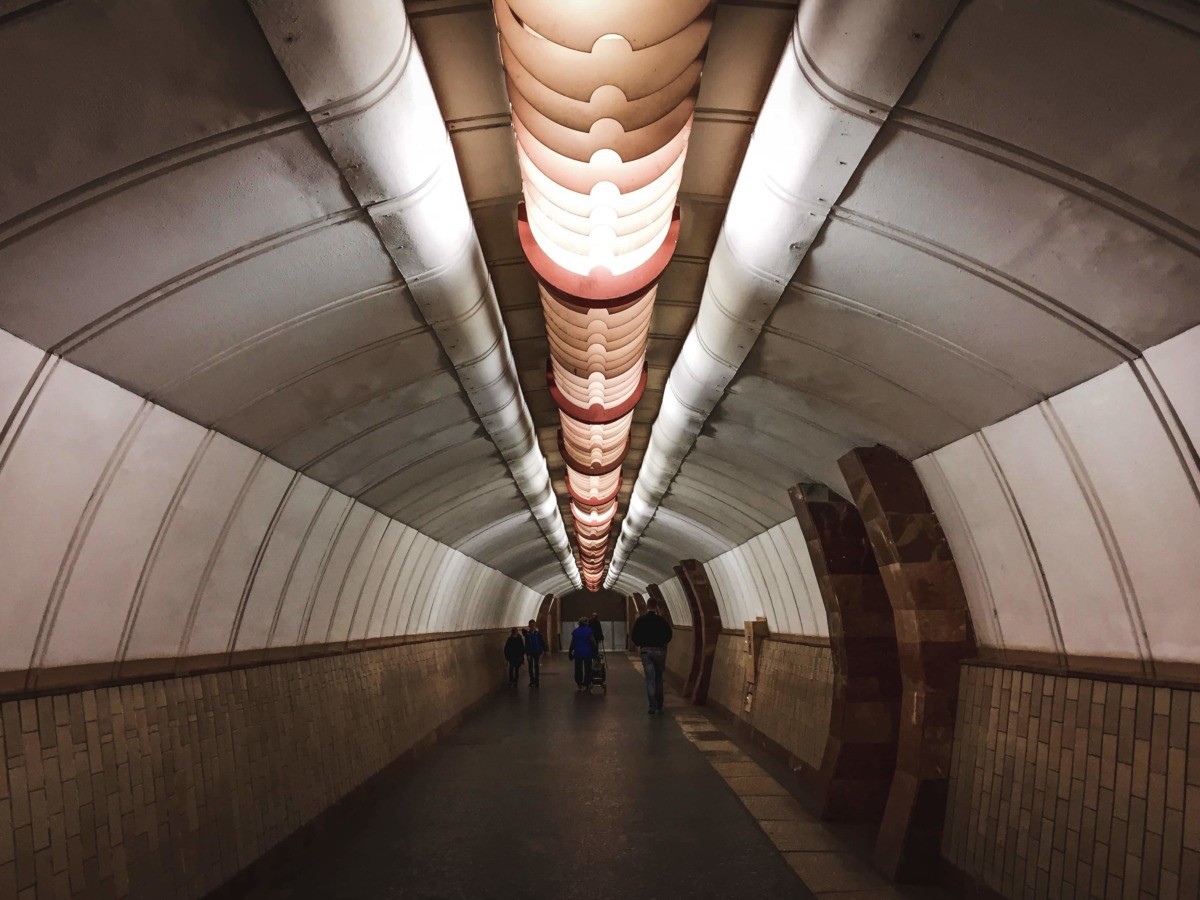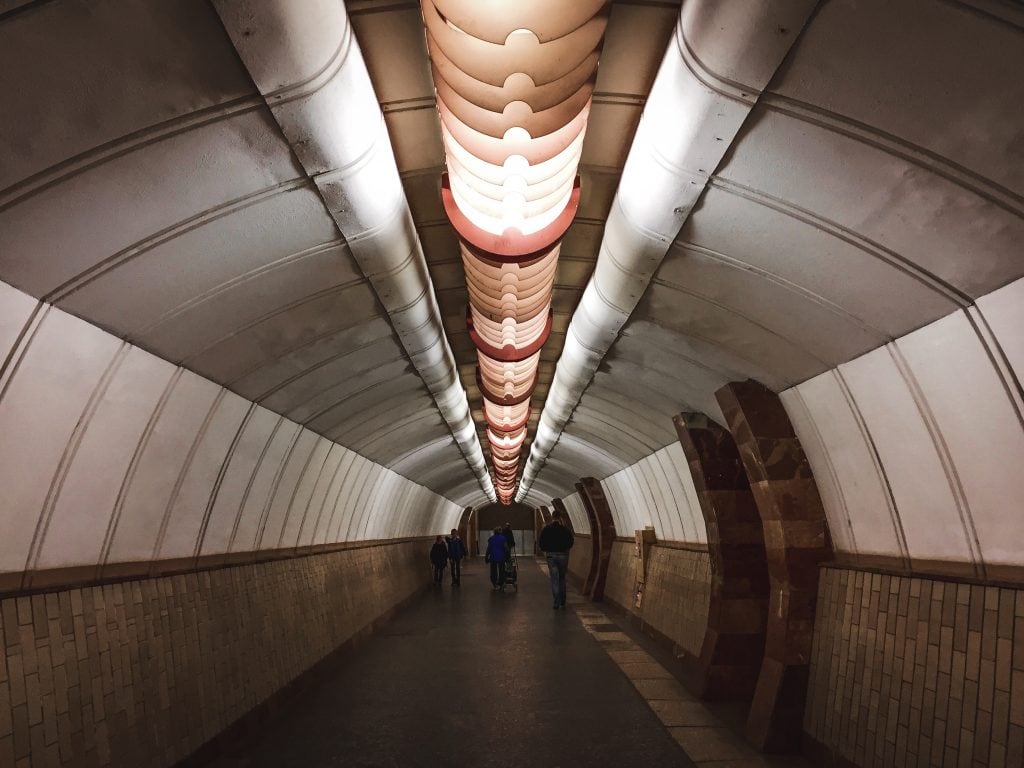 The Kharkiv Metro construction began in 1968 and was opened to the public in 1975. Only one line, Kholodnohirsko–Zavodska, existed at the time and the other two, Saltivska and Oleksiivska, didn't open until 1984 and 1995, respectively.
The metro system isn't privatized like the Kyiv system and has 30 stations. The system runs for 37 kilometers (23.4 miles) and has a daily ridership of nearly one million passengers.
Central Post Office
I actually have no photos of this building. I actually saw it twice, but couldn't locate the photos I took of it… but don't worry, if you are located close to the main train station, you can't miss it.
It now serves as a police station, but it achieved historical status as a post office. Another perfect example of Constructivism, this Arkady Mordvinov designed project opened in 1929 after a year of construction.
Kharkiv State Academic Opera and Ballet Theatre
My favorite building in all of Kharkiv. I don't know why I was so drawn to this building, but I was enamored by its presence, details, and hidden elements.
The Theatre is located next to Shevchenko Park and is mammoth in size. It is actually Ukraine's oldest academic theatre and was named after Mykola Lysenko, who was a famous Ukrainian composer, pianist, and conductor.
He briefly studied biology at Kharkiv University while studying music privately before being awarded a music scholarship to study further in Leipzig.
The theatre was erected during the constructivist period in 1925 and its first opera was "Sorochynska Yarmarka" by Russian composer Modest Mussorgsky. The architect behind this building was Mirgorodskii.
While this building is a beauty as a whole, I found that its real beauty was covertly masking in its details and its secret corners on the side and rear of the building. Also doesn't hurt that one of my favorite coffee shops, A7, was hidden in an obscure corner of this building.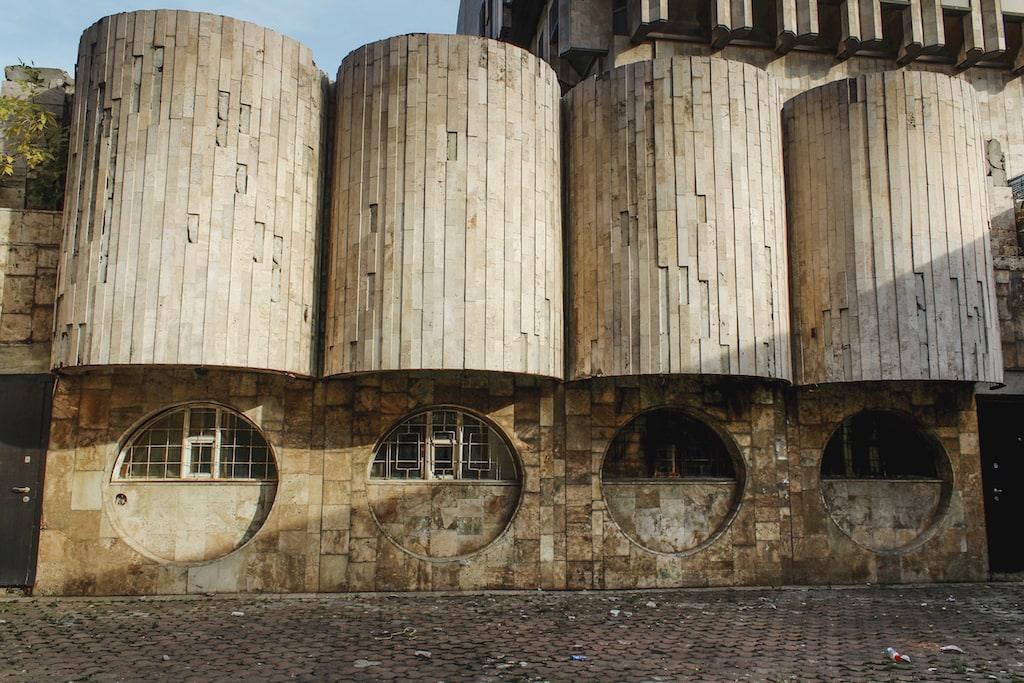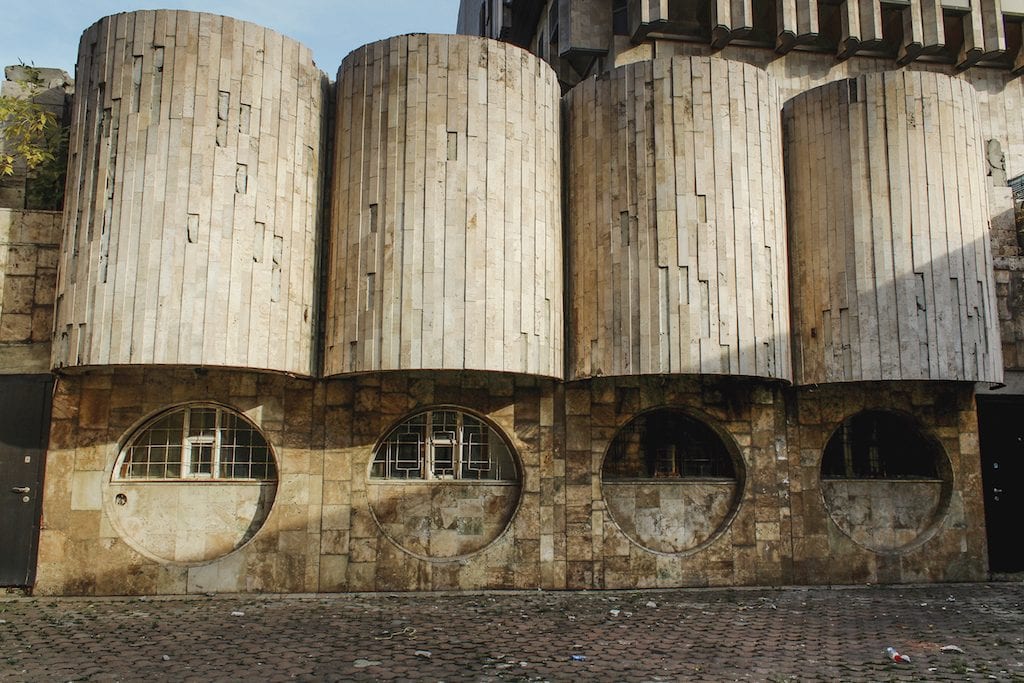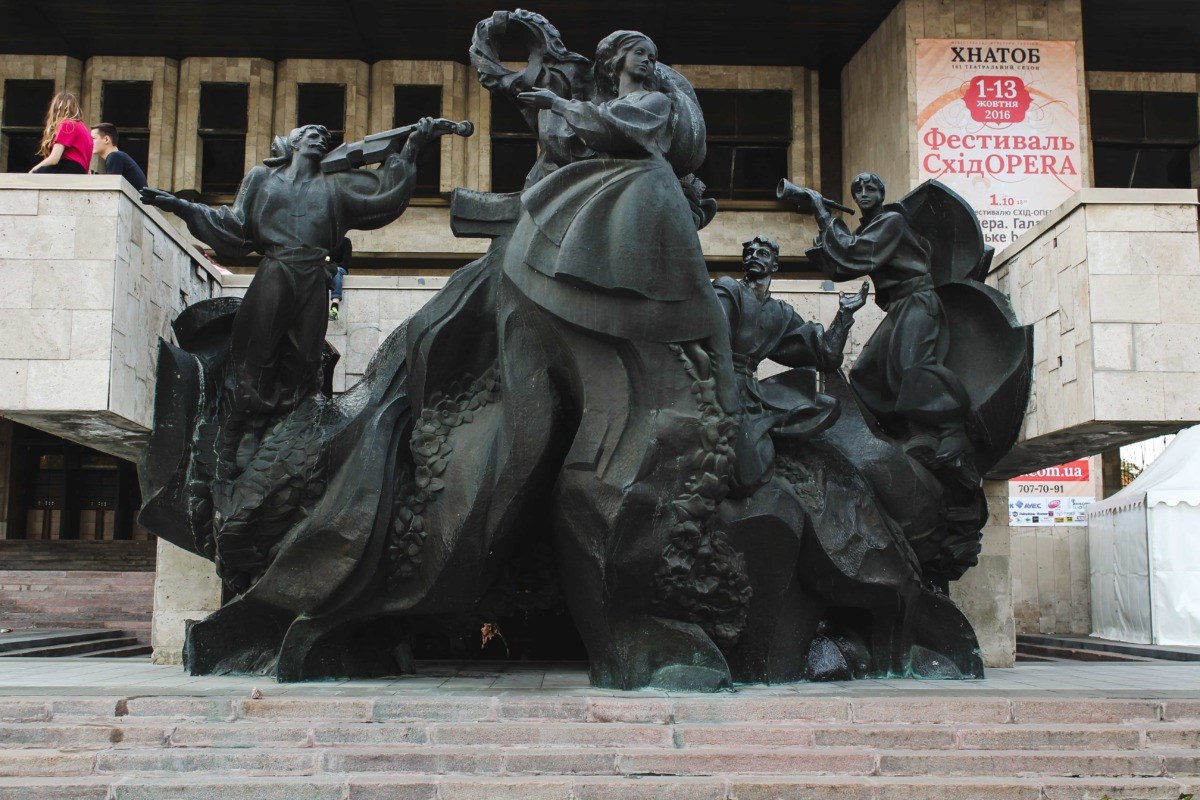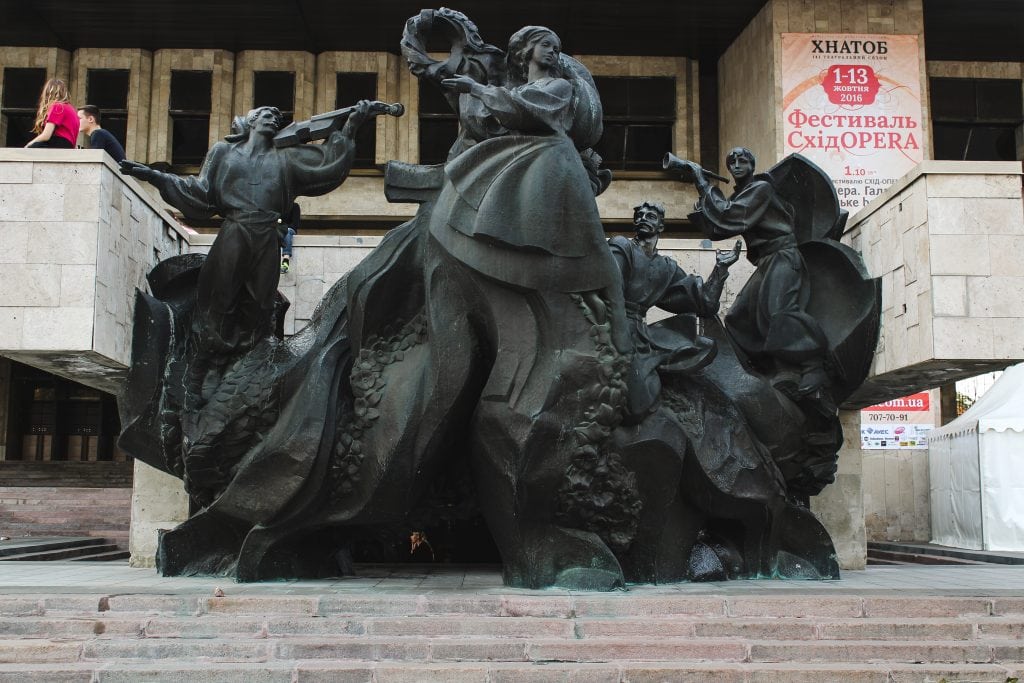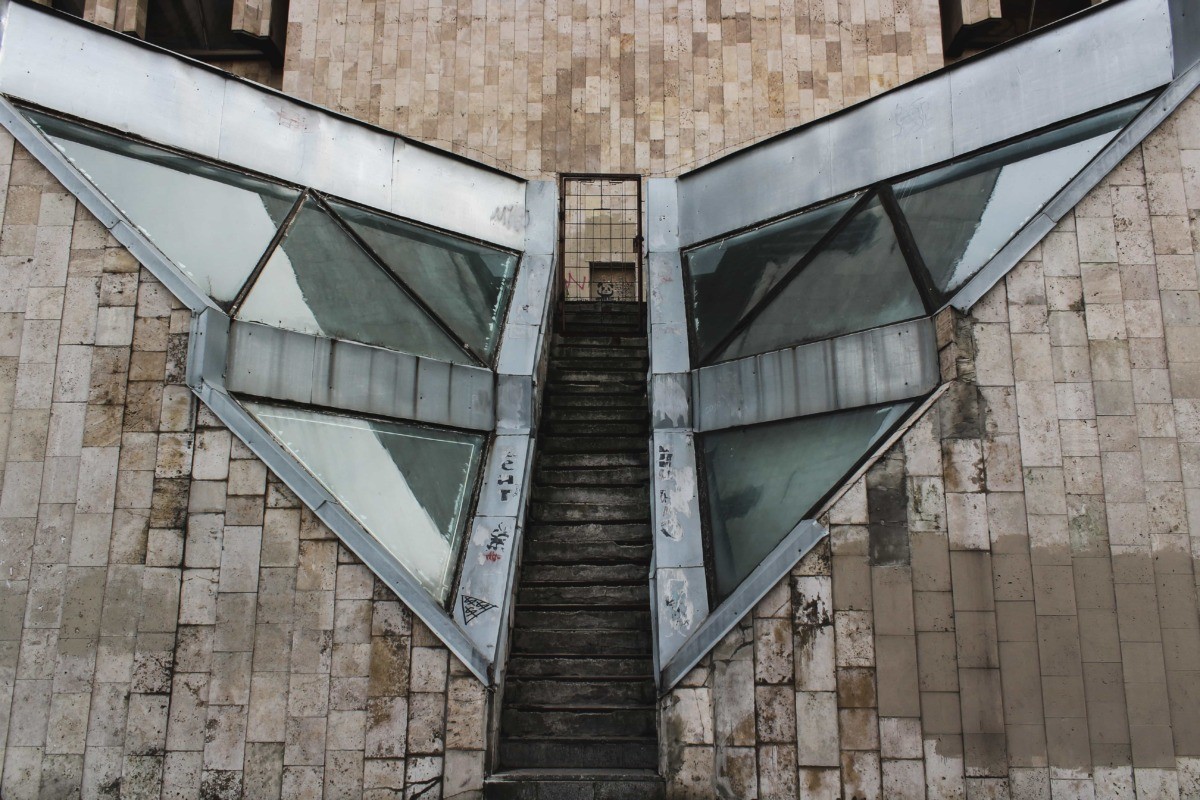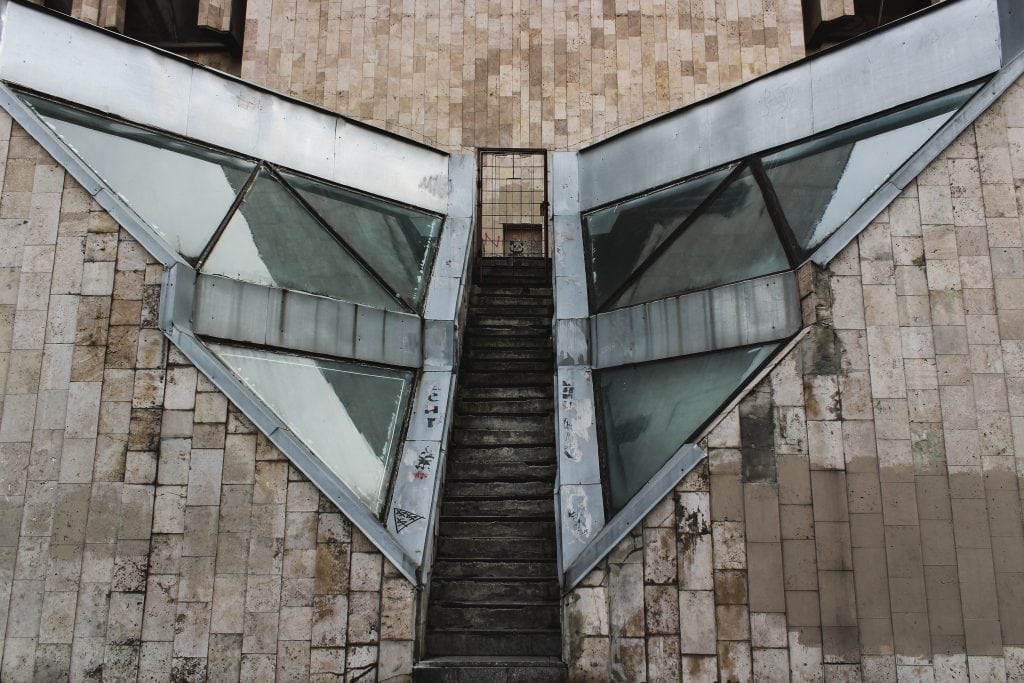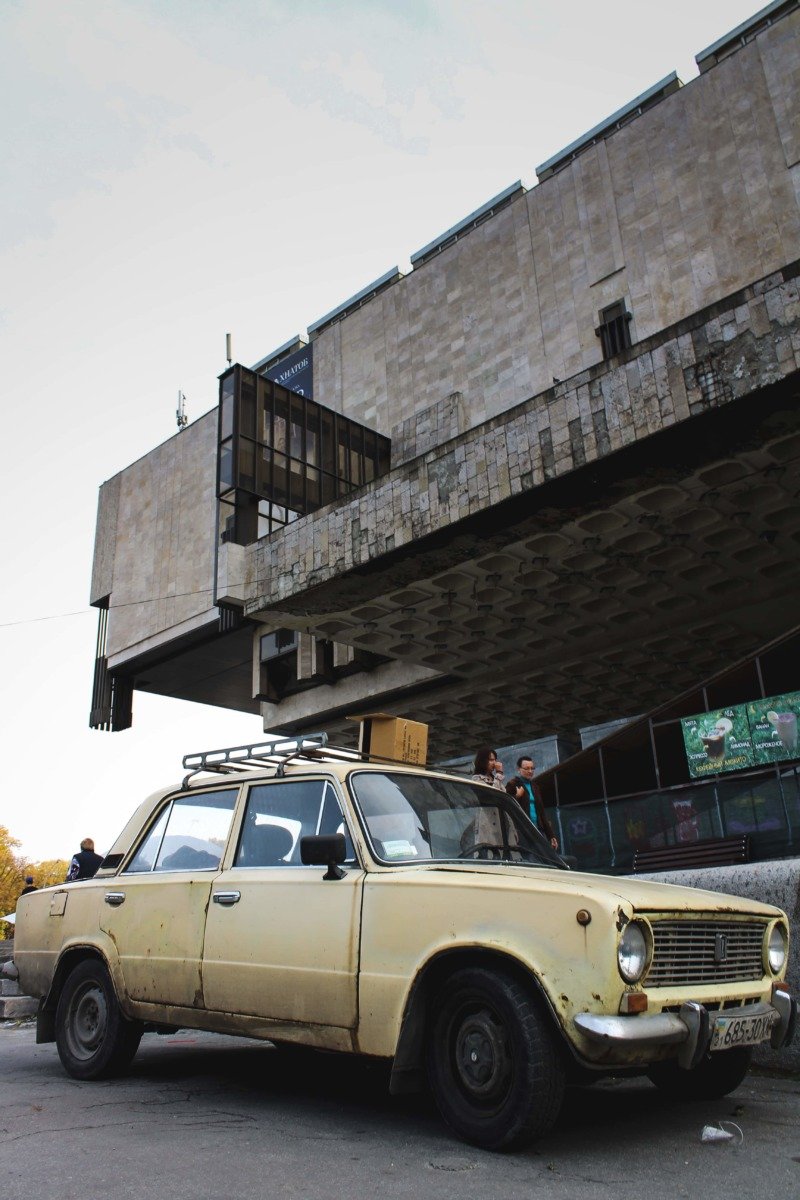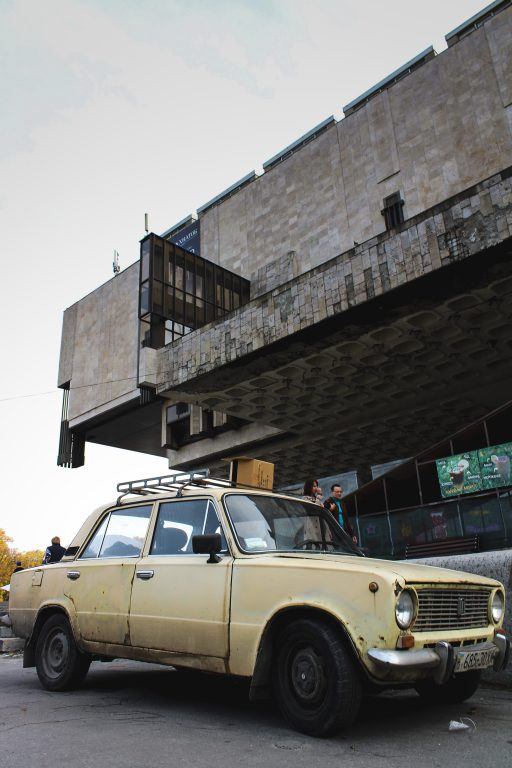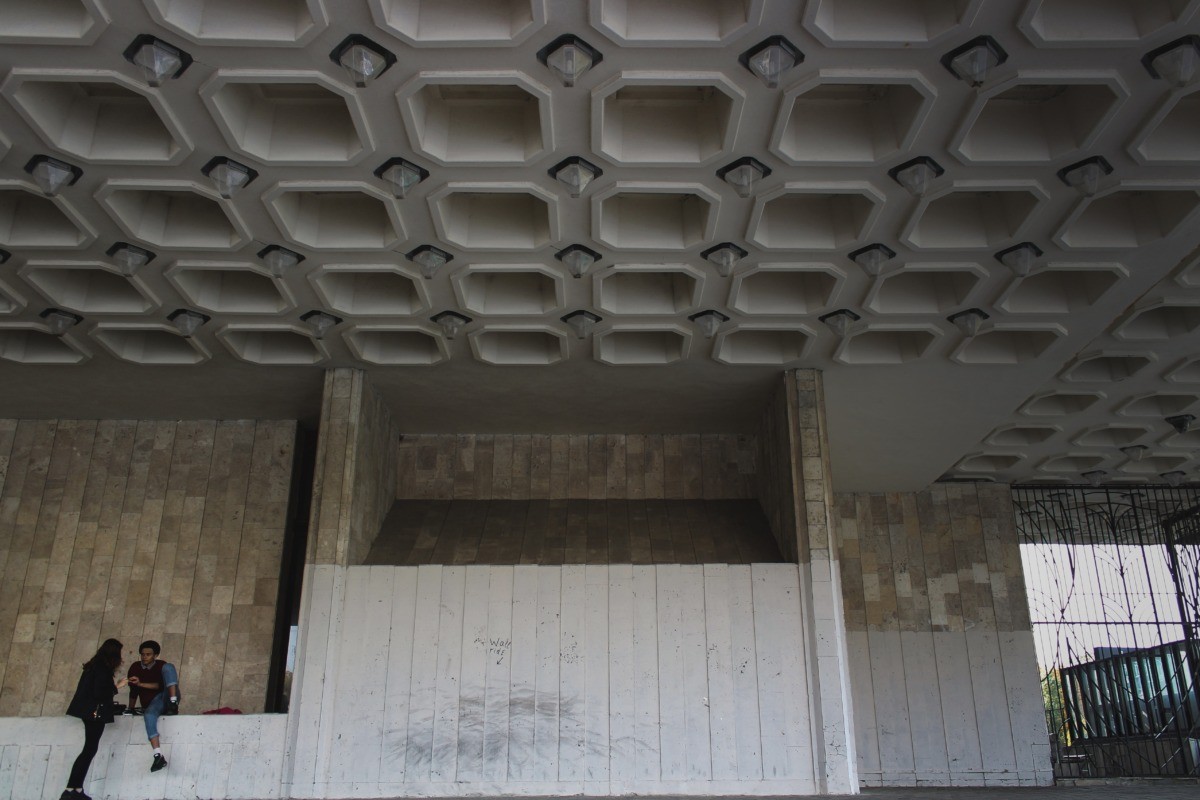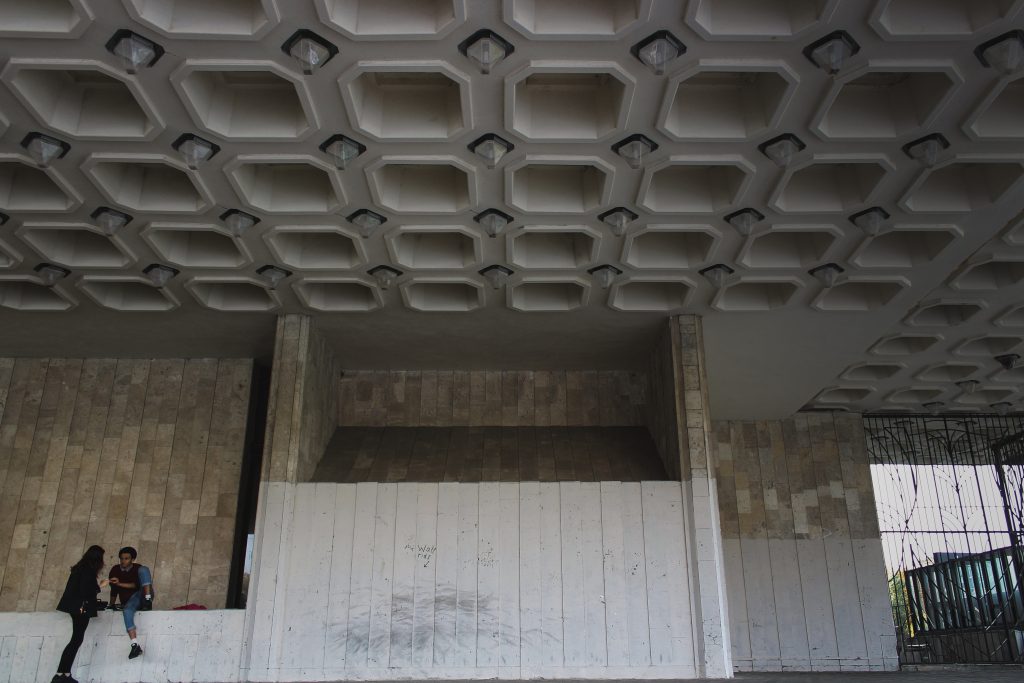 Palace of Culture for Railway Workers
Another building I can't find my photos from. I really should work on my organizational skills. The Palace of Culture for Railway Workers is right in the center of Kharkiv and is extremely easy to get to if you use my map above (another map I used was off and most information out there wasn't accurate, unfortunately).
The building is large enough that you will have no issue finding it. You can use this photo as guidance.
The Palace of Culture's construction began in 1927 and was officially opened in 1932, becoming another example of the Constructivism that dominated Kharkiv which still exists today. The architect behind the project was Aleksandr Dmitriev.
Hotel Mir
I find that every large post-Soviet city has a desirable Soviet styled hotel. Kyiv has Salyut, Almaty has Hotel Kazakhstan, Chisinau has quite a few, etc. Kharkiv's is Hotel Mir, and the brilliant building is still open today.
I went inside to see if the hotel had a bar as I have this thing for drinking or staying in every renowned Soviet hotel across the former Soviet states but I failed to do the obvious… go to the top to get a view of the city. Apparently, but don't mark my word, you can get a killer view of Derzhprom from up there. Perhaps next time.
Hotel Mir is located 50 yards from Botanichesky Sad Metro Station and has a sauna and billiards inside. The staff was pretty nice from my interaction with them. It is also located across the street from my favorite craft beer bar in the city, Black Door Pub.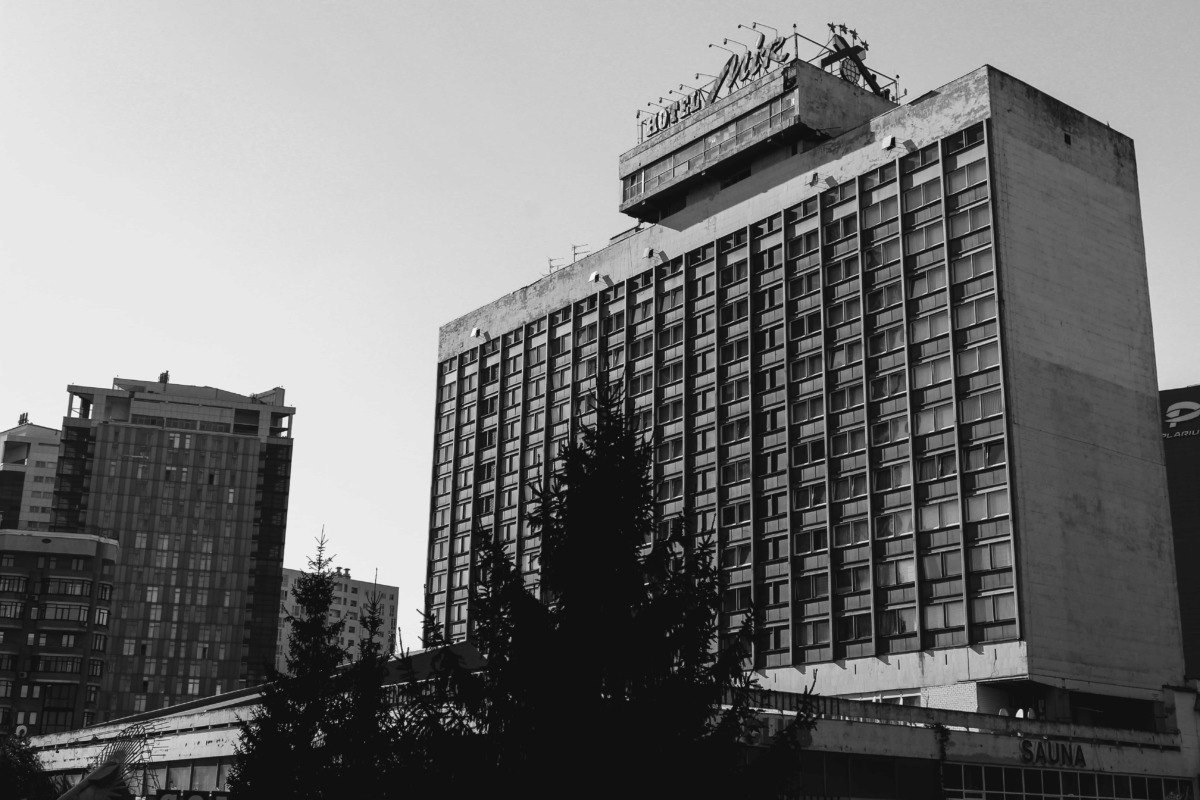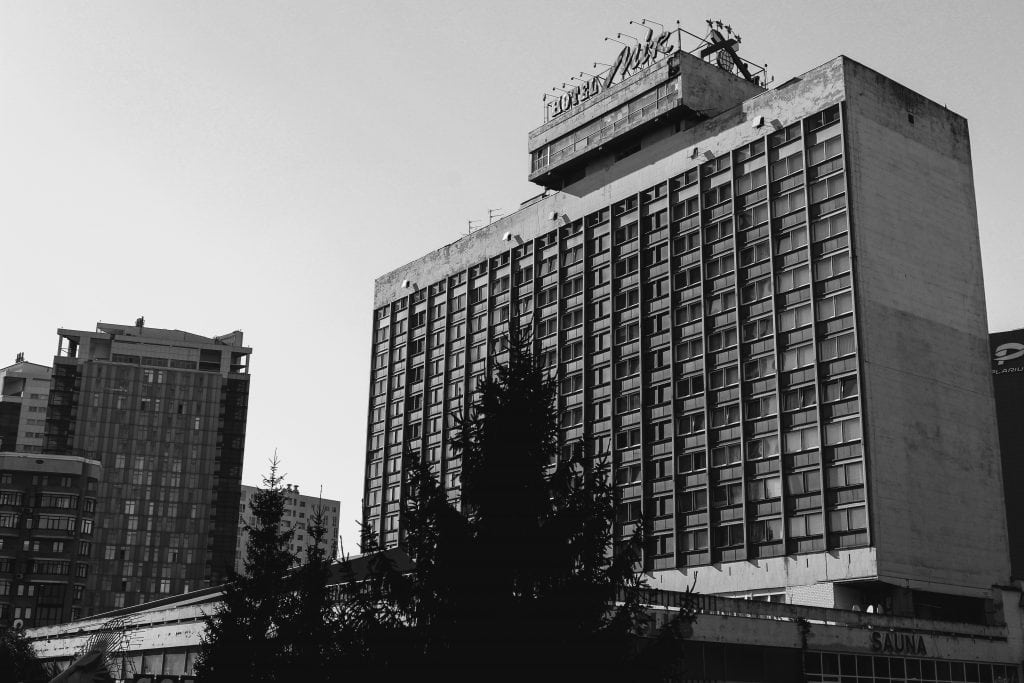 Ukraina Cinema and Concert Hall
Inside of Shevchenko Park, you will find the Ukraina Cinema and Concert Hall. A small building really, it was designed by Vadym S. Vasiliev in 1963 and dons a wide Soviet mosaic on its front. I didn't have many expectations for this building, so I don't really have a whole lot to say about it.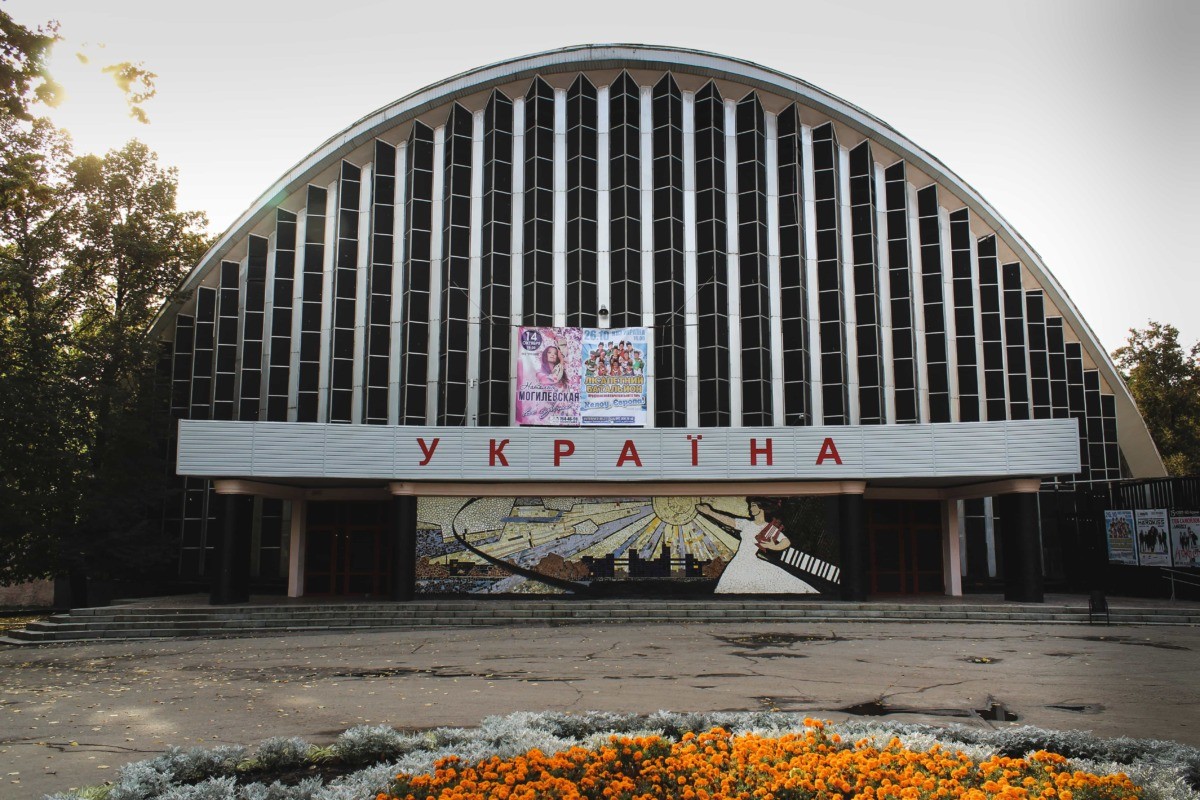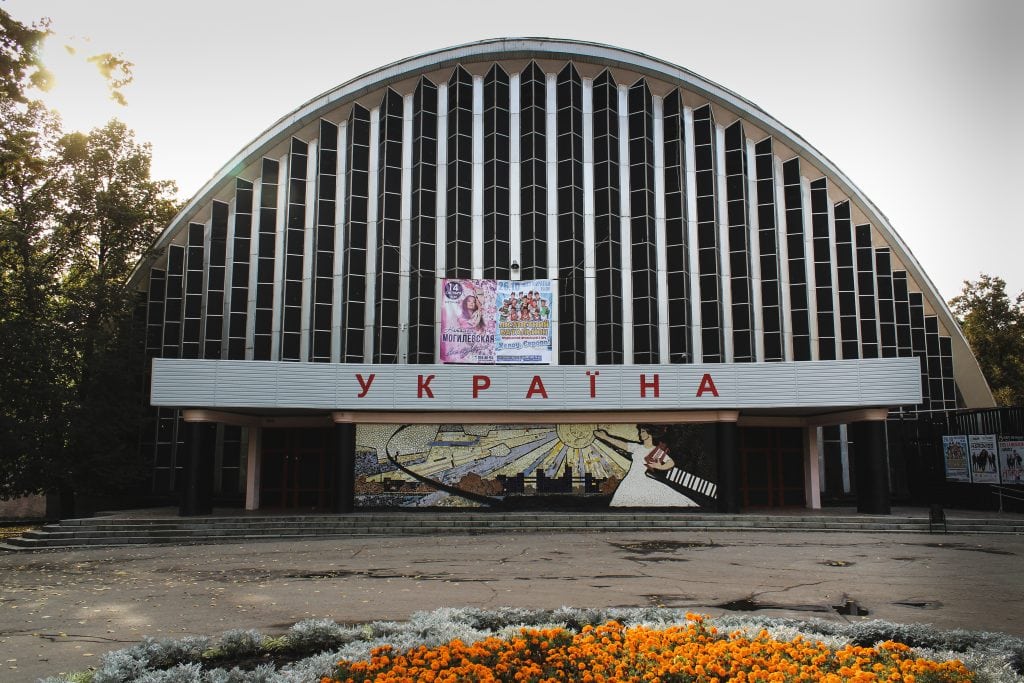 Water Pavillion Kharkivska – 1
Another great from Vadym Vasiliev, the Water Pavillion Kharkivska-1 can be found inside of Sarzhyn Yar Park. It was opened for public usage in 1960 and the obscure structure has stood since, giving thousands of Kharkiv locals access to clean drinking water daily.
To easily see the Pavillion, you can enter Sarzhyn Yar Park after visiting Hotel Mir (and kicking back a few pints at Black Door Pub, of course) by walking into the park and finding the small lakes where locals and children will be fishing. You truly can't miss it.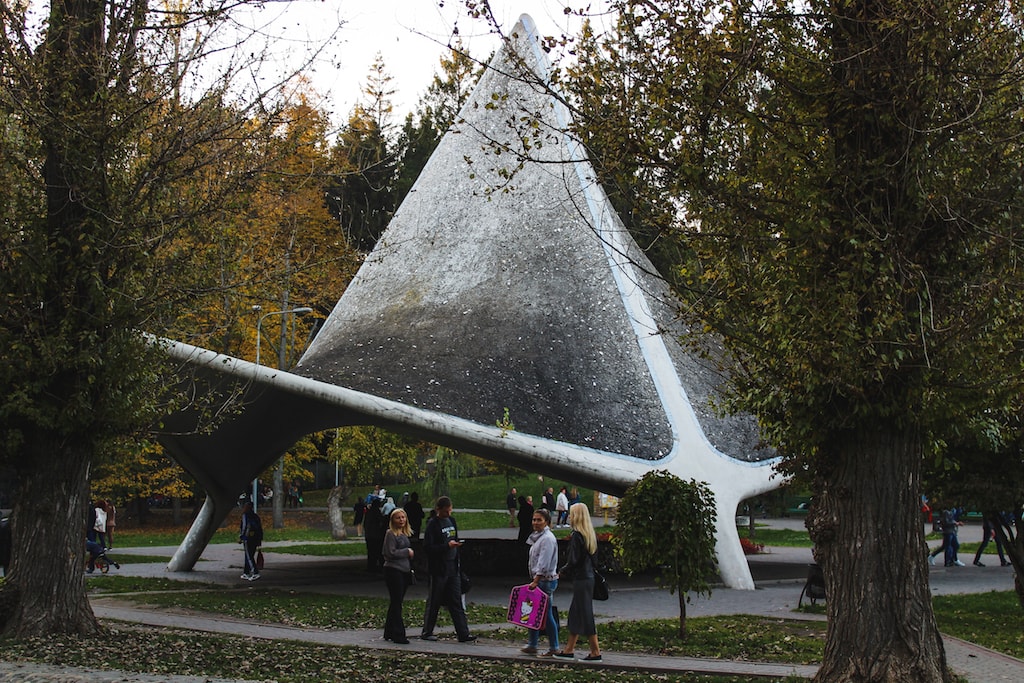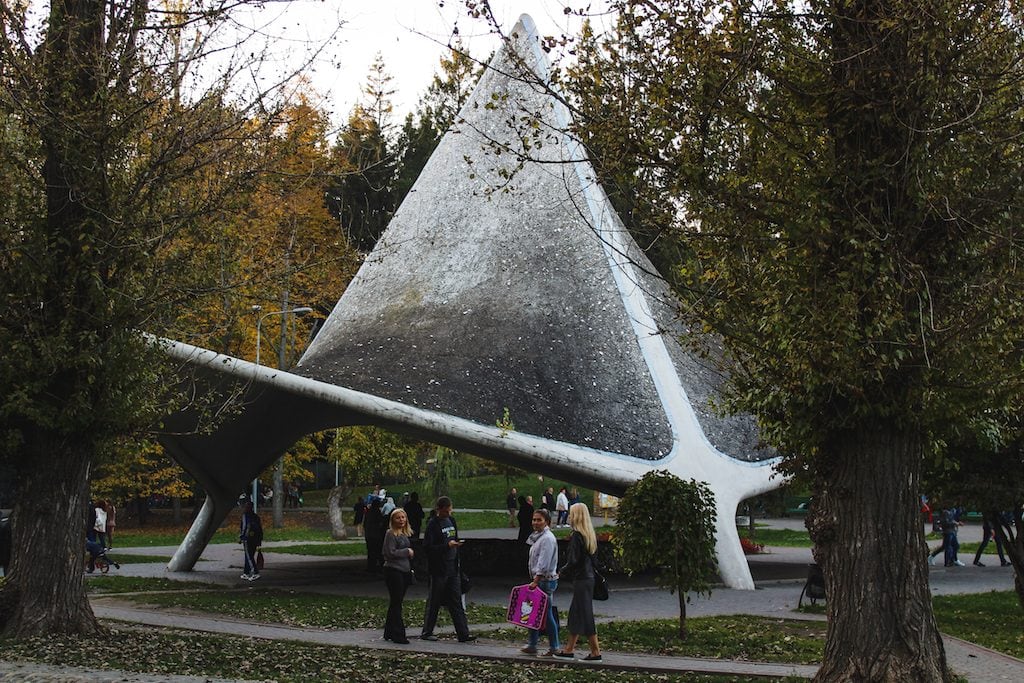 Kharkiv Cable Cars
On my map, I gave the exact location of where to take them from up on the hill, but you can actually take them from inside of Gorky Park too. I just did things the other way around as I made it my mission to visit the water pavilion above first (and walk up the hill to the cars).
These cars used to be greyish beige and black and numbered and looked like prison cars. I really wish I had gotten to see that. But they painted them in 2014 and now they are an assortment of colorful hues.
They also never used to have windows. Perhaps adding windows was in my best interest as I tend to be a bit clumsy sometimes.
The cable cars have a rather intriguing history as they were never intended for public use after their opening in 1971. They were built for workers of the Kharkiv Aviation Production Enterprise and Kharkiv Machine building factory called "FED" as it gave them easier access to their workplaces from the Pavlovo Pole area. They only just opened to the public in 2012. The ride is a total of 18 minutes long and really is a must-do when in Kharkiv.
Even The Guardian ranked this ride as one of the world's best cable car rides. I suspect it would have been cooler feeling like I was off to a prison in the beige and black ones, but this ride was pretty dang fun too.
I am not sure if it is still there as it was under heavy construction when I was there, but at the beginning of the ride (not the Gorky Park entrance), there was a large Soviet mosaic inside of the entrance hall that was interesting. I imagine it is gone by now, but if someone gets an update on this, please let me know.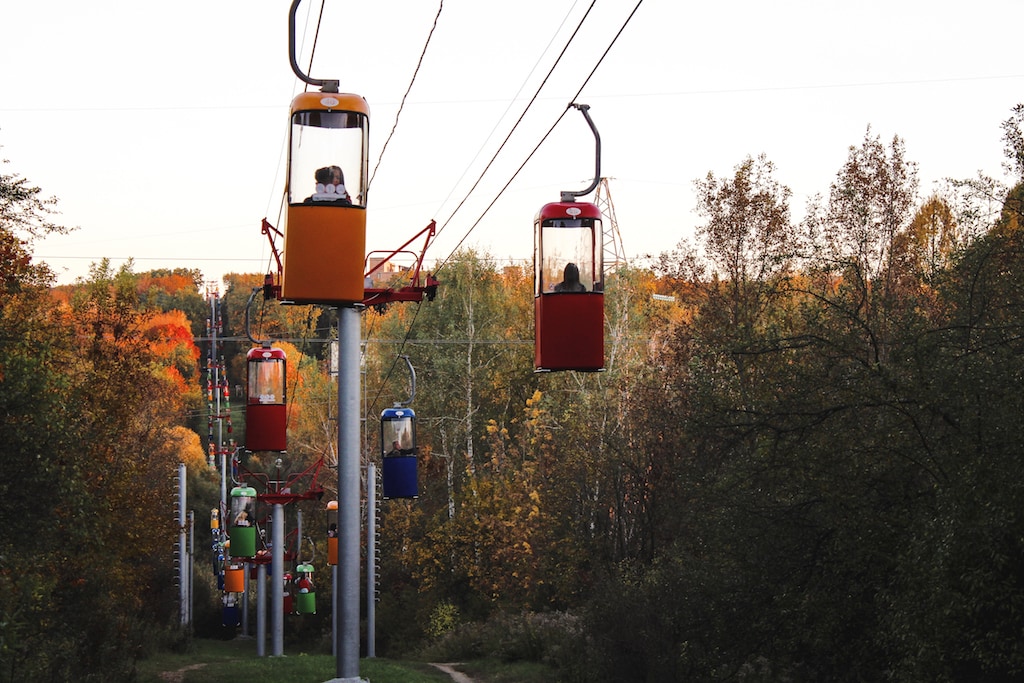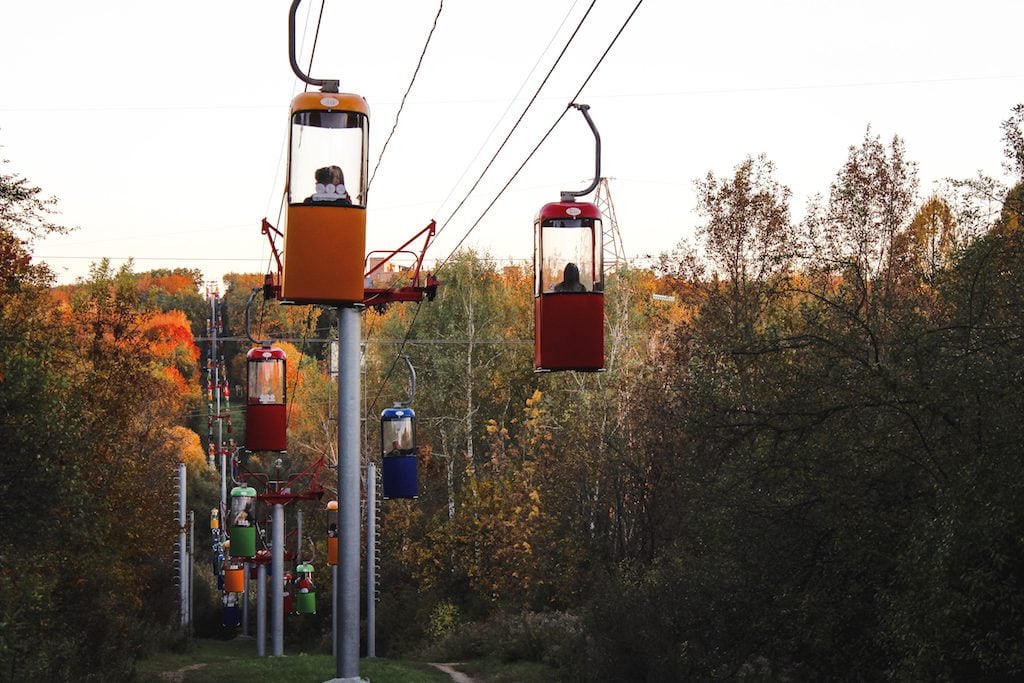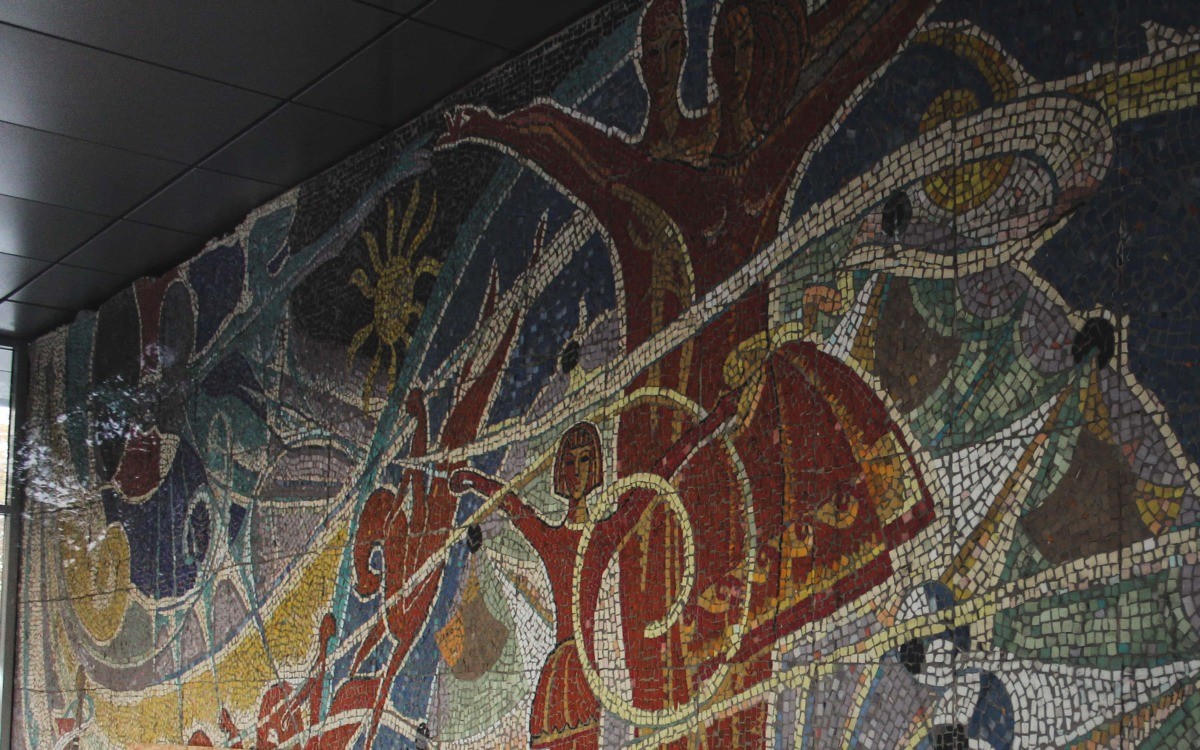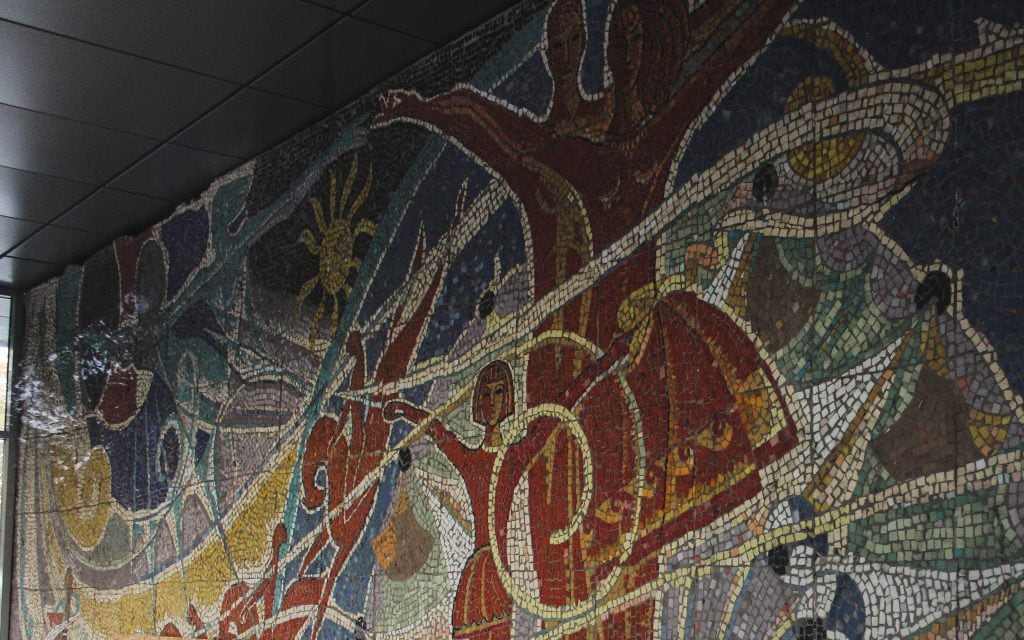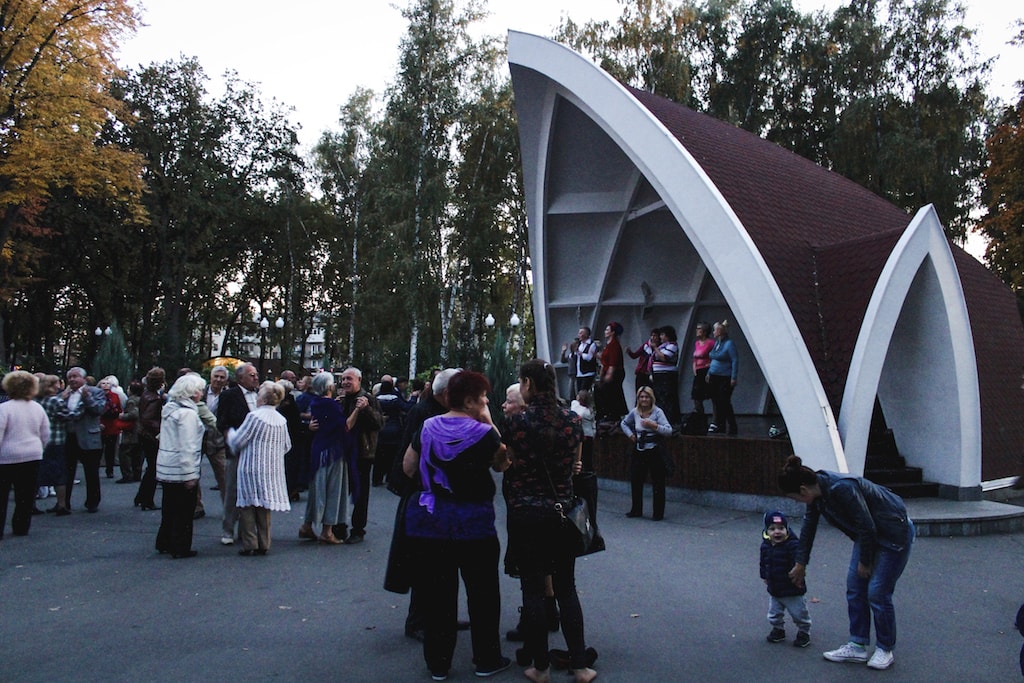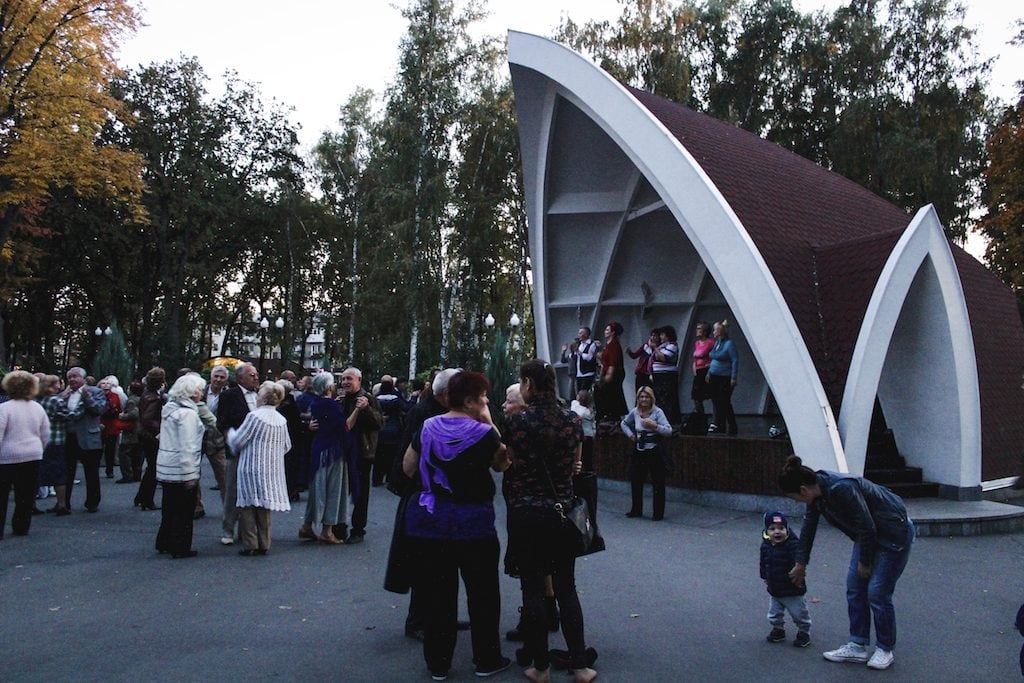 <the end of the cable car ride leads you to Gorky Park, pictured above>
Roofed Market Saltovskyi
The one place on this list I didn't have a chance to make it to. I had planned on seeing it on my last day as there was a coffee shop in the vicinity I wanted to check out, but I just never ventured there. I still wanted to keep it on this list as it looks wicked and worth stopping at.
Be sure to use the map I provided above as the other maps were off (I double-checked with locals and Google satellite). To read more about this piece of architecture, you can click here.
The Roofed Market at Saltovskyi is currently listed as Kruglyy Rynok and is found in Microdistrict 524 (near metro station Heroiv Pratsi). To see a photo of what it looks like- check out this link.
Soviet Tank Graveyard
While these tanks may be Soviet, the place certainly isn't abandoned. I read an article about this place several years back and decided to check it out for myself. It was a letdown. Many of the tanks have been moved and it is no 'graveyard' of tanks. It is simply a factory that has tanks inside of the property's walls.
You may be able to climb over the walls, but why would one want to? I did decide to walk there myself and see what was happening. The walls were high and I'm short, so I didn't have much luck seeing inside, but I did get some photos from lower sections of the wall and through the occasional hole.
Nothing too exciting, to be honest. But I listed it here as everyone that goes to Kharkiv inquires about it.
To get to the area by foot is another story. And it may make this 'tank graveyard' worth the trek, after all. In order to get there on foot, you really need to set aside a few hours of your day. If you follow the map I have above, you can cross the bridge before it after walking through a super-residential area of Kharkiv.
There are homes, some small shops, and quite a few stray dogs loitering this neighborhood. You will eventually come upon a bridge. Don't be alarmed at how small and decrepit it is. I was certain I was at the wrong place when I approached it… but you'll be on the right track.
Simply cross that bridge and you will see a massive gated wall… that is it. If you circumnavigate the premises (which is massive), you can check for gaps and holes here and there.
If you're with someone, you can probably get them to give you a boost to see above. Just a note- you can take public transport here (a bus) but that is kind of boring, now isn't it?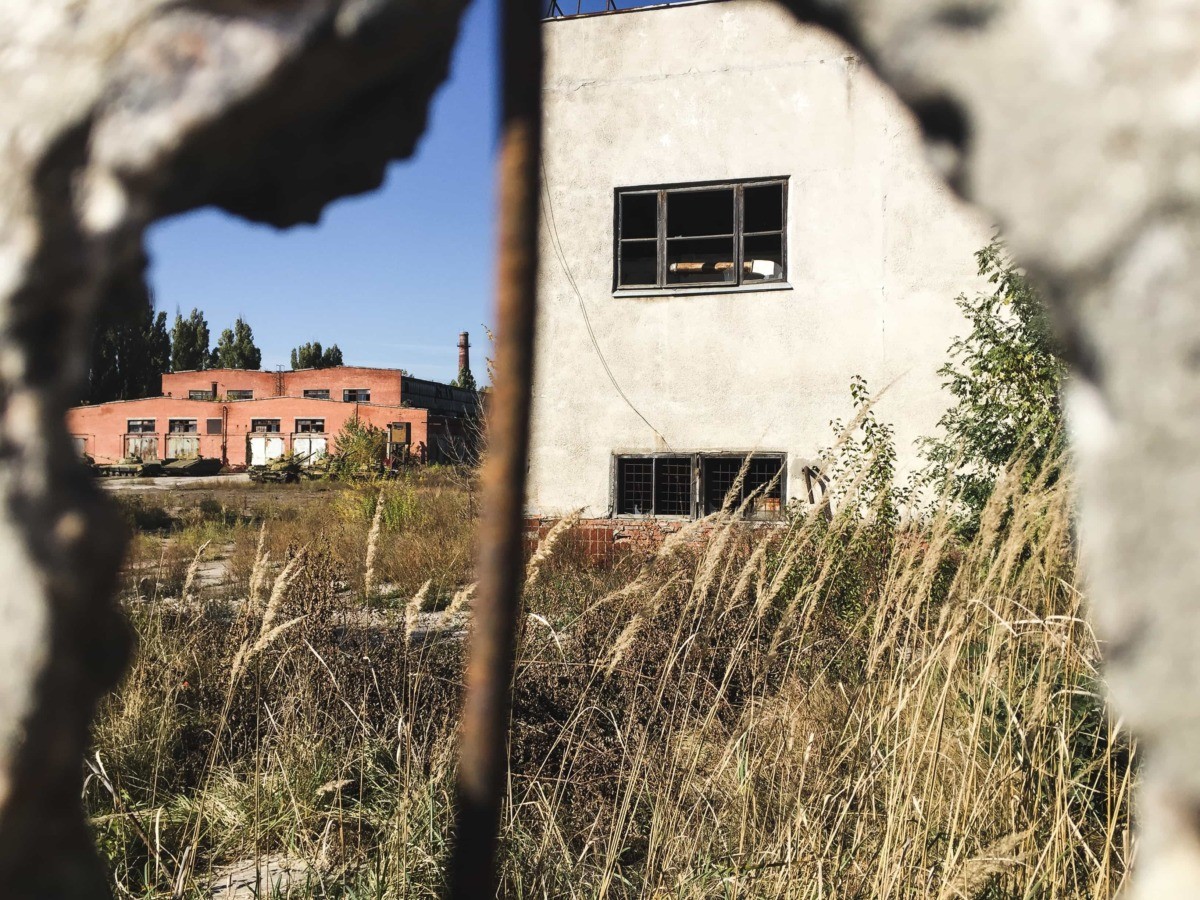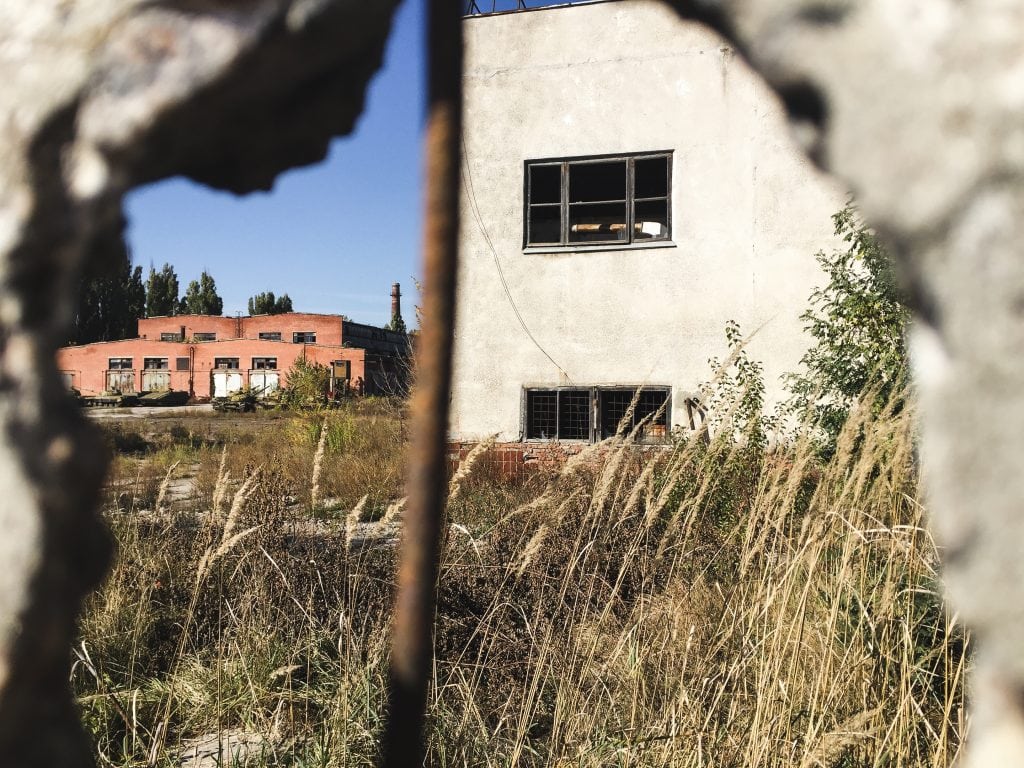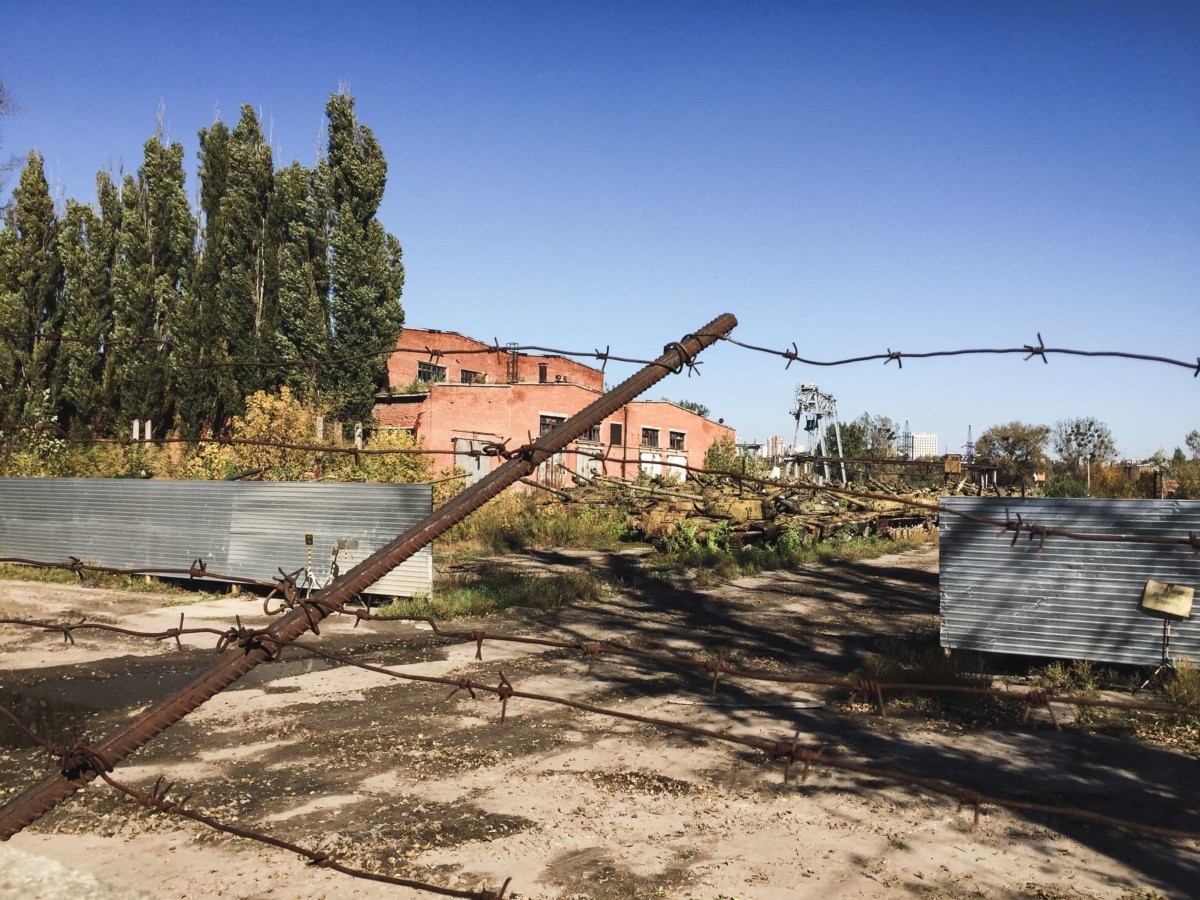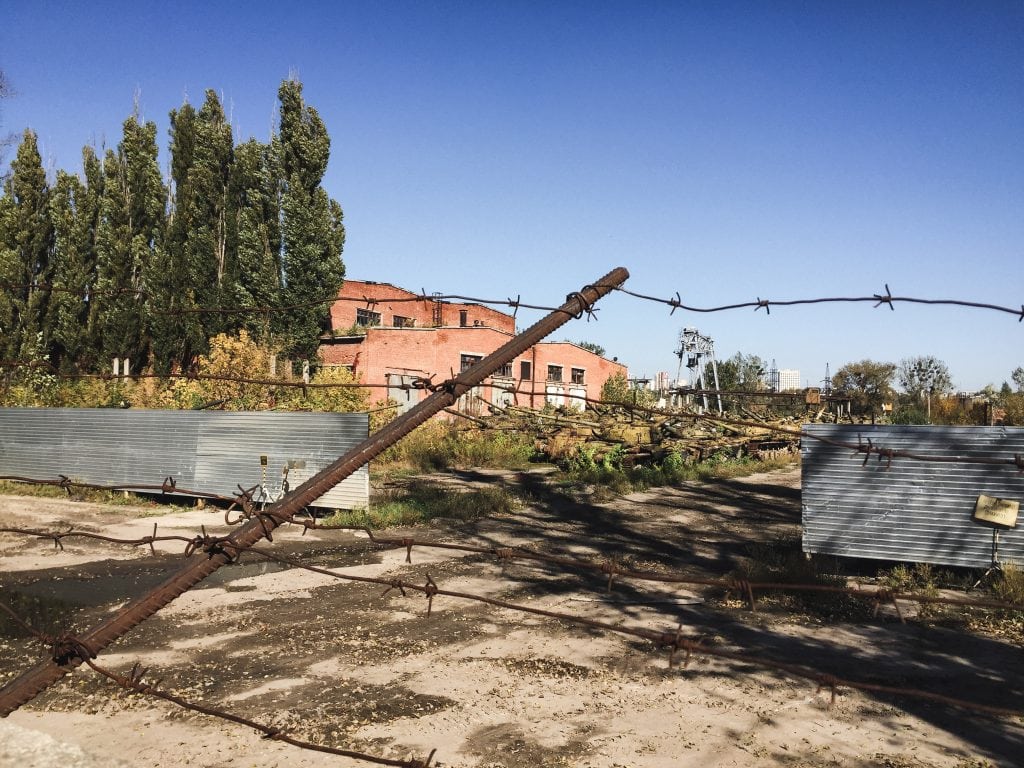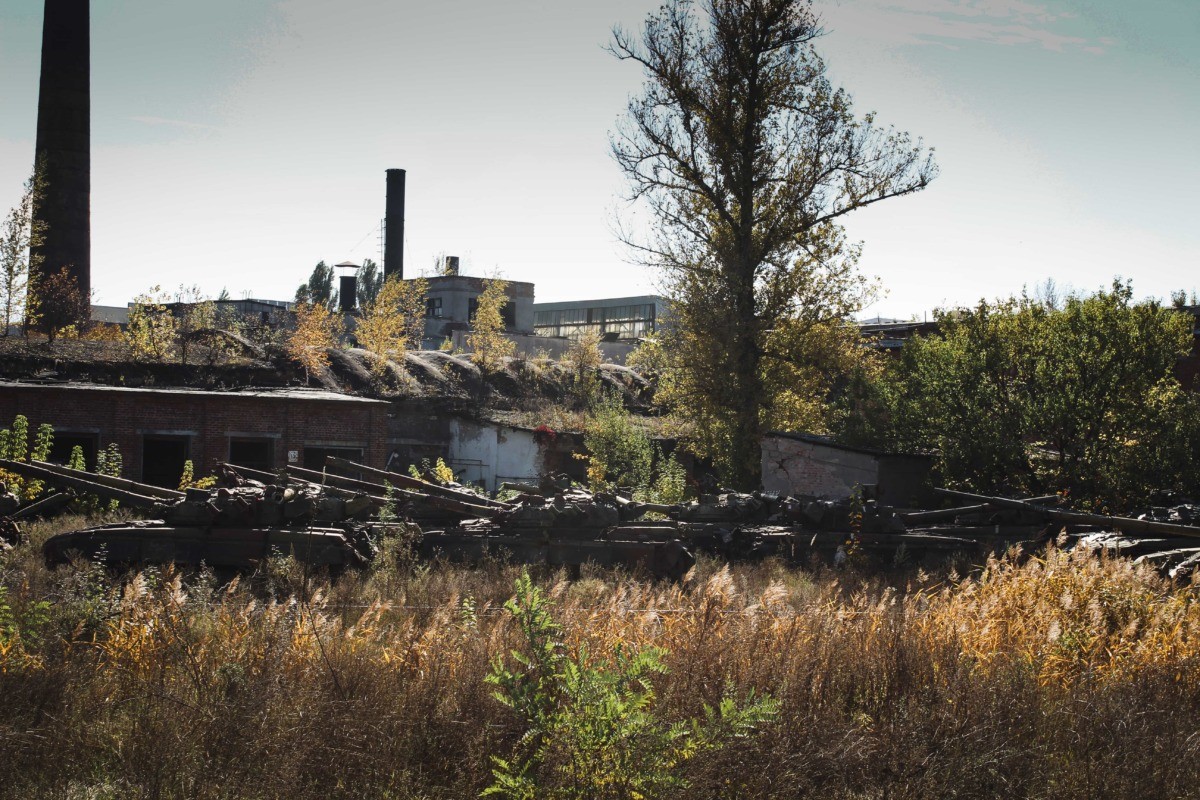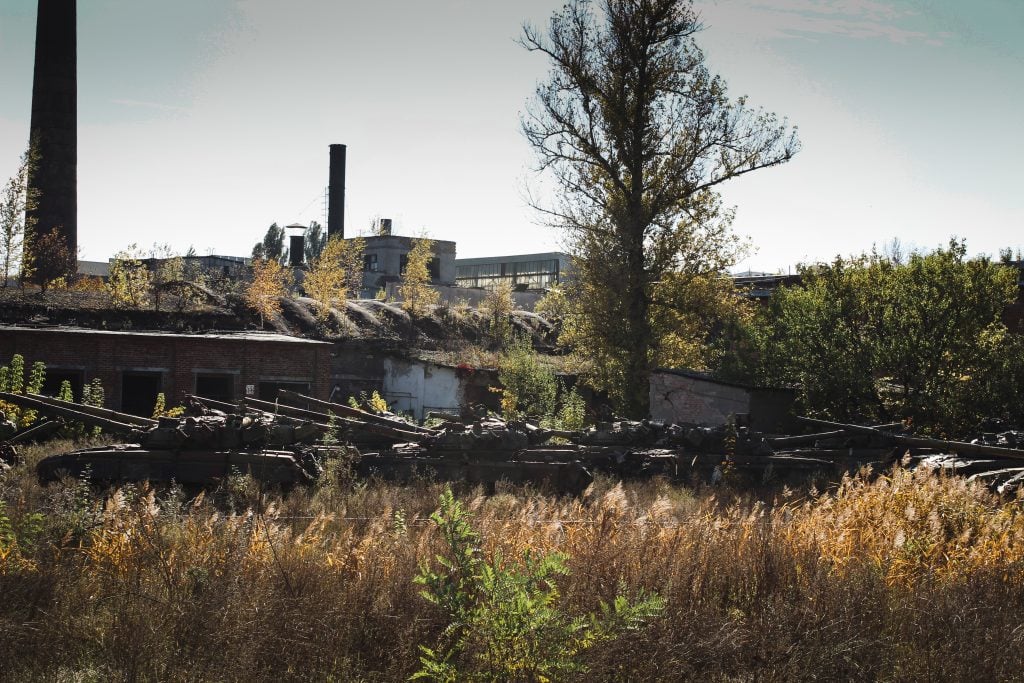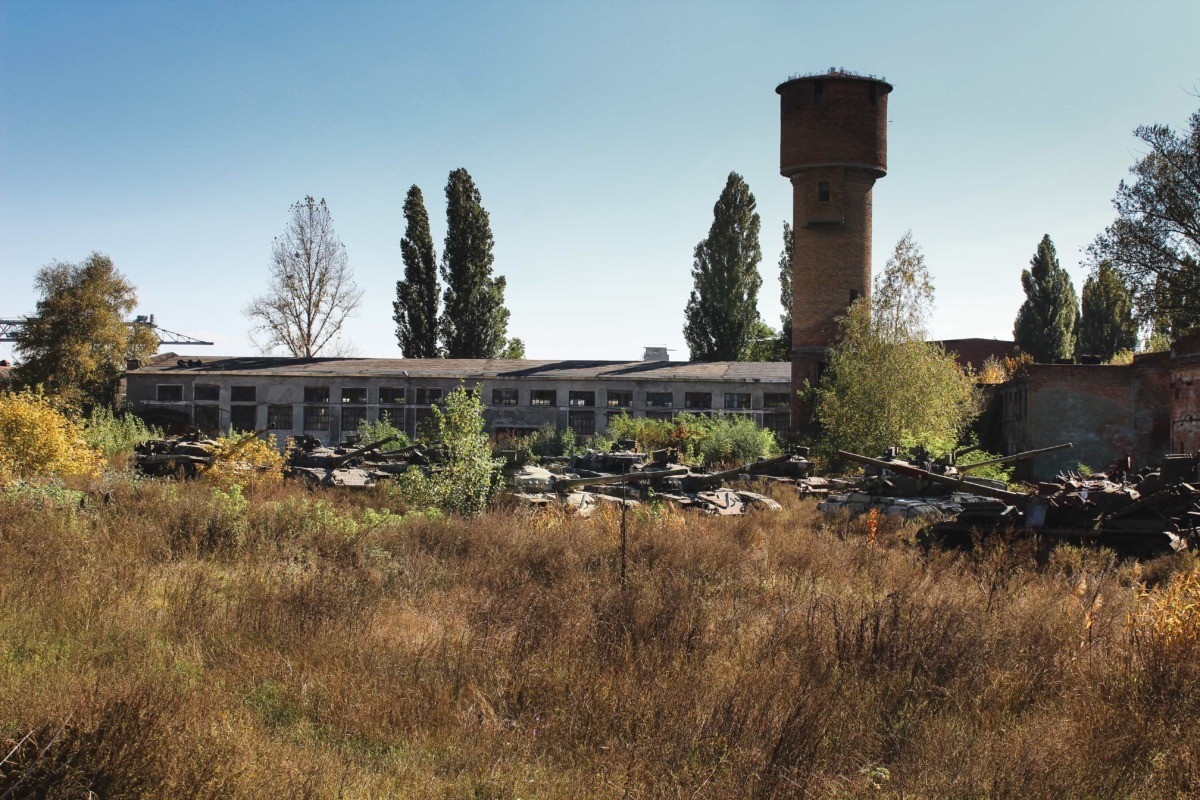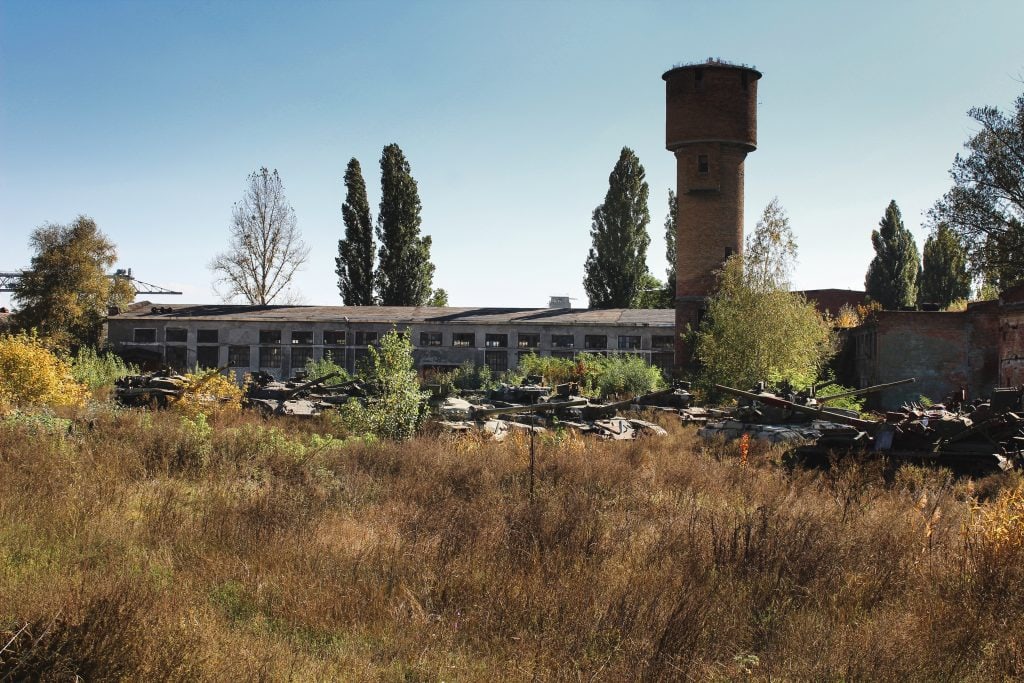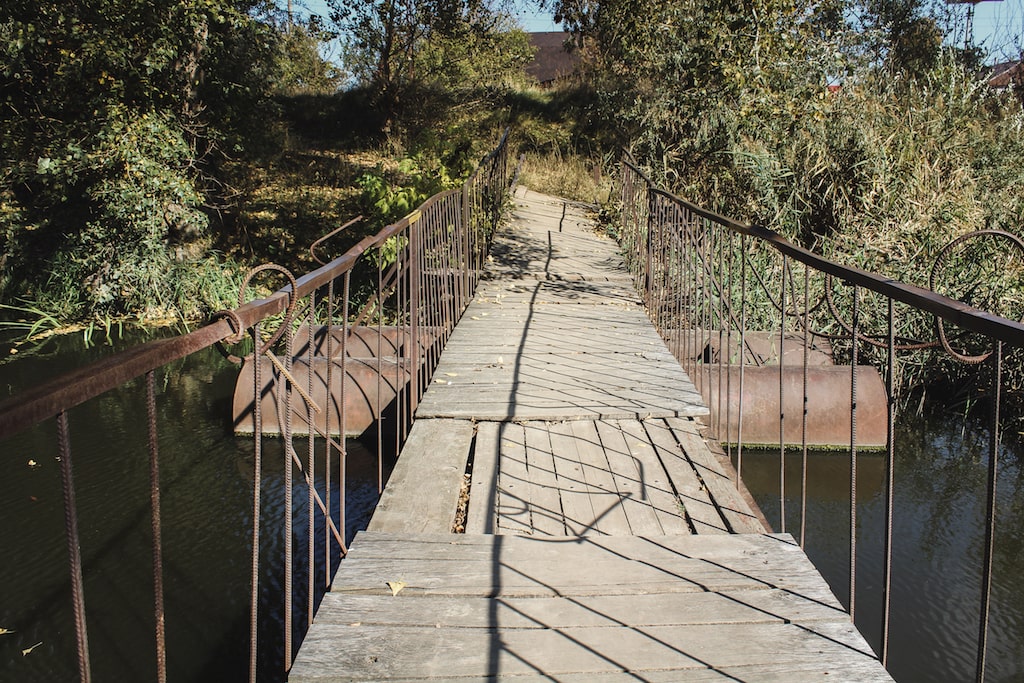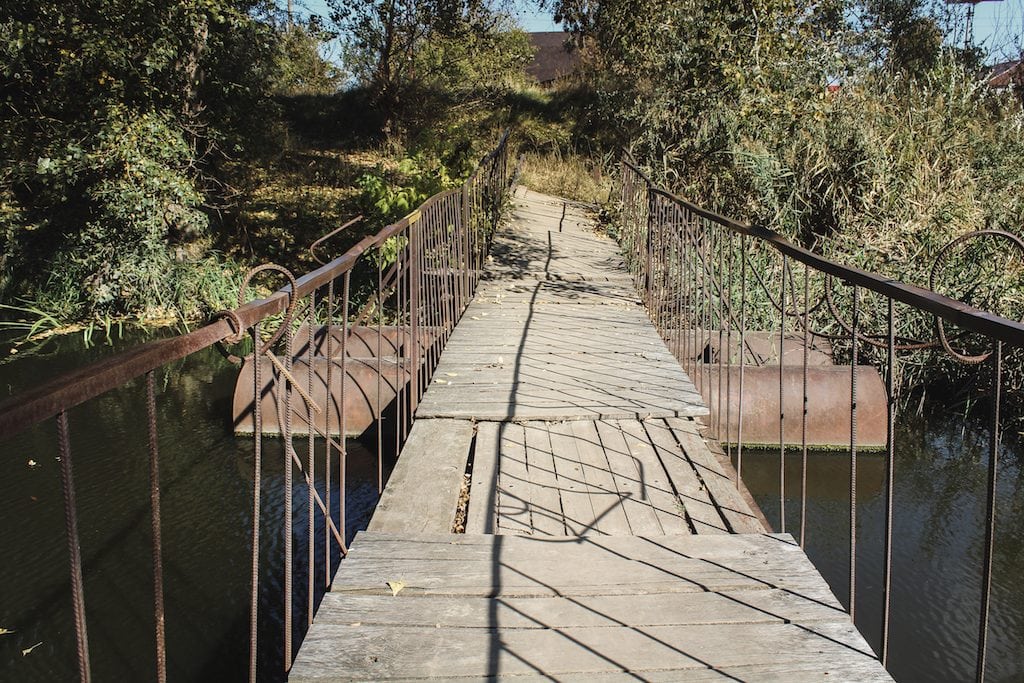 Children's Pioneer Pool
This pool is kind of off the trodden path of Kharkiv and took some research and major trial and error to find. I have it listed correctly on the map above… but other maps don't have the address correct or its location.
The Pioneer Pool was designed by R. Zarb and N. Kozhevnikov and opened in 1977. It is hidden in a residential area near a shopping plaza, but once you see that crazy roof, you will know you're at the right place.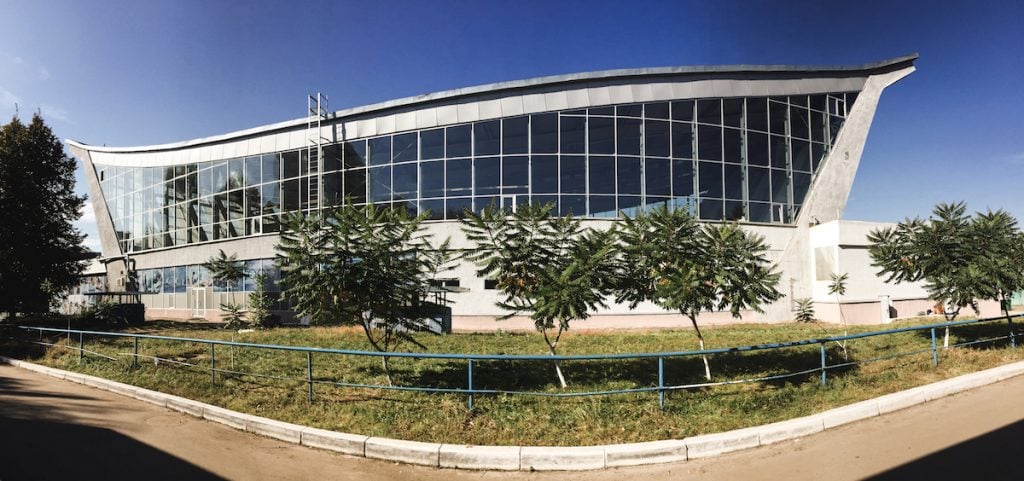 There are many other Soviet structures that can be found in Kharkiv, but these were the most notable or were my favorites. I'd love to have some updates or other places listed… so if you have any others worth mentioning, please list them in the comments.