Have you added Sao Vicente to your Madeira itinerary? This post details the best things to do in Sao Vicente, Madeira and why you should visit the mountain town on Madeira's northern coast.
Are you planning your trip to Madeira last minute?
If youʻre booking your trip to Madeira last minute, we have you covered. Below are some of the top tours, hotels, and more!
🌊 Top Experiences and Tours in Madeira:
🛌 Top Hotels in Madeira:
🚗 Visiting Madeira independently? Be sure to book your rental car ahead of time to ensure availability!
I ended up in Sao Vicente on a whim and I made it my base for my entire Madeira trip, which is kind of out of the ordinary as most travelers will take advantage of the many hotels in Funchal that make an even better base, especially if exploring Madeira by tour or an excursion.
The gorgeous town had a lot to do and more natural sights than meets the eye!
This is a complete travel guide for visiting Sao Vicente, Madeira. It will include the Sao Vicente Caves and Volcanism Center, where to eat, accommodation, and much more!
🌋 NOTE: The Sao Vicente Caves and Volcano Center are temporarily closed (I called to double-check on October 14, 2023). They are planning to reopen in 2024 if all goes as planned.
Please let us know if you have any questions about Sao Vicente. We are happy to answer!
About Sao Vicente
Sao Vicente is a small municipality on the northern coast of Madeira and it sits in between Santana (known for the thatched houses) and Porto Moniz.
It is known for its volcanic caves as well as the church that sits prominently atop a basalt rock at the mouth of the small river that runs through the town. There are currently around 5,800 residents.
Best Time to Visit Sao Vicente
The weather in Madeira is just like most places and fluctuates most of the year. On the other hand, it is always a bit nicer than the average place and that fluctuation is only by around 7C or 10F, so you can basically count on enjoyable weather no matter what time of the year you go there.
We went to Madeira in October. It was sunny most of the day, but clouds came through quickly when they did (creating pretty magical sunsets every single night, if I'm going to be honest).
Read more: 35 best things to do in Madeira
Madeira weather is very temperamental, on the other hand. It rains quite a bit during the cooler months (October until March), so just keep that in mind if you end up there!
I would say that the best time to visit Madeira and Sao Vicente is during spring, however. Flowers are in bloom and the weather seems very pleasant.
How to Get to Sao Vicente from Funchal
Believe it or not, there are a few ways to get to Sao Vicente from Funchal. I listed both public transportation and cheap car hire in Portugal options below. If you read further, there are some tour recommendations too.
While I didn't take any tours in Madeira, I did take two in the Azores and as someone who doesn't like tours, I loved it.
It is definitely something to consider if Sao Vicente is on your list but you don't want to drive there or spend grueling hours on a hot bus out that way from Funchal.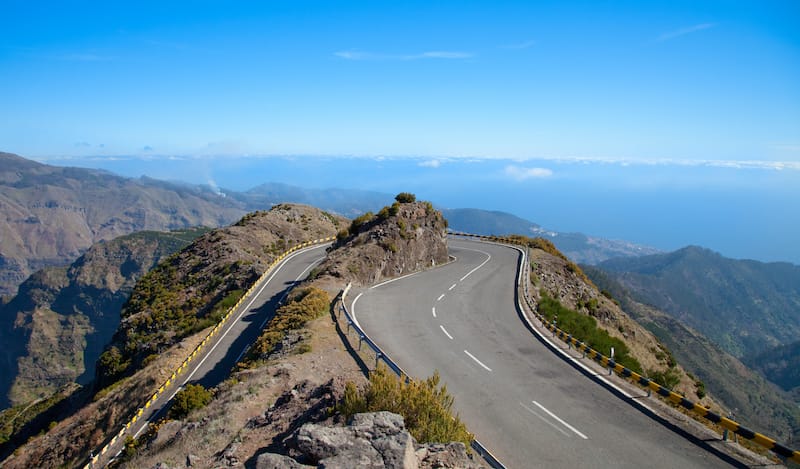 Getting to Sao Vicente by Public Bus
Here is where things get a bit… interesting. Sao Vicente is difficult to reach via public transportation. Not impossible by any stretch (we did it, obviously), but it is a cumbersome trip. The bus costs around 8 Euros or so per person, one way.
Rodoeste Nr. 6 from Funchal to Boaventura
You can take Rodoeste Bus 6 Funchal / Boaventura. This bus takes nearly 3 hours, but the scenery you will witness will blow your mind. And if you're afraid of heights, it will be a bit frightening.
The bus departs Funchal three times a day, except Sundays, where it is only twice a day. The bus departs Funchal at 0735, 1335 (not on Sundays), and 1730. It will pass through four stops after Funchal and you will disembark on the fifth stop. But, double-check with the bus driver.
They often pick up people along the way and it can leave you pretty confused if you're not keeping an eye out. When you're in Sao Vicente, it is pretty obvious as you'll be in a dramatic valley overlooking the ocean with a landmark church atop a hill.
INSIDER TIP:
As mentioned above, this is not the easiest or most pleasant way to reach Sao Vicente but it is the cheapest. The road is scary and at a very high altitude. Be sure to bring along some
altitude sickness prevention pills
if this is something that bothers you. I also recommend purchasing a
motion sickness wristband
and wearing it as the road has several curves.
Rodoeste Nr 139 from Funchal to Porto Moniz
The other public bus option you have to get to Sao Vicente is to take Bus 39 Funchal / Porto Moniz. This bus works daily and departs at 0900 every day. You'll arrive in Sao Vicente at around 1130 and it is the second to last stop.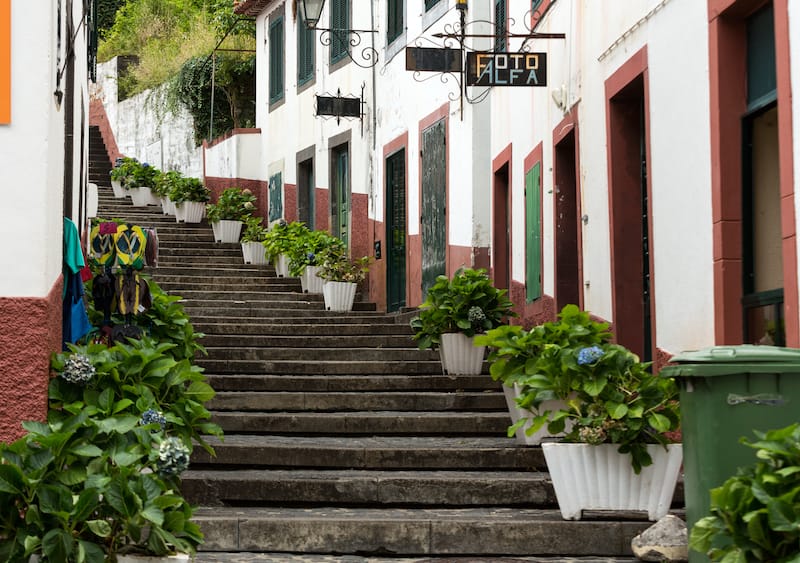 Getting Back to Funchal from Sao Vicente by Bus
Getting back to Funchal from Sao Vicente is just as difficult as getting there. You have the same bus numbers returning, but at different times, naturally.
We randomly found an express bus, but it was teeming with school kids for the first thirty minutes and we had to stand crammed in. I had a breakdown as I am claustrophobic, but all was settled when they got off to go to school.
Rodoeste Nr 6 from Boaventura to Funchal
This bus will leave Sao Vicente for Funchal at 0635 (not available on Sundays), 0755, and 1535. You will arrive at Funchal at 0850, 1025, and 1750, respectively.
Rodoeste Nr 139 from Santa to Funchal
This bus only leaves Sao Vicente on weekdays and Saturdays. It leaves at 0600 and arrives in Funchal at 0830.
Do double-check the schedules above before going as they may have changed or routes may have been removed or added. You can check the bus schedules for Rodoeste here.
Getting to Sao Vicente by Car
Congratulations. You have chosen the most sensible option and the one I wish I had opted for when I look back at things. Sources say that the trip from Funchal to Sao Vicente takes about 45 minutes if you take the fastest routes and tunnels.
I will likely never know because I am too scared of heights to ever drive this route myself. But, I do advise renting a car in Madeira and you can check Madeira rental car rates here.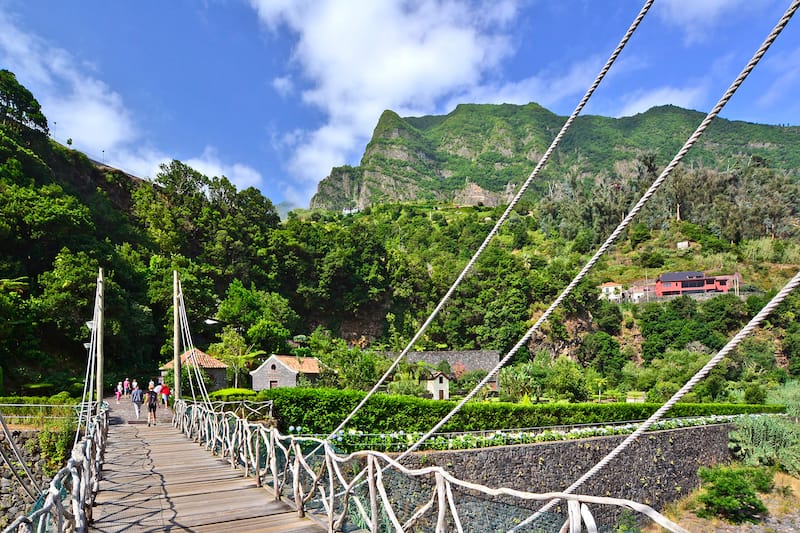 Tours to Sao Vicente from Madeira
I completely realize that public transportation is not necessarily a feasible option for most as the route is cumbersome and much longer than it needs to be (those darn beautiful mountains).
Please don't let that put you off of visiting Sao Vicente! The area is truly stunning and unique to so many other areas of the island that it really deserves to be part of your Madeira itinerary.
There are two Madeira tours that can get you to Sao Vicente from Funchal. You can learn more about each below.
Option 1: Madeira North Coast Day Trip From Funchal
You will leave Funchal for the North Coast where you'll get to check out Porto da Cruz to the east, Faial, and Cabanas de Sao Jorge.
Depart Funchal and head for the north coast of Madeira to get unprecedented views of the ocean and island from different perspectives. You will get a glimpse at the sea, mountains, and some of the most remarkable vineyards.
The rest of the day, you will get to see Ponta Delgada, Sao Vicente, and then get to see the Sao Vicente caves. Your final stop will be Ribeira Brava before returning to your Funchal accommodation. Click here to check tour rates and availability.
Read more: Best Madeira tours – volcanoes, islands, and more!
Option 2: Madeira Island Full-Day Jeep Tours
This tour is brilliant and changes from day-to-day. A few of the tours put emphasis on Sao Vicente tourism, however, and other areas around its northern coast location.
By visiting Madeira by Jeep, you will be able to off-road into areas you didn't think you'd otherwise be able to see. Click here to check tour rates and availability.
Things to do in Sao Vicente, Madeira
There are a plethora of things to do in Madeira. And there are loads of them located in Sao Vicente.
Besides the obvious beach activities and going to restaurants and bars, the activities and things listed below are other things to keep you occupied if you find yourself in this part of Madeira.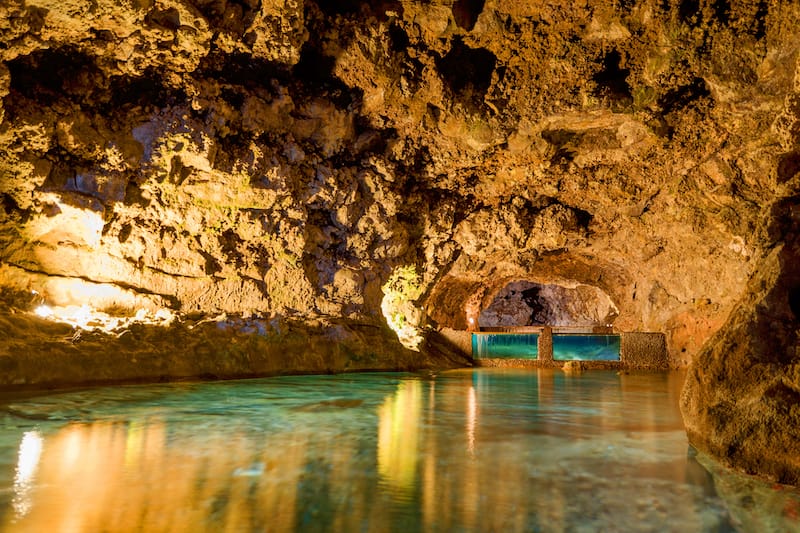 Sao Vicente Caves and Volcanism Center
The Sao Vicente Caves were the result of an eruption that happened 890 thousand years ago that occurred in Paul da Serra.
On the other hand, the locals did not report the caves to officials until 1885 and they became a tourist attraction in Sao Vicente in 1996.
🌋 NOTE: The Sao Vicente Caves and Volcano Center are temporarily closed (I called to double-check on October 14, 2023). They are planning to reopen in 2024 if all goes as planned.
You can walk through the Sao Vicente lava tubes and caves and at the end of the tour, you can check out the Volcano Center that offers an educational perspective on the geological wonder.
Book here: Day trip from Funchal to Sao Vicente Caves
We saw a 3D movie about how the caves and Madeira formed (it was nauseating… I can't do 3D) and had very enthusiastic guides and people explaining and answering questions.
The Sao Vicente Caves and Volcanism Center is open 7 days a week from 1000-1800. There is an entrance fee. They are located in the valley and you can't miss them if you are staying in the town or merely taking a day trip to Sao Vicente.
The address is Sitio do Pe do Passo.
INSIDER TIP:
If you're looking to visit the Sao Vicente Caves and Volcanism Center from Funchal, there is a
fantastic and affordable day tour that takes you there
. It is only a 4-hour excursion and is priced at merely €25 per person. The center is a fantastic Madeira attraction for kids and families.
Go Hiking in Sao Vicente (and the Surrounding Areas)
There are a few hiking opportunities in and around Sao Vicente. Unfortunately, a car is recommended to get to two of the locations mentioned below (but the last one can be done by foot from the city center!)
Until you're on Madeira, it is hard to grasp how dramatic and tantalizing the scenery is there, but trust me- it is. It will blow your mind.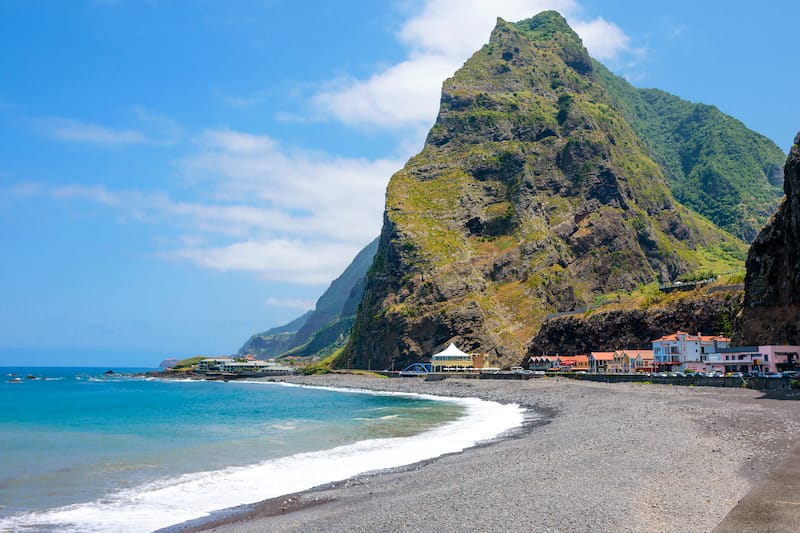 Hiking to Pico Ruivo from Bocca da Encumeada
This Madeira hike takes you to the tallest peak on the island. There are several views along the way, but the final view is a 360-degree view of the island and it is impressive.
The only problem? This hike is not for the weak. It is very demanding and is estimated at around 12 hours. This 20km hike is one of the best on Madeira, but not many people partake due to its difficulty (and most people are on a Madeira all-inclusive holiday anyway).
Hike Along a Levada near Sao Vicente
Hiking the levadas is one of the most common things to do while on Madeira. Levadas are irrigation canals and they ubiquitously exist all across the island. This hike starts around Sao Vicente and is best reached by car. You will hike the La Levada do Norte through the dense Folhadal forest.
This hike is much easier than the aforementioned one! The hike itself takes around 2.5 hours and is a little over 5km. The forest presents itself with a variety of species and breathtaking viewpoints.
Walk the Old Road from Sao Vicente to Seixal
NOTE: On November 18, 2023, I was notified by a reader who is currently in Sao Vicente that this walk is not currently doable. It is blocked off and dangerous, with falling rocks and mud covering the road. I will update again in the future if it becomes accessible, or I will remove it from this guide.
The old road that goes from Sao Vicente to Seixal is now abandoned and hugs the rough scenery and goes right along the coast. The new road, built behind it, winds through tunnels and is quicker and more efficient.
The old road is now open to people who want to walk from one village to the other.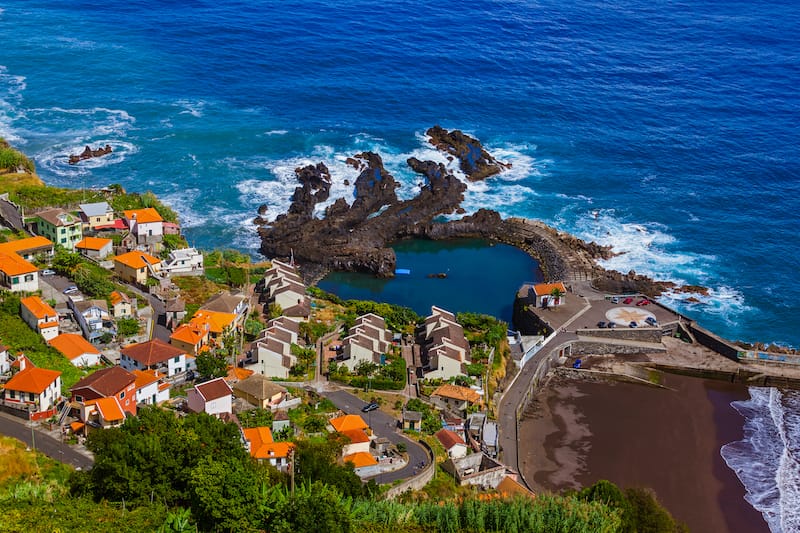 We walked a little under halfway as we ended up starting too late and were too mesmerized by the scenery to move along too quickly. The distance is fairly long at about 6km, but the views are so worth it!
When walking this, make sure you are careful going through the old tunnels as they are now covered in wet moss and can be quite slippery! Also, be sure to leave the headphones behind and listen to the sounds as there are hidden waterfalls along the way!
Explore the Calamar Pools and Grounds
We really don't know the place we explored aside from that its name is Calamar Restaurant and we think it is a seasonal beach bar, but it wasn't being used in October when we were there and was located right on the seaside.
While the restaurant was closed (seasonally or permanently- we have no idea), the grounds were stunning and fun to explore.
It seems as though lizards and nature have claimed this place back, so I hope that someone cleans it up before it reopens or as sold off to a new owner. The spot is so perfect.
Enjoy Some Local Poncha
Poncha is a local drink that is made from sugar cane, rum, limes, etc, and is very special to this area of Madeira. I had it made for me at my guesthouse, Enjoy it Home, and it was really tasty despite my terrible hangover that day. I am pretty sure I appreciate it more now than I did then.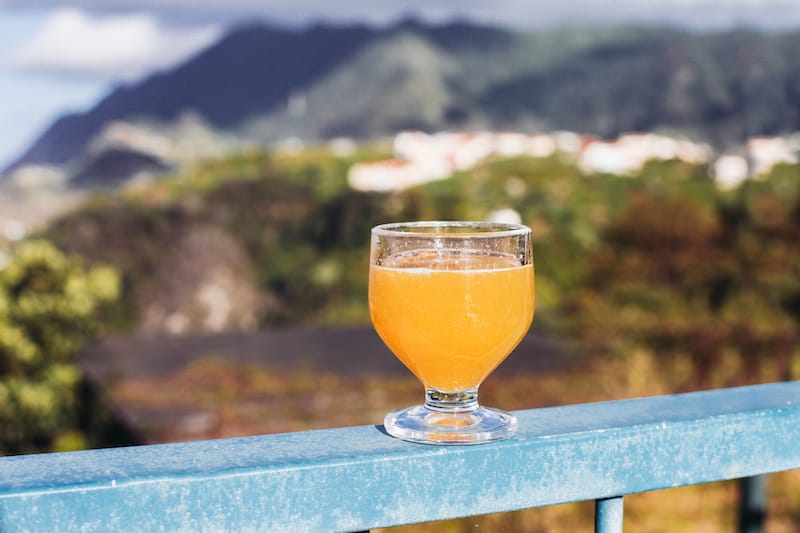 Where to Eat in Sao Vicente
There is not an overabundance of places to eat in Sao Vicente, but there are enough. There is also a sizeable grocery store there that will keep you stocked with things to make for lunches and dinners if you are staying in an apartment or rental property.
We also shopped for groceries before arriving in Sao Vicente because we were unsure if we would actually have a grocery store there. The shops in Funchal sold so many familiar items. The shop in Sao Vicente served fewer.
Here are a few places I went while there and my thoughts on them:
Restaurante Quebramar
This restaurant was our go-to by the end of our trip to Sao Vicente. We kind of shunned it at first because it overlooks the ocean, was destined to be overpriced, and seemed to just be brimming with tourists that were passing through on their Madeira road trips.
But, we found it actually not like that at all.
The pricing was decent and the food was pretty fresh. But that is not why we went there. We went there for the views. The staff kept trying to seat us upstairs away from the ocean view and we kept refusing. They eventually gave up. We even made this our 'drinking spot' merely for the ocean view.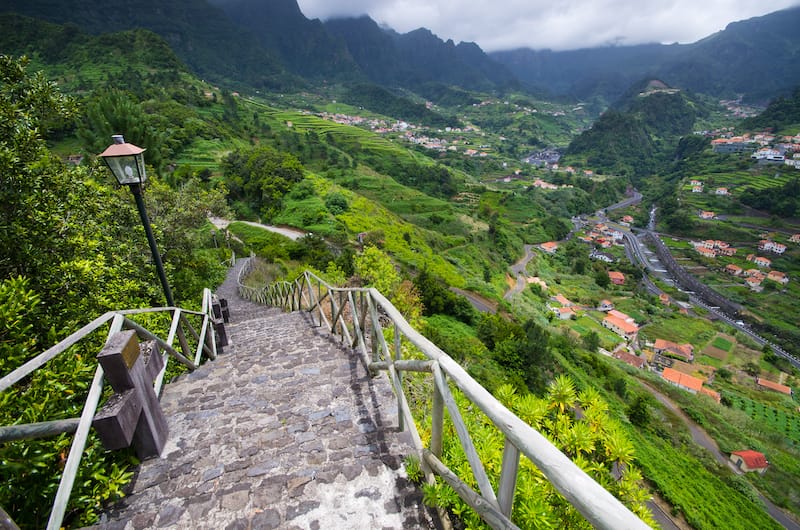 Xapa Grill
We really wanted to love this place as it had pretty solid reviews online, but we didn't care for it that much. The Xapa Grill sits upstairs in a shopping plaza right along the ocean. The reason we were drawn to it was that they had a buffet that got good reviews and was cheap.
We were hunting for something affordable for lunch so we didn't have to walk up the hill to our accommodation, but this missed the mark for us.
On the other hand, we think it was because we went so late in the day and the food seemed old, cold, and lifeless. But, maybe worth giving a shot if you want to try some local foods at a cheap price. Just go right when they open.
Churrascaria Brasa Viva
I am so gutted that we didn't eat here. We stumbled upon this place as we were walking around the main road on our first day in Sao Vicente. A couple of local men called us over from across the road.
We walked over and chatted with them and decided to have a Coral beer on the large outdoor terrace.
The men eventually left and we were there by ourselves. We didn't know if the place had good food or not because there was no one there except us and I'm always wary of eating at a place where no one is eating at (take mind, it wasn't dinner or lunchtime- I was just jet-lagged).
We passed on eating there. As we were about to leave, we saw two tourists stop by on their road trip and order some meat and it looked incredible.
While I'm not an avid meat eater, I can say that it looked fresh and totally appetizing. We never went back only to later read that this place gets raving reviews. Oh well, next time!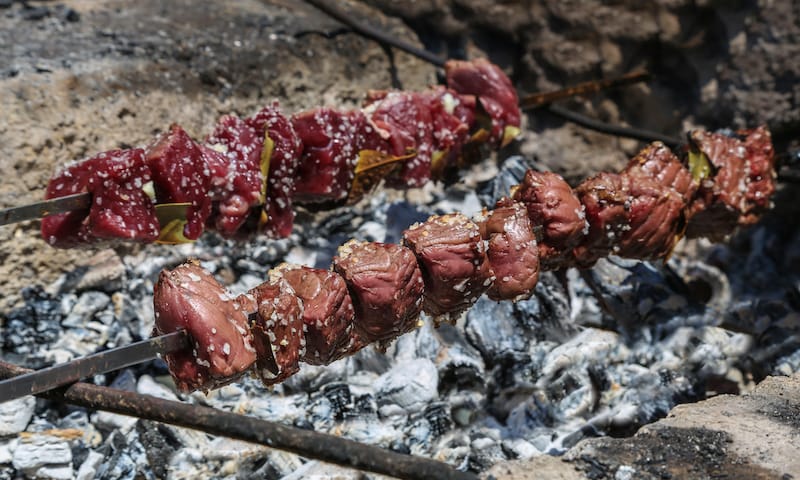 Where to Stay in Sao Vicente
Sao Vicente has a variety of accommodation, ranging from budget options to middle/upper range.
There is nothing overly luxurious in the area, but you can find some of the all-inclusive Madeira resorts or some of the best Madeira resorts in other communities on the North Coast of Madeira. Below are some hostels and hotels in Sao Vicente that I recommend.
Budget accommodation seems to be more commonplace in Sao Vicente than upscale and luxury accommodation. Below are a couple of recommendations for Sao Vicente accommodation (including the one I stayed at).
Where I Stayed (Budget): Enjoy it Home
This is where we stayed while in Sao Vicente and we loved it. The property is more of a guesthouse than a hostel or hotel and we felt like part of the family immediately upon arrival.
The property is gated and on the hill. If you have a lot of luggage and are taking public transport out this way, try to get dropped off on the hill before getting into the actual town center. Trust me!
Read more: Best hostels and hotels in Funchal, Madeira
It is quite the uphill hike. The guesthouse has clean rooms, hot showers, clean kitchen, laundry options, good wifi, a lounge room, and a stunning garden area that gives some of the best views in the town (including the ocean).
Before arrival, be sure to email Pedro and the guesthouse with your arrival details so they can ensure someone will be there to let you in. If you arrive out of season, it is really not very busy.
Budget Option #2: Gardens Guest House
This is priced around the same as Enjoy it Home and gets good reviews (it was formerly the Sao Vicente Hostel). The hosts are known for being hospitable and the place is known for having killer views.
It comes equipped with parking, lockers, a fully equipped kitchen, wifi, and a BBQ area. Sao Vicente Hostel is definitely a Madeira fan favorite.
Oceanfront Mid-range Accommodation: Estalagem Do Mar
This oceanfront (you heard me) lodging was one of our favorite spots in all of Sao Vicente. We went there every morning to the rocks around it to photograph and were jealous of the people who got to wake up to the waves there every morning.
As it turns out, the hotel is super affordable. I will definitely add it to my 'next time I'm in Sao Vicente' file. Definitely a great hotel in Madeira for those who want to stay oceanfront.
>> Click here to check rates and availability for Estalagem Do Mar
Best Value Accommodation in Sao Vicente: Solar da Bica
This property is best reached by car or without a lot of luggage to carry. It is situated a bit further inland but offers beautiful views, free breakfast, an indoor pool, and an organic vegetable garden.
There is also a sauna and a friendly staff to greet you upon arrival.
>> Click here to check rates and availability for Solar da Bica
Should You Visit Sao Vicente, Madeira?
I found Sao Vicente to be a super chilled-out slice of Madeira that definitely doesn't get enough love compared to other parts of the island. If you're looking for things to do in Sao Vicente and are into hiking and nature, you will not be disappointed.
We hope that this Sao Vicente travel guide gave you tips for planning your trip there, regardless of whether it is a day trip or an overnighter. Please let me know if you have any questions about traveling to Sao Vicente!
More Madeira Travel Guides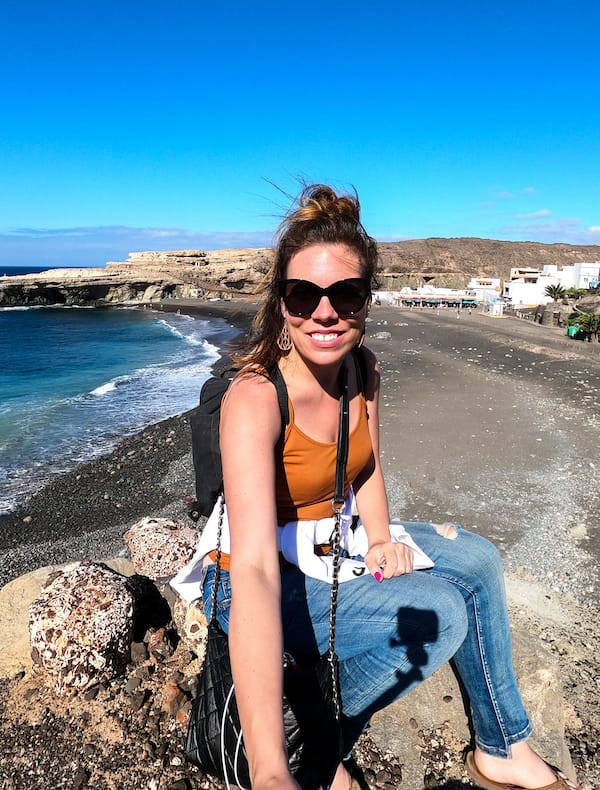 Megan is a travel blogger and writer with a background in digital marketing. Originally from Richmond, VA, she now splits her time between Frankfurt, Germany and Arctic Finland after also living in Norway, Armenia, and Kazakhstan. She has a passion for winter travel, as well as the Nordic countries, but you can also find her eating her way through Italy, perusing perfume stores in Paris, or taking road trips through the USA. Megan has written for or been featured by National Geographic, Forbes, Lonely Planet, the New York Times, and more. She co-authored Fodor's Travel 'Essential Norway' and has visited 45 US states and 100+ countries.