Are you visiting Punta Arenas and are looking to plan a day trip to see the Tierra del Fuego King Penguins? This guide covers how to do just that!
Below, I will tell you everything you need to know about visiting the King Penguins on Tierra del Fuego, plus how to get there from Punta Arenas, what to expect on the journey, and a few details about the other places you will see on your day trip!
I will also divulge if I think the trip is worth it as well as who I think should plan a trip to see them… and who shouldn't!
If you have any questions about seeing the King Penguins from Punta Arenas, let me know in the comments, and I will do my best to help.
About the King Penguins on Tierra del Fuego
The King Penguins on Tierra del Fuego have not been long-time residents of the island and, in fact, only arrived in 2010 (well, this colony did).
Once they arrived on the Fuegian Coast in an area known as Bahía Inútil (Useless Bay), people and tourists started to disturb their mating habits, and as a result, only 8 stuck around.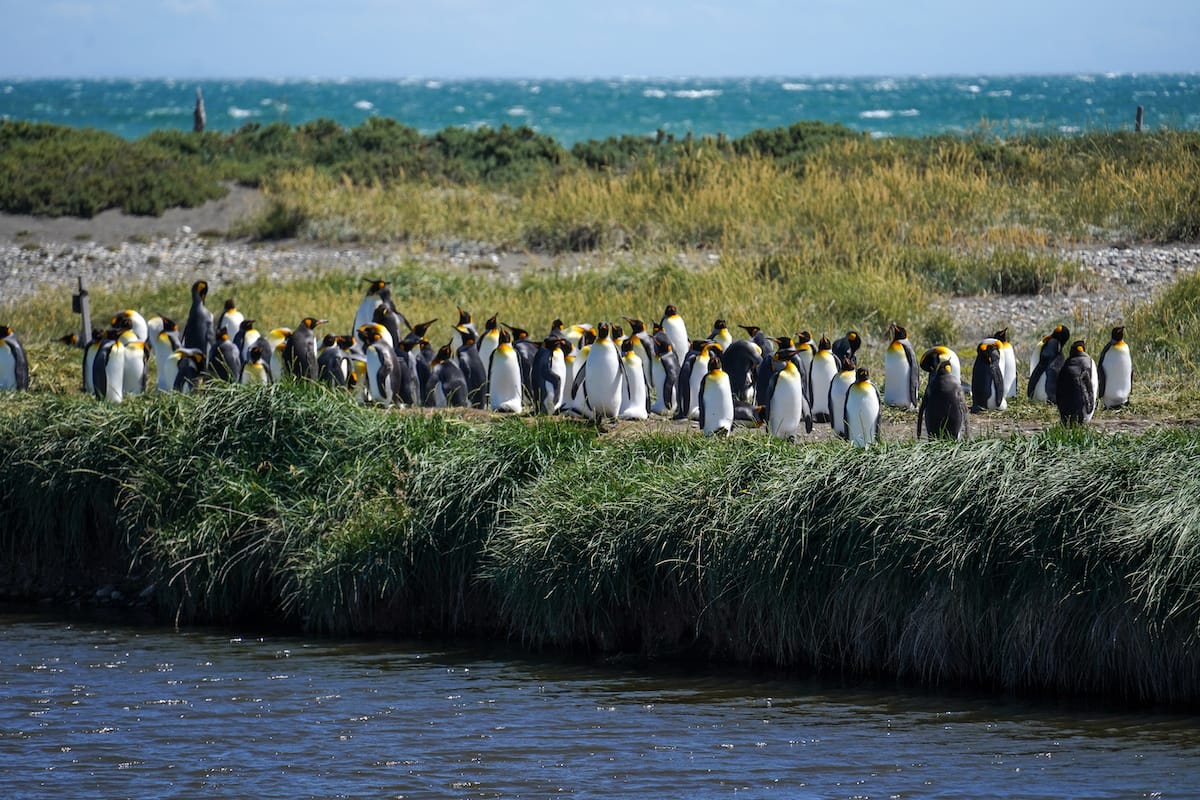 As a result, Cecilia Durán (the founder) made it her mission to protect the penguins that were left in the area.
Alongside Alejandro Kusch, a marine biologist, Cecilia opened the King Penguin Park (Parque Pingüino Rey) in mid-2011.
The name was later changed to Reserva Natural Pingüino Rey, which put its conservation efforts at the forefront of everything, including the new name.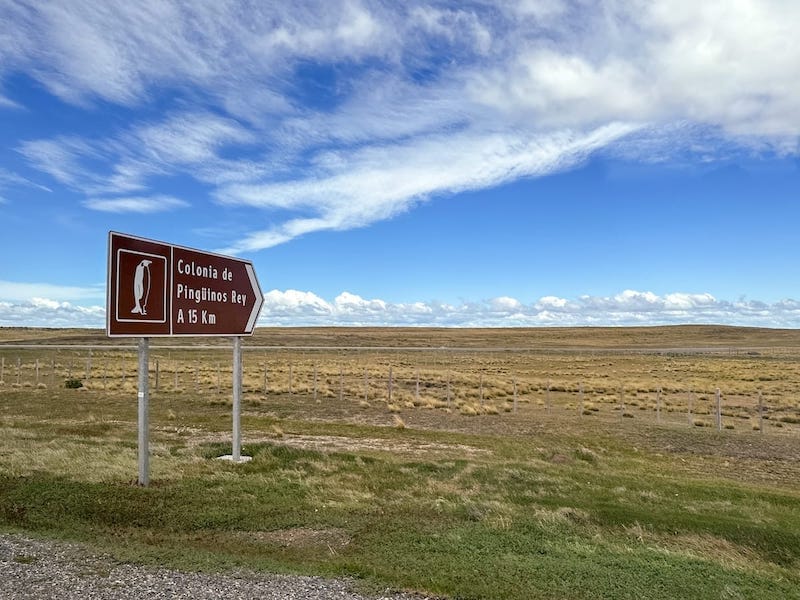 The colony has grown since, and the birth of the first chicks happened in 2015! Today, you can visit the Tierra del Fuego King Penguin Reserve independently or with a tour (like I did).
Best Time to Visit the Tierra del Fuego King Penguins
The breeding cycle for the King Penguin differs from the breeding cycle of other penguins, therefore making their 'residency' a little different.
You can visit Reserva Natural Pingüino Rey from October until May. During October, November, April, and May, days are limited.
Always be sure to book your tickets ahead of time, as the reserve offers limited spots as part of their conservation efforts.
How to Get to Tierra del Fuego from Punta Arenas
You have two options: taking a tour to see the King Penguins from Punta Arenas or driving to Tierra del Fuego independently and visiting the reserve on your own.
I took a tour from Punta Arenas, as it allowed me to see more than just the reserve and gave me an expert guide who could discuss the remote landscapes and region with me.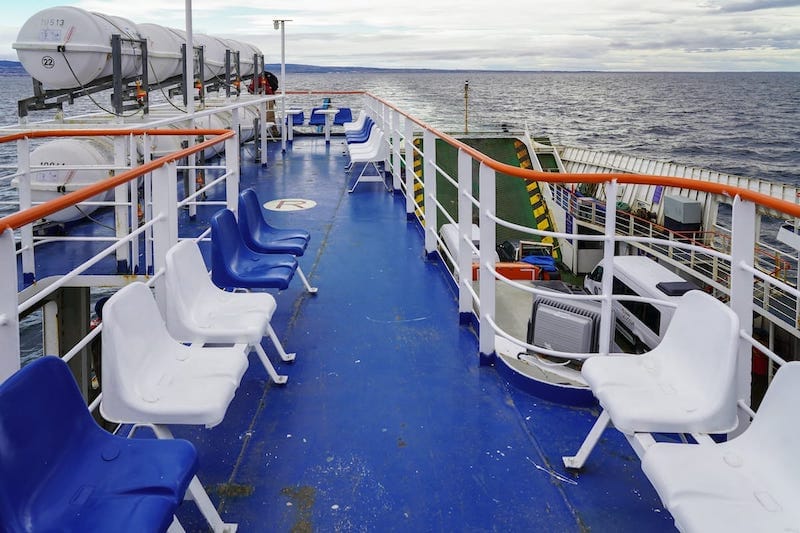 Both routes will require two ferry crossings and will take up a fairly large portion of your day.
If you are driving there independently, I highly encourage an overnight stay in Porvenir to break up the journey and connect with Patagonian nature a bit more.
Option 1: Tierra del Fuego King Penguin Tour from Punta Arenas
Duration: 14 hours
Meeting Point: pre-arranged pick-up in Punta Arenas
Language: English, Spanish
🐧 CLICK HERE TO BOOK
How did I get to see the King Penguins from Punta Arenas? I booked a tour!
This was a fairly affordable option, especially for a 14-hour tour, and it allowed me to just sit back and enjoy the day. We also made additional stops along the way.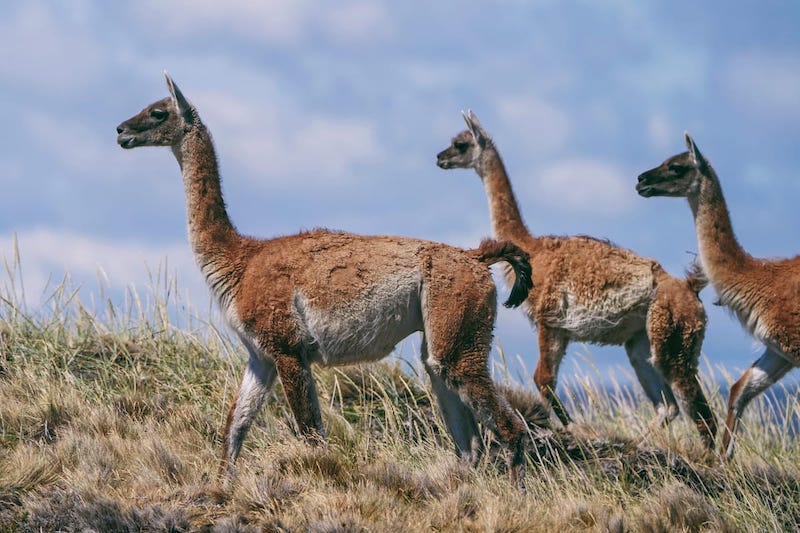 I honestly think this is the way to go if you're not renting a car in Punta Arenas.
King Penguin Tour Itinerary
This itinerary may shift a little bit depending on the time of the day that the guide can secure your slot at Reserva Natural Pingüino Rey. But you will likely visit all the places listed below in some order.
Please note that you will take two different ferries throughout the day, and they may be in reverse order.
Pick-up and Ferry Crossing
My day started with a hotel pickup and a ferry crossing. We were picked up super early (like 5am!) and headed over to the harbor to board the ferry.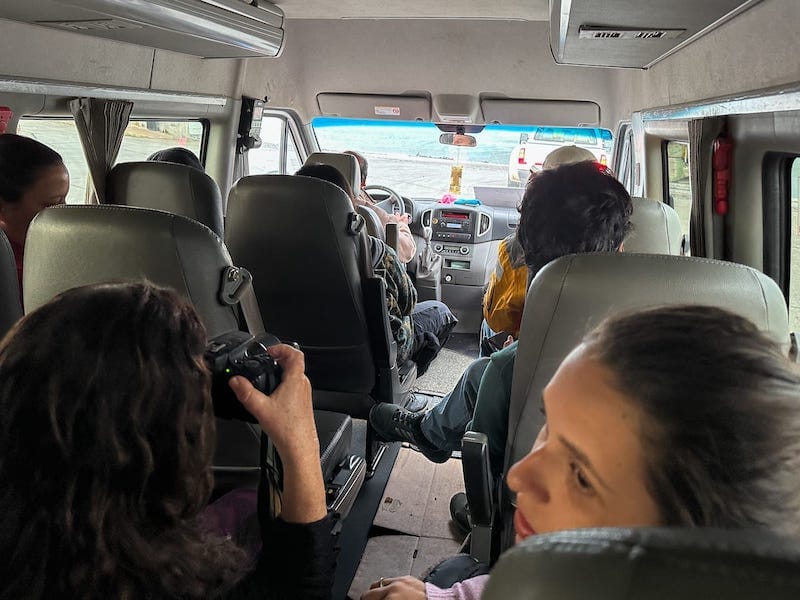 The first ferry we took was from Punta Arenas to Porvenir. But, the ferry docks 5km from Porvenir at the Bahía Chilota terminal. Altogether, the Strait of Magellan crossing was about 2.5 hours (140 minutes is what it says), and we had a fairly smooth ride on a large car ferry.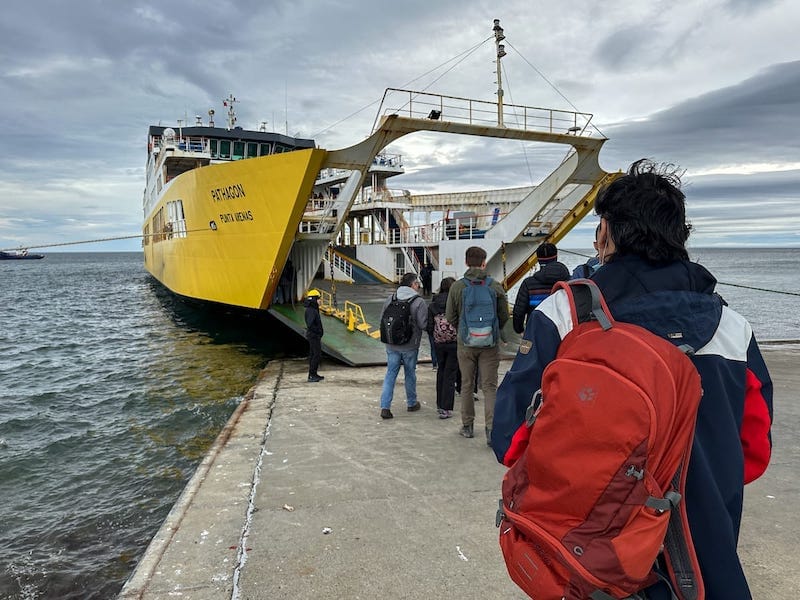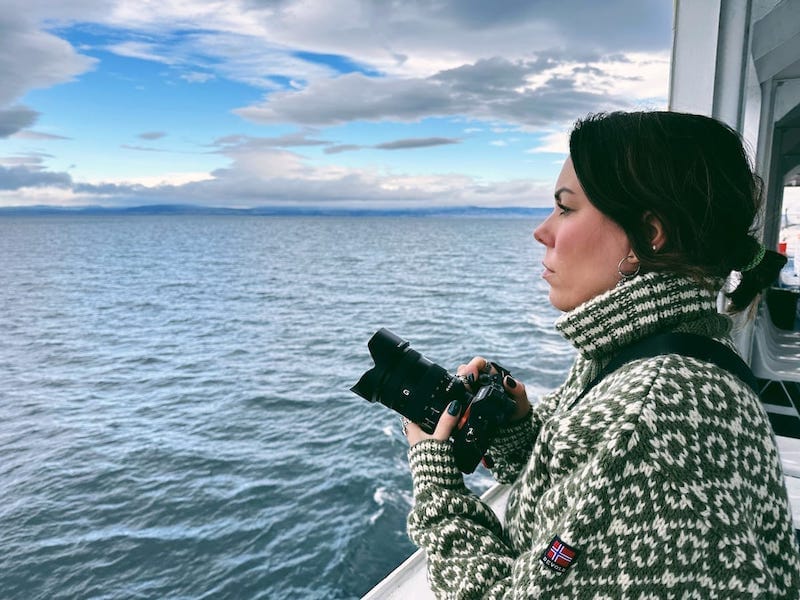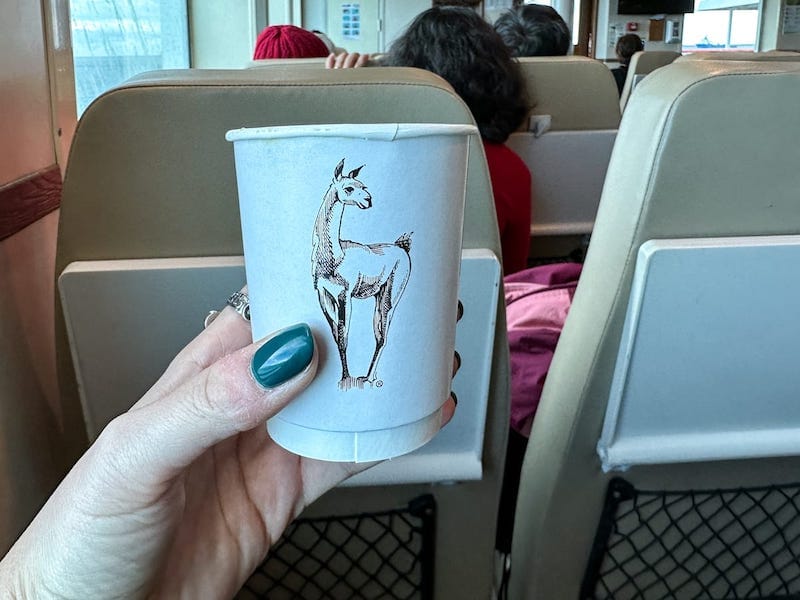 On the ferry, you will find food options and some of that delicious Patagonia Blend Coffee. You are free to move about and enjoy the scenery.
Porvenir
Porvenir was our first stop on the tour, and we had an early lunch and a chance to explore the town. The lunch was decent, but nothing to write home about.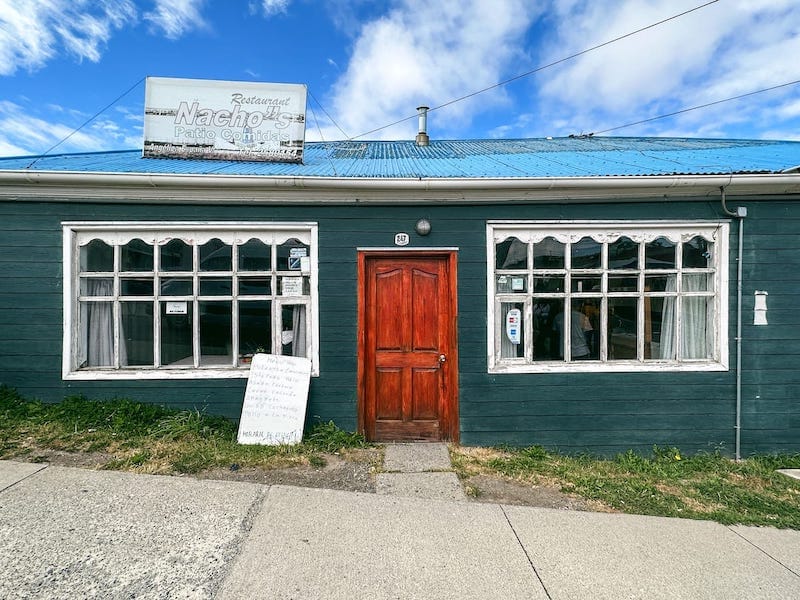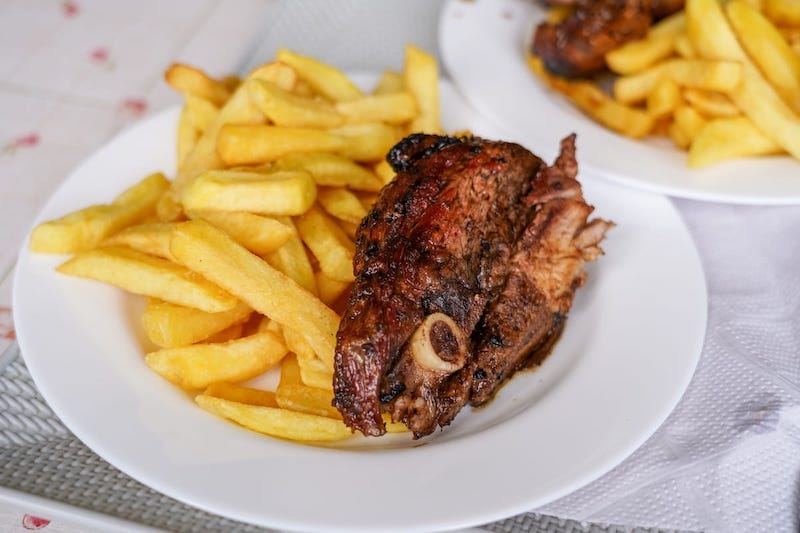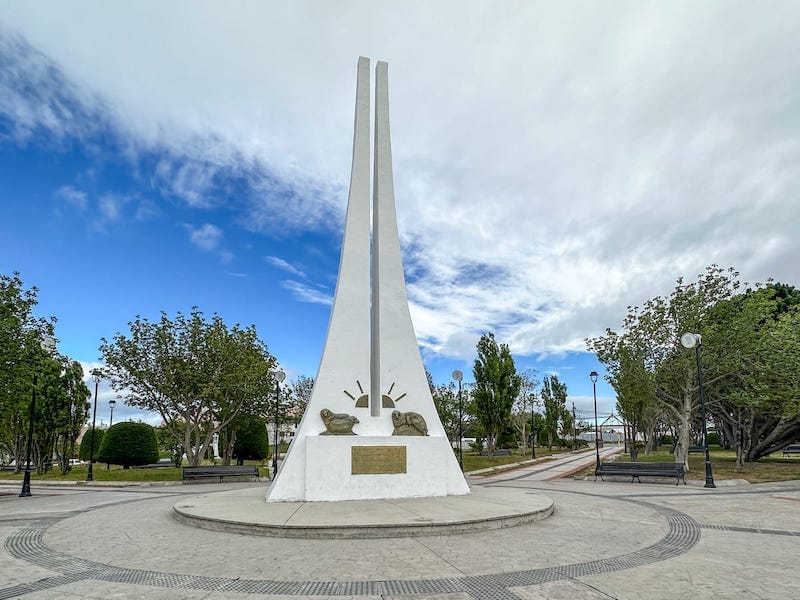 What I enjoyed was the atmosphere of Porvenir. The idyllic 1800s town feels so far off the grid, but it was just stunning. I hope to visit and stay in the area on my next Patagonia trip.
Some of the top things we had a chance to see in Porvenir are:
Reserva Natural Pingüino Rey
Penguin time! This was what we had all been waiting for.
First and foremost, we had a reservation for a certain time, so we were able to take our time driving from Porvenir to the King Penguin colony. On the way, we drove alongside Useless Bay and saw flamingos and guanacos in the distance.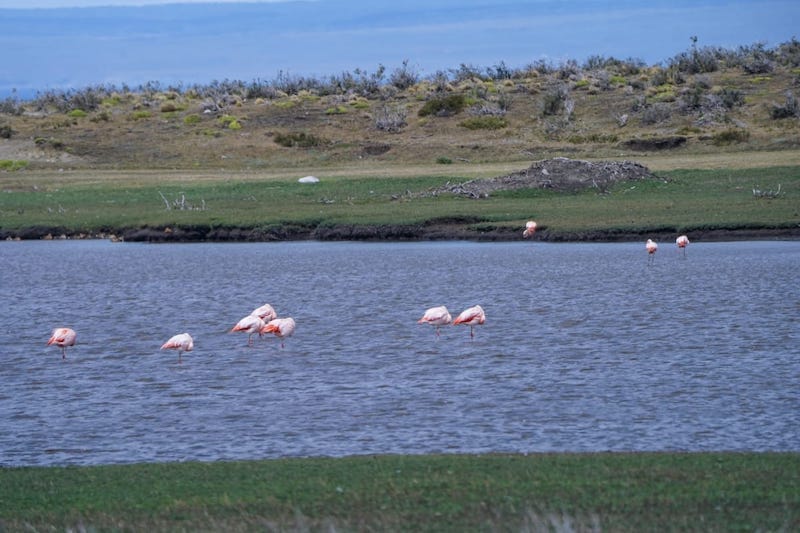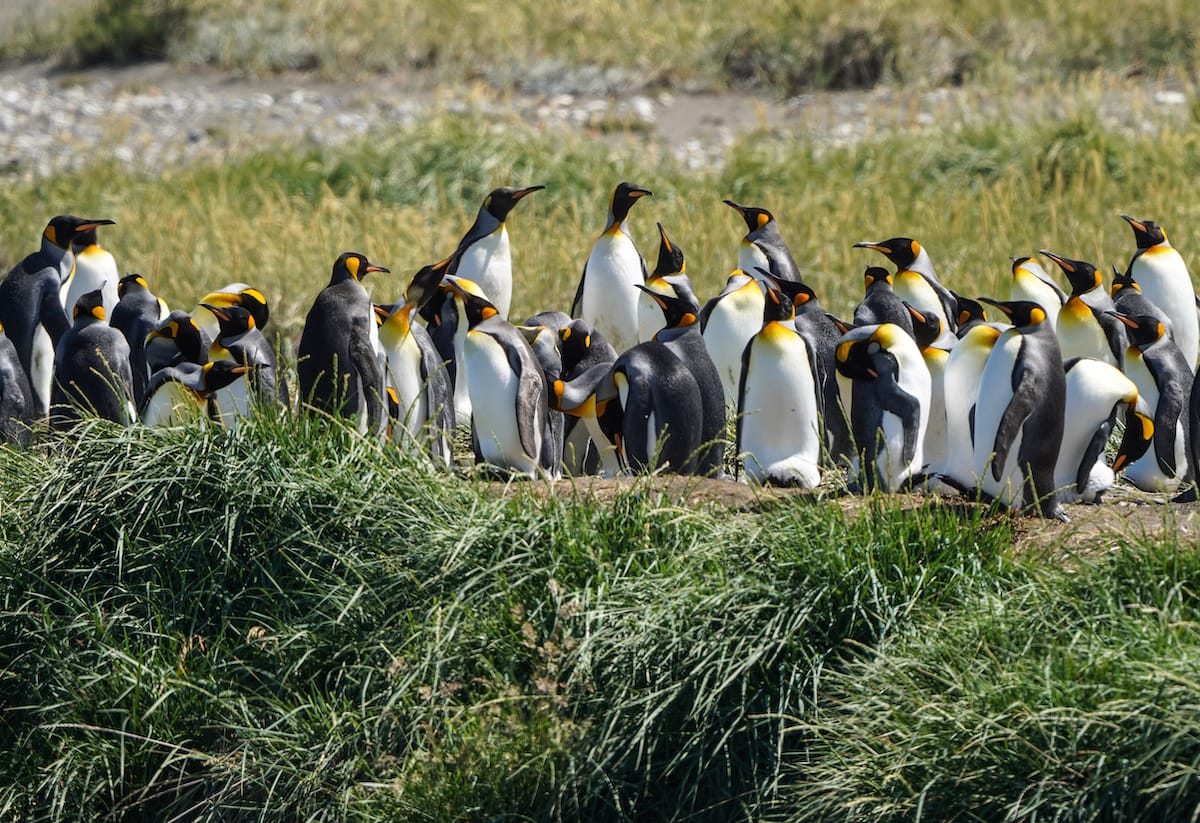 Upon arrival, we did have to pay a small amount for our ticket into the reserve, as it was not included in the price. We then had some time to walk around and photograph the penguins. It was magical.
The viewing shelter is quite a distance from them, but there are binoculars there.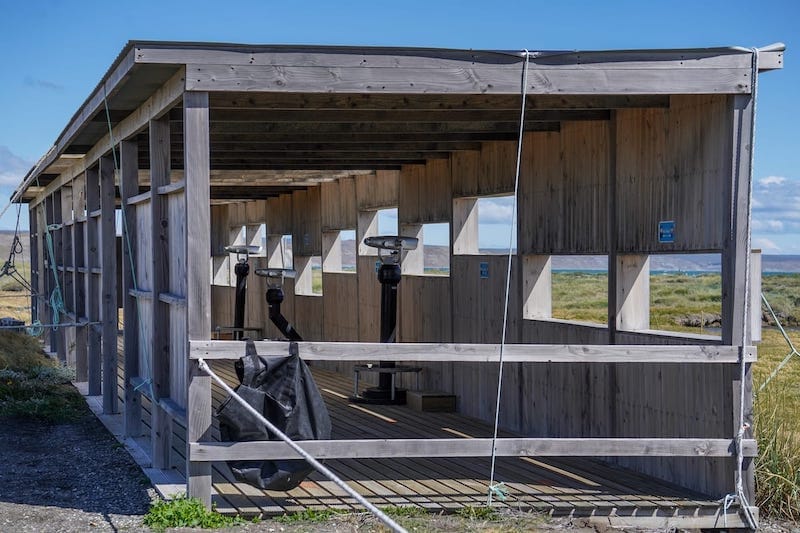 I had a 300mm zoom lens that I was able to take some photos with, and my partner had a 600mm lens for some additional views.
Punta Delgada Ferry
Here is where things were interesting for our group. We made it to this ferry port, and we got stuck there for a couple of hours. The tides ended up being too low to run the ferries, and we had to wait.
This crossing is so short and narrow that I believe I could have swam across in 10 minutes. We waited for a couple of hours and finally were permitted to cross.
⏰ GOOD TO KNOW: This ferry crossing is often delayed. Really delayed. Tour groups have had to stay overnight there as a result. My advice is to book this tour at the beginning of your Puntas Arenas trip just in case you encounter issues!
Estancia San Gregorio
This was the last stop on our trip because we ran out of time. But, we did get about 30 minutes here to walk along the sea and learn a little bit about the old ranch.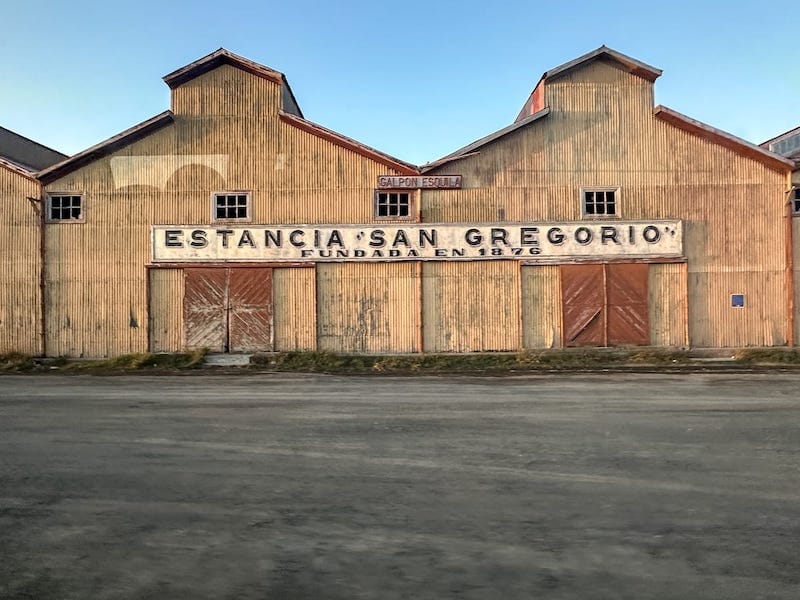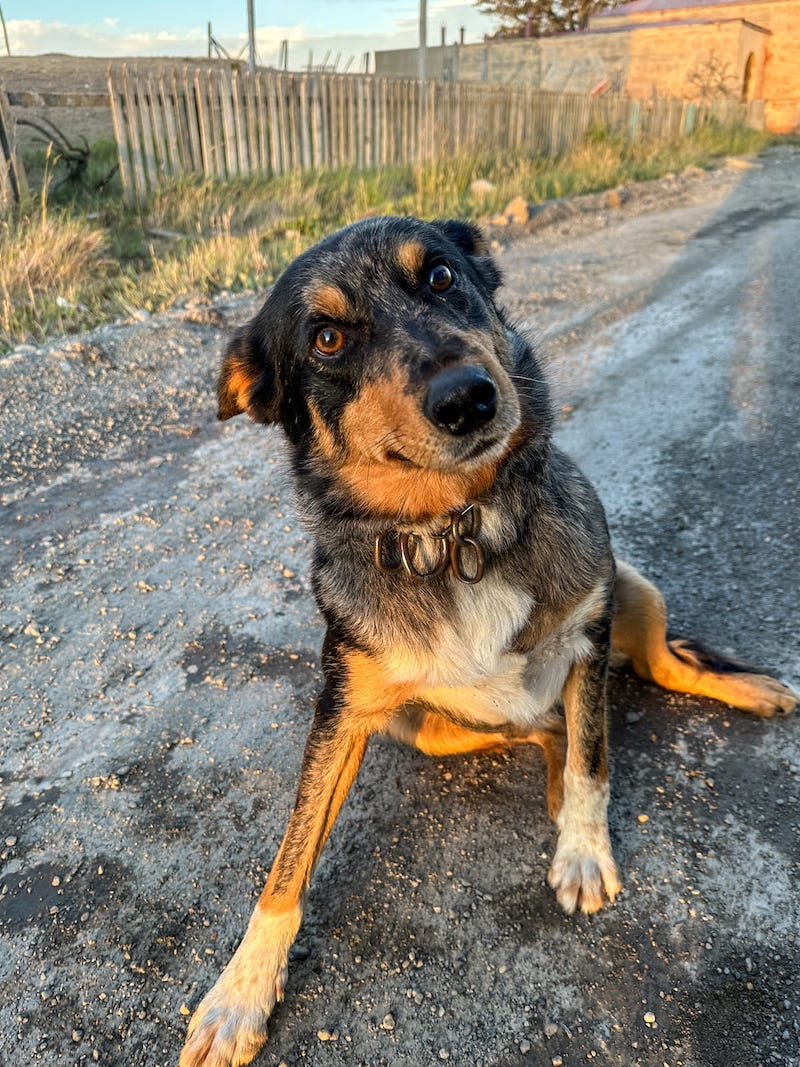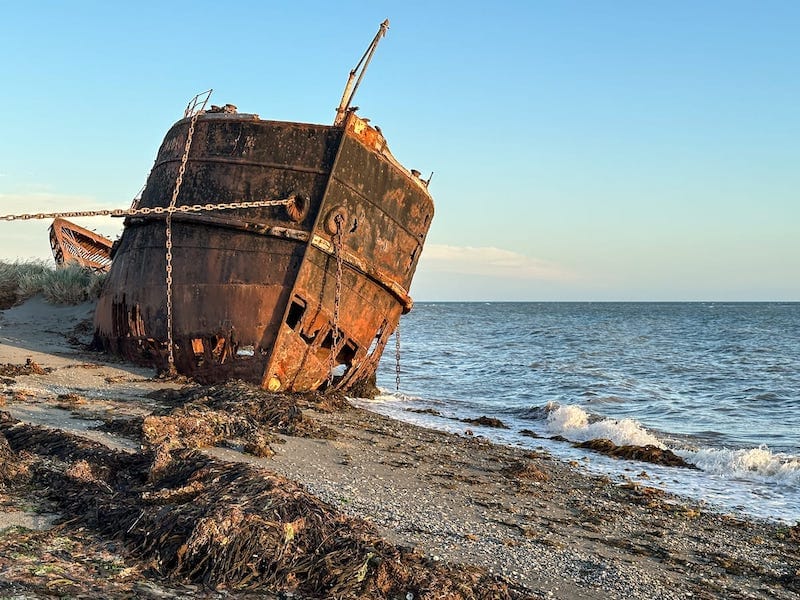 What you will find here is an abandoned industrial complex with two shipwrecks and several derelict buildings. It has been declared a National Monument and was a pretty cool stop on our journey!
Cerro Sombrero (Additional Stop if Day Permits)
Because of our ferry dilemma, we did not make it here. But many trips will visit Cerro Sombrero, a town with a very important history for the region. If your itinerary is reversed, you may stop for lunch here as opposed to Porvenir.
Once we arrived back in Punta Arenas, we were dropped off at the same place we were picked up at the beginning of the day.
Option 2: Visiting the Tierra del Fuego Penguins On Your Own
The other option for visiting the Tierra del Fuego penguins is to make this trip on your own! You will still need to consider that a ferry crossing will be needed twice to reach Tierra del Fuego.
Below is a map of the route you can drive (that will replicate the tour itinerary above):
🗺️ HOW TO USE THIS MAP: You can use your fingers/mouse to zoom in and out. To get more info about a place, simply touch/click the icons. Want to save this map for later use? Click the '⭐' by the map title and it will add it to your Google Maps account (Saved > Maps or 'Your Places').
Reserving a Time at Reserva Natural Pingüino Rey
Before you rent a car or plan your trip, you will need to plan a timeslot at Reserva Natural Pingüino Rey. This is imperative, as you cannot just show up and see the penguins without one.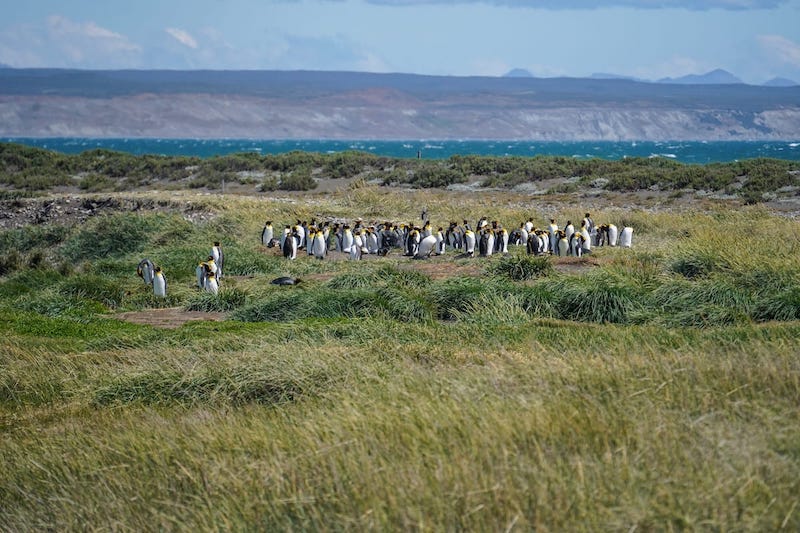 The visitor numbers are strictly regulated for conservation purposes, and the reserve is closed several days a week.
You can book your timeslot on Reserva Natural Pingüino Rey's official website here.
Renting a Car in Punta Arenas
When we travel, we find the cheapest deals on Discover Cars. This site compares thousands of options to find the most suitable for you – including automatic vs. manual transmission, full-coverage insurance, and more!
>> Click here to check rental car rates in Punta Arenas
Ferry Crossings to Tierra del Fuego
I detailed a bit about these ferry crossings above, but you can find additional information (including timetables for the ferries) on the TABSA website.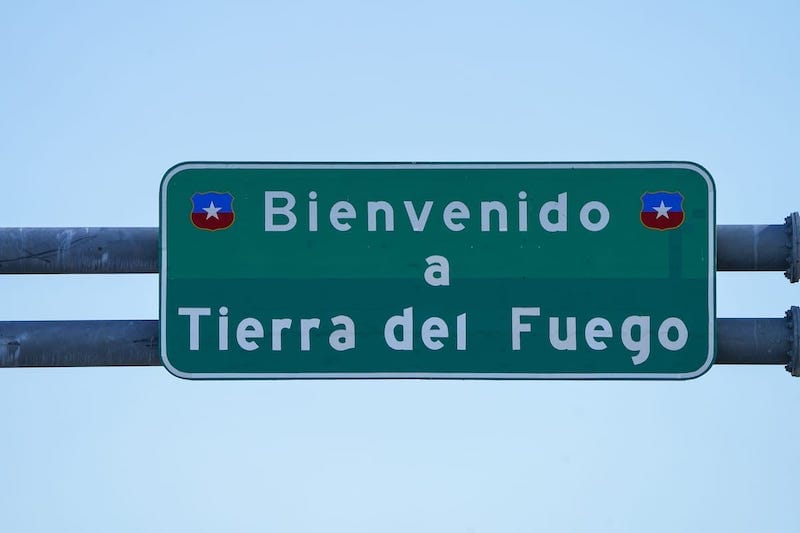 Make sure you plan accordingly, because your entire trip can be altered if you don't! Ferry crossings are not overly regular, and the penguin reserve is not open daily, which I point out below.
Visiting Reserva Natural Pingüino Rey
After arriving at Reserva Natural Pingüino Rey, you will need to purchase your tickets. BUT – you need to reserve a time beforehand and plan your entire itinerary in advance as I noted above.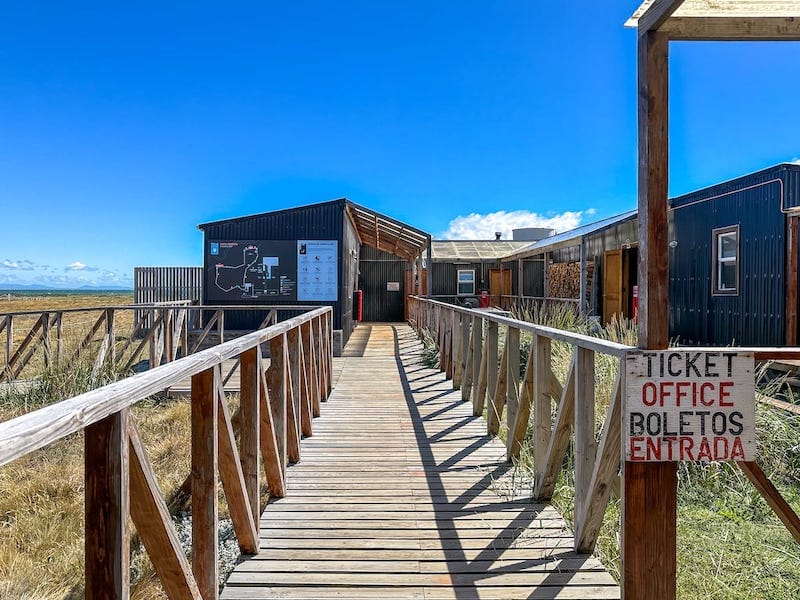 Once you have a timeslot, you can plan to arrive around that time and check-in. Tickets are about $17 for adults, with discounted rates for children and senior citizens.
You will need about 1-2 hours maximum around the reserve and nearby area, which leaves you enough time to check out Porvenir.
Where to Stay on Tierra del Fuego
If you are looking to stay overnight on Tierra del Fuego while visiting the King Penguins, I recommend staying in Porvenir, which is pretty much your only option for accommodation there.
Here are a few good options for places to stay on your route:
Tierra del Fuego King Penguins + Tours FAQ
Is it worth visiting the King Penguins in Tierra del Fuego?
For me, it was 100% worth the journey. While the place (and colony!) is pretty small, the scenery surrounding it is just otherworldly!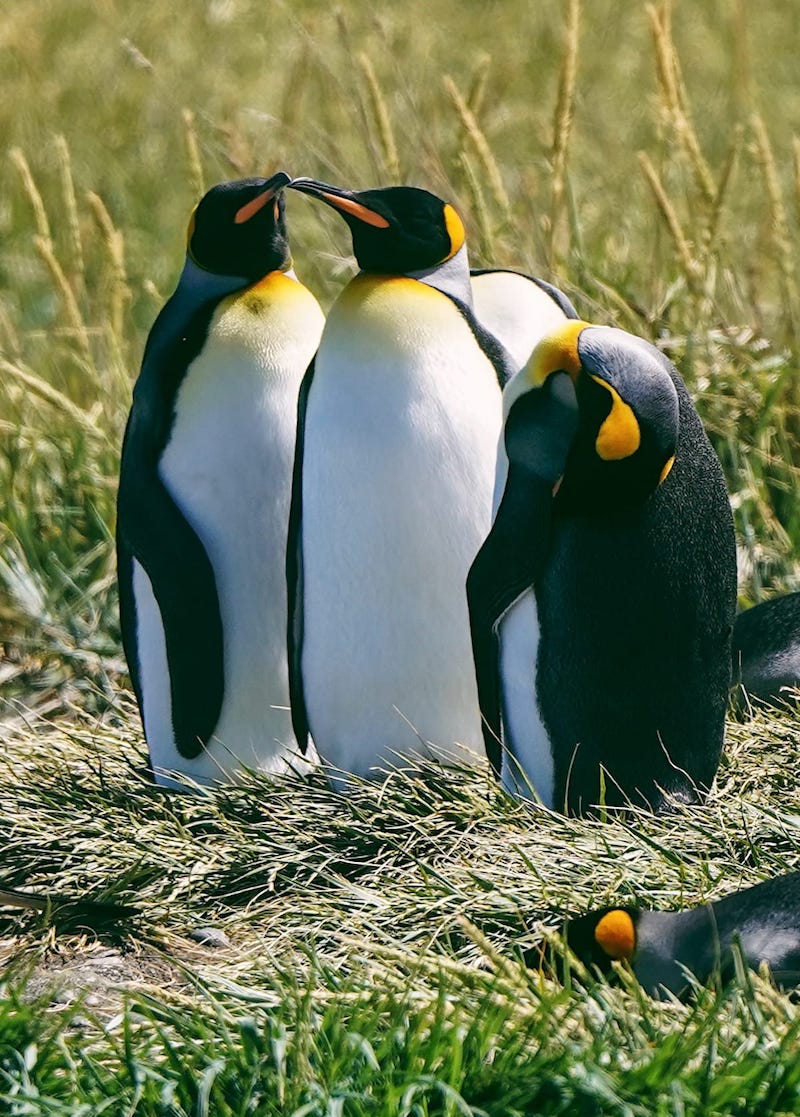 I also loved my stop in Porvenir. It somehow reminded me of Longyearbyen in Svalbard (I have no idea why).
Who shouldn't visit the Tierra del Fuego King Penguins?
Okay, I am going to be completely honest here. If you want to rent a car, explore the area, and make a planned stop here, that is fantastic. You can do everything at your leisure and enjoy the day.
But if you are embarking on a trip to or from Antarctica (and South Georgia) while you're in Patagonia, I would say you can skip this, at least in a tour format.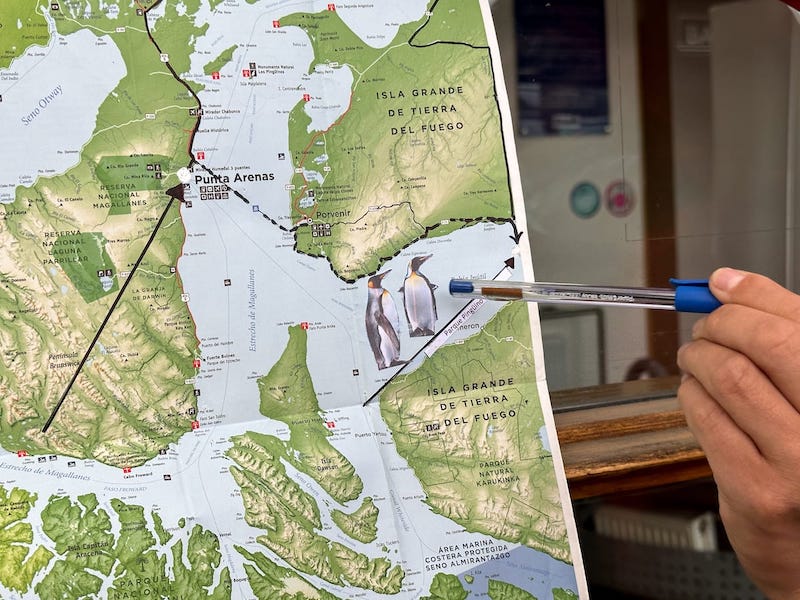 Mostly because it is a long day and the penguin viewing part is just a small fraction of the day trip. If you go on a road trip to Tierra del Fuego, I think it is worth adding to the itinerary.
I don't personally have any interest in exploring Antarctica, so I knew this was an easy way for me to see King Penguins, as getting to the Falkland Islands is a bit of a challenge from where I live in Europe.
What should you bring with you for the day?
The day was long! And the lunch choice on the tour was not exactly something I am craving again.
I would recommend bringing some snacks and water with you, and you won't have a chance to stop and grab anything. The ferry did have small snacks and fresh coffee, however.
A few other things I would recommend taking with you are:
Should you tip your tour guide?
I think if you feel they provided good service, a small tip is a kind gesture and will be greatly appreciated!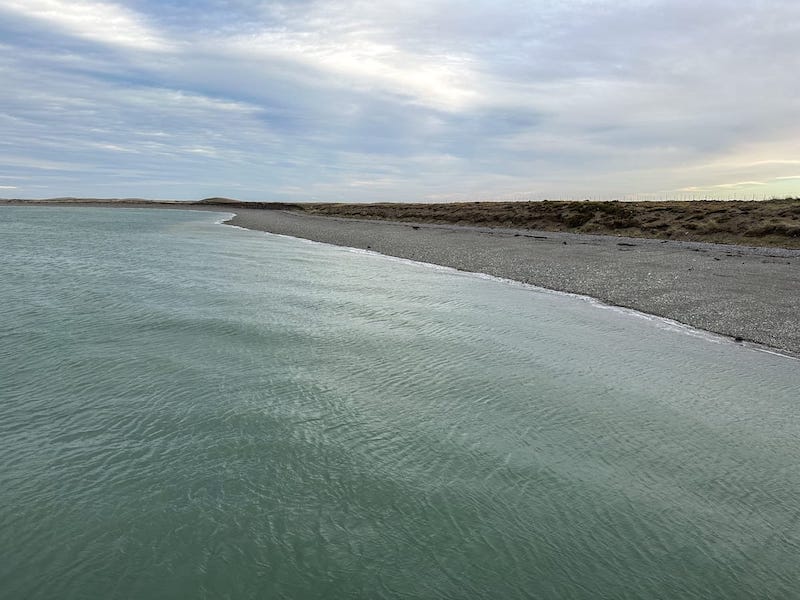 Should You Take a Tierra del Fuego Penguin Tour?
If you do not have a trip planned to South Georgia or Antarctica, absolutely!
While you won't spend an entire day watching penguins, this is the world's most accessible King Penguin colony, and it was one of the most special experiences I have ever had, even if it was a long day.
If you are visiting Antarctica and South Georgia, you should still visit Tierra del Fuego and make a short stop at the penguin reserve.
However, I would not recommend spending money on a tour – but rather spend that money on a rental car and drive to the area independently.
If you have any questions about seeing the Tierra del Fuego King Penguins from Punta Arenas, let me know in the comments.
More Chile Travel Guides
Pin this Guide about Visiting Reserva Natural Pingüino Rey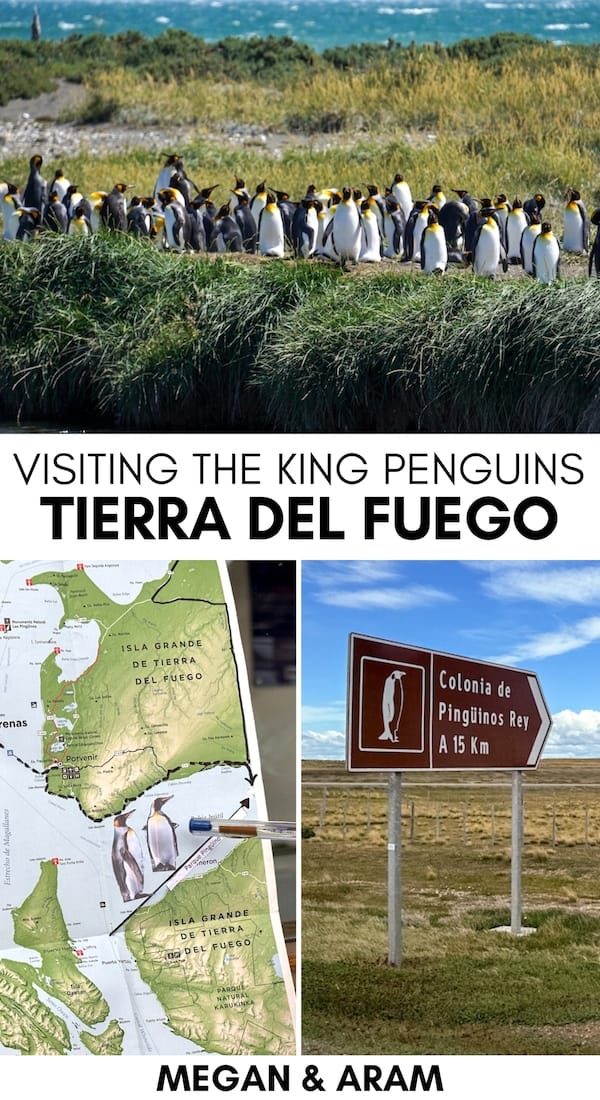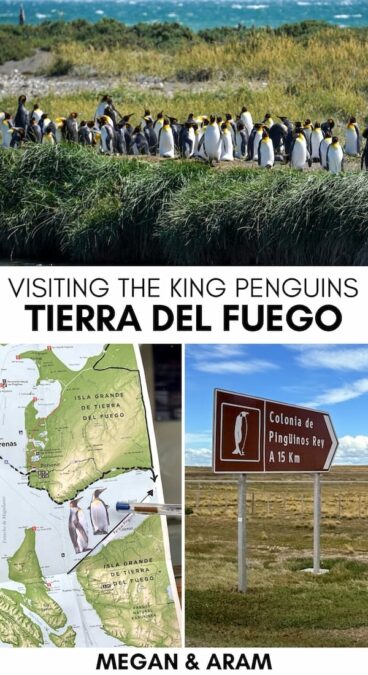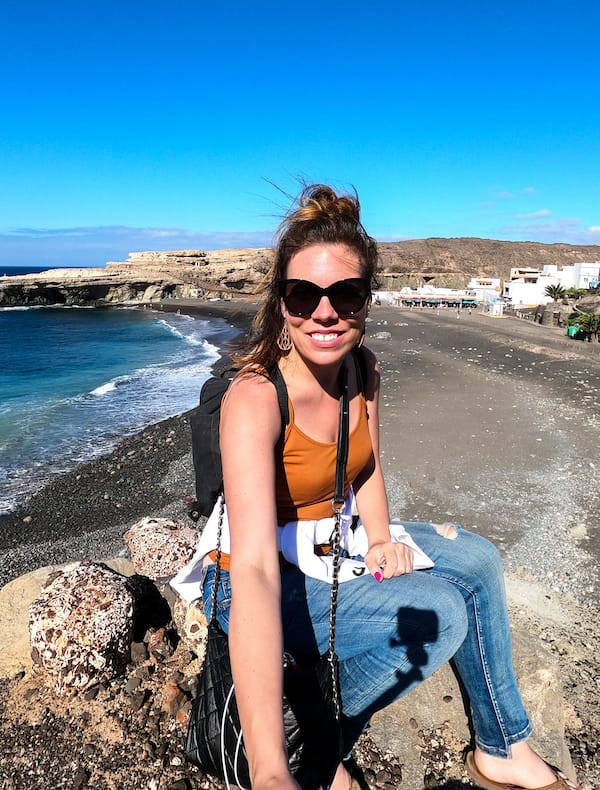 Megan is a travel blogger and writer with a background in digital marketing. Originally from Richmond, VA, she now splits her time between Frankfurt, Germany and Arctic Finland after also living in Norway, Armenia, and Kazakhstan. She has a passion for winter travel, as well as the Nordic countries, but you can also find her eating her way through Italy, perusing perfume stores in Paris, or taking road trips through the USA. Megan has written for or been featured by National Geographic, Forbes, Lonely Planet, the New York Times, and more. She co-authored Fodor's Travel 'Essential Norway' and has visited 45 US states and 100+ countries.