Are you planning a trip to Patagonia and are searching for the best things to do in Punta Arenas, Chile? Don't worry- I've got you covered!
This guide discusses the top Punta Arenas attractions, tours, museums, restaurants, and more!
Did I miss any of the best places to visit in Punta Arenas? Let me know in the comments! Thanks!
Best Things to Do in Punta Arenas, Chile
1. See the King Penguin Colony on Tierra del Fuego
While many people visiting Punta Arenas carry on (or are coming back from) trips to Antarctica and South Georgia, some of us (like me!) were not.
Meaning, I didn't have a chance to see King Penguins and quite possibly never will as I refuse to travel to Antarctica… and the Falklands are not right around the corner from my house!
Anyway, a few years back, a King Penguin colony showed up on Tierra del Fuego island in Chile and you can actually go see them!
Tierra del Fuego is better associated with Argentina and the post office at the end of the world in Ushuaia, but part of the island is actually Chilean and these penguins settled on that part.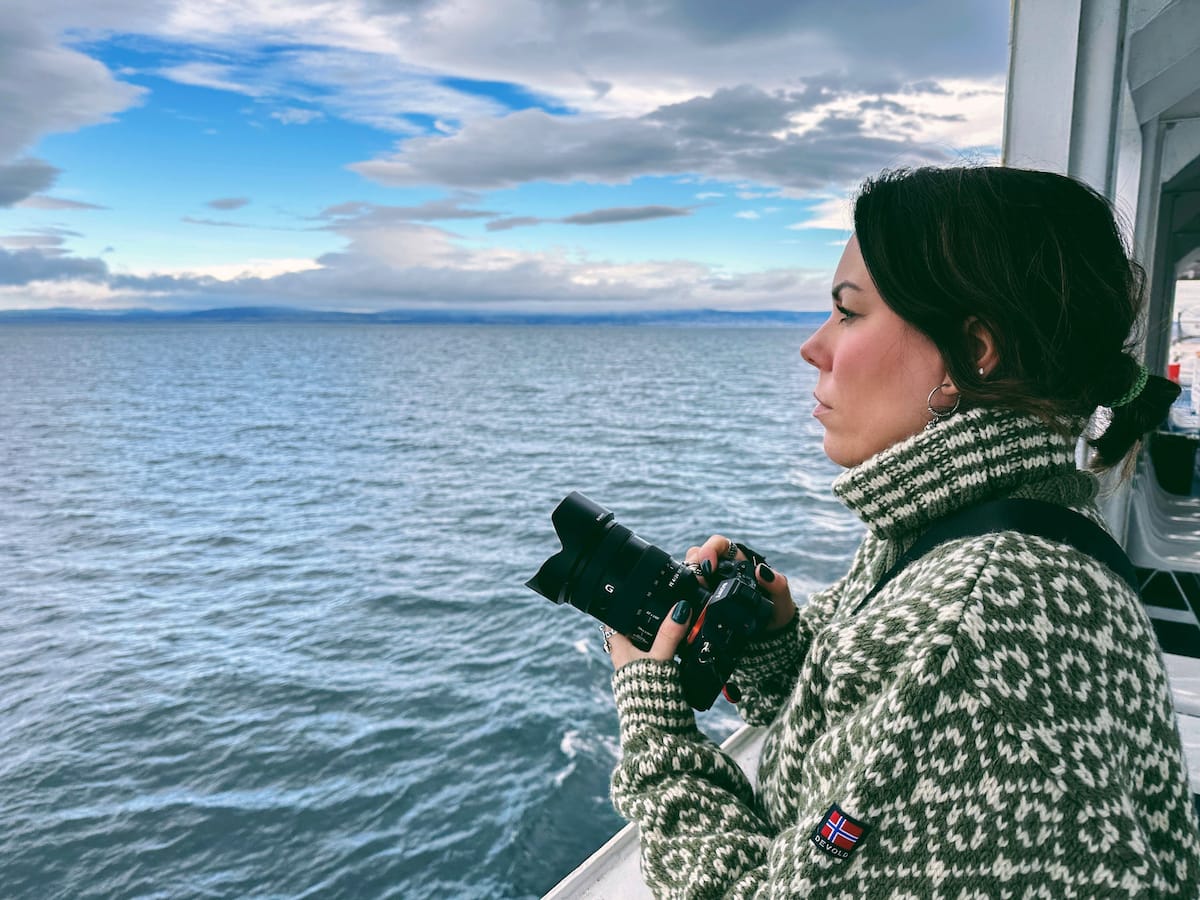 The tour makes for a LONG day. You will take two ferries, do a lot of driving, and make a lengthy stop in Porvenir, but it was certainly worth the adventure.
You aren't super close to the penguins to respectfully give them their space, but you can see them with your own eyes or the binoculars they have.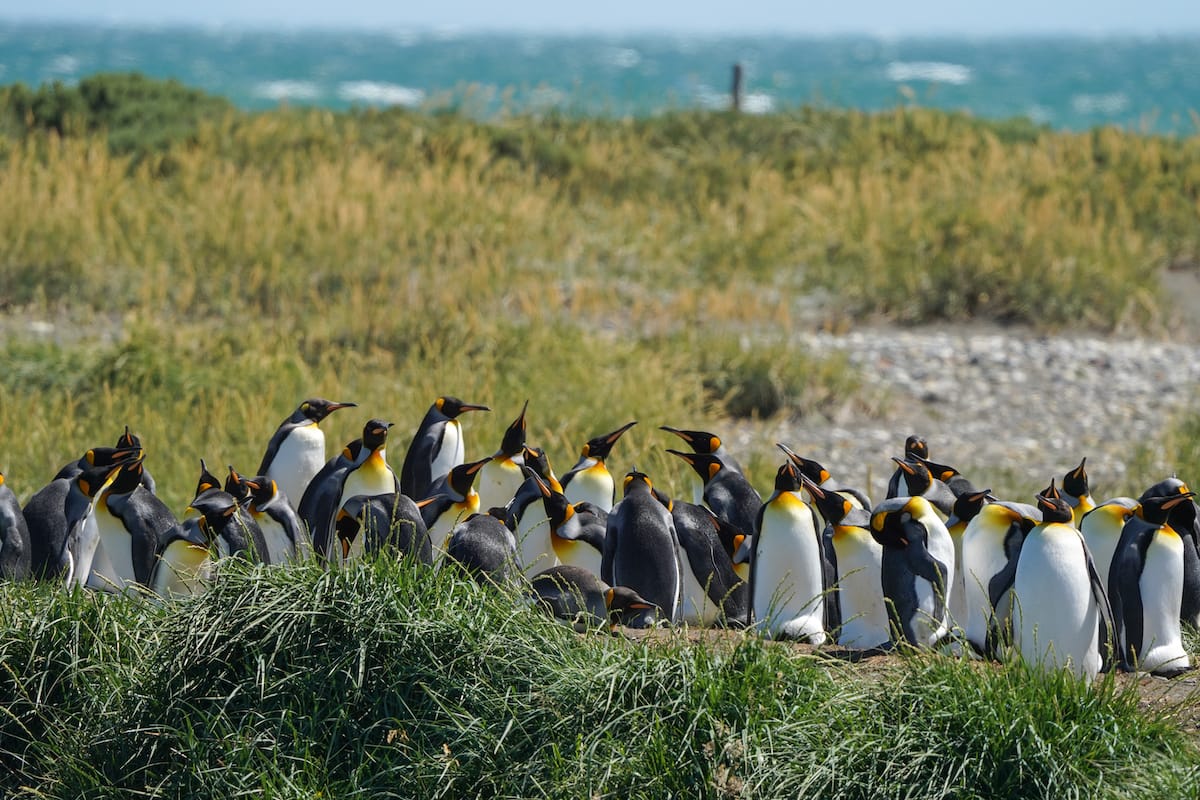 This Tierra del Fuego King Penguin tour includes lunch in Porvenir but I would NOT recommend booking this on your last day in Punta Arenas as weather can be a factor in getting back!
>> Click here to check tour rates and availability
2. Take a Glacier Tour from Punta Arenas
This tour was probably the best one I took from Punta Arenas and I highly recommend it to everyone!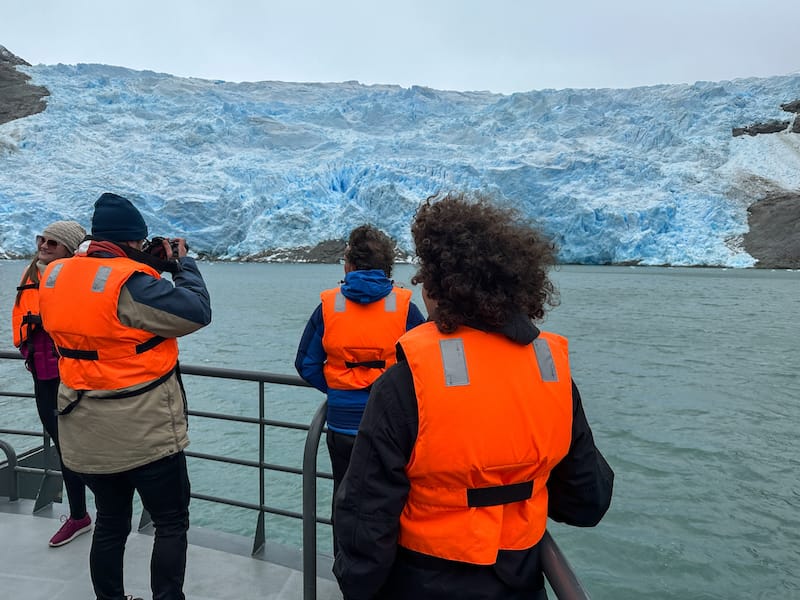 You cruise through fjords so the boat stays pretty steady (unlike on the Magellan Strait) and you have the chance to see glaciers, waterfalls, sea lions, whales, and penguins.
We saw all of the above, including Piebald Dolphins, Commerson's Dolphins, and the Magellan Penguin. And lots and lots of sei and humpback whales!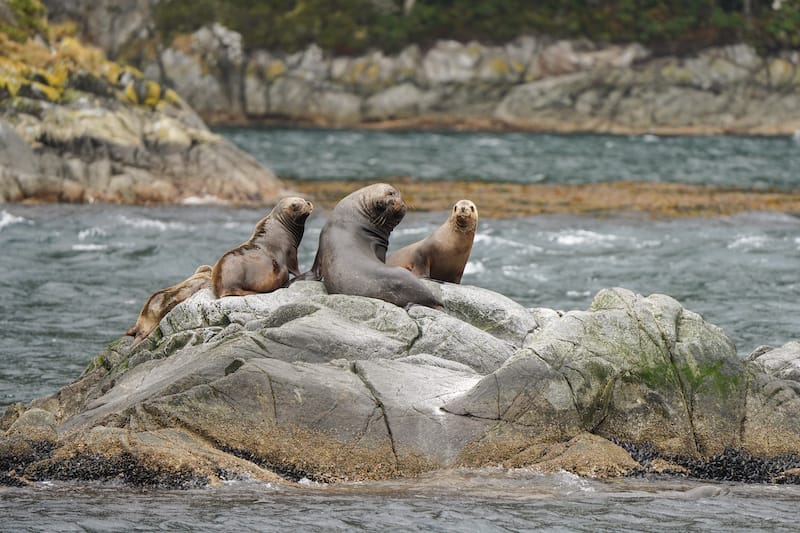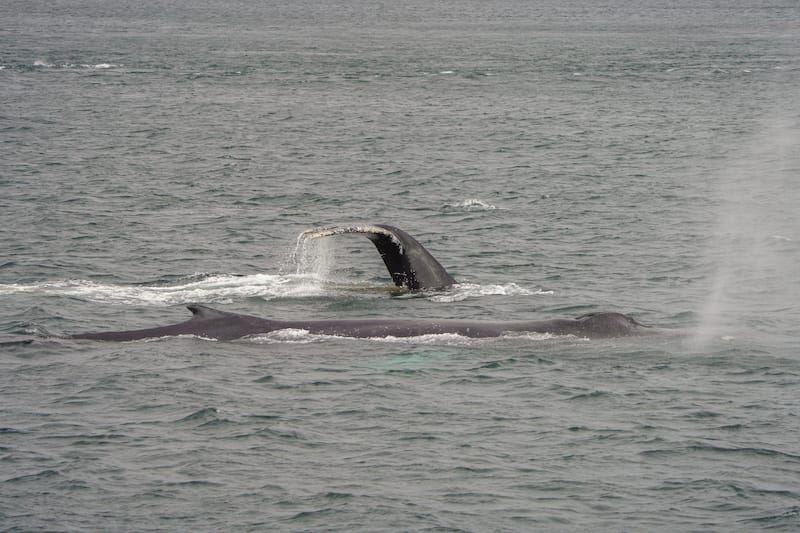 You will be on a boat the entire day, but lunch is included and you will get to enjoy a glacier ice cocktail while you're at it.
The tour lasts 12 hours and requires a super early wake-up, but it was well worth it!
>> Click here to check tour rates and availability
3. Go on a Magellan Penguin Tour (Seasonal)
Please note, first and foremost, that this tour is only available during the Chilean summer as the penguins hang out elsewhere during the winter months!
And also, please note that this tour is not for everyone (ie: those who get seasick).
On this Punta Arenas penguin tour, you will have a chance to see the diverse wildlife on Isla Marta and Isla Magdalena.
And… Magdalena Island is particularly known for its Magellan penguin colony! Your day will start early (at 6:30) and only last for about 4-5 hours.
Here is the deal – the Strait of Magellan is ROUGH during the summer months.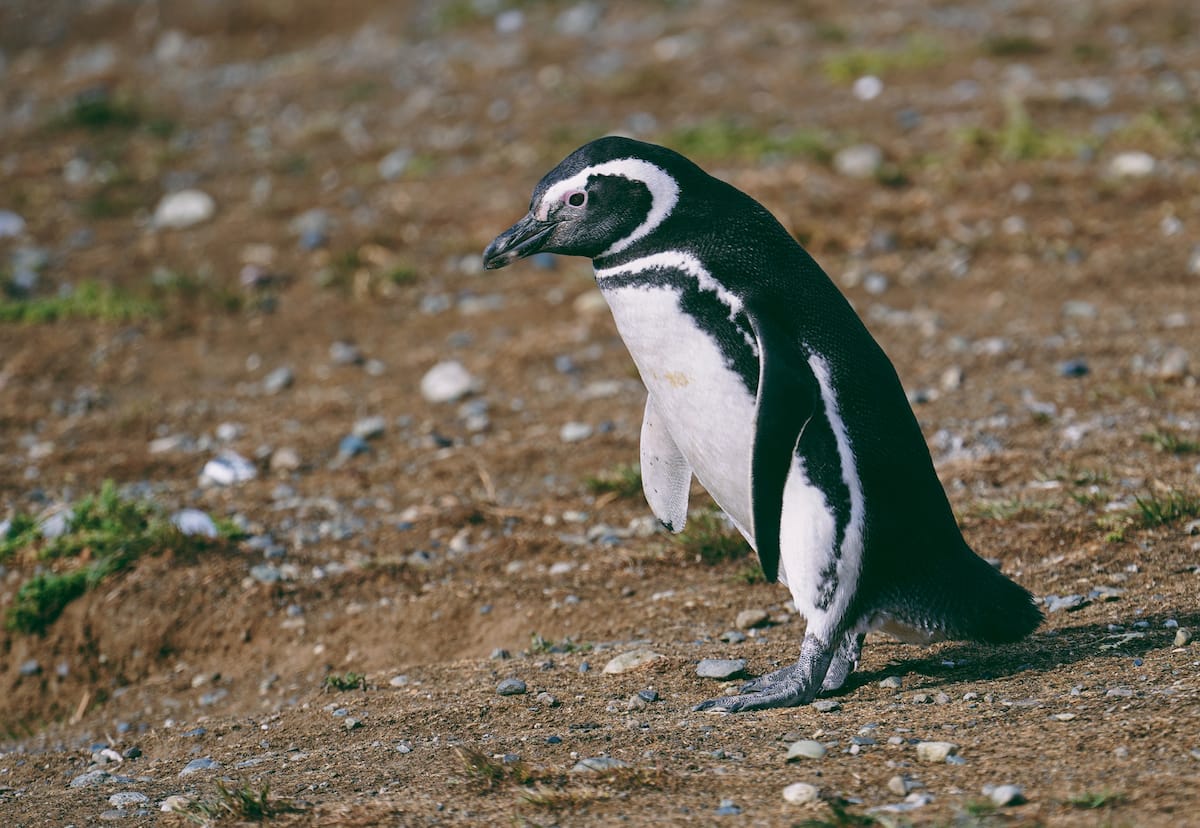 This tour often gets canceled (so book yours on one of your first days in Punta Arenas) and if you are lucky enough to make it to Magdalena Island, they may cancel Marta if winds are heavy (this happened to us).
The tour was epic once we made it to the island. The way there was a little rough, but nothing unmanageable. When we got on the boat, the crew and guide warned us that the way back would be rather rough.
And rough it was. Our tour had over 30-40 people on it (not sure why Viator says only 20 travelers—that was not accurate), and 95% of people were vomiting on the way back.
Even people who seemed to hold their own were eventually puking their guts out mid-way through the journey back to Punta Arenas.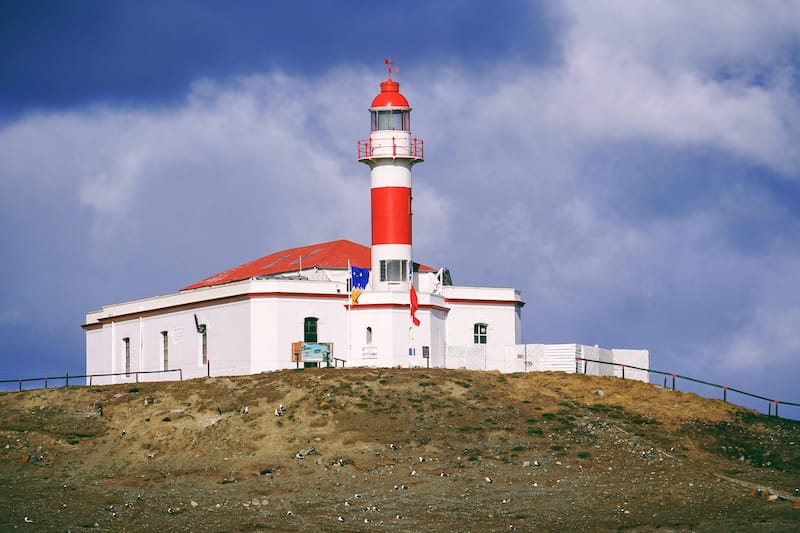 Fortunately, I was fine, but I did have my backpack fly off of where I had it sitting, and it completely busted the zoom lens on my camera. So, I didn't win at the end of the day either.
I would suggest taking Dramamine before this Magdalena island penguin tour, regardless of whether you're prone to seasickness or not. The tour was amazing, and the crew did a great job, and I learned a lot along the way.
They were also so ready for the seasickness of people and were patient and helpful, which was nice!
>> Click here to check tour rates and availability
4. Stroll through the Punta Arenas Cemetery
The Cemetery of Punta Arenas is a historic cemetery located in the heart of the city.
It was established in the late 19th century and has since become an important historical site in the region (and is a must-visit attraction when there).
The Punta Arenas Cemetery is known for its beautiful architecture, including a range of tombs and monuments in a variety of styles, such as Gothic, Renaissance, and Art Nouveau.
The cemetery is also famous for its large number of prominent figures, including politicians, military leaders, and wealthy landowners.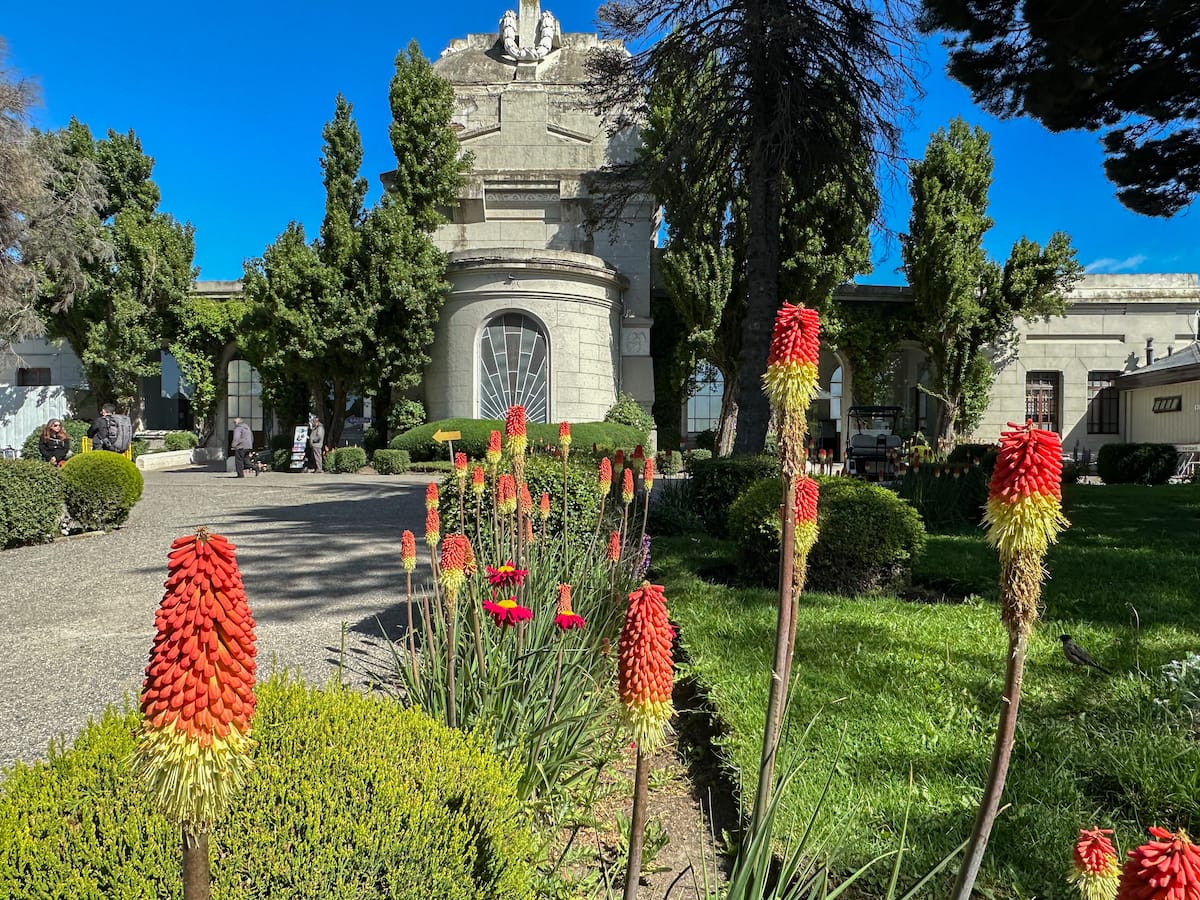 One thing I found interesting there was that many of the names had different heritage – especially a lot of Germans, Croatians, and Scandinavians.
It forced me to read up on that history (which could be a different blog post entirely)!
In addition, it was previously ranked as one of the most beautiful cemeteries in the world!
The iconic cemetery is open daily and there is no admission fee.
Address: Pedro Sarmiento de Gamboa 29, Punta Arenas
5. Get Caffeinated at Wake Up – Coffee & Brunch
One of the best spots for coffee in Punta Arenas was definitely Wake Up – Coffee & Brunch, a stylish cafe in the city center that had tasty food and delicious coffee.
I visited the cafe right after getting off of a boat trip and realized I broke my camera lens, so I wasn't in the best mood but the atmosphere cheered me up quickly!
They have a rotation of lunch specials and I opted for a lentil soup – it was so comforting on a windy and somewhat cold day!
The place gets crowded during the high season, so expect a bit of a wait for a table if you visit during busy hours.
Address: Errázuriz 944, Punta Arenas
6. Catch the Best Views at Mirador Cerro de la Cruz
One of the most iconic spots in Punta Arenas is the viewpoint Cerro De La Cruz.
Situated just a short walk from the city center it offers stunning views over the city and out towards the bay that runs along the edge of the city.
Once you are at the viewpoint there are a few benches where you can sit and take in the view before heading back into the city.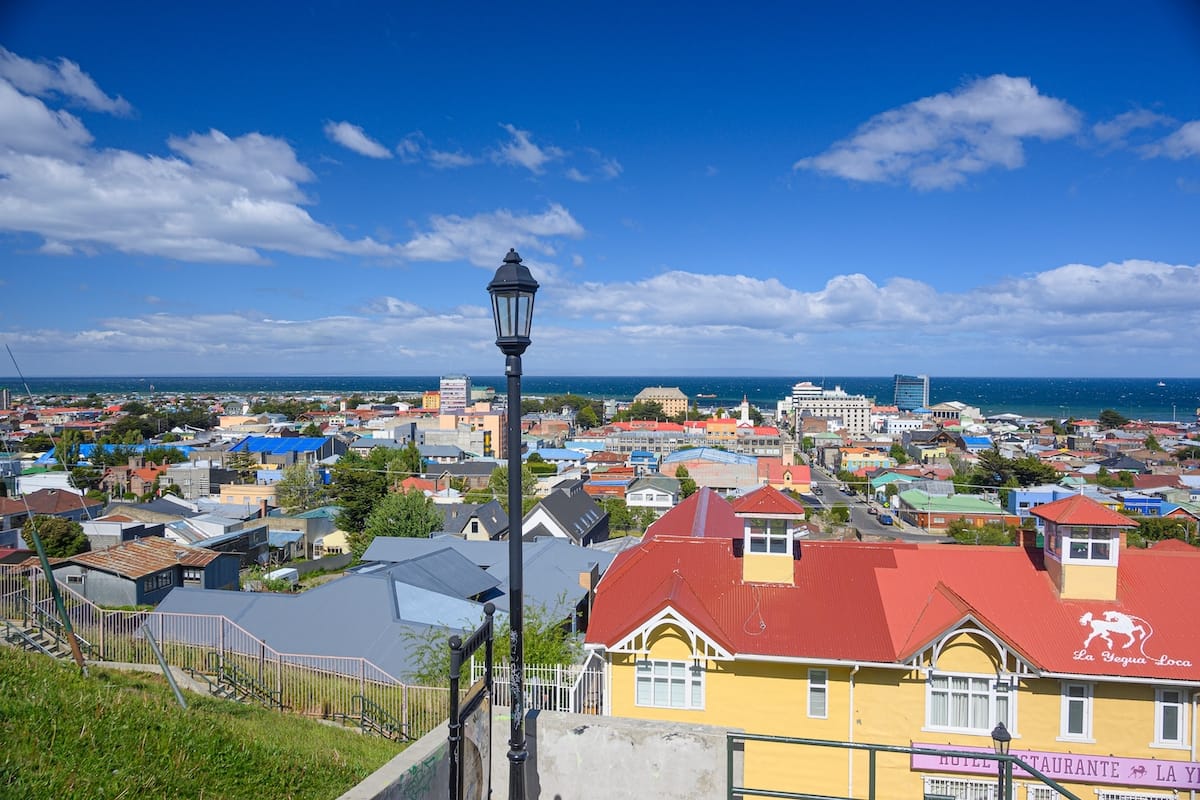 On the way up to the viewpoint, you will walk past some of the city's beautiful murals that adorn many of the buildings.
I recommend heading there first thing in the morning to watch the sunrise of the Magellan Strait, although, during the middle of summer, this does involve a very early start!
The viewpoint is free and while it's a very short walk, there are car parking spaces close by for those looking to drive.
Address: Almte. Manuel Señoret 1012, Punta Arenas
7. Explore the Museo de Historia Natural Río Seco
The Río Seco Natural History Museum (MHNRS) is a place where arts and sciences converge, encompassing and reflecting on the natural and cultural heritage of the Magallanes and Chilean Antarctic region.
The goal of the museum is to gather and disseminate knowledge about the southern pole through its collections and displays, which mainly focus on the natural and material history of southern Chile.
The museum strives to encourage critical thinking through community engagement with academics, professionals, specialists, students, and visitors from diverse backgrounds.
By promoting experiences and understanding of the territory, the museum highlights the crucial role that the natural environment plays in shaping the cultural development and identity of communities.
Address: Juan Williams 012812, Punta Arenas
8. Enjoy Empanadas at Nanuc
One of my favorite things to eat in South America is empanadas, and thankfully they are easy to hunt down pretty much anywhere in the country.
While walking through the blustery streets of Punta Arenas I had a Charlie and the Chocolate Factory moment as I stared through the window of Nanuc Bakery at a display of delicious-looking empanadas.
Nanuc is a bakery founded at the end of the world in Patagonia and offers an incredible selection of empanadas, cakes, and bread that will satisfy even the pickiest eater.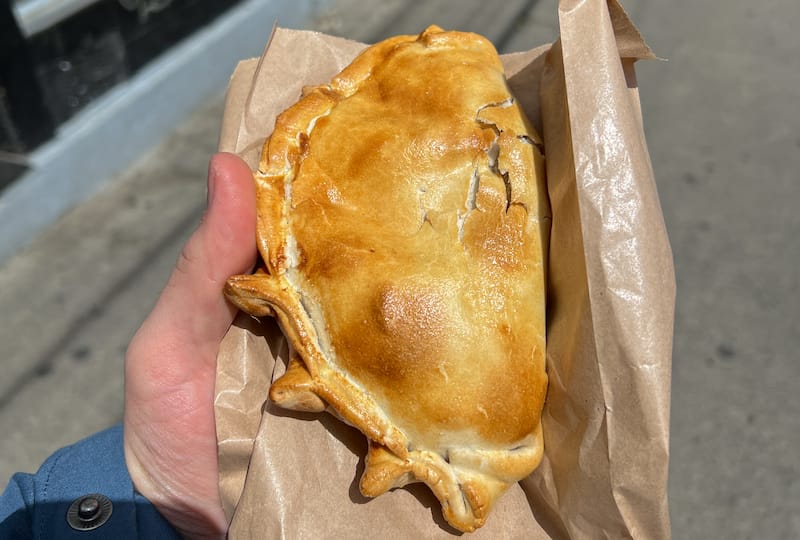 There are four locations in Punta Arenas and the company is now expanding outside of Patagonia into other areas of the country so great has the success been.
I ordered two more traditional kinds of empanadas and devoured them hastily, although I have to admit one would have been enough and the second one was ordered out of pure greed.
Address: Capitán Ignacio Carrera Pinto 1120, Punta Arenas
9. Visit Magallanes National Reserve
Magallanes National Reserve is a protected natural area located near Punta Arenas.
The reserve was established in 1932 to protect the diverse flora and fauna of the region, and covers an area of over 19,625 hectares.
The Patagonian reserve is home to chercanes, pitio, black woodpeckers, coigues, avutardas, and more! You can also expect to possibly see culpeo foxes, pumas, and a variety of ducks.
It is best to visit in the Chilean summer or shoulder season, but expect it to still be a bit chilly (it is at a higher elevation than surrounding areas).
The entrance fee is currently CLP$ 2.000 per person for residents in Chile and CLP$ 4.000 per person for non-residents of Chile.
10. Try Local Fare at Luan's Restaurant
There are a few choices of places to eat in Punta Arenas and one of the coolest (and best-rated) is Luan's. The restaurant sits a few streets off the main drag and has the coziest interior!
They specialize in local fare, especially seafood!
I ordered a local fish with vegetables and a sauce and it was extremely delicious.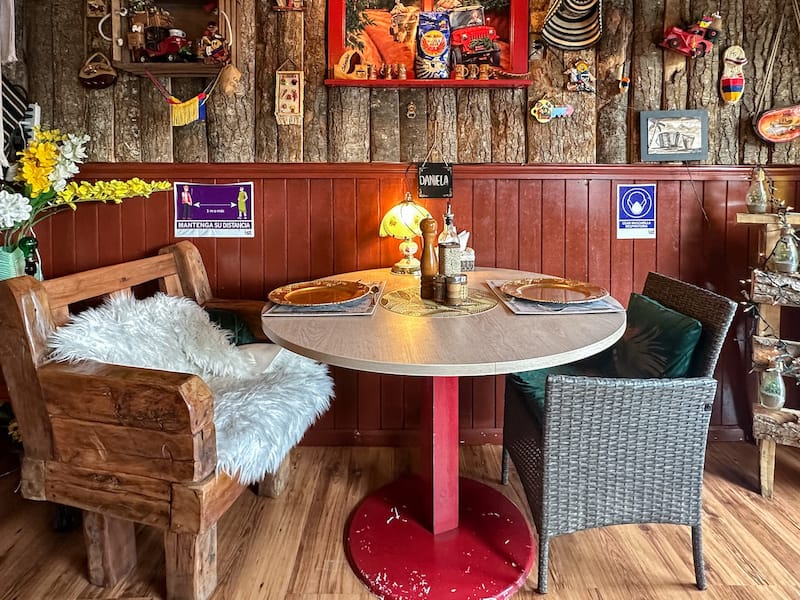 For a starter, we shared the ceviche and it was also tasty. It was seriously no surprise that this restaurant had a 4.9 Google rating when we went there!
But, what really surprised me was how friendly the staff was. They treated everyone like they were family and it made me feel compelled to enjoy every meal at Luan's for the rest of my trip in Punta Arenas!
Address: Mejicana 1104, 6200000 Punta Arenas
11. Visit the Museo Regional de Magallanes
In the center of Punta Arenas is the Museo Regional De Magallanes, a preserved house from the late 19th century to the early 20th century.
The free-to-enter museum is a great way to step back in time to a different era in the history of Punta Arenas.
The house was owned by José Menéndez, one of the area's most influential businessmen who created much of the city's wealth and fortune.
He was the man who created the region's first sheep ranch, Estancia San Gregorio, which can be found north of Punta Arenas.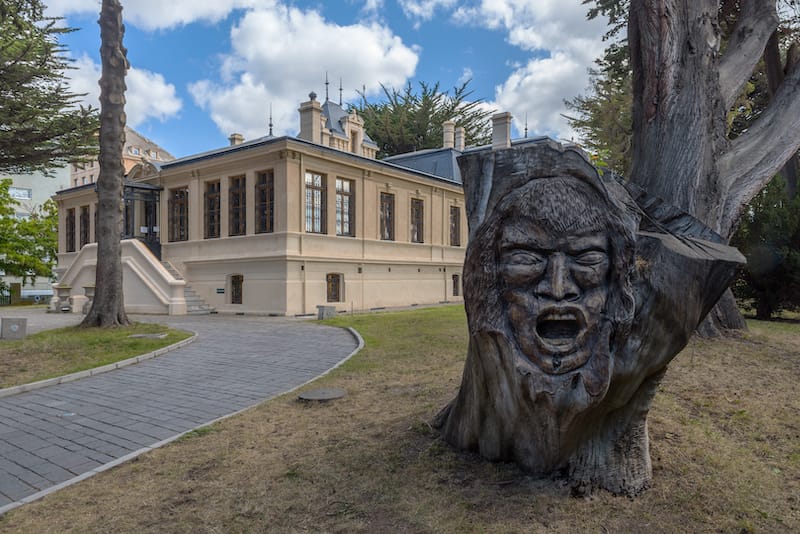 As his wealth grew he invested in numerous other businesses throughout Chilean and Argentinian Patagonia.
While he is famed for his business skills, there are questions surrounding a possible darker side to his history and the role he played in the genocide of the Selk'nam.
The museum is free to the public and open between 10:30am to 2pm, although it is closed on Tuesdays and Sundays.
Along with the permanent exhibition, there are often temporary exhibits on display in some of the rooms of the house.
Address: Hernando de Magallanes N° 949, Punta Arenas
12. Walk along the Waterfront of Punta Arenas
The weather in Punta Arenas does not always play nice, but when it does take the opportunity to walk along the seafront.
While the Magellan Strait is somewhat sheltered from the Pacific, Atlantic, and Southern Oceans that converge around the tip of the South American continent it still feels insanely wild.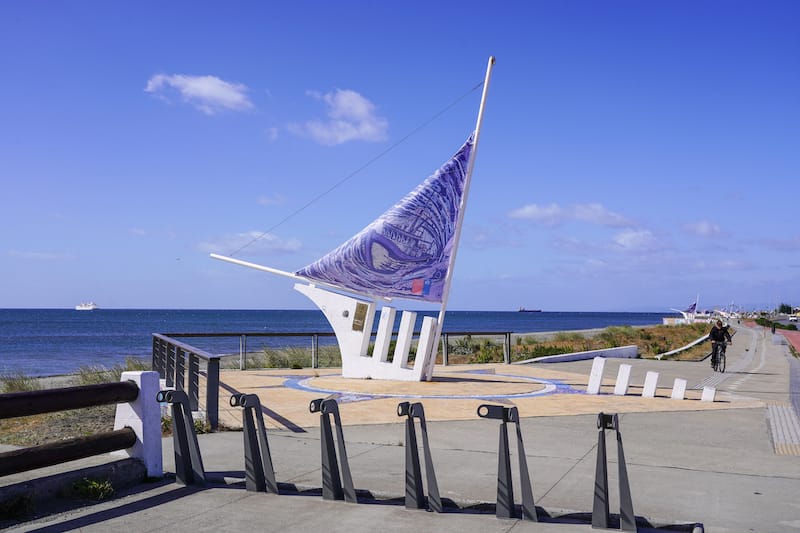 During warmer sunny days you will see families enjoy the frigid waters and along the waterfront, there are a number of art installations and wildlife you can view.
One of my favorite spots along the coast is the remnants of an old dock where hundreds of Imperial Cormorants nest.
Towards the southern end of Punta Arenas is the wreck of the world's first four-mast iron-hulled ship.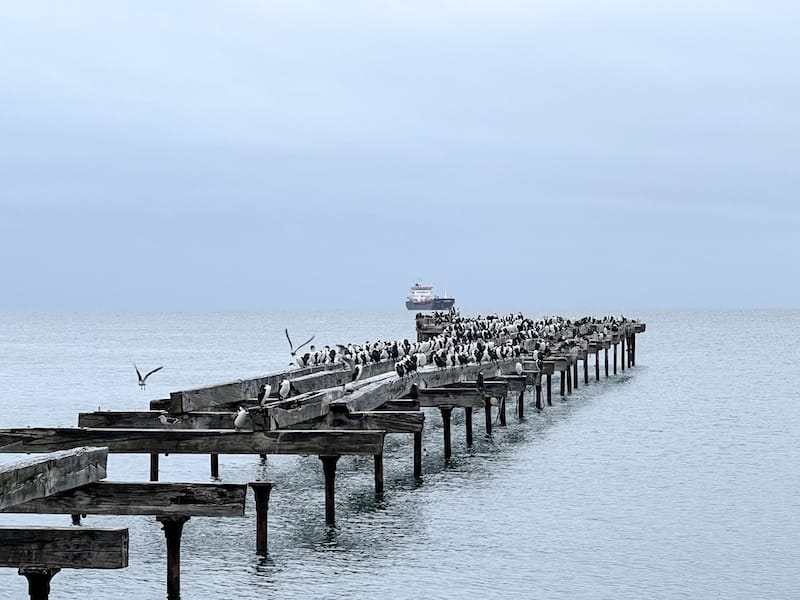 Referred to as Muñoz Gamero it now lies in a state of disrepair, a shadow of its original self.
Getting a good view of the ship is very challenging as it sits on the land of the Chilean Navy, so I wouldn't walk there just to see it as you won't really get a good view of it.
13. Discover the Museum of Remembrance
On the northern edge of Punta Arenas is a museum dedicated to the colonist history of Punta Arenas. It is called the Museum of Remembrance.
A mixture of outdoor and indoor exhibits, you can learn all about the people who arrived in this formidable and foreboding land to farm and make a new life for themselves.
The outdoor exhibits are mostly comprised of machinery used throughout the region's history. There are also period houses and buildings that have been carefully restored to reflect the time they were built.
Within each of the buildings are further collections of amazing artifacts that belong to the period in time the building is from.
The museum is open throughout the week apart from on Sundays, although during lunch hours the museum is closed before reopening for the afternoon.
There is a small fee to enter the museum of 3000$CLP.
Address: Av. Pdte. Manuel Bulnes 01890, 6200000 Magallanes, Punta Arenas
14. Try Guanaco at La Marmita
La Marmita was one of the best places I had the pleasure of eating at in Punta Arenas. The colorful restaurant sits a little bit off of the main thoroughfare in the city and is two stories.
Upstairs, there is a bar area along with many tables and if you go for an early dinner, it is pretty quiet and cozy!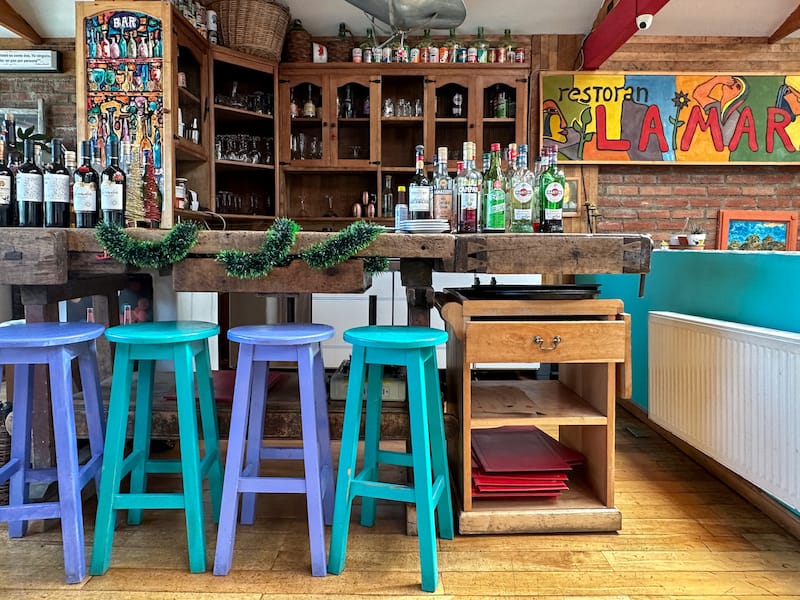 The reason we went to La Marmita was to try the guanaco.
They typically have a guanaco dish on the menu and all guanaco is sourced from Tierra del Fuego where the animal has no natural predators (everywhere else, however, the guanaco is food for the puma!).
The dishes were tasty and we ordered a few sides to go alongside them. This is definitely a place to check out if you're looking for the top Punta Arenas restaurants.
La Marmita is a fantastic place to unwind after a long day of sightseeing in Punta Arenas!
Address: Pl. Francisco Sampaio 678, Punta Arenas
15. Get an Aerial View from Mirador Del Estrecho
Mirador Del Estrecho provides one of the best views out over the city and the Magellan Strait. Located slightly out of the city, the viewpoint is about an hour's walk from downtown Punta Arenas.
The walk itself is nothing to write home about as you head out of the city and up into the hill, however, once you reach the viewpoint you will be greeted with outstanding views that perfectly frame Punta Arenas as a city close to the world's southern limits.
On good days you can see directly over the strait towards Tierra del Fuego.
Location: Y-590, Punta Arenas
Where to Stay in Punta Arenas
If you're looking for the top places to stay in Punta Arenas, I suggest booking far ahead!
We stayed in a hostel here outside of the city. We had our own room and the place was quiet and completely amazing, to be honest.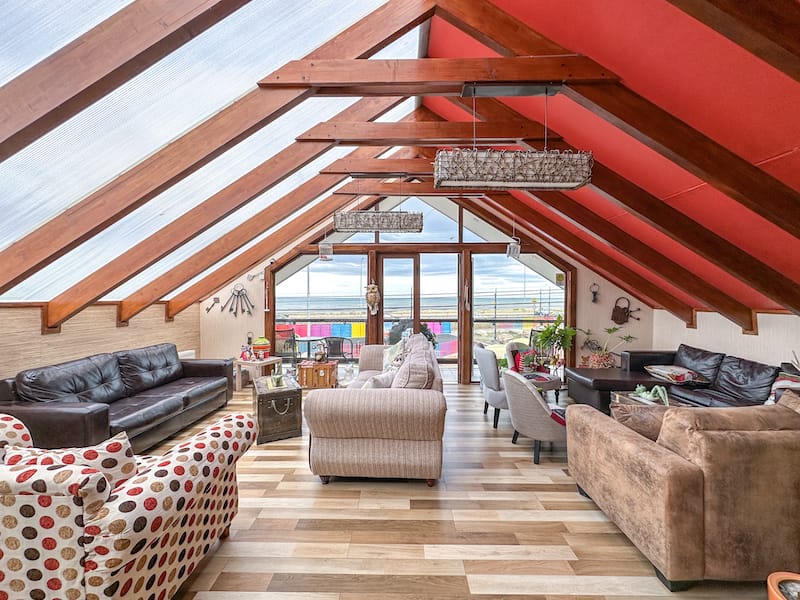 Did I miss any of the best things to do in Punta Arenas for a first-time visitor?
Let me know your favorite Punta Arenas attractions, restaurants, and landmarks in the comments! Thanks!
More Chile Travel Guides
Pin this Punta Arenas Things to Do Guide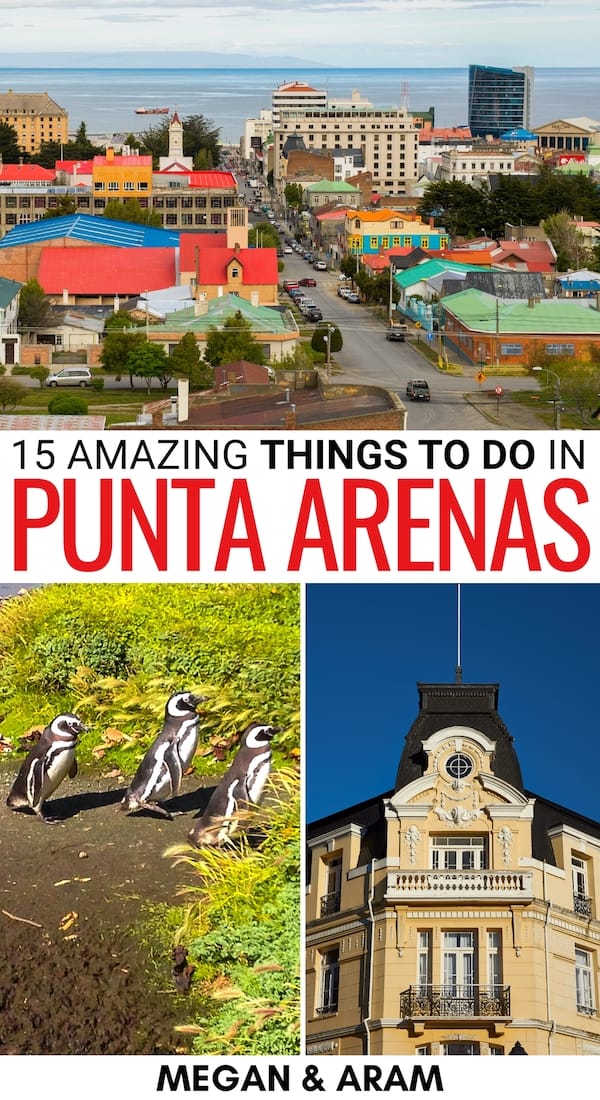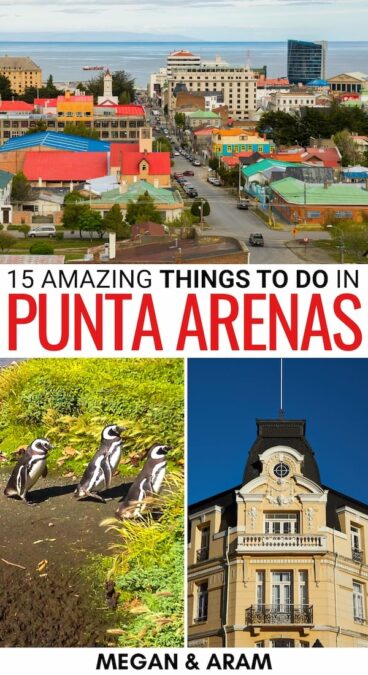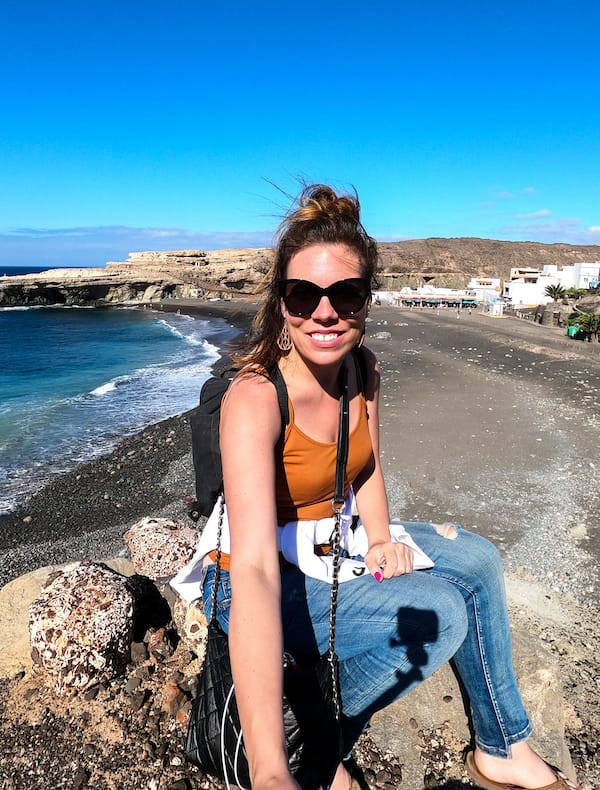 Megan is a travel blogger and writer with a background in digital marketing. Originally from Richmond, VA, she now splits her time between Frankfurt, Germany and Arctic Finland after also living in Norway, Armenia, and Kazakhstan. She has a passion for winter travel, as well as the Nordic countries, but you can also find her eating her way through Italy, perusing perfume stores in Paris, or taking road trips through the USA. Megan has written for or been featured by National Geographic, Forbes, Lonely Planet, the New York Times, and more. She co-authored Fodor's Travel 'Essential Norway' and has visited 45 US states and 100+ countries.