Are you heading to Patagonia and looking for the best things to do in Puerto Natales, the gateway to Torres del Paine National Park? We've got you covered!
Are you planning your trip to Puerto Natales last minute?
If youʻre booking your trip to Puerto Natales last minute, we have you covered. Below are some of the top tours, hotels, and more!
🇨🇱 Top experiences and tours from Puerto Natales:
W-circuit hike in Torres del Paine (MUST be booked in advance!)
Base of the towers group trek (must-do for hikers!)
🛌 Top lodging options in Puerto Natales:
🚗 Visiting Patagonia independently? Be sure to book your rental car ahead of time to ensure availability!
This guide covers some of the top places to visit in Puerto Natales, including where to eat, the best coffee shops, fantastic places to stay, and more.
And, because the Chilean city is surrounded by some of the most renowned scenery in the world, we also detail some of our favorite day trips from Puerto Natales, including some of the best Puerto Natales day tours.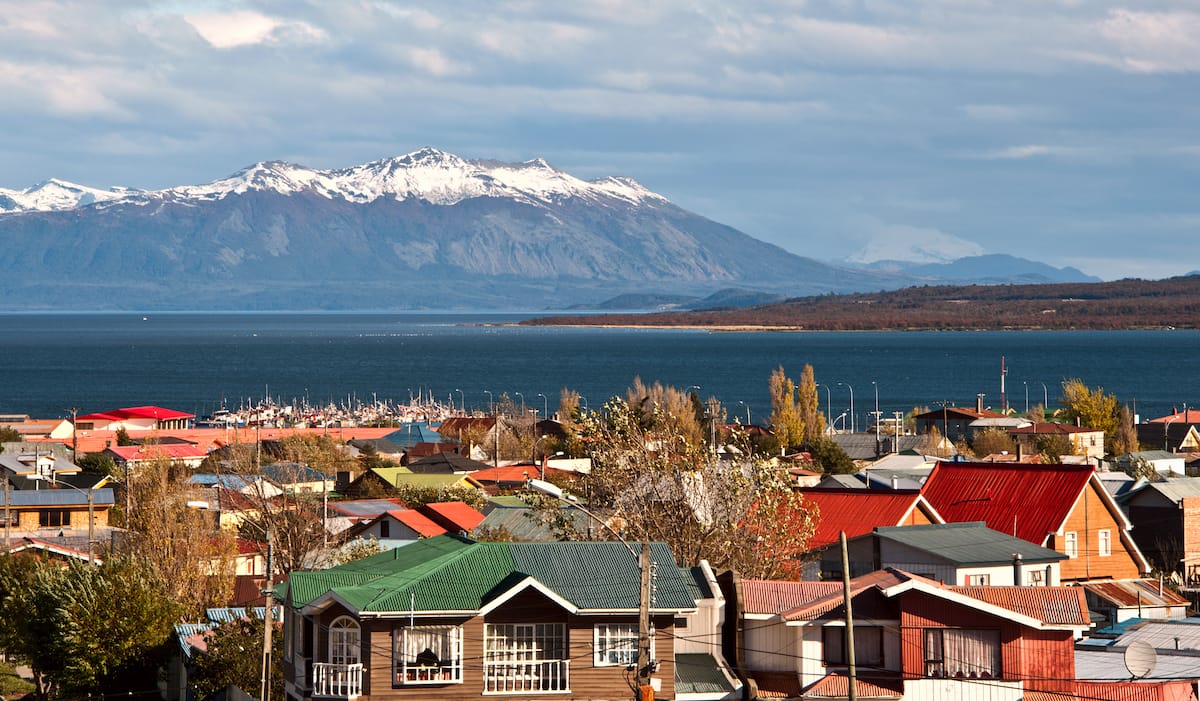 Did we miss any of the top Puerto Natales attractions, tours, or things to do? Let us what to do in Puerto Natales in the comments! Thanks!
GOOD TO KNOW:
Before entering Torres del Paine National Park, you always have to pre-purchase your tickets for the park. They run about $35 per person but must be
purchased in advance and online
. This is also for any of the tours listed below that go to Torres del Paine National Park. No exceptions! And there is no cell phone service in most of the park so you will not be able to download them later – do it before entering the area!
Best Things to Do in Puerto Natales, Chile
1. Take a Torres del Paine Highlights Tour
While I love a good and easy day hike, I am by no means an avid hiker. I was really stoked that there were tours from Puerto Natales for people like me!
I had had a stomach bug the days before and was bedridden, so this was my first venture out in Puerto Natales.
I don't remember the names of many of the places I saw, but I got to see many of the park's main highlights like the Torres (from below – you need to hike to see them up close), Lago Pehoe, Lago Grey, and more.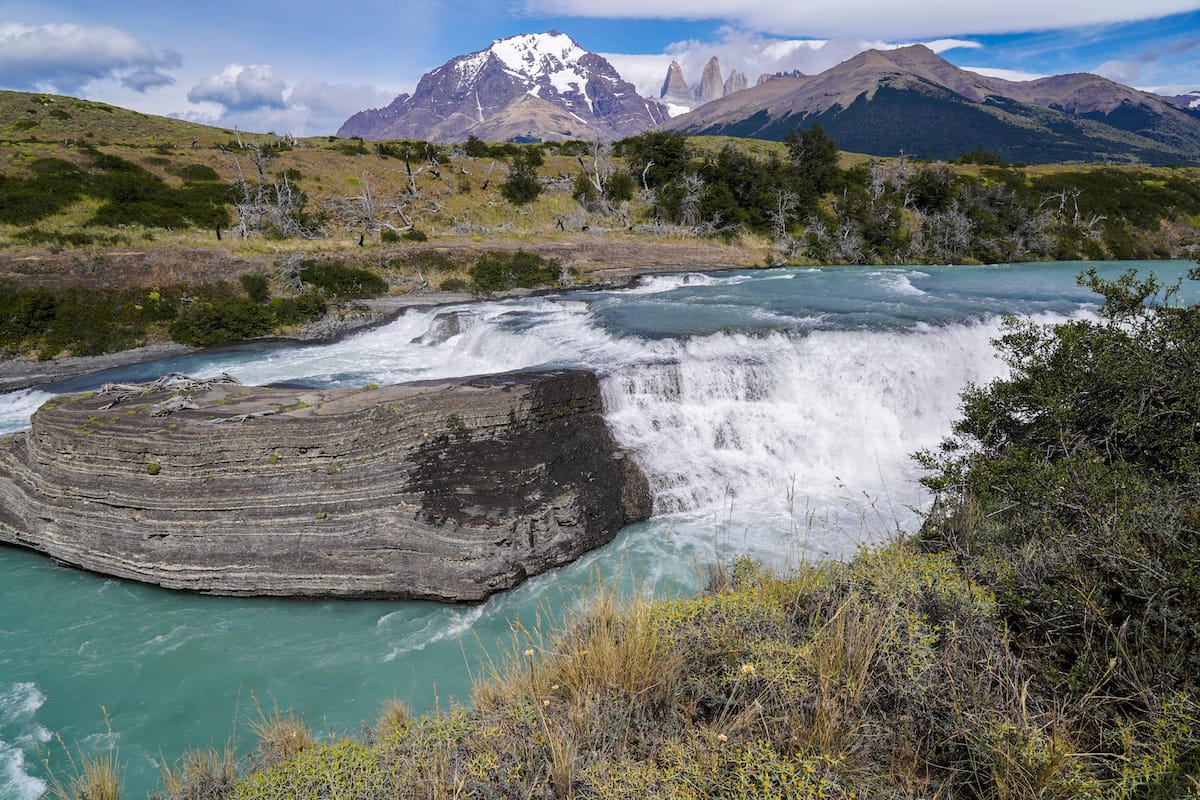 The tour was a small group tour that accommodated about 15 people and the guide was super knowledgeable and enthusiastic.
Toward the end of the day, we stopped at Rio Pingo, a restaurant and minimarket inside the park near Gray Glacier. We had an hour to eat, walk the short trail to see the icebergs from Gray Glacier, and more.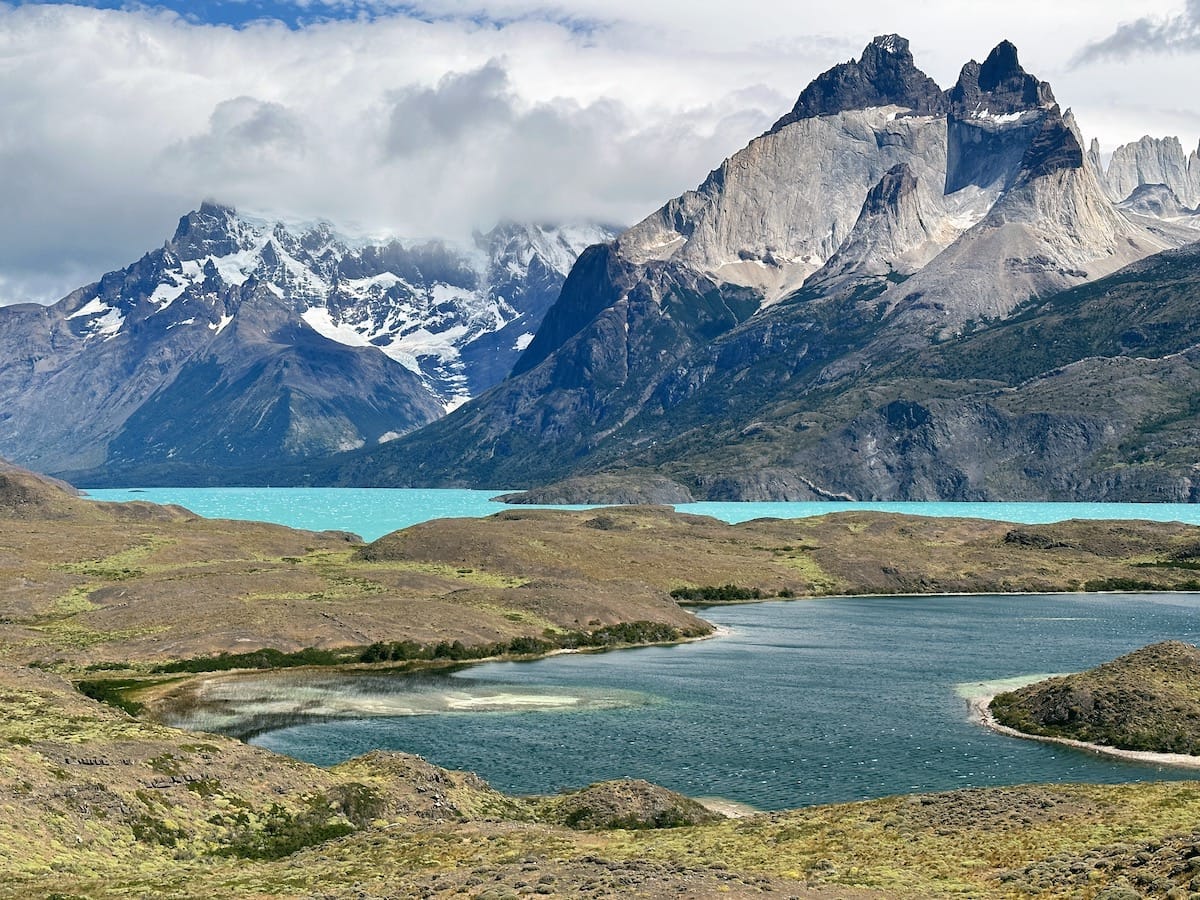 We ended the day at Cueva del Milodon (Milodon Cave) which I thought would be a lousy tourist trap but ended up being pretty awesome as we got to see the site where they found and excavated many of the extinct animals from the area.
The tour was 100% worth it, even if you plan to do the W Circuit later – it was a nice introduction to the park!
>> Click here to check tour rates and availability
2. Start Your Morning off at Holaste! Specialty Coffee
I have had some really amazing coffees around the world and this small and unassuming cafe ranks as one of my favorites!
Holaste! is a coffee shop in Puerto Natales that is loved by the locals just as much as the tourists.
I had a flat white there multiple times throughout my visit and it was never anything but exceptional.
The cafe has a few outdoor seats as well as a few inside, so it may be best to take them away if the place is crowded.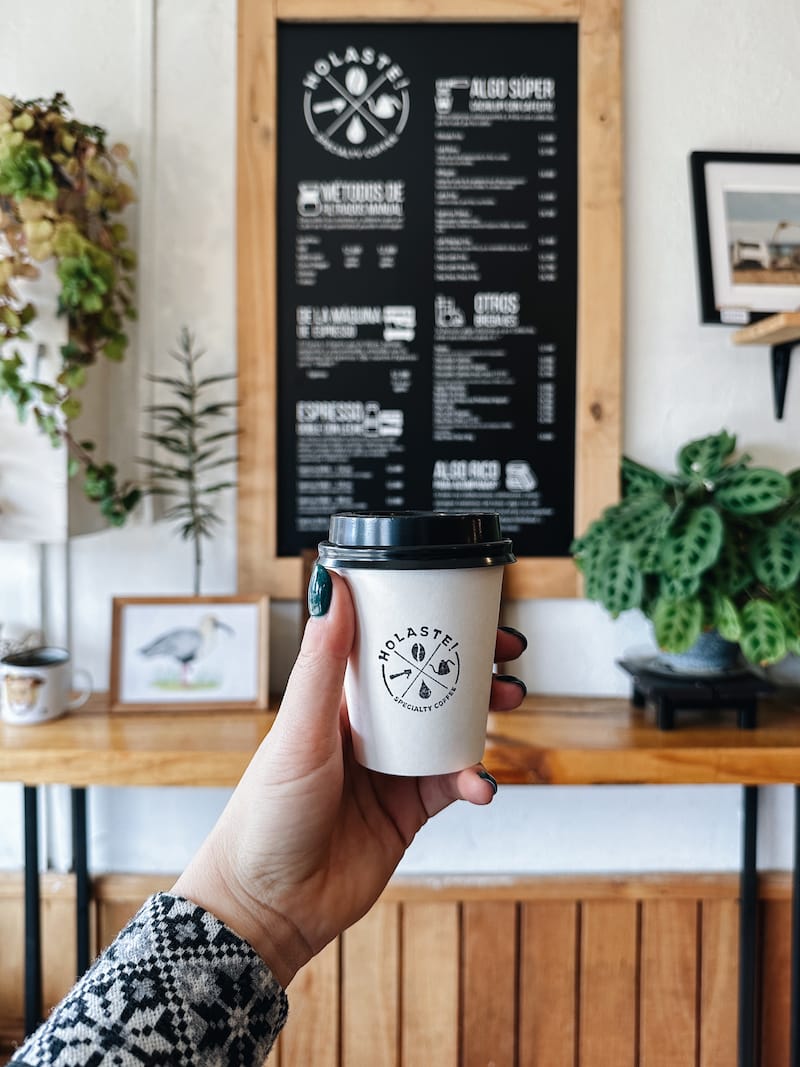 There is greenery indoors, and the spot is pet-friendly (good to know if you happen to be missing your dog)!
Inside, you'll find options like a V60 to Chemex to Cold Brews. They also have Chai Lattes and tea. Prices range from 2600 CLP to around 3000 CLP for espresso and milk drinks.
If you are wanting to test out another coffee shop in Puerto Natales, head over to Nomad for a second coffee!
Address: Carlos Bories 385
3. Go on a Glacier Tour from Puerto Natales
I was looking for an additional activity to do one day when my partner suggested we book a glacier boat tour from Puerto Natales.
It was New Year's Eve and it was going to be an epic way to end the year! We booked our tour through Viator and met at the office meeting point before being bused with others to the port.
The boat can fit up to 150 people, which is quite a lot, and our tour was booked full since it was over the holidays.
However, you are pretty much given the freedom to go outside and wander around the deck, which is large and spacious, so I never felt trapped inside the boat.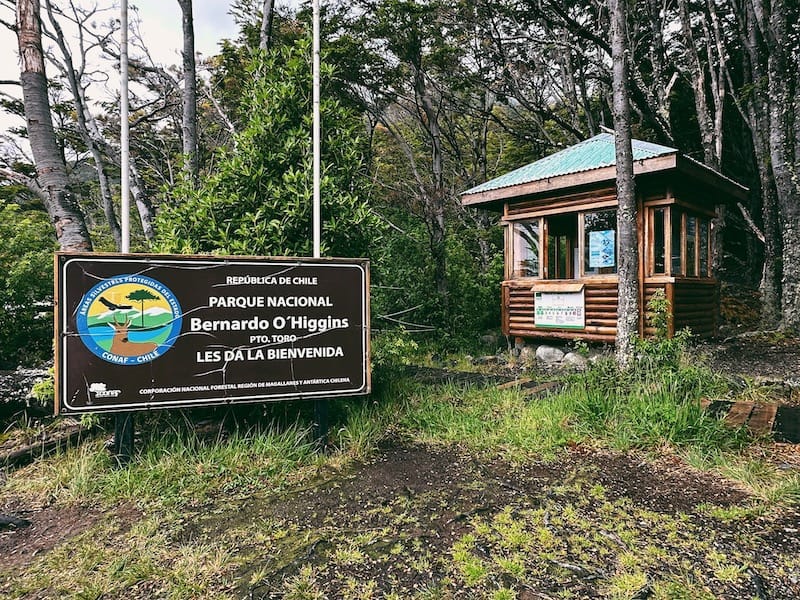 The tour takes you through the fjords around Puerto Natales to a few waterfalls before checking out the two glaciers on the tour, the Balmaceda and Serrano Glaciers.
After the first glacier, you will pull up to Parque Nacional Bernardo O'Higgins, where you'll get off the boat for a little over an hour. There is a 20–30 minute hike at this point to the glacier.
However, there is also a wooden boardwalk that will take you right to the glacier panorama within 5 minutes. I had injured my knee a few days prior, so I couldn't do the hike and had the entire wooden boardwalk to myself.
The trail was short and lush, with birds chirping above the ferns and canelo trees.
I wandered a bit, watched the crew try to gather glacial ice for cocktails, and just relished the natural beauty of the place (and all the trees which can be somewhat sparse in this area of Chile)!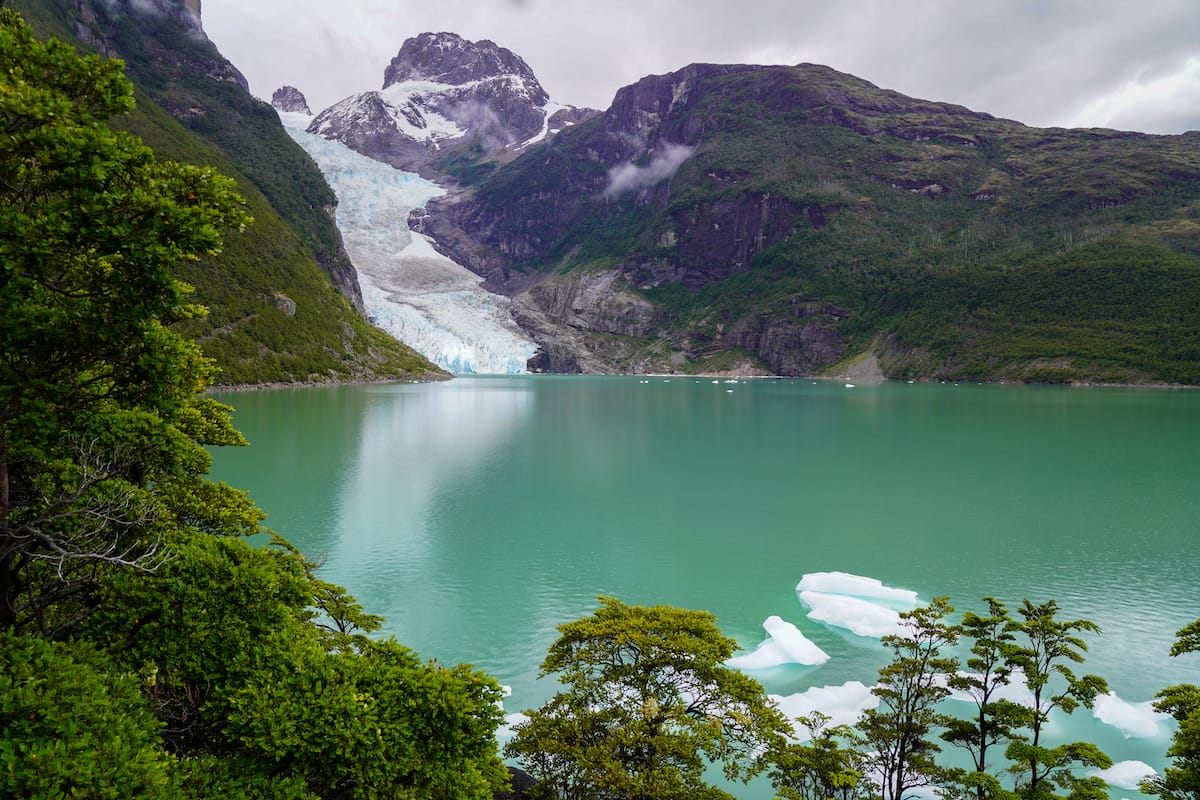 After this stop, we headed back toward Puerto Natales, but not before making a long stop for lunch. We, again, got off the boat and were served a rather luxurious BBQ meal.
I think this was the best meal I have ever been served on a tour! The fresh lamb and potatoes were sizzling at our table grill and we were also served a glass of Chilean wine as part of the tour. Vegetarian options are available.
This tour lasted for about 10 hours and can potentially be canceled if the weather is lousy (fully-refunded if so). I highly, highly recommend this trip!
>> Click here to check tour rates and availability
4. Have Local Fare at Afrigonia Restaurant
So, Afrigonia is actually an African-inspired restaurant that is situated in the heart of Puerto Natales. But, the dishes use local ingredients and it is easily one of the best meals I had in Puerto Natales.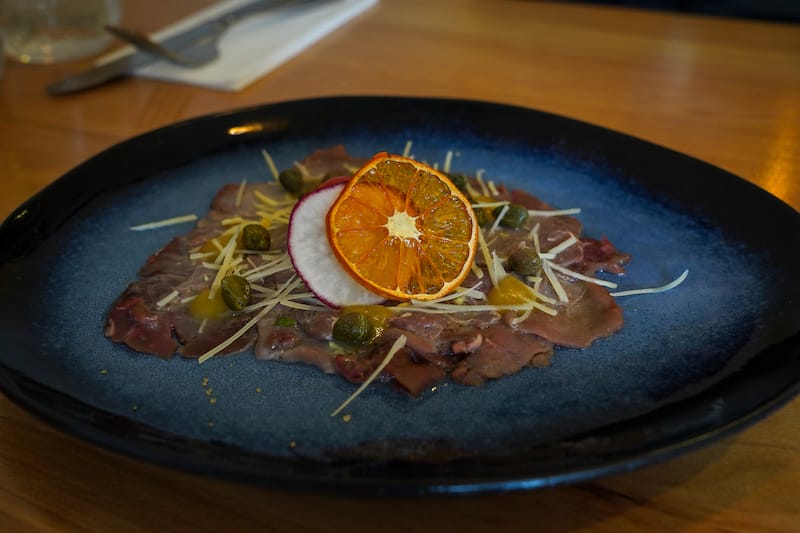 We ordered the salmon (it had a curried-type sauce) as well as a rack of lamb in a delicious mint sauce. We also opted for a side of sauteed vegetables and spiced-up rice with guanaco carpaccio. Every last bit of it was delicious!
This is another place that gets pretty packed during the high season, so you might want to book a table ahead of time!
Address: Magallanes 247
5. Day Trek to the Base of the Towers
I didn't even bother signing up for this because I knew it was a lost cause. But, Ed did it so he could report it to me!
This 20-kilometer (or 12-mile) hike is one of the main reasons that people come to Patagonia and Torres del Paine National Park in the first place!
This hike takes you up to the base of the towers for that famous viewpoint (and the one in this photo). His hike had 27 people on it, along with three skilled guides.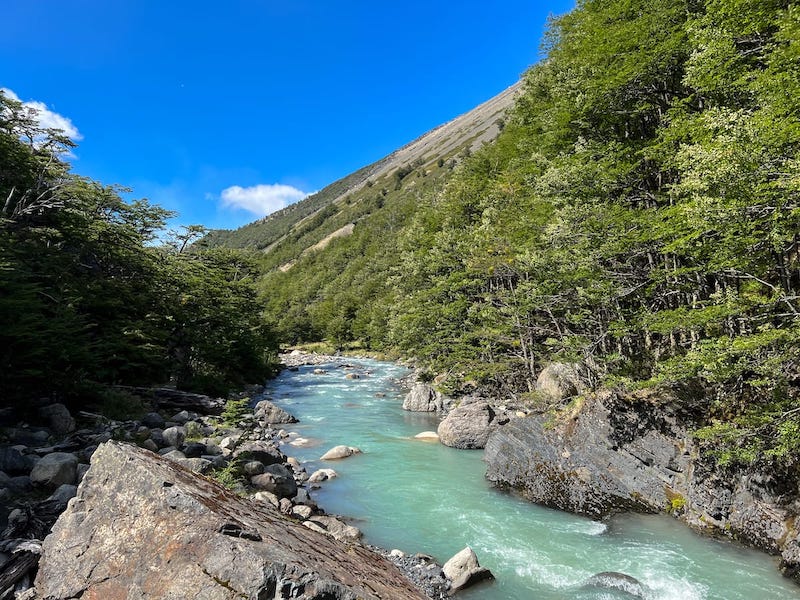 I would say Ed's hiking capabilities are moderate or average, and he said it was a very tough and strenuous hike (he works out but isn't a regular hiker).
The tour includes transportation, but not food and water… and aside from a few streams along the way, there is really nowhere to fill up.
The tour leaves at 7ish and you return back at about 8pm. Be prepared for the wind and wear layers as it goes from hot to cold throughout the journey!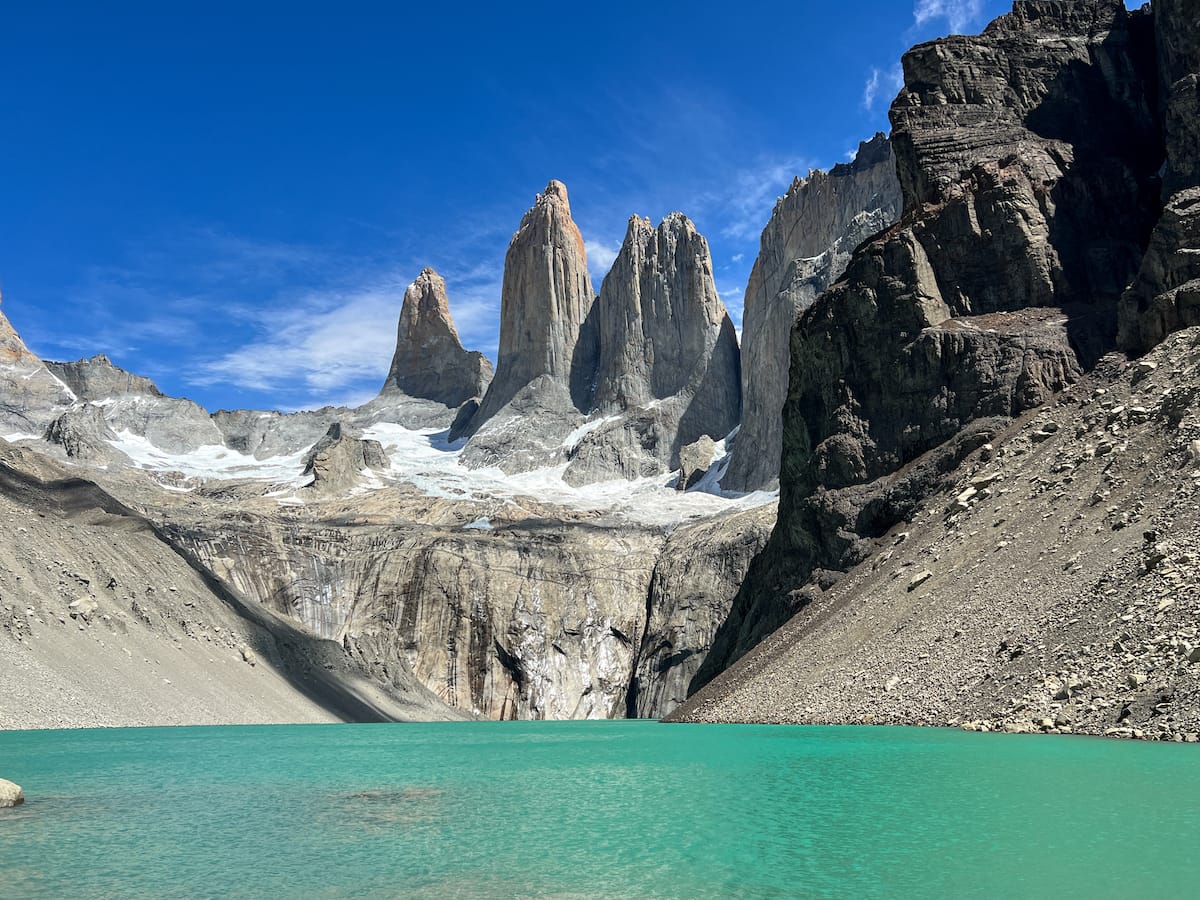 Trekking poles are provided. The first part of the hike is difficult, and then it levels out to be somewhat okay before the last kilometer, where it is brutal. This is a must for all adventurers (and people in better shape than I am)!
>> Click here to book your trip to the Base of the Towers
6. Eat Gaucho Stew at La Disqueria
When I finally discovered La Disqueria, I had nearly given up on eating Chilean food as I had a string of bad restaurant experiences. This place turned it around so much that I went there two nights in a row!
La Disqueria gets busy and it can be challenging to find a table, so try to reserve a table in advance if you can.
The Puerto Natales restaurant specializes in Gaucho Stew (Cowboy Stew) and the menu is ever-changing, but it tends to always have some seafood options on it, as well as lamb or beef.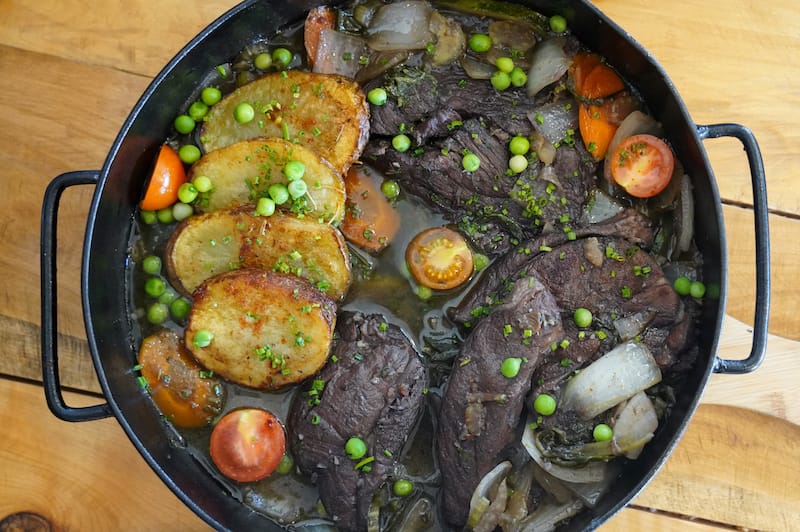 I opted for lamb both times as Patagonians are sensational at preparing the meat.
One night, I had a lamb stew with peas, potatoes, and a hearty broth. The next night, the lamb was more 'Portuguese' inspired (as the menu stated) and it had tomatoes and some other ingredients in it.
For an appetizer, we ordered guanaco pastrami which was pretty tasty, as well.
They also offer a few Chilean wines to accompany whatever dish you order. Definitely a must-visit place for food lovers!
Address: Hermann Eberhard 299
7. Indulge in Ice Cream at La Dorotea
Ordering ice cream is just one of those things I do no matter where I visit and I was so happy to find this artisanal gelato place in the Puerto Natales city center!
On the menu at La Dorotea, you'll find everything from an array of gelato flavors (including Dulce de Leche, the flavor I ordered) to delicious Patagonia Blend coffee. Beware = portions are huge!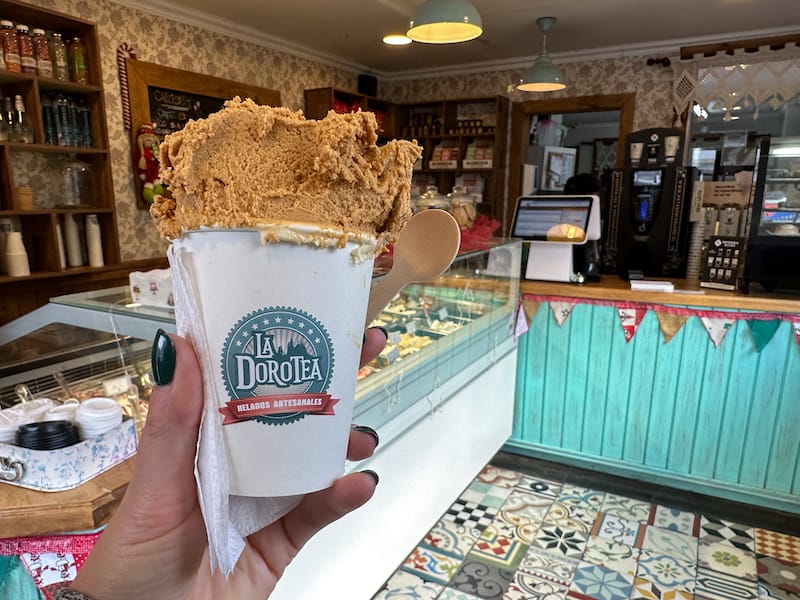 I ordered two scoops of ice cream in a cup and I couldn't even make it through half of one scoop! Nevertheless, you'll find quite a few menu options despite there being no seating inside!
A single scoop was about 2800 CLP and a double was 4050 CLP when I was there.
Address: Hermann Eberhard 540
8. Visit the Last Hope Distillery
In 2015, two Aussies arrived in Puerto Natales for the W-trek and have kind of planted themselves there ever since!
Their distillery and bar, Last Hope, offers delicious cocktails and the largest range of whiskies and gins in Patagonia – and it is a must-visit when you're traveling to Puerto Natales!
Sadly, they were closed when I visited as they are open only from October until April (Wednesdays through Sundays from 1700-0200), but if you happen to be there during this time, you must check it out!
They even offer free tours daily at 5:30pm to guests during the high season.
Don't worry, if you're there when the bar is closed, you can still buy Last Hope around Puerto Natales (and even in Santiago)!
Address: Calle Esmeralda 882
9. Have a Burger at Wild Cafe
One of the most popular eateries and cafes in Puerto Natales was Wild, a place especially renowned for its burgers.
While I ended up there multiple times for coffee and never got to order one of their famous burgers, I did get a glimpse of the ones others had ordered and have regretted it ever since!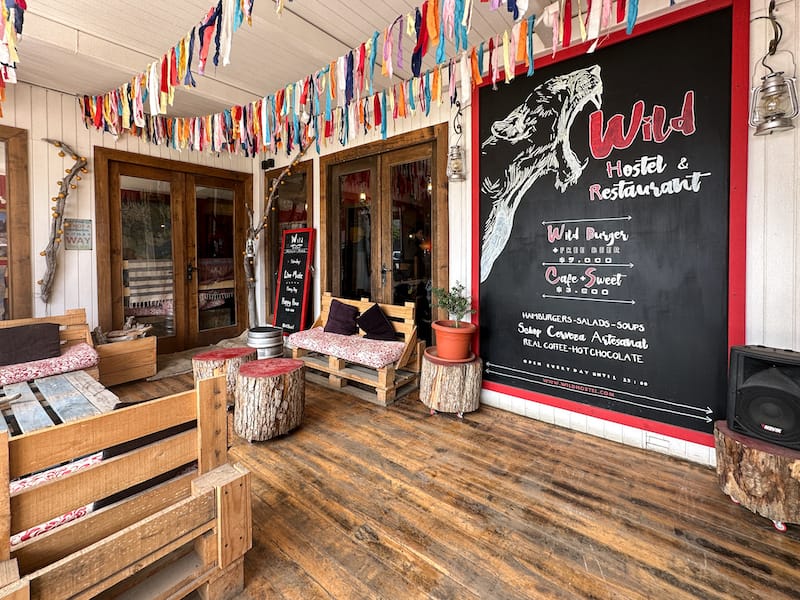 Wild is also a hostel, so you will see people of all ages coming in and out. They also have several in-house pups and the cafe just became a place of comfort for me after a while!
The staff was especially friendly and the cafe was particularly good!
Address: Manuel Bulnes 555
10. Go Puma Tracking with Onteaiken Patagonia
One of the tours I was most stoked about was this puma tracking tour with Onteaiken Patagonia. Unfortunately, the day I was supposed to go, I had a horrible stomach bug and my partner had to go alone without me.
The tour takes off rather early and gets back at around 8pm. There is no guarantee you will see a puma, but since it is a private tour, if you tell the guide you want the best chance to see one, they will take you into the northern part of the park where you have the best chance of finding one.
The tour also involves a 10km trek (easy level) where you'll search for wildlife along the way (and some cave petroglyphs).
When we were there, it was not prime puma season, but my partner did see three that day – including a fresh guanaco kill and a baby puma waiting on its mom for food.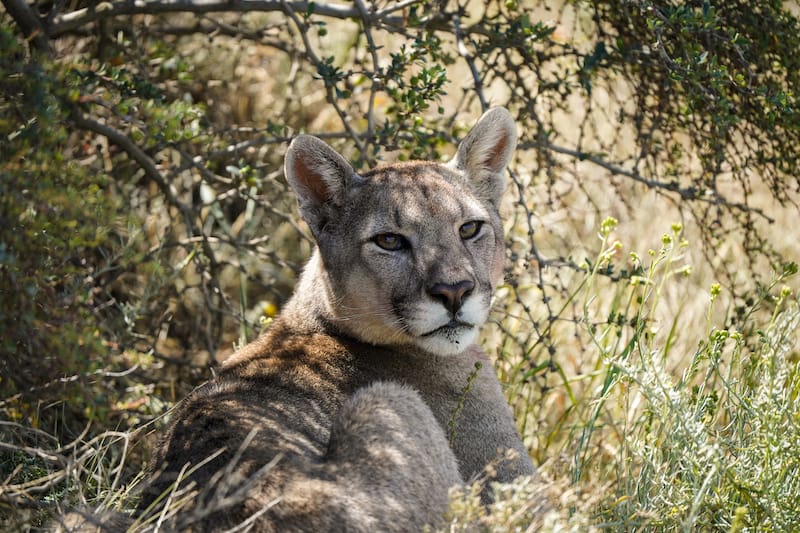 I am pretty gutted I had to miss the tour, but I am glad he was able to capture some photos for me to encourage you to take this tour!
This tour is somewhat bespoke – Ed handed the tour guide and driver his itinerary for the highlights tour he was taking the next day and they tried to avoid most of the areas so he could see fresh landscapes each day.
Unfortunately, I gave him that same stomach bug so he missed out on the highlights tour! Please note that this tour was around $600 for a private tour for 2 people.
>> Click here to check tour rates and availability
11. Grab Seafood at Restaurant Bahia Mansa
On our last night, we were craving seafood so we headed to Restaurant Bahia Mansa, a local place that gets a pretty solid rating and good reviews.
Despite our craving for seafood, we still opted to order lamb and beef and both were pretty tasty. We also had a ceviche appetizer which was delicious.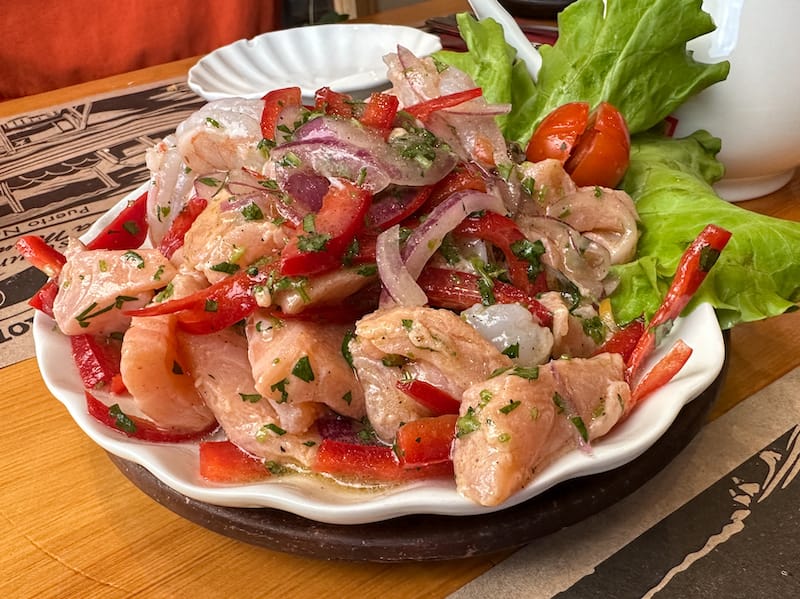 Our service there was the true highlight as the staff was very friendly. Be ready for a Spanish-only menu, however!
Address: Hermann Eberhard 323
12. Support Local Artisans at Venture Patagonia's Shop
I was so delighted to find Venture Patagonia, a Chilean handcraft store (by a local tour company!) that specialized in handicrafts, books/maps, gourmet products, and souvenirs.
You can find everything from Patagonian wool hand-knitted gloves to local blueberry jams… and more!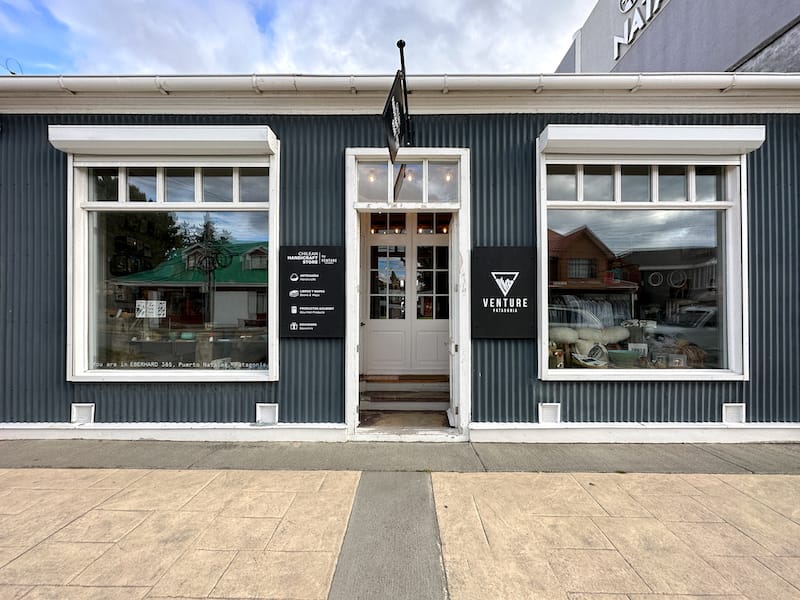 This is an epic place to grab a souvenir to take home to family and friends, which supports locals in the process. Their tour offerings are also sensational and keep local guides and the community in mind.
Address: Hermann Eberhard 385
Where to Stay in Puerto Natales
What I noticed about lodging in Puerto Natales is that most of what was located in the city center happened to be budget/mid-range options and hostels.
We stayed in a place that offered small apartments (or 'cabanas' as they called them. It was a really lovely option for the five nights that we were there but if I had to do it all over again, I would have budgeted a bit more to stay outside of the city and rent a car for a few days (we didn't rent one which we kind of regret now).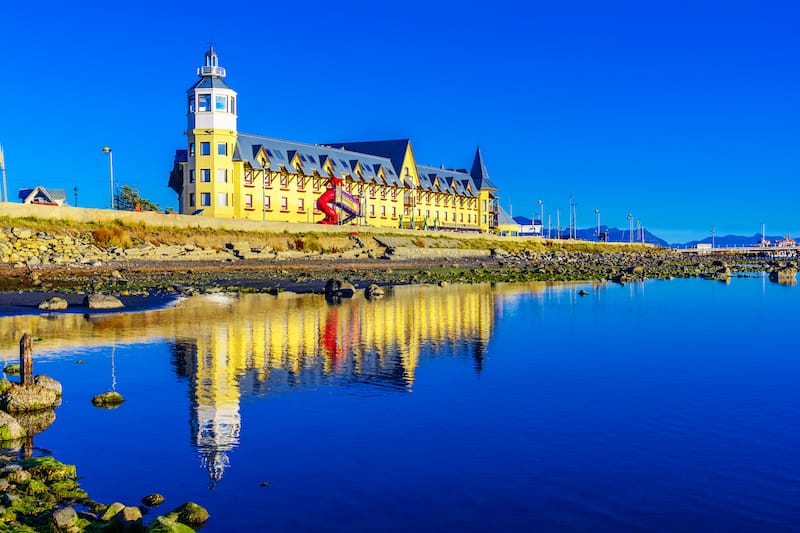 Unfortunately, I didn't get any photos of where I stayed as when I arrived, I was actually sick from a stomach bug and headed to sleep right away!
The lodging outside of the city center seems to be more luxurious and connected with nature.
Here are some of the top options for where to stay in (and around) Puerto Natales:
Did we miss any of the best things to do in Puerto Natales? Let us know your top tips for the city in the comments. Thanks!
More Chile Travel Guides
Pin this Puerto Natales Things to Do Guide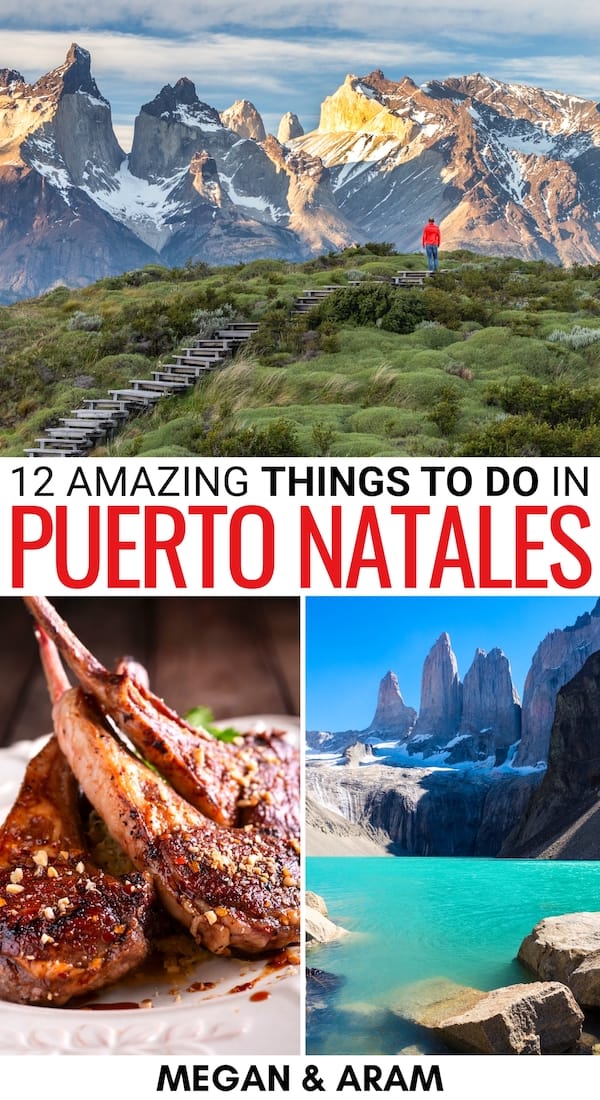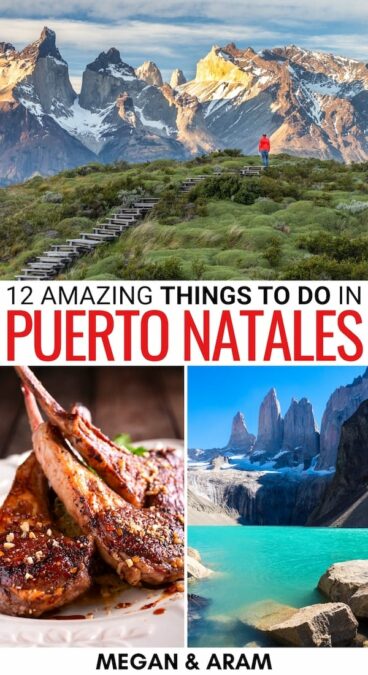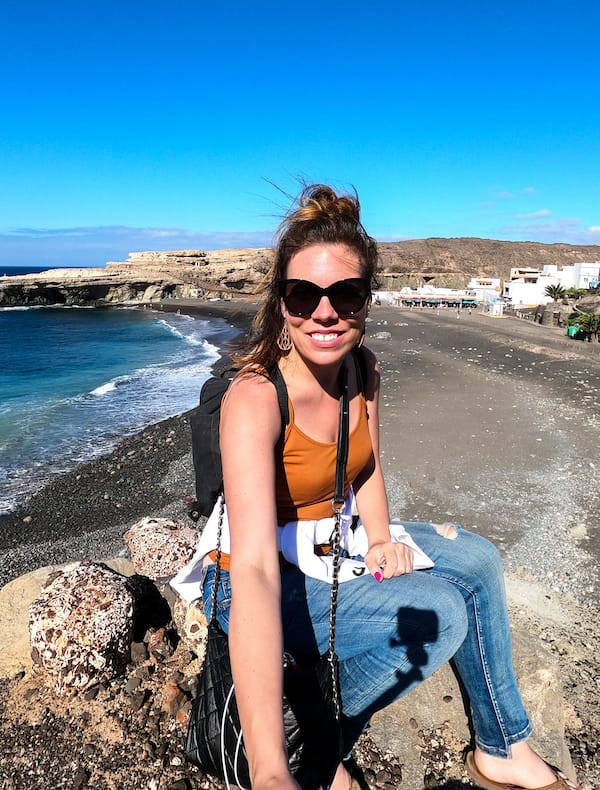 Megan is a travel blogger and writer with a background in digital marketing. Originally from Richmond, VA, she now splits her time between Frankfurt, Germany and Arctic Finland after also living in Norway, Armenia, and Kazakhstan. She has a passion for winter travel, as well as the Nordic countries, but you can also find her eating her way through Italy, perusing perfume stores in Paris, or taking road trips through the USA. Megan has written for or been featured by National Geographic, Forbes, Lonely Planet, the New York Times, and more. She co-authored Fodor's Travel 'Essential Norway' and has visited 45 US states and 100+ countries.