A rather underrated city in the northern part of Idaho is the gorgeous Coeur d'Alene. This is a guide detailing the best things to do in Coeur d'Alene, Idaho for first-time visitors!
Coeur d'Alene is often an overlooked place in the northwestern United States due to its remote location in Northern Idaho.
However, it is more than just a great starting point for a road trip in Canada (and we discuss why here)!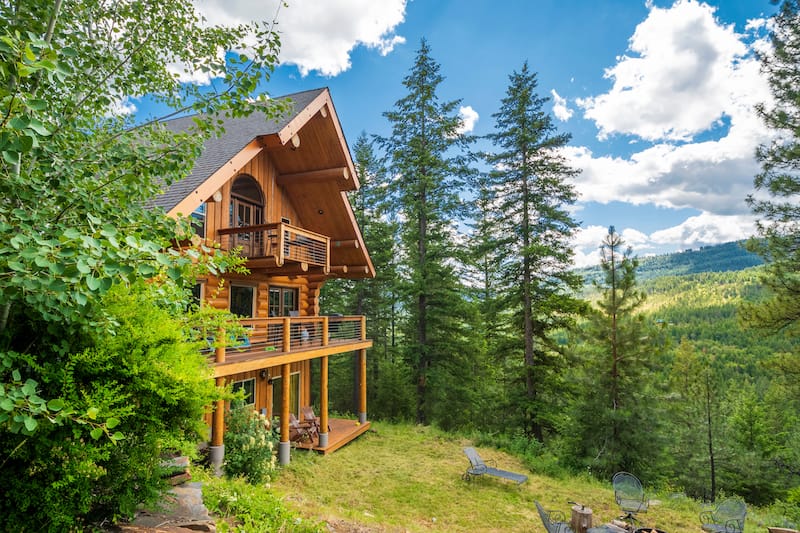 Did we miss any of the best attractions in Coeur d'Alene? Please let us know in the comments!
Best Coeur d'Alene Tours (to Maximize Your Time!)
If you're looking for something more organized when in Coeur d'Alene and the surrounding area, here are some awesome Coeur d'Alene tours you should check out.
These tours will help you maximize your time, which is especially important if you only have a short amount of time in the city! We listed a variety so that you can pick which one is most suitable for you (and many include multiple places!):
2-hour guided Segway tour in Coeur d'Alene (top-rated option!)
Coeur d'Alene scavenger hunt (great for kids!)
Best Things to Do in Coeur d'Alene
1. Bike the North Idaho Centennial Trail
Isn't it really exciting to get some exercise while gazing upon the surrounding landscapes of northern Idaho? Riding a bike on the North Idaho Centennial Trail should definitely be on your Idaho bucket list, and your USA bucket list!
This is a 24-mile, car-free trail that used to be a railway line is ideal for exploring the local scenery.
It provides a scenic stop along the way to rest on the benches in the park as well as the opportunity to jump off the trail and explore parts of the city.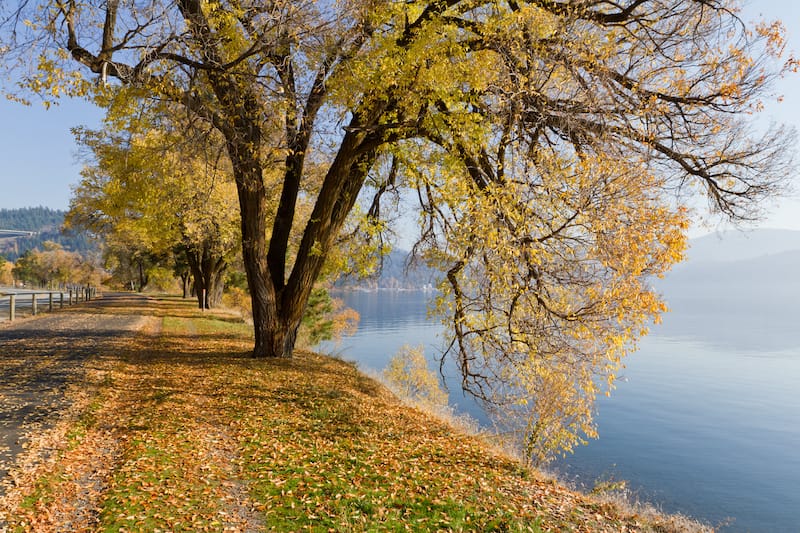 However, if you're looking for longer bike trails, it would be ideal to find an alternative option. This is also a great thing to do for those looking to do active weekend trips from Boise.
2. Zipline at Timberline Adventures
Timberline Adventures offers a fast and furious ride through the woods located near the city. The Zipline experience includes seven unique ski trails as well as three sky bridges for adventure seekers to take a thrilling walk.
The views along the way are nothing short of breathtaking, with some adrenaline-inducing moments along the way.
View this post on Instagram
Timberline offers you the opportunity to choose your own type of escapade, be it a treehouse quest or a simple zip tour.
Plus, ensuring a safe experience for clients is a top priority at Timberline Adventures, so you can put your mind at ease and enjoy! Check out their website for more information.
3. Museum of North Idaho
The Museum of Northern Idaho located next to the Coeur d'Alene State Park and downtown area, displays multimedia exhibits that highlight the history of the region.
From railways to recreation, including logging history and artifacts from the Coeur d'Alene tribe, every aspect of Coeur d'Alene is on display at this museum.
Photos and information about the pier in 1941 and the presentation of the seaplane races on Lake Coeur d'Alene in 1958 are particularly interesting permanent exhibits.
The museum shop offers a large selection of local history publications as well as jewelry and handicrafts. Traveler's tip: free admission to the museum is offered during the City Art Walk that takes place on the second Friday of every month.
Opening hours:
April 1 – May 28: Tuesday – Saturday, 11 am – 5 pm
May 29 – September 5: Daily, 11 am – 5 pm
September 6 – October 29: Tuesday – Saturday, 11 am – 5 pm
Address: 115 Northwest Blvd, Coeur d'Alene, ID 83814, United States
4. Coeur d'Alene Cellars
Coeur d'Alene Cellars was established in 2002. It focuses on the fine art of winemaking. The winery has its own style: live music, club events, winemaking, and wine tasting evenings.
The rich menu of this winery will make your day. What's more attractive than visiting a winery where the atmosphere meets expectations? Local artists are usually guests at the winery, so make sure to check the exact date and time of live concerts beforehand.
View this post on Instagram
The cozy corners at this winery are also an excellent background if you're looking to take some unique photographs that stand out.
5. Tubbs Hill Hiking Trails
The Tubbs Hill area is a natural site that covers about 120 acres of land by Lake Coeur d'Alene.
Here you can find many great opportunities for hiking, scenic viewing, and photography. Get on the 2.2-mile interpretive trail, visit nearby McEuen Park, and bring your dog along.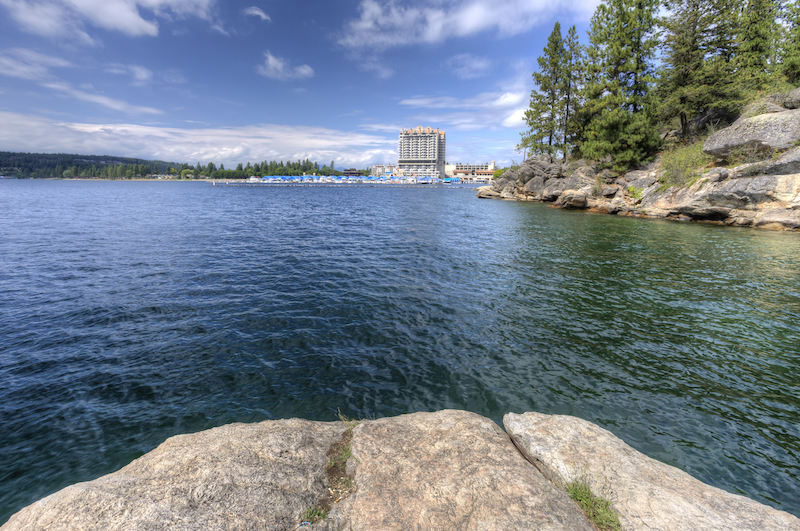 Tubbs Hill is great for nature walks during any season and you may have the chance to see bald eagles in winter. It is a very popular destination for families, joggers, and photography enthusiasts.
Tubbs Hill can be reached via a variety of trails from the surrounding city streets; however, the one on the southwest side of McEuen Park and Third Street provides public toilets and concessions.
6. The Art Spirit Gallery
For those who like visiting art galleries and exploring new styles of art, this can be one of the top destinations to visit.
The Art Spirit Gallery was established in 1997 and is located right in the city center. So, if you're staying a bit farther from the center and wondering if it's worth the trip, professionals ensure that it most definitely is.
The pieces on display are interesting, unique, and well thought out. The gallery is brightly lit, spacious, and the staff is child-friendly.
View this post on Instagram
The guides are ready to answer any and all questions you may have so visitors can not only admire the beauty of the collection but truly understand its purpose and nature.
And don't worry, if you really fall in love with a masterpiece, you can buy it and take it home!
The Art Spirit Gallery is open Wednesday through Sunday from 11 am to 6 pm.
Address: 415 Sherman Ave, Coeur d'Alene, ID 83814, United States
7. Fort Sherman
The historically themed and recently renovated Fort Sherman playground is a huge hit in the state park for both kids and parents.
The state park in Coeur d'Alene is the heart of public entertainment and events that you can attend many of them held throughout the year, including watching films at the park and listening to live instrumental music.
The historic Fort Sherman Chapel, located just outside the park, is the oldest church in Coeur d'Alene. It's a quick and scenic not-to-miss stroll through the charming area.
8. Whitewater Rafting & Water Activities
The town of Coeur d'Alene is affectionately called "Lake City" because of its close proximity to an amazing lake that's a great spot for a vacation. ROW Adventure Center is a great choice for boating, kayaking, sailing, and swimming.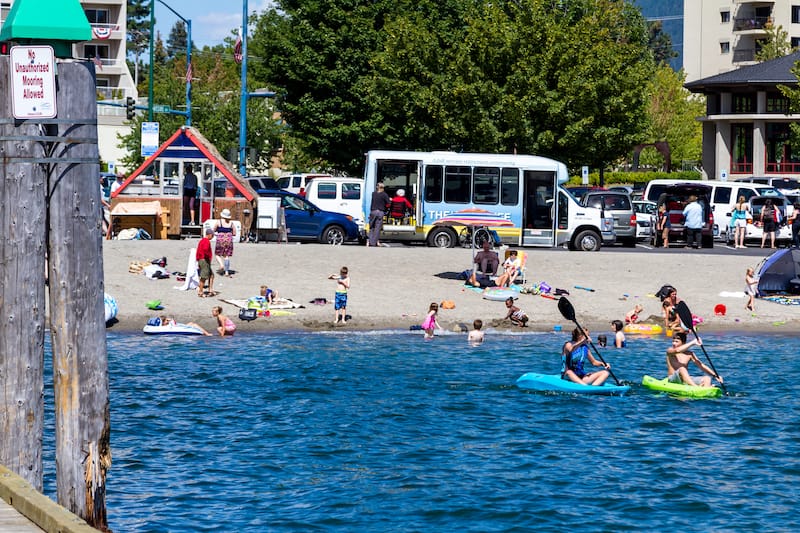 We suggest renting a boat as you visit the area to get out on the water and just relax while enjoying the peaceful scenery. There are also guided cruises, which you can book to discover the island's green golf courses, learn about local history, and enjoy delicious food.
While planning your visit, keep in mind that fly fishing is a tremendously popular activity in the Coeur d'Alene area, so make sure to get yourself a local travel guide to provide you with everything you need for a big catch!
9. Coeur d'Alene Lake
Providing a beautiful backdrop for the city, Coeur d'Alene Lake is one of the largest natural bodies of water in Idaho.
Camping sites, hiking trails, and beaches line the shores of the 25-mile lake. There, you can find plenty of water activities to experience including jet skiing, fishing, kitesurfing, and launching a boat on one of twelve public speedboats.
The north side of the lake is the most famous destination for tourists because of the fantastic waterfront sites like McEuen Park and Coeur d'Alene Resort. For a truly memorable trip, try to be there during the great wildlife spectacle that takes place every winter.
Imagine hundreds of bald eagles flying above the lake to feed on the spawning Kokanee salmon! A mind-boggling sight that makes a great photo opportunity and is a good enough reason as it is to visit this amazing location.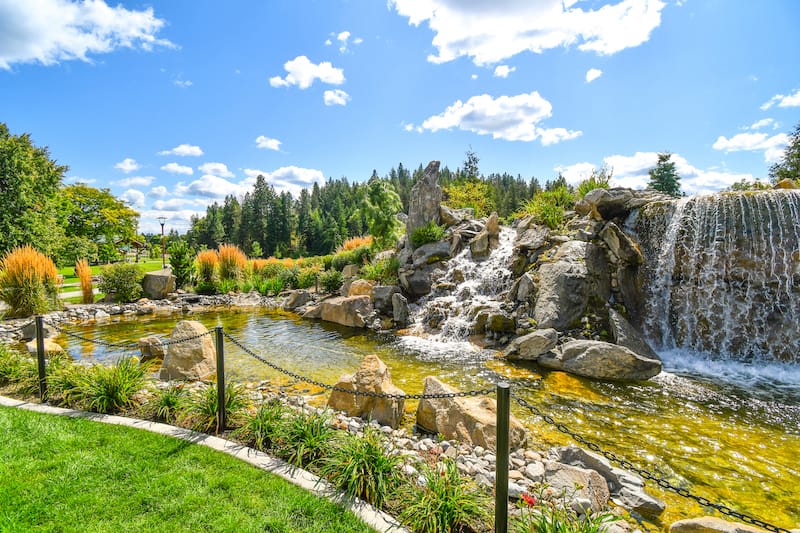 10. Coeur d'Alene Parkway State Park
Coeur d'Alene Parkway State Park is located on the waterfront to the west of the city center. It offers 16 acres of beach and landscaped green space with an attractive playground.
Giving it a visit is an easy way to connect with the surrounding scenic environment. The cement promenade separating the beach and the green spaces is completely tree-lined and makes a great location for a daytime walk.
From the beach area, you can see boats embarking into the lake as well as seaplanes that land on the water, both of which truly add to the attractive backdrop.
11. Mineral Ridge Scenic Area and Trail
Mineral Ridge Scenic Area and Trail is a historic scenic area located east of the city center overlooking the Bay of Beauty and Lake Coeur d'Alene and is home to a 3-mile national hiking trail.
The trail begins with paved parking and picnic shelters then gradually climbs and curves back towards the Mineral Ridge.
The belt signs along the trail are in line with a guidebook provided by the Bureau of Land Management, detailing the flora, fauna, and history of this intelligently designed recreation site.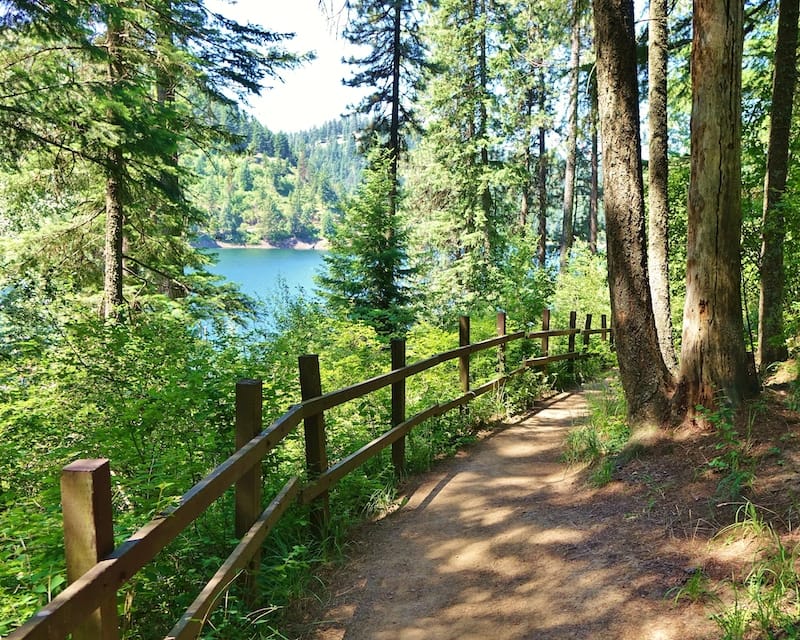 The view of Lake Coeur d'Alene atop the Mineral Range is surely worth the effort. During winter, this ridge is a popular spot to witness hundreds of migratory bald eagles making their way through the area!
12. Cougar Bay Nature Reserve
Cougar Bay Nature Reserve is situated not far from downtown Coeur d'Alene.
Visitors of this reserve can add a virtual wildlife nursery to their experiences. It's known for its stunning birds both migrating and nesting as well as shorebirds and wild animals such as otters and deer.
For wildlife lovers, it's an immensely exciting visit with 34 rare animals and 27 different species of birds to discover. The Cougar Bay Nature Reserve also offers guided hiking trails. They also have a restroom and information point.
Where to Stay in Coeur d'Alene
Are you looking for a place to stay on your trip? These are some of the top-rated hotels in the city:
Greenbriar Inn (on the National Registry of Historic Places!)
We hope that you found this guide for things to do in Coeur d'Alene helpful for planning your trip to Idaho city!
There are many great places to visit in Idaho – from Boise to Stanely and beyond. But, don't miss Coeur d'Alene!
Let us know your top Coeur d'Alene attractions and places we may have missed on this guide in the comments. Thanks!
Pin this Coeur d'Alene Things to Do Guide