Are you looking for the best things to do in Dubai for your upcoming trip? This guide has you covered! Keep reading for more!
Are you planning your Dubai trip last minute?
Below are some of the top tours, hotels, and more in Dubai! These include many Corralejo day trips!
🇦🇪 Top Activities and Tours in Dubai:
🛌 Top Dubai Accommodation Options:
🚗 Looking for the best way to get around Dubai? Click here to check rental car rates for Dubai!
Dubai is a playground for adults and children alike! There is so much to do there that it is a destination that really covers it all!
This guide will detail our favorite Dubai attractions, landmarks, museums, and more!
We also share the most popular Dubai tours that will make sure you have an epic (and unforgettable!) trip!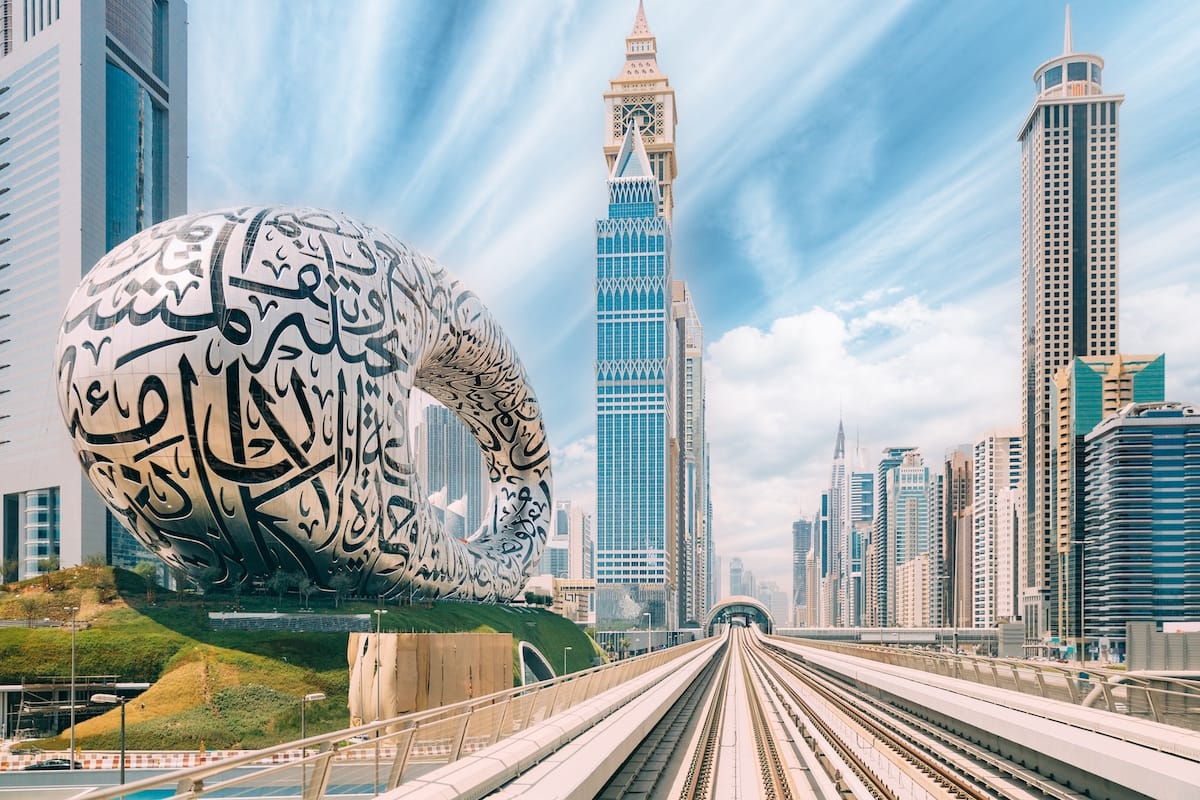 Did we miss any of the best places to visit in Dubai?
Let us know what to do in Dubai (if you've been!) in the comments. Thanks!
Best Dubai Tours (to Maximize Your Time!)
If you're looking for something more organized when in Dubai and the surrounding area, here are some awesome Dubai tours you should check out.
These tours will help you maximize your time, which is especially important if you only have a short amount of time in the city! We listed a variety so that you can pick which one is most suitable for you (and many include multiple places!):
Best Things to Do in Dubai
1. Visit the World's Tallest Building – the Burj Khalifa
The Burj Khalifa stands at a height of 828 meters (2,716 feet) and has 163 floors… and it is currently the tallest building in the world (and an icon in its own right).
It was designed by the Chicago-based architectural firm Skidmore, Owings & Merrill and the construction began in 2004 and wrapped up in 2010.
The Dubai landmark has a total of 57 elevators, 8 escalators, and an observation deck on the 124th floor.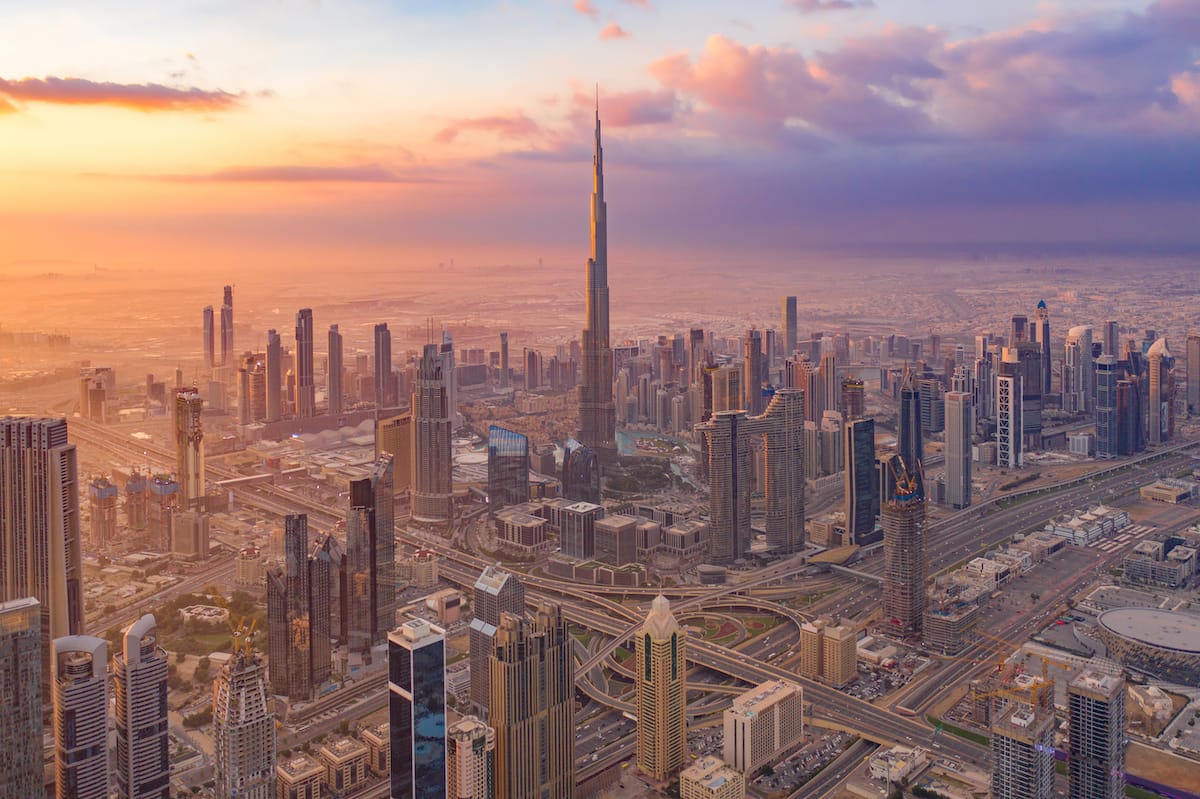 And, the best part is that you can visit the building, including that observation deck.
This is, without a doubt, one of the best things to do in Dubai and is essential for any visitor!
>> Click here to book tickets for the Burj Khalifa
2. Go on a Yacht Tour from Dubai Marina
There are many amazing things to do at the Dubai Marina, but my personal favorite is to take a yacht tour (that includes breakfast, lunch, or a BBQ depending on the one you book) of the local area.
This boat trip around Dubai will hit up all the popular landmarks of the city and is pretty affordable!
You'll board the yacht for 2-3 hours and will have a tour guide (in English) giving you details about what you're seeing throughout the journey.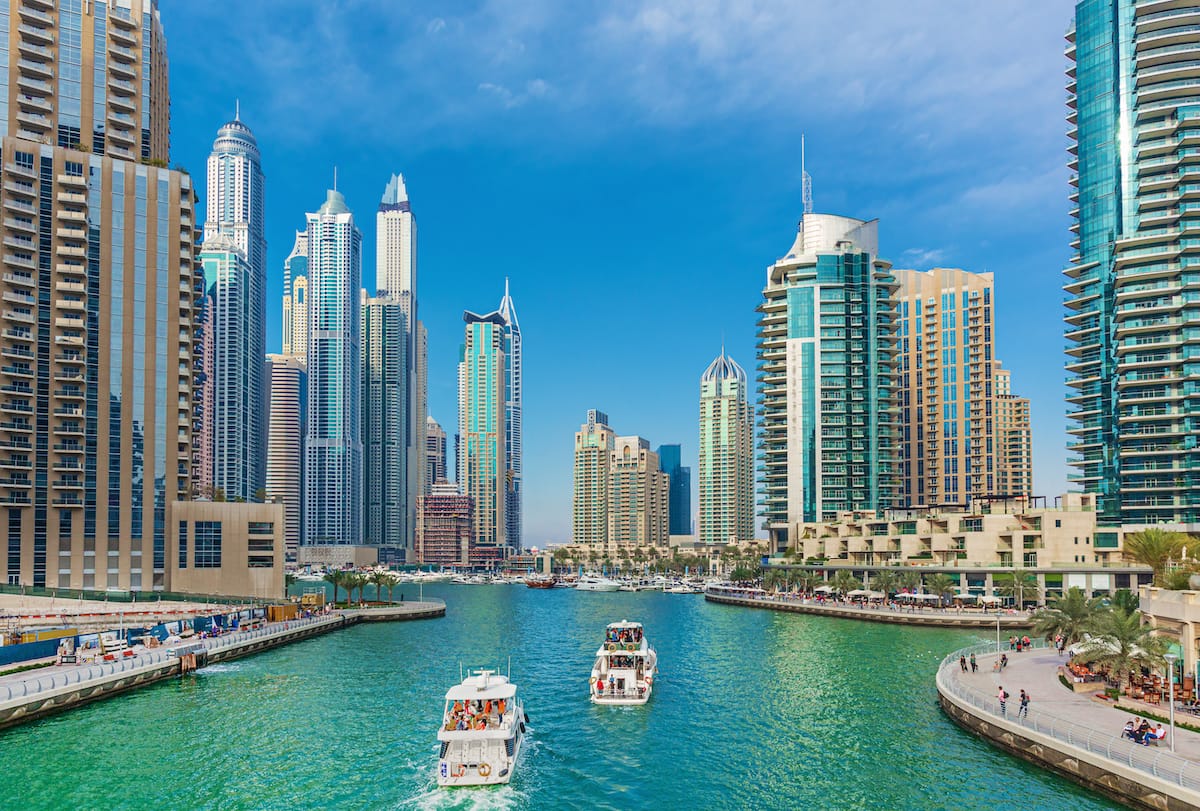 Some of the things you'll see are the Burj Al Arab Hotel, Bluewaters Island, and the iconic Jumeirah Beach.
While you're on the 64-foot vessel, you will enjoy air-conditioning and free wifi.
Over 1 million people book this trip annually and it is definitely a fan favorite for a reason!
>> Check Dubai yacht tour rates and availability
3. Explore the Dubai Marina
And while you're hanging around the Dubai Marina, you might as well start exploring the area!
There are many amazing things to do at the Dubai Marina and some of the highlights are: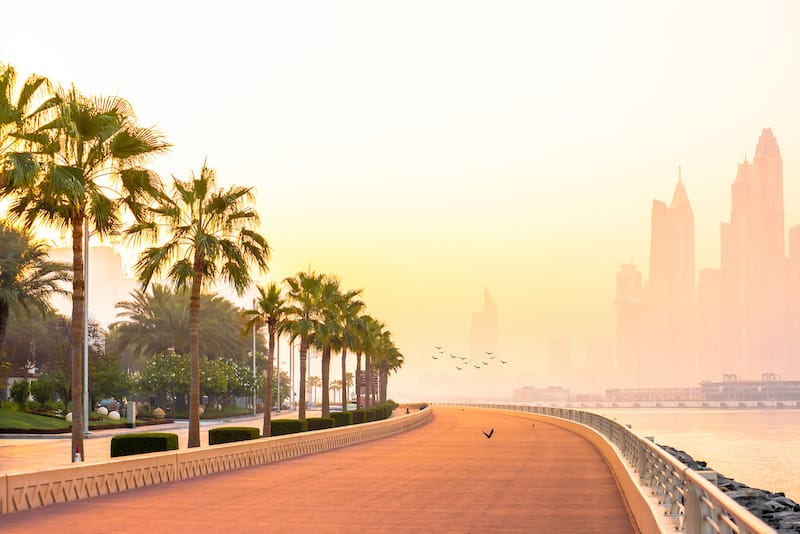 The marina is stretched over 2 miles of shoreline and is home to some of the world's most luxurious hotels, residences, and restaurants and it is a must for every Dubai itinerary!
4. Fly Over Dubai in a Helicopter
This Dubai helicopter tour will take you on a 17 or 25-minute helicopter tour over the Atlantis, Burj Al Arab, the Golden Mile, the Palm, and more!
You will have a stunning bird's eye view of the city aboard a luxury helicopter with live narration from your pilot.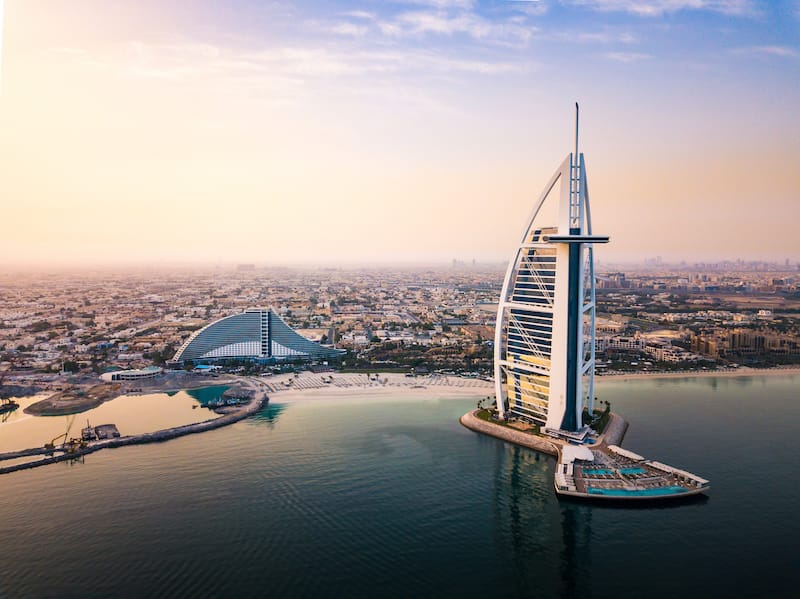 The helicopter will have 6 seats, including 3 by the window for maximum pleasure!
This tour is not suitable for those in wheelchairs and the meeting point will depend on the option that you book. Bring your passport along!
>> Click here to check helicopter ride rates and availability
5. Get a 360-degree View from The Palm's Observation Deck
If you love a good view as I do, this is a can't-miss one in Dubai! You will be able to head to Level 52 to The View at The Palm where you can see views for days over the city.
This observation deck is a popular place to visit in Dubai and it is highly advised to book a skip-the-line ticket beforehand to ensure availability!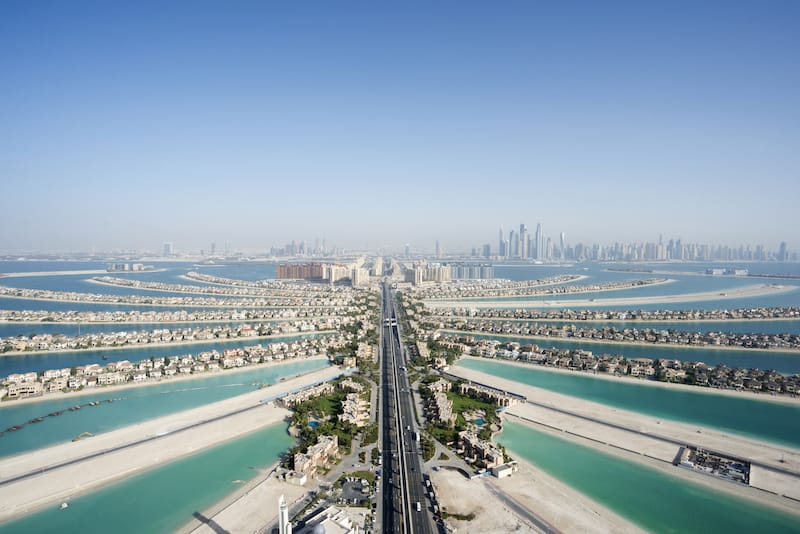 The View at The Palm is 240 meters high and it offers panoramic views of Palm Jumeirah, the Arabian Gulf, and other icons of Dubai.
Bring an ID and this ticket to the ticketing counter for your voucher to get fast-tracked to the view!
>> Book your skip-the-line observation deck ticket here
6. Get Lost inside the Dubai Mall
I never thought I would travel for a mall, but here we are. The Dubai Mall is another world and I loved visiting and spending (too much) money.
As one of the largest malls in the world, it is more than just a shopping center with over 1,200 retail stores… it is an entertainment hub.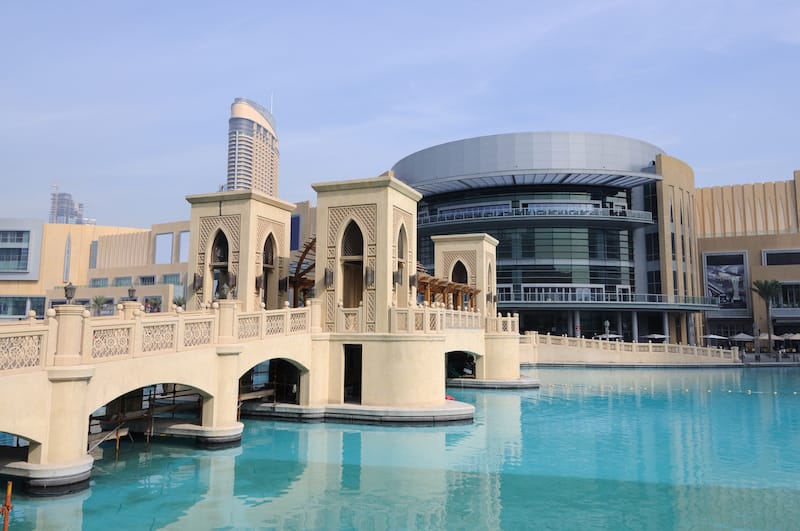 The mall was completed in 2008 and inside, you will find an indoor theme park, zoo, ice rink, aquarium, and more. It hosts events, fashion shows, concerts, and then some.
You will find everything from high-end stores like Gucci to affordable shops like H&M.
Fun (and annoying) fact: It is a 22-minute walk from the metro to the Dubai Mall. It is a neverending adventure in its own right. But, don't worry… it is air-conditioned.
7. Marvel at the Dubai Fountains at Night
The Dubai Fountain Show is an essential thing to see in Dubai regardless of your age!
Outside of the Dubai Mall, you will get to witness the Dubai Fountains come to life (accompanied by music) each day and night.
The famous fountain show has over 6,000 lights and 22,000 gallons of water shot up into the air!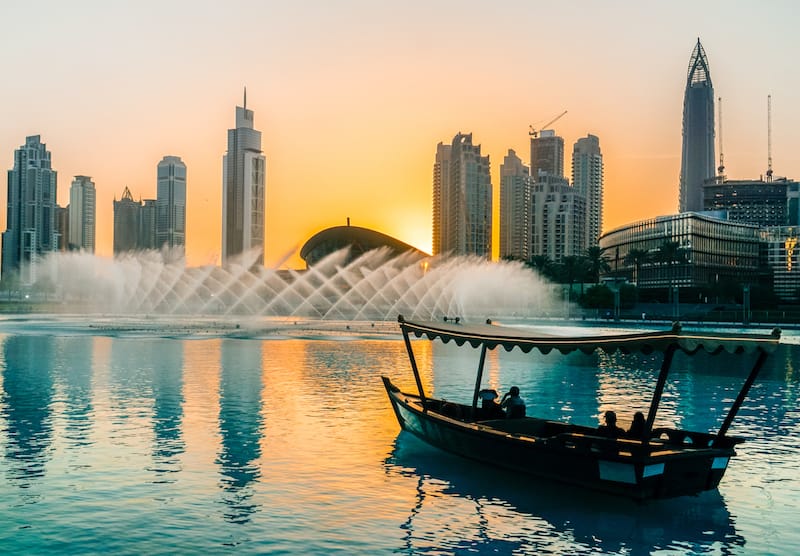 One of the coolest experiences that is pretty affordable is a boat ride out to get the BEST view of the Dubai Fountains.
This 30-minute excursion will take you on Burj Lake by an 'abra', or traditional water taxi. The boat departs 15 minutes before each show and can accommodate up to 8 people in each.
The fountain schedule is as follows:
Daily except Friday: 1:00 PM and 1:30 PM, 6:00 PM to 11:00 PM
Friday: 1:30 PM and 2:00 PM
The shows go every 30 minutes and tickets are less than $20 per person, just make sure to secure them in advance.
>> Click here to book your Dubai Fountains boat trip tickets
8. Wander around Jumeirah Beach
There are few Middle Eastern beaches quite as famous as Jumeirah Beach – and it is a must-visit for those traveling to Dubai!
The white sand beach is located in the district of the same name and it is along the Persian Gulf for miles and miles!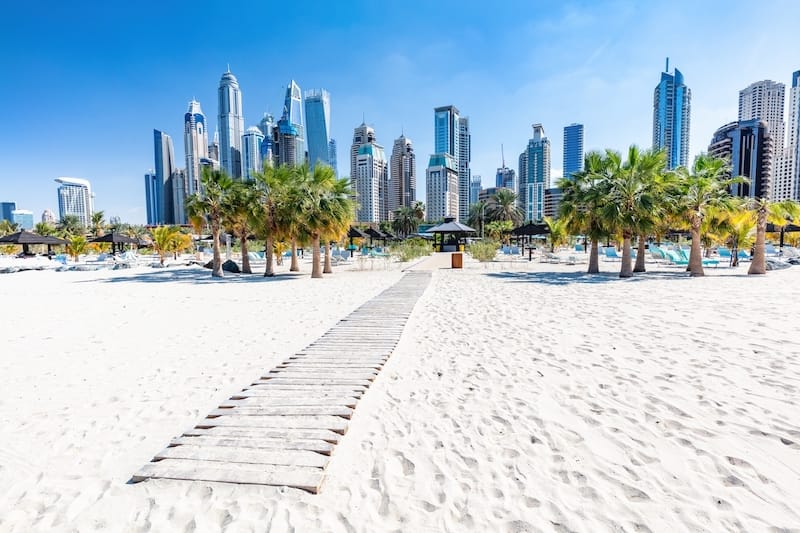 Along the beach, you will see Dubai landmarks such as the Burj Al Arab, Wild Wadi Water Park, Madinat Jumeirah, and the luxurious Jumeirah Beach Hotel.
The beach tends to be one of the more crowded ones and there is a plethora to do when there – from BBQing to kayaking, and more!
It is free to visit and is open from 0730-2200 daily.
9. Take a Desert Safari from Dubai
An absolutely imperative thing to do in Dubai is to go on a desert safari!
You will find a variety of options for tours to the desert from Dubai but this trip is the best as it allows you to customize your excursion the way you want!
This trip will transport you from the city to the Lahbab Desert where you can choose to go dune bashing, sandboarding, etc.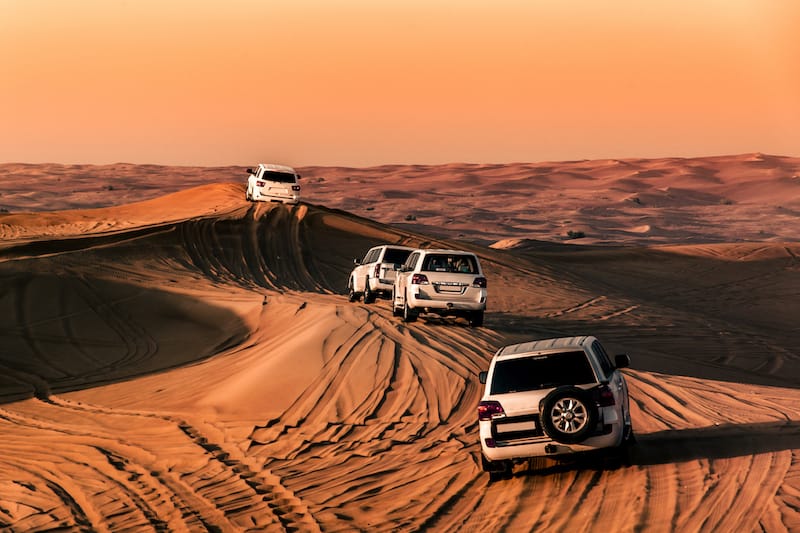 There are also optional quad bike adventures, BBQ, and various other camp activities (like feeding a camel, falcon experience, shisha smoking, etc).
Seriously – this trip has it all! You will also get to enjoy coffee and local desserts at the Al Khayma Desert Camp throughout the day.
A desert safari from Dubai is the BEST way to get out of the city and see a bit more of the beautiful UAE!
>> Click here to book and customize your desert safari
10. See the La Perla by Dragone Show
If you've had a long and tiring adventure in Dubai, a great way to relax and unwind is to check out the La Perla by Dragone show.
This is Dubai's #1 show and it is a permanent show located at Al Habtoor City. You will witness immersive artistic performances and visuals along with unique technology integrated into each show!
La Perle is influenced by the local culture's past, present, and future and will showcase many mind-blowing stunts and special effects.
The seating is 270 degrees and it is an aqua theater, where the stage will flood with water and drain quickly as artists do stunts in and out of the water.
This is a great way to enjoy the evening with your group and see one of the best attractions in Dubai.
>> Click here to book a La Perle show ticket in Dubai
11. Get Wet at Dubai Aquaventure Waterpark
At the Atlantis Resort in Dubai, you will find Aquaventure, the world's largest water park!
This epic Dubai waterpark has over 105 water slides, 1km of private beach, and so much more that will get your adrenaline pumping and give you memories to last a lifetime!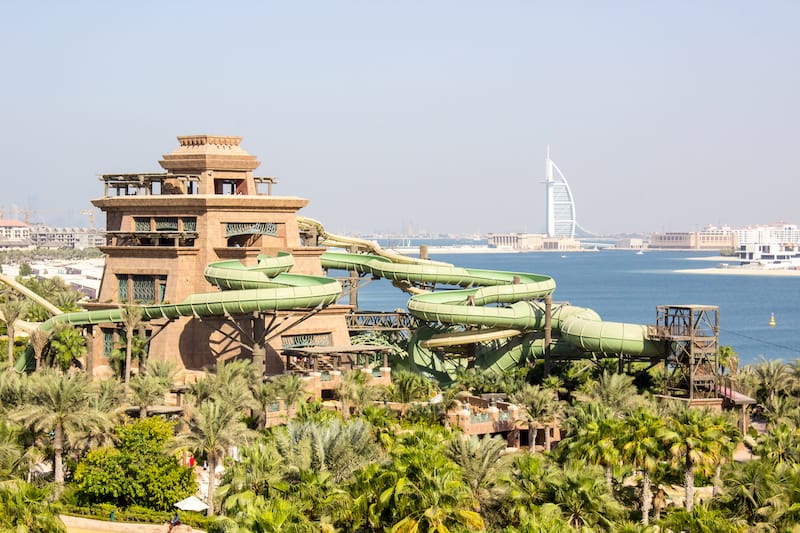 Some of the most famous attractions at Aquaventure are the Tower of Poseidon, Aquacondra water tunnel, Leap of Faith waterslide, Ziggurat, and the Splashers kid's water playground.
You can enjoy it all with your ticket and you will find plenty of restaurants inside the park to curb your hunger throughout the day (not included in the ticket price, however).
Be sure to bring a towel and swimsuit!
>> Click here to get your ticket to Aquaventure
12. Relax at Kite Beach
Kite Beach is one of the most famous beaches in Dubai and it is also one of the best free beaches in the city! While hanging out doesn't cost any money, renting a paddleboard or sun lounger does.
There is so much to do here – from kitesurfing (as the name suggests!) to snacking at one of the food trucks to using the outdoor gym – it is a beach that has something for everyone.
The Dubai beach is 2.3km in length and stretches from the Dubai Offshore Sailing Club to the Tent Jumeirah Restaurant.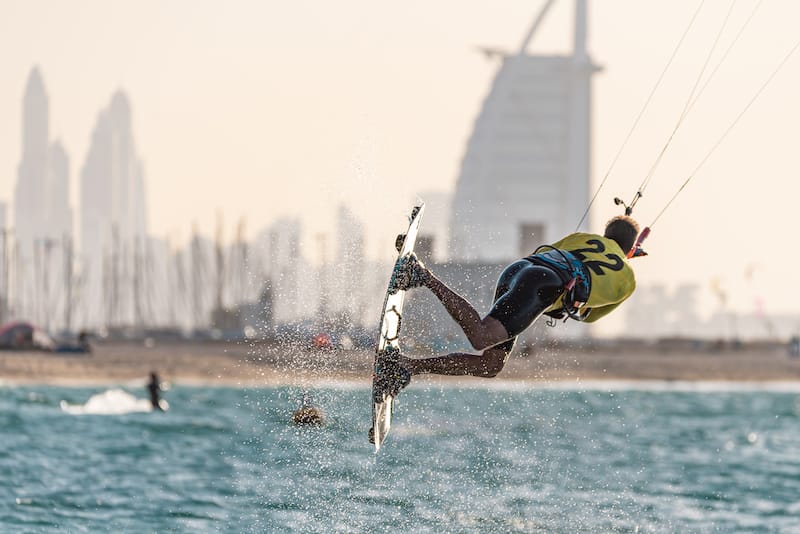 To get to Kite Beach, you can take the Umm Al Sheif exit off Sheikh Zayed Road and continue to follow the signs toward the parking lot at the beach.
There is no nearby metro station, but taxis are available (as are other forms of public transport!).
13. Take a Day Trip to Abu Dhabi
Abu Dhabi is a city renowned for its striking modern architecture and rich cultural heritage and it is an easy day trip from Dubai!
Some of its must-see attractions include the majestic Sheikh Zayed Grand Mosque, which is one of the world's largest mosques, and the Louvre Abu Dhabi, a stunning museum showcasing a diverse collection of art from across the globe and sister museum to the Louvre in Paris.
For thrill-seekers, a visit to Ferrari World Abu Dhabi offers an unforgettable experience with adrenaline-pumping rides, including the world's fastest roller coaster.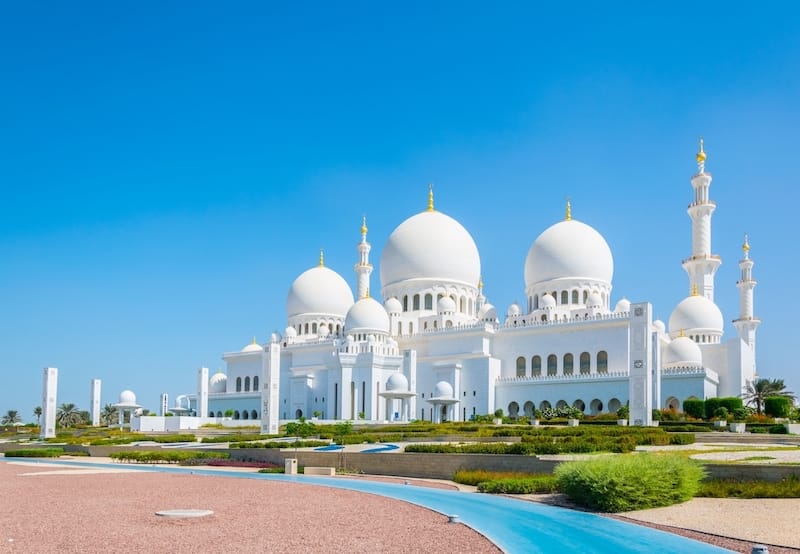 This organized day trip will take you from Dubai to Abu Dhabi where you can see the aforementioned Grand Mosque as well as the Etihad Towers, Qasr Al Watan, and more.
The trip is 9 hours long and includes pickup from Dubai city hotels, apartments, and cruise terminals. You can also get picked up at Dubai Airport if you're on a long layover in the city.
The trip is not suitable for wheelchair users and women must wear long, loose clothing and have their arms, legs, and heads covered at all times.
To find out more, please click the link below and check out the section 'Important Information'.
>> Click here to check day trip rates and availability
14. Walk Through the Dubai Miracle Garden
The Dubai Miracle Garden is a breathtaking floral wonderland that spans over 72,000 square meters and is home to more than 150 million blooming flowers.
Visitors can explore a variety of unique and colorful floral displays, including heart-shaped pathways, a full-sized Emirates Airbus A380 made of flowers, and larger-than-life sculptures adorned with vibrant blossoms.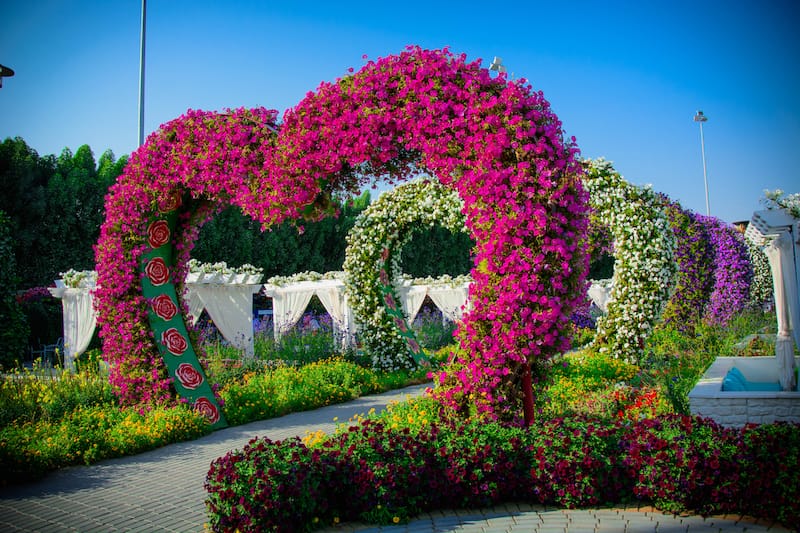 The gardens are open from November through May and continuously evolve with the season, always offering visitors something new (and beautiful)!
This half-day, skip-the-line entrance ticket gives you access to the Dubai Miracle Garden where you can see everything – wear comfortable shoes!
>> Click here to book a skip-the-line ticket
15. Check Out the Jumeirah Mosque
Situated in Dubai's upscale Jumeirah district, the Jumeirah Mosque is a stunning representation of Islamic architecture, showcasing intricate patterns and elegant white stone.
Accessible by taxi or public transportation, the mosque welcomes non-Muslim visitors to experience Islamic traditions and culture.
The Sheikh Mohammed Centre for Cultural Understanding (SMCCU) arranges guided tours that offer a distinct opportunity to explore the mosque's history, religious observances, and Emirati customs.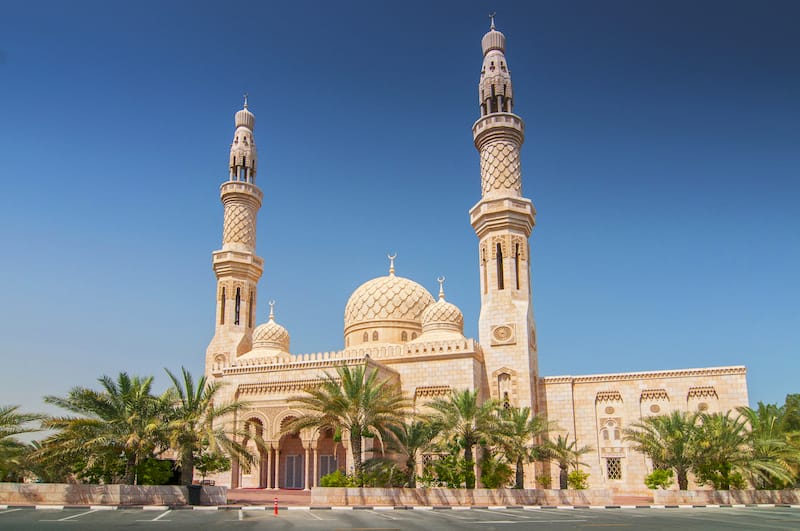 If you would like to visit the Jumeirah Mosque, you can do so daily from 1000-1400, except on Fridays. Registration will start 30 minutes before the program starts.
The price to visit is AED 35 per person and the price includes refreshments. Women are required to wear headscarves, which can be supplied on location if needed.
Address: Jumeirah Beach Road – Jumeirah 1
16. Explore the Culturally-Rich Al Fahidi Historical District
Dubai's Al Fahidi Historical District, also known as Al Bastakiya, is a preserved neighborhood that offers a glimpse into the city's rich past.
With its winding alleys, traditional wind towers, and sand-colored buildings, visitors can experience authentic Emirati heritage.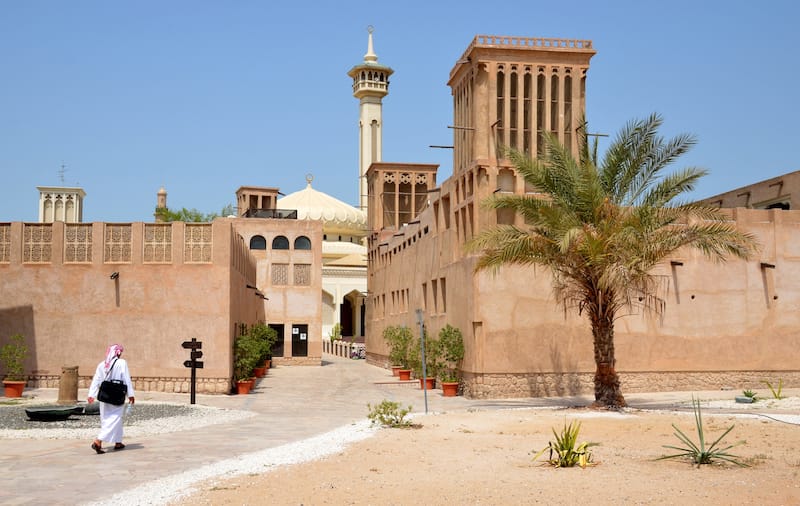 Some of the best things to do in the Al Fahidi District include the Dubai Museum, housed in the Al Fahidi Fort, and the Sheikh Mohammed Centre for Cultural Understanding (SMCCU), which promotes cultural exchange.
Art lovers can explore the numerous galleries showcasing local and international art (including the XVA Art Hotel and Gallery).
Easily accessible by metro or taxi, Al Fahidi is a short distance from the Al Ghubaiba or Al Fahidi metro stations.
17. Walk Around Deira, One of Dubai's Oldest Neighborhoods
Deira, one of the oldest neighborhoods in Dubai, is located on the eastern bank of Dubai Creek and offers a fascinating blend of traditional markets, modern shopping centers, and historic attractions.
The Dubai district is well-connected to the rest of the city by the Dubai Metro, buses, taxis, and abras (traditional water taxis) that traverse the creek.
Among Deira's many attractions, the Gold Souk is an iconic destination known for its dazzling array of gold and precious jewelry.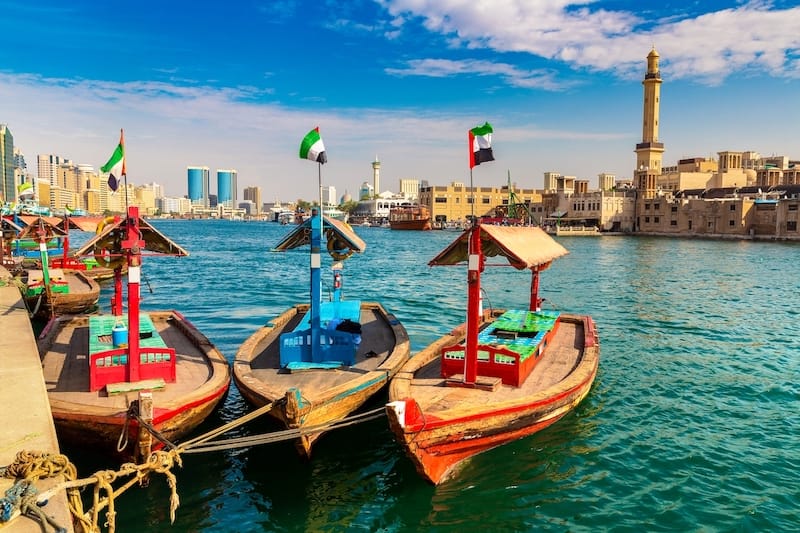 The nearby Spice Souk, with its colorful and aromatic stalls, is another must-visit for shoppers seeking herbs, spices, and other local products (this was my favorite place when there!).
The Heritage House and Al Ahmadiya School are two noteworthy historical sites that provide a glimpse into the region's past, showcasing traditional Emirati architecture and offering insights into the lives of locals in the early 20th century.
Deira is also a great place for food lovers, as the neighborhood boasts numerous restaurants and street food stalls, serving a variety of international and Middle Eastern cuisines.
A delicious place to try Emirati food is at the Aseelah Middle Eastern & Emirati Restaurant.
The Deira Fish Market is another popular spot, where you can witness the bustling trade in fresh seafood and purchase a variety of fish and other marine products!
18. Discover the Best Coffee Shops in Dubai
We are huge coffee lovers and one of our favorite things to do in Dubai (and anywhere, for that matter!) is to explore the city's coffee scene!
Dubai has no shortage of amazing cafes and some of the best ones are:
Stomping Grounds
The Climbing Goat Roastery
Emirati Coffee Co
Boon
Alchemy
Mokha 1450
Black Coffee by Cafe Younes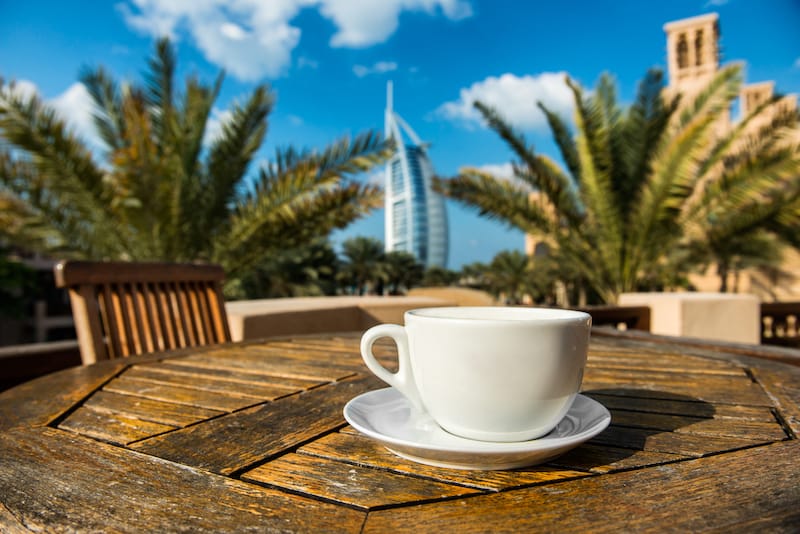 And, don't worry – if you're looking to refresh from the Dubai heat, all of these places have iced coffee, as well!
19. Visit Bluewaters Island (Home to Ain Dubai)
Bluewaters Island is a luxurious man-made island in Dubai, located just off the coast of the popular JBR area.
This modern mixed-use development features a stunning blend of upscale residential, retail, and hospitality spaces, surrounded by sparkling turquoise waters!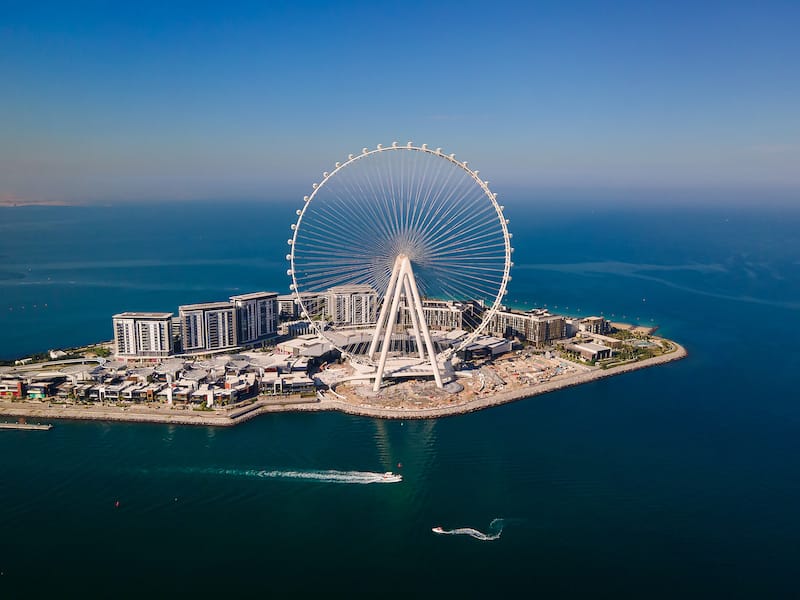 Among its top attractions is the iconic Ain Dubai, the world's tallest observation wheel, which offers breathtaking panoramic views of the city skyline.
Bluewaters Island also boasts a wide array of trendy restaurants (our favorites are Dolce Green and Leen's Bluewaters), cafes, and shops, as well as pedestrian-friendly walkways and lush green spaces.
20. Marvel at the Palm Jumeirah
Palm Jumeirah is a stunning man-made island in Dubai that is famous because it is shaped like a palm tree that extends into the Arabian Gulf.
Renowned for its luxurious resorts since its opening in 2008, upscale residences, and high-end dining options, Palm Jumeirah is an icon of modern engineering and opulence!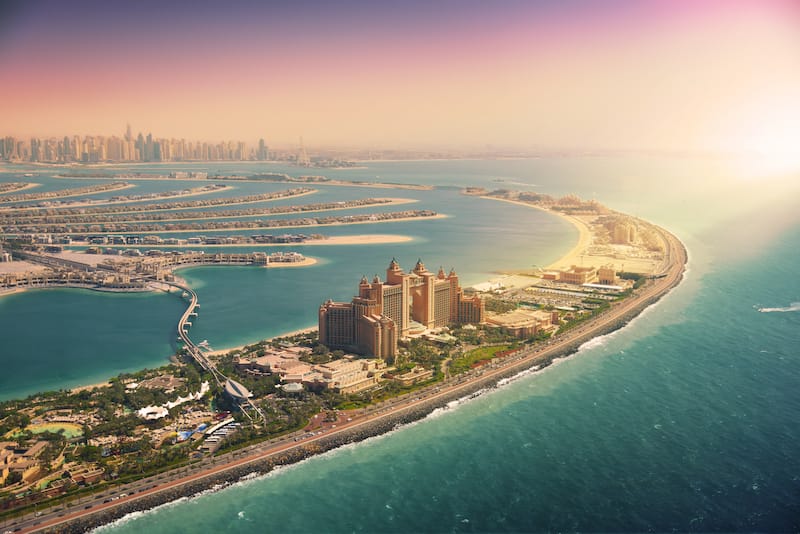 One of the must-visit places there is The Pointe, a shopping and entertainment complex that offers a variety of shops, restaurants, and captivating views of the Atlantis.
Palm Jumeirah is accessible by monorail, road, or water taxi.
Where to Stay in Dubai
If you're looking for the best places to stay in Dubai, here are some of our top picks!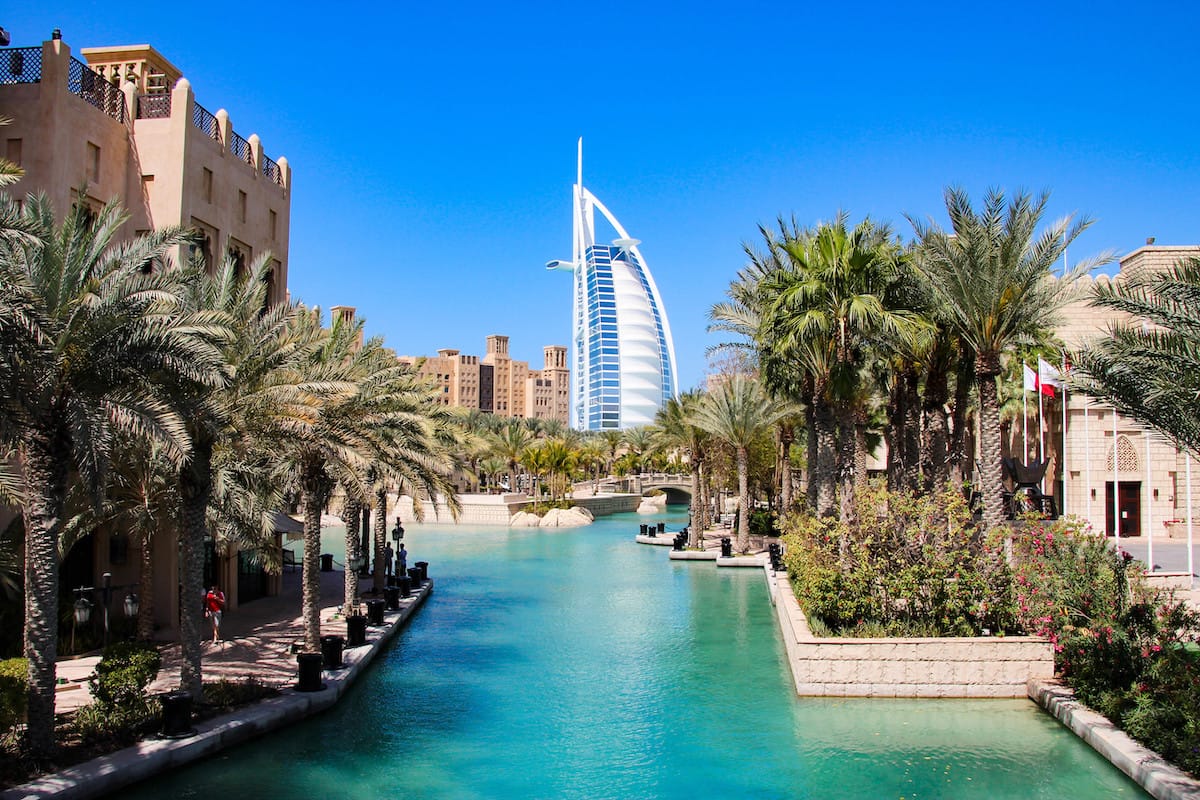 Did we miss any of the best things to do in Dubai?
Let us know your favorite Dubai landmarks in the comments!
More Dubai Travel Guides
Pin this Dubai Bucket List