I have been a long time fan of the Baltic countries.  I have spent several months of my life traveling throughout the region, but like any traveler, I have my favorite spots and I always venture back to those familiar places.
Interestingly enough, many people venture to this area of Northern Europe to hit up the timeless cities of Tallinn, Riga, and Vilnius without giving a lot of thought to other activities, cities, parks, and villages in the Baltics that may be worth spending time in.  I love to tell people how well-versed I am in the region, but I'm not.
I get sucked into places just like everyone else and when people want information about Latvia outside of Riga, Daugavpils, or Jurmala, I just shrug and tell them I can't help them.  I've been to Latvia at least ten times.  I've been to Estonia several times and can't tell anyone about anything outside of Tallinn and Tartu (and even then, my knowledge is limited).  Lithuania?  I've been to Klaipeda, Siauliai, and Vilnius.  But, I've visited Lithuania at least ten times.
The Baltics are teeming with travel-worthy places and this post is about some of the lesser-known ones.  Along with the help of some amazing other bloggers, I have put together a list of ten off-the-path places in the Baltic countries that you should add to your Baltics itinerary ASAP.
Estonia
Lahemaa National Park
Fun fact: Estonia's Lahemaa National Park was the first national park established in the Soviet Union, founded in 1971. And when you visit, you'll understand why. Despite being just 70 kilometers outside the capital city of Tallinn, Lahemaa National Park is home to a number of remarkable ecosystems, including the stunning Viru Bog.
The bog is at least 3,000 years old, as measured by the thickness of the bog moss, and it changes colors dramatically throughout the year. The best time to visit is in autumn, when the moss turns vibrant red and yellow colors, although it is supposed to be lovely in spring when the moss is a vibrant green, or in winter when it's blanketed in snow.
There are 3.5 kilometers of boardwalk snaking through the bog, so you can go on an extended walk through some of Estonia's most beautiful wetlands. Or for an added challenge, you can bogshoe with a guide if you're feeling brave and want a more off the beaten path experience.
I can't begin to explain how much fun it was — basically, imagine snowshoeing across an enormous natural waterbed, as snowshoes work just as well on a bog as they do on snow, for some reason!
Be sure not to miss Viru bog and Lahemaa on your tour of Estonia — as an easy day trip from Tallinn, it truly can't be missed!
*Allison from Eternal Arrival.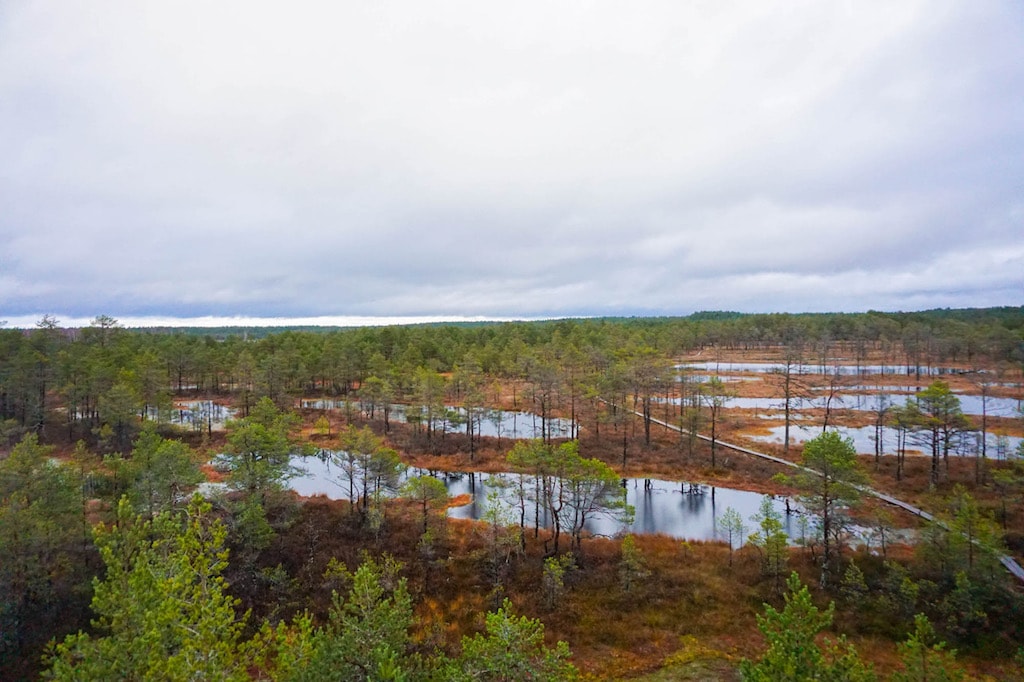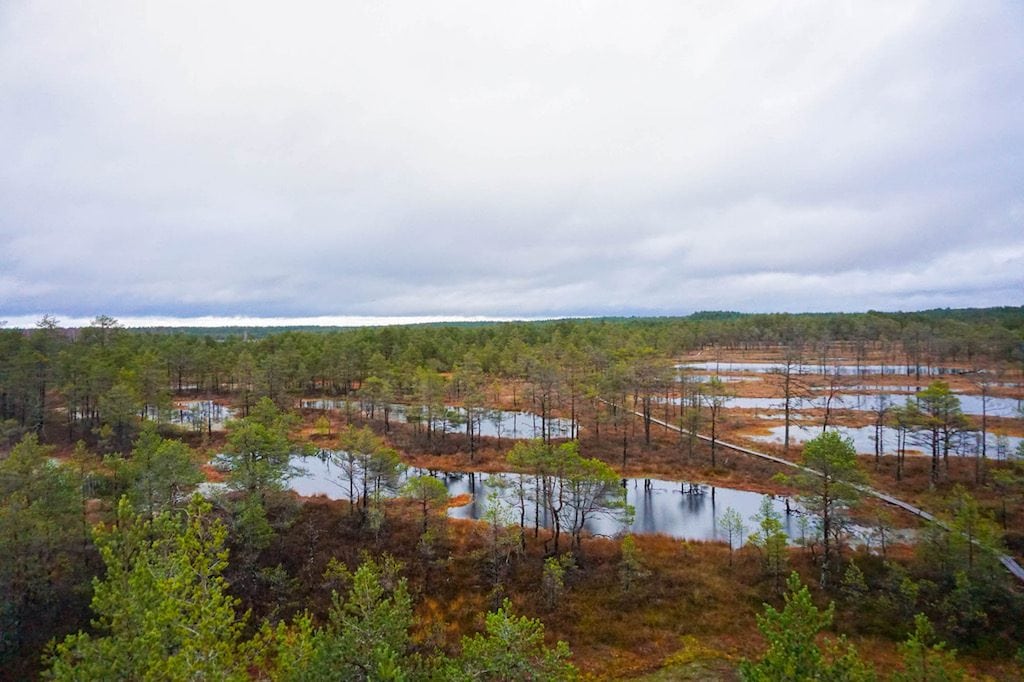 Viljandi
Viljandi is a charming town for nature and culture lovers. It is situated in Southern Estonia. The town is also referred as Estonian capital of folk music as there are numerous festivals organized there. In addition to it, Viljandi has its Culture Academy.
Beyond the cultural aspect, the town looks very warm even in moody Baltic weather – the small streets, cobblestone paths, colorful houses. There is an abundance of green public spaces, forests and a huge lake in the town. During warm summer days, you can see kids swimming in the lake and the cafes along the lakeshore filled with tea and coffee lovers.
There are also the ruins of Viljandi castle overlooking lake which adds a history and heritage touch to the town.
Though you might not find Viljandi listed in the mainstream tourist destinations, it is a lovely place to visit especially in summers. It can be a day getaway from other major destinations in Estonia like Tartu or Tallinn as there are regular buses connecting them.
*Natalia from My Trip Hack.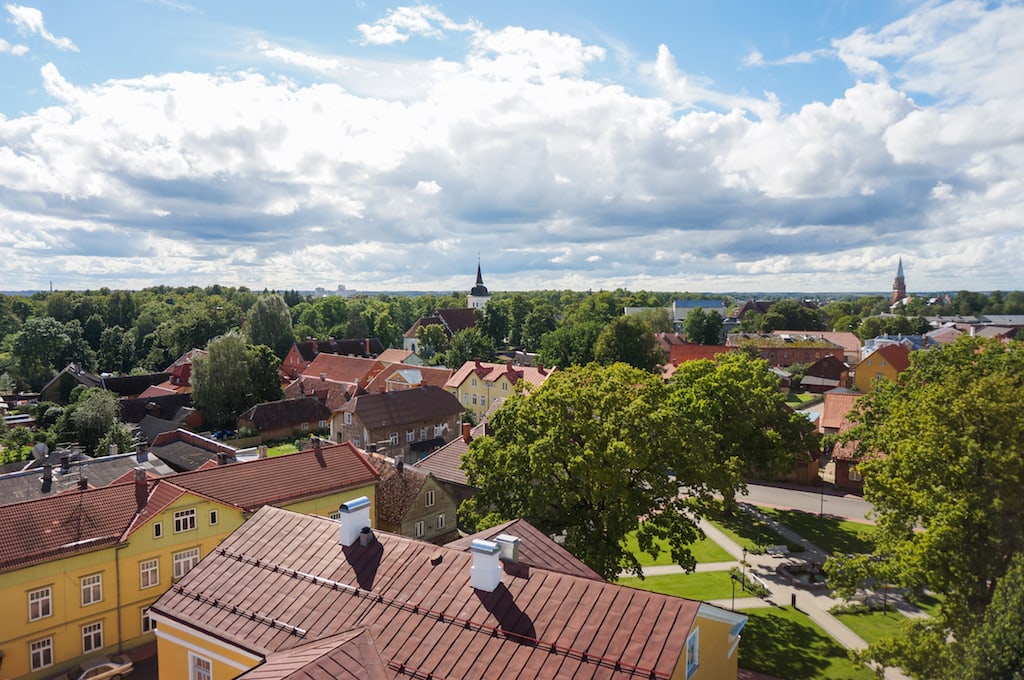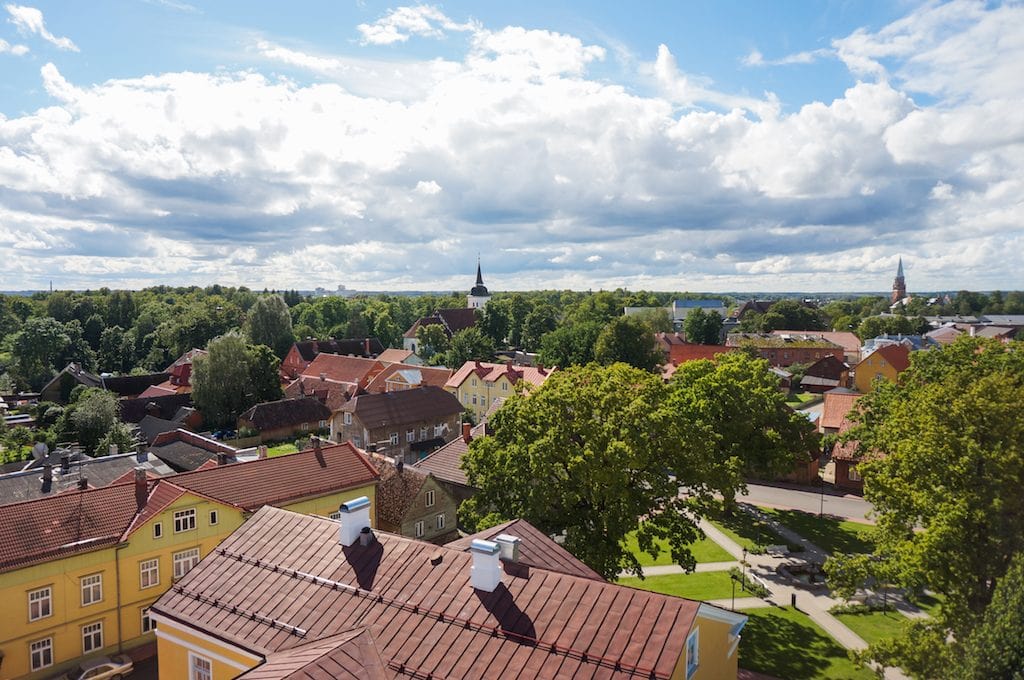 Pärnu
Pärnu is one of the Baltics' premier beach destinations. Despite being on the road between Tallinn and Riga, not everyone gets off the bus to have a look. For the short summers, the beach comes to life, especially the area around Nightclub Sunset, the historic mud baths and the Rannahotell that established the town as a resort.
Away from the sand and the sea, there is enough to fill a stopover or even a day. The old town is a mix of wooden houses, art nouveau buildings and medieval structures like Punane torn (the red tower) and the Tallinn gate. St Elizabeth's Church is also worth a peek for its decaying but beautiful interior. Are you a fan of Estonian poetry? Lydia Koidula's childhood house is now a museum that takes you back in time.
Most importantly, Pärnu was where Estonia's independence was first proclaimed a century ago, on 23 February 1918. The theatre where this happened is gone, no thanks to the Soviets. However, a replica of the balcony stands in the same spot near the present-day bus terminal. It was the scene of massive celebrations over this year's centenary weekend.
*Nicholas from Rambling Feet. Check out pictures from his visit to Pärnu in winter.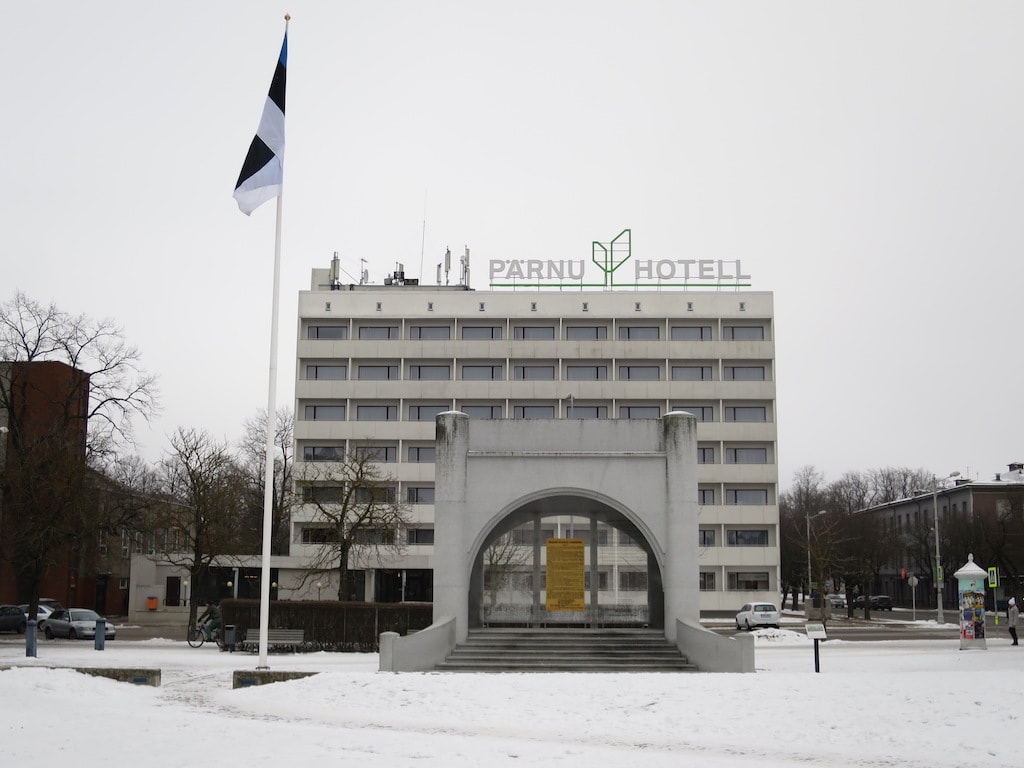 Kuressaare
Kuressaare makes an excellent base for exploring Saaremaa, Estonia's largest island. Don't fret if you don't have a car – the bus from Tallinn gets you there in four hours, Along the way, you can stretch your legs on the Virtsu-Kuivastu ferry and ride past pretty farmhouses and windmills.
Kuressaare's castle-fortress, the statue of Suur Tõll and Piret and the harbour are walking distance from its tiny old town, so they can be seen on foot. A visit to a spa makes an island getaway even more relaxing, especially outside July and August. With a population density of just 11 people, you won't encounter many people. The islanders that you do meet, however, are a charming and rugged lot.
Bicycles are available for rent, making it possible to get to villages like Kaarma and sights like the Kaali meteorite craters on your own steam in 90 minutes. However, with your own set of wheels and a little more time, one can explore nature reserves, baroque manors, sand dunes and cliffs, all in an area roughly the size of Luxembourg or Rhode Island.
*Nicholas from Rambling Feet. Find out how he cycled to the Kaali meteorite craters.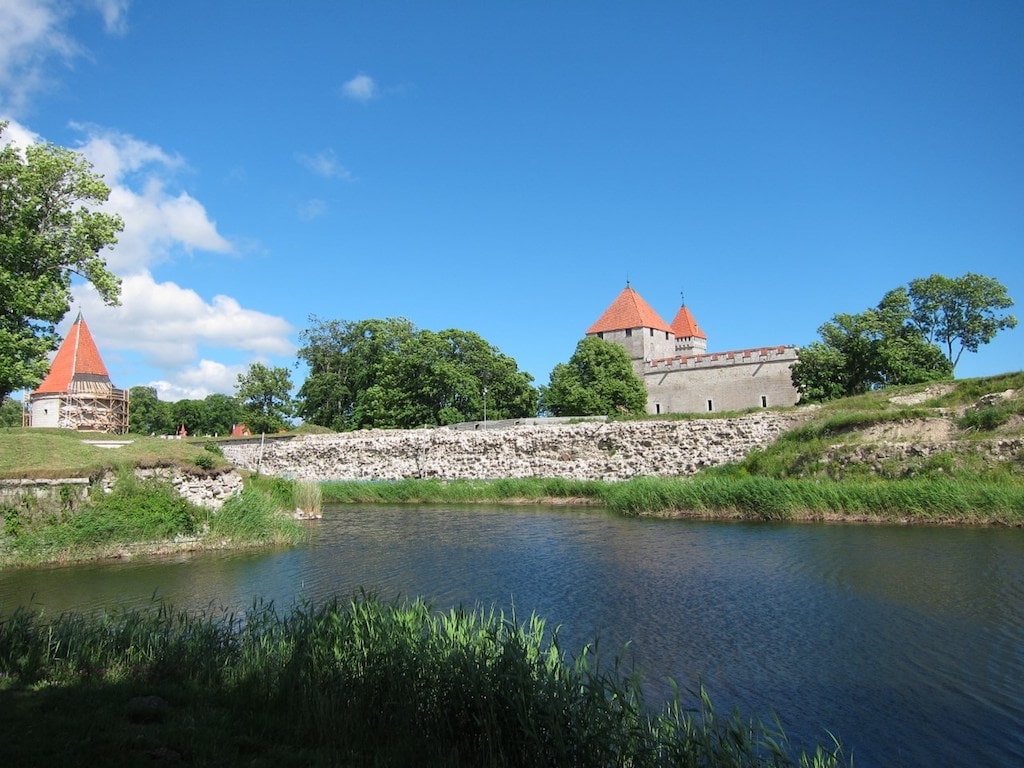 Latvia
Liepaja
Liepaja, Latvia's third-largest city, is a beautiful coastal city located about 250 kilometres southwest of Riga. It is an excellent place to visit when exploring the Baltic States.
The main highlight for visitors to Liepaja would undoubtedly be its pristine white-sand beaches, however, the city has a lot more to offer than that. The charming city centre has a thriving cafe culture, music, and arts scene. There are a number of open-air markets to browse and the large Seaside Park is a great place to have a leisurely stroll.
Karosta, located north of the city centre, is also very much worth exploring, especially if you're interested in learning more about Latvia's Soviet past. After Latvia gained independence in 1991, this area was abandoned and fell to ruin, but it has been largely cleaned up in the past two decades.
The Karosta Prison, which is the main attraction in this area, actually allows visitors to stay the night and lets them experience how an inmate would have been treated here.
*Maggie from The World Was Here First.  Click to read her complete guide to traveling around the Baltics.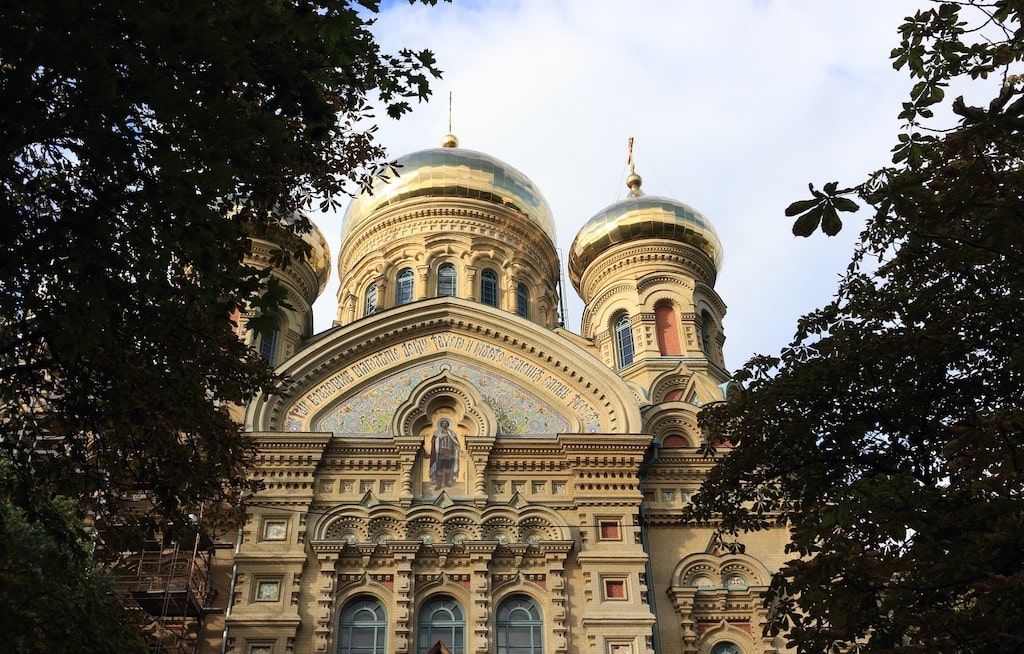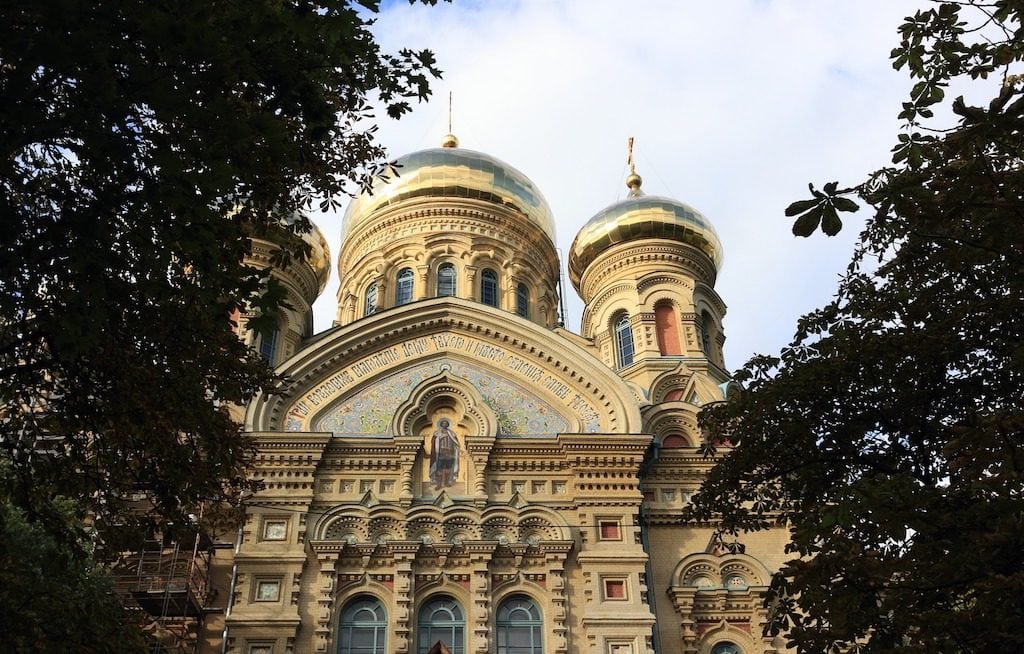 Kuldiga
In the west of Latvia lies the peaceful town of Kuldiga. Home to some charming wooden houses at its centre and history as part of the Hanseatic League, Kuldiga's main attraction has little do with the town itself.
On the edge of town, you'll find the scenic Venta Rapid. What makes the Venta Rapid so special is that despite its short stature, it is, in fact, Europe's widest waterfall. The 249-metre wide waterfall rests just upstream of Kuldiga's historic brick bridge.
A common rite of passage for visitors to Kuldiga is to kick off their shoes and walk across the top of the rapid. Others also choose to take a dip under the flowing falls. Interestingly, this may be Latvia's most popular roadside stop between Riga and the west coast beachside.
If you're not taking this very specific route though, it's unlikely you'd ever come by it. That's a real shame though as even if you don't get your feet wet, it makes for one hell of a view.
*David from Travelsewhere.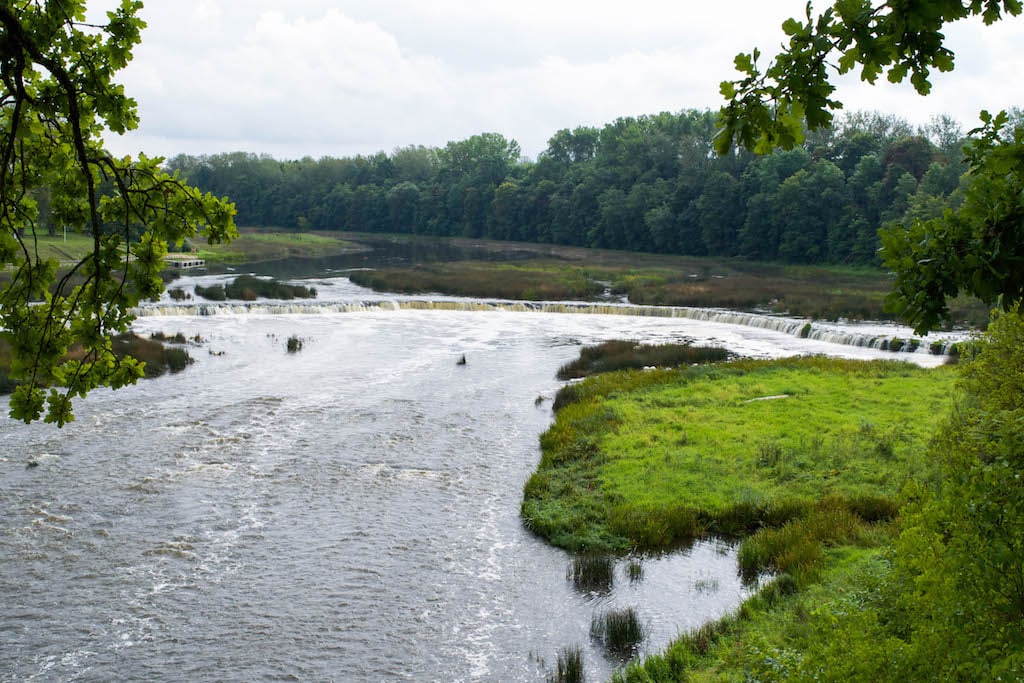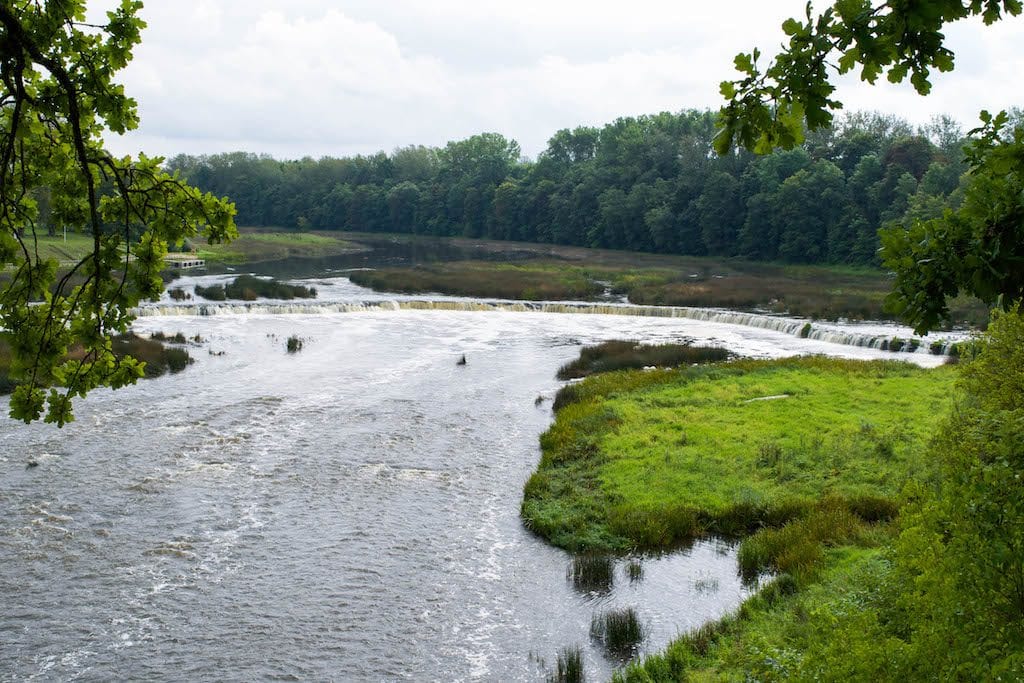 Daugavpils
For being the second city of a country, Daugavpils sure does hide in the shadows of its popular big sister, Riga.  People rarely venture east to this city of around 95,000 residents… in fact, not many people, even travelers, have heard of the city.
Daugavpils has had a rough history and one that left it in perils until only recently.  But, the city has a lot to offer travelers- some of the Baltics' most beautiful churches are located in Daugavpils.  The largest Orthodox church in Latvia, the Saints Boris and Gleb Cathedral, is located in the city.
In addition to the many churches, the city was the birthplace of famed artist, Mark Rothko, and they recently built an art center dedicated to him that was built with the intent of showing off his works as well as encouraging an open-space for up-and-coming artists to be inspired and practice their skill.  Daugavpils also has a very renowned fortress located on the outskirts of the city.
Daugavpils remains unique to Riga and I think a trip to both will give tourists a better understanding of the country.  Better brush up on your Russian, however- the city has an overwhelmingly high number of Russian speakers!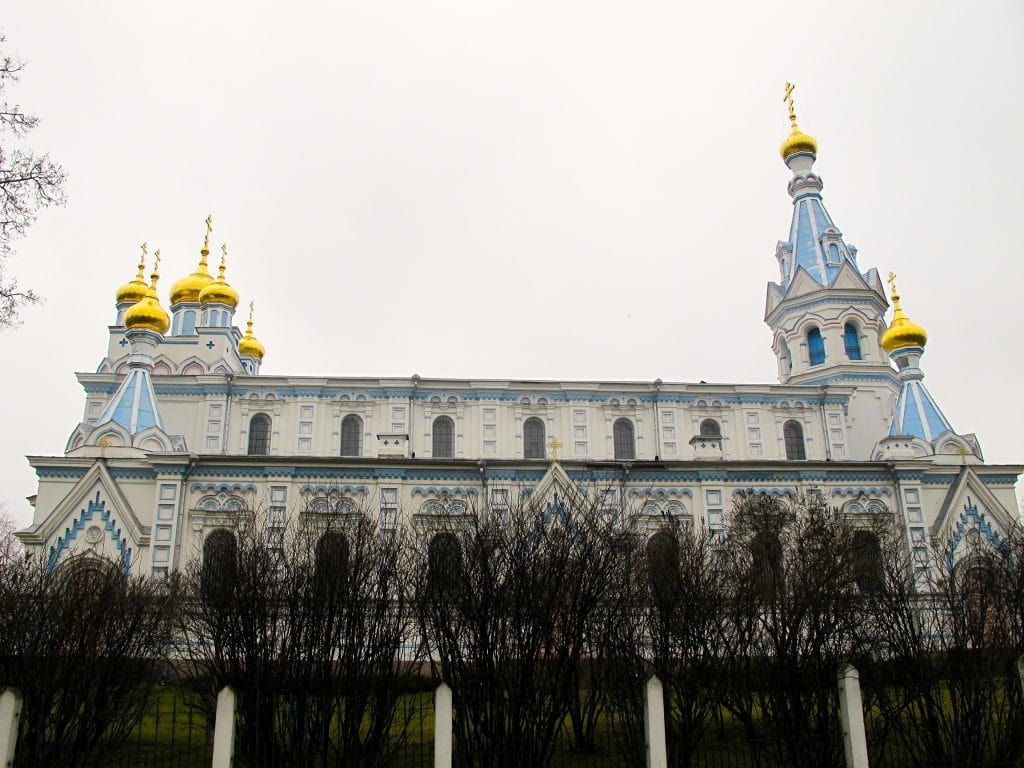 Lithuania
Šiauliai
Perched between Vilnius and Riga, Šiauliai is an ideal stop-off between the two capitals. Despite being Lithuania's 4th largest city, there are surprisingly few tourists around. The city is compact with an understated small-town charm.
The Hill of Crosses is the city's main attraction for most visitors. The Hill of Crosses is a well-known pilgrimage site with an estimated 100,000+ crosses on a small hill just north of the city. It is a haunting and unique site undoubtedly worth visiting, but visiting Šiauliai purely to visit the Hill of Crosses is a real shame – the city has much more to offer.
Šiauliai is best enjoyed without an agenda or itinerary. The city does not have many typical 'sights'. Nevertheless, the city has plenty of life, mostly centered around Vilniaus Street, the city's main pedestrian boulevard.
On the surface, Šiauliai can appear grey and drab, but if you meander through the city's streets you will find art galleries, café's, restaurants, beautiful churches, Stalinist architecture, and an array of truly bizarre museums – Angels, Waterworks and Cats to name but a few. The Photography Museum is arguably the city's best. Even if you don't visit the Chocolate Museum, be sure to try the hot chocolate in the museum café.
*Anastasia from Gallivant Girl.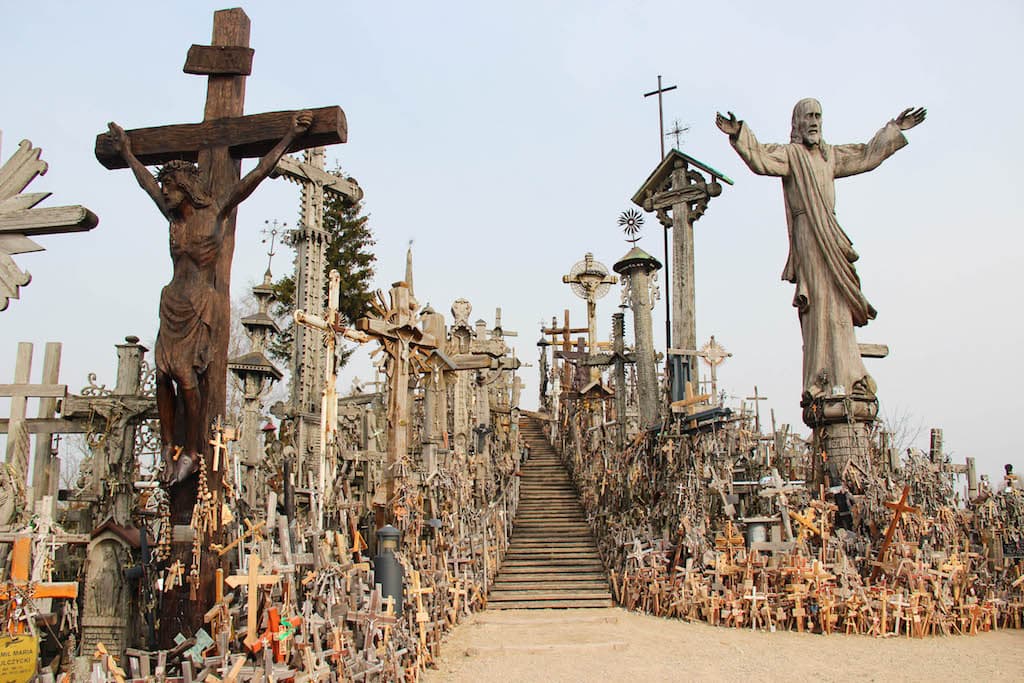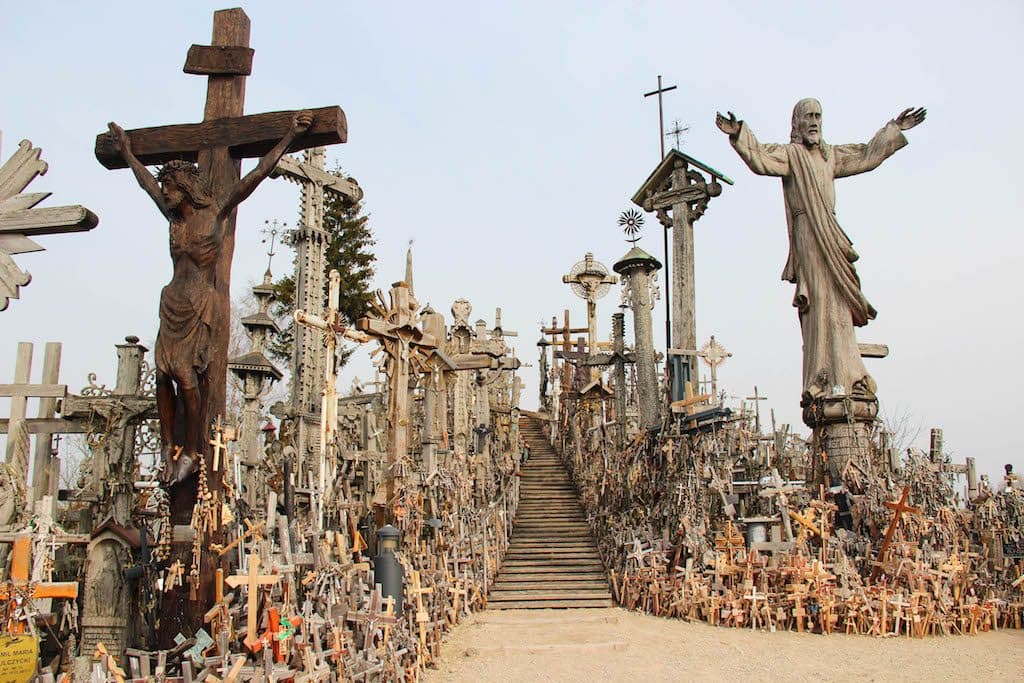 Neris Regional Park
When we visited Vilnius in winter a couple of years ago we really wanted to get out of the city for a day. Neris Regional Park is a great option – it's easy to reach, with just a quick train ride to Lazdenai station, from where you can walk to the park.
There are several hiking paths to follow, including the 23-km Velniakampis Loop, giving you a good overview of the park. If you don't quite want to walk so far, there are several other trails to follow, following the course of the Neris river and some of the most scenic sections of the forest.
If you're visiting in winter, you can opt to go dog sledding in Neris Regional Park – there's a great family-run company that runs dog sledding tours of the park, available even in spring and fall using a wheeled cart instead of a sled!
*Margherita from The Crowded Planet.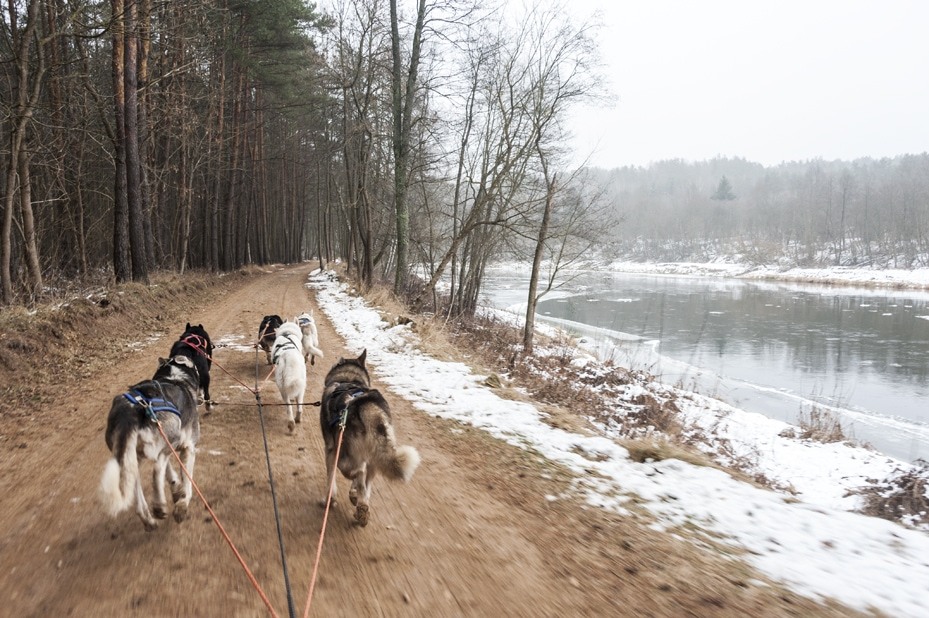 Klaipeda
Klaipeda is one of those places you would easily overlook if you only had little time to spend in the Baltics. However, that would be a big mistake. Located on the shores of the Baltic Sea, Klaipeda is one of the Baltics' hidden gems.
Due to its advantageous strategic location, Klaipeda has a very complex history which can still be seen in the city's streets today. Apart from beautiful half-timbered German-style houses, some of Klaipeda's main attractions include the remains of Klaipeda Castle as well as the Lithuanian Sea Museum.
My favorite spot, however, is the beautiful sandy beaches on the Curonian Spit to the North of Klaipeda. They are a little slice of paradise, almost untouched by mass tourism. In the summer, ferries run every 30 minutes all day from the Old Ferry Terminal. If you want, you can also do a day trip to the resort time Palanga which is only a half-hour drive away.
*Mihir and Jacky from Nomad Epicureans.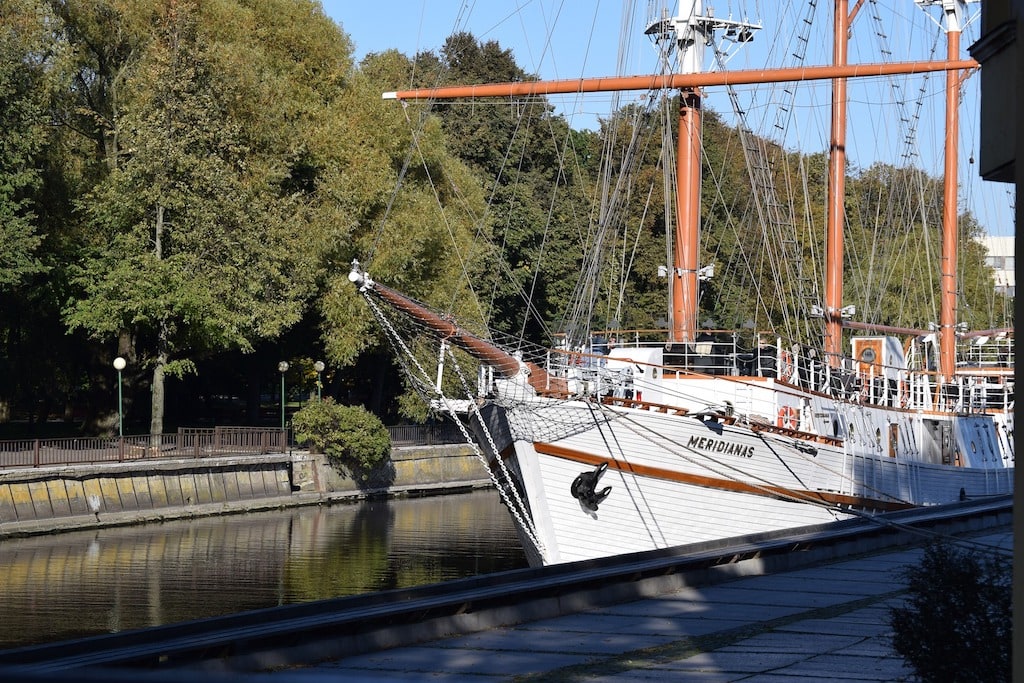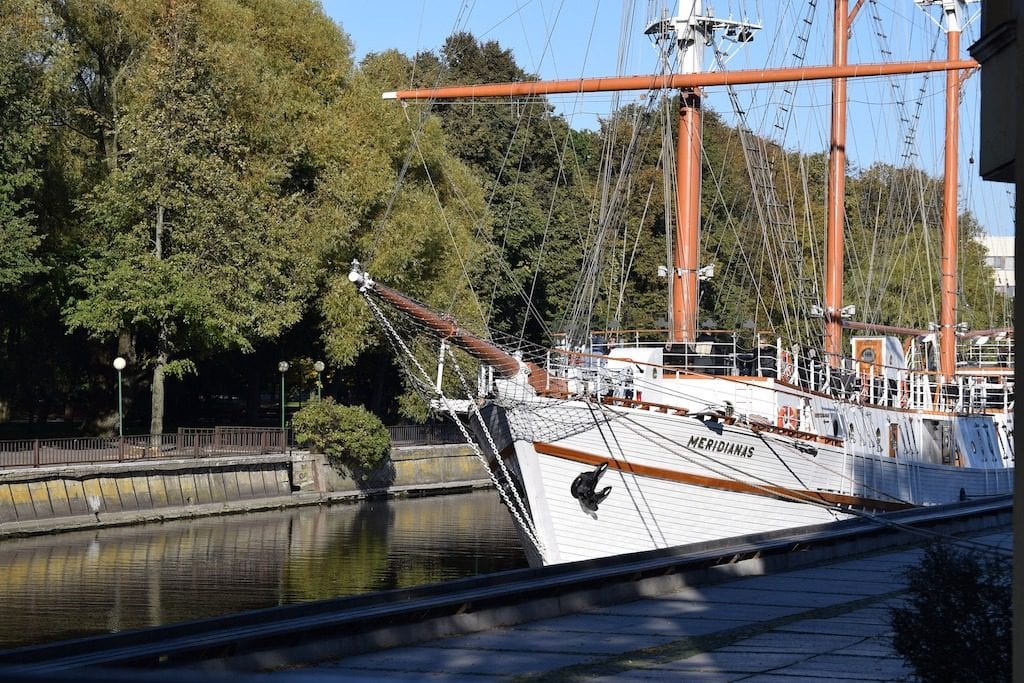 Have you been to any of these locations?  Do you know of any secret gems in the Baltic countries?  Please share them with us in the comments below!
PIN IT FOR LATER!