Are you looking for the best day trips from Buffalo NY? We have you covered!
Are you planning your trip to/from Buffalo last minute?
If youʻre booking your trip to Buffalo last minute, we have you covered. Below are some of the top tours, hotels, and more!
🇺🇸 Top Experiences and Tours in/from Buffalo:
🛌 Top Hotels in Buffalo:
The Edward Buffalo (Luxury option!)
Embassy Suites Buffalo (Mid-range)
Lenox Hotel and Suites (Budget)
🚗 Looking for the best way to get around New York? Click here to check rental car rates for NY!
This guide breaks down some of the best Buffalo day trips, taking you from Ontario all the way to some of New York's best state parks!
Did we miss any amazing places to visit near Buffalo?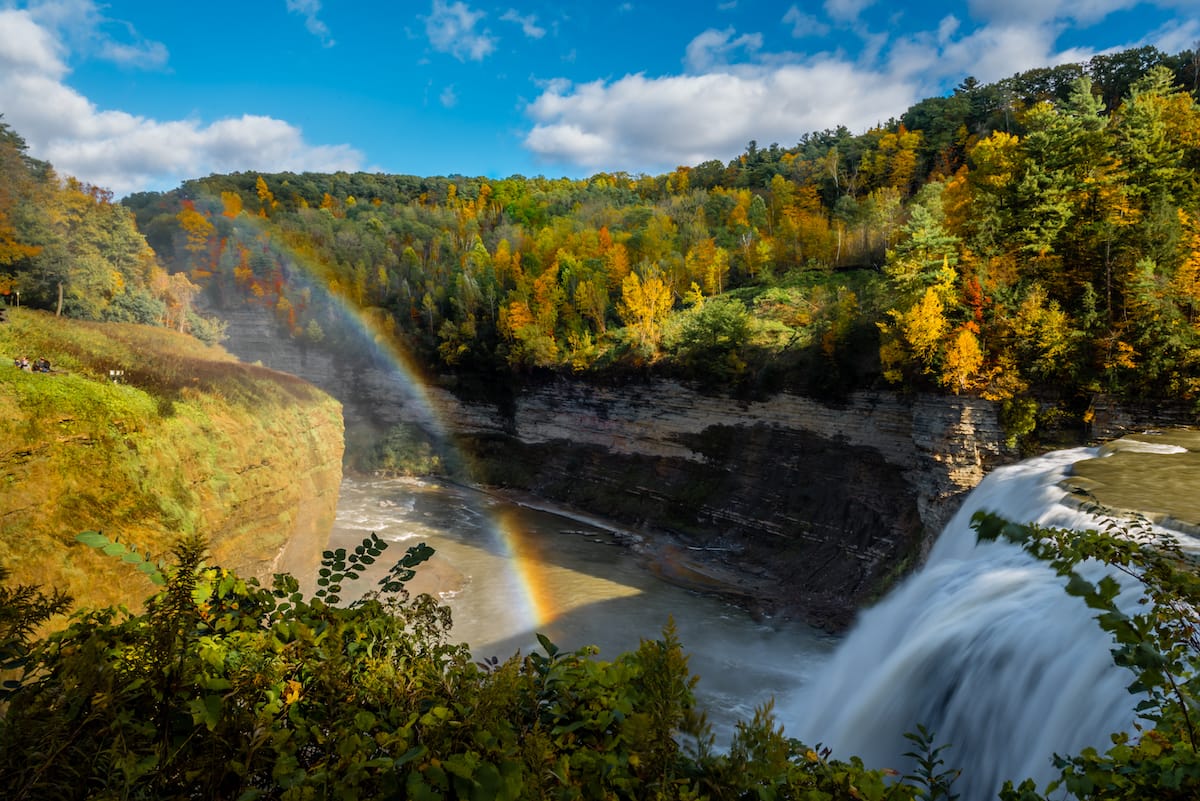 Let us know your favorite day trips from Buffalo in the comments!
Best Day Trips from Buffalo NY
1. Jamestown
State: New York
Distance from Buffalo: 70.6 miles (1 hour, 21 minutes)
If you need a good laugh, then Jamestown is a great place to start.
The National Comedy Center, albeit a museum and archive on the history of comedy, also has a comedy karaoke bar in which comedians of all ranges take the stage.
Their website provides a list of events and even information about their annual comedy festival, so you can have the time of your life strolling by the Jamestown River after a nice hearty breakfast and laughing out your gut at the end of the evening!
In addition to the National Comedy Center, there is the Lucille Ball Desi Arnaz Museum where I Love Lucy was produced.
It is absolutely worth seeing as this specific series and these two specific comedians helped shape American culture since the 50s, and are to this day referred to in Pop Culture all around the world.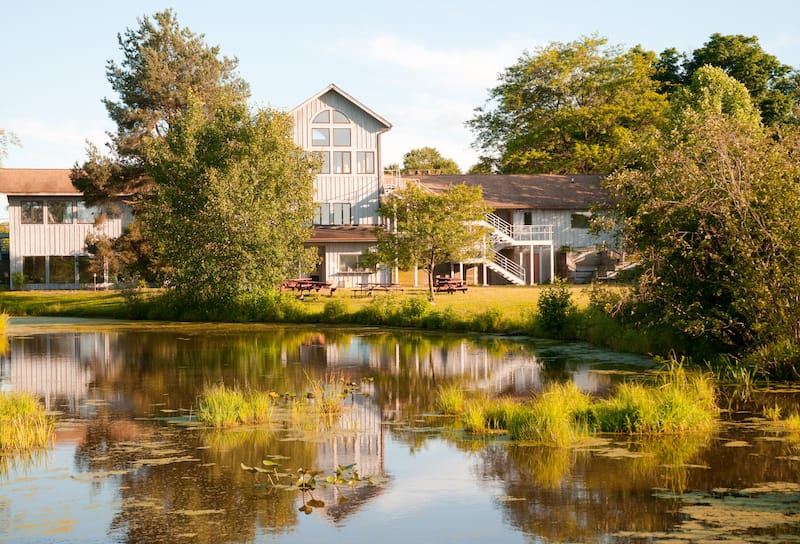 There are also more serious, historical centers that are important to the city of Jamestown, such as the Robert H. Jackson Center. This center was built to honor not only the legacy of the U.S.
Supreme Court Justice, but also his morals and respect for justice and law.
In addition, the Fenton History Center and Mansion, which was built by Reuben E. Fenton, a politician and merchant who was born and raised in the same county and died in Jamestown, serves as New York's headquarters for local history and genealogy and the adjacent villa showcases beautiful Italian architecture.
Jamestown has gems in opposite paradigms, and you can process your visit over some beer and wings at The Pub, or something more serious– like some of the best steak, you'll have with a glass of red wine at The Chop House on Main.
Overall, Jamestown is a lowkey town with excellent service that'll leave you laughing, thinking, and satisfied.
2. Ellicottville
State: New York
Distance from Buffalo: 51 miles (55 minutes)
Ellicottville calls itself 'Western New York's playground for outdoor fun and adventure,' and we may have to agree with that declaration.
With activities ranging from skiing and snowboarding, golf, mountain biking, fishing, hiking, paddle boarding, and kayaking, you will always have something to keep busy with.
The Holiday Valley Golf Course & Resort is a popular option for families.
For family and friends, you can also check out the numerous music festivals they have every weekend at their venues during the summer along with dozens of other festivals and events throughout the year.
There are numerous resorts, bed and breakfasts, boutiques, bars, and restaurants–or a fusion of these–to also supplement this 'playground' experience.
The Ratchet Hatchet, an ax-throwing bar and lounge, takes competitive bar sports to the next level. It's definitely something new and exciting to consider when getting a drink with friends.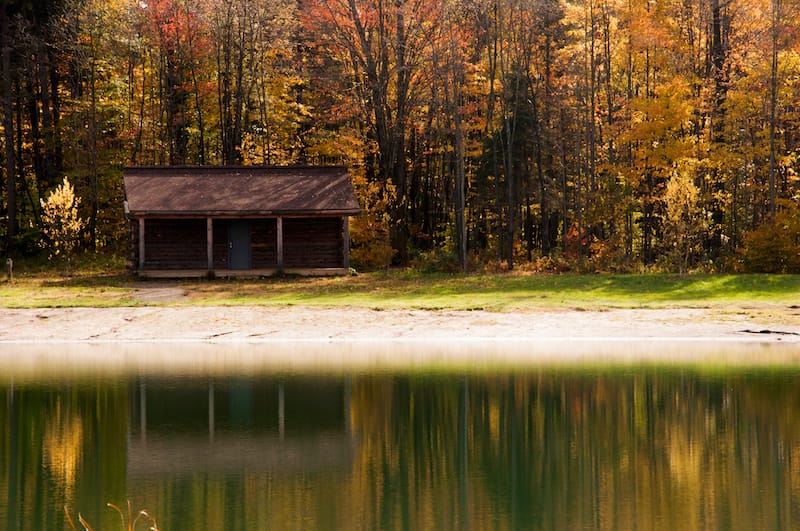 The food alone will have you coming back, let alone all the activities that they provide.
Make sure you stop by at least one of their breweries, like the Brewing Co., and then a delicious cake from Katy's Cafe & Cake Creations!
The Tee Bar and the Salt Cave also both stood out amongst the sea of things to do; go relieve your ailments in an alternative, holistic sauna and then follow up with a milkshake afterward!
It'll add the additional satisfaction you didn't realize you were missing from your trip! If you want the most out of your one-day trip—because there is so much to do—perhaps plan ahead the list of activities prior to your visit; however, a spontaneous visit also won't disappoint!
It all depends on your vibe and what you're looking for, but absolutely take advantage of their website and its directory whenever you decide to go. It seems like there are always endless options at Ellicottville!
3. Erie
State: Pennsylvania
Distance from Buffalo: 92.2 miles (1 hour, 35 minutes)
Erie is Pennsylvania's popular port city right on the coast of Lake Erie is home to numerous tourist attractions with rollercoasters and waterparks, ports, beaches, and trails.
It is a great getaway location during these hot summer days with family and friends.
The Waldameer Park & Water World is an amusement park with rollercoasters and waterslides located at the base of Presque Isle.
Presque Isle is a tourist attraction and a separate day trip itself, has a beautiful state park on its peninsula with beaches and trails, and it curves around Presque Isle Bay and Erie.
There are also a few museums the city has to offer; if you want to explore the maritime history of Lake Erie and its various vessels, then there is an interactive exhibit at the Erie Maritime Museum that also offers displays of the reproduction of its historical ships, including the US Brig Niagara, which was a 19th-century ship.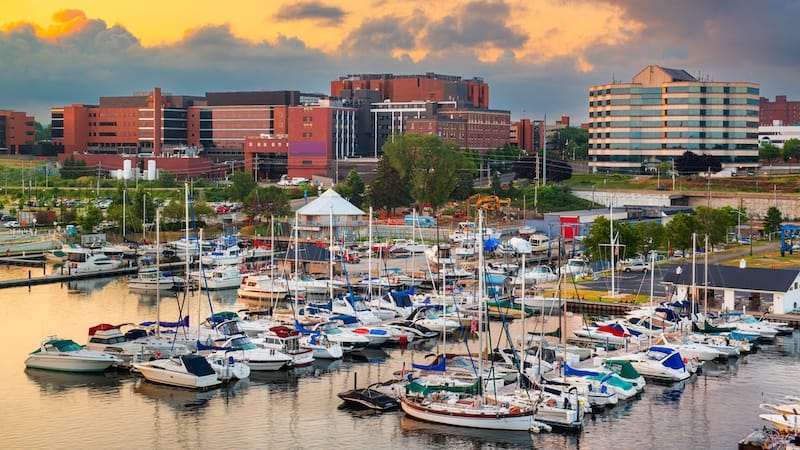 The Erie Art Museum also has an art collection featuring contemporary art.
The Lake Erie Wine Country is also another extraordinary gem that you should visit at least once in your lifetime.
The wine country has its own trails for hiking, horseback riding, boating on small lakes and the Great, along with golfing and even skiing during the winter.
There are farmer's markets and local shops and boutiques to enjoy high-quality service, shopping experiences, and ingredients from.
Exploring the wine country by trying a Native American wine at the Heritage Wine Cellars, a third-generation owned winery.
Melt away your stress and focus on the present moment whilst surrounded by beautiful scenery!
4. Presque Isle State Park
State: Pennsylvania
Distance from Buffalo: 104 miles (1 hour, 46 minutes)
As previously mentioned, the Presque Isle, albeit a part of Erie, is a separate tourist attraction and a worthy, separate day trip itself due to its beaches and trails.
The 3,200-acre peninsula curves around Presque Isle Bay and Erie, and is Pennsylvania's only "seashore." There are maps available to utilize during your trip at the Public Safety.
Consider renting a boat on the port from the Presque Isle Boat Rental and enjoy the calming waves of the waters in the scorching sun while you're there!
There are other, numerous boat rental services with boats of various sizes and limits, and that offer boats that both do and do not require a license to drive.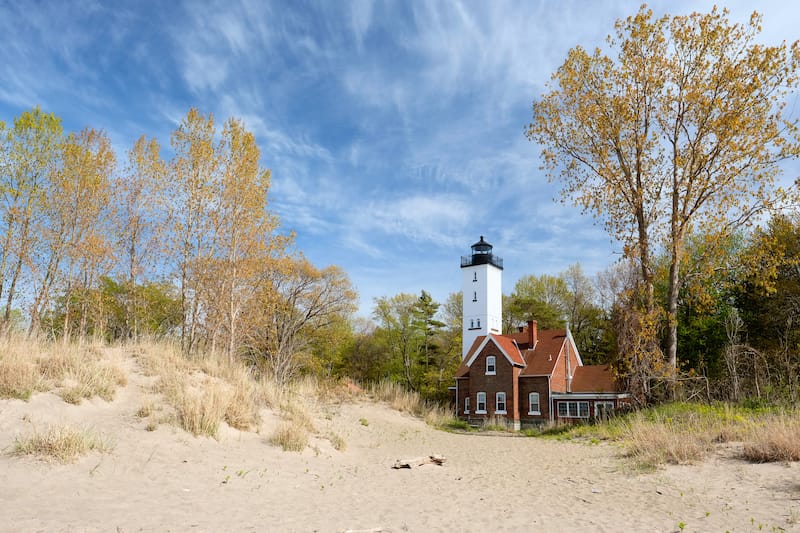 A picnic in the middle of the bay, or around the Isle in view of the scenery and sunset is a great way to spend the closing of the day in the midst of the gorgeous waters.
Along with boat tours, surfing and scuba diving are also permitted on specific beaches and visitors can ask and register at the Public Safety Building to receive further information.
There is no restaurant or bistro in the state park, so unless you plan to eat in Erie on the port on the drive back home, I would recommend packing food for a picnic! You might as well– and enjoy it on the popular Beach 6 or Gull Point Trail!
5. Crystal Beach
Country: Canada
Distance from Buffalo: 13.1 miles (24 minutes)
Crystal Beach, also known as Bay Beach, is a lakefront community right across from Buffalo.
It is a popular summer destination in Fort Erie in Ontario, and it is a great place to relax, swim, indulge in water-related activities, and enjoy the waterfront nightlife consisting of bars and restaurants.
Although the beach is the main attraction, follow the event calendar of the region to receive news of events and discounts for Crystal Beach's grand hotels, concerts, and dance halls.
Shopping in the waterfront boutiques is also a unique experience!
Catch some live jazz while eating something hearty at the Crystal Chandelier Cafe Etc. after swimming from the early morning til the afternoon.
Then look through one of the many waterfront gift shops, like the Crystal Beach Mercantile.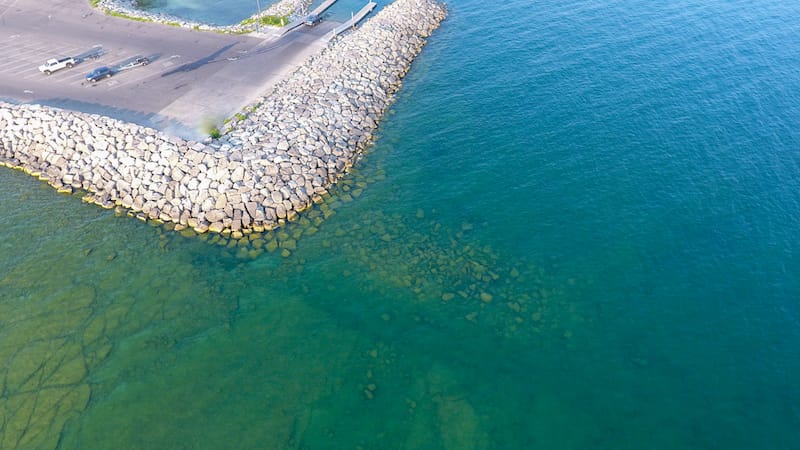 To visit the beach, you must purchase day passes to access the beach, and fortunately, you are able to do so weeks to months in advance.
In this way, you can secure a spot on the beach before it hits its capacity limit (of 1700).
Visitors also have the option of paying for parking at a physical machine (coin or credit only) or paying by way of a mobile app or online.
The Bay Beach day pass fees are $5 (Monday to Thursday) and $10 per person (Friday to Sunday, including holidays).
Children 12 years and under are now free for both resident season passes and day passes.
6. Letchworth State Park
State: New York
Distance from Buffalo: 59 miles (1 hour, 8 minutes)
If scenic splendor is your type of thrill, then Letchworth State Park is your dream come true.
It is renowned as the "Grand Canyon of the East" and is a scenically significant location in the eastern United States.
The park follows the course of the Genesee River as it flows north through a deep gorge over three major waterfalls between cliffs— as high as 600 feet in some places—surrounded by lush forests.
The Upper Falls, Middle Falls, and Lower Falls are the primary falls of the 50 waterfalls in the park, and the Inspiration Point is the highlight of many visitors at the Letchworth State Park.
It is one of the best overlooks in Upstate New York and gives a wonderful view of the Middle and Upper Falls.
There are seemingly endless hiking trails over a span of 66 miles, with additional choices such as horseback riding, biking, snowmobiling, and cross-country skiing to view the terrain.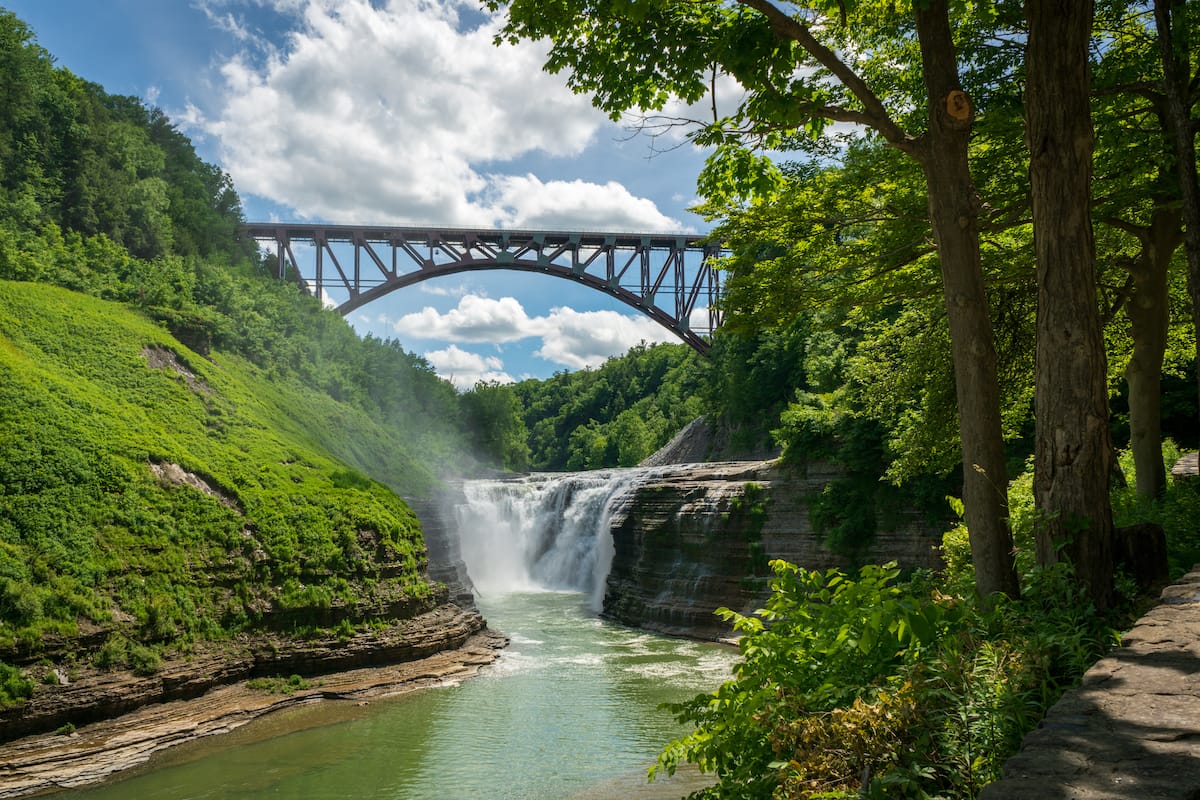 The Gorge trail offers paths to view the most important checkpoints of the park, however, it can only be hiked.
In the summer, whitewater rafting, kayaking, a pool for swimming, and hot air ballooning services are available to enjoy the clear, beautiful river waters.
If you prefer the winter, then make sure to inquire about the snow tubing, cross-country skiing, and snowmobiling amenities. Hunting, fishing, and camping are popular reasons for visiting the park because of its untouched nature.
The popular and restored inns offer overnight accommodations that are open to the public for breakfast, lunch, and dinner.
The Glen Iris Inn, a popular option amongst visitors, is a hotel made from a previous country estate with suites that offer views of the falls.
There are also lodges, cabins, pavilions, campgrounds, and facilities that are available inside and nearby the park. I encourage you to plan ahead and enjoy it as much as you can!
7. Finger Lakes
State: New York
Distance from Buffalo: 122 miles (2 hours, 1 minute)
Being a group of eleven long, narrow, roughly north-south lakes— the Finger Lakes get their name from their geological description.
Take a bottle of their world-renown Rieslings and enjoy one of their many highly-rated wine tours at any of the lakes for a view of the beautiful gorges and waterfalls.
Albeit known mostly for its wine tours, primarily the Seneca Lake Wine Tasting Tour or Canandaigua Wine Trail Experience offered by Crush Beer & Wine Tours, the park also offers activities such as hiking, biking, boating, kayaking, gliding, hot air ballooning, swimming, fishing in their scenic beauty, gorge trails, and nineteen waterfalls.
The outdoor fun does not stop at the eleven major lakes in the summer.
In the winter, the Finger Lakes region has ski resorts up and running in their mountains, such as the Greek Peak Mountain Resort in the Cortland area.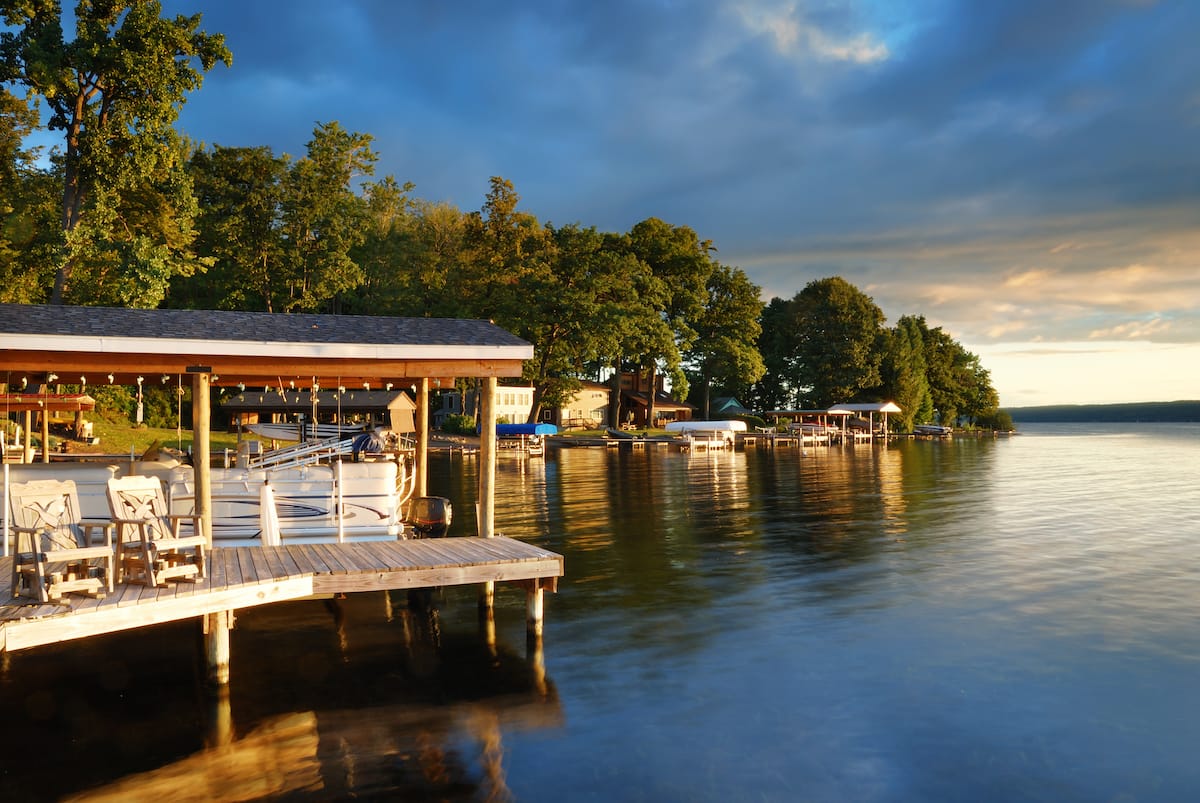 Along with hiking, snowmobiling, cross-country, snowshoeing, and the local favorite ice fishing, the Finger Lakes is an outdoorsman's paradise.
In addition to the outdoor activities, there are a handful of museums and historical sites, such as the Corning Museum of Glass, where you can take a class and make your own glass— the Rockwell Museum, which is dedicated to American art— and the Harriet Tubman Home, who was an important civil figure in the developing history of the United States.
The region boasts a variety of dining experiences, including casual dining, pub fare, and fine dining.
Their wine tours are offered in both a casual and fine dining setting, and their popular breweries, distilleries, and hard-cider producers are also something worth checking out.
Edgar's Restaurant in the Castle is a classic American steakhouse with scenic views of antiques, all served in a literal castle– the Belhurst Castle.
A more casual option would be the Port's Cafe, Letchworth State Park is also a highly-rated scenic bistro that serves local produce and fish.
Both excellent and satisfactory in their own rights!
8. Toronto
Country: Canada
Distance from Buffalo: 99 miles (2 hours, 15 minutes)
Toronto is a multicultural hub right on Lake Ontario and is often described by American citizens as a "Canadian New York."
The metropolitan environment offers an abundance of things to do. It's a great place to go shopping, eat trendy foods, and explore different cultures all at once!
The summer especially has a highly anticipated events scene and is perfect for a day trip (but a weekend in Toronto is way better!).
There is the Caribbean Carnival, the Salsa in Toronto, the Summer Music Festival, and the Canadian National Exhibition.
Take a tour of the street art whilst shopping in Queen West, or go to the buzzing Kensington Market!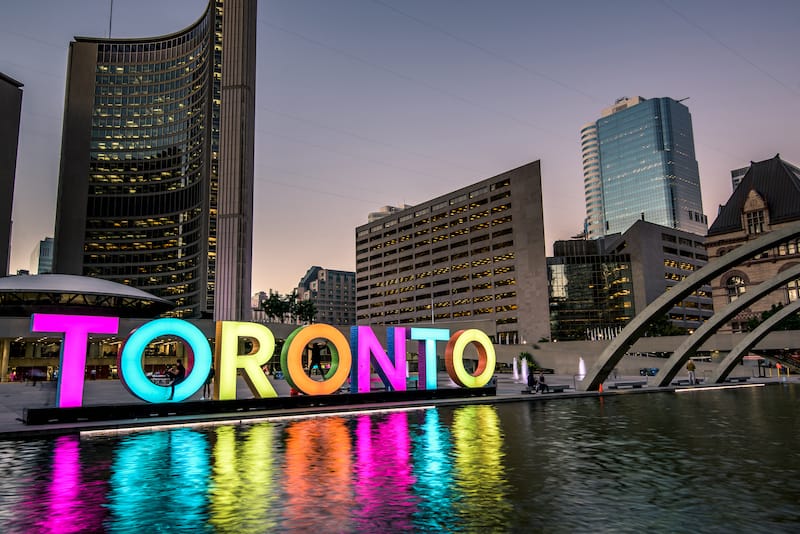 There are ferries you can take to the Toronto Islands, or you can even go by foot or bike if you're up for it!
As for the food scene, try out an ice cream taco on one of their many hotel rooftop bars or patios on Queen West!
There is an abundance of tasty brunch spots and fusion foods dispersed throughout the city.
Currently, the most trendy places to eat are Alo, which is a modern French restaurant in a very stylish Victorian building, and Canoe, an innovative fusion restaurant on the 54th floor with an amazing view of the city.
There are also wonderful places to pack a meal and go to for a picnic, such as High Park or James Gardens!
The city website does a great job of narrowing down some potential options.
Toronto is a dynamic city with an overwhelming amount of options— I would recommend getting there early to get the most out of your day!
9. Niagara-on-the-Lake
Country: Canada
Distance from Buffalo: 35.5 miles (51 minutes)
Experience the charm of an old town by visiting Niagara-on-the-Lake; it is a cute town in southern Ontario and it sits on the shores of Lake Ontario at the mouth of the Niagara River.
This village is bordered on both sides by a waterfront with arbor-framed streets among lush boulevard gardens.
The colorful architecture of the town, its boutiques and shops, and the flowers that decorate them will provide a picturesque experience for visitors.
Walk through the Letchworth State Park and check out the boutiques, antique shops, and bistros— and perhaps even look out for a horse-drawn carriage!
The world-class theater at the Shaw Festival offers a series of theater productions year-round.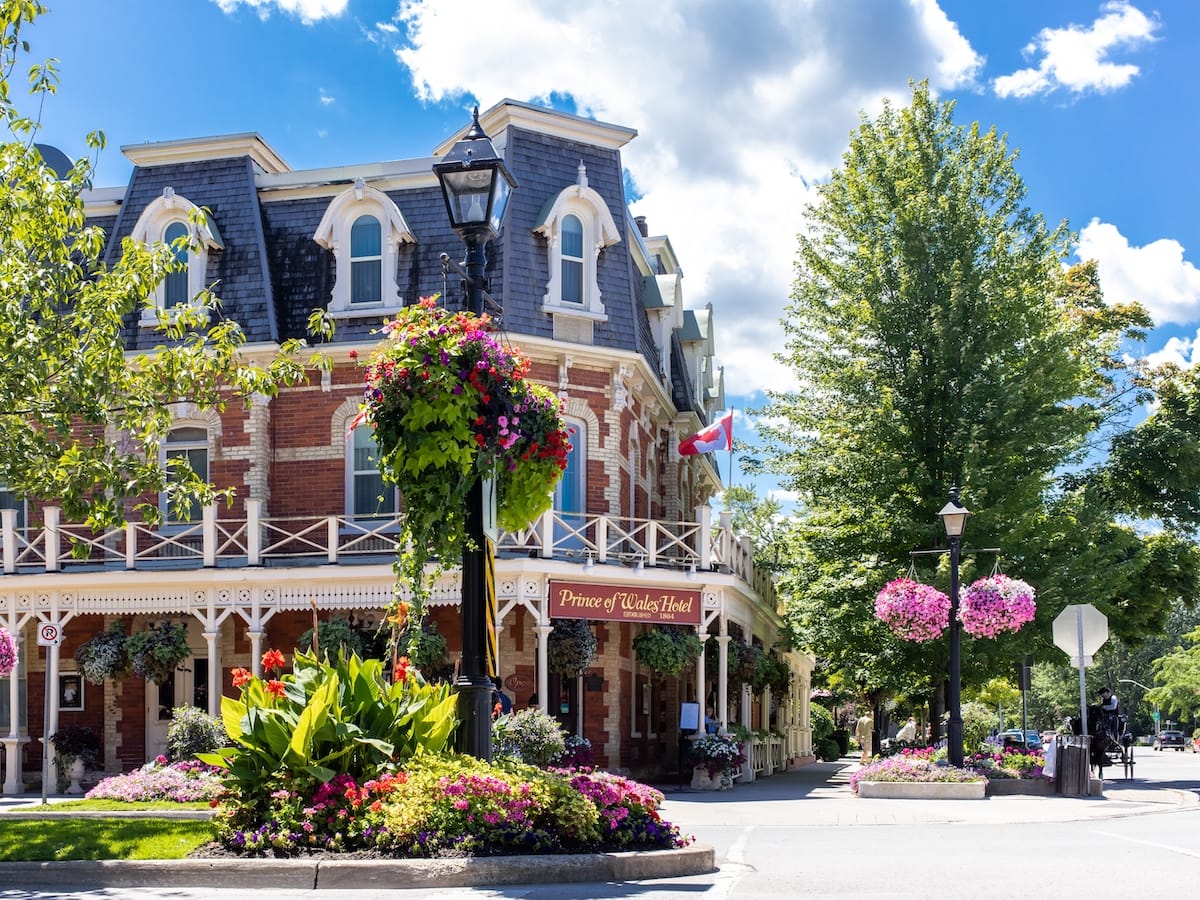 There are several wineries, breweries, and distilleries in NOTL— which is an abbreviation for the town used by the locals.
In fact, NOTL's biggest claim to fame is the Ontario Wine Country due to its picturesque location and ideal sub-appellations for growing grapes.
There are 39 wineries, 23 restaurants, and 5 accommodations with amenities, including inns, vintage hotels, and bed and breakfasts.
The Chateau Des Charmes is a popular winery in NOTL, primarily because of the beautiful architecture and view that accompanies the wine tasting.
What is better than enjoying a stylish town and its gorgeous nature over a bottle of award-winning vintage wine on a vineyard overlooking the lake in the distance?
This village is worth visiting with its comfortable driving distance, must-see venues, and natural marvels.
10. Niagara Falls
State/Country: New York, Canada
Distance from Buffalo: CAN, 22.5 miles (32 minutes) or NY, 19.8 miles (24 minutes)
Location: Canada or New York
Niagara Falls is a famous waterfall that has one-fifth of the world's freshwater reserves crashing down to the basin below which visitors from all over the world come to admire.
It can be viewed from both Canada and the New York border over the Rainbow Bridge.
The Horseshoe Falls are the most expansive section of the cascades.
Visitors can descend 125 ft. by elevator to view the falls from below and from behind.
The twenty-minute boat tours with Voyage to the Falls bring guests on an amazing journey they won't be able to forget.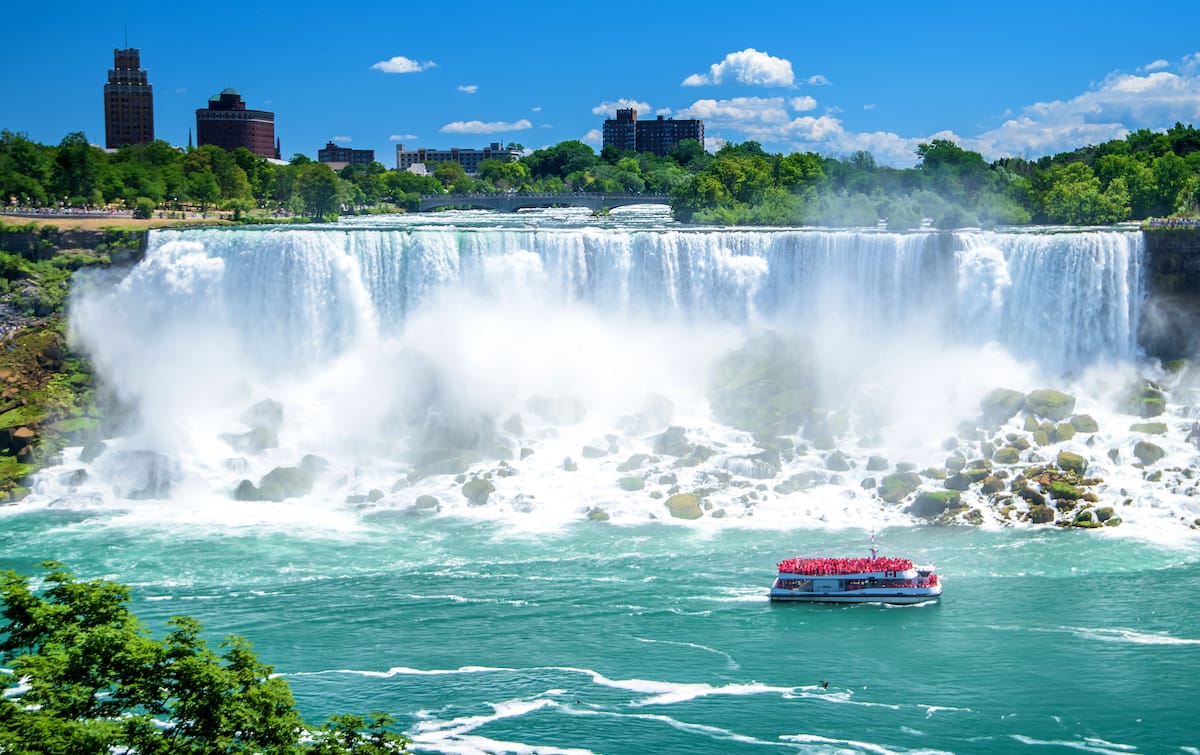 The views of the Niagara Gorge, American Falls, and Bridal Veil Falls, and the experience of coming face-to-face with the famous Canadian Horseshoe Falls and feeling the mist of the water over the powerful roaring of the crashing waters— is an absolutely priceless experience.
There is also the Skylon Tower with an observation deck that reaches a height of 520 feet.
Helicopter tours are also a very popular tourist venture giving you the highest, most scenic sightseeing experience available in the city.
Along with the cliffside parks, restaurants, and cafes with a view of the roaring falls, the city offers you various ways to admire the view from different points of the city.
The Botanical Gardens, Butterfly Conservatory, Bird Kingdom, Oakes Garden Theater, Marineland, the Safari Niagara, the Whirlpool Aero Car, the Maple Leaf Palace, and the Hershey's Chocolate World provide a plethora of options to enjoy with family and friends!
And at the end of the night, there is a light show to close off your trip!
11. Darien Lake
State: New York
Distance from Buffalo: 30 miles (46 minutes)
Six Flags Darien Lake is a 1,200-acre amusement park and resort between Buffalo and Rochester with a water park, campground, lodging, and of course, a theme park.
There are 45 attractions, including 8 roller coasters and 10 water rides.
The Ride of Steel is often rated as #1 amongst visitors, as it is the tallest and fastest ride reaching a speed of 75 miles per hour and climbing over 200 feet.
The Mind Eraser and Viper follow in the queue of the best thrill rides at the park, but you'll have to check it out yourself and leave a comment to clarify it for us!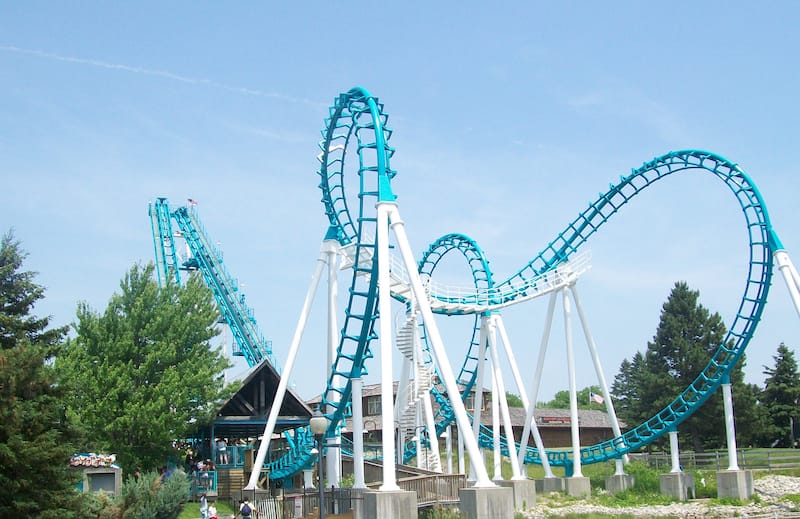 Enjoy a cheat day and embrace the guilty pleasure of American food!
Of course, the amusement park has satisfying burgers, funnel cakes, hot dogs, and other fried foods and treats to enjoy during your riding breaks.
There are restaurants, diners, cafes, bars, and ice cream parlors all throughout the park.
One-day admission to the park starts at $34.99, however, there are group ticket options available also.
The park is open from 11 A.M. to 7 P.M. on Wednesday, Thursday, and Sunday, open until 9 P.M on Friday and Saturday, and closed entirely on Monday and Tuesday.
Make sure to plan ahead for convenient weather!
12. Griffis Sculpture Park
State: New York
Distance from Buffalo: 44.3 miles (47 minutes)
Larry Griffis, Jr. and other international artists have been decorating the woods, fields, and even ponds of Griffis Sculpture Park with steel sculptures since the early 60s.
The 450-acre park, located eight miles outside of Ellicottville, is not only a tremendous regional attraction but holds the distinction of being one of America's largest and oldest sculpture parks.
There are over 250 sculptures dispersed through miles of the hiking trail to supplement the natural setting.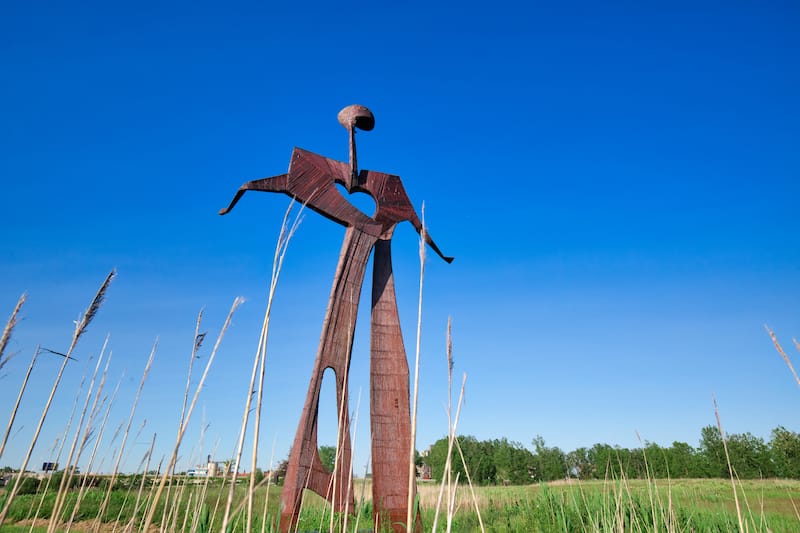 The park is divided into two sections: Mill Valley Road Site and the Rohr Hill Road Site.
The smooth walk area of the Mill Valley Road Site has miles of trails through a variety of terrain, whereas the Rohr Hill area is towered by sculptures set in fields and woods just off the road.
It is a wonderful park to spend five minutes or five hours in.
Because the Griffis Sculpture Park is a private, non-profit park that relies on admission fees, grants, and programs to stay open, they request a $5 donation per adult, $3 for children 12 to 5 years old, and seniors for entry. It's a worthy donation, as the park offers a unique experience between man, art, and nature.
13. Springville
State: New York
Distance from Buffalo: 34.5 miles (36 minutes)
Springville is a rural community southeast of Buffalo within the southern tip of Erie County.
The Village of Springville is surrounded by an environment of beautifully wooded hillsides, dramatic stream valleys, and very productive farmland, and is nestled in the foothills of the Alleghany Mountains.
There are excellent visuals to augment the experience of this small American town with its traditional Main Street and small, locally-owned shops.
Every Wednesday, farmers, and families come to shop and meet up with their neighbors at the Springville Auction.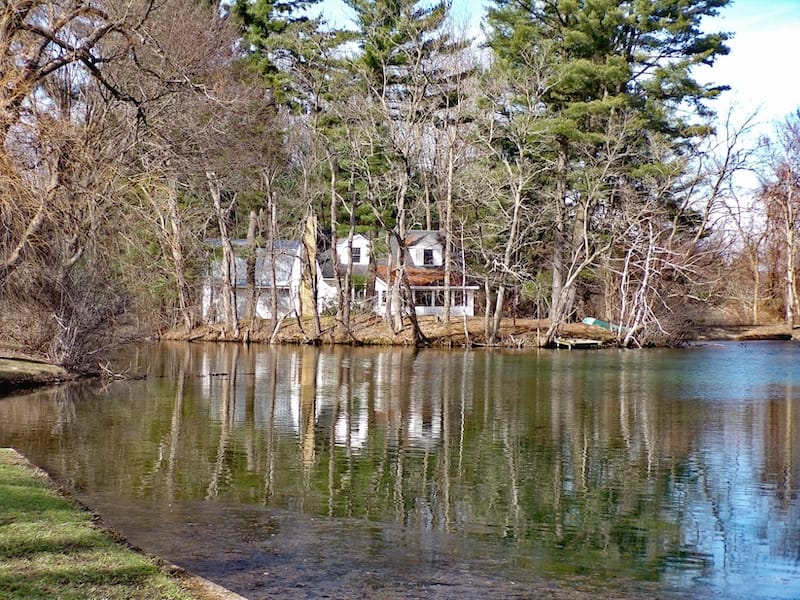 The Flee Market has just about everything you have ever thought you would need. These two things alone are unique to see in such a small town!
The Flower Stand is another popular shop among the locals where beautiful bouquets and arrangements can be organized and purchased for any occasion.
Art's Café, which is a café and arts center in one, often hosts artists and performers in concerts, open mic nights, and residences and has delicious baked goods and beverages on its menu.
Springville is a great place to explore, find peace, and reset from the big city life!
14. Rochester
State: New York
Distance from Buffalo: 74.5 miles (1 hour, 12 minutes)
Rochester is an underrated city on Lake Ontario with an arts and culture scene waiting to burst.
The city has street murals by up-and-coming artists and is a hub for jazz and orchestral music.
The museums, beautiful parks, the shores of the lake, and its waterfront attractions are promising by themselves, but if I were to also mention the cultural festivals, such as the Rochester International Jazz Fest? The crowd turnout should be evidence enough.
You'll find jazz events in the city that are often free, and require no proof of tickets for entry; the deep love and adoration for the city's jazz culture have talented and one-of-a-kind artists flocking there just for the joy of performing amongst a sea of other jazz enthusiasts.
The food scene in Rochester is just as legendary. Many restaurants have established a new, American palette that evolved from fusing foods from every corner of the world.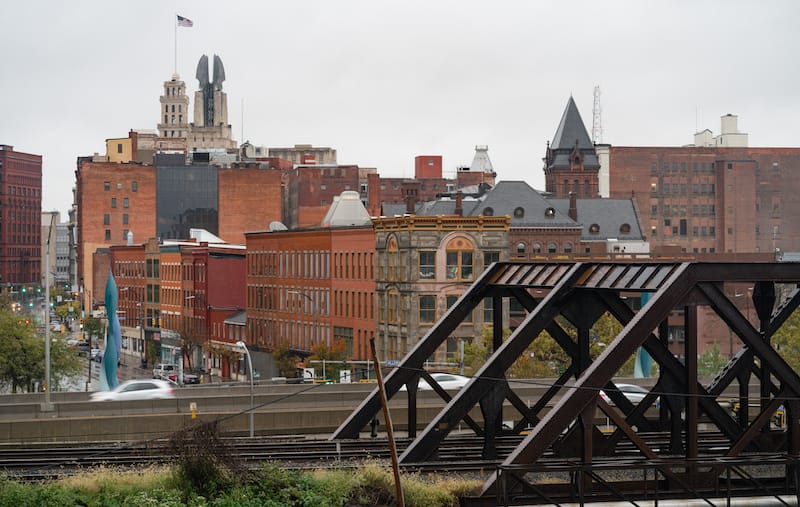 You name it– Rochester has it. Tapas 177 offers a trendy ambiance with a diverse selection of exotic flavors and fusion dishes all made from scratch.
Edibles Restaurant & Bar is a casual neighborhood restaurant that has been serving for over twenty years and is devoted to serving their interpretation of American cuisine.
With dozens of highly rated innovative places to eat, Rochester stands out as king again in another influential genre.
It likes to remind the world that it is also a city in New York!
It is a great weekend destination if you're looking for a breath of fresh air in a city environment.
The arts, culture, food, and thus the nightlife experience in Rochester is growing more than ever and offer a different, curious flavor in its ascension.
15. Old Fort Niagara
State: New York
Distance from Buffalo: 33.4 miles (37 minutes)
Old Fort Niagara offers you a chance to step back in time and view history with your own eye— to view an era when empires struggled for control of North America.
Inside the Fort, there are tours that will show the original buildings where Native American, French, British, and American soldiers lived and worked from the 18th to the 20th centuries.
In the summer months, musket and artillery warfare are demonstrated and thus provide a clear exhibition of combat during that period of time.
There is a calendar of events on the website that lists days in which reenactors recreate the lives of past Fort Garrisons and depict the history that led to the birth of both the United States and Canada.
The fort itself was originally built by New France to protect its interests in North America, specifically to control the access between the Niagara River and Lake Ontario, which is the easternmost of the Great Lakes.
The fort is on the river's eastern bank at its mouth on Lake Ontario. For any historian, this is a curious museum to experience and learn from.
16. East Aurora
State: New York
Distance from Buffalo: 19.7 miles (23 minutes)
East Aurora is a village just southeast of Buffalo full of distinct attractions.
There are a variety of cafes, bakeries, boutiques and restaurants, craft breweries, and landmarks to check out.
For a renowned food experience, check out Bar-Bill Tavern, which is a local favorite that has even been included in the Buffalo Wing Trail due to its exceptional mastery of this regional cuisine.
The Elm Street Bakery and the Blue Eyed Baker serve fresh baked goods every day, with ambient and cozy spaces to fully ingest the delicious, comfort food in.
An absolutely great way to start your day!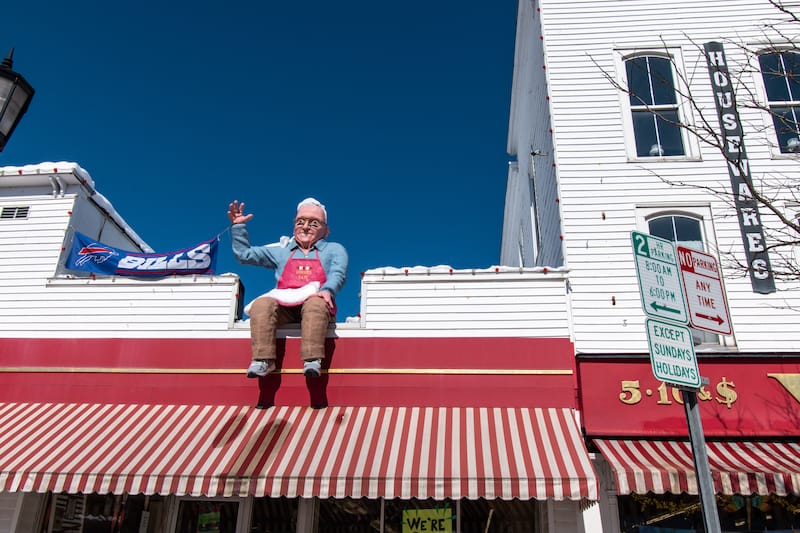 The most popular tourist attraction would be the Roycroft Campus, which is the best preserved and most complete complex of buildings remaining in the United States of the "guilds" that evolved as centers of craftsmanship and philosophy during the late 19th century.
The Campus, designated a National Historic Landmark district, contains nine of the original 14 structures including the Inn, the Chapel, the Print Shop, the Furniture Shop, and the Copper Shop.
It is worthy of its own day trip due to the number of activities that are available at each of the structures, with shopping, events, educational programs, sightseeing, and of course, eating at the Roycroft Inn.
The Knox Farm State Park is another popular attraction of 633 acres of a former country estate of the Knox Family of Buffalo and is adjacent to East Aurora.
The park comprises a variety of habitats, including 400 acres of grasslands (pastures and hayfields), and 100 acres of woodlands, ponds, and several wetland areas.
Visitors are welcome to enjoy the Farm by observing the wildlife, hiking, cross-country skiing, and riding horseback along the beautiful scenic nature trails.
East Aurora is a hidden gem that offers an extensive itinerary for a village!
17. Watkins Glen State Park
State: New York
Distance from Buffalo: 144 miles (2 hours, 27 minutes)
Okay, so we said 2 hours or less, but this one is just a little further if you have the time (and it is remarkable… so we hope you do)!
If you need to clear your mind, then a good hike along the waterfalls in Watkins Glen State Park will absolutely do the trick.
The gorgeous scenery and the refreshing mist of the falling streams alone make the trip worth it.
There is an abundance of hiking destinations and campgrounds in this park, ranging from mountains to plains to walkways beside streams and waterfalls. You'll find numerous trails marked with signs all around the park.
A personal favorite would be the Gorge Trail because the path leads directly to the beauty of the waterfalls, pools, and tunnels of the Rainbow Falls and the Cavern Cascade. Walking under the Watkins Glen Gorge is a must-see!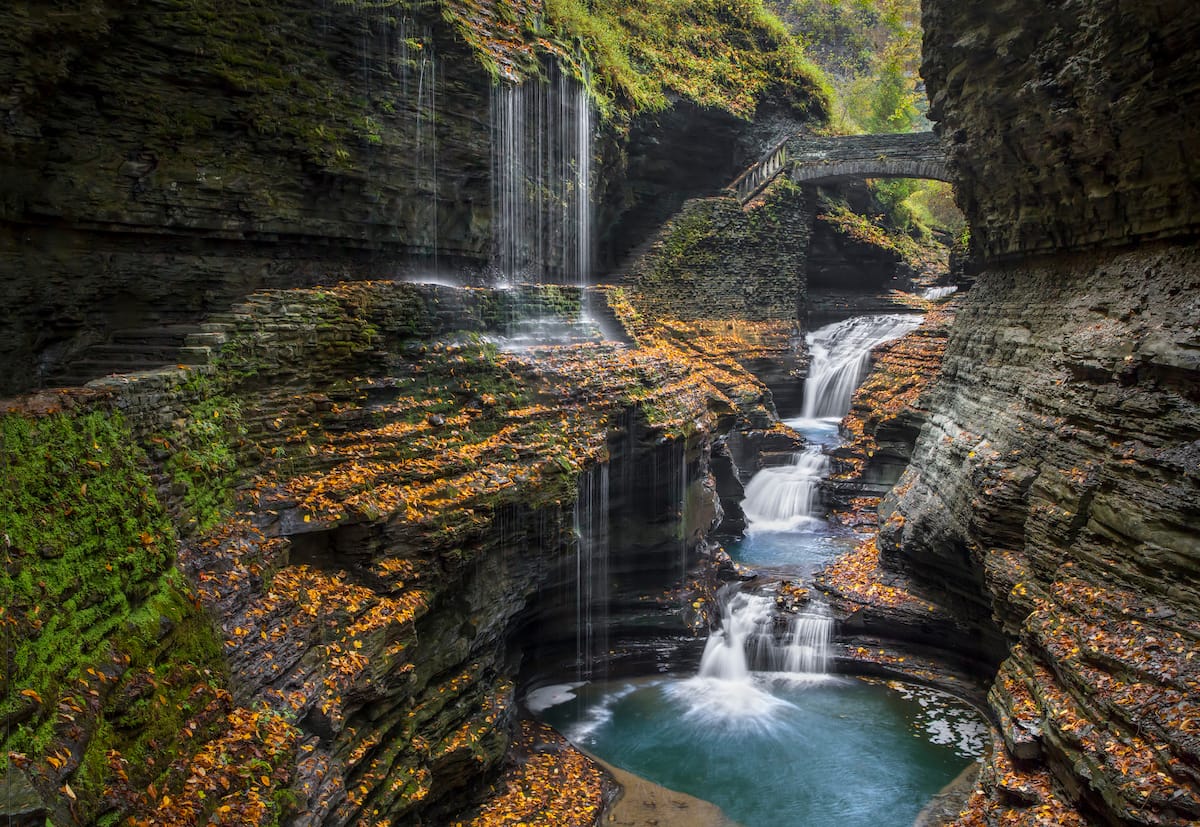 The view of the falling water from the other side is a breathtaking sight. I would highly recommend getting a map before heading off into the park.
There should be some available at the gift shops at the beginning and end of the trails, and they typically open at 10 AM.
The maps will provide clear markers of where bathrooms are alongside the various trails, and even show where the playgrounds are for children.
The unique scenery along with the exercise, and perhaps even preparing a picnic of fresh fruit and sandwiches to rest and look over the waterfalls, is a perfect reset from reality!
Did we miss any amazing day trips from Buffalo NY?
Let us know your favorite Buffalo day trips in the comments! Thanks!
More New York Travel Guides
Pin this Buffalo Day Trips Guide