I'll admit it… Dresden is the first city that I ventured to solely for its Altstadt, or Old Town. I rarely connect with Old Towns, but photos of Dresden's just left me mesmerized.
For me, I visit different cities for different reasons. I go to Dusseldorf for its Japanese food. I visit Cologne for its nightlife. And I go north to explore all the cheap things to do in Berlin. The resplendent and ornate buildings look like something out of a fairy-tale.
If you read my Plagwitz (Leipzig) post, you know that I booked my trip to Dresden in conjunction with the one to Leipzig. Dresden's Old Town was undoubtedly set to be the trip highlight. Definitely, definitely not the Dresden Neustadt.
Dresden Round One
I had booked an apartment in the city's Neustadt, which is situated across the river from the Altstadt. My plan was to arrive in the evening, get some rest, and then tackle the Neustadt in about an hour before walking across the river to the Altstadt (and later to my train back home to Frankfurt). And after a horrific night's sleep, I was certain this plan was one I was going to stick to.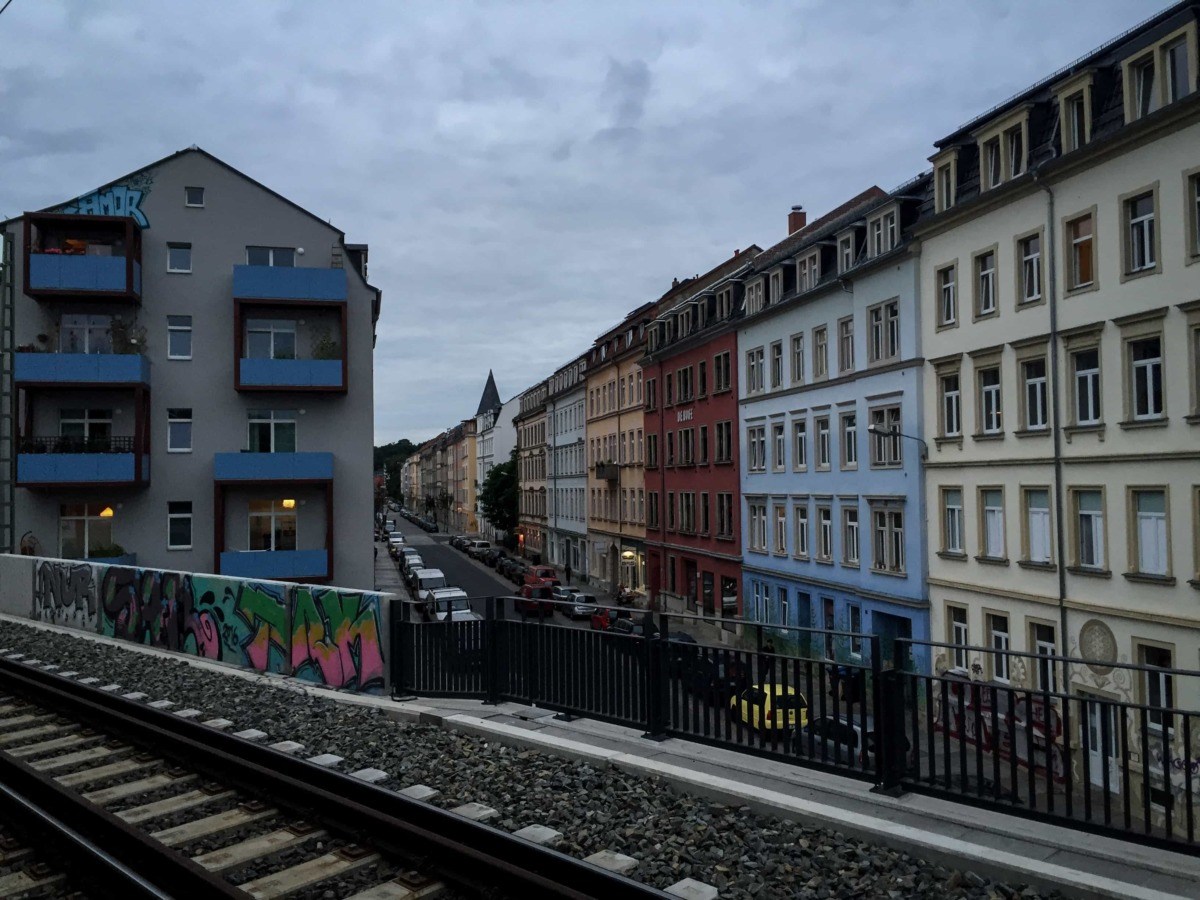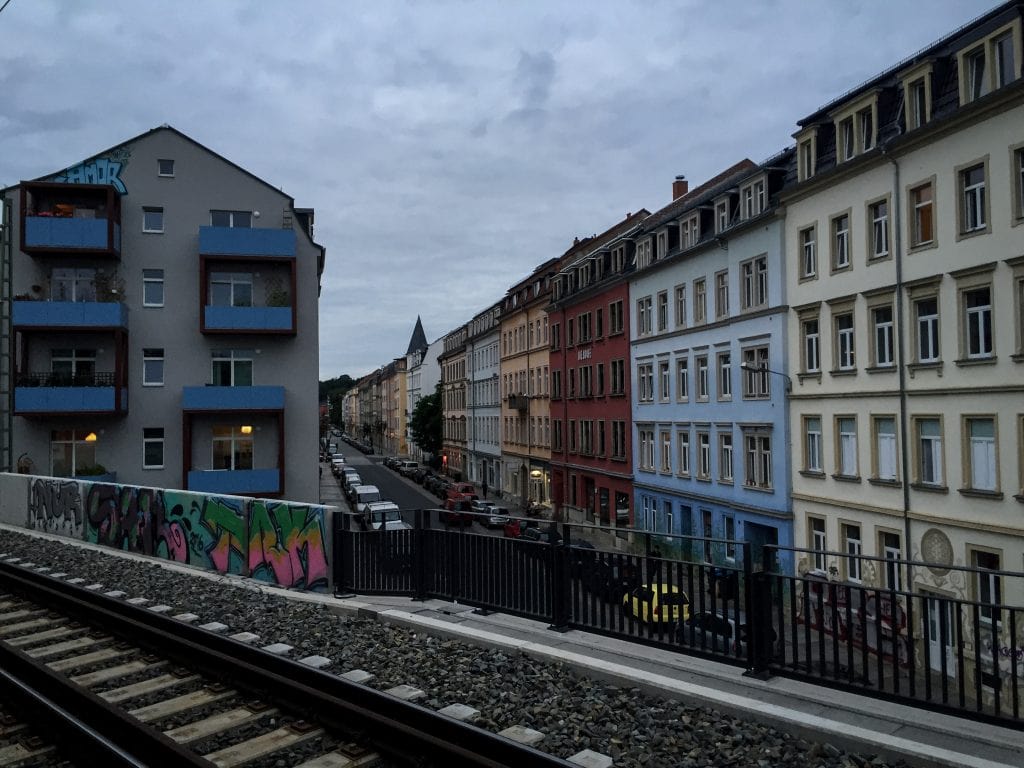 I woke up and started walking towards Louisastraße, which is supposed to be the Neustadt's hub for street art, quirky cafes, and demiurgic individuals. But my walk was cut short by a contemporary and slightly offbeat cafe called Elbsalon, which was calling my name for breakfast and coffee. The service was stellar, coffee was lousy, but the buckwheat and coconut pancakes were just delightful. Not a bad start to the day.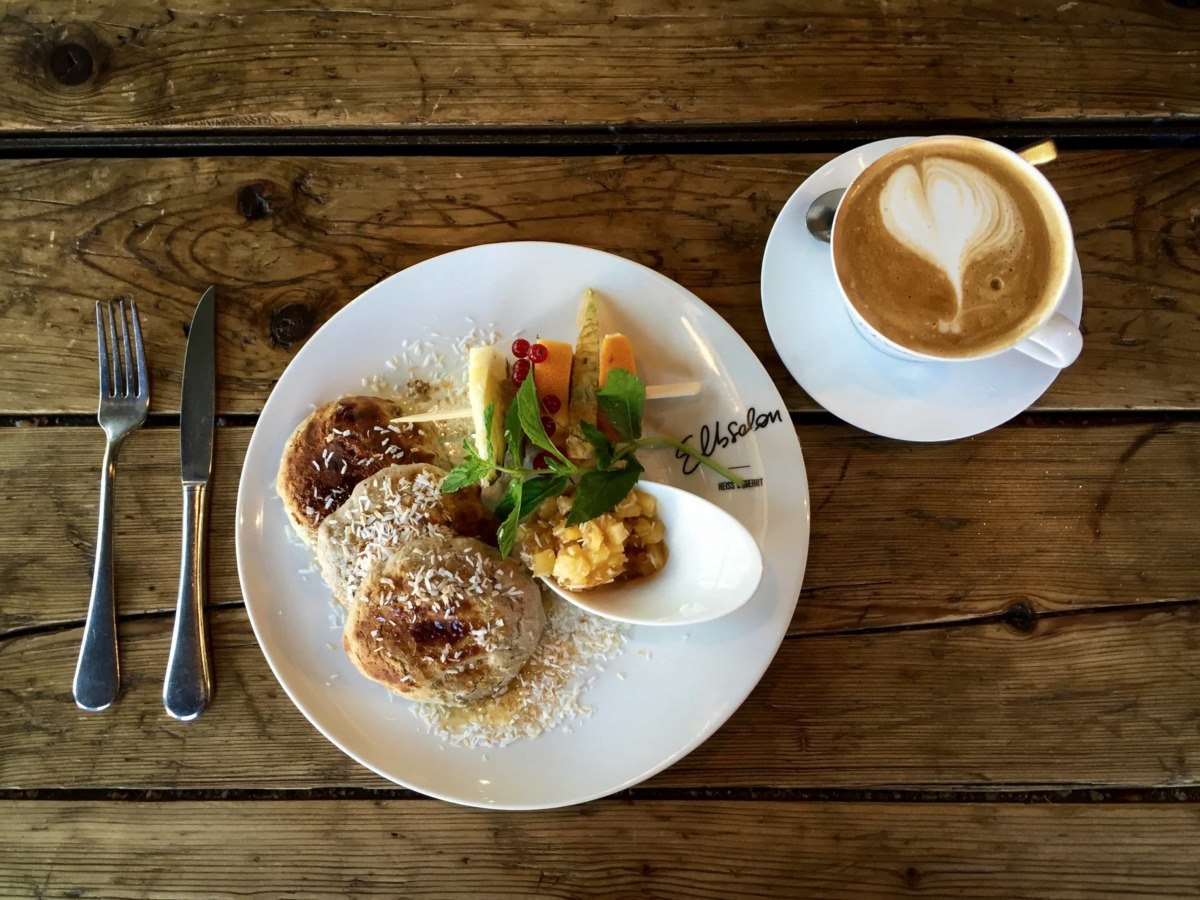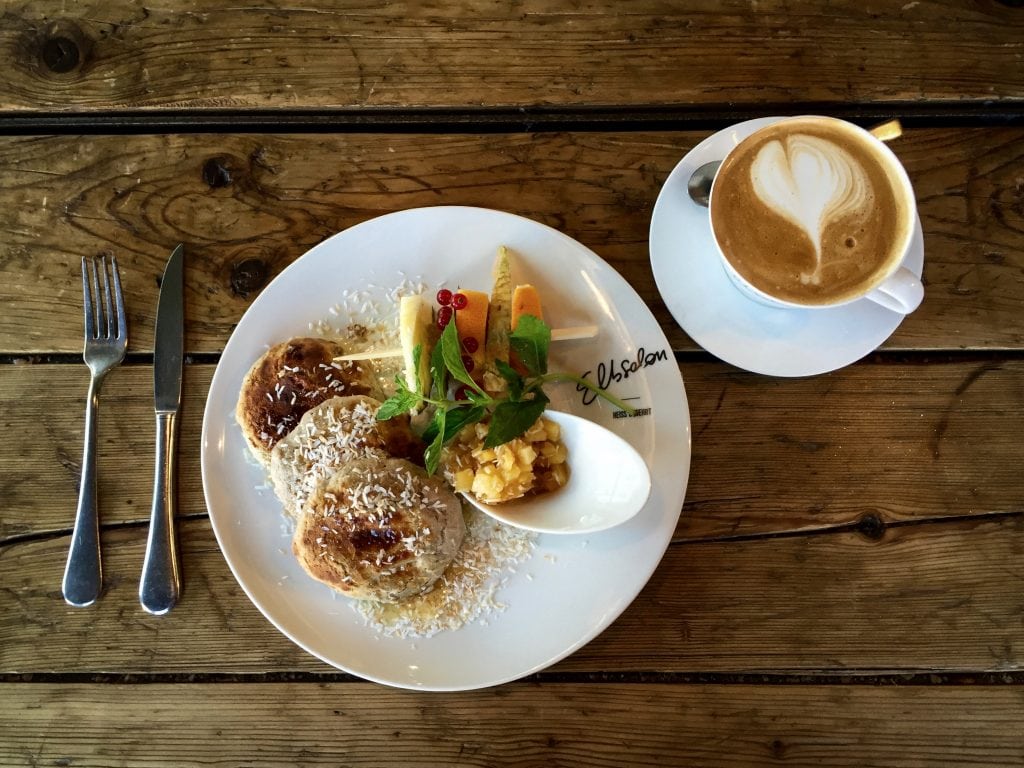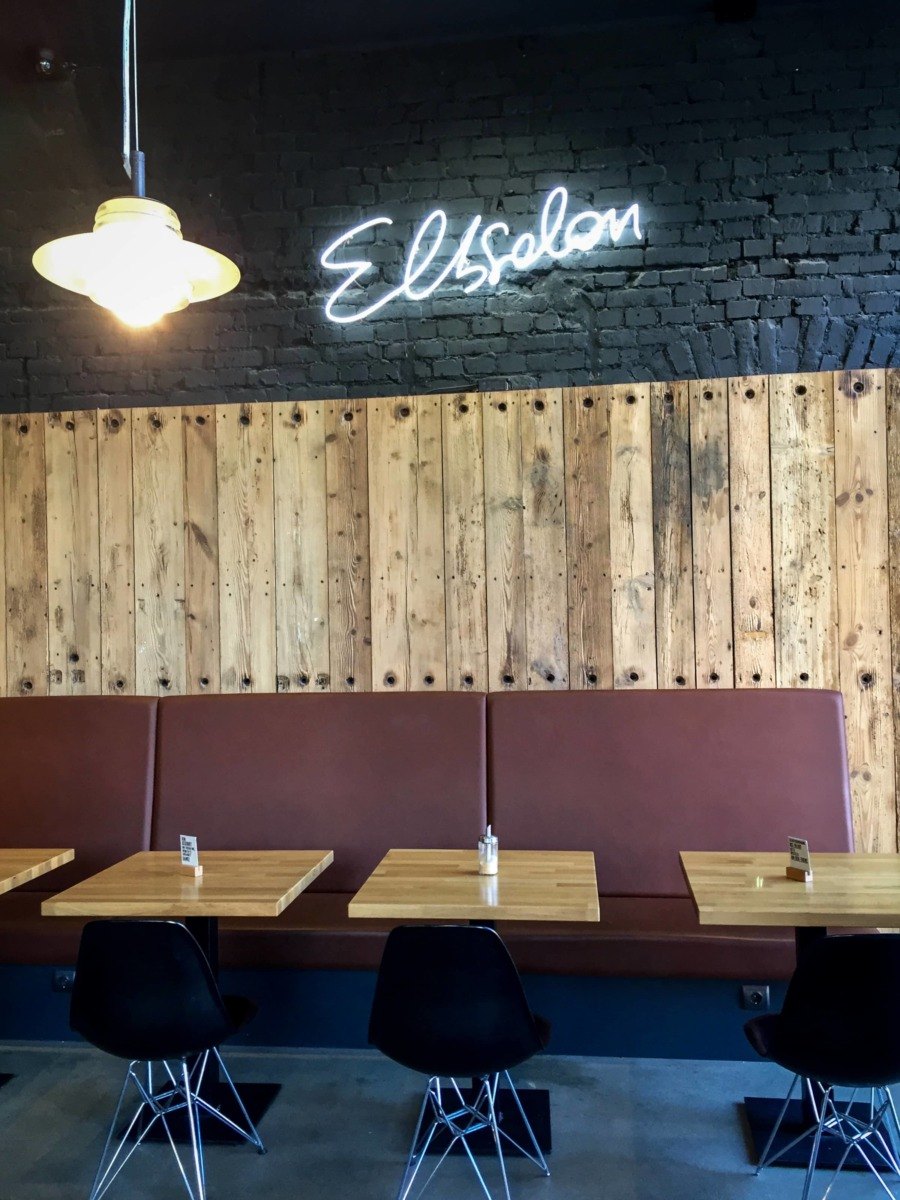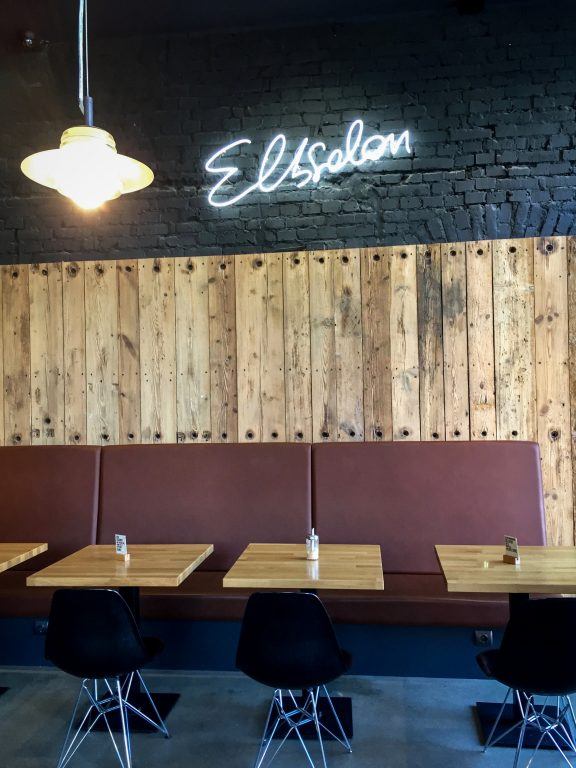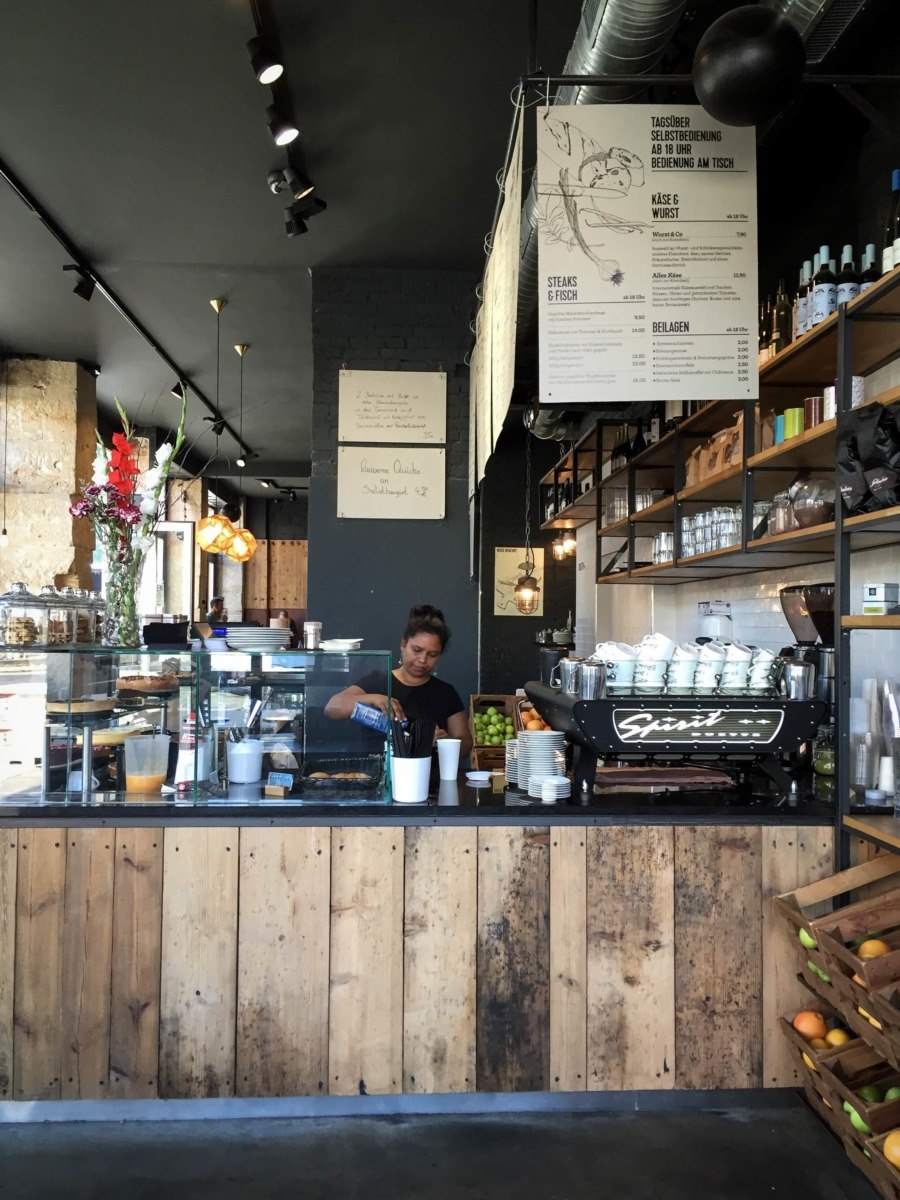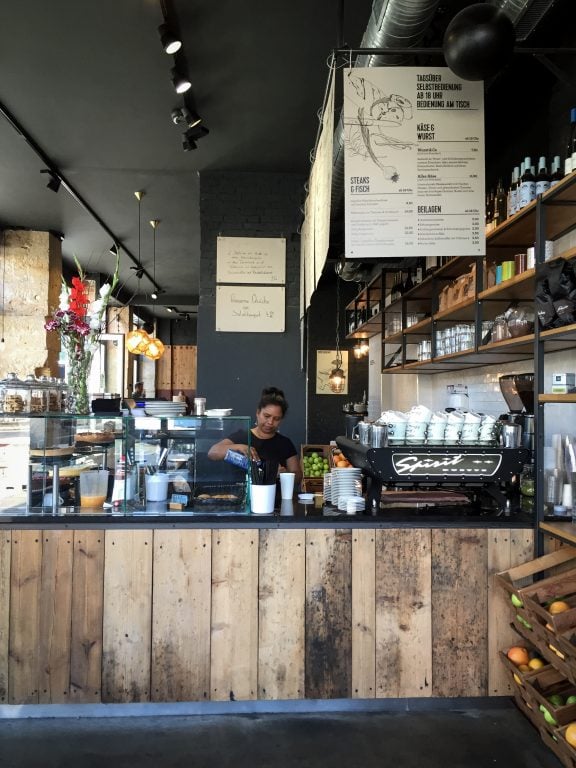 After a filling breakfast, I continued walking towards Louisastraße and finally entered into very creative territory. I continued walking and had to stop and do a 360 every few minutes as I was surrounded by unparalleled ingenuity and cool vibes. I actually started to tell myself that I should probably leave at that exact moment and head to the Altstadt or I may never escape the Neustadt.
I laughed it off and continued to peruse about the neighborhood. Step by step, I encountered more and more that was trying to entice me to stick around and not hop across the river until my train was scheduled to arrive. Neustadt is a bit mendacious in the fact that it sucks you in. Businesses and establishments there don't open until a bit late, so you're left strolling the streets until it is opening time. And when the doors to these places open, you just can't leave. Sneaky, sneaky… but it works.
And then the worst thing that could have ever happened, happened. I was meandering through the Kunsthofpassage when my eyes gazed over and saw it. CRAFT BEER STORE.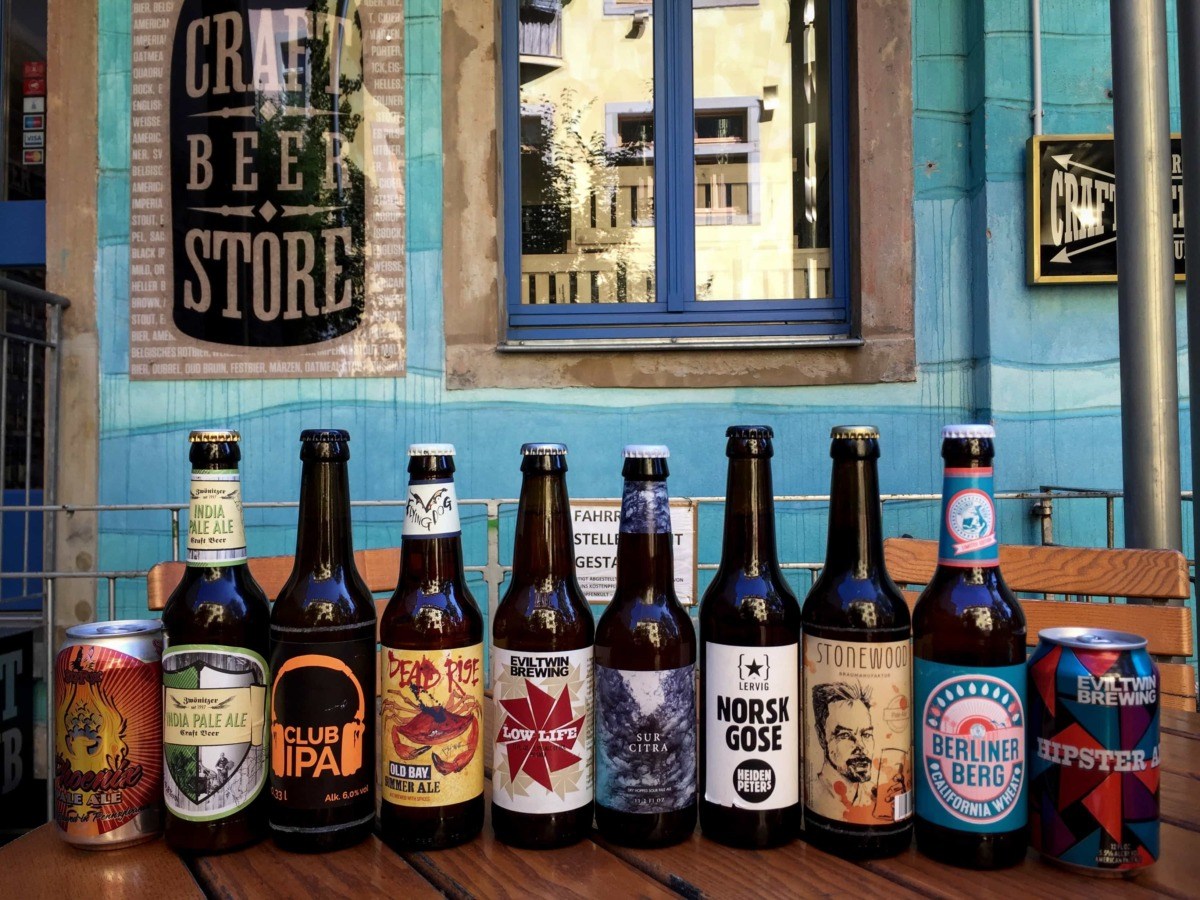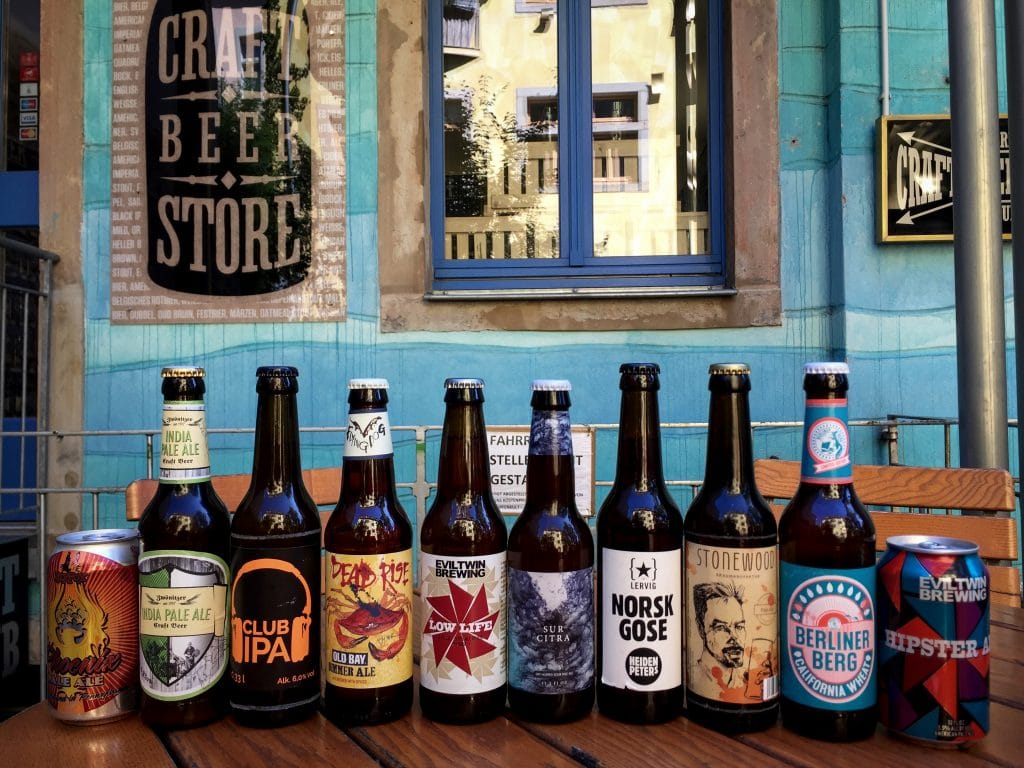 <my future purchases from Hopfenkult>
The craft beer shop, which I later came to know as Hopfenkult, wasn't scheduled to open until noon. It was only about ten in the morning at this point. I guess I had to wait around. I walked around the neighborhood for another two hours and finally went back.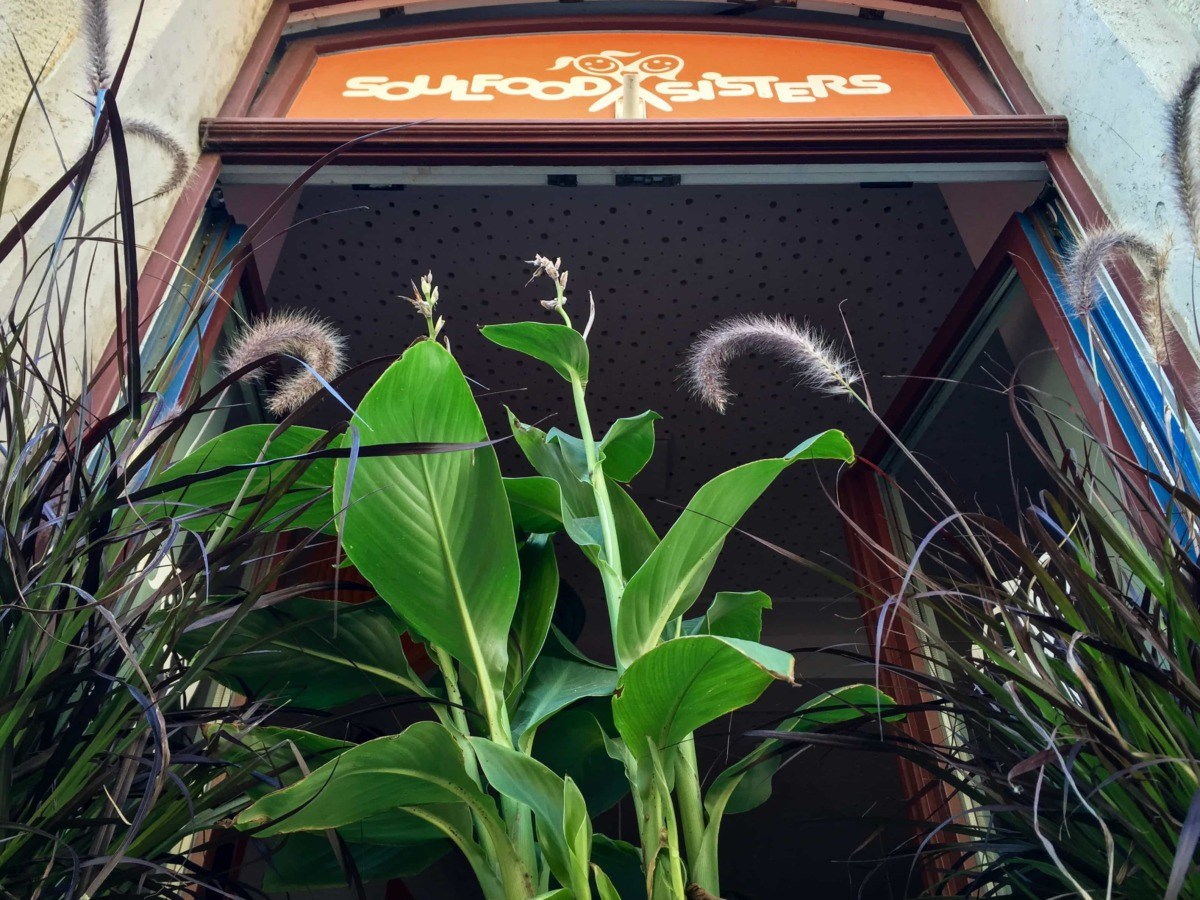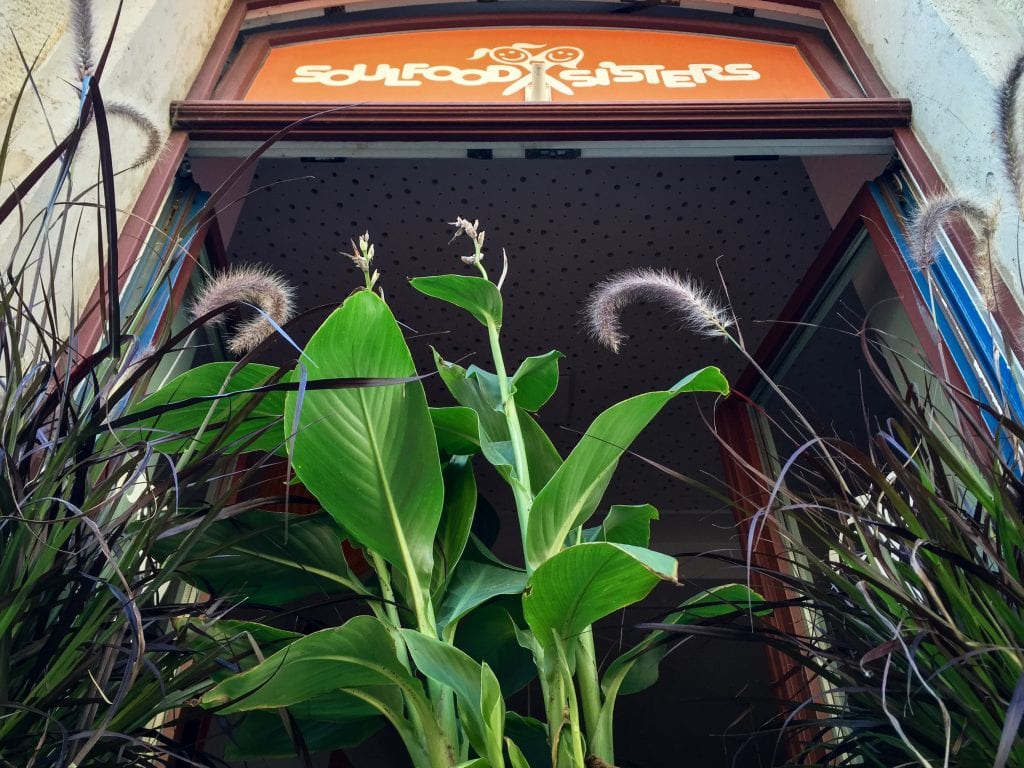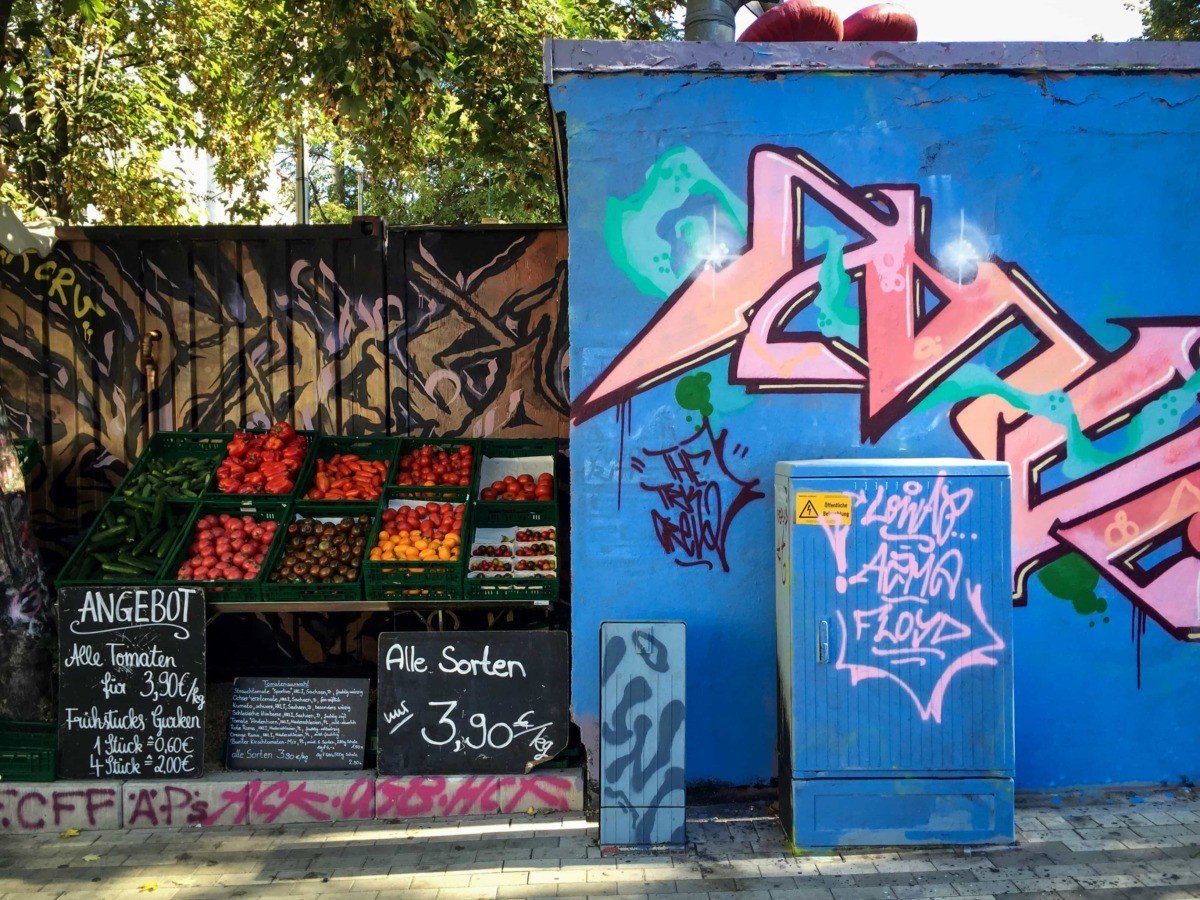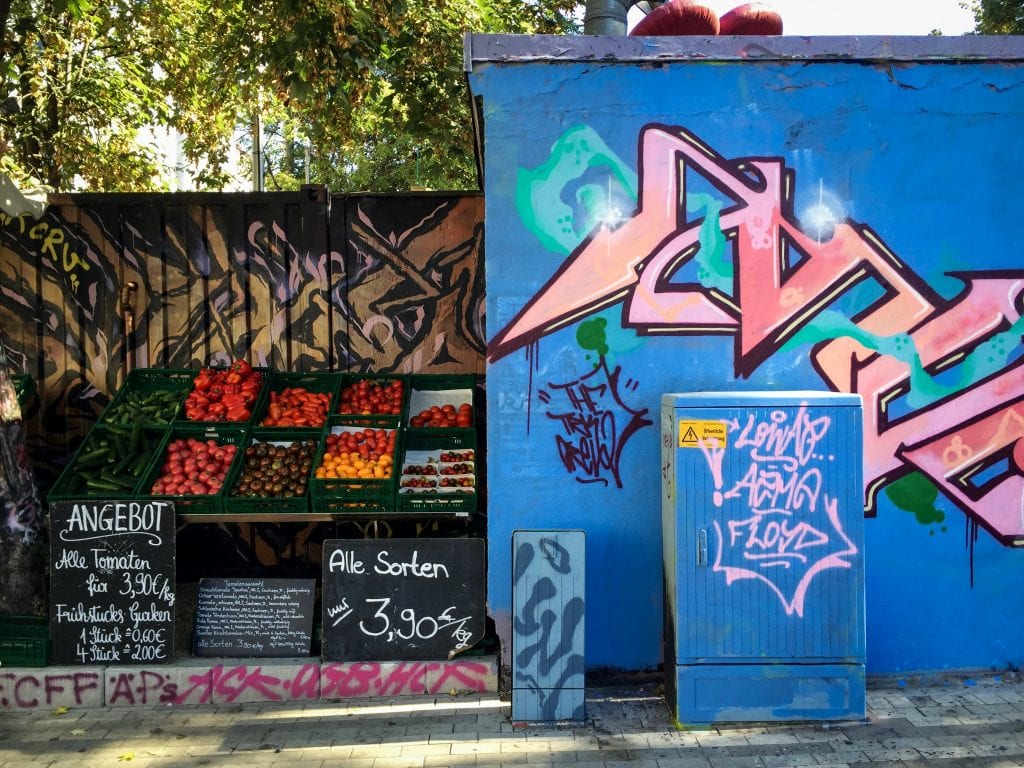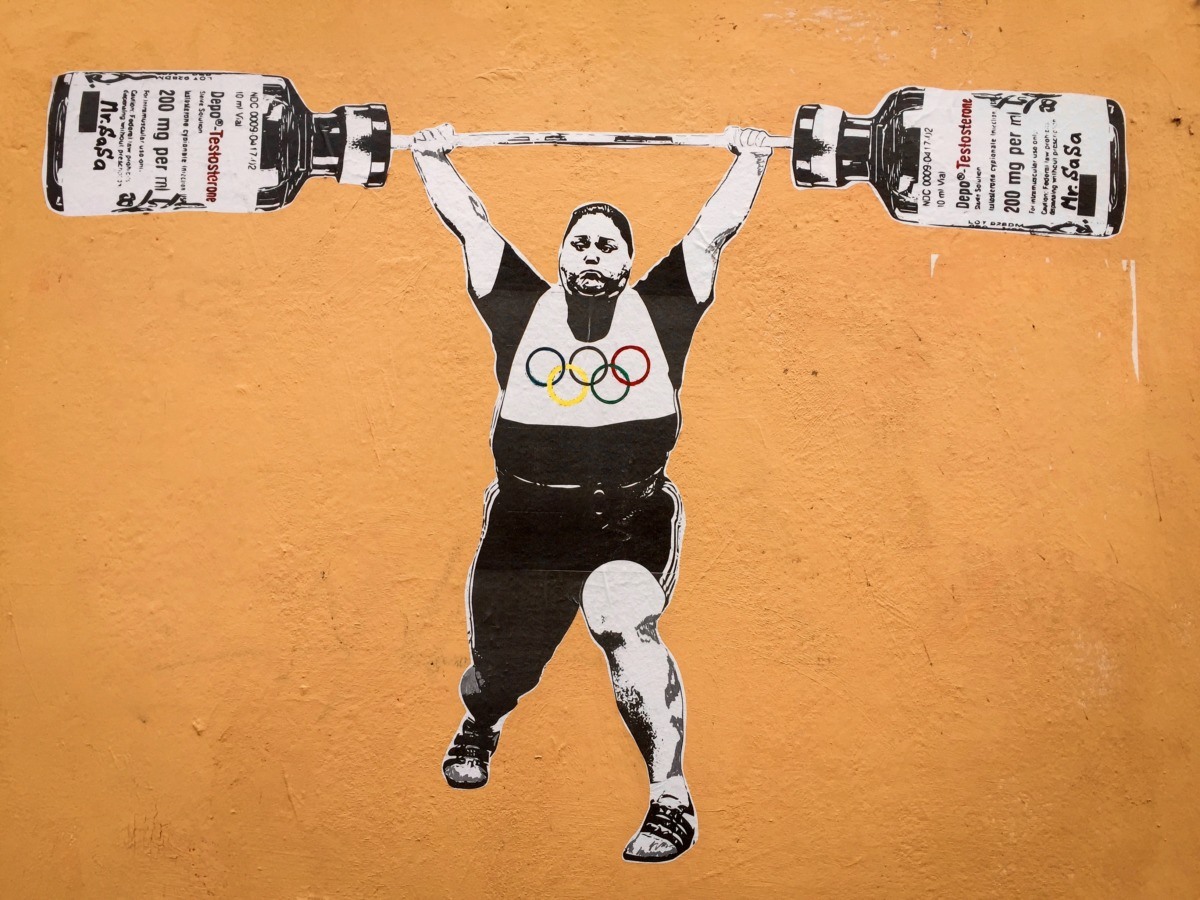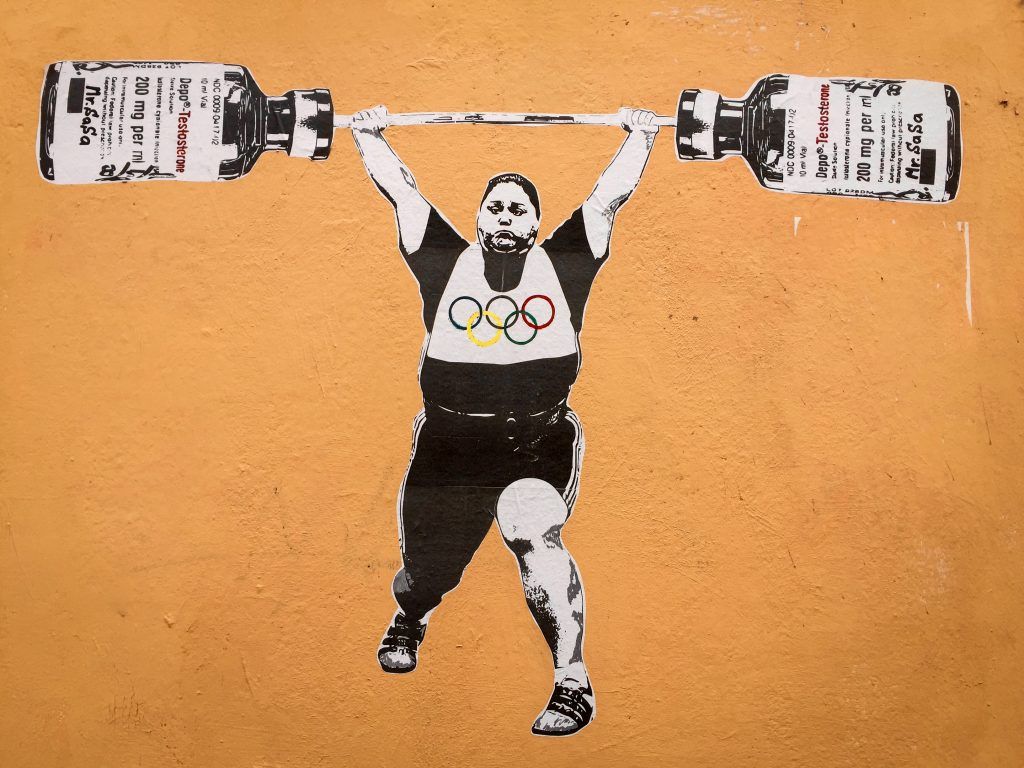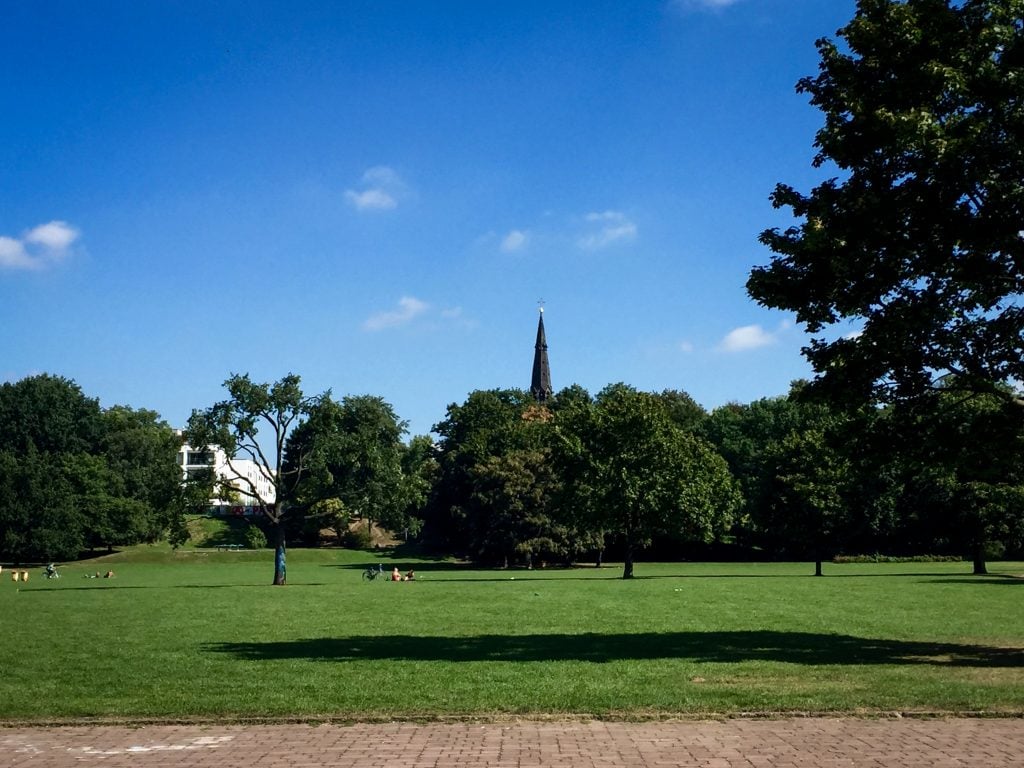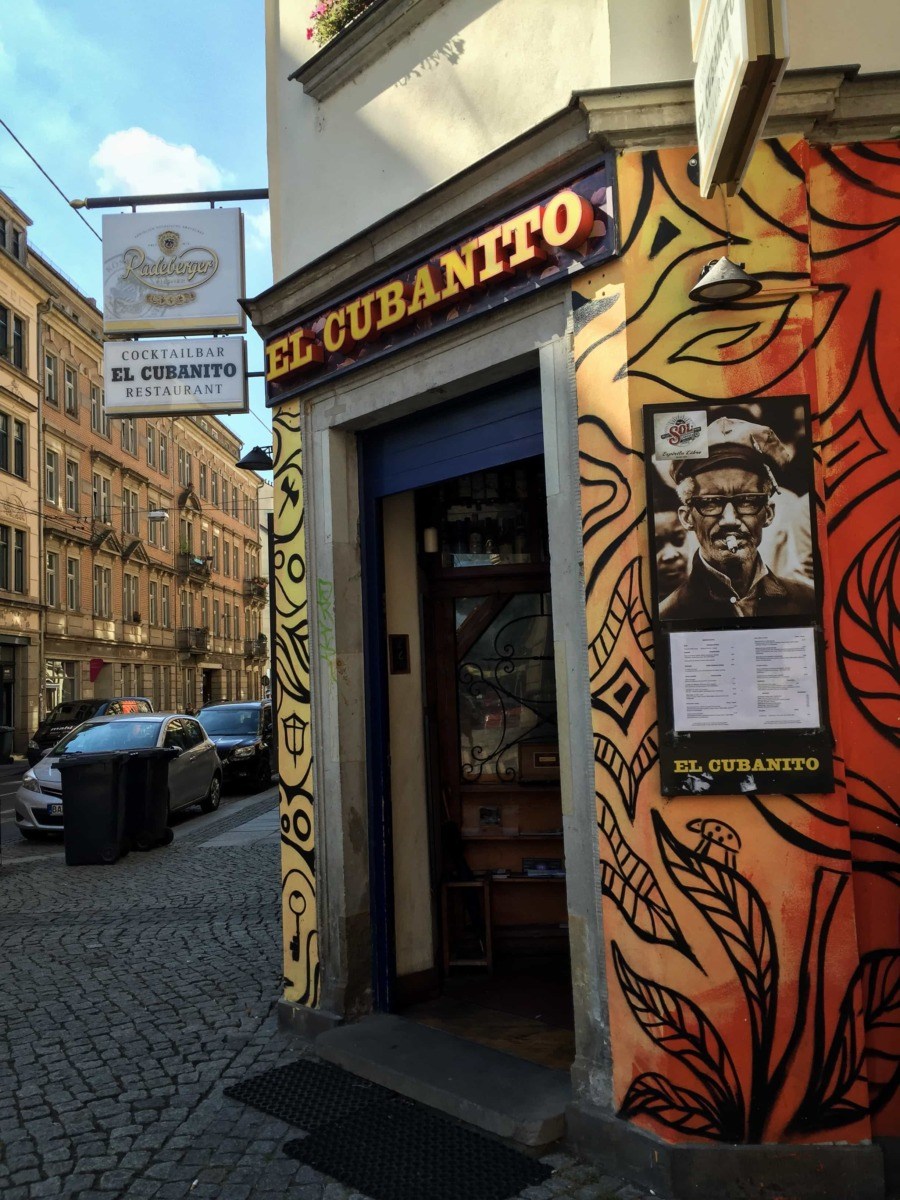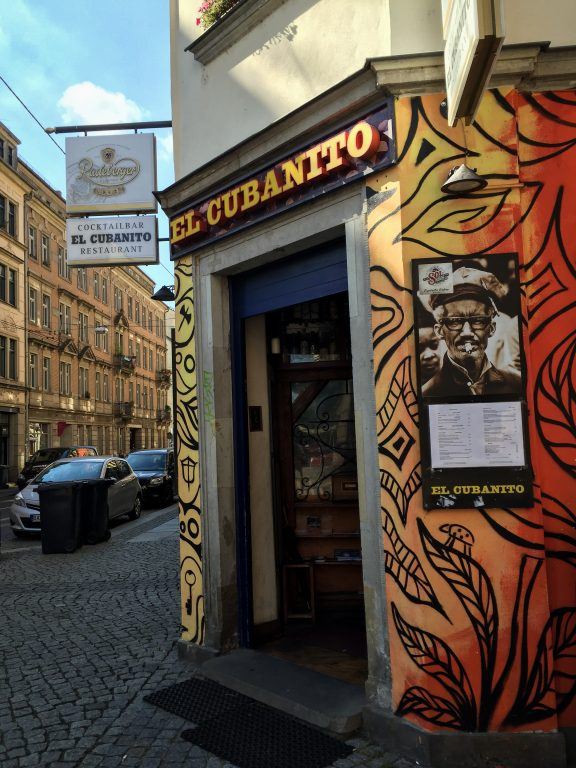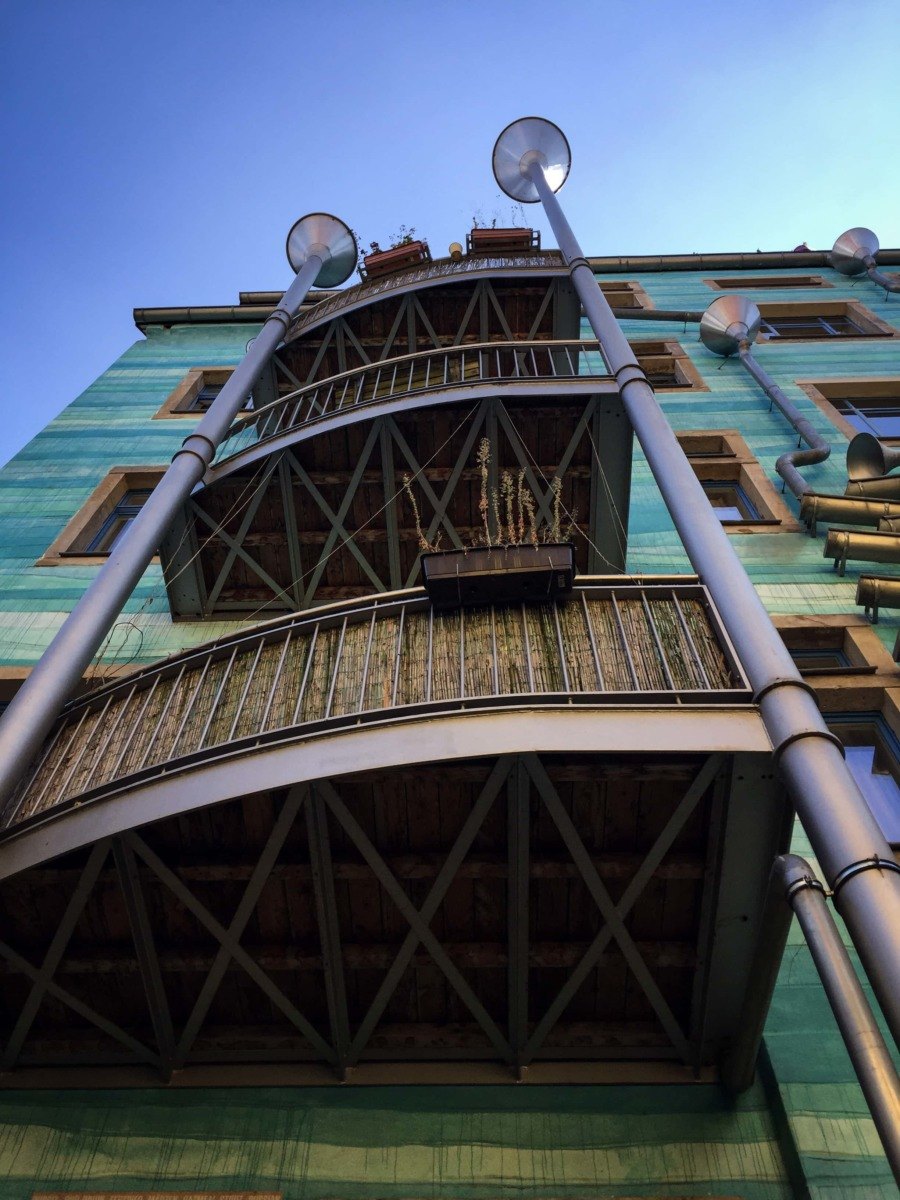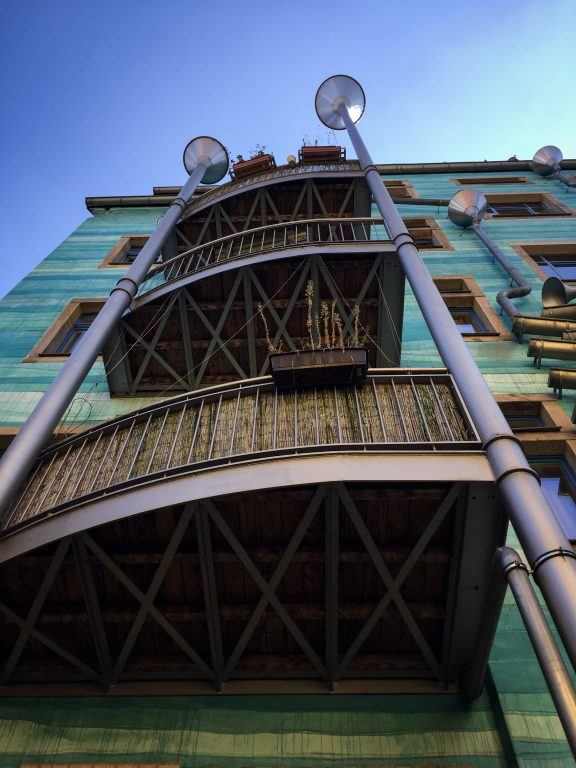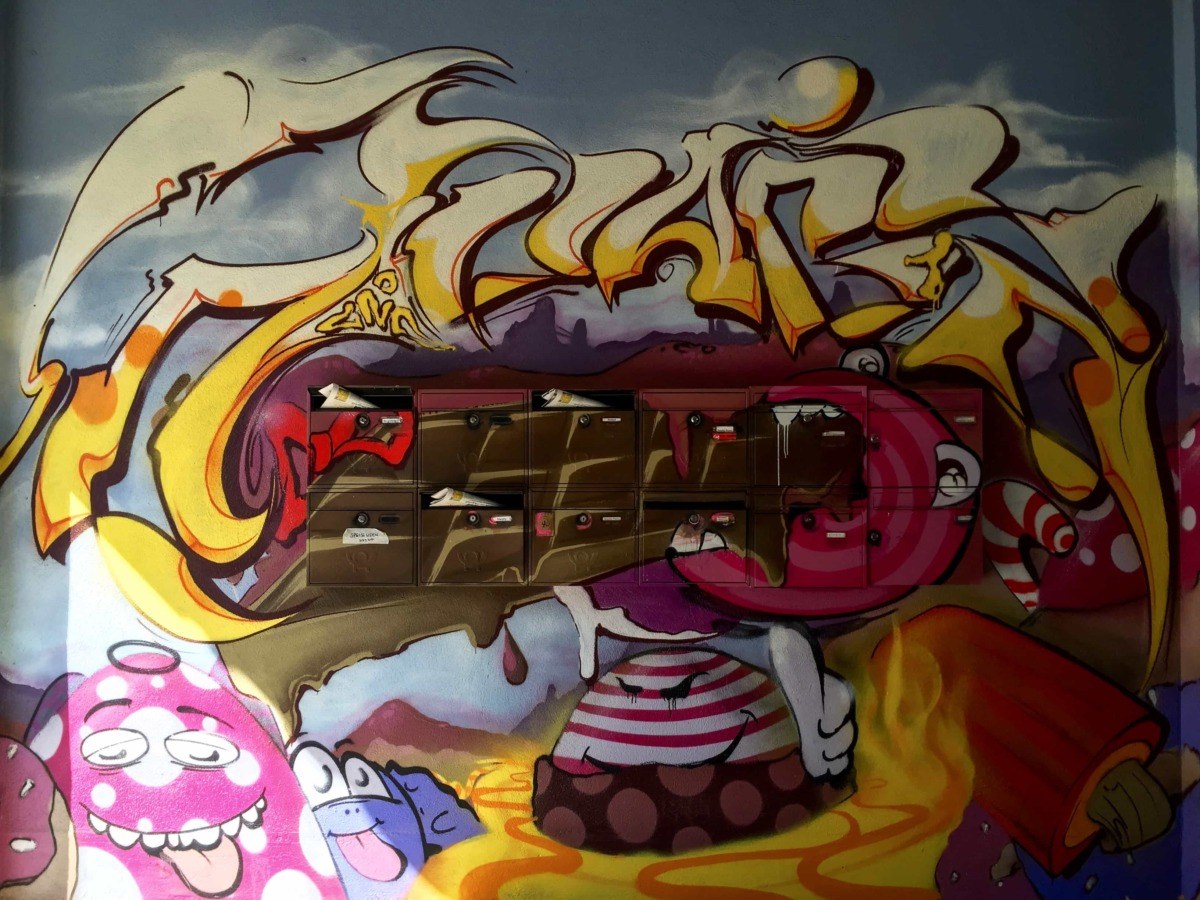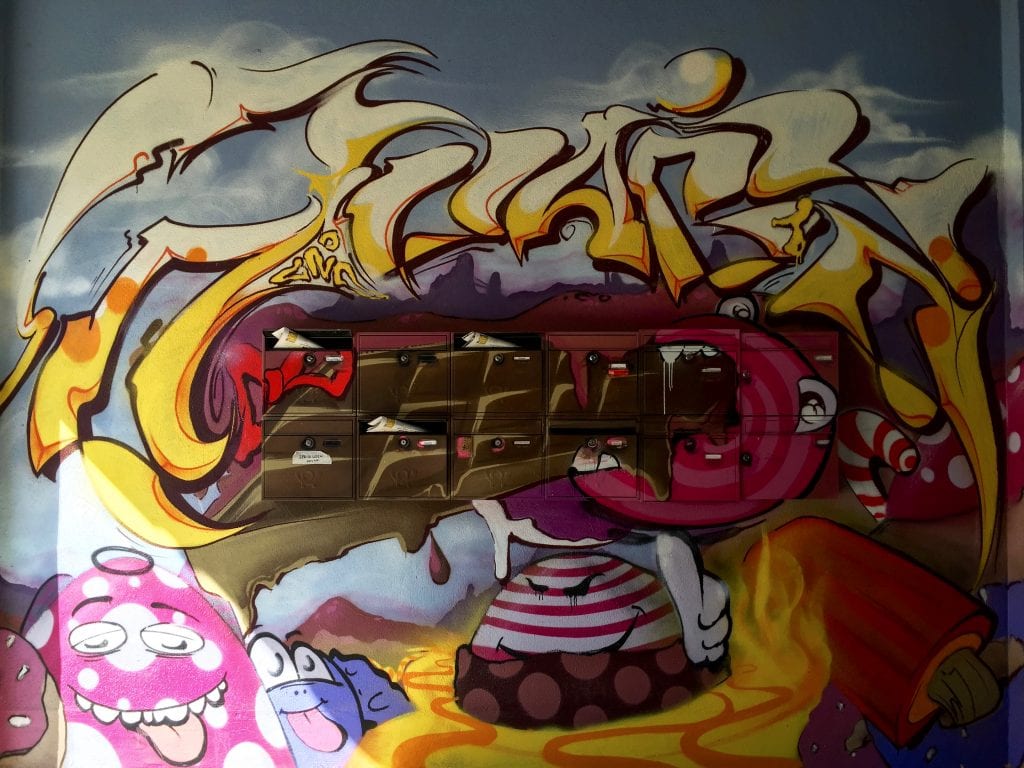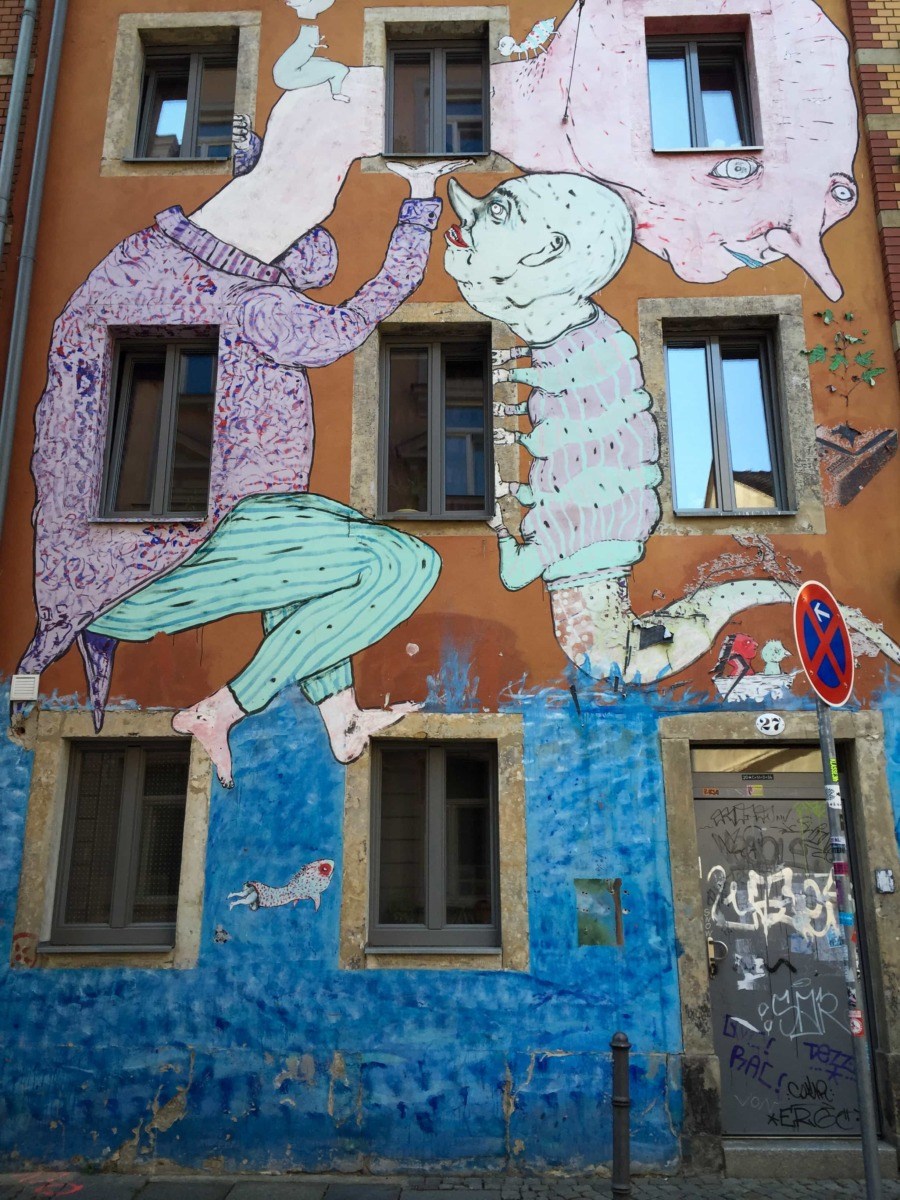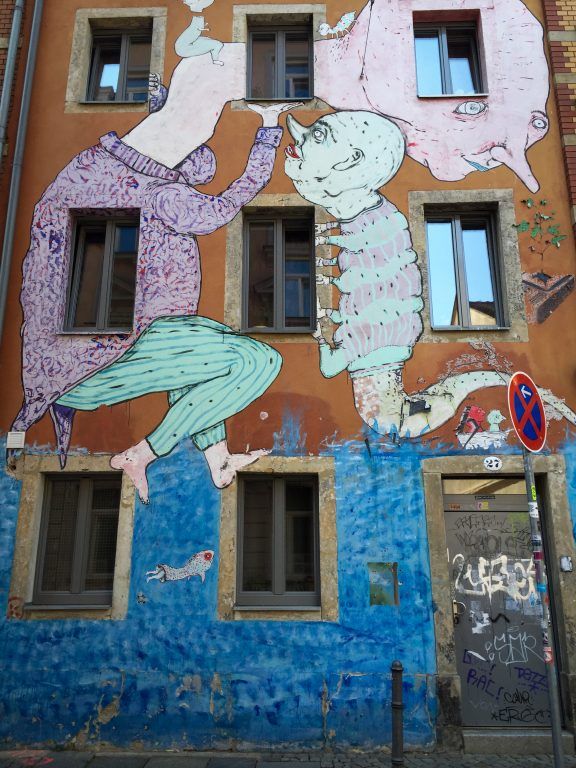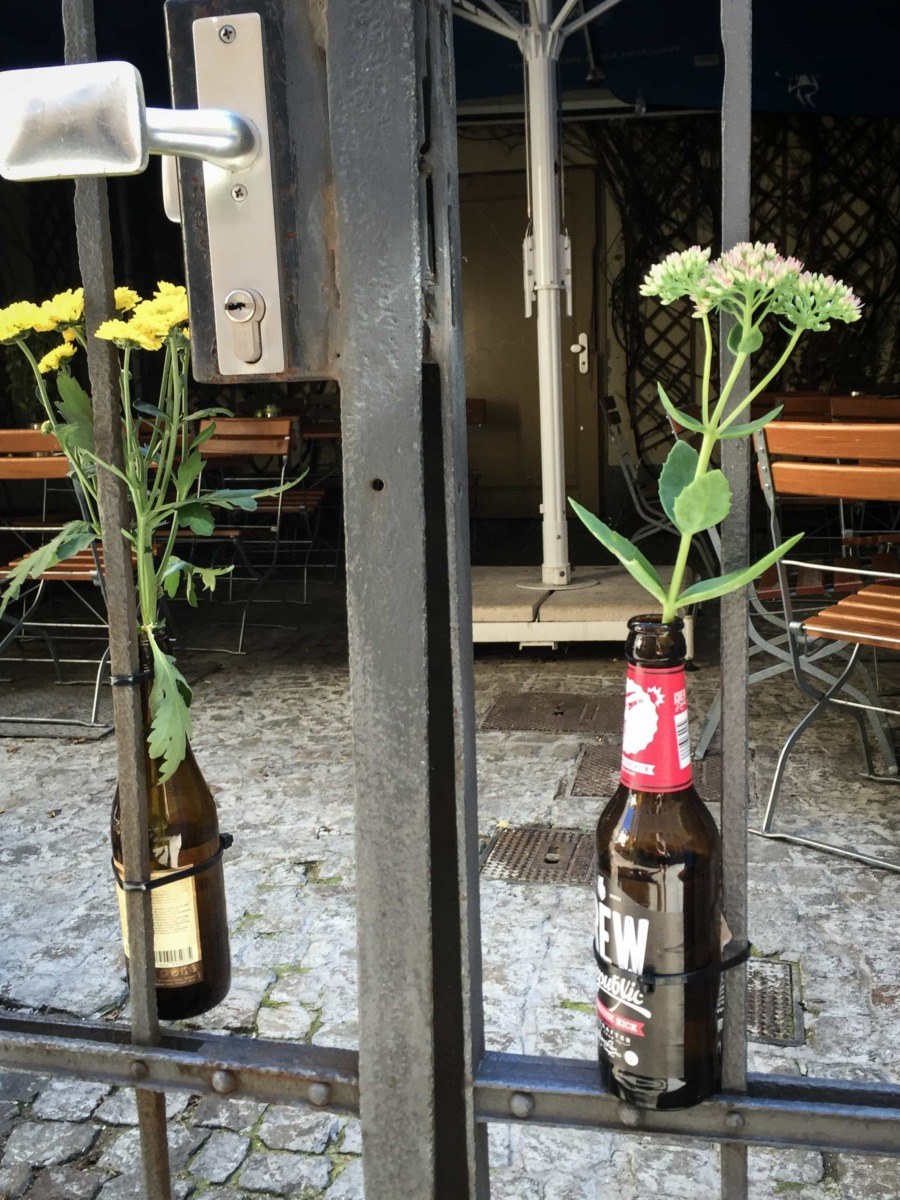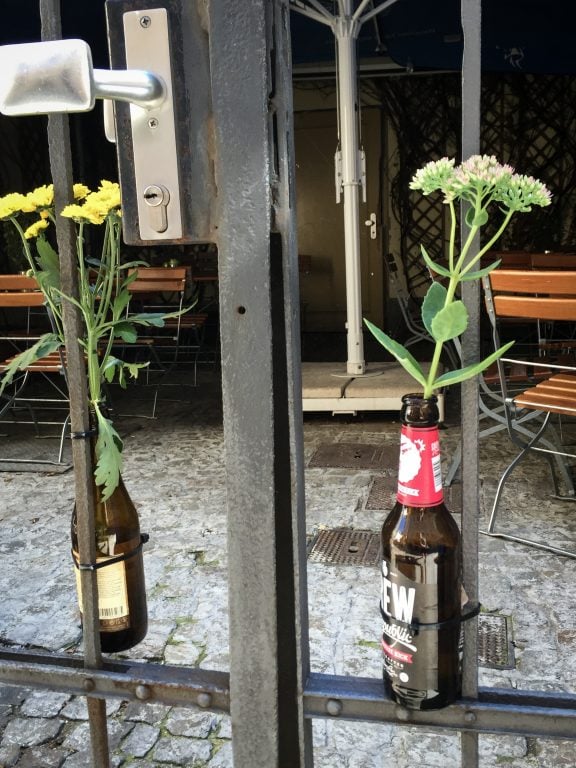 <I love the photo on the right because I also use (gin) bottles as vases and candle holders>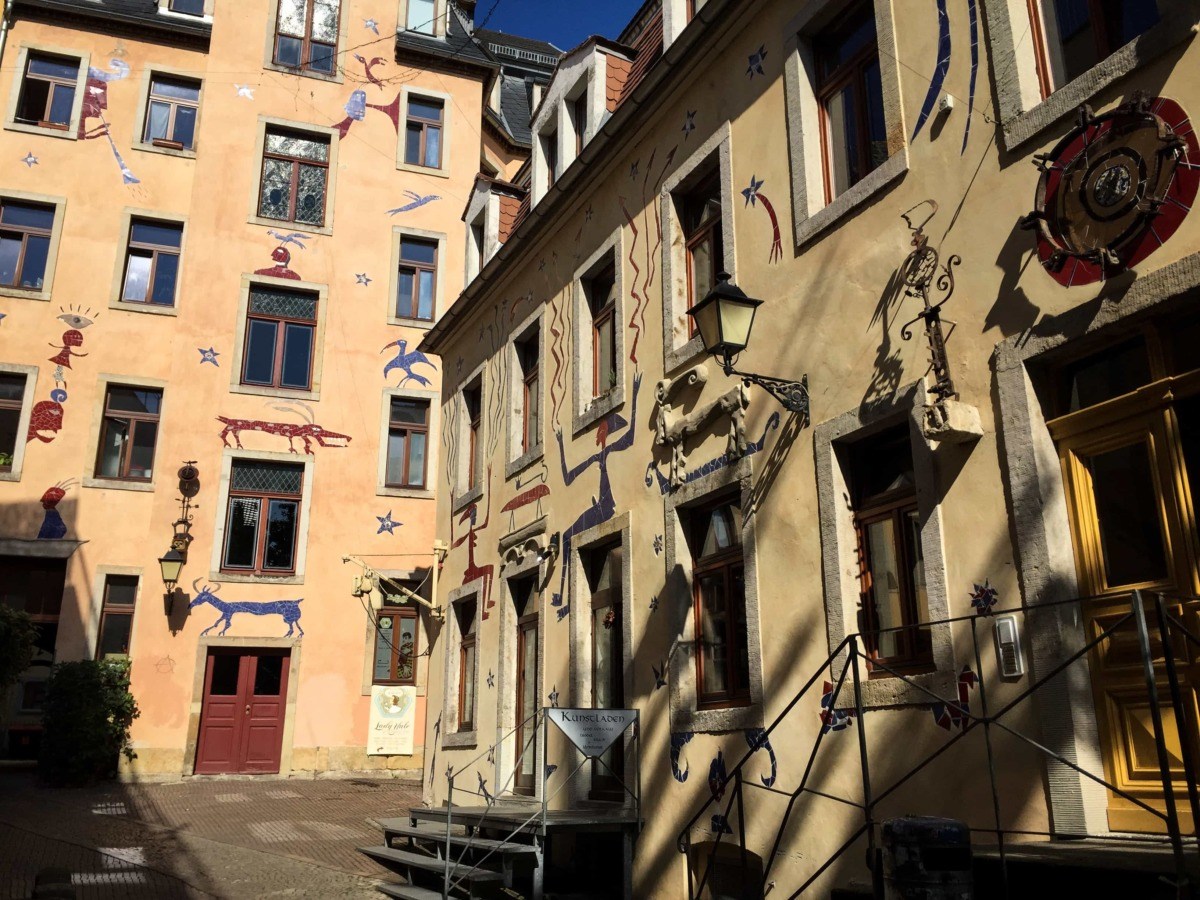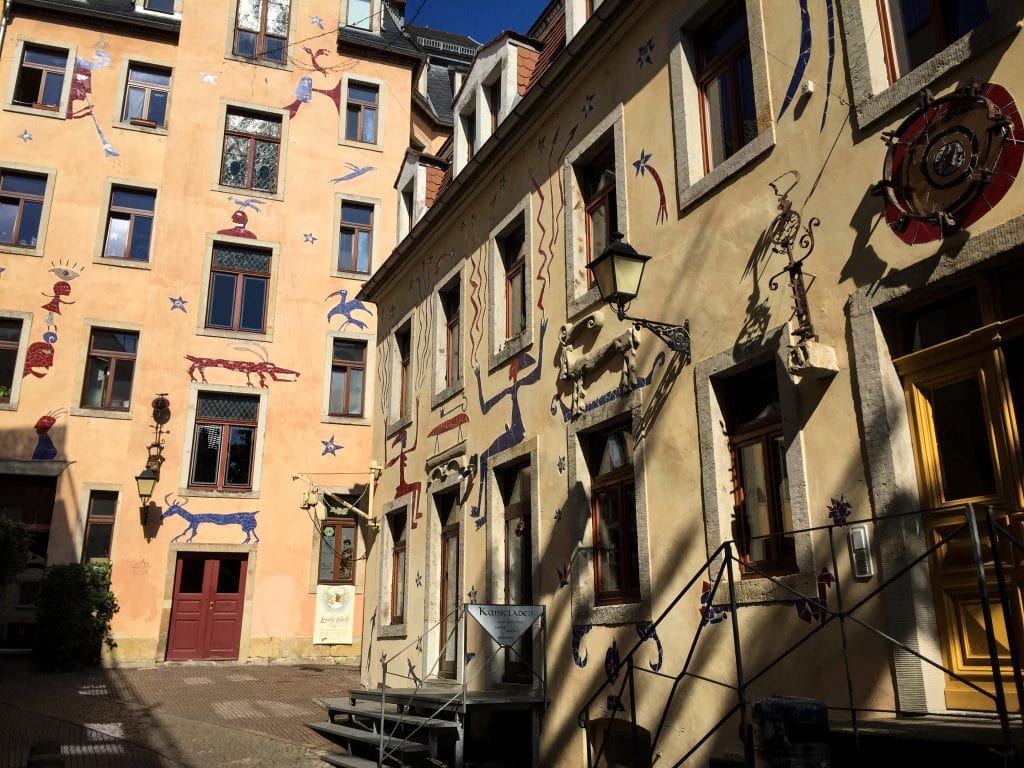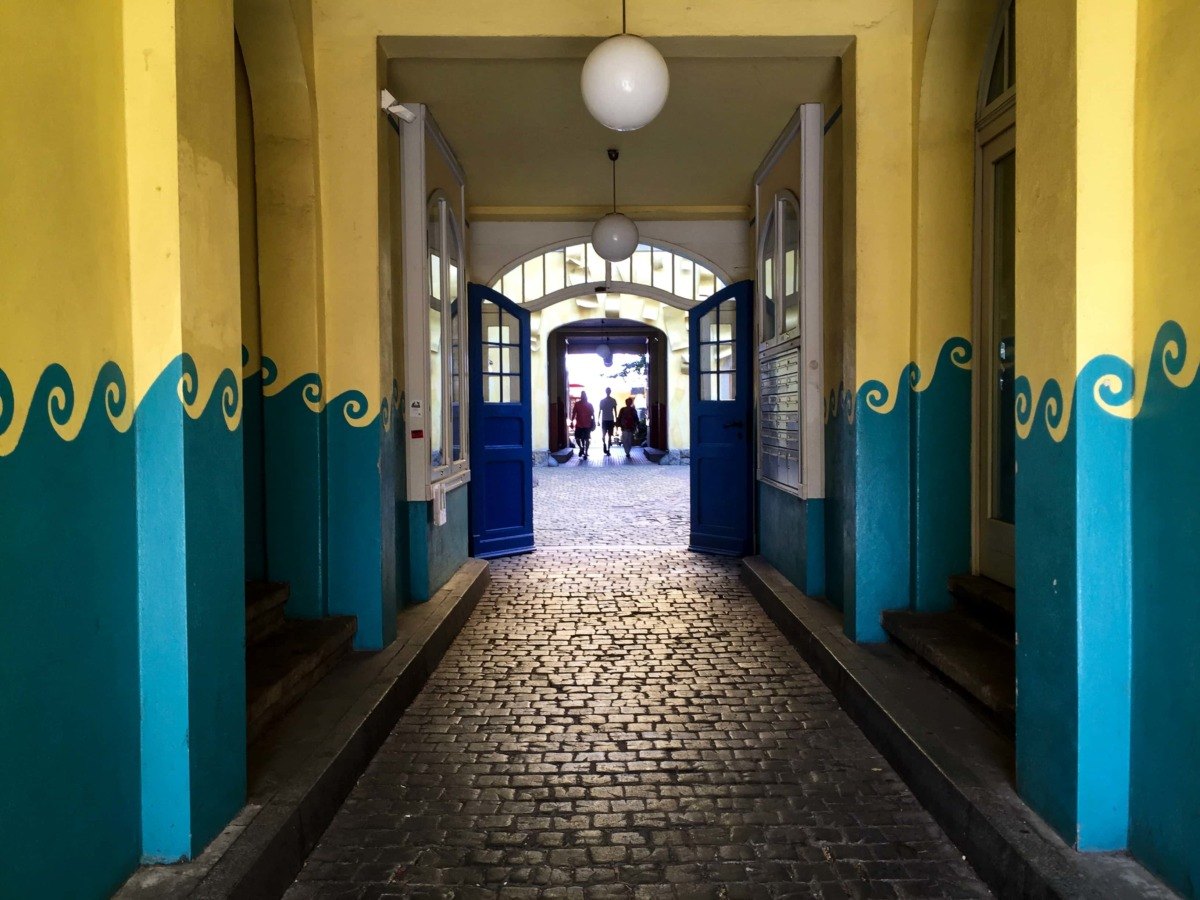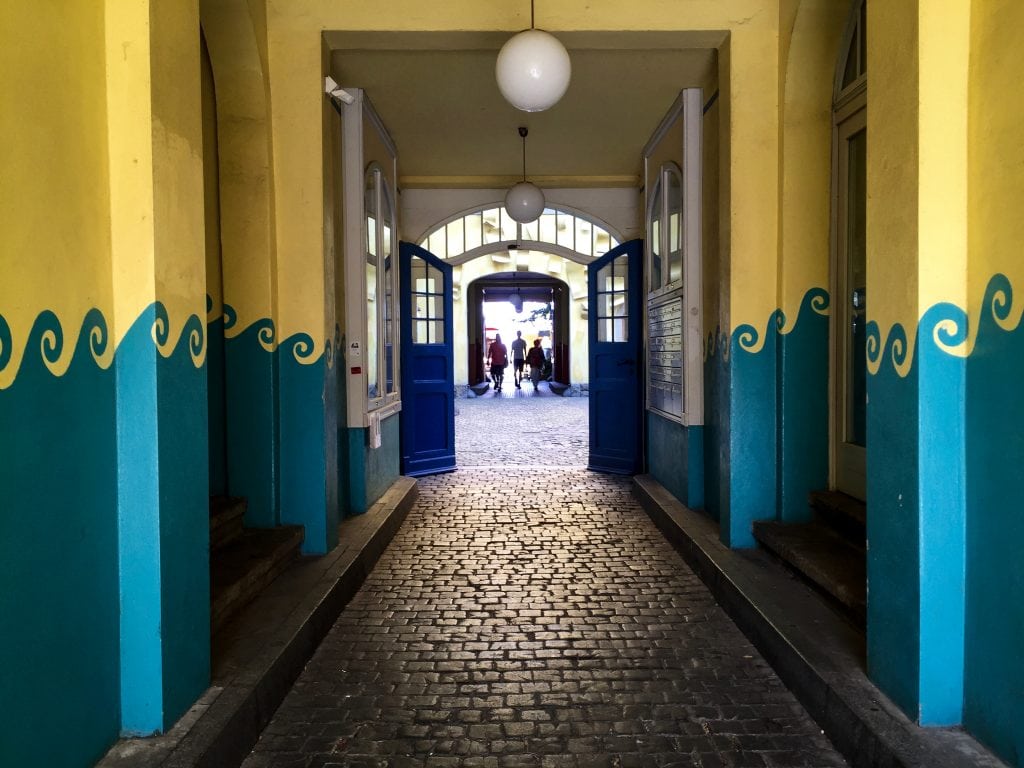 Little did I know, I was never going to leave that craft beer shop and pub. I seem to live by this mentality of 'don't know what to eat in Germany'? Just drink beer then. I sat in their Kunsthofpassage terrace and had a draft beer. I also purchased a diverse array of 'crafties' (as we so aptly call them) for my partner. The day was turning out to be idyllic. Soon after I finished my first beer and ordered a second, two guys came up and asked if they could join me.
The two guys were German, but economic refugees in Switzerland. We bought round after round for each other. Finally, their families came to join them and we enjoyed some beers together. We chatted like we had all been friends for twenty years. After many lousy experiences in Germany with locals, it was so refreshing to meet a group of very friendly people who just wanted to chat and have a chill time. And before I knew it, I had drunk quite a bit and was running out of time to get to my train. I abruptly left and tried to hail a cab to the train station.
I had no luck and had to sort out quick transport via the trams there. I was stressed and, to be honest, a bit drunk. To make matters worse, the handle on my tote bag broke, which caused the majority of the beers I had purchased to break open everywhere. I can't exactly remember, but I am pretty certain I just started crying. Somehow, I made it back to Frankfurt in one piece with about four beers.
The next day, I reminisced about my time in Dresden and was super happy to have skipped the Altstadt for good times with good people in the Neustadt. BUT… I was leaving Germany indefinitely. And I still wanted to see Dresden's Altstadt. Within a few hours, I had booked yet another trip to Dresden.
Two weeks after getting back from the city, I had another 4.5 hour ICE (Intercity Express train) booked. This trip was going to be about the Altstadt and a few other places on the same side of the river and I was, under no circumstances, going to mosey on over to the other side of the river. Maybe I'd spend part of that day on a day trip to Bastei Bridge or Miessen. I had no idea what was going to be in store for me.
Dresden Round Two
I arrived in Dresden very early and was headed straight for the Altstadt (Old Town). I am not going to say much more about it, but I left within an hour and a half. Not that it is not beautiful. Gosh, if everyone could see how spectacular Dresden's Old Town is… but I just couldn't deal with the extremely rude tour groups there. It was completely out of control.
I was taking a photo of something and one of the rude tourists came up and knocked me aside so she could get a shot with her camera. This was on like a Tuesday, so there was plenty of room. It was just out of control. And most of them were doing this. Luckily, there are so many things to do in Dresden that I was left with heaps of alternatives (ahem… Dresden Neustadt).
I told myself I would go sit down by the river and hang out beneath the cerulean skies. But somehow, this notion took me back across that river. I reluctantly stayed sober and sauntered around the neighborhood once again. From Oswaldz's delicious coffee (beans from Dresden roastery, Phoenix) and goat cheese and beetroot sandwiches to The Spot's minimalistic and stylish Scandinavian apparel… I fell in love with Dresden Neustadt all over again.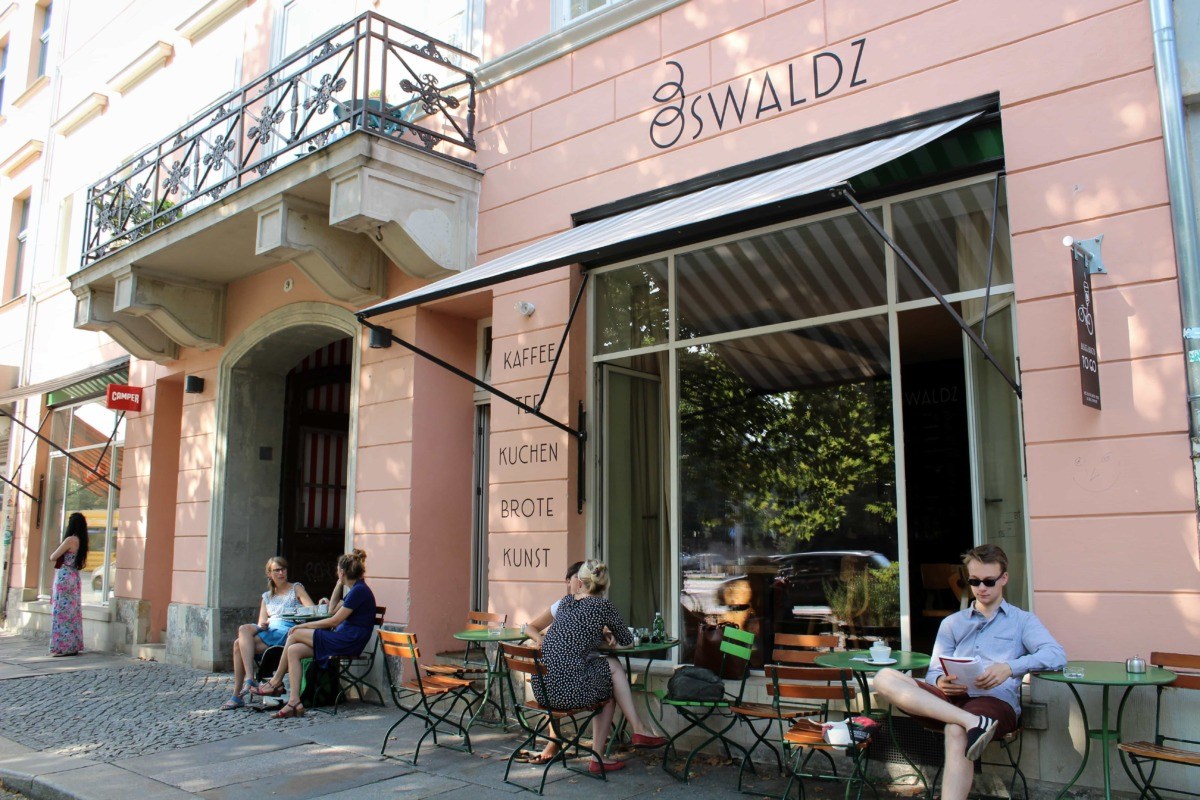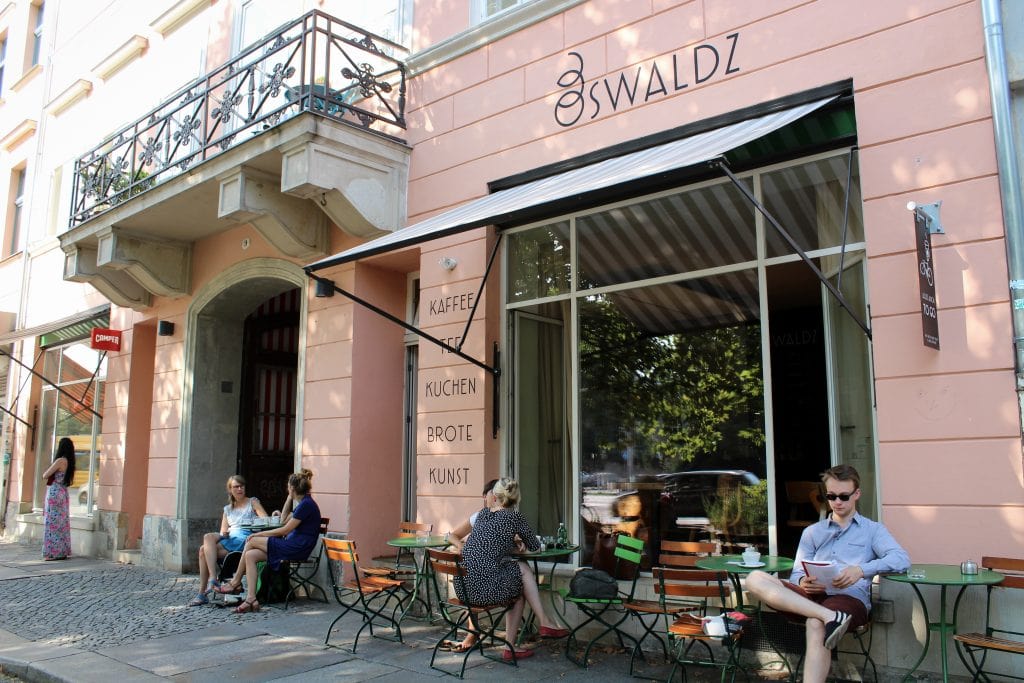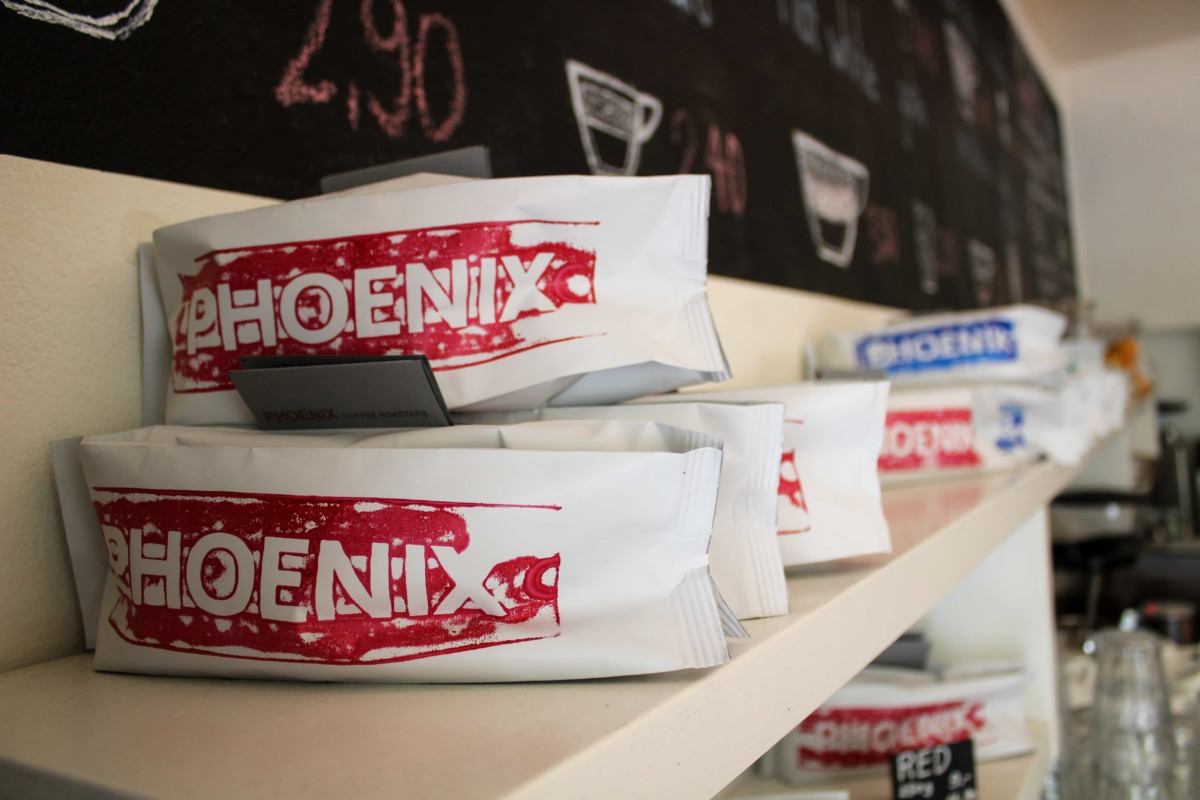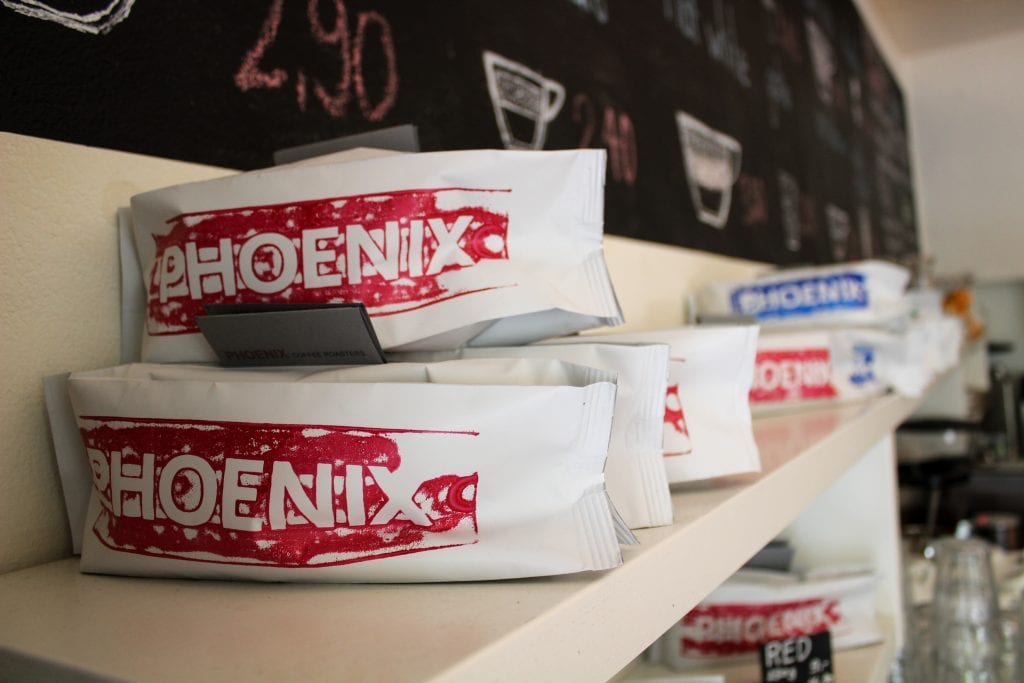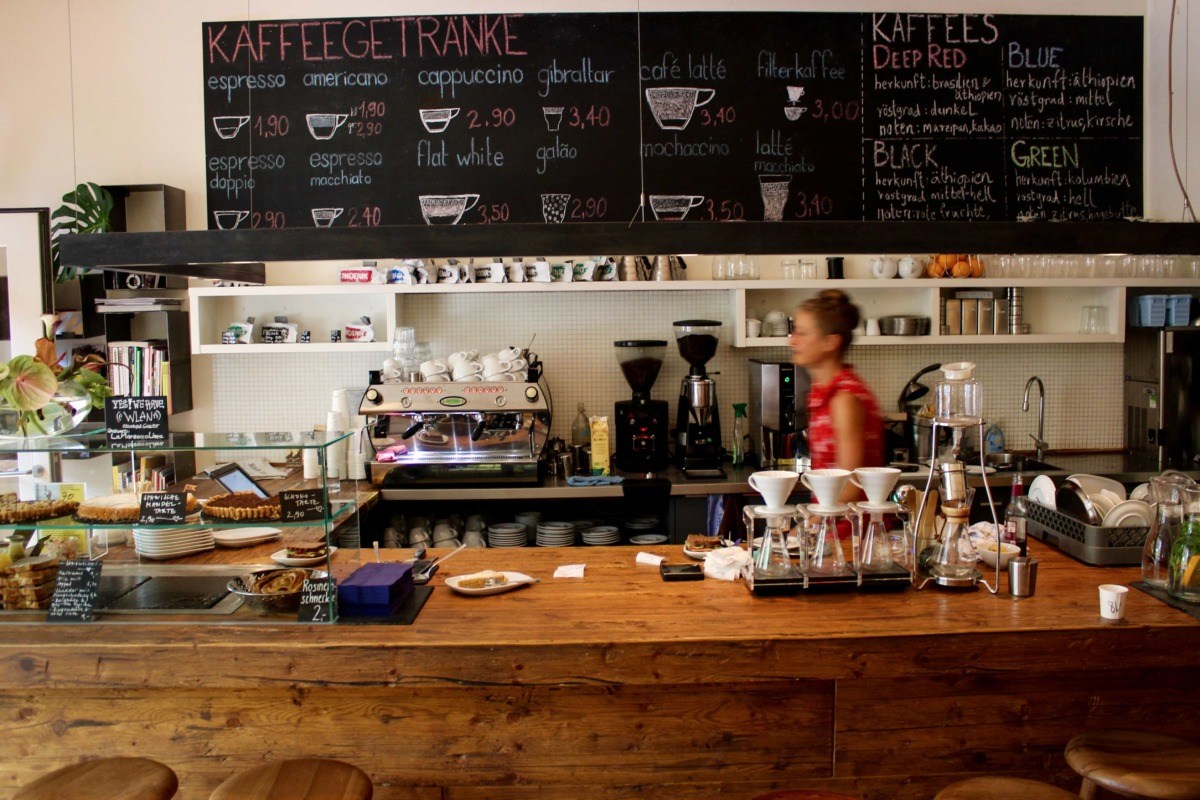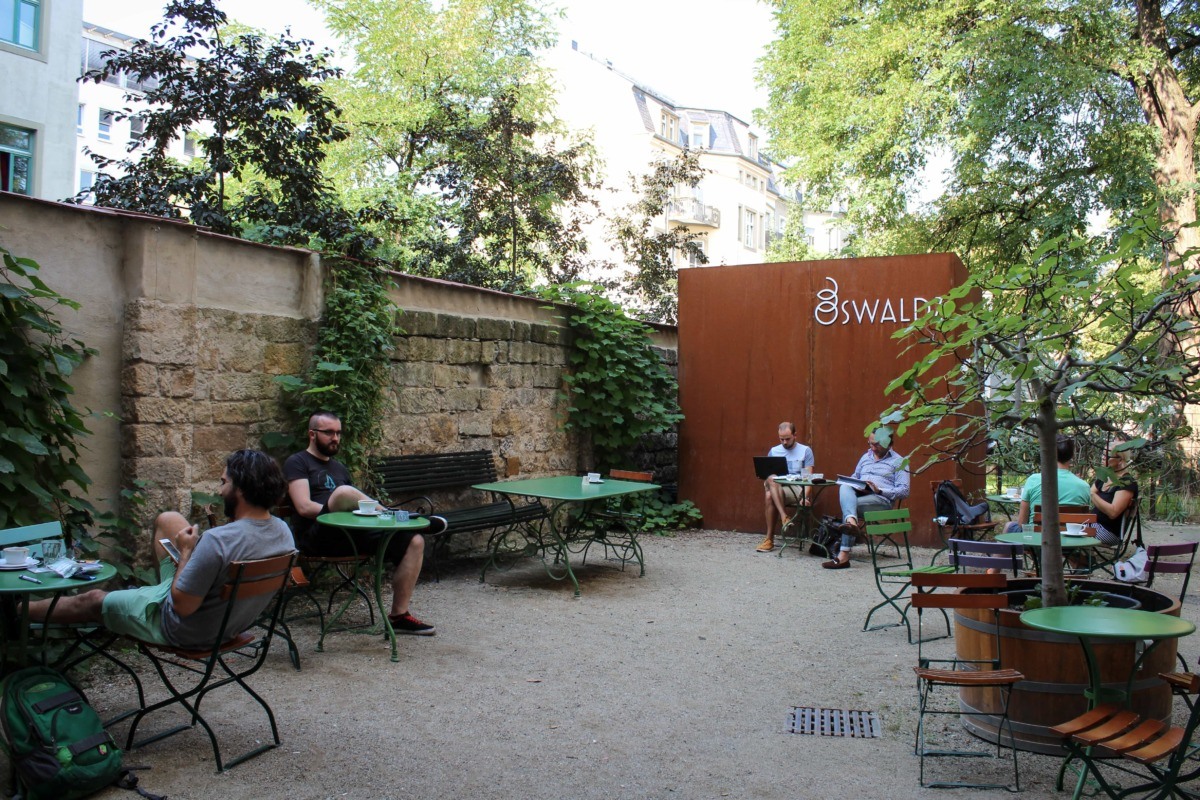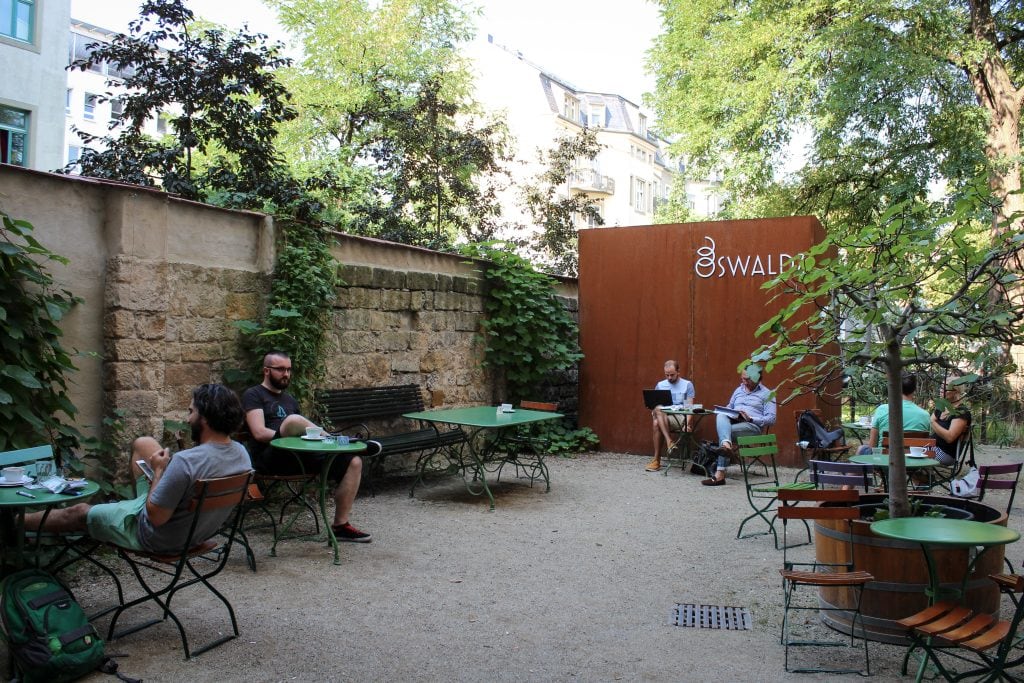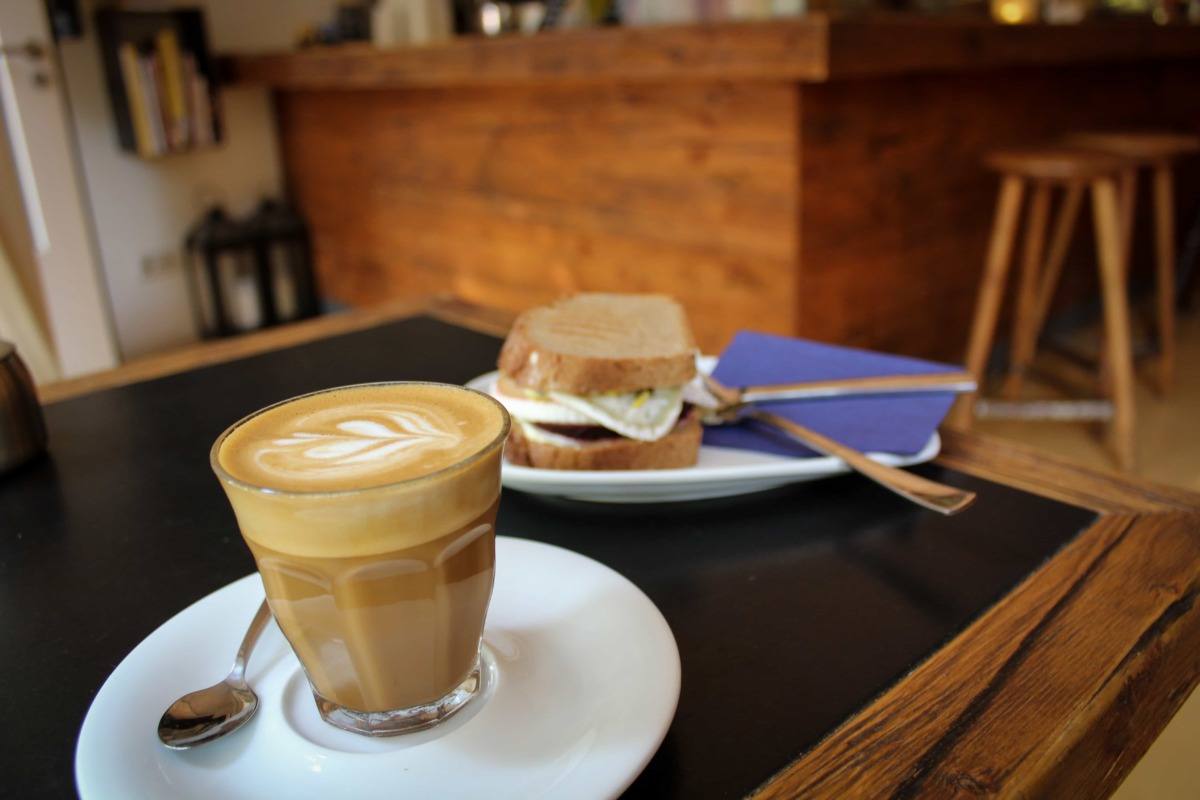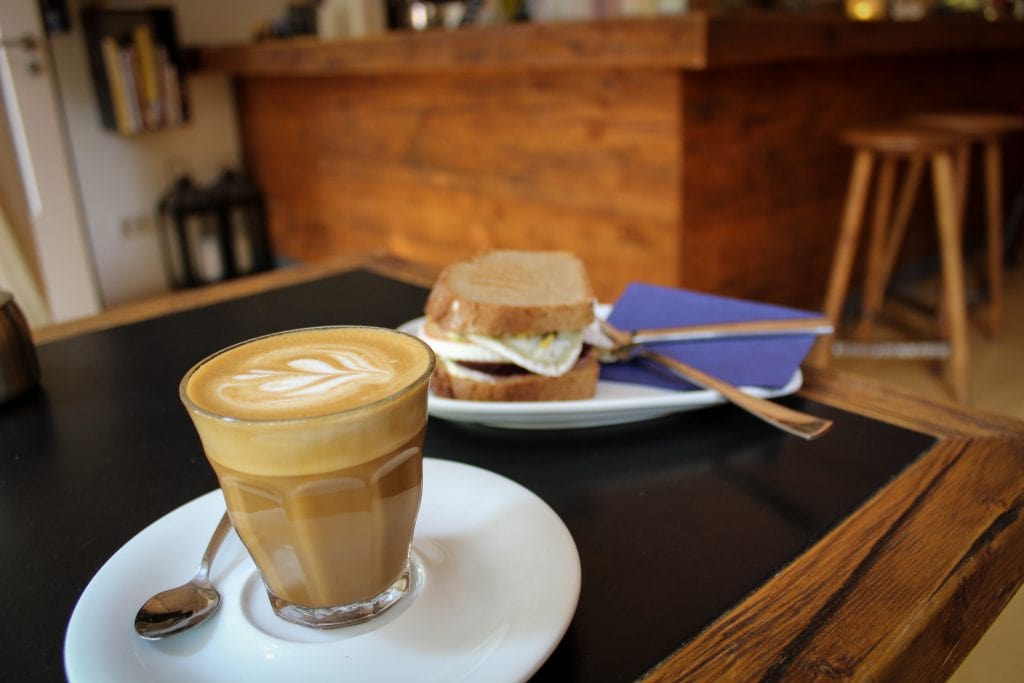 <A well-made Gibraltar and a goat cheese and beetroot sandwich>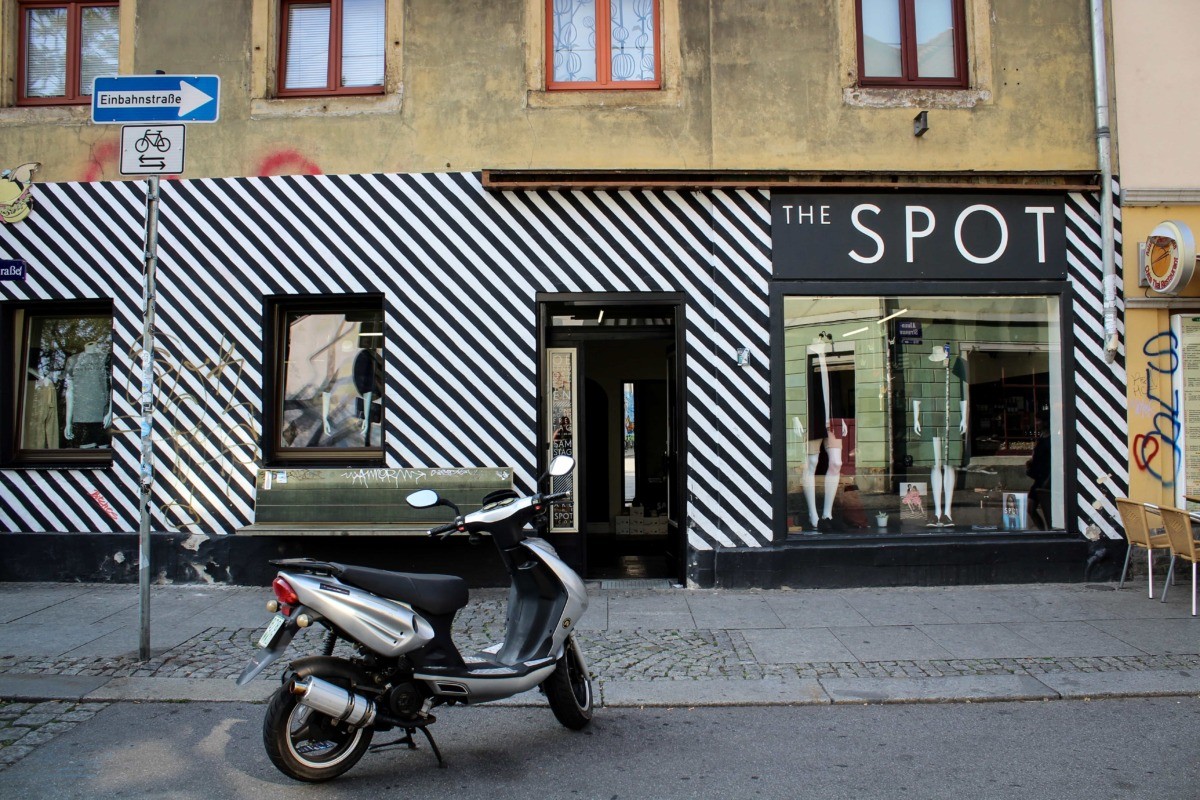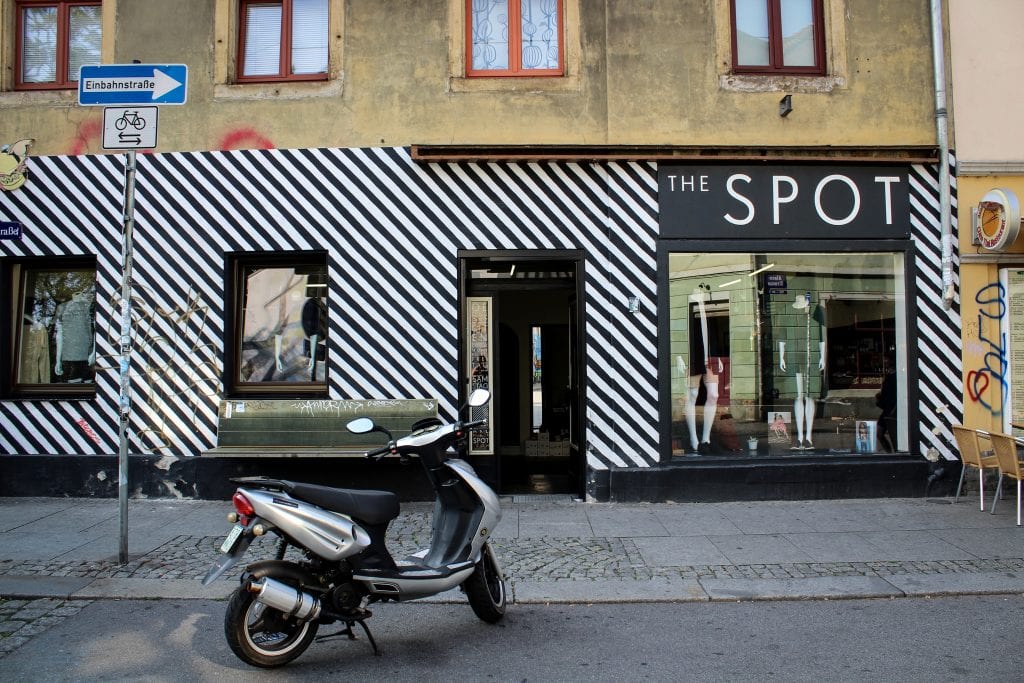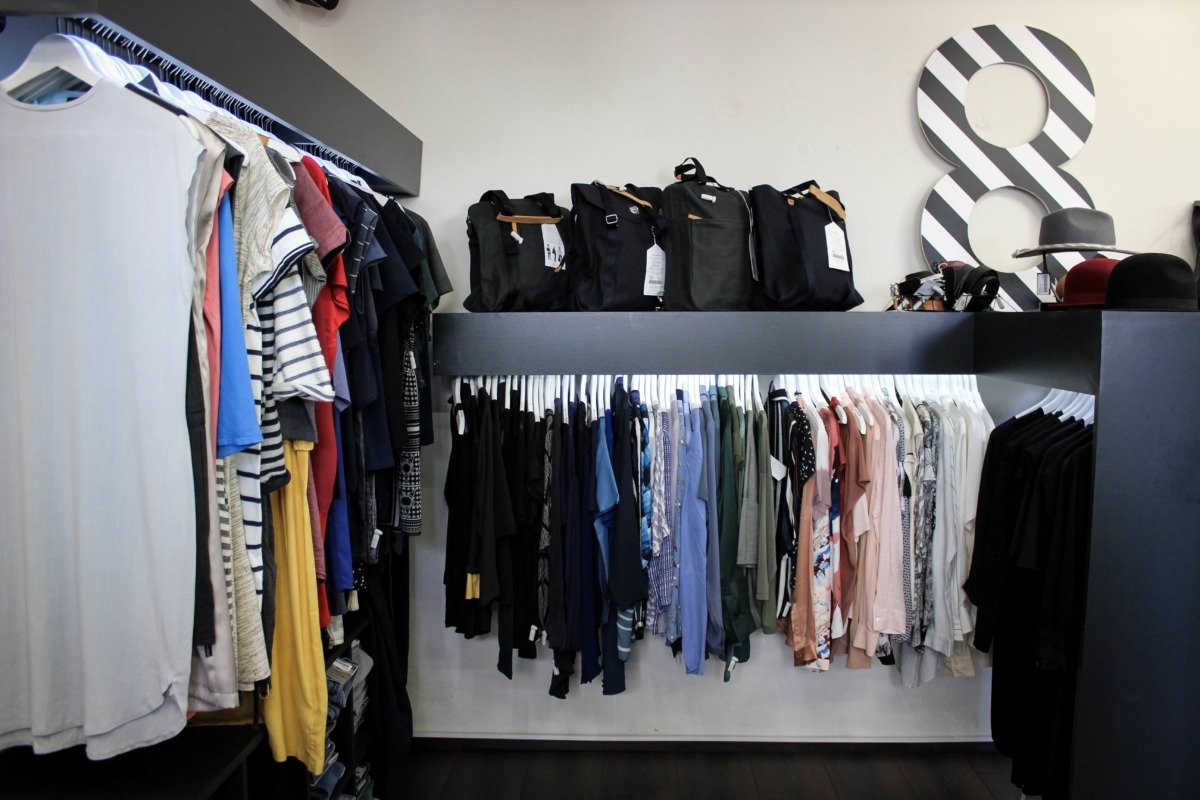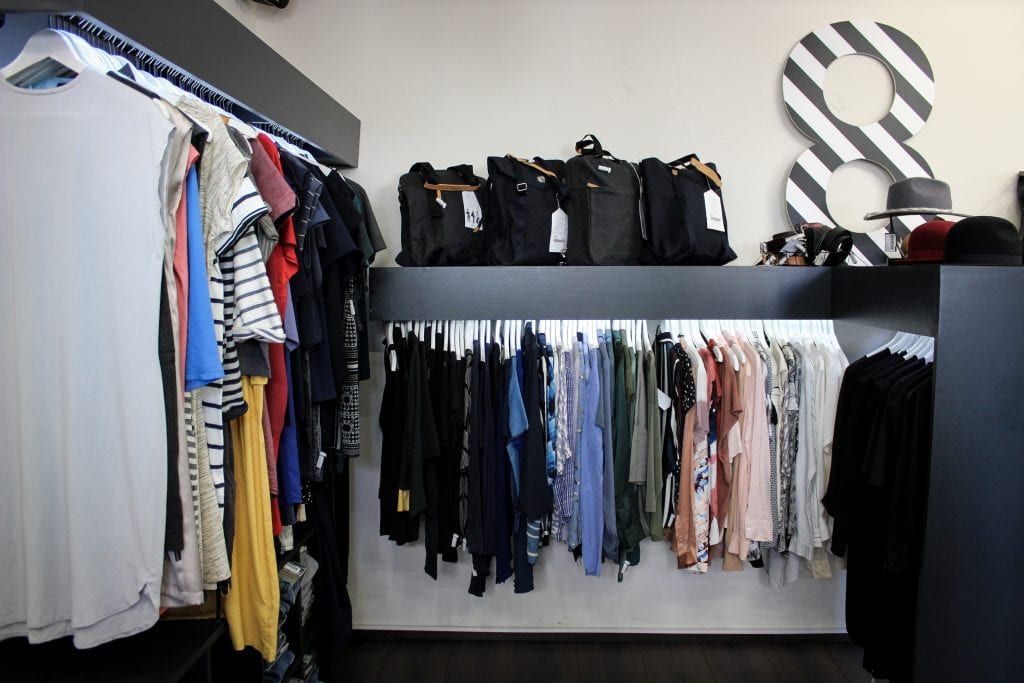 Eventually, the time came to walk back across the bridge and bid farewell to Dresden for the unforeseeable future. Somehow, in the span of two weeks and two trips to the city, I fell in love with the Neustadt and can proudly say that Dresden is my favorite city in Germany. Some people love Berlin. Some love Hamburg. And others love Munich.
But Dresden is mine. It doesn't always have the cleanest reputation thanks in part to right-wing extremists there, but that kind of mess is going on everywhere. The Neustadt was filled with messages of love, tolerance, and peace… and that is precisely what I will remember of Dresden.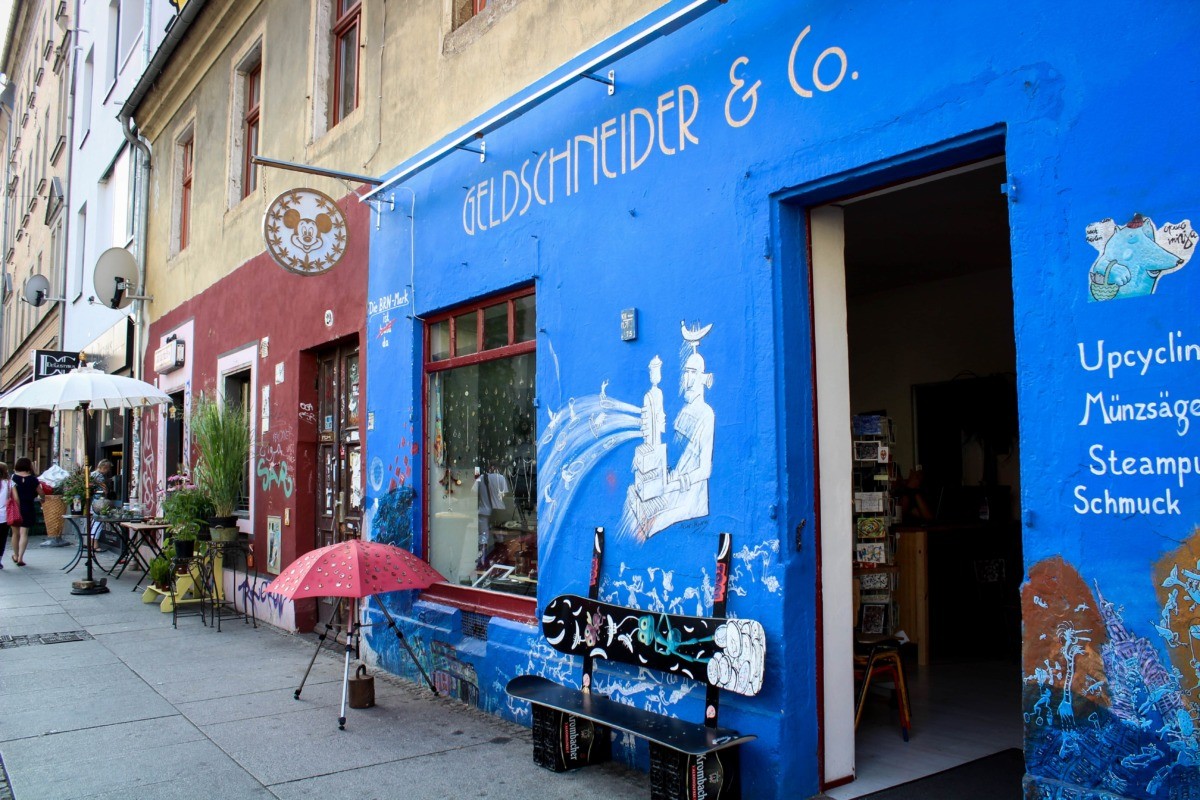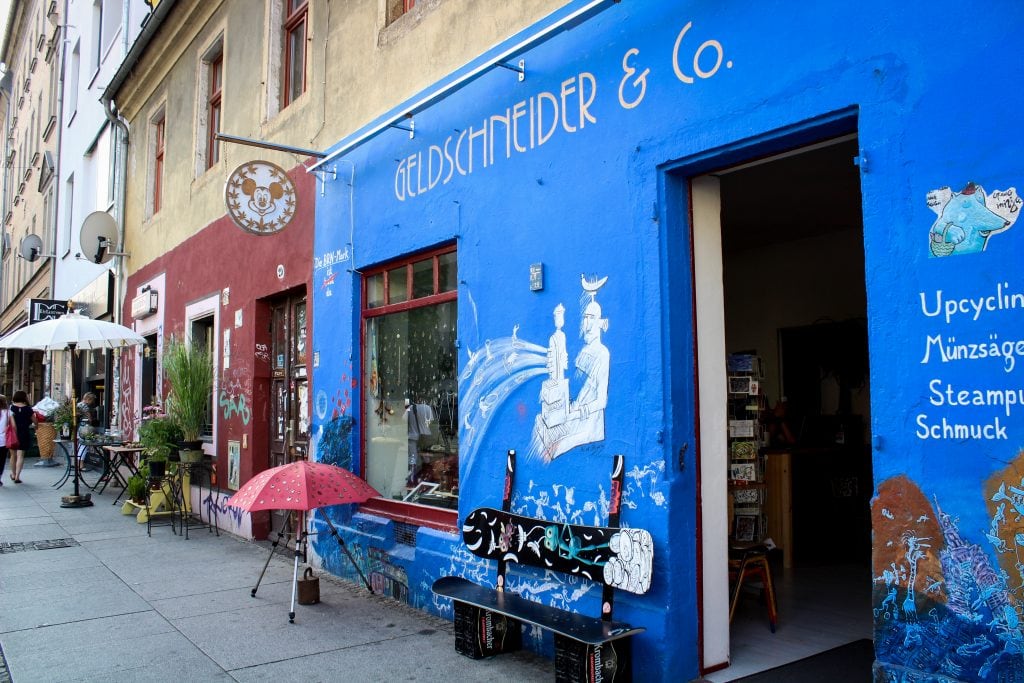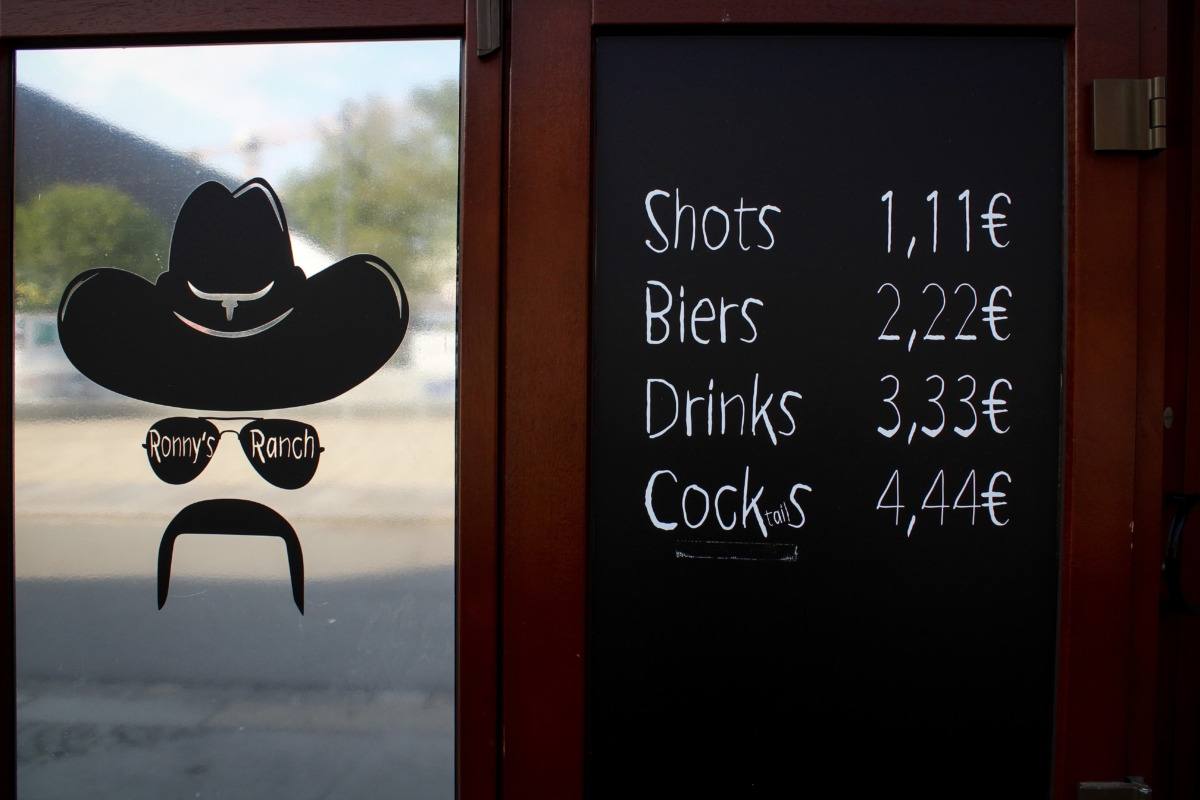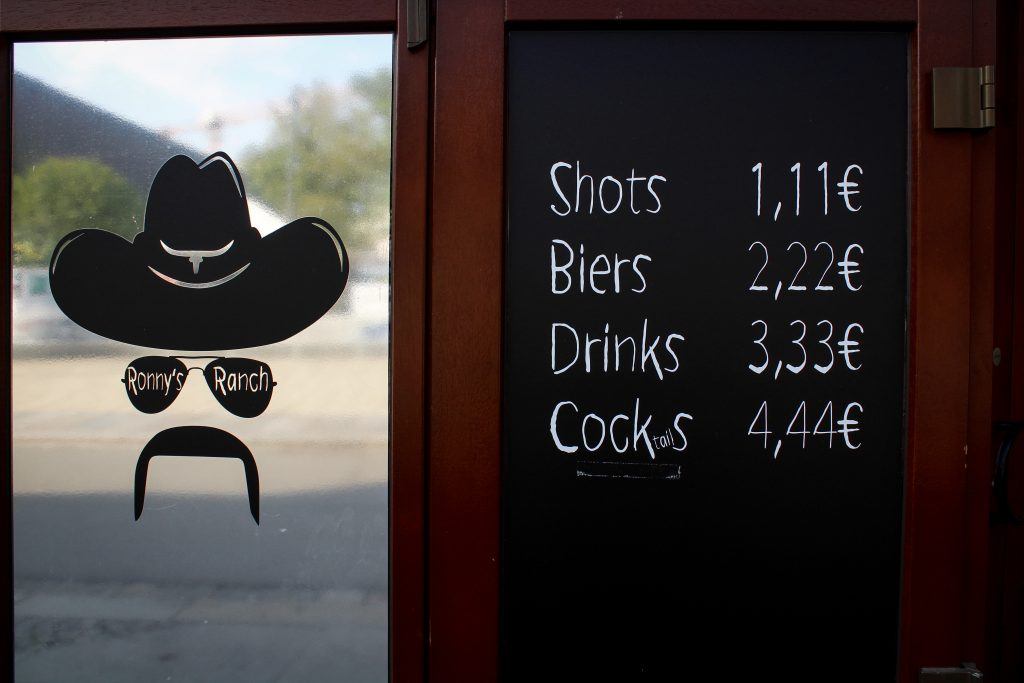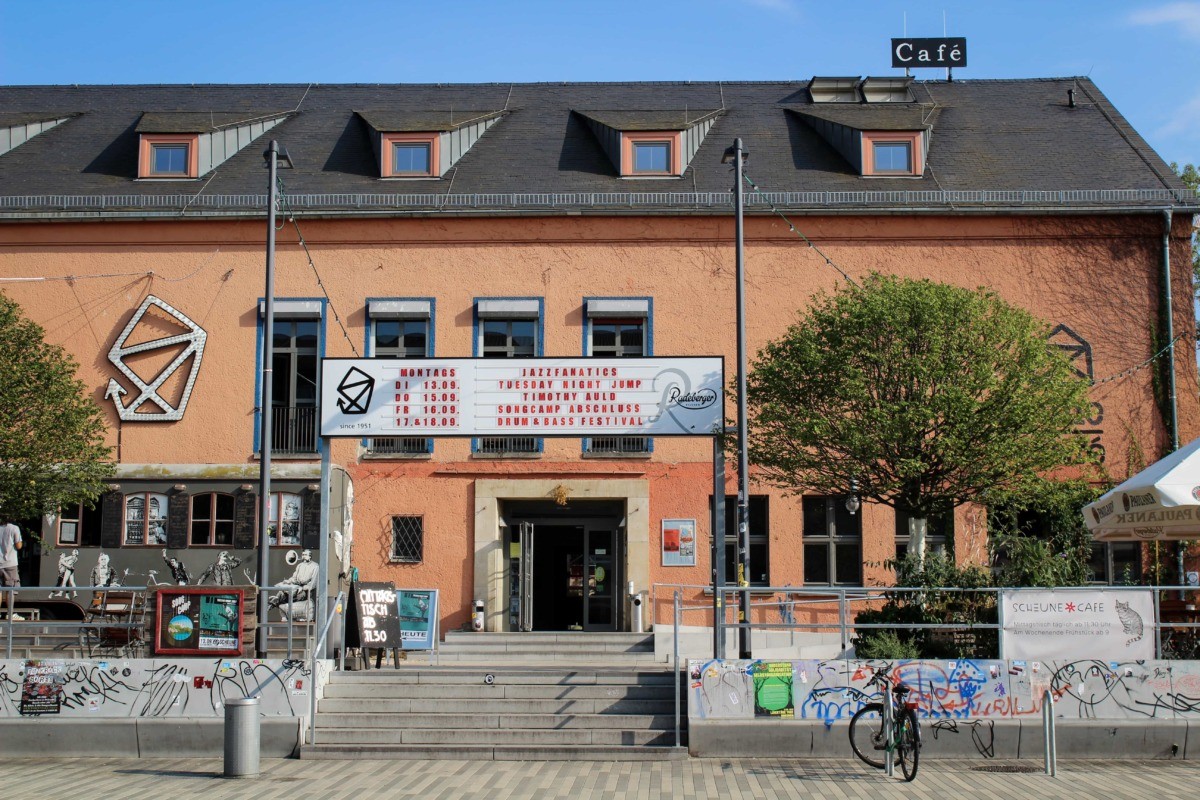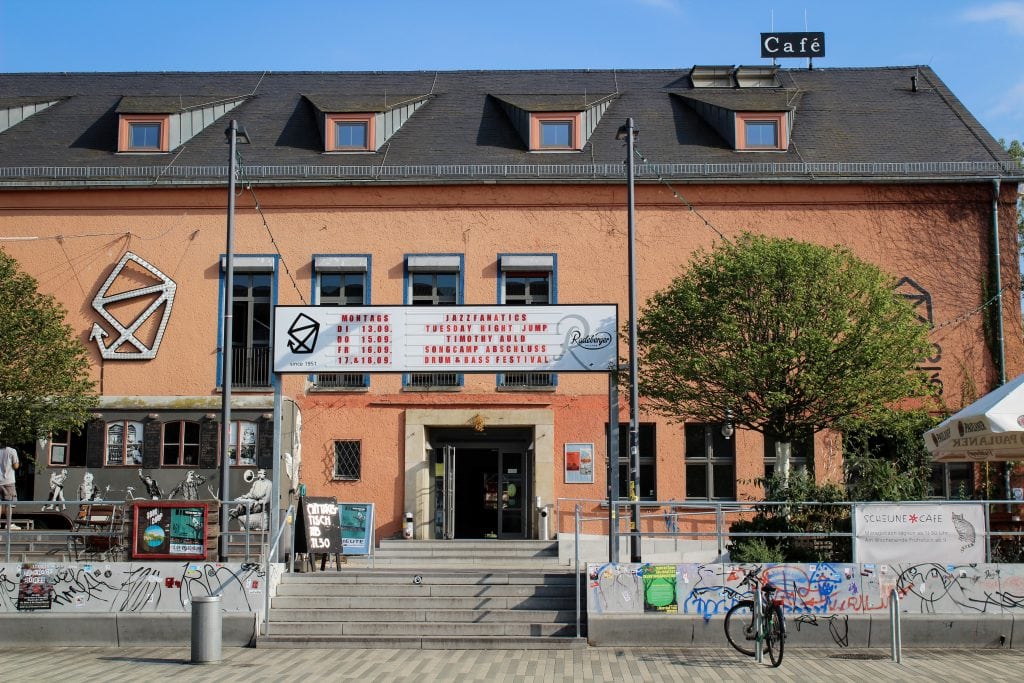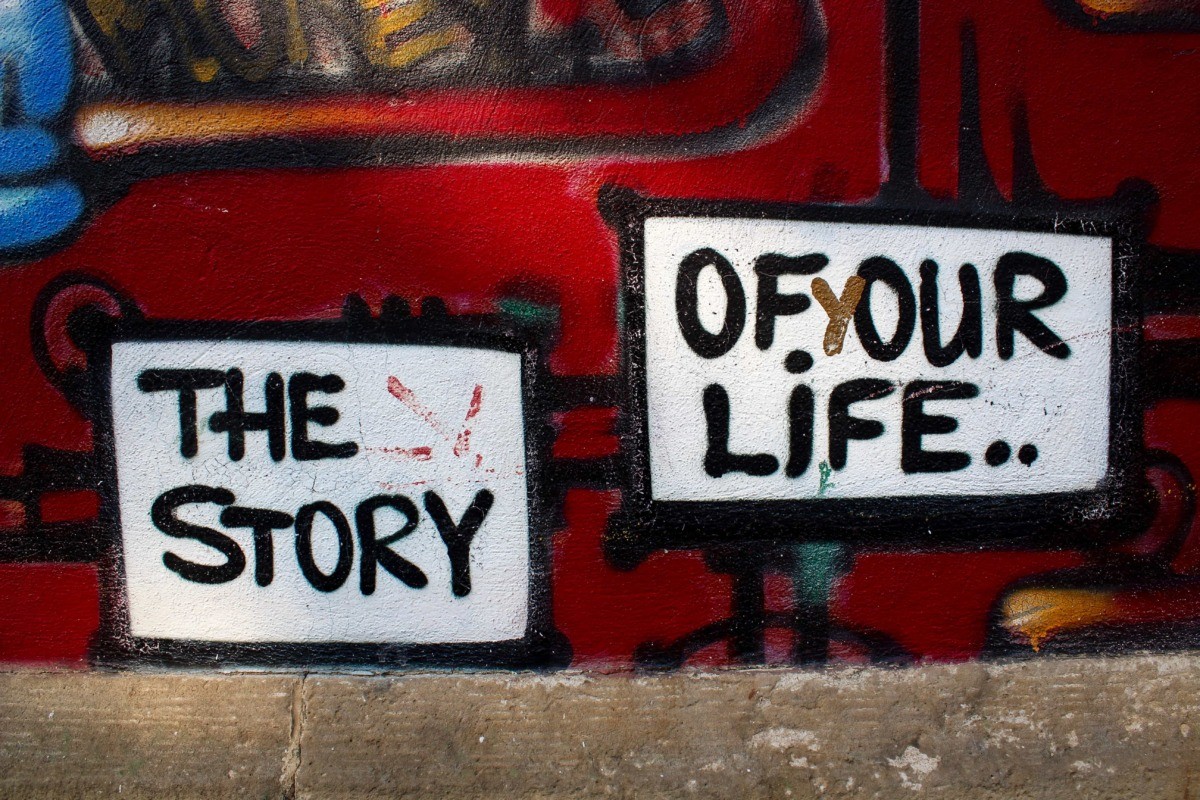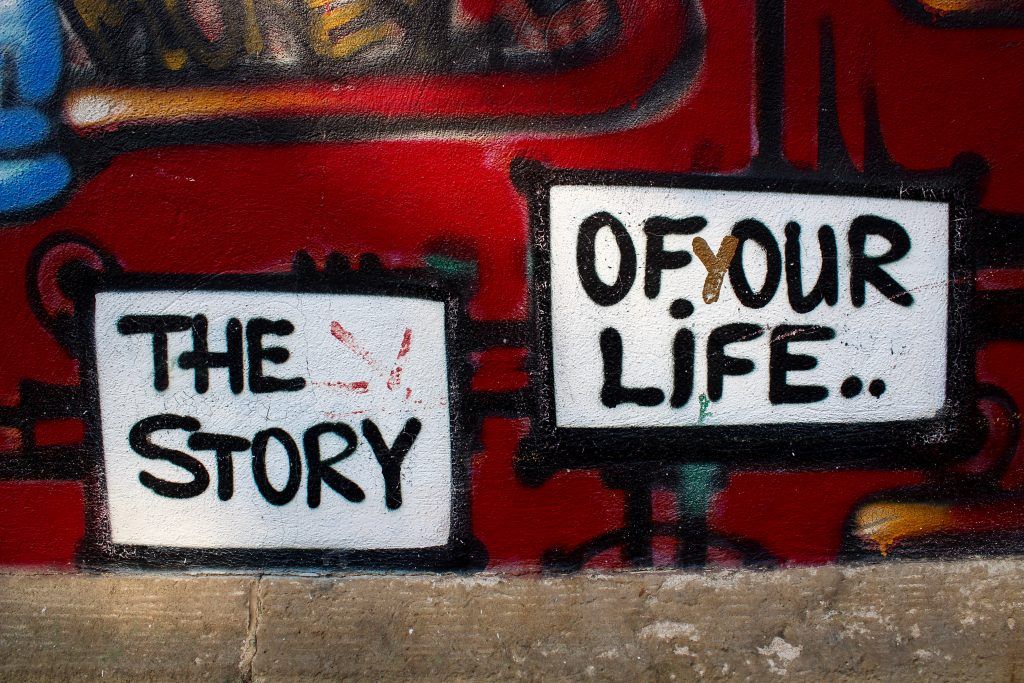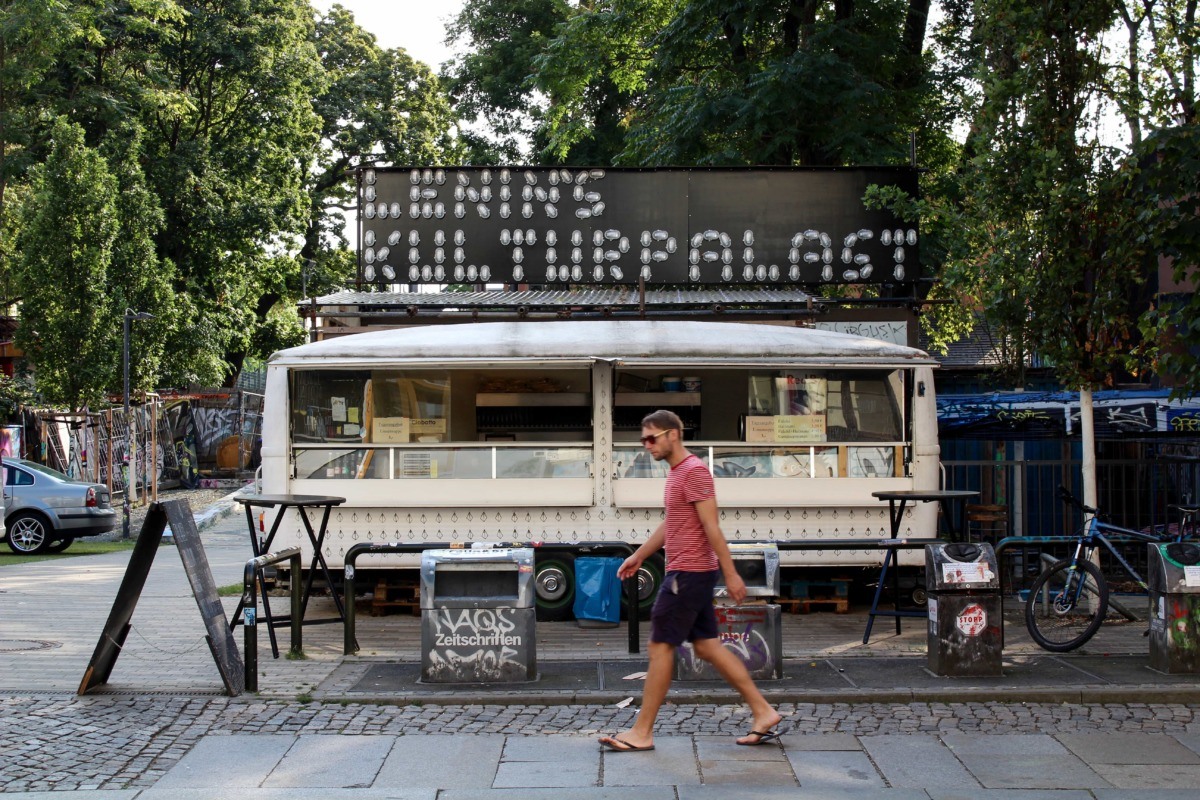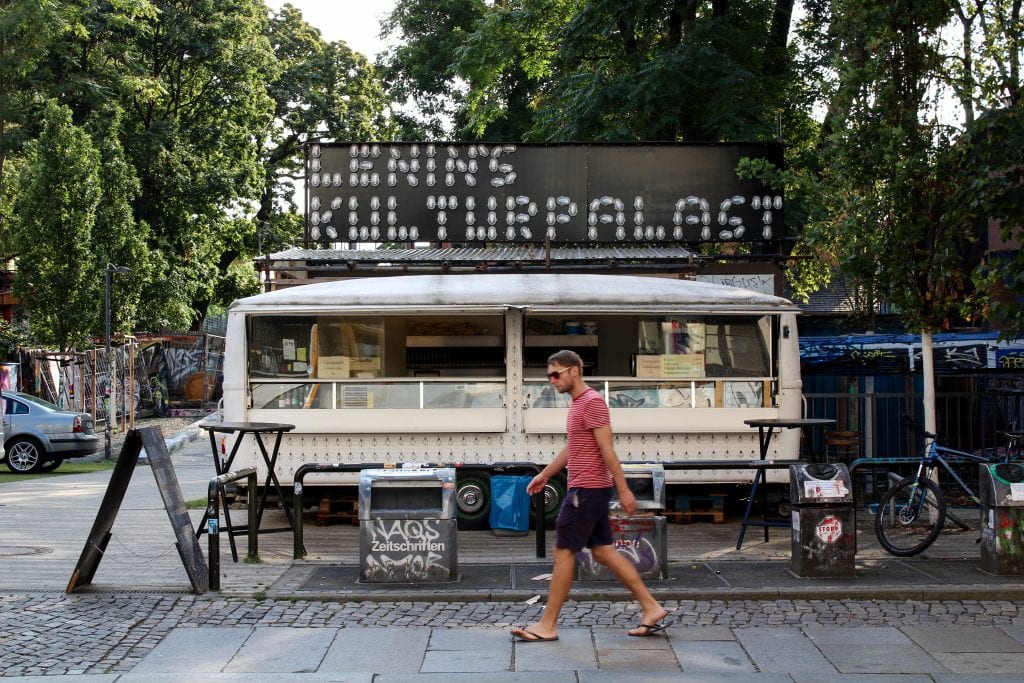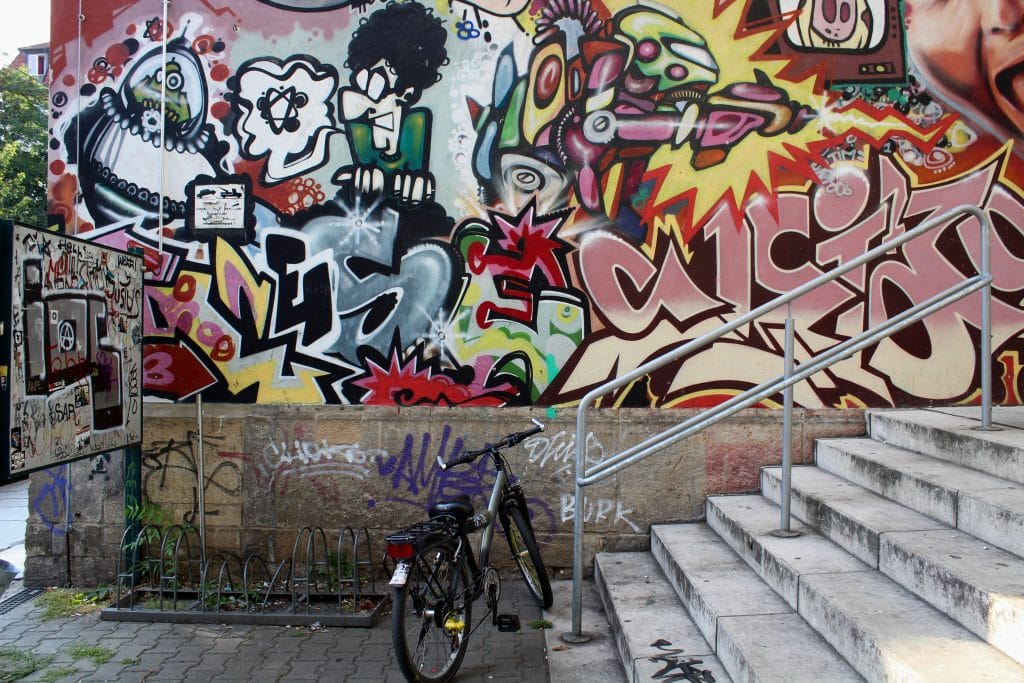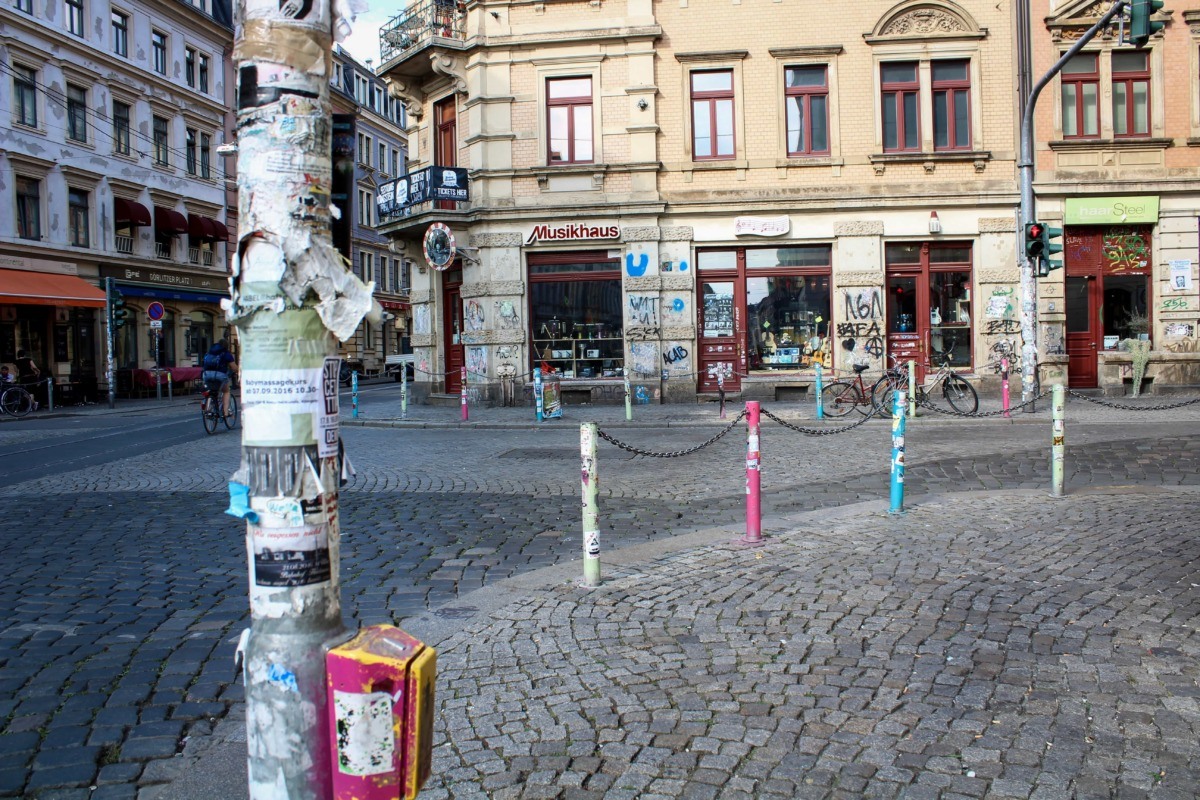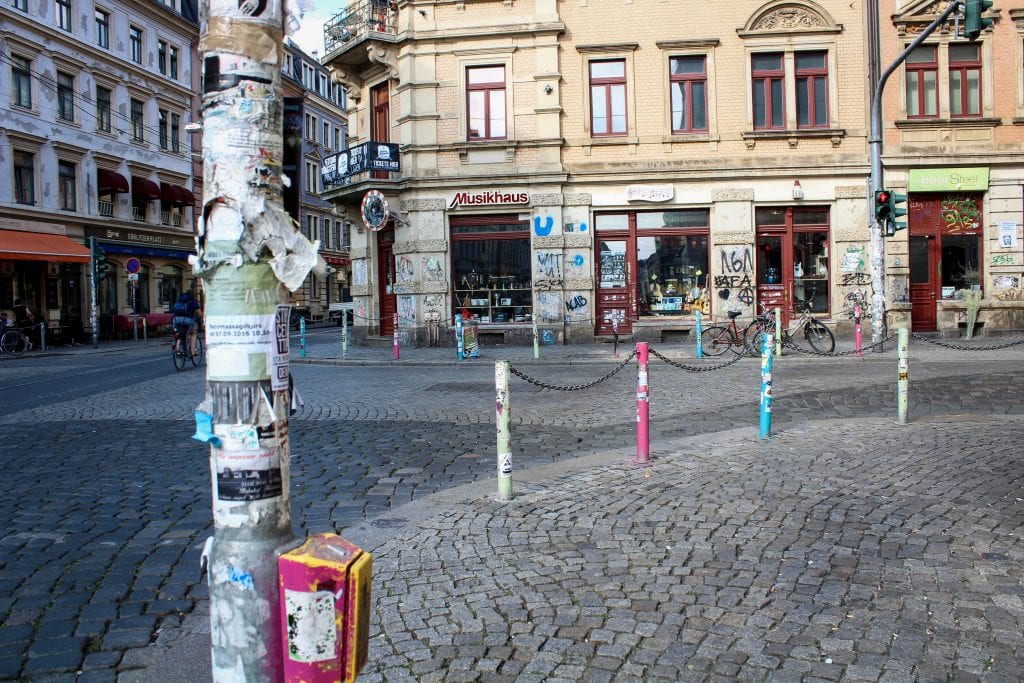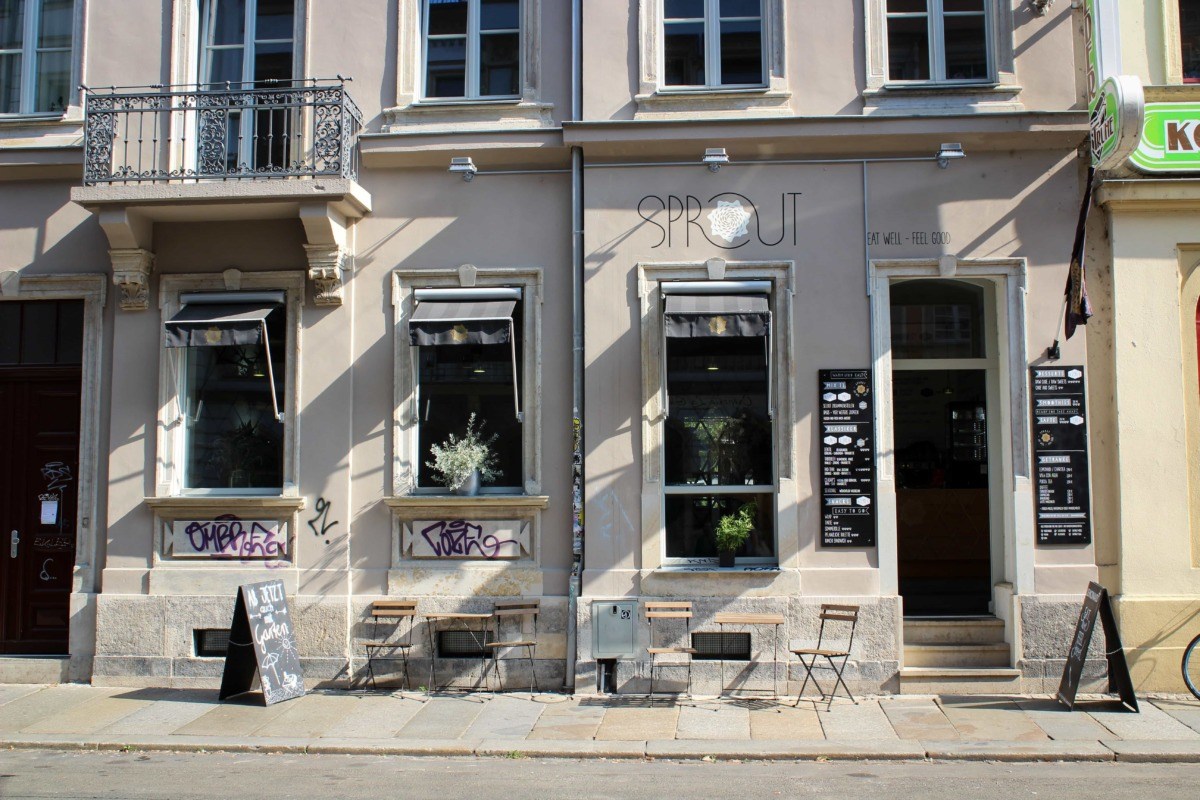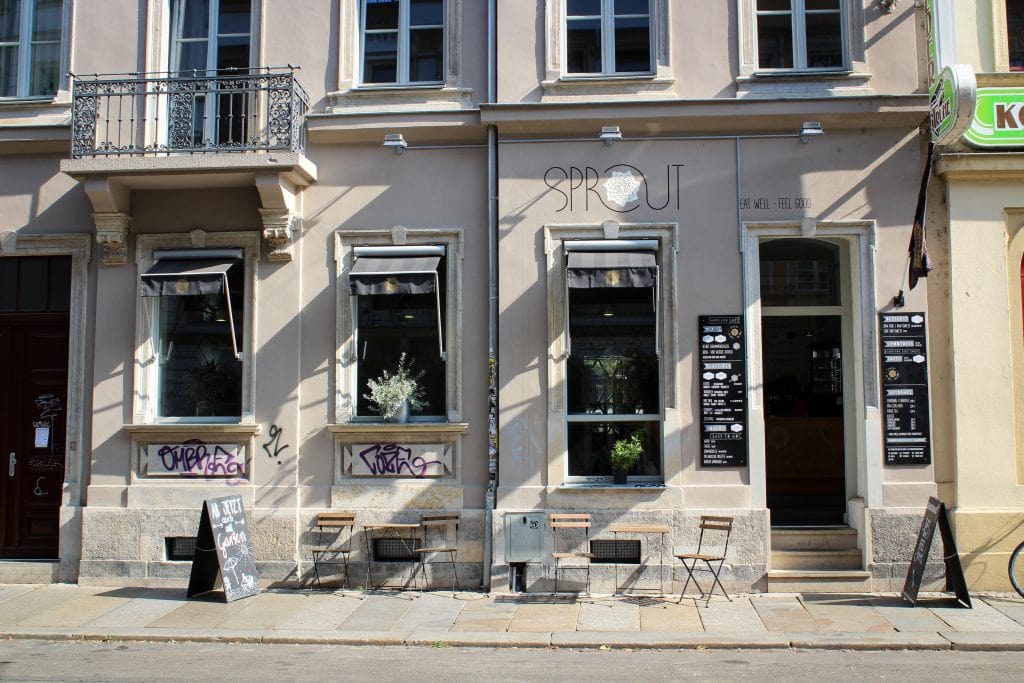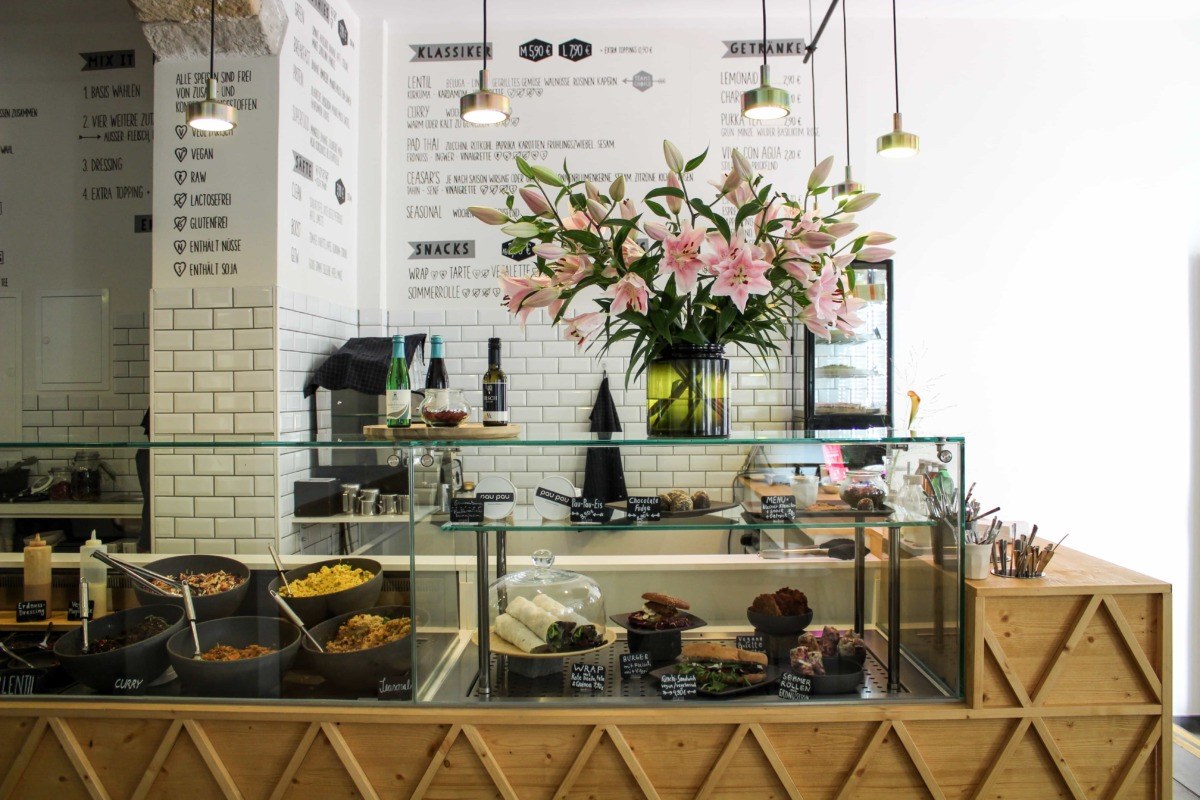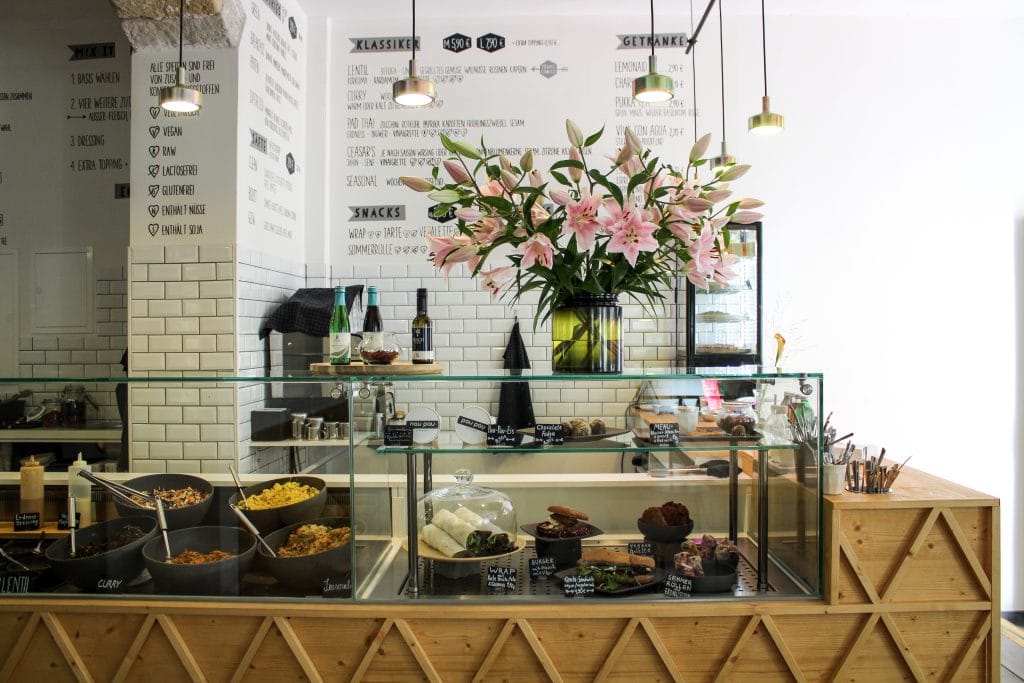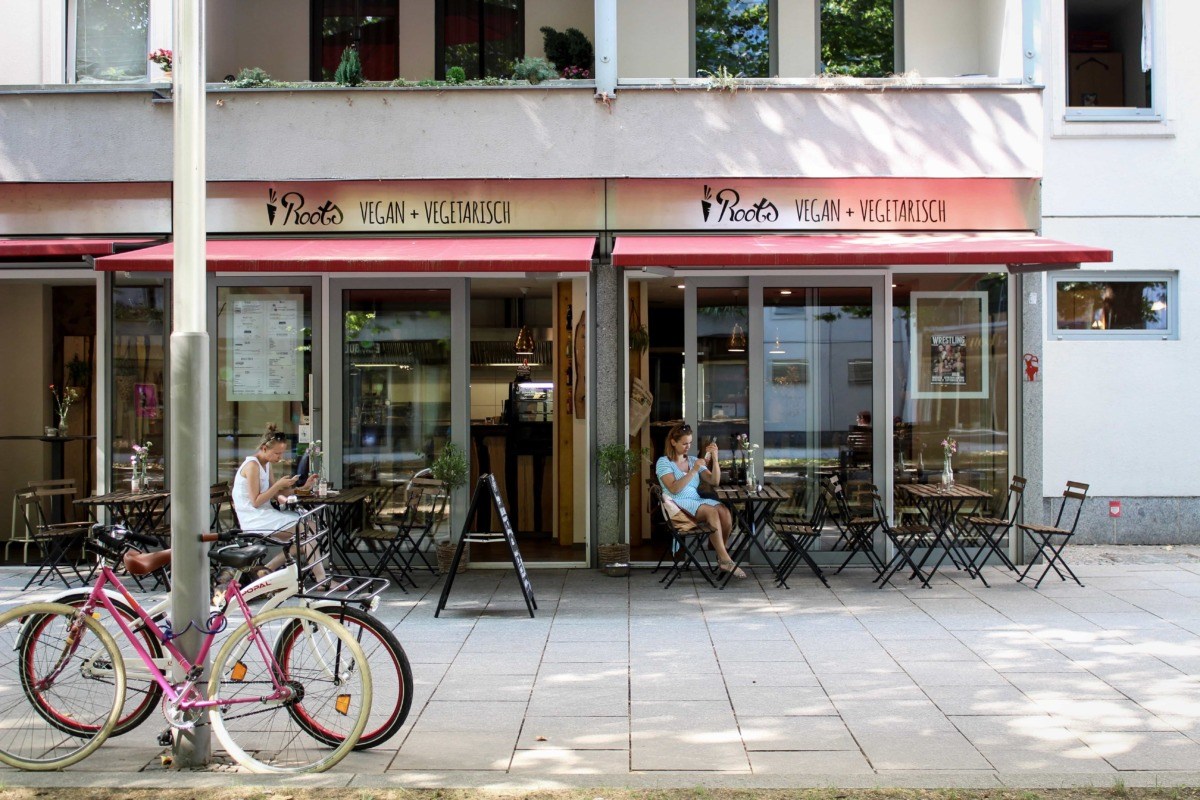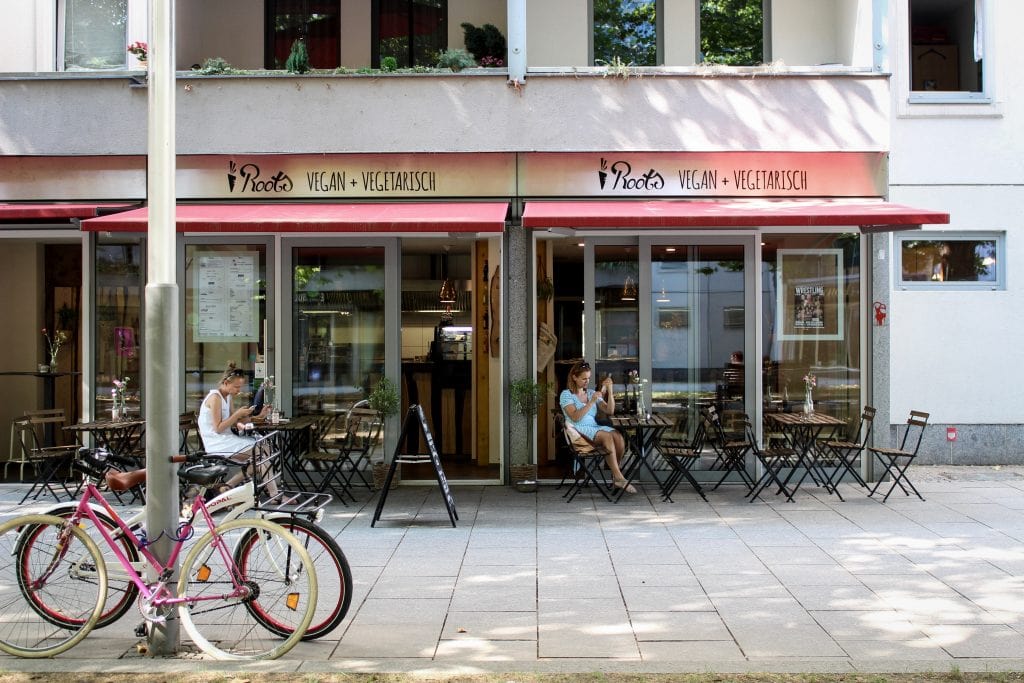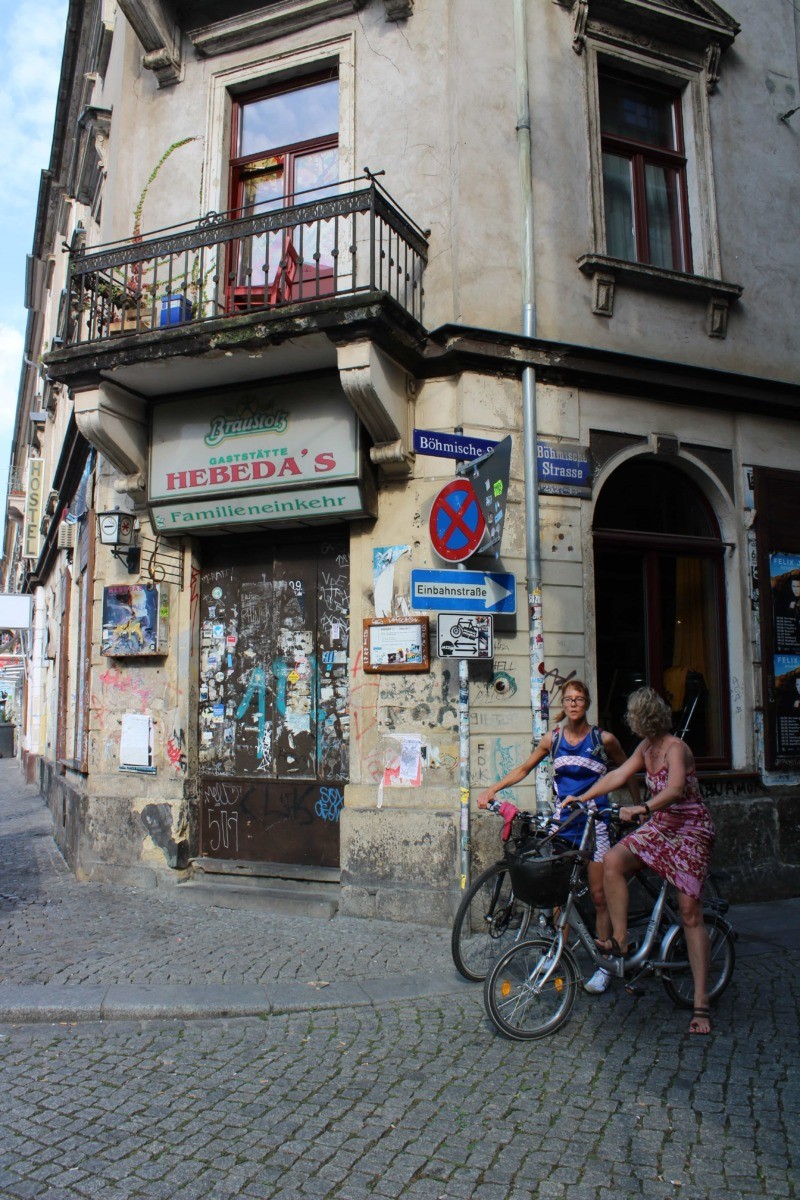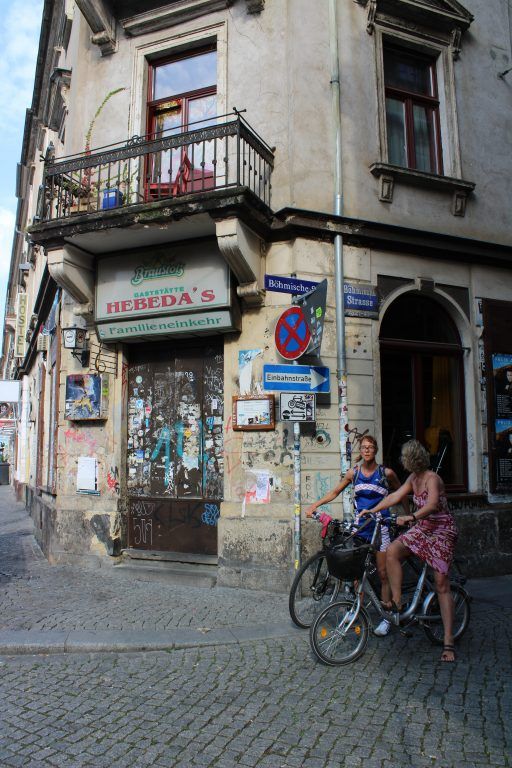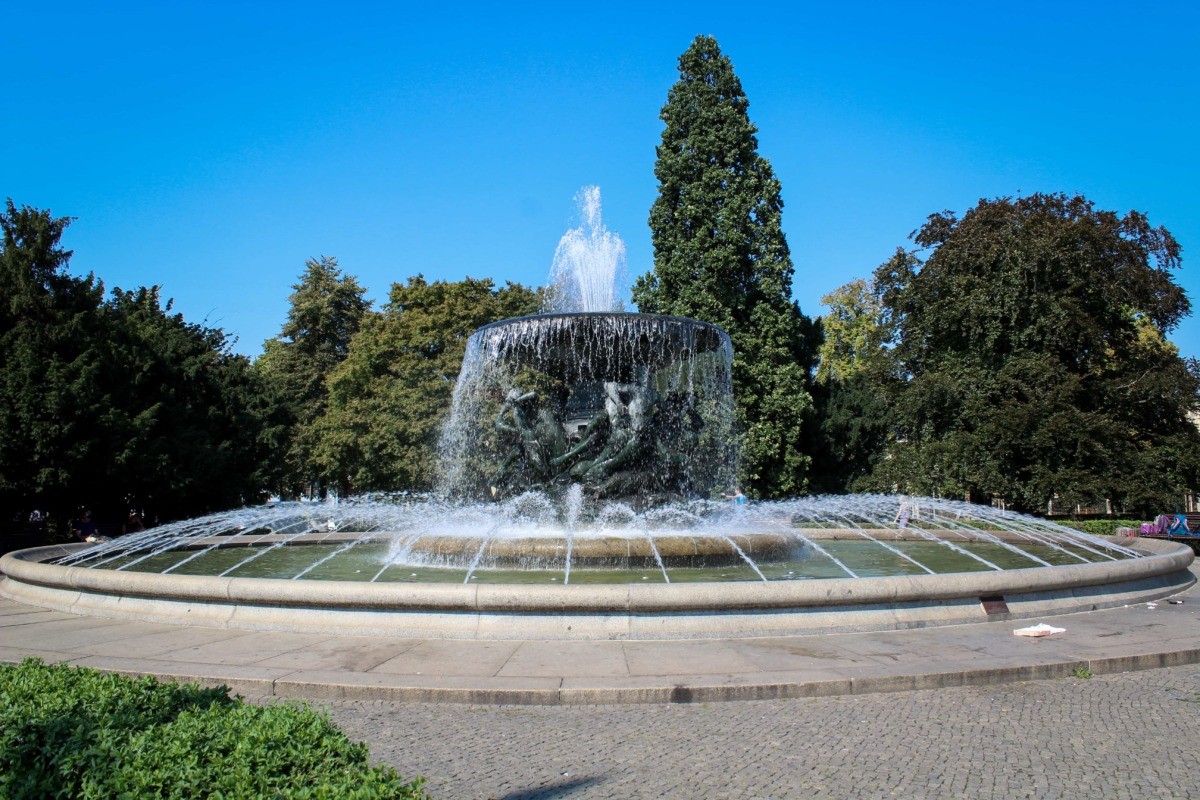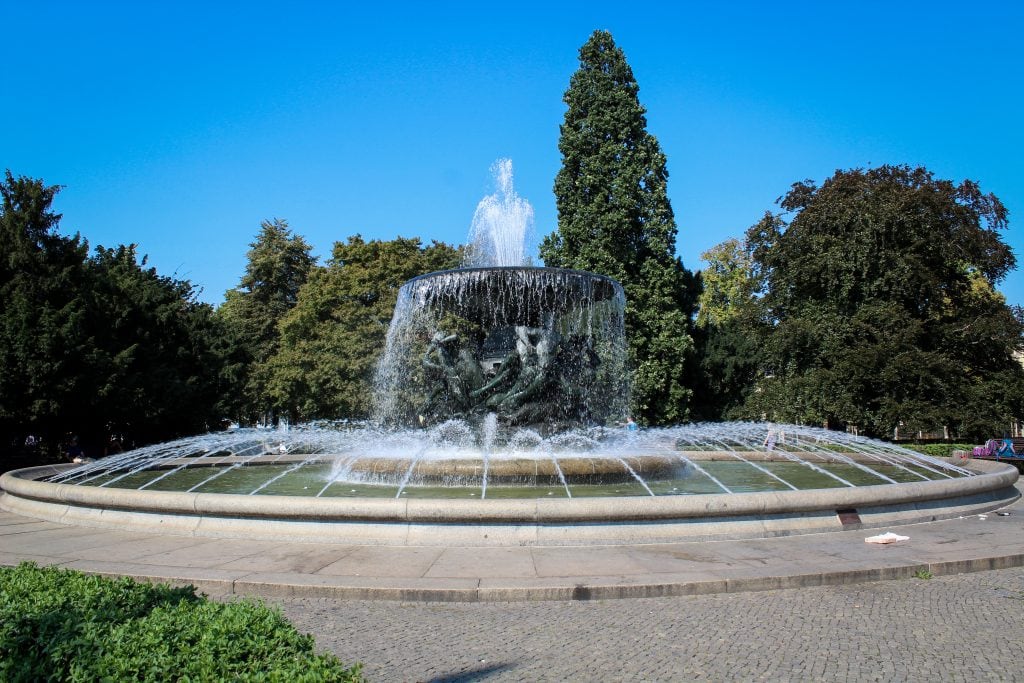 Where I Stayed and Played in Dresden Neustadt
Oswaldz (Specialty Coffee Cafe)
Oswaldz is a cafe that serves tasty coffee with beans from the local roaster, Phoenix. Aside from Phoenix's cafe (limited hours, unfortunately) and Oswaldz, you won't currently find other places with specialty coffee in Dresden. But that is okay because Oswaldz and Phoenix do it well. The cafe serves small eats and has a variety of coffee, including Gibraltars, pourovers, etc.
When I was there, the service was a bit slow inside the cafe and a few petulant Germans decided to harass and scream at the employees as a result. The employees kept cheery attitudes and did the best they could. It wasn't until later when I looked out back and saw that they had a filled terrace area! Anyways, this place can get busy, so be patient as the staff is anything but rude and inattentive given the circumstances.
You can find Oswaldz at Bautzner Strasse 9. To find out more, check out their Website or Facebook page.
Sprout Food (Healthy and Sustainable Food)
I stumbled upon this place when I had to go to the bathroom extremely bad, to be frank. It is a healthy establishment and is so aesthetically pleasing that it was one of my favorite finds in Dresden. I ordered an organic beer and just relaxed. They offer many small eats and salads. I really wish I had room in me for some of their food- it looked so delicious. The staff was friendly and they offer a massive terrace out back.
You can find Sprout at Rothenburger Strasse 9. To find out more, check out their Website.
Hopfenkult (Craft Beer)
This place is trouble. It is one of the best craft beer shops I've ever stepped foot inside of in Germany. They have multiple rooms and used to operate a bar in the basement. They became so massive that they opened up a craft beer bar just up the block to cater to their ever-growing customer base. I have no other way to put it- this place is golden. And I fully blame them for my inability to leave the Neustadt! They have over 300 different types of beer inside and always have something on draft.
You can find Hopfenkult at Görlitzer Strasse 25. To find out more, check out their Website.
Phoenix Coffee Roasters (Specialty Coffee Cafe and Roastery)
I didn't get a chance to go into their cafe as both times I was in Dresden, it was closed. But, I was in full communication with them during this period about their products and I can assure you that they really know their stuff and create a superior product. If you arrive in Dresden on a day when they are closed (their website has their hours), you can always find their products at Oswaldz, which I listed above. They offer different beans, roasts, etc.
You can find Phoenix Coffee Roasters at Bautzner Strass 75. To find out more, check out their Website or Facebook page.
Elbsalon (Cafe and Eatery)
Elbsalon is a very spacious cafe in the Neustadt where I enjoyed some gluten-free, buckwheat and coconut pancakes at for my first breakfast. Their coffee needs some work, but the staff was very sweet and I really enjoyed this establishment. I will certainly go back next time I am in Dresden for drinks or lunch.
You can find Elbsalon at Königsbrücker Strasse 74. To find out more, check out their Website or Facebook page.
The Spot (Local Apparel and Accessories)
The Spot is a contemporary and Scandinavian-inspired boutique in the Neustadt. The exterior was so appealing that it was the sole reason I wandered inside. They carry labels local to Germany alongside many of the Scandinavian labels they showcase. They offer clothing, shoes, and accessories for both sexes and the staff I spoke with inside were very passionate about their products and were just a joy to chat with. They also carry their own line.
You can find The Spot at Alaunstrasse 29. To find out more, check out their Website or Facebook page.
Pension Helgoländ (Where I Stayed)
This is where I stayed. It was clean and comfortable (I had a single room with a shared bathroom), but the walls are paper thin. Next time I go to Dresden, I will stay in a hotel somewhere.
You can find Pension Helgoländ at Helgolandstrasse 9b. To find out more, check them out on Booking.com.