If there are puffins in a place, I am going to make it a point to see them. Always. So when I discovered that there are puffins in Nuuk, Greenland, I immediately booked a tour to go see them!
This guide gives a brief overview of the Nuuk puffins, how to see them, and my thoughts on a puffin tour in Nuuk (and whether I think it was worth it or not).
Are you planning your trip to Nuuk last minute?
If youʻre booking your trip to Nuuk last minute, we have you covered. Below are some of the top places to stay in the city!
🇬🇱 Top hotels and accommodation in Nuuk:
🚗 Looking for the best way to get from Nuuk Airport to the city center? Click here to check Nuuk airport transfers!
Do you have any questions about taking a Nuuk puffin tour?
Or about seeing puffins in Greenland in general? Let me know in the comments.
About the Puffins in Nuuk, Greenland
Okay, so these puffins don't reside in Nuuk per se, but rather on an island not too far from Greenland's capital city. The island is tiny and uninhabitable, but there are plenty of puffins calling the place 'home' during the summer months!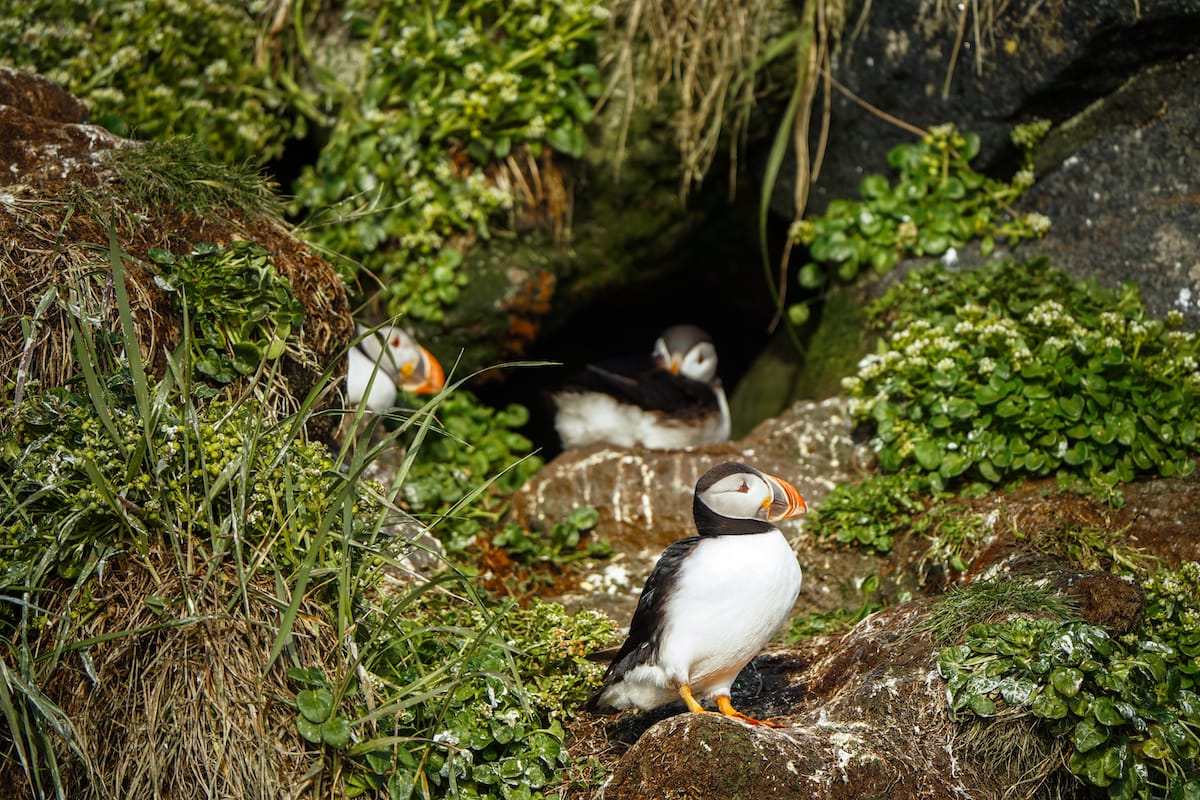 Atlantic puffins generally spend 7-8 months at sea before returning to a place (annually) to lay eggs and wait for their little pufflings to hatch.
The island takes about 1–1.5 hours to reach, and Nuuk Water Taxi is the company running the tour. It is slightly south of the city.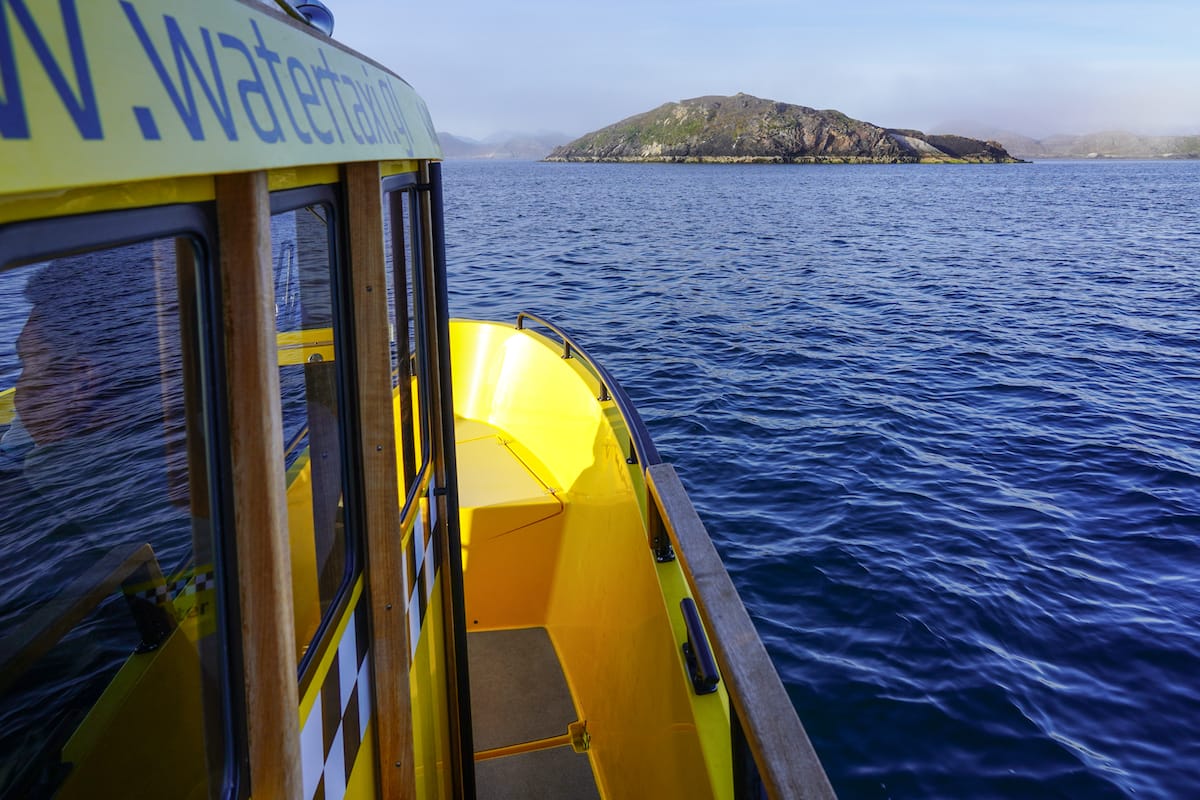 You cannot walk on the island or even leave the boat on this tour.
It is not that they wouldn't allow that, but it isn't possible to dock on the island and the landscape is so rough and rocky. It just wouldn't be possible.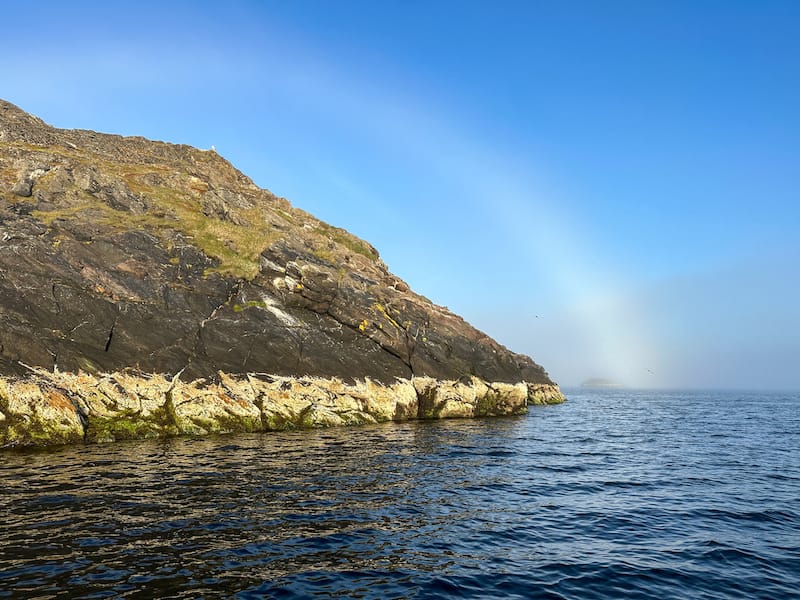 When is the best time to visit the Nuuk puffins?
Since puffins remain at sea most of the year, you can only see them when they are on the island. They generally arrive on the island south of Nuuk in May and leave in mid-August or September.
The tour company will know whether they are still there or not, and the tours will only run when they are.
Best Puffin Tour in Nuuk (A Quick Review!)
Duration: 3 hours
Meeting Point: Colonial Harbor (Nuuk Water Taxi office)
Language: English, Danish
CLICK HERE TO BOOK!
This tour was pretty straightforward and exactly as it was sold to me.
We met at Colonial Harbor and were waiting for our crew to let us on the boat. Nuuk Water Taxi has a few sizes of boats and will take whatever is suitable, depending on how many people have signed up for your tour.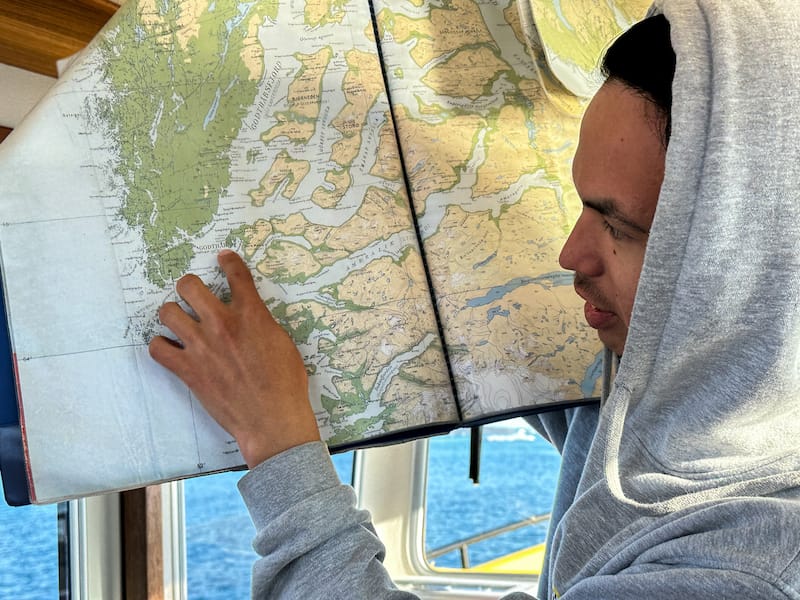 We ended up on the small boat, which had a place up front for the guide, driver, and one person. In the back, there were two benches facing each other that comfortably fit four people.
One thing that is unique about tours in Greenland is that lifejackets are not mandatory on the boats (but they have them). And you can wander about on the boat at your will. I imagine this could change as tourism ramps up in Nuuk, but that is how it is now.
🌊 GOOD TO KNOW: This tour could be canceled and rescheduled depending on numbers. This is super common in Nuuk, as tourism is growing. Please be flexible with Nuuk Water Taxi; they do their best to move things around without too much inconvenience.
You will spend about 1–1.5 hours (depending on the conditions) to get to Puffin Island. Once there, you can move about the boat and photograph or watch the quirky little birds.
We stayed around there for about 45 minutes or so, and the driver moved the boat as close to the island as he possibly could, which was cool!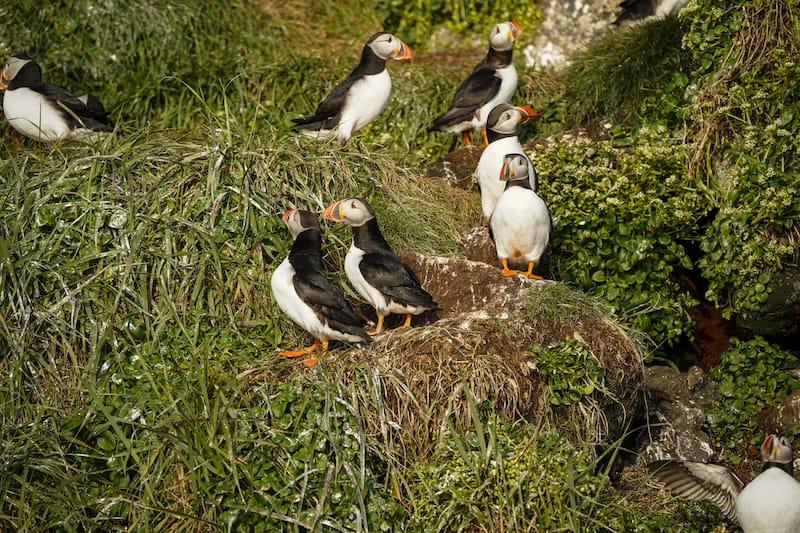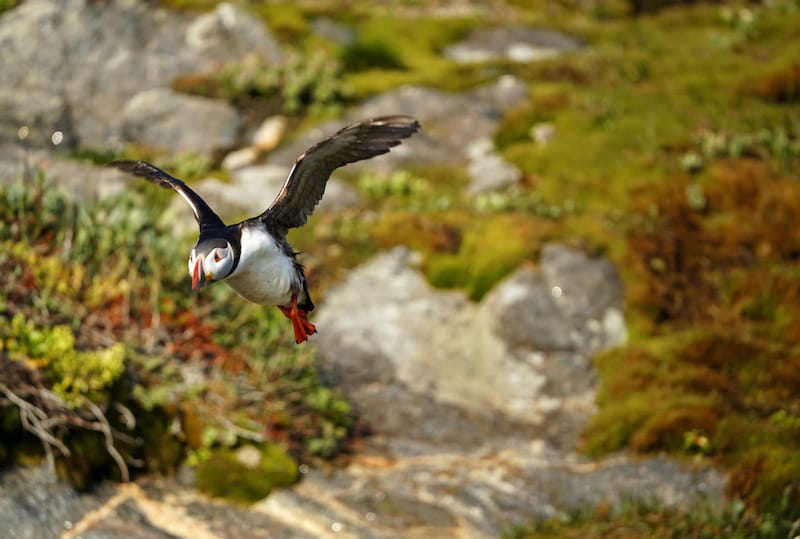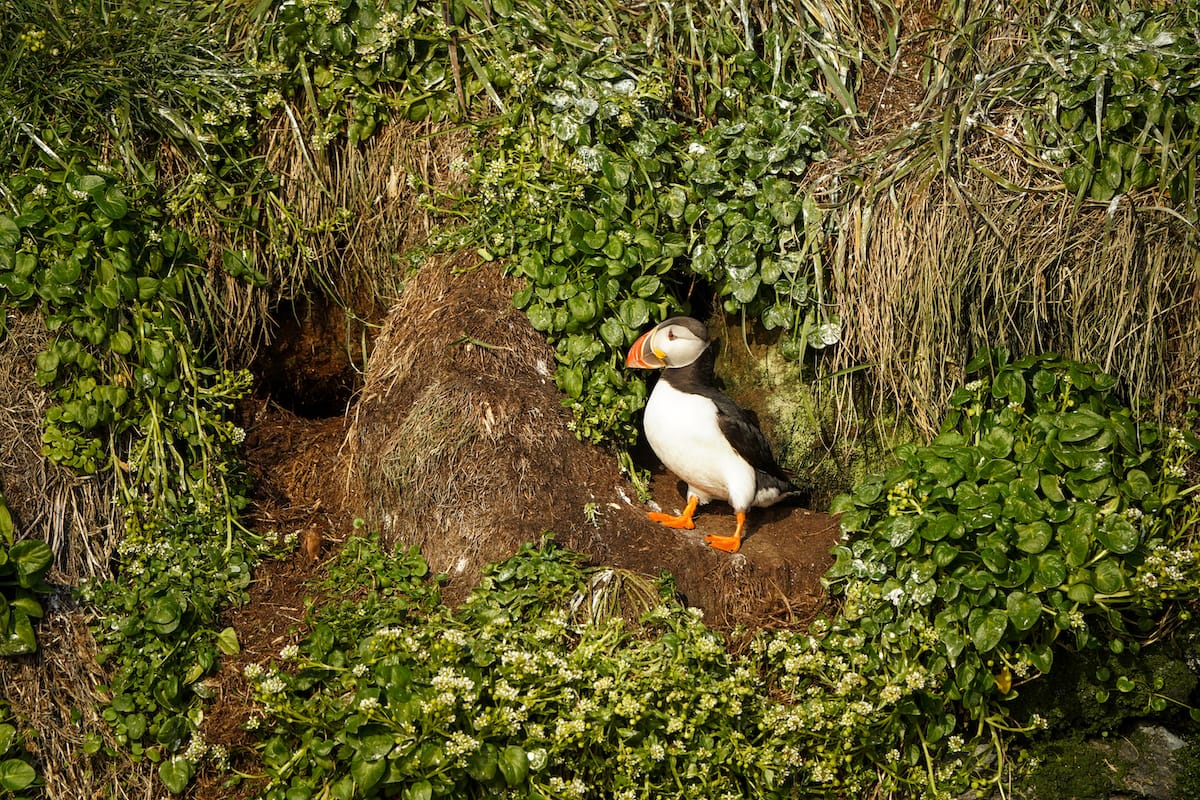 There are hundreds of birds, and they wander about the island and take turns swimming into the sea looking for a fresh catch.
We got to witness the puffins just moving about their daily lives before heading back to Nuuk. It was a chilled-out adventure and an opportunity to take a boat trip away from the inner Nuuk Fjord, but rather out to sea a bit.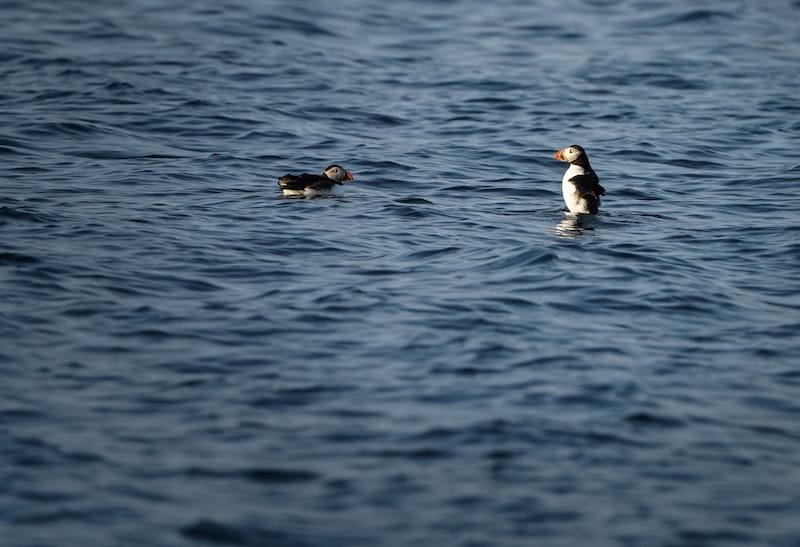 Nuuk, Greenland Puffins + Tour FAQ
Should you bring binoculars on the boat?
If you have them, absolutely bring them! They had one pair on the boat, but I brought mine with me so that I could enjoy watching the birds a bit without a camera in hand. It was the best part of my tour!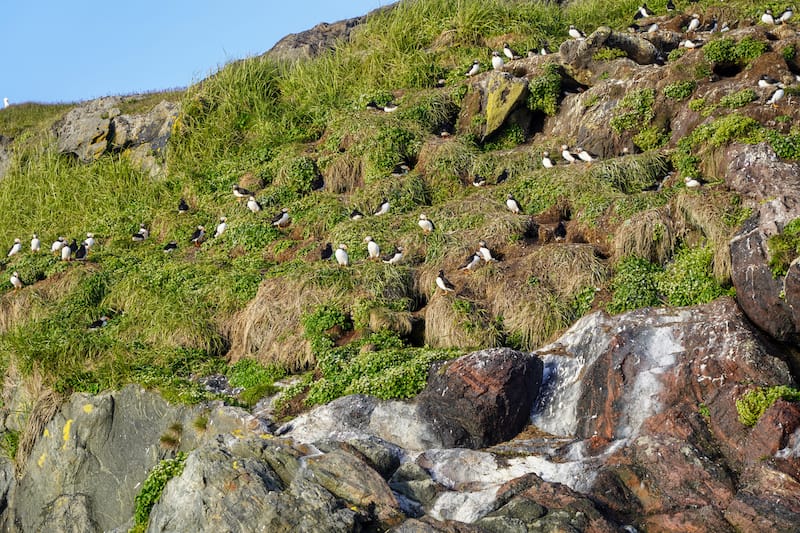 Should you bring food onto the boat?
Nuuk Water Taxi always has coffee, tea, hot chocolate, and cookies!
Summer days are long in Greenland, so I would suggest getting a bite to eat before the tour and just snacking while you're on the boat.
Do they have a bathroom on the boat?
All Nuuk Water Taxi boats have toilets. If you are in a smaller one, the toilet is outside and at the front of the boat. If you're in a larger boat, the toilet is at the front (inside), down the stairs.
What should I bring with me?
While I never experienced rough seas once in Greenland, this tour is in the open sea a little more than other ones. But it is still in the fjord area.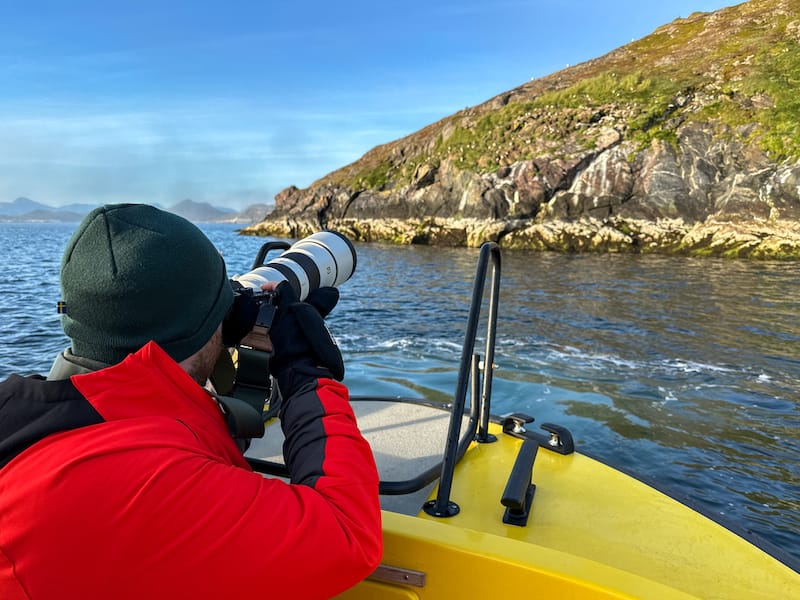 You are more exposed, is what I'm saying. So, if you experience seasickness, please take Dramamine before (or wear a seaband).
A few other things I would recommend taking with you are:
Zoom lens (we took a 600mm lens with us)
A hat or ear muffs that cover your ears (the wind can really through off your senses)
Binoculars (if you have them)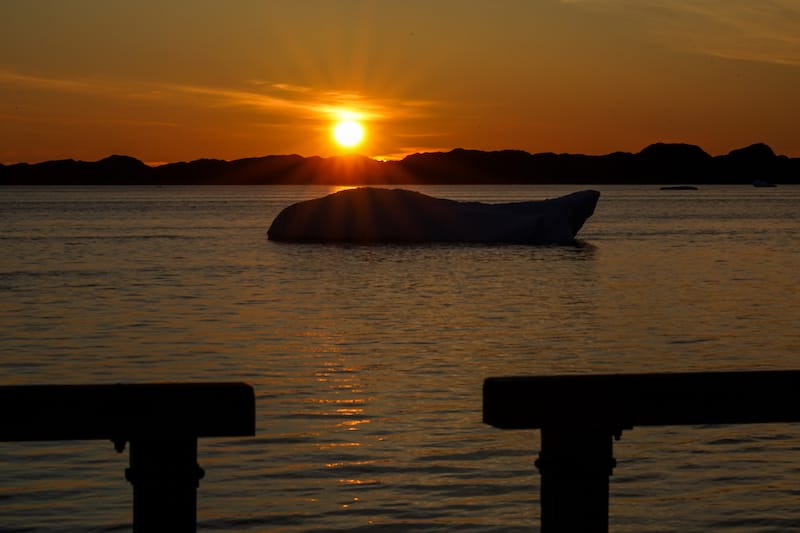 Should You Take a Nuuk Puffin Tour?
I definitely think the experience was worthwhile. First of all, you have the chance to see other animals along the way (i.e., whales!).
Secondly, the puffins are such entertaining creatures, and it is so nice to see them in their natural habitat in a place that does not have mass tourism going to visit them.
A lot of tours in Greenland actually take place during the morning and daytime, so this tour could be a nice evening addition to your itinerary.
Please let me know if you have any questions about booking a puffin tour in Nuuk! Thanks.
More Greenland Travel Guides
Pin this Guide about the Puffins in Nuuk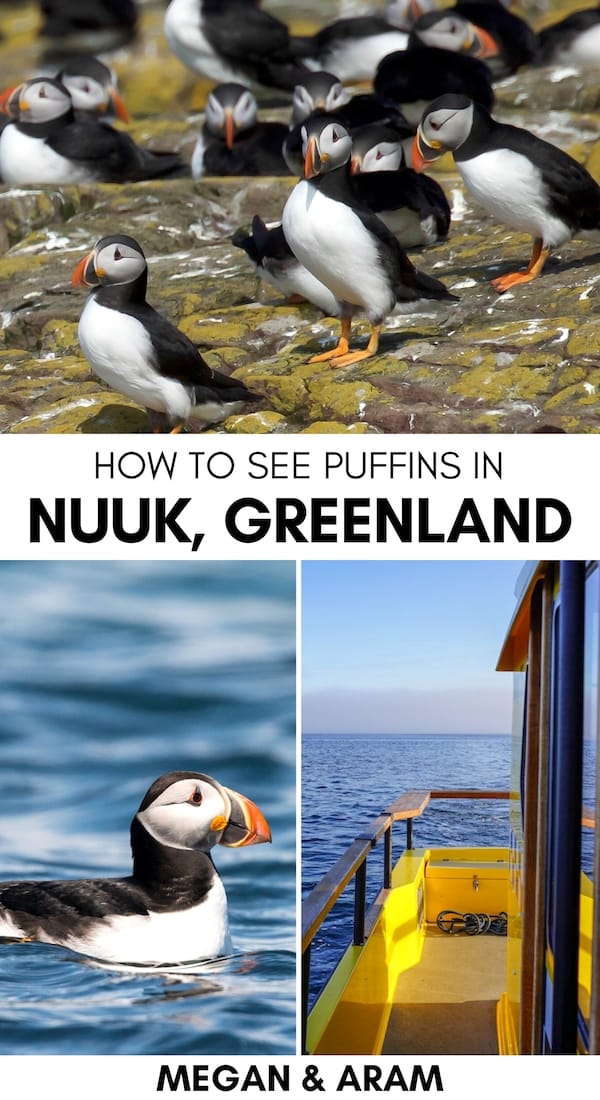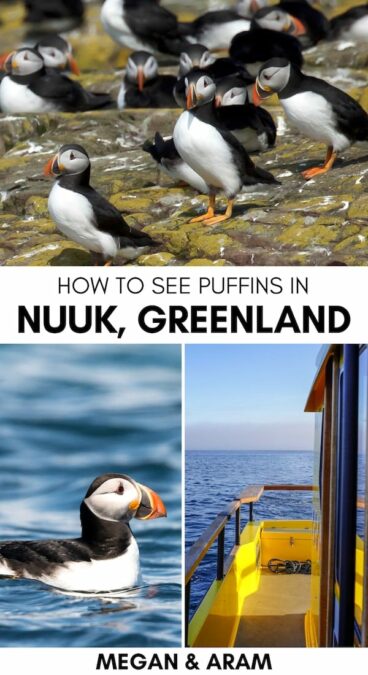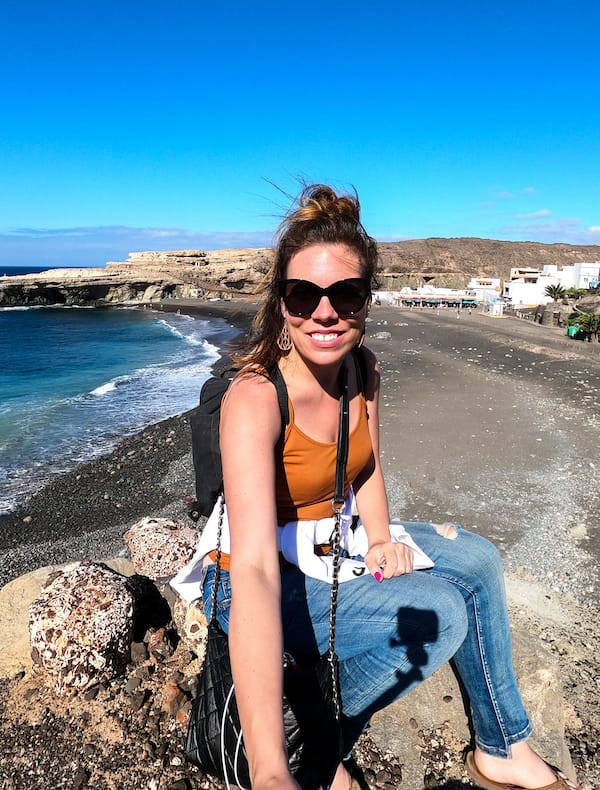 Megan is a travel blogger and writer with a background in digital marketing. Originally from Richmond, VA, she now splits her time between Frankfurt, Germany and Arctic Finland after also living in Norway, Armenia, and Kazakhstan. She has a passion for winter travel, as well as the Nordic countries, but you can also find her eating her way through Italy, perusing perfume stores in Paris, or taking road trips through the USA. Megan has written for or been featured by National Geographic, Forbes, Lonely Planet, the New York Times, and more. She co-authored Fodor's Travel 'Essential Norway' and has visited 45 US states and 100+ countries.