One of the can't-miss places in Dubai is the famous Dubai Marina. This is a guide to the best things to do in Dubai Marina, including boat tours, places to sunbathe, and more!
Are you planning your Dubai trip last minute?
Below are some of the top tours, hotels, and more in Dubai! These include many Corralejo day trips!
🇦🇪 Top Activities and Tours in Dubai:
🛌 Top Dubai Accommodation Options:
🚗 Looking for the best way to get around Dubai? Click here to check rental car rates for Dubai!
Every year, hundreds of thousands of tourists flock to Dubai to shop, sunbathe, and eat in one of the city's many luxurious restaurants.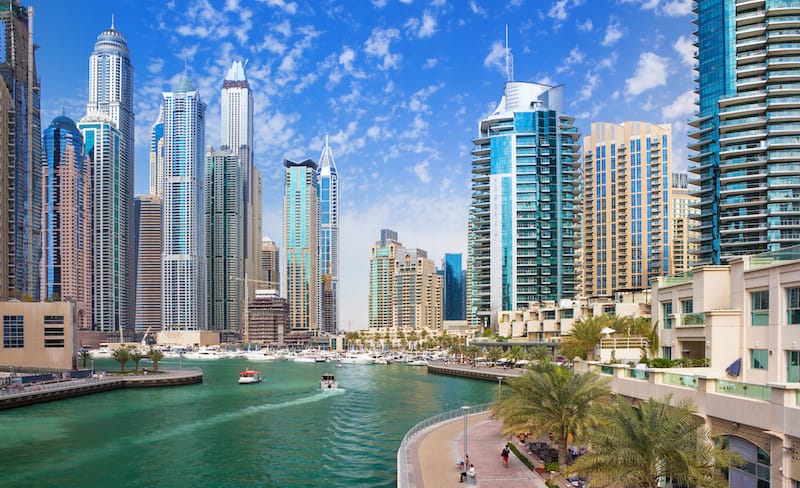 One of the best places to stay is the Dubai Marina, and you will find plenty of Airbnbs in Dubai Marina, as well! This artificial marina is known for its high-rise buildings, great parties, and luxurious hotels.
To help you plan a great trip to Dubai, we've listed the ten best things to do in Dubai Marina here!
Best Things to Do in Dubai Marina
1. Go Shopping in Dubai Marina Mall
When we think of Dubai, we naturally think of Dubai Mall, the largest shopping center in the world (one of the many fun facts about Dubai and its record-setting places).
Yet Dubai houses many beautiful, large, and luxurious shopping malls, including the Dubai Marina Mall.
This large shopping center is located on the waterfront of the Marina.
It is operated by Emaar, one of the largest property developers in Dubai and the company that owns Dubai Mall – which is why Dubai Marina Mall has the same look and feel as its larger brother.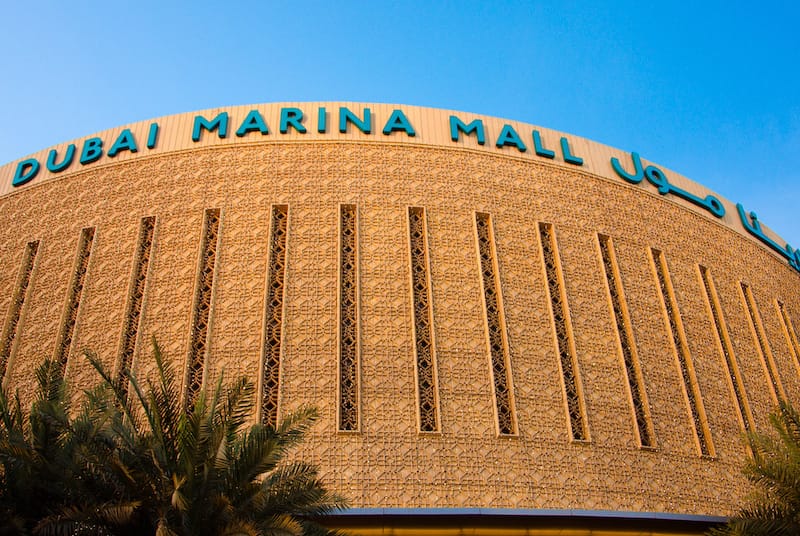 In Dubai Marina Mall, you will find many luxury brands and boutiques such as BCBGMAXAZRIA, Dune, Mac, the suit makers at Sacoor Brothers, and other well-known brands such as Ted Baker, Steve Madden, and Tommy Hilfiger.
You can also get a bite to eat at your favorite fast-food restaurants and restaurant chains like Five Guys, Hardee's, Cinnabon, Wagamama's, and Yo Sushi.
There is also a lot to do if you are traveling with kids. In Dubai Marina Mall, you will find a Build-A-Bear workshop, and you can also enjoy a movie with the family as this shopping center operates a Reel Cinema.
2. Take a Boat Tour on Yellow Boats
Would you like to visit The Palm? Then it is best to do this by boat- it really is one of the best things to do in Dubai! In all honesty – there is very little to the Palm when you are driving or even walking over the island.
Via Yellow Boats, you can take a lovely trip along the coast of Dubai, and you get the chance to see The Palm up close. You will sail past the famous Atlantis Hotel.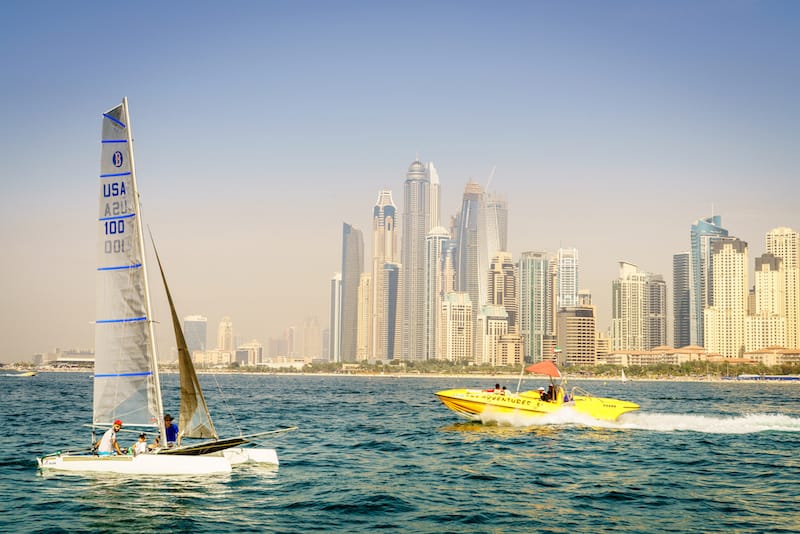 When taking a tour with Yellow Boats, you can also take a trip through Dubai Marina, where you can snap pictures of the expensive yachts and the many skyscrapers.
>> Click here to book your tour with Yellow Boats
3. Dine in the Flying Cup
When we think of Dubai, we often think of unique luxury experiences that you can't find anywhere else in the world. One of these experiences is the Flying Cup.
Here you will be hoisted meters into the air so that you have a beautiful view over Dubai Marina. You are, as it were, stuck at a kind of bar where chefs prepare you a snack or even a complete dinner.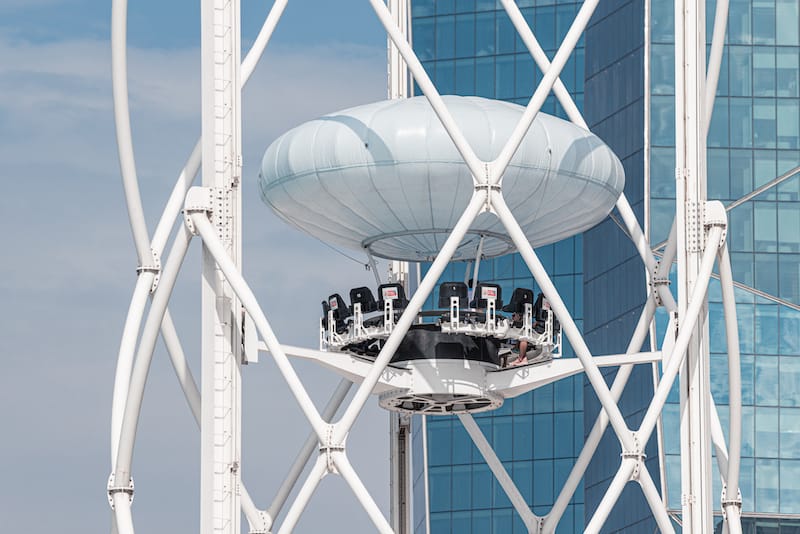 Check coupon websites such as Groupon for discount codes but do try to book your experience ahead of time!
>> Click to book your Flying Cup experience in Dubai
4. Catch Some Rays at Dubai Marina Beach (JBR Beach)
Dubai has many great beaches, and Dubai Marina Beach is one of the most beautiful sandy beaches in the city. It is also one of the top photo spots in Dubai!
Dubai Marina Beach is also known as JBR Beach, part of the Jumeirah beach resort. Here you have access to many restaurants, bars, and even shisha lounges, of which Smokey Beach is probably the most famous.
After a long day on the beach, you can head to one of the nearby restaurants or dance the night away in one of the bars or nightclubs.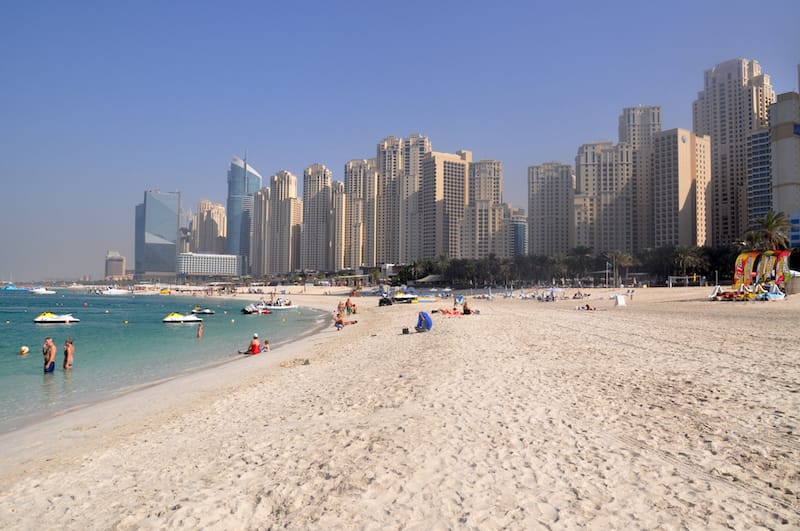 5. Go for a Friday Brunch
Brunching is a national sport in Dubai. Until recently, it was the easiest and often the cheapest way to consume alcohol in Dubai. The concept of a Brunch is simple: for three to four hours, you have access to a buffet, or you will be presented with an entire menu.
You get free soft drinks or can choose from a list of alcoholic beverages depending on the package you choose.
When it comes to brunches, there is something for everyone in Dubai. There are gourmet brunches in chic restaurants that are more like a taster menu with free-flowing alcohol, or even party brunches where loud music is played, and everyone has a cocktail in hand.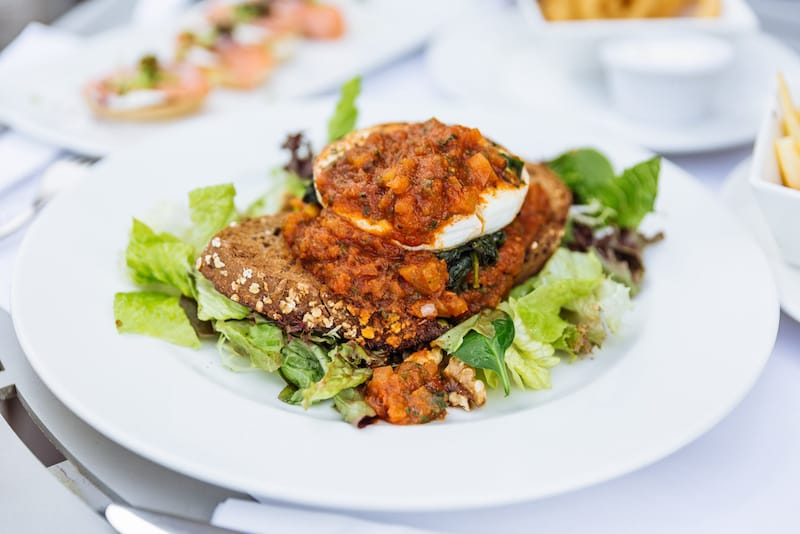 Most brunches occur on Fridays from 1 pm. Still, there are also party brunches where you can go on Thursday evening or Friday evening! Recommended brunches are those in Pier 7 and Trader Vic's in The Hilton at JBR.
You can buy The Entertainer, a discount app that will allow you to get 50% off throughout the city on dining, drinking, excursions, attractions, and even shopping.
Although the app is geared towards residents of Dubai, you can definitely get a lot of value out of the app if you stay more than a couple of days or want to head to expensive or fine dining restaurants!
6. Get Wet at Aquafun
It is scorching in Dubai – especially in summer. If you are looking for an excellent way to cool down, you should head to Aquafun.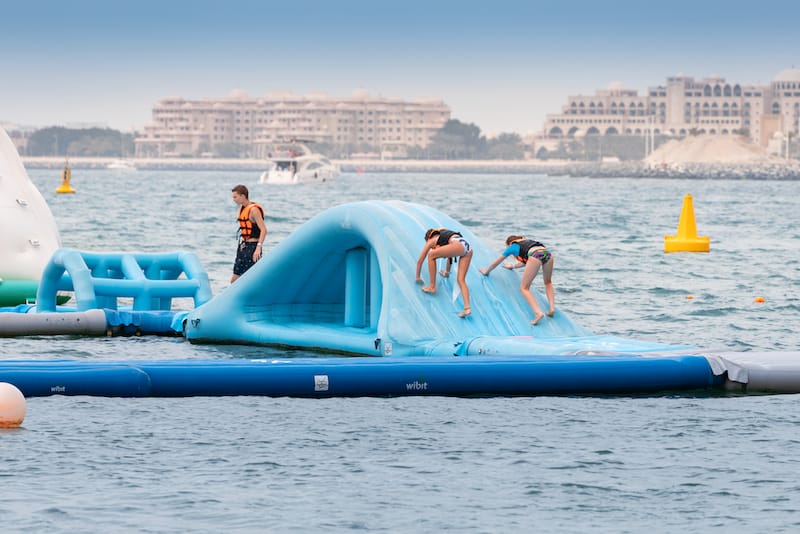 This floating playground can be found on the beach of Dubai Marina Beach and is a great way to spend a few hours playing, swimming, and clambering with friends.
7. Go on a Fishing Excursion
Before Dubai was a tourist attraction, or the UAE found oil, Dubai was little more than a settlement that lived off fishing.
The waters of the Persian Gulf are teeming with fish, and you can spend the whole afternoon or evening with friends on a little boat off the Dubai shore reeling in one fish after the other.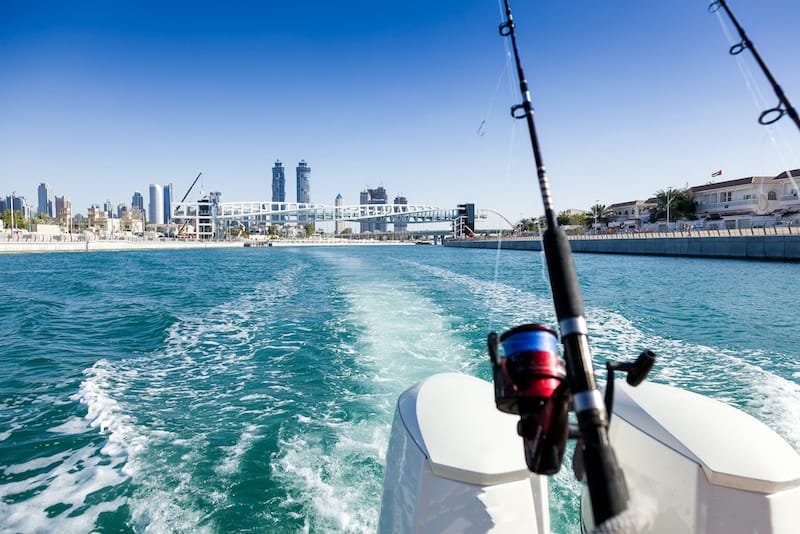 Several companies offer fishing trips; many of these fishing trips depart from Dubai Marina or the small marina in Jumeirah.
>> Click here to book a Dubai fishing trip
8. Go Skydiving Over the Palm
Did you know that you can also go skydiving from Dubai Marina? You can choose between a skydive over the desert or a jump above the Dubai Palm Jumeirah. However, the latter costs a lot more – almost double than a skydive over the desert.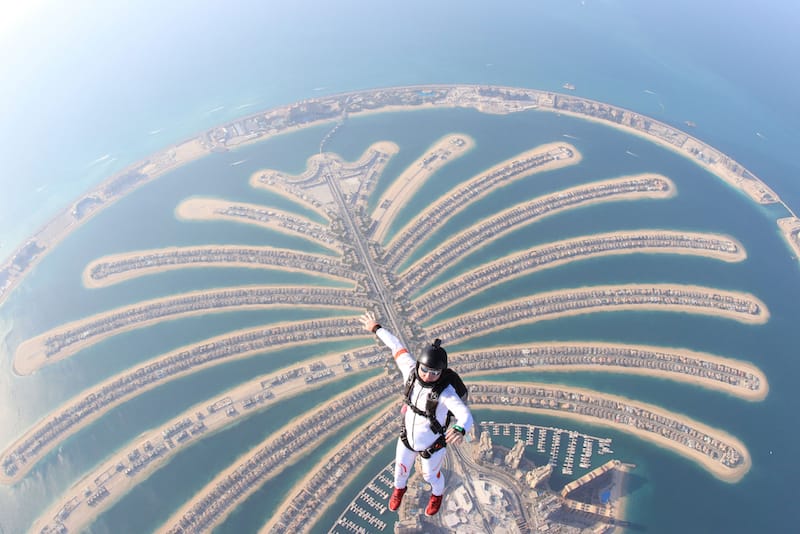 The departure point of these Skydive tours is located just next to the Palm Jumeirah. It is easily accessible from your hotel or apartment in Dubai Marina.
>> Click here to check rates for skydiving in Dubai
9. Zipline through the Skyscrapers of Dubai Marina
The UAE is known to have some of the most amazing zip lines! You can head to the world's fastest zipline in Ras Al Khaimah, but the coolest one is the one in Dubai Marina.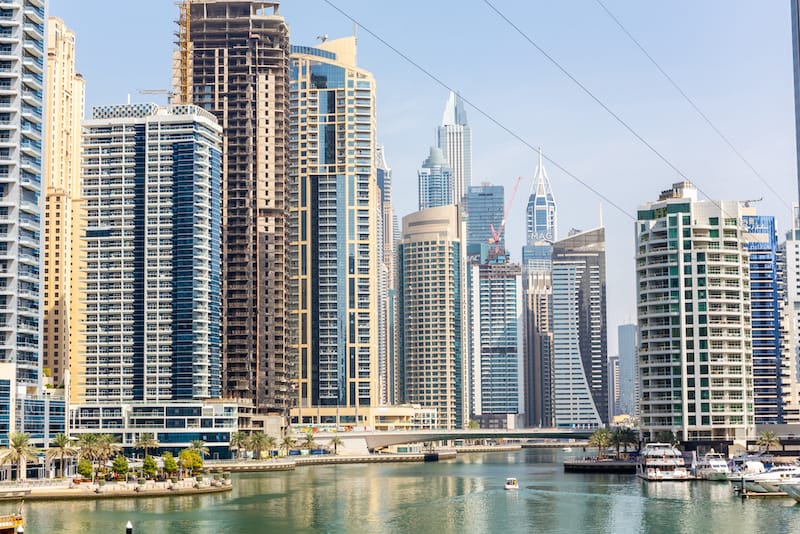 Xline Dubai is a zipline that will take you through the skyscrapers and over the water of Dubai Marina and has been voted in the 10% of the most unique attractions in the world.
>> Click here to check Dubai zipline tour availability and rates
10. Take a Dhow Cruise in the Dubai Marina
Finally, you can also go on a Dhow Cruise through Dubai Marina. Dhows are the traditional boats used by the people of Dubai to fish or trade with neighboring countries.
These boats are still heavily used for trade and transport of goods, as can be seen in harbors such as the one by Palm Deira or on the Dubai Creek.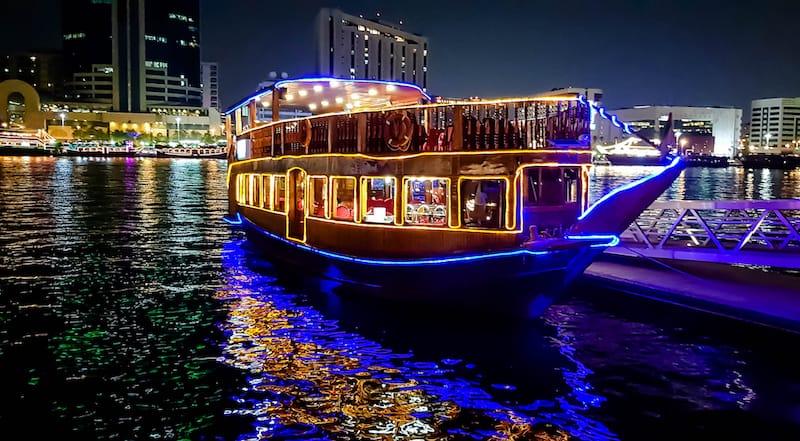 Now you can enjoy a tasty menu and soft drinks onboard one of these boats during a Dhow Cruise.
Depending on which cruise you choose, you will be guided through Dubai Marina, but you can, of course, also take a Dhow Cruise over Dubai Creek in Deira, where you will receive information about the history of the city, the historic neighborhoods and have beautiful views over the skyscrapers in Business Bay and of course the Burj Khalifa.
>> Click here for Dhow Dinner Cruise rates and availability
There are many things to do in Dubai Marina and it is proof that there is more to Dubai than just a long layover!
What did we miss? Let us know in the comments!
Pin this Dubai Marina Things to Do Guide