On my way to India and Nepal this February, I ended up with 24 hours in Dubai on the way to the Subcontinent. Quite frankly, the layover and my trip to Dubai were intentional.
I had several options of where to have a layover on this trip, ranging from Istanbul to Doha to Muscat, but Dubai was chosen due to the lengthiness of the layover.
My travel companion has a good friend living in Bahrain who is able to escape Manama at a moment's notice, so this layover offered him the opportunity to catch up with his friend.
Aside from the fact that we arrived at 5am and departed the following day at 5am, it was a perfect scenario. As long as we were able to stay awake for 40+ hours from start to finish. And as long as we weren't going to have any problems leaving the airport during the layover.
This guide represents what I did while in Dubai. I didn't go there with solid plans and just kind of went with the flow. It actually worked out pretty well.
I saw almost everything a tourist would want to see in Dubai, minus sitting at pretentious pools and hotels with a $20 cocktail in my hand (don't worry- I did this later in the day, albeit with beer). And there are surprisingly many free things to do in Dubai.
I have labeled everything in the order that I did it. I arrived at Dubai International Airport at around 5:30am and departed at around the same time the following day. Obviously, activities will be different depending on your layover length and the time of the day, but the ease of the metro system and taxi availability should allow you to see a fair portion of the city, nonetheless.
Dubai International Airport
DXB, or Dubai International Airport, is the world's busiest airport in terms of international passenger traffic. The airport is designed for voluminous numbers of travelers, regardless of whether or not they are staying in Dubai as a final destination. Long layovers are commonplace at DXB, therefore connecting the airport to the city in a practical fashion.
After successfully getting through customs (make sure Dubai is visa-free for you first!), you can find ATMs, shops, and luggage storage right near where you will hop the metro into the city. Luggage storage is available at Terminals 1 and 3 and is $5.50 per bag for 12 hours. I had to store mine for longer, so they charged double that price. It was an absolute rip off and done in such an archaic manner as they filled out all forms by hand, but there was no way I was hauling a backpack into the city with extreme temperatures and a frail, not-used-to-the-heat, European-adapted body. Before heading to the metro, I highly suggest finding a shop and buying a bottle or two of water.
You can get right to the metro by heading up the escalator at the front of the terminal. I found it easiest to purchase a 24-hour ticket for the metro which only costs around $8. Looking back on the trip now, the price was certainly worth it.
Bastakiya
From the airport, I went straight to Bastakiya. I wanted to hit Bastakiya early while the temperatures were still tolerable and when tourists were still asleep. Not that many of them were probably keen to visit this area anyway, as it actually has a bit of culture attached to it.
Bastakiya is situated in close proximity to the Dubai Creek and is of renowned historical significance to the city. It was established at the end of the 19th century and today the quarter is enlivened by boutique hotels, cafes and restaurants, and a plethora of museums and cultural centers. At 8 in the morning, we had the place completely to ourselves (then again, not much was open at this time).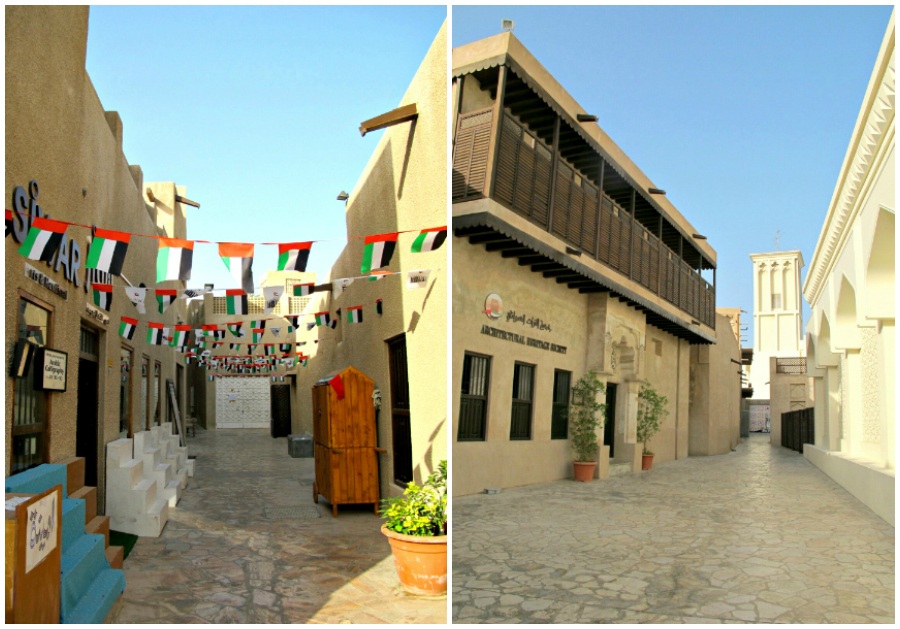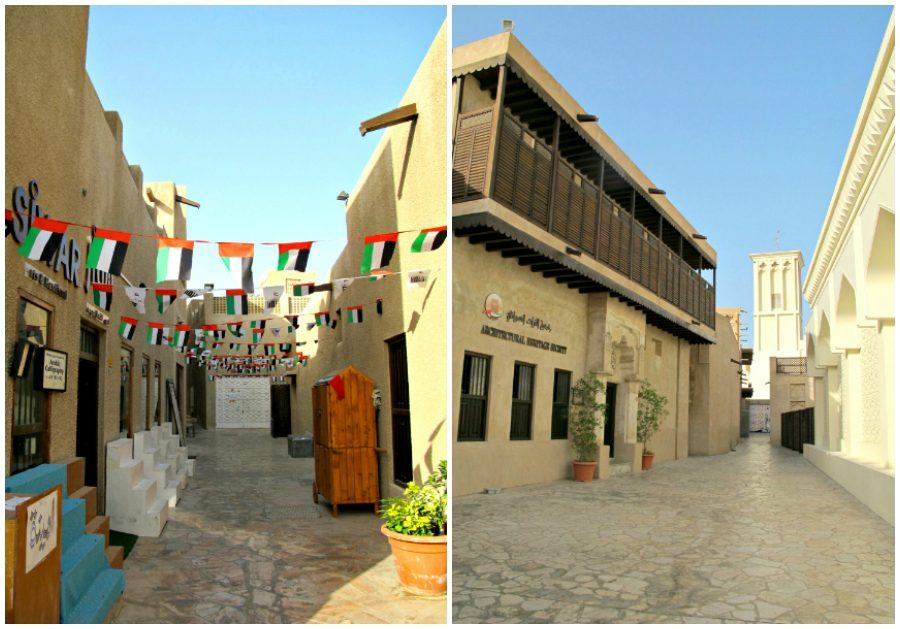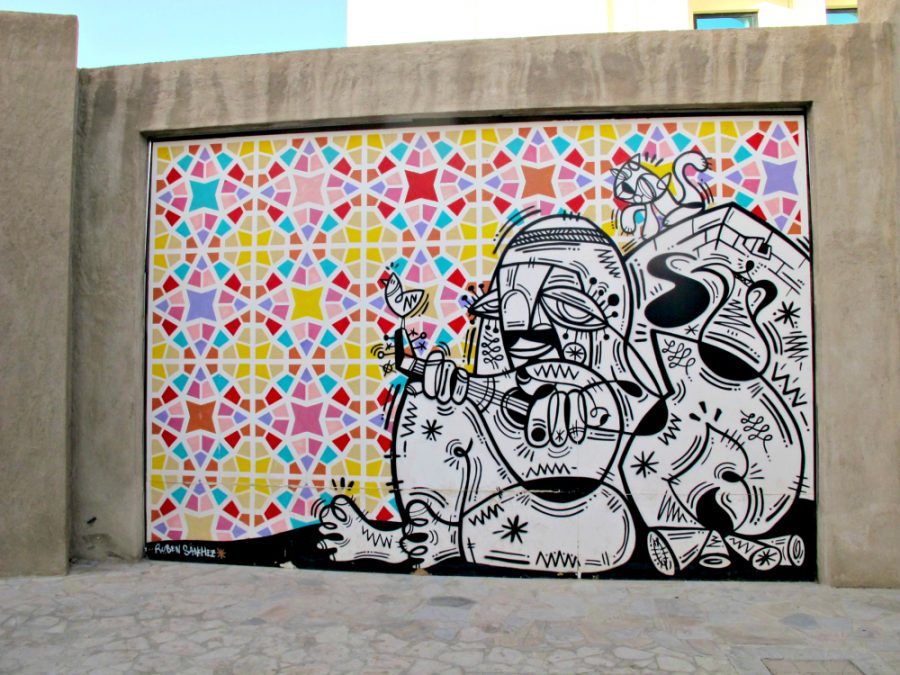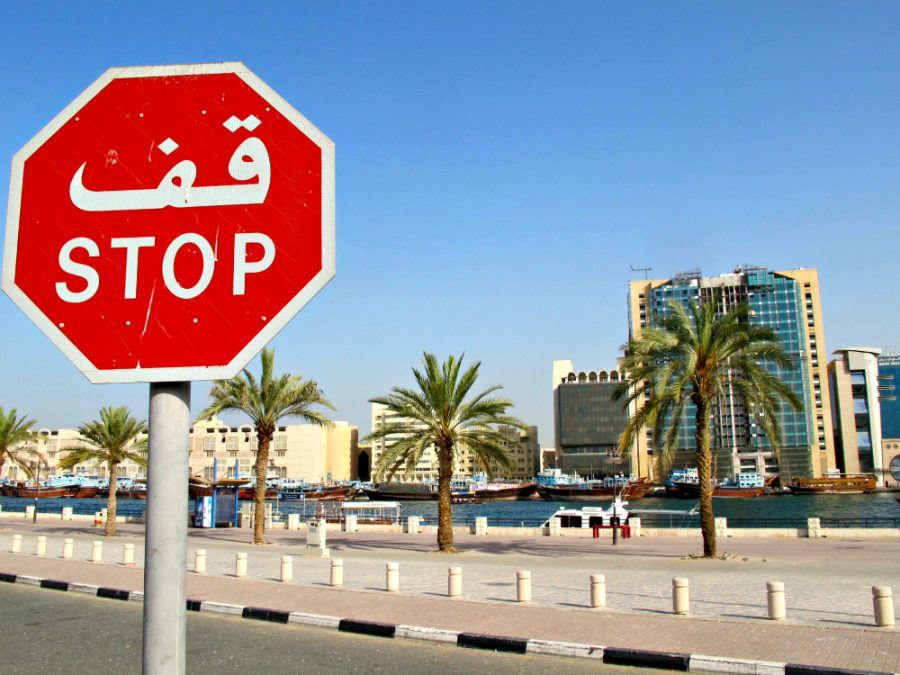 The long plane ride and little sleep made my stomach rather ravenous and I scoured the area for food. Finally stumbling upon Local House Restaurant, a touristy restaurant and cafe that was open early and served camel meat, which was something the person I was traveling with desired to eat. I ordered some tabbouleh and he ordered camel meat with some sides. The people who owned the place probably thought we were insane ordering this type of food so early, but they didn't realize how much we needed real food!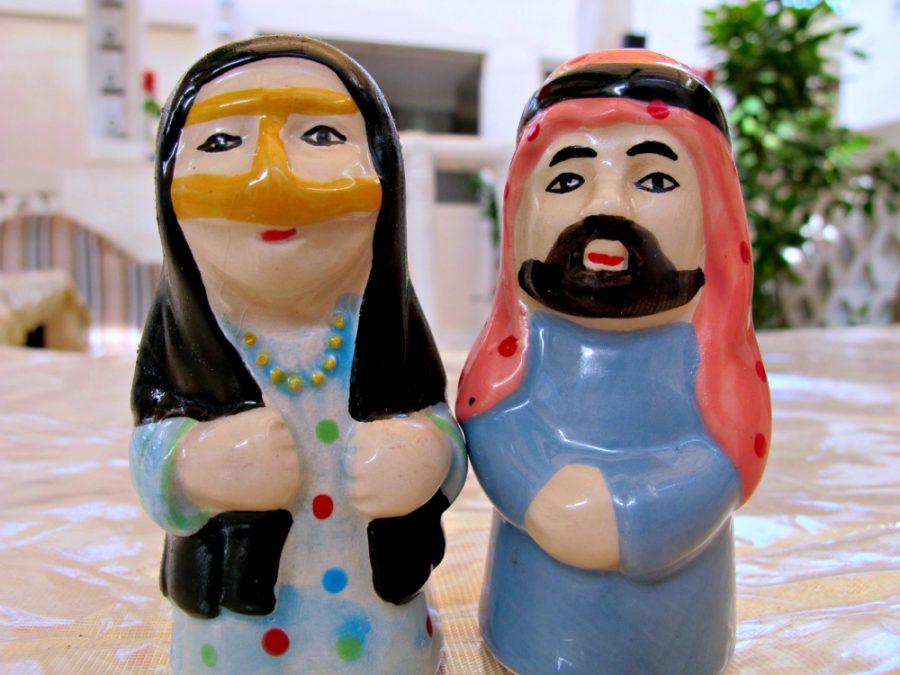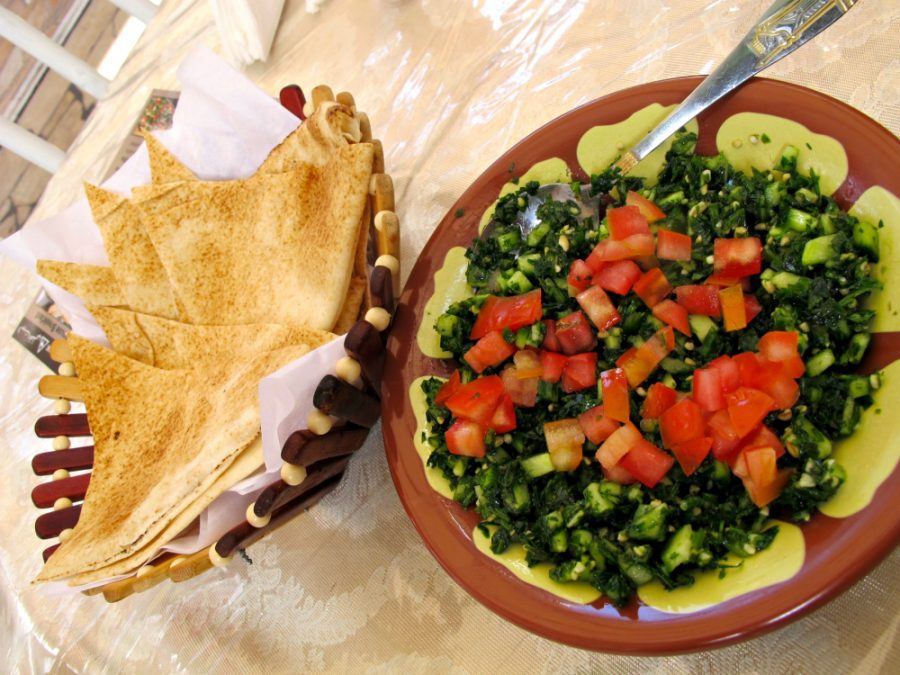 From the Local House Restaurant, we ventured around the quiet paths and alleys in Bastakiya and ended up at the Grand Mosque and Al Fahidi Fort. The sun was beginning to take its toll, but we soldiered on, ending up at the Old Souq Harbor and finally some uncanny areas where we appeared to be the only tourists.
Bastakiya wound up being my favorite place I visited in Dubai and while I would have loved to had seen it when it was more alive, I was perfectly fine with the morning quietude the area had to offer shortly after the sun had come up.
To reach Bastakiya from the airport, you must take the metro to the stop Al Fahidi, via a switch at Union from the red line to the green line. From there, you must walk about ten minutes before entering Bastakiya. We walked around Bastakiya and the Old Souq Harbor for around two hours before leaving from the Al Ghubaiba station, which lies further down on the water.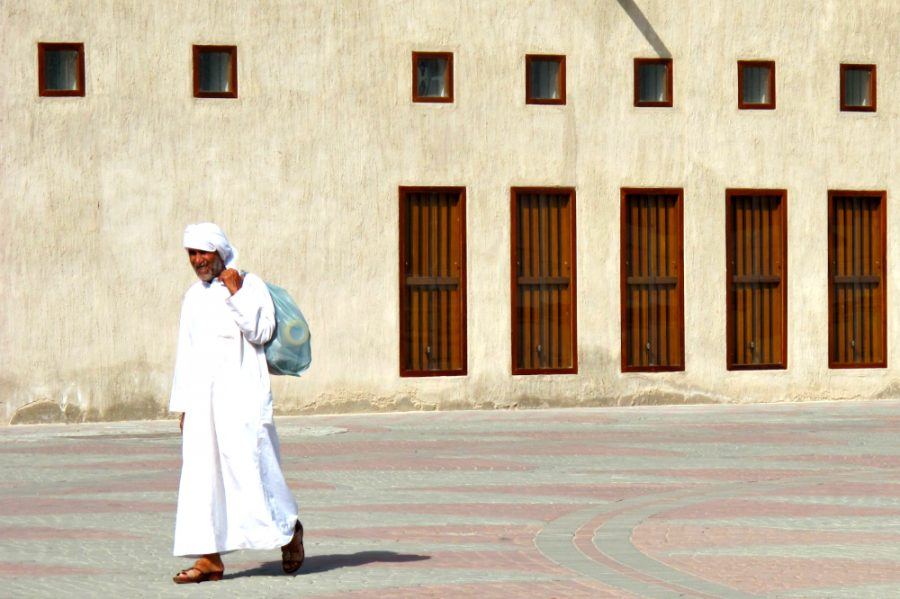 Tip: Keep appearance modest around this area. Make sure you properly research tips on what to wear as a woman in these parts.
Deira
Deira has traditionally been the commercial center of Dubai. It can be found on the other side of the Dubai Creek from Bastakiya. While much of that is of little interest to me, the fact that they have an acclaimed spice market is of major interest to me.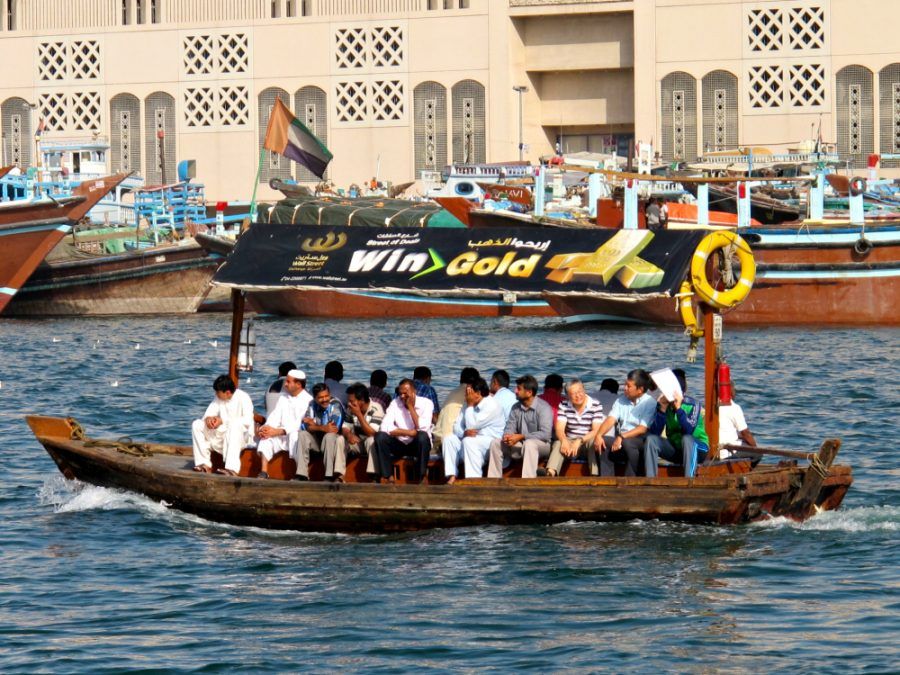 You can reach Deira and the spice market by taking the metro to Al Ras.
Mall of the Emirates
So, living as an American in a country foreign to my own sometimes gets the best of me. And, if I am going to be honest, the thing I anticipated most while in Dubai was going to Shake Shack. Not for the burger and fries, but for the peanut butter milkshakes. I had even looked up to ensure that there was still a Shake Shack in Dubai (turns out there are a few of them). As excited as I was for some local food, I was more excited for a peanut butter milkshake. This is where I was set to meet up with my friend's friend, so there was no bailing on Shake Shack. I can't say I was upset.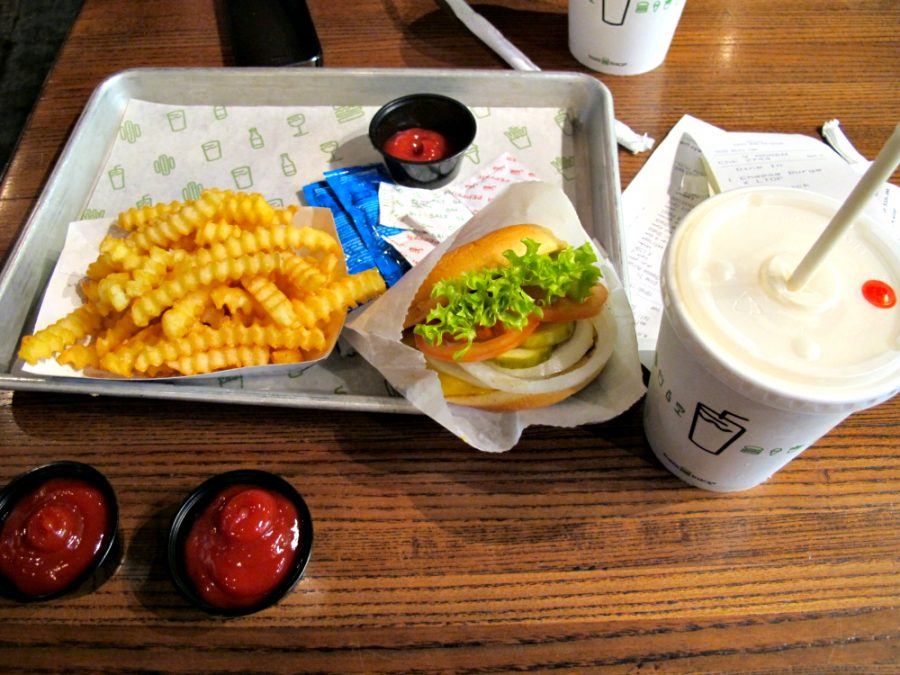 The peanut butter milkshake was one of the best things I have ever had in my life. Many, many months overdue. And I had the two Brits with me succumb to the curse of Shake Shack. Which later that day, resulted in us having dinner at Nando's. Again, not upset…
An FYI for those of you want to waste $60 and a few hours of your day. Nothing says ethical like penguin encounters in the middle of a mall in the desert.
While I usually wouldn't waste time at a mall when allotted a short amount of time in a place, Dubai prides itself on its malls and extravagant shopping, and I had no regrets checking it out for an hour while grabbing some lunch. I also found relief from the sun and climbing desert temperatures for a bit, which was much needed if I was to survive an entire day on little sleep.
You can reach the Mall of the Emirates by taking the metro to Mall of the Emirates station.
Kite Beach or Palm Jumeirah
My initial thoughts when arriving in Dubai was that I wanted to see Palm Jumeirah and Al Burj Arab, the world's most luxurious hotel. I had seen tennis played atop the Al Burj Arab so I figured it might be cool to check it out. There is also a cool monorail that everyone talks about connecting the Palm to the Atlantis resort on the end.
After arriving in Dubai, I quickly learned that there was a food festival at Kite Beach, a beach in between Jumeirah Beach and Wild Wadi Water Park. I had eaten so much at Shake Shack that I wasn't very hungry, but I'm also one to never turn down a food festival. Kite Beach isn't the easiest to reach via the metro system, so our little group hopped in a cab at the Mall of the Emirates. The cab ride ran us about $5-$8 and was around 15 minutes long.
Upon arrival to Kite Beach, we quickly learned that the Dubai Food Festival was a joke. It was simply random restaurants setting up shop in little kiosks by the beach. This offered me lots and lots of American-style chicken wings. No thanks. But it offered covered seating, a DJ, drinks (all non-alcoholic which was not to my liking… but I was in the Middle East, after all), and some alluring views of the Persian Gulf. Kite Beach is an active beach with lots of paddle boarding, beach tennis, kite flying, and other activities going on there. You still get a pretty stellar view of the Al Burj, too.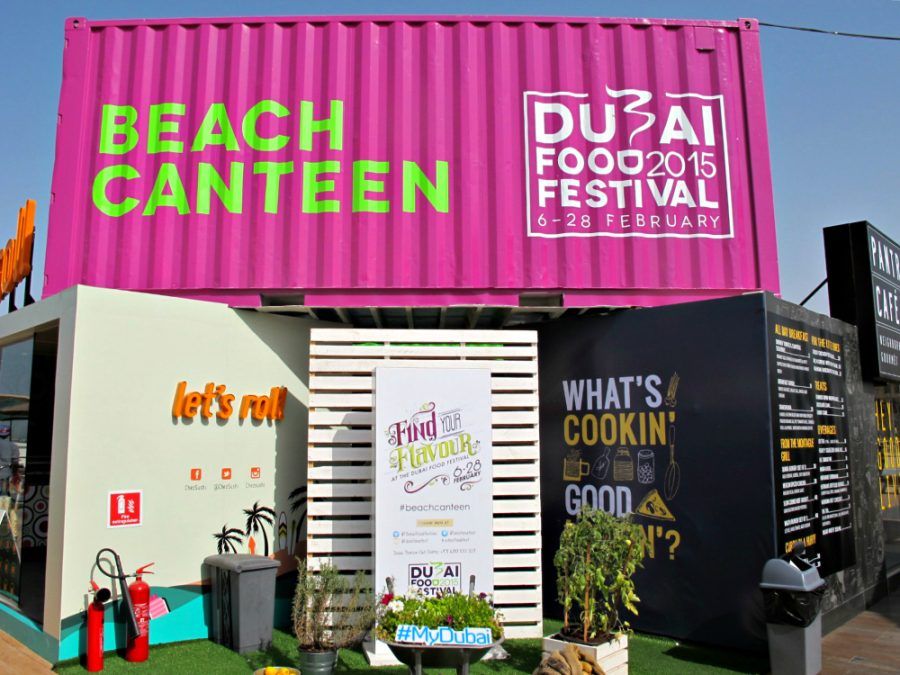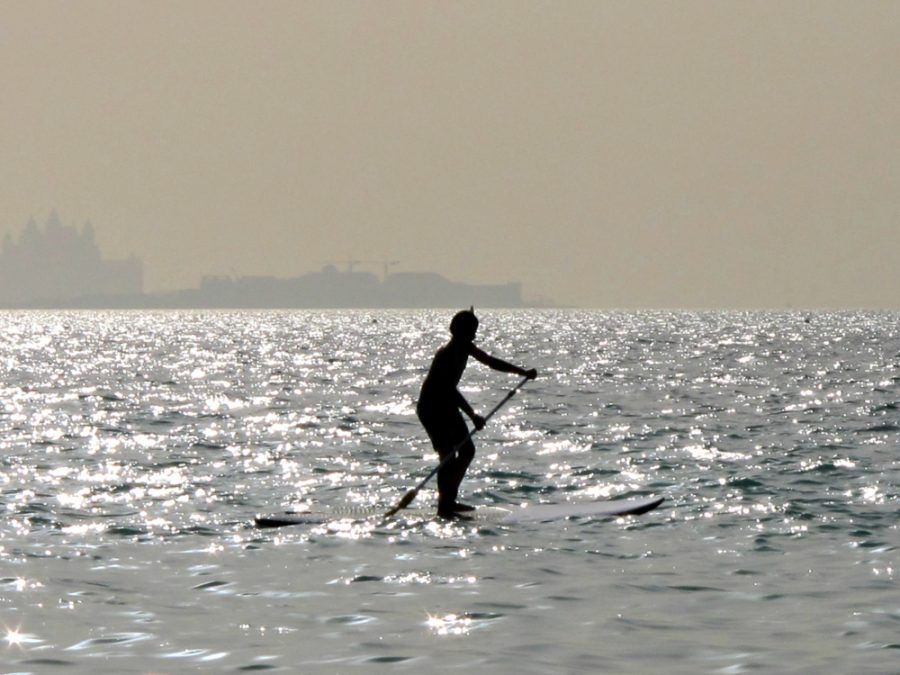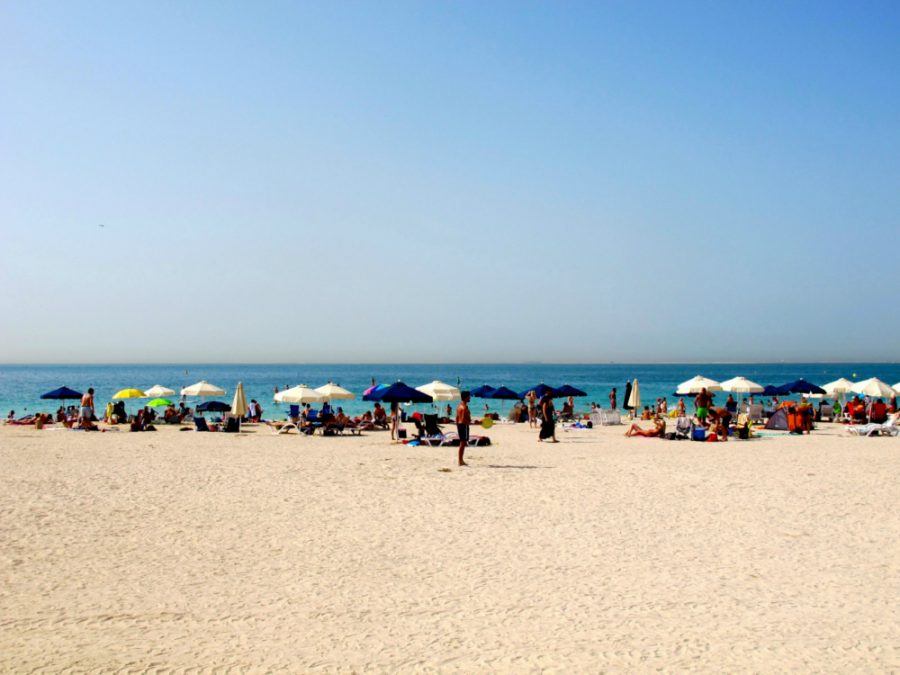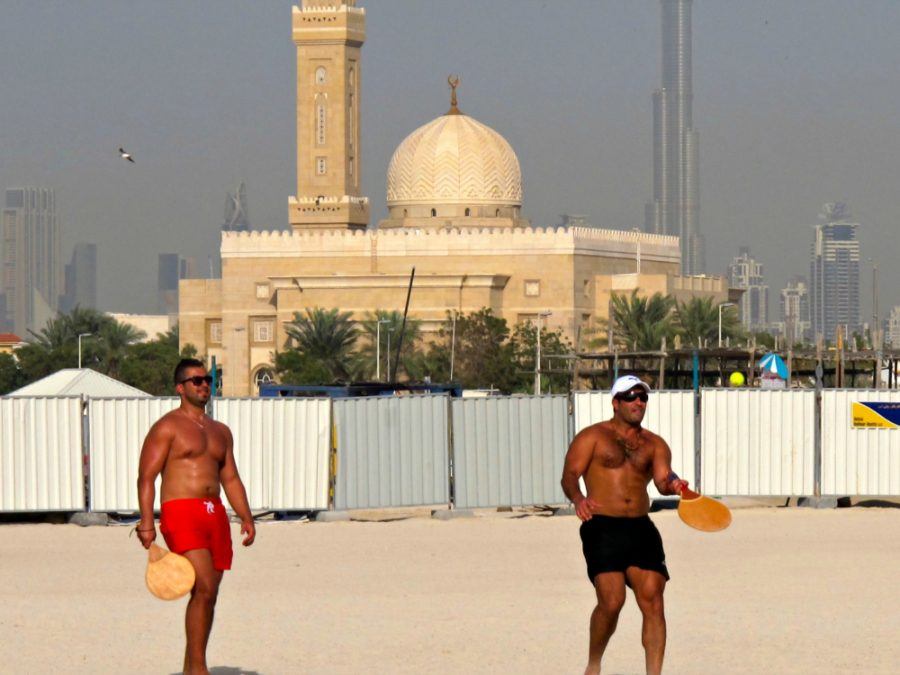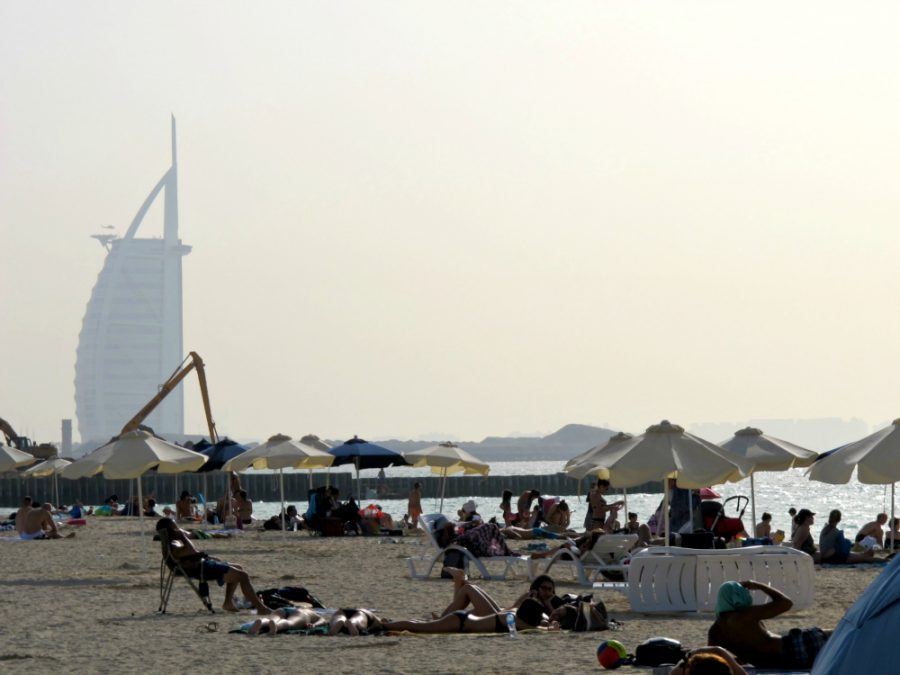 Hailing a cab from Kite Beach was a bitch, on the other hand. I would suggest having something prearranged or a lot of patience. We had to go to the main road and hail one from there. There were several other people doing the same, so we went in front of them down the road a bit and caught the first one. I'm pretty sure the other tourists were not too pleased about that.
Burj Khalifa and The Dubai Mall
To be honest, I didn't go to the Burj Khalifa and The Dubai Mall right after Kite Beach. I went to my friend's hotel and took advantage of expensive beers (was very booze deprived at this point) and poolside views of the city. From here, I watched the sun set over the water and got a taste of what Dubai looks like at night, which is not ugly.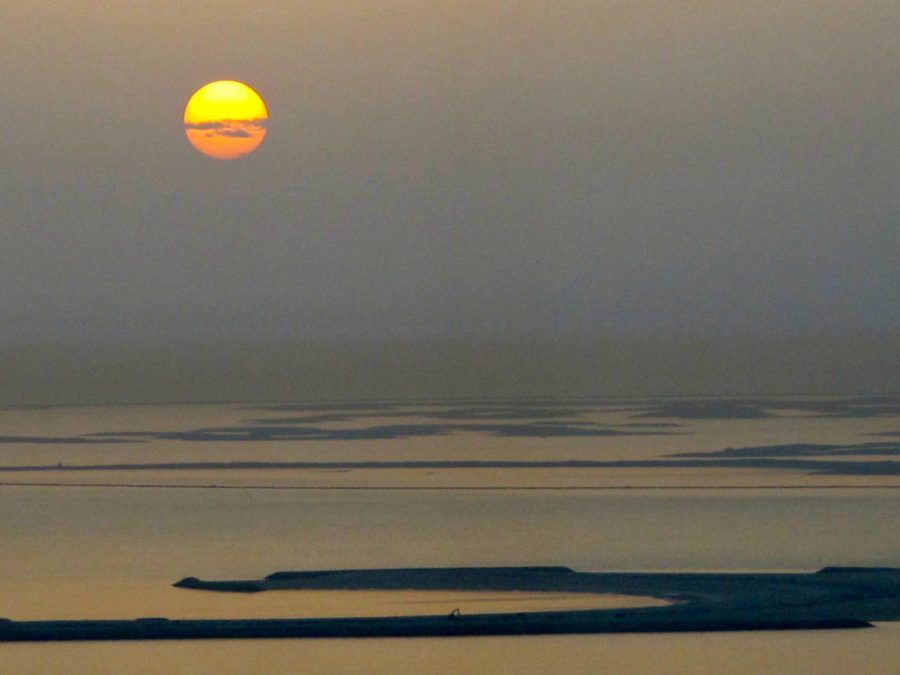 After a few hours of drinks and depleting my bank account, we headed to the Burj Khalifa and The Dubai Mall, which are situated side by side. For those that don't know, the Burj Khalifa is the world's tallest building (and, yes, you can visit the top of it I just didn't). And The Dubai Mall is home to Nando's, which was set to be my dinner that night. Oh, and it is also the largest mall by area in the world. The tunnel walk from the metro station to the mall and Burj Khalifa is the longest walk in the world, too. Better have your walking shoes on!
There is also an over-the-top fountain show at night, which makes nighttime the best time to visit the area, in my opinion.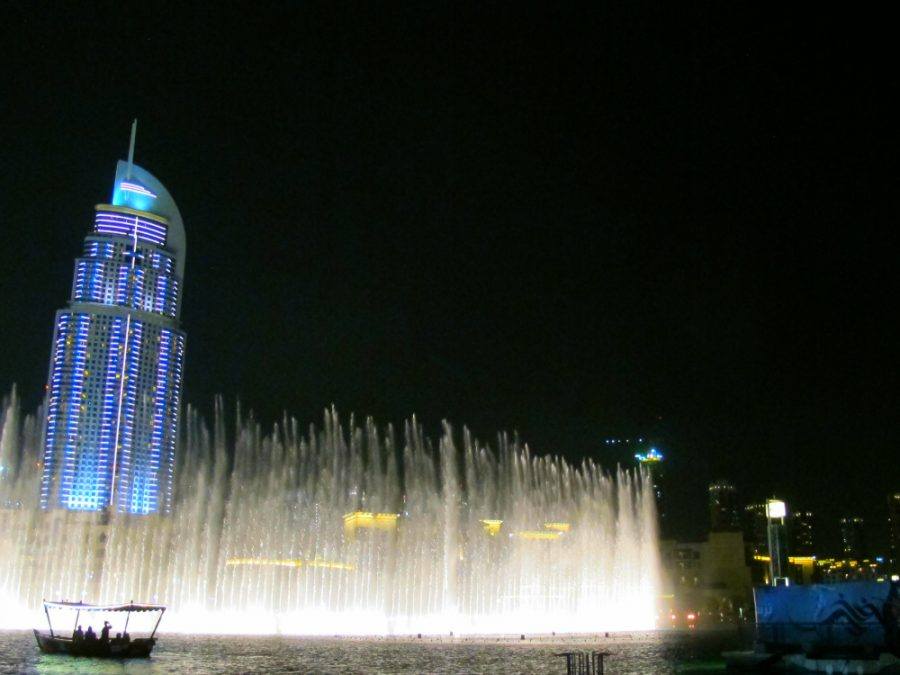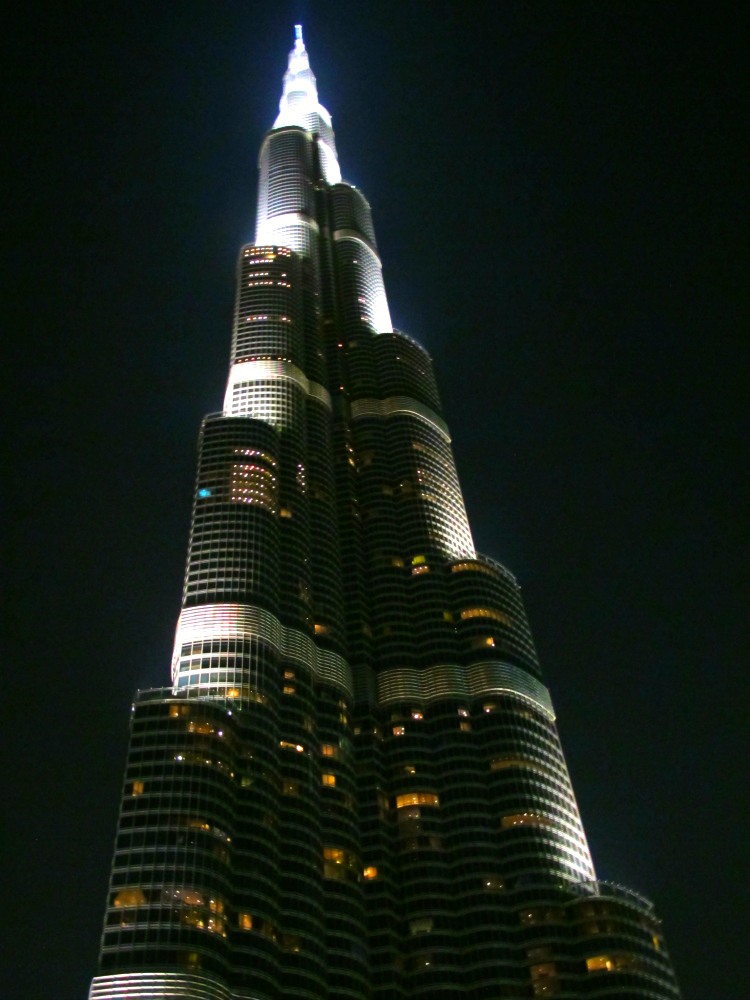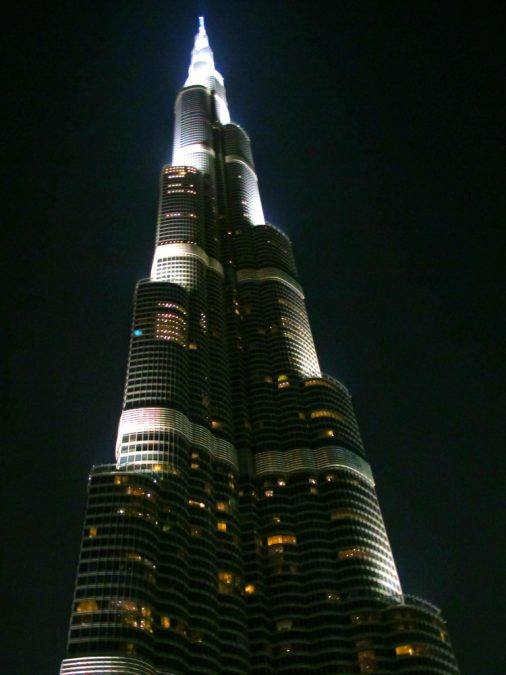 There are also several restaurants and eateries around the fountain, which surely offer better food than what I indulged in at the mall. To reach this area via the metro, you can take it to the Burj Dubai/Dubai Mall stop.
Additional Resources
I am certainly no expert regarding where to eat in Dubai having only eaten at Local House Restaurant in Bastakiya (and Shake Shack and Nando's), so hopefully, these few links will offer additional hot spots and act as resources for the city:
Eating out in Dubai for the budget traveler: My Custard Pie (this link offers great vegetarian advice for the city, as well!)
Shopping for diamonds and jewelry in the souk from Beyond 4Cs. Look for what you want when buying diamonds, but learn what to avoid before you buy.
Vegan and Vegetarian fare in Dubai from Happy Cow
Chef and Steward share their favorite picks for budget and street food in Dubai
Dining on a budget in Dubai with Travel with Kat (a guest post, but a good resource)
Skyscanner tells you the best 10 things to do in Dubai. I wanted to go to the Dubai Marina but lacked time…
The Dubai Metro Map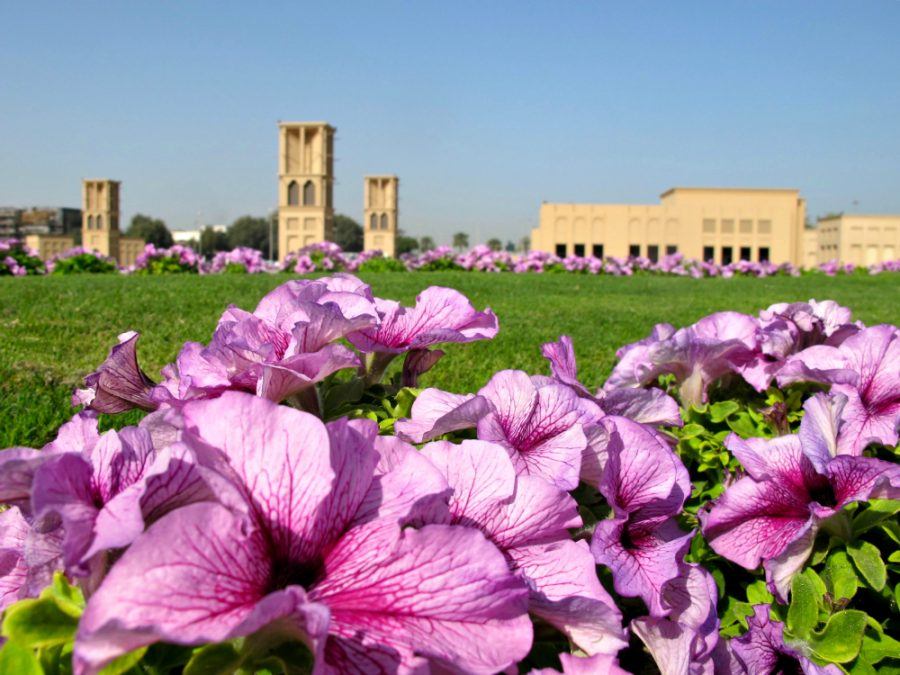 Dubai was exactly, 100% what I expected it to be. I didn't hate it and I didn't love it, but I thoroughly enjoyed my short time in the Middle Eastern city. I don't understand how people keep occupied for a week there, but we all travel differently. It is never a place I will book a ticket to as a final destination, but I wouldn't be opposed to having another layover there someday. I am sure there is much to be explored in Dubai and I hardly saw a thing in comparison. But I feel as though I received a pretty good impression of what the city has to offer. Maybe next time I will skip Shake Shack and find some delicious Middle Eastern food since it is one of my favorites (…and I found a Shake Shack at the airport so I can still get my peanut butter milkshake fix before departing). I highly encourage anyone with an extended layover there to make the most of the city!