The natural darling of Scandinavia has a reputation for being a very expensive place to travel. This is a guide detailing how to get from Oslo Airport to the city center in the absolute cheapest way.
Are you planning your trip to Oslo last minute?
If youʻre booking your trip to Oslo last minute, we have you covered. Below are some of the top tours, hotels, and more!
🛌 Top Hotels in Oslo:
🇳🇴 Top Experiences and Tours in Oslo:
🚗 Looking to travel around Norway independently? Click here to check Norway rental car rates!
This post was updated on May 16, 2023 and prices are current as of that date.
Did we miss anything about the airport journey to the city in Oslo? Let us know in the comments!
How to Get from Oslo Airport to City Center
Getting from the airport in Oslo to the city center seems like it would be a harmless and simple task. And it is… if you're okay with spending an absurd amount to do so.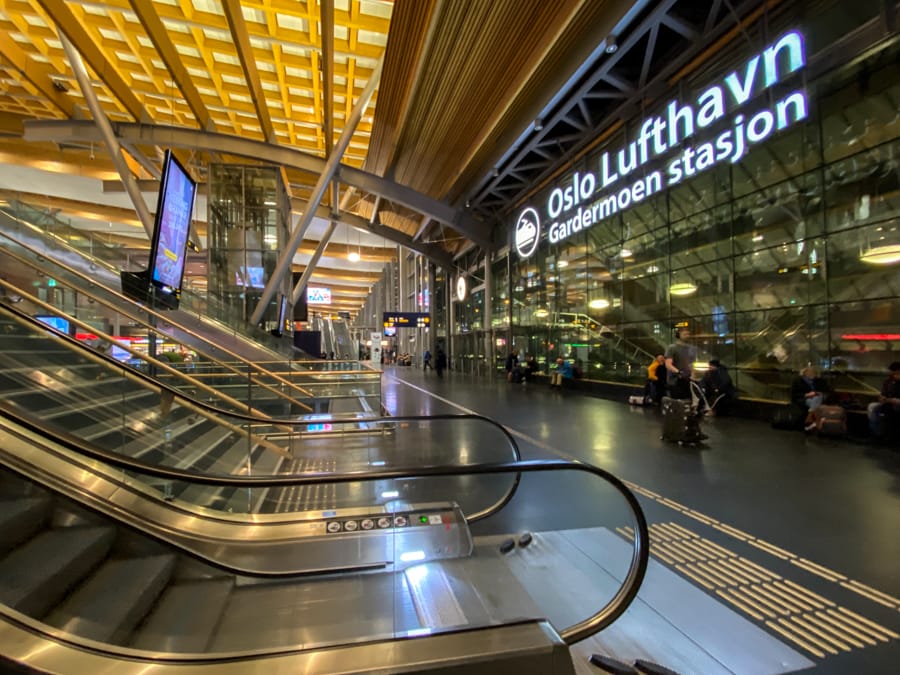 There are a couple of options that exist to get from Oslo Gardermoen to the city center but none of them are entirely that cheap.
Including booking and Oslo Airport transfer with a recommended company called Airport Transfer that gives you the flexibility to cancel up to 48 hours before landing if things don't go as planned!
But, this guide will show you exactly how to take the cheapest of all options- the Vy train (formerly NSB).
There is often confusion when travelers land at Gardermoen regarding what train to take, and if you take the wrong one, you will absolutely pay a lot more to get into Oslo. It took me years of living in Norway to learn about this (not joking).
If you have any questions, please leave them in the comments. We hope that you have a safe arrival whether you're flying Norwegian Air Premium Class or Economy on SAS.
This post will be short and to the point- but will give you exact instructions about how to make this journey the right way.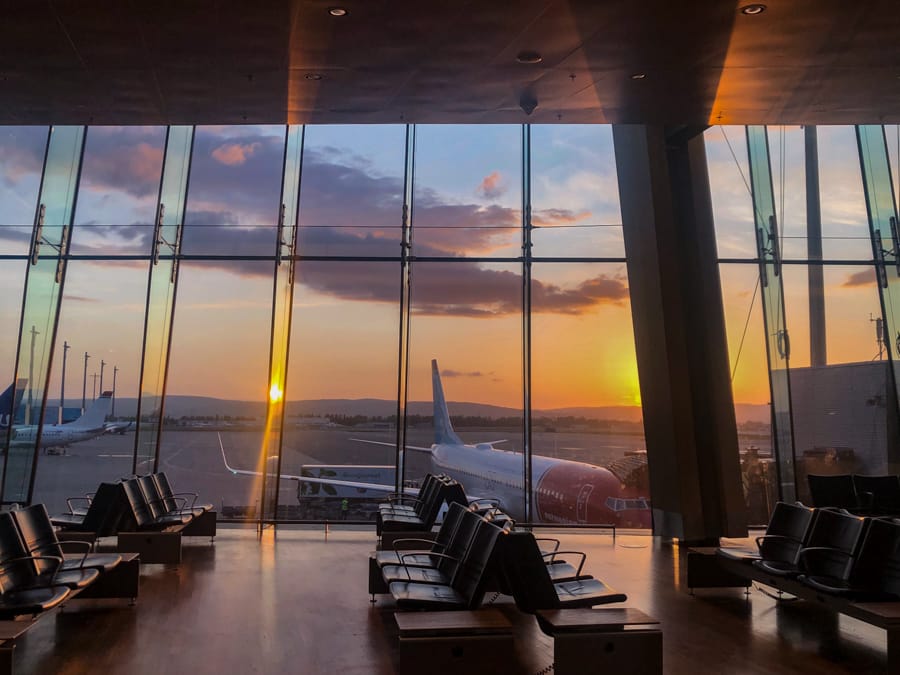 Arriving at Oslo Gardermoen
Once you arrive at Oslo International Airport, you will head toward the baggage claim.
You may notice the locals taking an immediate turn for duty-free and camping in there for a while because the taxes are high in Norway and duty-free is definitely utilized by Norwegians.
Once you grab your luggage, you will proceed through the doors to the main arrivals terminal. From there, you will take an immediate right toward the 'train' area.
Taking the Train From Oslo Gardermoen to Oslo Central Station
Once inside Oslo Airport's arrivals hall, you will take the right indicated above. Continue walking past Peppe's Pizza and a newer food court area. You will then see a large sign that says 'Flytoget', or 'Airport Train'. Don't take this!
I repeat, DON'T TAKE THIS!
The ticket is 230 NOK ($22) as of March 2023 (nearly double the price of the train I recommend taking below).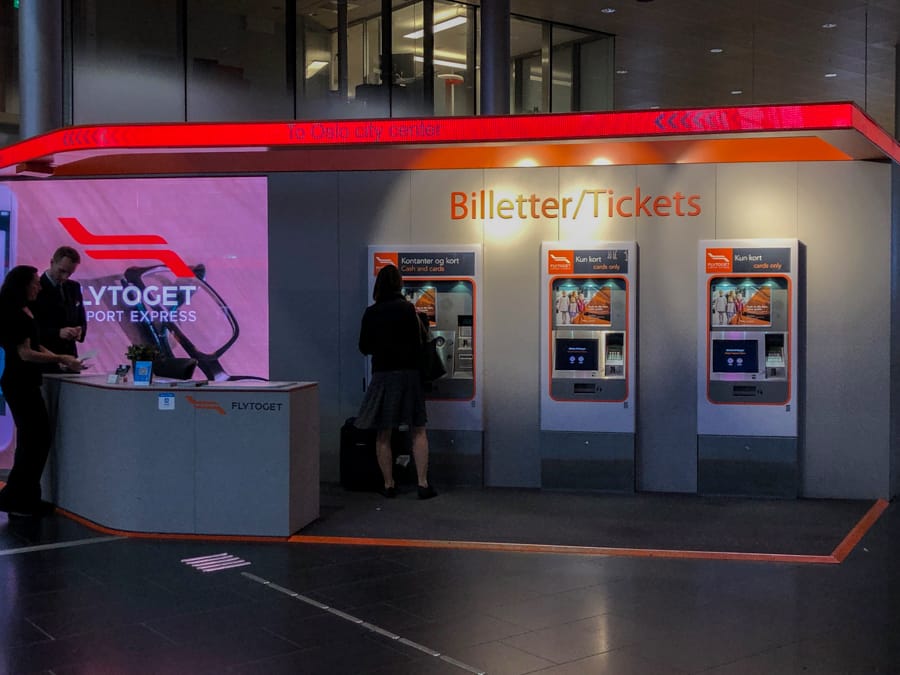 This is the expensive train that fools pretty much every tourist who arrives at Oslo Airport.
Ignore this Flytoget and go a bit left of the 'wall'. You will see the Vy trains, formerly NSB. These are the trains you want to take and the ticket machine will look like this: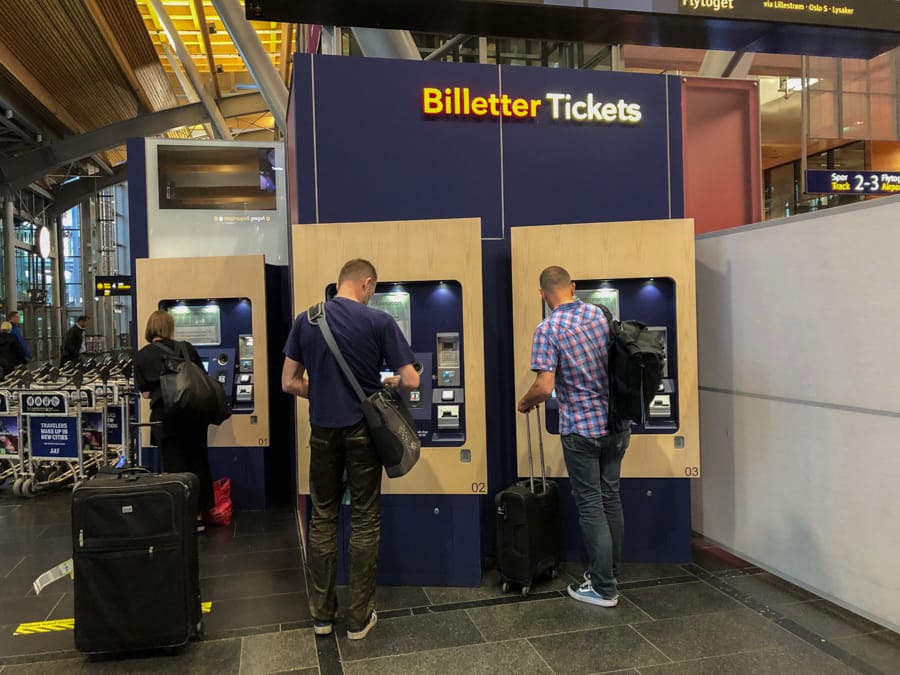 Once you're at this ticket machine, select your language (English is an option). Proceed to do the following if you're heading to Oslo Central Station (Oslo Sentralstasjon):
1- Pick your station. Start typing OSLO and you should see 'OSLO S' pop up. Select this. Depending on where you're staying in Oslo, you may be better off departing the train at NATIONAL THEATER. Check a map beforehand.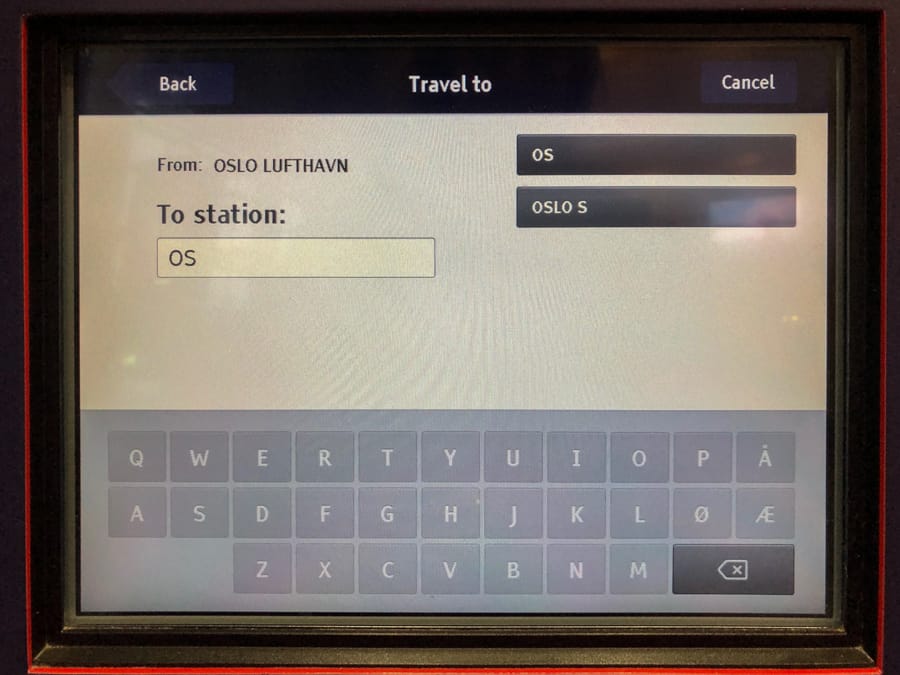 2- You will then see a message pop up that says you can only take this train and not the Flytoget. If you don't see this message- you likely ignored the part above where I said to not take the Flytoget.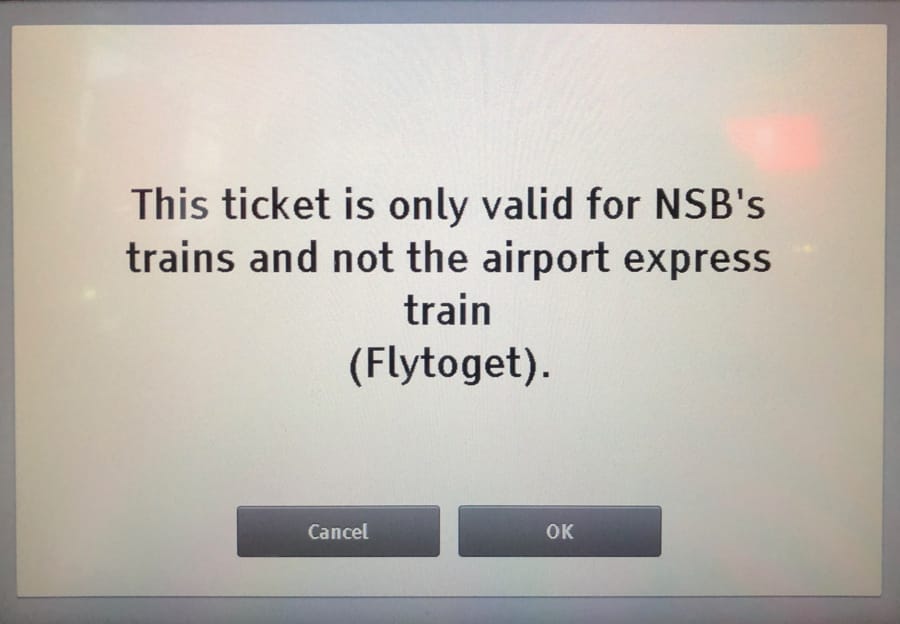 3- Pay! Currently, the Oslo Lufthavn – Oslo S train costs 118 NOK (about $11) one-way as of May 16, 2023. You can pay with a card or cash at this machine. There are discounts for children 17 and younger (46 NOK is the price) and senior citizens 67 and older (58 NOK).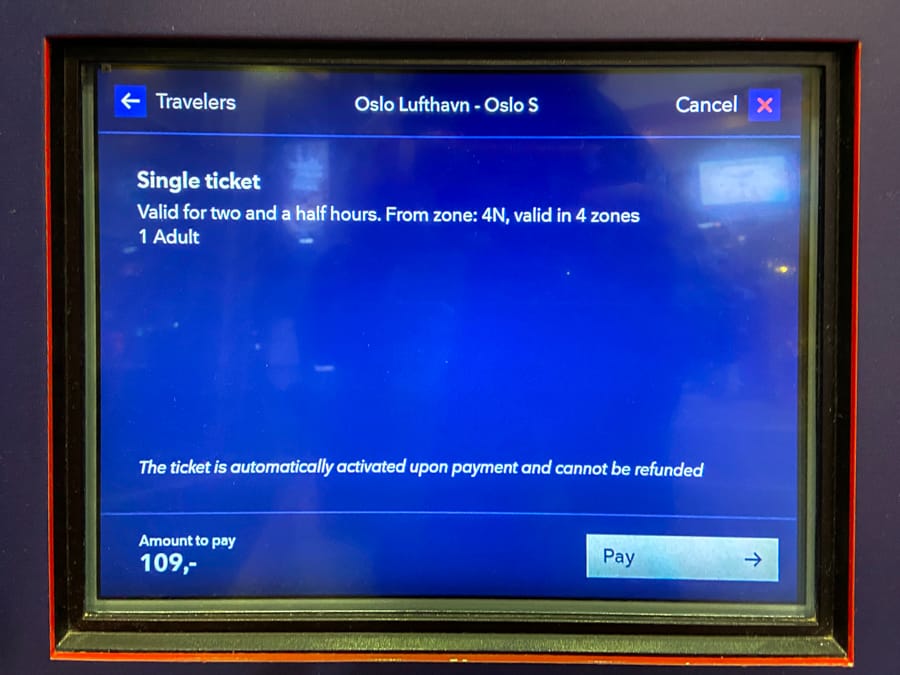 4- Grab your ticket and proceed to the train. Do not forget to ask for a receipt if you need to turn in for expenses or to get tax back.
Oslo Airport to Oslo Central Station Train
You will need to head to track 4 for this train. You can find it by moving forward from the ticket machine to the last escalator available.
The last train departs shortly after 11pm, so you will need to ensure that you're able to catch the train with no problems. These times are usually the same regardless of whether you're in Oslo in summer or Oslo in winter.
Once you're down at the track (Spor 4 / Platform 4), you will need to ensure you catch the train on the right-hand side and not the Flytoget or you will receive a fine.
The train will likely go in the direction of Drammen or Kongsberg. Oslo S and Nationaltheatret are also on this line.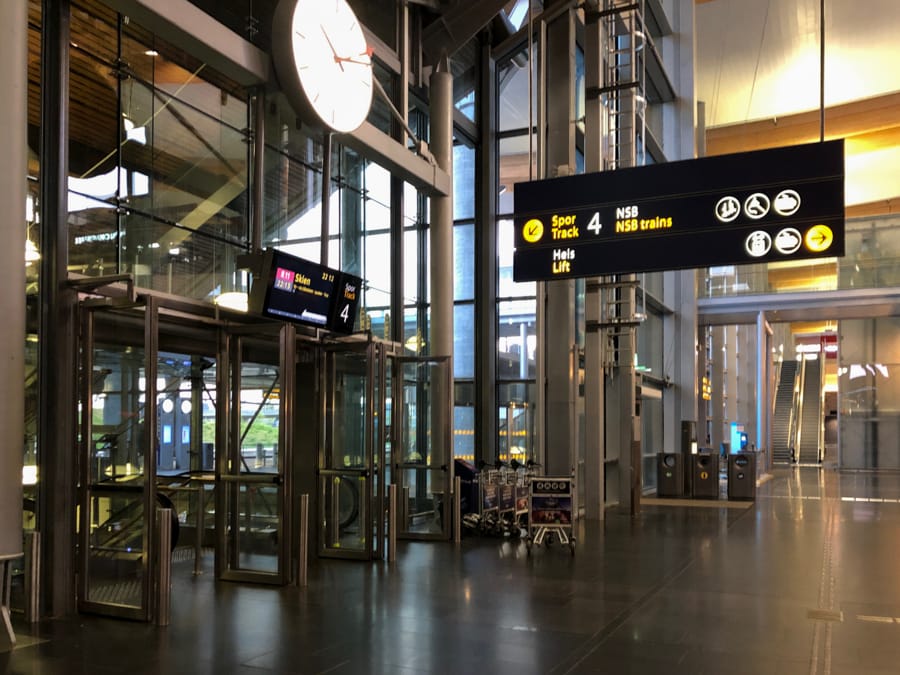 If you have already purchased a ticket, find a wagon that says 'only valid ticket', or 'kun gyldig billett'. This just means that you have pre-purchased your ticket and paid in advance.
You should not see a ticket control on these trains from Oslo Airport to the city center.
Oslo Airport Train Timetable
If you're looking to see the train timetables for the Oslo airport to city center trains, click here. The last train at the Oslo Airport departs at 2343 (11:43pm) in the evenings. Do take note of this if you are arriving late in the evening.

Other Stations Serviced from Oslo Lufthavn
Some of the other stations you will see on this train from Oslo Airport to Oslo City Center are Lillestrøm (the first stop after the airport), Nationaltheatret, Skøyen, Lysaker, Stabekk, etc.
Just be sure to put your last destination in the ticket machine instead of Oslo S if you're getting off at any of them.
How to Get From Oslo Airport to Fornebu
If you're going to Fornebu, you can easily grab a taxi from the airport, but it is very expensive. I assume if you're doing this, it will be on your company's behalf.
The cheapest way from Oslo Airport to Fornebu is to take the same train I mentioned above but to get off at Lysaker Station instead of Oslo S. From Lysaker, you will go to the bus platform B and wait on Bus 31 in the direction of Snarøya.
This will go to Fornebu and you can get off at Telenor or any of the stops around Fornebu. If you have any questions, just let the driver know and he should assist. They will all speak English.

How to Get From Oslo Airport to Holmenkollen
If you've come to Oslo to attend a sporting event up around Holmenkollen, the easiest way to get there from the Oslo Airport is to take the same train noted above to Nationaltheatret station (you can also get off at Oslo S, but getting to the metro from there is a bit more of a challenge if you don't know your way around the station).
Once you get off at Nationaltheatret, you will then need to go to the metro, or 't-bane'. There are heaps of signs pointing toward the t-bane. You will want to take Line 1 west, in the direction of Frognerseteren.
After hopping on the t-bane, it will take about 20-30 minutes to reach Holmenkollen. The stop is called 'Holmenkollen', so there will be no issues recognizing where to get off of the train.
If coming directly from the airport, your ticket should cover you to Holmenkollen (although depending on the time, your return ticket will likely not be covered).

Taking a Taxi from Oslo Airport to the City Center
If you're vying to take a taxi from the airport to the city center, you probably either have a lot of money or your company is paying the transport fare. Congrats? It is not cheap. Like really not cheap.
You can read more about taxi options from Oslo Airport to Oslo City Center here.
Luggage Storage at Oslo Airport
Yes, the Oslo Airport has luggage storage if you're looking to keep things at Gardermoen while in the Oslo city center. The prices are a bit expensive, but not too bad if you're keeping something there for a short period of time.
These prices are per day and you can store things for a max of 8 days. The electronic lockers are located next to the terminal in parking garage P10.
Here are the current prices. Click here if you're looking to see if these have remained up to date.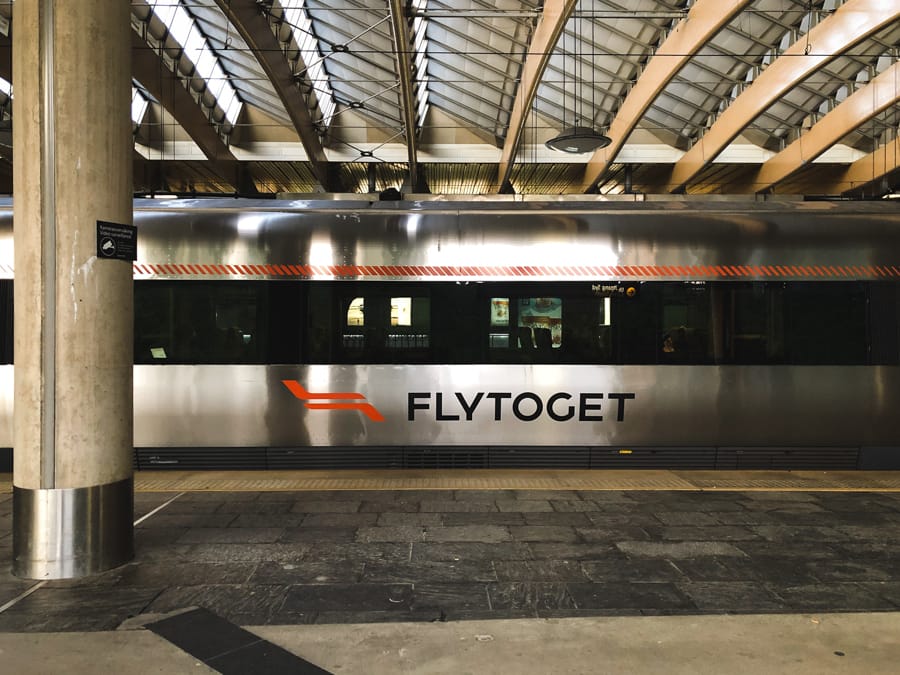 Luggage Storage at Oslo Central Station
If you have arrived at Oslo S (Oslo Central Station) and want to store your luggage, you're in luck.
There are lockers available at Oslo S and they are available almost all hours of the day (the station closes for three hours during the night, so you can't grab your belongings during those hours). To find out more, click here.
Helpful Norway Travel Apps for Oslo
There are many helpful travel apps for Norway that will help your trip in and around Oslo. The two transportation-focused ones that I recommend are Vy and Ruter.
Vy used to be NSB, which is the train operator in Norway. These are the trains you will want to take to and from Oslo Airport.
Ruter is the local transport app that works for all forms of transport around Oslo. You can take the trikk (tram), t-bane (metro), buses, and ferries with this app.
You can register your profile where you can purchase tickets via your credit card, Apple pay, or Paypal. This app is a must for those traveling around Oslo.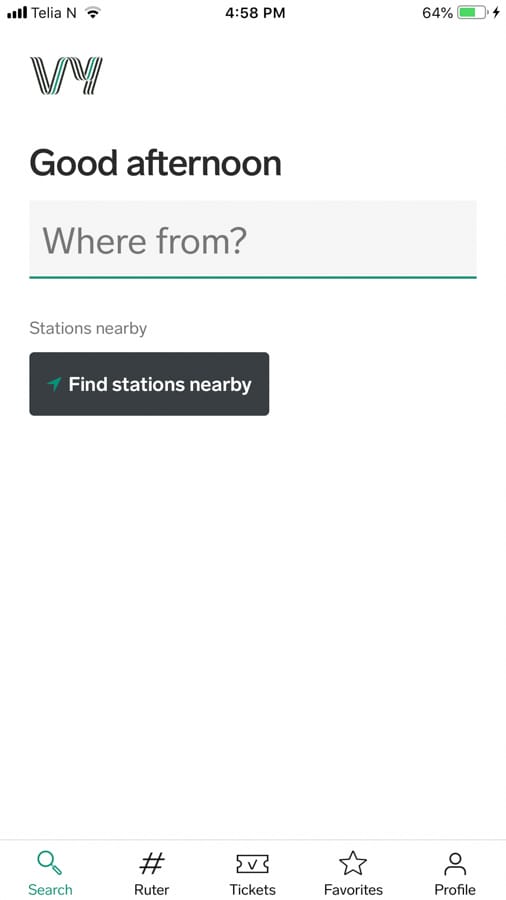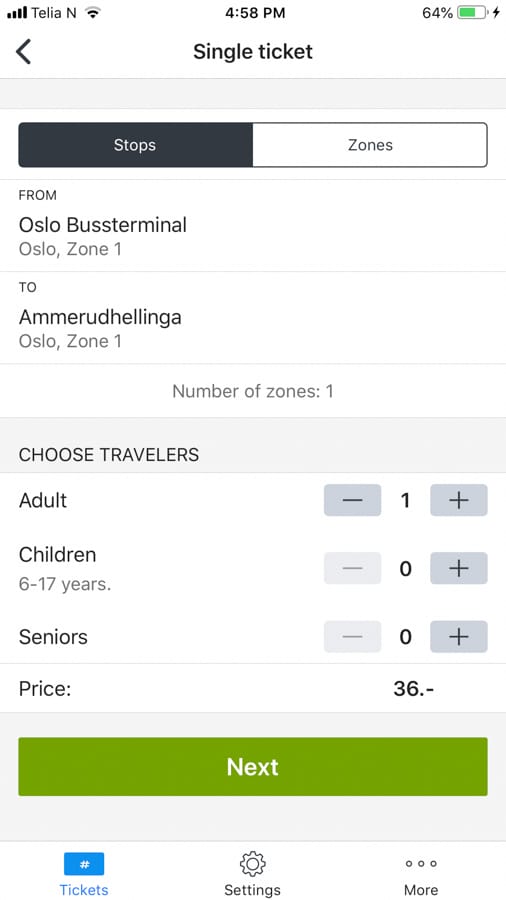 This is the best and cheapest way to travel from Oslo Airport to the city center.
If you have any questions or tips, please drop them in the comments or shoot me an email! I will try to keep this updated as much as I can.
More Oslo Travel Guides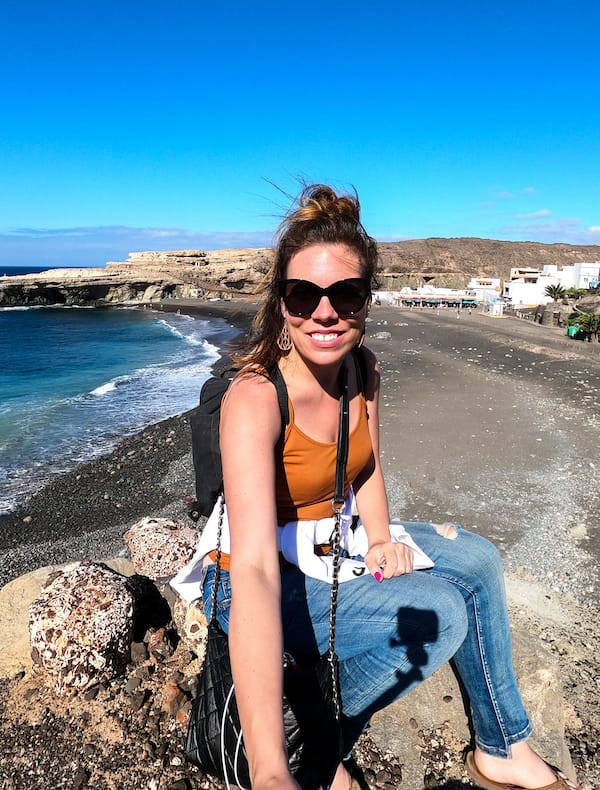 Megan is a travel blogger and writer with a background in digital marketing. Originally from Richmond, VA, she now splits her time between Frankfurt, Germany and Arctic Finland after also living in Norway, Armenia, and Kazakhstan. She has a passion for winter travel, as well as the Nordic countries, but you can also find her eating her way through Italy, perusing perfume stores in Paris, or taking road trips through the USA. Megan has written for or been featured by National Geographic, Forbes, Lonely Planet, the New York Times, and more. She co-authored Fodor's Travel 'Essential Norway' and has visited 45 US states and 100+ countries.