Are you looking for the best things to do in Honolulu, Hawaii? This guide will help you plan your upcoming trip!
Are you planning your trip to Honolulu last minute?
If you're traveling to Honolulu last minute, you want to ensure you have lodging/tours ahead of time! Below are some of our top picks on Oahu!
🌴 Best Tours and Activities on Oahu:
🛌 Best Hotels and Lodging in Honolulu:
🚗 Traveling to Oahu independently? Be sure to book your rental car ahead of time to ensure availability!
From the best places to eat to the top Honolulu attractions and day tours – the city is bustling with cool places to visit and we are excited to show you our top picks!
Do you have any advice or suggestions about what to do in Honolulu that we may have overlooked in this guide?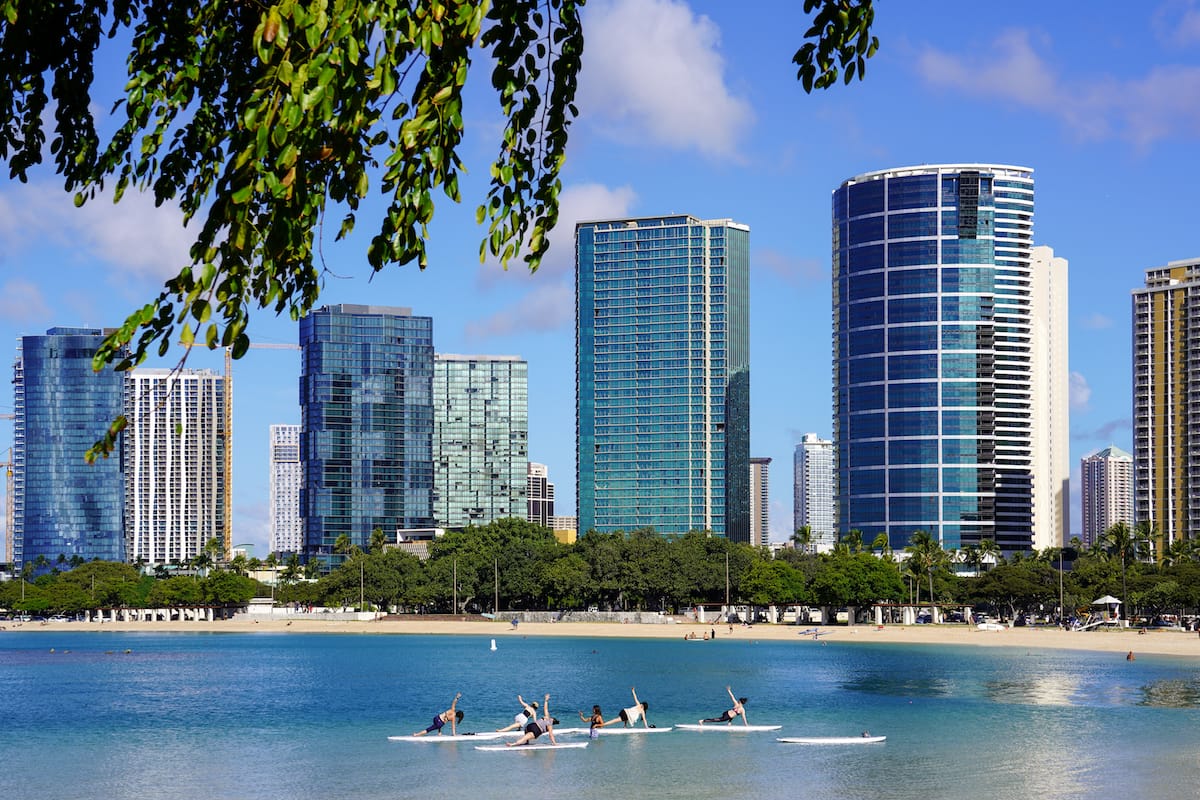 Let us know your favorite Honolulu landmarks in the comments!
Best Things to Do in Honolulu
Pay Respects at the Pearl Harbor and the USS Arizona Memorial
Immerse yourself in the local history and gain a better understanding of some of Hawaii's renowned historical sites on this day tour from Honolulu (that includes Pearl Harbor!).
This tour offers an air-conditioned bus ride past several of Honolulu's attractions, including Iolani Palace, the King Kamehameha statue, and the Punchbowl National Cemetery.
Your driver/guide is knowledgeable about the history of these places, and you are encouraged to ask questions!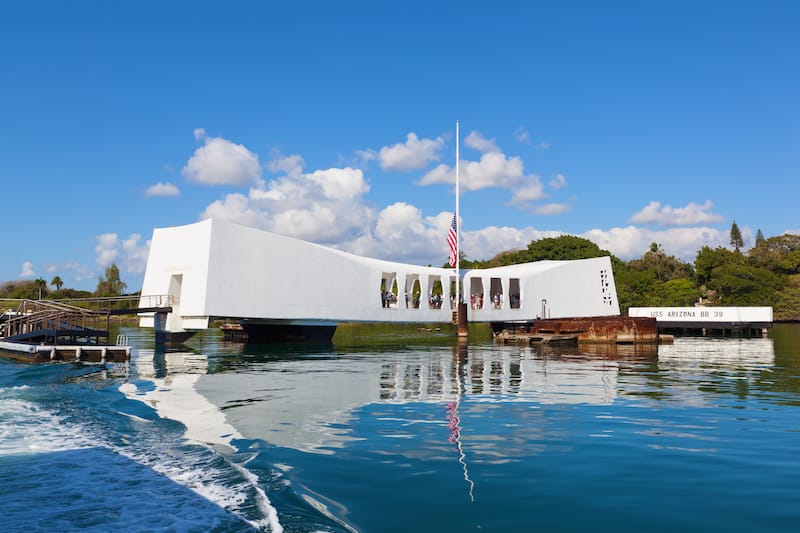 Next, you'll visit Pearl Harbor and the USS Arizona Memorial Visitor Center to learn more about World War II history and Hawaii's role in it.
You can upgrade your tour to include access to the USS Missouri battleship, where Japan's formal surrender to conclude World War II occurred.
The tour duration is roughly 5 hours and includes pick-up and drop-off service from selected Honolulu hotels.
>> Click here for Pearl Harbor tour rates and availability
Take a Circle Island Tour from Honolulu
For those with limited time to explore Oahu, this full-day tour is ideal as it covers some of the island's top highlights. The tour includes pick-up and drop-off from selected Waikiki hotels.
The day will begin with a trip to Nu'uanu Pali, where you will learn about how King Kamehameha brought together the Hawaiian Islands.
Following this, you will drive through the picturesque Ko'olau mountain range and stop at the Byodo-In Temple, a stunningly-designed Buddhist temple.
The next stop will be the renowned Macadamia Nut Farm Outlet, where you can taste local snacks (it is kind of a tourist trap but it had coffee and macadamia nuts).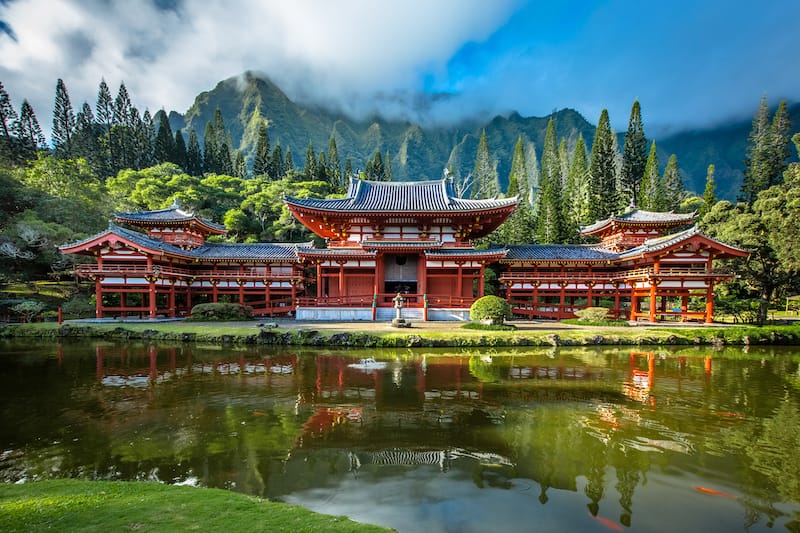 On this tour, you'll witness the magnificence of the North Shore by visiting the renowned Banzai Pipeline surf spot, Waimea Bay, and capping it off with a delightful short hike to Waimea Falls.
To finish up the tour before returning to your Waikiki hotel, you'll have the opportunity to visit the Dole Plantation. Be sure to try a Dole Whip!
💥 PRO TIP: Taking a Circle Island tour is a great way to gain a general understanding of the island, especially if you plan to visit other areas later using a rental car – this is exactly what I did!
Please be aware that the tour includes lunch (during my tour, we made a stop at Fumi's for garlic shrimp).
>> Click here for Circle Island tour rates and availability
Spend an Evening at the Paradise Cove Luau
Discover more about the customs and culture of Hawaii at this exciting Hawaiian luau, which includes complimentary transportation to and from select Waikiki hotels.
Upon arrival at Paradise Cove, you'll receive a lei, a Mai Tai, and live Hawaiian music to welcome you! It is one of the essential things to do in Hawaii with kids (and even solo)!
There's plenty to see and do, including exploring the Hawaiian village to learn about island arts and crafts and participating in various Hawaiian games.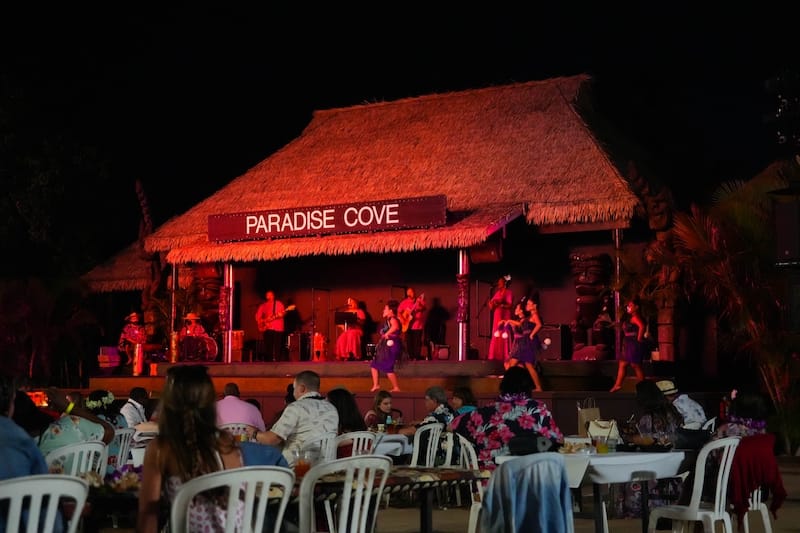 You'll then have the opportunity to indulge in an extensive buffet dinner featuring traditional Hawaiian dishes such as fresh seafood, kalua pig, and tropical fruits.
To cap off an unforgettable night, enjoy the spectacular performances of Polynesian songs and dances against the backdrop of the breathtaking sunset.
The tour offers three different packages based on your preferences for food and extras, allowing for a fully customizable (and unforgettable!) experience.
>> Click here for luau rates and availability
Go Snorkeling and Dolphin Watching from Honolulu
Observe dolphins in their natural surroundings while swimming and snorkeling in the blue Oahu waters.
You will get a chance to see a range of tropical fish, dolphins, and green sea turtles as you submerge yourself in their habitat!
You will travel to an area rich in marine life and have the opportunity to participate in snorkeling, kayaking, or paddleboarding in the breathtaking water.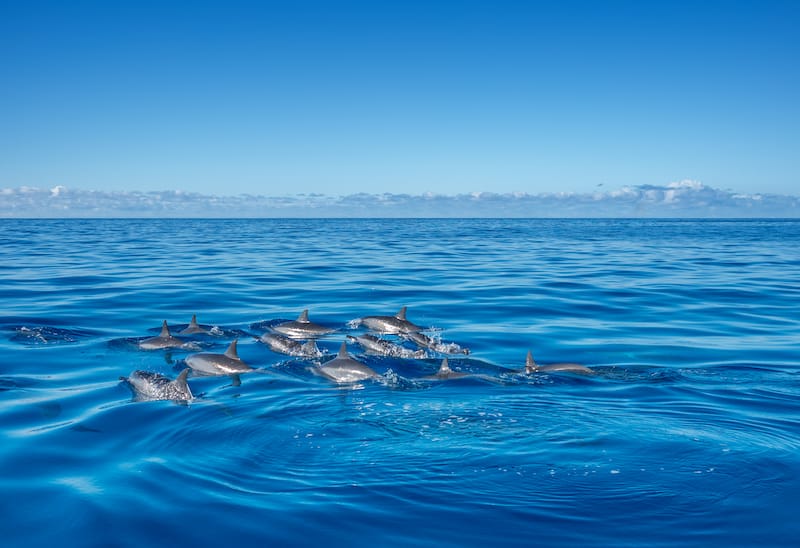 All snorkeling equipment, kayaks, and paddleboards are provided, and there is even a 20-foot waterslide on the boat for you to try!
During the tour, you'll get lunch onboard while admiring the stunning scenery. On the return journey to the harbor, the crew will present you with an authentic hula performance.
The 3.5-hour tour package includes pick-up and drop-off from selected hotels.
>> Click here for dolphin-watching rates and availability
Uncover the Hidden Gems of Oahu
Embark on a full-day adventure to discover some of Oahu's most stunning hidden gems!
The tour begins with a pick-up from Waikiki and a visit to Diamond Head State Monument to take in the breathtaking view of Honolulu.
Next, you will travel to the east side of the island to witness Halona Blowhole and Makapu'u Point before stopping at the Macadamia Nut Farm Outlet to sample some local delicacies en route to the North Shore.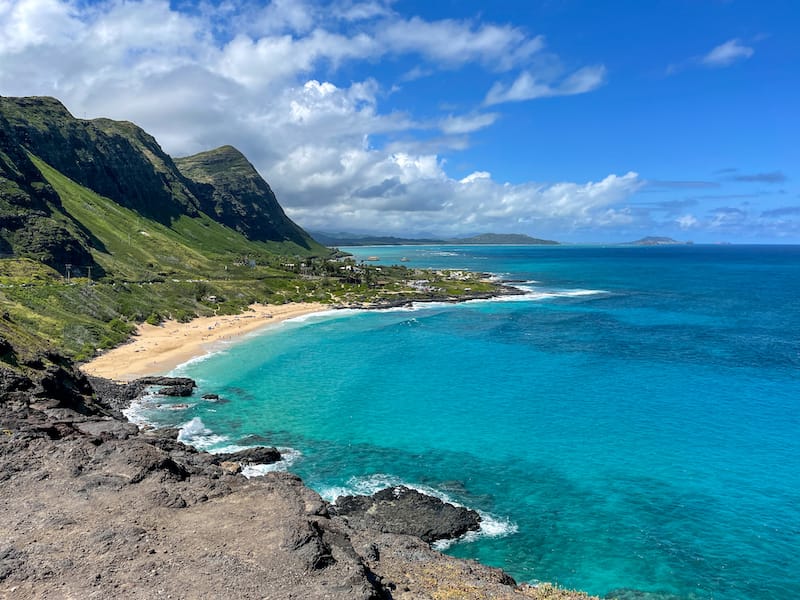 Kualoa Valley, where numerous famous films such as Jurassic Park were shot, will leave you awestruck by its incredible scenery and you may even recognize some of the movies that were filmed there!
After exploring the North Shore and savoring delicious fruit at Kahuku Farms fruit stand, you'll visit the Waimea Botanical Gardens before concluding the tour with a stop at the iconic Dole Plantation to purchase excellent pineapple-themed souvenirs and indulge in a delightful Dole Whip treat.
Pick-up and drop-off are included in the tour package, but please note that you will need to bring money to buy your lunch.
>> Click here for hidden gem tour rates and availability
Hike Lë'ahi (the Diamond Head Trail)
Relax and soak up the gorgeous scenery during your Diamond Head hike while Kaimana Tours takes care of the planning!
This tour package includes hotel pick-up and transportation to the Diamond Head Trail hike, as well as entrance fees, a self-guided map, and water bottles.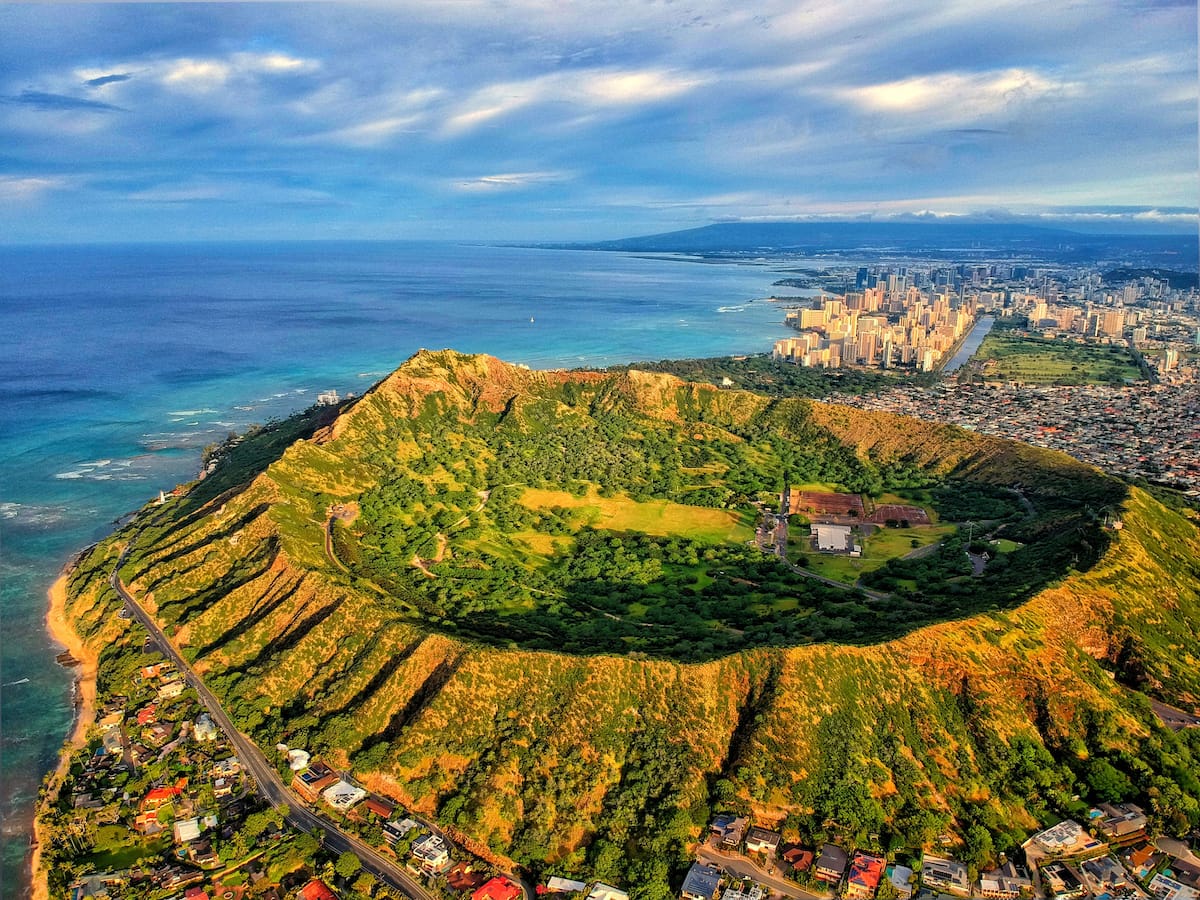 Upon arriving, your driver will inform you of the pickup time, allowing you to enjoy one of Oahu's most popular hikes at your own pace.
🌟 GOOD TO KNOW: It is essential to be aware that in late April 2022, a reservation system was established for non-Hawaii residents wanting to hike Diamond Head, and it was put into effect in May 2022. Joining a tour is currently a much more manageable alternative. Additionally, please note that Diamond Head is closed on Wednesdays.
The 760-foot summit offers stunning vistas as a reward for your hike.
At the predetermined time, you will meet your driver to return to your hotel.
This excursion has an approximate duration of three hours and is a wonderful way to spend a morning in Honolulu.
>> Click here for Diamond Head rates and availability
Go Snorkeling on the North Shore (with Sea Turtles!)
Experience some of Oahu's top attractions and best island activities on this remarkable all-day island tour.
You will visit renowned landmarks such as Diamond Head State Monument, the Halona Blowhole, Makapu'u Point, and Mokoli'i Island.
A stop will be made on the North Shore for a delectable lunch, and afterward, you'll get the chance to buy some fresh fruit from a local stand.
Next, it's time to hit the beach at the renowned Sunset Beach and Turtle Beach.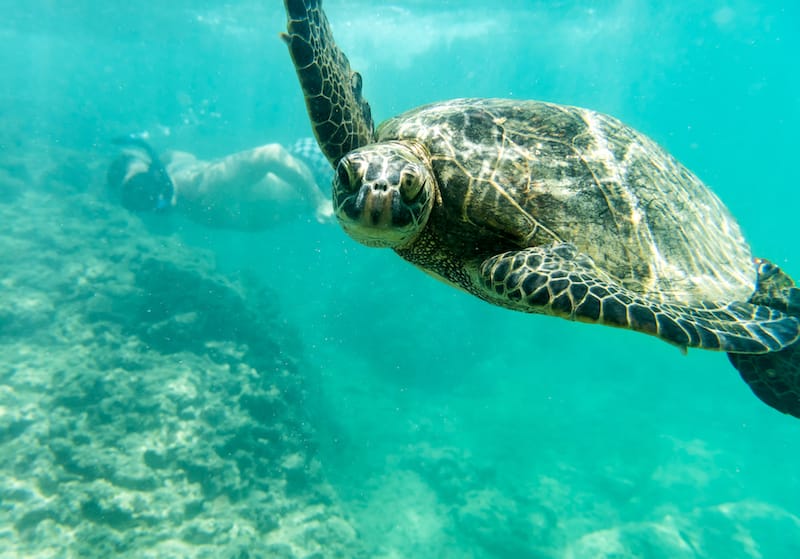 You'll have more than an hour to snorkel around and try to spot green sea turtles in their natural habitat, either in the water or basking in the sun on the beach.
Lastly, the tour concludes at the Dole Plantation, where you can purchase entertaining pineapple-themed souvenirs and try a tasty Dole Whip treat.
Pick-up and drop-off services are included for selected hotels, but please note that lunch is not included in the cost, so bring cash for food and souvenirs.
>> Click here for Circle Island + Snorkeling rates and availability
…Then Go Snorkeling at Hanauma Bay!
This Hanauma Bay tour takes away the hassle of getting to Oahu's most popular snorkeling spot, allowing you to concentrate on the enjoyable aspects, like the underwater life you're about to see!
Your transportation to and from your Waikiki hotel will be handled, eliminating the need to search for parking before the lot reaches maximum capacity!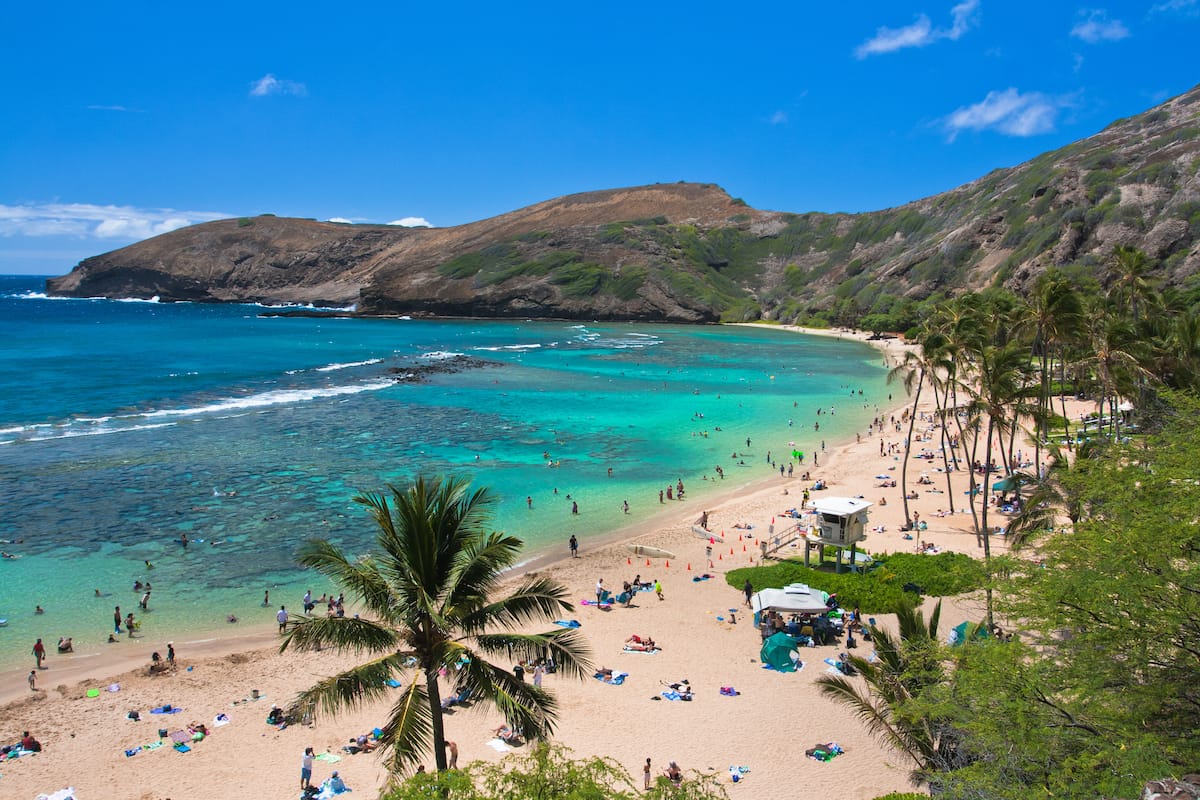 You will be given snorkeling equipment for use throughout the day once you arrive so you can appreciate the astonishing marine conservation area's more than 450 tropical fish species and vibrant reefs.
Please be advised that park entry fees are not included in the tour cost. The Honolulu excursion will last around six hours, and you may choose from three different start times.
>> Click here for snorkeling rates and availability
Check Out the Famous North Shore
Explore beyond just Waikiki and discover the North Shore with this incredible all-day tour!
You'll travel to the north to visit stunning (and familiar) beaches like Pipeline, Sunset, and Waimea Bay.
During the day, you can choose between an activity and lunch or two activities, which include surfing lessons, snorkeling, lounging on the beach, stand-up paddle boarding, biking, or swimming in a waterfall!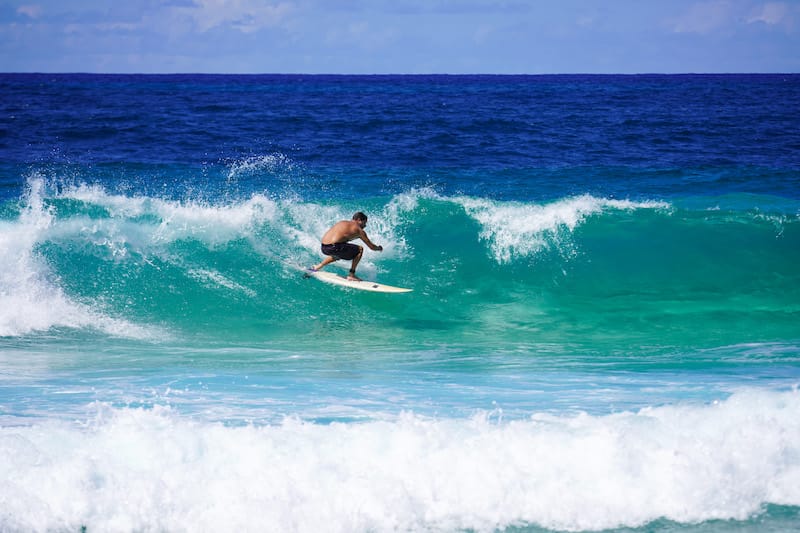 You'll also have time to explore the charming town of Haleiwa, where you can peruse the local shops and enjoy a delightfully refreshing shave ice.
It's a fantastic way to escape Honolulu and experience a different part of the island.
This tour includes pick-up and drop-off services from some Waikiki hotels, so all transportation is provided.
>> Click here for North Shore tour rates and availability
Go on a Honolulu Whale Watching Tour
Experience a front-row seat to witness the humpback whale migration during the months of December to May on this two-hour cruise.
You will depart into Hawaii's warm waters, where you can witness these magnificent creatures swimming, feeding, playing, and breaching (if you're lucky – I wasn't!).
For an even closer look, bring along some binoculars or a zoom lens. Your knowledgeable guide will provide you with information about humpback whale migration patterns and other intriguing facts.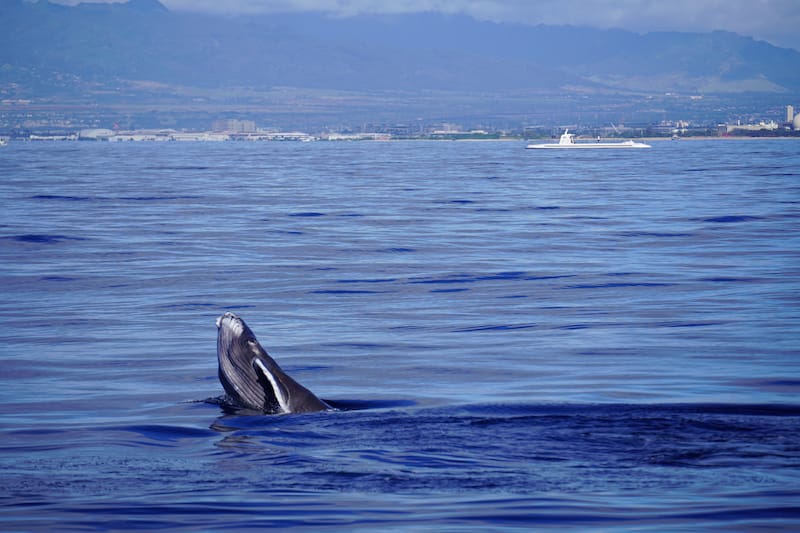 Snacks and drinks are provided during this tour (we had Goldfish).
In the event that your group does not encounter any whales, you may reschedule for a second cruise at no extra charge.
However, there were many sightings during my visit, including a six-hour-old humpback whale that you can see in the picture above!
>> Click here for whale watching rates and availability
Hang Out at Waikiki Beach
Waikiki Beach is one of the most well-known beaches in Hawaii and the world.
The beach is mind-blowing, with miles of soft, white sand beaches surrounded by towering palm trees and a sparkling blue sea.
The waves at Waikiki Beach are usually small, but visitors can still participate in water sports and surfing beyond the break. There is also plenty of safe areas to swim.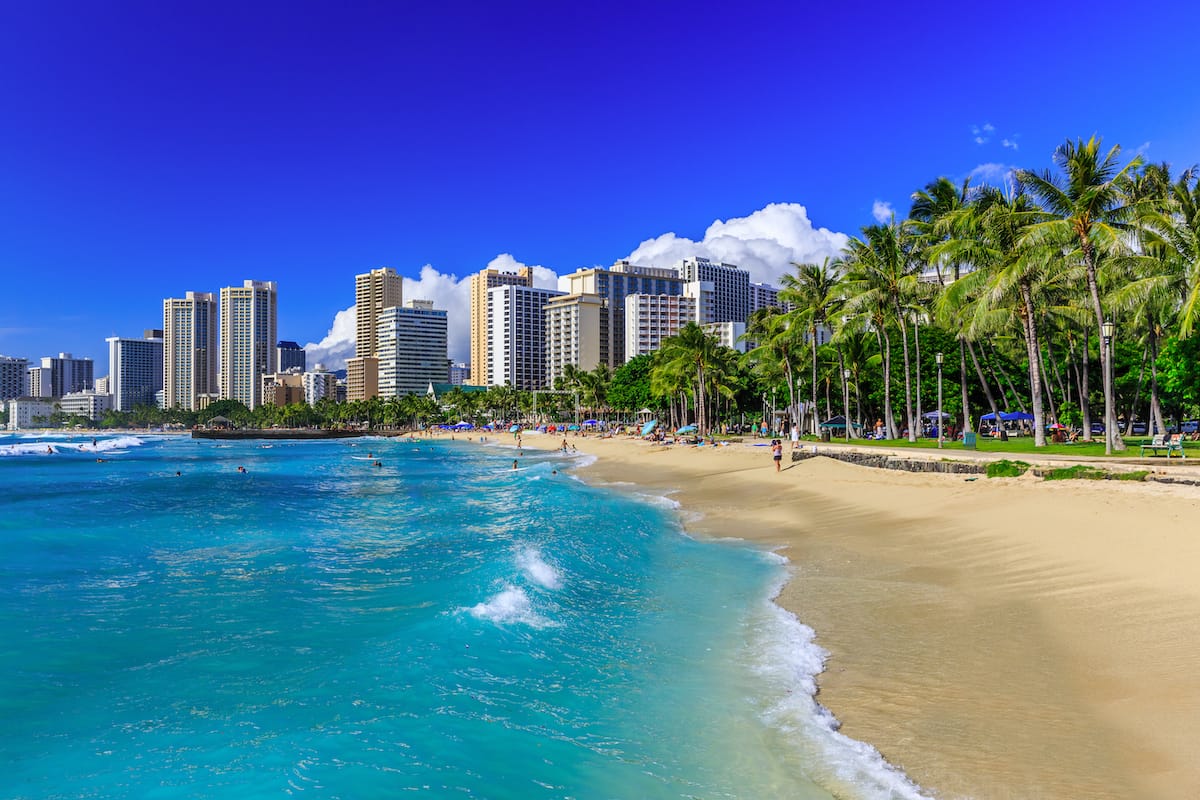 Fort DeRussy Beach, Kuhio Beach, and Queen Surf Beach are the three beaches that make up Waikiki. We do include a couple separately on this guide.
Popular activities include swimming, surfing, boogie boarding, catamaran rides, and outrigger canoe trips.
The beach's only real downside is the crowds. Waikiki Beach is always packed with people, so it can be challenging to find a spot… even early in the mornings!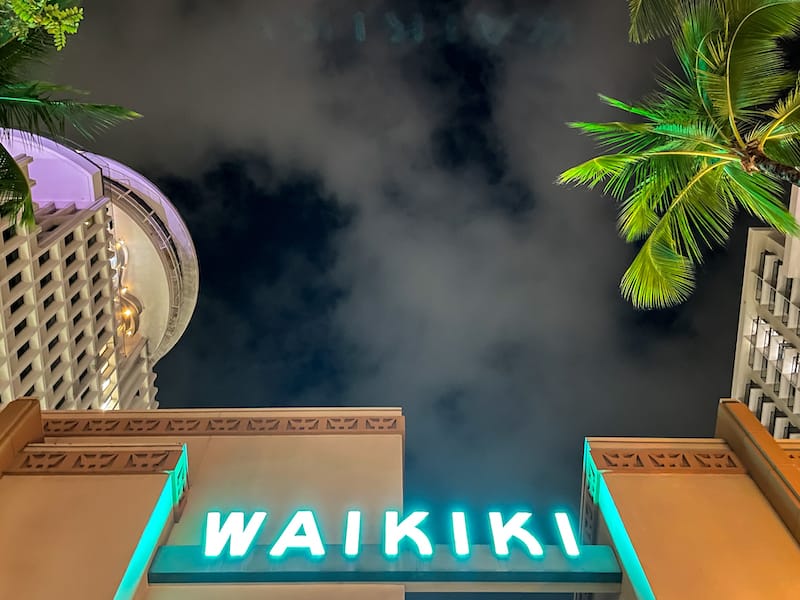 If crowds don't bother you, visiting Waikiki Beach is a must-visit place in Honolulu, as it is one of the most famous beaches in the world and undoubtedly the most famous beach on Oahu.
Visit the Iolani Palace and Ali'iolani Hale
When visiting Oahu, don't miss out on the chance to visit the Iolani Palace and Ali'iolani Hale! The former residence of the Hawaiian king is an important historic attraction in downtown Honolulu.
The palace was constructed in 1882 and was rebuilt in 1969, finally opening its doors to the public in 1978.
This grand building takes up a lot of space and features royal rooms, plush-carpeted political offices, and many other interesting historical artifacts.
Visitors who love history will enjoy this Honolulu landmark!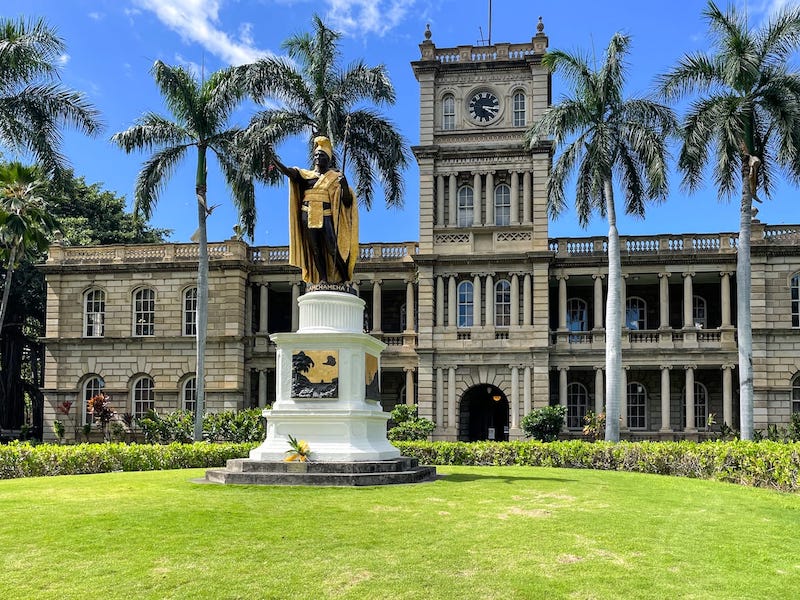 Once you arrive, you can take tours, listen to audio recordings, and view vintage displays of clothing, furniture, and relics from past royals.
Across the street, you'll also find Ali'iolani Hale, which is another famous site featuring a statue of King Kamehameha V in front of it.
All in all, the Iolani Palace is one of the best museums in Honolulu and is definitely worth a visit!
Address: 364 S King St, Honolulu, HI 96813
Photograph the Halona Blowhole
Located on the east coast of Oahu, the Halona Blowhole is a well-known Honolulu attraction that draws visitors to witness the spectacular water show caused by the waves crashing into the rocks below.
However, the area is also known for its strong currents, making it quite dangerous, and it is recommended to see it from the lookout point near the road. It is advised to avoid visiting the area below!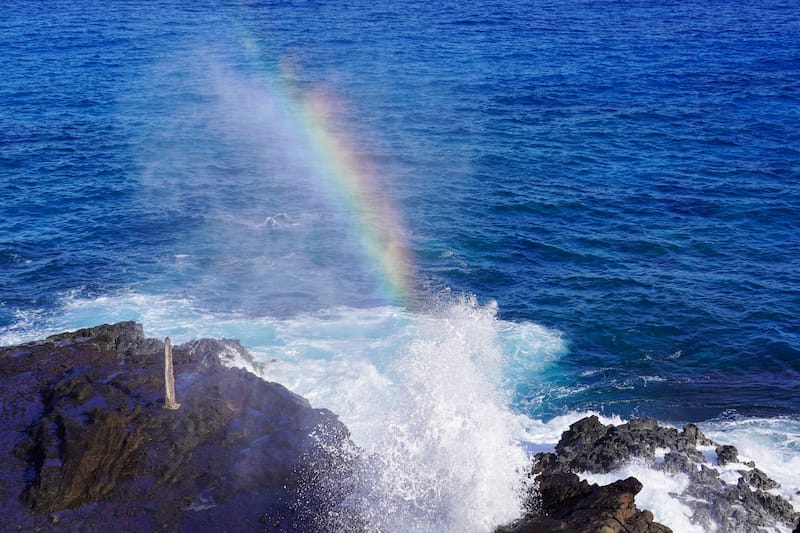 It is best to visit during the summer when the sunny and windy weather conditions cause the water to shoot higher than usual.
Eternity Beach is also nearby and worth a visit… it is one of the prettiest beaches in the area.
Get Caffeinated at the Best Honolulu Coffee Shops
Coffee enthusiasts will find no shortage of excellent coffee shops in Honolulu, making it a paradise for caffeine lovers.
One of the best places to get a cup of coffee is Kona Coffee Purveyors, situated in the heart of Waikiki.
The coffee here is so delicious that the lines are often long, even in the early morning. However, going there close to closing time is a good option if you want to avoid crowds.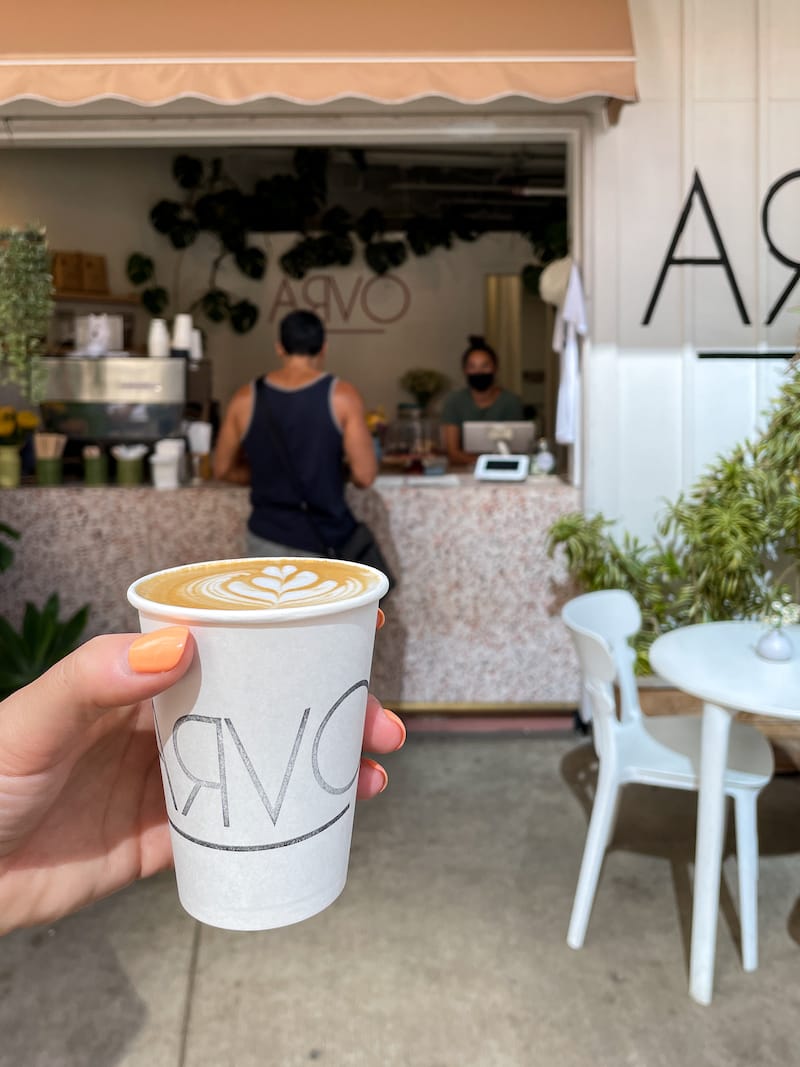 In addition to Kona Coffee Purveyors, there are other specialty coffee shops worth exploring around the city, including:
Kona Coffee Purveyors (2330 Kalakaua Ave #160 at Kuhio Ave Mall Entrance of Intʻl Marketplace)
Arvo (324 Coral St Suite 1A-104b)
Brew & Foam Coffee House (1909 Ala Wai Blvd)
Feel free to share other amazing coffee shops in Honolulu with us by leaving a comment below!
Take to the Manoa Falls Trail
Manoa Falls, a stunning 150-foot waterfall, is situated in the green Manoa Valley just 5 miles from downtown Honolulu.
The Manoa Falls Trail is one of the top waterfall hikes on Oahu, and visiting the falls is a must-do when in Honolulu!
Many famous movies, such as "Jurassic Park" and "The Hunger Games: Catching Fire," have been filmed in this area, as well.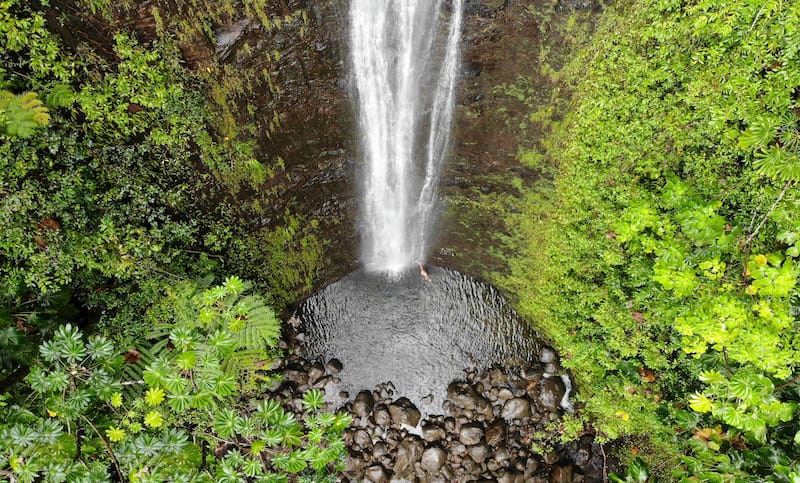 It is important to keep in mind that the waterfall may not be as impressive as expected, depending on the amount of rainfall. I went in March and it was barely flowing at the time.
The hike to the waterfall is open from sunrise to sunset, and there is no fee to enter the waterfall area, but parking near the trailhead is $7.
The trail to the falls can be rather muddy, so it is best to wear hiking boots or sneakers.
When you're up there, don't forget to check out Lyon Arboretum, which is adjacent to the waterfall! It ended up being one of my Honolulu highlights from the trip!
Taste Malasadas at Leonardʻs Bakery
Leonard's Bakery is a well-known bakery in Hawaii, and it is especially famous for its malasadas, which are puffed Portuguese donuts.
During a recent trip to Honolulu, I stayed next to the original location in Kaimuki and would often see lines forming at 5:30am when the bakery opened!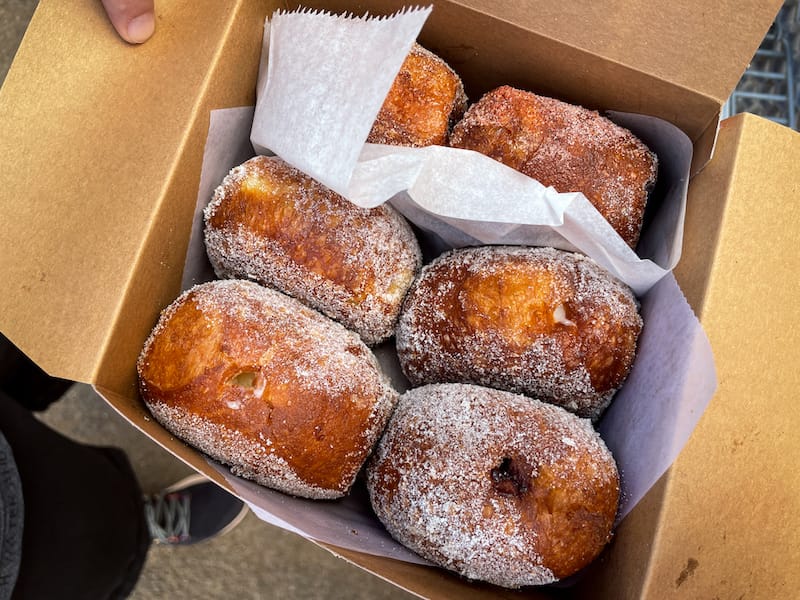 Leonard's Bakery is a must-try in Honolulu, offering different malasadas options including plain sugar, li hing, and cinnamon covered.
In addition, they offer filled malasadas with flavors such as dobash (chocolate), guava, and haupia (coconut).
Address: 933 Kapahulu Ave
Get Rejuvenated at Kuhio Beach Park
Kuhio Beach Park, which is located near the famous surf and bodyboarding sites of Canoes and Queens in Waikiki, is renowned for its relaxed atmosphere and clear, calm waters. It's a part of Waikiki, more or less.
For those interested in culture, the park has several notable landmarks, including the Duke Kahanamoku Statue, the Stones of Kapaemahu, and the Prince Kuhio Statue.
Kuhio Beach is also famous for its free hula shows, which are held regularly.
The area is always lively and full of entertainment, and visitors can stroll around to enjoy different hula styles accompanied by live music.
Refresh with an Acai Bowl in Honolulu
Acai bowls, which originated in Brazil, have become very popular in Honolulu and can be found in many places throughout the city.
Two of the best places to try an acai bowl in Honolulu are Tropical Tribe and ALO Cafe.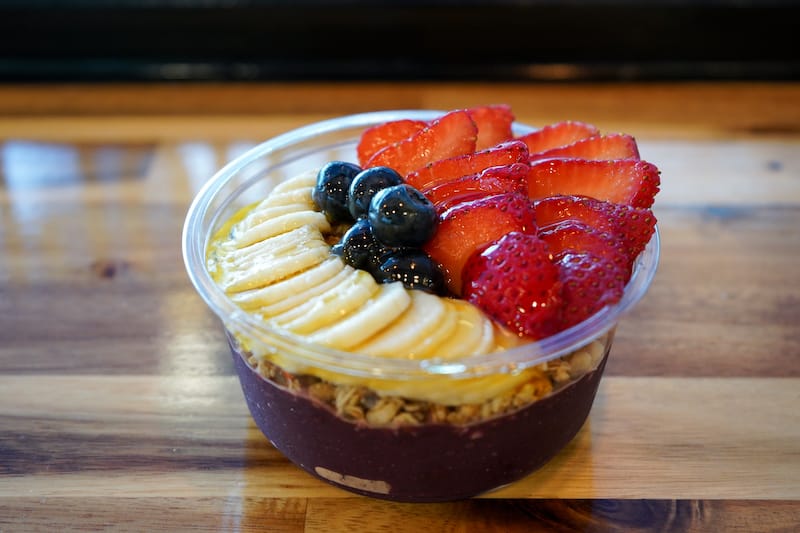 Tropical Tribe has three locations on Oahu, and has been serving acai bowls since 2013, with a variety of bowl options, including the Tropical Tribe Bowl, which is a twist on the Brazilian style with Acai and Guarana Berry juice.
ALO Cafe, located in Waikiki, is a vegan cafe with a range of healthy food options, including acai bowls, lilikoi bowls, Hawaiian coffee, and smoothies.
It has a friendly and relaxed atmosphere and was one of my favorite stops in the city!
Walk Around the Colorful Kaka'ako District
Kaka'ako is a fashionable and lively district in Honolulu, and it is one of the best places to visit in Honolulu!
This area is home to cafes, galleries, new eateries, and incredible street art, and it used to be an industrial town.
It is now a bustling environment filled with cutting-edge art, dining, and retail.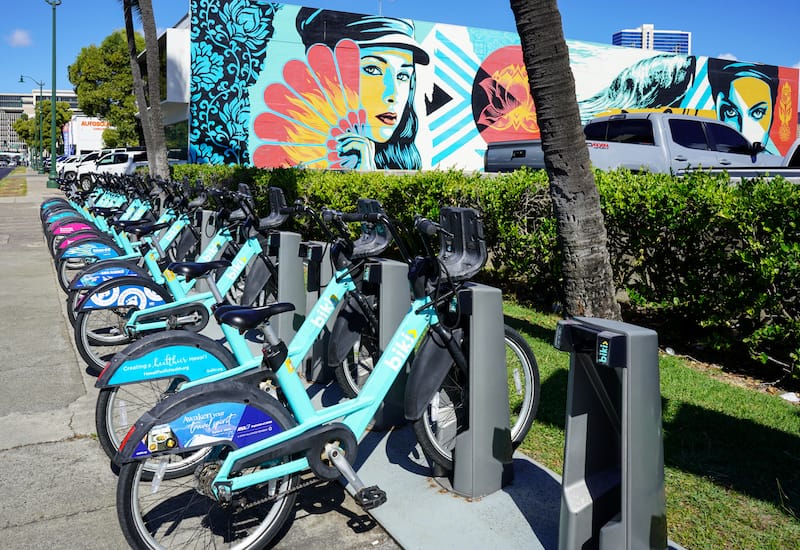 Visitors should make sure to visit The Highway Inn for authentic Hawaiian cuisine and try out the sample platters, and Arvo for coffee, 9BAR HNL for ube latte, and Paiko for beautiful houseplants.
All these places are located in SALT, a cultural center within the district. It is seriously one of the best places to walk around in Honolulu!
Check Out the Honolulu Museum of Art
The Honolulu Museum of Art was established in 1927 and is known for having an extensive collection of Asian and Pan-Pacific art in the United States.
Along with the Robert Allerton Art Research Library and the Honolulu Museum of Art School, the museum includes the Doris Duke Theatre, where various events such as lectures and concerts are held.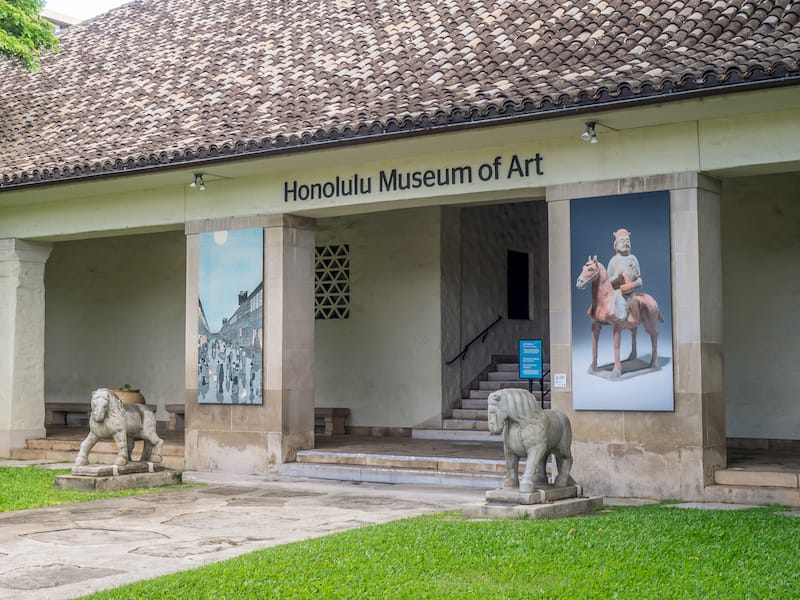 The museum's main campus displays one of the best Asian art collections in America, as well as works by renowned European artists such as van Gogh, Gauguin, and Picasso.
The Arts of Hawai'i collection is also worth seeing, showcasing unique pieces such as Georgia O'Keeffe's Maui landscapes and Indigenous feather capes.
Address: 900 South Beretania St Honolulu, HI 96814
Indulge in a Hawaiian Poke Bowl
Eating is one of the best activities to do in Honolulu, as it is one of the best food cities in the United States. Don't even try challenging me on this!
To start, you must try a poke bowl, and while these bowls are available in many locations throughout the city, my favorites can be found at Sato Seafood and Fresh Catch in Kaimuki.
During my week-long stay, I frequently visited Fresh Catch, which was located near my Airbnb. Keep in mind that they close early, usually around 7 pm on weekdays and 5 pm on Sundays.
Sato Seafood is a new establishment in Honolulu that specializes in seafood, as the name so deliciously suggests.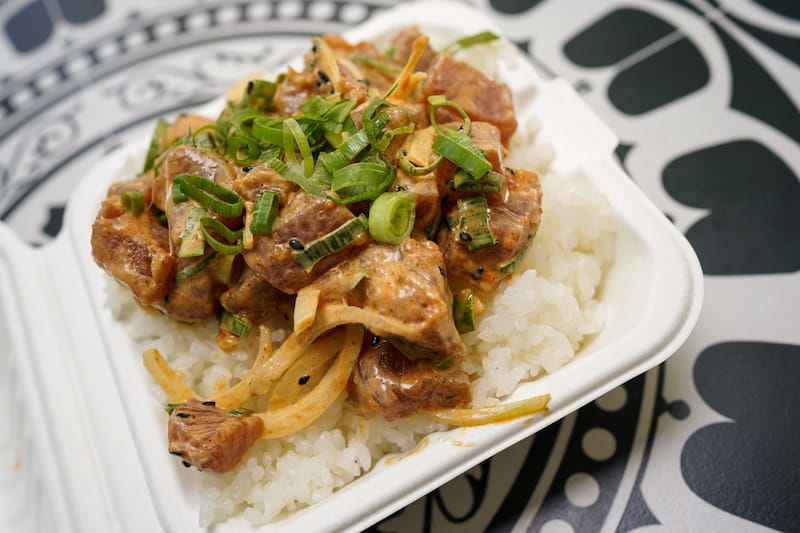 The food was so excellent that I ate there several times during my last visit, and the Spicy Maui Maui bowl was my choice every time!
The bowl featured spicy tuna atop rice with diced onions… it was absolute perfection.
It is a small restaurant that only accepts credit cards, so be sure to leave the cash at home! While they have a few tables outside, there isn't a lot of seating, making it a perfect take-out location.
Sato Seafood is located at 2310 Kuhio Ave (next to the famous Marugame!), and Fresh Catch is located at 1113 Kapahulu Ave.
Visit the Shangri La Museum of Islamic Art, Culture, and Design
The Shangri La Museum of Islamic Art, Culture, and Design is situated in Diamond Head, near Honolulu, at the former residence of Doris Duke, which has been converted into a public museum featuring the arts and cultures of the Islamic world.
Initially, the mansion was purchased by Doris Duke to showcase Islamic art, which led to the development of a varied collection of art, furnishings, and architectural components from countries such as Iran, Morocco, Turkey, Spain, Syria, Egypt, and India.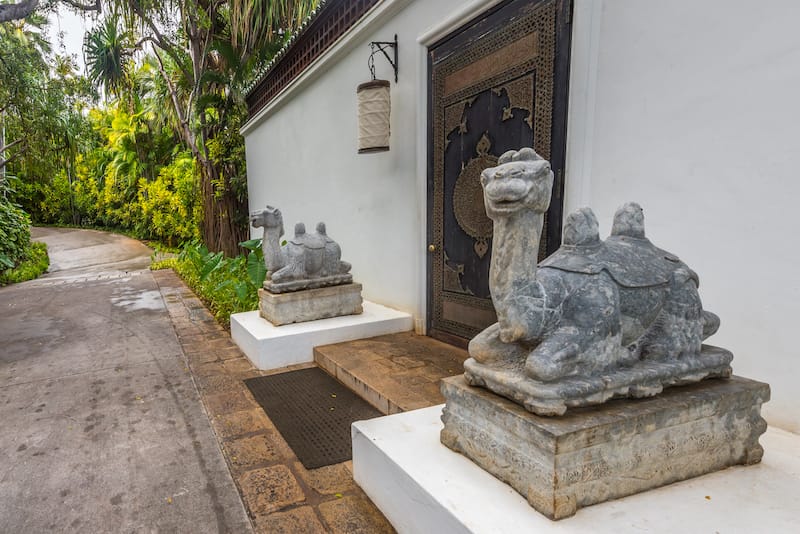 Visitors must book tours to the Shangri La in advance, and individuals are not allowed access to the site.
Address: 4055 Pāpū Cir, Honolulu, HI 96816
Get a Bird's Eye View at Nu'uanu Pali State Wayside
The Nu'uanu Pali Lookout is a must-visit spot only a short 5-mile drive away from downtown Honolulu.
This lookout provides some of the most stunning views of Oahu, including the beautiful Ko'olau Mountains, Kaneohe Bay, and Kailua town.
Nu'uanu Pali is open every day from 6 am to 6 pm, weather permitting, and is free to enter. However, parking costs $7 per vehicle.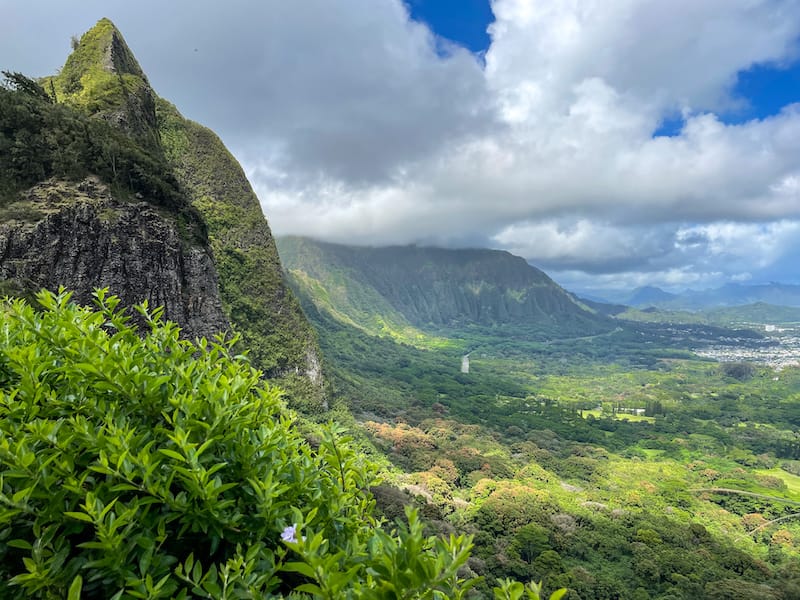 The area can be windy, so it's important to be careful, especially if traveling with children!
This wayside stop is usually included in Circle Island Tours of Oahu.
Visit the Aloha Tower
The Aloha Tower is a renowned symbol of Hawaii and is considered to be the Hawaiian version of the Statue of Liberty.
It was initially built as a navigational aid for sailors arriving in Honolulu and has served as a beacon for many years.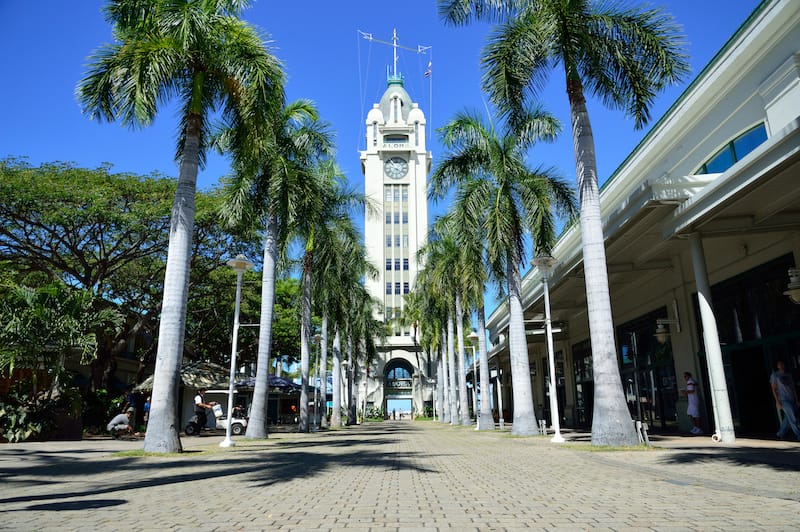 The tower, which is designed in a Gothic style, is 184 feet tall and was built in the early 1900s. Currently, it serves primarily as a tourist attraction, but it still functions as a lighthouse.
Visitors are permitted to climb to the top for amazing views of the Honolulu coastline. The tower houses a marketplace where you can shop, dine and take a stroll.
Address: 1 Aloha Tower Dr, Honolulu, HI
Cool Off at Waiola Shave Ice
Be sure to stop by Waiola Shave Ice (or any shave ice spot) for the popular Hawaiian dessert that has become an art form in the local community.
Waiola offers a variety of flavors, toppings, and juices, and kids and adults both will love it!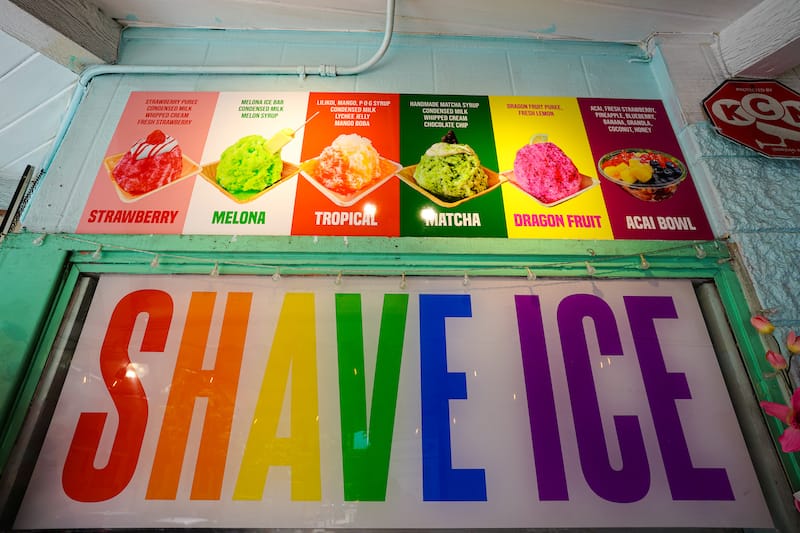 Some of the popular flavors include mango, cherries, passionfruit, haupia, chocolate, green tea, mochi, and margarita, and customers can mix and match their favorites to create their perfect combo.
Address: 2135 Waiola St, Honolulu, HI 96826
Walk Around Chinatown in Honolulu
Chinatown is an up-and-coming area in Honolulu that is now known for its art galleries, cafes, and a popular First Friday event.
Visitors can enjoy traditional Chinese restaurants or the dim sum scene, as well as browse local lei stands, traditional shops, and agricultural markets.
One of the highlights of Chinatown is the Kuan Yin, a beautiful Buddhist temple with colorful columns, a green roof, and intricate details such as flowers, statues, and relics. It is a must-see attraction in Honolulu!
Go to the Bernice Pauahi Bishop Museum
The Bernice Pauahi Bishop Museum is a place you should definitely check out if you want to learn more about the history of Hawaii.
There are over 24 million artifacts and specimens related to Hawaii and the Pacific located in this museum.
Visitors can explore the Hawaiian Hall, which spans three floors, to learn about Hawaiian gods, historical events, and more.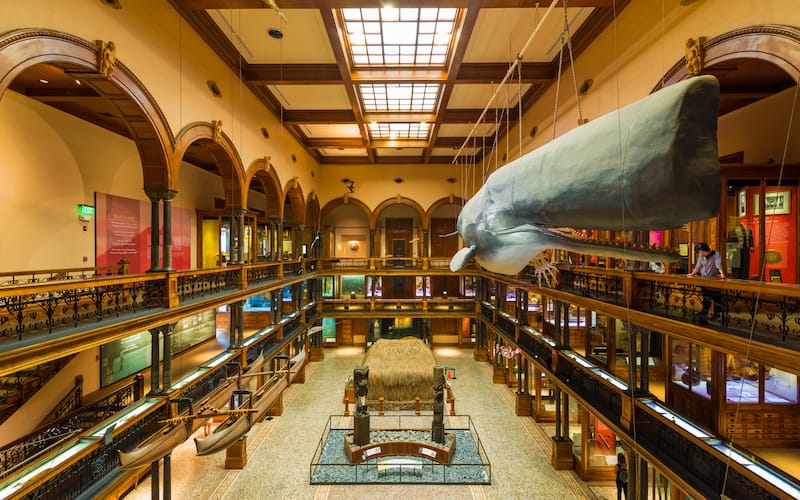 There is also the Hawai'i Sports Hall of Fame, which is dedicated to Hawaiian sports history.
In addition to the Hawaiian exhibits, the museum holds over 24 million natural history specimens, with the entomological collection alone containing more than 13.5 million items.
This collection is actually the third-largest insect collection in the United States!
Relax at Sans Souci Beach Park
If you're in Honolulu and searching for a peaceful place to unwind, consider visiting Sans Souci Beach Park, also known as Kaimana Beach.
This beach is ideal for families and snorkelers due to its shallow, sandy, and calm waters with no strong currents.
Swimmers and kayakers can reach the sea beyond the reef via Kapua Channel to access the famous surf spot called Old Man's.
Sans Souci Beach Park is considered one of the best beach parks in Honolulu, and it is an excellent location to have a relaxing and worry-free time while visiting Hawaii's capital city!
Trek Along the Koko Crater Trail
Koko Crater, situated close to Waimanalo on Oahu, is a tall volcanic tuff cone measuring 1,208 feet in height.
This hiking trail is known for being strenuous and provides an opportunity to witness wildlife, views, and more at its best.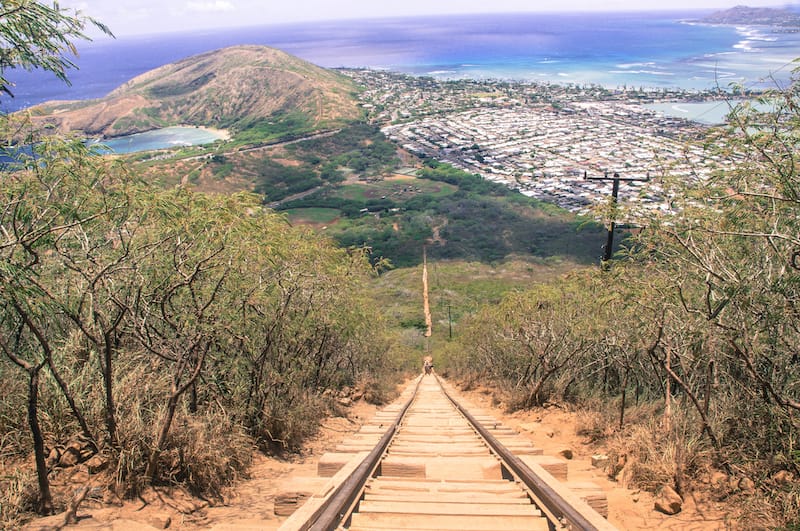 To reach the lookout point, hikers need to climb a steep staircase that includes 1,048 railroad ties, which were built over 60 years ago for the military to transport supplies to the bunkers on the summit.
The Koko Crater Trail is open throughout the year and is mainly used for hiking and nature excursions by tourists.
Eat and Shop at the Royal Hawaiian Center
For shopping enthusiasts, the Royal Hawaiian Center is a perfect spot to explore in Honolulu (with a focus on luxury brands).
The mall, which spans 310,000 square feet, is situated along a three-block section of Kalākaua Avenue in Waikiki.
While shopping in the mall's 110 unique stores and 30 dining venues, visitors can enjoy a variety of Hawaiian traditions, including dance and music performances.
Address: 2201 Kalakaua Ave, Honolulu, HI 96815
Peruse the Farmer's Market KCC
The Hawaii Farm Bureau Federation is a non-profit organization that has been advocating for the interests of the state's agricultural community since 1948. They have 1,800 farm family members throughout the state.
The KCC Farmer's Market is a weekly event where various vendors showcase and sell their products.
At the market, visitors can browse and purchase a wide variety of fresh Hawaiian produce, including fruits, vegetables, flowers, meat, and fish.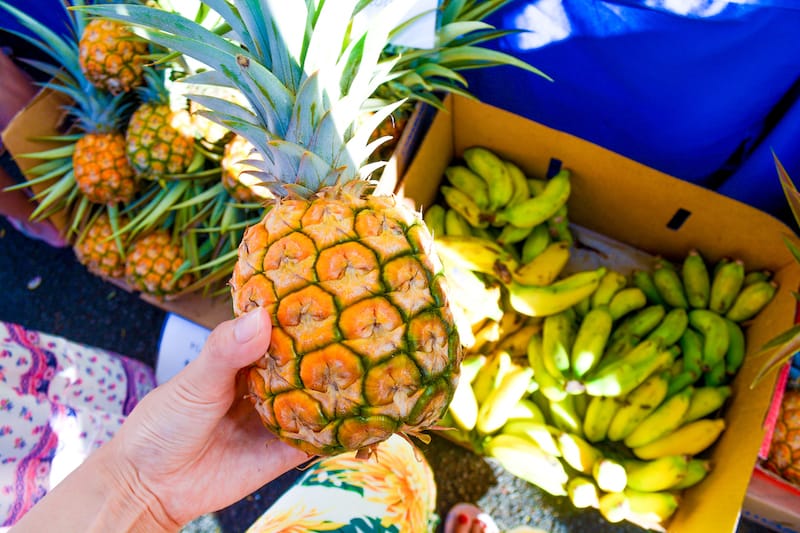 Other products available for purchase include baked goods, honey, specialty seasonings, snacks, and more.
The Oahu farmers' market is open every Saturday from 7:30 AM to 11:00 AM, and more information can be found on their website.
Address: 4303 Diamond Head Rd, Honolulu, HI 96816
Drink Some of Honolulu's Best Craft Beer
Craft beer is as popular in Hawaii as it is everywhere else in the US, with several breweries to choose from including Maui Brewing Company, Honolulu Beerworks, and Waikiki Brewing Company.
Honolulu Beerworks is one of the top craft breweries in Oahu and offers a wide range of unique special releases.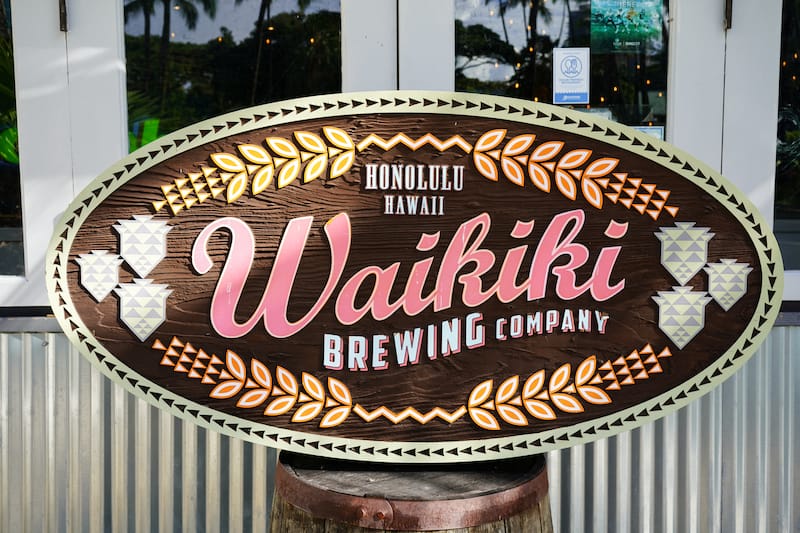 They have been in business for five years and have 14 beers on tap.
Waikiki Brewing Company is another great option with four locations throughout Hawaii, and they even distribute to Guam!
Where to Stay in Honolulu
Here are some of the best accommodation options in Honolulu where you can spend a few nights, including my favorite budget option!
Please let us know the best things to do in Honolulu in the comments section below. Thank you!
More Hawaii Travel Guides
Pin this Honolulu Things to Do Guide