Are you looking to do a bit of kayaking to the Mokes? This guide discusses what to know before you go kayaking in Kailua!
Are you planning your trip to Kailua last minute?
Below are some of the top tours near or in Kailua, some hotels, and more! It is best to book ahead to ensure availability!
🌴 Top Experiences and Tours in/near Kailua:
🛌 Top Hotels in Kailua (and the Windward Coast):
🚗 Traveling to Oahu independently? Be sure to book your rental car ahead of time to ensure availability!
For years, kayaking to the Mokulua Islands had been on my list of things to do, but I had never had the opportunity to do it during my trips to Oahu.
However, I was determined to make it happen during my visit this year.
In this guide, you will find all the information you need to know before embarking on your own kayaking trip to the Mokes, such as how to book the trip, the necessary items to bring, and what you can expect during the journey.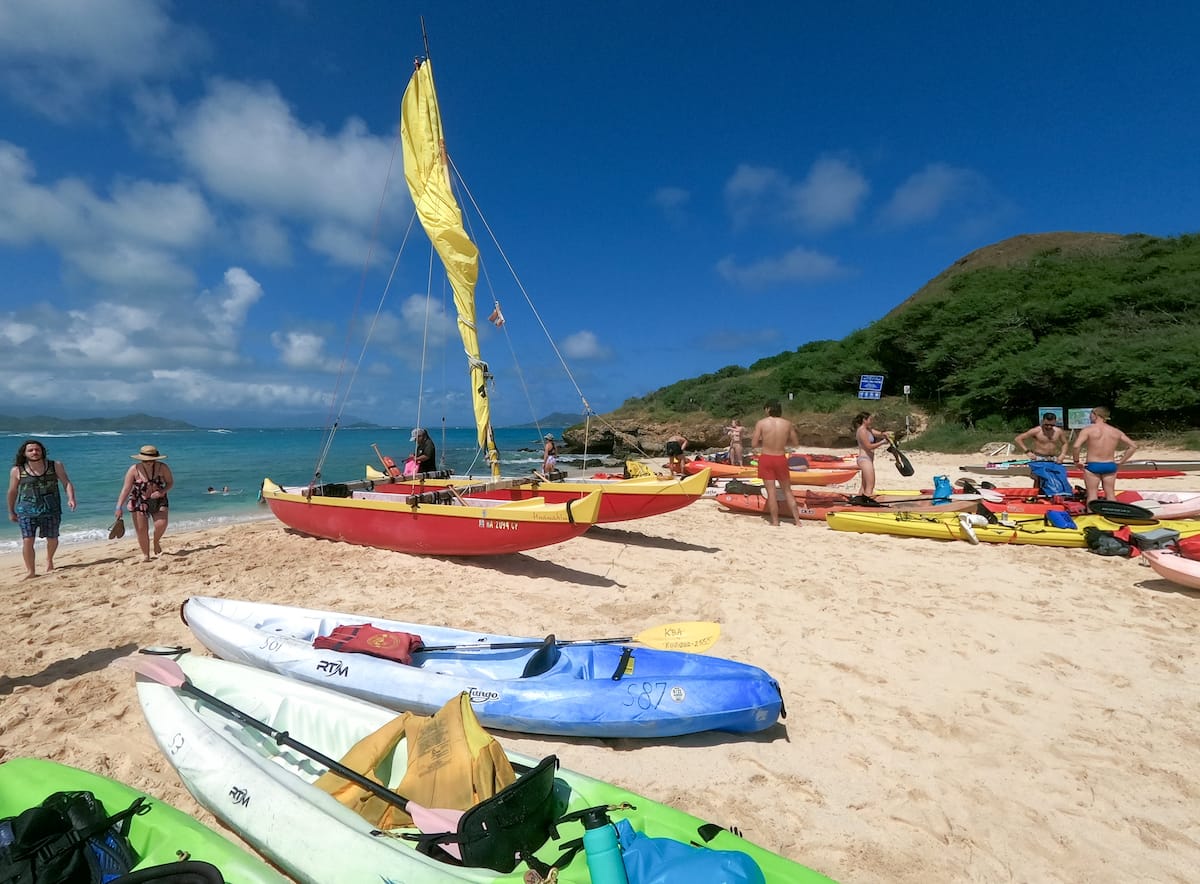 We also discuss how exactly to do the trip and whether it is best to go by tour (like I did) or independently.
Did we miss something you'd like to know about a Mokes kayaking tour? Let us know in the comments!
What are the Mokes (Mokulua Islands)?
The Mokulua Islands, known as the Mokes, are two islands situated close to each other, and they are named Moku Nui and Moku Iki.
The Mokes are situated off the coast of Kailua, which is a beautiful beach community near Honolulu. The term Nā Mokulua, which is the Hawaiian name for the islands, translates to "the two islands".
BOOK HERE: Guided kayaking trip to the Mokes
These islands are visible from Lanikai Beach, which is a famous beach on Oahu and is rated as one of the world's best.
Moku Nui is the bigger of the two islands and is located 0.75 miles away from the Lanikai coast, and around 2-2.5 miles away from the coast of Kailua.
A permit is needed to visit Moku Nui as it's the only one that's open to visitors.
The state of Hawaii designates both Moku Nui and Moku Iki islands as sanctuaries for seabirds, which means that pets and dogs are not allowed to accompany visitors.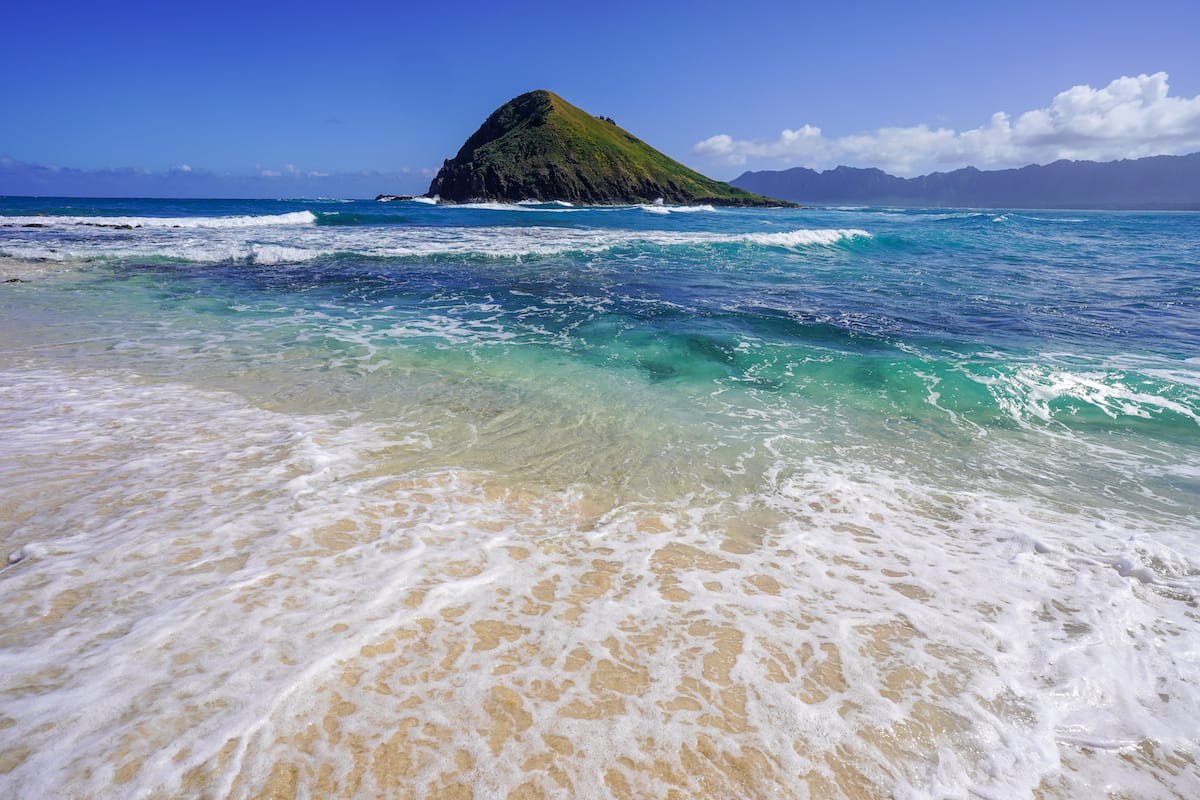 These islets were created between 2.7-3.9 million years ago and are part of the Ko'olau shield volcano's caldera that ended up in the ocean after a series of landslides.
The islands sit 200 feet above sea level and provide a nesting site for wedge-tailed shearwaters, also known as 'Ua'u kani, and Bulwer's Petrel.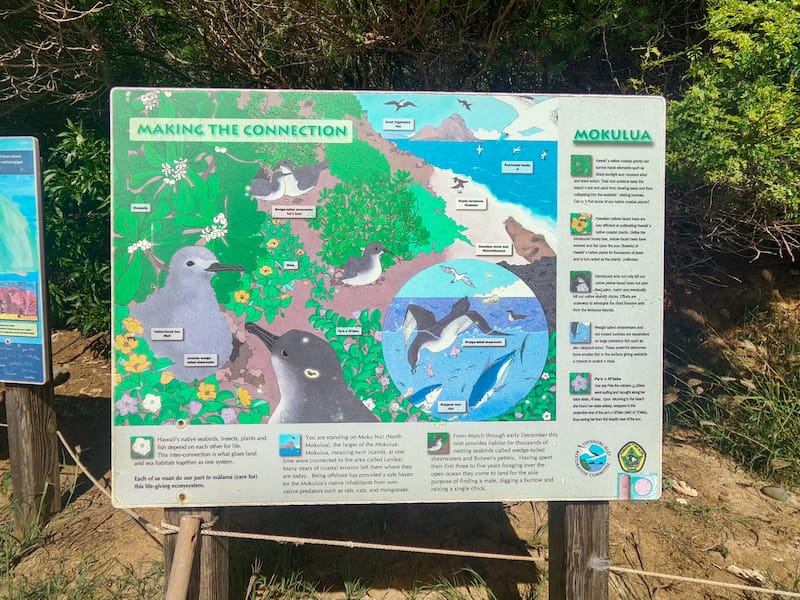 Visitors are only allowed to walk on the marked paths on the island since it is a seabird nesting habitat.
How to Reach the Mokes
The Mokes have limited accessibility, and some individuals opt for standup paddleboards or kayaks to reach the islands. I recommend taking the kayaking tour as it is a renowned activity in Hawaii and it is the one that I took.
However, visitors can choose to visit the Mokes independently or through a tour. I chose a guided tour, and I am content with my decision for reasons that I will explain below.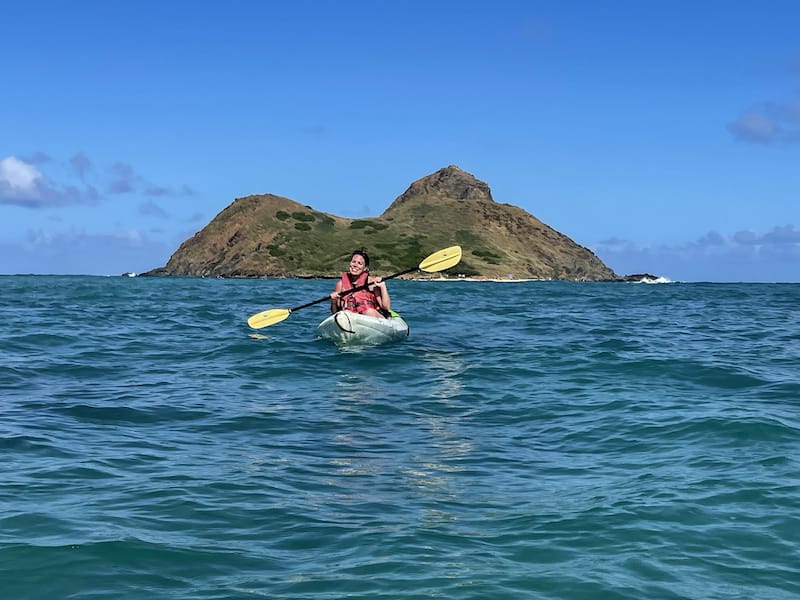 You can read further to determine the option that suits your preference.
Kayak to the Mokes (Guided Tour)
Guided/Self-Guided: guided
Duration: 5 hours
Physical Ability: moderate
Season: year-round (can be canceled due to bad weather)
Meeting Point: 130 Kailua Rd. in Kailua
BOOK HERE
While it is possible to kayak to the Mokes on your own, I suggest taking a guided tour if you lack kayaking expertise.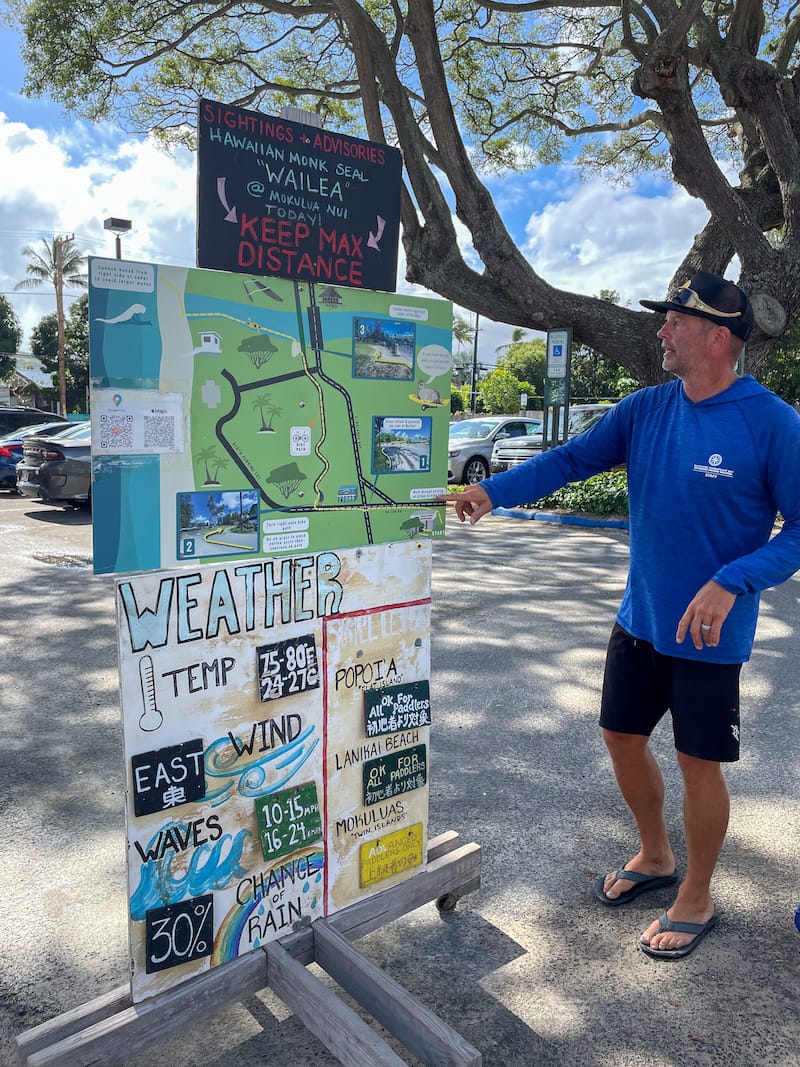 The tour usually lasts for five hours. Even though I have kayaked multiple times, I am not an expert. I think that going with an expert guide is the best choice if you are not very familiar with the route or sea kayaking.
I went on a guided tour to the Mokes with Kailua Beach Adventures, whose office is at 130 Kailua Road. The tour fee included a permit, a packed lunch and drinks, all the necessary equipment (such as kayaks and a dry bag), and a guide.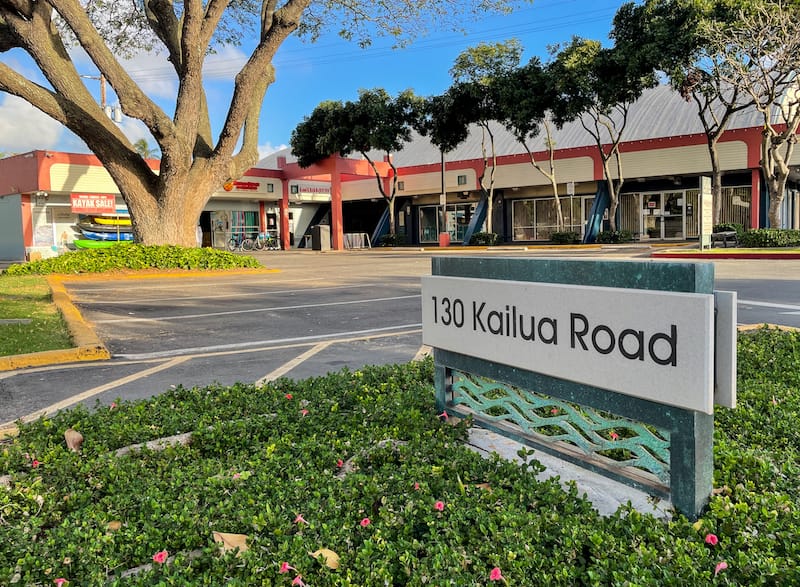 Our group was small, consisting of only seven people (not counting the guide), but it can accommodate up to 16 people. Most people usually kayak in a 2-person kayak, but I went on my own.
They also have a store where you can purchase a bathing suit, water shoes, UV shirts, and other necessary items.
After receiving a brief safety briefing, you will need to transport your kayak to the launch at Kailua Beach Park, which may be slightly difficult if you are alone and not strong.
However, the crew was helpful and assisted me in carrying the kayak. The walk to the launch site took around ten minutes.
BOOK HERE: Guided kayak trip to the Mokes
It took us about an hour to kayak out to the Mokes, but we stopped to take photos on the way. The sea was very calm and it was an easy journey. However, it can be challenging to land on Moku Nui.
The guide will help you come ashore and you need to allow the water to push you. The area between the two islands behaves like a pinball machine, so you need to hit it at the right time to end up on the shore.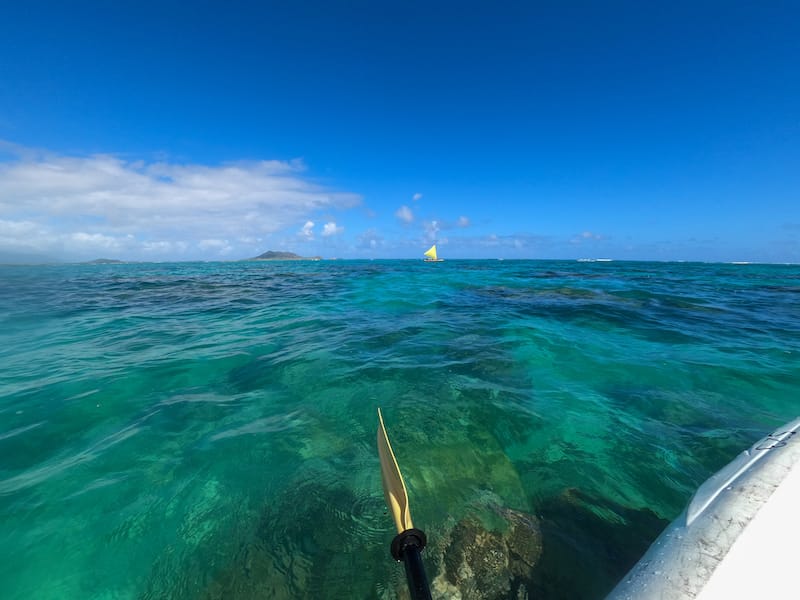 Returning to the starting point was more difficult than getting there as I got badly burnt by the sun. Although I had applied sunscreen before the trip, I had not reapplied it and we stayed on Moku Nui for about 2 hours without shade.
It was also harder because the 'pinball' area was at the beginning instead of the end. I started to feel seasick due to the heat and dehydration, but fortunately, our kayaking instructor was nearby in case I needed help.
He had a Sprite ready for anyone who felt seasick and even tossed one into my kayak!
Kailua Kayak Rental (Self-Guided to the Mokes)
Guided/Self-Guided: Self-guided
Duration: 5 hours
Physical Ability: moderate
Season: year-round (can be canceled due to bad weather)
Meeting Point: 130 Kailua Rd. in Kailua
BOOK HERE
If you are an experienced kayaker and want to visit the Mokes without a guide, Kailua Beach Adventures offers daily rentals with all necessary gear, a packed lunch, and a Moku Nui permit.
The company also provides some instructions for getting there. We saw many people renting kayaks and doing this on their own.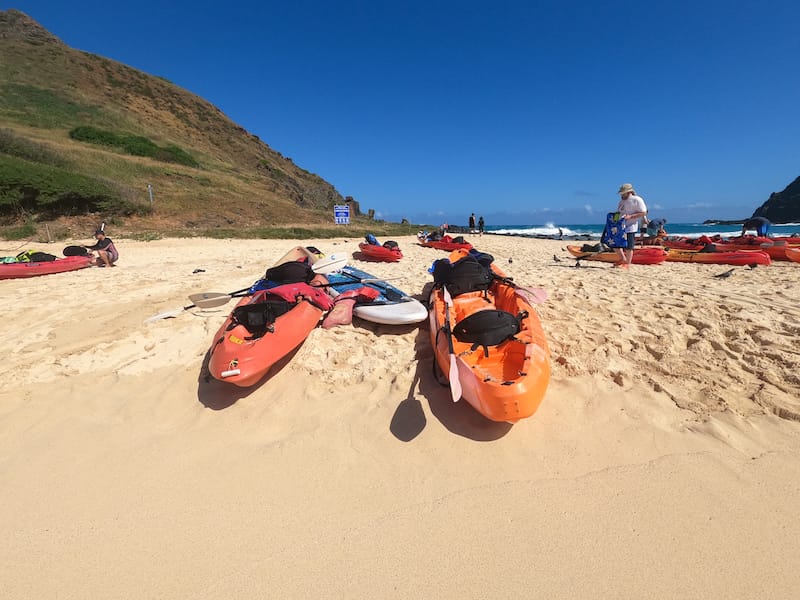 The rental costs around $100 less than the guided tour and is an ideal option for those who feel confident in exploring the Mokes independently.
Book your self-guided Mokes tour!
Kailua Kayak Rental (Doesn't Go to the Mokes)
Guided/Self-Guided: guided
Duration: 2 hours
Physical Ability: beginner
Season: year-round (can be canceled due to bad weather)
Meeting Point: 130 Kailua Rd. in Kailua
BOOK HERE
If you are not interested in landing on the Mokes but just want to explore Kailua Bay while kayaking, you can opt for a 2-hour guided kayaking tour.
During the tour, you will enjoy beautiful views of the Ko'olau Mountains while stopping at some of the best locations.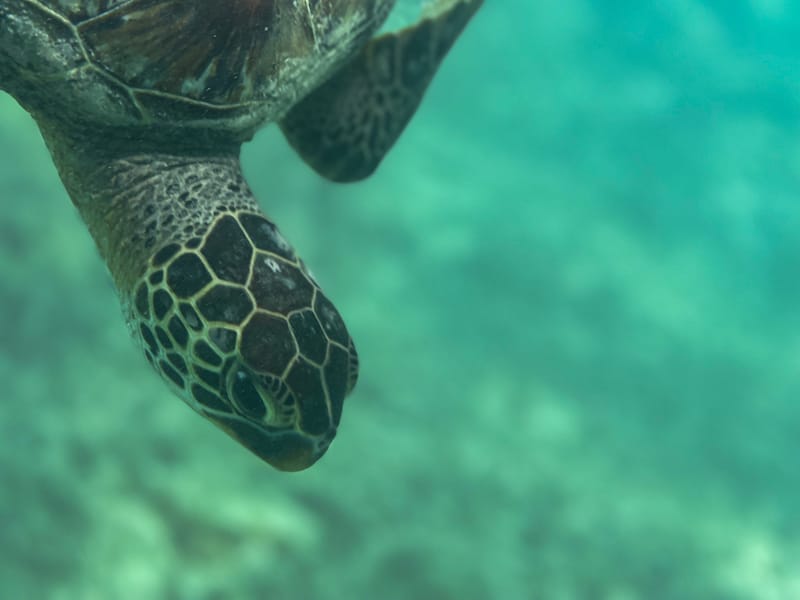 Additionally, the tour includes a light lunch, snacks, and even boogie boards and snorkel gear for after the trip.
This option is perfect for beginners or those who are not very confident in sea kayaking.
How Long Does it Take to Kayak to the Mokes?
The Mokes are located approximately 0.75 miles from Lanikai Beach, but visitors will launch from Kailua, making the trip around 2-2.5 miles each way. With the return trip factored in, visitors will cover about 5 miles of kayaking.
The guided tour takes approximately 5 hours, including a short briefing and a 15-minute trip to the launch.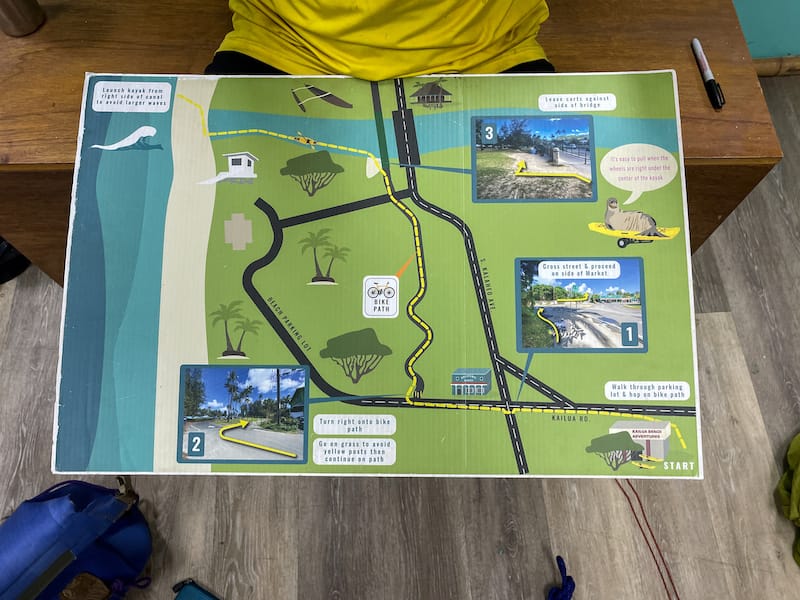 The journey to the Mokes takes around 45 minutes to an hour, and visitors will have around 2 hours on the island before returning.
BOOK HERE: Kailua kayaking trip to the Mokes
In the event of rough waters, the journey may take longer, and tours will be canceled or rescheduled with a refund.
Kayak Launch Point
To reach the kayak launch area, you should head to Kailua Beach Park located behind Kalapawai Market. Follow a path across a parking lot and cross a small bridge to reach the launch area.
A guide will be available there to assist with the launch, and the entire process is well-organized and straightforward.
Things to Do on Moku Nui
There are several activities to do on Moku Nui, even though it is a small island. One of the activities includes visiting the Queen's Bath, which is a shallow saltwater pool around eight feet deep.
The pool has spiritual healing powers and was once used by the Hawaiian royalty. Visitors can take pictures and hang out around the area before going back to the beach.
Additionally, visitors can spot wildlife such as seabirds, turtles, and monk seals.
However, people must keep a distance from the animals to protect them. Humpback whales are also visible in the winter months.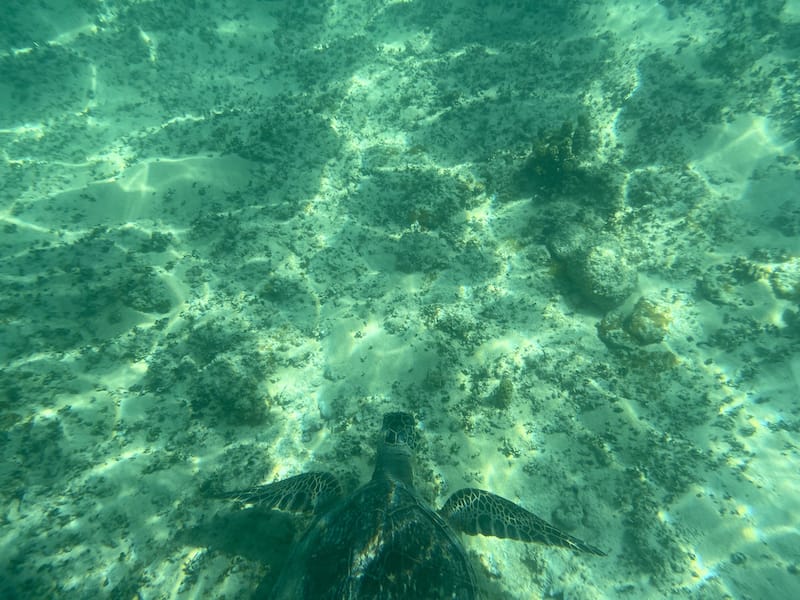 The tour also provides a light lunch which includes a turkey sandwich and drinks, but vegan and vegetarian options are available upon request.
Should You Kayak to the Mokes with Kailua Beach Adventures?
If you have an average fitness level, you will be able to handle the tour and would likely enjoy it. I have moderate fitness but did well on the tour until getting sunburnt.
However, I do recommend the tour and consider it to be one of the best experiences of my life.
FAQ About Kayaking to the Mokes
As for visiting Moku Iki, it's not possible as it's off-limits to visitors. In my opinion, kayaking to the Mokes with a guide is doable even if you're not in the best shape, but you may struggle with the heat and dehydration as I did.
If you're new to sea kayaking, I recommend going on a guided tour, but if you're experienced, you can go independently. To visit Moku Nui, you must have a permit, and you can't visit the Mokes on Sundays.
BOOK HERE: Kayaking to the Mokes tour
Are there any facilities or bathrooms on Moku Nui? No, there aren't any on the small island, so you have to stick to the main paths.
What should I pack for a Kailua kayaking tour? I suggest bringing reef-safe sunscreen and reapplying it often, a water bottle (in addition to the one provided), a UV shirt if you have sensitive skin, sunglasses that you don't mind getting salty, a bathing suit, a waterproof phone case, and a GoPro.
I also recommend sea bands or something similar if you're prone to seasickness. I had a bit of trouble on the way back, but I didn't take good care of myself.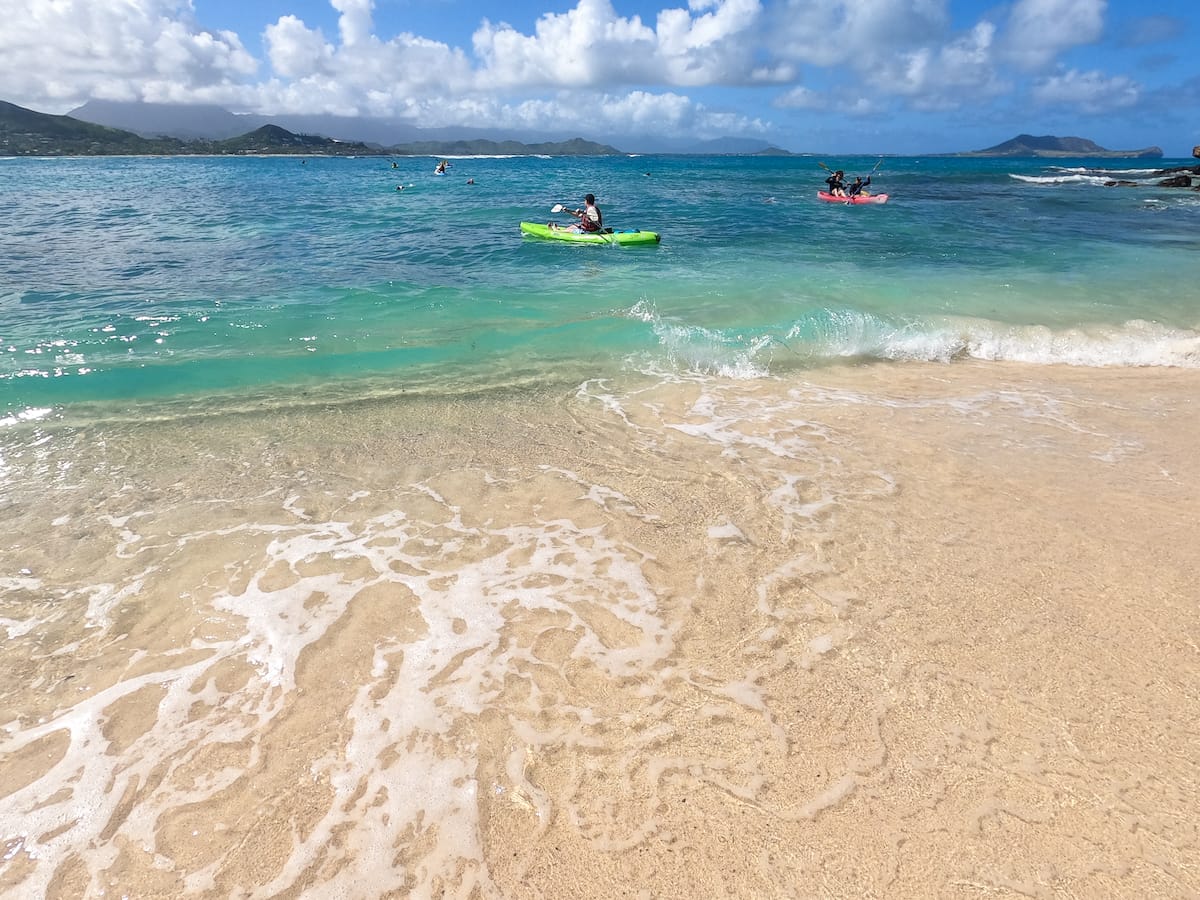 Any other advice? One thing that made me nervous was the shallow coral on the way to Moku Nui. It felt like we were going to hit it, but we managed to avoid it. Just be cautious and avoid getting too close. And keep an eye out for sea turtles – we saw a lot of them!
I found that the water was quite shallow and there were reefs underneath us for almost the entire journey, which made me anxious about hitting them. However, I managed to avoid them throughout the trip.
It's better to stay away from them if possible, and keep an eye out for turtles since there are many in the area.
Also, I suggest trying the Sunrise Shack, a fantastic cafe located next to Kailua Beach Adventures, for a delicious acai or superfood bowl. It's one of my preferred cafes on the island, and it kept me energized for most of the day!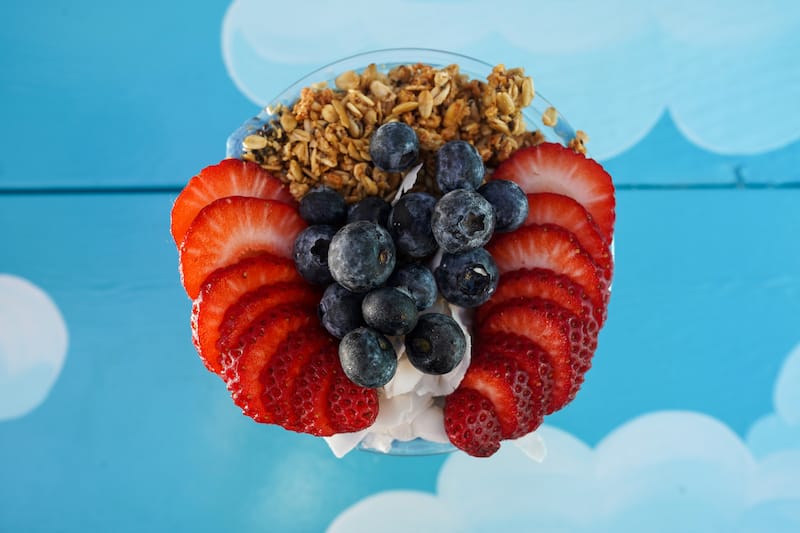 Booking Your Kailua Kayak Trip
I was so excited about this tour that I booked it a couple of weeks in advance through Viator.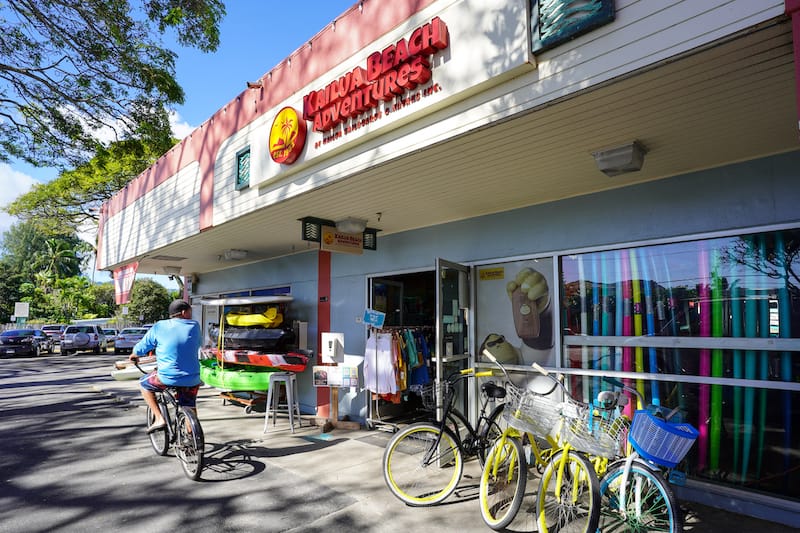 It's important to note that these tours are very popular and do fill up quickly, especially since you can't visit the Mokes without a permit.
Do you have any questions about kayaking to the Mokes?
Let us know your questions about kayaking in Kailua and to the Mokes in the comments. Thanks!
More Hawaii Travel Guides