Beautiful Alaskan towns, cities, and villages are a dime a dozen. But there is just something about Sitka! This is a guide to the best things to do in Sitka, Alaska for first-time visitors.
Are you planning your trip to Sitka last minute?
If youʻre booking your trip to Sitka last minute, we have you covered. Below are some of the top tours, hotels, and more!
🇺🇸 Top Activities and Tours in Sitka:
🛌 Top Sitka Lodging Options:
🚗 Looking for the best way to get around Sitka? Click here to check rental car rates for Alaska!
With a population of over 8,000 people, this Alaska city is located on the western side of Baranof Island and the southern half of Chichagof Island.
The 'city' is actually a city-borough and is the largest by area in the entire United States!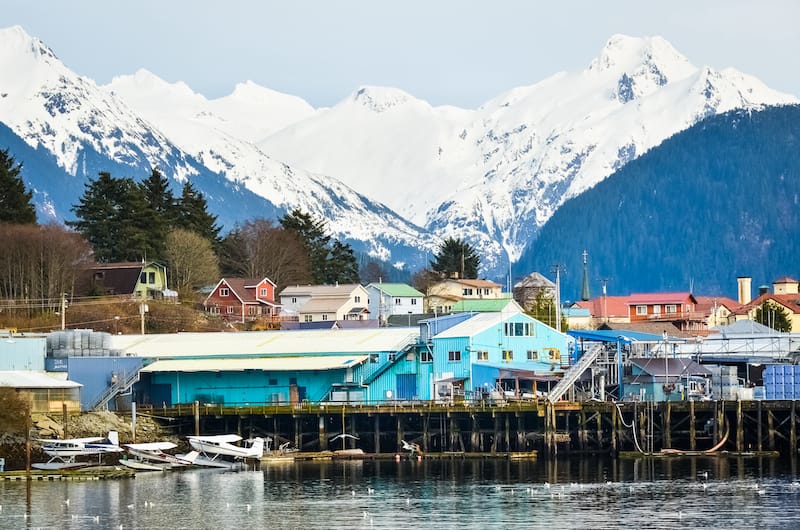 Originally thought to have been settled over 10,000 years ago by the Tlingit people, Sitka is a popular travel destination in Alaska today for its charming harbor, interesting history, and sea adventures.
This guide covers some of the top things to do in Sitka. If you have any tips for what to do in Sitka, please leave us a comment!
Best Sitka Tours (to Maximize Your Time!)
If you're looking for something more organized when in Sitka and the surrounding area, here are some awesome Sitka tours you should check out.
These tours will help you maximize your time, which is especially important if you only have a short amount of time in the city! We listed a variety so that you can pick which one is most suitable for you (and many include multiple places!):
Best Things to Do in Sitka, Alaska
1. Visit Sitka National Historical Park
One of the most essential things to do in Sitka is to pay a visit to Sitka National Historical Park, a site that preserves remnants from the battle that occurred between the Indigenous Tlingit and invading Russian traders.
The park consists of a scenic coastal trail and totem poles from the Tlingit and Haida.
Inside, you will also find the Russian Bishop's House which offers an educational history of Russia's (somewhat unknown) colonization of North America.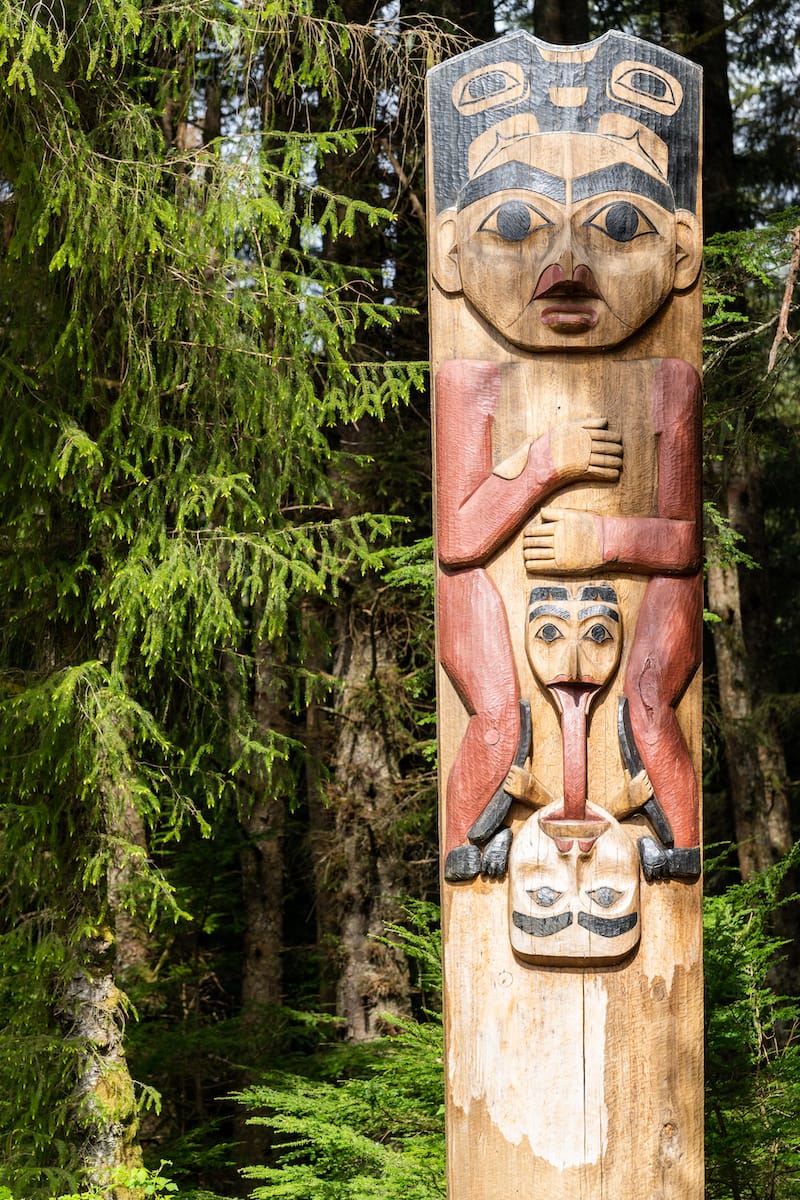 There are two miles of beautiful trails that wind through the park's 113 acres of forests.
The trails are wheelchair-friendly and are a fantastic way to enjoy some nature as you learn about the history of Sitka.
The trails are open from 6am until 10pm (May-September) and 7am until 8pm (October-April).
2. Learn More at the Russian Bishop's House
Now a part of the Sitka National Historical Park, the Russian Bishop's House is a National Historic Landmark that sits at the crossroads of Lincoln and Monastery Streets in Sitka.
Built from 1841-1843, it is one of the oldest buildings from Russia's colonization of North America and was once used as one of the main buildings for the Russian Orthodox church as it tried to spread its religion over the Alaskan natives.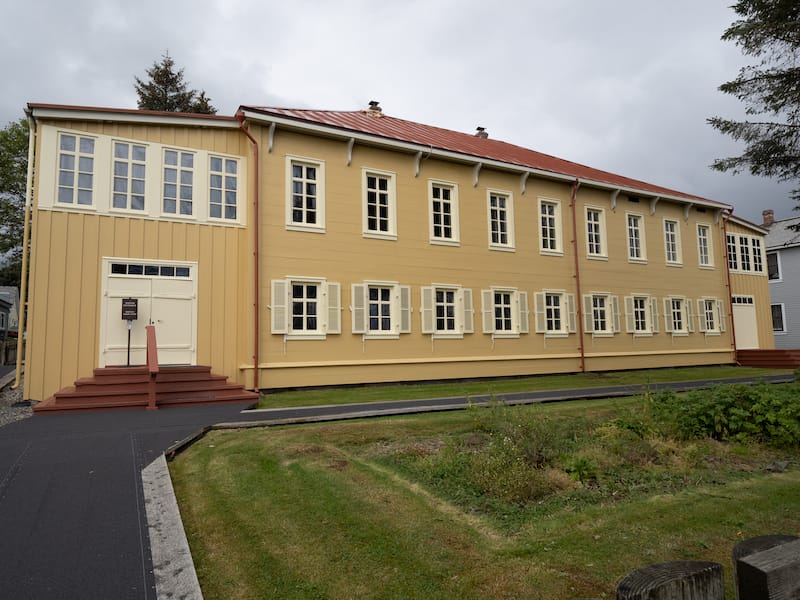 Previously also used as a Russian orphanage, you can visit the site today and take a guided ranger tour where you can learn about the impact the Russians had on Sitka and the Indigenous.
The Russian Bishop's House is located at 501 Lincoln Street in Sitka's downtown.
3. Enjoy a Warm Coffee in Sitka
Another thing you must do when visiting Sitka is to enjoy a nice cup of coffee at one of the cafes in town or close by.
Three of the top acclaimed cafes are Fisheye Organic Cafe (and the drive-through coffee shop), Highliner Coffee Co., and Backdoor Cafe.
At Fisheye Organic Cafe, you will find healthy eats and tasty coffee.
They also have a drive-through coffee shop that has been serving up tasty coffee to locals since 2012. Both are a huge hit and worth visiting while traveling to Sitka!
Highliner Coffee Co. is another beloved Sitka coffee shop that has a drive-through and bakery.
They serve fresh baked goods daily along with delicious espresso drinks.
Lastly, Sitka's Backdoor Cafe deserves a visit if you enjoy a quality espresso and homemade baked goods.
It is located behind Old Harbor Books and is a popular cafe in Sitka!
4. Photograph St. Michael's Orthodox Cathedral
In downtown Sitka, you will find St. Michael's Cathedral, a Russian Orthodox Cathedral that has been listed as a National Historic Landmark since 1962.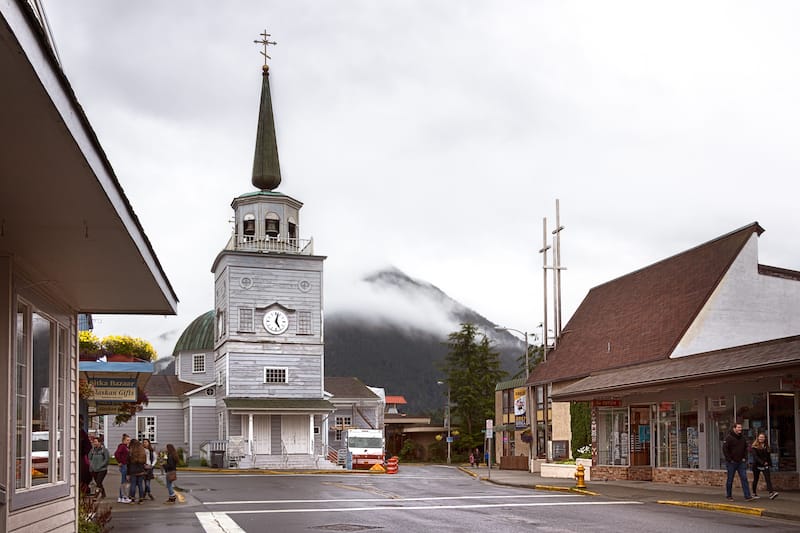 It was built in 1848 when Alaska was controlled by Russia and it sits in the middle of downtown Sitka at the end of Lincoln and Maksutoff Street.
The Cathedral had burned down in 1966 but was rebuilt right after and the green domes and golden crosses are iconic in Sitka and the church is one of the main Sitka landmarks these days.
5. Go Whale Watching in Sitka
Another popular activity across a lot of Alaska is whale watching! And yes, Sitka whale watching remains a fan favorite in the seaside city.
The waters around Sitka are home to a diverse array of wildlife ranging from migrating humpback whales to harbor seals, sea lions, sea otters, and orcas.
Sitka Sound Tours is a locally-owned and operated company that has been taking people whale watching in Sitka since 2004.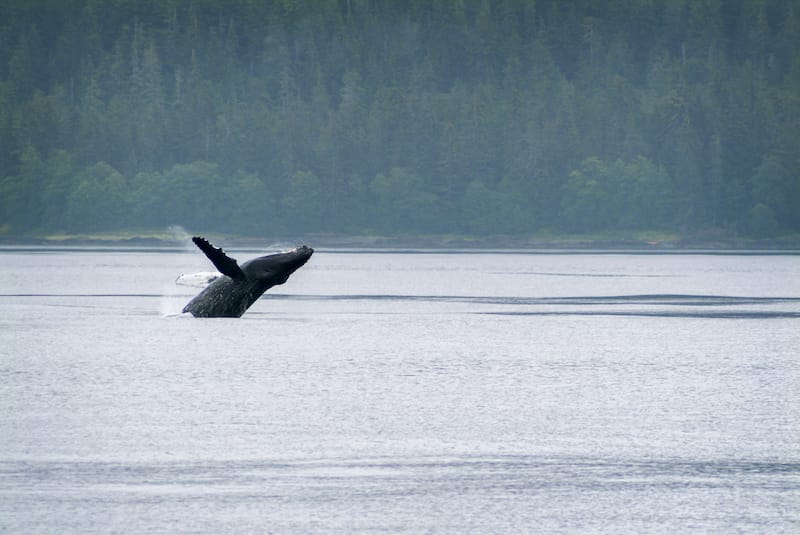 Not only will you have the chance to see migrating whales, but you may also get to see brown bears and bald eagles from afar!
Sitka Sound offers 2.5-hour wildlife tours and you will get a chance to see many different ecosystems on the tour – from rain forest to ocean marine to the Outer Coast kelp forest. You will be guided by the Captain, a top-quality Naturalist who is also a Sitka biologist and commercial fisherman.
>> Click here to book a whale watching tour with Sitka Sound
6. Visit the Alaska Raptor Center
Another place you can visit on your trip to Sitka is the Alaska Raptor Center, a complex that provides medical treatment to over 200 birds that are injured annually. Their main specialty is raptors but they will take in any injured bird and rehabilitate and heal it.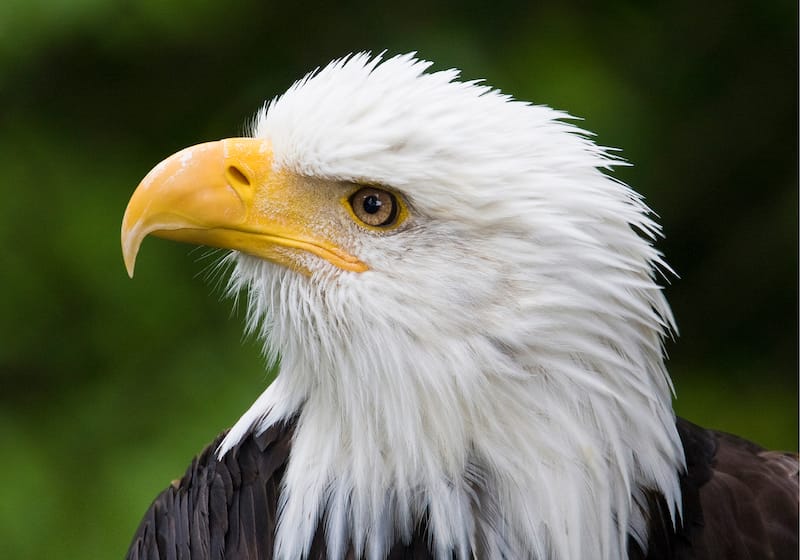 Many birds are released back to the wild once recovered, but some are unable to be released back.
Those birds will join the 'Raptors-in-Residence' team that helps educate the public and children about the animals and their lives in the wild.
When you're in Sitka, you can visit the Raptor Center. It is open Tuesdays until Fridays from 10am until 3pm. You must book an appointment, however. You can book through their website here or by calling (907)747-8662.
The Alaska Raptor Center is located at 1000 Raptor Way in Sitka.
7. Enjoy Craft Beer in Sitka
Alaska has some great craft beer but there are not too many breweries down in the area around Sitka but thankfully, Harbor Mountain Brewing Company opened last year, giving the residents of Sitka some delicious craft beer!
Sitka's Baranof Island Brewing Company had gone under after being in business for around a decade and Zach Anderson, the head brewer and co-owner of Harbor Mountain saw an opportunity for something new and started the brewery.
Harbor Mountain has a taproom, flights of beer, and so much more to offer in this Alaskan city. Definitely stop by for a drink (or food or just to say hello)!
You can find Harbor Mountain Brewing Company at 1209 Sawmill Creek Rd. Suite A in Sitka.
8. See Alaska History at Castle Hill
Castle Hill (as known by locals), or Baranof Castle State Historic Site, is a popular attraction in Sitka and one of the most important sites in Alaska.
The area was initially inhabited by the Tlingit and they built a fort at the site. Later, however, the Russians occupied the site from 1804 until 1867.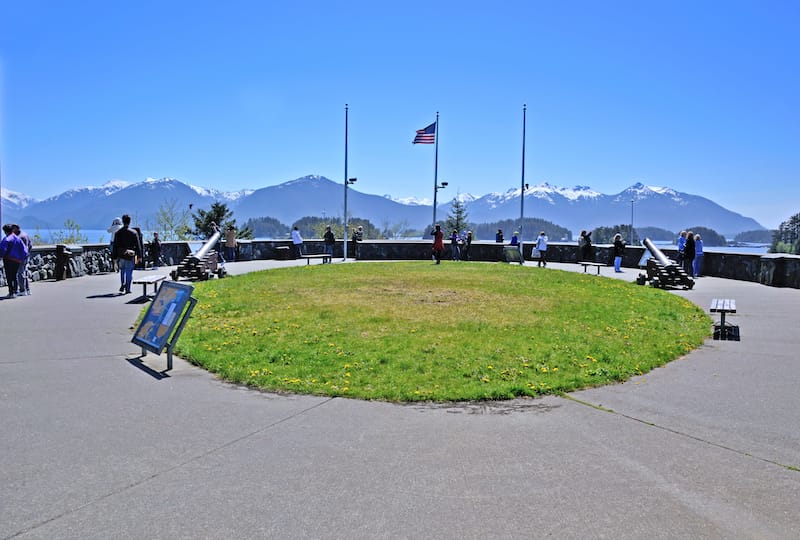 And… in 1867 at the top of Castle Hill, Alaska was transferred to the United States from Russia.
You can visit this National Historic Landmark today and there is an accessible walkway that will take you to the top (where you will be greeted with gorgeous views)!
You will also find signs throughout the area that educate and give a bit of history.
9. Visit Japonski Island
Sitka is brimming with history and Japonski Island is proof of that.
This island served as the WWII headquarters for the military that was stationed in Sitka.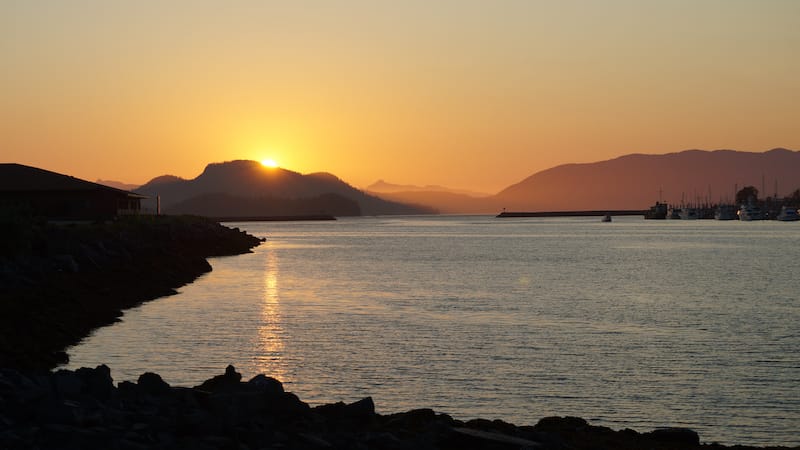 This island was connected by a man-made causeway that gave access to several islands in the area that had bunkers and gunning sites.
The bunkers are not well-preserved today but you can reach them via boat if you're looking to see them.
10. Check Out the Sitka Rose Gallery
The Sitka Rose Gallery is one of the best places to visit in Sitka for art lovers!
This locally-owned gallery has been in operation for 28 years and is even listed on the National Register of Historic Places.
Sitka Rose Gallery is home to several different types of paintings, sculptures, and works from over 100 different Alaskan artists.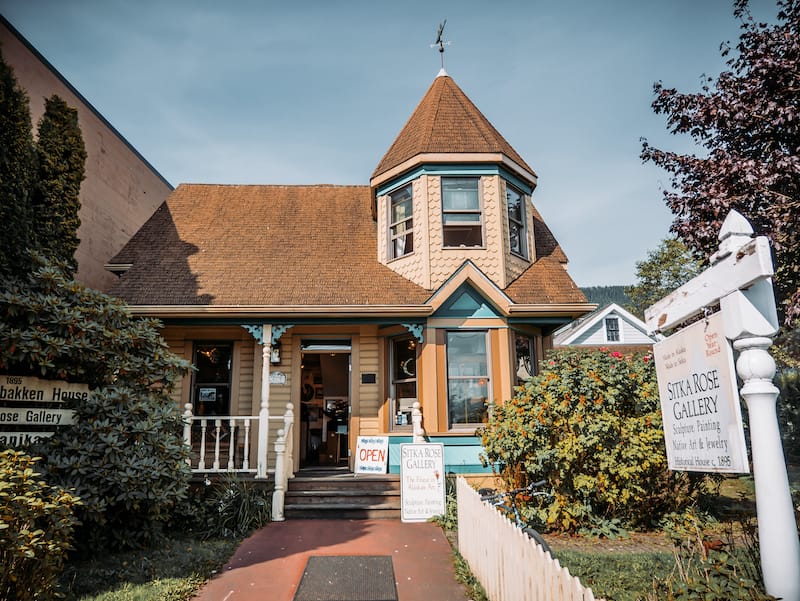 If you're looking for a fabulous Alaska souvenir to take home, the shop has plenty of them – from ceramics to jewelry to posters and more. The gallery is located at 419 Lincoln Street in Sitka.
11. Hike to a Waterfall on Indian River Trail
If you're an avid hiker and have the time while you're visiting Sitka, definitely consider spending a day on the Indian River Trail in Tongass National Forest.
This 8.4-mile out and back trail is considered easy/moderate and is a great hike between April to October.
The highlight of this Sitka hike is the waterfall (Indian River Waterfall) that is along the trail. It is a dog-friendly trail as long as they stay on a leash.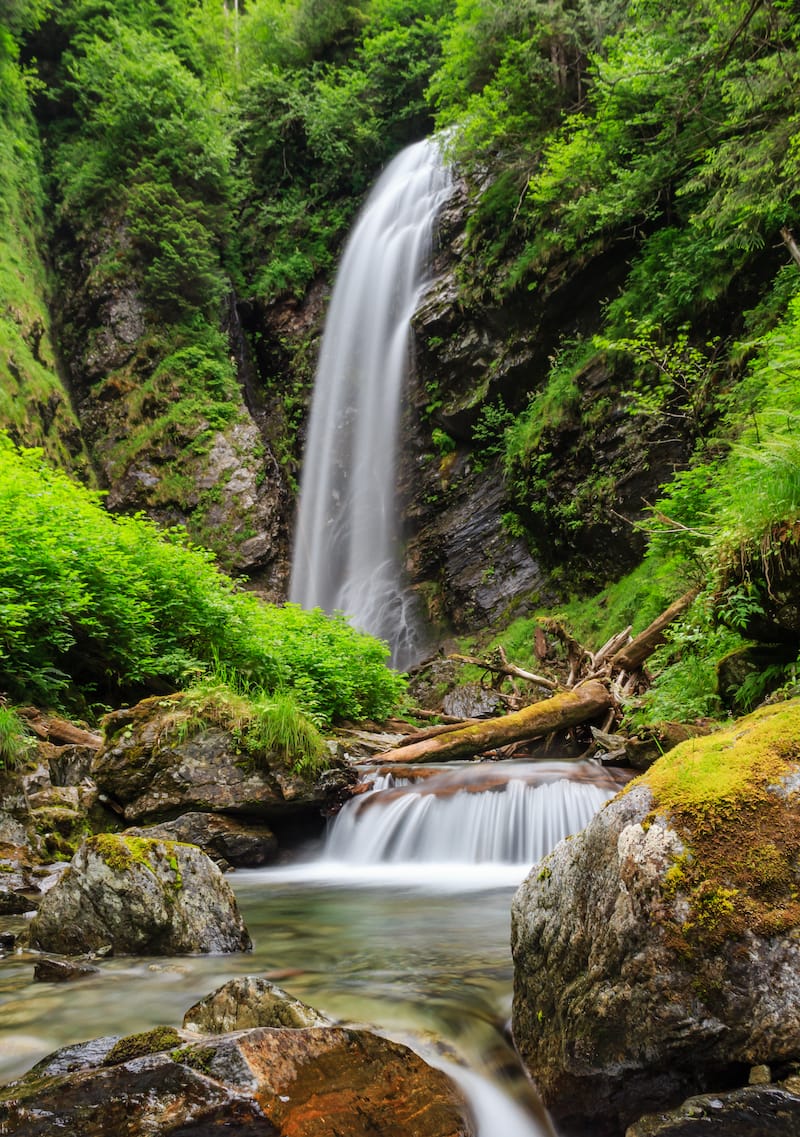 12. Watch the New Archangel Dancers in Sitka
One of the most interesting things to do in Sitka for families, solo travelers, and kids is to check out the New Archangel Dancers.
They have been performing for the last 49 years and showcase Alaska's Russian history through song and folk dance.
They have shows throughout the summer and the dancers have performed around the world in Japan, Russia, Mexico, and Canada… and they are definitely one of the highlights of Sitka!
13. Take a Boat near Saint Lazaria Wilderness
Formerly the Saint Lazaria National Wildlife Refuge, this island is one of 2,500 islands situated along the Alaskan coast that is known for its wildlife, especially its bird colonies.
Located in Sitka Sound south of Kruzof Island, Lazaria is rugged and difficult to access unless you're a scientist.
However, you can take a boat around the perimeter to admire its bird cliffs and other interesting landforms made from volcanic stone.
14. Go to Fortress of the Bears
I never list animal sites on travel guides on this blog unless they rehabilitate them in a non-exploitative manner and Fortress of the Bear does just that.
The rescue center opened in 2007 and its mission is to take in orphaned bear cubs. While not all bears can be released back into the wild, many have been rehomed to sanctuaries.
The goal of the center is to work with the Alaska Department of Fish & Game to eventually release rehabilitated bears back into the wild.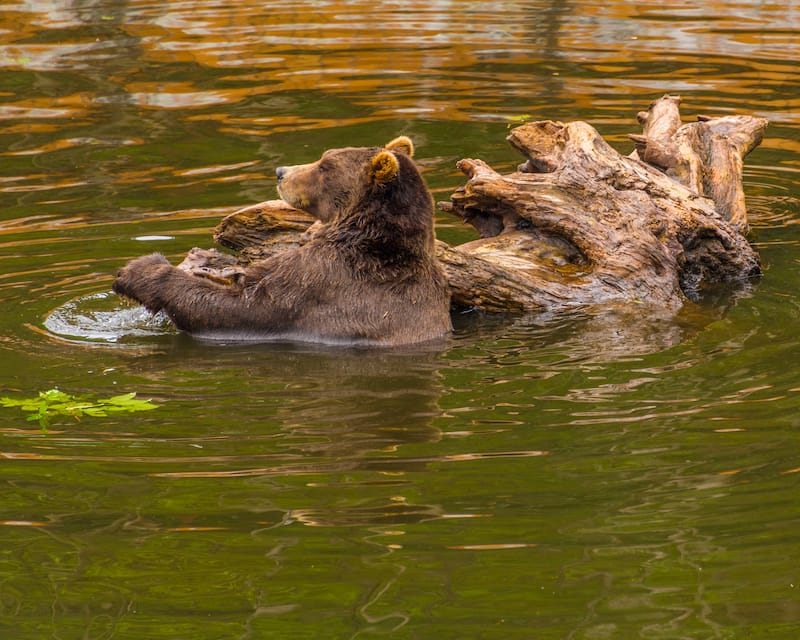 They are a non-profit organization. The bears live on a large habitat set against the Tongass National Forest and they don't have feeding times or anything that would create a routine for them.
The objective for allowing visitors to stop by is to learn about the bears and see them in their natural habitat. They will be allowed to ask questions and learn more about Alaska's famous mammals.
15. Hike the Gavan Hill Trail
One of the most popular hiking trails in Sitka is the Gavan Hill Trail.
This trail can be hiked year-round but do expect snow in the winter. It is classed as easy to moderate.
To get there from downtown, you will need to follow Baranof Street past Market Center until you get to the cemetery.
The trailhead is at the parking lot at the cemetery (it is marked).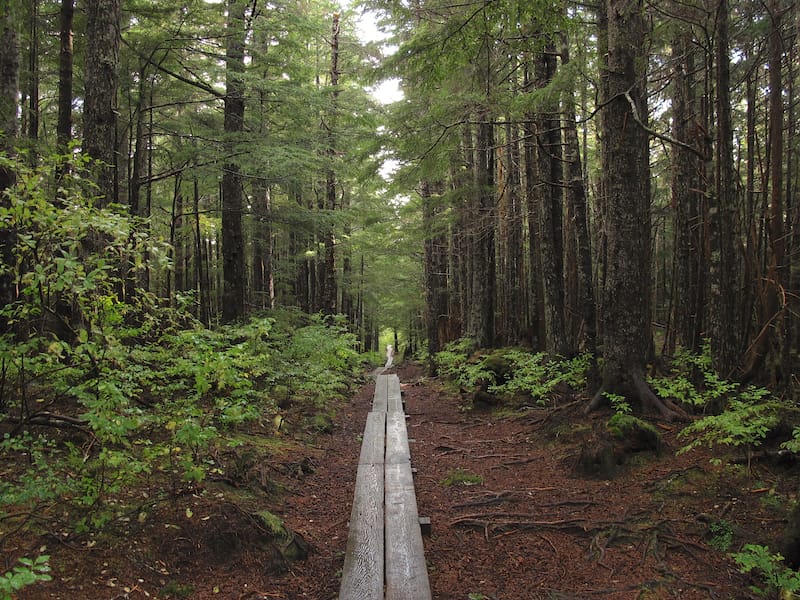 One unique thing about this Sitka trail is that it has different destinations.
The out and back go to Muskeg Viewpoint, Overlook, Gavan Ridge, Summit, Harbor-Gavan Shelter, and Harbor Mountain Parking Lot.
This is a fantastic trail regardless of the hiking skill level… just make sure you don't complete the entire thing as it becomes more difficult the further along you go!
Some other things that are recommended to add to your Sitka itinerary are the following:
Sheldon Jackson Museum (has Native artifacts and hosts artists during the summers)
Sitka Sound Science Center
Historic Sheldon Jackson Campus (buildings dating back to 1911)
Sitka Centennial Building
Starrigaven Estuary and Boardwalk (can sometimes see swans, deer, bears, salmon, etc).
How to Get to Sitka
One of the biggest obstacles people face when traveling to Sitka is how to get there! Below, you will find a detailed explanation of how to get to Juneau and then how to get to Sitka.
Or, a more expensive option is to fly directly into Sitka from Seattle and a few other places.
We don't detail that because it is pretty straightforward! We also note what to do if bad weather strikes and you have a canceled flight.
Getting to Juneau
If you're coming from Seattle on Alaska Airlines (they have taken over all the Virgin flights), you will likely end up flying in from Seattle.
Multiple flights arrive daily at Juneau International Airport.
Getting from Juneau to Sitka
From Juneau, you still need to get to Sitka!
The only way to reach Sitka is via air or boat! You can fly to Sitka from the following Alaskan cities: Anchorage, Fairbanks, Juneau, and Ketchikan.
There are also small seaplanes that go from Alaska Seaplanes and Harris Air.
If you opt to arrive by ferry, you will see state-operated ferries that will take you through the Inside Passage. It is all part of the Alaska Marine Highway System.
There are also some small cruises that go out this way (and yachts).
Best Time to Visit Sitka
The best time to visit Sitka depends on what you are going there for.
If you're heading there for ideal weather, you will want to visit during the summer (June, July, August).
The hotel prices are high, but you will have the best weather (and Sitka has around 227 rainy days annually)!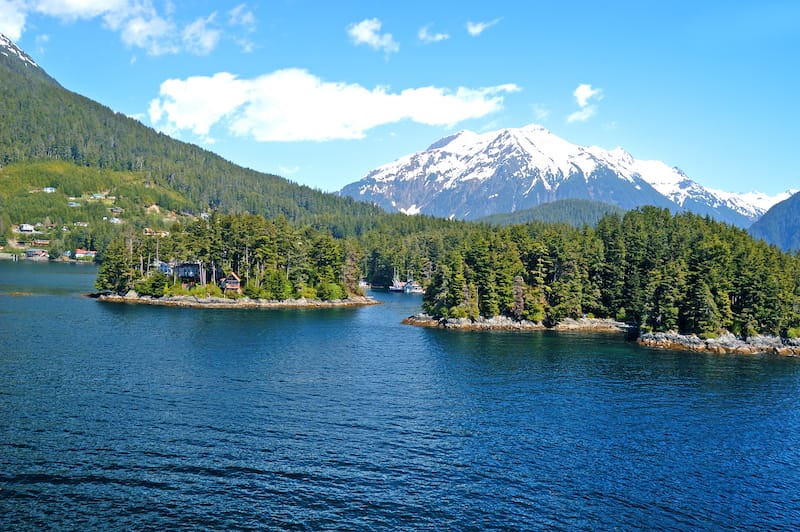 The best time for whale watching in Sitka is during the summer.
You will have a chance to see grey, orca, and minke whales in Sitka Sound during the summers. From July until December, you can also see the migratory humpback whales that feed off of the krill.
Shoulder season is also a fantastic time to visit.
May and September offer a lot to visitors and the weather is usually quite agreeable and you can do most activities. Winter in Sitka can be cold, harsh, and dark.
Please do note that summers have long daylight and winters have short daylight. Plan your trip accordingly!
Where to Stay in Sitka
There are a few options for accommodation in Sitka! Here are some of the top-rated places to stay in Sitka:
We hope that you found this guide useful and that you are going to plan a trip to Sitka!
There are many things to do in Sitka regardless of what type of traveler you are and it is a remarkably beautiful place to visit!
Please let us know if you have any Sitka attractions or landmarks we missed! Thanks!
Additional Alaska Travel Resources
Pin this Things to Do in Sitka Guide