La Fortuna, Costa Rica is definitely not off of the beaten path for travelers to Central America, that's for sure. Actually, I've been multiple times.
People are simply in awe of the photos they see of Arenal Volcano and the local wildlife and book their trip there without another thought in mind. I don't really blame them… it is one of the greenest and most picturesque settings I've been fortunate enough to visit in all of my years of travel.
If there was a beach a little bit closer, dare I say this place might actually be the perfect paradise? Nevertheless, La Fortuna has a little bit for everyone. Costa Rica, in general, is that way. You can travel to the country on a budget and stay at a backpacking hostel, or you can pick a rental property in Costa Rica and have a more luxurious and refined vacation.
This quick travel guide to La Fortuna will give some insight into how you can enjoy the area whether you have some money to spend or are pinching pennies and toting along some ramen noodles.
About La Fortuna
La Fortuna is a small city situated in San Carlos, Costa Rica in the north of the country. The name "La Fortuna" technically means "fortune" or "lucky" in Spanish and some myths state that the city got its name because of its fate being next door to the renowned Arenal Volcano. The volcano is often said to be one of the top ten or twenty most active volcanoes in the world, according to scientists.
In 1968, the volcano erupted to the west and missed La Fortuna, but took the lives of 82 people where it hit. This eruption actually geographically changed the region substantially and gave way to the tourism that it sees today. There has been no activity from the volcano since 2010, but it is still very much considered active.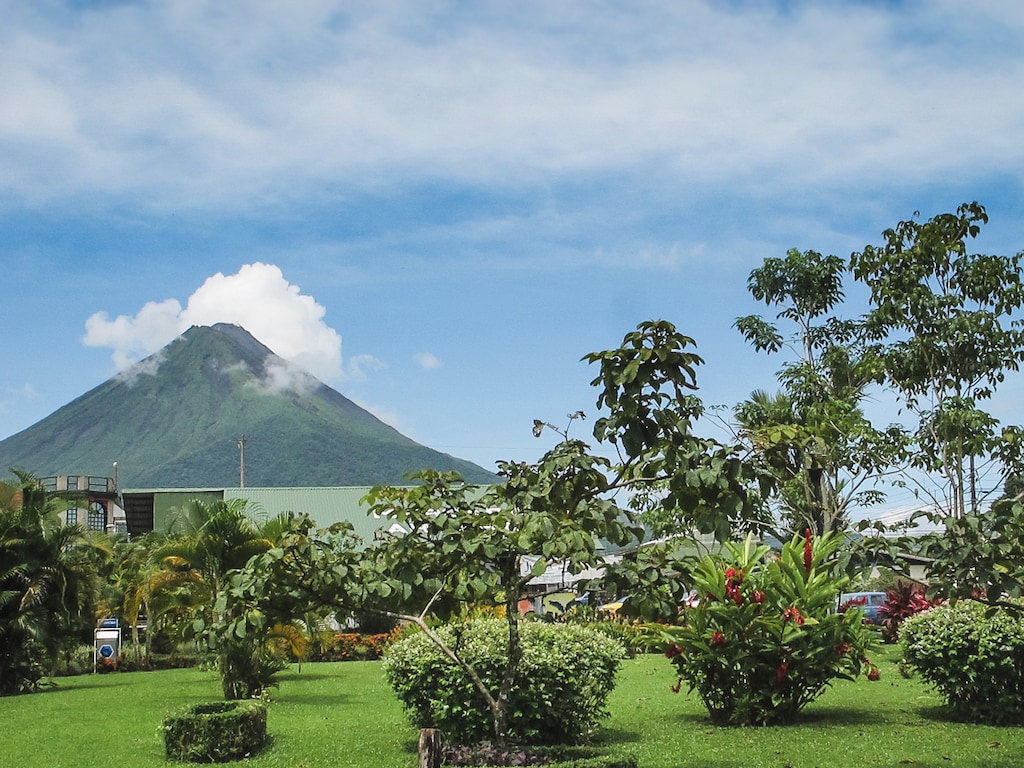 Getting to La Fortuna
You have a couple of options for getting to La Fortuna if you are backpacking Central America. You can come indirectly (good luck navigating that… I never tried it) or directly from other cities. While I have only arrived in La Fortuna from San Jose, your other options are Liberia and Peñas Blancas, Nicaragua.
You can also find local connections here and there from wherever you may be, but they may end up being indirect and result in changes somewhere along the way.
From San Jose
I have always gotten to La Fortuna by way of San Jose, Costa Rica's capital city. The easiest and most direct way to do this is from the bus station at Terminal 7-10. There, you will find three buses directly to La Fortuna. They leave at 0500, 0840, 1130 daily.
But, be aware that things don't always show up on time in Costa Rica. Always come prepared to wait a little bit (or in my experience, hours on end). And be sure to ask your hotel or hostel what time the buses leave as these times do change quite often.
If you can not find a direct connect to La Fortuna while in San Jose, try getting to San Carlos from the bus station and then you can take one of the regular connections from San Carlos to La Fortuna. You will find some super informative information with times and details about the bus connections on this site.
Travel time is around 4 hours but do come prepared with water and snacks. I also found this route a bit difficult as we picked up a lot of locals along the way and I had to give up my seat to children and elderly folks as well. No problem, just be prepared for this anytime you take a bus around Costa Rica (some do go directly though). Tickets are around $5.
From Peñas Blancas (Nicaragua)
Are you hanging around Nicaragua and want to come down to see the Arenal Volcano? Well, if so, you can do this in a fairly easy manner once you cross the border to the Costa Rica side.
From there, you should see some buses that will be departing at 1000, 1130, 1330. They will be heading toward San Jose, but with stops in Liberia and Cuidad Quesada. Once arriving in Ciudad Quesada (stop after Liberia), get off and take the next bus to La Fortuna (they go hourly from 0500-2200).
This entire ride should take about 5 hours.
From Liberia
The road to La Fortuna is not quite as seamless coming from Liberia. First, you must get to Cañas by bus, and then Tilarán, and then finally catch the bus to La Fortuna.
I would definitely ask once in Liberia if they do happen to have any directly to La Fortuna or passing through it before doing this, on the other hand. It would save a lot of trouble and bus times are rather limited. The last bus in Tilarán leaves at 1230, so if you're not on this bus, you may be stuck for the day unless you opt for private transfers. The entire route is about 95km.
Leaving La Fortuna
Obviously, you can just get a bus back to any of the locations listed above as there are adequate transfers to and from, but I actually chose to find a bus to Punta Arenas (just showed up at the bus station the day before and asked times) so I could continue on to my next destination of Montezuma, Costa Rica on the Nicoya Peninsula.
This bus took me to Punta Arenas where I boarded a ferry across the Gulf of Nicoya and caught another bus to Montezuma. I did this in the off-season, so buses may have been more infrequent then. But I can highly recommend Montezuma as a follow-up destination to La Fortuna if you want some hippie and relaxed beachside action on the Pacific.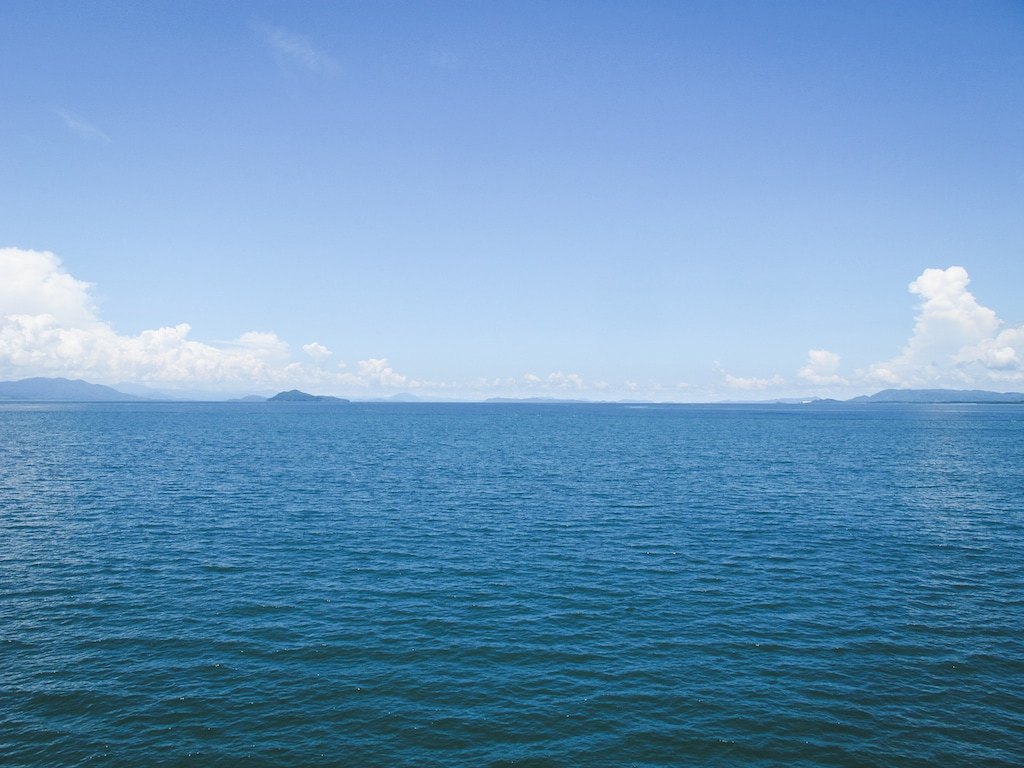 <the ferry ride from Punta Arenas to the Nicoya Peninsula… you should probably go this route for these views if you have time>
What to Do in La Fortuna
You're in the Lucky City… now what do you do? It should be more like "Where do you start!?" There is SO much to see and do in La Fortuna that you can easily spend a week there and never get bored. This guide will give a few options for some of my favorites, or the ones I regret having never done during my trips.
Arenal Volcano
What kind of guide would this be without listing the area's main attraction, the mammoth volcano?! While getting to this volcano isn't the easiest of tasks in the world, it isn't impossible with a lot of effort and patience (or money).
Unfortunately, budget options are hard to list here as there can be some bribes and fees you may have to pay along the way, which can put a damper on the situation.
To be fair, I never actually went up to this volcano on any trip and simply admired it from afar. If you're on a super tight budget, this is likely the best way to see it. The volcano is around 6km away from La Fortuna on one side and over 20km away on its other side.
There are some hiking trails, but you will need to pay the entrance fee(s) and fees to farmers to access a lot of this. I definitely recommend a tour if you want to get to the volcano without a lot of hassle.
For those with a little extra spending money, you can book some very reliable tours to the volcano and its base.
HORSEBACK: You can take a tour via horseback to the base of Arenal. This arranged tour lasts 1/2 day and you'll get to experience the rainforest and some of the rivers flowing through it.

MOUNTAIN BIKING: Are you an active person and adventurous soul? Maybe the mountain biking tour is more your cup of tea then. Duration is 4 hours.

WALKING: Maybe you're like me and just want to walk the thing. If so, this may be the perfect tour for you and it only lasts 3 hours.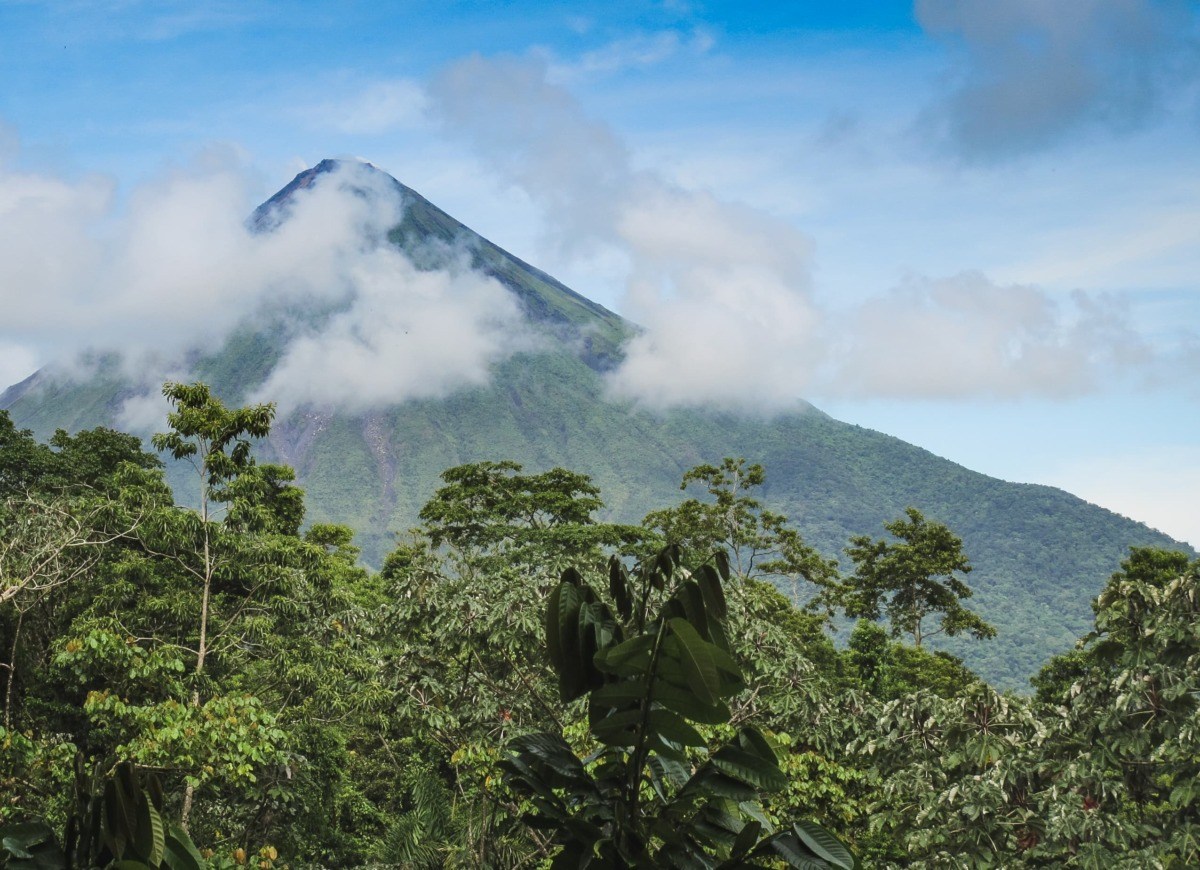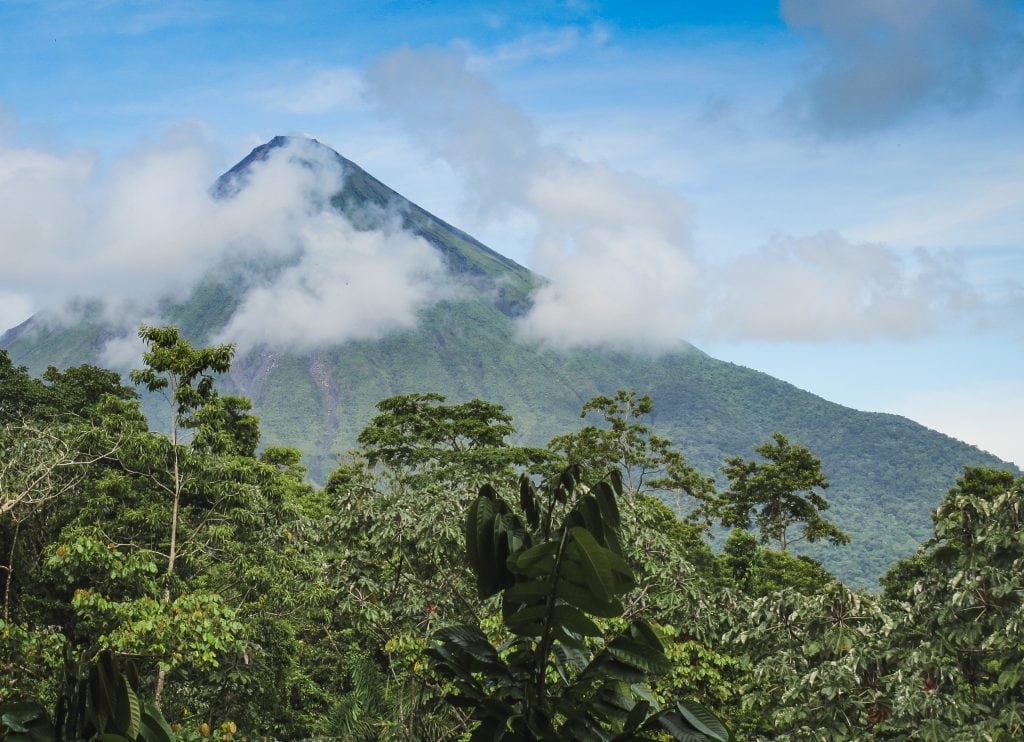 La Fortuna Waterfall
Quite possibly my favorite thing I did in La Fortuna was walk to this waterfall. It is quite the walk from the city, but you have volcano views the entire way and the flora in the area is just beyond stunning. I underestimated the distance from the city and did walk the entire way… and it was hot… but it was well worth it.
The La Fortuna Waterfall is about 70-75m in height and fed by the Arenal River and is located at the base of the dormant Chato Volcano. In order to walk from the city to the actual waterfall, you must be ready to walk around 5.5km! It took quite some time. If you have a bike, good on you.
Take that as the roads the majority of the way are quite flat. The admission to get into the park where you can access the waterfall is $15 per person. And the journey takes about ten minutes from the park office down and twenty back up.
Depending on how much rain has come or the dew within the rainforest, it can be slippery. It is well-marked and there are rails, however. It is relatively easy and mild and the spectacle at the bottom is incredible and you won't regret coming out that way to check it out!
If you're looking to see the waterfall in a bit more of an organized fashion (so walking 5.5km in the horrendous heat and humidity doesn't appeal to you???!), you might find yourself wanting to book a tour.
EXTREME HIKER: This tour is for the ones who want to get down and dirty and are advanced hikers. It is 10 hours long and you'll traipse your way down and around Cerro Chato Volcano.

DO IT ALL: This tour doesn't just include the waterfall, but also many other activities in La Fortuna and lasts for an entire day. It provides food and comes with transport between all of the places (which can become cumbersome in La Fortuna).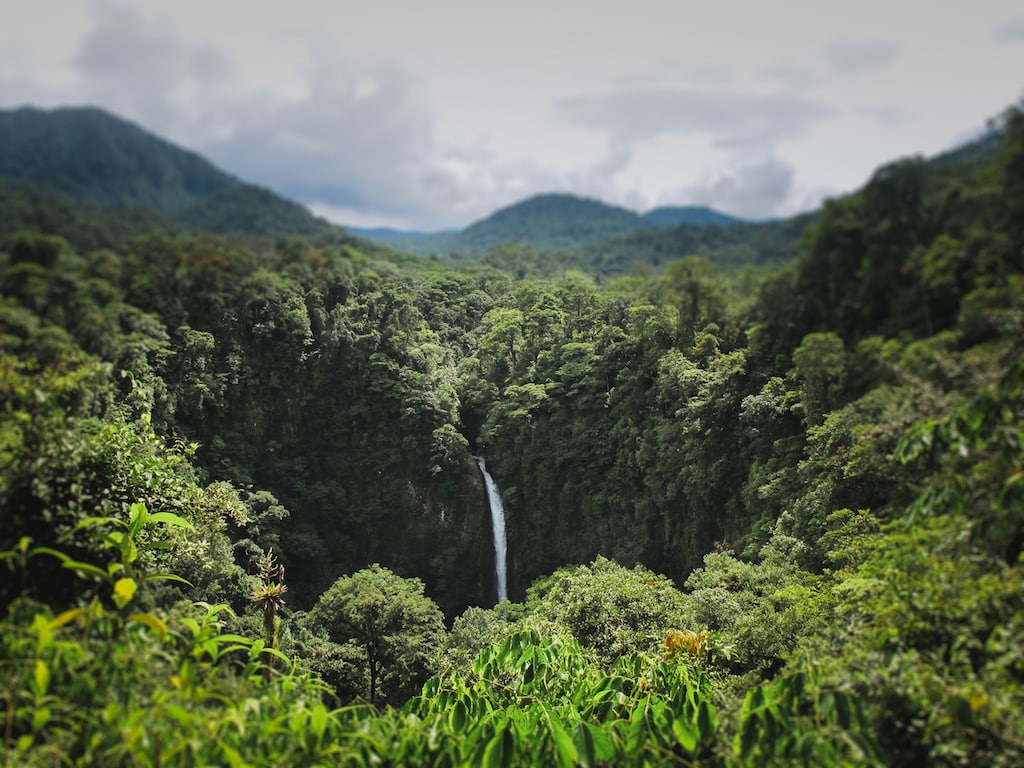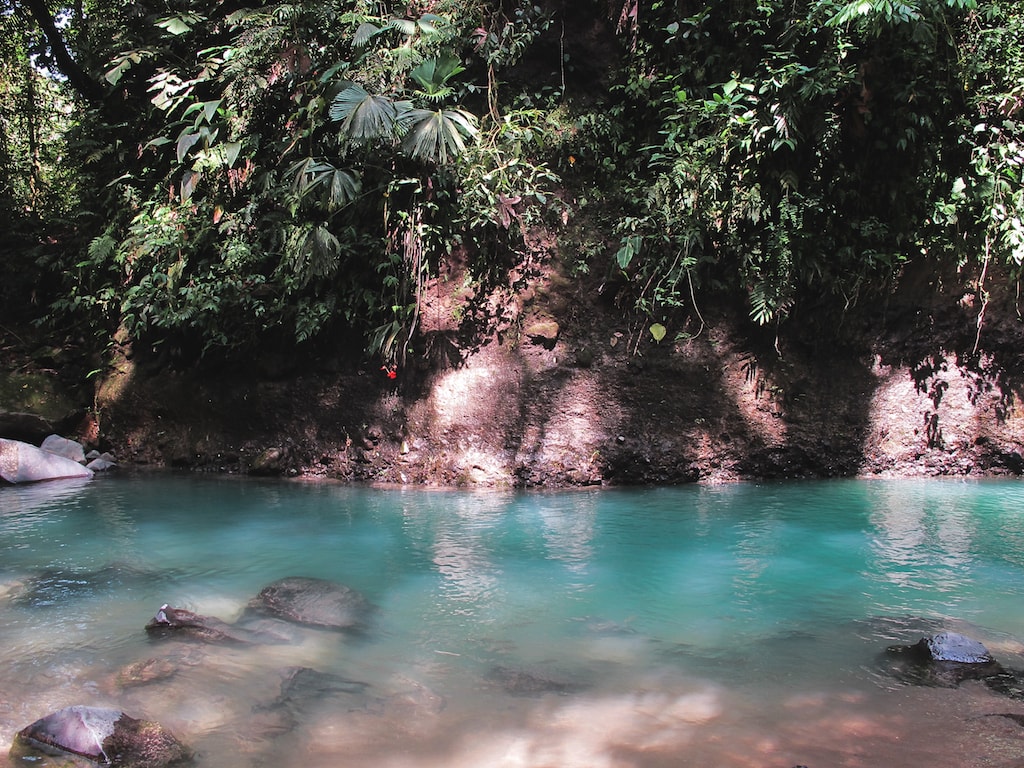 Arenal Hot Springs
To be honest, I never did this when I was in La Fortuna. They can come with a pretty hefty price tag and I just figured that I'd come back at some point and enjoy the relaxing and soothing springs. There are amazing hot springs in La Fortuna and it is an imperative thing to do!
If you're looking for actual opinions on them and want to know more about each from a personal point of view, check out this post about them. If you want to see more about the packaged tour that includes a visit to them (I mentioned it above), click here.
Rainforest Zip-lining
You went to Costa Rica and didn't go zip-lining!? Whatttt?? Not really, but it is kind of the thing that everyone does at some point during their travels to Costa Rica (sheepishly raises hand and admits she has done it twice). I am afraid of heights, so I was really scared the first time, but obviously, I survived enough to scare myself shitless a second time.
This isn't a budget activity per se… but you can find some fairly affordable companies to do this through. The company I went through was called "Canopy Vista Arenal", but it doesn't appear that they are operating any longer. If you do see them on a brochure to book through- do it! They were fantastic and you got some delicious fresh fruit after the zip-lining.
BUDGET: There are not many budget options when it comes to zip-lining, and obviously this is something you must do through a company. You can book this activity here for a pretty affordable price compared to other options.

7-HOUR ADVENTURE: If you're looking for a nice home-cooked meal and a longer adventure through the jungles of Costa Rica, check out this canopying adventure in La Fortuna.

PACKAGED WITH HOT SPRINGS: This tour includes not only the zip-lining adventures but also a ride up on the Sky Trek Tram, walks through nature, lunch and dinner, and a visit to the hot springs. For all that is included, it is decently priced, too.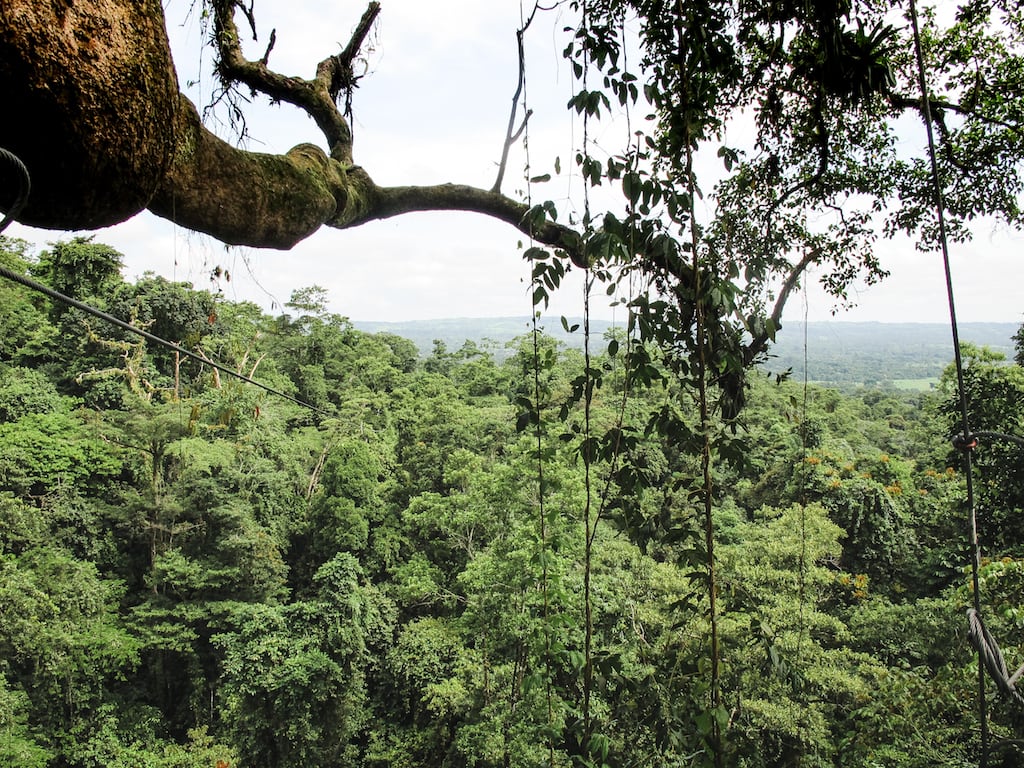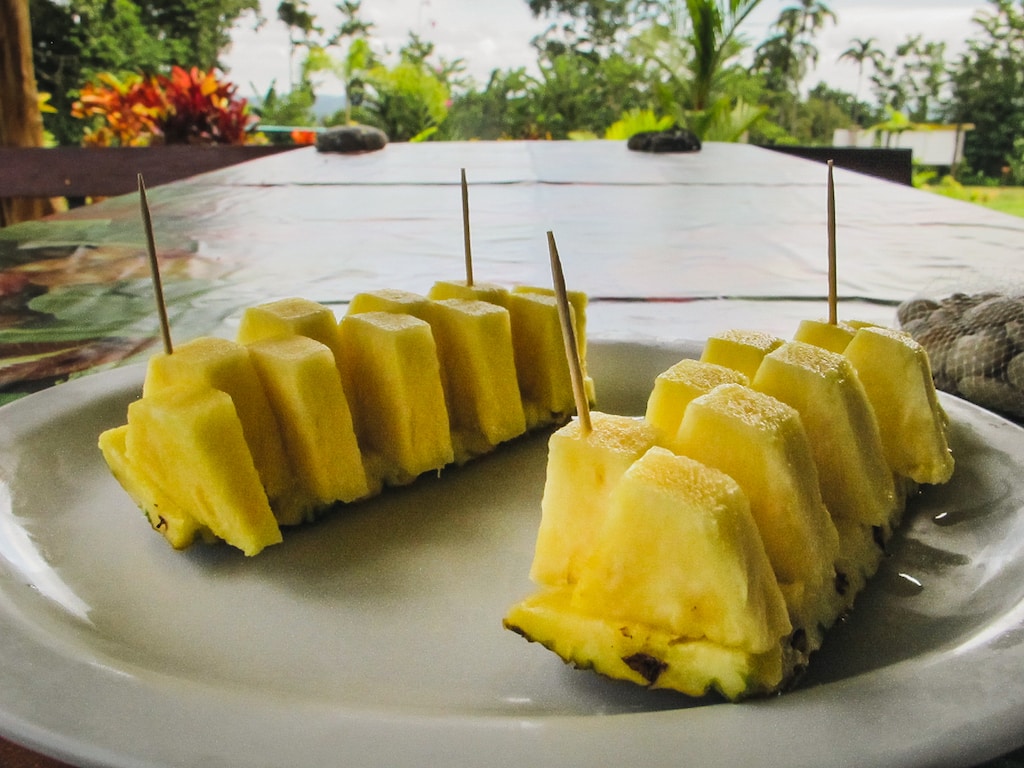 Chocolate Tour
I actually opted out of doing this while in Costa Rica every time as I have previously done a chocolate tour in Mexico years ago. But, if this is something that interests you, there are options available.
RAFTING & CHOCOLATE TOUR: You can book a 7 hour day doing half white-water rafting (something that La Fortuna is known for) and the other half on a chocolate tour. Might be the better options for those wanting arranged transportation and another activity planned.
<mmmm….chocolateeeee….>
There are actually several activities you can do in La Fortuna, including standup paddleboarding on Lake Arenal and perusing through the rainforest on the Arenal hanging bridges listening to the howler monkeys in the background…. but the activities listed are just a few to get you started and ones I personally enjoyed or come highly recommended by other travelers.
There are also several activities located in the region, such as the Monteverde Cloud Forest, that I also recommend.
INTERESTED IN OTHER LA FORTUNA & ARENAL ACTIVITES? Take a look through here and see what all the region has to offer travelers and adventurists!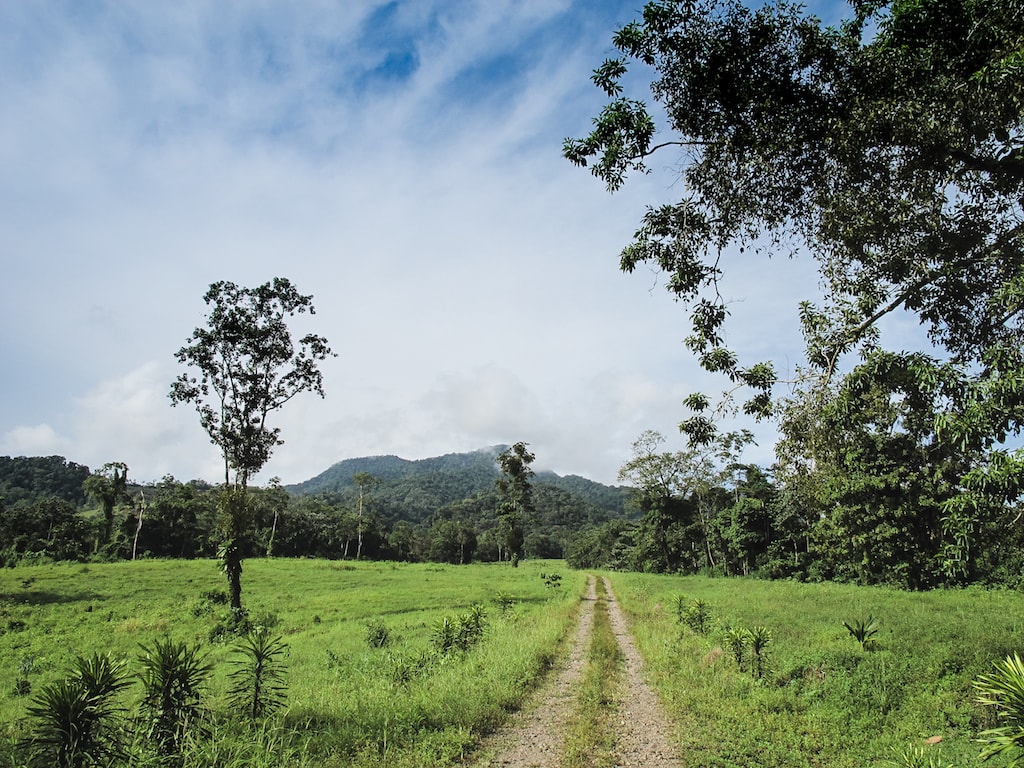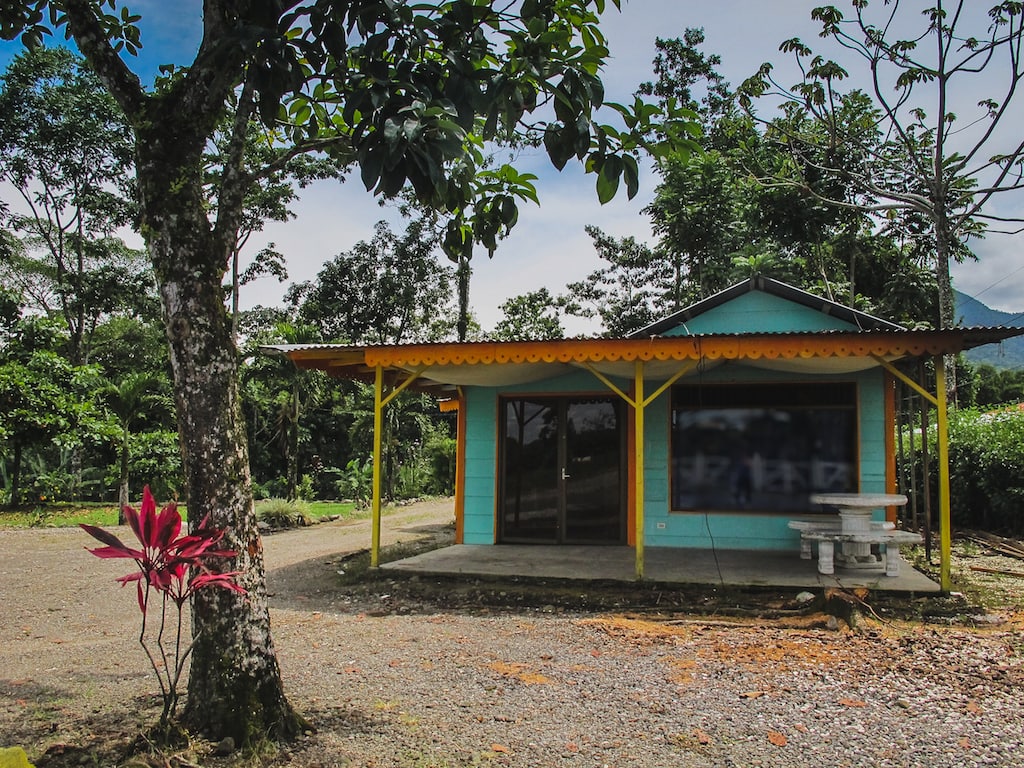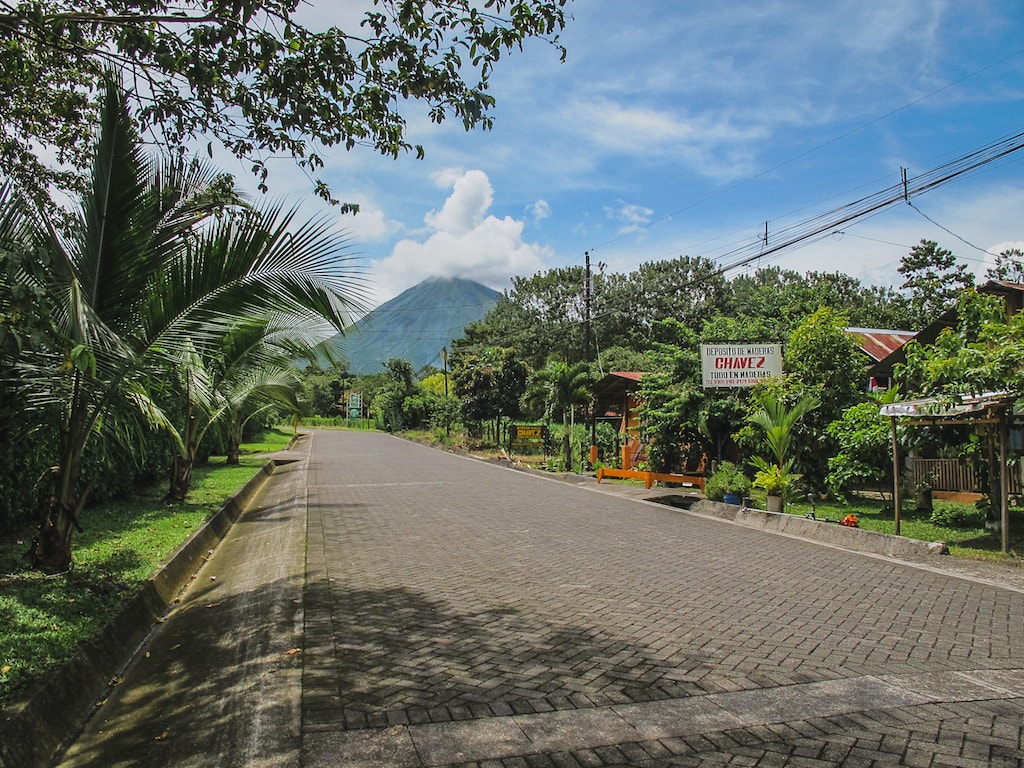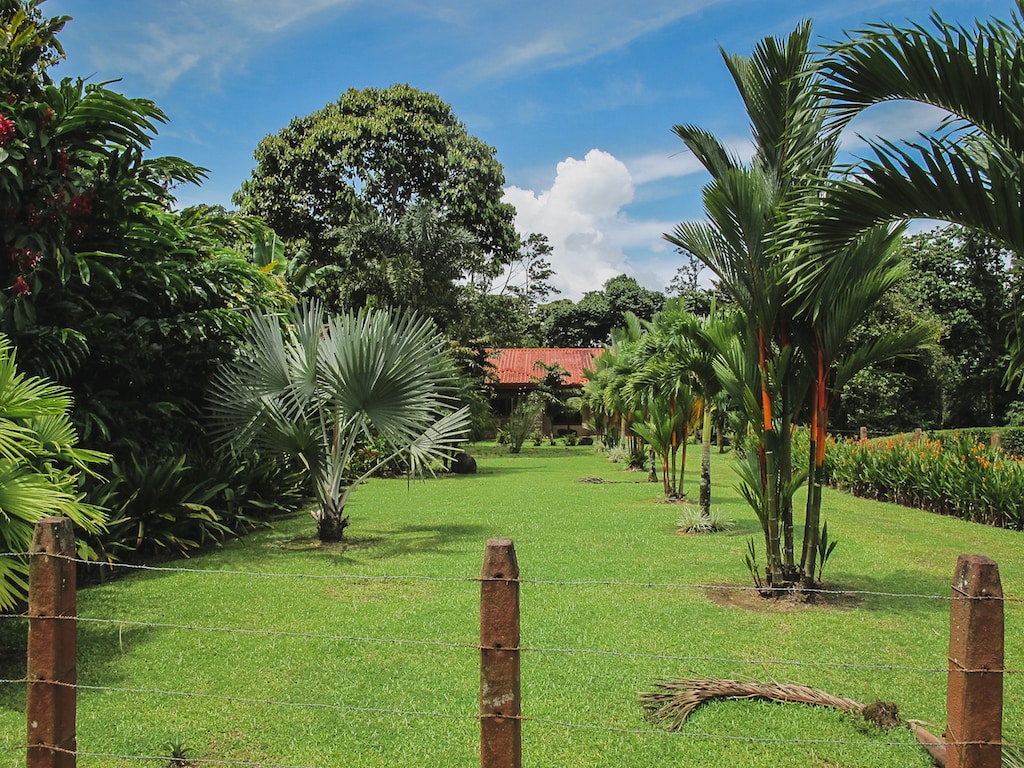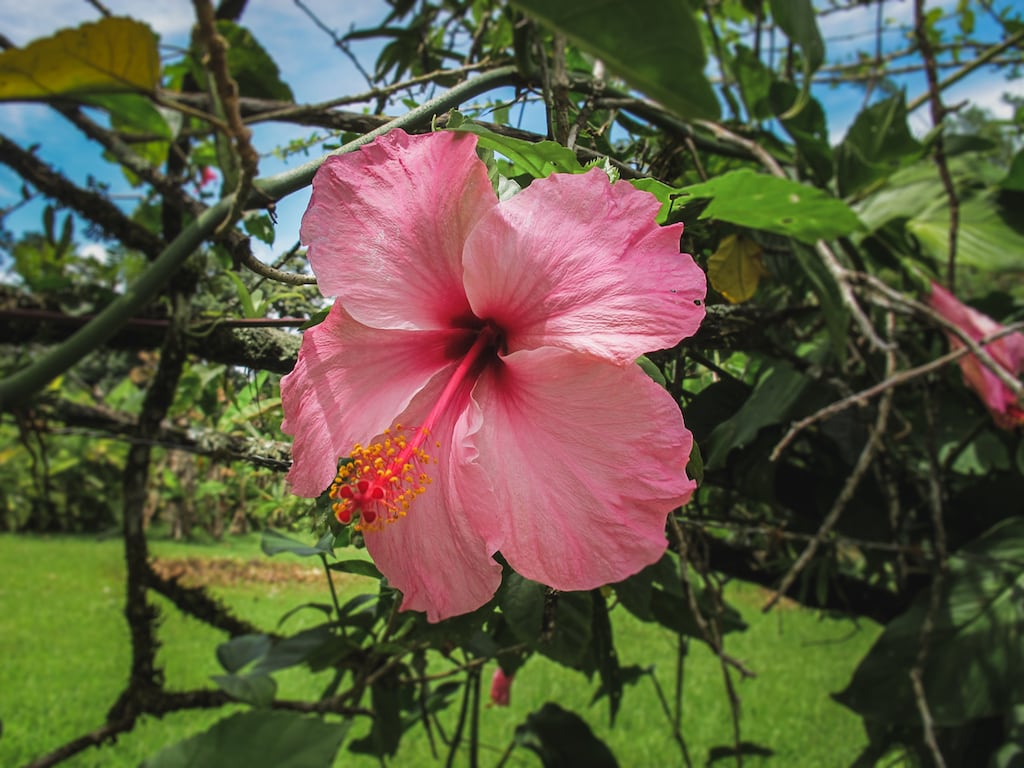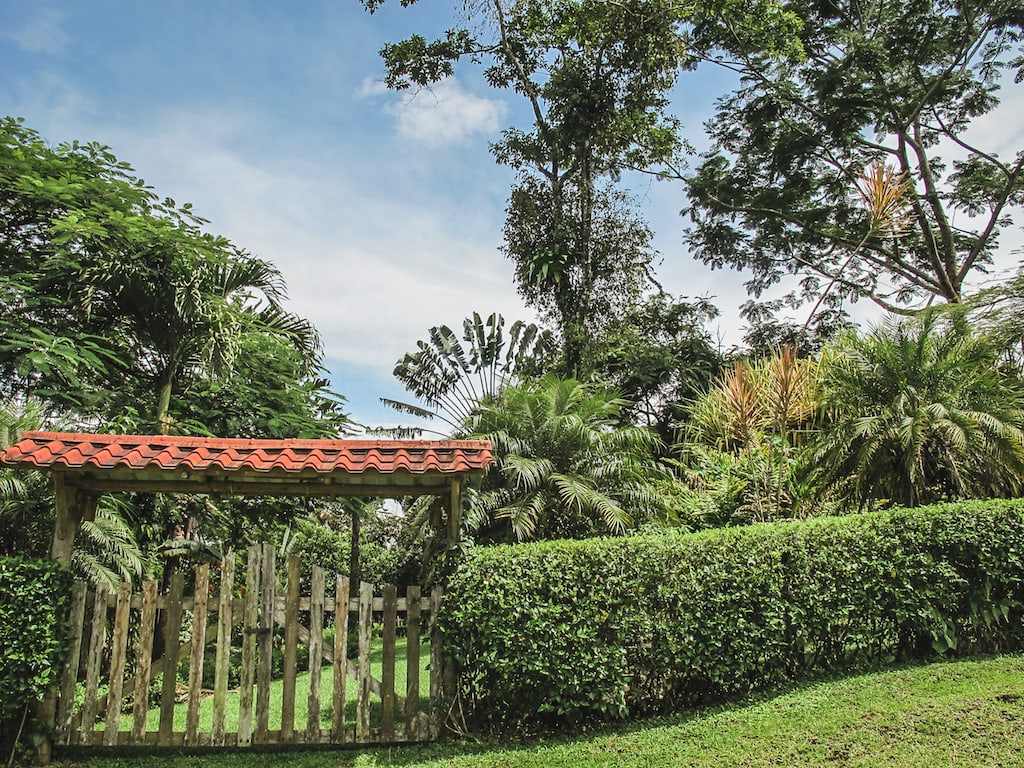 Where to Eat in La Fortuna
La Fortuna is known for being jam-packed with pricey restaurants (sometimes I really think it can be difficult to do this city and area on a budget).
I definitely recommend supporting local and family businesses and the sodas around. For those unfamiliar with a soda, it is a small, family-run restaurant in Costa Rica and they are pretty ubiquitous and serve really tasty food.
I always opt for a casado (a humble plate with black beans, plantains, salad, rice, and a tortilla) sans meat as I don't really eat meat aside from fish in Central America because I find it very easy to eat vegetarian.
I actually brought home a bottle of noni juice from La Fortuna the last time I was there. I was terrified it was going to burst in my backpack for the rest of my Central America trip… if you know the smell of noni juice, you must know how frightened I was!
Some suggestions about where to eat while in La Fortuna:
Organico Fortuna: Organic market, restaurant, and coffee bar near the park in La Fortuna. They serve meat, but plenty of vegan and gluten-free options are available. Facebook.
Soda La Hormiga: Local, affordable fare. They offer fish casados and everything in between. No alcohol on the premises. Facebook.
Restaurante Nenes: This popular establishment has been around since 1994 and serves a mix of local food with international food. They also are a bar and grill. Facebook.
Soda Mima: Local soda offering no-frills food and tasty breakfasts.
Don Rufino: Fine-dining and showcasing some of the best food Costa Rica has to offer. This award-winning restaurant gets busy, so be sure to book your table in advance. Website. Facebook.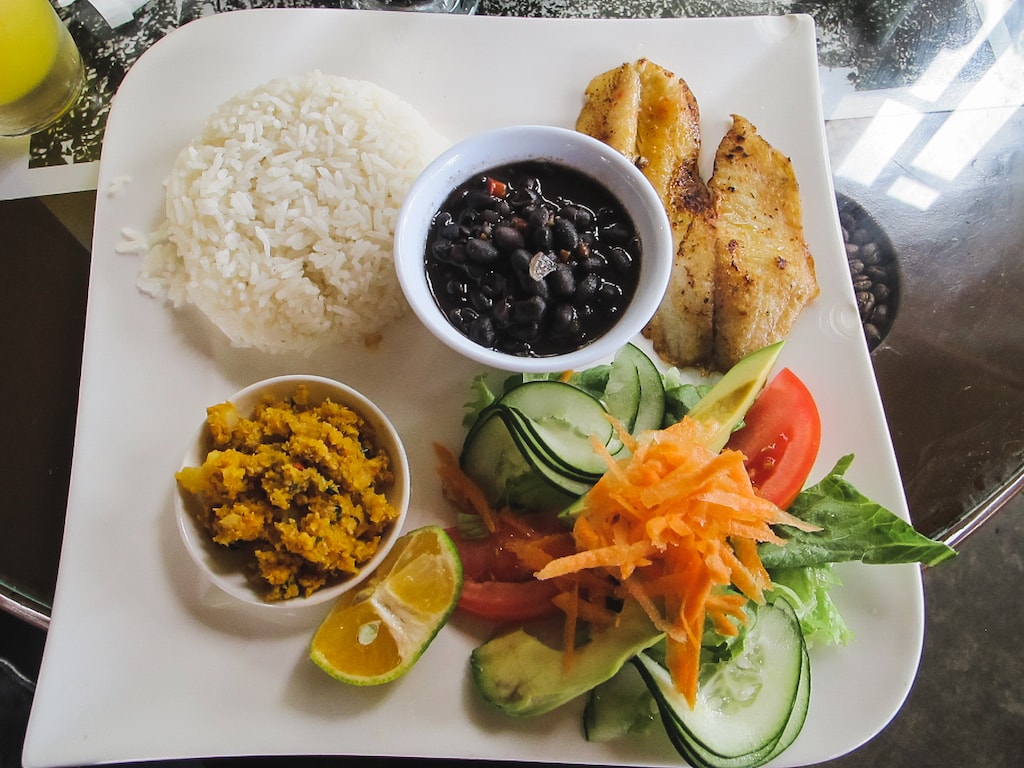 Where to Stay in La Fortuna
There is quite a range of choices when it comes to accommodation in La Fortuna. I stayed at a budget place and it was one of the nicest places I stayed in terms of a hostel anywhere in the world.
I have listed it below along with some other price range options depending on your budget and travel desires.
Budget
Arenal Backpackers Resort. Usually, I avoid any hostel or guesthouse that has the word 'backpackers' in it for fear of everything I hate: shit-yourself-pants, stupid Southeast Asia tank tops, vomiting people who act like college freshmen, etc.
But I booked this place kind of last minute and they had a private room available, which is what I needed. I arrived and was frustrated as I saw hammocks and a pool with a bar.
While it looked appealing, I had a feeling this was going to be one rowdy hostel. It actually was very peaceful and they strictly enforced the quiet hours they had, which were at a totally reasonable hour.
They had a BBQ with some amazing food and I actually had no dilemma hanging out there in the evenings. They even put the Pittsburgh Steelers game on for me one night (to be fair, one of the people working was a Steelers fan…)
I really loved my stay here, even as an old traveler. Click to check prices and availability for Arenal Backpackers Resort.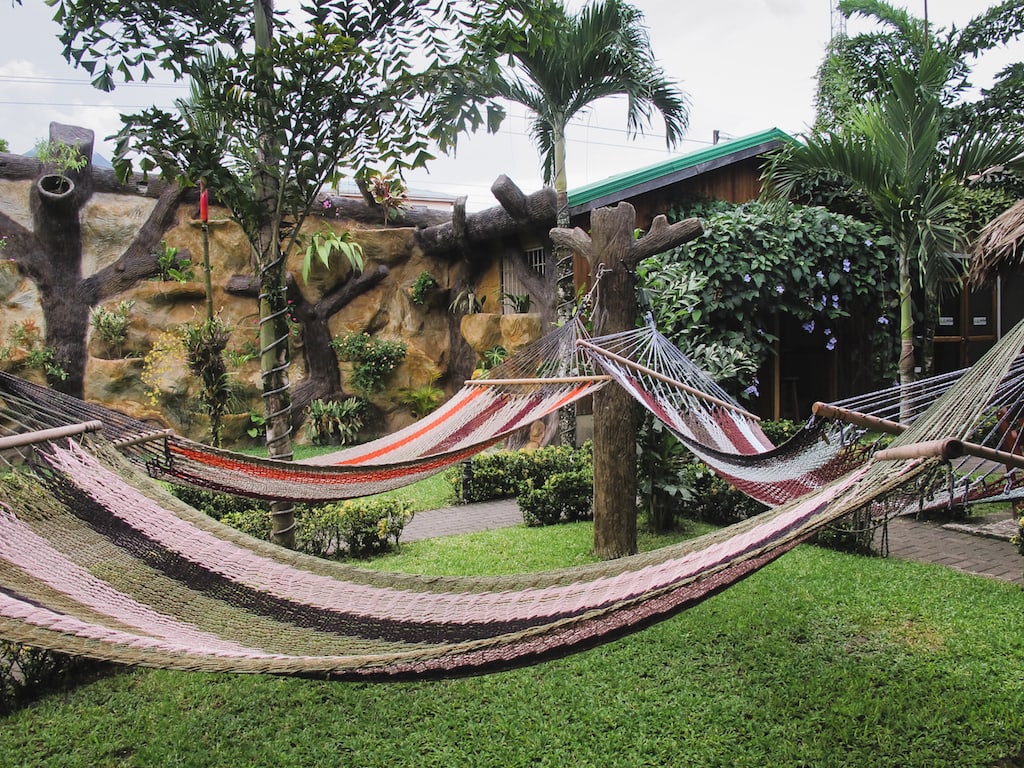 Hotel Bijagua. Highly recommended by travelers for on a budget but not willing to explore the option of staying in a hostel (don't blame you even though I enjoyed the one listed above), this property is family-owned and run and offers a variety of different rooms ranging from suites to a two-bedroom apartment. Click to check prices and availability for Hotel Bijagua.
Mid-range
I am always hesitant about listing mid-range hotels because more often than not, they are out of my price range which makes them more a 'luxury' hotel to me. But, here are a couple of highly recommended hotels in La Fortuna that fit into the typical 'mid-range' field.
Casa Luna Hotel & Spa. This mid-range hotel and spa offers several amenities and is located outside of the city center a bit in a quiet area of Fortuna. Casa Luna Hotel & Spa comes with an outdoor pool, lounge, bars, and spa (hence the name). Click to check out prices and availability for Casa Luna Hotel & Spa.
Arenal Observatory Lodge & Spa. This is a very well-known and recommended (even by some of my friends) place to stay when in La Fortuna. The lodging is super close to the volcano and even has its own trails around the area. Definitely a nature lover's heaven. Click to check out prices and availability for Arenal Observatory Lodge & Spa.
Luxury Accommodation
Nayara Hotel Spa & Gardens. This is renowned for being one of the finest pieces of property to stay at when in La Fortuna. It books up fast, so you must inquire about it far ahead of your planned stay. This eco-friendly, boutique hotel was voted the number TWO hotel in the world by Trip Advisor in 2015. Um, yea. Must be a nice place. Click to check out prices and availability for Nayara Hotel Spa & Gardens.
Nayara Springs. The sister hotel to Nayara Hotel Spa & Gardens, this hotel is also no joke. It was named the #1 Luxury Hotel in the WORLD in both 2016 and 2017. Try scoring a room here (and then invite me to join you). Click to check out prices and availability for Nayara Springs.
The Springs Resort & Spa. This luxury resort was on The Bachelor AND Keeping Up With the Kardashians. Needless to say, it is top of the line and you can live out all your reality television dreams by paying it a visit. Click to check out prices and availability for The Springs Resort & Spa.
In conclusion, La Fortuna is worth your time. It is expensive, yes, but certain activities can be done on a budget. Many people say that this area isn't worth visiting now that the volcano isn't erupting or having lava pouring from its caldera, but I do disagree with them. Some of the stuff in La Fortuna is a bit touristy, but rightfully so.
It is a beautiful place nestled amongst one of the most picturesque backdrops in the world. If you have any additional suggestions for places to see, eat, or stay, please drop them in the comments section for future travelers. Thanks!