Are you thinking of visiting Ubud during your trip to Bali? It's a beautiful town filled with culture, history, and adventure.
This means there are loads of fun things to do in Ubud, but with so many activities, how do you decide which ones are right for you?
There's no denying that Ubud has become a popular hot spot for visiting travelers, but this is because the town has an intriguing history dating back over a thousand years. It's characterized by a rich blend of art, culture, and spirituality.
You can visit waterfalls, learn about rice farming, go tubing down rivers, take a flower bath, and even take part in a spiritual cleanse!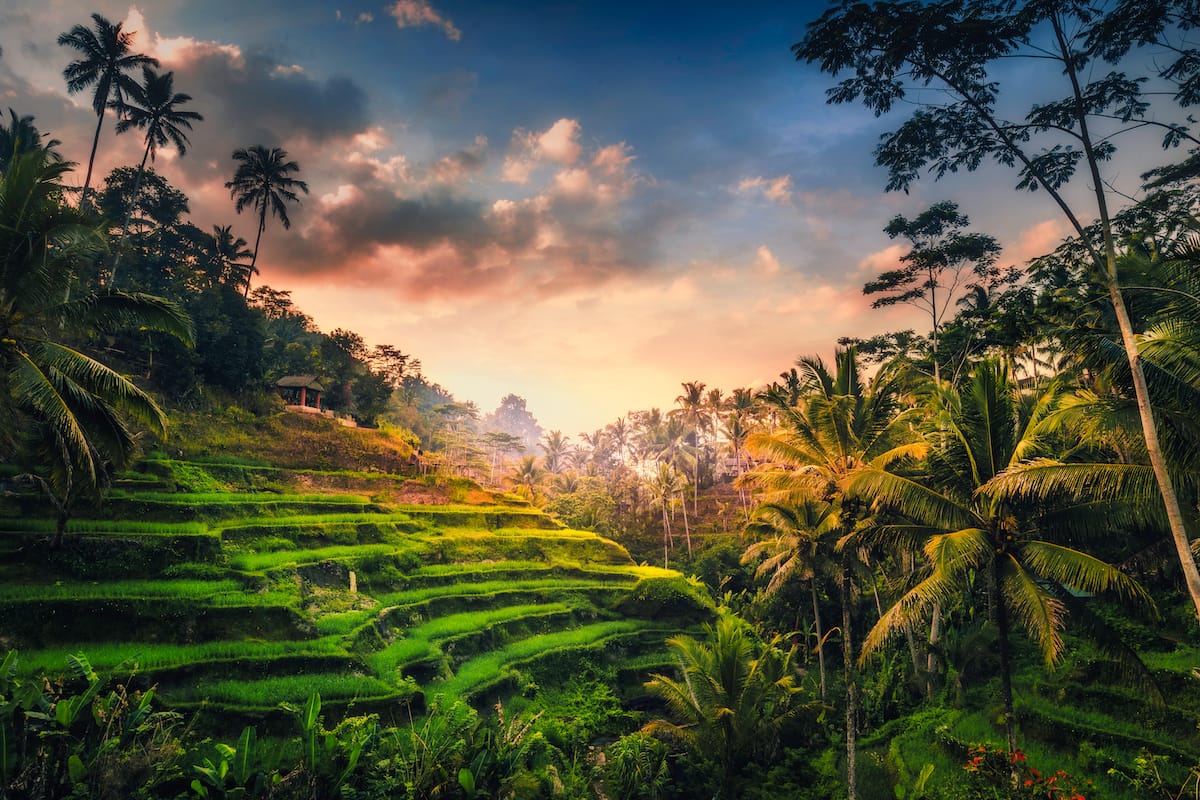 Throughout this guide, we'll go over our favorite things to do in Ubud including attractions, places to eat, and ancient sites to help you plan your holiday.
Did we miss any of the best things to do in Ubud? Let us know in the comments!
What Is Ubud Famous For?
Ubud is a vibrant town famous for its culture, royal heritage, ancient temples, and spiritual core.
Originally a small farming village, it emerged as a prominent center for traditional Balinese arts and crafts during the early 20th century.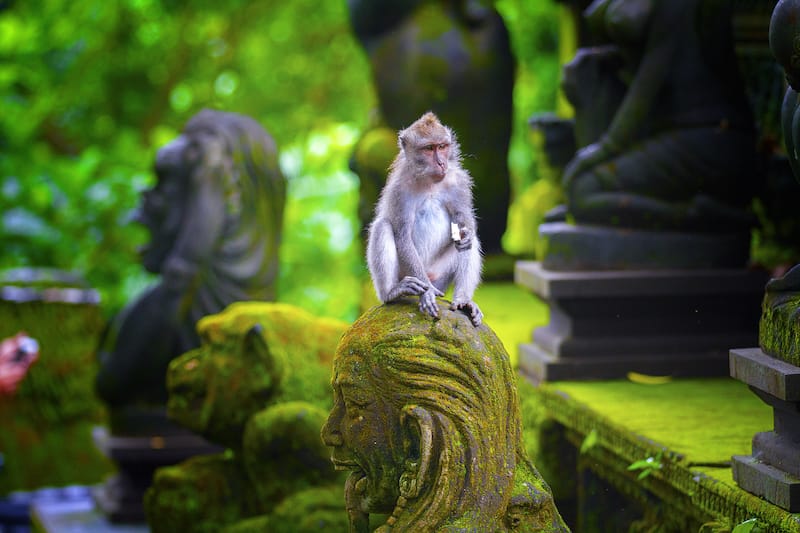 The arrival of foreign artists, writers, and intellectuals in the 1930s further influenced its cultural landscape. These days it's a hub for creativity and intellectual discourse attracting remote workers and welcoming wellness enthusiasts!
Best Things To Do In Ubud, Bali
Depending on how long you're visiting Ubud you might not fit all these activities in, but make sure you plan for visiting a temple, exploring central Ubud on your own, visiting one of the waterfalls, and taking a trip to the famous UNESCO rice terraces!
In no particular order, here are our top 25 activities to do in Ubud.
1. Explore Rural Ubud
First up, I just want to emphasize the importance of exploring by yourselves. Especially in places like Ubud where it's extremely safe to wander around solo, there are hundreds of hidden gems to be found!
Jack and I just loved exploring Ubud and found its allure extending far beyond its contemporary charm. It's a cultural hub with a fascinating historical background.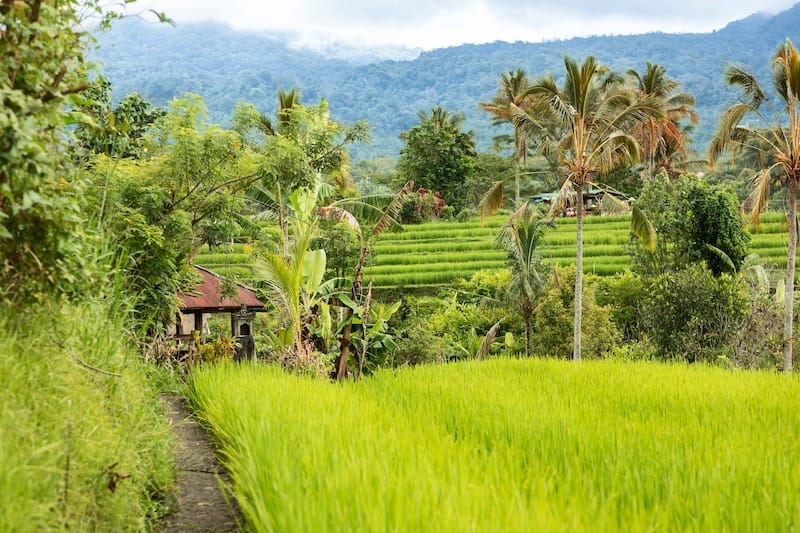 You can trace Ubud's roots back over a thousand years when it served as a pivotal trading center between Balinese kingdoms. In those ancient times, Ubud's strategic location amidst lush rice terraces made it a desirable settlement.
As you roam through Ubud's winding streets today, you'll not only encounter beautiful buildings, intricate designs, statues, shrines, food stalls, temples, and discreet cafes but also the echoes of its past.
There's a good reason Ubud is the cultural hub of Bali, this town is a true gem for any enthusiastic explorer!
2. Enjoy Breakfast At The Alchemist
The Alchemist is the typical Western meets Bali type of restaurant that you'll find all over the Island of Gods.
It's got that healthy eating, vegan lifestyle vibe, and with so many delicious dishes to choose from it's no wonder people adopt this healthy lifestyle after just a few moments in Ubud…like we did. Laughs.
It's not going to give you that cultural hit but it serves up some of the tastiest, most colorful, and most nourishing food you're going to get. Breakfast here is a must!
You can find The Alchemist in the heart of Ubud at:
Address: Jalan Penestanan Kelod No 75 Penestanan Ubud
Alchemy Ubud: +62 821 4690 8910
Opening Hours: Monday – Sunday 07:00 – 21:00
3. Peruse the Ubud Market
One of the most fun things we did in Ubud was visit the Ubud Art Market. It's set smack-bang in the middle of the center of Ubud (opposite the Ubud Royal Palace) and attracts thousands of visitors.
You'll be able to stroll along the stalls and practice your bargaining skills which is an integral part of the market culture, so be prepared to negotiate prices.
Engage in friendly haggling to get the best deals. Remember to be respectful and have a budget in mind.
You'll notice the market is divided into two sections: the traditional market (Pasar Seni) and the art market (Pasar Seni Ubud).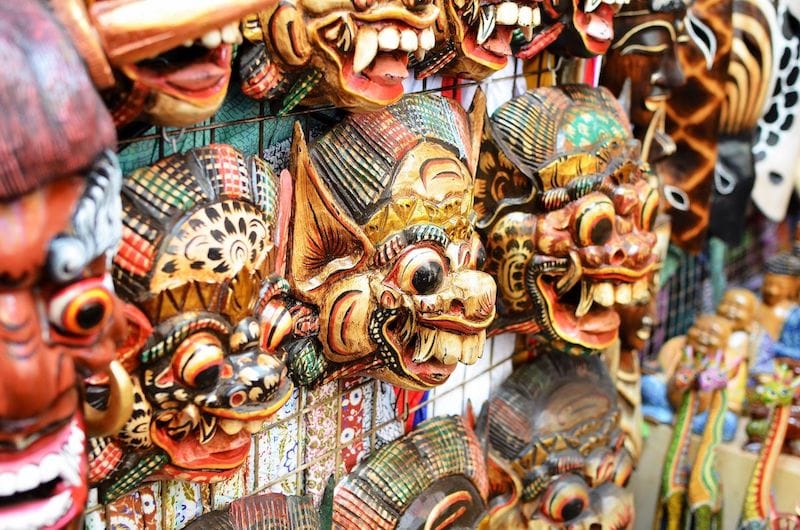 The traditional market opens early in the morning, while the art market is typically open throughout the day. Both sections offer so many beautiful things to buy, from wood carvings, clothing, jewelry, traditional cloth, sarongs, bags, spices, silver, more accessories, and beach wear…the list is endless.
It's free to visit Ubud Art Market with the market open daily. The traditional market starts early in the morning and the art market stays open until late afternoon or evening.
I would advise you to visit in the morning when the market is less crowded and before the heat of the day sets in.
You're going to find some incredible holiday treasures so sure you leave enough room in your suitcase to fit it all in!
4. Check Out the Ubud Royal Palace
Following the above you can pop over the street and visit the Ubud Royal Palace (Puri Saren Agung). It's a famous landmark in Ubud with a rich history stretching back several centuries, it's one attraction not to be missed!
Over the years, the palace has witnessed the rise and fall of kingdoms, the influx of foreign influences, and the development of Ubud as a thriving artistic and cultural center.
It was built in the 18th century and served as the residence of the royal family of Ubud and played a pivotal role in shaping the cultural and political landscape of the region.
Today, the Ubud Royal Palace stands as a majestic symbol of the town's heritage. It's centrally located in the heart of Ubud, easily accessible on Jalan Raya Ubud (the name of the main road running through Ubud).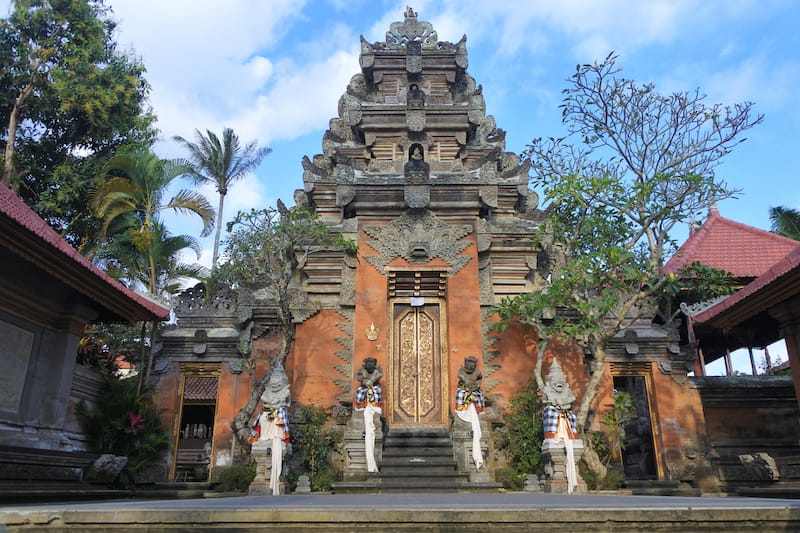 It's free to visit and showcases stunning traditional Balinese architecture with intricate stonework carvings, ornate gates, and beautiful gardens. The palace also serves as a venue for traditional Balinese dance performances, including the famous Legong dance and Barong dance.
Although we didn't get to see the dance performance we have heard it to be impressive and so something you might want to consider adding to your itinerary! Check the schedule in advance to catch a captivating performance.
The palace complex also houses a museum that displays a collection of historical artifacts, royal heirlooms, traditional costumes, and ancient artwork.
If you prefer to gain a deeper understanding of the history and significance of the palace, consider joining a guided tour! Knowledgeable guides can provide detailed information and enrich your visit with fascinating stories and insights.
5. Stop by the Ubud Water Palace (Saraswati Temple)
Literally, 3 minutes down the road, you'll come to the famous Ubud Water Palace (Puri Saren Ubud). Unfortunately, it was closed when we reached it (maintenance work) but I guess it's just another reason for us to return!
It was originally built as a private bathing and recreational area for the royal family and features stunning ponds, water gardens, and beautiful Balinese architecture.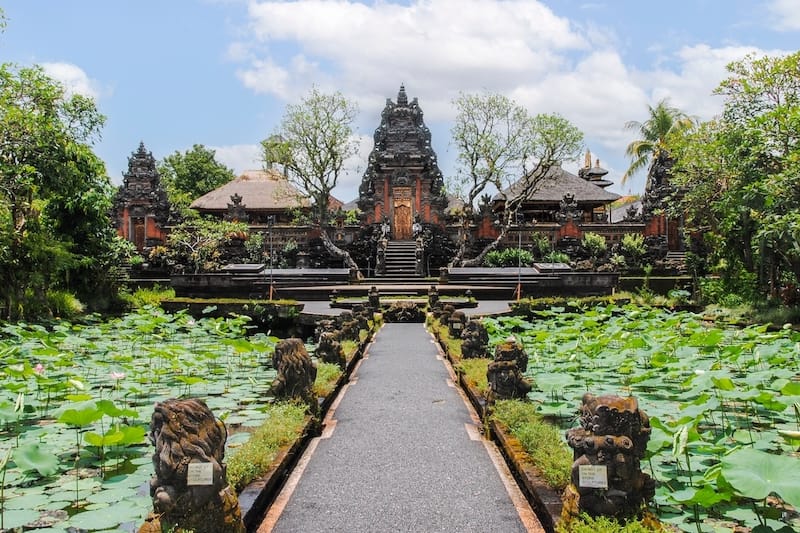 Unlike us, you'll be able to stroll around the palace grounds, admire the scenic surroundings, and enjoy the tranquillity of the water features.
It's also another free attraction to visit in Ubud!
6. Visit the Kajeng Rice Field
The Kajeng Rice Field turned out to be our favorite spot in Ubud.
The activity, for some reason, gets missed by many visitors and so you'll find fewer crowds wandering along the narrow paths.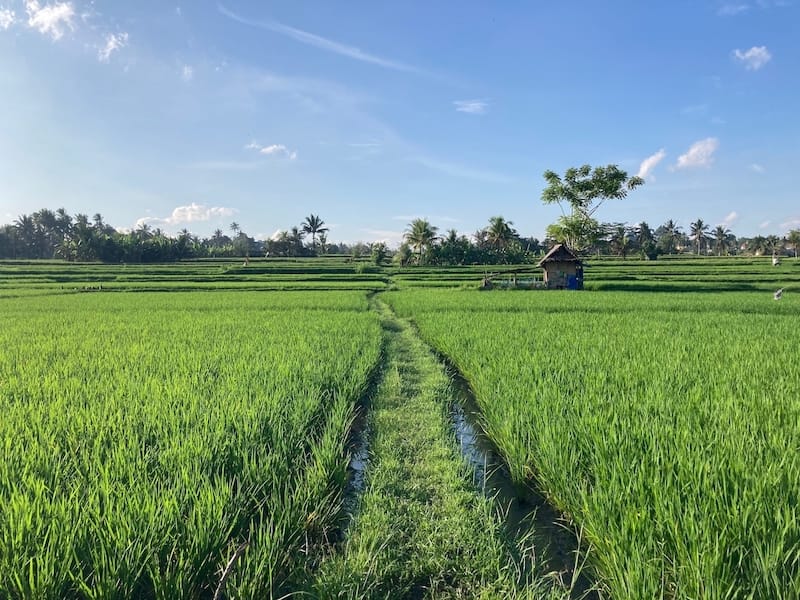 It's a hidden gem in the heart of Ubud, make sure you don't miss it by reading our useful guide on how to visit Kajeng Rice Fields here!
7. Explore the Tegalalang Rice Terraces
Tegalalang Rice Terraces, on the other hand, are super popular, and for good reason. The iconic site is located in the village of Tegalalang, around 10 km north of Ubud making it easily accessible for you.
It's a popular day trip destination from Ubud, and you can reach there by taxi, hired car, or motorbike.
The site also offers one of the most breathtaking scenic views in Bali and showcases traditional Balinese agricultural practices.
During your visit, you'll be taught about the unique irrigation system known as "subak." This traditional Balinese cooperative irrigation system has been in place for centuries and is crucial in maintaining the lush rice fields.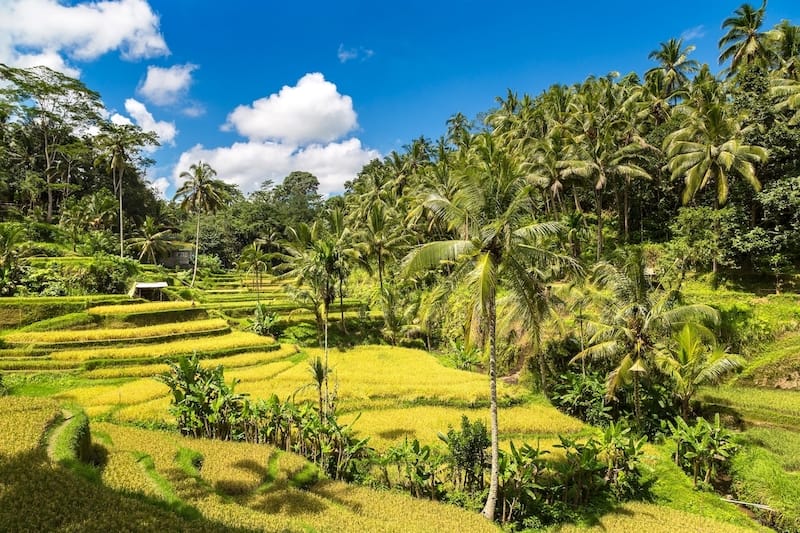 The water sources are channeled into a network of canals and sub-canals that distribute the water across the rice terraces. It's a gravity-driven system where the canals are strategically designed to allow water to flow downhill from higher areas to lower areas.
Exploring the terraces on foot allows you to appreciate their beauty up close. If you're a keen trekker or photographer you'll enjoy walking along the designated paths to capture breathtaking photos and the surrounding lush scenery!
The terraces are at their most vibrant and lush during the rainy season, typically from November to March. However, they retain their beauty throughout the year so you can enjoy a visit all year long.
Consider visiting early in the morning to avoid crowds and enjoy a tranquil experience. Please respect the local customs and ask for permission before entering private fields or taking close-up photographs of the farmers.
8. Take a Photograph on the Famous Bali Swing
And, since the views are incredible, some clever soul decided to put up a swing and start charging people for the ride. Enter the famous Bali Swing!
The attraction offers the opportunity to experience a thrilling swing ride above the lush green rice terraces.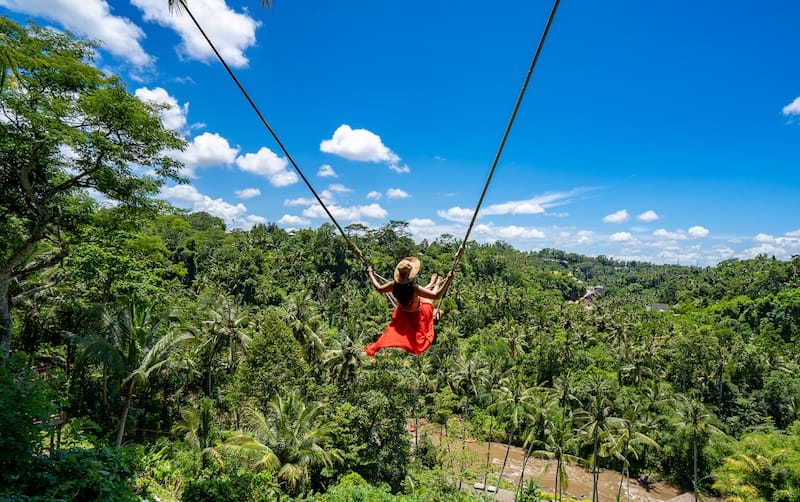 It's become a well-known attraction and will provide you with an exciting and memorable experience while you become totally immersed in the natural beauty of Bali.
There are numerous "Bali Swings" on the Island of Gods which can be pre-booked online. I would recommend booking your swing experience in advance, especially during peak seasons, to secure your preferred time slot.
9. Have Lunch At Sawobali
Okay, back to food and we think there is no better place to grab a meal than at Sawobali. It's in the heart of Ubud so you won't have to travel far and to be honest, it's just simply our favorite place to grab a meal in Bali.
The best thing about Sawobali is the quality, quantity, and price is unbeatable. It's completely vegan, but you wouldn't know it.
It's a buffet type of place and costs only 50,000 IDR for all you can eat. The selection is huge, savory, and sweet and the flavor is impeccable, you just know the food is made with love.
This is another place not to be missed from your Ubud itinerary!
Address: Jl. Sukma Kesuma No.19, Peliatan, Kecamatan Ubud, Kabupaten Gianyar, Bali
Opening Hours: Monday – Sunday 12 pm to 8 pm
10. Chase Waterfalls Throughout Bali
Whooo, we've reached the waterfall section of this article and there are PLENTY to choose from, I promise you won't be left wanting. Some of the big ones are Tibumana, Kanto Lampo, and Tegenungan Waterfalls.
Our favorite was Tukad Cepung Waterfall. Although it's almost 30 km from Ubud, it's quite unique as the water streams down into a cave.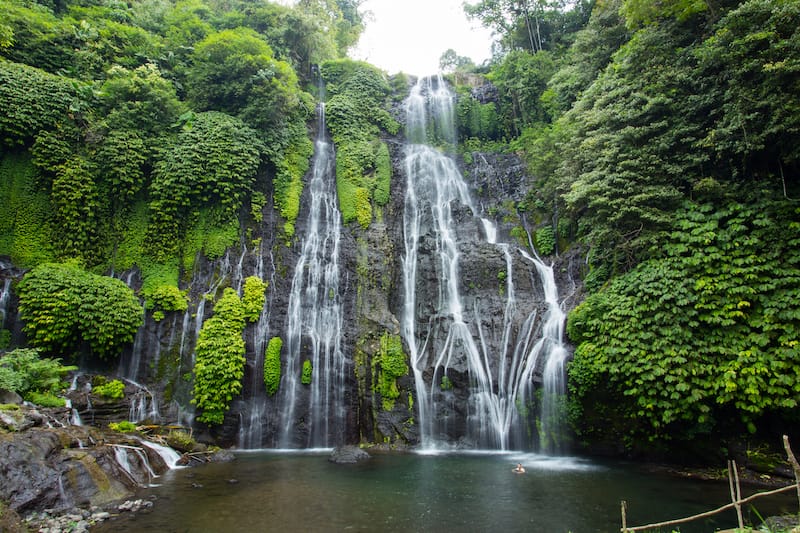 You'll need to hike down some steps to reach the cave entrance but the reward is a breathtaking waterfall enclosed by the cave.
To be honest, all the waterfalls are impressive. They exude serenity. They are tall and majestic with most plunging into clear natural swimming pools, perfect for a refreshing dip!
11. Go on a Downhill Bike Ride
One activity in Ubud that we enjoyed tenfold was riding a bike through the countryside. It's so easy to rent bikes in Ubud and you can do this by yourselves, but the best way to experience rural Bali is on a guided bike tour.
A popular route follows a 2-hour downhill ride from the top of Kintamani Ridge into the heart of Ubud.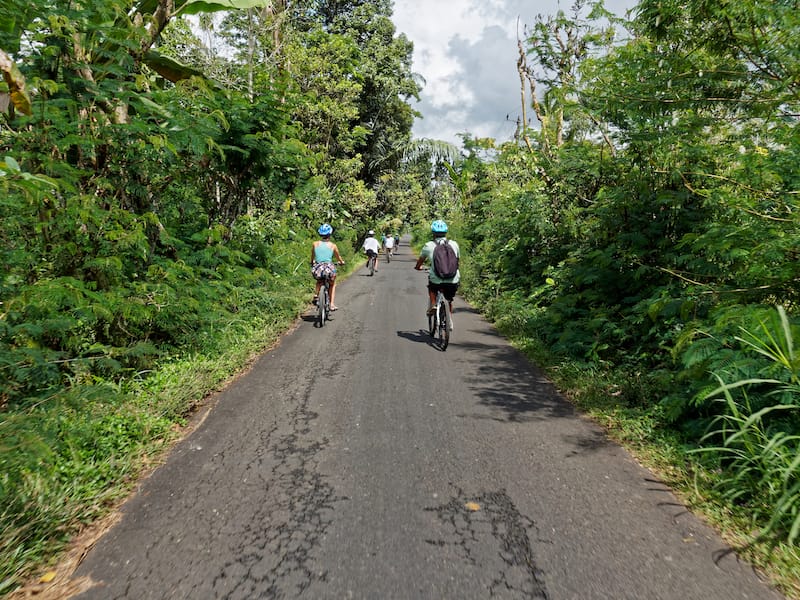 You'll get a local guide who will teach you all about Balinese culture and traditions while making stops along the way at unknown gems.
Try not to miss this fun activity while you're visiting Ubud!
12. Practice Yoga in Ubud
Have you been practicing yoga for a while? Maybe you want to improve your posture? If so, Ubud is a fantastic place for this. That said, if you've never done yoga before and want to learn then Ubud is also a great place to start!
You'll also find endless yoga studios in Ubud offering yoga teacher training (YTT) courses to get you fully qualified.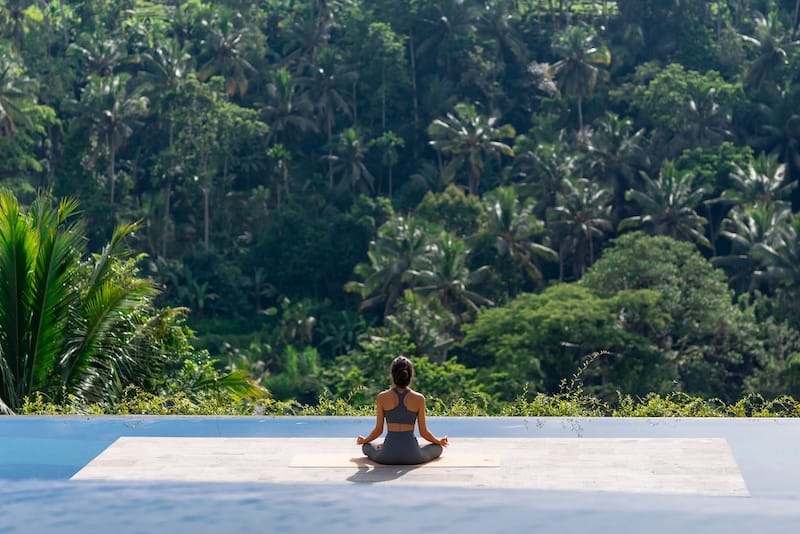 The studios are well equipped, usually overlooking Ubud's beauty. Classes are affordable, and if you buy a multi-class pass you can reduce the class price (usually 130,000 IDR/ $9).
A few top Yoga Studios in Ubud are:
The Yoga Barn: One of Ubud's most well-known and comprehensive yoga centers can be found in a tranquil surrounding and beautiful open-air studio contributing to a peaceful yoga experience.
Radiantly Alive: Another highly regarded yoga studio in Ubud, known for its vibrant community and diverse class offerings.
Taksu Yoga: A serene yoga studio situated in a lush garden setting in central Ubud. With a focus on alignment-based yoga, they offer classes suitable for all levels.
If yoga is what you're after, then head to Ubud. You'll have an amazing experience, meet like-minded people, and enjoy being part of a community that enjoys the same things as you.
13. Walk Through the Monkey Forest in Ubud
Everyone who visits Ubud visits the Sacred Monkey Forest, right? Wrong, we didn't!
Well, we walked around the outskirts and along the shortcut where we almost got run over by motorists. Not recommended, but we didn't enter.
We passed countless times and kept saying we really must go. But you know, life happened and we ended up leaving Ubud without entering this magical place.
From photos, it looks stunning, and with mischievous monkeys playing tag with you and your besties, I think it's somewhere we would have enjoyed. The monkeys are known to steal valuables so ensure you keep a safe distance, as they are still wild animals.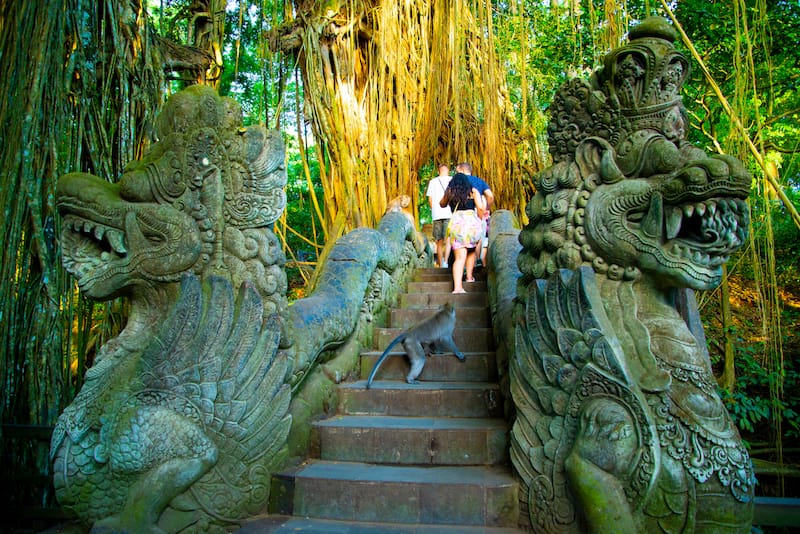 The Monkey Forest Ubud is located in the village of Padangtegal, which is in the center of Ubud and is easily accessible by foot or a short drive from the central area of Ubud.
There is an entrance fee to access the Monkey Forest, and the ticket price includes access to the sanctuary, temple areas, and facilities.
The Monkey Forest holds great cultural and spiritual importance for the local community. It's dotted with several ancient Hindu temples and statues that reflect the blend of nature and spirituality in Balinese culture.
14. Hike on the Campuhan Ridge Walk
Another popular activity to do in Ubud is the Campuhan Ridge Walk. It's about 2 km which goes high above the town with sweeping valley views.
There are a few uphill sections although most of the walk is flat and relatively easy.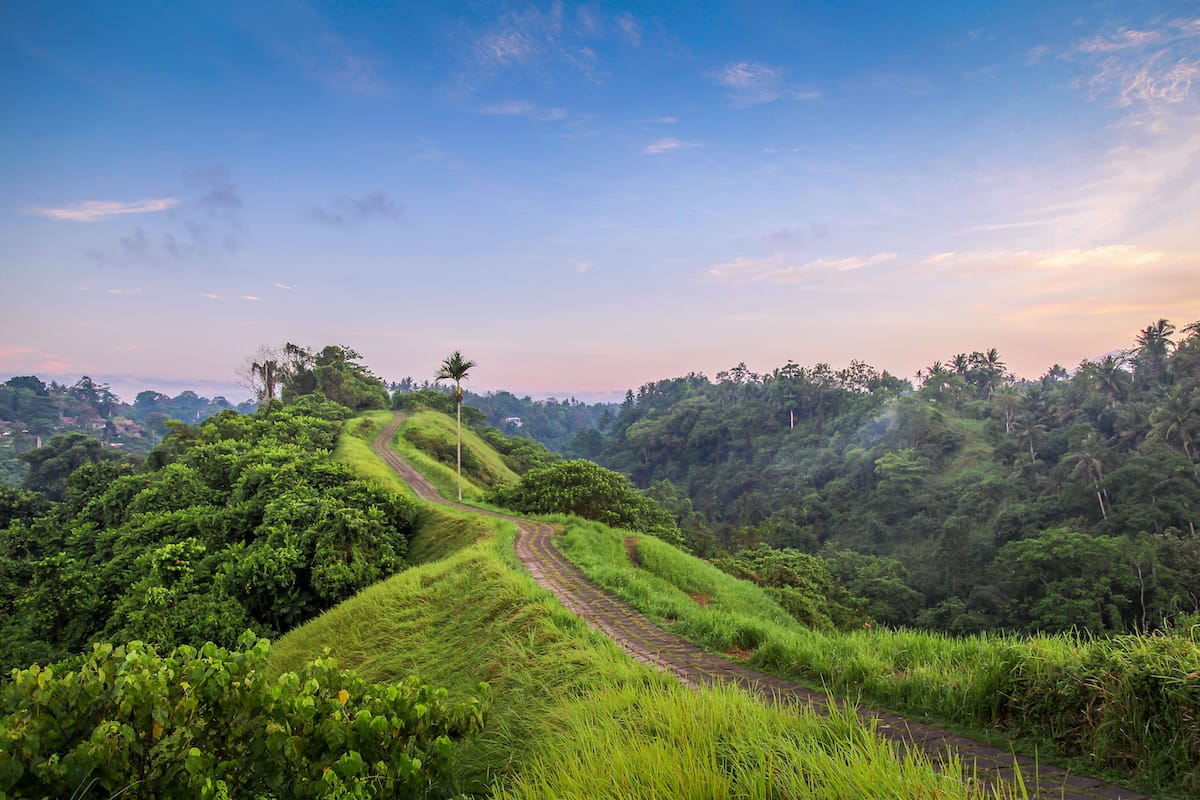 It meanders through beautiful landscapes, including small villages and patches of jungle before you reach rice fields.
You can read everything you need to know about visiting Campuhan Ridge Walk here.
15. See the Water Temple at Pura Tirta Empul
This famous water temple is built around a sacred spring. It's believed to have healing properties and due to this, it has become a popular place to visit for locals and tourists alike.
The temple complex is divided into three main areas: the outer courtyard, the central courtyard, and an inner courtyard. Each area has its own significance and is adorned with intricate stone carvings, sculptures, and traditional Balinese architectural elements.
The focal point of Pura Tirta Empul is its central courtyard, which houses a large pool fed by the sacred spring. This is where you can witness or partake in the famous purification ritual to cleanse your body and soul.
We actually decided to visit another water temple called Tirta Gangga in East Bali but I'm sure a visit to this complex will make a unique and spiritual addition to your Ubud itinerary.
It's a place to visit if you want to join a traditional bathing ritual and experience the serene and spiritual atmosphere of Bali as it's considered one of Bali's holiest temples!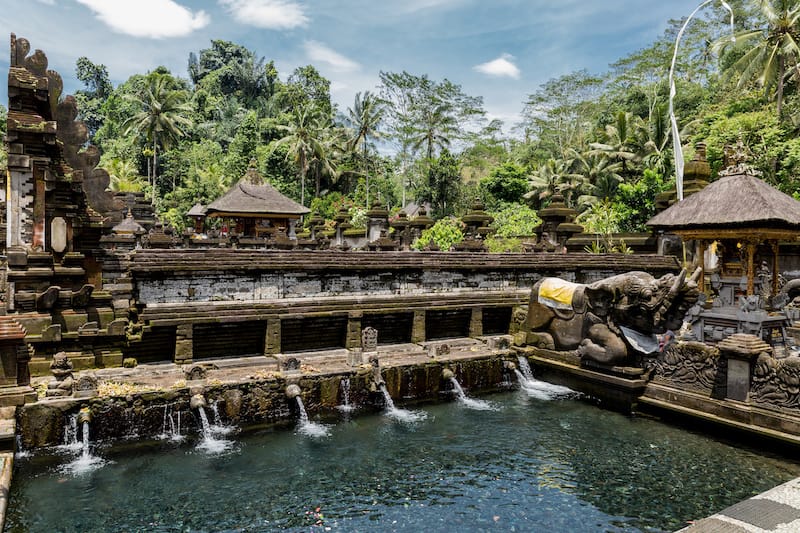 If you plan on visiting Pura Tirta Empul, it's important to dress respectfully. Both men and women are required to wear a sarong around their waist. You'll be able to buy or loan sarongs at the temple entrance.
It's also customary to maintain a quiet and respectful demeanor while exploring the temple grounds. If you're interested to learn more about the temple's history you'll find there are local guides available at the entrance too.
Pura Tirta Empul is open from 9:00 am to 5:00 pm. However, it's important to remember that temple opening hours can change or vary depending on ceremonial events or local customs.
16. Attend a Purification Ceremony
We visited Taman Beji Griya Waterfall for our purification ceremony, but there are many holy sites around Bali where you can do the same.
The ritual is known as Melukat and involves bathing in holy waters to cleanse yourself spiritually.
Each experience will differ slightly depending on where you go, but for us, it was one of the best things we did in Ubud.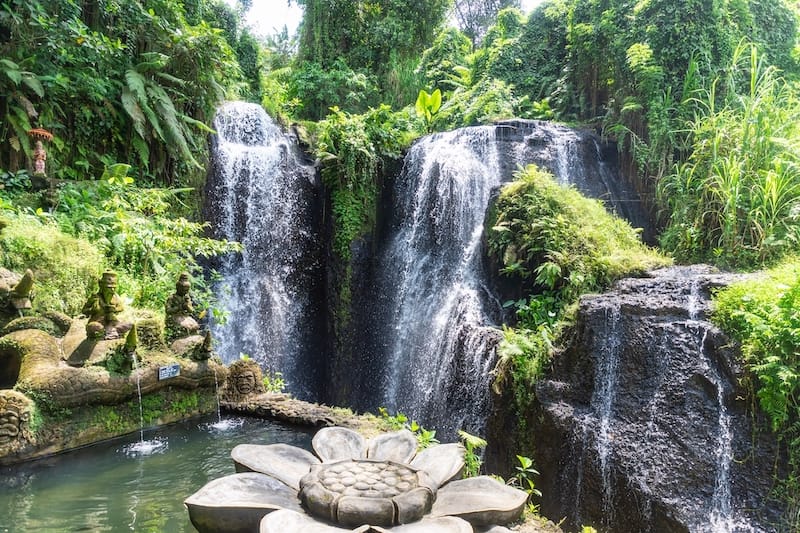 At Taman Beji Griya we were taken into a fissure just below the main waterfall stopping at sacred spots to be blessed. Afterward, we entered the waterfall and were told to scream under the falling water so as to let out our negative energy.
It was a really memorable experience and one that we highly recommend. You can find Taman Beji Griya Waterfall at:
Address: Jl. Mawar, Punggul, Kec. Abiansemal, Kabupaten Badung, Bali
Opening Hours: Monday – Sunday 9 am – 6 pm
17. Have Dinner At Mumbai Station
The best Indian in town. Mumbai Station became one of our favorite places to dine while we were staying in Ubud.
They do a very good Masala Dosa and delicious chutneys, and you have to try their Chai Latte! All the food is ​​pure vegetarian flavors of India including an Ayurvedic Menu.
I should probably tell you that it's inside a little shop so don't get confused when you rock up. The restaurant is out the back, you can find it at:
Address: Jl. Raya Sanggingan No.90, Kedewatan, Kecamatan Ubud,
Opening Hours: Monday – Sunday: 8 am – 10 pm
Phone: +62 812-3632-5617
18. Eat Local at Warung Makan Bu Rus
If you are looking for somewhere more traditional to dine in Ubud then I suggest visiting Warung Makan Bu Rus.
Although it might not seem like it from the above recommendations we love eating local.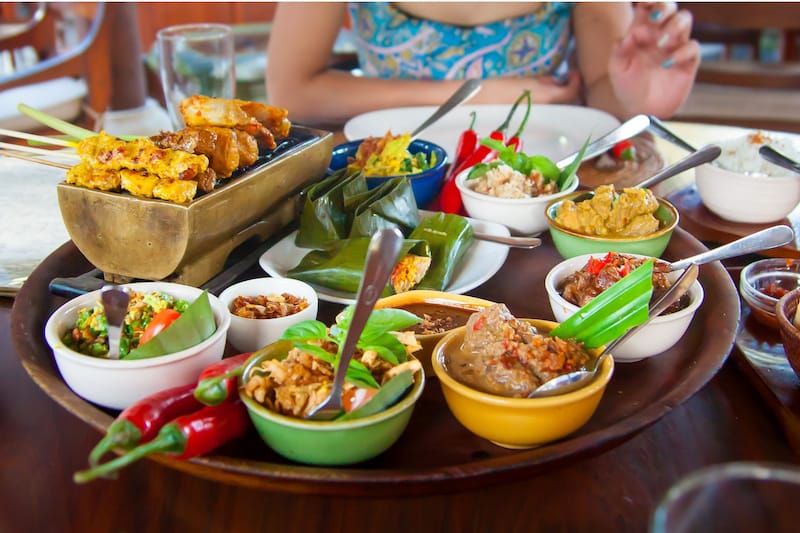 You'll get the best food deals from the local warungs and street stalls, and at bargain prices too. However, if you want to sit in then there is no better place than here.
You'll be directed into the restaurant which is tucked away behind the building and surrounded by lush vegetation, it's a little oasis in the heart of Ubud.
Address: Jl. Suweta No.9, Ubud, Kecamatan Ubud, Kabupaten Gianyar, Bali
Opening Hours: Monday – Sunday: 11 am – 10 pm
19. Visit the Goa Gajah (Elephant Cave)
Unfortunately, this is another site we missed but it's among the top things to do in Ubud and so you should definitely know about it.
The famous Elephant Cave which was built in the 9th century as a sanctuary for meditation and spiritual practices is now a historical and archaeological treasure of Bali.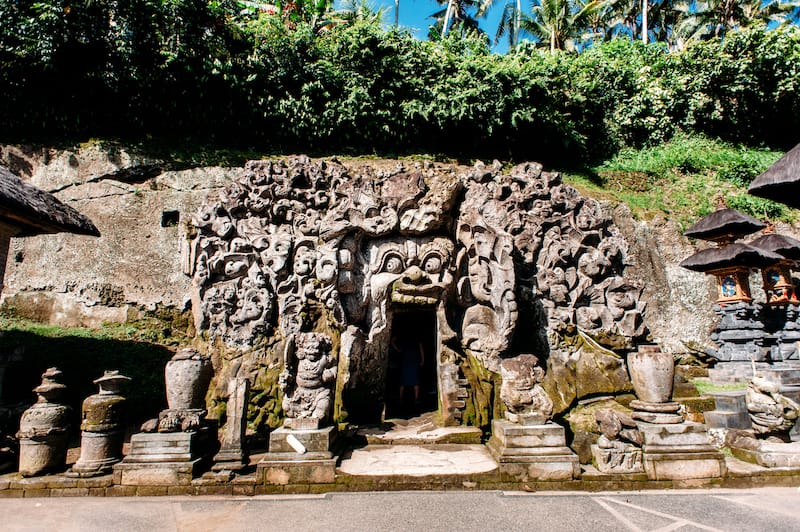 At the site, you'll find the cave walls adorned with carvings of various mythological creatures and Gods, a sacred pool believed to have healing properties, and serene gardens and pathways to explore.
There is a 50,000 IDR entrance fee for international travelers but you'll be given the use of a sarong for free.
Address: Bedulu, Blahbatuh, Gianyar Regency, Bali
Opening Hours: Monday – Sunday (online notes 24hrs but 8 am to 5 pm is a better guide)
Don't do as we did and make sure you add a visit to your Ubud itinerary!
20. See the Serene Gunung Kawi Sebatu Temple
Gunung Kawi Sebatu Temple sees fewer crowds than the others in the area which is what attracted us to it. We made the stop while out exploring and fell in love with its originality.
It's situated in a serene and lush environment, surrounded by rice terraces and natural springs, and offers a tranquil escape from the bustling tourist areas of Bali.
The complex isn't very big but it does feature temple structures and shrines dedicated to the God Vishnu.
The Hindu God Vishnu is considered one of the most important gods in the Hindu tradition and you'll find many temples dedicated to him. He is the preserver and protector of the universe!
Locals visit Gunung Kawi Sebatu for its holy springs, which are considered to have purifying and healing properties in Balinese Hindu beliefs. You can witness the locals engaging in ritual bathing and making offerings at the springs.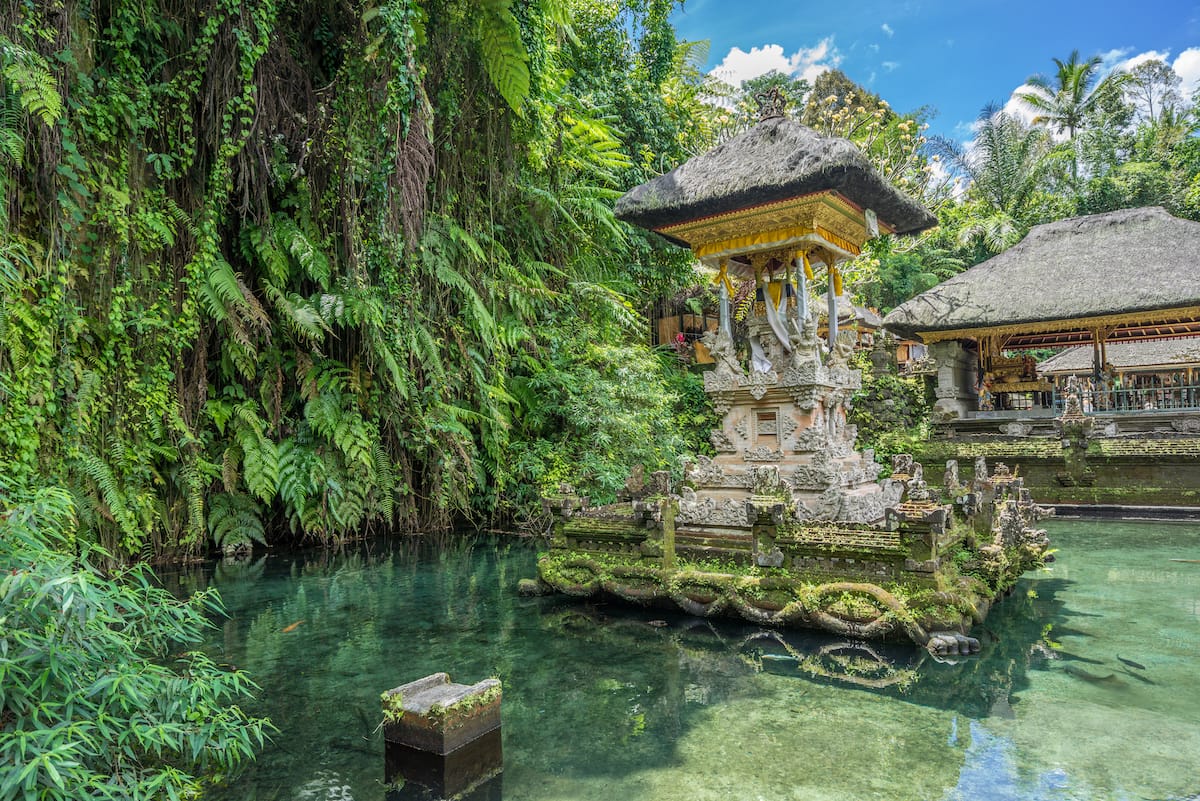 On the day we visited, there were no other tourists there apart from us.
We saw many locals washing and performing their bathing rituals while others were gathered around a large koi pond, feeding the fish while giggling and laughing.
The temple is much more run down than others in the area, maybe this is why it gets less love. But for us, it was lovely to escape the crowds and walk peacefully around the grounds.
The temple complex is typically open from morning to late afternoon. However, it's advisable to check the current opening hours before your visit, as they may vary.
As with any temple visit in Bali, it's important to dress respectfully. If you want to enter the temple grounds, both men and women are required to wear a sarong around their waist.
21. Explore The Other Notable Temples
You're not going to find a shortage of temples around Bali and spending a day exploring them goes hand-in-hand with a visit to Ubud.
There are a few more notable temples such as Saraswati Temple, Pura Dalem Temple, and Samuan Tiga Temple but you'll also encounter more lesser-known sacred buildings as you explore.
Every temple carries its own unique cultural and religious significance referring back to Balinese Hinduism which will provide you with a chance to explore the rich spiritual heritage and architectural beauty of the island.
Hinduism in Bali is unique and differs from the Hinduism practiced in other parts of the world.
It arrived in Bali around the 1st century CE through Indian traders and scholars.
Over time, it blended with existing indigenous beliefs, resulting in a distinct form of Hinduism known as "Balinese Hinduism" or "Agama Hindu Dharma."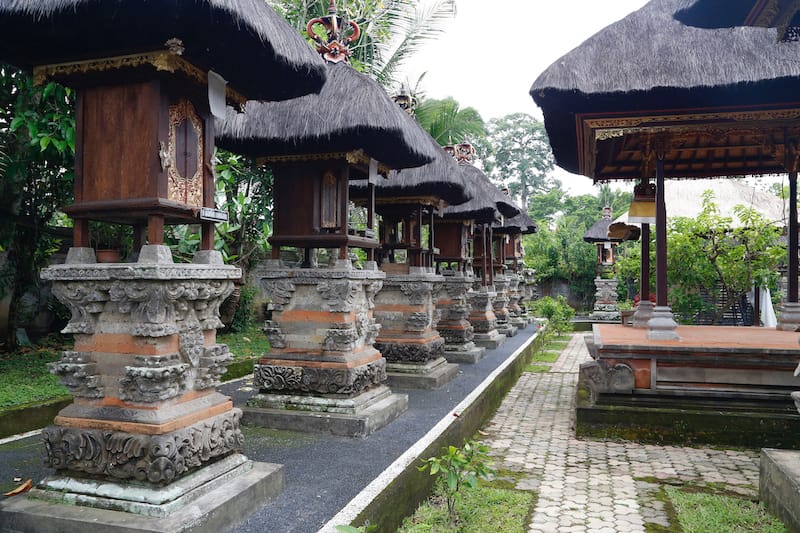 Balinese Hindus place great importance on temple worship. Every village has at least one "pura" (temple), and larger temples are found throughout the island.
Festivals, called "odalan," are celebrated at these temples with elaborate ceremonies, dances, music, and offerings to the deities.
It's not uncommon to encounter daily offerings, known as "canang sari," which are an integral part of Balinese Hinduism.
These small palm-leaf baskets filled with flowers, rice, and incense are placed in homes, temples, and various sacred sites as offerings to the deities and spirits.
Balinese Hinduism is deeply ingrained in the daily lives, traditions, and culture of the Balinese people so exploring the temples becomes an immersive cultural activity for you to enjoy.
22. Climb Up Mount Batur for Sunrise
We loved our sunrise climb up Mount Batur, although not so much the early morning start!
Hiking Mount Batur is, by far, one of the most popular things to do in Bali. In fact, many tourists visit to do just that.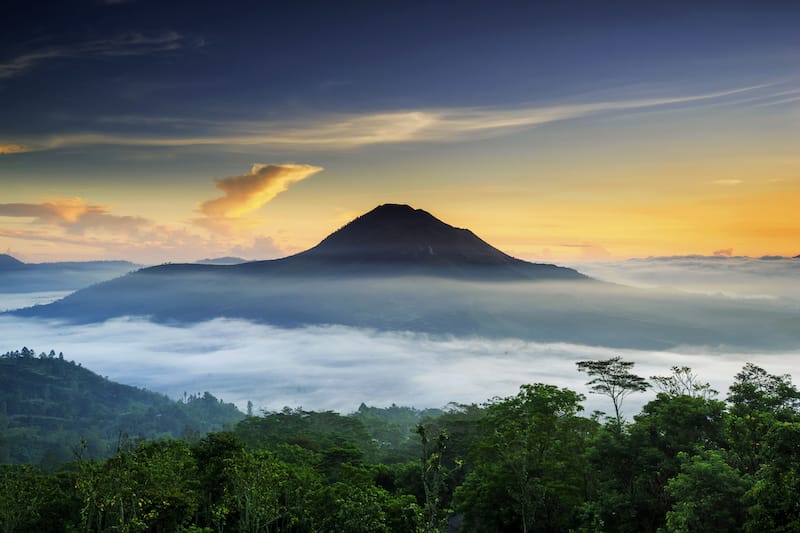 The hike isn't too difficult and the panoramic views are incredible. You'll see the Island of Gods from a whole new perspective while enjoying the tranquillity of sunrise.
This is an activity in Bali not to be missed! You can read everything you need to know about visiting Mount Batur here.
23. Photograph the Beji Guwang Hidden Canyon
Full disclosure, these last three activities we haven't done but they sound like things we should have done!
Why we missed visiting this canyon is beyond me as it was on my list of things to do in Ubud. It looks awesome and although it's not really hidden, visiting it will be a fun activity for all – I'm sure!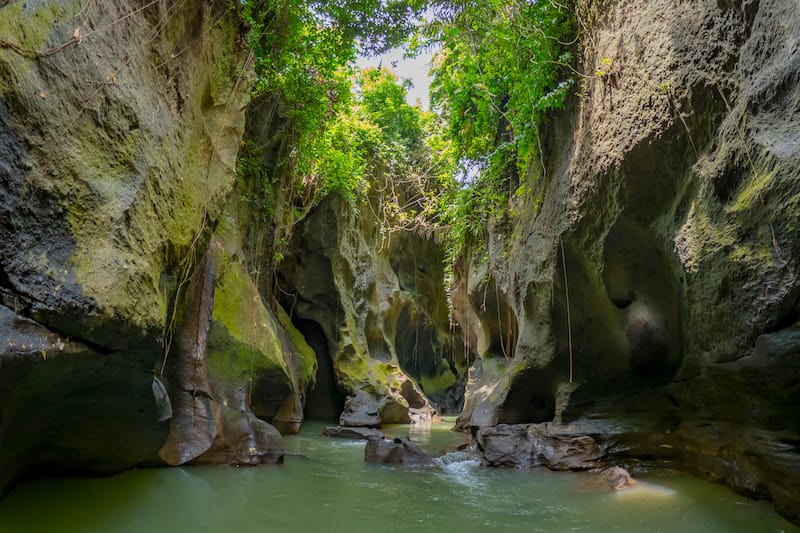 The canyon is a deep and narrow gorge that features striking rock formations, unique textures, and natural sculptures carved over thousands of years by the flow of the river.
If you like a bit of exploration and fancy some trekking you'll enjoy this activity, I think.
You can visit this gem by yourselves or the way we would have done it would have been on a guided tour while exploring other parts of East Bali.
24. Enjoy a Bali Flower Bath
I've seen this advertised as a tour package and I just wish I had done it.
If only for the amazing photos, it does look like a little bit of Insta-worthy fun but you'll also get a spa treatment afterward – like a Bali massage – which is divine!
25. Go River/Cave Tubing
Here we are at the end of our guide to unique things to do in Ubud, and of course, I'm going to end it with another banger I wish we had done!
This time it's tubing along one of Ubud's refreshing rivers with a bunch of mates singing Proud Mary. Of course, this never happened, but a girl can dream!
If you're wondering what river tubing is, it's a fun activity that involves floating down a river on an inflatable tube or raft.
I've done it in other countries and I can safely say it's an adventurous way to enjoy the natural beauty of rivers and experience some excitement at the same time.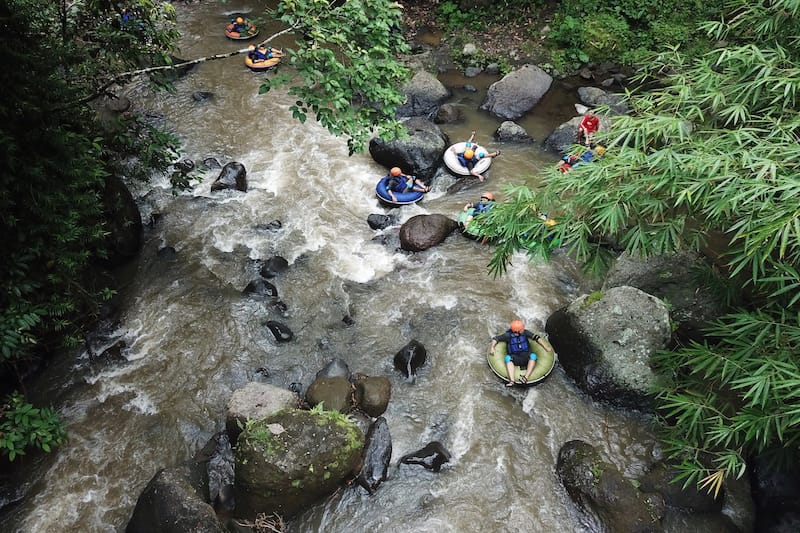 It's likely you will go along the Pekerisan River which offers a thrilling and unforgettable adventure for those seeking a tubing experience in Bali.
The activity takes around 1.5 hours and moves along Class II and III rapids, allowing you to enjoy the clear and fresh spring water sourced from the sacred Saint Spring.
Along the way, you'll encounter several rapids, picturesque waterfalls, and captivating stone gaps, immersing yourself in the breathtaking beauty of the Pekerisan River.
Where to Stay in Ubud
If you're looking for the best places to stay in Ubud, here are some of our top picks!
Should You Visit These Ubud Attractions?
And so we come to the end of our list of the best things to do in Ubud, Bali. All of these activities are sure to fill your days with entertainment, culture, and unforgettable memories.
We hope you'll find the bustling but charming heart of Bali a truly enjoyable experience with these unique things to do.
Ubud truly is a wonderful gem and a great place to base yourself if you want to explore the rest of Bali.
Pin this Ubud Things to Do Guide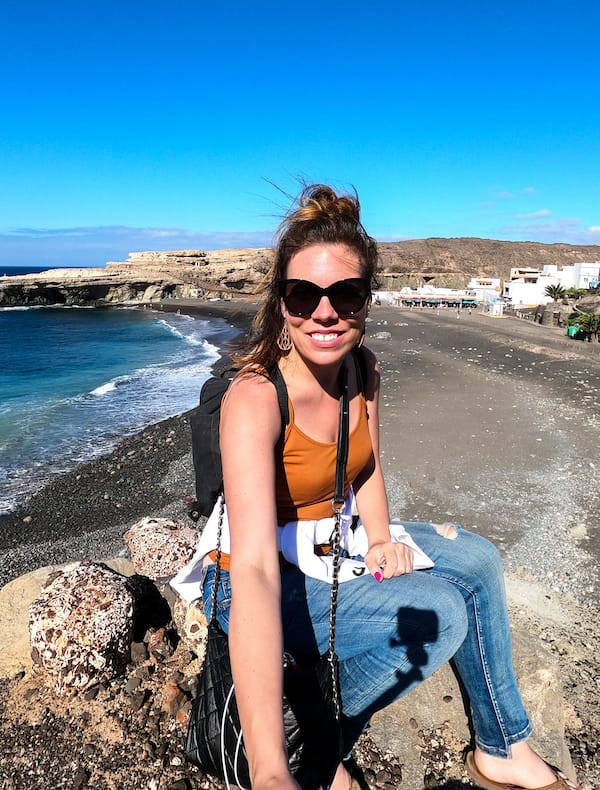 Megan is a travel blogger and writer with a background in digital marketing. Originally from Richmond, VA, she now splits her time between Frankfurt, Germany and Arctic Finland after also living in Norway, Armenia, and Kazakhstan. She has a passion for winter travel, as well as the Nordic countries, but you can also find her eating her way through Italy, perusing perfume stores in Paris, or taking road trips through the USA. Megan has written for or been featured by National Geographic, Forbes, Lonely Planet, the New York Times, and more. She co-authored Fodor's Travel 'Essential Norway' and has visited 45 US states and 100+ countries.